Hey there, fellow travelers! Today, we're going to talk about a truly amazing and peaceful place in Japan – Lake Kawaguchiko, where you can enjoy a stunning view of the famous Mount Fuji.
After spending some time in the bustling city of Tokyo, which has a whopping 37.5 million people, I needed a break. So, I decided to head over to Lake Kawaguchiko, and let me tell you, the moment I got off the bus and took in the fresh air and the cool breeze from the lake, I knew I had made the right choice.
During my time here, I had a blast biking around the lake while listening to some tunes and trying not to crash my bike while dancing. I spent days trying to find the absolute BEST view of Mount Fuji and exploring the old traditional towns near the lake.
I can honestly say that my days in Kawaguchiko were incredibly peaceful and some of my favourite whilst backpacking Japan.
There is so much more things to do near Mount Fuji than meets the eye, and I've come up with the perfect Lake Kawaguchiko itinerary to guide you upon your visit! 
During your backpacking Japan adventure, you'll find numerous places where you can truly connect with Japanese history and culture. Kawaguchiko was one of my absolute favourites.
Sometimes, you may stumble upon exciting discoveries without even realizing it! Back in the 12th century, Mount Fuji was a hub for Buddhism and Shintoism, meaning there were plenty of temples and shrines around Lake Kawaguchiko. There's an unmistakable sense of the sacred drifting through the air.
When you gaze at Mount Fuji, it's hard not to be moved, inspired, and enveloped in tranquility. The mountain stands there so grandly, that it's impossible not to be impressed. It truly is one of the most beautiful places in Japan.
While there are plenty of incredible spots around Lake Kawaguchiko, there are also hidden gems that let you soak in the town's energy and Japan's rich history.
In this article, I've put together an EPIC KAWAGUCHIKO DAY TRIP ITINERARY, but think of it as a starting point. Feel free to add your own favorite spots, mix things up, or skip some places if you're just taking a day trip from Tokyo. There's a little something in this article for everyone.
Many people head to Kawaguchiko as a day trip while backpacking in Tokyo, it is a very common route and relatively easy. But it does involve at least 4 hours of travel in a single day.
You can take a bus from Tokyo Station or Shinjuku Station to Kawaguchiko Station. Reservations can be made online at WILLER or Japan Bus Online. This takes about 2-2.5 hours and costs about $13,30 one way.
You can reach Lake Kawaguchiko from Tokyo's Shinjuku Station by taking the JR Chuo Line. There are two main options:
Direct Limited Express Train: This is the fastest option. The direct limited express train takes approximately 70 minutes to reach Otsuki Station and costs $15.61 for a one-way ticket.
Local Trains with One Transfer: If you choose local trains, it will take longer, around 100 minutes, and involve one transfer along the way. The cost for this route is approximately $8.86 for a one-way ticket.
Once you arrive at Otsuki Station, you'll transfer to the Fujikyu Railway Line, which will take you to Kawaguchiko Station. This leg of the journey takes approximately 55 minutes and costs $7.74 for a one-way ticket.
This trip can be done as a day trip from Tokyo, but if you don't want the extra stress of traveling, stay a night or two and take it easy!
When thinking of where to stay on Mt. Fuji, you've got some cool areas to choose from. First up, there's the Kawaguchiko Onsen area, where you can kick back in traditional Japanese inns, Ryokans, with hot springs (onsens) to soak in while gazing at Mount Fuji – ultimate zen vibes. Ryokans are always a good bet when you're thinking of where to stay in Japan.
Then, there's the Kawaguchiko Station area, perfect if you want to be in the thick of things with easy access to transportation, food spots, and shops.
And if you're the outdoorsy type, Saiko's got your back, a bit further away, but with campgrounds and guesthouses nestled in nature (I heard great things about Cyokiya Lake Saiko).
If you're more into peaceful lakeside moments, check out Oishi Park up north; people flock here for stunning lake views, chill vibes, and the best ice cream shops in town.
So, whatever your jam, there's a spot in Lake Kawaguchiko that'll suit your style. Check out these accommodations and find your next sweet spot!
This accommodation is in an ideal location, right next to Lake Kawaguchiko, with modern accommodations in a historic building.
They have free onsens, which are so relaxing after a long day of walking or biking around the lake! You can also choose between Japanese or Western-style rooms!
This is a luxurious glamping option if you want to feel the natural vibe while still enjoying the comforts of a normal hotel.
They have mountain-view terraces, free WiFi, and bikes.
This is a traditional Japanese-style home, where you can have an authentic experience at a good price.
It's close to the healing village as well as Lake Saiko and Lake Kawaguchiko.
Friendly hosts who make breakfast for you in the morning and help you understand the surrounding areas.
This is one of many K's House hostels around Japan. It's an ideal place for solo travelers and backpackers as it has a very friendly and social vibe.
They offer bike rentals by the day and have great hangout spaces.
When it comes to getting around Lake Kawaguchiko, you've got a bunch of options to explore this peaceful paradise, and they won't break the bank.
Renting regular bikes typically costs around 6,61 to $9,92 per day, while electric bikes might set you back around 9,92 to $16,53 per day. It totally depends on the type and duration of rental. Biking around the lake takes about 3 hours, more or less.
K's House Hostel rented me a bike for $7,94 per day, and I could use it overnight as well. A midnight bike ride under the full moonlight was simply magical. It's a fantastic way to soak in the sights at your own pace without emptying your wallet.
If you prefer a more laid-back approach, hop on the sightseeing bus, usually priced at around 6,61 to 9,92 USD for a day pass.
This convenient option takes you to all the hotspots, including those Insta-worthy Fuji views. The downside of this, though is that you don't have as much freedom to get lost on a bike on the town's many backroads and forest paths.
And for those seeking a deeper immersion in the serene beauty of this place, you always have the option to explore on foot. The most budget-friendly way to go, of course!
If you want to do the loop around the entire lake, this is doable on foot, but it's about 19 km, so pace yourself accordingly!
Start Off the Day on the Panoramic Ropeway
Kick off your Kawaguchiko day trip by by taking a cable car ride to the summit of a 1075-meter-high mountain.
The journey to the mountain's peak lasts about 3 minutes, but the view from the observation deck is freakin' amazing.
From up here, you can not only gaze upon the serene beauty of Lake Kawaguchi but also savor incredible vistas of Mount Fuji and the Southern Alps.
Adding to the feeling of being a kid again, this cable car ride also has a touch of literary charm. It was the setting for the Japanese writer Dazai Osamu's masterpiece, "Kachi Kachi Mountain".
Decorating the cable cars, you'll encounter cute (cute = Kawa-ii in Japanese, you'll hear this a lot!) raccoon, dog, and rabbit decorations. Felt a little like Japanese Disneyland.
Insider Tip: Make sure you go early, as a line forms down the road to get onto the cable car. You don't want to get stuck waiting in this line, especially in the summer heat or winter cold.
Cost – $3,31
How long should you stay – about 30 minutes
Head to the Kawaguchiko Music Forest Museum
Welcome to the Music Box Forest, a very random gem nestled on the shores of Lake Kawaguchi with the magical Mount Fuji standing proud in the distance.
This place is a cultural fusion! It's like being in medieval Europe, but with a Japanese tranquility that will make you scratch your head in delightful confusion.
Within the park, you can stroll through a beautiful rose garden, and there's an opportunity to create your own music box in an on-site workshop!
The Kawaguchiko Music Forest Museum is more than just a museum. It's a journey through time and sound, a place where music and nature come together to transport you to another world.
Oh, and did I mention the grape juice? Seriously, it's like nectar from the heavens.
Picture yourself sipping away while the saxophone serenades you and Mount Fuji stands tall in the background. It's the kind of moment that makes you appreciate the sheer randomness and beauty of travel.
Don't miss this enchanting and slightly surreal musical escape.
Cost: $11.92 for adults and $8.61 for students
How long should you stay – 60-90min
Grab Some Food and Some Photos at Oishi Park
Located on Lake Kawaguchiko's north side, Oishi Park has some pretty jaw-dropping views of Mount Fuji – it's like the mountain's personal portrait studio.
Depending on when you visit, you'll either catch cherry blossoms in spring, lush greens in summer, fiery foliage in autumn, or a snowy wonderland in winter.
You can take a nice walk along the pathways, chill on benches with perfect views, and witness a massive flower garden in full bloom.
If you're feeling hungry (which I definitely was after all that bike riding), you can find cute cafes and restaurants with local treats and cool views.
There are also some ice cream shops with local- flavors. Fuji-apple ice cream anyone?
Personally, I grabbed one of the locally grown peaches and some grapes, sat on a bench, and watched some pretty comical influencer photoshoots. So, whether you're here for a peaceful escape, some killer photos, or just want to hang out with Fuji-san, Oishi Park is where it's at.
Cost

– It's Free

eee!
How long should you stay – 1-2 hrs or grab a book and stay the day!
Explore the Kubota Itchiku Art Museum
The Kubota Itchiku Art Museum is a tribute to the artistry of Kimono master Itchiku Kubota (1917-2003). This museum showcases Kubota's creations, where kimonos transcend clothing to become mesmerizing works of art.
His signature "Itchiku Tsujigahana" dyeing technique blends tie-dye and ink drawing to craft intricate designs, often inspired by nature and Mount Fuji.
I personally grew up loving to tie-dye, and watching his techniques simply blew me away, and gave me some inspiration to pick up the T-shirts again!
Upon entering, you'll be taken to a room where you'll watch a video about his life, his experiences as a war prisoner, and the stories behind his pieces. Make sure you watch the video, as it adds a new layer of depth to the already jaw-dropping pieces.
Besides the stunning kimonos, the museum is an architectural wonder, designed to flow with the earth. You really can't tell where the garden and forest end and the museum begin.
There is also a gift shop where you can buy handmade silk scarves, glass beads, paintings, and artistry of all sorts. If you're feeling thirsty, grab a cup of tea in the traditional Japanese tea house.
Cost – $8.61 for adults and $5.96 for students.
How long should you stay – 1-2 hrs
Take some photos at the Kawaguchi Asama Shrine
You need a good travel camera for this one. TRUST ME!
Kawaguchi Asama Shrine is a beautiful place to see Mt. Fuji, but it also has a wonderful history.
Across Japan, you'll find around 1,300 shrines with the name "Asama," meaning they're dedicated to the worship of volcanoes.
These shrines pay homage to the Shinto goddess who oversees volcanoes, and Mount Fuji herself. Kawaguchi Asama Shrine is one of these.
Dating all the way back to 865, when it was built to calm the fiery temper of Mount Fuji, this was the year Fuji erupted and created the Five Fuji Lakes.
Now, this shrine is a UNESCO World Heritage Site. Make sure you learn more about Shintoism before you head out on your adventure!
Near the main shrine, you'll spot seven ancient Japanese cedars, each with a unique name and an insane lifespan of over 1,200 years. I enjoyed meditating here, as you could really feel the energy of this ancient place.
Two of these trees, standing side by side, are famous for being matchmakers. You can grab some good luck charms representing these trees and give them to your friend who's always swipin' left & right 😉
You can then hike from the shrine to the Torii gate on top of the mountain (about 20 minutes walking) to take an amazing photo and grab some souvenirs. I loved this photo spot because you had a great view of Fuji without the crowds of other more touristy spots.
There is also a waterfall in the area that you can trek to and take a dip in on a hot summer day.
Cost

–

$0.66 to take a photo at the gate
How long should you stay – 1-2 hrs
Rent a Lake Kawaguchiko Sunset Swan Paddle Boat
Renting a swan paddle boat is a must-do experience in Kawaguchiko!
Grab a couple of friends from the hostel and challenge them to a paddle across the lake… I promise you'll have an amazing time. Prices start at around $9.98 for half an hour, making it super affordable.
There are many places offering swan boat rentals along the lake's coast. The best time to do this is to paddle out at sunset and take in the view as the sky turns vibrant colors and Mt. Fuji turns a beautiful dusk-orange.
If you're here at the right time, the seasons change the game, from cherry blossoms in spring to fiery foliage in fall. 30 minutes on the boat is more than enough time, as your legs get tired, and you may get a little wet!
Cost

–

$9.98 for 30 mins
How long should you stay – 0.5-1 hrs
Grab some of the famous Hoko Noodles
Hoto noodles are a famous dish from this region of Japan. These flat wheat noodles are combined with a thick and flavorful miso-based soup, making it the ultimate comfort food.
What sets hoto noodles apart is their unique shape and texture. Unlike traditional round noodles, hoto noodles are wide and flat, resembling thick strips or dumpling wrappers.
This wide surface area allows them to soak up the rich broth, creating a chewy texture.
When I spoke with the local chef, she said the miso-based broth is the heart and soul of hoto noodles.
It's typically made with a combination of local miso paste, dashi (fish stock), and seasonal vegetables.
Common ingredients found in this dish include pumpkin, carrots, mushrooms, and some greens. You can choose which meat to add, duck, beef, pork, and sometimes also horse meat.
Cost

–

$7.95 on average
How long should you stay – 1 hr – check out the gift shop!
Spend a Day at One of Japan's Oldest Villages: Iyashi No Sato
Nestled near Lake Saiko, Iyashi no Sato (which translates to "the healing village") is literally a trip back in time.
After coming from bustling Tokyo, I desperately wanted to experience traditional Japan and get a taste of what it used to be like. This was the place!
Some of the houses are turned into museums and others offer classes like pottery workshops, making handmade paper, and seeing how they make hand-woven cloth. For an artsy craft lover like me, this was heaven.
And if you've ever dreamed of wearing a kimono, you can rent them for $3.31 per day.
When hunger calls, there are three charming local restaurants that serve up authentic dishes like soba noodles, udon, or dumplings.
The backdrop of the surrounding mountains adds an extra layer of serenity to the experience.
Cost

–

$2.32 but extra cost varies depending on what you decide to do
How long should you stay – 2-4 hours
Hike Mt. Fuji
Tackling Mount Fuji, Japan's iconic volcano, is on every Japanese backpacker's bucket list. It's also home to one of Japan's wonderful national parks. It is no small feat, but with the right planning and a sprinkle of determination, it can be an AMAZING adventure.
First things first, pick the right season. The official climbing season is from July to September when the snow has melted and the trails are accessible.
Start your trek during the afternoon or early evening to time your summit for sunrise. Most hikers take the Yoshida Trail from the 5th Station, which is the most accessible starting point.
As you ascend, be prepared for a variety of terrain – gravel, rocky paths, and even wooden boardwalks in some sections.
There are ten mountain huts along the way where you can rest, refuel, and even catch some z's if needed. These huts provide simple meals, hot drinks, and a place to rest, but don't expect luxury accommodations – it's all part of the experience.
You can book your Mt. Fuji accommodation and find out more practical info on climbing Fuji-san.
As you inch closer to the summit, the air gets thinner, and you might start feeling the effects of altitude. Take it slow and steady, and don't be afraid to take breaks. The sight of a breathtaking sunrise from the summit makes every step worth it.
Once you've savored the view and snapped a few pictures, it's time to head back down. Be cautious during the descent, as it can be just as challenging as the ascent. Take your time, especially on the loose scree. Watch your knees and bring a hiking stick if possible!
Fuji-Q Highlands
One of the best things to do near Mount Fuji is to visit Fuji-Q Highland. It's a renowned amusement park located at the base of Mount Fuji. It is known for its thrilling rides and stunning views of the iconic Mount Fuji.
The park is home to some of the most famous and intense roller coasters in Japan. It features "Eejanaika," a 4D roller coaster that flips riders head over heels, and "Fujiyama," once the tallest and fastest coaster in the world.
In addition to the rides, there are also more family-friendly attractions such as carousels, Ferris wheels, and water rides. It also has dining options, souvenir shops, and entertainment shows.
The best time to visit Lake Kawaguchiko in Japan largely depends on your preferences and what you hope to experience.
Each time of year has its unique appeal, so choose the one that aligns with your interests and expectations for your visit to Lake Kawaguchiko. Just make sure you pack accordingly for each season. Check out our What to Pack for Japan guide for more tips!
Spring, from late April to early June, is a fantastic time for cherry blossoms in the area, creating a beautiful scene. The weather is generally mild and pleasant during this season.
Summer, from June to August, is great for hiking and outdoor activities, with warmer temperatures and lush green surroundings.
If you want to capture the iconic reflection of Mount Fuji on the lake, early morning and late autumn, from September to November, are your best bets. The crisp autumn air and fewer crowds make it an ideal time for peaceful contemplation.
Winter, from December to February, offers a unique charm with snowy landscapes and even opportunities for ice skating, but keep in mind that some attractions may be closed during this season.
Coming prepared is one of the most important parts of traveling, no matter where you want to go.
Layer up! It can be scorching in the day and chilly and breezy in the evenings, so make sure you layer up and pack smart.
Stay safe and sound. Japan is known to be an extremely safe country. However, it's a good idea to follow some tried-and-true safety tips. As you are likely traveling in a foreign country, ensure you have access to emergency numbers in case of an accident or problem. It's also always a good idea to have travel insurance in the event of a problem.
To enjoy your Kawaguchiko itinerary to the fullest, keep these Japan travel tips in mind and enjoy safe travels!
Don't Forget Travel Insurance!
Japan is a safe country to visit. But, besides, you can't plan for everything. Believe me, if things don't go according to the plan, solid Japan insurance is invaluable.
ALWAYS sort out your backpacker insurance before your trip. There's plenty to choose from in that department, but a good place to start is Safety Wing.
They offer month-to-month payments, no lock-in contracts, and require absolutely no itineraries: that's the exact kind of insurance long-term travellers and digital nomads need.
SafetyWing is cheap, easy, and admin-free: just sign up lickety-split so you can get back to it!
Click the button below to learn more about SafetyWing's setup or read our insider review for the full tasty scoop.
Chances are, when you think of Japan, Mount Fuji pops into your mind – the majestic, snow-capped, and iconic symbol of the land of the rising sun.
Lake Kawaguchiko is a hidden gem in Japan that offers a serene and refreshing escape from the bustling city life of Tokyo. It has the MOST stunning views of Mount Fuji in all of Japan.
You truly can never get bored here, biking, exploring traditional towns, eating apple ice cream, and wandering through intriguing museums.
My time at Lake Kawaguchiko was filled with peace and unforgettable moments, making it one of my favorite experiences during my backpacking journey through Japan.
So, if you're looking for a place to unwind and connect with nature, don't miss out on the beauty and serenity that this magical place has to offer.
---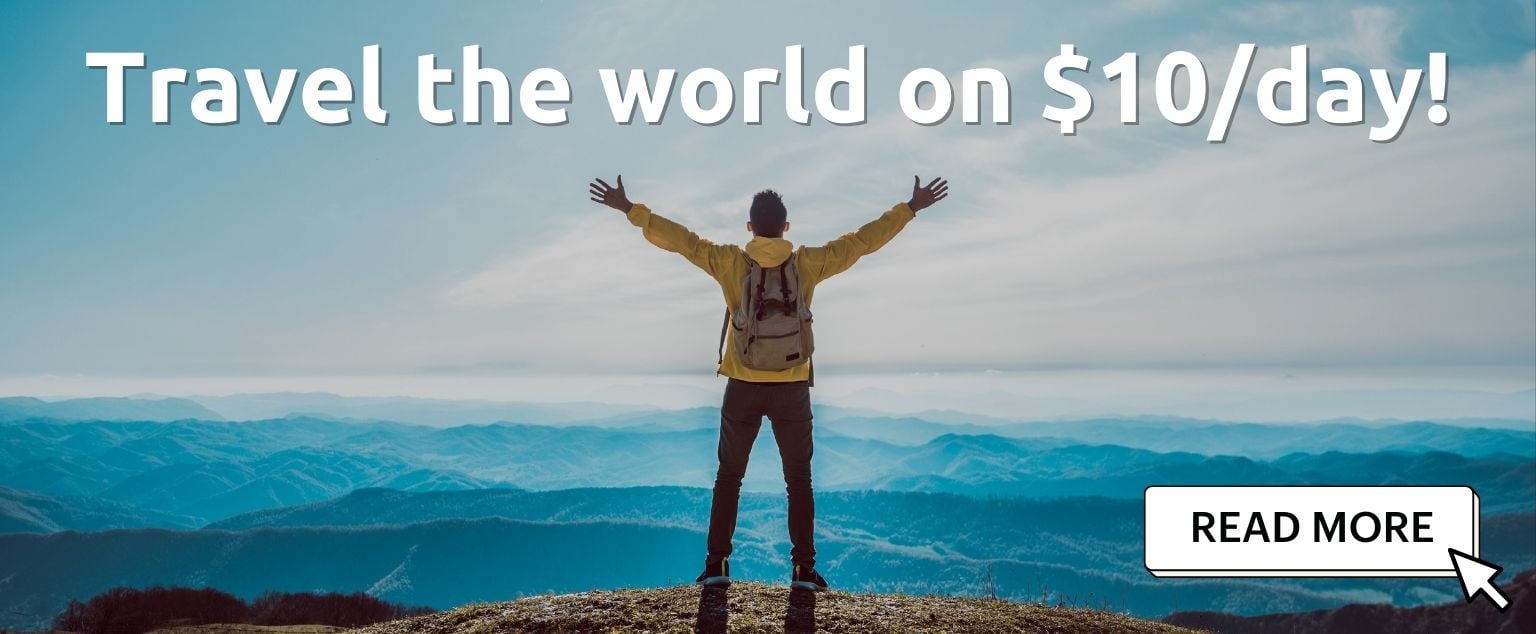 And for transparency's sake, please know that some of the links in our content are affiliate links. That means that if you book your accommodation, buy your gear, or sort your insurance through our link, we earn a small commission (at no extra cost to you). That said, we only link to the gear we trust and never recommend services we don't believe are up to scratch. Again, thank you!