Tokyo is possibly the coolest, most futuristic city in the world and is a must-visit city for any traveler. But as the largest city in the world, Tokyo is absolutely HUGE, and choosing where to stay can be tough.
Which is exactly why we've broken down the 5 best hostels in Tokyo.
With the help of this article, you'll see all of the best Tokyo hostels, and pick the one that best suits your travel-style.
So whether you are looking to party like a rockstar, or get some much-needed sleep we have it. This ultimate guide to to the best and cheapest hostels in Tokyo will show you the best options in the mega-city so you can focus on what matters – exploring!
Quick answer: The Best Hostels in Tokyo

Do You Want to Travel FOREVER??
Pop your email in below to get a FREE copy of 'How to Travel the World on $10 a Day!'.
What to Expect from Hostels in Tokyo
Backpacking Japan can get expensive quickly, which is exactly why staying in hostels is so essential to stick to a tight budget. Booking a Tokyo hostel might not be for everyone, but it definitely comes with a lot of perks. The most obvious one is the incredibly affordable price. You're paying around half as much for a bed in a hostel than a basic room in a hotel.
But the main reason why you'll want to stay at a hostel while traveling in Tokyo is the super friendly and social vibe. You can meet new people, connect with other travellers and share travel tips and experiences which might make your trip to Tokyo even better.
Japan also offers a unique hostel-style that you can't really find anywhere else in the world. The so-called Pod hostels or Capsule hostels rent private beds instead of private rooms. So forget the idea of boring old bunk beds because Tokyo hostels offer much more!
Think of it as a bunk bed, just more modern and with a blind or door that you can close completely so it creates a small but private space. Since these hostels are relatively new, you can expect individual amenities like private TV's, charging stations, air conditioning or built-in lockers. They've now become part of Japanese culture!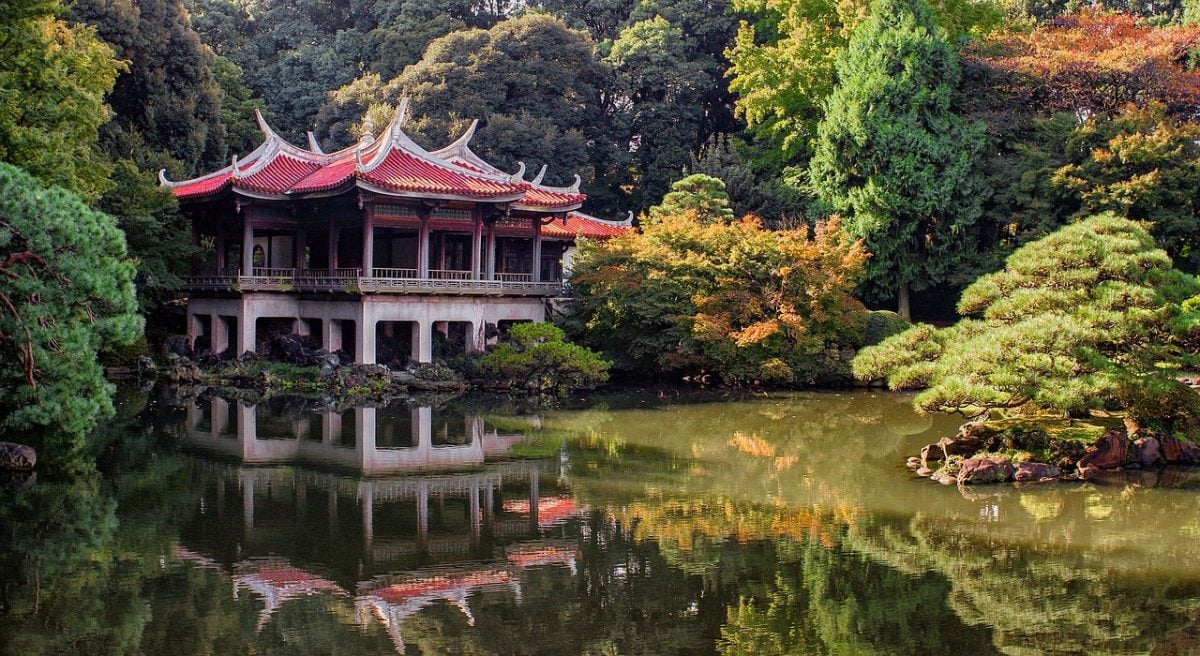 We've mentioned the affordable prices of hostels above, but let's have a more detailed look at where to stay in Tokyo.
The general rule is: the bigger the dorm, the lower the price. Private rooms are often twice as expensive as a bed in a dorm, but they come with great amenities and are still cheaper than a hotel. You can always check out Tokyo's Airbnbs if you want some more privacy.
Check out the average price range for hostels in Tokyo below:
Private rooms: $28-42/night
Dorms (female-only or mixed): $14-19/night
Sleeping Pods: $16-22/night
When looking for a hostel, you'll find most hostels on HOSTELWORLD. There you can check out photos, detailed information about the place, and even reviews from previous guests. Just like other booking platforms, each hostel will have a rating, so you can easily pick out the hidden gems!
Tokyo is a massive city, but luckily, it's very easy to get around. The public transport system is super reliable and efficient, but you still have to figure out where to stay in Tokyo before you book your hostel. To make the decision a little bit easier for you, we've listed the top three neighborhoods in Tokyo.
Shinjuku – in the heart of the city, this area is especially great for first-time visitors. As close to a city center as you'll get.
Asakusa – perfect for low-budget travelers, this area is perfect for anyone that has to watch their expenses when visiting Tokyo.
Roppongi – Pulsating, vibrant, and electric, this is one of the best places to stay in Tokyo for a diverse, fun, and cool night scene. Great for solo travelers.
Once you've decided on what you want to explore in Tokyo and where you'll base yourself, it's time to have a look at the best hostels in the city.
The 5 Best Hostels in Tokyo
These are some of the top-rated hostels in Tokyo. For backpackers in Tokyo, these are the go-to choices of places to stay.
I've separated them into different categories based on your preferred travel preferences so you can choose the best hostel in Tokyo based on your needs.
Whether your preference is being close to Narita International Airport or the city center, there's a Tokyo hostel for you!
1. Overall Best Hostel in Japan – UNPLAN Shinjuku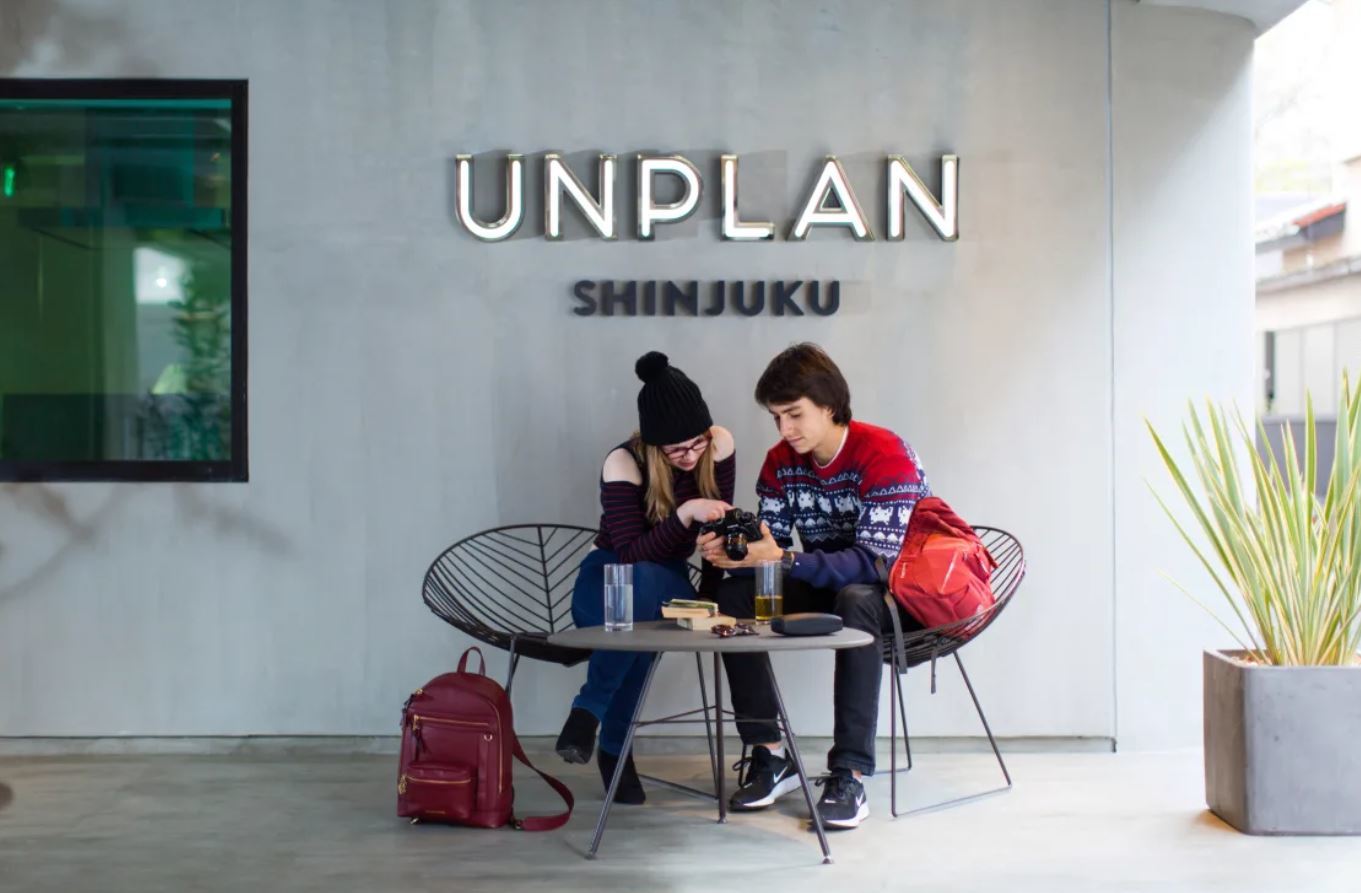 Brilliant Location
Bicycles for Hire
UNPLAN Shinjuku is our number one best Tokyo hostel and our number one best hostel in Shinjuku! It's one of the cheapest hostels in Tokyo, thanks to its convenient location and great value for money. It's flashy, modern, and pimped out for all a Tokyo backpacker needs.
The bar area is beautiful, the restaurant on site serves great food, the staff are friendly, and it's located right next door to the Sensiji temple – a lovely area of Tokyo. Overall, this is one of the best hostels in Japan for its great location, social atmosphere, and awesome bar area. It's a great hostel for solo travelers visiting Tokyo and those wanting to experience Japanese culture.
Why you'll love this hostel:
Capsule dorms
Rooftop
Free Breakfast
UNPLAN Shinjuku is actually a copy from the original hostel. Since the first one was such a success, the owner decided to open another one exactly like the first one. It's been an epic Tokyo hostel for travelers ever since. The doors opened in 2019, so you can still find brand-new amenities inside.
All rooms are bright and spacious. The dorms offer capsule bunk beds with private curtains so you can enjoy quite a bit of privacy. You can find a charging station and a little hanger for your clothes in your capsule too.
If you're traveling with a friend (or even multiple friends), you can book a private room. The hostel offers private rooms with the capacity for up to 4-5 hostel guests.
To socialize, you can head up to the rooftop and enjoy the afternoon sun with a tasty drink in your hand. Since you'll be staying in Shinjuku–the heart of central Tokyo–it'll be very easy to get around and explore the area. Grab one of the free city maps from the reception before you head out as well!
2. Best Hostel for Digital Nomads in Tokyo – Citan Hostel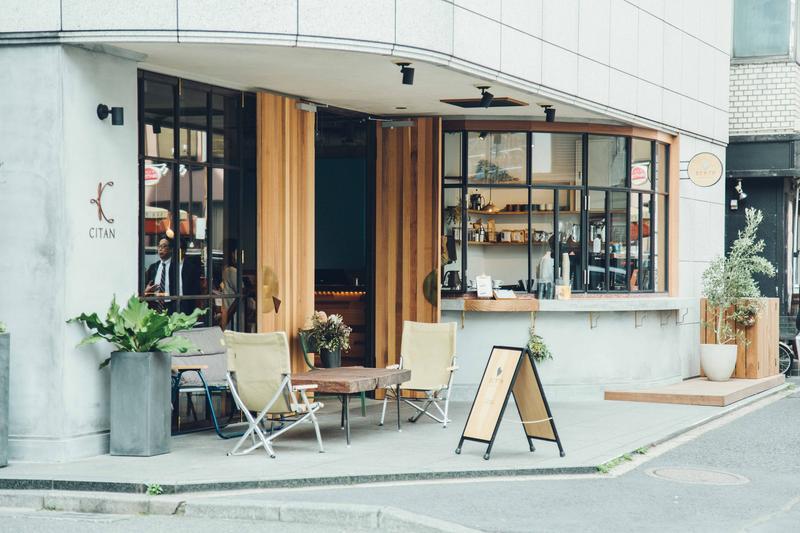 Laundry Facilities
Restaurant, Bar, & Cafe on-site
Citan Hostel is a seven-story hostel, located in the Nihonbashi Area of Tokyo. The hostel has its original coffeeshop, Berth Coffee, on the first floor, and the bar and dining restaurant on the basement floor. It's a great hostel for digital nomads because of its fast, free WiFi and superb cafe.
They have great staff, and their rooms and washrooms are extremely clean. Citan is not in the most convenient neighborhood nor as close to the nightlife and other accommodations in Shinjuku, but they are close access to multiple public transport lines. Metros run until 12:30 AM.
Why you'll love this hostel:
Basement lounge
DJ nights at the bar
Edgy and industrialized design
There's really no reason why you wouldn't love this hostel. The modern design is super welcoming and the minimalistic industrial design in the dorms really gives this hostel a timeless vibe. If you're looking for a bit of an edgy place to stay, you've just found the right one.
While it might not be located in the busiest area of Tokyo, you'll still get the chance to have a good night. There's a basement lounge that offers a great bar, regular DJ performances and a very mature and grown-up vibe. If you want to enjoy some tasty drinks and dance your feet off without getting squished by sweaty strangers, you'll love this hostel.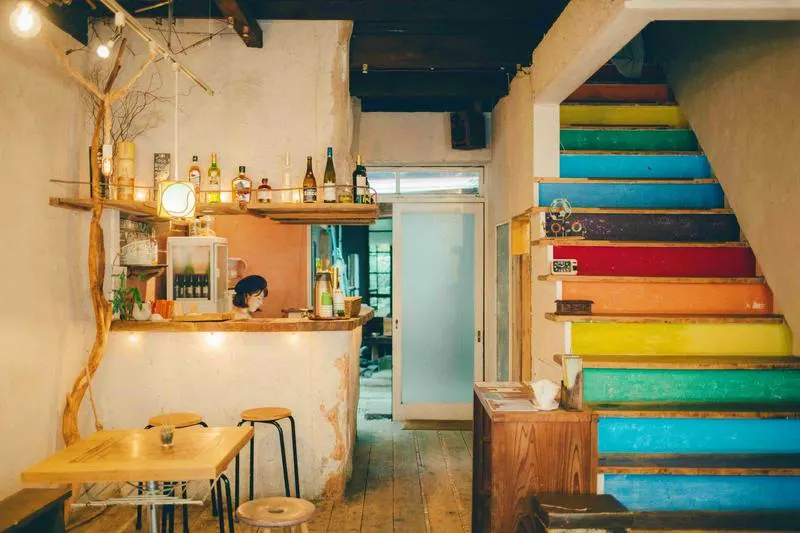 Japanese style rooms
Convenient location
Want to experience Japanese culture by staying in a traditional-style room? This hostel allows you to do just that! Toco Toyko features a unique design that you won't find anywhere else in the city! Both wooden bunk beds and serene private rooms are available on offer.
Aside from its incredible design, this Tokyo hostel also has a bar lounge. Built in 1920 and located in the Iriya Area of the city, there's nowhere else in Tokyo where you'll find a cultural and social atmosphere quite like this one!
Why you'll love this hostel:
Koi pond
Japanese garden
Convenient location
Choose between a standard mixed-bed dorm or a female-only dorm and mingle with fellow travelers over a drink. The staff are incredibly friendly and welcoming, and the hostel prices aren't too bad for a city like Tokyo!
The grounds are yet another incredible aspect of this hostel: they've somehow managed to create a Japanese garden complete with a koi pond! They also have an incredible, elaborate map that travelers consistently rave about.
They even give out a free drink to travelers every night–it's no doubt one of the coolest hostels in Tokyo, and one of the most interesting places to stay in Japan!
4. Best Cheap Hostel in Tokyo – Hostel Bedgasm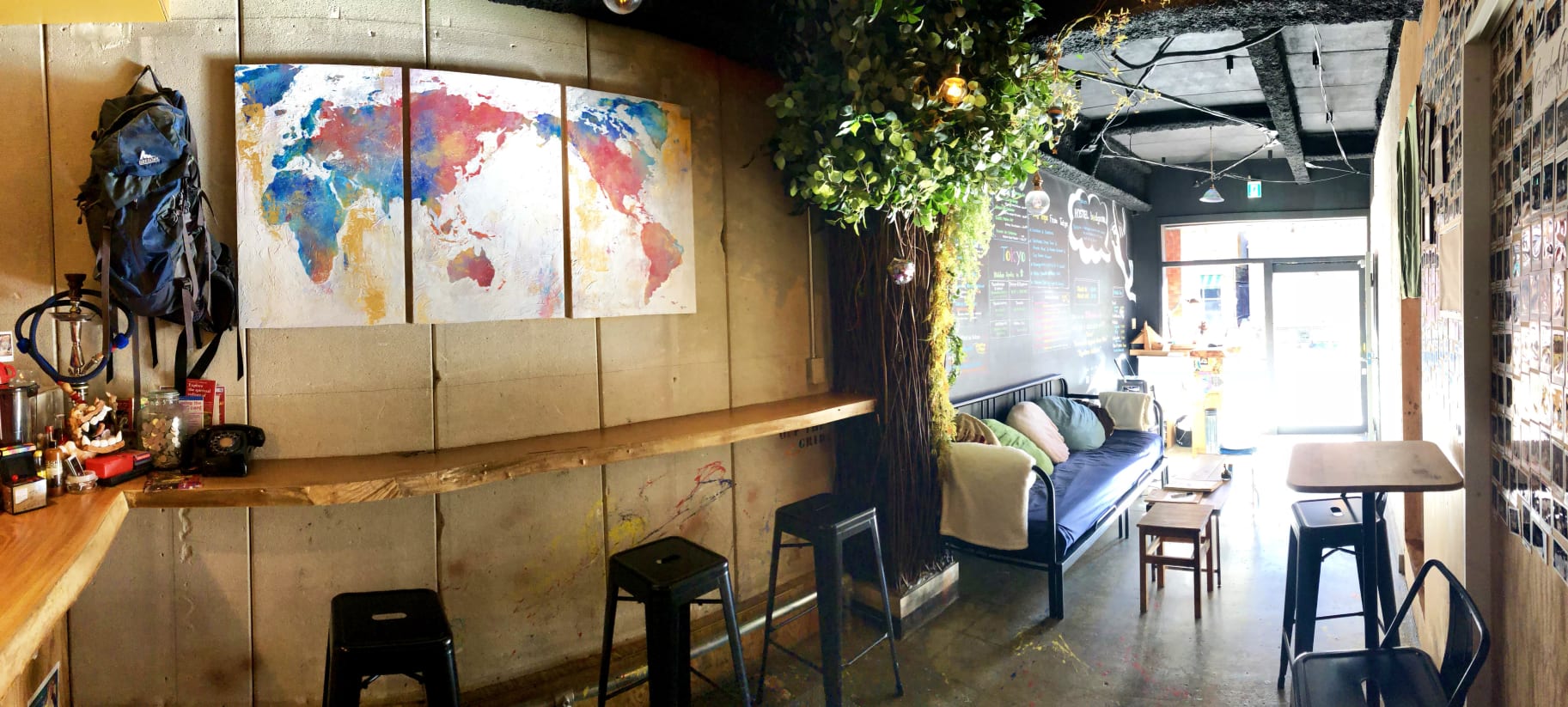 Yes, Japan is expensive, but places like this make it a lot easier to stick to a backpacker's budget.
The best cheap hostel in Tokyo is definitely Hostel Bedgasm. Despite being one of the most affordable hostels in the city, Bedgasm still has all the essentials backpackers want and need. A rooftop, on-site bar, and colorful design are just a few reasons to book yourself a bed!
Previously voted as Tokyo's best hostel, it's located in Shitamachi and is within walking distance of cheap public transit.
Why you'll love this hostel:
Air conditioning
Social vibe
Free drinks
The fantastic bunk beds didn't leave anything out: you'll have plenty of storage space, privacy, and lighting! The hostel has both 8-bed female dorms and 10-bed mixed dorms, in addition to a few different types of private room options.
Rooms and bathrooms are super clean, and Bedgasm is conveniently located close to Iriya Station, meaning it won't be too hard to get anywhere on your Tokyo itinerary. All for less than virtually any other hostel in the city!
Free WiFi
Co working space
A weekend partying in Tokyo is something else. If you want to stay at the best party hostel in Japan, get yourself a bed at Nui Hostel.
The hostel is a trendy space where you'll be able to meet both fellow travelers and local Japanese people. Right in front of the Sumida River, the hostel is only a short walk away from Asakusa Station.
Why you'll love this hostel:
Social atmosphere
Cafe/bar
Modern aesthetics
Featuring earthy tones and a minimal feel, Nui has an epic cafe that turns into a bar at night. There are various types of double rooms to choose from, and both mixed and female-only dorms.
This amazing hostel is also close to the famous Asakusa Sensoji Temple, as well as many worthwhile restaurants and bars. As there's also a bar inside the building, you can keep your night going (and get it started) easily.
But what truly makes NUI. Hostel one of the best hostels in Tokyo is its social atmosphere and cafe & bar, where you can meet Japanese locals and travelers alike. They also have a more relaxed common room on the sixth floor.
Is This the Best Backpack EVER???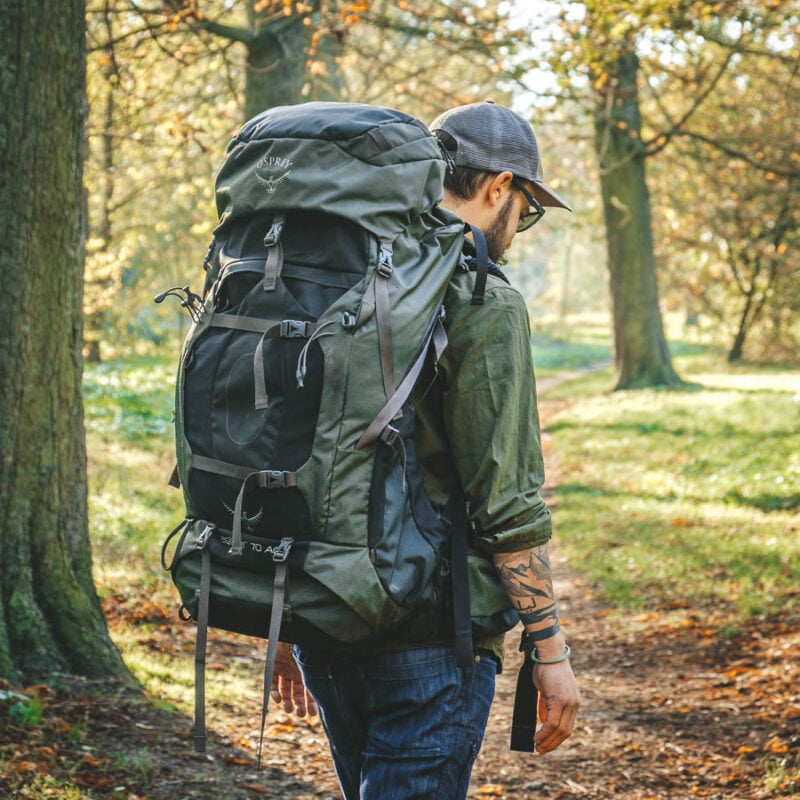 More Awesome Hostels in Tokyo
And here are some more epic Tokyo hostels to choose from!
Just make sure you stay somewhere close to the action: there are so many awesome places to visit in Tokyo!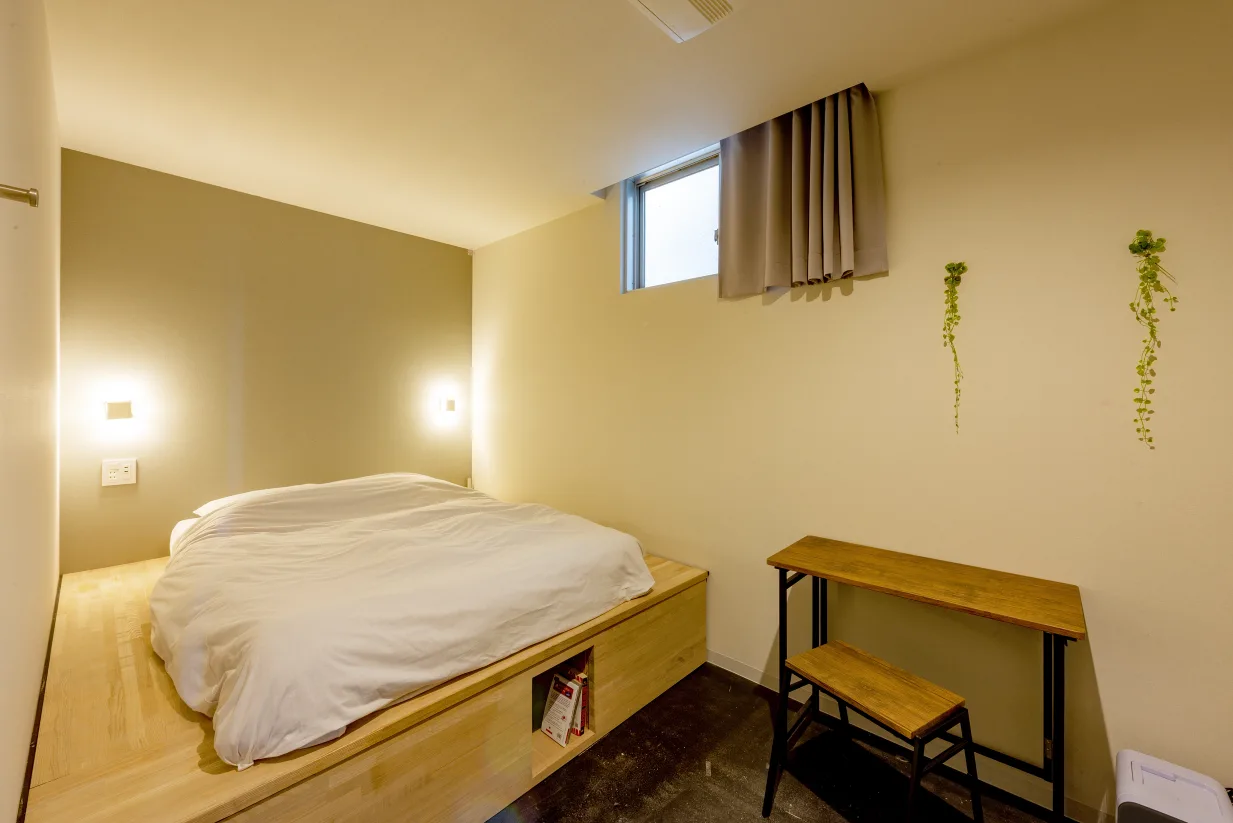 Convenient location
Very clean
This iconic garden-themed hostel is one of the coolest in the city–it ONLY has private rooms! Amazingly, Plat Hostel has managed to keep its hostel prices affordable while giving travelers superb comfort for less.
Unlike any other Tokyo hostel, this one ONLY has private rooms, which is perfect for traveling couples or anyone who loves their personal space. The metro is within walking distance, and the entire space has a minimalist garden theme!
Best Hostel for Couples in Tokyo – Juyoh Hotel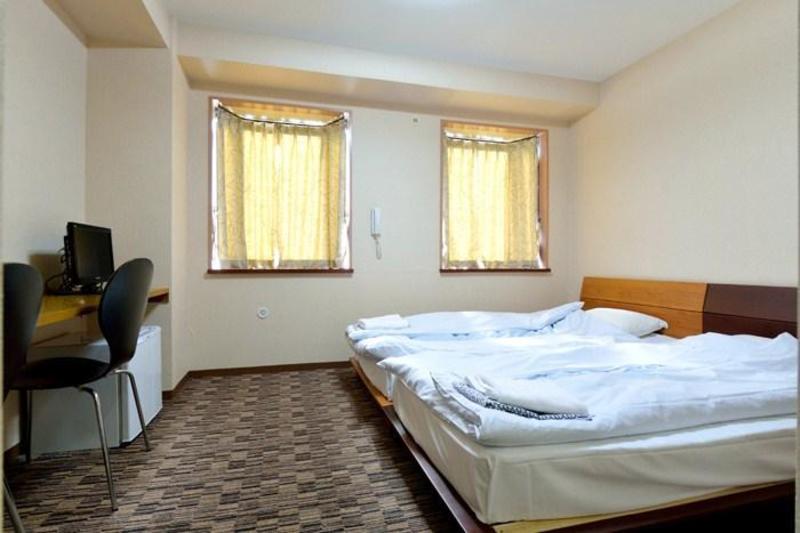 Free Kitchen use for guests
Affordable
Juyoh Hostel has two common areas and several very reasonable private rooms considering the hostel prices in Tokyo. This cozy hostel has clean bathrooms and great facilities. The location isn't very central, and a full 15min walk to the nearest station, but the area is local and authentic. Bear transport in mind though if you're headed to Tokyo Haneda International Airport though.
It's a great spot for couples since you won't find a more affordable private room in such a central area. Other private rooms at other hostels around Tokyo city are much pricier. This is the best hostel Tokyo has for couples.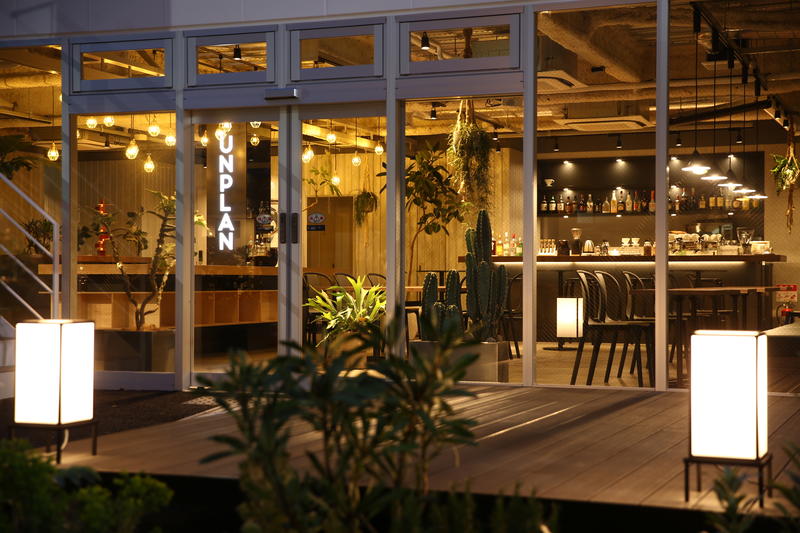 Free WiFi
Central location
There are many great hostels in Shinjuku, so the key is to stay nearby. Unplan Kagurazaka is conveniently located in the center of Tokyo, and is one of the best hostels in Tokyo because of its convenient location. They are 8 minutes to Tokyo Station, 15 minutes to Shinjuku, 18 minutes to Roppongi, and 20 minutes to Shibuya or Harajuku.
Unplan Kagurazaka provide free breakfast for guests from 08:00 to 10:00, which includes bread, eggs, and coffee, and they have a nice local cafe. Dorm beds are extremely comfortable capsule-style beds in 40-person dorms, and the rooms have outdoor terraces.
There's also a kitchen! But we recommend you take a Japanese cooking class and come back and blow your new mates' collective minds.
Overall, it's a central location, and a clean modern hostel, but a bit on the pricey side compared to the other choices of Tokyo's hostels on this list.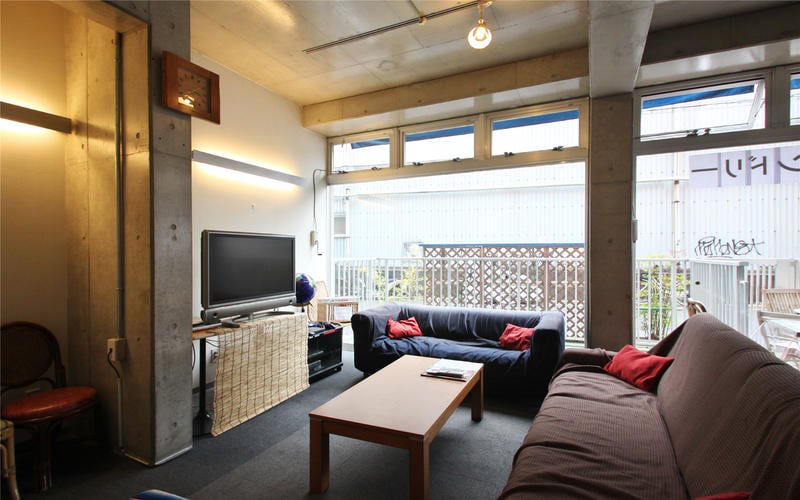 $$
Guest Kitchen available
Free WiFi
24-hour reception
The sakura hostel has great staff that are really knowledgeable about the local area, and it's a clean hostel with comfortable beds too. It's not as private as other Tokyo hostels, but the common area is known to be social with a lot of friendly backpackers and a great atmosphere.
At Sakura Hostel, you are 5-10 minutes from Asakusa Station, and there are some nice places to eat and shop nearby. If you are looking for the main nightlife spots of Tokyo, however, they are about 40 minutes away. The hostel offers activities every week, including a Geisha night show, sumo tournament event, walking tours, and private calligraphy or sushi roll cooking lessons.

Unlock the The Broke Backpacker's GREATEST Travel Secrets!
You pop your email here, and we promise to send you only travel content that's actually relevant — sounds like a pretty good deal to us!
FAQ's on Hostels in Tokyo
Booking a hostel in a big city is never easy. Depending on your travel style, you'll have different preferences so not every hostel will fit your travel needs. We've answered some of the frequently asked questions on hostels in Tokyo so booking will be a breeze for you.
Getting Insured BEFORE Visiting Tokyo
While Tokyo is very safe, it's always a good idea to plan ahead!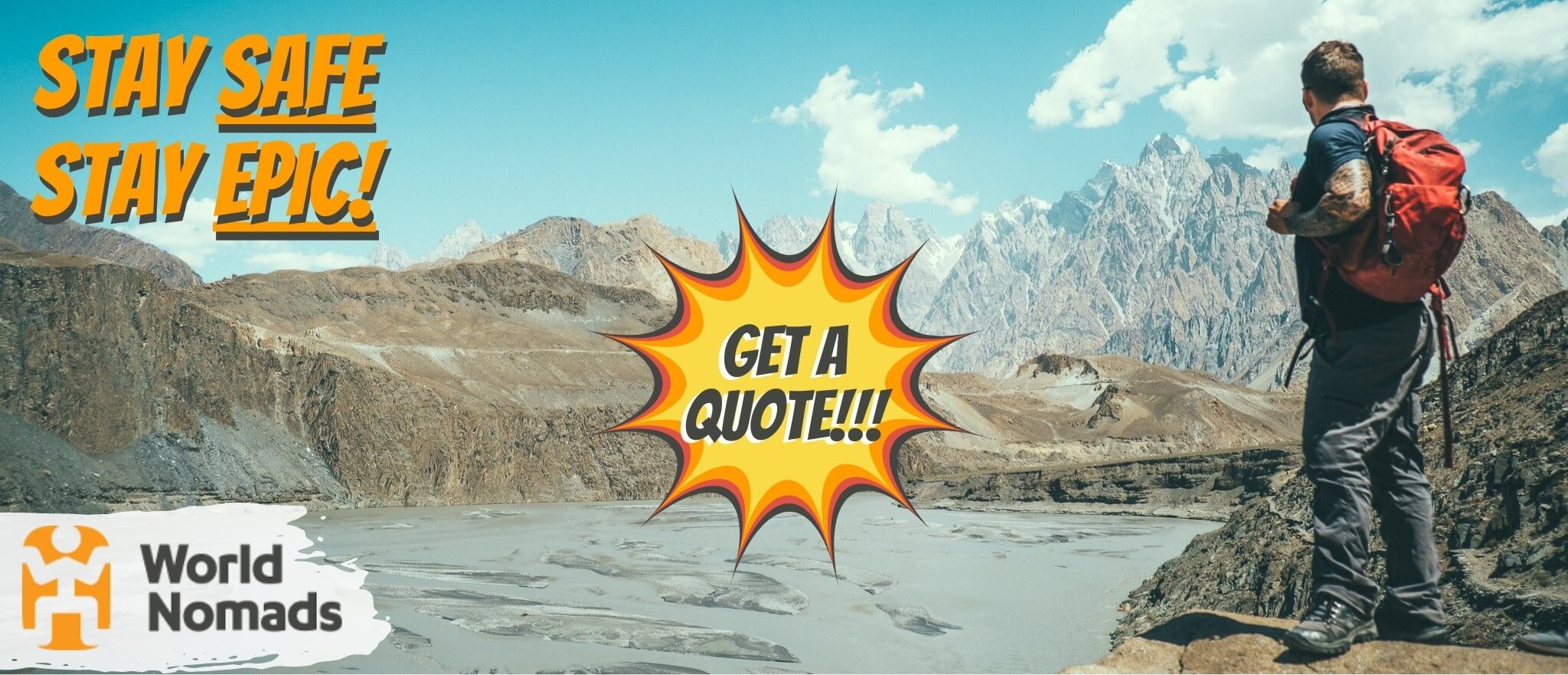 World Nomads' mission is to support and encourage travellers to explore their boundaries. They offer simple & flexible travel insurance, and safety advice to help you travel confidently.
They've been doing it since 2002 – protecting, connecting, and inspiring independent travellers just like you.
Get a quote below or read our in-depth review!
Final Thoughts On The Best Hostels In Tokyo
Given its size, accommodation options in Tokyo are literally endless.
Tokyo's hostel game is quite strong, and while you can't go wrong, due to its design and location, we highly recommend UNPLAN Shinjuku (but you truly can't go wrong with any of the hostels on this list).
By now I hope our epic guide to Tokyo's backpacker hostels has helped you choose the perfect pad for your adventure!
Last Updated October 2022 by Samantha Shea
---
Bye for now, but not forever!
If you want MORE top-tier Broke Backpacker content like this, then sign up for our weekly newsletter below to get the latest and greatest!
And for transparency's sake, please know that some of the links in our content are affiliate links. That means that if you book your accommodation, buy your gear, or sort your insurance through our link, we earn a small commission (at no extra cost to you). That said, we only link to the gear we trust and never recommend services we don't believe are up to scratch. Again, thank you!