Working holidays abroad are a dream scenario for travel addicts. Normally our mind jumps to well-known destinations such as Australia and New Zealand. Did you know about working holidays in Japan?
You can fulfil that life-long dream of traveling around Japan long-term, with the added bonus of not depleting your hard-earned cash!
Japan is known worldwide for its amazing culture, jaw-dropping landscapes, next-level cities, and of course, its mouth-watering cuisine. Imagine spending a year abroad, chowing down on authentic Katsu, and admiring the cherry blossoms while they're in season.
You'll not only have the time of your life (this I can guarantee) but you'll make life-long friends, learn about a new culture like never before, and probably learn some valuable life skills while you're at it too.
If this sounds like something you'd be up for, then keep on reading. We've got an article choc-full of tips, handy bits of info, and even options for some great working holidays.

Do You Want to Travel FOREVER??
Pop your email in below to get a FREE copy of 'How to Travel the World on $10 a Day!'.
Taking a Working Holiday in Japan
Japan has a working holiday agreement with several countries. If you're a citizen of one of the lucky nations then rejoice, because the process is easy as matcha cream pie, and you can find yourself with sexy travel job whilst being fully immersed in Japanese culture!
More often than not, we limit ourselves by thinking that working holidays are only for gap year students or new graduates. This couldn't be farther from the truth. If you're tired of your mundane job or just want a little breather for a year, then taking this kind of trip could be just the ticket. Grown up gap years are becoming more and more popular.
Working holidays abroad are an amazing choice for people who want to experience a country long-term, but are a bit strapped for cash to simply lounge around for an easy gap year in Japan (a girl can dream). The beauty of this kind of trip is that you'll be making money as you go, so you don't have to worry about having mega savings in the bank.
Best of all, your weekend and days off will be spent doing all the fun stuff. Imagine heading to the mountains for a short ski trip over winter, or relaxing in a Japanese onsen? Yes, yes, there will be some serious work going on too, but hey, if you could go away for up to a year, isn't it worth it?
What kind of work could you be doing? Well, there are loads of opportunities available with only a small number of prohibited jobs. The most popular working holiday jobs are low-skill work such as waiting tables in a restaurant, working in sales, or in the hospitality industry. But teaching English in Japan is also very common. Some people even use their time to focus on learning Japanese, enrolling in lessons and courses.
This may all seem like a bit much, taking the leap and moving abroad can be a bit scary after all. But to ease your anxiety, there are some fab agencies out there to hold your hand throughout the entire process.
Worldpackers is an online company that connects travelers with foreign volunteer hosts who then work in exchange for housing. That being said, Worldpackers does do more than just connect volunteers to hosts. It offers a plethora of additional resources, a great support network, a blogging platform for collaboration, and a whole lot more.
Sounds pretty rad, right? But wait, there's more!
According to their mission statement, Worldpackers is "a community based on collaboration and honest relationships that make travel more accessible to those seeking a profound cultural experience." They value environmentalism, authenticity, growth and working together above all else and make a great effort to provide the best experience possible.
And even better – Broke Backpacker readers get a special discount of $10! When you use our special hookup, it makes even more sense to pay. Just use this Worldpackers discount code BROKEBACKPACKER and membership is discounted from $49 a year to $39.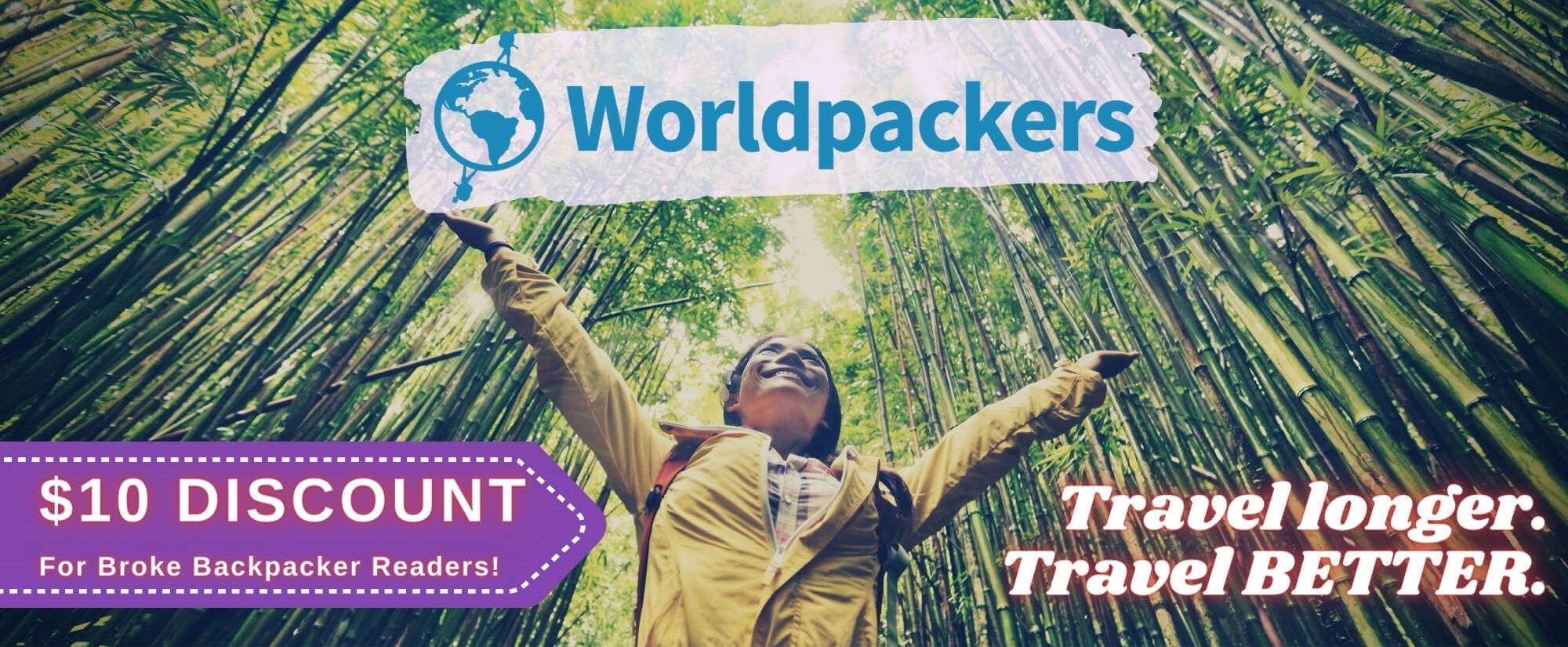 Worldpackers: connecting travellers with meaningful travel experiences.
Go with Global Work and Travel
Here at The Broke Backpacker, we are all about Global Work and Travel. These guys ROCK! They are really trustworthy, truly care about your experience, and will give you assistance to make sure your working holiday in Japan is top-notch!
It's got a bit of a different approach than Worldpackers, but it offers JUST as many amazing opportunities for travellers.
It provides working holidays, teaching abroad, volunteering, au pair and student internship packages. On top of that, the agency plans, sorts and assists with visa requirements, connections to local businesses, accommodation search and job interviews.
Most products even come with flights and basic medical insurance, a 24/7 Emergency line and payment plans.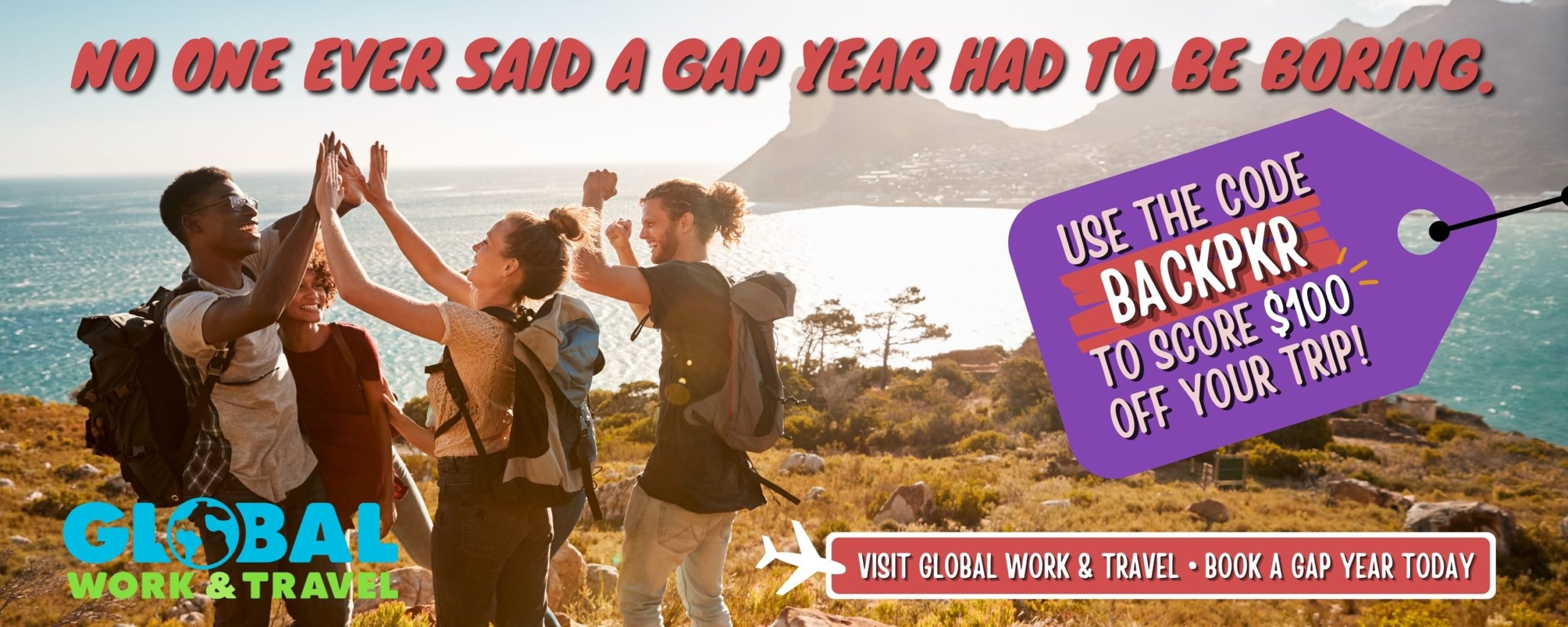 Top 5 Tips for a Working Holiday in Japan
Yes! You're really really thinking about leaving it all behind and setting up in Japan for a while! What else do you need to know? Here are my 5 top tips to see you through:
Know the duration of your stay. It's a good idea to know roughly how long you plan on being in the country. If you only have time for a couple of months, a tourist visa will be a better fit for you, especially since in Japan, you will struggle to find short-term jobs. Citizens of certain countries have the option to extend their stay after an initial 6-month period.
Getting the correct visa. If you are some of the lucky countries that are a part of the Japan working holiday visa programme, then applying for this visa is THE best choice by far – unless you are only going for a short while. If you are not eligible, you could consider teaching English in Japan using a work visa, studying on a student visa and working part-time, or just visiting Japan on a tourist visa.
Finding accommodation. Accommodation in Japan, especially Tokyo can get pretty pricey. For some types of jobs such as teaching or working in a ski resort, you may get assistance with finding discounted accommodation, but otherwise, the search will fall to you. A great option to save on housing costs is to think about shared houses. These are quite popular in Japan amongst young people (both locals and foreigners). Tokyo Share House is a great place to look, but bear in mind that some of these houses can have up to 30 people living in them!
Have a rough plan. Unlike the road trip culture of an Australia or even New Zealand working holidays, you will find it difficult to find short-term employment in Japan. If you want to use your Japan working holiday visa to explore the country, I'd recommend shooting for no more than four places/employers within a year.
Exploring the country in your free time. You didn't come all the way to Japan just to stick to one area. You came to explore, and by far the best way of doing that is by train. Japan is one of the few countries worldwide that have bullet trains between major cities – these trains are ridiculously fast, with some clocking up speeds of up to 320 kilometers an hour! The Japan rail network is extensive with high speed, and local trains. I really recommend getting the Japan Rail Pass if you're planning to travel around the country a bit. This pass is only available to non-Japanese passport holders and will save you a load of money.
The Future of the SIM Card is HERE!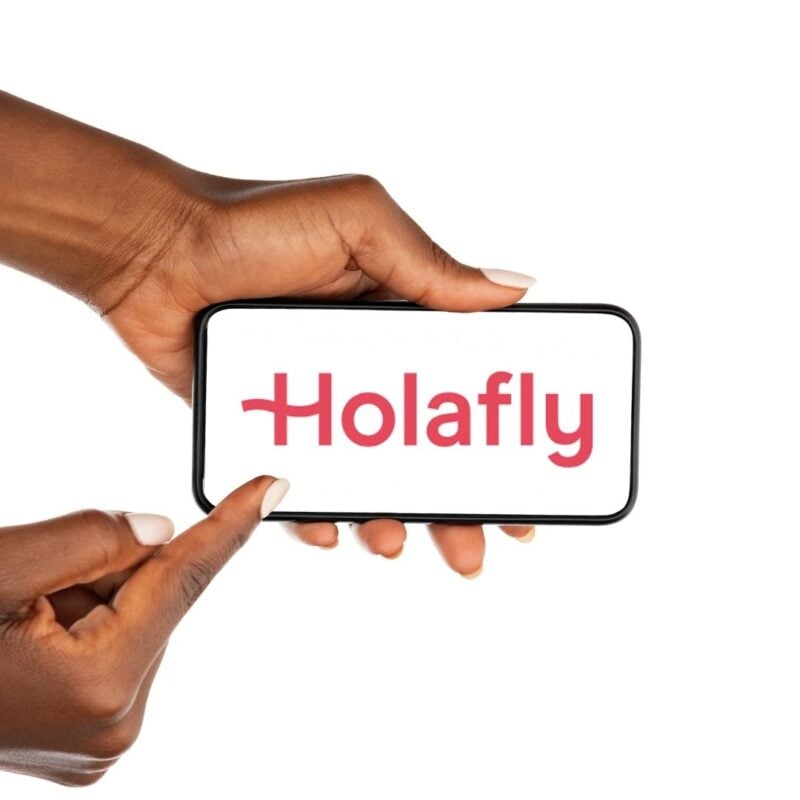 A new country, a new contract, a new piece of plastic – booooring. Instead, buy an eSIM!
An eSIM works just like an app: you buy it, you download it, and BOOM! You're connected. It's just that easy.
Is your phone eSIM ready? Read about how e-Sims work or click below to see one of the top eSIM providers on the market and ditch the plastic.
Grab an eSIM!
Japan Working Holiday Visas
You've probably gathered by now that, like most working holidays abroad, there are conditions when looking to move to Japan on this kind of visa. The country has a working holiday agreement with several countries, with some general criteria, although some countries have slightly different rules. The countries eligible are Argentina, Australia, Austria, Canada, Chile, Czech, Denmark, Estonia, France, Germany, Hong Kong, Hungary, Iceland, Ireland, Lithuania, Netherlands, New Zealand, Norway, Poland, Portugal, Republic of Korea, Slovakia, Spain, Sweden, Taiwan, and the United Kingdom.
As well as being a citizen from one of these countries, you'll also need to be aged between 18 and 30 years old, although for Australia, Canada, and the Republic of Korea, the age cap is 25. The age limit for Icelandic citizens is capped at 26 years old. To apply for the visa, you must have no dependents or children coming with you, have a valid passport, a return ticket or funds to purchase a return ticket, reasonable funds to support you during your initial stay, be in "good health", and have not been previously issued this visa.
The reasonable funds considered "necessary" by the Japanese government depend on your home country, so you may want to double-check with your local embassy. However, a good ballpark figure is between 288,000 – 460,000 JPY (2,500 – 4,000 USD) PLUS however much you need to buy a ticket home. This is a minimum, however, and saving a bit extra never hurts!
There are limits as to how many visas are issued each year for each country. These are 10,000 (Taiwan), 6,500 (Canada), 1,500 (France and Hong Kong), 500 (Poland and Spain), 400 (Ireland, Slovakia, Czech Republic), 200 (Austria, Argentina, Chile, Hungary), 100 (Lithuania), 30 (Iceland), and no limits (Australia, Germany, New Zealand, Portugal). This is why getting your application in early is a good shout, the spots will fill up quickly!
It should be noted that while these travelers are legally allowed to do most jobs, they are strictly prohibited from working in bars, nightclubs, gambling establishments, and cabarets. These types of jobs are said to affect public morals in Japan, and individuals found working in these kinds of jobs will be seen to have violated their visa agreement and be deported.
To apply for your Japan working holiday visa, you need to submit your visa form, valid passport with photocopies, passport photos, proof of funds via bank statements that were issued within the last month, your return flight ticket (or one-way ticket as long as you show you can afford another one later on), resume/CV, a letter addressed to the Japanese Embassy or Consulate stating why you want to visit Japan, a schedule of your stay with cities, what kind of work you want to do, and any other activities. This needs to be done to the embassy or consulate of your home country.
PHEW. That was a LOT. If you're still raring to go then by all means… have at it! If you want a little assistance with all that, you'll be happy to hear that there are services that help you sort everything out. Thank GOD. Visa First are a good option if you wanna sit back a little and just do all the fun bits (like planning your itinerary!), or Global Work and Travel will take care of everything.
Insurance for a Working Holiday in Japan
I personally always get a Japan travel insurance – no matter if it's for a short trip, a long backpacking stint, or moving for a while. It's helped me out more than a few times, and I'd hate to think of anyone finding themselves in a less than ideal situation without it!
We love WorldNomads for anyone who's not sure of which company to go with. Everything is super easy to navigate, understand, PLUS they cover all your typical working holiday abroad activities. It's a winner!
ALWAYS sort out your backpacker insurance before your trip. There's plenty to choose from in that department, but a good place to start is Safety Wing.
They offer month-to-month payments, no lock-in contracts, and require absolutely no itineraries: that's the exact kind of insurance long-term travellers and digital nomads need.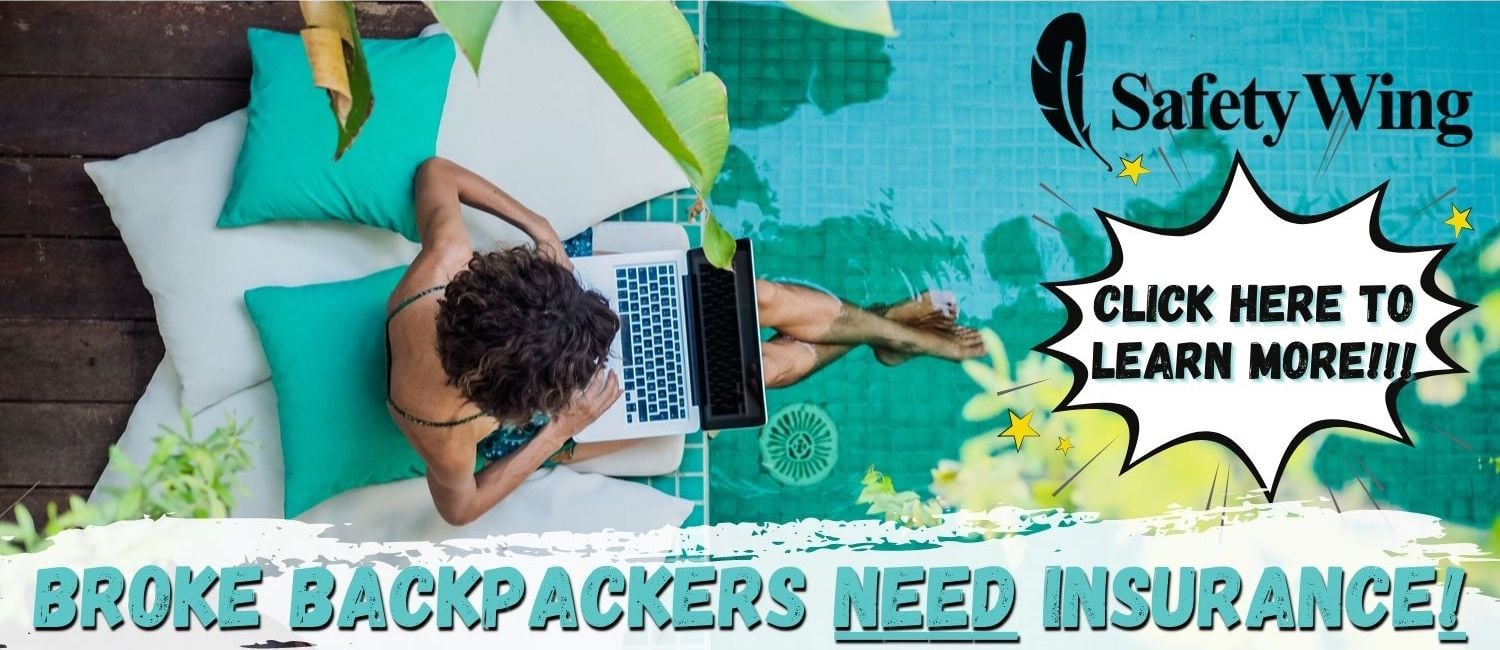 SafetyWing is cheap, easy, and admin-free: just sign up lickety-split so you can get back to it!
Click the button below to learn more about SafetyWing's setup or read our insider review for the full tasty scoop.
Working Holiday in Japan Budget
Ouch. Time to talk about the dreaded figures. Although we don't all like to budget and plan (guilty), this is a really important step of any trip. As mentioned earlier, to secure a Japan working holiday visa you will need to have enough money to cover your expenses at the beginning of your trip, and enough funds to buy an outbound flight if you didn't purchase a return ticket. This is a big expense but don't let it deter you, the extra cushion is to make sure YOU have the best time without any hiccups should something go wrong.
No doubt if you dream of living it up in Tokyo and want to live city life to the max, you could end up maxing out your bank account. On the other end of the spectrum, life in rural parts of Japan or even smaller cities is considerably less expensive and you'll be more likely to enjoy the finer things in life! To compare Tokyo and Akita (a modest-sized city), rent in a one-bedroom apartment outside the city center, transport, food, and activities will cost you around 2,000 USD in Tokyo or 1,100 USD in Akita.
If you are considering working in the very rural parts of Japan, bear in mind that in many off-the-beaten-path places, the locals don't speak English, you'll need some basic Japanese under your belt to a) get a job and b) have the best time possible.
The cost of living in Japan varies, but be sure you have an idea so you have enough money.
Working Holiday in Japan

| Expense | USD$ Cost |
| --- | --- |
| Rent (Rural vs Central) | $400 – $900 |
| Eating Out | $60 – $150 |
| Groceries | $300 – $350 |
| Car/Public Transport | $45 – $400 |
| TOTAL | $805 – $1,800 |
Earning Money on a Working Holiday Visa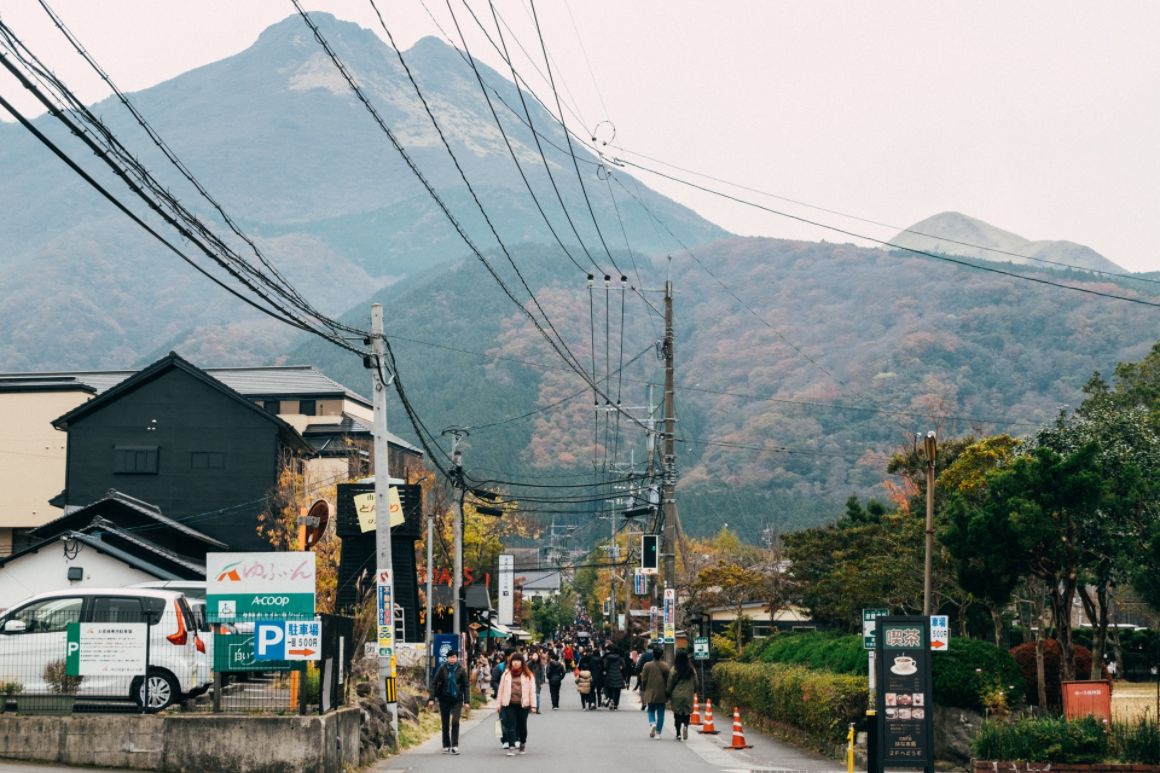 The Japan working holiday visa is great and diverse! You could find yourself doing all kinds of jobs like working in a restaurant, being an au pair for a local family, light factory work, or sales. Legally, most jobs are allowed, with part-time (28 hours per week) or full-time (40 hours per week) available. In Tokyo, you would typically be paid between 890-1,500 JPY an hour, but this will vary for other cities, with lower living costs reflecting lower salaries.
Some of the paperwork you'll have to arrange on arrival are things such as registering as a resident, getting a tax number, setting up a bank account (see below), and probably getting a local phone number and contract. After that's all set, it's job-hunting time! Oh, be sure to get a Japan travel adapter too as the outlets are different here!
Even though you will be living and working in Japan, you will still technically be considered a non-resident under the income tax act. This means that you will be taxed at 20.42% on all your earnings. Your employer will deduct this from your salary each month so you don't have to worry about it. One thing that really sucks is that there is no scheme or means by which you can claim back your tax after you leave. So you can kiss that hard-earned cash goodbye for good *cries*.
Employers in Japan are very very unlikely to pay your salary into your foreign bank account. This means that you will have to set up a local Japanese bank account in order to get paid. There are only a handful of banks that will open accounts for foreigners so soon into their stay. A few of these are JP Bank, Shinsei Bank, and Rakuten Bank. However, you may want to do some extra research as some of these banks don't allow foreign transfers into your local bank for the first six months. For this reason, definitely bring a credit or debit card from home, but be mindful of ATM fees!
If you're able to transfer money into your local account straight away, or if after 6 months you feel the need to, I advise against doing a direct bank transfer (HELLO extortionate fees) and using an international money transfer service instead! Wise (A.K.A.Transferwise) gives you great rates, as does Payoneer.
Pre-planned Working Holiday Jobs with Global Work and Travel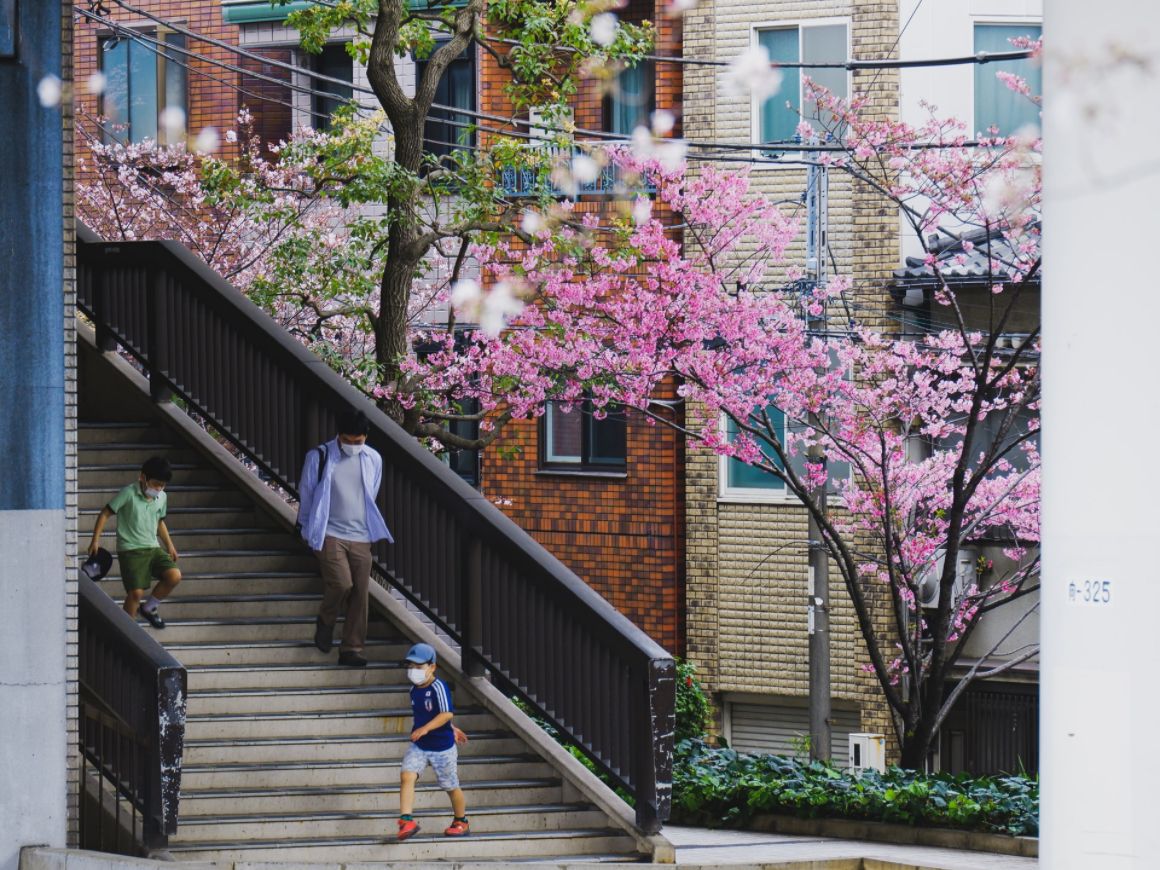 If you're not big into planning and would rather have someone handle all of that for you, then have no fear, as there are some fantastic agencies and companies out there that do just that. As I mentioned earlier, Global Work and Travel are awesome. They have a range of cool working holiday programmes to choose from, will help with visas, setting up your new life, and more!
The main kind of jobs for those on a working holiday are teaching, hospitality work in hotels or ski resorts, trying your hand at some farm work, and many others. Here is our favourite.
Teaching in Japan
For working holidays, teaching English is a top choice and doesn't need much explanation. But there are some requirements you'll have to meet. Lucky for you Global Work and Travel is offering the full package for anyone who wants to teach English on their working holiday in Japan. You will need to have a Bachelor's degree in any subject, and an international teaching accreditation is included in the programme.
Once you've touched down in Japan as a newly qualified ESL teacher, you'll attend some interviews, and one of the GWaT partner teaching organizations will offer you a paid teaching position. Some schools may require you to do a two-week training course before heading off to your new placement.
Most of the time, you will be provided with shared accommodation along with two to three other teachers. One of the most attractive things about teaching English in Japan is the BALLER salary. English teachers are in high demand and the potential salary is between 2,100 – 2,300 USD a month.
It is possible to find a teaching job alone, without assistance, but 80% of jobs need you to be IN the country first, so be prepared to head to some interviews and do some paperwork. There are some great websites for finding teaching jobs, but it is a competitive market so many people prefer to go with agencies.
The GWaT working holiday programme not only offers job interviews with prospective schools, but you'll also have a dedicated trip coordinator who will hold your hand, so to speak, throughout the whole process. Their pre-departure plan will also act as a comprehensive guide not only about what to expect from your trip, but about Japan too. They even offer visa guidance so you don't need to get all worked up about the requirements, paperwork, etc. Amazing!
DIY Working Holiday in Japan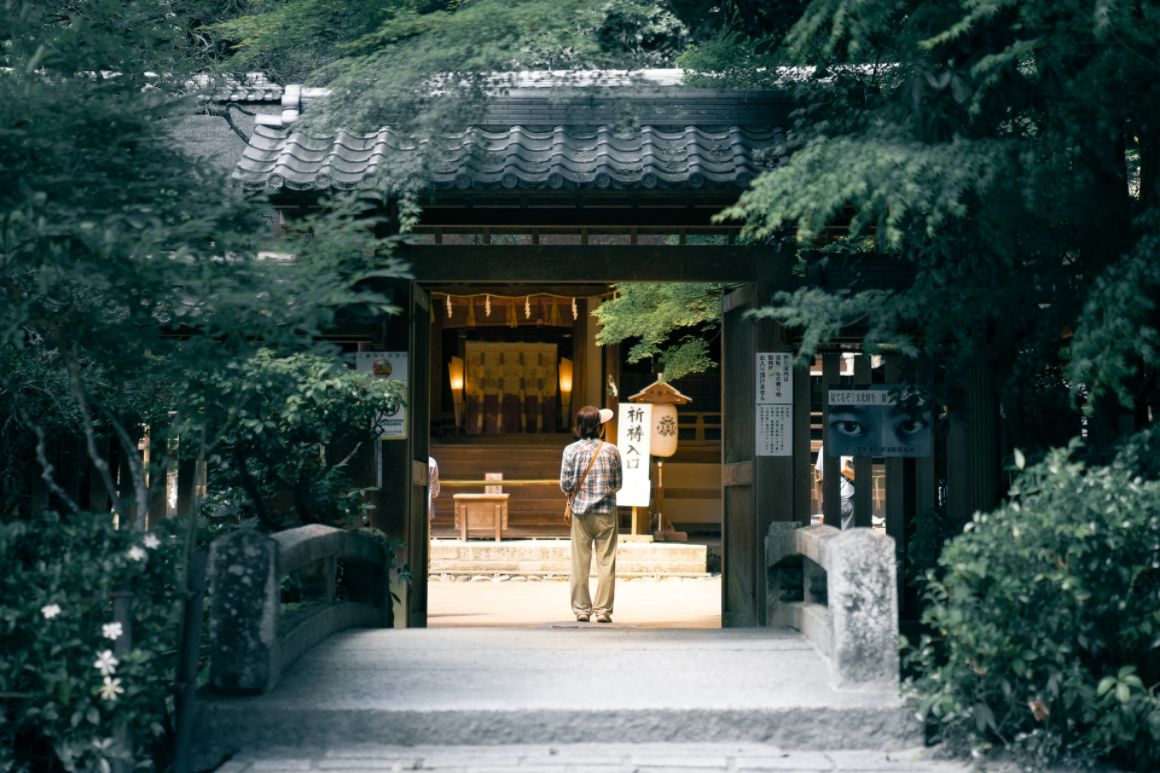 If you don't enjoy partaking in anything pre-planned, and prefer to do things your own way at your own pace, the good news is that you can do it! It is the ideal situation for any of you adventurous folks who wanna touch down without a concrete plan and just wing it!
You will have to take responsibility for your own visa, flights, local bank account, paperwork, and maybe need to save a little extra – in case you don't find your dream job right away.
When DIY-ing it, the time of year you apply could affect your success. Applying in May, after the end of the last financial year is the best time. As I mentioned above, there may be a limit per country as to how many Japan working holiday visas they grant, so getting in nice and early gives you the best chance of being accepted.
Your best bet for finding a job is to do it on the ground. Employers will normally want to be sure of your visa, check you have a tax number, and a local bank account etc. before making a commitment to you. This website has a ton of part-time jobs (don't be deterred that the website is in Japanese, as they specifically state they accept foreigners).
If you want to fill up your time with something a little different from the classic 9-5 job, sites like WWOOF, Worldpackers, and Workaway are fab options to find some unique experiences in exchange for accommodation and possible meals. They are a great way to immerse yourself in local culture as you could be living with a local family and working with local people.
Final Thoughts
I don't know about you, but I am about ready to leave it all and start a new life abroad. As far as working holidays abroad go… Japan seems like the ideal place. You will be fully immersed in an incredible culture that will not only challenge you, but teach you a whole lot about yourself at the same time.
I mean, spending ANY amount of time in Japan has got to be the dream, let alone up to a year. This would be the perfect opportunity to explore the country in-depth, from discovering the coral reefs of Okinawa to scouting out the best ramen houses in Tokyo. Not to mention all the incredible friends you'll make. This could be fellow teachers in the local school you're teaching at or other servers at the ski resort you've decided to spend the winter season working in.
Whatever job you choose (whether DIY-ing it or going through a trusted agency), I am positive that you will have the most fantastic time ever. One thing to remember is to take lots of photos and take it all in, as this could be the best year of your life!
---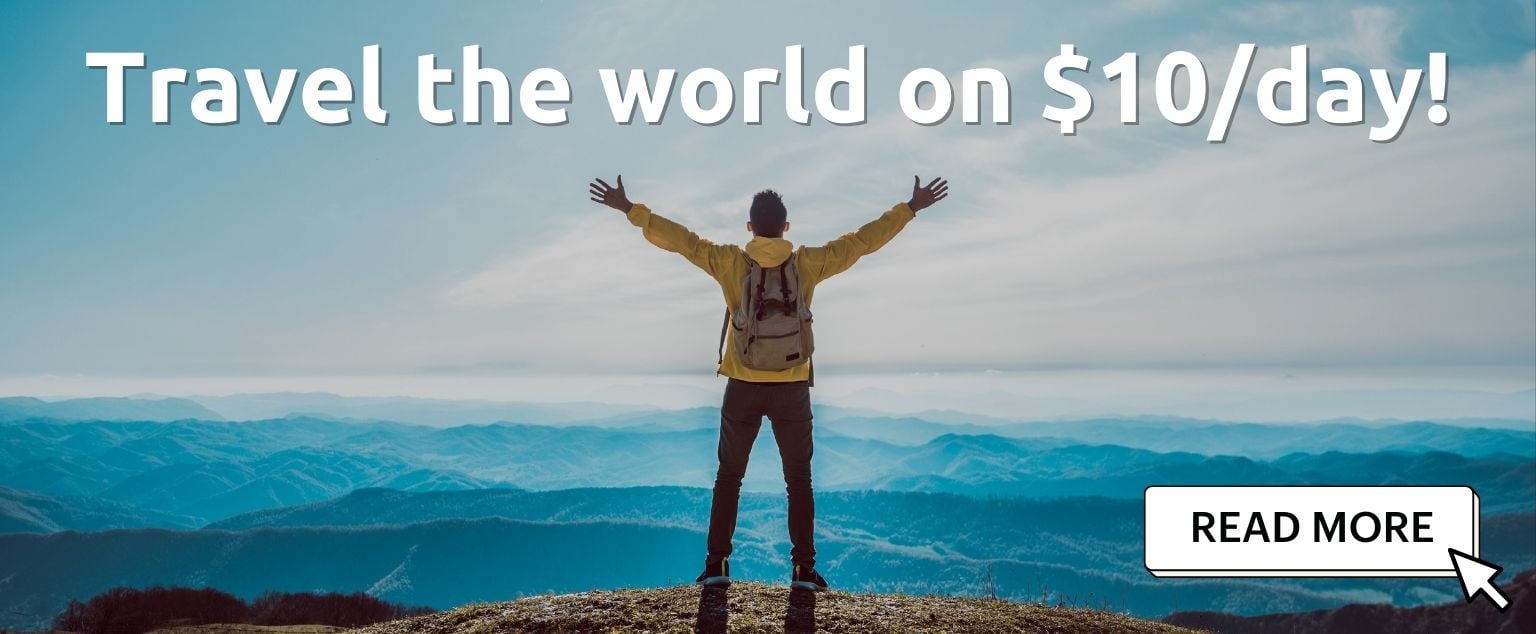 And for transparency's sake, please know that some of the links in our content are affiliate links. That means that if you book your accommodation, buy your gear, or sort your insurance through our link, we earn a small commission (at no extra cost to you). That said, we only link to the gear we trust and never recommend services we don't believe are up to scratch. Again, thank you!