Kyoto is the cultural and historical capital of Japan. There are more than 2,000 temples and shrines in a city of under 1.5 million people – some of which are UNESCO World Heritage sites. The Gold Pavilion at the Kinkakuji temple is one of the most beautiful temples in Japan, if not the most.
By day, wandering through the Gion District will have you coming face to face with geishas (if you're lucky), while by night it is home to some of the best street food and nightlife in Japan! 
To sample Kyoto's finest food, don't miss out on the vibrant Nishishi Market.
Of course, there is a downside – it can be quite expensive. But one way to keep those costs down is to check out a vacation rental in Kyoto such as those found on Airbnb. 
Not only does an Airbnb save you money, but it will enable you to stay somewhere with plenty of character and charm, as many of the best Airbnbs are traditional machiya houses. Staying in an Airbnb is a great way to see a more traditional side of Japan. 
But how can you find the perfect Kyoto Airbnb for you? Well, that's where I come in.
I've put together a list of the 15 best Airbnbs in Kyoto so that you don't have to spend hours trawling through the website. I've thought about different travel styles, personalities, but most importantly – budgets! 
So, when you're ready, let's check them out…
Quick Answer: These are the Top 5 Airbnbs in Kyoto
OVERALL BEST VALUE AIRBNB IN KYOTO
OVERALL BEST VALUE AIRBNB IN KYOTO
Private Japanese-Style Room
> $
> 1 Guest
> Shimogyo District
> Modern and traditional Japanese style
BEST HOMESTAY IN KYOTO
BEST HOMESTAY IN KYOTO
Fluffy Koos Registered Home Stay
> $
> 2 Guests
> BBQ Friendly Backyard
> Friendly and welcoming
BEST AIRBNB FOR COUPLES IN KYOTO
BEST AIRBNB FOR COUPLES IN KYOTO
Townhouse for two in Kiyomizu
> $$$
> 2 Guests
> Great location
> Traditional wooden Japanese House
BEST AIRBNB FOR FAMILIES IN KYOTO
BEST AIRBNB FOR FAMILIES IN KYOTO
Cottage Built in 1938
> $$$
> 5 Guests
> Two bicycles
> Japanese Style Veranda
BEST LUXURY AIRBNB IN KYOTO
BEST LUXURY AIRBNB IN KYOTO
Moonlight TabiTabi Stay
> $$$$
> 5 Guests
> Bathtub with courtyard view
> Japanese Garden

Unlock Our GREATEST Travel Secrets!
Sign up for our newsletter and get the best travel tips delivered right to your inbox.
Why Stay in an Airbnb?
Local Experience
Backpacking in Japan is shifting dramatically away from the local experience. We're trapped in our hostels, coffee shops and party districts. Airbnb is breaking down that barrier for every echelon of traveler – think basement mattress to the infinity-pool penthouse!
It's a great way to contribute to the local economy because the cash goes right to the owner and other locals employed for cleaning, maintenance, and management. Staying in someone else's home – a unique place with character – feels more like fitting into the area rather than having the typical tourist hotel room.
Japan's Airbnb hosts are known for taking good care of their guests; if it's recommendations you want, you've got a pre-made friend to help you out!
Affordability
Basic backpacker or fancy business person? Airbnb aims to create a cozy escape for EVERY type of traveller! No matter your budget, you'll find something within your price range, from an entire home to a room in a shared house. There are over six million unique places to choose from. And whichever one you choose is guaranteed to be better than a Kyoto hostel.
Some places only charge per night and not per person. This usually works out a lot cheaper for big groups like families or if you are travelling with friends. Just split the bill at the end and everyone benefits!
Even the smaller rentals sometimes have more than one bedroom or a pull-out couch. Remember to request extra linen whenever you want to make use of that and your host will provide you with everything you need. To make sure your place is exactly what you're looking for, you can also filter the rentals for amenities like kitchen, TV, Wifi and much more.
Safety
Worried about the safety of Airbnb? They've created a system that keeps your communication, payments, and the stay itself as secure as possible.
Every host and guest has to put invalid information about themselves when signing up. This way, every account can be protected and fake profiles are avoided completely. The platform provides an end-to-end encrypted chat option to get in touch with your host as well as account protection with multi-factor authentication.
The advanced payment system makes sure that your money goes straight to the host, so no worries about card scams or fraud. If you arrive at your place and it's not how it was advertised online, you can always contact Airbnb and get a full refund of your stay within the first 24 hours. This way, you will always receive exactly what you paid for!
You do still need to be aware, though. Look for potentially fake reviews or other common Airbnb scams.
And be considerate during your stay, as guests also receive a review! This ensures that everyone on Airbnb is behaving and interacting in the best way possible since no one wants a bad review to pop up on their profile.
The Top 15 Airbnbs in Kyoto
I've had you waiting long enough! Get ready, here are our absolute favorite Airbnbs in Kyoto. From low budget to high-end luxury and family-friendly, there'll be the right one for you!
Make sure you know which area you want to stay in before you look for accommodation. Our tip: come up with a rough Kyoto itinerary and choose your accommodation close to the hotspots!
1 Guest
Modern and traditional Japanese style
Let's begin our list of the best Airbnbs in Kyoto with this traditional Machiya house, where you will get to stay in an authentic tatami style room. Not only does it give you a window into real Japanese life, but it's one of the best options in terms of budget, location, and style! You'll be staying in a private room in a shared house with other guests, so it's a great option for solo travelers looking to meet people and make some friends, whilst also conserving their budget. It's also within walking distance of many popular attractions including Nishiki Market and the Gion area.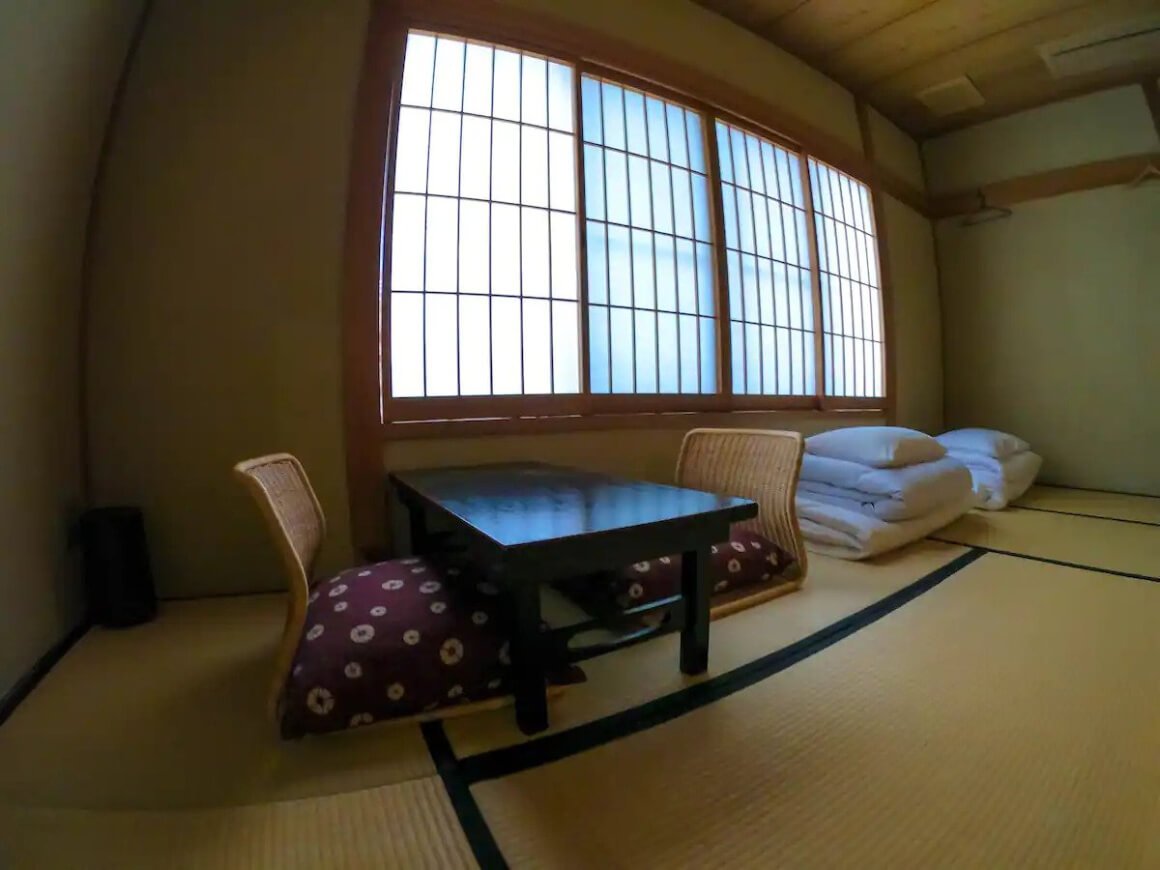 $
Japanese tatami style room
4 Guests
Higashiyama-ku area
Looking for an Airbnb in Kyoto on a budget? A ryokan is way off the cards then. Or is it? These traditional Japanese inns can sometimes be thousands of yen a night, but not always! This traditional machiya house is a great chance to feel warm hospitality for a fraction of the price while being close to all of the city's awesome attractions. By taking a private room in this shared guesthouse, you'll also meet some other like-minded travelers to make friends with.
This accommodation is basic but provides air conditioning and a space to store your luggage, which is basically all you need anyway. Plus, it's in the perfect location within easy walking distance to the Gion area and Kiyomizu temple. A brilliant Kyoto Airbnb for those who are travelling on a shoestring!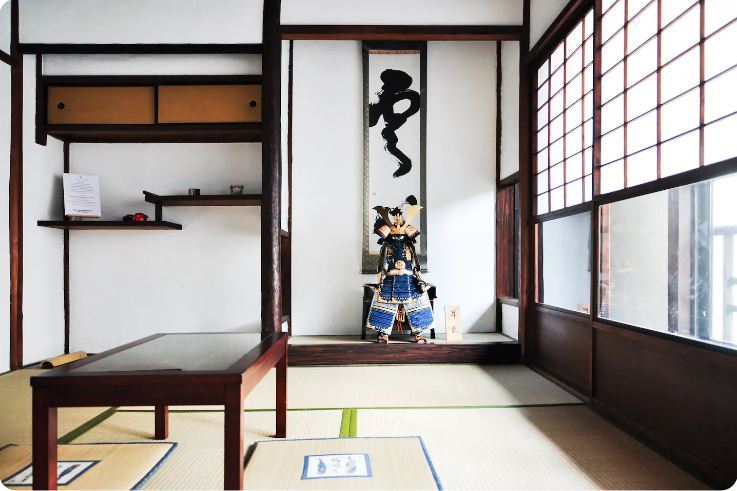 $$
Laptop-friendly workspace
2 Guests
Free washing and drying
Travelling with your laptop? If that's the case then you'll have a little bit more flexibility in your budget. So, why not check out this cool Kyoto Airbnb, which is near one of the coolest attractions in town – Nijo Castle.
Of course, there's a laptop-friendly workspace and Wi-Fi included. Even better, if you've been travelling long term and you need to get your clothes fresh, there's a washer and dryer on-site, which you're welcome to use at no extra cost!
There's also a common area – so if you want to meet fellow travellers and have a chat – go for it!
Is This the Best Backpack EVER???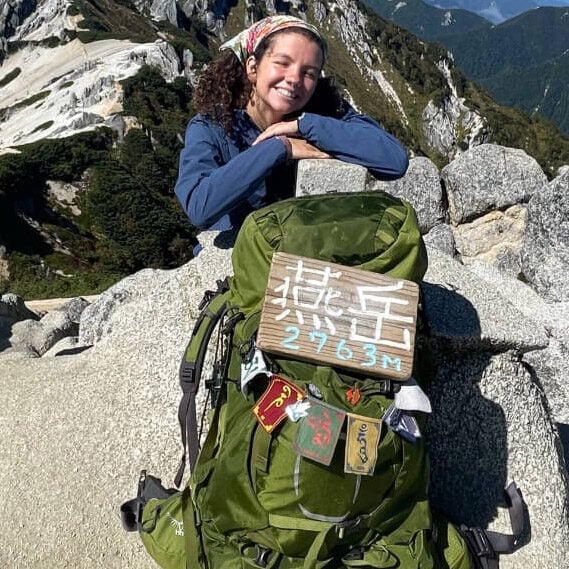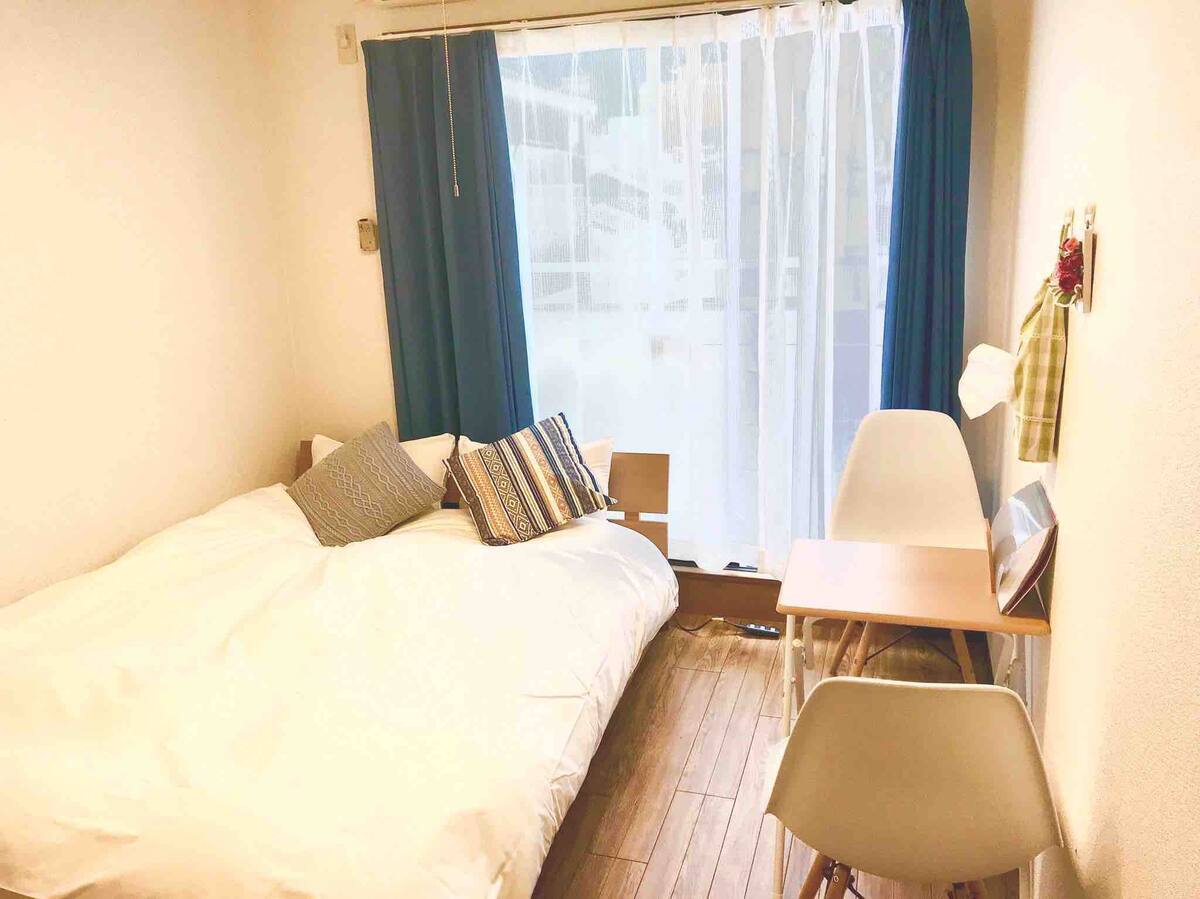 $
Located close to many attractions
Yeah, this place might be small and cosy, but if you're travelling on your own, it's really all you need to be happy. The small room is more like a mini studio, equipped with a tiny kitchen and a private bathroom.
To get to the Kyoto station on foot, it'll take you around 13 minutes, but there are plenty of hotspots right around the corner. If you have any questions, reach out to your host, they are known to be incredibly kind and helpful.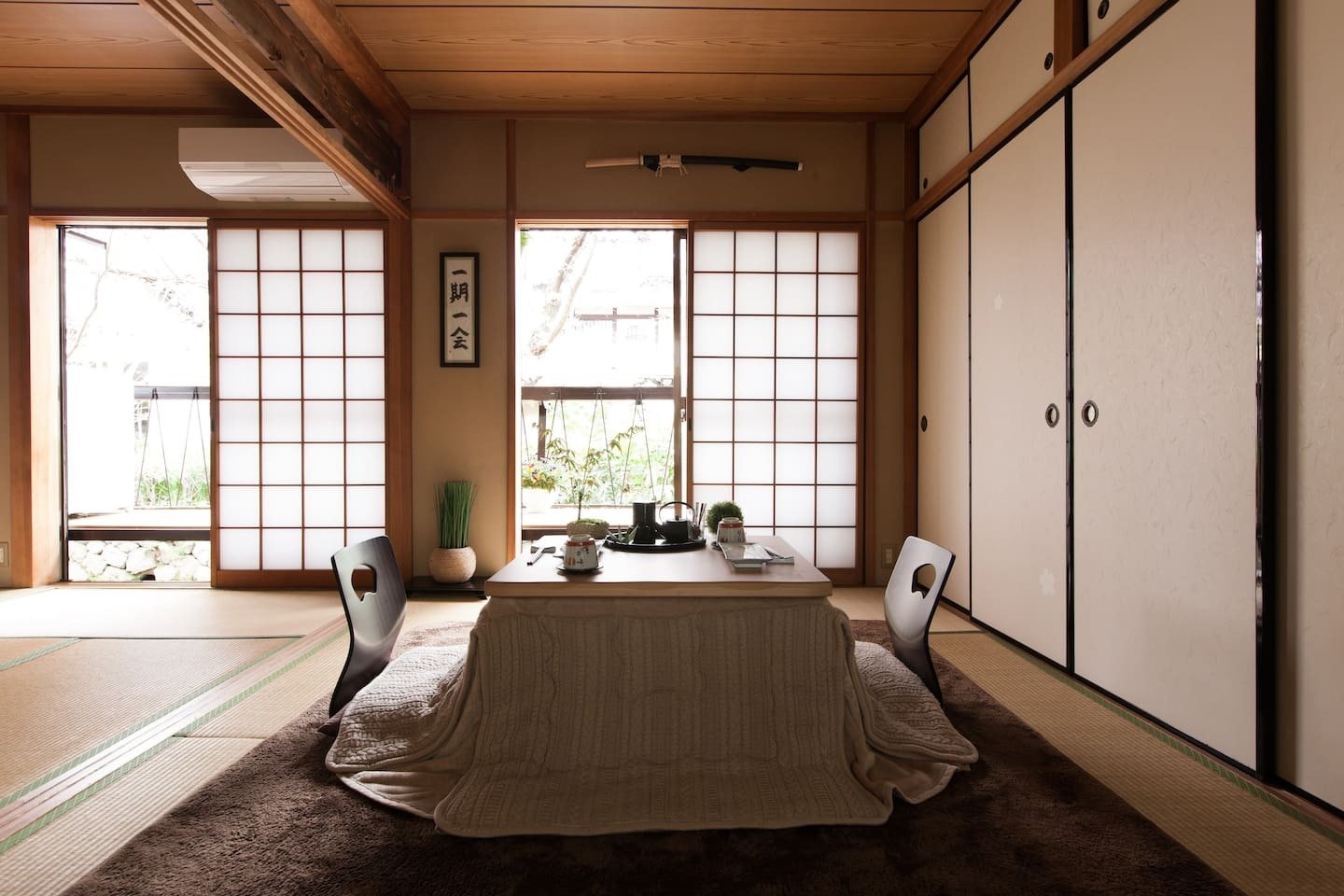 Heading to Kyoto for the nightlife? Best make Gion your base if that's the case. During the day, you'll be able to spot geishas, while in the evening this place becomes one of the hippest spots in the whole of Japan!
This Airbnb is the perfect spot to cure your hangover. You can chill on your private balcony and watch the ducks float on the river. You're close to all nightlife options but far enough to enjoy a peaceful night. Gion shijo station is within walking distance so you have easy access to other parts of the city.
2 Guests
Traditional wooden Japanese House
A slightly more expensive option, but it's worth spending a little more on your Kyoto Airbnb if you're having a romantic break with your other half, right?!
This traditional entire townhouse is perfect if you're planning on visiting Gion and many of the most important temples and shrines in Kyoto, such as the Golden Pavilion at Kinkakuji Temple.
There's even a small rock garden where you can sit and contemplate before heading inside to sleep on those comfy floor mattresses. This traditional wooden house is the perfect place to get a taste of old Japan!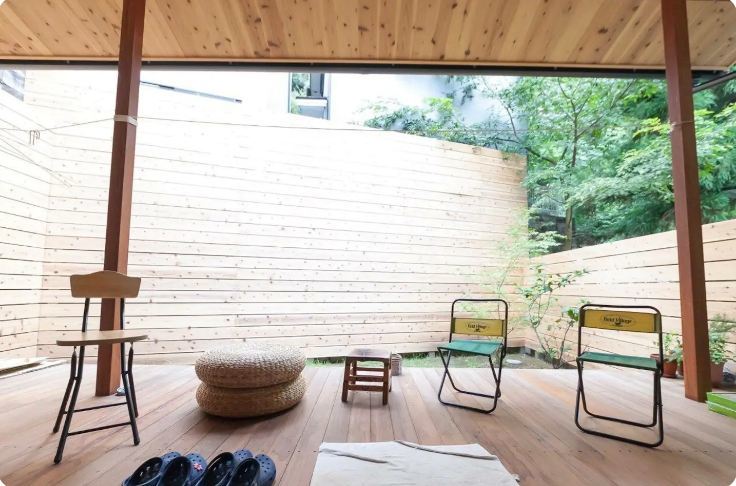 2 Guests
Friendly and welcoming
When travelling to a new city, one of the best ways to keep your costs down while still making the most of your holiday is staying with a local. And where better to do that than the best homestay in Kyoto?!
The friendly host family and their dog are accustomed to welcoming international travellers into their home and know how to show them a good time and excellent hospitality. As well as daily breakfast, you'll be offered pick up and drop off at Kyoto and Tofukuji station, as well as all their local recommendations!
2 Guests
Japanese tearoom on site
A great thing about homestays in Kyoto is that you can get to know a traditional Machiya house like this one without renting the whole house. If you rented a whole one, it'd cost you a lot of money but this is a great way to experience the real Japan without breaking the bank!
It's in the style of an authentic tearoom with three tatami mats, while there are plenty of books too. One of the big pluses of this vintage Kyoto Airbnb is that there's a complimentary breakfast – ideal to fuel up before a day of sightseeing!
8 Guests
Walking distance to top tourist attractions
Yes, I know Kyoto is expensive, and I've shown you quite a few places that will help you keep your costs down. At least until now! This luxury Kyoto Airbnb shows you exactly how good a place you can get if you're happy to splash out a little more. An insight into authentic culture, you've got a Japanese style tatami tea room, plants throughout, but the piece de resistance is undoubtedly an open-air bath!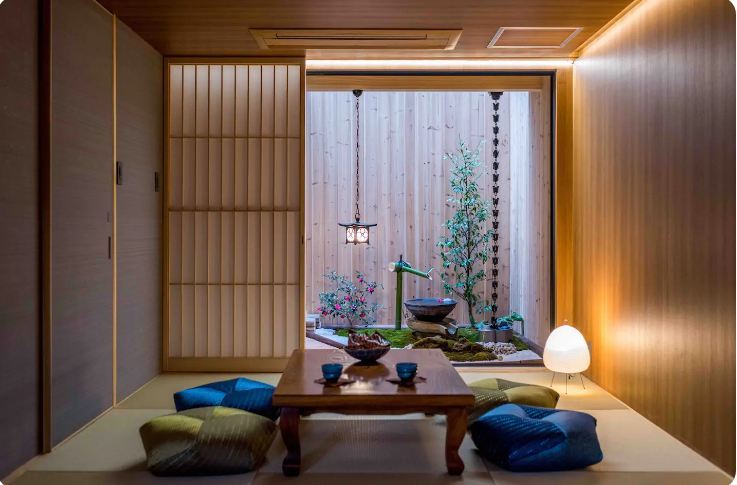 $$$$
Bathtub with courtyard view
Have you ever wanted to soak in a bath with a view of a Japanese zen garden? Of course you have! And all your wishes will come true at this incredible Kyoto Airbnb!
It may be a traditional Machiya house, but the attention to detail and care put into this particular one make it one of the best luxury experiences in town. There are modern touches too like those in the fully equipped kitchen and bathroom – which boast the most up-to-date appliances!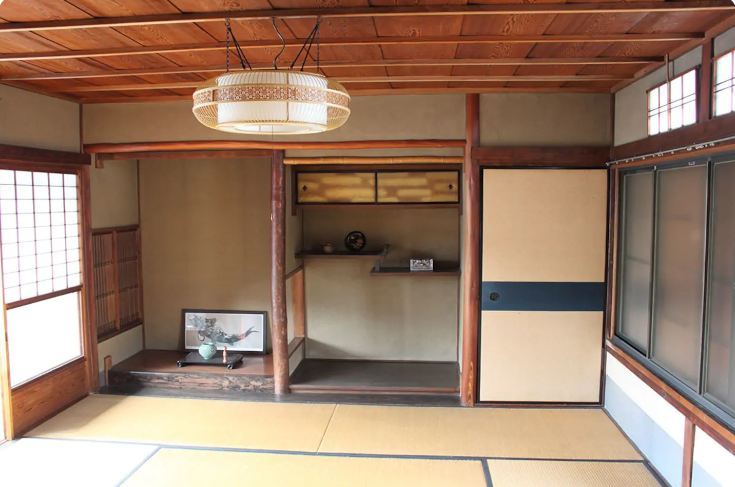 5 Guests
Japanese Style Veranda
Staying somewhere with the family? You'll need somewhere that will have enough space for everyone to spend time together then! You have a few options – a lovely dining table, a living room, and a cute garden are just some of the lovely communal areas in this 1900s Kyoto cottage.
When you want to head into town, there are two bicycles as well – at least saving you a bit on renting for the whole family! This Kyoto Airbnb is a great shout if you're planning a longer-term stay in town – stays of more than one week get discounts!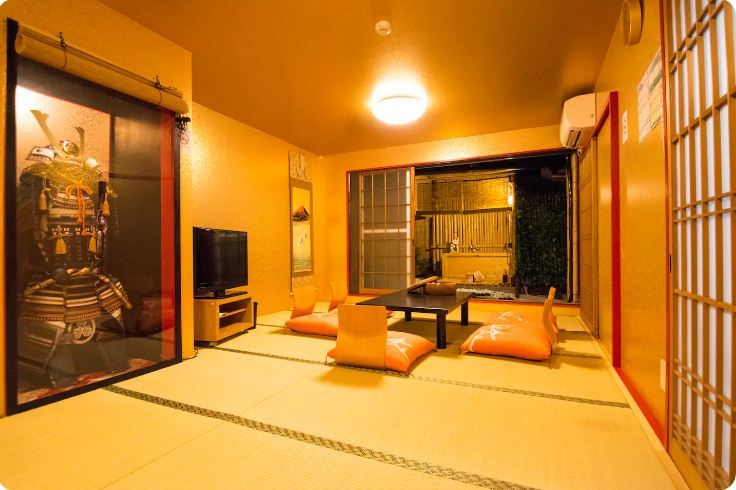 6 Guests
Beautiful Japanese garden
Groups of friends travelling together, like families, need to have somewhere to relax and spend time together. There are few Airbnbs in Kyoto better suited to that than this place.
There are large tatami mat living spaces, but if you are really comfortable around each other, why not check out the private open-air bath?! It might be a bit of a squeeze getting all six of you in there mind! You can always take it in turns, while everyone else checks out the beautiful traditional rock garden!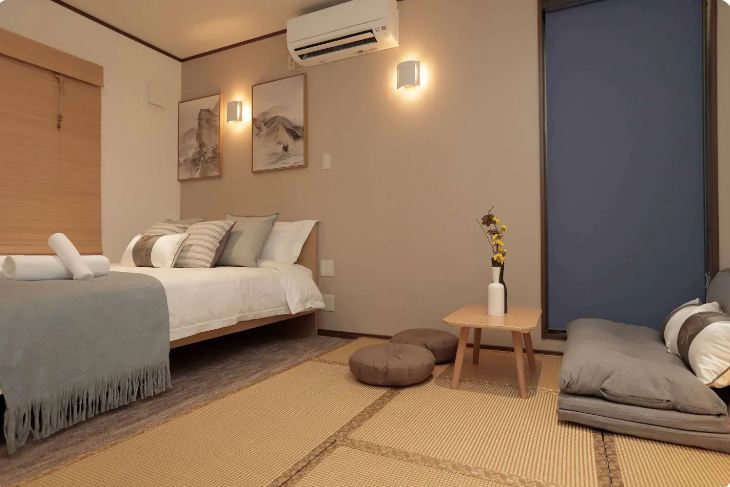 3 Guests
Complimentary Toiletries
Downtown Kyoto is one of the best areas to stay as it's near to lots of the city's tourist attractions and Kyoto places to visit, including the Kyoto railway museum. Oh, it's very easy to get around.
So, check out this modern home in Shimogyo Ward. It's got room for up to three people, so it's a great idea for a couple or a small group of family/friends. It's a western-style bed too, so although those tatami mat rooms are traditional, it can sometimes seem a bit unusual that you're practically sleeping on the floor! There's also a fully equipped kitchen and complimentary toiletries, so your stay is assured to be comfy!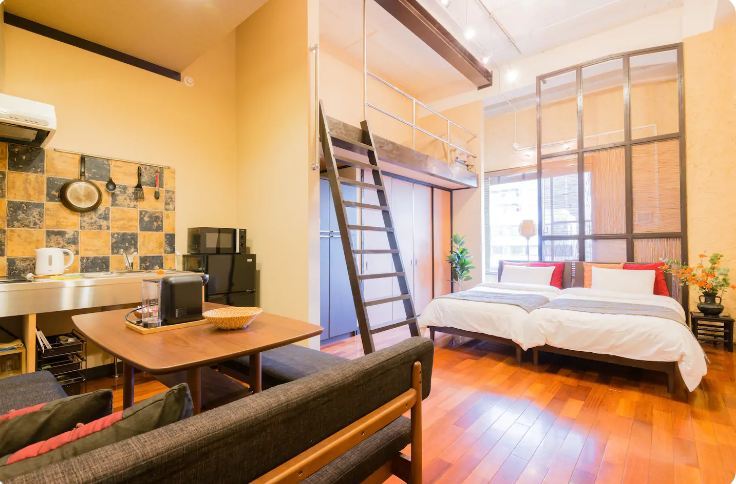 Okay, this is definitely the last Downtown Kyoto Airbnb I'm going to show you! The spacious loft is another great option for a small group of friends or family, and it's not as expensive as you might expect it to be!
The free portable Wi-Fi is another excellent value for money idea – just think how much data you'll save when looking for places to go and things to do when you're out and about! Easily one of the most stylish apartments in Kyoto!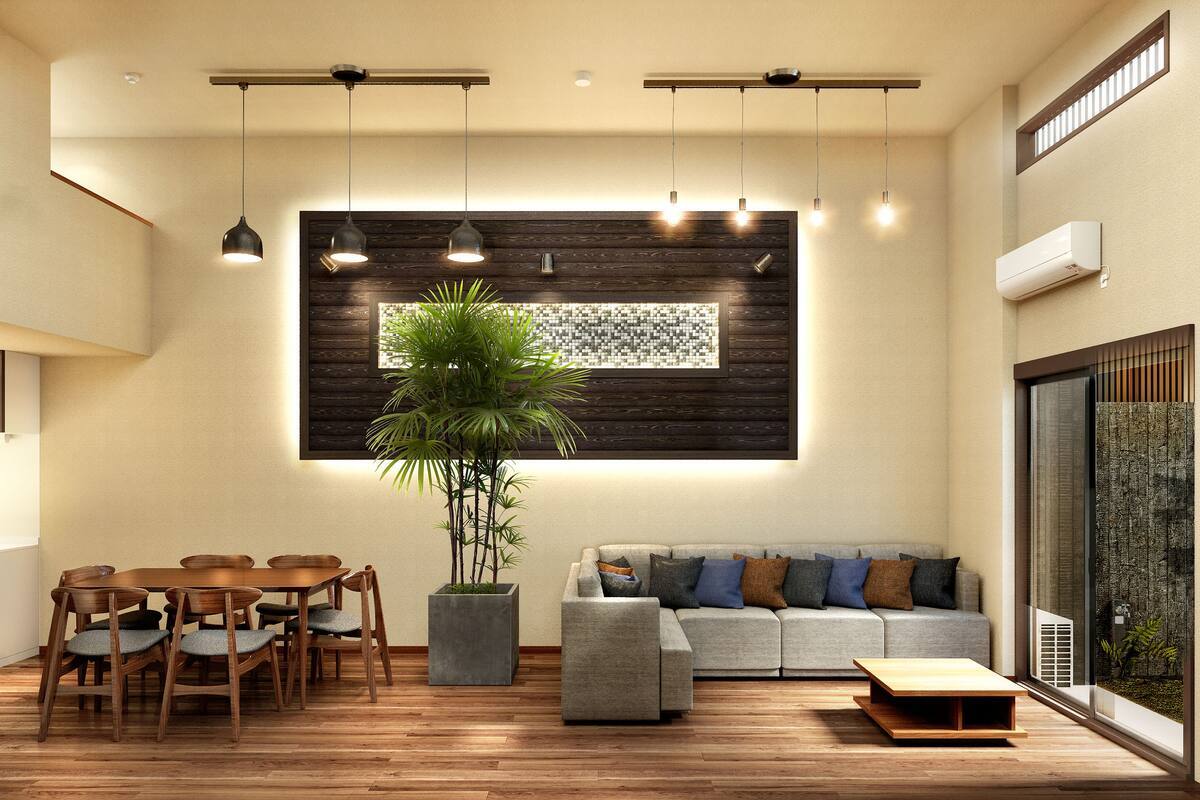 This new condo (which is actually a whole house) is one of the top value Airbnbs in Kyoto. Located close to Kyoto Station, you'll be able to get around the city with no problem. The best thing about this home is the incredibly affordable rate. If you bring your friends and split the bill, it might even turn out as one of the cheapest and best Airbnbs in the city. It's also fully equipped and you even get toiletries for free.
FAQ about Airbnbs in Kyoto
Here's what people usually ask me when they look for vacation homes in Kyoto.
Don't Forget Your Kyoto Travel Insurance
ALWAYS sort out your backpacker insurance before your trip. There's plenty to choose from in that department, but a good place to start is Safety Wing.
They offer month-to-month payments, no lock-in contracts, and require absolutely no itineraries: that's the exact kind of insurance long-term travellers and digital nomads need.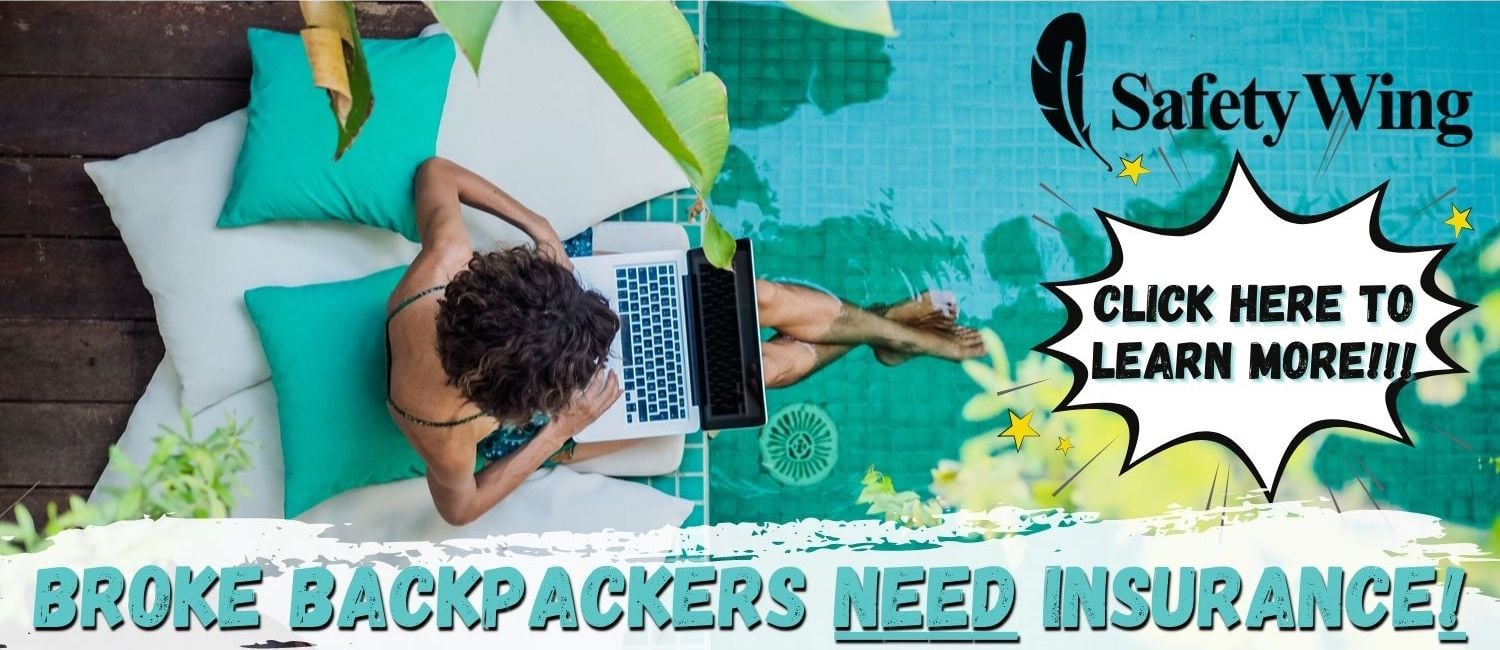 SafetyWing is cheap, easy, and admin-free: just sign up lickety-split so you can get back to it!
Click the button below to learn more about SafetyWing's setup or read our insider review for the full tasty scoop.
Final Thoughts on Kyoto Airbnbs
So, there you go. That's all from my list of the best Kyoto Airbnbs. I'm sure you'll agree there are plenty of cool places to choose from, and I hope you found the perfect place to stay according to your travel style and budget.
Remember, I saw a romantic townhouse for two in Kiyomizu, a number of huts with outdoor baths, and some more simple places for the traveller on a shoestring. I just hope you're not overwhelmed by how many choices I've given you!
If that's the case, just relax for a moment. Then, head right back up to the top of my post and pick my favourite Airbnb in Kyoto. The Tatami Style Room by Kyoto station is the perfect combination of good value for money, style, and it's right by the station. So it's good for day trips as well as exploring the city!
Now that you've finished my list, there's just one thing for me left to do. I'd like to wish you an awesome vacation in Kyoto, and safe travels in Japan!
---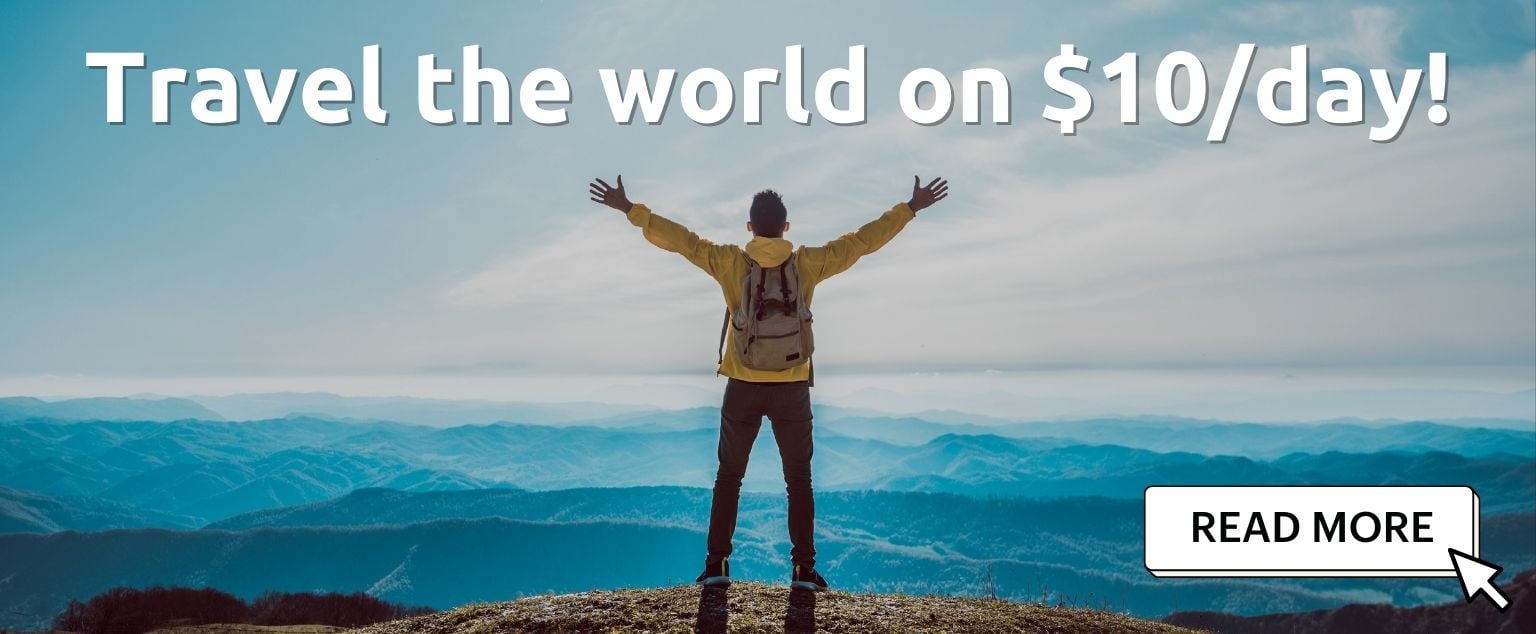 And for transparency's sake, please know that some of the links in our content are affiliate links. That means that if you book your accommodation, buy your gear, or sort your insurance through our link, we earn a small commission (at no extra cost to you). That said, we only link to the gear we trust and never recommend services we don't believe are up to scratch. Again, thank you!