The land of cherry blossoms and Shinto shrines, clean cities and video-games, Japan is a cultural force to be reckoned with.
Japan is as much a cultural epicenter as it is one for natural disasters. From frequent earthquakes to notorious tsunamis and a shockingly high number of nuclear power plants, there are things that certainly raise a few eyebrows in Japan. So, you may ask, "Is Japan safe?"
It is a valid question and the reason we have created this truly epic insider's guide into staying safe in Japan. We believe that everybody should be able to travel smart anywhere in the world, even "safe" countries, and so we're here to help.
We are going to be covering a whole lot of ground in our handy guide. We mean it. That means just about everything from the safety of public transport in Japan, to what to do in case a togue bear attacks, and whether it's even safe to drive in Japan. We'll definitely cover whatever your concern is.
Let's break down your travel safety in Japan.
How Safe is Japan? (Our take)
Travel to Japan is amazing if you want a unique destination to explore. A LITERAL wealth of culture awaits you in this incredible country. Not only that: ancient paths to hike, tropical seas to bathe in, and mountains to ski. Japan has it all.
But all this natural beauty comes at a price. Natural disasters are a frequent occurrence in Japan.
We're talking earthquakes – a lot. With earthquakes comes the threat of tsunamis. These can be devastating.
Heavy rains can bring flooding and landslides. Oh and typhoons as well, which can pretty brutal.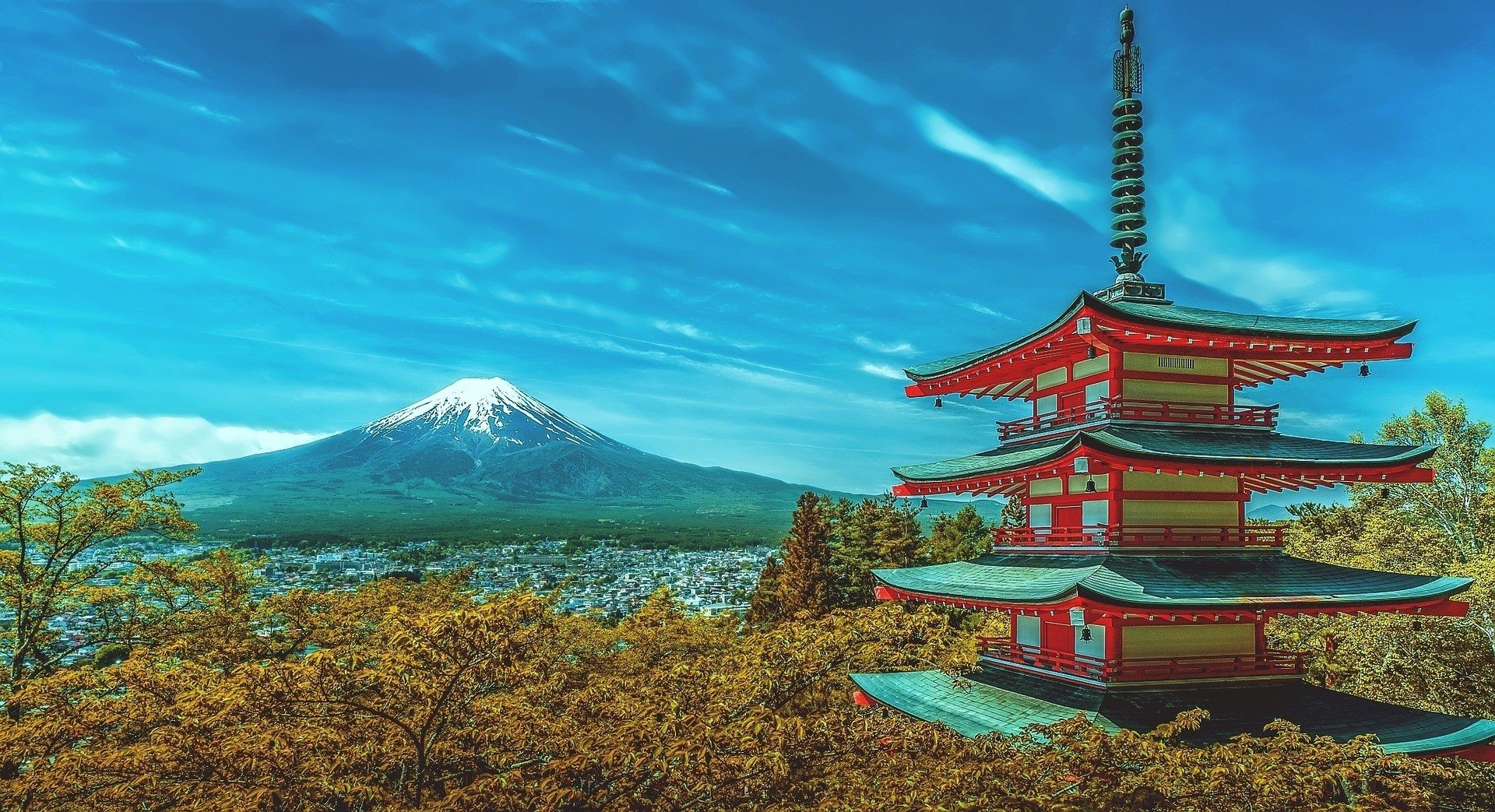 You're also sharing the magnificent land with a host of wild (and dangerous) beasties. Japan is home to bears which can be an issue when hiking in warmer months. There are snakes as well: a few thousand people are bitten each year by mamushi or pit vipers. "Beach season" in Japan, around July and August, tends to also be jellyfish season.
That, however, is just the mandatory disclaimer. Travel in Japan is unbelievably safe. Crime is low at the best of times and almost non-existent for a foreigner. Even in regards to the natural disasters, though devastating, Japan is such a highly-developed country with such advanced infrastructure that the statistical likelihood of losing your life on a two-week holiday in Japan is very unlikely.
Aside from seismic activity… The fact remains that Japan really is one of the safest countries in the world. It's safe to travel to Japan right now.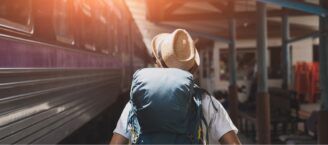 Unlock the secrets of traveling on a budget!
Sign up for The Broke Backpacker newsletter to receive regular tips on how to travel for less plus a FREE copy of The Backpacker Bible!
Is Japan Safe to Visit Right Now? (The facts.)
Absolutely, Japan is safe to visit without a doubt.
And, naturally, a whole LOAD of people enjoy their majestic safe travels to Japan. There were over 28 million visitors to Japan in 2017.
For the 99.9% of all statistical normies, Japan is safe.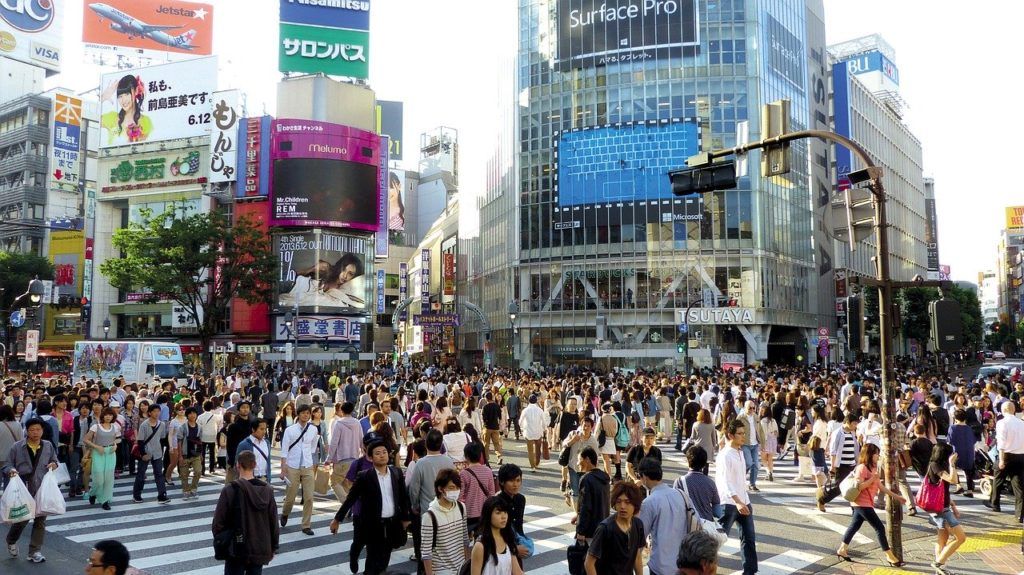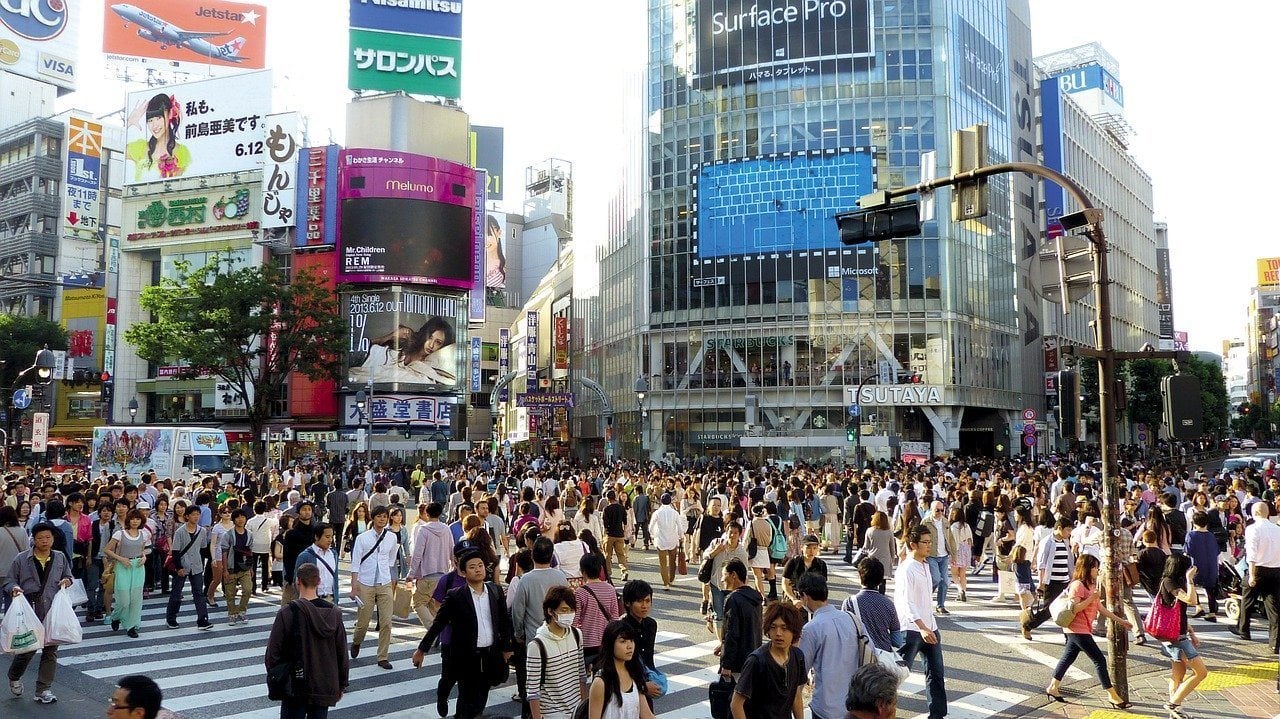 When we talk about anything outside of 'acts of God', Japan is ridiculously safe to visit. Ridiculously! Leave your bag in a restaurant and walk around at night alone. It's pretty much all good. No hassle. You'll even see young children travelling home by themselves on trains.
It's so safe that often Japanese people are just… asleep on trains. You'll see that a lot. It's a sign that people have nothing to worry about – at least in terms of safety.
The Global Peace Index (2018) ranked Japan 9th out of 191 countries. That's just below Singapore. But honestly? We'd say that it's safer than a lot of the countries ranked above it.
Japan Travel Insurance
Do you need Travel Insurance for your trip? Even if you're only going for a few days, that's more than enough time to get smote by wrathful angels. Have fun in Japan, but take it from us, overseas medical care and canceled flights can be seriously expensive – insurance can, therefore, be a life-saver.
Travel mishaps can and do happen and it is well worth thinking about insurance before you leave home.
We have used World Nomads for years now and I have personally made several claims. Why not get a quote from them yourself?
Do be sure to read the terms and conditions to make sure that the policy covers your needs.
Getting an estimate from World Nomads is simple – just click the button or image below, fill out the necessary info, and you're on your way!

Seriously: Japan is super safe! No matter where in Japan you stay, you will feel secure. Like, there's so much about this country that makes it so stress-free to travel around.
Japanese people are incredibly kind to foreigners and also quite shy; it's rare to ever feel like a Japanese person is intruding on your personal space. You won't really have to worry about crime in Japan.
It still does exist, however. And alongside what little crime there is, the natural world can be a scary place in Japan. Make sure you read on our safety tips for travelers – it's a backpacker safety 101. And before you go be crazy safe in Japan, here are some travel tips!
Japan Safety Tips for Traveling Smooth
Be sensible – Even though Japan is safe, you might want to avoid areas that seem sketchy. Things can still happen.
Stay prepared – Like you would in any other country. Don't let your guard down completely because Japan is usually safe. Taking precautions like separating your money in different caches (like in a money belt) keeps you from getting screwed by petty crime or just being forgetful.
Take care in 'seedy' areas – Bar areas in the Tokyo areas of Kabukicho and Roppongi, for example, are known for scams, drink spiking, and sexual assault.
Don't do drugs – It's very illegal in Japan. And hard to get. Unless you have good local friends, you may find yourself inadvertently bartering with the Yakuza.
Don't follow touts to bars – Most likely you'll be led to the sort of place we warned against in the last tip. At the very least, you may be regretful surprised by an enormous cover charge.
Tattoos are iffy – Although it's becoming more accepted, tattoos have traditionally been stigmatized in Japan due to their connection with the Yakuza. However, the foreigner card, as always, is always the ultimate trump card. You'll have no issues 90% of places (including onsen).
Watch out crossing railway lines – You'll have to cross lines in towns and cities. Make sure you aren't caught between the barriers. It's hard to miss the wailing Anime-girl alarm though.
Learn some Japanese – Numbers, greetings, please, and thank yous are lapped up by the locals.
Get a translation app – Google Translate can be a lifesaver.
And use Google Maps for trains – There are also some apps purpose-built for Japan's public transport system.
Be respectful – Especially to older people. Bowing is where it's at. And take your shoes off if you're going in someone's house.
Don't get carried away in public – The Japanese traditionally maintain a reserved nature in public. That said, when the gloves come off and it's party time, the socially-normative inhibitions go right out the window.
Avoid rush hour – Especially if you're taking the train. Is rush hour dangerous in Japan? No… Is it worth it…?
Prepare for the weather – Winters are cold and the summers are hot. A winter travelling in Hokkaido really isn't all that far from Russia after all.
Watch out for bears when hiking – Noise – be it loud stomps, a speaker, or a anti-bear bell, are all strong recommendations.
And watch where you step – Snakes are worth worrying about. A bite from the major type, mamushi, typically results in hospitalization.
Stick to marked trails when hiking – Same as you'd do anywhere. Going 'off-piste' can lead to getting lost, injury, or worse.
Know what to do in the event of an earthquake – REALLY important. Download an earthquake app and keep an eye on the news.
Watch out for the weather – When typhoons hit they can be STRONG. It's key to stay inside.
Some General Safety Tips from the OG Broke Backpacker
Keeping your money safe in Japan
Anywhere in the world, the most common thing that's going to happen to your actual person is petty theft. Yep. Having your money stolen is a whole lot of headache that you really don't need.
And Japan is safe. BUT… That doesn't mean that criminals don't exist. And even though petty crime may be very, very low, there's always the chance you might lose your stuff. Either way, you should keep it safe and sound in a travel money belt.
Money belts come in all shapes and sizes. There is a whole world of choice out there. But for us the only one that's going to cut it is the Active Roots Security Belt.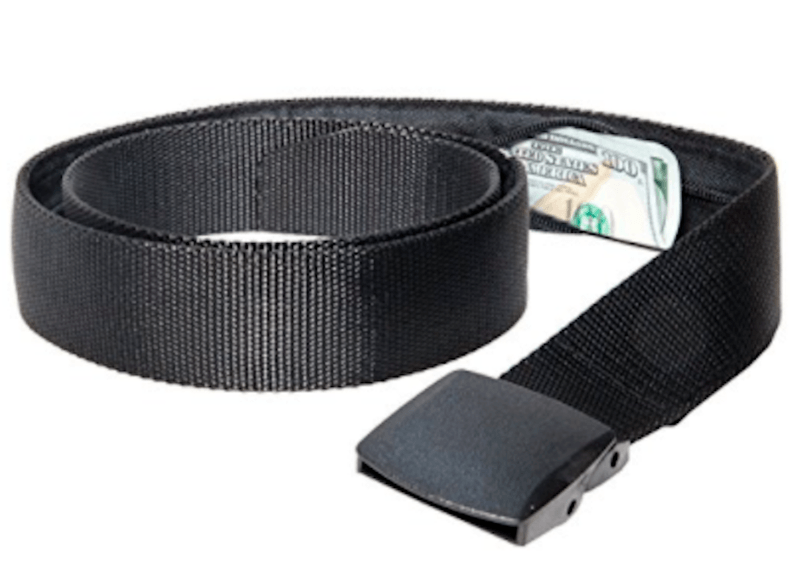 We love this one. A lot. It's affordable, it's sturdy as hell, and it looks like a belt! All the better to fit in and not look like a complete tourist in Japan.
You probably won't have to be looking out for your stuff too much in Japan, but it's handy to have your money within easy reach. And let's face it: having a few thousand yen stashed in your money belt is a lot more comfortable than having a bulky wallet dragging your pocket down. And at the end of the day, it's better to be safe than sorry. That's just true facts.
If you need a little more room for your passport and other travel valuables, have a look at a full-size money belt that tucks under your clothes instead.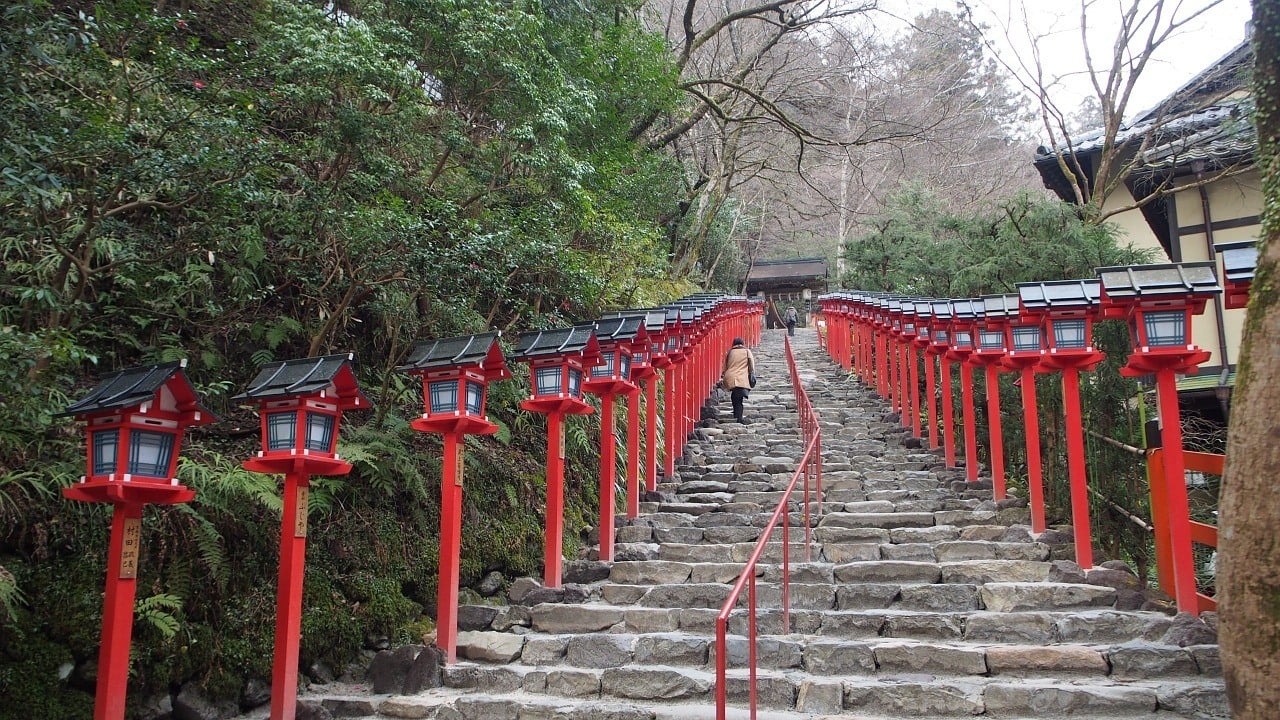 Solo travel is something that we are always going to recommend here at The Broke Backpacker. There are cons, like getting lonely, getting bored and losing touch, but there are way more pros. It's awesome! Do what you want, learn about the world, and challenge yourself!
Japan is one of the safest countries in the world, so it goes without saying that it's going to be very safe for solo travelers too. It's a safe, solo-friendly place.
However, Japan can also be an isolating place at times. While there's certainly a backpacking scene in Japan, it's not so pronounced as other places in Asia. A step away from the tourist hubs can quickly leave you feeling like the only foreigner around for a 200-mile radius (while also simultaneously feeling incredibly safe).
When it comes to Japan… Japan is safe to travel alone. Crazy safe. You're going to be able to wander around at night feeling like you're the last person on Earth. Still, it pays to be knowledgable, so here are a few solo travel tips for Japan.
Traveling to Japan Alone – Tips and Pointers
Know when to call it quits when it comes to drinking. Booze is everywhere, and it's cheap. Be especially careful in touristy bars, where drink spiking can happen.
Make sure you can get home at night. It's easy to lose track of time when you're out and about. Missing the last train in a city means walking, which is long, or getting a taxi, which is expensive in Japan.
When you're out hiking, know your limits. The climbs here can be steep and relentless. Do your research and plan ahead. Plenty of people have hiked all over Japan and written extensively about the experience – often complete with photos of the route.
Meet up with other people. Japan can be a lonely experience and sometimes spotting another backpacker feels like finding a unicorn. The best way to stay connected is to be social and meet people: stay in a cracker hostel good for solo adventures, meet people at gigs, get chatting to locals in a bar (the trademark Japanese shyness disappears after a few drinks), or even do some volunteering somewhere to make some sober friends.
Don't be afraid to eat out or even drink by yourself in Japan. This is totally normal. It's a standard post-work de-stressor in Japan (usually coupled with several drinks).
Keep in touch with people. Your family and friends back home will most likely think you're doing something pretty cool, so don't leave them in the dark and go off-the-grid completely. It's a good way to keep sane as well because traveling around Japan can feel like a very insular experience.
Take a tour! A walking tour, a whiskey tour… anything! This will open up the country a little more – since many things you go to see won't be adequately explained in English. It's a good way to learn and meet other travelers.
Figure out a route from the train station, or bus stop, to your hotel ahead of time. If you need WiFi, head to a konbini (convenience store) like 7-11 or Lawson to connect.
With that in mind, think about picking up a data sim at the airport. Japan's WiFi sitch is pretty good but there are always times when it's not around and you really need to check or translate something.
Book accommodation and bullet train tickets in advance. This isn't a country where you can just rock up and make a reservation. You will have to book before you arrive so plan ahead.
Don't be afraid to ask for help if you need it. People will literally draw a map on a napkin for you if you're lost and write down the connections you need to make if you're not sure about the train.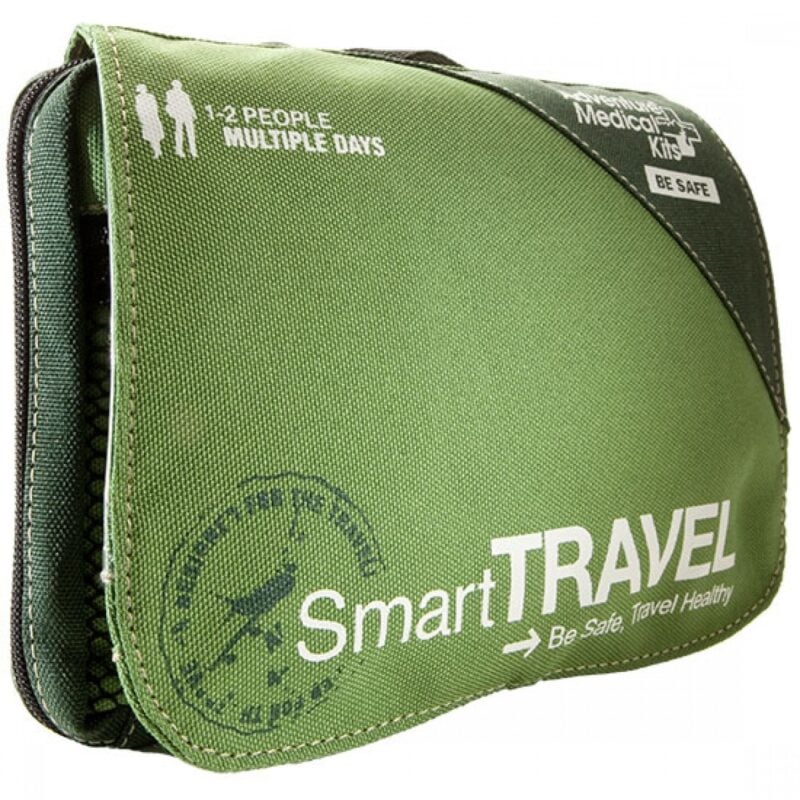 Be prepared for what life throws at you on the road. Pick up an AMK Travel Medical Kit before you head out on your next adventure.
View on REI
View on Amazon
Is Japan safe for women?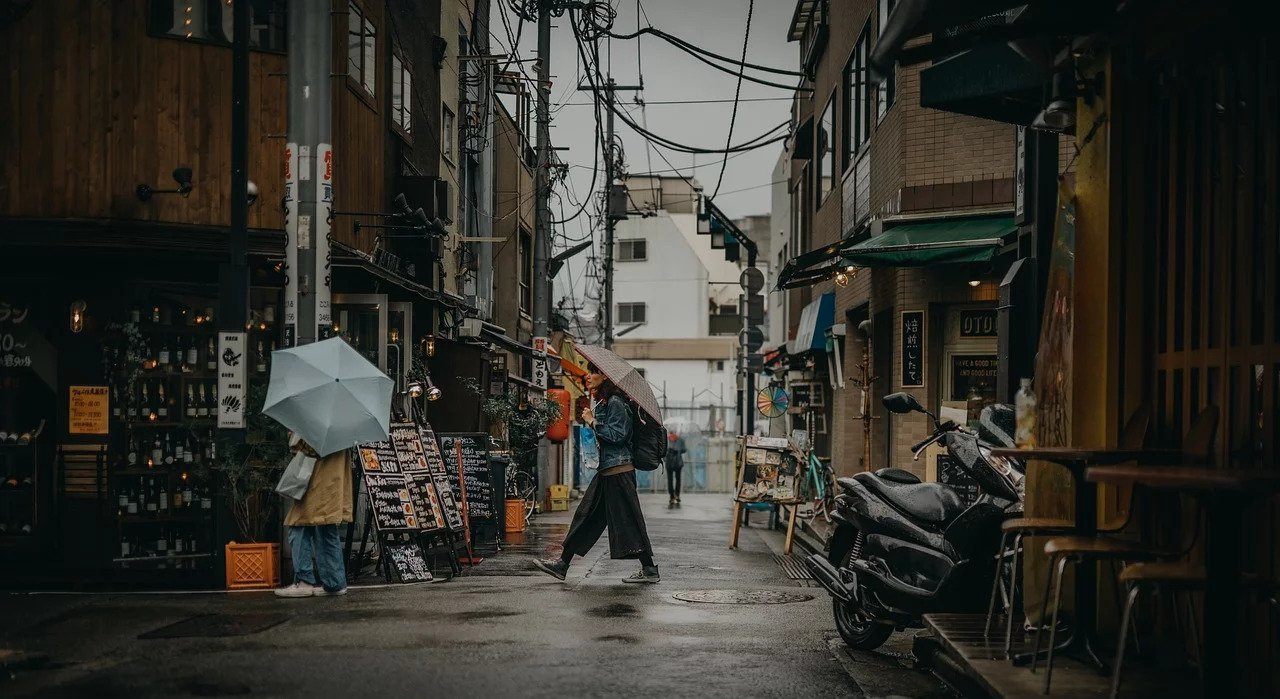 Japan, being Japan, is most definitely safe to visit for female travelers. There's not a lot here that is going to keep you as a woman from having an awesome time discovering what this incredible country has to offer. However, it's not always perfect.
Being a woman anywhere in the world comes with its own risks, and that applies to Japan too. In fact, in the World Economic Forum's global gender equality rankings, Japan ranked 110th out of 149 countries. That's not great, though it doesn't mean Japan is dangerous for female travelers.
Women in Japan have traditional roles, but it's changing. In fact, single women are very free in Japan, but they aren't always totally safe. Japan has earned an unfortunate reputation (with grounds) for having an issue with perverts and gropers (among worse things), particularly on some public transport. While this is an ongoing historical social issue in Japan, it's extremely rare for this to reach a foreigner.
It's safe to say that traveling as a woman, alone or otherwise, in Japan is safe. Everything from outright harassment to just unwanted attention in bars is pretty rare. Even walking around pretty much anywhere in the country at night is completely fine 99% of the time..
At the end of the day, Japan is safe for female travelers. All the same, it never hurts to be prepared. Here are some travel safety tips for the women going to Japan!
Traveling to Japan as a Woman – Tips and Pointers
Dress appropriately and try to blend in. You're not going to get catcalls, but revealing your midriff or having cleavage on show is going to make you stand out. Bagging a Western woman (to be uncouth) is still a holy grail for many Japanese men.
Japan has women-only carriages on many of its urban train networks. There's a name for the onboard gropers – chikan – and historically it has been a common occurrence on public transport in cities, mainly during rush hours. As a tourist, particularly if you avoid peak hours and use the women's carriage, you'll be fine.
Know that if someone is bothering you, physically or being weird, make a scene! Yell, shout, and tell another passenger to call the police. This will definitely spook the harasser.
With that in mind, stay in a hostel with good reviews and female-only dorms. Not only will you get a better night's sleep, but sometimes mixed dorms can be a bit overwhelming. Often in Japan older men stay at hostels too. It might feel a bit uncomfortable. So opt for a female-only dorm where possible. This also means being able to get chatting to some other travelers, too.
And on that note, find yourself some travel buddies! Japan can be a lonely experience. So whether you do this via the hostel you're staying at, messaging other women via Instagram who are traveling around Japan, or any other trustworthy method, it's going to be great for making Japan more fun.
Don't be scared to try an onsen. These are traditional public baths, often using naturally hot mineral water… but everyone's naked. The baths are gender-segregated, and it's an amazing experience. All sorts of women, from teenagers to older ladies, and even mothers with babies, come in to use the baths, relax and socialize. You might even get chatting to someone yourself!
Oh, the whole naked thing? No one cares!
Is Japan safe to travel for families?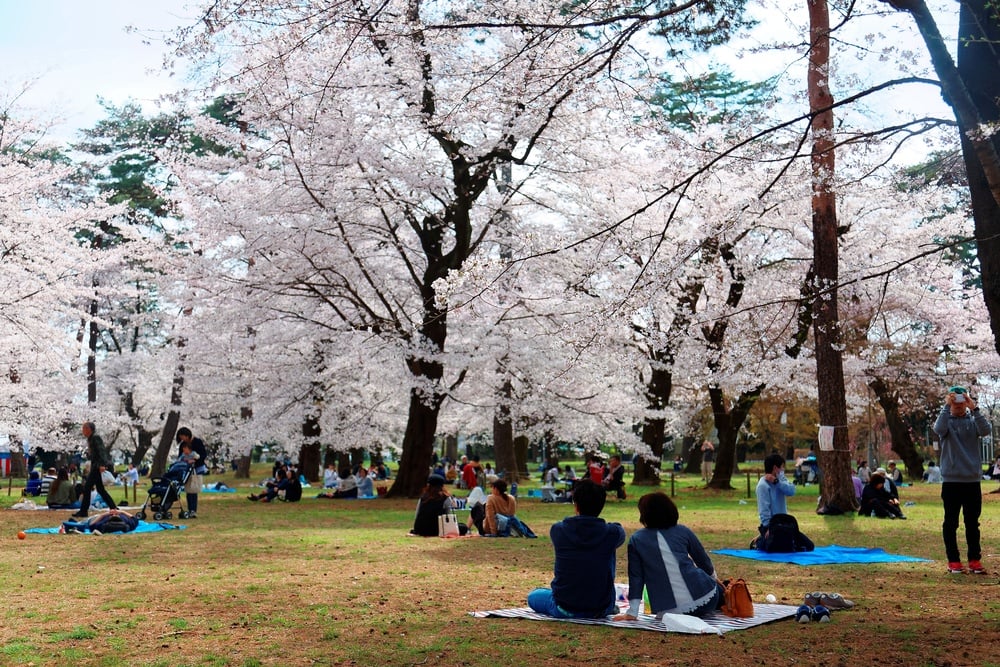 Being as developed as it is, Japan is actually an amazing place to travel with children.
And if your children are videogame or anime fans, they're going to absolutely love it! We're talking everything from the Pokemon Centre to arcades galore.
When it comes to history… there's Kyoto with all its ancient temples. You can feed the deer in amongst the shrines of Nara. You can visit actual former samurai residences in Kakunodate.
And then there are the many museums and theme parks of Osaka and Tokyo.
In February there are the beautiful tiny igloos of the Kamakura Festival, the ice festival of Sapporo and Asahikawa, and skiing.
Japan is a fantastic (and safe) holiday destination for families. There's so much to do!
Can I travel to Japan with Children?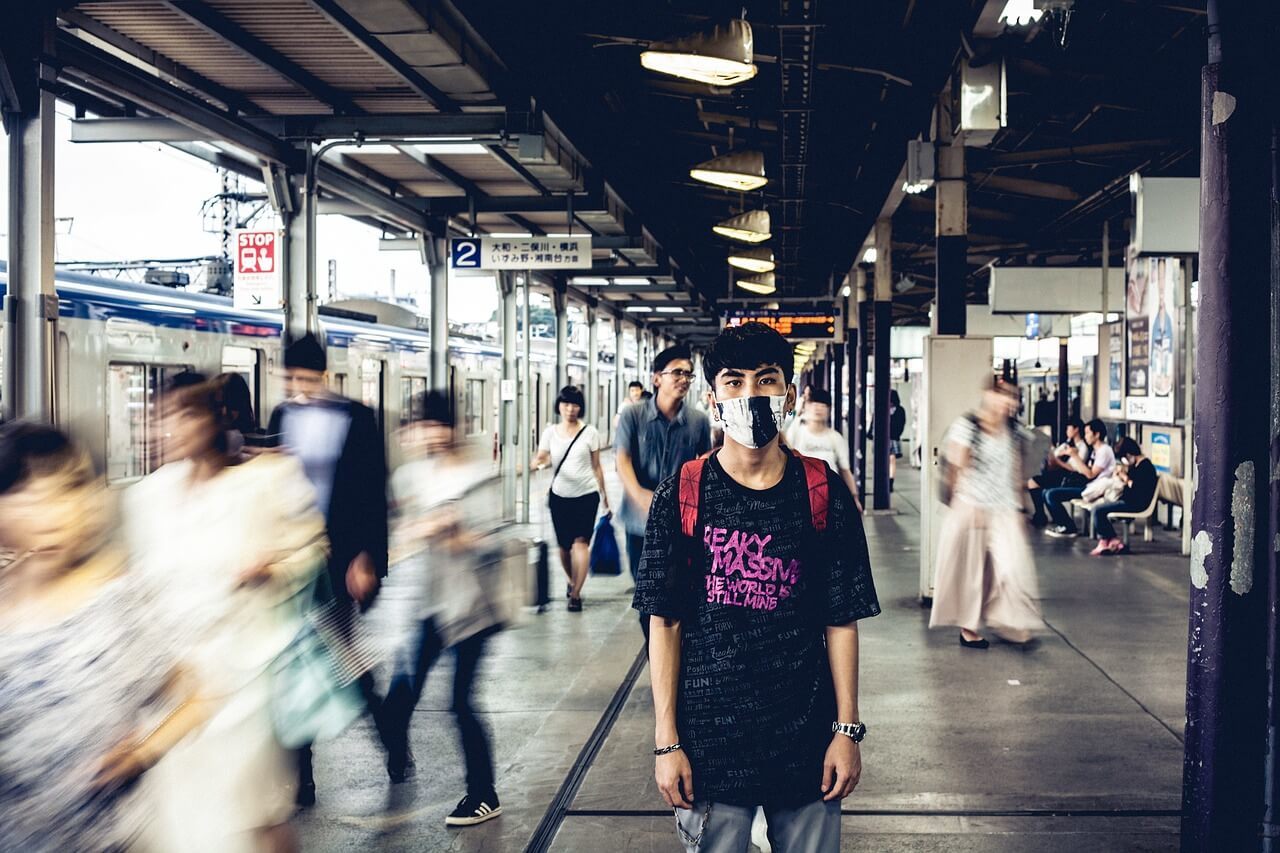 Everything in Japan is very easy to do with children. It's one of the safest places for traveling families to take their children. You'll often see them walking around by themselves, playing in parks, and taking themselves to and from school.
In terms of food, don't worry: it's not all ramen and sushi. Restaurants often have children's meals, featuring very kid-friendly dishes like naporitan and omuraisu – both ketchup-heavy.
You can even bring SMALL children to Japan. Easily. Baby changing facilities and public toilets are pretty much everywhere. Things like this are well catered for in Japan.
One thing you might find is that hotels can be a bit of a letdown. The facilities aren't really for kids. For example, say you book a room as a family of 3 – you might not actually get an extra bed. It might be a futon on the floor. Be wary of so-called "family rooms" and do your research.
Japanese Hostels actually often have the option to hire out a whole dorm. So you could get yourself a four-bed hostel dorm with its own bathroom.
But at the end of the day, Japan is safe for families to travel. 100%.
Is it safe to drive in Japan? Getting around Japan.
Yes, it sure is.
And there are some superb road trips to be had too (Japan is for the motorbike lovers). There are lovely little coastal routes, around the Kii Peninsula for example, drives through the mountains, and endless backroads that weave through villages and towns.
Major expressways often have barriers on each side which means you won't actually be able to see the beautiful scenery on offer. Once you leave the major roads though, it's gorgeous.
If you do end up driving… it's safe in Japan.
There's parking everywhere, though it can be pricey. Nobody drives crazy or too fast except for the odd tosser. The Japanese are some of the safest and most patient drivers on the planet. They also drive on the left which is great news for the Commonwealthers.
City driving can be hazardous. Pedestrians are one hazard: if it's green for you to turn left at a junction, it's often also green for pedestrians to cross. Why? No idea but that's how it is! Be careful!
Bicycles are everywhere. Sometimes they behave like pedestrians, sometimes like cars. Keep your eyes peeled.
You might want to learn some Japanese road signs. A few basic signs doesn't mean actually reading Japanese, just recognizing the characters.
That's just city driving for you – it's pretty stressful all over the world. Avoid rush hour in the cities, however, and it'll be chill.
Basically, it's like driving in any developed country. It ranks very low in terms of deaths due to road traffic accidents – in the top ten safest countries for driving, in fact, along with Iceland, the UK, and others.
So, yes. It's certainly safe to drive in Japan.
Is Uber safe in Japan?
Definitely.
Uber is safe in Japan.
But, for some reason, it's more expensive than taxis.
That might be because Uber is more convenient than a taxi. So you pay for the privilege. That might not be it, though. Either way: it is pretty pricey.
All the usual perks of Uber apply here. That's everything from being able to see in advance who your driver is, all the way to being able to not have to use any Japanese to book a car.
Are taxis safe in Japan?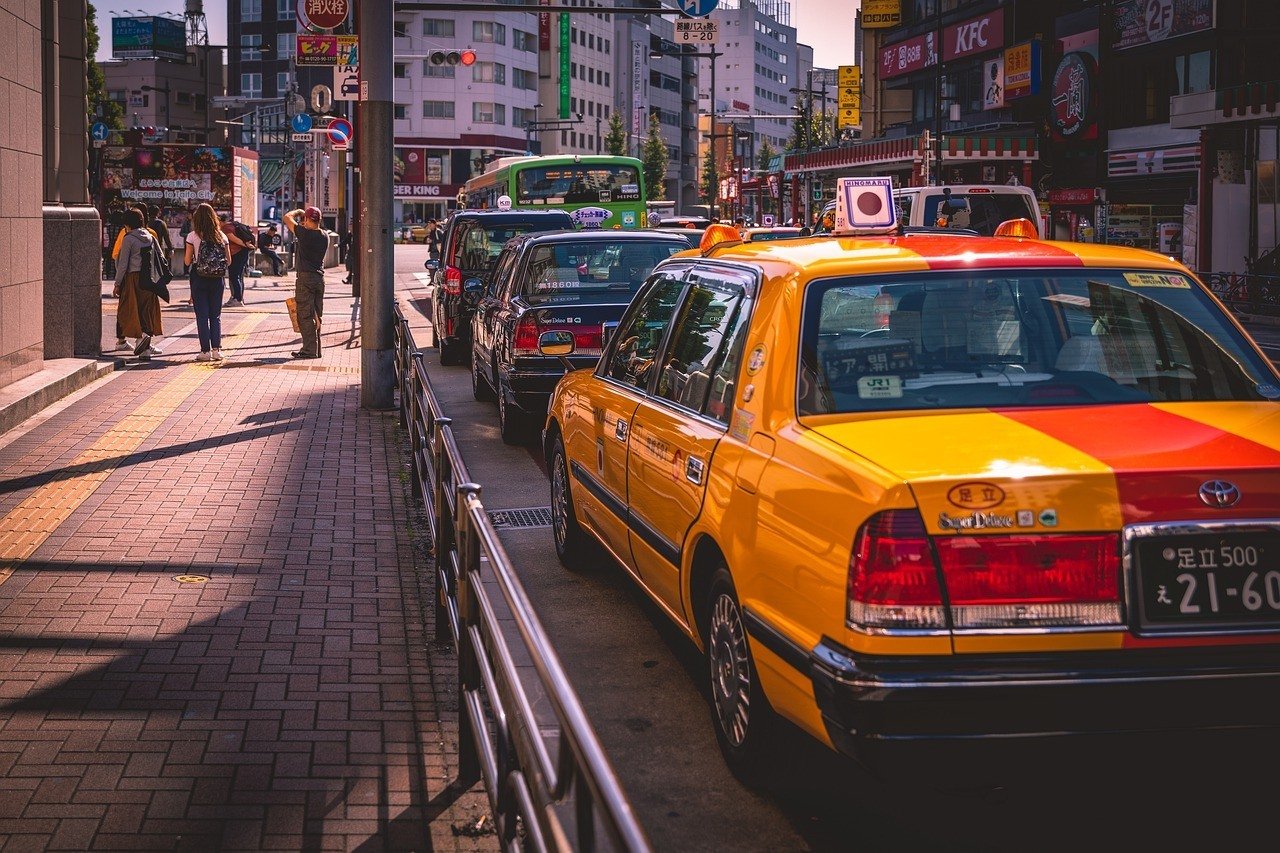 Unlike in other countries, where you have to negotiate with drivers, worry about drivers not turning the meter on or driving too fast, or other odd stuff happening in the car – taxis are totally safe in Japan.
There's this stereotype that Japanese taxis are ultra-clean. That's NOT a myth: they really, really are.
Quality will still vary between companies and locations (eg. rural towns vs. cities). There are many different companies, and taxis are generally more likely to be super-swish in major cities than in tiny fishing villages.
You'll know one instantly. They look like taxis and they're totally safe in Japan. You can trust them to get you anywhere, at any time of night.
Taxi prices are indicated on Google Maps. You can even order through this, via JapanTaxi, or DiDi. They tell you the wait time and the fare.
English-speaking taxi drivers aren't widespread. You might want to learn some basics in case but chances are Google Translate will suffice.
That said, taxis are super expensive. We're talking more expensive than London prices. Very steep.
Our verdict? Use public transport.
Is public transportation in Japan safe?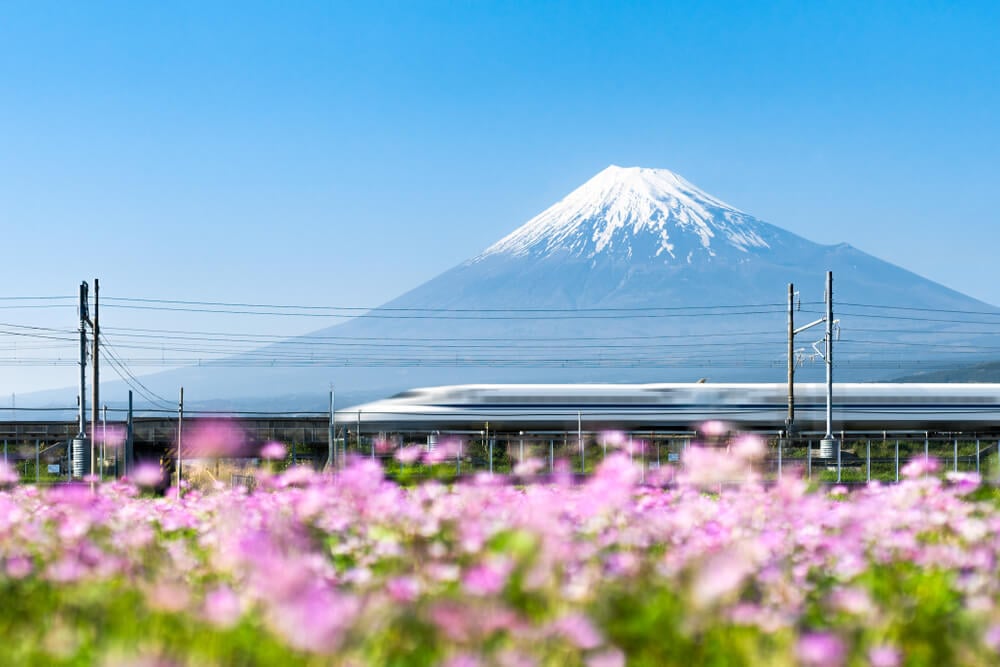 Japan is famous for its punctual public transport. (And a billion other things – do they do everything perfect here?) The trains are well known for being on time, all the time.
Visiting Japan? Don't risk having to sit on the floor or change your itinerary because you missed the last ticket at the station! Find the best transport, best time and the best fare with 12Go. And why not use what you've saved to treat yourself to something nice upon arrival?
It only takes 2 minutes! Book your transport on 12Go now and guarantee your seat easily.
Getting Around the Cities
Each city will have some level of a train or metro system. Whether that's a few stations crossing a small city, or an entire metro system like connecting the larger metropolises of Tokyo, Osaka, Nagoya, and Fukuoka. It's VERY comprehensive.
And whilst public transport in Japan is safe, there is one thing to worry about: chikan. This is basically sexual assault, from inappropriate touching to groping, on women. Though it nearly always usually only a concern for local women, it's not ok.
It usually happens in packed train carriages. Many cities feature women-only carriages, in operation during rush hour so women aren't pressed up against men in a crowd. If you're a female traveler, remember these carriages during the designated (i.e. most busy) times.
Other than metro systems, some cities have a tram network. Cities like Hiroshima and Hakodate are examples. Tokyo even has a couple of lines. This, too, is safe.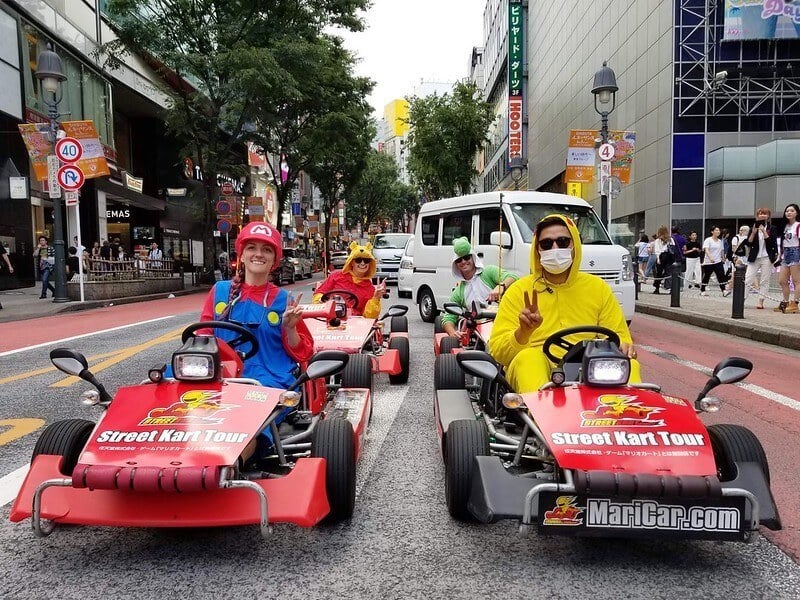 Cities, towns and villages have bus systems which are also safe, efficient, and easy to use. In more rural areas everything will be in Japanese. In cities, it's usually a mix of Japanese and English. Anything in between depends on how well-trodden it is by English-speaking tourists.
All in all, if you get confused, there'll always be a friendly Japanese person around to help. Getting around Japan's cities is safe and easy.
Getting Around Japan
Then there's getting around the country itself. The rail system is amazing! Local trains here go into almost every single nook and cranny of Japan.
It can be confusing, though: these are often a mix of private lines, Japan Rail lines, and a whole load of different trains from local to reserved and un-reserved limited or semi-limited expresses. Yep. More confusion.
Use Hyperdia to find the cheapest and easiest train routes.
There's also the famous shinkansen or bullet train. This is super fast, super clean, super nice… and super expensive! (Seeing a trend here? A trip to Japan can cost quite a bit if you're not smart.)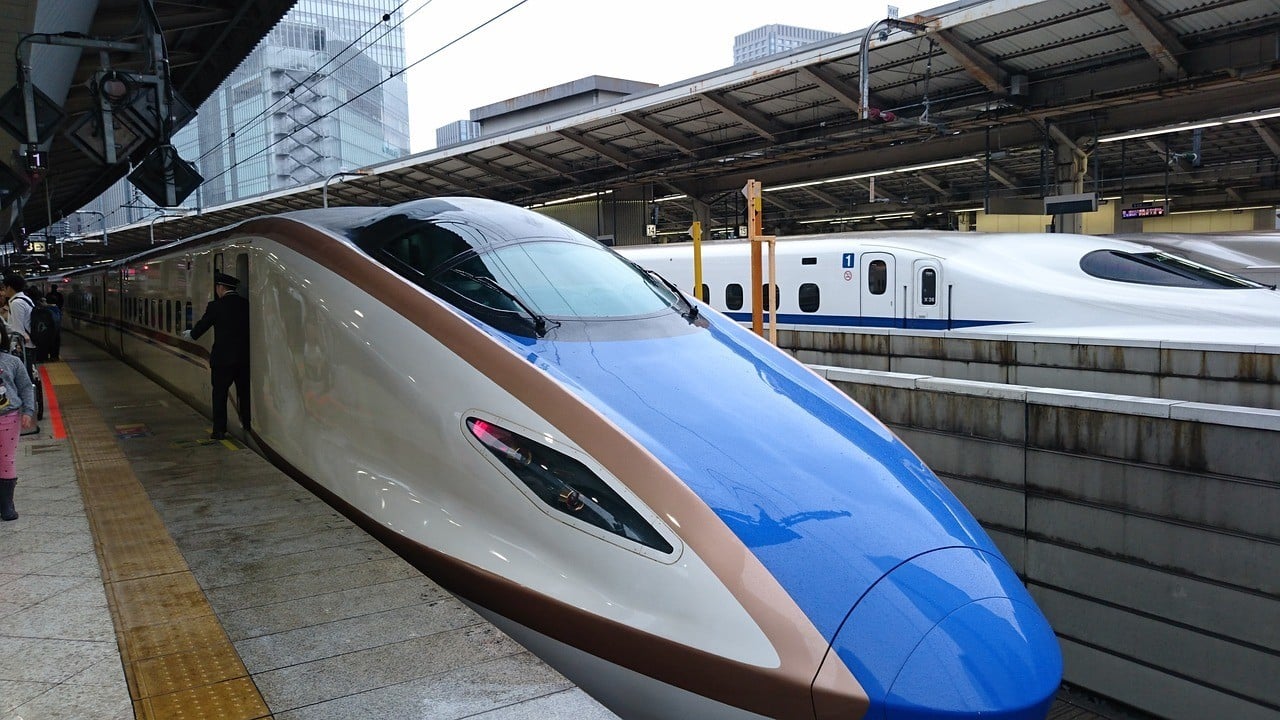 The cheapest way to get around is by highway buses. These ply Japan's roads cheaper than the price you'd pay via rail. Best of all: no having to change at random train stations.
Even cheaper are night buses. These vary in quality: some companies are amazing, come with toilets, WiFi, and footrests while others may just have a reclining seat. But these are the cheapest way to travel between Japan's major cities. Night buses in Japan are (of course) safe, too.
Put simply, public transport in Japan is amazing. Like most things about the whole damn country.
Is the food in Japan safe?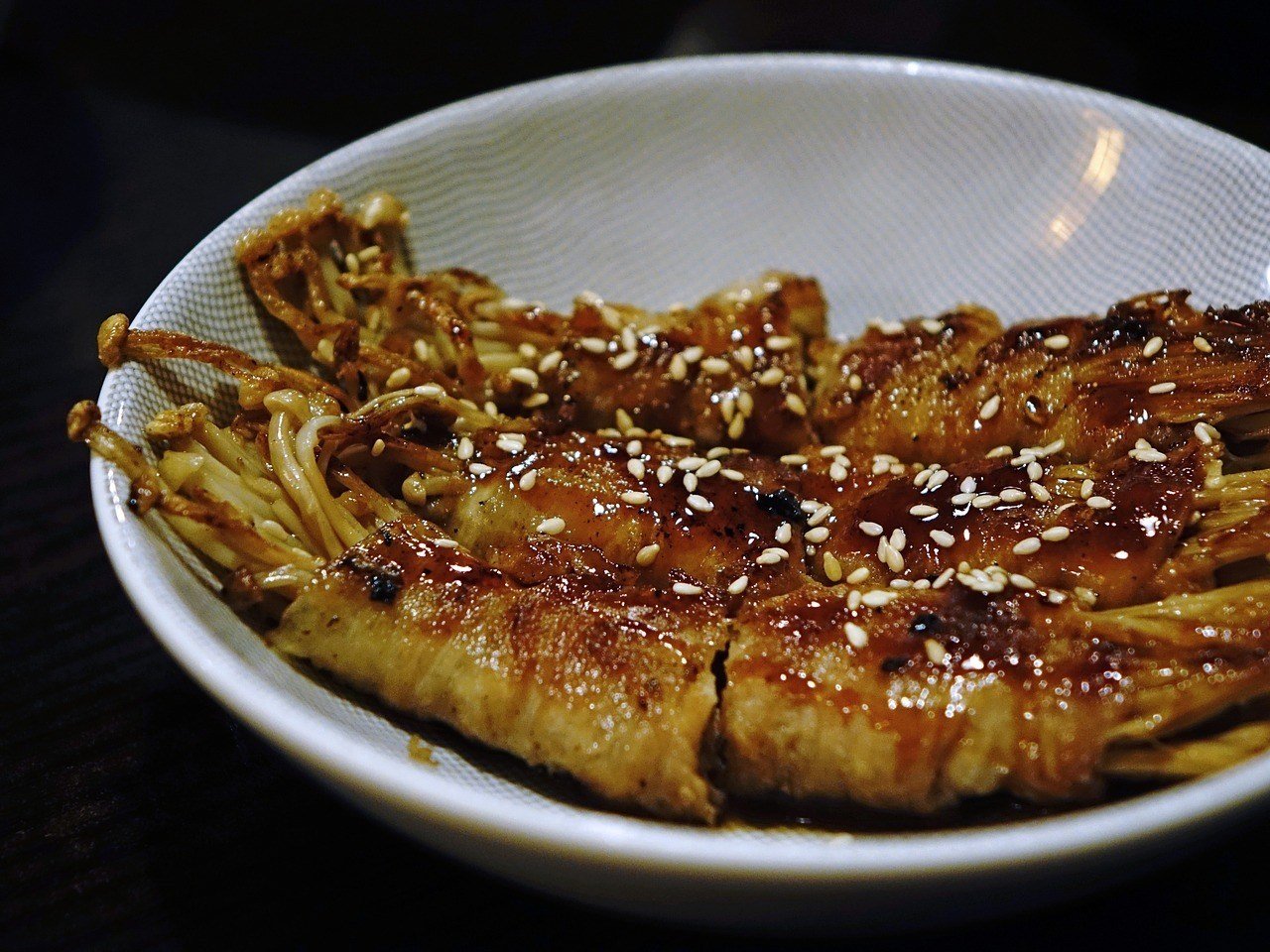 Hell yes, the food in Japan is safe! And there are so many things to eat! There's tempura (deep-fried stuff), yakisoba (fried noodles), udon (thick noodles), okonomiyaki (savory cabbage pancake), mochi (sweet and sticky rice-jelly)… and so much more!
Japanese food is really safe and really tasty. That's about it. The only times you may come up against anything unsafe is if you have an allergy to seafood. There's a lot of seafood in Japan.
But when it comes to being able to make sure you get what you want in Japanese restaurants, learn a few basic phrases in Japanese. A bit of research will help you get to know the characters for food you like, too. But safety-wise, you're going to be fine!
But whilst hygiene conditions are meticulous, there are still things you can do to ensure that you stay as healthy and as safe as possible when you're eating your way around Japan. So here are some of our top tips when it comes to food safety in Japan.
Eating Safety in Japan
Raw food in Japan isn't just about fish. You can get raw slices almost any meat. We're talking beef and raw slices of horse (uma) and even chicken sashimi. If you have a delicate stomach at all, you may want to avoid these raw meats as much as possible – especially chicken.
Another raw thing: fugu. It's a pufferfish and if not prepared correctly, the poison can literally kill you. The chefs who prepare this have to train for years and obtain a specific license.
If you want to try it… Ii's not for the faint of heart. We would say go to a place that serves fugu as a specialty; the cities of Shimonoseki or Kitakyushu, for example.
If you want a good food experience, go somewhere busy. A lot of places in Japan are just outright tasty. But if you really, really want a good meal, head for somewhere that looks very popular.
Avoid places that look like flashy tourist traps or if a tout is trying to get you in. Most likely this won't be very good quality food and you might end up paying a lot of money for the privilege.
It can be tricky being a vegetarian in Japan. Even something advertised as a "cheese sandwich" will usually come with a slice of ham. Potato salad? Bits of bacon in it.
Vegetarianism (and even veganism) are a thing in Japan, however, it's rare and not the norm at all Ask for things with niku nashi at the end of the sentence – that means "without meat."
Last but not least, wash your hands. Always. This can save you from getting ill in Japan, at home, and everywhere else.
Traveling with an allergy? Research ahead of time how to explain your allergy. Keep in mind that store owners and restaurant staff might not know all the foods that contain allergens, so it's helpful to know the names of some of these too. If you're gluten-free, pick up a handy Gluten-Free Translation Card with descriptions of Celiac disease, cross-contamination risk, and local Japanese ingredients in Japanese.
Can you drink the water in Japan?
Yes.
In cities, it's a bit chlorine-y.
Outside of these, in rural areas, it's pretty tasty (particularly in Hokkaido). Wherever you are, bring along your travel water bottle to tote it around with you so you never have to buy those evil single-use bottles!
Watch out in remote areas after heavy rains, winds, and/or landslides. This can put dirt and other contaminants into the water. In these instances, treat or filter your own water. It should clear up after a day or two.
But in general? The water in Japan is completely safe to drink.
Want to save the world?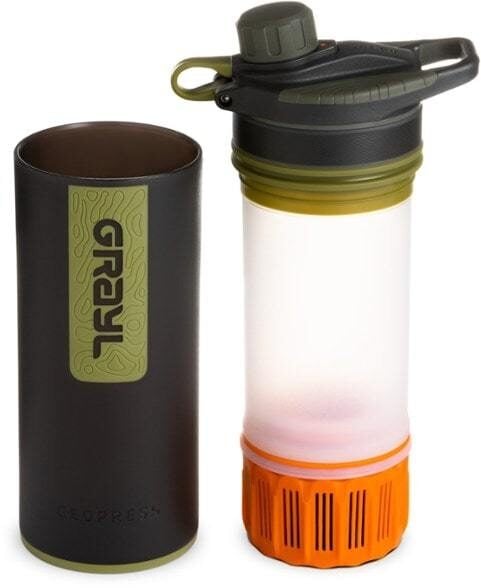 Single-use plastic bottles are a huge threat to Marine Life – Be a part of the solution and travel with a filter water bottle.
The GRAYL GEOPRESS water bottle is the ONLY all-in-one filter water bottle setup you'll need. Whether you need to purify the water from a hostel sink in Kathmandu or a stream trickle in the Andes, the Geopress has got you covered.
Read our full review of the GRAYL GEOPRESS!
Is Japan safe to live in?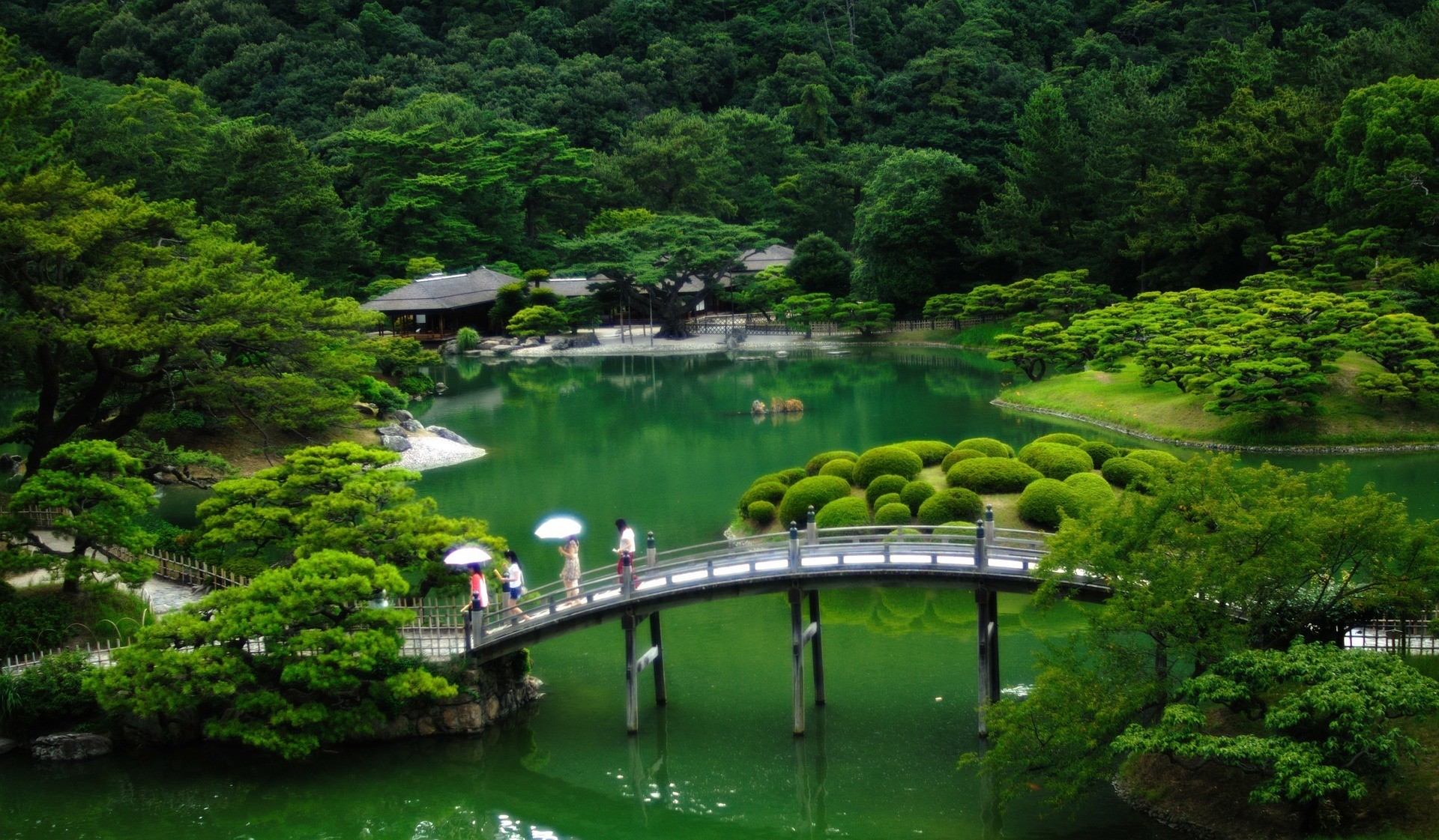 Yes, it most certainly is
But one thing. The longer you live in Japan, the more likely it is that you are going to experience an earthquake.
That's just GOING to happen.
To really make Japan safe for you to live in, you're going to have to know what to do in the event of a big earthquake. Having earthquake apps downloaded on your phone, and watching the news if you even feel a small wobble, will help you out.
Then there are typhoons. These happen regularly but especially frome September to October – typhoon season. They can be nothing more than a storm. But they can also be truly terrifying and dangerous.
They can cause flooding, landslides, and massive infrastructure damage.
Knowing where you should evacuate to in the event of a tsunami if you live near the coast, is very helpful too.
Natural disasters are par for the course in Japan. Combine this with the large number of nuclear power plants in Japan, and it's a dangerous mix (perfectly encapsulated by the Fukushima disaster of 2011). Although this isn't a concern for everyone, people who are trepidatious about nuclear power (including many Japanese people) make the move to Hokkaido which has a comparatively low number of plants. On occasion, they may even leave Japan altogether.
Connecting in Japan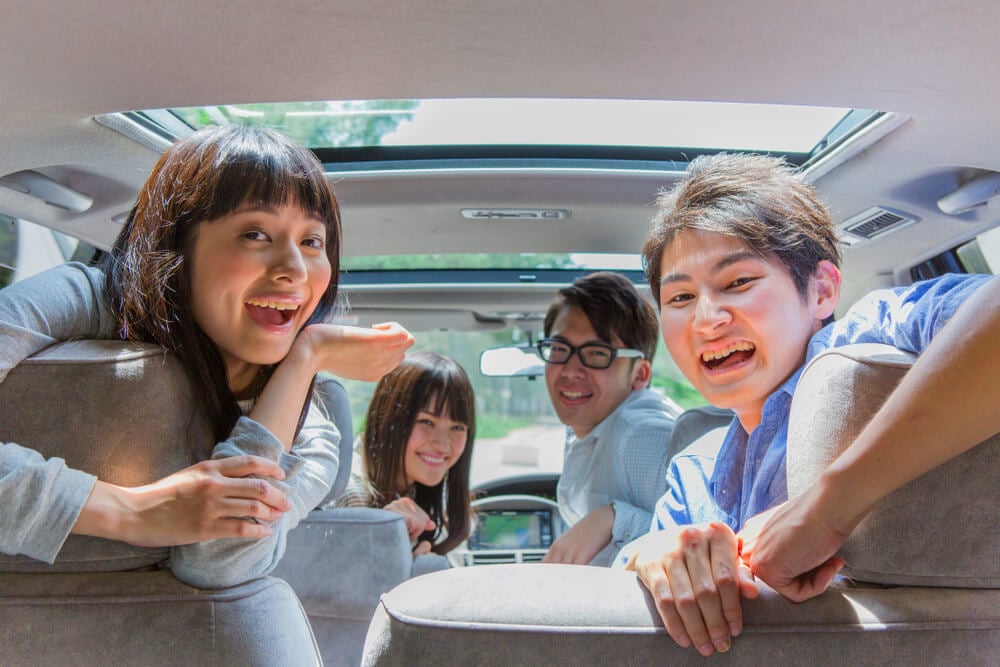 Aside from that, as we've said over and over, Japan is safe. On a human level, it's really safe. But you should honestly learn some Japanese. English is not very widespread and although it's becoming more common with younger generations, it's still extremely limited.
Knowing how to order food, ask for directions, and say basic stuff will really open up the country for you.
Reading hiragana and katakana (the basic scripts) as well as some elemtary kanji (the complex Chinese-derived script) will open it up even more.
It can be hard to integrate. Find some friends online via Facebook groups, do your research, and try to meet up based on common interests. It's all about perseverance.
It's easy to get lonely too, so keep in touch with people back home. Post your pics of Japanese castles and what you're eating for dinner.
Japan is safe to live in, but it can be tough sometimes. Especially if you're by yourself.
How is healthcare in Japan?
The healthcare in Japan is up there with the world's best.
As for how it works, it's basically three tiers.
If you're very poor and receiving government subsidies, it's completely free.
For everybody else, you have to pay health insurance. It's mandatory. This goes to the government. It's basically like a National Health Service-type deal, except it's not free.
Any kind of consultation, injection, operation – anything – you pay a certain percentage of it. The Japanese government pays the rest. It's income-dependent, so you'll either end up paying 10, 20 or 30% of whatever the doctor's bill is.
Then there's private healthcare. This is obviously not subsidized and is expensive but very good.Though you probably won't even need to use it, given how good the healthcare is in Japan.
You'll never be too far from a hospital or any sort of medical facility, even in a small village.
FAQ about Staying Safe in Japan
Here are some quick answers to common questions about safety in Japan.
Final thoughts on the safety in Japan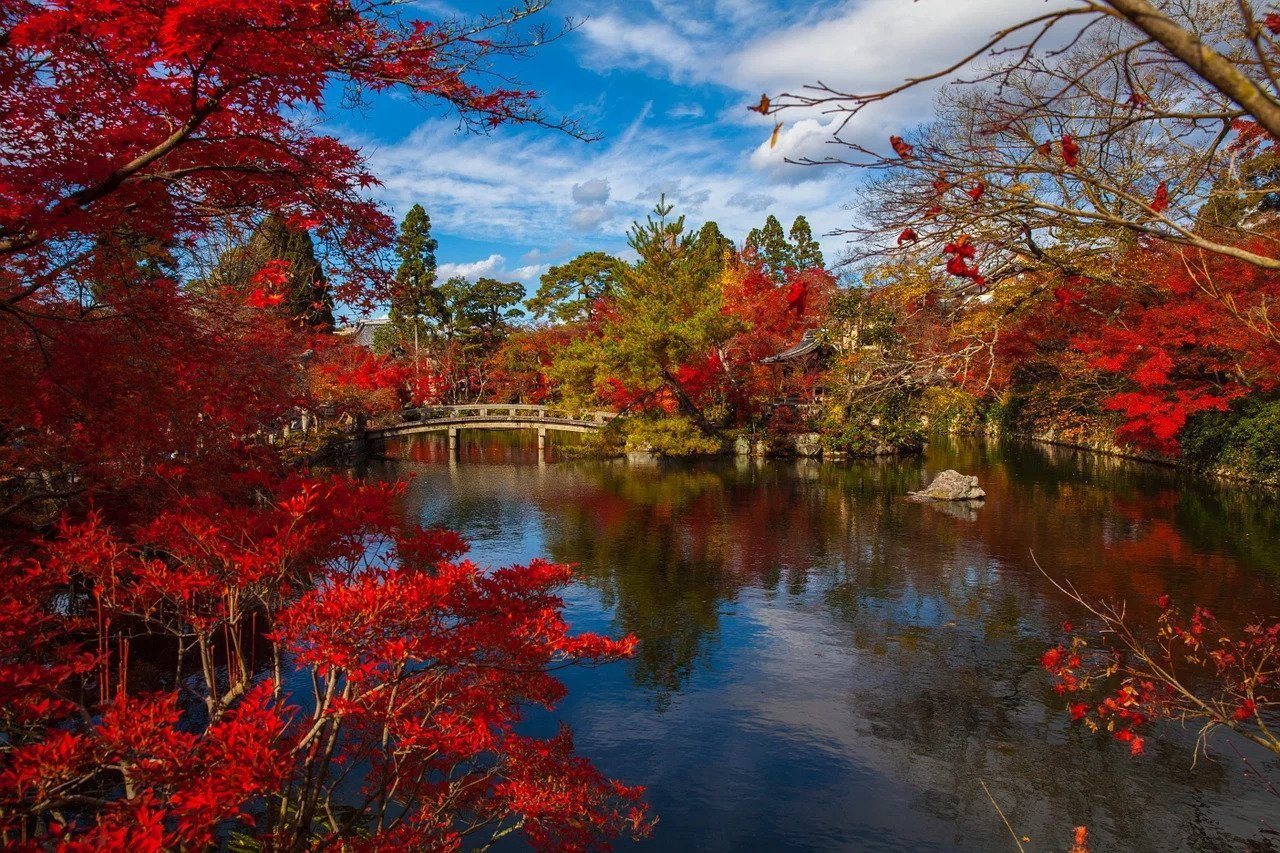 To conclude: Japan is a ridiculously safe country to travel. Everybody minds everybody else's business here, people literally save seats and tables in cafes with their handbags and coats (a TOTAL no-no in so many other countries), and public transport is safe after dark.
It's quiet, humble, and totally safe. And it's zany, proud, and completely reckless – watch a mikoshi processionand see the madness.
Anywhere in the world, there are shades of gray and shades of weird. Not just weird, where people can get too close for comfort, or just plain freak you out, but dangerous. Although safety in Japan is pretty much a no-brainer for a tourist, things can still happen the same as anywhere.
And then, of course, away from all the human things: Mama Nature. Earthquakes are unpredictable. Japanese people live with this threat every day and still have fun. So should you.
And have you thought about getting Travel Insurance for your trip? You can get a quote from World Nomads by clicking on the link below.
Disclaimer: Safety conditions change all over the world on a daily basis. We do our best to advise but this info may already be out of date. Do your own research. Enjoy your travels! Some of the links in this post are affiliate links which means we earn a small commission if you purchase your insurance through this page. This costs you nothing extra and helps us keep the site going.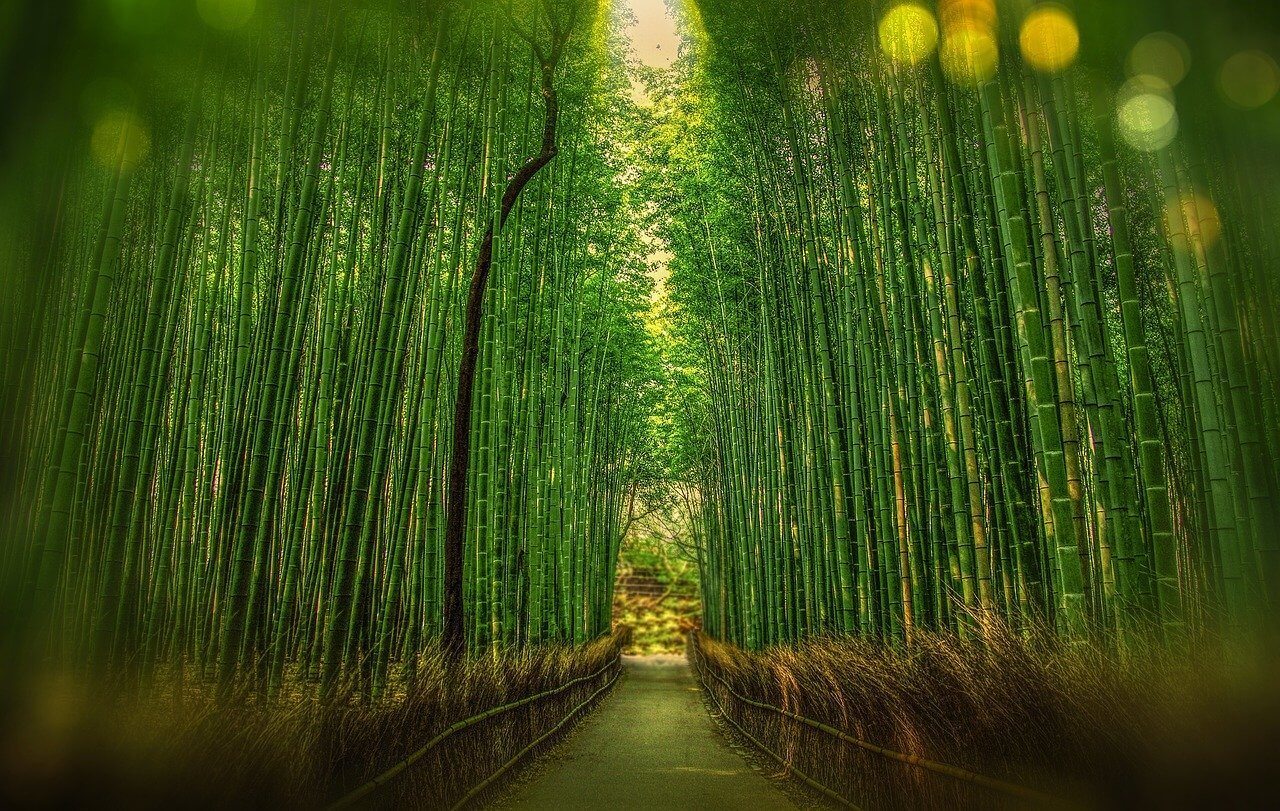 ---
Find out how YOU can support the site.
We work hard to put out the best backpacker resources on the web for free! It's all about helping out our tribe of awesome backpacker readers (that's you!). Please visit the link to find out how you can help keep the site going 🙂
For the sake of transparency, some of the links in our content are affiliate links. This means that if you book your accommodation, buy a piece of gear, or sort your insurance through our link, we earn a small commission at no extra cost to you. We only link to stuff that members of the Broke Backpacker team has actually used and never endorse products or services that are not up to scratch. Thanks for your support!