Imagine this; You wake up in your Tokyo hotel room to a chorus of cars honking during the morning commute, towering skyscrapers, with just a hint of smog in the air. You decide to grab your daypack and make your way to the subway station. After a brief one-hour train ride, you suddenly find yourself amidst the serene mountains, where birdsong fills the crisp air, and a sense of peace washes over you.
Tokyo is the world's largest city, home to a whopping 37.5 million people, and there is absolutely no shortage of things to do here. But, if you're anything like me, spending a week or more in this city can get a bit overwhelming; the crowds, the heat, the traffic. Trust me, you'll end up needing a break from this chaotic metropolis.
After spending some time in the city, backpacking and hitchhiking around its surroundings, I've compiled the ULTIMATE list of the 10 best day trips from Tokyo.
From ancient towns, waterfalls, and beaches to encounters with snow monkeys, ascending the iconic Mount Fuji, and even the thrill of roller coasters, there's a world of adventure right on Tokyo's doorstep. Let's delve into it friends!
I remember my first trip to Tokyo, arriving at the Shinjuku station, Japan's most infamous and iconic station.
I hopped off the train with my backpack and only a few hours of sleep under my belt and found myself frozen. People were swarming around me like bees, becoming engulfed in the organized chaos that is a Tokyo train station.
After a few moments of shock, I headed over to the ticket machines to try to get to my hostel, as I hadn't yet picked up a Japanese SIM card. I took one look at the map and started to cry… (admittedly partially from sleep deprivation).
Seriously, just take one look at the Tokyo metro map. It looks like an alien with a few dozen different colored tentacles.
In all seriousness, though, it's pretty freakin' confusing trying to navigate. I'll try to explain it in simple terms for you so you don't end up in confused tears like me…
Getting Around Tokyo
The Tokyo metro network consists of lines managed by several different companies. That means you can't just buy one ticket and ride the metro wherever you want. There are the JR lines, the two subway networks, and several private lines as well.
Sound confusing? Well, it is.
The good news is that most Japanese people are super friendly and helpful, and will step in to save your dazed and confused ass, have Google Translate handy if you can though as many Japanese don't speak much English. They'll do a much better job of explaining things than I could.
Even though it's a bit tricky to navigate, the Tokyo metro system is pretty awesome and will get you everywhere you need to go in the city.
There are plenty of bus lines as well, but those are even more difficult for the rookie to figure out.
Ubers and Taxis are available in Tokyo, but they'll break the bank… try to stay away from them if you're trying to do Japan on a budget.
Traveling by Train
I'm sure you've heard of Japan's amazing high-speed trains by now. Japan definitely has one of the most impressive rail networks in the world, so traveling to and from Tokyo by train is a great option. Trains here are fast, comfortable, and incredibly punctual.
But train travel here can be a bit complicated. I always look at Google Maps for detailed and up-to-date info on the trains. Google Maps provides you with super useful info such as:
Which platform the train is departing from and which exit to take (incredibly helpful as Shinjuku station has over 50 platforms and 200 exits)
The total cost of the trip
Whether or not your trip is covered by the JR pass
Whether or not the train has air conditioning
Best car number for most efficient entry/exit
PRO TIP: Get an IC card. I can't believe I spent a week backpacking in Japan without one, grappling with the confusing ticket machines EVERY TIME I tried to take a train.
Trust me, grab an IC card like Suica, Pasmo, or Icoca.
You can add them to your Apple Wallet in a matter of seconds. Just tap when you enter and tap again when you exit, and your fare is automatically deducted. (You can use them at convenience stores and some grocery stores too, which is great if your debit card has foreign transaction fees).
Of course, bus travel is always an option to get to and from Tokyo as well. Since it's the capital city and all, you can catch buses heading in all directions out of Tokyo. One bus company that I personally used is Willer Express.
When you're in Tokyo, no time goes to waste! Even if you've only got a weekend or a few days on your hands to explore, many memorable trips are just an hour away, or even less, from the city.
These short Tokyo day trips are fun and unforgettable, and best of all, they only take half a day! So you've got plenty of time to visit all the best places in Tokyo as well as the surroundings.
Yokohama
Yokohama, Japan's second-largest city with a vibrant population of over 3 million, is a perfect blend of Oceanside charm and city life, also featuring amazing Chinese food (we'll get into that in a moment).
This is an ideal day trip for those craving a city break within their city break, as it's a lot less of an intense place than Tokyo itself.
Here you'll find not one but two ramen museums—the Cup Noodle Museum and the Shin-Yokohama Ramen Museum—where you can make your own ramen and learn about the history of this famous dish. It's actually a really fun experience, one I thoroughly enjoyed.
The city is home to the world's largest Chinatown, which was founded in 1860 by the first immigrants from China. Don't hesitate to try street foods like xiaolongbao, char siu bao, shu mai, and bubble tea.
Also, check out Yamashita Park with breezy views of the Port of Yokohama or shop at the Yokohama Red Brick Warehouse. For a perfect day's end, catch the sunset from the top of the Cosmo Clock 21 Ferris Wheel, once the world's tallest at 107.5 meters.
Kawagoe
Nicknamed 'Little Edo," Kawagoe is a city perfectly preserved in the past. It's a town lined with traditional buildings converted into adorable restaurants, cafes, and shops.
You'll know you're in the right place when you spot the Toki no Kane bell tower, an unmistakable structure standing at a height of 16 meters. The bell chimes on four occasions daily, sounding at 6 a.m., noon, 3 p.m., and 6 p.m.
You can find numerous excellent lunch sets that offer traditional and reasonably priced options, with eel as their specialty.
NOTE: Think twice before ordering eel (unagi) as it's critically endangered. There are many other, more ethical choices of fish you can make.
Make sure to check out the Kawago shrine as well. There you can catch a Tai to find out your fortune, cool off with the refreshing wind chimes in summer, or take part in some incredible Japanese festivals.
Enoshima
Enoshima is a top Tokyo beach spot, with sandy shores for lounging and a cool island to explore.
You can easily walk from the train station to the island, where you can visit shrines and Japanese gardens, or even chill in the caves on the other side. Just a heads-up, there are some stairs, but you can also take a boat around the island.
This rocky island has lots of fun stuff to see and great views, making it a sweet escape from the city, especially in the summer.
During this time, there are fun fireworks and events held by the sea. But be warned! In the summer, beachgoers from Tokyo come to escape the heat, and it can get insanely crowded.
This is also a great place for water sports such as paddleboarding, windsurfing, and kayaking. You can rent equipment and take lessons if you're a beginner.
Packing in a day trip from Tokyo is a lot more rewarding than taking half-day trips. By heading out before the sun rises and leaving at the end of the day, you can easily pack in a full day of adventure and fun with your loved ones. These aren't narrowed down for tourists alone, Japanese locals also love to explore their home!
Nikko
Nikko lies north of Tokyo, a wonderful place known for its forests, waterfalls, and natural hot springs – a very peaceful day away from the busyness of Tokyo.
One of the most famous places in Nikko is the Toshogu Temple, the final resting place of Tokugawa Ieyasu, who ruled Japan for over 250 years. He was a pretty important guy, and you can tell by how elaborate and beautiful his tomb and shrine are.
Make sure not to miss Kegon Falls, one of Japan's most famous waterfalls. At almost 100 meters high, it's completely breathtaking. This EPIC Tour will take you through the Nikko Toshogu Shrine and Kegon Waterfall. Afterward, you can choose your own adventure before your tour concludes. Don't miss it!
The most magical temple most will ever step foot in is in Nikko, Kanmangafuchi Abyss, located in a mystical forest full of Jizu statues of different sizes and shapes, carved thousands of years ago, all next to an electric blue, ice-cold river.
It's one of those temples where, when you touch the stones, you can truly FEEL the energy of the past blast through your bones.
Lake Kawaguchiko
Lake Kawaguchiko, one of the Fuji Five Lakes, is arguably the best place for the ULTIMATE views of Fuji-san.
You can rent a bike here for $6.68 a day and explore the well-paved path around the lake, stopping at various attractions along the way. There are three highly popular museums, the Kawaguchiko Music Forest Museum, the Kubota Itchiku Art Museum, and the Contemporary Art Museum.
Oishii Park, located on Lake Kawaguchiko's north side, has some pretty jaw-dropping views of Mount Fuji – it's like the mountain's personal portrait studio.
I've come up with the perfect Lake Kawaguchiko itinerary to guide you upon your visit, don't miss it! You can take a nice walk along the pathways, chill on benches with perfect views, and witness a massive flower garden in full bloom. There are also some ice cream shops with local- flavors. Fuji-apple ice cream, anyone?
Hakone
Hakone is a popular spot to see Mt. Fuji. It's a convenient 1.5-hour trip from Tokyo, nestled around Lake Asahi. Here you can relax in some of the country's most famous hot springs, a true highlight of Hakone.
For the best experience, consider visiting Hakone in the autumn, when the changing season paints the hillsides in a golden hue.
You can detour to Owakudani to witness the sulfur steam rising from the live volcano and the steaming hot rivers. This is the place to savor the renowned black eggs that the region is famous for—they say indulging in these might add seven years to your life, so eat wisely!
If you're going to Hakone from Tokyo, you can get the Hakone Free Pass, a pass designed for tourists to save money while visiting Hakone from Tokyo.
This pass includes a round-trip ticket from Tokyo to Hakone, a lake cruise at Ashi Lake, unlimited public transport in Hakone, and discounts on a lot of attractions once you're there.
I recommend jumping in for this 6-hour private tour around Hakone. The guide was extremely knowledgeable, friendly, and helpful in showing us one of the most amazing areas around Hakone. GET EXICTED!
Nagano
Nagano Prefecture is overflowing with amazing places to explore. If you catch an early Shinkansen to Nagano City, you'll have time to visit renowned spots like the Togakushi shrine path and the Jigokudani Snow Monkey Park before returning to Tokyo.
Check out Nagano City, home to Japan's most famous temple Zenko-Ji, and also the host of the 1998 Winter Olympic Games.
Zenko-Ji Temple is home to the first Buddhist statue ever brought to Japan. Right outside the temple, there's a lively street filled with shops and stalls selling all sorts of things, from handcrafted goods to fancy tea.
Nagano is also famous for its onsen resorts, where you can unwind in soothing hot springs. While many require an overnight stay, a few, like Shibu, welcome day-trip tourists from Tokyo.
The main attraction in Nagano, and a personal highlight of my trip were the famous Nagano Snow Monkeys, which are truly remarkable. There doesn't need to be snow on the ground to see them either! I saw them swimming around in the hot spring in the middle of September.
Jump on this EPIC day trip to discover Nagano's near-1400-year-old Zenko-ji Temple and visit the world-famous Jigokudani Snow Monkey Park.
Hike Mt. Fuji
Tackling Mount Fuji, Japan's iconic volcano, is on every Japanese backpacker's bucket list. It's also home to one of Japan's wonderful national parks. It is no small feat, but with the right planning and a sprinkle of determination, it can be an AMAZING adventure.
First things first, pick the right season. The official climbing season is from July to September, when the snow has melted and the trails are accessible.
There are ten mountain huts along the way where you can rest, refuel, and even catch some z's if needed. These huts provide simple meals, hot drinks, and a place to rest, but don't expect luxury accommodations – it's all part of the experience.
As you inch closer to the summit, the air gets thinner, and you might start feeling the effects of altitude. Take it slow and steady, and don't be afraid to take breaks. The sight of a breathtaking sunrise from the summit makes every step worth it.
Atami
Swap your walking shoes for flip-flops and head to Atami. Perched on the hills overlooking Sagami Bay, it's a coastal onsen town just inside Shizuoka Prefecture.
Unlike some other seaside spots in Japan, Atami doesn't feel like a deserted ghost town. It bustles with life. However, you'll spot remnants of the 80s bubble era, like flashy but slightly weathered hotels, a few empty buildings, and some intriguing Brutalist architecture.
Being a town that combines hot springs and the seaside, Atami offers something for all seasons. In the colder months, you can enjoy a relaxing onsen soak, while in the warmer months, take a dip in the sea. The town's name, "Hot Ocean," reflects its natural hot springs, making it a popular getaway for Tokyo residents since the 8th century.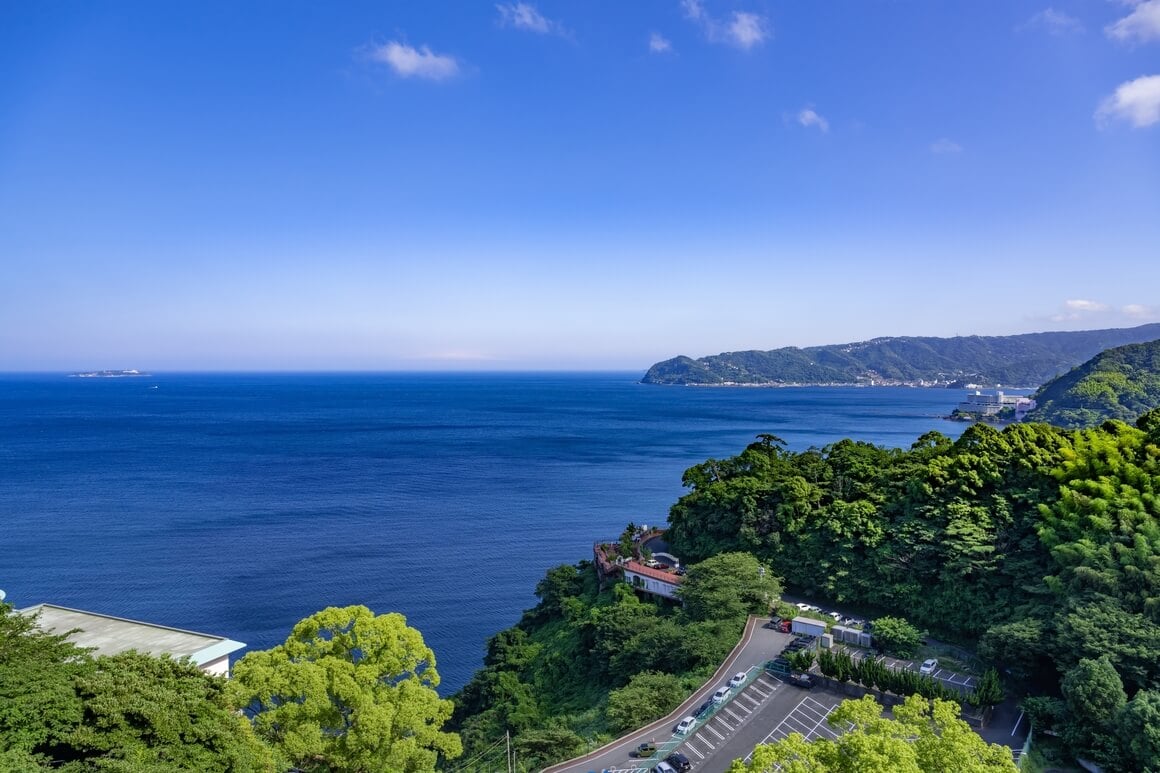 Try heading to Kinomiya Shrine, a short 15-minute walk from Atami. Here, you'll find a 1,300-year-old tree believed to grant an extra year of life to those who walk around it.
You can also try cooling off indoors at the MOA Museum of Art or the Hihokan Adult Museum (meaning sex museum.. worth a look?!).
Fuji Q Highlands
Fuji-Q Highland, often referred to simply as Fuji-Q, is a renowned amusement park located at the base of Mount Fuji. The park is home to some of the most famous and intense roller coasters in Japan. It features "Eejanaika," a 4D roller coaster that flips riders head over heels, and "Fujiyama," once the tallest and fastest coaster in the world.
In addition to the rides, there are also more family-friendly attractions such as carousels, Ferris wheels, and water rides. It also has dining options, souvenir shops, and entertainment shows.
You can also check out the Haunted Hospital, beware: you must have strong nerves to go there.
Fuji-Q Highland can be reached directly by bus from Shinjuku station. The trip takes about an hour and 40 minutes.
Don't Forget Your Tokyo Travel Insurance
Japan is a safe country to visit. But, besides, you can't plan for everything. Believe me, if things don't go according to plan, solid Japan insurance is invaluable.
ALWAYS sort out your backpacker insurance before your trip. There's plenty to choose from in that department, but a good place to start is Safety Wing.
They offer month-to-month payments, no lock-in contracts, and require absolutely no itineraries: that's the exact kind of insurance long-term travellers and digital nomads need.
SafetyWing is cheap, easy, and admin-free: just sign up lickety-split so you can get back to it!
Click the button below to learn more about SafetyWing's setup or read our insider review for the full tasty scoop.
From the peace of mystical mountains to exploring ancient towns, chasing waterfalls, relaxing on beautiful beaches, and connecting with snow monkeys, there's something for every adventurer just on Tokyo's doorstep.
Don't forget the iconic Mount Fuji for those seeking the thrill of a challenging ascent or the exhilaration of roller coasters for an adrenaline rush.
Having personally explored these day trips from Tokyo on my own Japan backpacking adventure, I can tell you that there are so many fantastic options. This list only covers the TOP 10 best day trips from Tokyo.
These places provide a perfect balance to the city's chaotic energy, allowing you to soak in the beauty and serenity of Japan's diverse landscapes, all within easy reach of Tokyo. So, pack up your backpack and get out of the craziness of the city to see a whole other side of Japan.
---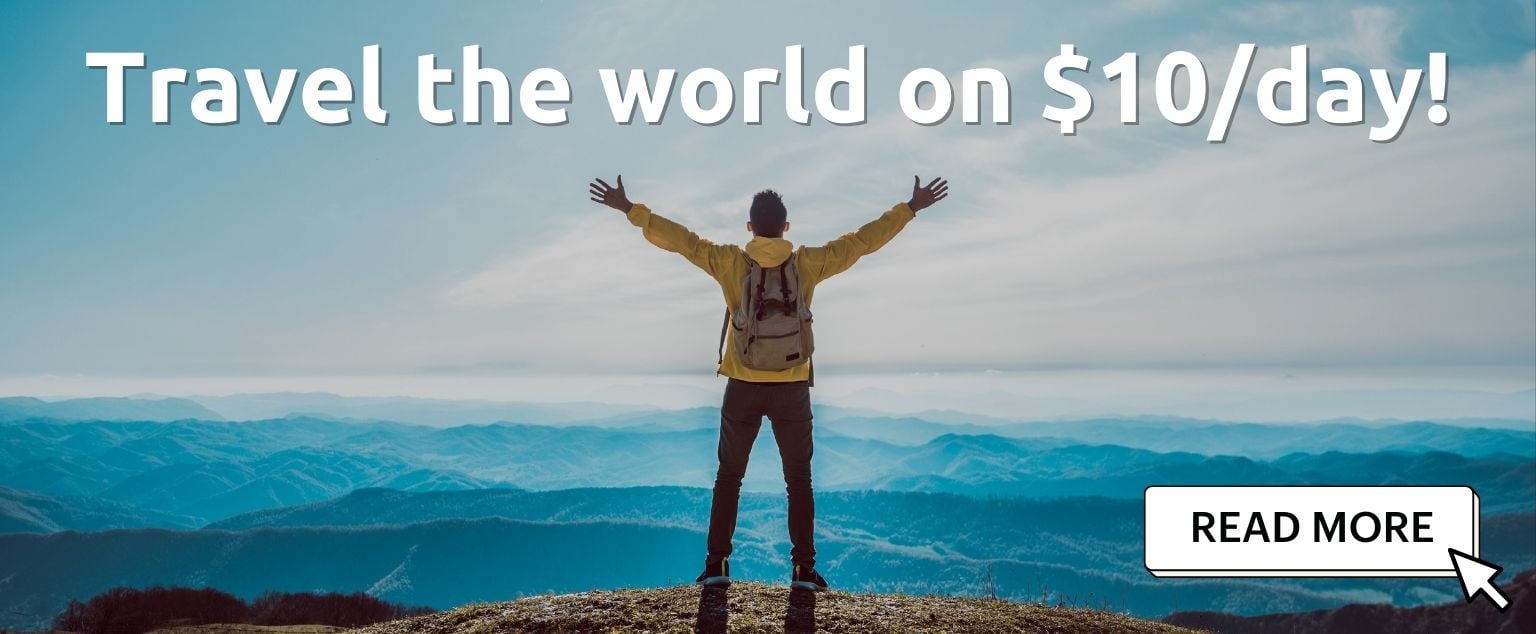 And for transparency's sake, please know that some of the links in our content are affiliate links. That means that if you book your accommodation, buy your gear, or sort your insurance through our link, we earn a small commission (at no extra cost to you). That said, we only link to the gear we trust and never recommend services we don't believe are up to scratch. Again, thank you!