Beijing is one of the most fascinating cultural and historical cities, not only in China, but all of Asia!
But Beijing is enormous, and with so many hostel options, it can be difficult to know which of the best hostels in Beijing to stay at.
So I did the research so you don't have to!
My epic guide to the best hostels in Beijing is designed with one thing in mind – to help you book an awesome hostel in Beijing! With the help of this guide, you'll know which of the best hostels are good for you and your travel style.
To accomplish this, I've tailored my list of Beijing hostels to suit any type of travel style and budget, so no matter who you are or however you like to travel, you'll be able to easily find a hostel for you.
Let's jump right in!
Quick Answer: The Best Hostels in Beijing
What to Expect from Hostels in Beijing
Hostels are known to be the cheapest accommodation options on the market, and that's especially true in Beijing.
However, that's not the only good reason for staying at a hostel. The social culture they provide allows you to meet like-minded travelers and share travel tips and stories – when backpacking China, especially alone, this can really make your vacation TRULY special. 
Most hostels come with a common area where you can make new friends and travel the city together – you won't get that opportunity in a hotel. 
Despite the smog and pollution, you'll find in Beijing, the quality and standard of Beijing hostels are incredibly high and the majority of them are super clean. Of course, as with all cities, you can find a few dives, but that's why I'm here to point you in the direction of some good options!
If you're looking for a party atmosphere, then you'll find plenty of party hostels around the city too.
But let's talk more about money for a minute. Beijing's hostels normally have three options: dorms, capsules, and private rooms. The general rule for affordable accommodation is the more beds in a room, the cheaper the price.
Obviously, you won't have to pay as much for an 8-bed dorm as you would for a single bed private bedroom. To give you a rough overview of Cebu's prices, I've listed the average numbers below:
Dorm room (mixed or female-only): $20-60 USD/night
Private rooms: $30-80 USD/night
When looking for hostels, you'll find the best options on HOSTELWORLD. This platform offers you a super safe and efficient booking process. All hostels are displayed with a rating and previous guest reviews. You can also filter your personal travel needs easily and find the perfect place for you.
Since Beijing is huge and it takes a long time to travel to all the best places to visit, you'll need to decide on which district you want to stay in to be sure to be close to all the attractions you want to see. However, getting around Beijing is easy because it is well connected with a metro. 
Now that you know what to expect from Beijing hostels, let's have a look at the best options…
The 5 Best Hostels in Beijing
Now that you know what to expect from Beijing hostels, it's time to look at my top 5. I've gone one further than simply listing Beijing's top hostels, though; I've split them into different categories to make your choice that little bit easier! It might be useful to check out this detailed Beijing neighborhood guide before deciding where to stay.
Cast your eye over my recommendations and you'll find the best cheap hostel in Beijing, the best Beijing hostel for digital nomads, the best hostel for solo travellers in Beijing, and more! Book with confidence and have an awesome time.
Do You Want to Travel FOREVER??
Then pop your email address in below and we'll send you a FREE copy of 'How to Travel the World on $10 a Day!' – make travel your LIFE.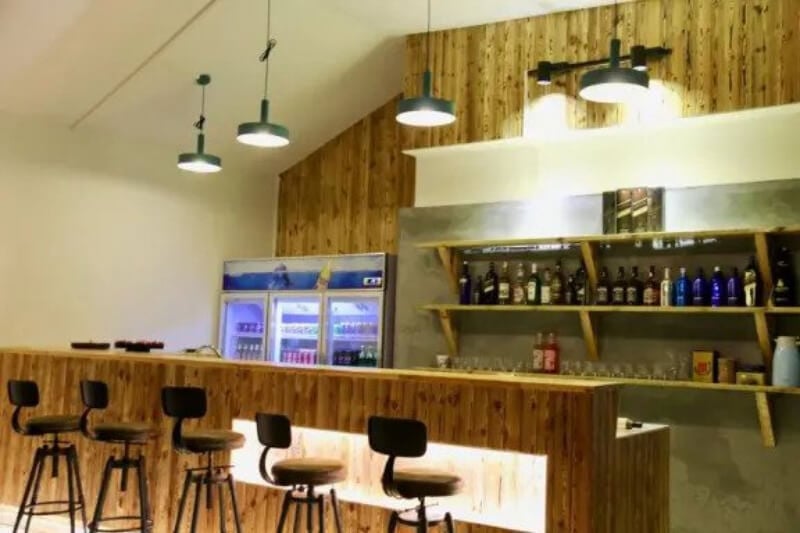 Book exchange
Travel & Tours Desk
The Great Wall Box House is my winner for the overall best hostel in Beijing because it's not only a traditional chinese building located in a non-touristy Chinese village. It's a 100-year-old Si-He-Yuan house settled amongst the mountains, and the east-side-wall of the house is even part of the Great Wall. You can't get closer to Chinese culture if you try.
Why you'll love this hostel:
Tea parties
Hiking excursions
Luggage storage
Though it's in a rural location, it promises 24 hour hot showers, a tea party every day and even hiking excursions on the Great Wall. Here you can experience local Chinese living and traditions while still being within easy reach of Beijing's hotspots. The family-run hostel has dorms and private rooms available.
The owners are friendly and full of great tips to help you make the most of your trip, and you can book excursions on site. Chillout areas include a pleasant courtyard and a bright and colourful indoor lounge.
Best Hostel for Solo Travelers in Beijing – Peking Station Hostel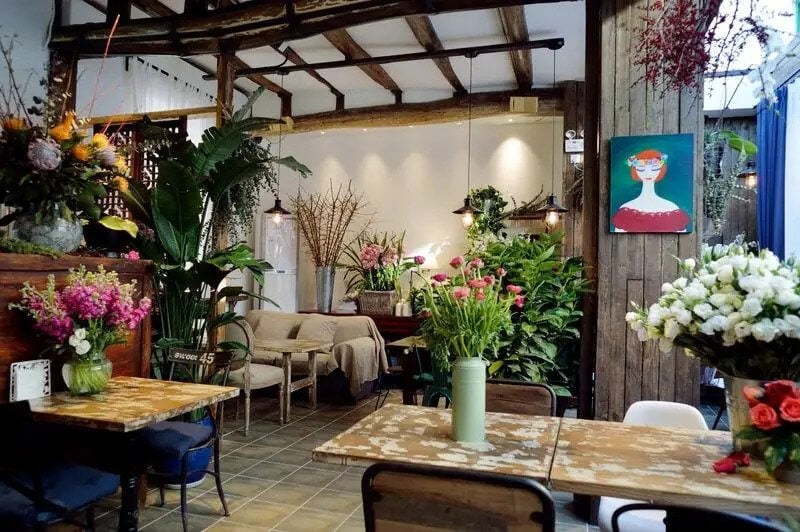 $$
Bar & Restaurant Onsite
Laundry Facilities
Airport Transfers
If you're backpacking China, the award-winning Peking Station Hostel is my recommendation for the best hostel for solo travellers in Beijing. Safe and secure, it boasts great facilities, a sociable vibe, and friendly members of staff. Dorms are single-gender, sleeping anywhere from two to ten, and the hostel has private rooms too.
Why you'll love this hostel:
Book exchange
Postal service
Travel & Tours desk
Many rooms and dorms are en-suite. The stunning hostel has plenty of chill-out areas where you can relax and meet other travellers. Sip tea in the garden, sink your teeth into delicious food in the restaurant, browse the books and magazines in the library, challenge mates to a game of pool, and chat with pals on the terrace.
Movie nights and fabulous dumpling parties are also great low-key ways to make new friends. No need to stress about finding a Beijing hostel near the airport thanks to the affordable airport transfer services. Other convenient services include trip, concert, and ticket booking, laundry room, and luggage storage. Summer Palace is also within walking distance.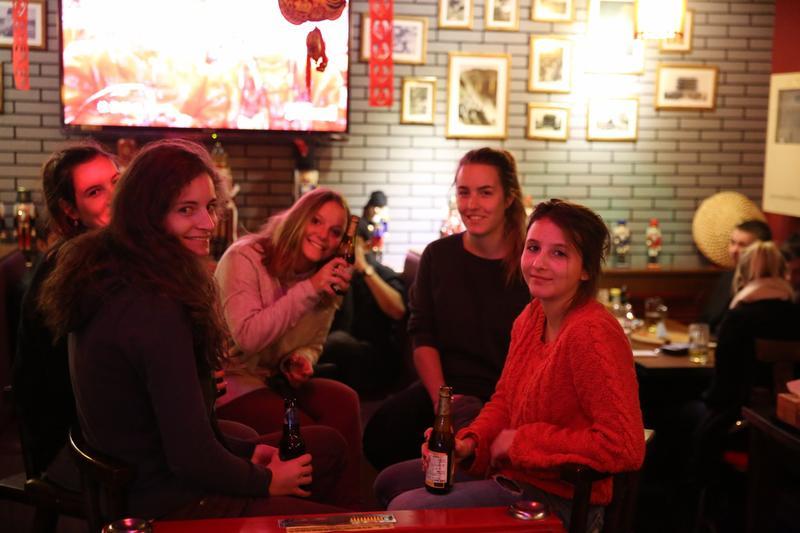 Laundry Services
Tours & Travel Desk
In a great location, within walking distance of the Forbidden City, main train station, and other key attractions that must be added to your Beijing itinerary, Happy Dragon Saga Youth Hostel is the best cheap hostel in Beijing.
Why you'll love this hostel:
Airport Shuttle Available
Luggage Storage
24-Hour Reception
Along with mixed dorms for four and eight, there are also private en-suite rooms for two. Enjoy a free beer on arrival and get to know the friendly members of staff.
The budget tours are an ideal way to explore Beijing. Free WiFi and luggage storage are free and the hostel also has laundry services and an onsite café-bar that serves a mixture of Chinese and western dishes.
Is This the Best Backpack EVER???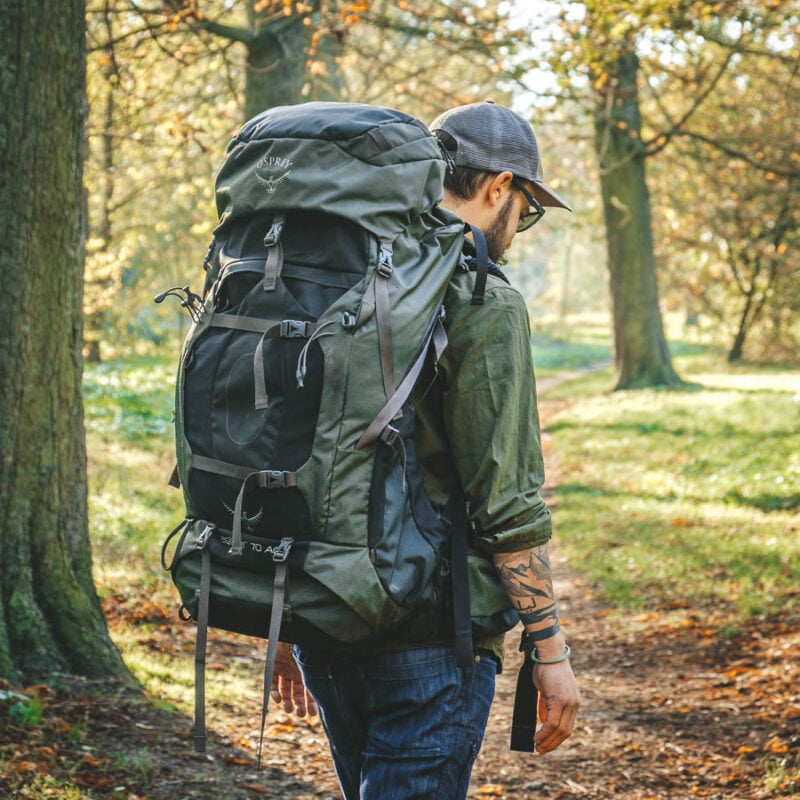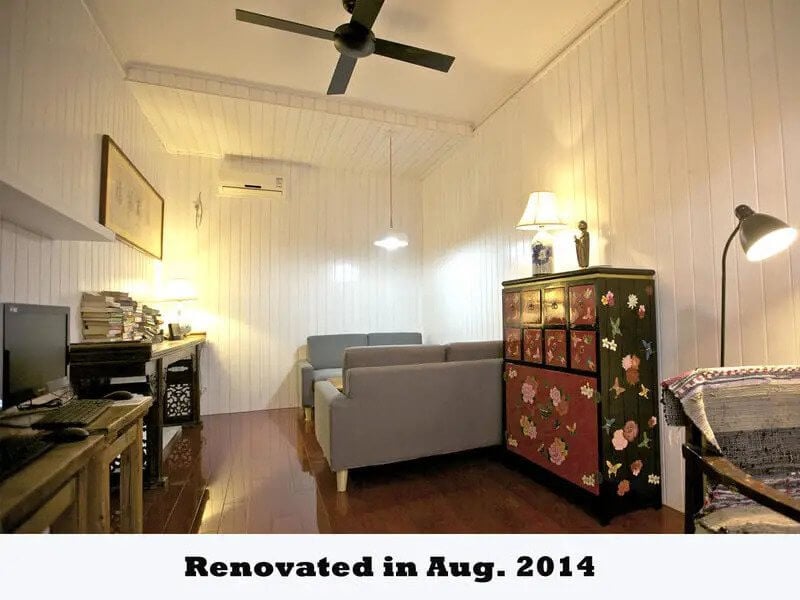 $$$
Bar & Restaurant Onsite
Laundry Facilities
Key Card Access
Chinese Box Courtyard Hostel is my choice for the best hostel for couples in Beijing. Attractive and peaceful with beautiful double rooms (complete with private bathrooms) as well as six-bed dorms, it's a great romantic base to explore Beijing from.
Why you'll love this hostel:
Free breakfast and free meals
Free bike rental
Games and books
Luggage storage
There's an onsite restaurant and bar if you and your love want a relaxed evening before an early night and there are free dinners throughout the week too where you can mingle with others.
You can also experience tea ceremonies and kungfu. From tour booking to laundry services, staying here is convenient, and free stuff, like bike rentals, free Wi-Fi, and luggage storage, adds to the appeal.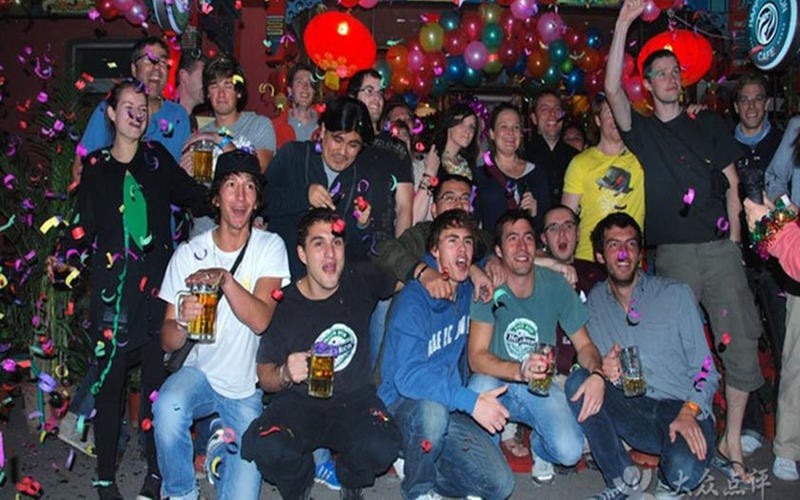 $$$
Bar & Restaurant Onsite
Happy Dragon Backpackers Hostel is a great Beijing backpackers hostel for travelling solos, couples, or small groups who like the sociable aspects of co-living but prefer their own space when it comes to bedtime. There are only private rooms here, sleeping one, two, or three, and each room has a private bathroom, air conditioning, a TV, and a kettle.
Why you'll love this hostel:
Outdoor Terrace
24-Hour Reception
Postal Service
Travel & Tours Desk
Free WiFi can be accessed from around the hostel. The lively and well-stocked bar is a fab place to mingle and get to know other guests and you can order a selection of Chinese and western food, as well as enjoy an epic party in Beijing.
More EPIC Hostels in Beijing
Still haven't found the right hostel for you? No worries if none of the above quite ticked all of your boxes … here are more of the best Beijing hostels!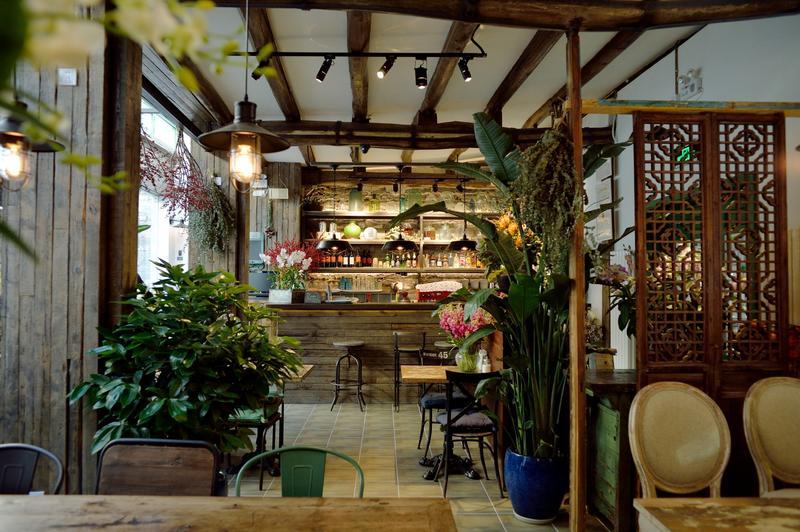 $$
Bar & Restaurant Onsite
Housekeeping
Luggage Storage
In a great location, close to Dongdan station and within walking distance of the Forbidden City and Tiananmen Square, Peking Station Hostel is a top hostel in Beijing for exploring, relaxing, and getting some work done.
With complimentary WiFi throughout the property, PCs that guests can use in the lobby, and a choice of peaceful common areas, it's the best hostel for digital nomads in Beijing.
There's a lounge and a bar to enjoy in your downtime and a pleasant garden to fill you with inspiration. Rooms and dorms are spacious and there are lockers to keep your stuff safe while you're out and about.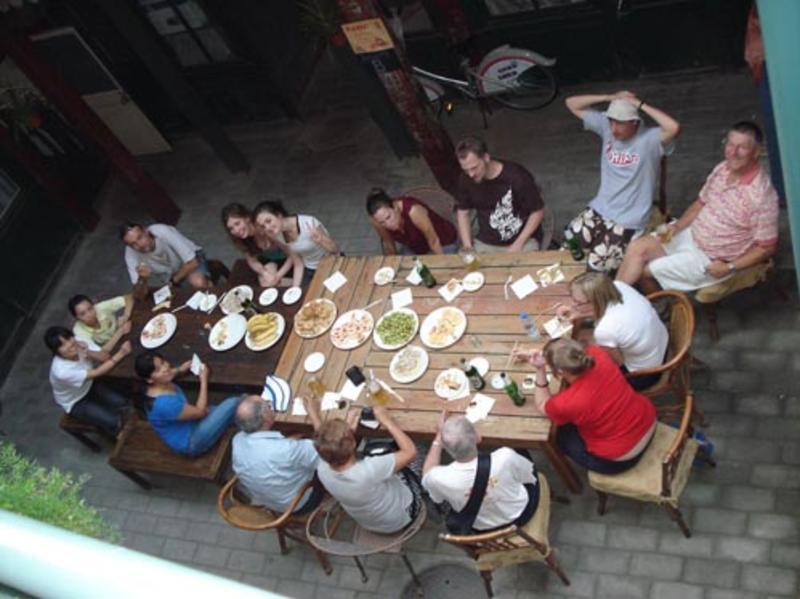 Pool Table
Key Card Access
Quian Men Hostel offers a leap back in time and the chance to experience local life. Located close to Tiananmen Square in the middle of a traditional area of hutongs, this top hostel in Beijing features Chinese designs and lovely courtyards. There are dorms for four in addition to various private rooms.
Grab something tasty from the onsite restaurant, unwind with a game of pool, rent a bike, and book a range of excursions. There is someone at reception all the time and access is secure, with key cards.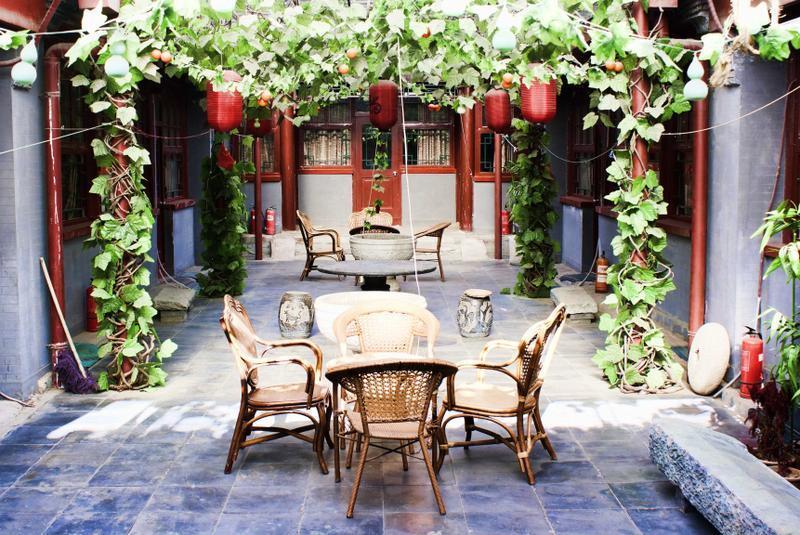 $$
Bar & Restaurant Onsite
Luggage Storage
Tours & Travel Desk
The Three Legged Frog Hostel is filled with traditional Chinese touches and all rooms are centred around an inner courtyard. The dorms are small and quiet, sleeping just three or five, and each has its own bathroom. The private rooms (for two or three) are en-suite too.
The courtyard is a cool place to unwind after a day of sightseeing in Beijing, or you can hit the onsite bar for a few drinks with fellow travellers. Bikes are available to rent. Free WiFi is available and this recommended hostel in Beijing has a tour desk, a book exchange, and luggage storage.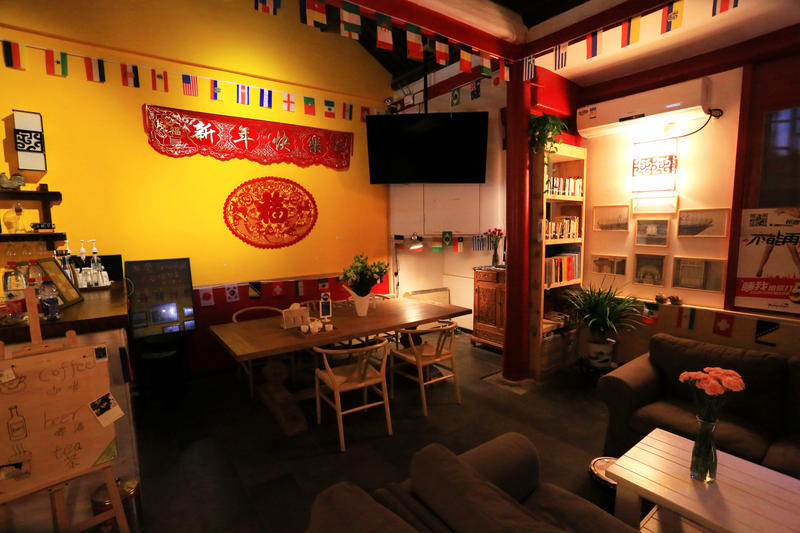 $$
Bar & Restaurant Onsite
Laundry Facilities
Bike Hire
Beijing Yue Xuan Courtyard Hostel has a traditional vibe combined with all mod-cons for a comfortable stay. The location is ideal for travellers who love to shop; you can walk to the bustling Wangfujing shopping street in 15 minutes.
Relax on the terrace or among the tranquil gardens, perhaps with a good read from the book exchange. There's free WiFi to make your trip planning easier and other conveniences include laundry services, luggage storage, and a tour desk. Everywhere is kept spick and span and there are ladies-only dorms as well as mixed dormitories.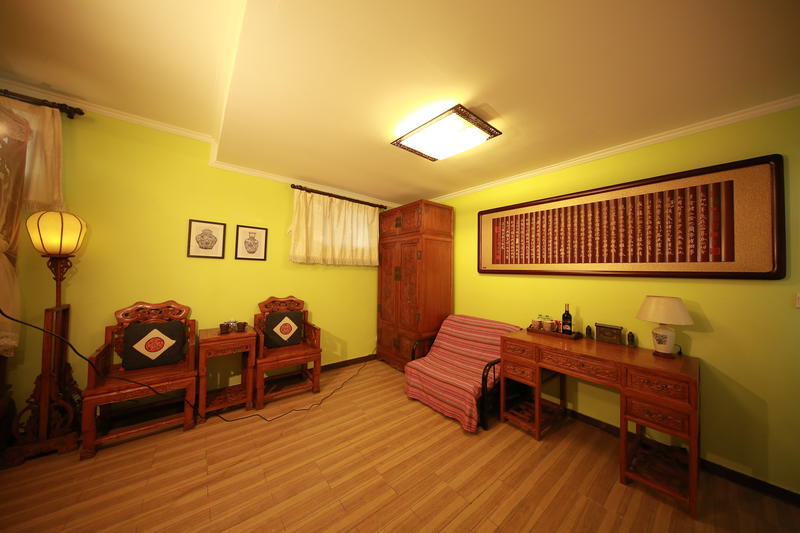 Laundry Facilities
Tours & Travel Desk
The gorgeous Courtyard View Hostel could be the coolest hostel in Beijing for people who want to immerse themselves in rich Chinese traditions and surround themselves with beauty. Peaceful, intimate, and welcoming, the awesome hostel has splashes of luxury throughout and is decorated and furnished to a high standard.
The attractive double rooms could make this a recommended hostel in Beijing for couples too. Breakfast is included. It's not so much of a place for meeting others, but it's perfect for people who love elegant rooms and getting out and exploring.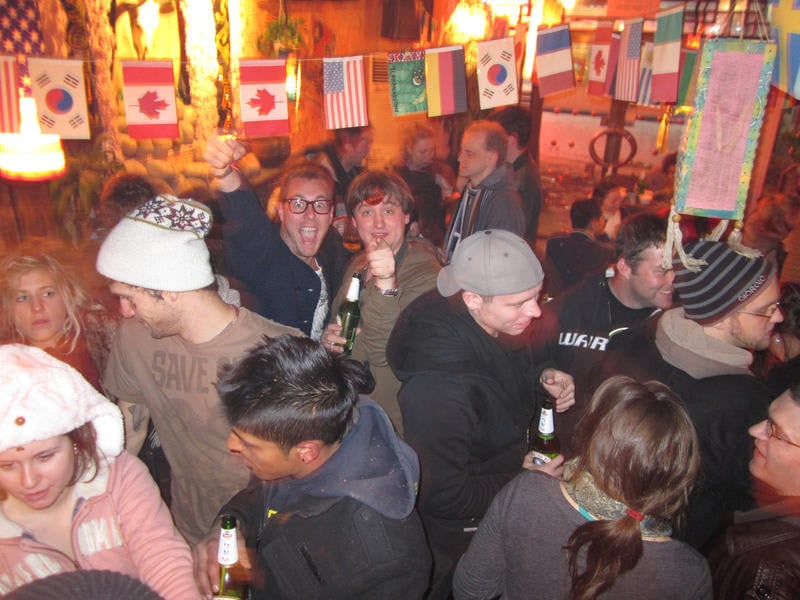 $$
Bar & Restaurant Onsite
Laundry Facilities
Tours & Travel Desk
With backpacker graffiti covering the walls in the lobby, global flags hanging from the ceiling in the bar, Chinese lanterns in the dorms, shisha pipes, and Western comfort food, 365 Inn is an eclectic Beijing backpackers hostel where it's easy to feel at home. The members of staff are like friends and the vibe is sociable.
The different common areas provide spaces to chill, party, chat and think. Access is by keycard and the hostel has laundry services, luggage storage, a tour desk, parking, a book exchange, and more.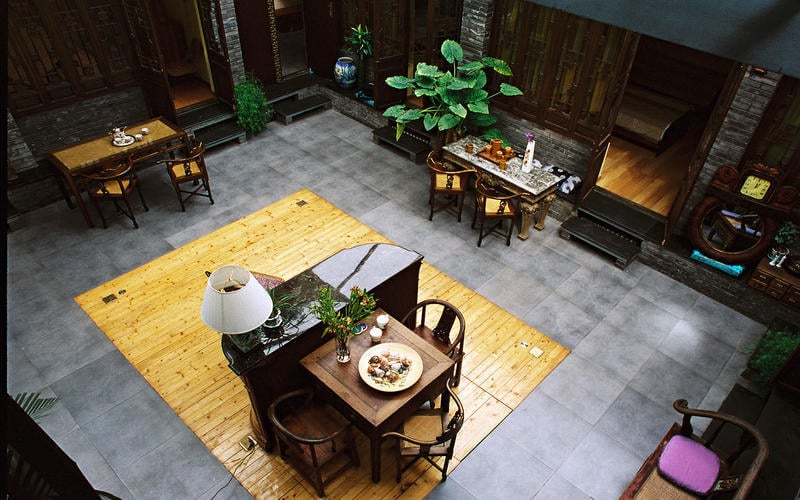 Deep within a traditional hutong, Kelly's Courtyard combines romance, traditions, style, comfort, and friendliness for a great stay in Beijing. Wake from your slumber to a free breakfast each morning and take a moment to appreciate the gorgeous surroundings before heading out for the day.
Each room has its own unique style, with high-class furnishings from China, Asia, and beyond. The private rooms are all en-suite. There are indoor and outside common spaces, including a sunny terrace, light-filled lobby, and elegant courtyard. The tour desk and bike rentals make enjoying Beijing a breeze.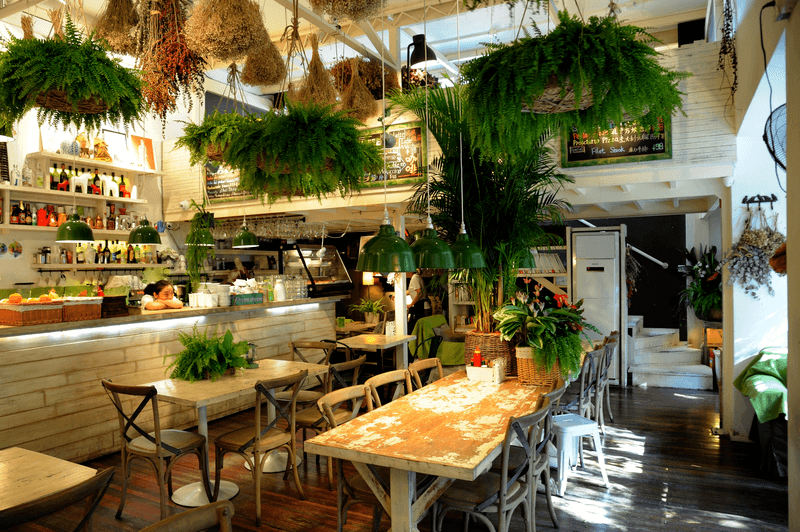 $$$
Bar & Restaurant Onsite
Bike Hire
Laundry Facilities
Located within traditional hutong, Peking International Youth Hostel isn't far from the heart of Beijing and its major attractions and activities. It's a top hostel in Beijing for unwinding, relaxing, and adding some soothing calmness to your life. If you've been on the road for a while you'll certainly appreciate the tranquil vibe here!
There are plenty of large and attractive common areas, most of which are filled with lush greenery and vibrant flowers. Features include a restaurant/bar, a mini-market, laundry services, a terrace, and a tour desk. There's round-the-clock security, Wi-Fi is free, and airport transfers to Beijing Capital International Airport can be arranged.
$$
Bar & Restaurant Onsite
Games Room
Key Card Access
If you're a fan of clean and classic designs, neutral shades and muted tones, an understated elegance, and fairly minimalist accommodation, you'll love Together Hostel. Dorms are simple yet spacious and comfortable. Single-gender dorms are available as well as mixed sleeping areas.
The private pods for two are unusual—they're like small inside greenhouses with frosted glass for privacy and a double floor mattress. The large common room has something to suit all tastes, with a bar corner, tables for work and chatter, a large selection of books, sofas, long counters with high stools, and arty corners.
24-Hour Reception
Tours & Travel Desk
Leo Hostel is a beautiful budget hostel in Beijing in the heart of the historic core. Among areas of traditional homes, known as hutongs, the hostel's ten-bed mixed dorms are comfortable and have lockers.
The range of onsite entertainment and leisure options make it an awesome Beijing backpackers hostel for people who love to hang out with friends old and new from all over the world … the extensive book and movie collection is sure to impress, there's a pool table and dartboard, free WiFi, and the bar/café is lively.
It's within easy reach of Beijing's major tourist attractions too and there's a tour desk and airport shuttles toBeijing Capital International Airport.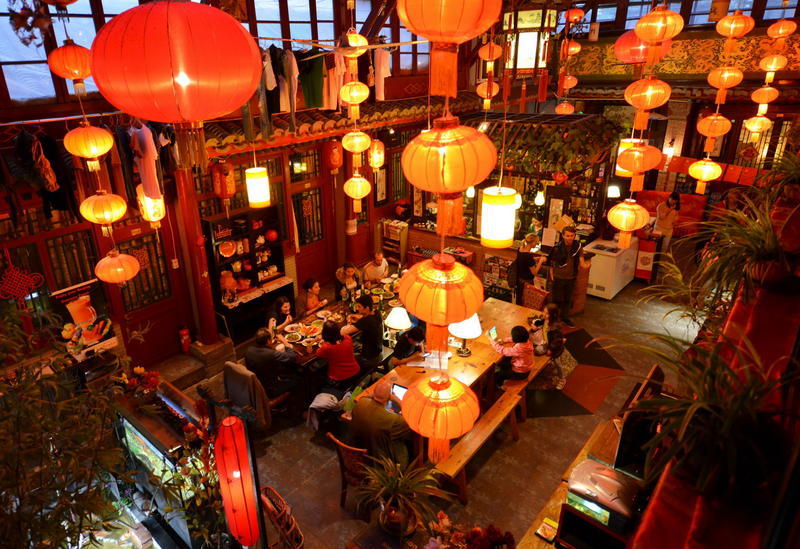 Children's Play Area
Laundry Facilities
Red Lantern House is an easygoing, family-friendly, and family-run youth hostel in Beijing, with private rooms for two and three, and dorms for four and six. There's a strong backpacking vibe. Airport transfers mean you don't need to stress about wasting time and staying at a Beijing hostel near the airport.
In a hutong close to major sights, the heritage building has all mod cons. Great food is available throughout the day and the courtyard is a nice spot to chill and mingle. From bike rentals and laundry services to tour booking and security lockers, there's everything you need for a comfortable stay.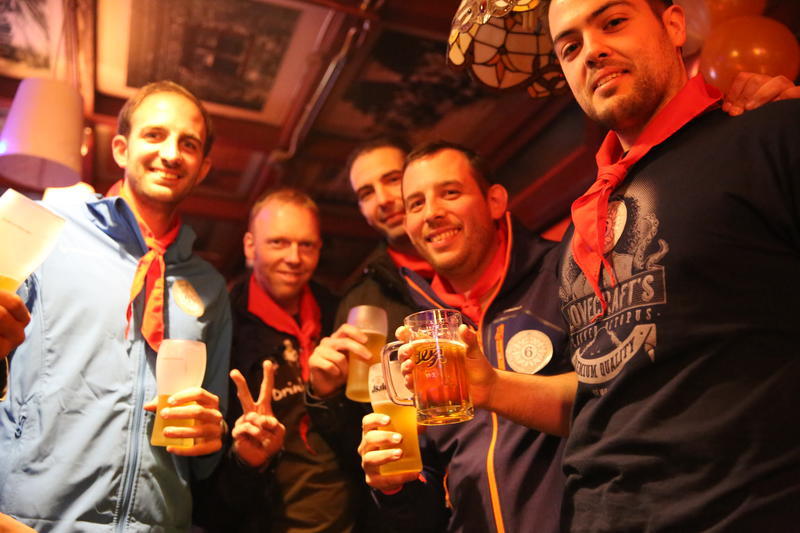 While definitely not a place for raving the night away and going wild, Happy Dragon Courtyard is perhaps the closest thing you'll find to the best party hostel in Beijing, with happy hours and promotions in the onsite bar.
You can also enjoy live music and karaoke in the bar too and it's easy to meet new pals to hit Beijing's bars and clubs with. Need to take it easy? Head to the roof terrace. Or, how about a BBQ? The free dumpling parties are also cool.
Dorms are mixed and sleep four, so no need to worry about tons of people snoring during the night!
Laundry Services
Tours & Travel Desk
With mixed and single-gender dorms and private rooms for two, Beijing Heyuan Courtyard International Hostel is a good choice for solo travellers, couples, and friends.
The traditional-style property has a large and attractive courtyard where you can relax among the trees, flowers, ponds, statues, and water features. There's a verandah where you can hang out if the weather is bad.
A peaceful Beijing backpackers hostel, sleeping so close to nature makes it easy to restore balance in your life and feel rather Zen. It's not without modern comforts, though—there's free internet, laundry services, a tour desk, cable TV, and more.

Unlock the The Broke Backpacker's GREATEST Travel Secrets!
You pop your email here, and we promise to send you only travel content that's actually relevant — sounds like a pretty good deal to us!
FAQ about Hostels in Beijing
Here are some questions backpackers ask about hostels in Beijing.
Travel Safety Tips for Beijing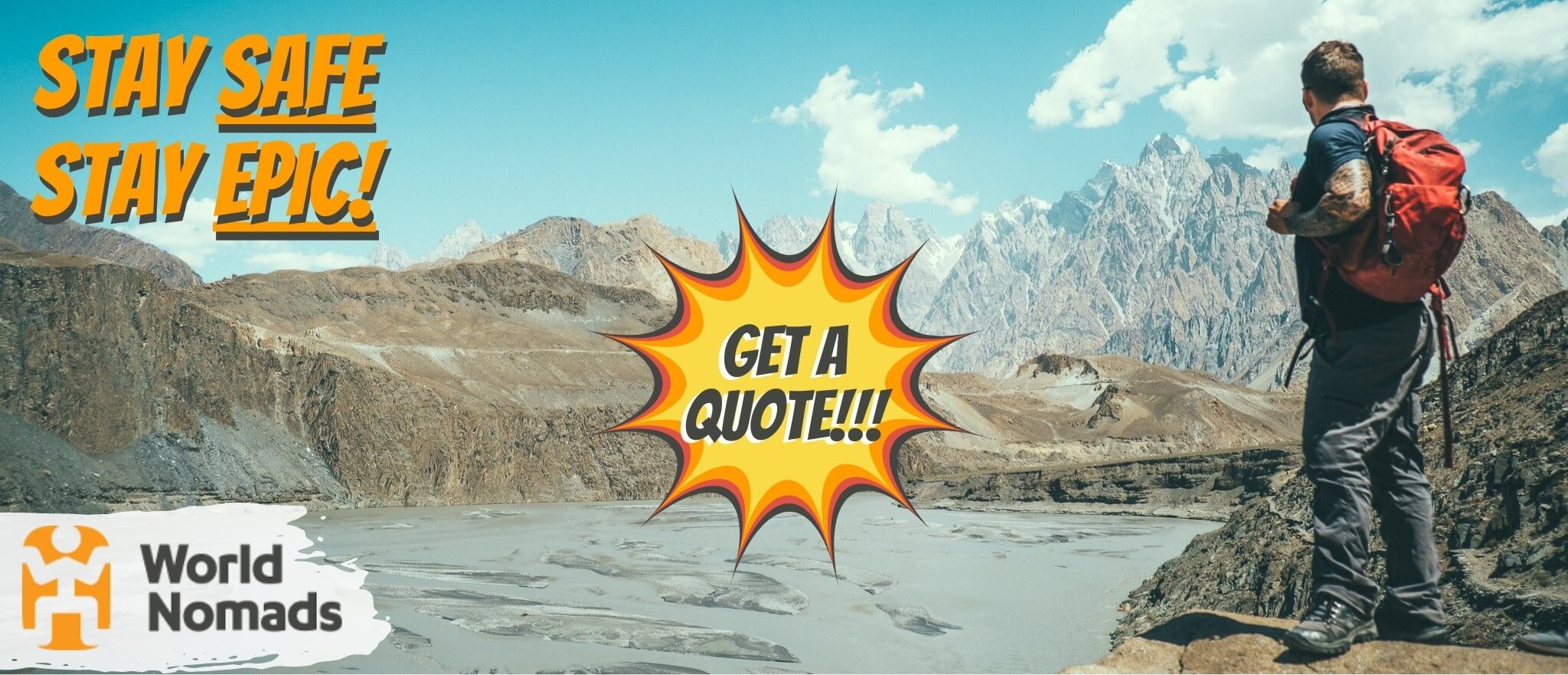 It's good to get lost sometimes, but it's also good not to get too lost. There are people that want you home in one piece.
There's one travel insurance provider The Broke Backpacker trusts for all his wildest shenanigans… World Nomads!
Click the button below to get a quote on your insurance or read our in-depth review of World Nomads' coverage. And then… let the shenanigans begin. 😉
More Epic Hostels in China and Asia
Hopefully, by now, you've found the perfect hostel for your upcoming trip to Beijing.
Planning an epic trip all across China or even Asia itself?
Don't worry – I've got you covered!
For more cool hostel guides around Asia, check out:
Final Thoughts on Hostels in Beijing
That's the end of my epic guide to the best hostels in Beijing and I hope it has helped you choose the perfect hostel for your adventure! If you're still unsure of where to stay, cast your eyes back to my overall favourite hostel – The Great Wall Box House.
The Great Wall Box House may be in a more rural setting, but its unique history and access to the Great Wall cannot be beaten. If you want to find a hostel that really offers an authentic experience, this would be it.
Do you have a favourite hostel on my list? If you think I've missed anything or have any further thoughts, hit me up in the comments!
---
Thanks for reading – that was fun! 😀
We bring you epic FREE content!
Find out how YOU can help support us.
We're a big site with a big team and this job isn't always easy. But we do it because we love it – we love providing epic and free content. We love the knowledge that our content keeps you adventuring. We don't ask for money, but if you'd like to find out how you can help the site in more organic ways, click the button below.
Thank you for your support 🙂
---
Bye for now, but not forever!
If you want MORE top-tier Broke Backpacker content like this, then sign up for our weekly newsletter below to get the latest and greatest!
And for transparency's sake, please know that some of the links in our content are affiliate links. That means that if you book your accommodation, buy your gear, or sort your insurance through our link, we earn a small commission (at no extra cost to you). That said, we only link to the gear we trust and never recommend services we don't believe are up to scratch. Again, thank you!