Adventure is good. Adventure says a lot about who we are as people. How we interact with it, the kind of adventure we seek, our reasons for doing it… these things woven together tell a story.
The adventure keeps us alive – without it, we stagnate. We work our 9 to 5 so we can come home afterwards, cook dinner, binge Netflix on the couch with our significant other, and then – if we're lucky and not too tired – a banal quickie before we hit the sack.
Even writing that paragraph gave me an existential crisis.
So what's the remedy to all that deep-seated nihilistic fear and loathing? Quite simply, an adventure! Nature, adrenaline, dicking around and almost falling off mountaintops: now you're really living!
So, you're considering some good ol' travel adventures. Well, this is the list for you: the 12 best places for an adventure travel holiday. It's also quite a good list if I do say so myself; at least one offering from every continent!
The activities vary, the environments vary, the budgets vary but the feeling of truly being alive remains the same among these adventure tourism destinations. These are the bucket list trips of a lifetime!
To, you know… distract you from the gnawing meaninglessness of existence.
Alright, we're jumping right into it… the good stuff! The best places for adventure travel across the seven continents!
After the mega-list we'll get into some nitty-gritty stuff but today I want to give you your dessert before your broccoli. The 12 best places for adventure travel straight off the bat!
They may not necessarily be the most adventurous countries (depending on your perception of 'adventurous') but then some, I'd argue, are pretty far out. That's what I'm saying: we got something for everyone! It's like Baskin Robbins if Baskin Robbins only had 12 flavours.
Bah, enough loose metaphors – it's time for the 12 best places for adventure travel – starting with the best!
Introducing the best hostel EVER!
Hell yeah, you heard right! There are many great places in Indonesia, but none of them can live up to Tribal Bali.
A unique coworking hostel for those that want to travel the world while working from their laptops. Make use of the massive open-air coworking spaces and sip on delicious coffee. If you need a quick screen break, just take a refreshing dip in the infinity pool or grab a drink at the bar.
Need more work inspiration? Staying at a digital nomad-friendly hostel is a really smart way to get more done whilst still enjoying the social life of travelling… Mingle, share ideas, brainstorm, make connections and find your tribe at Tribal Bali!
#1 Pakistan: The Best Place for Adventure Travel that Makes People Go, "You're going where!?"
I bet you weren't expecting this to make the list of the best places for adventure travel holidays!
Yep, let's talk Pakistan. And before we do, you're gonna have to leave all your stigmas at the door (along with your shoes, thank you very much)!
Pakistan is one of those places where you're taking adventure tourism to the next level. It drops a lot of the 'tourism' in the process. If your idea of the best adventure holiday is a lot of beautiful nature with a lot of friendly, inquisitive people, it's worth flying in the face of the status quo and travelling to Pakistan. I mean, that's the whole point of a travel adventure, right?
You'll find a lot of trekking in Pakistan with something for everyone. If you're an avid trekker, the Karakoram range is magnificent and a true feat to experience. There are also more chill day hikes – and then there's the 18-day trek to the K2 base camp (the second-highest mountain in the world).
You can try going it solo to discover one of the most adventurous countries in the world all by your lonesome. There is certainly some solitude and epic adventure waiting for you!
Even adventure travel is sometimes better shared though!
#2 New Zealand: Adventure Travel With a Bit of Everything!
Time for something a little more standard but no-less downright gorgeous! The good thing about adventure travel in New Zealand is that you're getting a lot of bang for your buck. It's like seven countries in one neat little package.
Ice-capped mountains? Check. Petrified forests? Check. Prehistoric coastline? Check. Uninhabited fjords? Check.
And that's just found while road tripping the South Island!
New Zealand's adventure tourism options have a flavour for everyone!
The Great Walks offer multiple levels of trekking from the well-worn Abel Tasman to the near-undisturbed Stewart Island. Or, you know, you could just walk the entirety of New Zealand – I met a dude that did it without shoes. That's pretty metal.
But where do you go in New Zealand for the best overall adventure holiday? Easy one, man. You backpack Queenstown: the go-to for adventure travel sports and activities in New Zealand.
You've got beautiful weather on the lake in the summer months. Then, come winter, all the snow bums roll in for the powder season. A year-long travel adventure backpacking epicentre!
So what other adventure activities are there? It's mega-famous for bungy jumping, ziplining, or you can book a skydiving tour. Honestly, it's one of the most beautiful places in the world to do it.
Oh, and if you get bored, beautiful, darling Wanaka is about an hour's drive away… and it's way better!
#3 Nepal: Holy Mountains and a Booming Adventure Tourism Industry
The past decade has seen near-consistent growth in tourist arrivals to Nepal.
How come? Hmm, I can't be certain but it may have something to do with the Himalayas… Nepal is the 'roof of the world' after all.
So what type of adventure tourism can you expect from Nepal? Well, again, it's the Himalayan Mountains… so… a lot of mountaineering. Mind you, this is the final-boss-level mountaineering I'm talking about. The proper hardcore deal.
However, Mount Everest is full of garbage and Nepal is struggling to keep up with its tourism. We'll cover being a responsible tourist later on, but while we're talking about Nepal, trek something other than Mt Everest.
You can disappear (safely) into the Annapurna range. This epic trekking loop strikes a nice balance between being both culturally authentic and tourist accessible. But pick your timing right: outside peak season but close to the cusp for the best of both worlds.
Alternatively, just pick a direction and start walking. The further out you get to where the whiteys don't go, the more spectacular and strange Nepal becomes. The chaos of India slowed down by the pace of mountain life.
I've even heard whispers of a pristine ancient lake too; they say… Rara.
And then there is travelling Pokhara. Pokhara, in many ways, is like Queenstown. Only it's slower, it's more chill, and you smoke hash instead of greenery.
There's a lot of adventure tourism activities around Pokhara now (as the industry has grown). You can learn to Paraglide, go trekking, and there's some dope rafting around too.
#4 Costa Rica: Adventure Travel that's Pura Vida
Costa Rica – the birthplace of the zipline. So, now you know number one on your list of adventure activities to do in Costa Rica.
Backpacking Costa Rica has got a lot to offer the adventure traveller: jungles, beaches, volcanoes. The nature in Costa Rica is one of the reasons that Costa Rica has remained one of the world's best places for adventure travel for so long.
Its natural magnetism to travellers and ex-pats alike has made Costa Rica both a fantastic and varied place to travel. It's also caused its prices to rise and become one of the more expensive choices for adventure holidays you can take while travelling Central America.
The trade-off? It's the goddamn birthplace of the zipline, remember?
Picture this: you're cruising along at a cool 70km/hr. Beneath you, the rippling greens of the jungle canopy blur together. At the end of the line, a crew of trained squirrel monkeys await your arrival, a chilled refresco and caramel flan in hand. Ok, I made that last bit up (but I'm a writer, don't you know).
La Fortuna is your best destination for adventure tourism in Costa Rica. It's a small town close to the piercing Arenal Volcano (which is an absolutely magnificent creature). In the area, you'll find hiking, canyoning, rafting, and of course, the jungle zipline!
And, if you're more of a beach person, head towards Costa Rica's coast for snorkelling and scuba diving action.
#5 USA: The Adventure Travel MECCA
Heading north from Central America takes us to… North America. Yeah, that makes sense.
What will you find while exploring the USA?
A lot of flag-waving patriots who chase tornadoes and pull their own teeth out on account of the lack of medical insurance. Anyway, other than that, you'll find SO MUCH epic, adventure travel!
The big, bold, and beautiful US of A is chock full of adventurous places to visit.
So, where to travel for adventures in the USA? God, what do you like? Canyons, mountains, coasts, great lakes, rivers, prairies… it's all there.
Moab (Utah) takes the top pick as one of the best places for an adventure vacation in the USA. It is the go-to for mountain biking with courses ranging from the beginner all the way up to the 'holy shit, I might die'. You'll also find heaps of sweet rafting, ATV driving, horseback riding… it's an adrenaline junkie's desert playground!
Yellowstone National Park (Wyoming) has hiking and hot springs. That's a no brainer! Anywhere that has hot springs is going to make for a top trip.
Colorado: home of the Rocky Mountains! What do you get there? Mate, were you not listening; I just told you – the Rocky Mountains! Hikes, rock climbing, and legal bud; it may just be heaven-on-earth.
Yosemite National Park, California: is the impossible-to-not-mention choice. The undisputed king of the USA's national parks featuring the truly staggering peaks of free-soloing 'What's a rope?' Alex Honnold fame.
#6 Argentina: Adventure Travel at the End of the World
If you head in the other direction from Central America (by which I mean south) you get to travelling South America. That also makes sense.
There are a lot of kick-ass destinations for adventure trips in South America: Bolivia, Peru, and Ecuador jump to mind. But Argentina has Patagonia. And I'm all about those harsh, sparsely populated wildernesses.
This idea for adventure travel is not for the faint of heart – you're heading into challenging terrain. Look at a map of Argentina. You're nearly at the bottom of the world. But challenging is the whole point, right?
And backpacking Patagonia is only one region of Argentina you need to explore. It's a big damn country with a lot of cool places to see (the Ibera Wetlands come to mind).
Argentina is so big and so damn gorgeous that it's picking up steam as one of the best places for adventure travel in a van. Van life is preferred by many scroungy vagabonds – because a van makes perfect sense for an adventure vacation on a budget.
The northernmost point to the southernmost point of the land at the end of the world… now that's a journey idea!
#7 Canada: Adventure Travel With a Dash of Solitude
Since we're talking about vast, harsh, sparsely populated wildernesses, we should talk about Canada. You've got a lot of chill places and cool cities in Canada (like Vancouver)… and then you head into the great outdoors and oh wow!
It's mega pretty.
What kind of extreme adventure vacations can you get up to in Canada? Well… that depends on how extreme you're willing to go.
For something fun but with a low chance of death, there's skiing and snowboarding at a resort such as Whistler. Hit the slopes and then get all the perks of a ski-town: loud parties and hordes of drunk Australians. Don't worry, we've got awesome hostel suggestions for budget adventurers too!
Oh, you wanted something with a high chance of death? Sorry, I misheard you. How about ice-climbing UP A FROZEN WATERFALL! How's that for an extreme adventure vacation? It's your very own Tom Cruise movie!
Banff is one of your best adventure travel destinations in Canada. You'll find the aforementioned ice-climbing there (yesssss) plus a bunch of other cool shit: national parks to adventure in, hot springs, and skiing.
North from Banff (and not too far by Canadian standards) is Jasper National Park with more wilderness and hikes. If it's solitude that you're seeking in your adventure travels, then travelling the Canadian wilderness has what you need.
Just watch out for bears. Although, they make a spray for that.
#8 Mongolia: Adventure Travel With The OG Nomads
This is one of the best adventure holidays in Asia as far as I'm concerned. It's a long-time dream of mine: to ride a horse on the plains of Mongolia. I haven't done it yet – timing is important – so I'm recommending you to do it.
Why? Well, if you want to truly call yourself a nomad, then you gotta be a damn nomad! You need a horse on the plateaus of Mongolia. You need to search for water for your travelling companion and shoot at horse thieves with your bow.
I met a good dude in New Zealand. He'd never ridden a horse before and he was curious, so he went to Mongolia and made his very own horseback adventure tour. Now that is bad-ass!
Seriously though, Mongolia is a country of beautiful yet unforgiving terrain and the Mongolian people have unlocked its secrets, able to live nomadically and tend livestock amongst its deserts, plains, and hills. It's also smack-bang between Russia and China so wherever you go, you'll be off the beaten track.
If you're interested in Mongolian culture, I'd recommend being there in October. Every year in the first week of October is the Golden Eagle Festival where you can see skill contests in archery, wrestling and eagle hunting. Not hunting eagles but hunting with eagles – they're the OG nomads, man!
#9 China: The Other Best Place for Adventure Travel that Makes People Say, "You went where!?"
Good ol' communist China: the antithesis to the American Dream. It's like going to another planet so, if you can't get 'off the beaten track' there, you're probably doing something wrong. China is a hit with backpackers in search of adventure!
You'll almost always be mildly-to-noticeably uncomfortable which makes for some of the most character-building adventure holidays for both single travellers and couples. It's also a solid destination choice for a cheap adventure holiday. It's not as cheap as, say, Nepal, but it's cheaper than most people realise (especially if you're camping in nature).
So, what kind of adventure activities await in China? Well, trekking galore; I've heard the Great Wall is kind of long and, yup, you can camp on it! Or you can visit Tiger Leaping Gorge or Mount Huashan which is considered one of the most dangerous hiking trails in the world. Deadly hiking in China – now that's an extreme adventure vacation!
I mean, hell, just buy a bicycle and see how far you can get across the supreme landscape. It's China, you're pretty much guaranteed an adventure no matter where you go!
#10 Zimbabwe: Adventure Travel With a Touch of Sun and Crocodiles
There's three more entries on our list and three more continents to explore. Let's make a shift over to Africa now… to Zimbabwe! Africa is one hell of a trip that will always make you laugh!
If we're talking Zimbabwe adventures, we're talking Victoria Falls. Oh, the falls? They're drop-dead breathtakingly 'life is beautiful' gorgeous. Absolutely stunning.
Victoria Falls has built itself up as the best adventure holiday destination in Africa. You'll find a huge scope of adventure activities in Victoria Falls including bungy-jumping, gorge-swinging, flying foxes, rapid rafting (I'm talking those infamous grade V and VI options), and cage diving with crocodiles. Diving with crocs… it's an adrenaline junkie's paradise!
It's also warm – with swimming involved! It's a nice change of pace from the freezing-cold murderous wildernesses I keep sending you to (just wait for the last two entries on this list, muahahaha)!
And since you're in Zimbabwe (and how often do you end up over that way, realistically) maybe explore the rest of the country. Victoria Falls is surrounded by gorgeous national parks and there are plenty of adventure safari tours to partake in.
#11 Scandinavia: Adventure Travel With Freedom to Roaaaaam
Right, let's talk about adventure holidays you can have while backpacking Europe. Are we talking about the stunning (and warm) Amalfi Coast or the tranquil (and warm) beaches of Portugal? Hah, nope, it's back to freezing your tits off. Apparently, adventure is best served cold.
I think the reasons to send you to Scandinavia should be relatively obvious: a massive and untamed wilderness of eclectic beauty that will bitchslap you upside the face if you don't respect it. Just my type. 😉
But, there's another reason: something called "freedom to roam". Laws vary by location and discussions on environmental impact is important but it is, I feel, the way adventure travel should be.
Every human has the right to disappear into nature and just be. Just be without electricity, and goddamn Wi-Fi, and the white noise of the world. Time to just spend some time without your phone, and straight-up forest bathing.
So if you're looking for the best places to escape alone, the Scandinavian/Nordic countries have got you covered. If you're also looking for the best adventure holidays for couples, you should consider Scandinavia because everybody knows that disappearing into the wilderness for weeks at a time is better with someone that lets you touch their butt.
Where are you going? Wherever you damn well please, that's my point. Take a compass. And if you don't feel like walking then saddle up a reindeer – and go disappear… safely. Light a campfire (legally) and watch the stars and the lights in the northern sky which no man owns no matter how much they wish they did.
#12 Antarctica: The Final Boss of Your Adventure Travels
I said we were going to all seven continents, right? I also said adventure is best served cold.
Yes, you can do adventure travel in Antarctica. Yes, it is more expensive than anything else on this list and no you can't go unguided unless you break away from your tour group (NOT a good idea). This is about the most extreme adventure trip you can take until Elon Musk sorts out that whole space/moon tourism thing. But, let's be real, do we really want him to?
Most Antarctica tours involve a cruise and will take you to and around parts of the continent – usually, the Antarctic peninsula which is pretty damn close to Argentina (hence the 'land at the end of the world' thing). Some of them will also take you to the Falkland Islands which are super damn pretty.
Now, you could always shore up your boat life skills and test the hell out of yourself and your crew by sailing there…
Either way, you can expect a lot of wildlife watching as well as some adventure activities alongside such as kayaking, scuba diving, and paddle-boarding. Notice how all those activities had some relation to the freezing-cold water…
Yep, that's what to expect from Antarctica: desolation, magnificence, and feeling permanently cold all the time. But hot damn if she's not gorgeous.
Now I'm giving you your broccoli. You don't have to eat it; you do you, man.
Depending on where you look, you'll find several definitions of adventure tourism. Of course, as we all know, stuffy definitions created by stuffy people don't often encapsulate the whole truth. But we need to talk about the consequences of these stuffy definitions.
In 1953 Edmund Hillary and Tenzig Norgay were the first ever to summit Mount Everest. Now, just over 65 years later (less than the lifespan of a person) over 8000 people have summited the peak.
Now, there's something to be said about the advantages and disadvantages of adventure tourism but it doesn't help with our definition for the purpose of this article. Thus, I've decided on three criteria to define adventure travel by:
There's some level of an inherent risk involved i.e. injury or death is increased in likelihood by the activity.
The activity revolves around interaction and interplay with nature and the outdoors.
There is a market, sub-culture, and level of commercial gain behind the activity.
The adventure activity can be guided or unguided; paid for or free; and range anywhere from death is a slim possibility to 'Dude, who gets your PlayStation when you die?'.
But, generally speaking, your best places for adventure travel are going to be marketed as primo adventure tourism holiday destinations. With that comes all the perks and caveats of a place well-worn by tourists.
I'd also like to define the difference between adventure travel and a journey. Hitchhiking across China, walking through the Middle-East, or backpacking around South Africa are all great journeys (and some of my ultimate bucket list ideas), but they're not adventure travel holidays since they're not primarily driven by the purpose of tourism. That's a personal journey, mate!
Types of Adventure Tourism: Hard Adventure Activities
Ok, so seriously, if you want to discuss types of adventure travel, there are lots of ways to break it down and a lot of different sub-categories. That's the point of my criteria above and my separation of a 'journey' and 'adventure travel'.
One of my favourite types of journeying (which many would rightfully consider adventure travel) is overland travel (i.e. no planes). However, telling you to start in Japan and finish in Italy without using planes wouldn't make for a very appealing article. It does, however, make for a seriously dope journey!
So, the first category of adventure tourism activities that we're going to talk about are the 'hard' type. Generally, the activities defining this category pose a sizeable risk… of death.
When you're partaking in these adventure travel ideas, generally it's better to know what you're doing to avoid that whole 'dying young' thing:
Mountaineering
Ice Climbing
Caving
Wingsuiting
Base Jumping
Bear Fighting
For the record, I made that last one up… I hope…
Types of Adventure Tourism: Soft Adventure Activities
These examples of adventure tourism tend to be less hazardous and generally less dangerous than fighting a bear on an ice mountain while wearing a wingsuit. They have lower overall death-related statistics and your mum isn't going to complain as much when you tell her what you've been up to.
It's worthy to note that most of these activities' risks can be mitigated by having a professional guide or partaking in some sort of adventure holiday tour. Conversely, the risks can be heightened (i.e. made more fun) by pushing the limits of the activity, often upgrading it to a hard adventure activity. Try rafting some grade VI rapids and you'll see what I mean:
Trekking/hiking/orienteering
Kayaking/rafting/canoeing
Fishing
Hunting
Bungee jumping
Skiing/snowboard
Surfing
Diving
Mountain biking
Obviously, this far from a complete list but it does give you an idea for what you're in for when visiting some of the best places in the world for adventure travel… that being a whole lotta fun!
Why Visit the Best Places for Adventure Travel?
Well, I feel I sorta already addressed that with the whole 'combatting the existential abyss inside your soul' thing but, yeah, there are other reasons too.
It's about the challenge. Sure, the advent of the adventure tourism industry mitigates the challenge somewhat (see the above example of Mount Everest) but it's still an adventure – it's in the name, after all!
And it's your adventure! Take it as far and as dangerous as you like. You do you.
It's about growth: growth through hardship. Learning to take things in stride. Learning that things, most of the time, will be ok. You just have to keep moving.
It's about getting dirty. Because, everybody knows, being covered in dirt, and mud, and scratches, and leeches makes you appreciate a hot shower just a little more.
And, it's about contentment. It's about, one day, when you're eighty years old and nestled in your rocking chair reminiscing on the life you've lived, you can say: "Yeah, that was pretty good. I'd say, overall, I did a good job – 7 out of 10… oh, maybe a 7.5."
You could think of your travels as a way to create a lifetime reel of memories to spin into epic yarns to bother your grandkids with…
But adventure travel is also about connecting to life and our planet, which, in case you hadn't heard, is pretty bloody gorgeous.
Right, so that's your dessert: 12 of the best places for adventure travel across the seven continents of our world. And some damn fine choices too, if I do say so myself!
And you ate your broccoli. Good, I'm proud of you. No, you can't have a second dessert! But you can have some more broccoli. 😉
So, before you inevitably go and tear it up snowboarding, rafting, or bear fighting, I'd like to touch on a few more things to note. A few practical considerations of the environment, taking care of yourself, and just generally not being a knob-jockey while you're engaging in your Evel Knievel ways.
Toursim: the Double Edged Sword
This topic is really deserving of (and has many) socio-ecological research papers, but it goes without saying that adventure tourism has an impact. Think about Pokhara in Nepal: what was once considered one of the most mystical places in Nepal is now a bustling city that is known as its 'tourism capital'.
But, again, think about Pokhara: a city that was once only accessible by foot is now one of the most affluent cities in Nepal. It's a huge metropolis that garners a large amount of revenue for a developing nation and supplies jobs and a better quality of life for many people. It's here that you start to wonder: is budget travel ethical?
Tourism is a double-edged sword and adventure tourism only takes a whetstone to the blade. As per my original definition, it usually entails some form of interaction with the natural environment and, as you may have noticed, it also usually involves some form of interaction with cultures unaccustomed to the West. Which means they are unaccustomed to – let's say – the ugly side of Western tourism.
So be a good dude; it's just that simple. Nothing grandiose – just stay aware, be responsible, and be respectful. Be respectful of other cultures and the people there; their sole purpose in life is not to make sure our one-week-itinerary travel adventure trips blows up on the socials.
And be respectful of our environment. It was here long before we were carving it up with snowboards and mountain bikes and it'll be here long after it's wiped us all out for carving it up with snowboards and mountain bikes.
Past that, you do you. You know how to be a good human. And if you're travelling and not being a good human… it's only a matter of time until someone – local, traveller, or Mama Nature herself – sorts you out.
Travel Insurance for Best Places for Adventure Travel Holidays
Goddamn! All this adventure and far-flung locales and talk of bears – maybe it would be smart to protect yourself with some insurance?
Things do go wrong when you travel, particularly if you're doing hectic shit in the most hectic corners of the planet.
World Nomads' mission is to support and encourage travellers to explore their boundaries. They offer simple & flexible travel insurance, and safety advice to help you travel confidently.
They've been doing it since 2002 – protecting, connecting, and inspiring independent travellers just like you.
Get a quote below or read our in-depth review!
That's it. The whole list. If you do one of these ultimate bucket list ideas, well done. If you do all 12… geez, dude, legend; you're a braver human than me.
So, what are my final thoughts on the 12 best adventure holidays in the world? Honestly, I think I've touched on all of it already.
It doesn't matter whether you're after a cheap adventure holiday, an extreme vacation, or a journey away from where all tours can take you. Just remember, that it's the adventure that connects us to travel and to life.
Just remember that adventure is awesome. And that it keeps us alive. And that it is these stories that you'll be telling your grandkids one day. So make them grand and beautiful and dangerous and filled with plot twists.
Tell a good story.
---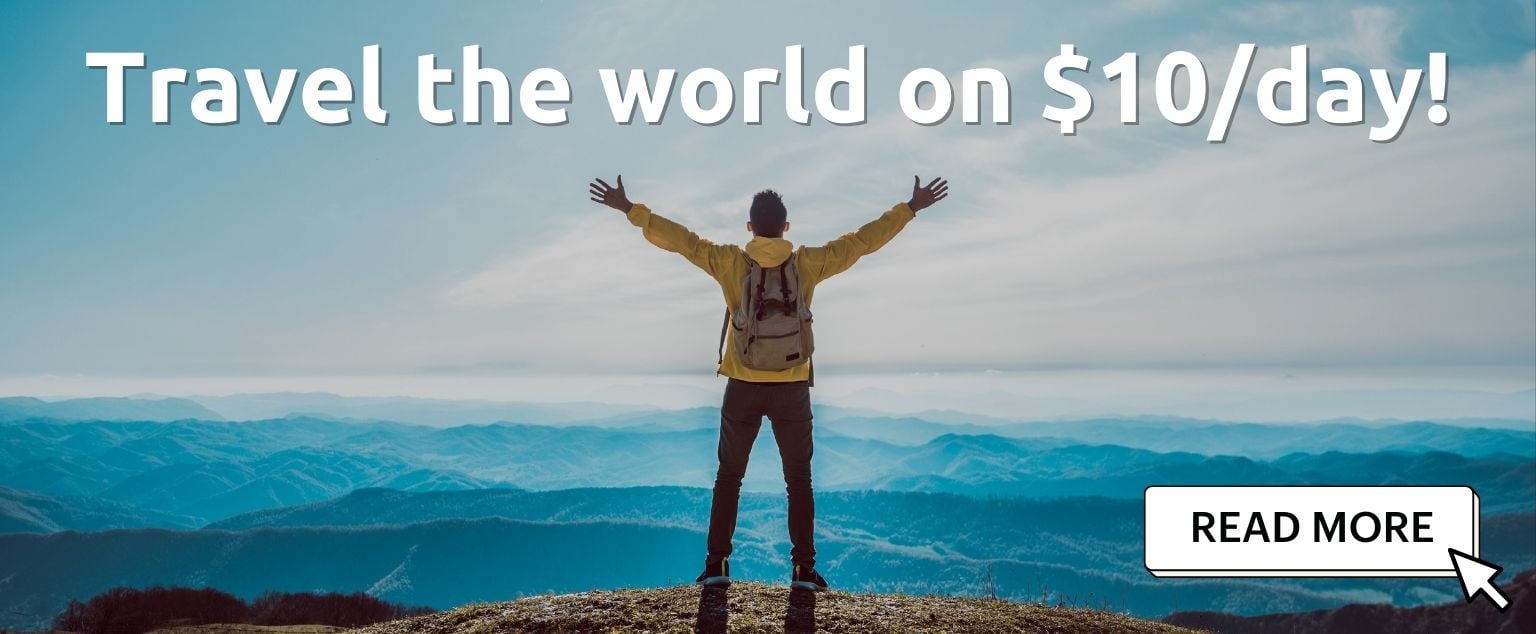 And for transparency's sake, please know that some of the links in our content are affiliate links. That means that if you book your accommodation, buy your gear, or sort your insurance through our link, we earn a small commission (at no extra cost to you). That said, we only link to the gear we trust and never recommend services we don't believe are up to scratch. Again, thank you!