Are you thinking about Argentina? Yeah, me too. 
The holy ground of Patagonia, meat, wine, football, empanadas, mate, and those damn beautiful people.
There are reasons why backpacking Argentina is so popular amongst us travellers. The possibilities for adventure are huge, the diversity  of landscapes is incomprehensible, and the energy is insane.
But the country is ENORMOUS… So if you're visiting Argentina for a quickie or planning a complete road trip, you gotta be prepared. 
This epic backpacking Argentina travel guide has all the best budget tips and travel tricks that I have lovingly gathered over the years in the most passionate nation I've ever visited. From cheap accommodation and adventures to travel insurance and safety, I've got you covered.
Whether you're taking a road trip in the desert or trekking Patagonia, I'm here to guide you through this magnificent country. Plus, you're going to see some of the best places to visit in Argentina that no one talks about.
Vamos, amigo! We're going backpacking Argentina…
Why Go Backpacking in Argentina?
If you tried to describe Argentina with a couple of words, it wouldn't be possible. The 8th largest country in the world hosts some of the most dramatic and distinct landscapes. So whatever type of backpacker you are, Argentina has something for you.
Snowy Patagonian mountains run alongside miniature mountain villages. Humid rainforests and dry deserts crash into each other. Then you'll find highly developed cities.
The Southern South American country borders friendly neighbours like Brazil, Chile, and Bolivia. So it's a no-brainer to make Argentina part of your backpacking South America adventure.
And amazingly, Argentina is cheap as shit! So it really is a broke backpacker's dream destination. You just have to know the tricks.
More than that, Argentina has a special place in my heart. The locals don't do anything by halves and that passion transcends to everything in their beloved country. They LOVE and they HATE Argentina, in equal measure, passionately.
The energy that the people have is electric. Whether it's a football game or a music concert, people have a particular way of sharing emotions; those very high and very low vibrations.
There are top things to do in Argentina all over the country. Even if you just keep your Argentina itinerary within places to stay in Buenos Aires, you're in for an adventure. But once you get out of the capital, you see the country unfold.
Backpacking Argentina itineraries involve long travel distances; bear this in mind when planning your trip. Flights are expensive and bus journeys are long.
If you're only planning on visiting Argentina for 1 or 2 weeks – or even with a one-way ticket – it's impossible to get around the whole country. Pinning a few must-see destinations may be useful.
14-Day Travel Itinerary for Argentina – The Northern Cities
With 2 weeks in Argentina, you can cover the most culturally significant cities in Northern Argentina: Buenos Aires, Rosário, Córdoba, and Mendoza. This 14-day backpacking Argentina itinerary starts at the iconic Iguazú Falls and ends in Buenos Aires. But it can be done in reverse.
If you're flying into and out of Buenos Aires, or you're short on time, you may want to connect to Puerto Iguazú on a round-trip flight to avoid the long-distance bus.
To see the incredible example of the power of nature, spend 1 or 2 nights at Iguazú Falls. You can also see it from the Brazilian side, but I'm biased, right?
Take a bus ride to Rosário, one of the most progressive South American countries. Delight your senses with outstanding street art, culture, and playtime – I mean nightlife.
You won't be disappointed by Córdoba: a city with very modern values. Spend a few days in the places to stay in Cordoba. If you can, get out of the city and explore the region of Córdoba.
The Sierras de Córdoba is a mystical place to explore. Camping here is one of the biggest pleasures.
From here, the journey to the wine capital of Argentina, Mendoza, is easy. Go wine-hopping from vinyard to vinyard. The nearby Andes mountains also offer skiing, hiking, and climbing.
Then finally, Buenos Aires awaits you. This chaotic city has no shortage of attractions. Be sure to visit the charming neighbourhoods of Recoleta, San Telmo, and Palermo.
1-Month Travel Itinerary for Argentina – The Culture Route
Now we're really digging deep into what Argentina has to offer. This 4-week backpacking Argentina itinerary expands further on the previous 2-week itinerary but now you could have time for Salta and Jujuy. End your trip on the beach at Mar del Plata.
On your way North from Córdoba or Mendoza, you can make a stop in San Miguel de Tucumán to break up a long bus journey. Dive into some of the nation's history at the Casa Histórica and the Casa de Gobienero.
You'll notice the landscape become arider and desert-like until the scenery crescendos into surreal formations and colours. From here on out, simply looking out the window at the alien-like views is entertainment enough.
As well as being one hell of a wine region, Salta has an extraordinary landscape of rock formations. Set a few days aside for getting lost within it.
Then, you're the most North West as Argentina goes in the state of Jujuy. Tred through raw Argentina. Enjoy the traditional life with a backdrop of natural wonders: Quebrada de Humahuaca and the Pucará de Tilcara.
If you're heading out of Buenos Aires, Mar del Plata is the best place to wind down or party on down. Whatever kind of beach vibe you crave, you'll find it here.
3-Month Travel Itinerary for Argentina – The Whole Hog
Now, this is my kinda trip! With a 3-month backpacking Argentina itinerary, you can delve deep into the heart of this special nation.
You'll be able to experience nearly every shade of its coloured and marvellous geography: mountains, deserts, coastlines, vineyards… well, as much as 3 months allows. As well as having the previous destinations on your hit list, now you have plenty of time to explore Patagonia too!
Don't miss some of the best places to see in Argentina: El Bolsón, Bariloche, El Chaltén, and El Calafate. You may well find that you just don't want to leave!
It wouldn't be a justified backpacking Argentina travel guide if I didn't recommend that you take at least one trek. You have plenty of the best hikes in the world to choose from: the mighty Fitz Roy and Cerro Torre, climbing atop the Perito Moreno Glacier, or at the ends of the Earth in Tierra del Fuego in Ushuaia.
On this trip through Argentina, You'll also have plenty of time to simply soak in the energy that the country gives off. Take the days (and nights) to enjoy fine food, wine, and fine company. By travelling slowly, that's when you get the full Argentina experience.
Of course, this massive country is jam-packed with incredible sights. You can make a list as long as your arm of the best places to visit in Argentina. But let's go over some highlights.
Backpacking Buenos Aires
Buenos Aires is a city unique in itself. You could spend weeks, months, YEARS here and still feel like a newbie.
It's a marvel. The city's full of energy, wonderfully designed, and there is rarely a dull moment. To start backpacking Argentina, Buenos Aires is an exciting place to springboard in.
The city is huge, and most people question safety in Buenos Aires from terrible rumours. But staying in the Microcentro (where most of the attractions are anyway) proves safe enough for thousands of tourists a year.
You'll find Obelisco rising in the middle of the bustling Avenida 9 de Julio to remind you where you are. Several cultural landmarks, like the Casa Rosada and Palacio Barolo, are around this area.
Living the hostel life in Buenos Aires, you'll meet great people. It's the place for tip-offs about THE local snack shops too.
Recoleta is class but attracts mostly affluent travellers – the cemetery is weirdly amazing. Palermo SoHo is the hipster part of town and features some of the coolest street art I have ever seen.
La Boca is admittedly cool but overhyped and a bit shady after dark. I recommend staying in San Telmo instead, and just peaking in as a better option.
Backpacking Iguazú Falls
Iguazú Falls is probably the most engrossing waterfall on the planet (and I've seen a few stunning waterfalls). The sheer power of this waterfall makes it an intimidating and awe-inspiring sight. Around 275 cascades orchestrate this majestic power.
As you walk along the crest of the falls, witnessing tons of water spilling over the precipitous edge, you're gonna get wet. (You dirty-minded bastard – not that kind.)
Iguazú Falls is split between Brazil and Argentina and both sides will give you a different taste. The Argentinian side traverses the top of the falls and gives a more up-close and personal experience. The Brazilian side is closer to the bottom of the falls but makes a fuller panoramic view.
The most magnificent sight is the Garganta del Diablo – The Devil's Throat. Many people (*cough, cough* the Argentinians) claim it is the best part of the park.
There's an argument over which side is better: Brazil or Argentina? But this is a backpacking Argentina guide… Of course, I'm going to say Argentina!
Accommodation wise: stay in the Argentinian city of Puerto Iguazú. The city pretty much exists solely as a means to visit the falls. Staying in one of the hostels in Iguazu Falls is where you'll find the best vibes.
Backpacking Rosário
Rosário doesn't have the sheer amount of landmarks that Buenos Aires does. What Rosário does have is heaps of culture. Here is one of the most liberally minded and socialist populations in all of South America.
The city is evolving and transforming. Artists, activists, rebels, and youngsters are all drawn to this place to pay homage to idols – like Che Guevara, Lionel Messi – or to become their own (in a sense).
The most important landmarks are the Monumento a la Bandera and the house of El Che Guevara. Both are nationalistic in nature and iconic stops in the city.
Rosário is also the city with the most green spaces in the whole of South America! Check out the Parque Independencia, which is also one of the largest city parks in the whole country. If you're visiting during warmer seasons, there's even a stretch of sandy beach along the Paraná River called Balneario La Florida to take your icy beer.
Tourist attractions aside, Rosário really shines when it comes to the people. People are very open-minded and receptive to foreigners. If you happen to make friends with a Rosárino (a person from Rosário), then you'll be treated very well – first to an Asado, then to a long night of socials in the Pichincha neighbourhood.
If you're lucky, you may even get a chance to find a lover for the night. It's common knowledge that Rosárinos are gorgeous.
Backpacking Mar del Plata
Mar del Plata is every Porteño's (a person from Buenos Aires) favourite summer getaway. This large city boasts some of the best beaches in Argentina and gets rammed in the peak seasons around November to March.
Most people, obviously, journey to Mar del Plata to relax on the beach. The most popular ones are Playa Varese, Playa de los Ingleses, and Playa Grande.
In the summer, these sandy stretches become absolutely bonkers as locals play and pass around drinks and joints. At night, many people go to the bars around Alem Street and stay up all night long only to repeat the process the following day.
If you want a slightly calmer experience then head north or south to the small coastal towns of Pinamar and Miramar, respectively. Both are way more chilled and attract more families. You'll find much cheaper accommodation in these areas too.
If you visit Mar del Plata during the rainy off-season, then there is still plenty to do. There are several ecological museums and zoological facilities around the city to visit. Most of these offer predominantly maritime exhibits.
Backpacking Córdoba
Córdoba is the second-largest city in Argentina and is most known for its colonial architecture, scholastic history, and surrounding mountainous landscape. The city is an eclectic mix of the old and the modern. Young travellers and students rain on this city.
Jesuits "founded" the modern city of Córdoba and they established several places of learning. Because of this, Córdoba's nickname is La Docta or "the learned one." Scattered throughout are some of Argentina's prominent historical sites: the Manzana de los Juristas, the Cathedral of Córdoba, and the Capuchin Church.
Go museum crazy in Córdoba. The Evita Fine Arts Museum, which was formerly a palace, is loved by many. Ultra-modern Caraffa Fine Arts Museum is also worth visiting. Backpacker hostels in Cordoba and cool budget accommodation are in abundance.
Outside of the city of Córdoba is my favourite place in Argentina – Las Sierras de Córdoba (sorry Paraná, I still love you). I'm just a sucker for camping and road trips.
Charming villages around the mountains, like La Falda, La Cumbrecita, and Villa General Belgrano, are beautiful and have very European sensibilities. The Quebrada del Condorito and Traslasierra Valley areas make incredible hikes.
Argentinians from all over the country flock here with their Asado equipment to retreat from everyday life. Large inland lakes and rivers capture the hearts of many. Picturesque Mar Chiquita serves as a nice retreat for Córdobians.
Nearby Salinas Grande couldn't be more different. This is a huge salt flat at the base of the mountains.
Backpacking Salta
Salta is a thriving commune and backpacker hangout smack bang in the middle of the desert. This desert also doubles as one of Argentina's premier wine regions (woohoo!).
I'm not going to beat around the bush here; it's a journey to get here. You can make a stop in San Miguel de Tucumán – for some history – and Cafayate. Cafayate is the initial gateway to one of the most gorgeous landscapes in Northern Argentina: the Valles Calchaquí.
If you have your own car, you're laughing. This region – running north all the way to Jujuy – makes the best road trip with its blood-red stone formations canyons that snake throughout it. Cuesta del Obispo is a road I won't forget in a hurry.
In the Valles Calchaquí, adventure opportunities are plentiful. Who knew backpacking Argentina in Salta can involve paragliding, mountain biking, climbing, rafting, rappelling? Pump some adrenaline, then warm your soul with some winey goodness.
There are numerous wineries around Salta offering different styles and vintages. The harsh climate in this region has a noticeable effect on the grapes, producing bold and hearty tastes.
Inside the city – if religious sights interest you – there are plenty. The gorgeous Iglesia San Francisco and Catedral de Salta, as well as museums of colonialism and archaeology, are prominent features. You can summit several of the surrounding hills via train or cable car as well; each one offers astounding panoramas of the city.
Salta definitely still has a soul and heartbeat that could rival any larger city too. Streets are busier with people more so than cars. Bars are abundant and full of life.
Backpacking Jujuy
North of Salta is San Salvador de Jujuy in the province of Jujuy. Though the regions of Salta and Jujuy appear very similar, they are, in fact, quite different.
Tourism in the region of Jujuy focuses less on winemaking and more on the surrounding landscape. The Quebrada de Humahuaca is one of the most beautiful places in Argentina and hiking through its Seven-Coloured Hills is a once in a lifetime opportunity.
This region isn't totally desolate either: just over the mountains, you'll actually find a cloud rainforest. Verdant Calilegua National Park will grant visitors the opportunity to spot jungle wildlife – especially those of the feline variety like jaguar, puma, and ocelot.
The main towns of the Jujuy province are San Salvador de Jujuy, Purmamarca, and Tilcara. All of them are quite similar and any one of these would make a fine base for exploring the region.
Of the three, Tilcara is the northernmost town and offers great archaeological attractions. The most popular site is the Pucara, which is a mighty pre-Inca fortification built upon a hill.
In addition, there are several other museums around Tilcara that do a great job of representing the local indigenous culture. The town itself has its own unique charm with mud and stone buildings, which give the entire town a very mystical desert feel.
Backpacking Mendoza
The mighty Andes! Here, you'll find some of the superlatives of South America including the highest mountain on the continent. Home to the Malbec wine grape – "the best in the world". (According to the Argentinos, obviously).
The city of Mendoza isn't much to speak of. It's a bit lacklustre. There are a couple of interesting attractions like the Cerro de la Gloria, Plaza España, and the Parque San Martín.
Most of the action is found outside of the city. This is why you want to make sure to know where to stay in Mendoza.
Being so close to the Andes, Mendoza has a myriad of alpine activities to participate in. In the winter, you can take to the mountains with your skis in resorts like Las Leñas.
In the summer, hardy adventurers can climb the gargantuan Aconcagua. This mountain is not for beginners though; attempting it shouldn't be taken lightly. There are a couple of nice hostels in Mendoza as well.
The Wine Region is Mendoza's real claim to fame. Don't forget the name, Malbec: adored by many worldwide, this beauty of a grape is cultivated and celebrated here. A tour around the many wineries is essential in Mendoza.
Mendoza does act as a bit of a crossroads. Many who have been backpacking around Chile enter Argentina via Mendoza. The city is the meeting point for many important backpacking routes in Argentina as well.
If you're travelling from the east, be sure and drop by the Argentinian national parks of Talampaya and/or Sierra de las Quijadas. Both offer spectacular desert scenery that rivals the beauty found in the Valles Calchaquí region.
Backpacking Río Negro
Okay, this is a biggie! So let's break it down into two of the hottest destinations to visit while travelling in Argentina.
On the doorstep of Patagonia and the Andes are the beloved destinations of Bariloche and El Bolsón. I'm not messing, these are surreal fairytale places. There's no wonder why people flock here.
Bariloche
Bariloche is Argentina's idea of an Alpine retreat. This magical village nestles within the Nahuel Huapi National Park and has mountain splendour aplenty. With so much on offer, choosing the right place to stay in Bariloche can totally change your experience.
And within this magic-looking land, there is an abundance of outdoorsy adventures. There's no shortage of world-class mountain activities to slap on your Argentina Itinerary:
Hiking
Skiing
Biking
Kayaking
Rafting
Paragliding
Ferrata
Snowshoeing
And more…
Here is South America's largest ski resort – Cerro Catedral. The younger folk arrive by the busload and spend the nights partying hard too. Staying in a good hostel in Bariloche is where you'll find the best vibes – and the best routes to the bars.
In the summer, after the snow melts, trekking is super popular. Take advantage of the mountain refuges for the most mind-boggling views. Climbing to Refugio Frey was my favourite!
Nahuel Huapi National Park is insane year-round. Don't miss the opportunity to venture to the lakes and islands and absorb the flora and fauna.
El Bolsón
6 hours south of Bariloche is El Bolsón. Tucked away in the secluded Piltriquitron Mountains, people come to escape the stresses of modern living.
El Bolsón boasts some of the highest quality food in Argentina. You could spend your entire trip exploring the organic farmer's markets and it wouldn't be a minute wasted. Go ahead and double your body weight in ice cream.
The idyllic conditions mean breweries are overflowing in El Bolsón and brewmasters are getting damn creative. Honestly, I had the most delicious beer here, it made Germany look weak. (Sorry scary Germans, please don't fight me.)
And, of course, take a day or more to hike around Cerro Piltriquitrón, El Cajón Azul, or Rio Azul.
Backpacking Patagonia
Finally, backpacking Patagonia! Let me tell you about some of my favourite stops: Perito Moreno, El Chaltén, and El Calafate.
Perito Moreno (not to be confused with the Perito Moreno Glacier which is 400 miles south) is not the most adrenaline-pumping place. It's the location that really sells it.
Positioned halfway between El Bolsón and El Chaltén, it's perfect to break up a bloody long bus journey. It's also ideal to cross the border with Chile.
Check out the Cueva de las Manos: a UNESCO site of prehistoric painted hands and depictions of local wildlife, upwards of 13,000 years old! Personally, I thought it was super cool.
El Chaltén is the heart of Patagonia! Its close proximity to Los Glaciares National Park makes it an unmissable stop.
The region's most notable peaks – Fitz Roy and Cerro Torre – tower in the distance and attract hikers and climbers year-round seeking to brave the malicious conditions. You have a plethora of world-class trails in El Chaltén to hike.
Traversing the epic Patagonian Ice Field is something you won't forget for the rest of your life. Though this is NOT for novices; those who embark on this trek must be ultra-prepared. There's no doubt you will feel on top of the world if you make it, though.
A few hours drive from El Chaltén is El Calafate: the jumping-off point to see the mighty Perito Moreno Glacier. It's actually 50 miles away from El Calafate but – in Argentina terms – this is "close".
If you're kitted out you can walk across the glacier. It's easily one of the most beautiful things I've ever seen. The Perito Moreno Glacier strikes an indescribable cobalt blue that gives you the chills – inside and out. End your expedition with the most satisfying beer you've ever drank.
If you're a museum nerd (like me) the Glaciarium is the place to learn about the big-ass ice block. Inside the ice bar, you can grab a fernet and coke (a love or hate it kinda alcoholic drink).
A little more off the beaten track are the periphery Glaciares, Upsala and Speazzini.
Getting Off the Beaten Path Travel in Argentina
Even within the most heavily touristed regions, like Buenos Aires or Patagonia, there are areas that visitors rarely see. So travelling off the beaten path while backpacking Argentina is easy. There are endless places to stop and watch the world go by.
There are plenty of places to see incredible wildlife, flora, and fauna in Argentina. Though this is the part where I'm going to tell you to be very mindful if you're taking part in animal tourism.
Puerto Madryn will satisfy your beach cravings. It's also a place to spot whales, dolphins, sea lions, and penguins.
In the northeast, the swampy region of Iberá Wetlands is Argentina's most ecologically diverse location. It's overflowing with phenomenal natural sights.
Peninsula Valdes is a place of extreme marine diversity. Scientists compare it to Ecuador's Galapagos Islands. Capybara, giant anteaters, howler monkeys, anacondas, marsh deer, caimans, and more, all call this place home.
Not many people make it to Ushuaia – Tierra del Fuego. Mostly because it's damn far and expensive to get to. But if you make it to the Land of Fire, get ready for some of the best hikes in the world. Explore Tierra del Fuego National Park and scale the Martial Glacier.
Ushuaia is the best launching point to take a trip to Antarctica too. Though be warned: they are ridiculously expensive.
I had some of the best nights of my life just bouncing around the hometowns of the locals in places like Paraná and Santa Fe; share mate, indulge in empanadas, and try every kind of beer.
Of course, you're going to find great things to do in Buenos Aires. But backpacking Argentina is much more than the capital city.
So get out there and create your unique Argentina itinerary!
1. Go to an Asado
The most cultural Argentino experience is the Asado. The gathering is centred around slabs of meat, cooked to perfection, on a type of grill called a parrilla.
But Asado is not just about the food: it's more about the company. It's a very social experience and definitive of who Argentinians are.
Plus, dessert usually involves dulce de leche. That alone is worth selling your soul for.
2. Attend a football match
I'm from the UK – and I thought we were football crazy – until I went to Argentina. If you love football, this is basically a pilgrimage. If you don't like football, you're still in for a hell of an experience.
Players are idolized, deified even – as is the case with Diego Maradona and Lionel Messi – by the masses. Get yourself to a match and prepare for the most energy you've ever seen in your life.
3. Bike the wineries in Mendoza
Mendoza is one of the premier wine productions in the world! What a pleasure it is to say that some of the tastiest (and best priced!) wine is right here!
Take a wine tasting tour to learn the real value of the honoured Malbec grape. Enjoy a glass or 2, or 3… in this fantastical wine region is a guaranteed good time.
4. Experience Iguazú Falls
Iguazú Falls is one of the mightiest scenes on this planet. Grab a rain jacket and walk amongst the towering falls as they plummet 250 feet into the void.
5. Get your walking shoes on!
Who can talk about travelling in Argentina without recommending hiking in Patagonia? The treks attract walkers from all corners of the world for a reason!
There is really no shortage of trekking opportunities. Grab your boots and take to Cerro Torre, Fitz Roy, and incredible national parks to marvel at their awesomeness.
6. See the life of the Gauchos
Gauchos are Argentina's version of the cowboy and their relationship with the nation is a long and dramatic one. Visit an estancia and hear about the history that they have of roaming and protecting the nation.
7. Take your mate everywhere
There's nothing like finding a beautiful spot to just sit and watch the world go by. Then you can do that the Argentinian way too: with your mate (pronounced ma-tey). Mate is usually shared, so it's a great way to get to know people and share your experience. But even alone, your mate is your friend.
There are stunning parks, mountains, and rivers aplenty in Argentina that become perfect places to take your mate and watch the world go by.
8. Take a road trip
No backpacking route in Argentina would be complete without a road trip. One of the best places to do this is through its finest desert landscapes; some of the biggest deserts in the world in fact!
The Quebrada de Humahuaca road and the Seven Coloured Hills that run through Valles Calchaquí region are both a wild ride. If you have your own transport, you can stop as you please and soak in the splendour.
9. Watch wildlife in Iberá Wetlands or Peninsula Valdes
These are some of the least visited tourist attractions in Argentina due in part to their remoteness. Neither should be missed though as they contain some of Argentina's most spectacular wildlife!
10. An Argentinian
Hey, listen, most backpackers are gonna tell you love and sex while travelling is always something good to partake in. But when I talk about the passion that the Argentinians have, just imagine how that transcends to love…
And the sex? No way… Go find out for yourself.
There are a ton of budget backpacker lodges in Argentina! You'll have no problem finding a place to stay while backpacking Argentina. Of course, there's an abundance of hostels in Buenos Aires and budget accommodation is ample all over the country.
Many hostels can fill up quite quickly during their respective peak seasons. For example, lodging in Bariloche may be harder to find during the winter when the ski lodges are open.
Conversely, the hostels in Patagonia are busier in the summer when conditions are prime for trekking. In these cases, booking in advance could be beneficial.
For the best budget accommodation and the best vibes while staying in Argentina, look no further than Couchsurfing. The Argentinians definitely know how to host a guest.
When I'm not Couchsurfing, Airbnb is always my next choice. Having the option to cook your own food saves loads of money. Plus, I'm an introvert: I need my own space from time to time.
Estancias, which are like farm stays or ranches, are another popular form of accommodation in Argentina. This is a great way to experience life in rural Argentina. They can be a bit pricier than a hostel but you can't get the kind of Argentina experience you can by staying with gauchos from a hostel.
Best Places to Stay in Argentina
Look, you're going to find great places to stay in Argentina, no matter where you go. But these are some of the absolute best.
To put it frankly, Argentina is cheap as holy shit right now. In some areas, it even compares to the likes of Southeast Asia. What is a shit situation for local people is shouting us broke backpackers from the rooftops.
I can write a whole essay about the cost of backpacking Argentina. It's constantly in financial crisis. On top of this, with the effects of the pandemic, the economy has taken its biggest hit.
The Argentinian Peso is constantly suffering inflation. This has led to the black market money exchange in Argentina.
As always, Couchsurfing and camping are the best ways to save on lodging. You can find a camping pitch for less than $5 USD per tent.
Finding cheap food is the least of your concerns. It's everywhere. Tell me empanadas are $0.35 cents each and I'm rolling out the joint.
Eating out is definitely affordable. A meal for 2 at restaurant, bottle of wine, AND a tip for the staff for less $10 USD is easy. (Tipping isn't necessary – and I'm not usually a tipper either – but I had to leave a tip for this price.)
Long-distance buses are generally pretty cheap. Overnight buses are super comfy saving your accommodation. 😉 Avoid internal flights if you are on a tight budget while backpacking Argentina.
Obviously in the more remote areas, like Patagonia, prices are higher than in the rest of the country. If you're going there, you can expect a higher budget. It's beautiful though so totally worth it.
With some consciousness, a broke backpacker's budget of $10 USD is easily doable here. If you feel like letting go a bit, a $40 USD daily budget will see you to a very good time.
So budget travel in Argentina is alive and well! Your money will go far here and you can help out a lot of people with your tourism.
A Daily Budget in Argentina
So let's put it simply. Here's a quick breakdown of the daily costs of travel in Argentina.
Money in Argentina
The currency in Argentina is the Argentine Peso. With constant inflation in Argentina, you're going to be seeing a lot of it. Knowing the tricks with this is one of the hottest travel tips for South America right now.
As of writing this (April 2022) here are the current exchange rates for the Argentinian Peso:
The official rate is roughly 100 Argentinian Pesos = $1 USD
The "Dólar Blue" rate is 200 Argentinian Pesos = $1 USD
This brings us to the black market in Argentina. You will notice a drastic difference between exchanging money "officially" and exchanging money on the black market – also known as the "Dólar Blue".
The best way to exchange money on the black market is to bring money in USD and exchange money when you arrive. You'll find lots of people selling, and you can always ask for advice when you arrive. The locals are using USD to save money from inflation, so exchanging with them means you're helping them out too; a win-win scenario.
Of course, there is a risk in arriving with loads of dollars: Buenos Aires, or anywhere else in Argentina, is not the place to be prancing around with a fat stack – unless you feel like losing it. So hide your cash well while travelling.
You can also retrieve money through Western Union at the black market rate. Beyond this, as far as I know, any other way to exchange money means you're going to get ripped off.
There are ATMs in most places. But as you've probably guessed by now, I wouldn't recommend using them. If you've no other option – they're there.
Travel Tips – Argentina on a Budget
Camp: Argentina is one gorgeous country to camp, especially in the rural areas. It has been known to even pitch tents in people's yards (and maybe get invited to an asado). Having a good backpacking tent is your first step to outdoorsy goodness.
Cook your own food: If you are on a tight budget, you can save money by cooking your own food. Having a portable backpacking stove is a badass trick too.
Book your transportation early: Both plane and train tickets are much cheaper if you purchase them in advance. This rule doesn't apply to buses, you can book them the same day or even hour.
Couchsurf: Argentinians are awesome but I wouldn't stay anywhere without solid positive reviews. You know this shitty world means that travelling as a woman means we have more personal safety to consider. That being said, Couchsurfing makes real friendships and you see this country from the local perspective.
Why You Should Travel to Argentina with a Water Bottle
We're globally aware of the plastic problem now, and it can seem overwhelming sometimes to change your habits. But little by little, we can make a difference.
One of the easiest ways to reduce single-use plastic in your life is by carrying a filtered water bottle. You don't have to worry about the safety of the water, nor do you have to lean on buying plastic bottles every day. It's one simple step to continue on the road of being a responsible traveller.
Plus, now you don't have to PAY for water either! Because that really is absurd… Travel with a filtered water bottle and never waste a cent nor some poor fish's life again.
If you haven't realised by now – Argentina is a massive country and spreads across multiple latitudes. Climate is extremely varied in Argentina; it has regions of excessive heat and humidity, bone dry deserts, highly unpredictable sub-arctic, and everything in between.
But generally, Argentinian weather is generally warm and wet in the summer (December – February) and cold and dry in the winter (June – August). Patagonia is the exception to this rule as it is warm(ish) and dry(ish) in the summer.
Summers are hot in the northeastern corner of Argentina. It can be almost unbearable at times actually. Buenos Aires, Mar del Plata, Rosario, Iguazú Falls, and Córdoba all fall under this category. Winter in these locations will be pleasingly mild and relatively dry.
Northwestern Argentina is predominantly a desert climate so summers here will be very hot while the winters can be quite cold. They are treated to nice summer thunderstorms from time to time. But as it's the mountains, it can vary a lot.
Finally, the climate in Patagonia is just nutty and very location dependent. Some parts of the region have predictable weather and others are a complete wild card. Summers are generally drier but not exempt from thunderstorms. Winters are almost always cold and snowy.
Honestly, backpackers can visit Argentina at any time of the year; when you go is really dependent on what you want to do. Argentinian winters are great for skiing, and Buenos Aires will be nice and cool. Summer can be super hot and wet, but everyone is in very high spirits.
What to Pack for Argentina
A backpacking South America packing list can look a little different from packing lists for other continents. My mosquito net is my prized possession.
But on every adventure, there are 6 things I never go travelling without:
So you've heard the rumours. But let's get it straight: it IS safe to travel Argentina.
Of course, crime is an issue in South America. But crime is an issue everywhere in the world. The vast majority of travellers in Argentina will tell you they had no problems at all by following common-sense travel safety practices.
There are certain areas that hold higher risk than others. Large urban cities have the highest crime rate – obviously. But most crime is petty in nature involving pickpockets, scams, and theft of unattended items; violent muggings are not frequent occurrences.
It's worth asking locals about neighbourhoods you should avoid. Here is a map outlining the safer and more unsafe areas of Buenos Aires. There's nothing of interest to a traveller outside of the "safe zones" anyway, so you won't miss a thing.
It should be noted too that drunk driving is a problem in South America. Road accidents are common – please take extra care around the roads. I would go out on a whim and say this is the most dangerous part of travelling in Argentina.
Sex, Drugs, and Rock 'n' Roll in Argentina
You know I said the Argentinians are passionate people? Well, that goes for partying too!
First off: the party doesn't start until well after the sun goes down. Most bars and clubs won't open until midnight and will only close after the sun has risen. Their partying gusto puts Europe to shame – if you can avoid the shitty cachenge music.
Obviously, this is South America, so cocaine is rife and cheap. This is not like cocaine at home – you're not snorting as much soap powder here – so be very cautious with your limits.
You'll also find plenty of other pills and powders around if you keep your eyes and ears open. Just be careful when you are buying drugs on the road. Speak with someone you trust and if it feels weird, it probably is.
One of my (many) favourite things about Argentina is LEGAL WEED! Yes, you heard me right.
The law regarding marijuana has been relaxing for years and most stoners have taken to growing their own plants. It even goes so far as some people being legally permitted to grow and distribute now. Fuck yeah, Argentina!
And now for the sex part: Argentinians are famous for that one. It seems like people are falling in love with Argentinians left, right, and centre! They're just intensely beautiful and passionate people.
Loving and being loved by them is an experience like no other. So if you're ready to jump into the dating pool, Argentina could well be the place to do it.
Getting Insured BEFORE Visiting Argentina
It's no joke: travelling without insurance in Argentina is risky. Even with all the best intentions, you simply can't prepare for everything.
In a worst-case scenario situation, the last thing you want to think about is how you're going to pay for healthcare. So having good travel insurance before you set off on your adventure can literally be a life-saver.
World Nomads' mission is to support and encourage travellers to explore their boundaries. They offer simple & flexible travel insurance, and safety advice to help you travel confidently.
They've been doing it since 2002 – protecting, connecting, and inspiring independent travellers just like you.
Get a quote below or read our in-depth review!
World Nomads provides travel insurance for travelers in over 100 countries. As an affiliate, we receive a fee when you get a quote from World Nomads using this link. We do not represent World Nomads. This is information only and not a recommendation to buy travel insurance.
Travelling to Argentina is fairly simple. If you're travelling from outside of South America by air, chances are you're landing in Buenos Aires. If you're arriving from inside South America by air, chances are, it's still Buenos Aires.
There are plenty of land crossings from neighbouring countries to Argentina. All of these are very easy to conduct. The bus companies are so used to doing these routes so it's usually a very smooth process.
There is an entry port by boat from Uruguay too. Though this isn't that common a route.
Entry Requirements for Argentina
Most Western nations can travel to Argentina visa-free for 90 days, depending on your country of origin. For many, the fees have also been waivered! One more reason to visit Argentina.
Some nationalities will need to apply for an Argentinian visa prior to arriving. Referring to the map below: those from the nations that are not blue or green will need to contact their local embassy before visiting Argentina.
Travelling between destinations in Argentina is not a quick affair. So no matter which forms of transport you choose, get comfy and enjoy the ride.
Buses are your new best friend for getting around Argentina! Locally known as the Colectivo, they're comfortable, reliable, and really reasonably priced. Depending on how you like to travel, there are multiple ways to get between major Argentinian destinations.
Hitchhiking in Argentina
Travelling by hitchhiking in Argentina is a pretty common form of transport. There are few roads and lots of drivers heading in the same direction as you, so you can find a good spot easily enough. Just note that hitching in the north of Argentina and hitching in the south are two very different experiences.
The north hosts the larger cities and criminal activity is a little higher here. I hate to say it, but there have been a number of hitchhiking-related crimes – so drivers can be a little cautious. But when you find a ride, drivers are friendly and chatty.
Hitching in the south of Argentina is a matter of finding a ride in the first place. Roads in this part of the country are sparse and there are fewer drivers around.
Drivers are usually more concerned about dealing with treacherous roads and not about picking up hippies. Trying to find a ride in Patagonia in any season outside of summer can be a bleak and very uncomfortable experience.
I would also say to not expect a free ride. Discuss with the driver beforehand about what you're doing and maybe, at the very least, offer to buy some lunch.
Onwards Travel from Argentina
Argentina shares friendly borders with all its neighbours. Whether you're heading to backpack Bolivia, Chile, Uruguay, Brazil, or Paraguay, it should never be a hassle.
You can catch a ferry in Buenos Aires to the lovely Uruguayan town of Colonia, which is just across the Rio de la Plata. There is a slow ferry (3 hours) and a quicker speedboat (1 hour) available.
Both Argentina and Chile share Patagonia, so you can continue your mountain exploration at one of the many crossings here! Many people hop back and forth across the border easily when backpacking in Patagonia and never experience a single problem.
There aren't many international airports in Argentina. If you're leaving South America, you'll probably be heading to Ezeiza Airport in Buenos Aires.
If you're heading overland to continue on the South America journey, you have plenty of border crossings to choose from:
Argentina is a diamond in the rough for the digital nomad lifestyle: reasonable costs of living, cafe culture, widely available, good internet connection; all features that should make remote workers raise their eyebrows. But for some reason, Argentina has not become a digital nomad hub yet.
Finding regular work in Argentina will be difficult. Unemployment is high and work visas are hard to come by. If you do somehow manage this, don't expect spectacular wages.
Most people that do work in Argentina are English teachers. Most work 20-30 hours each week with an institute, though some people manage to do just fine with private lessons. To increase your odds of scoring a gig teaching English abroad, it's always a good idea to get a TEFL certificate.
Broke Backpacker readers also get a 35% discount on TEFL courses with MyTEFL – simply enter the code BACKPKR when checking out.
Alternatively, Global Work and Travel have a TEFL course in Buenos Aires where you are almost guaranteed a job afterwards. If you haven't found a job within two weeks, you'll be assisted in finding one until you do!
Volunteer in Argentina
Volunteering abroad is an amazing way to experience a culture whilst giving something back. Most nationalities can volunteer on a tourist visa for up to 90 days, but long-term stays will have more specific requirements.
Argentina offers a variety of opportunities for backpackers to volunteer. Projects in Argentina range from teaching to agriculture to pretty much everything!
Volunteer programs run through reputable work exchange programs are usually very well-managed and trustworthy. However, whenever you are volunteering, do stay vigilant, especially when working with animals or children.
If you want to find volunteering opportunities in Argentina, I recommend Worldpackers – a volunteer platform that connects local hosts directly with travelling volunteers.
Broke Backpacker readers get a $10 discount when you sign up. Use the discount code BROKEBACKPACKER and your membership is discounted from $49 a year to $39.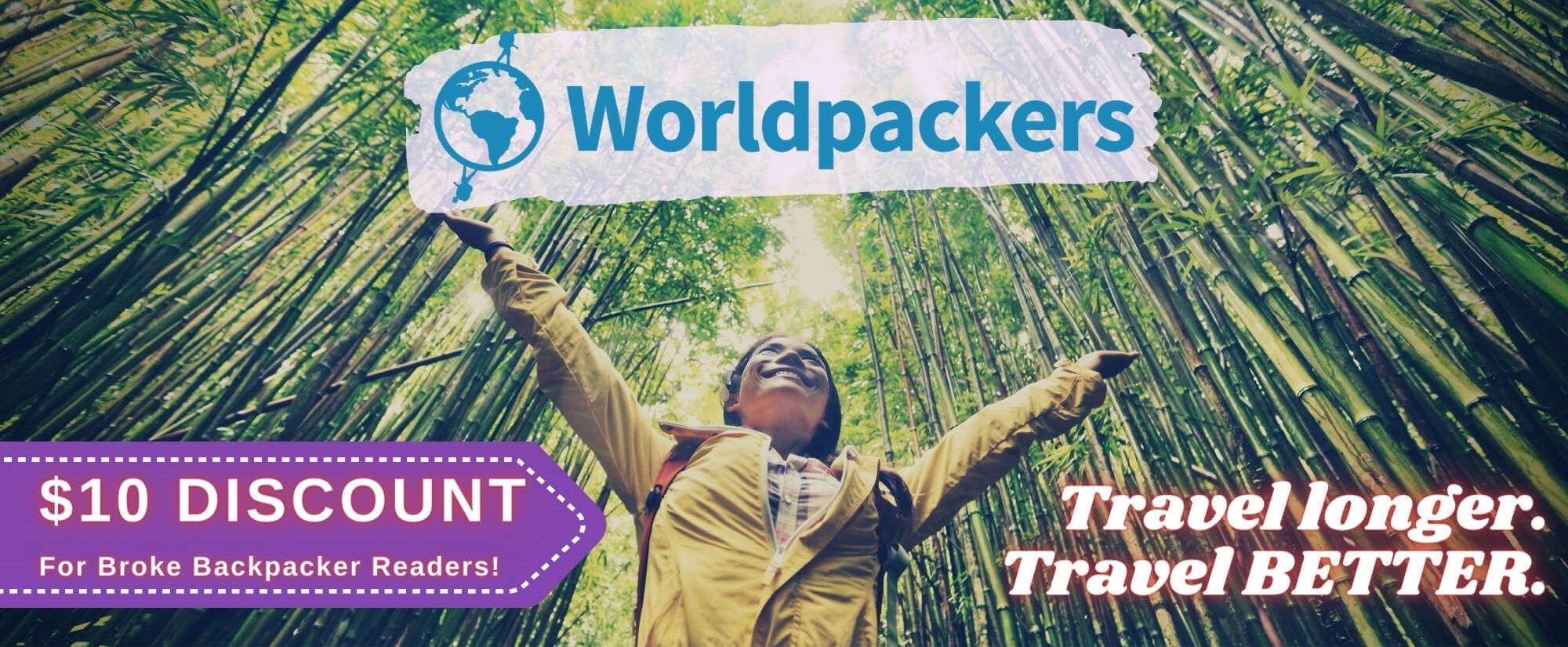 Worldpackers: connecting travellers with meaningful travel experiences.
Argentinians are very confident and engaging people, so much so that they can even seem intense or intimidating. Really, they're just very social people. You'll find everyone, of all genders, greets with a kiss on the cheek – and you won't be exempt from their kisses.
Argentinians can be boisterous – their personalities fill the room. They waste no time in expressing their mind or feelings. But it's not to be coarse or arrogant; that's just their way. Truthfully, they're some of the most admirable people that I've met.
They have little regard for poking fun at you, their friends, or themselves. It's nothing personal. Actually, it's their way of showing they like you.
Mate (pronounced ma-tey) is a big part of the culture, especially in the Northern regions. The drink is usually shared between groups and they take it everywhere they go. Being from the UK, my tea culture blended perfectly well with this.
The country is a melting pot of ethnicities and races and its people have taken the best features from their European, Latin, and Indigenous ancestors. Seriously, Argentinians are absolutely beautiful people.
If you want to jump into the dating pool, then be ready to jump into the deep end. They are passionate beyond measure and they will speak from the heart.
Gauchos are South American "cowboys" and a national symbol of Argentinian heritage. Before they were forced to fight wars for independence, they were peaceful landkeepers.
Today, football is almost a religion in Argentina. You won't go a day without seeing shrines to Lionel Messi and Diego Maradona and you literally can't turn a TV on without a football match appearing. Now imagine all that boisterous energy in their thousands at a football match…
Useful Travel Phrases for Argentina
Argentinians speak a very distinct form of Spanish called Castellano Rioplatense. This dialect is different from conventional Spanish. For example, the pronoun tú is replaced with vós.
Argentinians also use slang or Lunfardo – in excess. Lunfardo has no official recognition and is used only in casual conversation. They speak fast and rhythmically, so even if you're a Spanish speaker, expect a little adjustment phase.
It's one of the best countries to learn a new language. If you can master communicating in Spanish in Argentina, you're ready for the rest of South America.
Most Argentinians study English in high school thanks in part to its usefulness and also to the substantial British population. Many locals can communicate with you via English but they love it when you speak whatever Spanish you can muster.
At the very least, learning a few local expressions is useful. So to make your life easier, here are a few helpful Argentinian phrases with English translations.
What to Eat in Argentina
There is no way I can open 'what to eat in Argentina' without addressing Asado. It's basically the common friend of the whole nation. The social gathering all centres around MEAT.
The Asado involves excessive quantities of cow- cooked slowly, tenderly, with love, on a parrilla (a grill). It's more than a barbecue: it's an art form.
You know it's the weekend when that hearty smell hits your nose wherever you are in the country. The parrilla is literally part of the house and they get their use out of it.
It may or may not be served with salad. But the best Asados are served with chimichurri – a kind of homemade condiment.
Yerba mate is a type of drink. But really, mate is the name of the cup; the yerba is the herb they put inside and drink with hot water, kind of like tea. It's packed with caffeine and they share the same mate with everyone. Consider it an honour when they pass the mate your way.
If you've never tried dulce de leche before, get ready to gain a few kilos. This caramelised condensed milky goodness is everywhere in Argentina: ice cream, alfajores, on bananas, damn even straight off the spoon.
Empanadas are a staple of the diet. These stunning, stuffed pastry pockets come in all flavours. They cost next to nothing so bounce street to street sampling everyone's soul food.
As a flexitarian, I was kind of revolted by the quantity of meat I saw (and ate) when I arrived in Argentina. But honestly, when I actually looked I was surprised: veggie options are definitely on the rise. I found it easier to avoid meat here than in other countries. It's the cheese that's almost impossible to avoid.
For your pleasure, I've created a list of 10 of the must-try foods in Argentina.
Must-Try Dishes in Argentina
A Brief History of Argentina
Argentina is a young nation with a brief and turbulent history. Prior to the arrival of Europeans in the 16th century, the land was sparsely populated by native tribes.
The natives repel Spanish conquistadors somewhat successfully until the early 16th century. But this is the beginning of a long and sad story.
Sadly, as we know, European colonization was only a matter of time. The indigenous people were almost completely wiped out by the Spanish invaders.
By the 18th century, a stable settlement of the Spanish Empire is established in the area around the Rio de la Plata. Though brief in existence, this "viceroyalty" soon morphs into the first iterations of the Argentinian Republic.
In the early 19th century, Argentina was marked by internal conflicts between federalists and unitarians. Juan Manuel de Rosas was one of the leading figures of this time and was supremely polarizing.
In Buenos Aires, a series of successions and coups opposed him. An official democratic constitution declaring nationhood would finally be ratified in 1853.
Argentina is a paradise for outdoors lovers. There are so many different types of landscape in this country: mountains, tundra, desert, forest, swamp, and more are all represented here. The possibilities for unique adventures are endless.
Trekking in Argentina
Hikers have probably had a big heart over Argentina ever since they thought about planning a trek abroad. From multi-day treks to little day hikes, the explorer within us will not be disappointed.
If you're going to one of Argentina's many wildernesses or outdoor parks, then I suggest buying all of the necessary camping gear. You'll save some money that way and avoid paying for rentals via tour operators.
Consider buying a tent and a sleeping mat, or ditch both by investing in a hammock. A good backpacking stove is also a good idea for saving money and creating the best views for your meals.
The Best Treks in Argentina
Los Gigantes (1-2 days, 14 miles) – Big hike into one of the most beautiful portions of the Sierras de Córdoba. Accomplishable via a single (long) day or a multi-day trek.
Cerro Champaquí from Villa Alpina (12-14 hours, 12 miles) – Reach the summit of the highest peak in the Sierras de Córdoba. May involved overnight camps depending on fitness and itineraries.
Quebrada de las Conchas (4-5 hours, 6 miles) – Amazing trek into the Quebrada de las Conchas region of Cafayate. Some of the most stunning desert scenery in Argentina.
Hut-to-Hut in Bariloche (4 days) – This Spectacular hike affords some of the best views of Nahuel Huapi National Park and its lakes. Tents are optional since you can stay exclusively in the refugios.
Villa O'Higgins to El Chaltén (2-3 days, 21 miles) – One of the greatest ways to experience Patagonia. Walk from Villa O'Higgins in Chile to El Chaltén in Argentina. You'll see some superlative mountain, forest, and lake scenery along the way.
Laguna de los Tres (8-10 hours, 16 miles) – Hike to one of the most recognized places in all of Patagonia, the Laguna de los Tres at the base of the infamous Monte Fitz Roy.
Laguna Torre (7-9 hours, 15 miles) – Another must-do hike in El Chaltén, this time to Laguna Torre at the base of the diabolical-looking Cerro Torre.
Argentina is one of those countries that leaves a big, fat print on a traveller's heart. It is extreme; from the shores of the Atlantic to the tallest tips of Patagonia, this immense country has so much to teach you.
There is one summary I can make after backpacking Argentina. All the things that the Argentinians are most passionate about – Asado, football, mate, wine – they're all things that are not done alone: they are shared experiences. I think that's why the energy of this place is so special.
The country is one big melting pot. And you quickly feel like part of the mix.
Your money as a tourist can go far here. But remember, we have a duty, as people of the world, to travel responsibly. You can make a difference to people's lives with the way you travel through Argentina.
Argentina is a bloody big country. There's no way you can get round to all of it. But I would love to hear about your experiences and your best travel tips in the comments.
Travelling Argentina is screaming out to the adventurers. So book that ticket! Help out some good people and eat all the empanadas possible.
Now, prepared with your backpacking Argentina travel guide in hand, you're about to take on the meatiest, most enthusiastic, highly PASSIONATE experience of a lifetime! You'll find me there. Let's share a mate.
---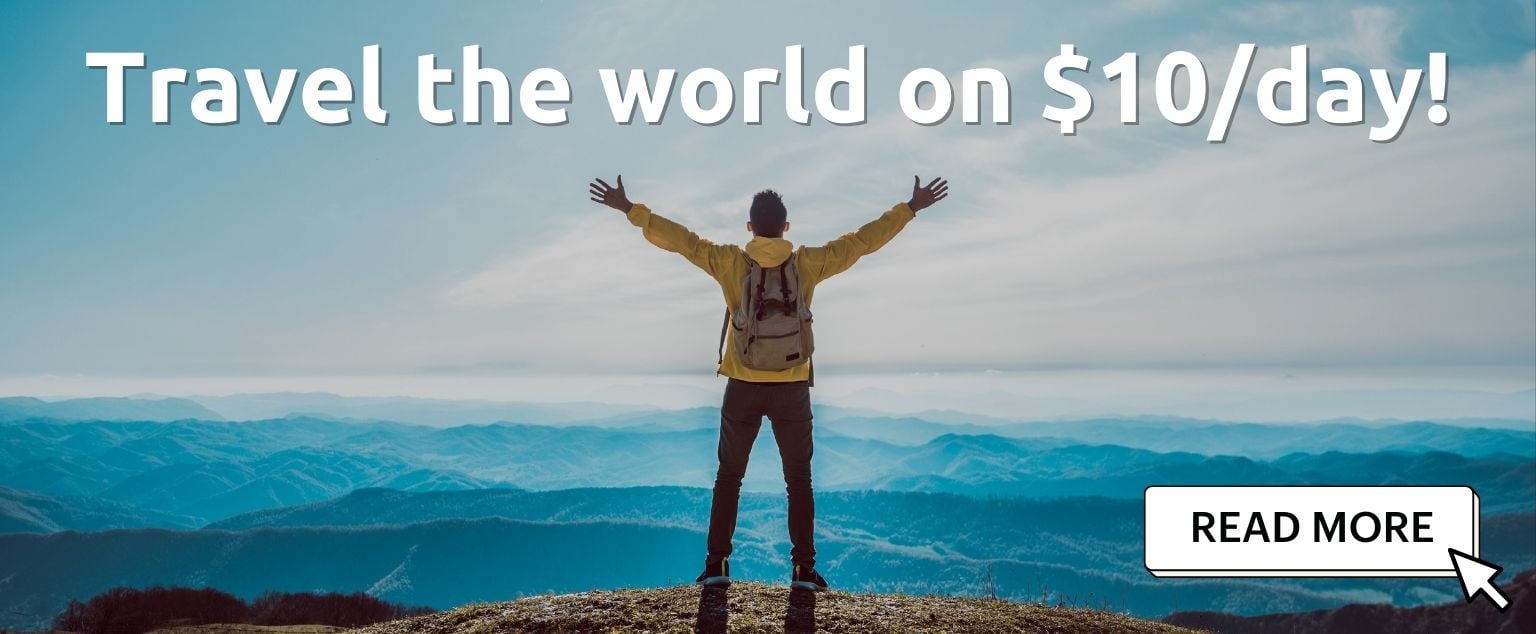 And for transparency's sake, please know that some of the links in our content are affiliate links. That means that if you book your accommodation, buy your gear, or sort your insurance through our link, we earn a small commission (at no extra cost to you). That said, we only link to the gear we trust and never recommend services we don't believe are up to scratch. Again, thank you!