Backpacking Argentina means you are in for a treat. Experience an incredible culture, beautiful beaches, breathtaking waterfalls, and drink the best coffee or wine you've ever had.
There's a reason why Argentina is so popular amongst travelers and especially backpackers. But don't be fooled, the country is huge and there are endless options for adventures.
Whether you're visiting for a short time or planning a complete road trip, being prepared is the most important part of your travels.
This Argentina Travel Guide includes all of the tips and tricks that my team and I have gathered over the years. From budget-friendly accommodations and adventures to insurance and safety, we've got everything covered.
Experience the beauty of the country and make the most out of your trip with the following Argentina Travel Guide!
Let's get right to it…
Why Go Backpacking in Argentina?
Before you start your travels, be sure to check out how big Argentina really is – the 8th largest country in the world. If you're only planning on visiting for a week, it is pretty much impossible to get around the whole country. Knowing what you want to see and where you want to go will definitely make a difference in your Argentina experience.
Argentina is located in the Southern half of South America and has other popular neighboring countries like Brazil, Chile, and Bolivia. The good news: Argentina is a lot cheaper than most of the other South American countries and it's offering just as many adventures, hotspots and things to explore.
If you tried to describe Argentina with a couple of words – it wouldn't be possible. There are extremes like humid rainforests, snowy mountains, tiny villages, and highly developed cities crashing into each other, making it a dream for every backpacker.
Best Itineraries for Backpacking Argentina
Below is a list of four travel itineraries for backpacking Argentina. They vary from one to four weeks in length and cover the majority of the top things to do in Argentina.
Note that these itineraries are meant to build upon each other and that many locations will be recycled. Try to read each one in order to best understand where to go backpacking in Argentina next.
Backpacking Argentina 7 Day Itinerary: The Coast and Waterfalls
A quickie by South American standards, this travel itinerary lasts 7 days in Argentina. You will start by seeing the amazing Iguazú Falls and end on the beach in Mar del Plata. Both are among the most adored destinations in Argentina! In-between the two, you'll spend a decent chunk of time exploring the dynamic Buenos Aires. Be sure to visit the charming neighborhoods of Recolecta, San Telmo, and Palermo.
Most travelers will fly into Buenos Aires in the first place and then connect to Puerto Iguazú. Those who want to save the most amount of time ought to make this a round-trip flight to avoid the long bus ride from Iguazú back to Buenos Aires.
Backpacking Argentina 14 Day Itinerary #2: The Northern Cities
An extra week will allow those backpacking Argentina to see its most culturally significant cities. This 2-week itinerary in Argentina will cover, in addition to Iguazú Falls and Buenos Aires, Rosario, Córdoba, and Mendoza.
Rosario is the epicenter of all things socially progressive in Argentina. People flock from all over the country to engage in liberal, open-minded activities here. The population, here, is either very young or very radical.
Córdoba is the second largest city in Argentina and plays host to some of the nation's most important universities. Outside of the city, travelers will find some prime outdoor opportunities in the Sierras de Córdoba.
Mendoza is the wine capital of Argentina. The Malbec grape is one of the most loved varietals in the world and is wonderfully delicious. Nature lovers can also enjoy skiing, hiking, and climbing in the nearby Andes mountains.
Backpacking Argentina 3 Week Itinerary #3: The North of Argentina
Now we're really digging deep into what Argentina has to offer. This 3-week itinerary will expand even further upon the previous ones and include the northern destinations of San Miguel de Tucumán, Salta, and Jujuy.
San Miguel de Tucumán is the birthplace of the Argentinian nation. Here are some very significant sites like the Casa Historica, the house where the Declaration of Independence was signed, and the Casa de Gobinero.
As we head further north, the landscape becomes more arid and desert-like until the scenery crescendos into surreal formations and colors at Cafayate. From here on out, you'll be seeing some the best places that Argentina has to offer.
Salta is the largest city in the province and one of Argentina's foremost wine regions. Slightly north of Salta is the state of Jujuy, which has some truly astonishing natural attractions. No trip to this part of the country is complete without a visit to Quebrada de Humahuaca or the Pucara of Tilcara.
Backpacking Argentina 1 Month Itinerary #4: Argentina's Highlights
This is the ultimate route for backpacking Argentina! Over the course of this 1-month itinerary, you'll see most of the aforementioned destinations plus epic Patagonia. On this trip through Argentina, you'll be able to experience nearly every shade of its colored and marvelous geography: mountains, deserts, coastlines, vineyards; all of it.
Go trekking around the mighty Fitz Roy and Cerro Torre, climb atop the Perito Moreno Glacier, and go skiing in Bariloche, followed by some all-natural and organic eats in the hippy hangout of El Bolson. Be sure to visit the Tierra del Fuego and Ushuaia as well; this is the farthest south that you can travel before catching a boat to the Antarctic continent.
Places to Visit in Argentina
Backpacking Buenos Aires
Buenos Aires is probably my all-time favorite city in South America. There's so much to do here that travelers could spend weeks exploring everything that the city has to offer.
Buenos Aires is a marvel. The city's full of energy, wonderfully designed, and there is rarely ever a dull moment. For those backpacking Argentina, Buenos Aires is the perfect place to kick everything off.
Buenos Aires is a huge city but most backpackers will initially stay in the Microcentro where most of the main attractions are. Most noticeable is the Obelisco that rises prominently in the middle of bustling Avenida 9 de Julio. Several cultural landmarks, like the Casa Rosada and Palacio Barolo, are around this area.
But there are lots of awesome areas to stay around Buenos Aires. Recoleta is class and attracts mostly affluent travelers (the cemetery is amazing here). Palermo SoHo is the hipster part of town and features some of the coolest street art I have ever seen. La Boca is cool but a bit shady after dark – better to stay in nearby San Telmo instead.
Backpacking Iguazú Falls
Composed of nearly 275 cascades that fall hundreds of feet into a rift, Iguazú Falls is the widest and probably most engrossing waterfall on the planet. The sheer power of this place makes it one of the world's most awe-inspiring sights and one of the best places in Argentina.
As you walk along the crest of the many falls, witnessing tons of water spilling over the precipitous edge, you'll have spectacular views. You'll also get totally drenched along the way.
Iguazú Falls is split between Brazil and Argentina and both sides will give you a different taste. The Argentinian side traverses the top of the falls and gives a more up-close and personal experience. Arguably, the most magnificent sight is the Garganta del Diablo (The Devil's Throat), which many claim is the best part of the park. The Brazilian side is closer to the bottom of the falls but allows for a fuller panoramic view of them.
There's a bit of an argument over which side is better: Brazil or Argentina? I think that both have their own unique merits and are equally enjoyable. Note that if you want to go backpacking on the Brazilian side, you'll have to go through the usual customs processes.
Accommodation wise: you'll be staying in the Argentinian city of Puerto Iguazú. The city pretty much exists solely as a means to visit the falls. There's not much else to do here but staying in a good hostel will help pass the time in-between trips to the falls.
Backpacking Rosario
Rosario doesn't have the sheer amount of landmarks that Buenos Aires does, but this doesn't mean that it's not worth visiting. What Rosario does have is heaps of culture. Here is one of the most liberally minded and socialist populations in all of Argentina. Artists, activists, rebels, and youngsters are all drawn to this place either to pay homage to former revolutionaries – Che Guevara – or to become their own (in a sense).
The most important landmarks are probably the Monumento a la Bandera and the house of El Che Guevara. Both are nationalistic in nature and make for a nice couple of hours. Also worth visiting is the Parque Independencia, which is one of the largest city parks in the whole country. If you're visiting during warmer seasons, there's even a stretch of sandy beach along the Parana River called Balneario La Florida that is great for lounging.
Tourist attractions aside, Rosario really shines when it comes to the people. Most are very open-minded and very receptive to foreigners. If you happen to make friends with a rosarino (a person from Rosario), then you'll most likely be treated very well – first, to an asado and then to a long night of partying. If you're really lucky, you may even get a chance to find a lover for the night. It's a known fact that people from Rosario are the most attractive in the whole country, you fortunate bastard.
Backpacking Mar del Plata
Mar del Plata is every Porteños' (a person from Buenos Aires) favorite summer getaway. This large city boasts some of the best beaches in Argentina and gets jam-packed with tourists in the peak seasons around November-March.
Most people, obviously, journey to Mar del Plata to relax on the beach. The most popular ones are Playa Varese, Playa de los Ingleses, and Playa Grande. In the summer, these sandy stretches become absolutely bonkers as locals play in the water and pass around drinks. At night, many people go to the bars around Alem Street and stay up all night long only to repeat the process the following day.
If you want a slightly calmer experience then head north or south to the small coastal towns of Pinamar and Miramar, respectively. Both are far more laid back and attract more families. Prices will be lower in these towns as well.
If you visit Mar del Plata during the rainy off-season, then there is still plenty to do. There are several ecological museums and zoological facilities around the city to visit. Most of these offer predominantly maritime exhibits.
Backpacking Córdoba
Córdoba is the second largest city in Argentina and is most known for its colonial architecture, scholastic history, and for the surrounding mountainous landscape. Jesuits were amongst those who founded Córdoba and they helped to establish several places of learning in the city. Because of this, Córdoba's nickname is La Docta or "the learned one."
Nowadays, Córdoba is an eclectic mix of the old and the modern. With many unique neighborhoods, Cordoba is a hub for young travellers and university students. Scattered throughout the city are some of Argentina's top historical sites including the Manzana de los Juristas, the Cathedral of Córdoba, and the Capuchin Church.
There are many museums in Córdoba as well. The Evita Fine Arts Museum, which was formerly a palace, is one of the top attractions in Córdoba. Ultra-modern Caraffa Fine Arts Museum is also worth visiting. There are plenty of backpacker hostels in Cordoba's centre, offering affordable dorms and a place to rest your head.
Outside of Córdoba is one of the most popular outdoor places in Argentina – Las Sierras de Córdoba. Most of the charming villages around these mountains have very European sensibilities. Notable hiking destinations are around the Quebrada del Condorito and Traslasierra Valley areas.
Also noteworthy are several large inland saline lakes within the vicinity of Córdoba. Picturesque Mar Chiquita serves as a nice retreat for Córdobians. Nearby Salinas Grande couldn't be more different – this is a huge salt flat at the base of the mountains and that reminds one of Salar de Uyuni in Bolivia.
Backpacking San Miguel de Tucumán
San Miguel de Tucumán holds the distinction of being the birthplace of the modern state of Argentina. It was here, in 1816, that the Argentinian Declaration of Independence was signed. So revered is this event that on the 9th of every July, San Miguel de Tucumán becomes the de facto capital of Argentina for one day.
Should you find yourself in San Miguel de Tucumán on one of the other 364 days of the year though, there are still some important sites around the city to visit. The Casa Historica or Independence House is the building where the declaration was actually finalized. Plaza Independencia is the beautiful main square of the city and is a convenient place to begin exploring. The Government House, located on the perimeter of the Plaza, is a masterpiece of the neoclassical style and is a good first stop on your walking tour.
San Miguel de Tucumán is a pretty humble city with not a whole of action. Most travelers will only spend a day or two here before moving on to Salta or Mendoza.
Those who are heading north should be sure to stop by the small town of Cafayate. Cafayate is the initial gateway to one of the most gorgeous landscapes in Northern Argentina: the Valles Calchaquí. This region – running north all the way to Jujuy – is typified by its blood-red stone formations and the many canyons that snake throughout it.
Those with a car will be able to navigate the Cuesta del Obispo, which is a winding mountainous road that will afford amazing views. Drivers ought to be cautious while driving on this semi-treacherous route though.
Backpacking Salta
Salta is a thriving commune and backpacker hangout smack dab in the middle of the desert. This desert also happens to double as one of Argentina's premier wine regions. Yes, there seems to be little end to the number of outdoor activities and grape varietals that one could sample while staying here; a proper day visiting Salta ought to include both.
Being a part of the Valles Calchaquí, there are many adventure opportunities in Salta. Backpackers could go paragliding, mountain biking, climbing, rafting, rappelling, and much, much more while staying here. Make sure to check out the many intrepid options that are available while staying in Salta.
Wine is one of Salta's main draws. There are numerous wineries around Salta offering different styles and vintages to visitors. Note that the wines produced in this region are quite bold, which is a result of the harsh climate and its effect on the grapes.
There's still plenty to do inside the city limits of Salta as well. There are several religious sites, like the gorgeous Iglesia San Francisco and Catedral de Salta, as well as museums, which celebrate colonialism and archaeology, spread throughout the city. You can reach the summit of several of the surrounding hills via train or cable car as well; each one offers astounding panoramas of the city.
Salta definitely still has an excitement and heartbeat that could rival that of a larger city too. Bars are abundant and usually full of people. Streets will be busy but with more people than cars, which is a refreshing change.
Backpacking Jujuy
North of Salta is Jujuy and the province of the same name. Though the regions of Salta and Jujuy appear very similar, they are, in fact, quite different. As one writer put it: "the two (regions) are as similar as chalk and cheese."
Tourism in Jujuy focuses less on winemaking and more upon exploring the surrounding landscape. The Quebrada de Humahuaca is one of the most beautiful places in Argentina and hiking through its Seven-Colored Hills is a once in a lifetime opportunity. This region isn't totally desolate either as, just over the mountains, you'll actually find cloud rainforest. Verdant Calilegua National Park will grant visitors the opportunity to spot jungle wildlife, especially those of the feline variety like jaguar, puma, and ocelot.
The main towns of the Jujuy province are San Salvador de Jujuy, Purmamarca, and Tilcara. All of them are quite similar and anyone of these would make a fine base for exploring the area.
Of the three, Tilcara is the northernmost town and does offer the greater archaeological attractions. The most popular site is the Pucara, which is a pre-Inca fortification built upon a hill. In addition, there are several other museums around the town that do a great job of representing the local indigenous culture. Tilcara itself has its own unique charm too as the buildings are made from mud and stone, which give the entire town a very mystical, desert feel.
Backpacking Mendoza
Finally, we have arrived at the mighty Andes. Here, you'll find some of the superlatives of South America including the highest mountain on the continent and one of the most admired grape varietals in the world.
The city of Mendoza isn't much to speak of. It's a pretty arid and lackluster place and only exists because of a brilliant feat of irrigation engineering. There are a couple of interesting attractions like the Cerro de la Gloria, Plaza España, and the Parque San Martin but most of the action is found outside of the city, which is also why you want to make sure to know where to stay in Mendoza.
Being so close to the Andes, Mendoza has a myriad of alpine activities to participate in. Those visiting in the winter can visit one of many ski resorts like Las Leñas. In the summer, few hardy outdoorsmen will also attempt to climb the gargantuan Aconcagua. This mountain is not for beginners though and attempting it should never be taken lightly. There are a couple of nice hostels in Mendoza as well, each offering a comfy bed and place to recharge.
Wine is Mendoza's real claim to fame. The Malbec grape, which adored by many worldwide, is cultivated and celebrated here. A tour around the many wineries is a must while in Mendoza. You can even rent a bike as a means of getting from winery to winery if you like.
Mendoza does act as a bit of a crossroads. Many who have been backpacking around Chile will enter Argentina via Mendoza. The city is the meeting point for many important backpacking routes in Argentina as well.
If you're traveling from the east, be sure and drop by nationals parks of Talampaya and/or Sierra de las Quijadas. Both offer spectacular desert scenery that rivals the beauty found in the Valles Calchaquí region.
Backpacking Bariloche
Bariloche is Argentina's idea of an alpine retreat or Swiss getaway. Nestled in the foothills of the Andes and within the Nahuel Huapi National Park, Bariloche is a wonderful little village with lots of mountain splendor.
Being situated so far south and on the edge of the Patagonian landmass, it'll be a bit of drive to reach Bariloche. A bus from Mendoza will take almost 13 hours before arriving in Bariloche, while the route from Buenos Aires will take over 23 hours. There are plenty of night buses that are very comfortable and you'd be fiscally wise to use one. Those short on time can fly here albeit for a higher price.
Activities in Bariloche are predominantly and obviously of outdoor nature including but limited to canyoneering, backcountry skiing, via ferrata, and snowshoeing. Here is South America's largest ski resort – Cerro Catedral – that can accommodate up 30,000 people/day. This resort has dutifully been compared to the likes of Lake Tahoe, California though the former isn't as developed. However, there are a couple of hostels in Bariloche as well.
Trekking is a very popular activity in the summer after the snow melts. Backpackers can engage in either half-day, full-day, and/or multi-day treks. Many hikers will take advantage of one of several mountain refuges, which afford decent shelter and amazing views. Refugio Frey, of great climbing notoriety, is one such refuge.
Visitors can enjoy Nahuel Huapi National Park year-round. You can hire a boat to take you around the lakes and their many islands, many of which possesses wonderful microcosms of flora and fauna.
Oddly enough, Bariloche is a popular place for high school graduation parties and so there are lots of upscale clubs around. Also common are chocolate shops, which are considered the best in Argentina.
Find out where the best neighborhoods to stay in Bariloche are so you can be as close as possible to the attractions (or parties for that matter).
Backpacking El Bolson
El Bolson is an alternative community tucked away in the secluded Piltriquitron Mountains. The town became notable when hippies from Buenos Aires and other parts began to flock to the area. Various eco-practices like organic farming and homemade foods became championed here and now El Bolson is a top ecotourism destination. Many people visit here to escape the stresses of modern living and to return to a simpler way of life.
El Bolsons' greatest attraction is definitely its produce and local eats. The food here is of a very high and natural quality and will be some the purest subsistence that you can get while backpacking Argentina. The ice cream, in particular, is famously delicious. You can find local products and food at one of the many farmers markets.
Breweries are also in abundance in El Bolson as the climate of the region is ideal for growing hops. Brewmasters craft beers of every variety here, especially the German and Czech styles – pilsners, bocks, weizens, etc – which can be accredited to the original settlers of the region. Honestly though, the region is so diverse in produce that brewers like to throw all kinds of adjuncts in their brews from chilies to berries to various herbs.
Being an outdoor destination, there is obviously a lot of hiking and adventure sport here. Skiing, biking, kayaking, rafting, paragliding, and more are all possible in and around El Bolson. The most popular hiking trails are around Cerro Piltriquitrón, El Cajón Azul, and Rio Azul.
Backpacking Perito Moreno (the town)
Not to be confused with the glacier of the same, which is almost 400 miles to the south, Perito Moreno (the town) is located about halfway between El Bolson and El Chaltén. The town itself is uninspiring without any sort of attraction . There are some valid reasons for visiting this dead-end town though:
Perito Moreno is a nice way to break up that 24-hour bus ride from El Bolson to El Chaltén.
It's a convenient entryway into Chile and the awesome Carretera Austral.
It's the closest human settlement to the Cueva de las Manos, which is an important UNESCO site.
The first point is pretty self-explanatory – 24 hours on a bus can be a long trip and taking a break along the way would be a lovely option.
The second reason is actually very attractive because the Carretera Austral is one of the highlights of Chilean Patagonia. It is a long and supremely scenic road that runs 770 miles – from Puerto Montt to Villa O'Higgins – and near some the most stunning portions of Patagonia.
The nearest of the Carretera Austral's waypoints is the Catedral de Marmol located in the internationally split Lago Buenos Aires, which Chileans refer to as Lago General Carrera. These sculpted marble caverns are the product of thousands of years of erosion and, as the name suggests, resemble a cathedral.
Finally, the Cueva de las Manos is one of the most culturally significant places in all of Argentina. The cave is full of painted hands and depictions of local wildlife, many of which are upwards of 13,000 years old. Several groups of prehistoric peoples are responsible for these caves and their images.
Backpacking El Chaltén
Finally, we're in the heart of Patagonia. El Chaltén is one of the premier outdoor destinations in Patagonia because of its close proximity to Los Glaciares National Park. The region's most notable peaks – Fitz Roy and Cerro Torre – tower in the distance and attract thousands of hikers and climbers year-round who seek to brave the mountains' malicious conditions. To this day, only a handful of (controversial) mountaineers have actually reached the summit of these icons.
From Bariloche, it's a long and scenic 24-hour bus ride to El Chaltén across the rough Ruta 40, which runs the entire length of Argentinian Patagonia. This road is famous for its many bumpy sections, which are battered endlessly by the elements.
Arriving in El Chaltén, you'll find the village to be quite frontier-like. Once an outpost against an advancing Chilean nation, El Chaltén wasn't originally meant for tourists. Ironically, it's now one of Argentina's most beloved destinations. There are the usual amenities here, like markets and offices, and these are best used as resources and for re-supply while backpacking in Patagonia.
Hiking around El Chaltén is among the best in the world. The primary moraines of Fitz Roy and Cerro Torre are both reachable by a day's walking. There are several other trails in the area that afford amazing vistas of these mountains as well.
Ultra-experienced backpackers can even attempt to traverse the Patagonian Ice Field, which is the second largest extra-polar ice field in the world. This is in no way a small feat and those who embark on this trek must be ultra-prepared. The trek will bestow breathtaking views and an adventure unlike any other though.
Backpacking El Calafate
Within a few hours drive from El Chaltén is El Calafate, which is the jumping-off point to see the mighty Perito Moreno Glacier. The Perito Moreno Glacier is one of the most beautiful places in all of Argentina and also one of the top tourist attractions in Patagonia. The ice is the most brilliant cobalt and is particularly vivid when hit by sunlight on a bright day.
Visitors can view the behemoth ice block in several ways: from one of the many viewpoints, via a boat tour around the base, or even from the air in a chartered helicopter. You can even go for a brief walk on the ice – with the proper equipment of course. Be sure to bring a beer or flask as well – having a drink that's been chilled in glacier ice is, for some reason, more refreshing than usual.
Note that the Perito Moreno Glacier is actually 50 miles away from the town of El Calafate. Luckily, there are plenty of buses connecting the town with the glacier. These operate between 8am and 8pm every day depending on the season.
There's not much do in the town of El Calafate besides going to the local museum, the Glaciarium, where you can learn more about glaciers. The modern building is quite small but most will overlook this in regards to the fact that it has an actual "ice bar" inside, complete with Fernet and Coca-Cola aka the national cocktail.
Other activities outside of El Calafate include seeing one of the many periphery glaciers, like Upsala and Speazzini, wildlife viewing at Laguna Nimez, and visiting a local ranch, where you'll be treated to some hearty gaucho hospitality.
Off the Beaten Path Travel in Argentina
Due to its massive size, it's very easy to get off the beaten track while backpacking around Argentina. There are plenty of out-of-the-way places to travel to in Argentina from desert capes to forgotten wetlands to barren patches of Patagonia. With enough time and patience, you'll be able to visit parts of this country that few get a chance to see.
Backpacking Ushuaia
Here we are, at the end of the world and in the "land of fire."
Situated in the far south of Argentina is Ushuaia, which is the southernmost city in the world. Once, Ushuaia was the very definition of "away from everything." It has hosted a lonely British outpost, inquisitive missionaries, and even an Argentinian penal colony. Nowadays, Ushuaia is pretty busy, relatively speaking, with ever-increasing tourism and a growing economy.
Traveling overland to Ushuaia can be a little tedious due to the fact that this part of Argentina is physically separated from the rest by Chile. You'll have to arrive first in Rio Gallegos and then cross into Chile, where you'll catch a ferry at Punta Delgada. Upon crossing the channel, you'll then be able to drive to Ushuaia, crossing the Chilean-Argentinian border again along the way. This process, from Gallegos to Ushuaia, takes approximately 12 hours.
Ushuaia is a surprisingly large town of 60,000 inhabitants. There are a couple of historical sites spread throughout the town but, like the rest of Patagonia, the best attractions are out in wildernesses. The Tierra del Fuego National Park has lots of hiking opportunities and can be reached by car or scenic train, the latter of which is appropriately named the Tren del Fin del Mundo. Also worth experiencing is the hike up to Martial Glacier and kayaking/sailing in the Beagle Channel.
Being the southernmost city in the world, Ushuaia is perhaps the best launching point to Antarctica. Many travelers book their passage well ahead of time but there are ways to get on board last second and save some cash in the process. Antarctic trips are ridiculously expensive no matter what though.
Backpacking Puerto Madryn
Puerto Madryn can actually be quite popular in the summer despite the fact that it's not really on any popular backpacker route. Here is some splendid coastline with some amazing wildlife viewing opportunities and a few of the best beaches in Argentina. Located in the mouth of the Golfo Nuevo, this area is a hotspot for migrating whales and other forms of marine life.
Puerto Madryn is a long 20 hour or so bus ride from either Buenos Aires or Rio Gallegos. Since there is little in the ways of tourist attractions in between either routes, most just choose to fly to Puerto Madryn.
Puerto Madryn itself is quite charming and still maintains a very small-townish vibe. As previously mentioned, the beaches here are very beautiful. The weather even gets quite hot in the summer, which makes Puerto Madryn a great spot for a beach holiday. There's not much in the way of culture or nightlife in Puerto Madryn but you didn't travel all this way to go to a bar or gallery.
On day trips out to the surrounding nature reserves, you'll be able to spot whales, dolphins, sea lions, and even penguins. The most popular areas to visit are Punta Tombo for the penguins, Punta Loma for the sea lions, and Peninsula Valdes for just about everything.
Peninsula Valdes is a place of extreme marine diversity, so much so that many scientists regularly compare it to Ecuador's Galapagos Islands. All of the aforementioned animals plus the likes of maras, guanacos, foxes and more can be seen here. Many people settle for a prearranged tour of this peninsula but you, the crafty backpacker that you are, can rent your own car and have total freedom to explore.
Backpacking Iberá Wetlands
The Iberá Wetlands is a swampy region in the far northeast corner of Argentina. Iberá is Argentina's most ecologically diverse location and the second largest wetland in the entire world. They are, dutifully, compared to Brazil's Pantanal and Botswana's Okavango quite often in terms environmental scale and importance. Currently, the Wetlands are collectively in the process of becoming an officially recognized national park.
The Iberá Wetlands wetlands are overflowing with wildlife. There are over 300 species of birds alone, most of which are threatened or endangered. In addition, visitors have the chance to see many other exotic fauna including capybara, giant anteaters, howler monkeys, anacondas, marsh deer, caimans, and more.
There a are couple of ways to gain access to the Iberá Wetlands. Most travelers will end up staying in either Corrientes or Posadas, which are the two main cities in the area. These make good bases for entering the Wetlands.
In addition, there are a number of small villages, like Colonia Carlos Pellegrini, spread throughout the marshes. These offer a variety of accommodations – hostels, ranches, etc – and for a good price. Getting to these remote settlements is a matter of waiting for an infrequent shuttle bus that can navigate the poor, muddy roads. The best way to find these buses is to talk with the staff of your own local lodge and have them check the schedules.
Upon arriving, there are several ways to experience the Iberá Wetlands. Hiring a boat or kayak will give you the best odds of seeing wildlife as you can really penetrate deep into the swamps. Walking is totally acceptable as well though – there are several boardwalks and marked trails that offer decent views.
Top Things to Do in Argentina
1. Bike around the Wineries in Mendoza
Mendoza is one of the premier wine regions of the world! Grab a bike and take a lovely ride around the wineries. Don't get too tipsy though 🙂
2. Experience Iguazú Falls
Iguazú Falls is one of the mightiest scenes on this planet. Grab a rain jacket and walk amongst the towering falls as they plummet 250 feet into the void.
3. Go Trekking in Patagonia
Patagonia is probably the best place in Argentina to go hiking, if not in the entire world. Grab your boots and head up to Cerro Torre or Fitz Roy and marvel at their awesomeness.
4. Ride with Gauchos
Gauchos are Argentina's version of the cowboy and their relationship with the nation is a long and dramatic one. Visit an estancia and hear a story or two from these hearty folk while out on a ride.
5. Try some Asado
Argentinians traditionally use a type of grill/oven called an asado to cook their favorite cuts of meat to mouth-watering perfection. You'll have some the best steak of your life using this form of barbecue.
6. Take a Road Trip through the Quebrada de Humahuaca
No backpacking route in Argentina would be complete without a road trip through it's finest desert landscapes. Visit stunning locations in the Valles Calchaquí region like the Quebrada de Humahuaca and the Seven Colored Hills.
7. Attend a Football Match
Argentinians are crazy for football! Players are idolized, sometimes deified even – as is the case with Lionel Messi – by the masses. Attend a match and feel the feverish energy.
8. Go Tango Dancing
Tango is a passionate form of dance that has become the national pastime of Argentina. There are schools in almost every corner of the country and lessons can be very enjoyable.
9. Watch Wildlife in Iberá Wetlands or Peninsula Valdes
These are some of the least visited tourist attractions in Argentina due in part to their remoteness. Neither should be missed though as they contain some of Argentina's most spectacular wildlife!
10. Set Foot at the End of the World
Few who travel to Argentina manage to make it as far as Tierra del Fuego (the Land of Fire). Here is one of the best places in Argentina, with long summer days and epic Antarctic landscapes.
Backpacker Accommodation in Argentina
There are a ton of budget backpacker lodges in Argentina! Travelers should have no problem finding a place to stay while backpacking Argentina.
Hostels are widely available in every destination that this guide has covered.
Many hostels can fill up quite quickly during their respective peak seasons. For example, lodging in Bariloche may be harder to find during the winter when the ski lodges are open. Conversely, the hostels in Patagonia will be busier during the summer when conditions are most optimal for trekking. In these circumstances, you'd be wise to book your hostels in advance.
Estancias, which are like farm stays or ranches, are another popular form of accommodation in Argentina. Staying in one of these is a great way to experience life in rural Argentina. You'll go riding around with gauchos and have the chance to savor some good home-cookin'. Estancias vary in price but are usually more expensive than staying in a hostel, unless they have bunk rooms as well.
Couchsurfing is, of course, a very legitimate means of staying in Argentina and is great way to save some cash. Argentinian hosts will definitely shower you with some great ondas (vibes) and show you the most loved tourist attractions in Argentina.
Finally, Airbnb is really thriving in Argentina. Many cabañas, whether they be in the city or on a lakeside, double as shared homes.
Best Places to Stay in Argentina
Backpacking Argentina Costs
The cost of travel in Argentina is about average by South American standards – certainly not as cheap as backpacking Peru or backpacking Bolivia, but not as expensive as Chile or Brazil. You can, of course, blow all of your money fairly easily if you party all the time, take frequent long-distance buses, and stay in private rooms. It's important to maintain good backpacker habits and to follow this advice on budget travel in Argentina.
Those backpacking Argentina should allocate $30-$40 per day. This budget will get you a dorm bed, food, some beers, and maybe a meal at a restaurant. Getting by on $10/day is possible too if you're a really dedicated broke backpacker.
Expect hostels in the more remote areas, like Patagonia, to be pricier, especially during peak summer seasons. The rates at most other locations should fluctuate only slightly over the course of the year. As always, couchsurfing or camping are the best ways to save on lodging.
Restaurant fare in Argentina is a pretty good deal. Those backpacking through Argentina should take advantage of the unlimited parrillada offerings (grilled meats). Cooking at the lodge will always save you the most cash.
Daily Budget for Argentina
Money in Argentina
The official currency of Argentina is the Argentinian peso. As of April 2018, the exchange rate is 1 peso=0.05 USD.
ATMs are easily found in all of the urban areas of Argentina. Fees for withdrawing from the ATMs and those associated with minor credit card transactions are reportedly higher than usual. Those backpacking around Argentina would be better off limiting their card transactions and paying with cash as much possible.
Bringing a fat stack of cash with you from your home country and exchanging it in Argentina would save you the most from transaction fees. (Large) US dollars get the best exchange rates with the British pound and Euro coming in close behind. There's always a slight risk when doing this as you'll be carrying a lot of cash in your bag. Stow away your money in a safe place in your backpack and never carry too much on your person at once.
Small peso bills are hard to come by in Argentina so try and keep them as often as possible. Counterfeit bills are also common in the country though they can be spotted with relative ease.
Top Tips for Broke Backpackers
Camp: With plenty of gorgeous places to camp, Argentina can be a great place to camp in the rural areas. You can also ask to pitch a tent in people's yards. Check out this post for a breakdown of the best tents to take backpacking. If you're feeling real adventurous and want to save some cash, consider picking up a backpacking hammock.
Cook your own food: If you are on a tight budget, you can save money by cooking your own food – I recommend bringing a portable backpacking stove.
Book your transportation early: Both plane and train tickets are much cheaper if you purchase them in advance. This rule does not apply to buses, which you can often book within the day or even hour.
Couchsurf: Argentinians are awesome, but I would be cautious if you are a woman traveling alone. Check for reviews. That being said, Couch surfing to make some real friendships and see this country from the perspective of locals.
To learn how to travel the world on $10 a day, check out the backpacker's bible.
Pack a travel water bottle and save money every day!
Why You Should Travel to Argentina with a Water Bottle
Plastic washes up on even the most pristine beaches… so do your part and keep the Big Blue beautiful
You aren't going to save the world overnight, but you might as well be part of the solution and not the problem. When you travel to some of the world's most remote places, you come to realise the full extent of the plastic problem. And I hope you become more inspired to continue being a responsible traveller.
Tl;dr – STOP USING SINGLE-USE PLASTIC! If you'd like some more tips on how to save the world, be sure to watch the video below.
Plus, now you won't be buying overpriced bottles of water from the supermarkets either! Travel with a filtered water bottle instead and never waste a cent nor a turtle's life again.
When to Travel to Argentina
Argentina is a massive country that is spread out across multiple latitudes. Climate is extremely varied in Argentina ranging from pleasingly temperate zones to bone dry deserts to highly unpredictable sub-arctic regions. For the most part though, Argentinian weather is generally warm and wet in the summer (December-February) and cold and dry in the winter (June-August). Patagonia is the exception to this rule as it is warm(ish) and dry(ish) in the summer.
Summers are hot and humid in the northeastern corner of Argentina. Buenos Aires, Mar del Plata, Rosario, Iguazú Falls, and Córdoba all fall under this category. Winter in these locations will be pleasingly mild and relatively dry.
Northwestern Argentina is predominantly a desert climate so summers here will be very hot while the winters can be quite cold. Precipitation in these parts is actually fairly substantial, occurring in the form of summer thunderstorms. Note that every destination falling in-between Mendoza and Jujuy are subject to this climate though the former is considerably drier and not subject to frequent storms.
Finally, the climate in Patagonia is just nutty and very location dependent. Some parts of the region have predictable weather and others are a complete wild card. You can expect "better" conditions during the summer when precipitation is generally less, but don't get too comfortable as storms can occur at any time. Winters are almost always cold and snowy.
Honestly, backpackers can visit Argentina at any time of the year; when you go is really dependent on what you want to do. Argentinian winters are great for skiing, and Buenos Aires will be nice and cool. Summer can be hot and wet, but most of the country will be accessible during this time.
Festivals in Argentina
Drawing inspiration from the many cultures that constitute itself, Argentina throws some awesome parties that are super fun and ethnically honorary at the same time. There's a celebration in nearly every corner of Argentina and people here really like to celebrate their local heritage. In addition, there are a number of festivals that focus solely on music or art as well.
Here is a list of the top festivals to attend in Argentina:
Cosquín Folk Festival (January) – Argentina's largest celebration of traditional and folk music. Takes place in the village of Cosquín near to Córdoba.
Carnaval (February/March) – The great carnal feast before abstaining for Lent. Celebrated nationwide though the main event is found in Gualeguaychú, which is a short drive from Buenos Aires.
Vendimia (March) – Large wine festival that occurs around the harvest. Held in Mendoza.
Tango Festival (August) – Championship of competitive tango dancing. Workshops and lessons also available. Held in Buenos Aires.
Oktoberfest (October) – Argentina's own version of the great German beer festival. Takes place in Villa General Belgrano outside of Córdoba.
Eisteddfodau (October) – Festival celebrating Welsh culture and history. Takes place in the Chubut Valley of Patagonia.
Festival de la Tradicion (November) – Celebration of all things gaucho related. Held in San Antonio de Areco, which is near Buenos Aires.
What to Pack for Argentina
On every adventure, there are six things I never go travelling without:
Staying Safe in Argentina
It is safe to travel to most of Argentina though there are certain areas where one must be cautious. Crime is a common occurrence in large urban centers – especially so in Buenos Aires. Most crime is petty in nature, involving pickpockets, scams, and theft of unattended items; very infrequently does a violent mugging occur.
Refer below for a few key pieces of advice:
Don't display items of wealth.
Keep belongings on your person.
Be cautious around strangers who may appear helpful in a harrowing situation; some of these people are actually role players in an orchestrated robbery.
Use taxis at night and be sure that they are official. Look for a "Radio Taxi" sign and the company's contact info displayed.
Be aware of your surroundings and don't wander into a neighborhood that you don't know. Here is a map outlining the good and bad areas of Buenos Aires.
Having spent much time in Buenos Aires, I will admit that it is somewhat perilous at times. I can also assure you that it's nowhere near the most dangerous country that I've been to though. Just use common sense when backpacking Argentina and everything will be alright.
For some more general advice, check out our Backpacker Safety 101 for tips and tricks to stay safe whilst backpacking Argentina, and pick yourself up a backpacker security belt to keep your cash safe on the road.
Sex, Drugs and Rock 'n' Roll in Argentina
Argentinians love to party and with an enthusiasm that must be experienced firsthand. Having been there myself, I must say that I was really impressed by the energy and social dexterity that the Argentinian people displayed while going out.
First off: the party doesn't start until well after the sun goes down. Argentinians party like their European cousins except even later and with even more gusto. Most bars and clubs won't open until midnight and will only close after the sun has risen.
For some Anglo cultures – like myself, being a North American – partying can feel like a real mission as you battle fatigue and the urge to fall asleep early. It may seem necessary to drink more to stay awake but avoid getting too drunk – Argentinians, though loose, aren't sloppy and don't appreciate you being so either.
Thankfully, there are copious drugs available to help you stay awake and party all night long. Being a part of South America, cocaine is the drug of choice. Coke can be found fairly easily at night and around the nightlife areas. If you're staying in Buenos Aires, taxis are also a good place to start your narcotic inquiry. There's one hostel in particular that has its own taxi driver/drug dealer that just orbits around the premises and never really goes anywhere. Last time I checked, a gram of the white stuff was also quite cheap ($20), especially when compared to BA's sometimes crazy drink prices.
Purchasing drugs should always be done with caution and intelligence though – know who you're buying from, what your buying, and who you're with. Enlist the aid of a hostel employee who knows a thing or two. Arm yourself with knowledge, and look after your own well-being.
Travel Insurance for Argentina
Traveling without insurance would be risky so do consider getting good backpacker insurance sorted before you head off on an adventure.
It's good to get lost sometimes, but it's also good not to get too lost. There are people that want you home in one piece.
There's one travel insurance provider The Broke Backpacker trusts for all his wildest shenanigans… World Nomads!
Click the button below to get a quote on your insurance or read our in-depth review of World Nomads' coverage. And then… let the shenanigans begin. 😉
How to Get into Argentina
Backpacking around Argentina is a similar experience to most other South American nations – trains are limited, flights are expensive and buses are super convenient. Regardless of your situation though, there will always be multiple ways to get in and out of every major Argentinian destination.
Entry Requirements for Argentina
Most Western nations can travel to Argentina visa-free. Length of stay varies between 30 and 90 days depending on your country of origin. Note that all reciprocity fees for the USA, Canada, and Australia have been waived.
Many nationalities will need to apply for an Argentinian visa prior to arriving. Referring to the map below: those from the nations that are not blue or green will need to contact their local embassy before visiting Argentina.
Traveling to Argentina During COVID Times
Argentina has been shut tight since the beginning of the COVID-19 pandemic. The nation went into a full lockdown early in the year and the government was VERY strict about upholding it. People caught outside during the lockdown disregarding the rules were punished severely, even with jailtime.
Since then, no one has been able to get in or out of the country. Foreigners are currently BANNED from entering Argentina.
There is talk of Argentina "reopening" at the beginning of November and resuming international flights. No reports on whether or not this is still the case but given the autumnal surge of the virus, I wouldn't hold my breath. Argentina is still in the thick of things and it wouldn't be unheard of for a country to delay its quarantine restrictions.
How to Get Around Argentina
There are a limited amount of long-distance train routes available to those backpacking in Argentina. Most trains connect the larger eastern cities like Buenos Aires, Córdoba, and Mar del Plata.
Flying in Argentina can be an expensive and sometimes mandatory affair. If you're planning on visiting far-flung places like Patagonia or the Valdes Peninsula and have a limited amount of time, you're going to have to fly. Buy plane tickets ahead of time to save the most cash. Also, take note that Argentinian nationals pay less for flights than foreigners – remember this when you think a plane is unusually cheap or falsely advertised.
Buses really are the bread and butter of getting around Argentina. Most are very comfortable and relatively affordable. Long-distance buses have three different classes: cama, semi-cama, and servicio común. Cama (meaning bed) is sleeping class with seats that recline to a completely horizontal position. Semi-cama has semi-reclining seats and servicio común has little reclining if any at all.
For long-distance travel, buses will be your best bet. If your bus ride is going to take around 12 hours or more, my advice is to book the night bus – that way you'll save money that would've been used on lodging. Almost all of these long-distance buses will have food and a toilet available though you'd be wise to bring extra snacks and toilet paper along with you. Those backpacking in Argentina can purchase bus tickets at the Plataforma10 website.
Hitchhiking in Argentina
Hitchhiking in Argentina is a fairly standard affair and the usual conducts of the method apply. Note that hitching a ride in the north of Argentina and hitching in the south are two very different experiences.
The north is where most of the larger cities are located so your biggest issues here will be avoiding criminal activity and the rougher parts of towns. Note that in the last few years, there have been a number of hitchhiking related crimes so drivers may be a little wearisome. Should you find a ride, drivers are reportedly very friendly and talkative with strangers.
Hitching in the south of Argentina is a matter of finding a ride in the first place. Roads in this part of the country are sparse and what few drivers are around are usually more worried about dealing with the treacherous roads and not about hitchhikers. Trying to find a ride in Patagonia in any season outside of summer would be a bleak and very uncomfortable experience.
Onwards Travel from Argentina
Argentina shares friendly borders with all of the nations that it touches – Chile, Uruguay, Brazil, Paraguay, and Bolivia. Crossing the border into anyone these countries should never be a hassle.
You can catch a ferry in Buenos Aires to the lovely Uruguayan town of Colonia, which is just across the Rio de la Plata. Colonia is a lovely colonial town and a great entryway into the rest of Uruguay. There is a slow ferry (3 hours) and a quicker speedboat (1 hour) available.
Backpacking both Argentina and Chile is a must if want to see the best of Patagonia! Many people hop back and forth across the border easily when backpacking in Patagonia and never experience a single problem with customs.
Please refer to the following table for a more detailed look at Argentina's many border crossings.
Working in Argentina
Argentina could be a diamond in the rough for digital nomads. Reasonable costs of living, cafe culture, widely-available, good internet connection; all features that should make remote workers raise their eyebrows.
For some reason, Argentina has not become a digital nomad hub yet, despite scoring very well on Nomadlist.
It should be said that finding regular work in Argentina will be difficult. Unemployment is high and work visas are hard to come by.
Most people that do work in Argentina are English teachers. Most work 20-30 hours each week with an institute though some people manage to do just fine with private lessons.
To increase your odds of scoring an English teaching gig, it's always a good idea to get a TEFL certification. To find out more about TEFL courses and how you can teach English around the world, read my in-depth report on teaching English abroad.
Broke Backpacker readers also get a 35% discount on TEFL courses with MyTEFL – simply enter the code BACKPKR when checking out.
Volunteer in Argentina
Volunteering abroad is an amazing way to experience a culture whilst giving something back. There are loads of different volunteer projects in Argentina ranging from teaching, to animal care, to agriculture to pretty much everything!
Despite having one of the most developed societies in South America, Argentina offers a variety of opportunities for backpackers to volunteer. Social work, animal care, and hospitality are where you'll find the most opportunities to give something back. English teachers are also in high demand throughout the country. Most nationalities can volunteer on a tourist visa for up to 90 days, but long-term stays will have more specific requirements.
If you want to find volunteering opportunities in Argentina, then we recommend that you Signup for Worldpackers – a volunteer platform that connects local hosts directly with traveling volunteers. As a Broke Backpacker reader, you'll also get a special discount of $10 when you sign up. Just use the discount code BROKEBACKPACKER and your membership is discounted from $49 a year to only $39.
Volunteer programs run through reputable work exchange programs like Worldpackers are usually very well-managed and reputable. However, whenever you are volunteering, do stay vigilant especially when working with animals or children.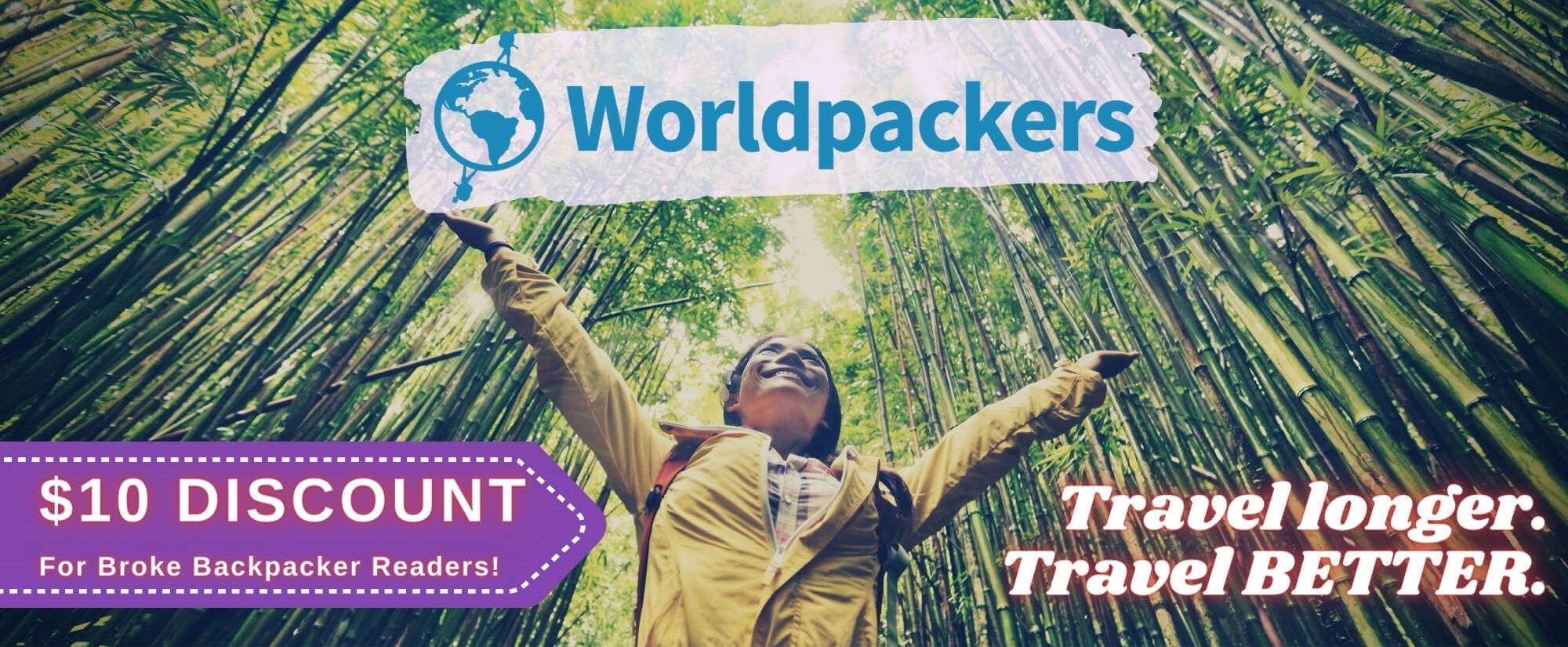 Worldpackers: connecting travellers with meaningful travel experiences.
What to Eat in Argentina
Argentinians are proud carnivores that consume the second most amount of beef per capita in the entire world. Cattle in Argentina is of top quality and is prepared in ways that verge on perfection. Chicken, pork, and curious delicacies, like llama, are also consumed in this country though the act seems less dignified than cutting into a piece of Grade-A Argentinian cow.
An asado or Argentinian barbecue is the centerpiece in most households. An asado resembles a typical grill though they are often encased in a brick alcove that sort of provides an additional roasting effect. When sampling asado, you may notice that meats are never served bloody or red – Argentinians don't like their meats undercooked and instead prefer them prepared slowly and thoroughly. Even if the inside of the meats appear grey or brownish, they will be mouthwatering and delicious nonetheless.
Being a nation of European immigrants – mainly Italian and Spanish – there are Mediterranean influences in Argentinian cuisine. Pizza and pasta are very popular in Argentina as are small morsels that resemble Spanish tapas.
Indigenous foods do appear in Argentinian cuisine though, proportionally, in very low amounts. You'll see some Amerindian foods around the extremities of Argentina – the northern borders and in Patagonia – like curanto (meats prepared in a hole in the ground) and chipa (cheese bread).
For your pleasure, I've created a list of ten of the must-try foods in Argentina.
Must Try Foods in Argentina
Argentinian Culture
Argentinians are a very confident and engaging people, so much so that they can even seem intense or intimidating. If an Argentinian wants to socialize with you they are going to get close – really close – to you and waste no time in expressing their mind or feelings. Physical contact is going to be frequent and of a somewhat intimate nature as they touch, grab, and embrace you thoroughly. They have little regard either when it comes to poking fun at you, their associates, or themselves – it's just their way of showing that they like you.
Try to not mistakenly judge Argentinians as being coarse or arrogant. Argentinians can be boisterous sometimes – a couple of them may appear to fill a whole room with their larger-than-life personalities – but that's just their way. Truthfully, they're some of the most admirable people that I've met.
It doesn't hurt much that most of them are supremely good looking too. Argentina is a melting pot of ethnicities and races and its people have taken the best features from their European, Latin, and Indigenous ancestors. Seriously, Argentinians are real eye-catchers. If you want to jump into the dating pool, then be ready to jump in the deep end as well.
If you're backpacking in rural Argentina, you may meet a roaming gaucho. Gauchos are South American cowboys and a national symbol of Argentinian heritage, representing bravery, grit, and honor. In the old times, gauchos were partly responsible for the establishment of the modern Argentinian state, having fought in many wars for independence.
Nowadays, gauchos are mostly ranchers who try and preserve the old ways and go riding in the countryside as much as possible. Be sure to explore their culture in depth to fully understand Argentina.
Useful Travel Phrases for Argentina
Argentinians speak a very distinct form of Spanish called Castellano Rioplatense. This dialect definitely sounds different from conventional Spanish. For example, the pronoun tú is replaced with vós – but, luckily, it's still very comprehensible. Speakers of both classic and Argentinian Spanish will have little trouble understanding one another.
Note that, like most languages, Castellano Rioplatense has its own internal dialects i.e. people from Buenos Aires speak differently than those from Mendoza but, again, these variations are minimal.
Argentinians also enjoy using slang, which is locally referred to as lunfardo. Lunfardo has no official recognition and used only in verbal interactions.
Most Argentinians study English in high school thanks in part to its usefulness and also to the substantial British population. If you struggle with Spanish, many locals will still be able to communicate with you via English. Whether they want to use English or not is up to them.
Learning a few local expressions is always a good idea. So to make your life easier, I have written the pronunciations for a few helpful Argentinian phrases with English translations.
Books to Read While Traveling Argentina
These are some of my favorite travel reads and books set in Argentina, which you should consider picking up before you begin your backpacking adventure…
The Backpacker Bible – Get it for free! Learn how to ditch your desk and travel the world on just $10 a day whilst building a life of long-term travel with an online income. To inspire and help the next generation of Broke Backpackers, you can now grab 'How to Travel the World on $10 a Day' for free!
Labyrinths – A collection of short stories from one of the greatest writers of the 20th century, Jorge Luis Borges.
In Patagonia – A collection of first-hand accounts from Bruce Chatwin as he journeys through Patagonia in search of stranger things.
Kiss of the Spider Woman – Two completely opposite men are stuck in a cell together and eventually warm to one another by sharing their love for fantasy and romance.
Santa Evita – Novel concerning the life of Eva Peron, one of the most influential female figures in Argentinian history.
The Tunnel – The story of a deranged painter and his unhealthy infatuation with a woman. Highly regarded by many distinguished modern authors including Greene and Camus.
Brief History of Argentina
Argentina is a young nation with a brief and turbulent history. Prior to the arrival of Europeans in the 16th century, the land was sparsely populated by indigenous peoples. These natives would repel Spanish conquistadors somewhat successfully following the arrival of the latter in the early 16th century. European colonization was only a matter of time though.
By the 18th century, a stable settlement of the Spanish Empire would be established in the area around the Rio Plata. Though brief in existence, this "viceroyalty" would soon morph into first iterations of the Argentinian Republic.
In the early 19th century, Argentina was marked by internal conflicts between federalists and unitarians. Juan Manuel de Rosas was one the leading figures of this time and supremely polarizing. His isolotionalistic attitude in Buenos Aires would lead to series of successions and coups. During this time, an official democratic constitution declaring nationhood would finally be ratified in 1853.
Over the next few generations, Argentina would be juggled between liberal and conservative parties. Having lost the territories of Uruguay, Paraguay, and Bolivia to the Wars of Independence, Argentina began to expand southward into the desert and Patagonia. By the turn of the 19th century, Argentina would resemble its current form.
The first half the 20th century were good times for Argentina – the economy boomed and people emigrated in droves. The key events of this era though – both World Wars and the Wall Street Crash – would leave Argentina in tatters though. During WWII, Juan Peron would stage a coup and set Argentina down the path of internal strife yet again.
Since the 1950s, Argentina has had brutal dictators and great political upheavals. Only recently has it seen some stability as the economy is back on track and democratic rule has been restored.
Some Unique Experiences in Argentina
Trekking in Argentina
Argentina is a paradise for outdoorsmen and lovers of nature. There are so many different types of landscape in this country: mountains, tundra, desert, forest, swamp, and more are all represented here. Hikers should be shaking with excitement at the possibility of exploring all of these locals!
If you're going to one of Argentina's many wildernesses or outdoor parks, then I suggest buying all of the necessary camping gear. You'll save some money that way and avoid paying for rentals via tour operators.
Consider buying a tent and a sleeping mat, or ditch both by investing in a hammock. A wilderness stove is also a good idea for some hearty rice and beans.
The Best Treks in Argentina
Los Gigantes (1-2 days, 14 miles) – Big hike into one of the most beautiful portions of the Sierras de Córdoba. Accomplishable via a single (long) day or a multi-day backpack.
Cerro Champaquí from Villa Alpina (12-14 hours, 12 miles) -Reach the summit of the highest peak in the Sierras de Córdoba. May involved overnight camps depending on fitness and itineraries.
Quebrada de las Conchas (4-5 hours, 6 miles) – Amazing trek into the Quebrada de las Conchas region of Cafayate. Some of the most stunning desert scenery in Argentina.
Hut-to-Hut in Bariloche (4 days) – Spectacular hike that affords some of the best views of Nahuel Huapi National Park and its lakes. Tents are optional since backpackers can stay exclusively in the refugios.
Villa O'Higgins to El Chaltén (2-3 days, 21 miles) – One of the greatest ways to experience Patagonia. Walk from Villa O'Higgins in Chile to El Chaltén in Argentina. You'll see some superlative mountain, forest, and lake scenery along the way.
Laguna de los Tres (8-10 hours, 16 miles) – Hike to one of the most recognized places in all of Patagonia, the Laguna de los Tres at the base of the infamous Monte Fitz Roy.
Laguna Torre (7-9 hours, 15 miles) – Another must-do hike in El Chaltén, this time to Laguna Torre at the base of the diabolical-looking Cerro Torre.
Joining an Organized Tour in Argentina
For most countries, Argentina included, solo travel is the name of the game. That said, if you are short on time, energy, or just want to be part of an awesome group of travelers you can opt to join an organized tour. Joining a tour is a great way to see a majority of the country quickly and without the effort that goes into planning a backpacking trip. However—not all tour operators are created equal—that is for sure.
G Adventures is a solid down-to-earth tour company catering to backpackers just like you, and their prices and itineraries reflect the interests of the backpacker crowd. You can score some pretty sweet deals on epic trips in Argentina for a fraction of the price of what other tour operators charge.
Check out some of their awesome itineraries for Argentina here…
Final Advice Before Visiting Argentina
Argentinians can appear to be a fairly curt and bald-faced people but this shouldn't be mistaken for total transparency. There are definitely certain conversational topics to avoid when interacting with Argentinians.
Any topic that is remotely political or nationalistic in nature should be treated with a lot of respect and generally avoided. Argentinians are extremely proud and do not like to hear how their country could be better or how amazing the neighboring nations are. This goes for anything and everything that could be viewed as internationally competitive – football, religion, food, beauty, you name it.
Also, if you're from the United States, don't say that you're "American." The locals hate it when people from the US do this because Argentina is, technically, an American nation as well, albeit of the southern variety.
As I usually do, I'll just wrap up this guide with my usual harpings: don't be an asshole on holiday – drink only what you can handle, be respectful, and don't be a shit-stirrer.
Argentina is a whirlwind of nation – its cities are wild, the people are larger than life, and the geography will knock you off your feet. Locations like Patagonia, Buenos Aires, and the Valles Calchaquí truly are some of the most invigorating and wondrous places in the entire world. For these reasons, backpacking Argentina should be atop any adventurer's to-do list.
With this travel guide to Argentina in hand, you'll have everything that you need to begin your adventure. You'll know where the best hikes are, what to say to the locals, and how to have a safe and good time. Follow the travel tips for Argentina that have been outlined in this guide, my fellow broke backpackers, and you shall not be lead astray.
---
Thanks for reading – that was fun! 😀
We bring you epic FREE content!
Find out how YOU can help support us.
We're a big site with a big team and this job isn't always easy. But we do it because we love it – we love providing epic and free content. We love the knowledge that our content keeps you adventuring. We don't ask for money, but if you'd like to find out how you can help the site in more organic ways, click the button below.
Thank you for your support 🙂
---
And for transparency's sake, please know that some of the links in our content are affiliate links. That means that if you book your accommodation, buy your gear, or sort your insurance through our link, we earn a small commission (at no extra cost to you). That said, we only link to the gear we trust and never recommend services we don't believe are up to scratch. Again, thank you!