Backpacking Chile is all about the extremes. From trekking through insanely beautiful glacial national parks in the south to exploring the vast deep red Atacama desert in the north, it is one epic country to travel. There are 36 National Parks in Chile, all stunning and unique in their own way. This awesome country is also home to Easter Island, one of the most mysterious places on the planet.
Chile really is one of the most underrated countries for intrepid backpackers, it is a trekkers dream, you just need to know where to go. This culture-packed country also has some impressive volcanoes, hot springs, and world-class wine.
To make your Chile adventure even better, we've created this massive Chile travel guide, filled with information about how to plan and where to stay, hidden gems, and loads more.
Let's get right to it!
Why go Backpacking in Chile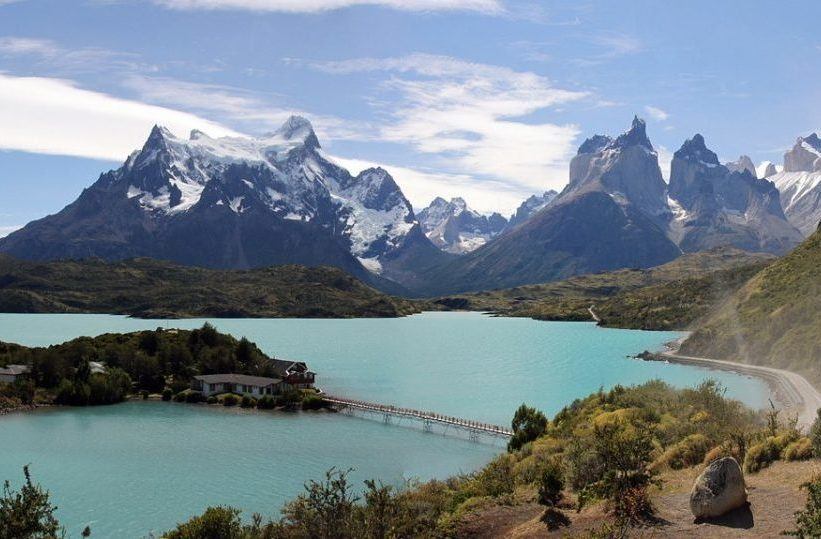 Chile is one long strip of awesome things to do, yet it can be surprisingly tricky to pick out a good itinerary, especially when the distances are way bigger than you may realize at first. Unless you have the readies to fly, you can lose huge amounts of time to travel.
As a general Chile travel guide, you want to decide whether you're heading north or south. You may, however, also want or need to consider a Santiago based round route if you're short on time or have a flight in and out of there.
Because Chile can suck up a lot of time, you need to know what you really want from it. Whatever you do, make sure you soak up the Latin vibes, drink wine, and go to at least one Chile National Park.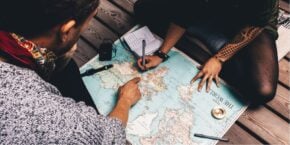 Heading Off-Grid? • Download This Guide as a PDF!
Sign up to The Broke Backpacker's EXCLUSIVE VIP AREA below and download our top backpacking guides as PDFs – go offline with peace of mind!
Below I have listed several itineraries for backpacking through Chile. All of them have an intended flexibility. Most of the places mentioned will have more than enough things to do if you have a little longer in Chile.
Backpacking Chile 10 Day Itinerary #1: Taste of Chile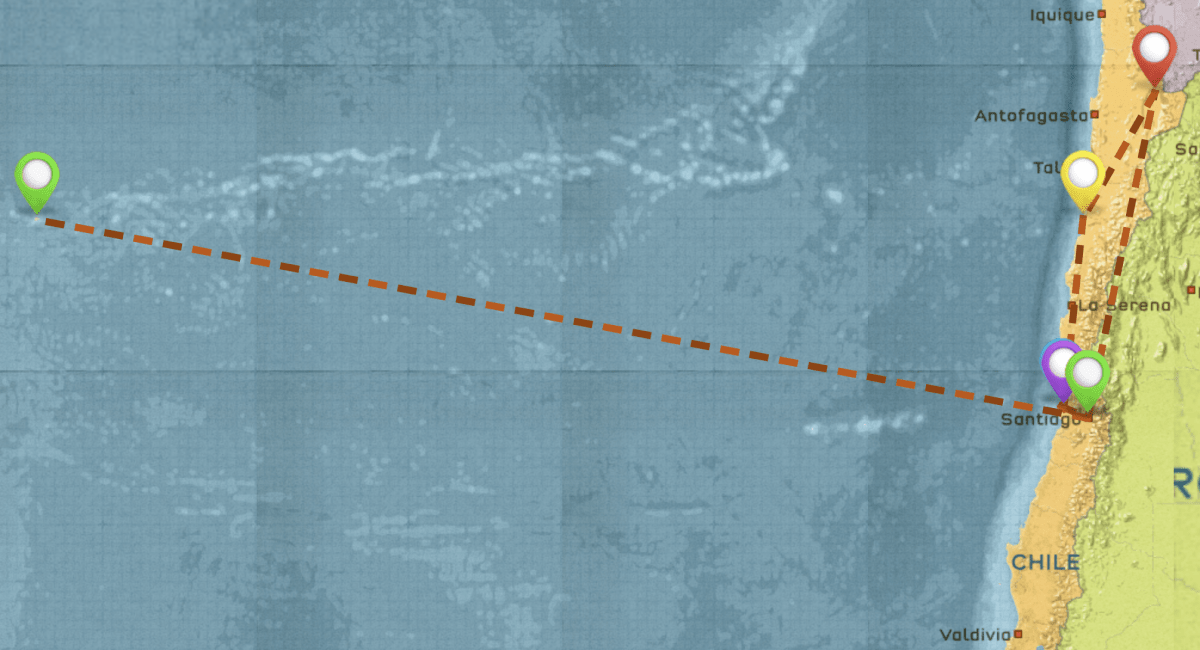 In this Chile itinerary, we start out in the capital city of Santiago.
Then we head on an overnight bus straight up to San Pedro De Atacama to explore the driest desert in the world. After Atacama, we head back down via Bahía Inglesa Beach and Ojos del Salado, the world's highest active Volcano.
The final stop off before looping background to Santiago is the colourful art capital known as Valparaíso. This is a round-route based if you need to fly in and out of Santiago – the case for many backpackers.
If you have more time you could also fly out to Easter Island from Santiago. If your time is really tight, you could squeeze most of this Chile itinerary into one week. No matter how you use this route, it is mainly focused on making sure you get a real taste of Chile even if time isn't on your side.
The other great thing about this one is that Santiago is a pretty kick-ass capital to kill time in if you end up with an extra few days.
Backpacking Chile 2 Week Itinerary #2: 1 Month in Patagonia
Patagonia is home to some of the most beautiful, majestic, and harshest scenery in the world. This Chile and Argentina itinerary will hit all of Patagonia: the impressive Andes mountains crowned with glaciers, waterfalls, glacial lakes and marshlands.
Some travellers fly into Ushuaia and work their way up, though many people go to Ushuaia to begin an Antarctica cruise or excursion. You can complete this itinerary in 2 weeks, if you cut out stops and include a lot of overnight buses, or perhaps just focus on the south: El Chatan and Torres del Paine.
Start in Chile's capital, Santiago, and bus or hitchhike down to the private reserve, Pumalin Park. The longest hike in the park is Volcano Michinmahuida, a 24km trail (return) that takes between 8-10 hours.
Then make the long journey to El Chalten. This park is considered the hiking capital of Patagonia due to some incredible camping and trekking sites, like Cerro Fitz Roy and Cerro Torres. It is a part of Argentina though.
You can end your Patagonia trip by visiting Punta Arenas and Ushuaia to access the Tierra del Fuego National Park and Beagle Channel. Ushuaia is the southern-most city in the world and gateway to Antarctica.
Backpacking Chile 3 Week Itinerary #3: South to North
This is one of those 'once in a lifetime' outrageous trips that might hurt your wallet, but you'll never regret it.
We're going to lay this out as a trip from the south up to the north, but of course, it can be done the other way round.
We are kicking this Chile guide off in the famous Torres Del Paine National Park by doing the O Trek, which takes around seven to ten days. From here you will need to head to Puerto Natales as a hub to get you to Puerto Montt.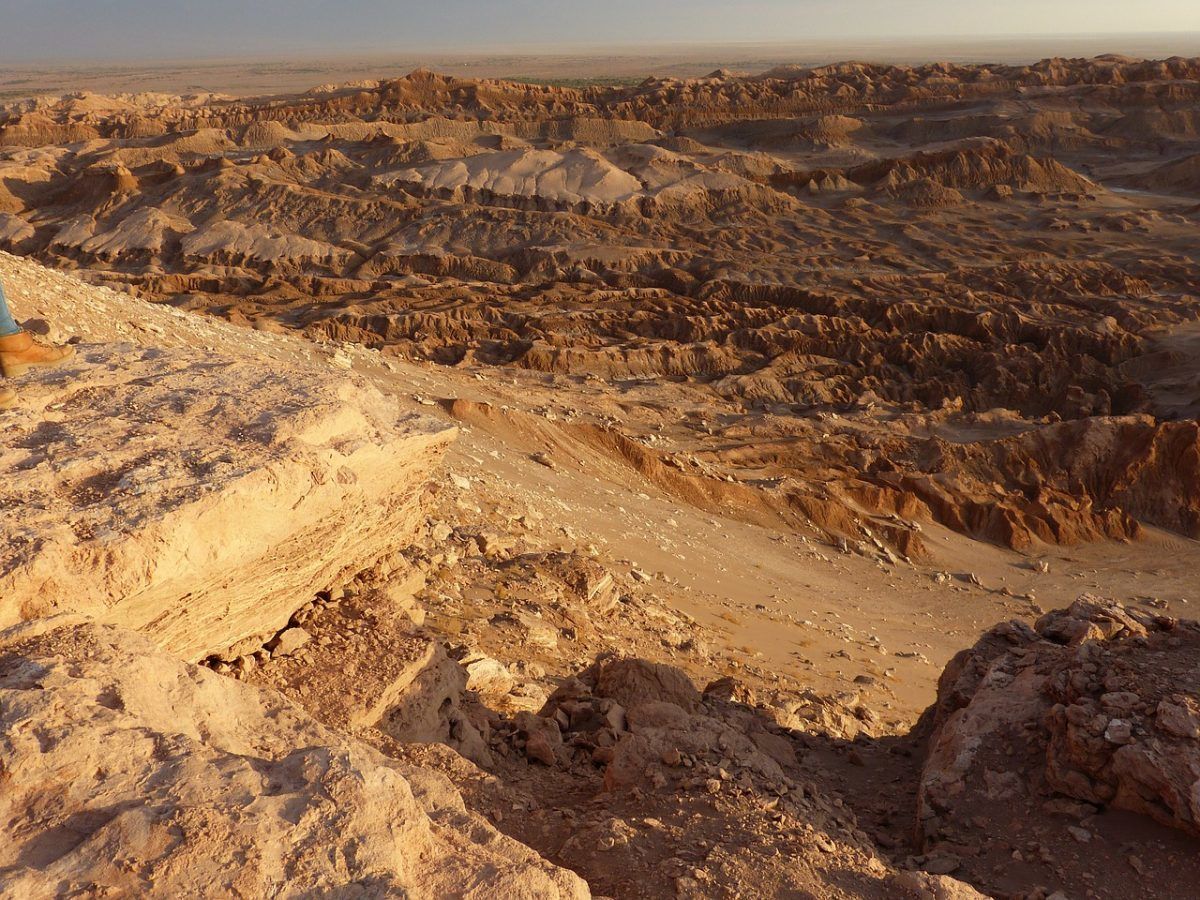 From here you can then head up to Osorno to make the most of volcanoes and thermal baths. The next stop is the capital city of Santiago where you can explore the vineyards and soak up the Latin vibes. Santiago is also the place from which you can fly to the mysterious Easter Island for around 5 days.
Once you arrive back in Santiago, you can head to the colourful Valparaiso. The next stop as you head north is Iquique for a bit of sandboarding before finally arriving in San Pedro De Atacama. This is an incredible place from which many people travel from to Bolivia in a jeep overland. It used to be around $40, but now you're looking at $140 after much bartering and shopping around.
Well, now that we've covered a few awesome Chile itineraries, I've listed some of the best places to visit in Chile below, complete with advice on what to do, where to stay, and how to get the best deals.
Backpacking Santiago
Santiago is a beautiful, exciting city with a sweet Latin atmosphere, great street food, and even better wine. It also has a bit of a boho vibe going on. Keep an eye out for what the students are up to. They're often handing out flyers, but most of Santiago's hostels can also hook you up with what's happening that week.
When we were there, there was a cool party in the park with free yoga lessons, people dreading each others hair and everyone giving and exchanging clothes around. Totally hippy fest!
You'll probably want to stay in Barrio Bellavista. It's colourful, full of culture, has great places to chill, and has some of the best hostels in Santiago.
Plaza de Armas is another place to check out and hang out. They have some impressive restaurants around the square, ranging from cheap and tasty guacamole hot dogs to fine dining. Watch for speeches, marches, performers, and even dancers in the street, but don't stand too still or look too British they may grab you for a twirl!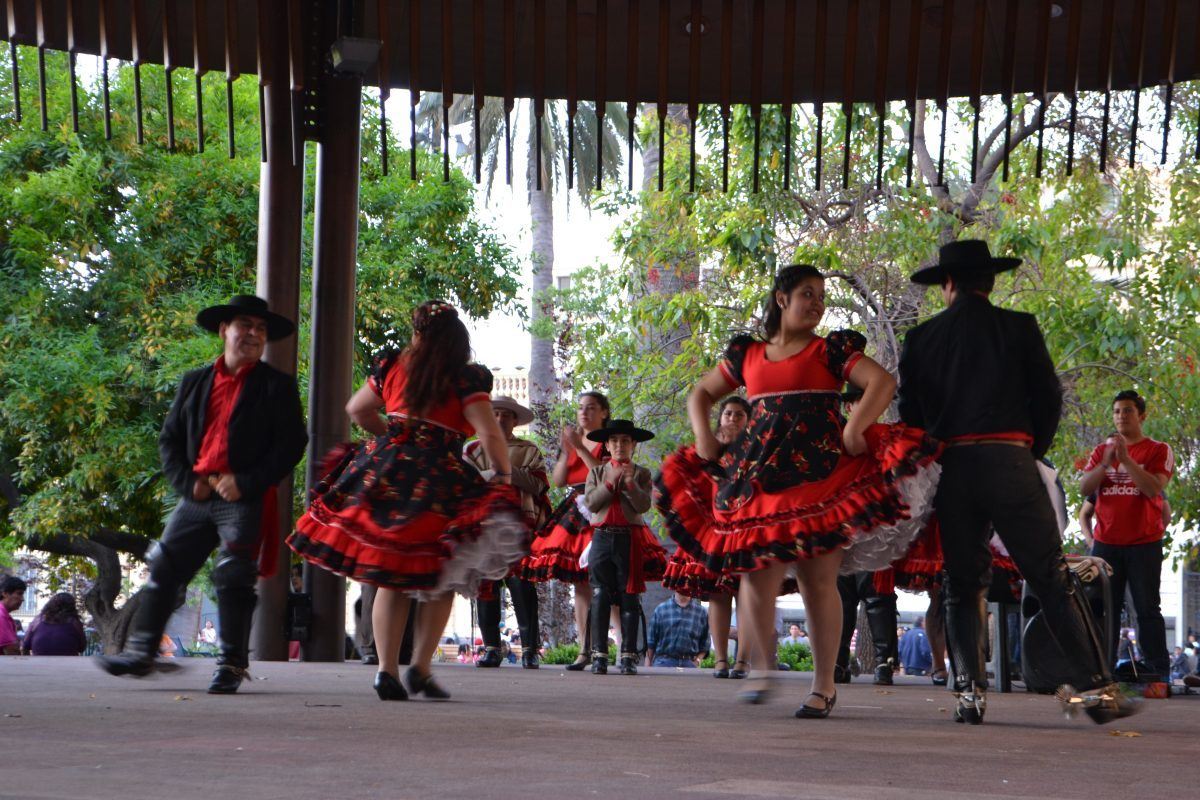 The best ways to get around Santiago are by walking, biking and using public transport. There are some great walking and cycling tours, but you're probably just as well to pick a few places you want to see and explore yourself. If you like museums, don't miss the ever classic Museo Historia Nacional and the ever fun interactive geekfest that is Museo Interactivo Mirador.
Allow at least one day to explore the city and one day to enjoy the wineries. Having been to quite a few, I would recommend Concho y Toro. You do have to pay a pretty steep $20 for the tour but it does include quite a bit of wine and you actually learn something on the tour. The other option is just to buy a few bottles and party in your hostel.
It's worth noting that Barrio Bellavista is Santiago's neighbourhood where the majority of travellers stay. It's one of the most beautiful, action-packed and popular neighbourhoods, so you want to book in advance.
Backpacking San Pedro de Atacama
The stunning little town gives you access the driest non-polar desert in the world, incredible stargazing, and some badass sandboarding. San Pedro de Atacama is often the starting point for their trip overland through the salt flats into Bolivia.
The big question here is which things are better to do on tours and which are better to explore independently. Because there is so much to do and it is so spread out, you will probably want to plan well.
Make sure you make time to watch a sunset in San Pedro de Atacama. They're out of this world, it really feels like the closest you'll ever get to mars! You can get tours that take you out there, or you can do what I did and hop on a bike and get peddle out there to get it to yourself. If you do this, make sure you take an extra layer, as it suddenly gets shockingly cold when that sun drops.
You can book so many cool trips from San Pedro de Atacama and this can be a great way to meet other adventurous backpackers as all the trips are pretty intrepid. Mountain biking, sand boarding, hiking, seeing the geysers exploring rainbow valley and moon valley. This place is an adventurous explorers Nirvana!
The red roads, whitewash buildings and colourful stalls really do make this a pretty dreamy little travel town to wander around. You'll be spoilt for opportunities for great shots that get everyone on Instagram jealous!
Even the accommodation is part of the experience in San Pedro de Atacama. They have some pretty lux stuff with pools, which you may want to splash out on in the heat. But if like me, you want the best budget thing going, then you'll still be pleasantly surprised at what you get for your dollar. There are loads of quirky mud hut style hostels with comfy beds and kitchens so you can cook for yourself. It's worth having a browse and booking up early as it's a busy little town.
Backpacking Bahía Inglesa
Windsurf, dive or just chill on the beach. Bahía Inglesa is a great option if you're missing the coast. Now I'm not claiming it's going to compete with the Caribbean Islands, but it does have a certain ruggard beauty to it. There is a mix up of both rocky and sandy beaches, all with beautiful clear teal oceans hugging the coast line. As you may imagine, there pretty the beach, the busier it tends to be. There are however so many options you will be able to find something you love.
There is a pretty awesome reason I'm suggesting Bahía Inglesa. What would you say if I told you, you could go to a beach one day and the highest active volcano the next!!!!
Well you can, I told you Chile was all about epic extremes! You can take a day trip to Ojos del Salado, which hugs the Argentinian border. If you can take a bit of extra time here as the landscape is insane!
Oh, and you can chill in a hot spring whilst you enjoy the view. This isn't your posh spa style hot spring, this is your rugged as mother nature intended hole in the ground with a breathtaking view kind of hot spring.
I have pinned this location as Bahía Inglesa, but you may want to stay Copiapó as you will have a few more options. Plus it is easier access to both the beach and the volcano… now that's a cool sentence, get your bed booked!
Backpacking Valparaíso
This coastal boho beauty is best known for its hills and colourful buildings, both of which are really worth exploring. It is also known as an art capital depicted by stunning murals and some of the most creative and philosophical graffiti you will ever see. You'll find a couple of artsy Valparaíso hostels as well, perfect for backpackers that want to stay in the area for a bit longer.
You must take time to see the iconic Cerro Alegre Dare. I'm not sure I trust its structural integrity, but if you're feeling brave you may like to use the rickety mountain elevator to get to the top. It's an experience in itself.
As way of celebrating surviving this you could go hunt down some local gelato. The locals love it, so you can find this delicious ice cream all over Valparaíso.
As you may expect in a place this hip, the hostels are some of the best you'll stay in and they're impressively cheap, make sure you have a quick look and pick one with a good vibe.
Backpacking Iquique
Iquique is one of those places where you can go cosmo or go crazy. You can relax in the city and chill on the beach whilst sipping some great cocktails. If this is your scene be sure to try the famous Terremoto cocktail, which translates as earthquake, so you can imagine the hangover. If you're more crazy and cosmo, you can paraglide, surf and sand board till you drop.
In my opinion, the sand boarding is the main reason to stop in Iquique. There's just something awesome about strapping yourself to a board and hurtling down a giant sand dune! You can book sand boarding through some hostels, or a company called Denomades can also help you arrange it.
There are some great hostels around Iquique. If you are looking to meet people and get a good balance of party and peace, then Feel Iquique Hostel is definitely worth checking out.
Travel CHEAP and Make a Difference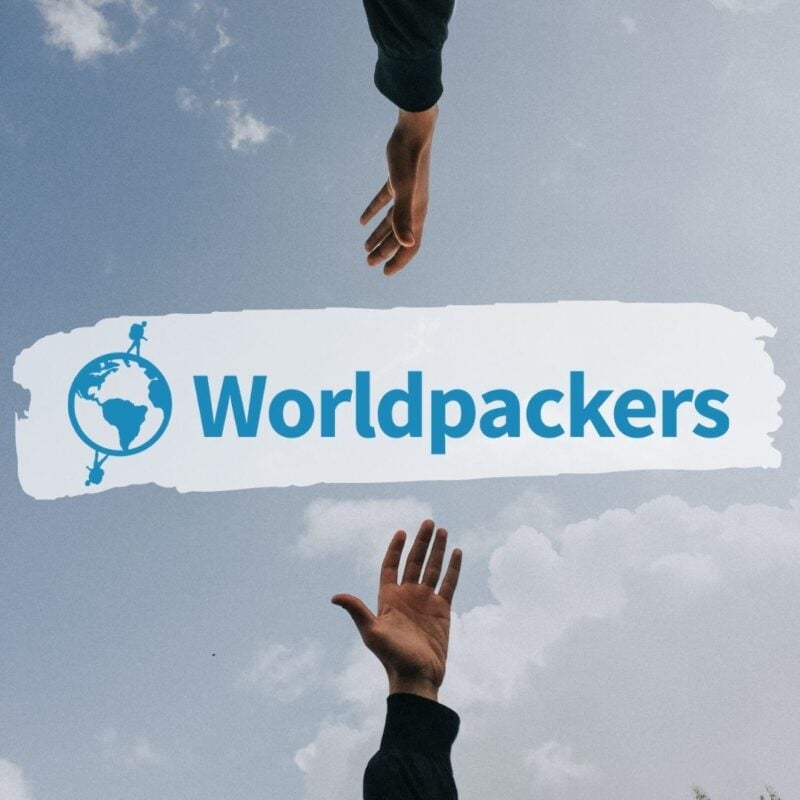 Worldpackers connects travellers with hostels, schools, NGO's and many more. Get free accommodation in exchange for volunteering a few hours a day. You won't just save serious $$$, you'll experience a different culture, cool projects, meet new people and integrate into the community in a different way.
Broke Backpacker readers get a $10 discount when you sign up. Use the discount code BROKEBACKPACKER. Plus, get 3 free months on your membership during their summer promo!
Travel well with Worldpackers
Backpacking Osorno
Osorno is a great place to stop. The city itself isn't especially special, just a typical latin american city with the usual questionable clothes stalls and fried chicken on every other corner.
So why stop here?
There are a few beautiful lakes to trek and camp around. There are also some picturesque archetype volcanos to explore, just like the ones you drew as a kid. Once you get outside the city, everything about the area screams intrepid adventure. You are only about an hour away from Puyehue National Park, which is a great way get into and explore the Andes Mountain Range.
The waterfalls, thermal springs, and evergreen trees make for picture perfect hiking. Just watch out for the pumas! You can see it as a warm up and preparation for heading further south into the depths of Patagonia.
If you're interested in thermal springs, it's worth knowing that there are a few spas and hot springs in the area and that they are usually referred to as Aguas Calientes. Probably the most satisfying one is in Puyehue National Park because you can enjoy it after a long hike!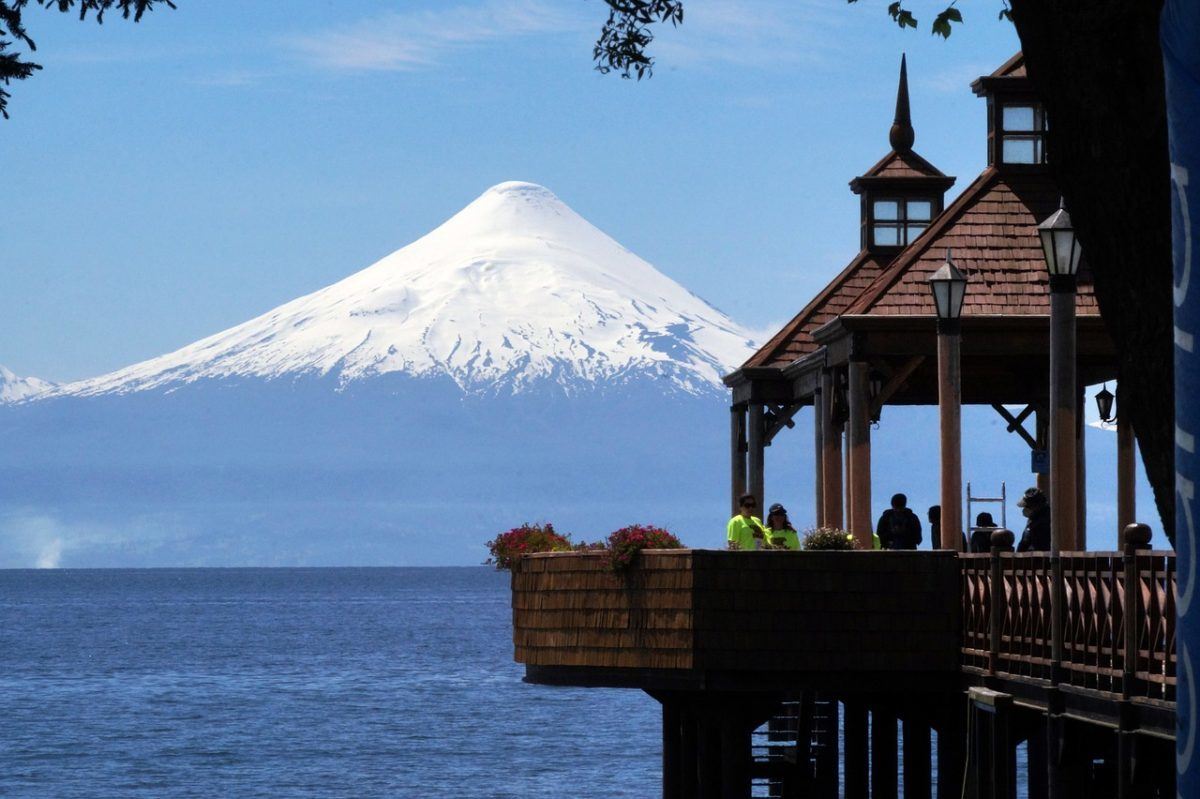 On a practical note, Osorno is also a great hub for crossing over into Argentina if you are heading down into Patagonia overland.
As it's not really a tourist destination it can be tricky to find somewhere to stay. Hostels don't seem to really be a thing, but there are a few local guest houses.
Backpacking Puerto Natales
Puerto Natales is a hub where trekkers prepare to trek and camp in Torres Del Paine National Park. It's an exciting place as everyone is either stoked about starting an intrepid personal challenge, or feeling pumped and triumphant as they have just finished one.
The thing many overlook, however, is that the town is actually quite nice within itself. It has a beautiful dock for enjoying sunsets and few great bars to hang out and meet other intrepid travellers. Erratic Rock is a great hub for sorting your kit and they host a meeting every day at 3 o'clock that helps you prepare for your adventure. There are a couple of nice hostels in Puerto Natales too, where you can rest your head and recharge before your next adventure.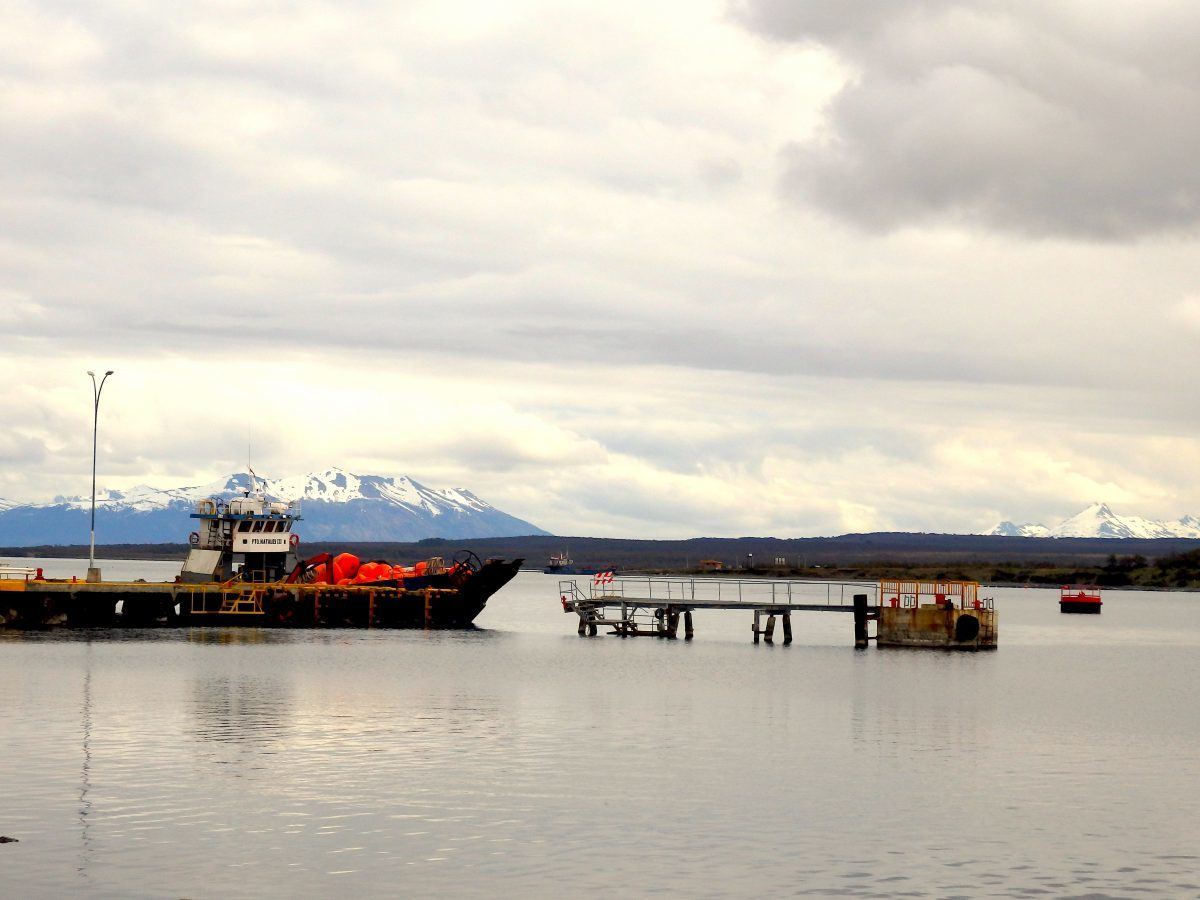 Now don't get me wrong, I love camping and cooking meals in the wild, but you might want to use Puerto Natales as somewhere to get a big send off meal before you have to carry everything you want to eat.
There are quite a few places to stay in Puerto Natales, but make sure you decide on a good place you stay to make some travel buddies for the trek. Where you stay can really affect the kind of people you're going to meet.
Backpacking Torres Del Paine National Park
Chile is home to Torres Del Paine, one of the greatest national parks on the planet! This is where adventurous travellers dreams come to life!
The famous "W" trek is the best trek for those of you who are a little short on time, but still want an outrageously stunning and challenging trek that will leave you with memories that will last a lifetime! It can be done in as little as 5 days.
The "W" trek is, however, only one of the three main treks through this epic national park. The other two routes are known as the "O" trek and the "Q" trek; all of the names are based on the shape of the letter. They vary in length, so the main factor in choosing a trek is simply how much time you have.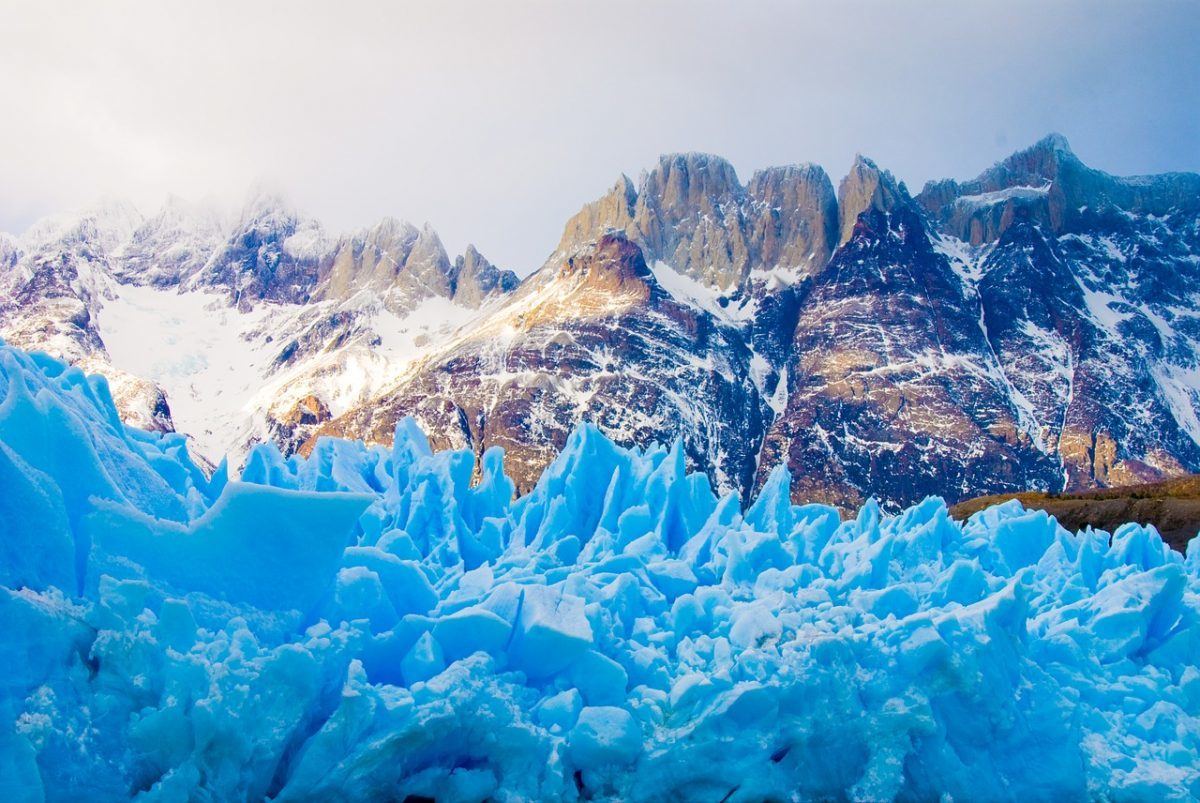 The "O" and the "Q" take 7 to 10 days to complete. Obviously, this all depends on your fitness level, and how you want to pace yourself; it's a challenge not a race. It's important to make time to actually take in the scenery and connect with where you are, especially when it's somewhere as beautiful as this! If you hike the trek from west to east, you will trek through a range of forests, over ridges, around lakes, and pass glaciers until you reach the iconic three peaks of Los Torres.
Do note that over the winter season the longer routes are usually closed, so make sure you check the routes when planning.
So, you know me, of course I'm going to say that camping is the best way to do this! If, however, you do want a cushier option there are refugios along the way, which are basically simple cabins that you can stay in. You can even buy groceries and food along the way, but it is really expensive. Your best bet is to be prepared before you set off on the trek.
Some campsites charge and some are free; it's worth planning your trek based on this. If you're feeling flush and want luxury, you can book some accommodation on the trek before you set off.
Backpacking Puerto Montt
People end up in Puerto Montt by ferry from Puerto Natales. There are bus options to and from Osnoro, but it is pretty cool take take a ferry to Puerto Montt. The ferry is no frills, but the views are pretty outstanding and lets be honest you know it just sounds cool jumping on a cargo boat!
When you get to the city of Puerto Montt itself you'll probably find it more built up than you would expect for somewhere seemingly so remote.
I guess civilization always feels particularly strange after an remote intrepid adventure. There is a lot going on in the city itself if you want to visit a museum, go out for a meal or chill in a cafe. It's not the cheapest though, so you may not want to hang around in the city too long.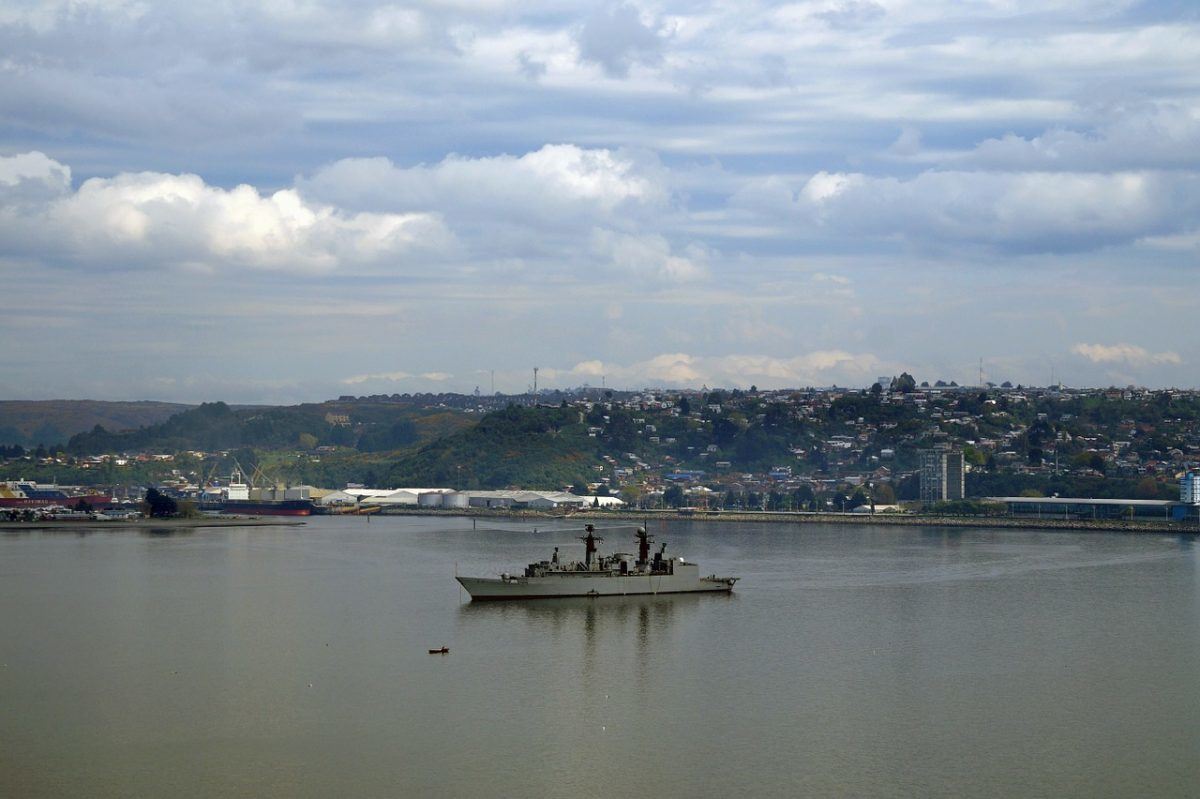 The best thing about Puerto Montt is that it is surrounded by beautiful waters, mountainous landscape and the odd volcano, it's a beautiful place to explore. If you are a bit of a national park fanatic, you'll find you are spoilt for choice in this area.
If you still have some trekking left in you, I would recommend either Vicente Pérez Rosales or Alerce Andino National Park. Both are stunning in their own way.
It's tricky to find cheaper accommodation here. You may want to consider Couchsurfing or Airbnb. Even these can be a little tricky, so if you aren't up for guest houses it could be an idea to book a dorm bed in advance.
Backpacking Easter Island
Ever fancied exploring one of the most isolated island in the world? Throw in some giant mysterious heads, super friendly locals, beautiful beaches, and a really impressive volcano to trek around and you truly have one of the most kick ass places on the planet! There really is no place like it.
LAN airlines is the main airline to get you there. Brace yourself for the bad news though: on average you now pay around $600 for a return flight. Cost really is the only downside of visiting Easter Island, but if you're resourceful you can do it for a lot less than the average traveller.
For a start, you can get flights cheaper if you book well in advance and are flexible with your days. It seems that once you stay for around a week plus, the prices drop down a little. This may however feel like catch 22 because Easter Island is not a cheap island to stay on.
My solution is to be well prepared. Fill your backpack with pasta, camp, and explore everywhere independently. Not only is this a fun way to do most things, but in this case it gives you access to one of the most unique places on the planet for a tighter budget than most will manage.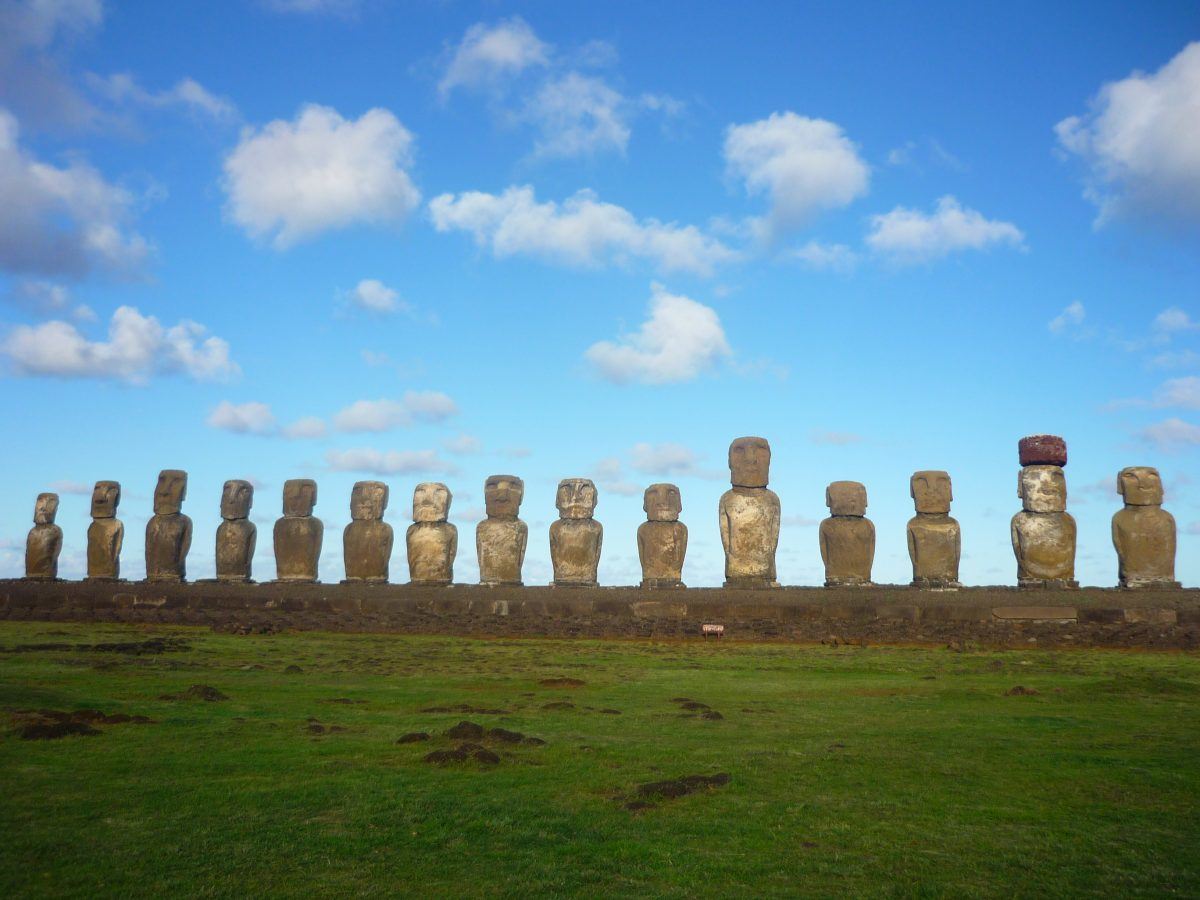 Wild card: you could actually save money travelling business class. A few people have reported saving money by flying business class. Yes, you read that right, it is always worth thinking and looking outside the box when trying to save money, especially on something as niche as getting to Easter Island.
When you get to the island there is loads to do, more than you might expect. As well as the iconic Moai heads that are spread out all over the island, there are some interesting underground tunnels and caves to check out.
Make sure you take time to trek round Rano Kau, an impressive extinct volcano. And don't stop there; trek along the rugged coastlines, and soak in the unique feeling of being thousands of miles away from rest of the world.
You can surf, scuba dive, horse ride, or kick back and watch one of cultural dance shows. I know the last one might sound a bit touristy, but its actually pretty cool to watch. One way to enjoy the island is to rent a scooter and explore. This way you can see everything you want to see.
Make sure you make time to enjoy a sunrise and sunset at least once on the island. Just take a moment and picture waking as the sunrises, unzipping your tent, and looking out across an ocean, knowing that there is no one for thousands of miles in any direction. Now get yourself organised and get to Easter Island.
As mentioned, you can camp, but there are also hostels and airbnbs on the island that are worth checking out.
Getting Off the Beaten Path in Chile
Chile isn't really on the beaten path to begin with. Arguably the capital, desert and parts of Patagonia do get quite a bit of tourism, but it's still very little compared to so many places that are half as impressive.
The main way to really get off the beaten path in Chile is to trek independently through national parks you haven't heard of before visiting Chile. The longer you trek for, the further from the crowds you get.
Is This the Best Backpack EVER???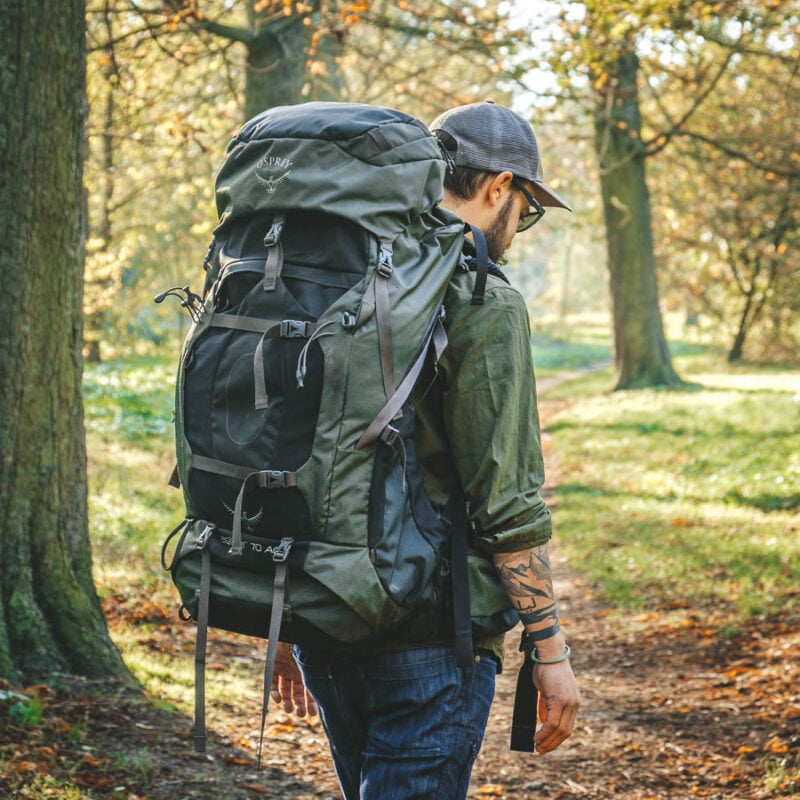 Top Things To Do Chile
By now you get the idea: Chile is full of epic bucket list experiences that many people only ever dream of doing. It is hard to travel here on the cheap, but if you're resourceful, resilient and love adventure it is totally possible.
In case you are still struggling to prioritise what to do on your trip, I have put together the top 10 best things to do in Chile.
It's a pretty exciting list and there really are some things you just shouldn't miss out on if you're over on this side of the world.
1. Watch the Sunset over the Moon Valley
There are loads of adventurous things to do in San Pedro De Atacama, but the one you can't miss out on is watching the sun go down on what will look like mars.
Even if you just did this for the Instagram shot it would be worth it! The landscape is so dramatic it creates an atmosphere and leaves you feeling like you have actually been to another planet. There are loads of tours that will take you out here or you can hike or bike it yourself. Make sure you take an extra layer though. When that temperature drops it gets cold really quickly.
2. Hike up an Active Volcano
You know you want to do this and then live your life knowing you were bad ass enough to climbing an active volcano! Chile has around 500 active volcanoes, so you are pretty spoilt for choice.
If you're feeling brave you could opt for exploring the highest active volcano in the world and get yourself to Ojos del Salado. It's worth noting this can be pricey if you want to go all the way up Ojos del Salado.
3. Try Pisco at its best
Chile is known for its pisco, so make sure you make the most of it whilst you're here. They make loads of different cocktails from pisco, but the most famous is pisco sour and it is definitely worth trying.
4. Visit the Mysterious Easter Island Heads
This really is one of those once in a lifetime bucket list trips you should do if you can hustle the money together! Also known as Rapa Nui, this incredible island is home to 887 massive, mysterious statues that will capture your imagination.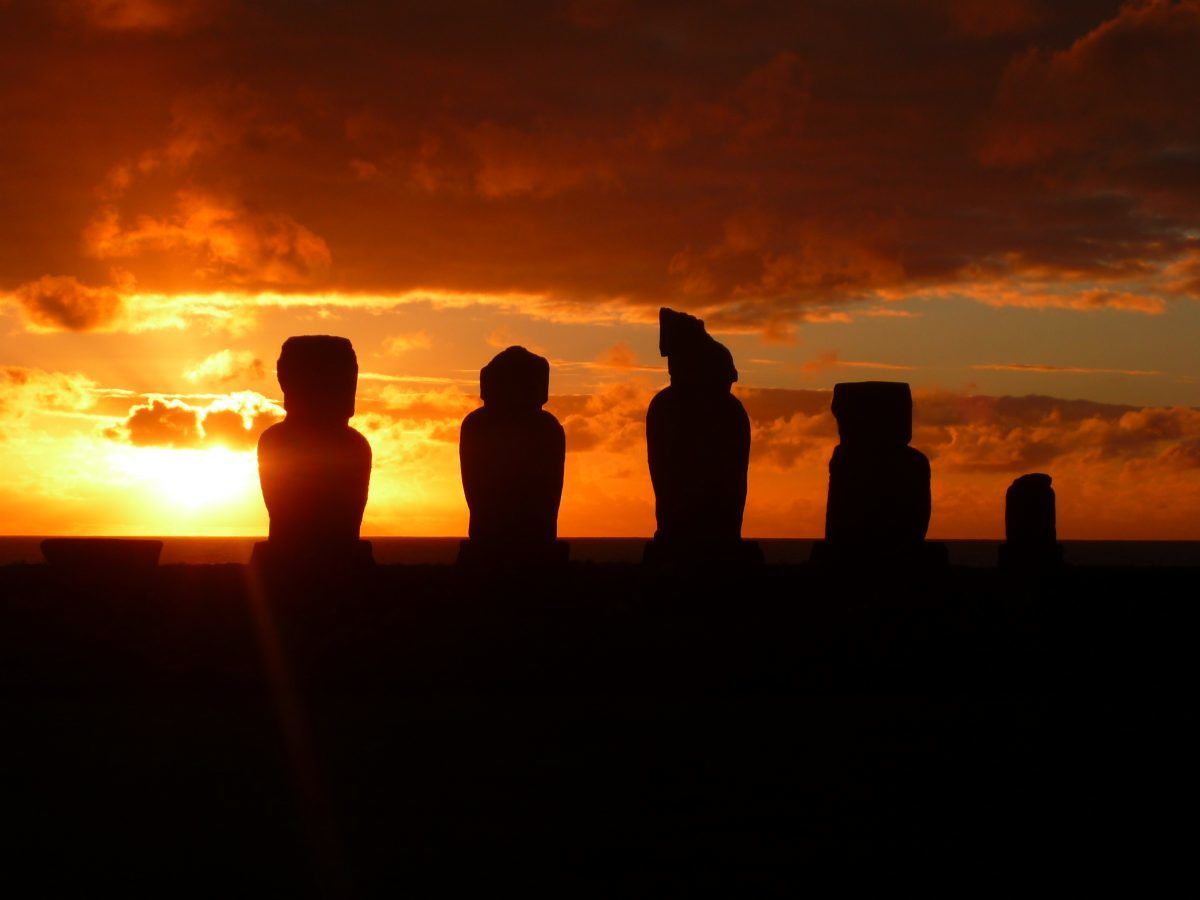 It is worth noting that they have some pretty cool festivals throughout the year. Although it's more pricey to visit during this time, it's worth checking out.
5. Trek for days through Patagonia
There is a reason everyone raves about trekking here and to be honest, until you go, you just won't get it.
No one captures the true beauty of this place with a camera.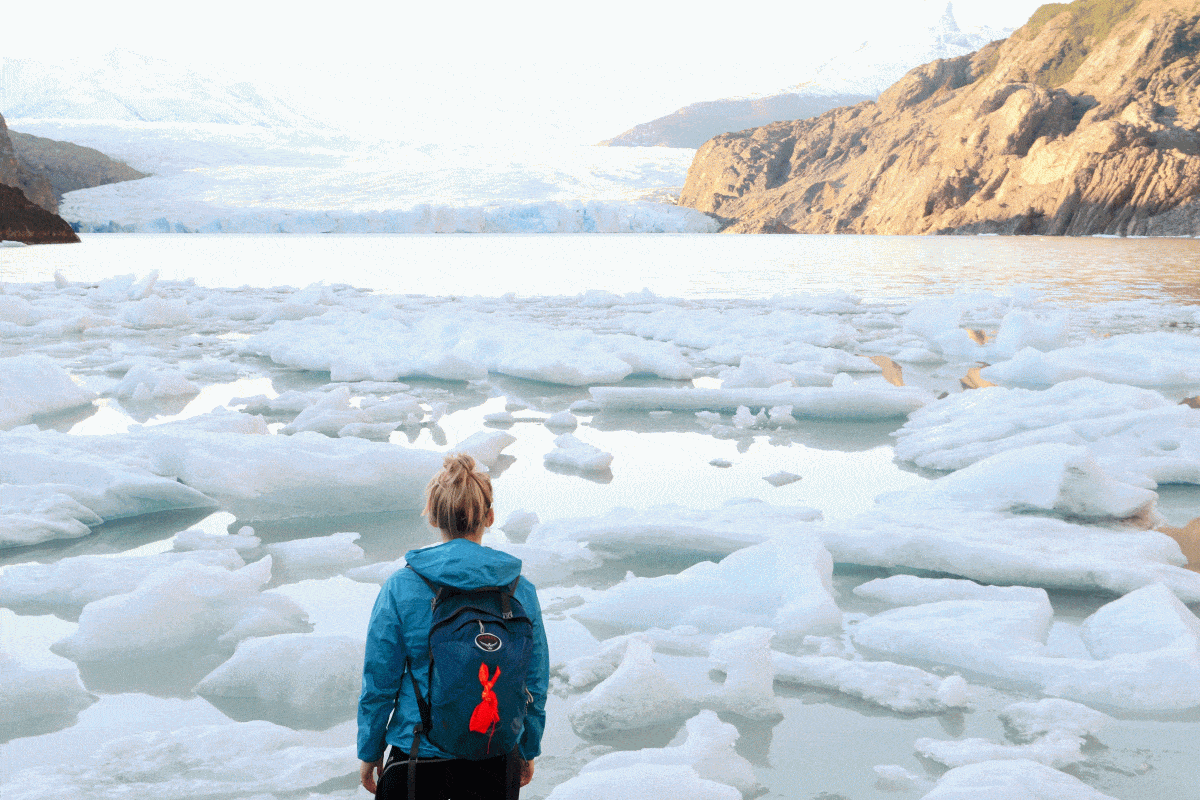 Nothing beats that feeling when you reach the end and know you have carried your own gear for days, survived your own camp cooking and not lost the track. Whatever season you go in, Patagonia always beautiful in its own way.
Check out Globemad for loads of information on trekking and ice climbing here.
6. Relax in a Hot Spring
There are so many hot springs across this stunning and unpredictable land. If you love a good hot spring you can easily get to more than one. There are a few posh ones, but I reckon the best ones are the rough and ready middle of nowhere ones.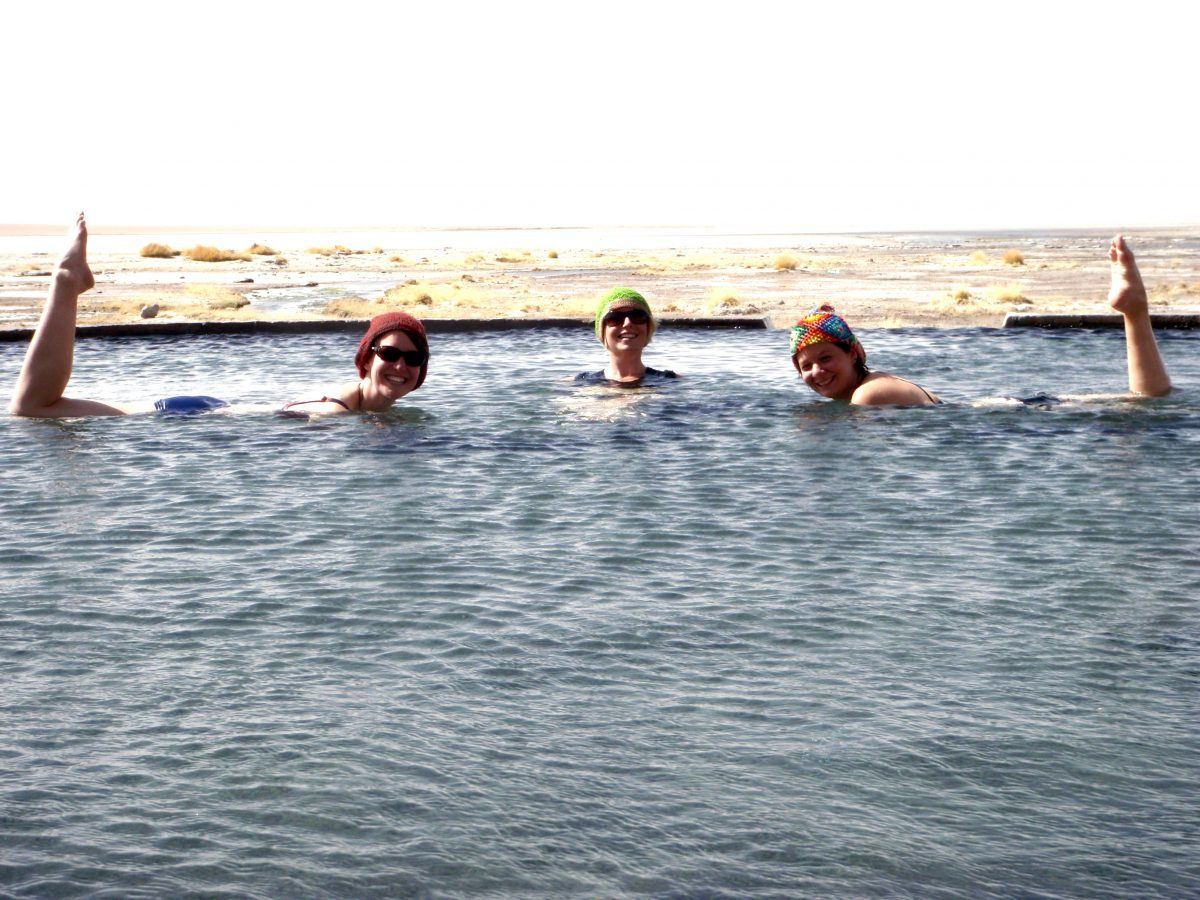 It's just fun and surreal to be upto your neck in a natural hot spring whilst keeping your head warm with a much needed woolly hat on a freezing plateau or rugged mountain side.
7. Star Gaze in the Desert
There are many places to star gaze across Chile, but the Atacama is probably the best. You can wrap up warm and walk or bike out into the desert to enjoy the stars. We took head torches, a hot flask, and cycled until there was no more light pollution from San Pedro. You can also book onto tours where they'll teach you loads and even join a group that takes you to an observatory.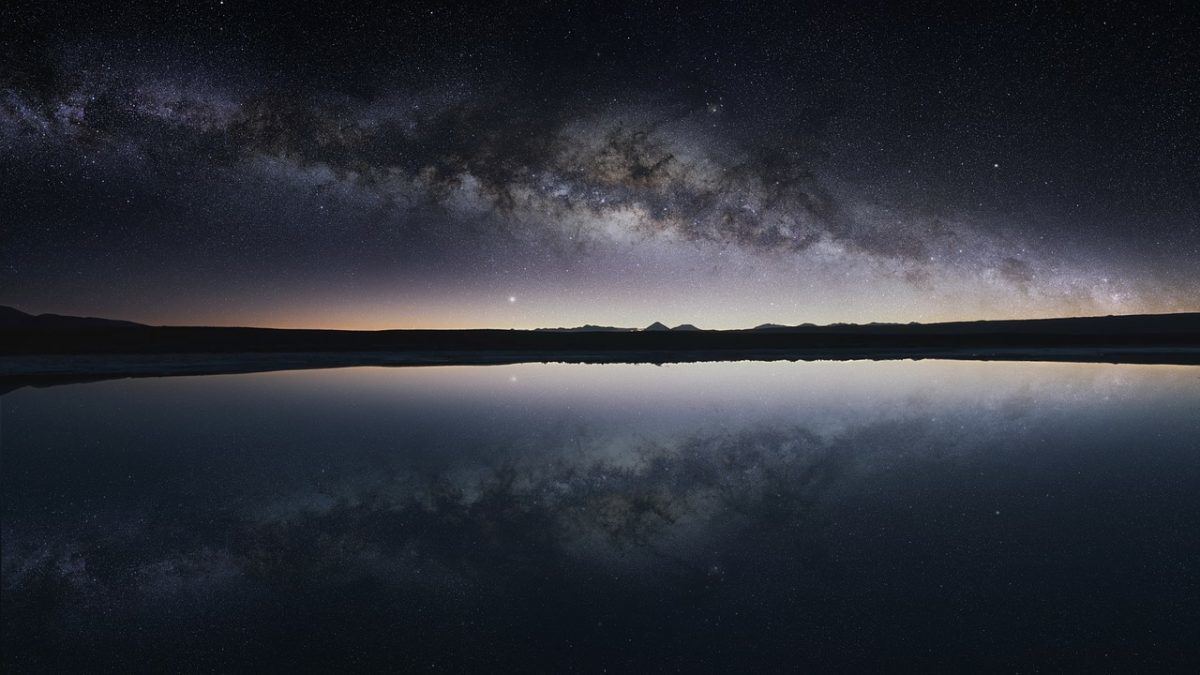 8. Explore a few National Parks
There are so many national parks in Chile, 36 to specific. If you're all about the adventurous intrepid travel, then making time to explore a few national parks is a must.
Radal Siete Tazas National Park has some stunning pools and waterfalls to explore. If you want more mountainous challenging treks, Conguillío National Park is more worthing visiting. Really you're spoilt for choice.
9. Explore the Colourful Streets of Valparaiso
This town is iconic for good reason. There is so much to see here as you explore the colourful streets and high hills. You need at least a day just to scratch the surface of the artwork and graffiti that makes this place so unique.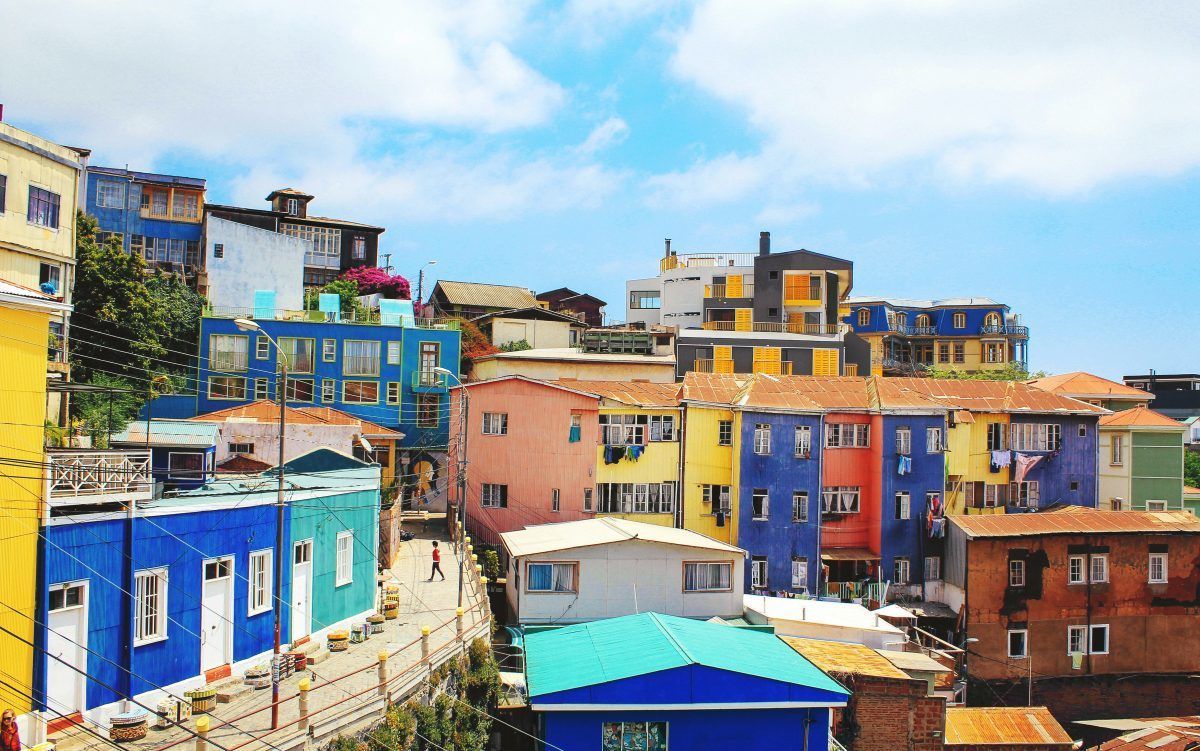 10. Get Tipsy at a Winery
This one goes without saying. When you visit a country that has some of the best wine on the world you've got to take time to taste it! A lot of it.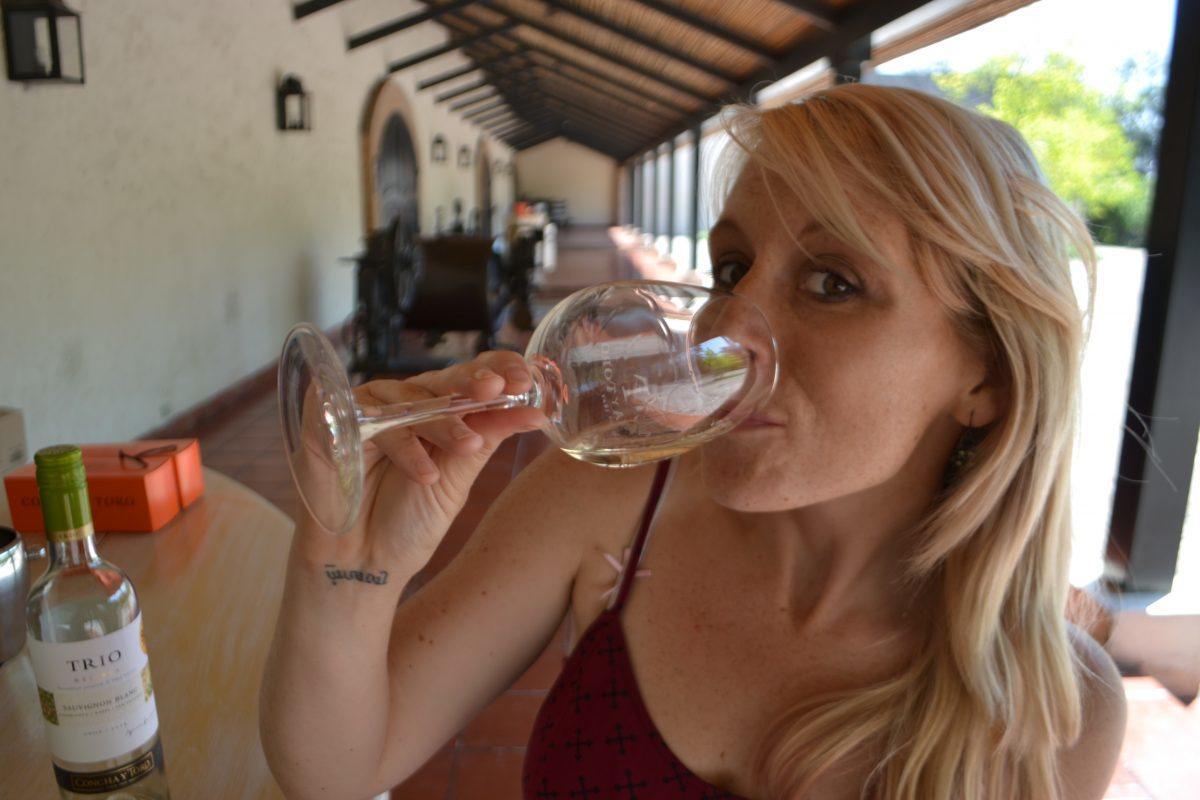 Most hostel offers wine tours, but the cheapest way is to make your way out to somewhere like Concho Y Toro on public transport and book yourself on the next tour round.
Small Pack Problems? 😉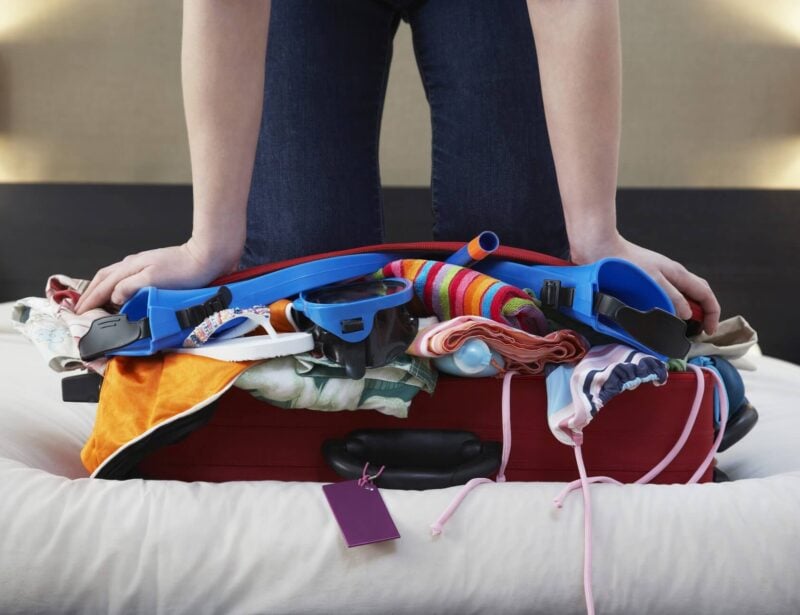 My missus travels with all her clothes in ziplock bags: don't be like my missus. UP YOUR PACKING GAME!
Packing cubes for the globetrotters and compression sacks for the real adventurers – these babies are a traveller's best kept secret. They organise yo' packing and minimise its volume too so you can pack MORE.
Or, y'know… you can stick to ziplock bags.
View Our Fave Cubes
Or Check Out the Sacks!
Naturally, Chile's capital, Santiago, has loads of great hostels. Chile, however, isn't overrun with backpackers, so there are less hostels than you might think. We have hunted out some of the very best for you. And don't panic. You can always use Airbnb.
These are becoming increasingly popular in Chile. Airbnb, if you don't already know, is an awesome way to make your trip more authentic! You can find some awesome apartments and home-stays for cheap prices. Otherwise, Couchsurfing is the cheapest way to go, and a great way to meet other travellers; however, they can be hard to pin down in Chile, and chances are you will need to be pretty good at Spanish. It's always worth checking out the profile, which will say what language they speak!
The Best Places To Stay in Chile
Where to Stay in Chile

| Location | Hostel | Why stay here!? |
| --- | --- | --- |
| Santiago | Hostal Forestal | Great place to chill or party. Great location, helpful staff and a good breakfast |
| San Pedro De Atacama | Tambo Norte | There are loads of great hostels here, but this one is well located, friendly, great value with good wifi. |
| Valparaíso | Casa Volante Hostal | Stunning, cool, clean, colourful place, with a chilled family vibe. |
| Iquique | Feel Iquique Hostel | Just one of those hostels you've got to stay, great vibe and everything you need. |
| Puerto Natales | Zaltaxar B&B | Awesome host, great location, not much more than the cheapest, but way nicer! |
| Puerto Montt | Casa Perla | Homely, helpful, sweet place, good value and tasty breakfast. |
| Easter Island | La Casa del Kori Hostal | Best value, comfy, warm staff and a great breakfast! |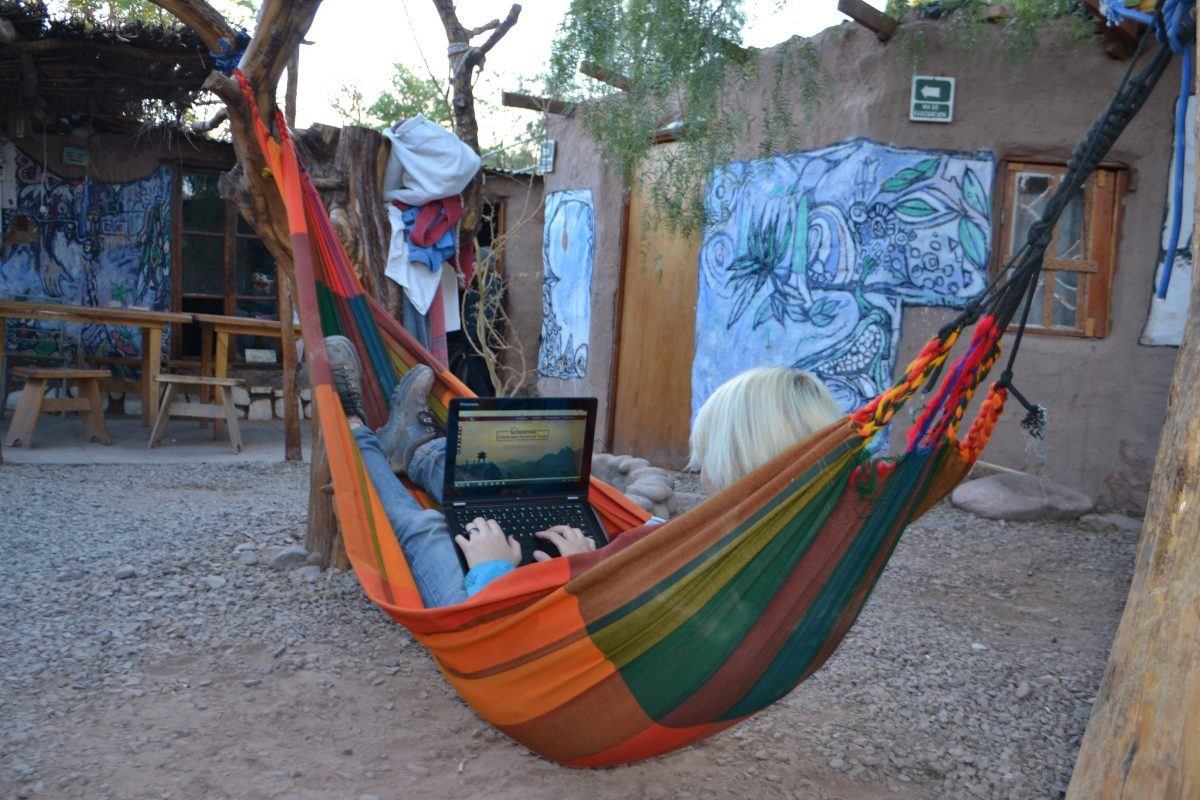 Chile Backpacking Costs
It is really tough to keep the cost down in Chile. It can be done, you just have to drop your comforts and be resourceful.
Unless you wild camp, eat beans, hitchhike, and only visit places in the wild (that no one has heard of), you're not going to travel Chile on $10 a day. Still, these methods can keep your costs quite low and allow for some room to splurge on some great activities.
More realistically, however, you're looking at around $35-$50 a day.
One of the best ways to save money is to travel on the outer fringes of the warm, more popular months of November to March.
A Daily Budget in Chile
Chile Daily Budget

| Expense | Broke Backpacker | Frugal Traveler | Creature of Comfort |
| --- | --- | --- | --- |
| Accommodation | $15 | $25 | $60 |
| Food | $10 | $20 | $50 |
| Transport | $3 | $6 | $15 |
| Nightlife | $10 | $17 | $40 |
| Activities | $10 | $20 | $50 |
| Totals per day | $48 | $88 | $215 |
Couch Surfing is the best way to meet locals and stay for free. There are some great couchsurfers in Chile; just make sure you give them plenty of notice. They seem to like to be organised.
Camping is really popular in Chile and the campsite fees tend to be minimal. Sometimes it is worth using them for those extra facilities. Otherwise, there are plenty of options to wild camp for free. Just make sure to leave no trace!
On that note, it is easy to spend upwards of $100 or more in Chile if you are booking private rooms, eating out often, and booking a lot of tours.
Money in Chile
The local currency is Chilean Pesos (CLP). The current exchange rate is 1000 CLP : 1.60 USD (March 2018)
ATMs are widely available everywhere, but you can expect a withdrawal fee for international bank cards, which is why I travel with a debit card that refunds me for transaction fees.
Visa and Mastercard are widely accepted in Chile. Always have cash on you when backpacking Chile and visiting smaller, family-run places! Many large stores in Chile accept cards, but a lot of out-of-the-way locations will only accept local currency.
Travel Tips – Chile on a Budget
Camp: With plenty of gorgeous places to sleep out, Chile can be a great place to camp in the rural areas. Check out this post for a breakdown of the best tents to take backpacking. Or, if you're feeling really adventurous and want to save some cash, consider picking up a backpacking hammock. You might save one or two dollars that way.
Cooking: If you are camping a lot or really want to save some cash, it could be worth bringing a portable backpacking stove so you can do some of your own cooking.
Couch surf: Check out Couchsurfing to make some real friendships and see this country from the perspective of locals.
Hitchhike: Where appropriate, hitchhiking is a great way to save money on transportation costs.
Pack a travel water bottle and save money every day!
Why You Should Travel to Chile with a Water Bottle
Plastic washes up on even the most pristine beaches… so do your part and keep the Big Blue beautiful
You aren't going to save the world overnight, but you might as well be part of the solution and not the problem. When you travel to some of the world's most remote places, you come to realise the full extent of the plastic problem. And I hope you become more inspired to continue being a responsible traveller.
Plus, now you won't be buying overpriced bottles of water from the supermarkets either! Travel with a filtered water bottle instead and never waste a cent nor a turtle's life again.
Save $$$ • Save the Planet • Save Your Stomach!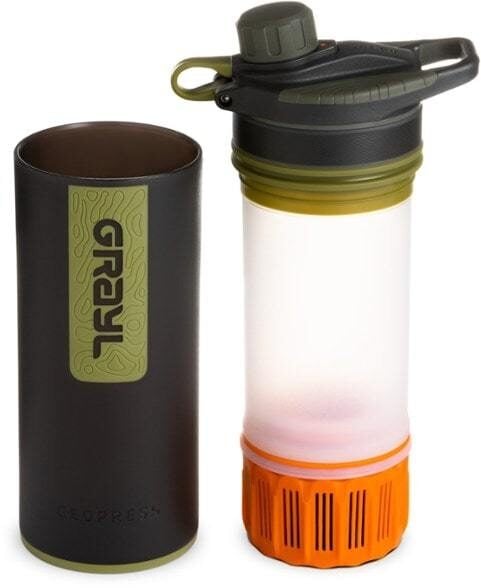 Drink water from ANYWHERE. The Grayl Geopress is the market's leading filtered water bottle protecting your tum from all the waterborne nasties. PLUS, you save money and the environment!
Single-use plastic bottles are a MASSIVE threat to marine life. Be a part of the solution and travel with a filter water bottle.
We've tested the Geopress rigorously from the icy heights of Pakistan to the tropical jungles of Cuba, and the results are in: it WORKS. Buy a Geopress: it's the last water bottle you'll ever buy.
Buy a Geopress!
Read the Review
Best Time to Travel to Chile
Whether you're exploring the Atacama desert, Santiago, or Patagonia, the summer season – more or less – runs from November to March as it is in the summertime for the southern hemisphere, therefore, high season for most places.
If you're heading to Patagonia, summer is arguably the best weather to camp in. However, you are then competing with the crowds, especially for places to camp and stay. I would probably recommend trying to trek on either side of the high season to get the trails more to yourself. Plus, the fall foliage of Patagonia is absolutely stunning!
And no matter when you go, Patagonia is notorious for its high winds. Come prepared!
If budget is a dominating factor for you then you really should consider going just outside of the summer season as pretty much every tour and most accommodation is cheaper.
Festivals in Chile
Many, but not all, of Chile's festivals are quite specific to localized places within the country, which makes them even more special. I've picked out a few of the more alternative, but still intensely cultural festivals I think you might like.
Vendimias: Any excuse to drink copious amounts of wine is fine by me! From March through to May, the wine regions hold many mini festivals that create a real buzz in the town squares. The squares really come to life with locals selling all sorts of local produce, and you should get to see some good old school grape stomping!
Santiago International Theater Festival: In January, the capital hosts a stunning three week festival made up of dance, visual art and music.
New Year's Eve: Obviously this is celebrated in most places across the world and indeed throughout most of Chile, but – if you want to do it in style – head to the crazy colorful coastal gem that is Valparaiso to enjoy some huge fireworks and a great atmosphere by the sea.
What to Pack For Chile
Packing for your Chile adventure is especially important if you are trekking, and you need to be really well prepared for the intrepid.
At the very least you need to make sure you've got some technical clothing. A lot of different layers will help you balance your clothing for trekking whilst still allowing you to pack light. Make sure to pack a reliable windbreaker and rain jacket. Patagonia is known for extreme wind and weather change at a moment's notice.
Although you can hire some gear in Patagonia, it really is worth making sure you have at least some camping and trekking basics of your own. Save yourself some money!
If you know that you want to camp and trek for pretty much the whole trip than you may want to consider taking all your own gear, if this is the case, check out our links on the best tents, sleeping bags, and pads.
It is worth taking least one good shirt or dress for when you hit the big cities and want to go out for a drink. Most travelers, however, wear activewear as most people that choose to travel in Chile are here for the intrepid landscapes and adventure.
Somewhere to hide your cash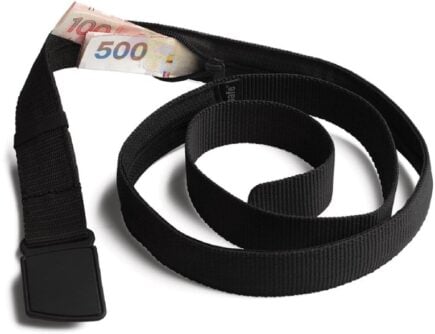 Somewhere to hide your cash
Travel Security Belt
This is a regular looking belt with a concealed pocket on the inside – you can hide up to twenty notes inside and wear it through airport scanners without it setting them off.
A travel water bottle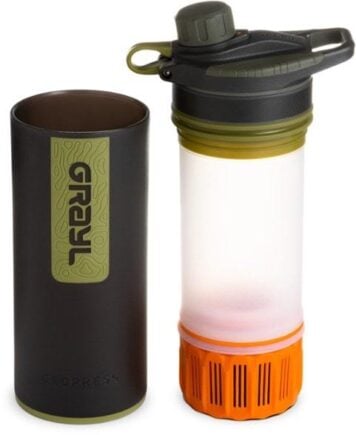 A travel water bottle
GRAYL Geopress Filtered Bottle
Having a filtered water bottle means you can drink from just about any source. The GRAYL Geopress is hands-down the most effective one we've ever used as well!
For those unexpected messes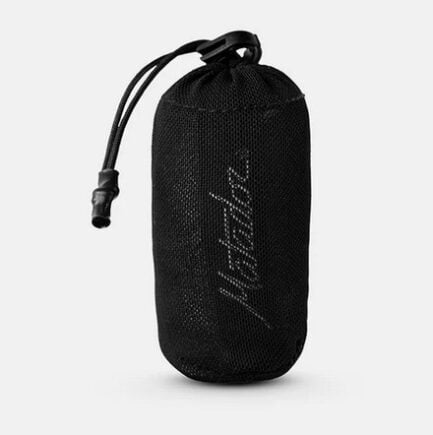 For those unexpected messes
Microfiber Towel
Hostel towels are scummy and take forever to dry. Microfibre towels dry quickly, are compact, lightweight, and can be used as a blanket or yoga mat if need be.
When the power goes out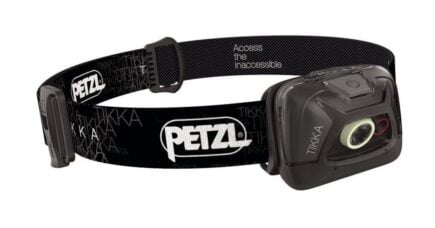 When the power goes out
Petzl Actik Core Headlamp
A decent head torch could save your life. If you want to explore caves, unlit temples, or simply find your way to the bathroom during a blackout, a headtorch is a must.
Sleep anywhere
Sleep anywhere
Camping Hammock
Taking a tent backpacking is not always practical but hammocks are lightweight, cheap, strong, sexy (chicks dig hammocks), and allow you to pitch up for the night pretty much anywhere.
To stay a clean backpacker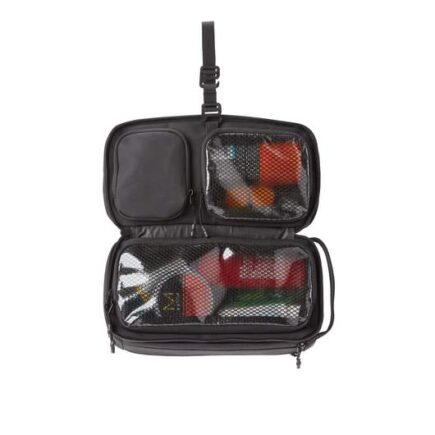 To stay a clean backpacker
Hanging Toiletry Bag
I always travel with a hanging toiletry bag as it's a super-efficient way to organize your bathroom stuff. Well worth having as it helps to have quick access to all your stuff.
Staying Safe in Chile
So how safe is Chile to visit? Backpacking in Chile is about trekking in the wilderness, so your real safety concerns become more about your wild survival skills!
However, South America on the whole gets a bad rap for safety. Yes, you always have to be careful when travelling, but Chile really isn't that dangerous for travellers. The real pinch points are when you're wasted late at night trying to find your hostel.
Try to avoid being out by yourself, wasted and lost! Find a travel drinking buddy, or stick to your hostel.
Don't flash your cash, you know the drill! If you are savvy and don't get caught up in rough urban area you will most likely be fine.
For more general advice, check out these articles: A backpacker security belt to keep your cash safe on the road is always a good idea. If you are a bit newer to travel check out Backpacker Safety 101 for tips and tricks to stay safe whilst backpacking Chile. This post for plenty of ideas on ingenious ways to hide your money when travelling.
I strongly recommend travelling with a headlamp whilst in Chile (or anywhere really – every backpacker should have a good head torch!). This is, however especially important when you're camping and hiking a lot! Check out Will's post for a breakdown of the best value headlamps to take backpacking.
Sex, Drugs, and Rock 'N' Roll in Chile
Chiliens are known for their wine, and for good reason! You can pick up some pretty good stuff at low prices everywhere across Chile. If you want something a bit stronger than Pisco will be your drink!
The cities are where the parties are! As you may imagine the capital, Santiago, has great nightlife. Most hostels will point you in the right direction.
Dancing is a large part of Latin culture across South America, so you're going to have to let go of those inhibitions and get into the latin vibe if you want to party like the locals.
Many night clubs will stay open until the early hours of the morning. If you happen to be in a closing nightclub, there is always someone who knows where the next stop is. As always, where there are all night parties, there is a lively drinking and drug scene…
Travel Insurance for Chile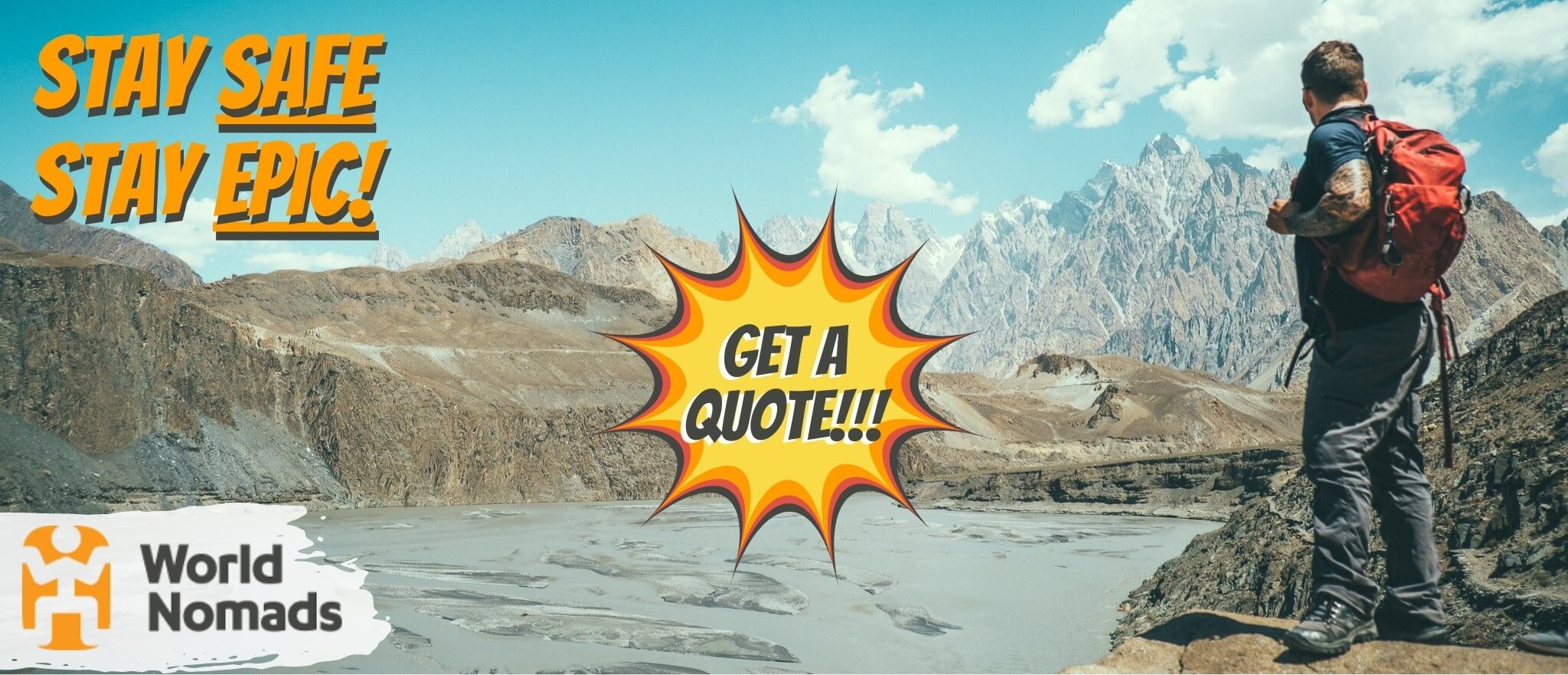 World Nomads' mission is to support and encourage travellers to explore their boundaries. They offer simple & flexible travel insurance, and safety advice to help you travel confidently.
They've been doing it since 2002 – protecting, connecting, and inspiring independent travellers just like you.
Get a quote below or read our in-depth review!
World Nomads provides travel insurance for travelers in over 100 countries. As an affiliate, we receive a fee when you get a quote from World Nomads using this link. We do not represent World Nomads. This is information only and not a recommendation to buy travel insurance.
How To Get Into Chile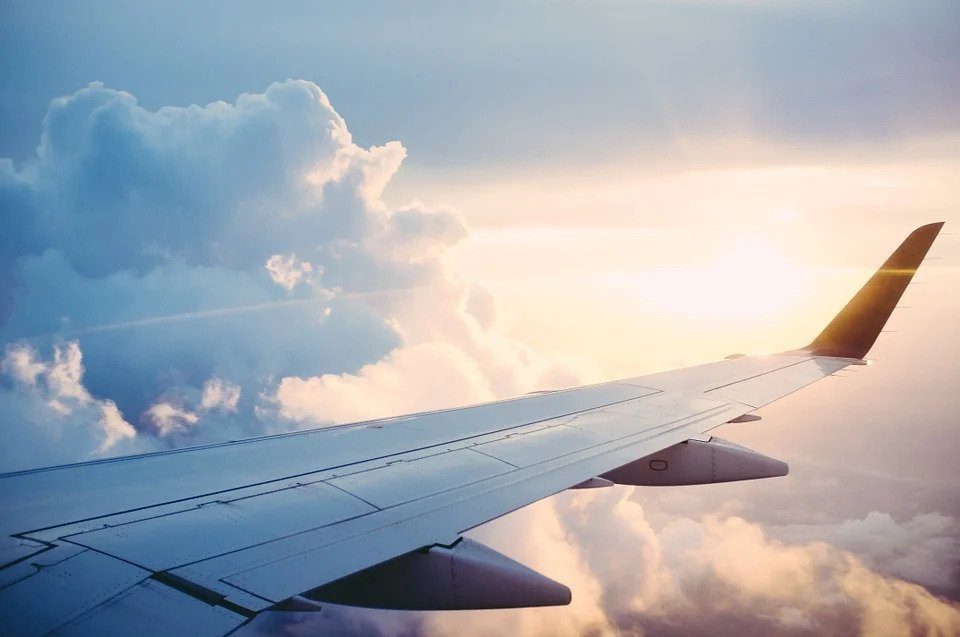 Most people will either be arriving in Santiago via a flight or coming overland from Argentina or Bolivia. If you are flying into the airport, you can get to the city centre by taxi, shuttles buses, or the metro.
Many people traveling from Patagonia via bus will most likely head to Osorno. Those travelling from Patagonia via boat will most likely head to Puerto Montt.
If you are travelling down to Chile from Bolivia, you can cross the border as part of a salt flat tour, or just take an overland bus.
Entry Requirements for Chile
The United Kingdom, along with most European countries, New Zealand and South Africa can get a 90 day tourist visa on arrival for free. Just make sure that you have a valid passport with at least 6 months left on it.
In the past, the U.S, Canada and Australia have been charged various steep 'reciprocity fee' and at the point of writing, they still do. However, there is much talk of them being taken away. It all comes down to politics and what the country in question is charging them to visit.
For Chile, you really do need to contact your own local embassy to see what the latest information is. I've found that this website can help give you a good idea, but you must check it against your own embassy information.
Note: Chile goes through bouts of checking for yellow fever cards. They are not that frequent, but they do have them, so make sure you have a yellow fever card if you are coming from a country with the Amazon.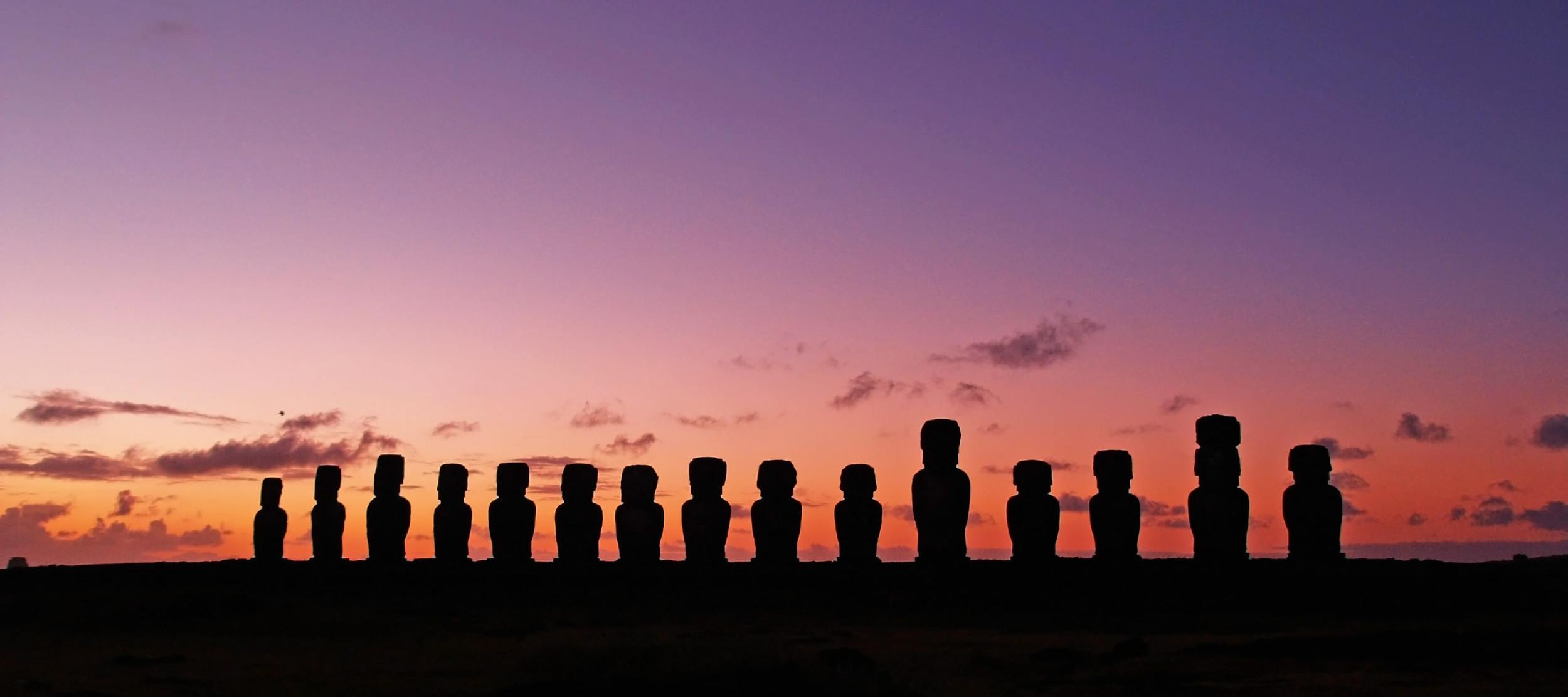 Forget boring accommodation… book yourself an EPIC STAY!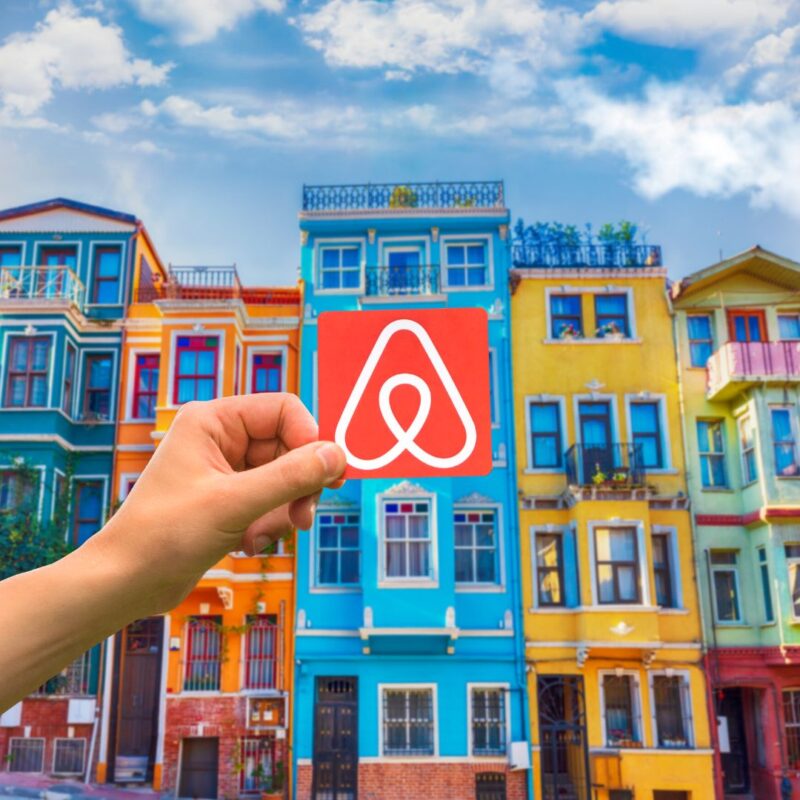 Why stay in a naff hotel when you can stay in a cosy, stylish local house instead? And for half the money too!
Stay somewhere EPIC and save your hard-earned dollars — from houses to barns to castles and caves, there is an Airbnb for every occasion!
Book an EPIC Stay
How To Get Around Chile
Once you are in Chile, public transport is pretty well set up. The major cities have reliable bus systems and in some cases a decent metro line too.
Traveling by Public Transport in Chile
If you want to cover long distances, you can take some impressively comfortable overnight buses in Chile. Many of them have serious safety measures, huge comfortable chairs, meals on board, and they're pretty affordable. This is just as well as internal flights are generally expensive in Chile and not really a good option for budget travellers.
You'll be happy to hear that Chile is also well set up for taking buses overland into neighbouring countries.
If you are heading really far south into Patagonia there are various ferry options for getting around. Puerto Montt is the main hub for this.
You can rent cars across Chile and when you get upto the Atacama there are even companies that rent out campers, so you can chip in with a few travel buddies and go off on an adventure together.
Hitchhiking in Chile
Locals around Patagonia and the Atacama tend to be pretty sweet about picking up hitchhikers. Based on this I would imagine hitching to be fairly easy in most remote areas. As usual, it is really hard once you're near the cities. Make sure you write your signs in Spanish. Very few people speak English in Chile.
Generally, you can get away with wild camping all over Chile and it really is one of the best ways to experience the natural wild beauty of the country. The exception is Patagonia's National Parks, where you must stick to the official campsites on the main trails in Patagonia, but there are quite a few free options.
For more hitchhiking tips, check out Will's hitchhiking 101 post.
Use Bookaway to find the best deals on transport – buses, planes, trains, and ferries. It'll save you a load of time when organising transport and you'll probably nab an EPIC DISCOUNT too!
Book your transport on Bookaway NOW. Get the best price for the best ride… then use those savings to buy the best feed in town!
Book Your Transport Here!
Onwards Travel from Chile
The capital, Santiago, is your best shot at flying out on the cheap, but in many cases you are best travelling overland.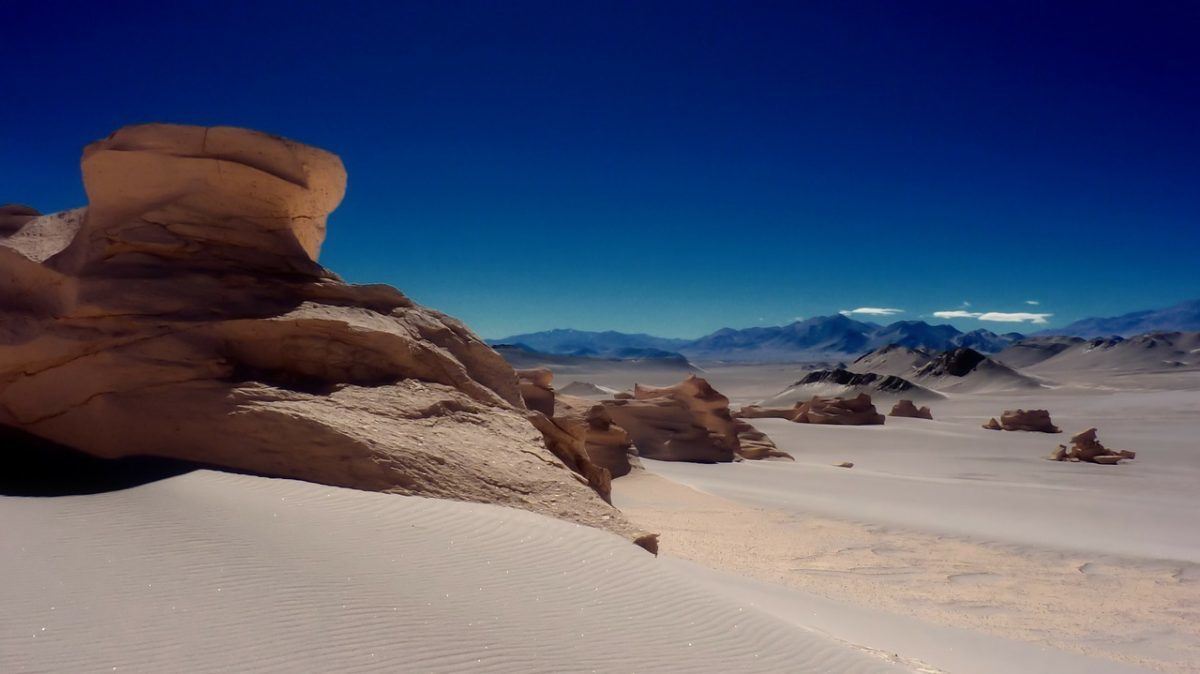 Onwards travel from Chile is pretty easy, there are loads of overland crossings into Argentina all the way up the country. If you reach the top and want to backpack through Bolivia, you can either get a bus or go across the salt flats as part of an overland tour. This cost around $120, takes 3 days and it's awesome!
Working in Chile
Chile enjoys relative stability and one of the strongest economies in South America. The average salary is $27k per year which is almost on a part with some western countries. As such it does attract migrant workers from all over Latin America. There are also expat roles available in Oil, mining, engineering and as well as English teaching jobs.
The Future of the SIM Card is HERE!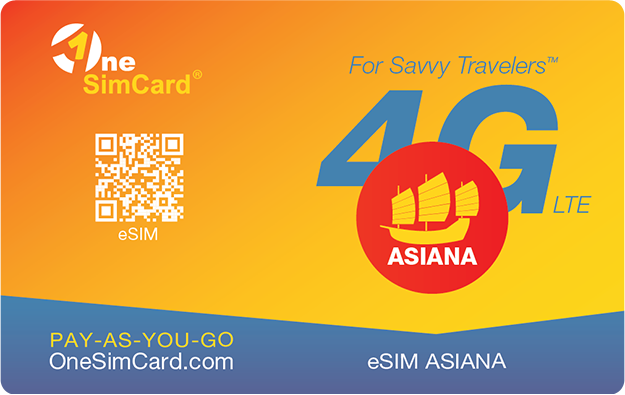 A new country, a new contract, a new piece of plastic – booooring. Instead, buy an eSIM!
An eSIM works just like an app: you buy it, you download it, and BOOM! You're connected. It's just that easy.
Is your phone eSIM ready? Read about how e-Sims work or click below to see one of the top eSIM providers on the market and ditch the plastic.
Buy an eSIM!
Work Visa's in Chile
There are a number of different work visa's available for Chile. The type an applicant needs varies depending on the nature of their employment. However, in all cases Visa applications can only be made once a job offer has been obtained.
Chile does also offer an Independent Worker Visa designed for contractors – this may be awarded to would be Digital Nomads but we don't have any first hand knowledge of anybody obtaining one.
Teaching English in Chile
In order to teach English in Chile, most teachers will require a bachelor's degree, and many schools prefer TEFL or CELTA certification. The average salary for teaching in Chile is $500 – $800 per month.
Volunteer in Chile
Volunteering abroad is an amazing way to experience a culture whilst helping your host community. There are plenty of different volunteer projects in Chile including teaching, construction, agriculture and pretty much anything.
Chile offers lots of opportunities for backpackers to offer up some time and skills and give something back to the community. There are plenty of 'bread and board' gigs in hospitality, as well as opportunities to work in animal care and conservation. A tourist visa is sufficient for most nationalities to volunteer for up to 90 days, but long-term travelers will need to apply for a temporary resident visa.
If you want to find volunteering opportunities in Chile, then we recommend that you Signup for Worldpackers – a volunteer platform that connects local hosts directly with traveling volunteers. As a Broke Backpacker reader, you'll also get a special discount of $10 when you sign up. Just use the discount code BROKEBACKPACKER and your membership is discounted from $49 a year to only $39.
Volunteer programs run through reputable work exchange programs like Worldpackers are usually very well-managed and reputable. However, whenever you are volunteering, do stay vigilant especially when working with animals or children.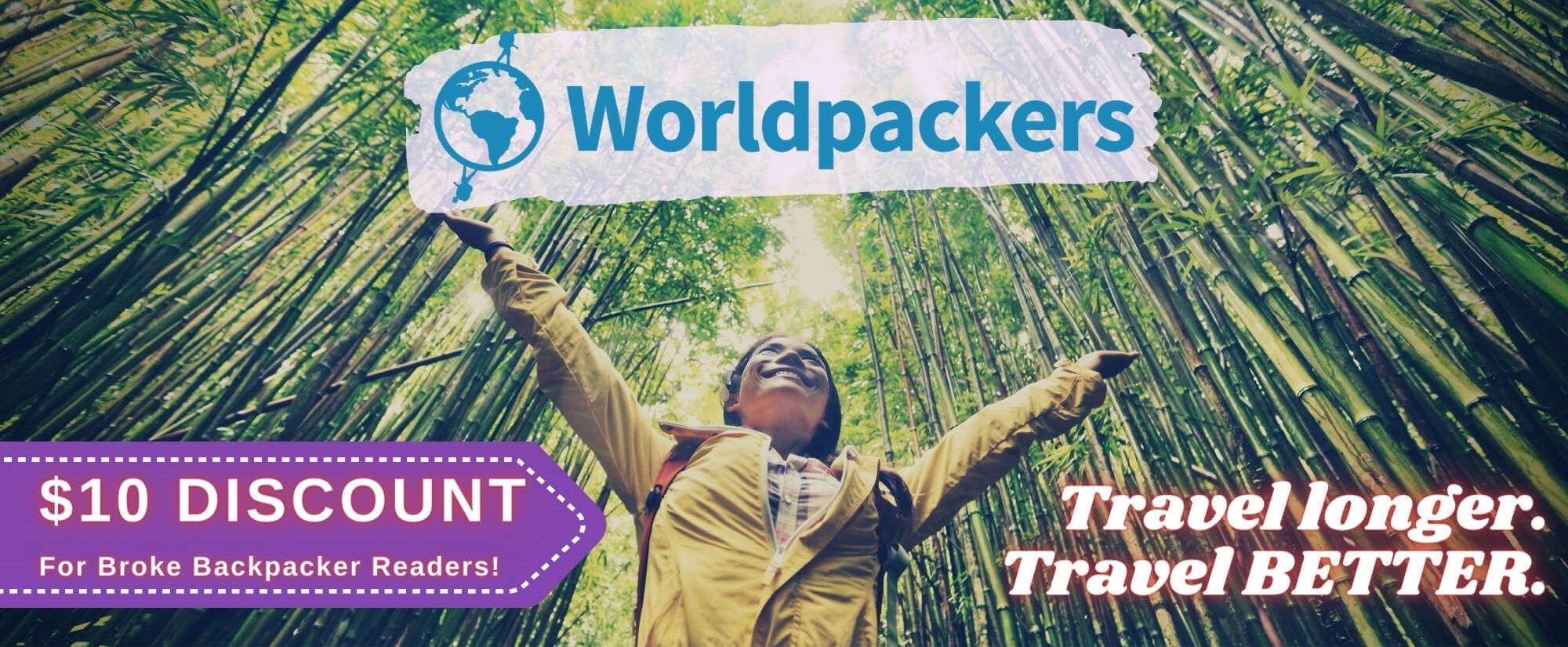 Worldpackers: connecting travellers with meaningful travel experiences.
What To Eat in Chile
There are many types of places to ear in Chile.
For those on a budget, the random street vendors are the cheapest way to eat.
If you're on a budget but don't fancy cooking, keep your eyes open for interesting hole-in-the-wall food joints. We found quite a few run-down looking places in more urban areas serving simple rice and chicken ranging from $4 to $6.
There are also plenty of creative cafes that serve great coffee and sandwiches all over the bigger cities. Check out the standing coffee shops, which as the name suggests means you stand at tall tables whilst you have a coffee.
If you want to splurge, there are many high end restaurants serving gourmet food and great wine. There tends to be a great mix of both European and Chilean food.
Traditional Chilean Dishes
Empanadas: You will see these all over South America. They are somewhere between a baked pie and pastry, often filled with veg, cheese, olives or whatever they can find.
Churrasco and Chacarero: Basically a local steak sandwich often served with avocado, tomato and mayo.
Completo: AKA a guacamole hot dog. These hot dogs are piled high with all sorts of sauces and salad. They're pretty tasty!
Porotos Granados: This is basically a bean stew made with fresh ingredients, more often served in the summer months.
Chorillana: This dish is originally from the colourful coastline of Valparaisó. It's basically steak, spicy sausage, onions, fried eggs, and fries.
Fried Chicken: Doesn't exactly sound like a dish, but they have it everywhere and often use different spices to make the grease taste better.
Humitas: This is a real staple across South America. It is basically crushed corn steamed in a husk.
Types of Traditional Chilean Drinks
Wine: Chile really is home to some of the best wine in the world. The red in particular is world class!
Pisco: This is white brandy with a distinctive taste, pretty good on its own and even better in cocktails.
Terremoto: This is Chile's national cocktail, which translates as "Earthquake." It is made up of cheap white wine, pineapple sorbet and grenadine.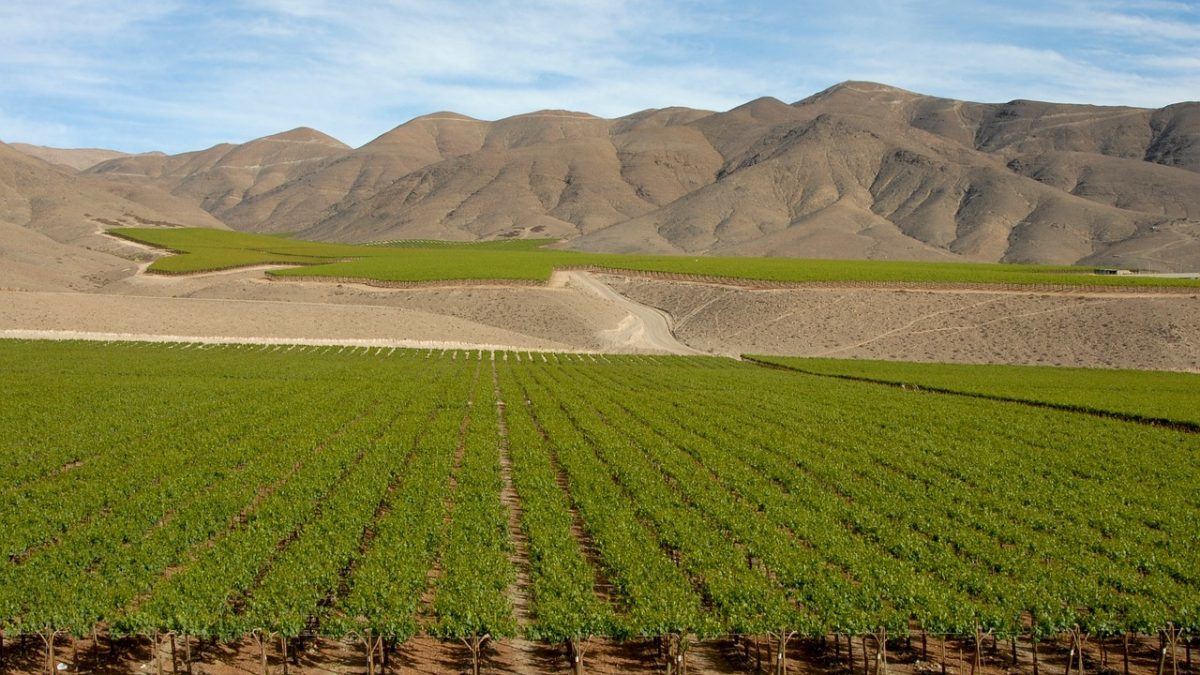 Chilean Culture
It is really important to know at least a little Spanish to connect with the locals in Chile. Outside of your hostel and specific tourist places you will find English is limited.
Even if the locals you are hanging out with do speak English, it seems to mean a lot to them if you can at least attempt to speak their language.
Chileans are warm, kind, hospitable, and often eager to help you. It's also worth noting, they tend to be confident, passionate people, and sometimes this can come across as intense, but this really is just cultural.
Useful Travel Phrases For Backpacking Chile
Chileans speak Spanish, though with a notorious accent. I've listed some helpful Spanish travel phrases below.
Hello – Hola
Nice to meet you – Encantada de conocerte
How are you? – Cómo estás?
Good morning – Buenos días
Good afternoon/evening – Buenas tardes
Goodnight – Buenas noches
Thank you – Gracias
Please – Por favor
My name is… – Me llamo… 
Help! – Ayuda
Goodbye – Adiós
No plastic bag – Sin bolsa de plastico
No straw please – No paja por favor
No plastic cutlery please – No hay cubiertos de plástico por favor
Sorry – Lo siento
Do you speak English? – Habla usted Inglés?
Cheers! – Salud
How much is it? – Cuánto cuesta?
I don't understand – No entiendo
Books to read while Backpacking Chile
Below I've listed some great books set in Chile.
A Brief History of Chile
Chile has been populated since at least 3000 BC. Some sources, however, claim that the first people arrived in Chile around 12,000BC!
During the 16th century, the Spanish invaded and colonized the region. This is where Chile gets most of its architecture from. In fact, you can experience Spanish influence in the food, some traditional dress, and certainly in the language!
There was some impressive indigenous resistance to this colonization, especially in what we now refer to as Patagonia. However, most of Chile became a Spanish colony between 1540 and 1820.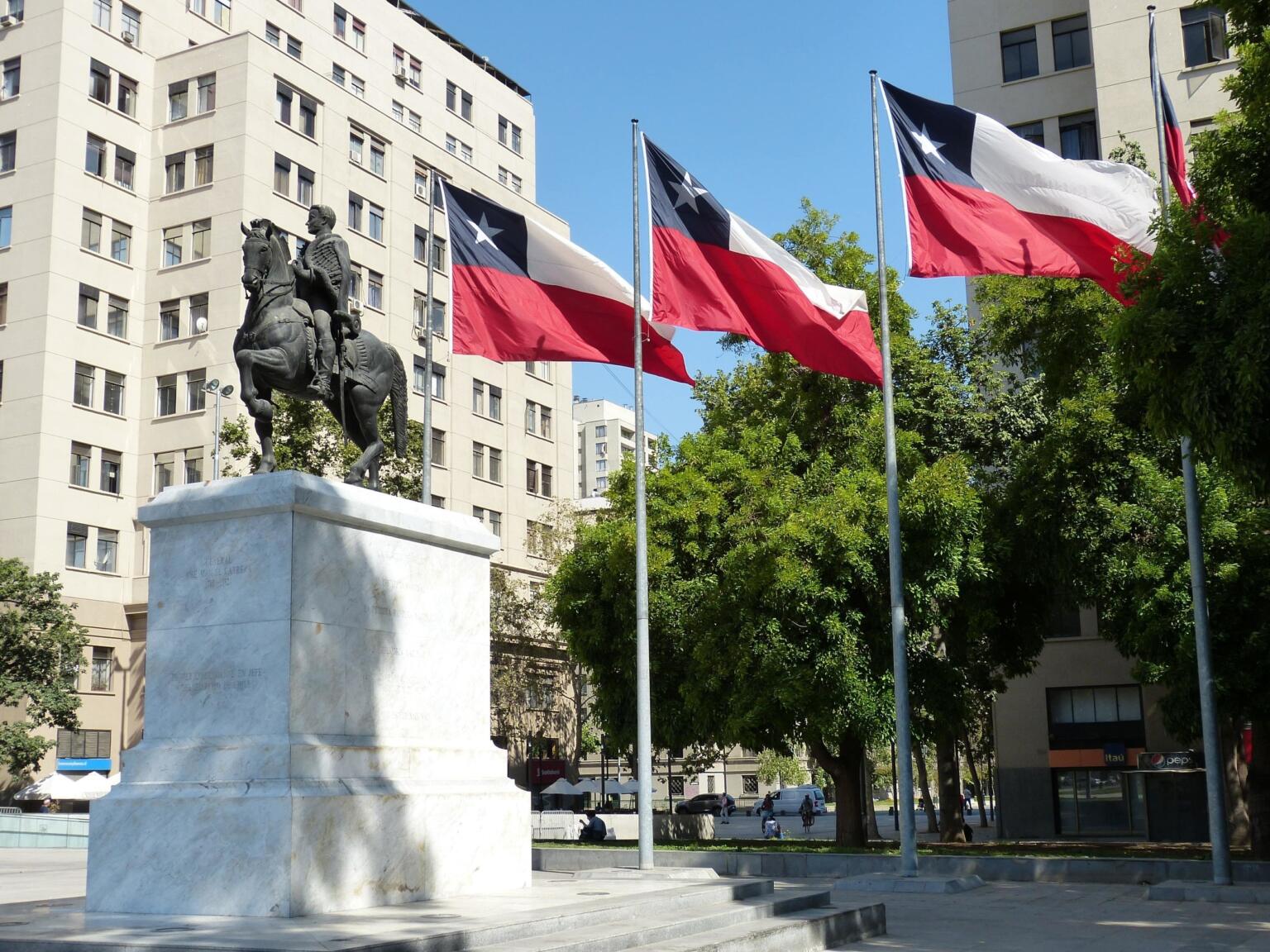 They were officially independent from Spain on September 18, 1810.
Much of Chile's recent history is defined by the repressive Pinochet dictatorship from 1973 – 1990. His military coup was largely successful because of CIA assistance. He remained in a position of power until 1998, committing human atrocities and leading a brutal dictatorship.
Some Unique Experiences in Chile
DON'T DIE OUT THERE! …Please 🙂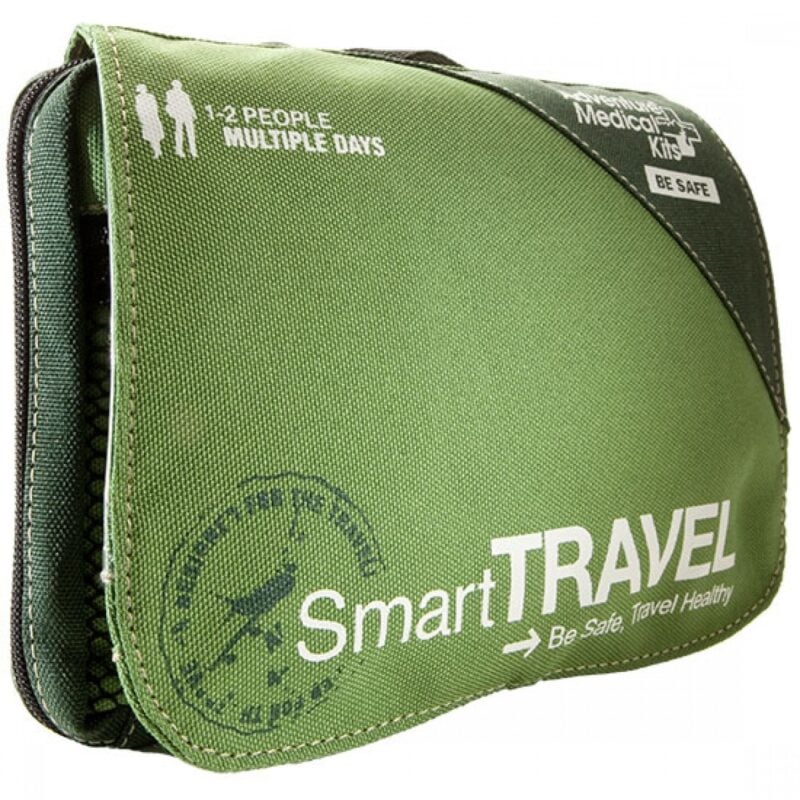 Things go wrong on the road ALL THE TIME. Be prepared for what life throws at you.
Buy an AMK Travel Medical Kit before you head out on your next adventure – don't be daft!
Buy on REI
Trekking in Chile
Home to Patagonia, Chile is one of the best countries to visit in the world for hikers, mountaineers, and climbers. The possibilities are absolutely endless in Chile. I've listed 5 of the best hikes in Chile below:
1. The "W" Trek in Torres del Paine National Park – This park is home to the most popular trail in Chile, if not the world! The "W" trek takes 5-7 days, hitting all of the best views in the park. For more of a challenge, you can trek the "O" or "Q" trek, which combines the "W" with a full circuit over 7-10 days.
2. Trekking in the Atacama Desert – The driest desert in the world includes a mixture of salt lakes, sand, and lava flows. There are also plenty of natural hot springs to soak your feet after a hard trek!
3. El Morado Glacier trek – The best day hike if you want to get up close to some glaciers. It is also a lesser known route in Chile, so you will run into less crowds.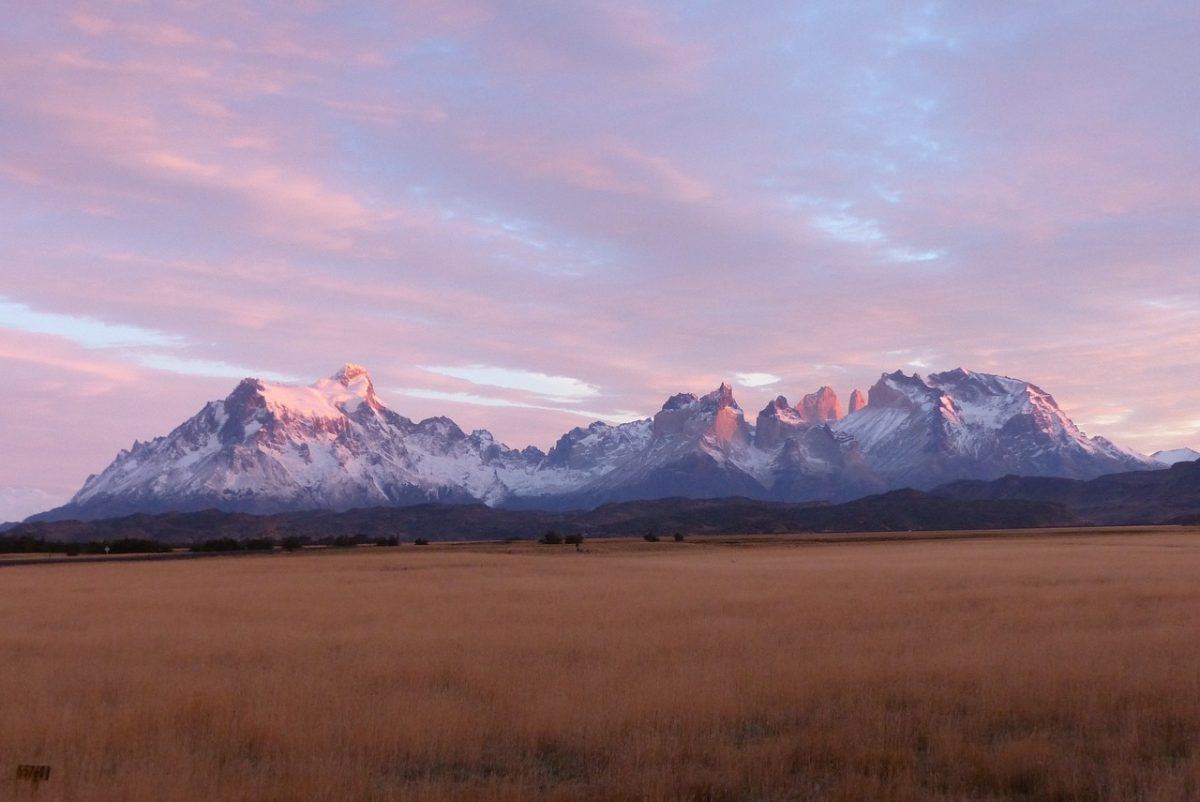 4. Grey Glacier in Torres del Paine National Park – This is a great trek that will allow you to hike over a glacier!
5. The Cerro Castillo Circuit – This is the perfect multi-day hike to get off the beaten path, complete with views of glaciers and lagoons. Be prepared, however for technical mountain passes. If you don't have experience, we recommend hiring a guide.
Diving in Chile
Chile isn't typically known for it's diving, although due to its long coast, there are many places that you can explore.
By far the most impressive, iconic and interesting place to dive is Easter Island. The visibility is fantastic and there is plenty of sealife to see.
The main thing that steals the show though has to be the giant sunken Moai head. Yes, that's right you can actually see one of the giant iconic heads as part of a dive!
Joining an Organized Tour in Chile
For most countries, Chile included, solo travel is the name of the game. That said, if you are short on time, energy, or just want to be part of an awesome group of travelers you can opt to join an organized tour. Joining a tour is a great way to see a majority of the country quickly and without the effort that goes into planning a backpacking trip. However—not all tour operators are created equal—that is for sure.
G Adventures is a solid down-to-earth tour company catering to backpackers just like you, and their prices and itineraries reflect the interests of the backpacker crowd. You can score some pretty sweet deals on epic trips in Chile for a fraction of the price of what other tour operators charge.
Check out some of their awesome itineraries for Chile here…
Final Advice Before Backpacking Chile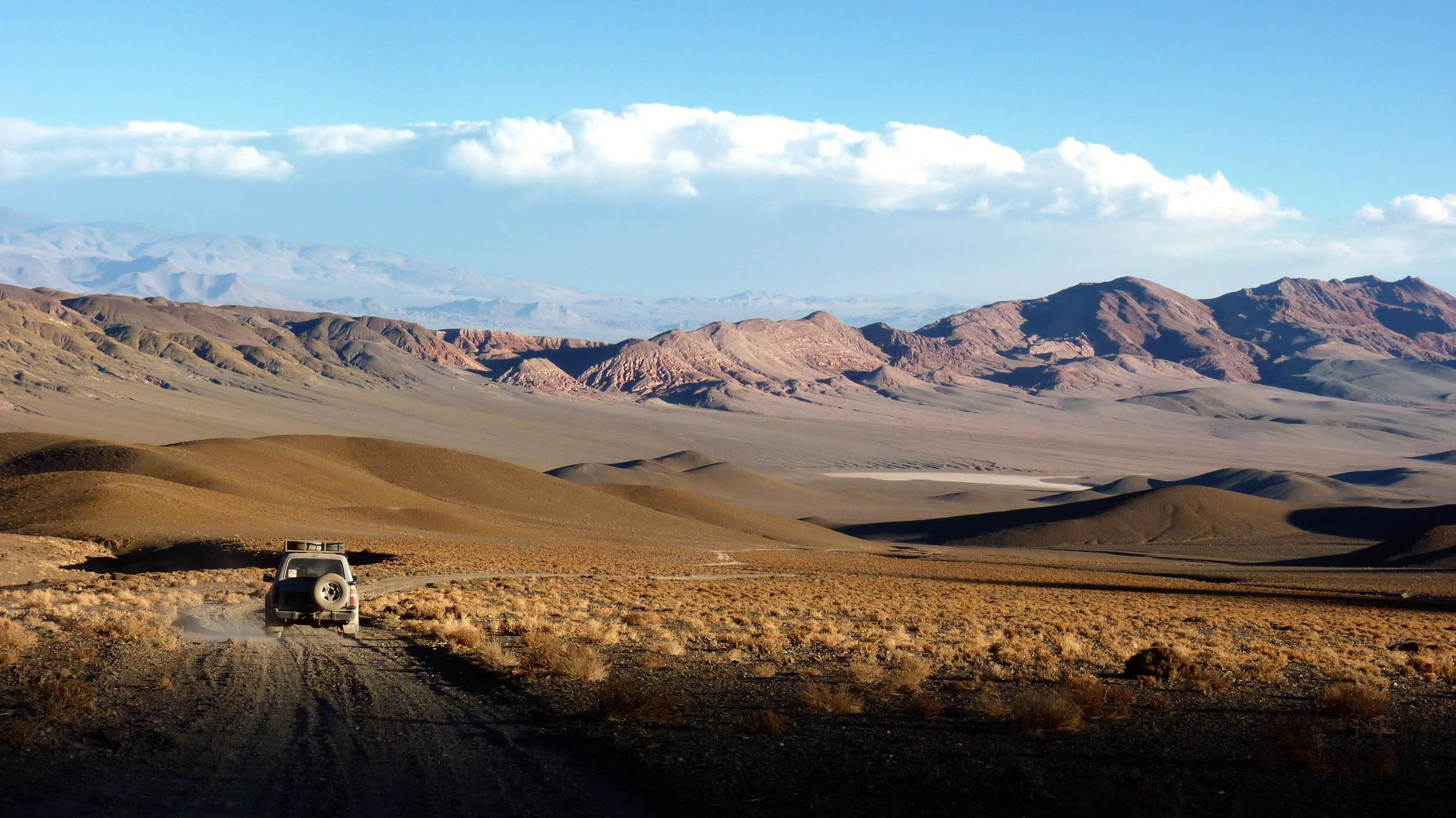 For me, Chile is all about intrepid adventures, getting out into the wilderness, and exploring landscapes straight from the Discovery Channel.
There is a rich Latin culture here that you can indulge in, but to be honest, you can get lot of this culture all over South America. Chile is beautiful and interesting in its own right, but it also requires resourcefulness to get around on a budget. In Chile you get what you put in. You have to be brave, pack your camping gear, and get out into the wild if you really want to see what makes Chile special!
No matter how little time you have in Chile, make sure you get to at least one national park … and down at least one – no 6 -bottles of local wine!
Being a Responsible Backpacker while Backpacking Chile
Go and watch A Plastic Ocean on Netflix – it'll change how you view the plastic problem in the world; you need to understand what we are up against. If you think it doesn't matter, get off my fucking site.
Don't pick up single use plastic bags, you're a backpacker – take your daypack if you need to go to the shop or run errands.
Bear in mind, that many animal products in countries you travel through will not be ethically farmed and won't be of the highest quality. I'm a carnivore but when I'm on the road, I only eat chicken. Mass-farming of cows etc leads to the rainforest being cut down – which is obviously a huge problem.
Need more guidance? – Check out our post on how to be a responsible backpacker.
My biggest advice is to just be respectful to the local people and their culture. It's not more complicated than that! Be kind and conscientious. If you are camping, make sure you take care of wherever you pitch and leave no trace behind!
Show the historical and archeological sites respect too, don't be like the Dutch idiot who tried to cut an ear off one of the big heads on Easter Island and got charged $17,000!
---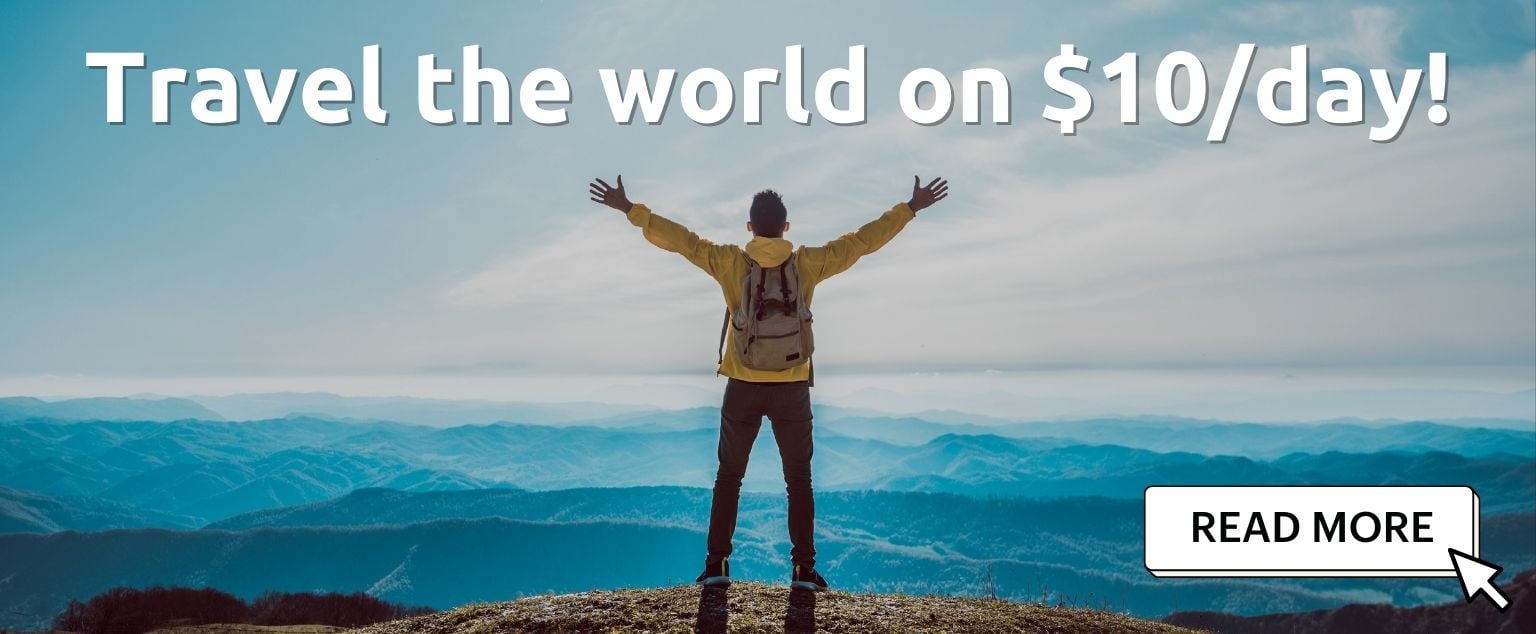 And for transparency's sake, please know that some of the links in our content are affiliate links. That means that if you book your accommodation, buy your gear, or sort your insurance through our link, we earn a small commission (at no extra cost to you). That said, we only link to the gear we trust and never recommend services we don't believe are up to scratch. Again, thank you!