Buenos Aires is best known as the capital of Argentina. While it is home to the country's financial center and numerous political structures, the city also has a fun side to it. With its riverside location, rich history, and proud traditions, Buenos Aires is a truly cosmopolitan city!
Whether you're a foodie searching for churros and Mendoza wine or a devotee following in the footsteps of Evita Person, there's sure to be something incredible for you on our Buenos Aires itinerary!
Street markets, tango dance meetings, and regular protests make Buenos Aires a vibrant city full of passion! This spirit is what draws so many tourists to its shores. You can pat yourself on the back for having chosen to travel to such an amazing destination!
Knowing when to visit Buenos Aires is an essential part of planning your vacation. Although the different seasons bring slight variations in temperature, the city's climate is never so bad that you shouldn't visit at a particular time!
December to March is peak season. If it's a vibrant atmosphere and free events that you're looking for, plan your trip to Buenos Aires during this period. However, you'll have to share the city with the crowds which also means higher prices!
July to August is the off-peak season. The weather is quite cold and the city experiences the most rainfall during this period. However, if you can endure the weather, you'll probably have all the great Buenos Aires attractions to yourself! Most landmarks remain open and prices are much lower.
The best time to visit Buenos Aires, though, is during the shoulder season. This means during spring or fall. The crowds won't arrive until December, which makes the prices much more affordable!
As the Argentinean capital, Buenos Aires is a massive city with over 40 districts and a population of around 13 million! It's easy to be overwhelmed when you're looking for where to stay in Buenos Aires but that's why we're here! This Buenos Aires itinerary will ensure that you stay in the most convenient area!
If this is your first trip to Buenos Aires, look no further than Recoleta! It's a charming district that's full of some of the most beautiful architecture you'll find in the city!
The Recoleta Cemetry, the National Museum of Fine Arts and the National Library are some of the Buenos Aires points of interest in this neighborhood. Additionally, it's easy to walk around, making it the most convenient area in the city.
However, if you're looking for a more alternative place to base yourself, Villa Crespo is your best bet! It's a fairly middle-class area that's close to many attractions on our Buenos Aires itinerary. Even so, it's very cool and authentic. You can expect to find street art, leather workshops and trendy eateries in this district.
If you're visiting on a budget, staying at one of Buenos Aires hostels will be your best choice. However, there are many other accommodation options around. We've listed the best ones.
Reina Madre is definitely the best place to stay in Buenos Aires if you're on a budget! It's a family-run hostel with a welcoming atmosphere. There are three common rooms and a gorgeous rooftop garden for socializing. The hostel even hosts Spanish classes!
Spend time in the city's buzzing center in this light and airy studio apartment. Perfect for two people, this apartment is stylishly decorated with a clean and modern kitchen, dining table and newly renovated bathroom.
Enjoy unwinding after a busy day sightseeing by relaxing on your very own balcony and taking in views of the city's skyline.
Best Budget Hotel in Buenos Aires – Hotel La Piedad
Hotel La Piedad is all about value for money! It has a stellar location, just a few minutes' walk from attractions like the Obelisk! There are no frills in the rooms but they are spacious and clean. Additionally, the staff is friendly and welcoming!
Best Luxury Hotel in Buenos Aires – Alvear Art Hotel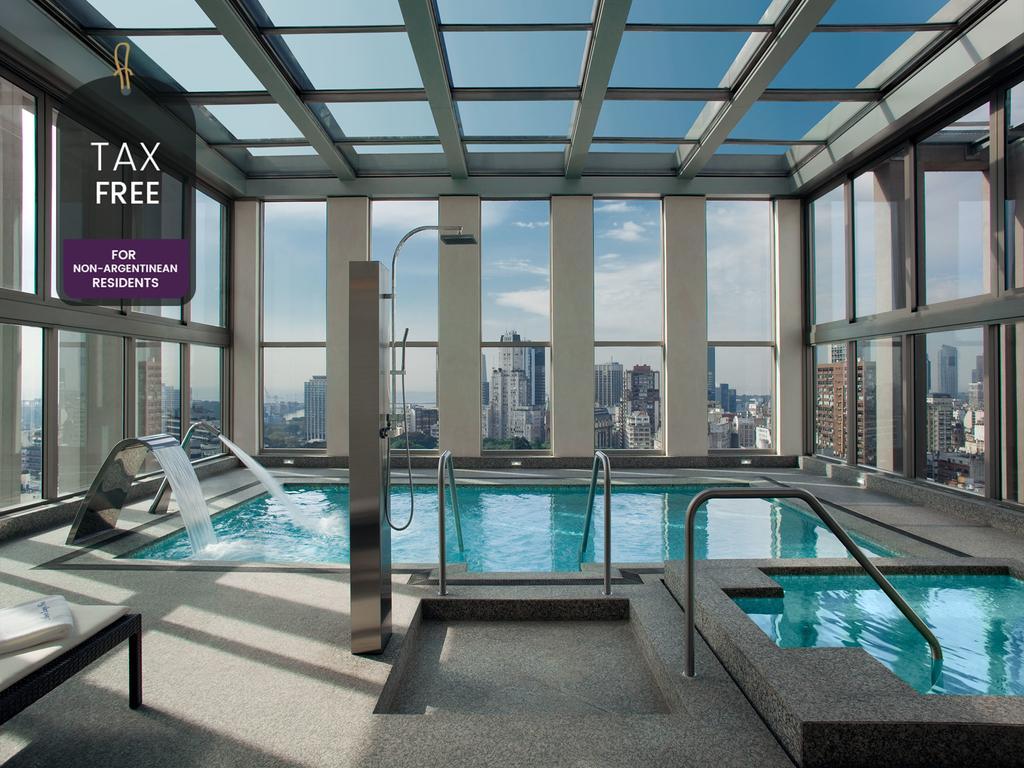 Without a doubt, Alvear Art Hotel is the best place to stay in Buenos Aires! It's impossible to fault this 5-star hotel which is the heart of the city, right next to the historic Plaza San Martin. Look forward to marble bathrooms, panoramic views, and delicious cuisine!
From exploring galleries of local art to tucking into an Argentinean steak, there are numerous amazing things to do in Buenos Aires. No matter how many days in Buenos Aires you spend, you can easily customize our itinerary to ensure that you see the best of the city.
It's super easy to get around Buenos Aires, thanks to the city's efficient transport network! There's a handy app, BA Cómo llego? that helps commuters find their way around by car, public transport or walking.
The bus and metro (known in Spanish as subte) are the best forms of public transport. To use them, you need to buy a SUBE card. You'll find them at subte stations, tourist offices, and kiosks throughout the city. The metro is the easiest way to travel longer distances, with trains running every three to ten minutes, depending on the line!
You can also get around our Buenos Aires itinerary by bike since the city has 124 miles of bike lanes! The city has a free bike-sharing service, BA Ecobici, that works through an app.
However, most Buenos Aires attractions are within walking distance of each other, so it's rare that you'll need any form of transport!
Teatro Colon Opera House | 9 de Julio Avenue & the Obelisk | Plaza de Mayo | Galería Güemes at Florida 165 | Tango Show
The first day of your itinerary for Buenos Aires will take you around the city's key landmarks and introduce you to the passionate tango culture. Put your walking shoes on!
Day 1 / Stop 1 – Teatro Colon Opera House
Why it's awesome: The entire interior seems to sparkle with decadence!
Cost: The entrance fee is $17 USD and includes a 50-minute guided tour.
Food nearby: Cueva de Cafe is just a few minutes away from the theater and serves great coffee and tea!
Teatro Colon Opera House is the brightest star amongst the stunning buildings on Lavalle Square! The sheer opulence and amount of detail make it one of the highlights of any Buenos Aires itinerary!
Teatro Colon first opened in 1857, but by 1889 it was no longer up to standard! Therefore, the city began work on the current theater which has been lovingly restored to its full glory. As beautiful as the final result is, the building is actually a mishmash of different styles since three different architects worked on it! Between 1889 when work began and 1905 when the theater opened, architectural tastes had changed, so there's an eclectic mix of Italian and French features!
The main theater is the highlight. It's as wide as an entire city block and is as tall as seven stories! It can seat 2478 people! It's widely considered to be one of the best opera houses in the world and the performances are of a very high standard.
There are guided tours every fifteen minutes, from 09:00 to 17:00, unless there is a show running. While you're there, grab a program of what's on — maybe you'll find something for your evening entertainment!
Day 1 / Stop 2 – 9 de Julio Avenue & the Obelisk
Why it's awesome: These two places are true icons of the Buenos Aires skyline!
Cost: Free!
Food nearby: El Vesuvio has a great variety of sweet and savory snacks, such as ice cream and churros!
9 de Julio Avenue is one of the busiest roads in Buenos Aires and has been named after Argentina's day of independence. At the heart of the avenue is the Obelisk, one of the most iconic Buenos Aires landmarks!
9 de Julio was once the widest avenue in the world! Although it lost that title, the seven lanes running in each direction is still an impressive sight!
Just two blocks away from Teatro Colon, at the intersection of 9 de Julio Avenue and Diagonal Norte is a staircase that leads to a viewing platform. From here, you can get amazing photos of the traffic below and of the towering Obelisk!
The Obelisk was built in 1936 to mark 400 years since Buenos Aires was founded. It took just 31 days to build this modernist monument that has become a gathering spot for sporting celebrations and protests.
Remember to come down from the viewing platform and head towards the small square around the Obelisk. Here, there is a huge 'B A', made out of landscaped plants, which represents Buenos Aires. It stands in front of the Obelisk and is the setting for some of the most popular tourist photos!
Finally, take a stroll down 9 de Julio Avenue. The majestic French Embassy, the statue of the Iguazu Falls (one of the seven Natural Wonders) and the statue of Don Quixote (a gift from Spain on the celebration of Buenos Aires' 400th birthday) are some of the highlights!
Day 1 / Stop 3 – Plaza de Mayo
Why it's awesome: This monumental square has been the historical heart of Argentine politics!
Cost: Free!
Food nearby: London City serves a great variety of international dishes.
Plaza de Mayo is the center of Buenos Aires that pulsates with energy! It's also surrounded by stunning buildings, meaning you must put it on your itinerary for Buenos Aires!
Plaza de Mayo is a popular site for demonstrations. In the 1970s, around 30,000 people disappeared under the rule of a military dictatorship. Their mothers and grandmothers began protesting in Plaza de Mayo and became globally known as 'Las Madres de Plaza de Mayo'. This impassioned group continues to march weekly in the square!
Casa Rosada is the centerpiece of this historic square and something you must visit when you travel to Buenos Aires! This beautiful pink palace is the official office of the Argentinean president. It's well-known for the passionate speeches of Evita and Juan Peron and featured in Evita, the film that starred Madonna in the leading role!
Casa Rosada's iconic facade is a must-see but you can also visit the interior, if you're here on a Saturday and book 15 days in advance.
The Metropolitan Cathedral is one of those sites you must visit while touring Buenos Aires! Unusually for a cathedral, its shape is like an Ancient Greek temple. However, its lavish interior can rival those of Europe's best cathedrals! The highlight of a visit here is that San Martin, the liberator of many Latin American countries, is buried inside.
Insider Tip: For a gorgeous view of Plaza de Mayo, head inside the Cabildo. It's at the end of the plaza opposite Casa Rosada. Find the second-floor balcony which provides a beautiful vista of the plaza below! You may also wish to explore the Cabildo itself which was the center of Spanish colonial rule in the city. It's free!
Day 1 / Stop 4 – Galería Güemes at Florida 165
Why it's awesome: Views, views, views!
Cost: Entrance is around $3 USD.
Food nearby: In a country of avid meat-eaters, good vegetarian food is a treasure! Granix, in Galería Güemes, has one of the best vegetarian offerings in the city.
Florida Street started off as a muddy path from the river in the 16th century but it is now one of the major shopping districts in Buenos Aires. Galería Güemes is a shopping arcade that also boasts one of Buenos Aires' best viewing platforms!
Galería Güemes is one of the grandest sights on any Buenos Aires trip itinerary! It was designed by the famous Italian architect Francesco Gianotti. Although it's been damaged and repaired, it still boasts gorgeous art deco features! The wrought ironwork, arched ceiling, stained glass central dome, and granite walls are some of the architectural highlights!
The arcade has quite an illustrious history. Antoine de Saint-Exupéry, the famous French pilot and author of The Little Prince rented an apartment in the building, while Julio Cortázar was a frequent visitor and even featured the arcade in his stories!
At 286 feet tall, Galería Güemes was once seen as Buenos Aires' first skyscraper! If you take the elevator to the 14th floor, you'll reach the viewing platform. It's one of the cheapest in the city and offers fantastic panoramas of the city. On clear days and with binoculars, you can spot the coast of Uruguay!
Insider Tip: The viewing platform is only open in the afternoons, from 15:00 to 17:40, so come around after lunch!
Day 1 / Stop 5 – Tango Show
Why it's awesome: Passion and precision come together in this classic Latin dance!
Cost: Dinner and the show costs around $30 USD.
Food nearby: Tango shows normally take place in restaurants that include dinner in the show's cost.
It's easy to be left in awe by the imperious notes and flamboyant moves that characterize a tango! Tango originated from the Argentine-Uruguayan border and is a big part of local cultural history so make time for this iconic dance!
Watching a tango show over dinner is the perfect celebration of one day in Buenos Aires! Esquina Homero Manzi is the most authentic (by which we mean 'least touristy') locale in the city. It's such an important venue in the history of tango that the government has declared it a site of cultural importance! It's also much more affordable than some of the other tango shows marketed towards tourists.
El Querandi is another great venue. It's a small historic mansion that's hosted tango shows since 1920! The intimate venue means you get great views of the stage, wherever you sit. Most importantly, the singers are excellent and the costumes are gorgeous!
Tango Porteño is the venue that speaks most to the golden days of Buenos Aires! It's just a short walk from the Obelisk, in the heart of the city's nightlife scene. The building is actually a historic theater that boasts beautiful features and first-class dancers!
Insider Tip: If you're brave enough to want to dance the tango, then you need to attend a milonga! Dancers gather in public squares to dance and they're usually free, although you can donate. This is one of the loveliest things to do in Buenos Aires for couples! The San Telmo milonga at Plaza Dorrega is a great option!
National Historical Museum | National Museum of Fine Arts | La Recoleta Cemetery | La Boca | Argentine Steak and Wine Dinner
With 2 days in Buenos Aires, there is so much you can see! You can experience the city's best museums and some of its most vibrant attractions!
Day 2 / Stop 1 – National Historical Museum
Why it's awesome: This is hands-down the best introduction to Argentinean history you'll find on your itinerary for Buenos Aires!
Cost: Free!
Food nearby: For coffee and savory snacks, go to Hipopotamo Bar. Hierba Buena is a fantastic option for vegetarian snacks and meals.
The National Historical Museum is one of the best places to visit in Buenos Aires in 3 days, thanks to its extensive collections that bring Argentinean history to life! Its focus is on the Argentine War of Independence, but it does also illustrate precolonial history.
The museum is in a breathtaking pink palace that dates from Spanish colonial rule. It's surrounded by the lush oasis of Parque Lezamo which is worth strolling around, thanks to its laid back vibe!
In the precolonial collection, you'll learn all about the indigenous peoples of Argentina. There's a map showing the migration of groups around the region. You'll also find hunting weapons and clay vessels on display to explain the lifestyle of these peoples.
The museum devotes much of its collection to the May Revolution of 1810 that led to the Declaration of Independence in 1816. There are military uniforms, documents, portraits of the revolution's leaders, weapons and military standards on display. The Argentine flag taken to Peru by General Belgrano is one of the most valuable items in the collection! The series of battle paintings by Candido Lopez is another drawcard.
Several of the highlights in the museum revolve around José de San Martín, the military hero who helped liberate Argentina (as well as a few other Latin American countries). There's a recreation of his bedroom but the most precious item is the general's sword. It's guarded by soldiers and occupies pride of place in a collection of famous swords!
Day 2 / Stop 2 – National Museum of Fine Arts
Why it's awesome: This is one of the best fine arts museums in the world!
Cost: Free!
Food nearby: To enjoy views of the museum's sculpture garden, try Modena Design which serves a mean cup of coffee!
The National Museum of Fine Arts is a place that has to be on your Buenos Aires itinerary! It's home to Argentina's largest collection of fine art and, trust us, it's an impressive collection!
This museum's extensive permanent collection spans 34 halls, two floors, and almost 13 000 pieces! It has an amazing number of Argentinean and Latin American art but you can also look forward to European classics like Van Gogh, Monet, and Picasso!
Take the time to learn about local artists you may not be familiar with. Admire post-impressionist painter Pío Collivadino's La Hora Del Almuerzo (The Lunch Break), as well as Sin pan y sin trabajo (No Bread, No Work) by the realist artist Ernesto de la Cárcova.
The National Museum of Fine Arts also houses a public library that has 150,000 visual arts magazines, journals, and books! It's on the first floor and overlooks the sculpture garden which is also worth exploring.
The museum runs an active public participation program that includes workshops, seminars, and classes. There's also a lovely gift shop on the second floor that sells books about the city and the usual souvenir items but with prints from the museum collection!
Insider Tip: Captions for the artworks are in Spanish only so to fully appreciate the museum's collection, purchase an audio guide tour in English for about $8 USD. It's one of the best activities in Buenos Aires! If this kind of thing floats your boat, you can also take a guided sightseeing tour.
Day 2 / Stop 3 – La Recoleta Cemetery
Why it's awesome: Stunning memorials and famous residents make this one of the most beautiful and famous cemeteries in the world!
Cost: Free!
Food nearby: French-style Pani Recoleta is a beautiful eatery with creamy desserts and a lunch menu that includes great vegetarian options!
A cemetery may not sound like it belongs on your Buenos Aires itinerary but, trust us, this one really does! La Recoleta is a veritable art gallery that also hosts the final resting places of the most iconic Argentines!
First among the notables who lie in La Recoleta is Evita Peron, the most famous, albeit controversial first lady Argentina has ever had! If you're a fan, don't be shy about bringing flowers — you're not alone!
Also among the 6400 graves, you'll find the Dorrego-Ortiz Basualdo mausoleum. It's the final resting place of a wealthy landowning family and boasts suitably grand architecture! The grave of General Tomás Guido, a general in the revolution for independence, is also striking. It was built personally by the general's son.
The art deco tomb of Rufina Cambaceres is another beauty with a haunting story. A few days after the 19-year-old girl was buried, workers heard screams from her tomb! When they opened it, there were scratches on her face and the coffin. It seems that she had been in a coma and had tried to escape!
La Recoleta is also quite simply a beautiful destination. This isn't your ordinary, run-of-the-mill graveyard with tombstones scattered around. No, the rich and famous are buried in mausoleums and crypts which are so opulent and carefully constructed that they look like mini temples and cathedrals! This is one of those places that will stay with you long after your three days in Buenos Aires ends!
Day 2 / Stop 4 – La Boca
Why it's awesome: Colorful and bustling, La Boca is Buenos Aires at its most picturesque and atmospheric!
Cost: Free!
Food nearby: El Obrero is our favorite eatery in La Boca. It serves delicious calamari and tortilla! It's very popular so reserve in advance.
Still wondering what to see in Buenos Aires in 2 days? La Boca, of course! La Boca is on the far south of the city but it's worth making the journey. This neighborhood is one of the most iconic sights you'll see on a 2-day itinerary in Buenos Aires!
The main part of La Boca is El Caminito which was memorialized in the classic tango song Caminito which was composed in 1926. This area only makes up a few blocks but this Buenos Aires walking tour is a great experience! The main attractions of El Caminito are the brightly colored houses and tango dancers. For a cheesy souvenir, pay the fee to take photos with the dancers!
The conventillo shops are another highlight of the area! These multi-story buildings were traditionally for multiple families and have become classic sights in La Boca. Today, they're some of the best souvenir stores you'll find on a 2-day itinerary in Buenos Aires!
Insider Tip: La Boca doesn't have the best reputation in terms of crime. However, it's become a popular tourist destination and safety has improved with this! Don't be scared off by what you hear about La Boca. Just make sure you stick to the touristy part of El Caminito and leave before it gets dark.
Day 2 / Stop 5 – Argentine Steak and Wine Dinner
Why it's awesome: Argentineans are such passionate meat-eaters that Argentina is one of the biggest consumers of meat in the world!
Cost: Expect to pay around $15 to $20 USD per steak.
Food nearby: These restaurants are located in the popular area of Palermo.
Meat is a thriving industry in Argentina and it shows on the menus you'll be served while spending 2 days in Buenos Aires! Don't shy away from this meaty cuisine — a steak dinner is one of the best things to do in Buenos Aires at night!
The Argentine Experience is regularly the top-rated restaurant in Buenos Aires. However, it's not just the food that's a drawcard but the atmosphere!
The restaurant is designed to bring together travelers, backpackers in Argentina, and locals in a social experience. You're taught how to make empanadas and learn about Argentinean culture from the owner! The restaurant also offers boutique local wines and, of course, the famous Argentinean steak!
For a more traditional dinner, Don Julio and La Cabrera are two classic steakhouses in Buenos Aires. Their red meats are of high quality and they serve superb red wines from Mendoza alongside your meal! You can reserve a table online if you want to make sure there is a spot for you.
Insider Tip: Vegetarians tend to have a hard time in Argentina but that's not to say you're left out! Most restaurants will have at least one vegetarian option so don't worry about accompanying your meat-eating friend — just make sure they return the favor and dine with you at a vegetarian eatery! Buenos Aires Verde, Hierba Buena and Sarkis are top vegetarian choices in the city.
Street Art | Puerto Madero | The Museum of Latin American Art | Street Markets | El Zanjón de Granados
Wondering what to do in Buenos Aires next? From street art to street markets, there are still some epic stops on your 3-day itinerary in Buenos Aires!
Street Art
The neighborhood of Palermo is a treasure trove of vibrant street art!
Admire some thought-provoking and stunning works of art!
Go behind the scenes with a guided tour!
The streets of Palermo are some of the most vibrant you'll see when you travel to Buenos Aires, thanks largely to the quantity of street art! These beautiful murals make great backdrops for photos and admiring the art is one of the essential things to do in Buenos Aires!
To really get the best out of this experience, read up about the street art scene before you go or visit on a guided tour. Like in many other cities, street art in Buenos Aires has a long history of communicating political thoughts and it can take an expert eye to point out the symbolism.
One of the reasons the street art scene is so vibrant in Palermo is because street art is legal in Buenos Aires (so long as the building's owner consents)! In fact, it's not unusual to find artists painting away in broad daylight or to see that the artist has signed their name and left their Instagram handle for admirers to follow their work!
From graphic patterns to intimate portraits, there is an incredible variety of designs on display! In fact, there are so many amazing works by renowned street artists that it's like visiting an open-air art museum!
Puerto Madero
Puerto Madero is what to see in Buenos Aires next!
This waterside neighborhood boasts the fabulous Puente de la Mujer!
The cosmopolitan area has some great Buenos Aires things to do!
Tourists who visit Buenos Aires often forget or ignore Puerto Madero but this is such a rookie mistake! Thankfully, with our Buenos Aires itinerary, it's not one that you'll be making!
Puerto Madero's main drawcard is the Puente de la Mujer, the Bridge of the Woman. It's one of the most iconic Buenos Aires landmarks! If you're up for it, you can take a cruise tour. This stunning modernist bridge was designed by Santiago Calatrava to resemble a couple dancing the tango! It's a pedestrian bridge so take advantage of this by admiring the views of the city and the bustling water traffic below.
This district is also home to two museums with nautical themes. One is on The Sarmiento, a training vessel of the Argentine navy that has circumnavigated the globe six times! Even if you're not into naval history, go aboard to snap great pictures of the cityscape from the ship's deck!
The other museum is The Uruguay. Unlike The Sarmiento, this ship has featured in naval battles, covert missions and a rescue mission to Antarctica!
The Museum of Latin American Art
Just as the name suggests, MALBA has a gorgeous collection of Latin American art!
One of the artists whose work you'll find is Frida Kahlo!
Admission is $6 USD but if you go on a Wednesday, the price is 50% less!
The Museum of Latin America Art is one of the greatest places to visit during your 3 days in Buenos Aires! This is thanks to its fabulous art collection and marvelous architecture! MALBA is in a super modern building in the center of the trendy Palermo district.
The collection includes both contemporary and historic artworks by Latin American artists. However, it's not just Latin American art that you can expect. Previous traveling exhibits the museum has hosted included the work of Andy Warhol!
After your visit, head over to the gift shop for some stunning souvenirs inspired by the museum's artworks. Finally, you can enjoy a refreshing lemonade at the museum cafe's patio! Don't miss out on the museum — it's one of the best artsy things to do in Buenos Aires!
Street Markets
Buenos Aires is very much a hipster city and markets are at the heart of this trendy culture!
The best ones take place over the weekend but you may find a few during the week too.
Markets are a great place to shop for mementos and soak up the local atmosphere!
Feria de San Telmo is certainly the best market in the city! It takes place on a Sunday on Calle Defensa in San Telmo. You can expect antiques, leatherwork and the usual touristy souvenirs! If you're not in town on a Sunday, you can try the permanent Mercado de San Telmo.
Plaza Francia, in front of La Recoleta Cemetery, takes place on Saturdays and Sundays. The grassy hills, variety of goods and live musicians make it one of the best markets you'll find on a weekend in Buenos Aires!
Insider Tip: Make sure to bring a good amount of cash with you since there aren't often card machines! It's best to bring pesos. Although vendors will accept dollars, you'll get a poor exchange rate. The one time it's beneficial to pay in dollars is if you're spending quite a bit of money. In that case, vendors may be willing to offer a discount. Also, don't try to haggle as it's not the norm and you will offend vendors!
El Zanjón de Granados
Step back in time and wander the streets of 16th-century Buenos Aires!
This is the most important archaeological site in Buenos Aires!
The museum displays items from the 16th century, as well as from the excavation of the site!
El Zanjón de Granados is one of the more unusual attractions you'll find on a 3-day itinerary in Buenos Aires! It's a complex of ruins from the earliest years of the city's history. While renovating a mansion, a local businessman stumbled across a series of underground tunnels which were soon thought to be the remains of the ancient city!
The site is thought to date from 1536, the year of the foundation of Buenos Aires, and has been restored so that visitors can experience the city as it once was! The street that the site is on was once a river where the first attempt was made to found Buenos Aires. Although the settlement was unsuccessful, the site was successfully used as the center of the early city's water system. The underground ruins include foundations, floors, old walls, water wells, and sewage pits.
The museum is open from Monday to Saturday. Guided tours are in both Spanish and English. They're 50 minutes long and cost $14 USD for foreigners.
Don't let safety concerns about Argentina stop you from planning a trip to Buenos Aires! The city is generally very safe but, as with most big cities, there are things to keep in mind.
Petty crime is something to be aware of. Hold tight to your belongings while using public transport, at the Retiro bus station, and at street markets. When you're relaxing at a streetside cafe, make sure that you have a foot through your bag's strap and try to keep it in eyesight!
You may wish to avoid Constitución's train station and the non-touristy parts of La Boca and San Telmo.
Buenos Aires also has its fair share of protests. These tend to happen around Plaza de Mayo and Avenue 9 Julio. However, apart from holding up traffic and blocking the sights, these don't really affect tourists.
Don't Forget Your Travel Insurance for Buenos Aires
ALWAYS sort out your backpacker insurance before your trip. There's plenty to choose from in that department, but a good place to start is Safety Wing.
They offer month-to-month payments, no lock-in contracts, and require absolutely no itineraries: that's the exact kind of insurance long-term travellers and digital nomads need.
SafetyWing is cheap, easy, and admin-free: just sign up lickety-split so you can get back to it!
Click the button below to learn more about SafetyWing's setup or read our insider review for the full tasty scoop.
If you're spending one week in Buenos Aires, you should definitely explore the surrounding areas! The best way to do so is with some of these amazing day trips from Buenos Aires!
From Buenos Aires: Colonia City Day Tour
Just one hour away from Buenos Aires, across the River de la Plata, is the city of Colonia del Sacramento which is actually a UNESCO World Heritage Site! Visiting the city is one of the loveliest things to do near Buenos Aires!
The amazing thing about this day trip is that Colonia is actually in Uruguay, even though it's just across the river! It was the first place in Uruguay to be declared a UNESCO World Heritage Site in 1995. It was founded in 1680 by the Portuguese before falling into Spanish hands until Uruguay achieved independence. This heritage is all over in the city's cobbled streets and charming houses!
From Buenos Aires: Tigre Delta Tour with Boat Ride
Exploring the Tigre Delta is one of the most amazing day trips from Buenos Aires! The Tigre River is full of islands where the residents have developed a vibrant culture!
The best way to explore this destination is by boat. The Tigre Delta is framed by lush forest in some parts, and grand mansions in others. The Presidential Residence is one of the Buenos Aires attractions you can spot from the river!
About half an hour outside of Buenos Aires is the city of Tigre. This is a charming city to explore, thanks to its quaint museums and relaxed ambiance!
San Antonio de Areco Tour, Estancia BBQ, and Folklore Show
San Antonio de Areco is a classic example of a village in the Pampas, a region that is world-famous for its gauchos and extensive farmland! This area can be explored in just nine hours, including transport from Buenos Aires!
The El Ombu estancia (an estate used to raise livestock, particularly cattle) is a typical Argentinean farm. There you can learn about the country's livestock industry, watch a display of gaucho horsemanship or go on a horse ride! Additionally, you can enjoy a traditional barbecue and a folklore show!
Buenos Aires: Parque de la Costa Fun Fair Entry & Transport
Parque de la Costa is the most popular theme park in Argentina and is one of the greatest day trips from Buenos Aires if you're traveling with kids!
The park is in the Tigre Delta, about half an hour outside of Buenos Aires. Since its opening in 1997, over 15 million people have come to visit! There are over 50 games, rides and live shows that will appeal to all ages but particularly to kids. This is the place to go if you want to add rock-climbing walls, water slides or rollercoasters to your time in Buenos Aires!
Montevideo: Half-Day Sightseeing Tour
Rounding out our list of the best day trips from Buenos Aires is this trip to Montevideo! Montevideo is the capital of Uruguay and is just a 2-hour ferry ride away from Buenos Aires!
Once you're in Montevideo, join a sightseeing tour to get the most out of your short stay. The city dates from the early 18th century and has plenty of historic landmarks to visit. The Agricola Market, Matriz Cathedral and the Legislative Congress are some of the most iconic sites to discover!
Find out what people want to know when planning their Buenos Aires itinerary.
Conclusion to Buenos Aires Itinerary
With directions, food recommendations and insider tips, our Buenos Aires itinerary is the key to a fuss-free vacation. With it, you can explore underground tunnels, marvel at icons like the Obelisk and get a taste of the gaucho life — experiences that make Buenos Aires such an awesome city!
From the coffee-colored waters of the Tigre Delta to the gleaming steel of Puente de la Mujer, Buenos Aires is a treat for the eyes. In fact, with delicious cuisine, dramatic tangos and bustling streets, visiting the city is a sensual experience that's hard to forget!
The beauty and vibrancy of the Argentine capital is something you can only experience by walking its streets and meeting its people. Whether you're backpacking South America, riding your bike from Oregon to Patagonia, or just ready to use your vacation day, hold onto our Buenos Aires itinerary and start planning your own amazing vacation in this gorgeous city! Don't forget to check out our packing list after you've booked your accommodation.
---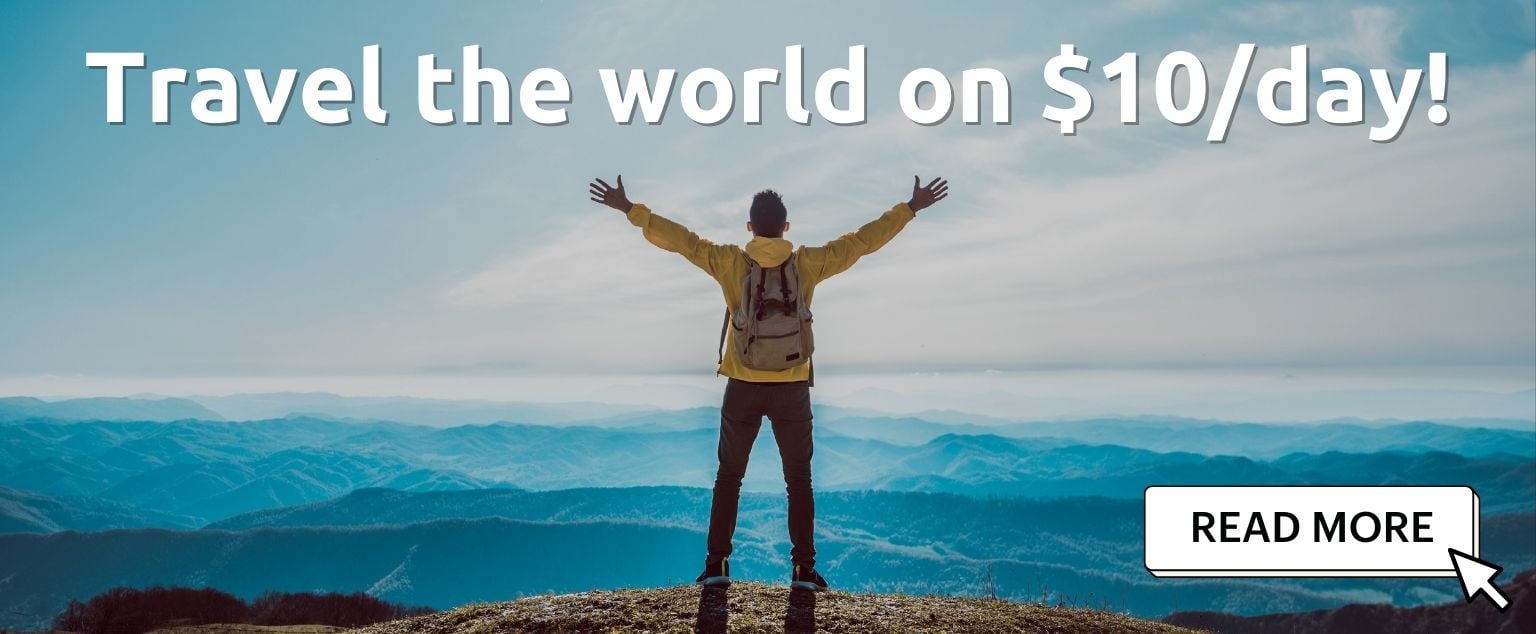 And for transparency's sake, please know that some of the links in our content are affiliate links. That means that if you book your accommodation, buy your gear, or sort your insurance through our link, we earn a small commission (at no extra cost to you). That said, we only link to the gear we trust and never recommend services we don't believe are up to scratch. Again, thank you!