For many travellers, Morocco is the gateway to Africa. Situated on the northern tip of the continent, it's just a short hop over from Southern Spain. When you arrive, you'll be welcomed by bustling souks in vibrant cities, the otherworldly beauty of the Atlas Mountains, and some of the world's best surfing. Plan ahead, and you might even get to camp out under the stars in the Sahara Desert. Whatever you want from a holiday, you're sure to find it in Morocco!
Morocco is a great destination for backpacking not only for the diversity of landscapes and activities on offer here but for the price too. So, you have a little freedom when it comes to picking where to stay in Morocco. Just because you have a little more flexibility in your budget, don't dismiss staying in a hostel though. They'll give you some incredible experiences and help you meet like-minded travellers.
With that in mind, we've decided to help you out. Our expert travel writers have scoured this gorgeous country to find the best hostels in Morocco. And we're not just looking at the tourist trail, there are some off the beaten track destinations on here too.
With our list, you're sure to find your perfect Moroccan hostel. That's because we've taken into account travel style and personality, as well as the most important aspect of all. Budget! So, let's take a closer look…
Quick Answer: What are the Best Hostels in Morocco?
The Top Hostels in Morocco
Let's begin our list with the absolute best hostels in Morocco. The cream of the crop! You won't find anywhere better than our top selections. Not only will you save money, but you'll make friends and memories that will last a lifetime. Before you book your accommodation, make sure you know where to stay in Morocco, so you're not too far away from the hotspots you want to explore.

Do You Want to Travel FOREVER??
Pop your email in below to get a FREE copy of 'How to Travel the World on $10 a Day!'.
The Overall Best Hostel in Marrakech, Morocco – Riad Jenna Rouge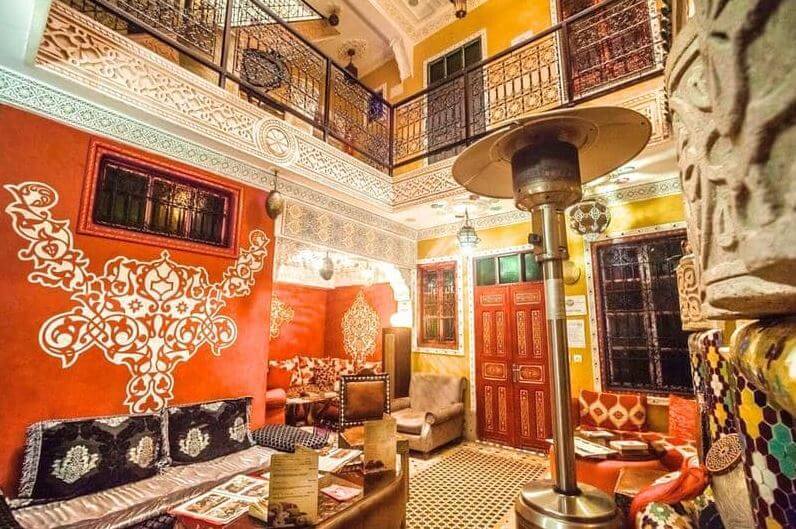 Breakfast included
Awesome location
Secret garden and magic fountains
Cool and colourful
Let's begin our list of the best hostels in Marrakech, Morocco. Riad Jenna Rouge reflects the city so well, with a myriad of colours just a hop, skip, and a jump from the main square and souk. It's the perfect blend of a fun backpackers hostel, but it's also got a little smattering of luxury which will make it feel like a home away from home. It boasts an inner courtyard with a fountain and an outdoor terrace which doubles up as a secret garden. If you have a busy day ahead, start off with free breakfast, ideal fuel for sightseeing and exploring Marrakech!
Best Cheap Hostel in Marrakech, Morocco – Riad Layla Rouge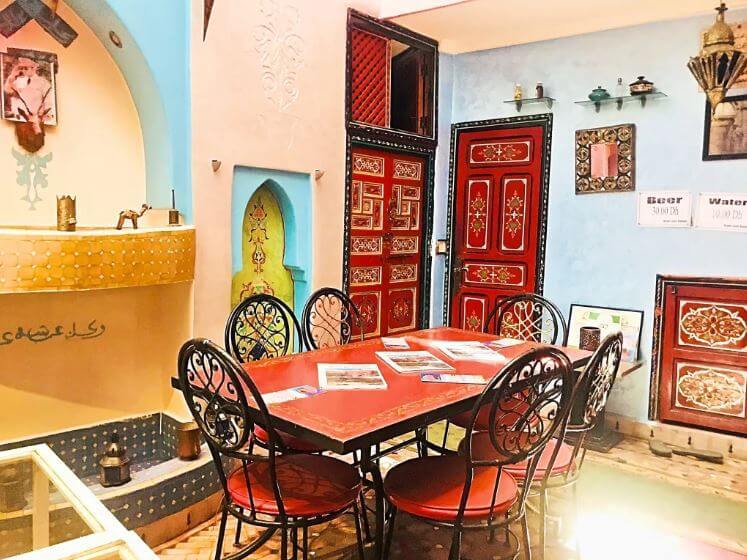 1 minute from souks
Family run
Free tea and cake
Roof terraces
For our best cheap hostel in Morocco, we're going to stay in Marrakech. And it's the very similarly named Riad Layla Rouge. Another one that's just a minute from the souks, so you're not compromising when it comes to location. You can keep your costs down even further with all the free stuff on offer – that includes breakfast, tea, and cake! There are two roof terraces where you can enjoy the views over the city and the tantalising smells coming from Jemaa el Fna. Expect a traditional Moroccan welcome from the family who run it – they'll help you with anything you need!
Best Party Hostel in Essaouira, Morocco – Atlantic Hostel
Rooftop terrace
On-site restaurants
Common room
Surf trips!
For the best party hostel in Morocco, you need to head away from Marrakech for Essaouira. Solo travellers will love it here as it's not only cheap but it also has an incredible atmosphere. The friendly common room always has something going on – usually music and laughter, so you won't find it hard to meet new people and make friends. If you feel a bit tired out from the night before or a day of surfing (yes, you can do surf trips at this awesome Moroccan hostel), then head to the on-site restaurant to sample some traditional local food! What more could you want?!
Our first stop on the list is Marrakech. This city is an assault on the senses! Start from the centre and the Jemaa el-Fnaa souk to see the hub of city life here… Try delicious street food, pick up souvenirs for friends and family, and just be dazzled at the organised chaos! Head further out to relaxing gardens and amazing religious buildings. Some of the country's best authentic hostels are in Marrakech!
One of the best hostels in Morocco!
Great location
Rooftop terrace and bar
Swimming pool
Award winner
Yes, we know you've already seen that Marrakech boasts two of the best hostels in Morocco, but that's because it's the coolest place in the country! There are a few more great places to stay here, and let's kick off with Rodamon Riad. You don't just have to take our word that this place is amazing, it got the best hostel in not only Marrakech and Morocco in 2021 but the entire continent of Africa. And Africa's a pretty big place! It's up to you if you'd prefer to spend time at the rooftop terrace and bar, or cooling off from the desert heat in the swimming pool!
One of the cheapest hostels in Morocco
Free breakfast
Awesome location
Shared lounge
Roof terrace
There are lots of cheap hostels in Morocco, so you do have to do your research to make sure you're getting a good deal. However, anything with a score of over 8 on Hostelworld is generally a safe bet! For You Hostel Marrakech is right in the centre of town, and you'll be treated to plenty of free stuff to keep your costs down too. Most importantly, a complimentary breakfast every morning of your stay! And should you fancy exploring the city by bike, you can rent one at no extra cost!
Dream Kasbah
A recommended Moroccan hostel for solo travellers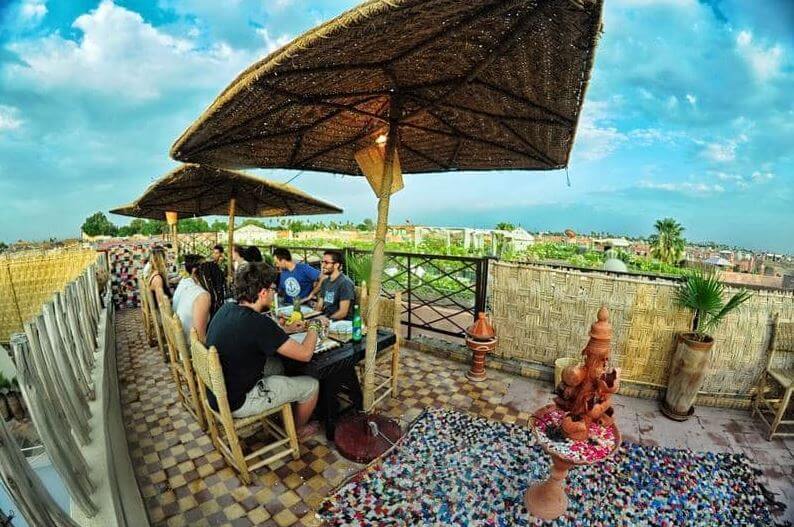 Free breakfast
Rooftop terrace
Cooking classes
Lots of activities
Are you looking to find not only the most fun and exciting activities in Marrakech, but cool and fun people to do them with? Then Dream Kasbah is the place for you! After your free breakfast in the morning, you can enjoy a cooking class, horse-riding, seasonal skiing, and a whole lot more! If you don't bond with someone on the cool trips, you're sure to in either the cool common room or up on the relaxing roof terrace, which is made from recycled materials!
Dream Kasbah is one of our favourites in Morocco but they're not taking guests right now. We're not sure if they're closed for good but we hope they'll come back soon.
Is This the Best Backpack EVER???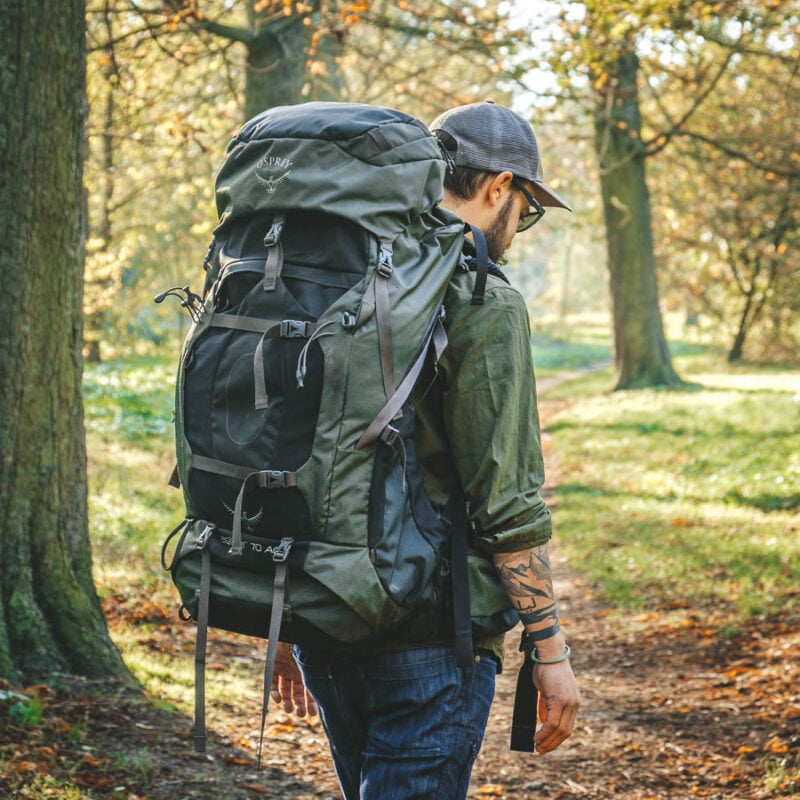 Step back in time as you discover the Medieval heart of Fez – the world's largest car-free urban area! Long ago, this city used to attract academic brains from all over the world! The charming medina is where most tourists head, make sure to take some time to wander around its narrow lanes and discover its many architectural treasures!
A great cheap hostel in Morocco
BBQ
Trips and excursions
Panoramic Views
Breakfast and dinner available
If you're travelling to Fez and hoping to find accommodation on a budget, look no further than Moroccan Dream Hostel, one of the best cheap hostels in Morocco! It's right in the centre of town, so no need to pay for taxis and public transport to see everything you want to! If you're worried about booking tours for yourself, just ask for help from the friendly staff. They offer trips to Chefchaouen and the Sahara Desert – both things you should definitely have on your bucket list! Back at the hostel, just enjoy the views from that rooftop terrace!
One of the most popular hostels in Morocco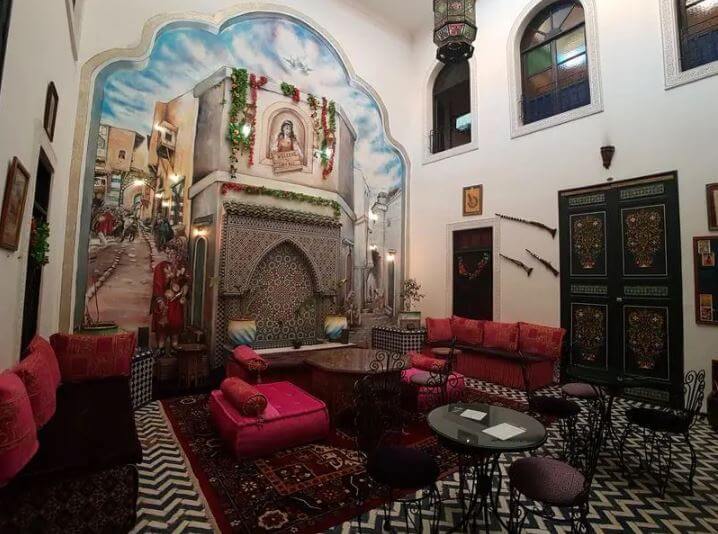 Free breakfast
Board Games
Trips and Tours
Daily homemade dinner (extra)
Funky Fes has a very high score on Hostelworld from over 2,000 reviews, so we couldn't miss off this awesome Moroccan hostel – popular among all types of travellers but especially suited to those travelling solo willing to experience the hostel life! That's because of the fun and sociable atmosphere, and the friendly greeting you'll get from the staff here. Once you're inside the riad, you'll be able to meet other travellers and challenge them to board games or just enjoy a chat. There's a free breakfast each morning, and if you really love the food, shell out a little extra for the daily homemade dinner in the evenings!
Hostel Dar Jannat
One of the top recommended hostels in Morocco
Free breakfast
Rooftop tent
5 minutes from Blue Gate
Laid back atmosphere
This laid back Moroccan hostel is an authentic and cool place to stay in Fez. Set in the heart of the medina in one of the coolest places to visit in North Africa, take in the sights, smells and sounds of the city from the rooftop tent! Start off your day with a delicious free breakfast, which will set you up for exploring all the attractions near and far – the Blue Gate is just 5 minutes away! It's also no trouble to get to the souks, artisan shops, and all the top places nearby to eat and drink!
Hostel Dar Jannat is one of our favourites in Morocco but they're not taking guests right now. We're not sure if they're closed for good but we hope they'll come back soon.
We know what you're thinking… How on earth do you pronounce that?! Well… we think Essa-weera will do! This port city has a historic medina, as well as several art galleries and boutiques for you to explore! If you're looking to get the adrenaline flowing, visit between April and November when windsurfers descend on the city. No wonder it's called the 'Wind City of Africa!'
A top Moroccan hostel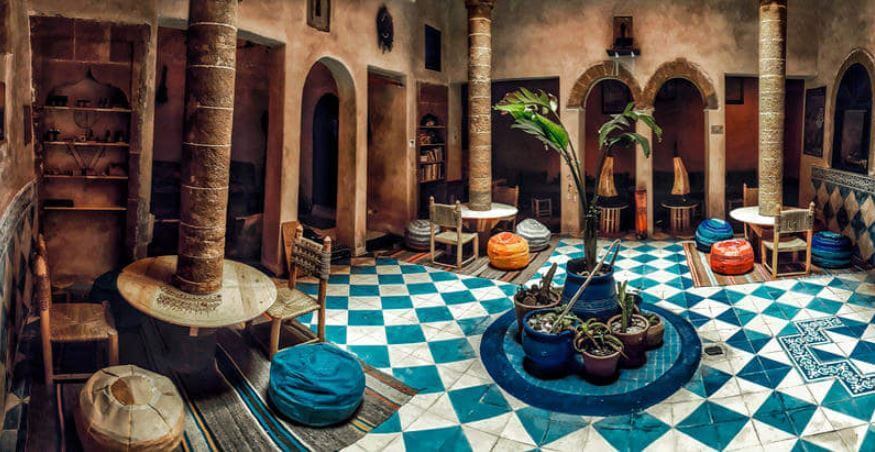 Projector and big screen
Free breakfast
Awesome views
Laid-back atmosphere
Now that we've arrived in Essaouira, let's check out another of Morocco's top hostels! In case you haven't guessed from the name, the ethos of this place is all about chilling! Once you get into the mindset, this will really be your home away from home and you won't want to leave! That's probably why it's got an almost perfect score on hostelworld. There's a delicious free breakfast, and you can enjoy an international dinner for a little extra! Should you want to relax, you can enjoy a movie on the big screen or projected onto the wall!
One of the coolest cheap hostels in Morocco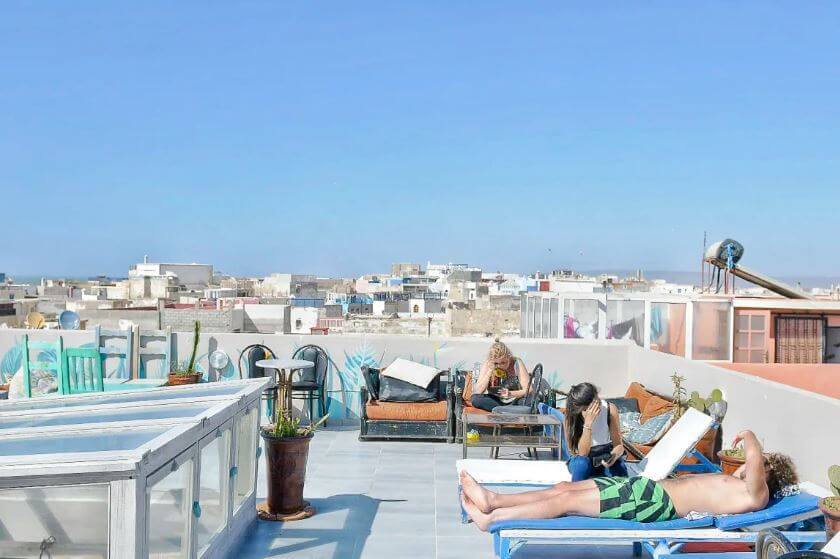 Rooftop terrace
Free breakfast
Moroccan style lounge area
In the old Medina
Looking to keep your costs down but still have the time of your life in Essaouira? Look no further than one of the best cheap hostels in Morocco – Moga Hostel! You're certainly getting a great location for your money – just 5 minutes from the beach in the heart of the old town! But a top location is pointless if the hostel isn't a nice place to be… not a problem here! There's a Moroccan style lounge and a rooftop terrace – both great places to hang out and enjoy some me-time, or get talking to other guests! One last thing – the free breakfast will keep your costs low!
One of the best hostels for solo travellers in Morocco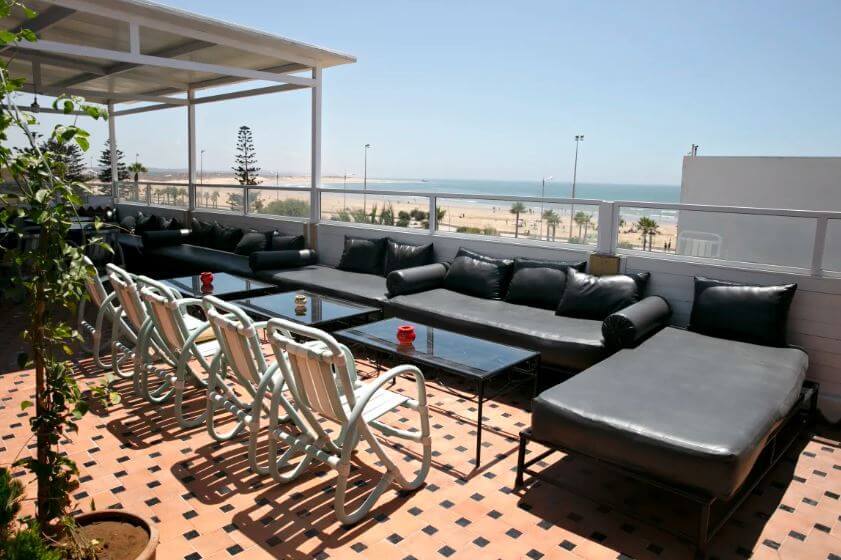 Right by the beach!
Football/basketball pitches
Excursions and day trips
BBQ facilities
Travelling solo to Morocco? Then you'll want somewhere with a relaxed atmosphere where it's easy to make friends. An easy thing to do at Essaouira Beach Hostel which is, yep, you guessed it, right by the beach! If you've been piling on the pounds from all that couscous and tasty North African deserts (and free breakfasts from all those Moroccan hostels), here's your chance to burn it off. This hostel has football and basketball courts. There are BBQ facilities too, so you can treat yourself afterwards… You'll need the energy for tomorrow's game after all!
Not only will you not find a prettier city than Chefchaouen in Morocco, but we'll also be surprised if you find one anyway. The blue houses of this mountain village sure attract a lot of tourists, but it manages to retain its authenticity! You won't want to forget your camera when you stay here… There aren't loads of hostels, but travellers can find quaint B & Bs as alternative budget accommodation!
A legendary Moroccan hostel
Hammock deck
Chill out TV room
Shaded outdoor dining area
National park views
Baraka Hostel is one of the oldest riads in the centre of the Blue City of Chefchaouen. While you'll be getting a slice of an incredible historic building, you'll also be able to enjoy a hostel that has had mod-cons added to make your stay as comfortable as possible! This stylish guesthouse has one of the best roof terraces in Chefchaouen – it's split over two levels! And you can chill out here with new friends, however you plan to spend your time in the blue city! If all that's not enough, you can enjoy a delicious gourmet breakfast when you stay, with vegan and gluten-free options available!
Lovely cheap Moroccan hostel in Chefchaouen
Walking distance from attractions
TV/DVD room
Reading lounge
Guest kitchen
Want to save some cash while staying in Chefchaouen? Not a problem, just choose a budget Moroccan hostel! It doesn't mean you have to give up cool extras like a reading lounge and a TV/DVD room where you can chill after a day out in the Saharan sun! Keep your costs down even further by preparing meals in the guest kitchen, or playing a game of chess in one of the communal areas! The location is a plus point too – it's within walking distance of all the city's most famous attractions!
A great Moroccan hostel for couples
In the blue city!
Free breakfast
Awesome location
Book exchange
So, Chefchaouen has plenty of places to stay, but it's not known for backpackers hostels. Keep it a secret, but this is actually a B & B! It's the perfect place to stay if you're travelling with your other half, or you simply just want to get a break from the hectic dorm lifestyle that solo travellers maybe don't want for their WHOLE trip! The chilled out and cosy atmosphere is the star of the show – and if you're wondering why that name seems so unusual, it's actually felicidad (happiness) backwards!
If Morocco is the gateway to Africa, then Tangier is the guardsman! Located on the north tip of the country, just across the Strait of Gibraltar from Spain, it has a unique cultural history! The seafront is a beautiful place for a walk, and there's even a high-speed train line to Casablanca! There are some awesome hostels in Tangier too.
One of the best hostels in Morocco
Free breakfast
Free tea and coffee
Rooftop terrace
Views over to Spain
No matter what your travel style is, Baytalice will suit you right down to the ground. Right in the heart of Tangier's medina, you've got all the attractions you'll want to visit right on your doorstep. Including the beach – great news for sunbathers and surfers! Not only is it cheap, but you get a lot of freebies for that low price too – these include tea and coffee and a delicious Moroccan breakfast! You can enjoy these on the roof terrace where you'll get incredible views over the Strait of Gibraltar, all the way to Spain!
A great hostel in Tangier for couples
Small and intimate
Free breakfast
Terrace overlooking kasbah
Lovely private rooms
Travelling with the other half? If that's the case, then a smelly dorm in a noisy hostel . just won't do. But you can't afford a luxury hotel? This awesome Moroccan hostel is a superb middle ground, offering some opulent private rooms! Enjoy a complimentary breakfast on the rooftop terrace overlooking the kasbah, where you can enjoy the rest of your romantic day without getting too tired from walking! The hostel is small and intimate so you won't be disturbed by lots of noisy backpackers coming back from nights out and disturbing important time with the one you love!
The Melting Pot Rooftop Hostel
A legendary party hostel in Morocco
Incredible rooftop hangout
Tours to underground bars
Live music
Book exchange
Morocco isn't well known for having great party hostels, but when you find a good one, you won't be disappointed. Not only can you enjoy drinks on the rooftop terrace of this hostel, but there are awesome tours to Tangier's underground bars. You might not want to leave the hostel though as there's live music there most nights. If you've had a few busy days, you might want to chill out and relax. So, just take something out from the book exchange and find a quiet spot to get lost!
The Melting Pot Rooftop Hostel is one of our favourites in Morocco but they're not taking guests right now. We're not sure if they're closed for good but we hope they'll come back soon.
This relaxed village may not seem to offer much at first for travellers… unless you're into seafood! However, that all changes in summer. It's one of the most popular destinations in Morocco for locals and tourists alike – thanks to its awesome beaches. There's nowhere better in Morocco for surfers, no matter what level you are! And if you don't fancy getting on a board, the swimming is decent too! For such a small place, you have plenty of hostels to pick from!
One of the best budget hostels in Morocco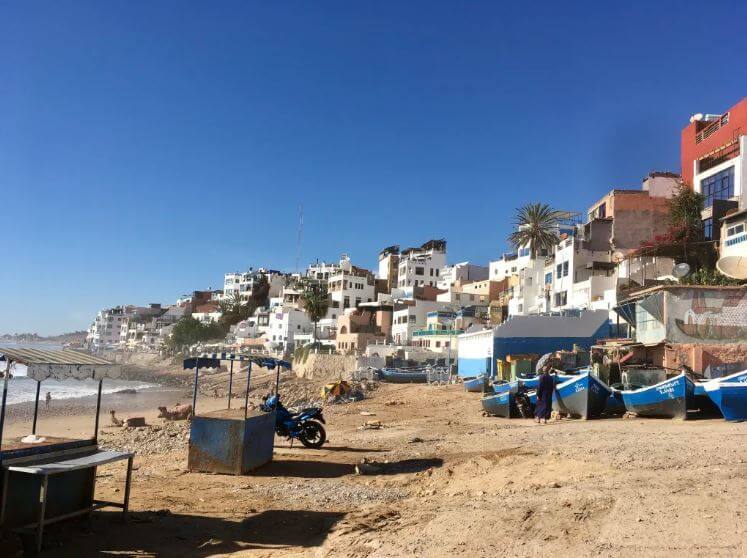 Free breakfast
Two kitchens
Relaxing rooftop
Board Games
You might be wondering if there are any hostels in Taghazout… or if they're all just surf houses. But is that really such a bad thing? Kekai is another place you can stay with a near-perfect score on Hostelworld, and an awesome view of the great blue expanse of the Atlantic Ocean! If you want to keep your costs down and make your own meals, there isn't one but two kitchens where you can do so! After a filling dinner, relax with your new mates over a board game!
An awesome Moroccan hostel for surfers!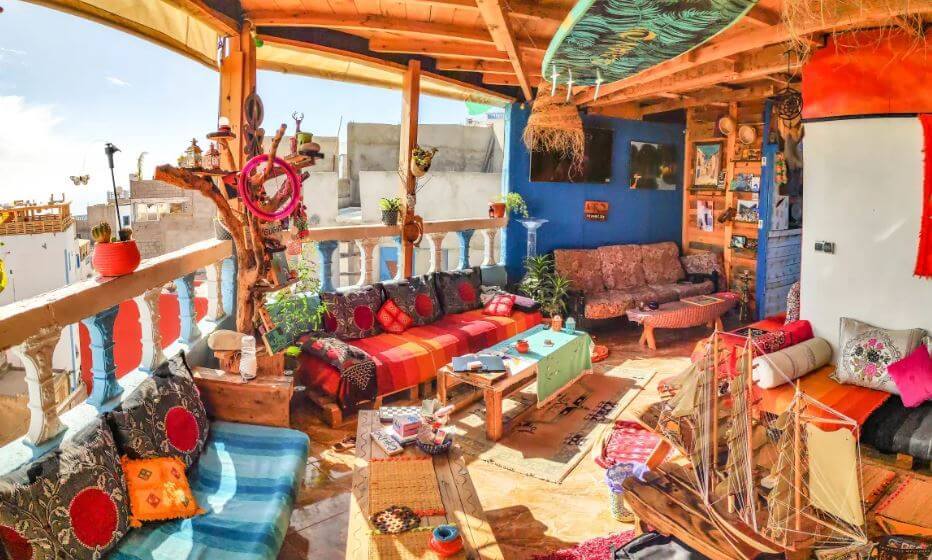 Shared lounge
Surfing vibes
Family run hostel
Bright and colourful
Another awesome surf house? Well, yes actually. Just look at the colourful and characterful roof terrace… you'll not want to spend any time out in the waves if you can stay there all day! We joke of course… but this family-run hostel is a lovely place to stay. If you've arrived with your own transport, you'll be pleased to know that there's free parking here! So, you can rest assured that your surfer's VW Camper will be safe and secure while you're off site!
Nomad Surf House
One of the top rated hostels in Morocco
Spacious rooftop
Surf gear and lessons
Breakfast included
Magical sunset view
Just ten minutes walk from the beach, Nomad Surf House is a great starting point if you want to take your first steps out on a board… Or if you have been doing it for quite a while! Fuel up for a day among the waves in the morning with the breakfast that's included in the price! There are surf gear and lessons on offer, near the Devil's Rock peak – one of the most legendary surf spots in Morocco! After a tiring day of watersports, head back to the hostel where you can enjoy the magical sunset view!
Nomad Surf House is one of our favourites in Morocco but they're not taking guests right now. We're not sure if they're closed for good but we hope they'll come back soon.

Our GREATEST Travel Secrets…
Pop your email here & get the original Broke Backpacker Bible for FREE.
Taghazout may be the best place for surfing in Morocco, but Agadir isn't far behind. Its chilled-out sandy beaches can boast sunshine for more than 300 days of the year, meaning there are few better places to go than this when you want to top up your tan! The hostel game here is strong too, with some of the highest-rated hostels in Morocco!
A highly recommended Moroccan hostel
Free breakfast
Traditional Furnishings
Table Tennis
50 inch TV
Agadir also offers some of the best hostels for surfers in Morocco… There are plenty of things that will get you acquainted with fellow travellers including a large dining table, ping pong table, and an entertainment area with a 50 inch TV! Before your day of chilling or surfing, fill up on the free breakfast… that might make it easier to sink some balls during your game of pool on the table in the common area! Banana Beach, Cro Cro Beach, and Devil's Rock are within a 10-minute walk of the hostel… Surfing heaven!
An awesome hostel in Morocco for solo travellers
Beautiful rooftop oasis
Free homemade breakfast
Large single beds
10 minutes from Devil's Rock
Let's round off our list with another of the best hostels in Morocco – especially listen up if you're a surfer! The rooftop oasis is the best place to meet other travellers and chill out over a Moroccan mint tea! It's not a bad spot for couples either, as there are awesome private doubles as well as dorms – with larger than average single beds! As well as being able to enjoy surf lessons, you can enjoy yoga classes, massages, and cooking lessons!
Tamraght Surf Hostel
A legendary budget hostel in Morocco
Breakfast included
Communal Garden
Shared kitchen
Bar and café
The peaceful village is between Bananavillage and Taghazout… and it just happens to have one of the best cheap hostels in Morocco there. Especially if you're a surfer! If you're hungry, you can either whip something up in the shared kitchen or get a tasty local dish from the bar and cafe. Then, if you're feeling like a bit of sun, enjoy it in the communal garden! As well as arranging transfers to Agadir bus station or airport, they can take you for surf lessons! Don't be put off from staying here if you're not a surfer… you can do other tours such as horse-riding or trips to Paradise Valley!
Tamraght Surf Hostel is one of our favourites in Morocco but they're not taking guests right now. We're not sure if they're closed for good but we hope they'll come back soon.
Before You Book Your Hostel in Morocco
So what are the essential need to know facts about visiting Morocco? Let's take a look!
Capital City – Rabat, with a metropolitan population of over 1.2 million.
Currency – The currency in Morocco is the dirham. 1 dirham = USD0.097
Language – Morocco has two official languages: Arabic and Berber (North African indigenous). In some parts, you will get by with French and to a lesser extent Spanish and English.
Visa – Many visitors can get a 3-month visa on arrival.
Map of Where to Stay in Morocco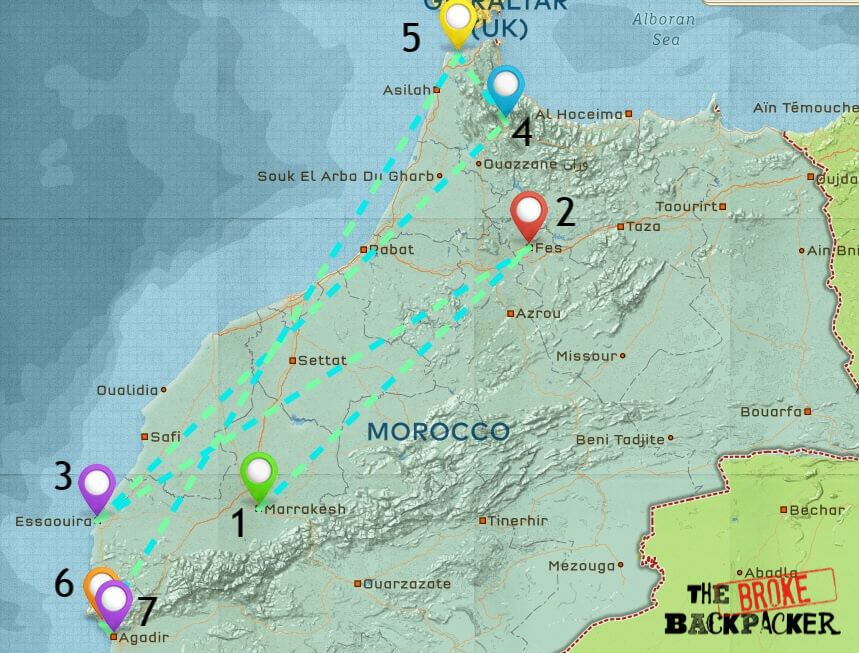 What to Pack for your Moroccan Hostel
Pants, socks, underwear, soap?! Take it from us, packing for a hostel stay is not always quite as straight forward as it seems. Working out what to bring and what to leave at home is an art we have perfected over many years.
Check out our definitive Hostel Packing list for our top packing tips!
Why You Should Travel to Morocco
So, that concludes our list of the best hostels in Morocco. Whether you want to pick up some bargains in the souks of Marrakech, be mesmerised by the blue buildings of Chefchaouen, or simply just try out some of the best Atlantic surf spots, there's a hostel in Morocco for you!
And remember, staying in hostels is about so much more than just offering you a cheap place to stay for the night. They're places that you can make friends and memories that will last a lifetime! If chosen right, it will also be a safe place you can come home to, too.
The only thing that we're worried about now is that we've given you a little too much choice. You agree? Okay, well if that's the case, just scroll back to the top of our list and book our favourite hostel in Morocco: Riad Jenna Rouge in Marrakech. It's in one of the coolest cities in Morocco, and it offers excellent value for money! However, there's nowhere on our list that you won't have a great time!
Now that we've hopefully helped you plan out your vacation to Morocco a little bit more, our work here is done. We hope you have an incredible trip!
Do you own or run a kick-ass hostel? Want to be featured on this list? Get in touch at [email protected]
Don't Forget Travel Insurance for Morocco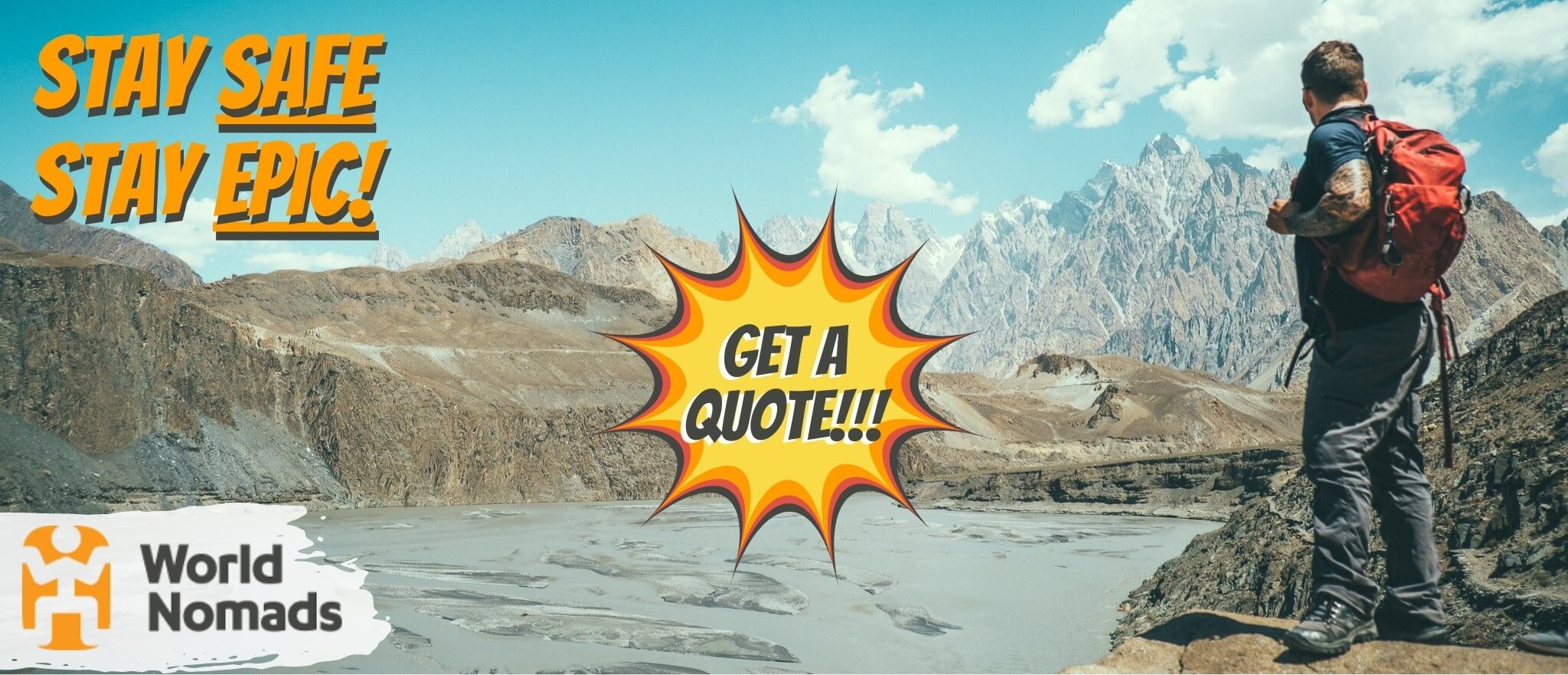 World Nomads' mission is to support and encourage travellers to explore their boundaries. They offer simple & flexible travel insurance, and safety advice to help you travel confidently.
They've been doing it since 2002 – protecting, connecting, and inspiring independent travellers just like you.
Get a quote below or read our in-depth review!
World Nomads provides travel insurance for travelers in over 100 countries. As an affiliate, we receive a fee when you get a quote from World Nomads using this link. We do not represent World Nomads. This is information only and not a recommendation to buy travel insurance.
---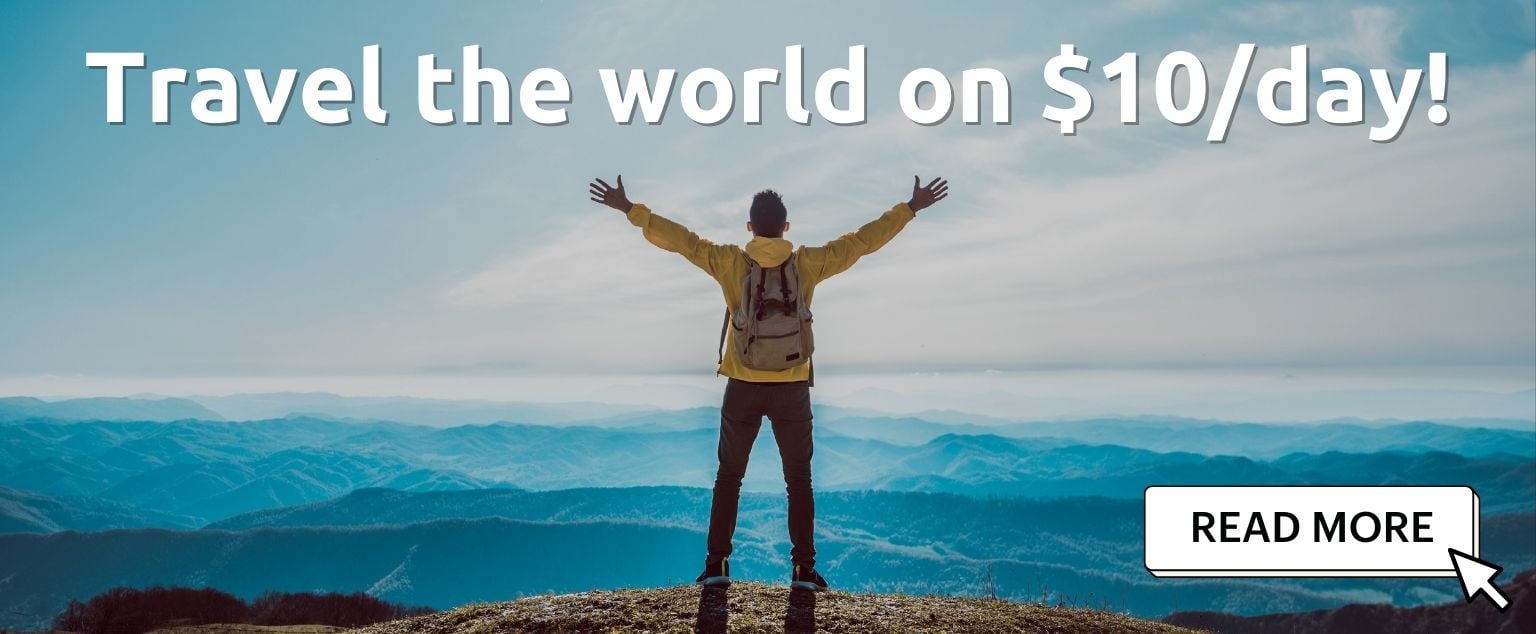 And for transparency's sake, please know that some of the links in our content are affiliate links. That means that if you book your accommodation, buy your gear, or sort your insurance through our link, we earn a small commission (at no extra cost to you). That said, we only link to the gear we trust and never recommend services we don't believe are up to scratch. Again, thank you!