Looking for a country that combines a fascinating nature with great culture and plenty of opportunities for adventure? Look no further than Morocco. With the Sahara Desert, Atlantic Coast, and bustling cities its got everything you could want from a holiday destination. It offers incredible accommodation opportunities to, with everything from sociable hostels to relaxing riads, and even desert camps!
In fact, when you factor all that accommodation in, it can be quite overwhelming making a decision on where to stay in Morocco – added to the fact it's quite a popular destination. So, even if you find your dream accommodation, it could be fully booked! Thankfully, there are lots of alternatives in the plethora of great places to visit in Morocco.
All seem a bit complicated? Try not to worry. We've put this guide together for that exact reason. Let us take you through the best places to stay in Morocco. We've got homely hostels, awesome Airbnb and some absolutely beautiful hotels!
Whatever your budget and travel style, we've got you covered. With our help, you're sure to find the best place for you. So, when you're staying in Morocco you can concentrate on making the most of your North African adventure!

Unlock Our GREATEST Travel Secrets!
Sign up for our newsletter and get the best travel tips delivered right to your inbox.
Quick Answers: Where is the Best Place to Stay in Morocco?
Map of Where to Stay in Morocco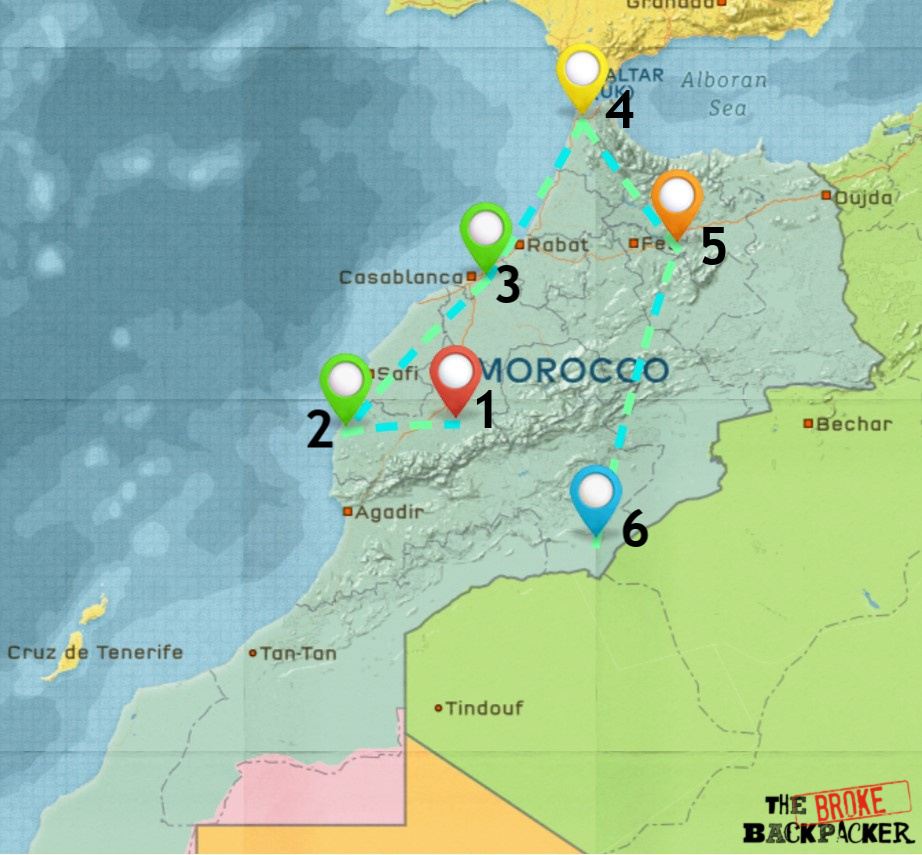 Marrakesh – The Overall Best Place to Stay in Morocco
It may not be the capital city, but Marrakesh is the number one tourist destination in Morocco. Once you've been, you'll know exactly why. It's best known for its amazing places like the central market and souks, all based around Jemaa el-Fna Square – a feast for the senses where you'll smell spices and hear the shouting of the traders, but there are a number of other attractions around the city which are a little less hectic – including the Jardin Majorelle, Bahia Palace, and Koutoubia Mosque.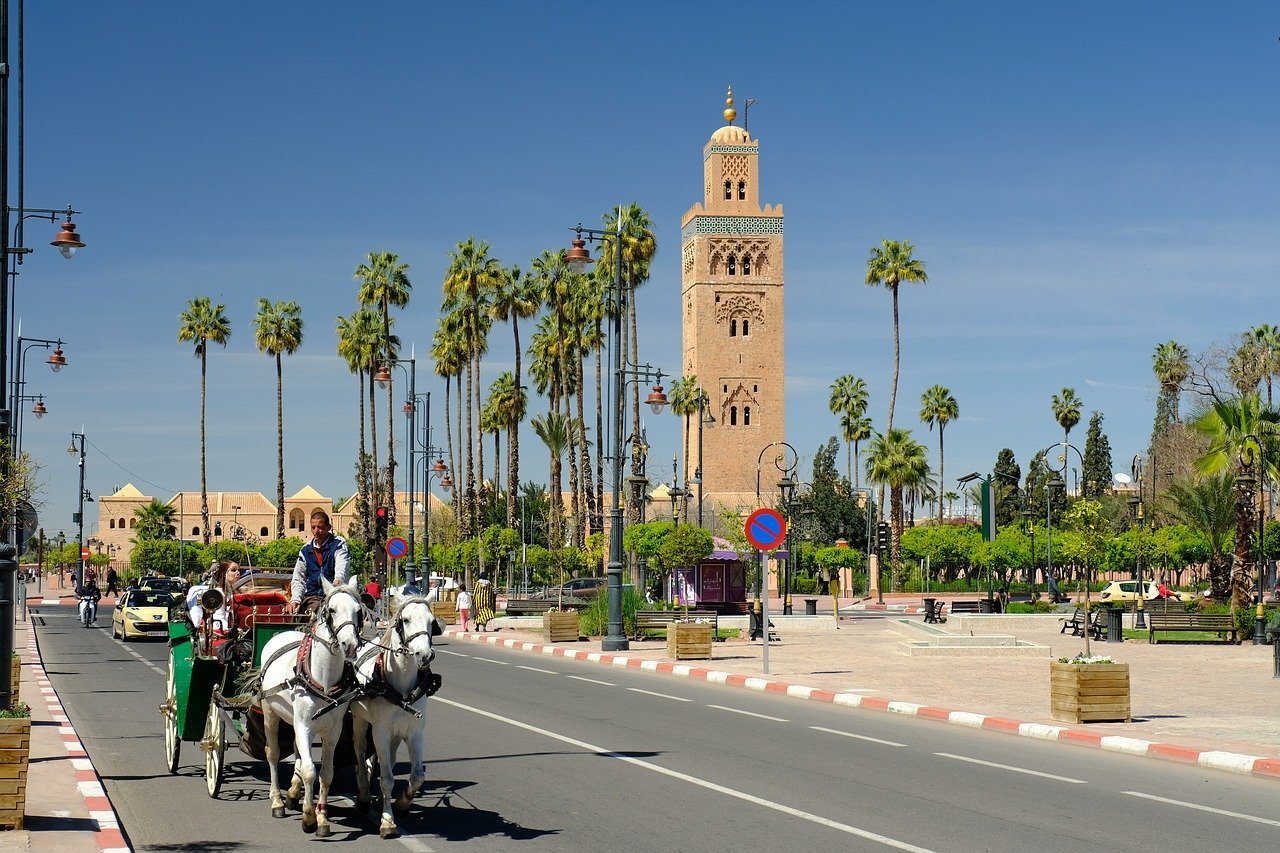 The Old Medina is the best place to stay for a traditional experience, packed with cafes, stalls, and lovely riads – which are an ideal place to return to for a break from the city's intensity! If you're looking for something more sophisticated, Hivernage and Gueliz offer a lot more when it comes to nightlife and upmarket restaurants. They're also where you'll find the fanciest of the hotels.
Even if it's just for a night or two, no trip to Morocco is complete without staying in Marrakesh. It might seem like being thrown in at the deep end, but it's the ideal introduction to the country's culture – with some of the most important historic attractions too. If you spend the day exploring these, you'll need somewhere to put your feet up at the end of the day. So, with that in mind, here are…
The Best Places to Stay in Marrakesh
To find something to suit all budgets, we're going to look at three types of lodging in Marrakesh. They're all traditional Moroccan riads which have been repurposed to suit travellers' varying budgets and tastes – one hostel, one Airbnb, and one hotel. Let's take a look!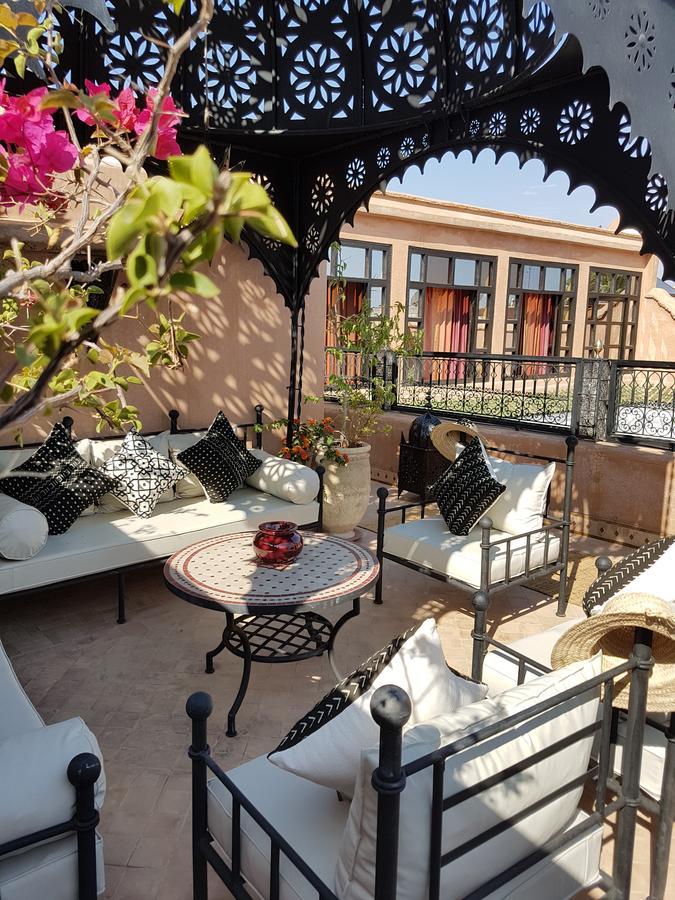 Our last stop in Marrakesh for now is the beautiful Riad Dar Nadwa. It's close to some of the top attraction, including the Medersa Ben Youssef and City Museum. Breakfast is included in the characterful dining room. This entire hotel is bedecked in gorgeous antique furniture, and you're welcome to use the patio and plunge pool should you need to cool off!
When people usually think of hostels, they don't have something this opulent in mind. It may not be the cheapest hostel in Marrakesh, but who cares when you can enjoy a secret garden, shisha in the courtyard, and traditional peppermint tea in the company of other backpackers. This colourful hostel stands out above many in Marrakesh!
Best Airbnb in Marrakesh – Lovely Suite in a Stunning Riad
In the Medina neighbourhood, this Airbnb has four gorgeous rooms that are available to guests. While it's a traditional riad, there are plenty of modcons too. The best thing about this place is all the outdoor spaces you can enjoy – sofas, tables, and chairs adorn the courtyards and roof terrace. A haven of peace in the chaos of the city!
Lovely Suite in a Stunning Riad is one of our favourites in Morocco but they're not taking guests right now. We're not sure if they're closed for good but we hope they'll come back soon.
Fez – Best Place to Stay in Morocco for Families
This unconventional and unusual city is the perfect place for the family to enjoy in Morocco. Known for its impressive architecture, Fez is a mixture of 8th, 13th, and 20th-century colonial influences. Don't miss the largest medieval tannery here – although you might want to hold your nose for the smell! The Medina offers hours of exploration and kids are sure to love it, even if it can be intimidating at first!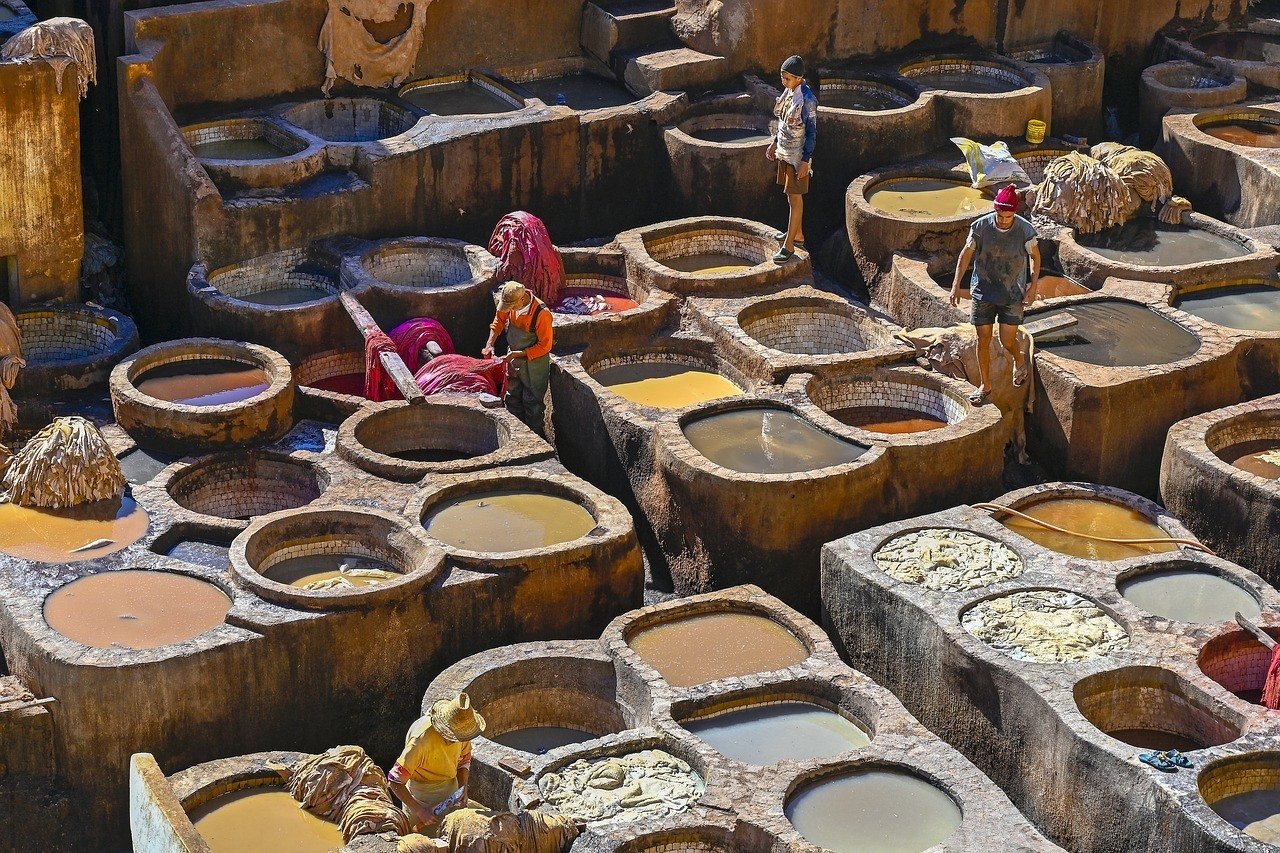 The cobbled alleyways of the Old Medina are a perfect place to stay too – no cars are allowed so that's one less thing to worry about. Other options are the Blue Gate of Fez which is a mix of old and new and Fez el-Jdid, the 'new' part of the Medina… Even though it's almost 750 years old. While the train station is good for onward travel, it won't give you the real feel of Fez.
Considered as Morocco's true cultural centre, you can't miss Fez if you have even a drop of interest in history. You could even pick up some awesome leather goods around the tannery. Let's check out some places that'll give you easy access to everything on offer in Fez.
The Best Places to Stay in Fez
Fez has a wide range of accommodations, with more local riads and dars. They're easy to confuse, but the way to tell a difference? A riad has a garden and is divided into quarters with a garden. Here are three of the best and most family-friendly in Fez.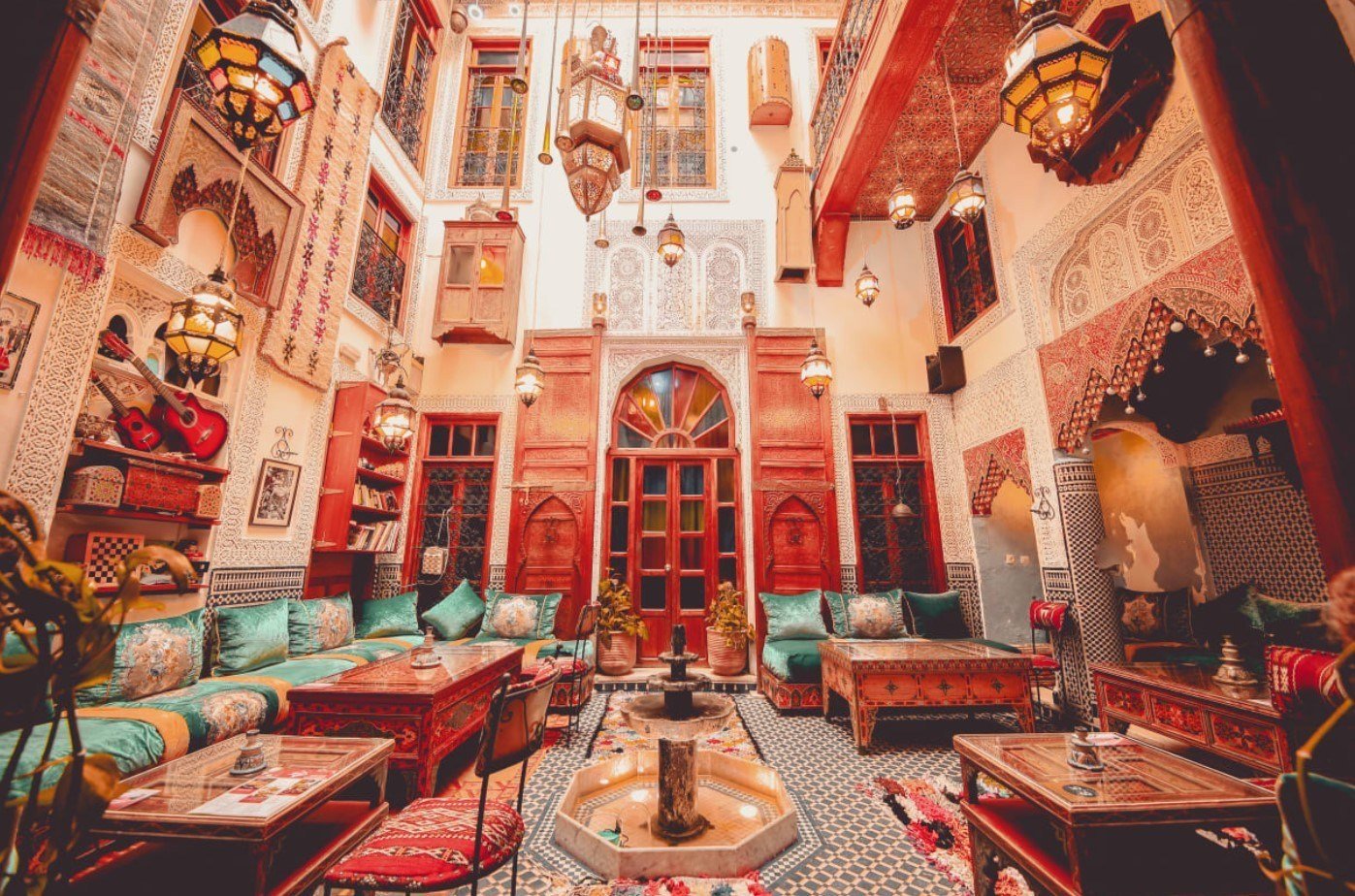 If you're travelling in a group, look no further than this Fez Airbnb. You'd think that a traditional riad with space for seven would break the bank, but no. That's the beauty of travelling in a country where the cost of travel is generally quite low! It's a stone's throw from the city's Spice Market.
Best Hostel in Fez – Riad Verus
Travelling on a budget doesn't mean you have to sacrifice an incredible experience, as this Moroccan hostel proves. There are free board games and a cinema room to come back to after your day of exploring the medina or heading out on a day trip. The quadruple private room will suit a family.
Located in the Old Medina, Fez El-Bali, this guest house style hotel is an awesome base, and according to booking.com it's great for a stay with kids! A delicious breakfast is included as part of the deal too. Deluxe quadruple rooms comfortably fit a family of four.
Casablanca – Where to Stay in Morocco for Couples
More modern than either of the locations we've looked at so far, Casablanca isn't quite as charming at atmospheric as Fez or Marrakesh. However, it's still well worth a visit. Its French colonial architecture is mixed with traditional Moorish buildings and traditional Arab culture. There are lots of museums and palaces to visit, as well as the world's second-largest mosque.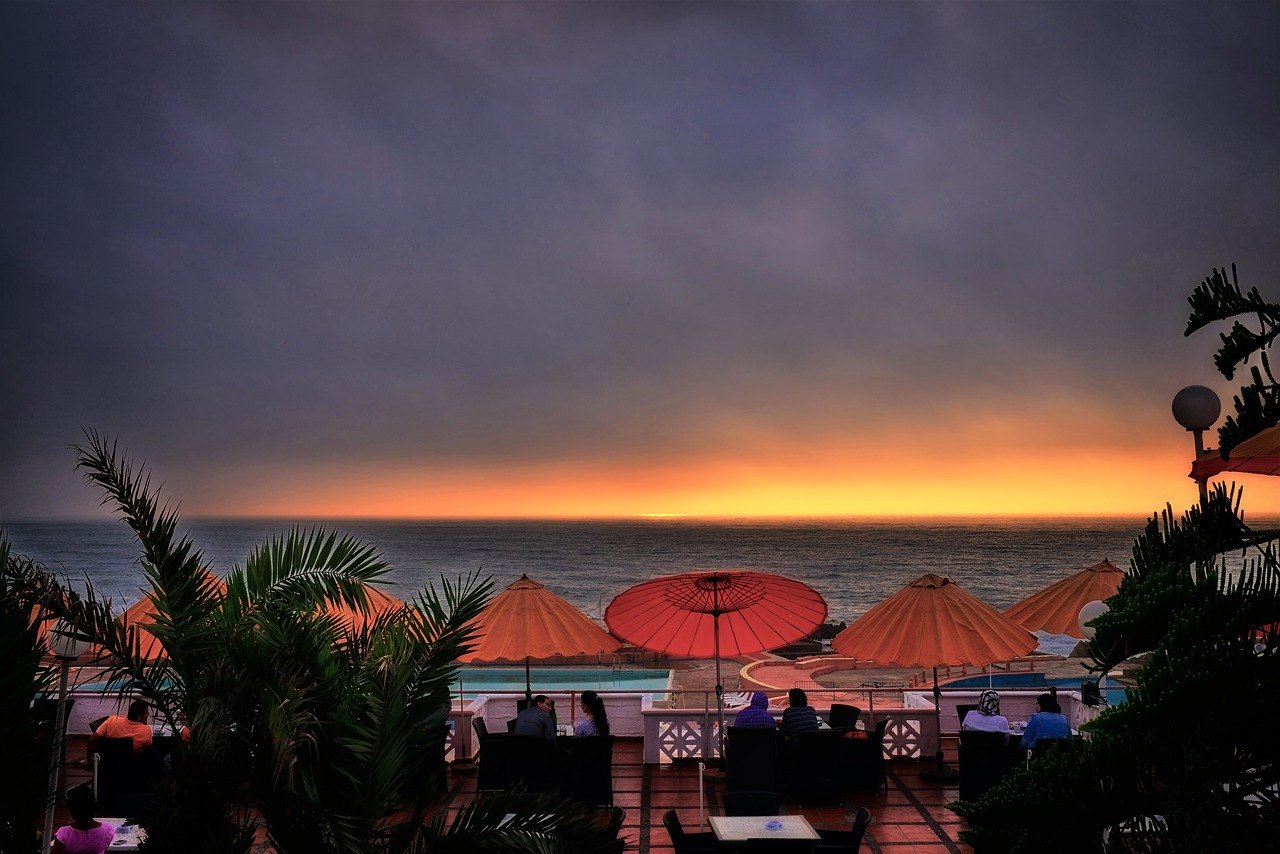 The Corniche, locally known as the Ain Diab neighbourhood is one of the best parts of town to stay in, thanks to a long beach and a number of beach bars and surf clubs. Couples will be able to enjoy a romantic experience in the Habous Quarter, which is where the most beautiful buildings and best restaurants can be found.
So, while it might not be as magical and evocative as some of Morocco's other cities, it's great for some time chilling on the beach and checking out what nightlife is like here. In Casablanca, the country's largest city, you'll find some of the more modern hostels and hotels in Morocco.
The Best Places to Stay in Casablanca
You won't be looking at riads and dars here – more likely hip hostels and swanky hotels. For those who are able to splash out more, there are a lot of five star and chain hotels in Casablanca. Some of those are a bit out of reach of a backpacker budget though! Make sure you know where you want to stay in Casablanca before you book your accommodation.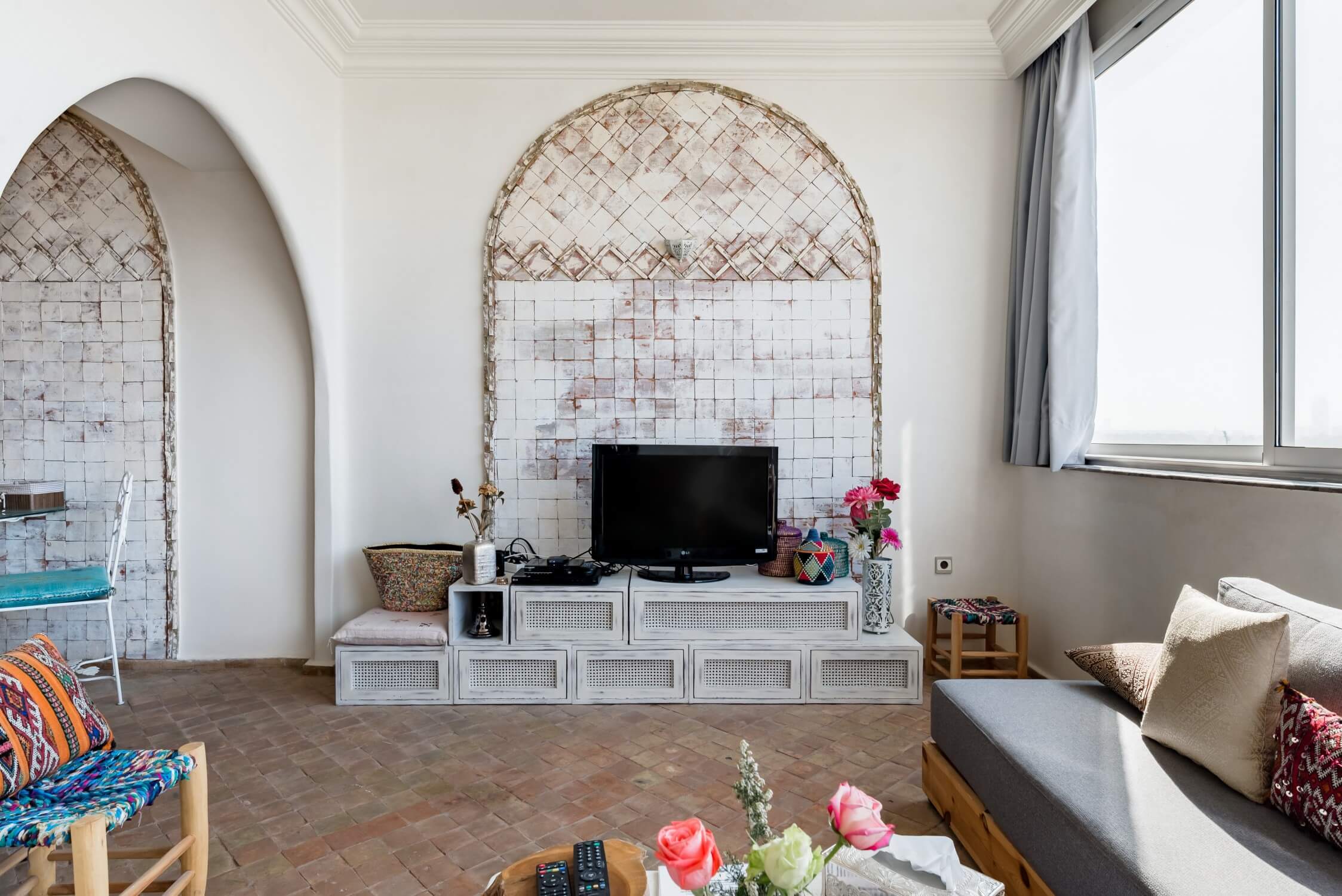 This gorgeous Casablanca Airbnb is one of the most romantic places to stay in Morocco. Close to the Corniche neighbourhood, it offers views of the ocean and the Anfa hills. The thoughtful design makes this a lovely place to spend an evening in together.
This three-star hotel is a little out of the centre, but the Roches Noires district means you can immerse yourself in the local culture, go for walks on the beach, and save yourself some cash all at the same time. Rooms are clean and comfortable.
Best Hostel in Casablanca – L'Hostel à Casablanca
Out and out hostels aren't that common in Casablanca, but they do exist. L'Hostel is located in a Moroccan villa – a bit of an oasis in the city! More than just a place to sleep, return from a day of discovery to chill out in the garden or on the terrace. Deluxe private rooms will suit couples ahead of dorms.
L'Hostel à Casablanca is one of our favourites in Morocco but they're not taking guests right now. We're not sure if they're closed for good but we hope they'll come back soon.
Is This the Best Backpack EVER???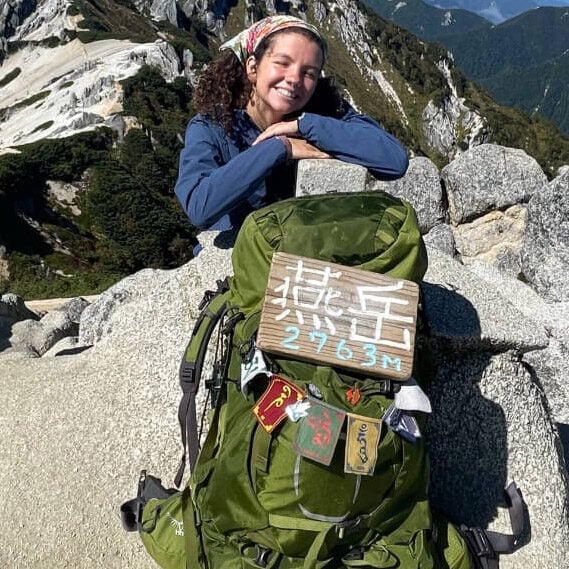 Fez – The Coolest Place to Stay in Morocco
We know what you're thinking, you've already seen Fez. But we just couldn't resist going back. There's much more to this place than its long and fascinating history – it's also one of the top destinations in North Africa. The exotic city is full of wonder, and locals have realized that. In recent years, it's seen an upsurge in new hotels and contemporary restaurants, a lovely compliment to the city's ancient roots. It's also considered a hidden gem under all Morocco backpackers, so be sure to check it out!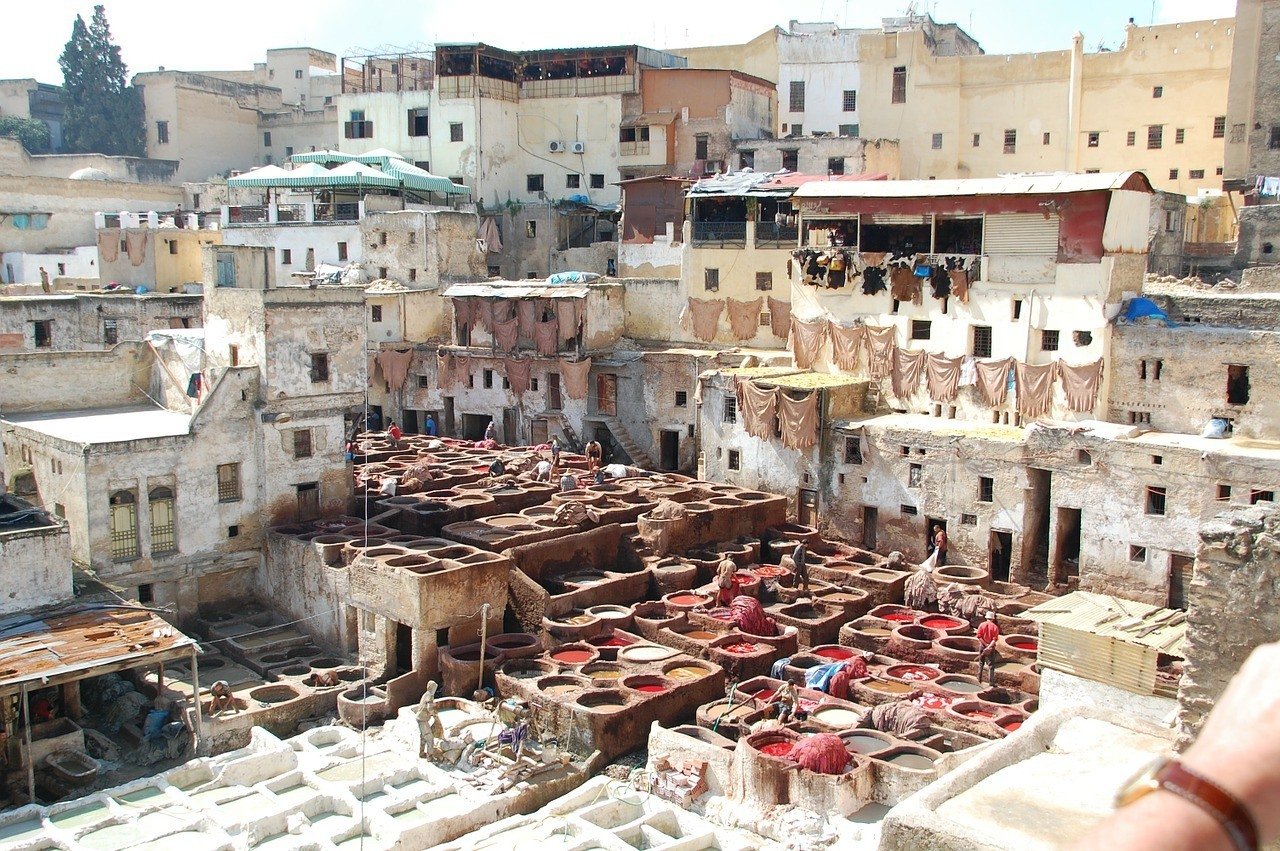 As well as the labyrinthine old Medina, which is also a UNESCO World Heritage Site, you can take a look at the other areas considered New Fez. Ville Nouvelle brings a cool mix of African and French cultures, which is reflected in the architecture, food, and shops.
So, if you're wondering 'where should I stay in Morocco' to experience authentic culture with a side of awesome places to eat and drink, Fez is your answer. You could easily spend multiple days here splitting your time between sightseeing and chilling out! And of course, you'll need somewhere to stay for that…
The Best Places to Stay in Fez
In this section, we'll focus less on accommodation in Fez that are great for families and instead offer some of the coolest places to stay in Morocco. We've got one of Morocco's best hostels for you, as well as a private room with a local and a colourful hotel.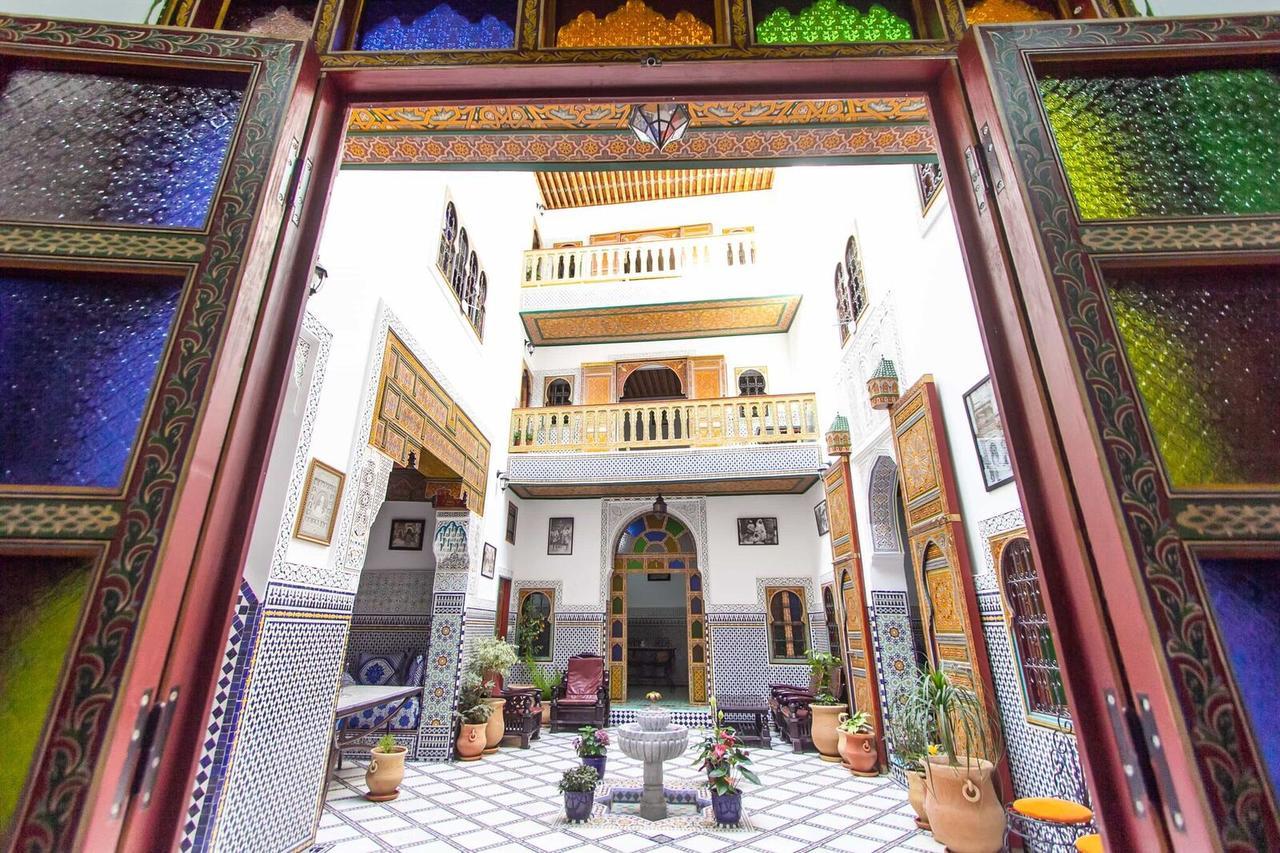 A lot of Fez's secrets or hidden and the best way to find about more about them is with local knowledge. That's why staying in a homestay is such a good idea! This huge room is gorgeous, and your friendly host will happily give you tips on the best places in town – as well as day trips into the Atlas Mountains!
Best Hostel in Fez – Dar Elinor
One of the highest-rated hostels in Morocco, Dar Ellinor is a Moroccan dream. It's right in the centre of the Medina and just 7 minutes walk from the Blue Gate. Breakfast is served at no extra cost every day of your stay too which will keep your expenses down further.
Looking for a somewhere traditional to stay in Fez? Look no further than Green House – full of bright colours and exquisite design touches. There's local knowledge aplenty on cool places to visit nearby, but make sure to fill up on the free breakfast before you head out and explore!
Essaouira – Where to Stay in Morocco on a Budget
If we're completely honest, there are few places that are particularly costly in Morocco. Overall, it's a great country to visit on a budget! However, in the most touristy places prices are just that little bit higher. Not in Essaouria though… And there's plenty to visit too. It's known as the Wind City of Africa and there's one thing it's known for above all else – surfing!
Now, Essaouira isn't quite a year-round destination, and the best time to visit is from April to November. That's when the surfing (both wind and regular) is at its finest. However, if you're not coming to surf then coming out of season means you can enjoy the medina and all of its attractions in this port town.
If you're planning to visit Essaouira for its surfing, there are plenty of purpose-built surf camps where you can stay – no matter your level of experience and expertise. For all other activities, you'll be pleased to know there's the usual network of riads, hostels, and hotels – all waiting to warmly welcome you.
The Best Places to Stay in Essaouira
As we've mentioned, there are surf camps in Essaouria but we're going to leave them for now – they're well worth a look on Hostelworld should that be your travel style. Never fear, we've still compiled three of the best places to stay in Essaouira. Let's check them out!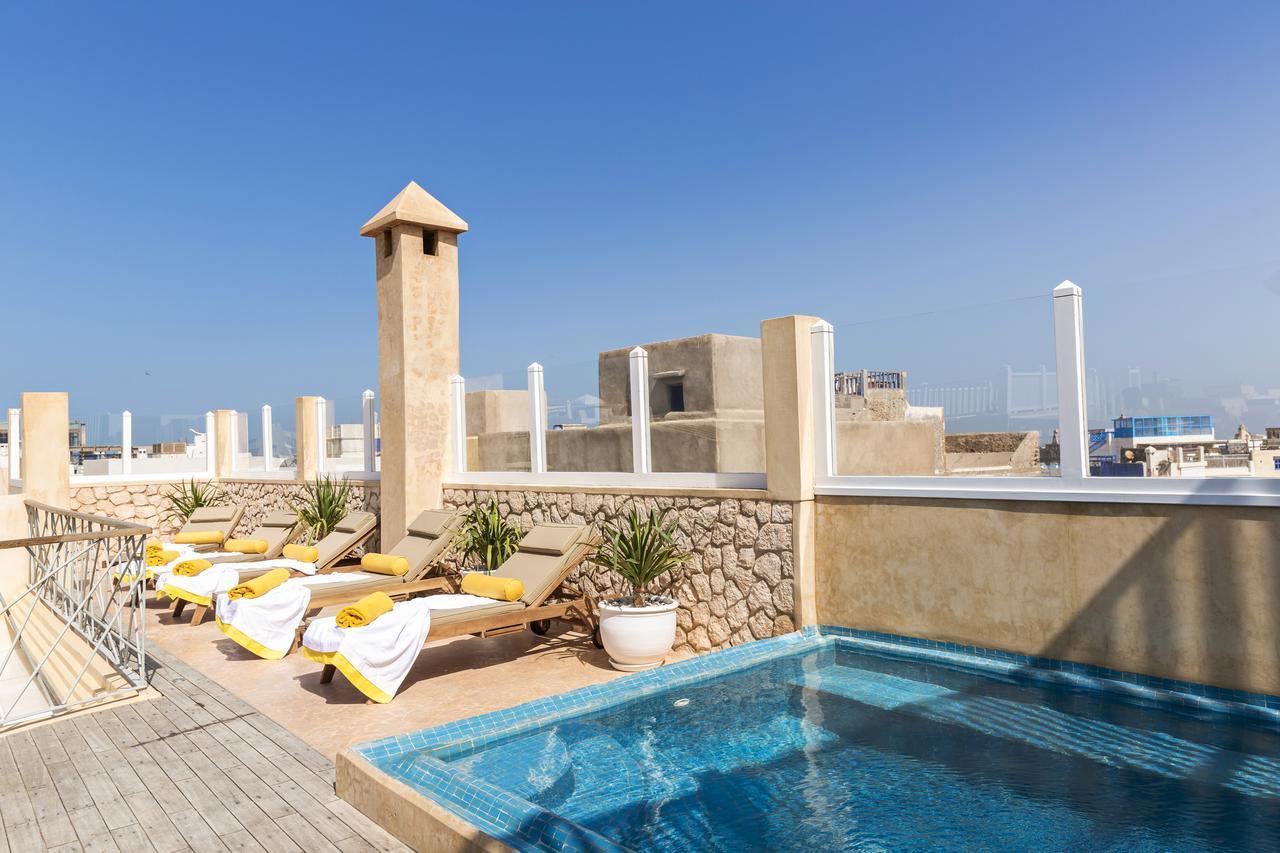 For those who are looking to enjoy a mix of the Old Town and the beach, Airbnb is the answer – with this spacious central apartment. It's part of a 17th-century riad, and we're sure that you'll love the natural light, traditional floors, and blue wooden ceilings. The king Bed is a dream for couples.
This place has definitely earned its name – it's just one minute from the beach! There are a whole load of awesome places to eat and drink nearby, and you can work off any extra calories at the football and basketball courts right by it. If you're splashing out on a private room here, it'll come with a beach view!
This is right up among the top places to stay in Morocco, and it won't break the bank. Just look at the beautiful roof terrace with a swimming pool! An ideal place to spend an afternoon topping up your tan. All rooms have a private bathroom and breakfast is included. Perfect if you want to treat yourself.
The Future of the SIM Card is HERE!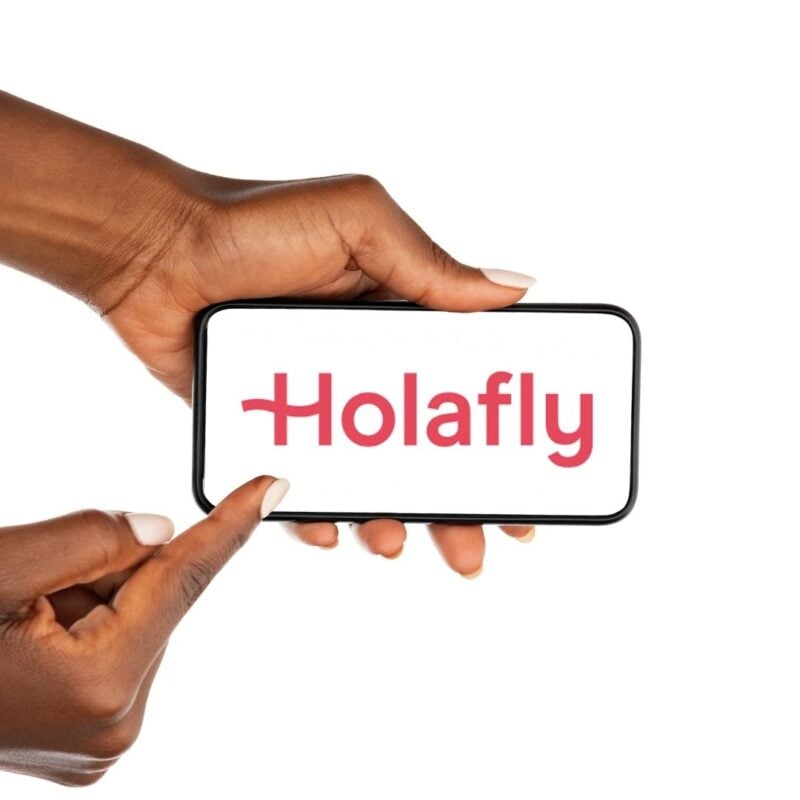 A new country, a new contract, a new piece of plastic – booooring. Instead, buy an eSIM!
An eSIM works just like an app: you buy it, you download it, and BOOM! You're connected. It's just that easy.
Is your phone eSIM ready? Read about how e-Sims work or click below to see one of the top eSIM providers on the market and ditch the plastic.
Grab an eSIM!
Chefchaouen – One of the Most Unique Places to Stay in Morocco
If you're wondering about the best city to stay in Morocco that is like nowhere else in the world, Chefchaouen ticks that box. Why's that? Well, everything's blue. Although it's unsurprisingly gained popularity in recent years because there aren't a whole load of cities on the globe painted blue from top to bottom, its medina still has an air of authenticity. Step back in time for a slice of Moroccan mountain life.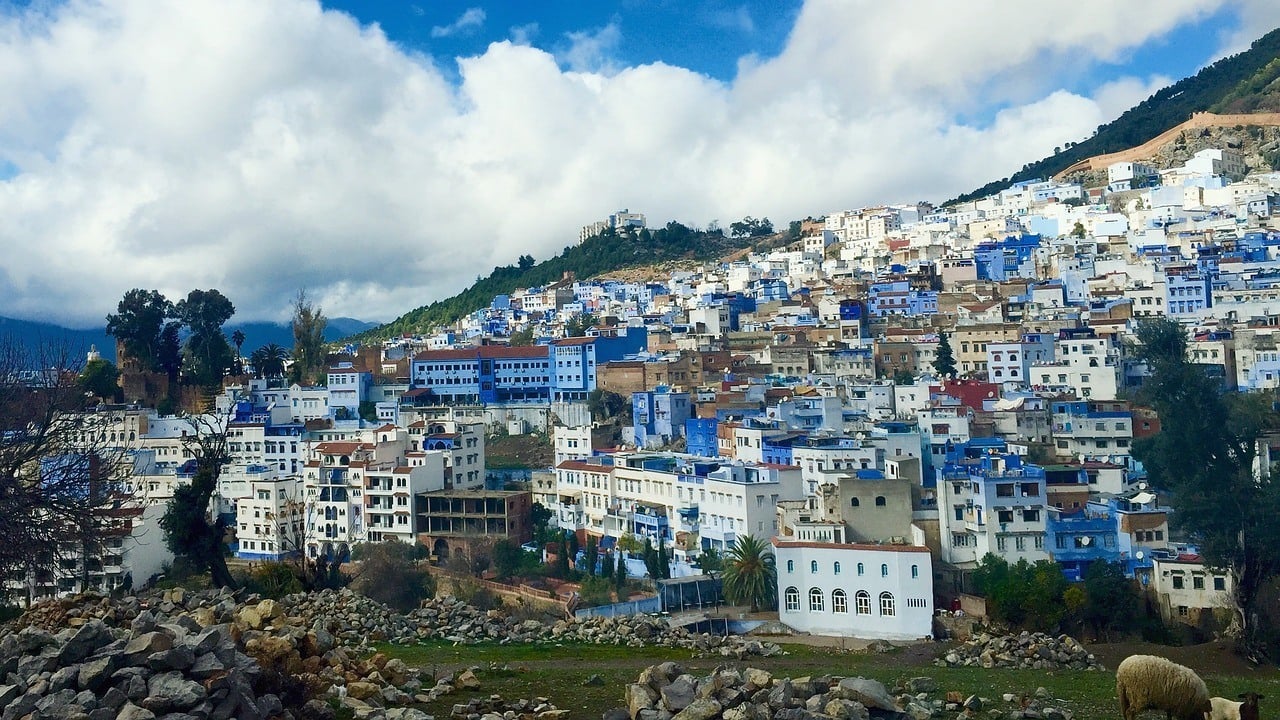 As Chefchaouen's quite small, there's not too much distinction between the neighbourhoods. Don't worry, you're not going to end up in the one neighbourhood that no-one bothered to paint. The good news is that the modern developments are lacking here and you'll be in a traditional building. Since it's so popular with tourists, accommodation quality here is good. Chefchaouen's hostels are in great condition and loved by pretty much all backpackers and travelers on a budget!
The main reason to stay in Chefchaouen is to take in somewhere so unique and obviously get loads of photos for the Gram. Make sure to spend some time here relaxing, recuperating, and getting to know one of Morocco's most charming locations.
The Best Places to Stay in Chefchaouen
Even though Chefchaouen is a popular destination, the prices aren't sky high. The main problem you'll have here is that it's quite small, so if you see a place you like, try and nab it as quickly as you can. Fittingly, Chefchaouen boasts some of the most unique places to stay in Morocco.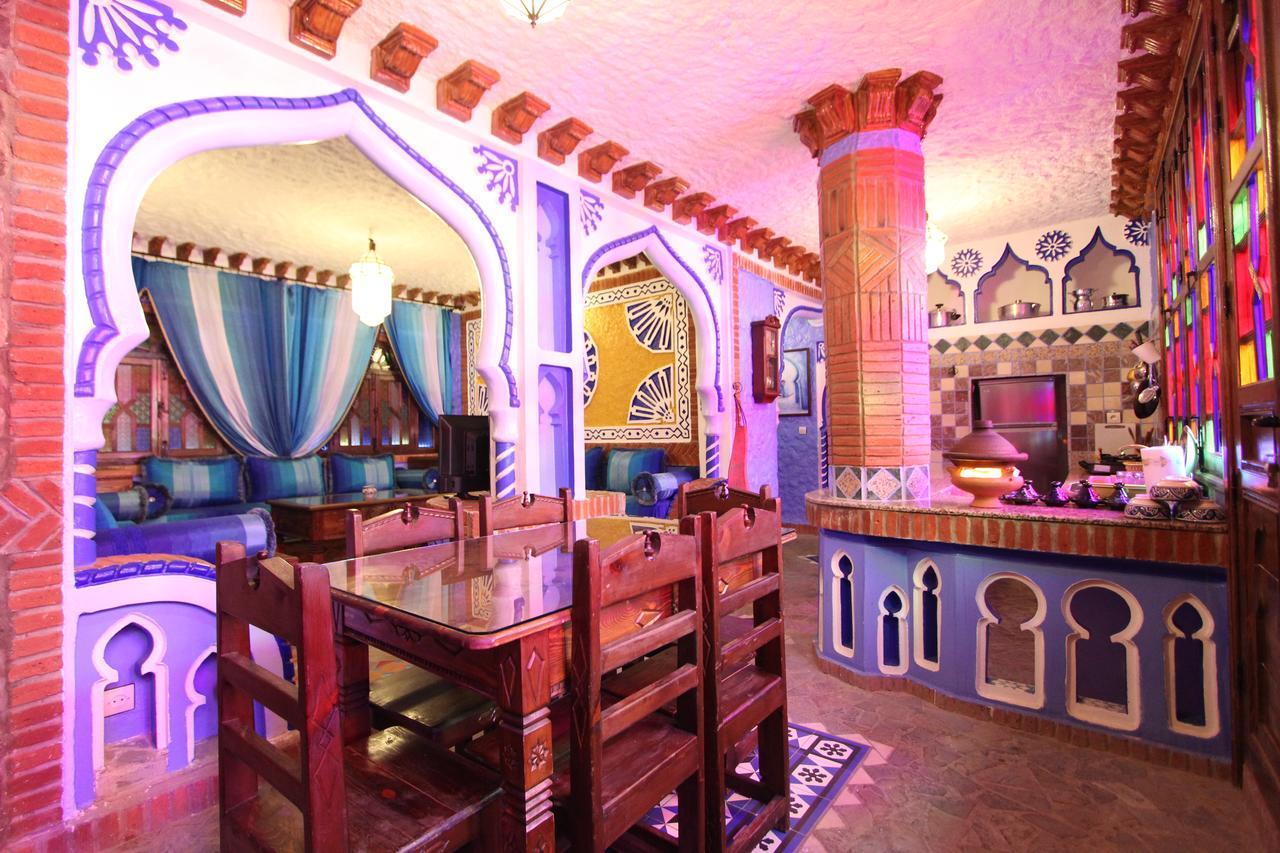 This cosy and comfortable studio is right in the heart of Chefchaouen's fabled medina. As well as a double bed, you've got a kitchen so you can keep your costs down by preparing your own meals. Of course, if you can't be bothered to cook there are some tasty restaurants and cafes on your doorstep.
You won't find a lot of regular hotels in Chefchaouen. This residence is an aparthotel, so you'll have your own private space without seeing too much of a dent in your budget. Breakfast is included – perfect fuel for a day of exploring the medina.
Best Hostel in Chefchaouen – Hostel Baraka
One of the oldest riads in Chefchaouen also happens to be one of the top hostels in this mountain village. The helpful staff will not only help you navigate your way around the maze of cobblestone streets, but offer tips on how to get to awesome sites nearby, such as Akchour waterfalls and God's Bridge.
Hostel Baraka is one of our favourites in Morocco but they're not taking guests right now. We're not sure if they're closed for good but we hope they'll come back soon.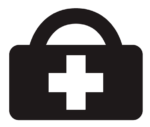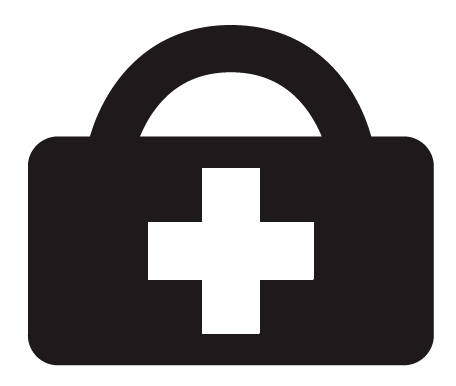 Morocco is a very fun place and one could easily get carried away while visiting. It's important to remember that no country is perfect though.
Read our safety guide for Morocco before planning your trip so you will be extra prepared when you arrive.
Save $$$ • Save the Planet • Save Your Stomach!
Drink water from ANYWHERE. The Grayl Geopress is the worlds leading filtered water bottle protecting you from all manner of waterborne nasties.
Single-use plastic bottles are a MASSIVE threat to marine life. Be a part of the solution and travel with a filter water bottle. Save money and the environment!
We've tested the Geopress rigorously from the icy heights of Pakistan to the tropical jungles of Bali, and can confirm: it's the best water bottle you'll ever buy!
View on REI
Read the Review
Atlas Mountains/Sahara Desert – Where to Stay in Morocco for Adventure
If you're a nature lover or outdoor enthusiast and looking for the best areas to stay in Morocco, then take a closer look at the Atlas Mountains and the Sahara Desert. Both covering a vast area of land, you'll need to spend a few days here to enjoy some of the most enticing activities in Africa including camel trekking, overnight camping, and hiking and biking in the mountains.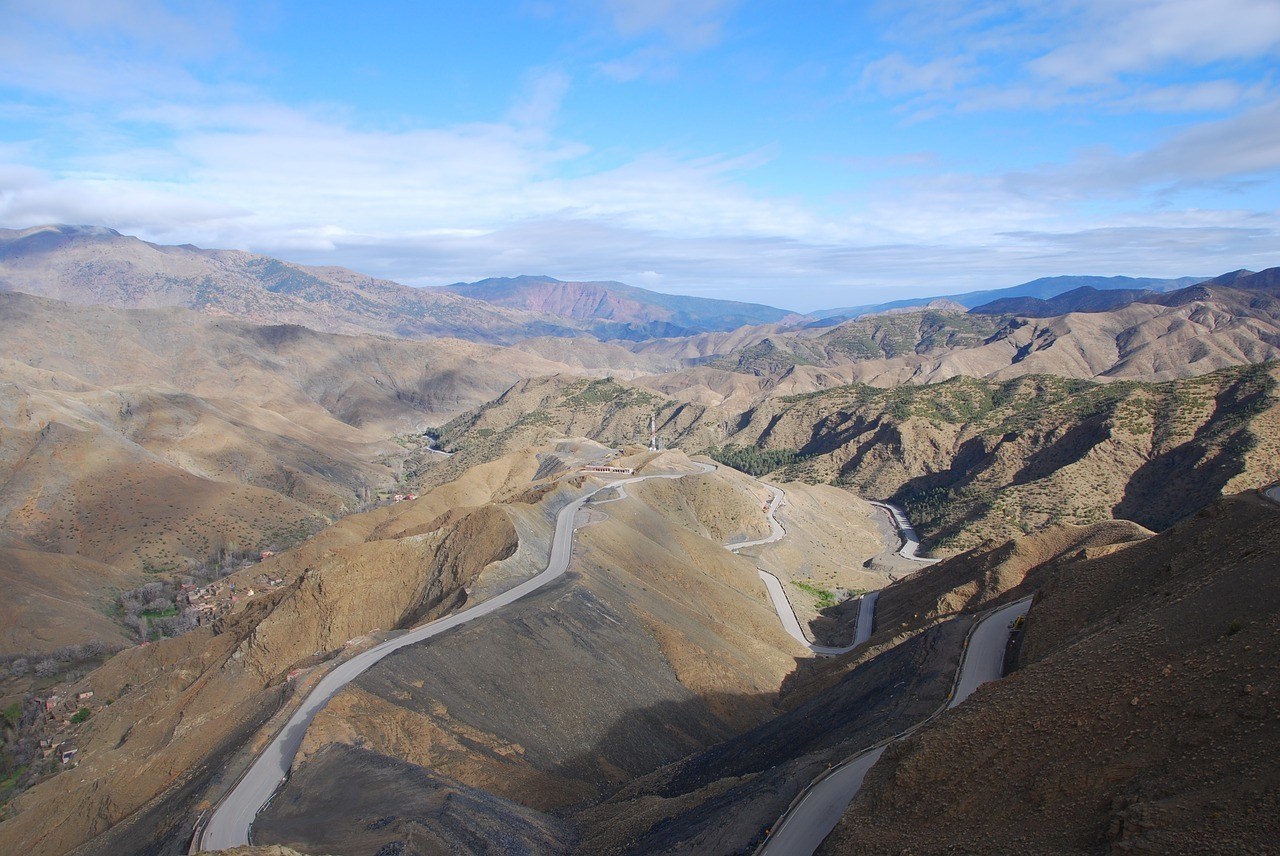 If you're interested in the desert, Ouarzazate and Mhamid are good bases – but it'll take a camel trek or a 4 x 4 to get to the camps right in the Sahara. While you can visit the Atlas Mountains on day trips from other Moroccan cities, Imlil is a good place to start if you want the full experience. Expect unique accommodation too, including Berber camps, traditional huts, and some top end luxury hotels in there too.
Both the Atlas Mountains and Sahara Desert offer a great chance to escape the hustle and bustle of the cities, and we'd wholeheartedly recommend staying overnight in the desert. You'll never see so many stars in your life! Get off the beaten track and get to know Morocco's true heart. However, be sure to pack the right things for this Morocco adventure – leave the high heels at home and pack some proper backpacking shoes.
The Best Places to Stay in Atlas Mountains/Sahara Desert
Here goes – we've got one in the mountains and two in the desert. This is one of the hardest lists to whittle down to three, but here is some of the most unique and authentic Morocco accommodation.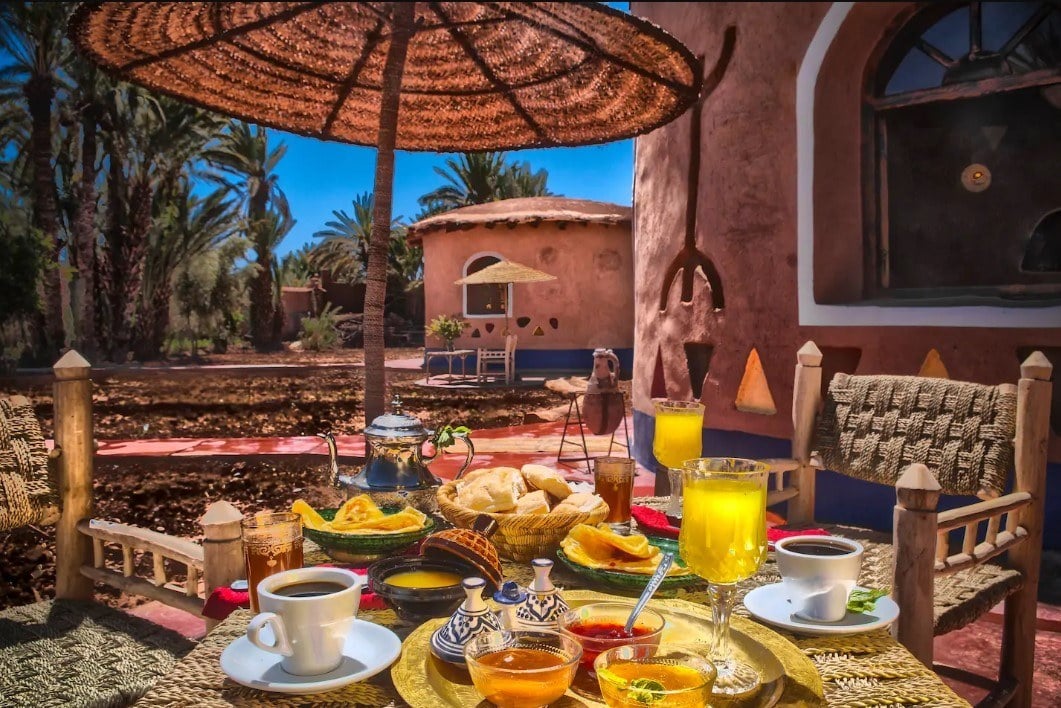 An unforgettable experience awaits you in Ouarzazate. The gateway to the Sahara Desert, you'll be able to stay in a typical Moroccan earth house. Each house can fit up to five people, so it's great for families or groups of friends exploring Morocco's great outdoors.
Best Hostel in Atlas Mountains/Sahara Desert – Riad Ouassaggou (Imlil)
Right in the High Atlas Mountains this friendly guesthouse offers the ideal place to plan your next trek. It's perfectly positioned if you're planning to ascend to the summit of Toukbal. Located in the traditional village of Imlil, there's excellent Moroccan cuisine offered on-site too.
Best Hotel in Atlas Mountains/Sahara Desert – Chez Le Pacha (Mhamid)
Made up of a mix of Berber tents and African huts, Chez le Pacha feels like it's at the end of the world. It's on the last road before you properly enter the Sahara. When it gets too cold to take a dip in the cool, share a warming cocktail with a camel instead. Yes, really! There's an enclosure by the hotel bar where orphaned Jamelia can hang out with guests.
Marrakesh – Best Shopping in Morocco
Again, you're already familiar with Marrakesh. It really is the best city to stay in Morocco, but in this section we'll focus a little closer on one thing: shopping. Yes, if you're not careful you could come back from Morocco with a whole new interior design scheme for your home. The souks and shops around Jemaa el-Fnaa in Marrakesh sell everything weird and wonderful. Just make sure NEVER to pay the first price you're given for something!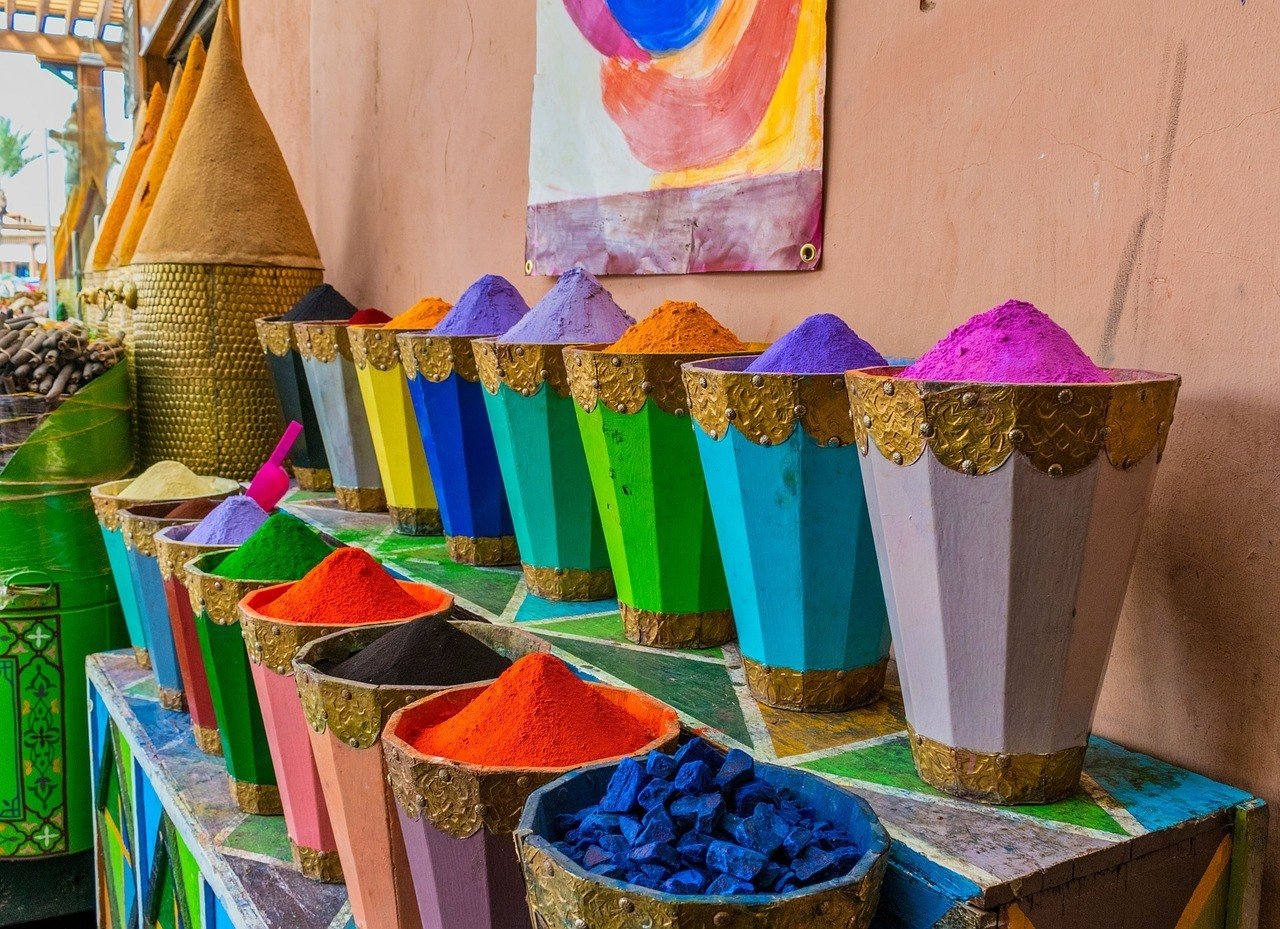 If you've come to Marrakesh with the intention of shopping, then the Medina is the area for you. It'll mean you have the minimal amount of distance to bring back your purchases. It's also packed with cafes and restaurants, so you'll have plenty of places to stop for a break.
Of course, we'd still recommend trying to fit some time in to see Marrakesh's historical attractions too – the tanneries combine shopping and culture. The Medina is the perfect place to pick up any last-minute souvenirs for family members and friends at bargain prices. Just make sure you don't buy too much or you'll have to get another bag for the flight home!
The Best Places to Stay in Marrakesh
You know how it works now – we've found the best hostel, Airbnb, and hotel in Marrakesh. And don't worry, they're three completely different properties from the ones you saw before. Honestly – you can scroll back up if you don't believe us!
Not all accommodation in Marrakesh is a Riad – but this delightful apartment boasts one of the highest apartments in the old town, meaning you've got an exceptional view! It's close to the souks and since you have the apartment to yourself, there's more space to store your purchases.
Just one minute from Jemaa el-Fnaa and right among all the souks is Riad Layla Rouge. Morocco's (and possibly the world's) first edible hostel. It's not actually edible, but there's free tea and cake which you can enjoy in the courtyard or on one of two roof terraces.
One of the highest-rated hotels in Marrakech, you're sure to be impressed by Riad Soundouss. Breakfast is included and you'll be able to enjoy it on the patio. It's also a great place to stay for families, as kids menus are provided for dinner at the hotel.
Top Places to Stay in Morocco
So, we've almost come to the end of our list of the best places to stay in Morocco. However, before we go we just want to leave you with three of the best overall accommodations in the country. These are destinations in themselves…
Travelling to Morocco with friends or family? It's daft not to rent this entire riad with a pool. There are six rooms around a courtyard and it's just a few minutes from Jemaa El-Fnaa. It's a real oasis of peace in the madness of Marrakesh!
Last but not least for our overall best hotel in Morocco we thought we'd go for somewhere a bit special. While it won't break the bank, it might stretch your budget too. But it's worth every penny for that view and infinity pool in the foothills of the Atlas Mountains.
Best Hostel in Morocco – Auberge Kasbah des Dunes Merzouga
It may not look like the most exciting hostel on the surface, but you won't be staying in the rooms on the pictures for one of the best experiences in Morocco. From here, you can take camels out into the Sahara Desert and camp for the night. And unforgettable memory!
Auberge Kasbah des Dunes Merzouga is one of our favourites in Morocco but they're not taking guests right now. We're not sure if they're closed for good but we hope they'll come back soon.
Books to Read While Visiting in Morocco
Here are some of my favorite books books set in Morocco:

Our GREATEST Travel Secrets…
Pop your email here & get the original Broke Backpacker Bible for FREE.
Don't Forget Travel Insurance for Morocco
ALWAYS sort out your backpacker insurance before your trip. There's plenty to choose from in that department, but a good place to start is Safety Wing.
They offer month-to-month payments, no lock-in contracts, and require absolutely no itineraries: that's the exact kind of insurance long-term travellers and digital nomads need.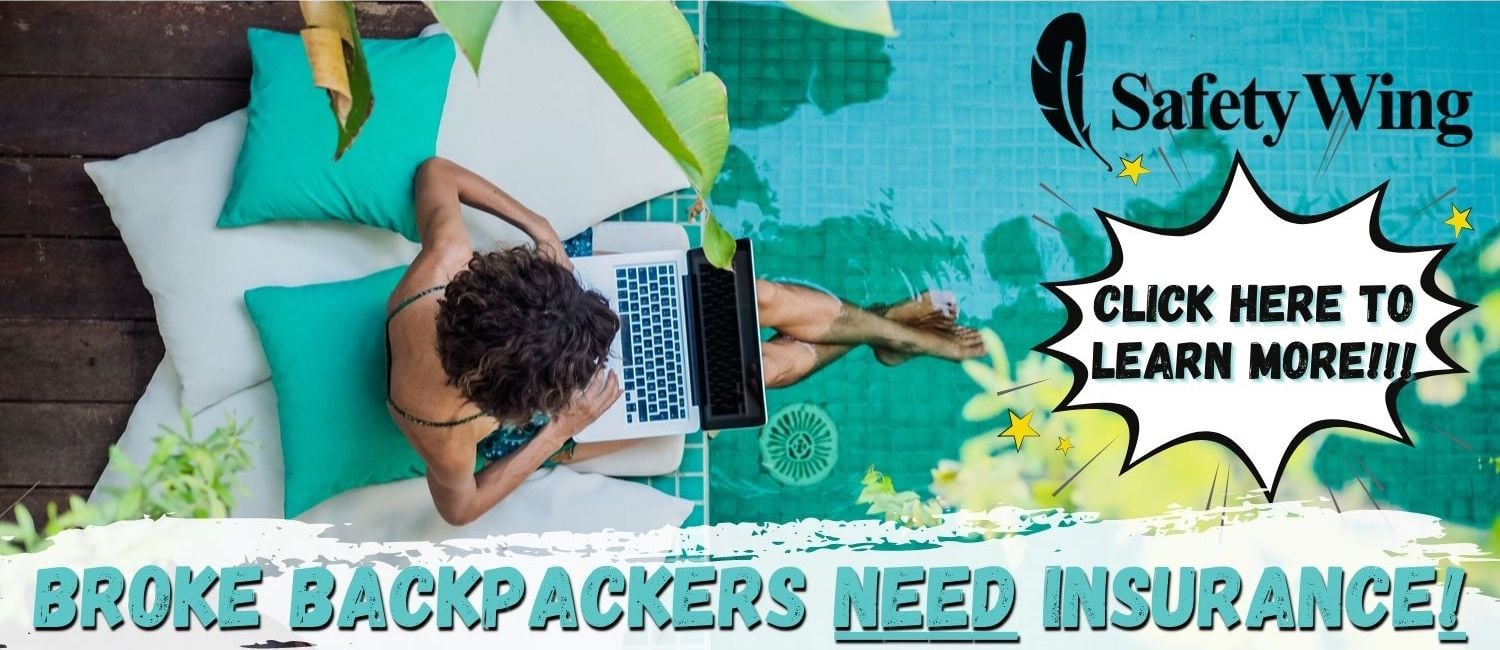 SafetyWing is cheap, easy, and admin-free: just sign up lickety-split so you can get back to it!
Click the button below to learn more about SafetyWing's setup or read our insider review for the full tasty scoop.
Final Thoughts on Where to Stay in Morocco
So, that concludes our list of places to stay in Morocco and reasons to stay there. Our selections hopefully will not only mean you have a great stay but also you'll learn to live like a local – especially if you pick a homely and welcoming riad. We're sure that whichever lodging in Morocco you choose, you'll have an authentic and enjoyable location. As long as it's from our list, of course!
Morocco is packed with adventures, intriguing culture, and kind and warm locals. Whether you want to go trekking through the Atlas Mountains, pick up some bargain artisan crafts in the souks of Marrakech, or even camp out under millions of stars in the Sahara Desert, you're sure to fall in love with Morocco.
Now that we've helped you to plan your trip to Morocco, all that's left is for us to wish you a safe and happy trip. We hope you have a great time!
---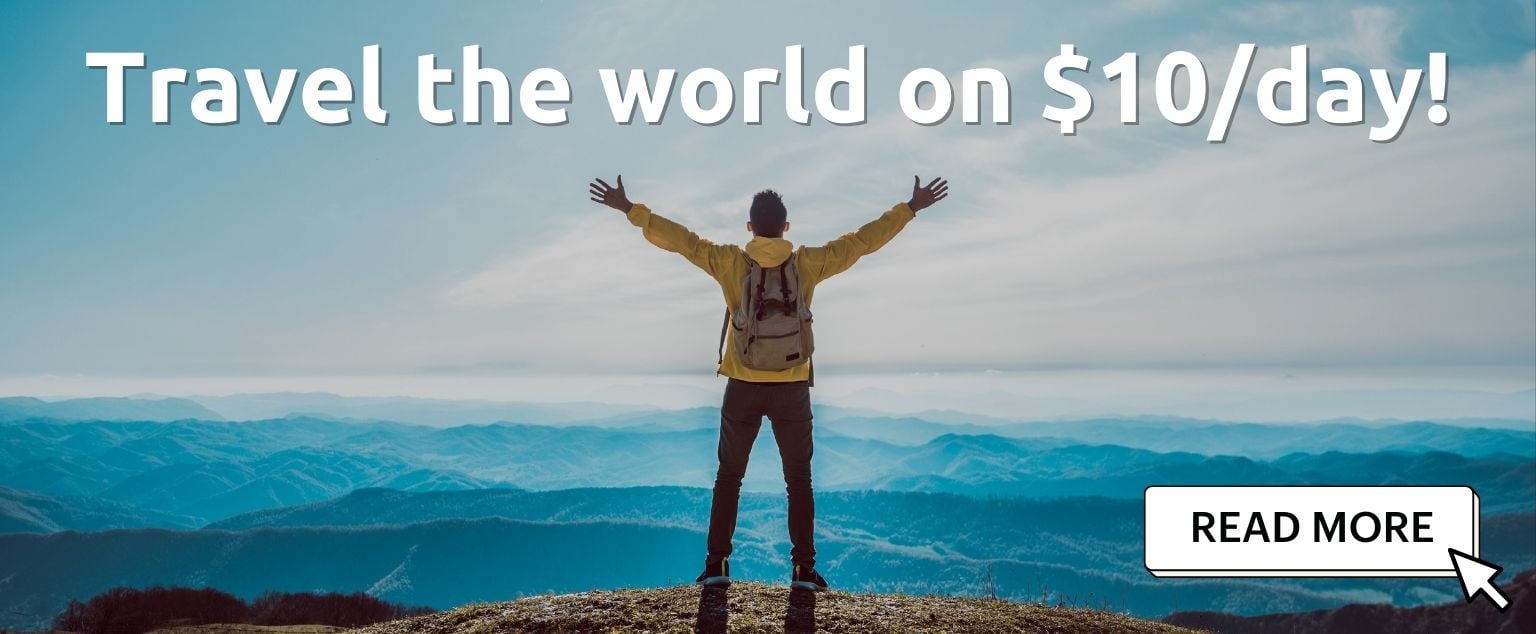 And for transparency's sake, please know that some of the links in our content are affiliate links. That means that if you book your accommodation, buy your gear, or sort your insurance through our link, we earn a small commission (at no extra cost to you). That said, we only link to the gear we trust and never recommend services we don't believe are up to scratch. Again, thank you!