The captivating city of Marrakech is the tourist centre of Morocco. Bustling souks, vibrant squares, ancient monuments, and delicious street food are just some of the things you can expect to add to your Marrakech itinerary. It's an excellent place to be introduced to North African culture as there's enough tourist infrastructure here to make travel relatively uncomplicated, while there's still an authentic and real flavour to the city.
In this list, we'll take a look at the best places to visit in Marrakech. With our extensive list, you'll be able to make a plan for your holiday which means you won't miss any of the best landmarks in Marrakech! First of all though, let's take a quick look at the best places to stay in Marrakech.
Best Places to Stay in Marrakech
It can be tricky to know where to stay in Marrakech. The maze of streets in the Medina District (one of the coolest neighbourhoods in Marrakech) is home to 5 star hotels, homely and welcoming traditional 'riads' and a number of other accommodations too. But how can you decide the best places to stay in Marrakech for you? Well, we've put together a quick list of 3 places, taking into account a range of budgets and travel styles. Let's take a look!
This vibrant and brightly coloured hostel certainly is a sight for sore eyes. It's just one minute on foot from Jemaa el Fna market, so it's right in one of the most vibrant and atmospheric neighbourhoods in Marrakech! You can choose between mixed dorms and private rooms in this traditional Moroccan riad. The best part of staying here is the communal areas. There's a traditional kitchen where you can prepare food you've bought at the market, and two roof terraces covered in flowers and fruit trees. Oh, and a courtyard!
For more awesome hostels in Marrakech, check out our list of 23 BEST Hostels in Marrakech!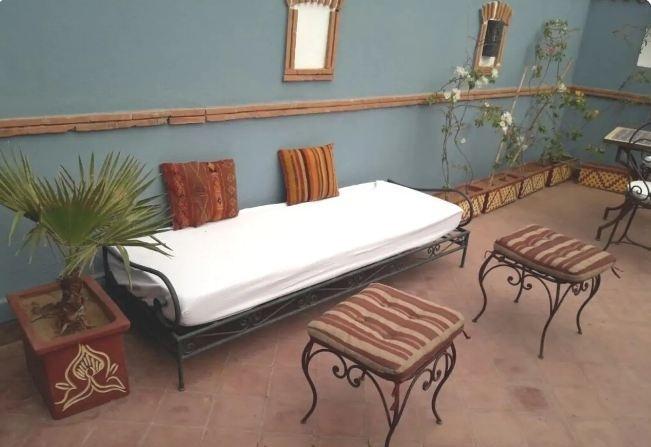 Riad Barbmar is a renovated traditional Moroccan riad in the Marrakech Medina. A riad is a type of traditional Moroccan house or palace with an interior garden or courtyard. It accommodates up to eight guests in four bedrooms. Regardless of whether you are 1 traveller or a group of 2-8 people, you will have the private use of the entire house and will not share with other guests. The indoor pool is perfect for cooling off after sightseeing. The third floor roof terrace is a great space for socialising with family and friends. The upper terrace on the fourth floor is shaded and ideal for outdoor meals. From there you look over the entire Medina.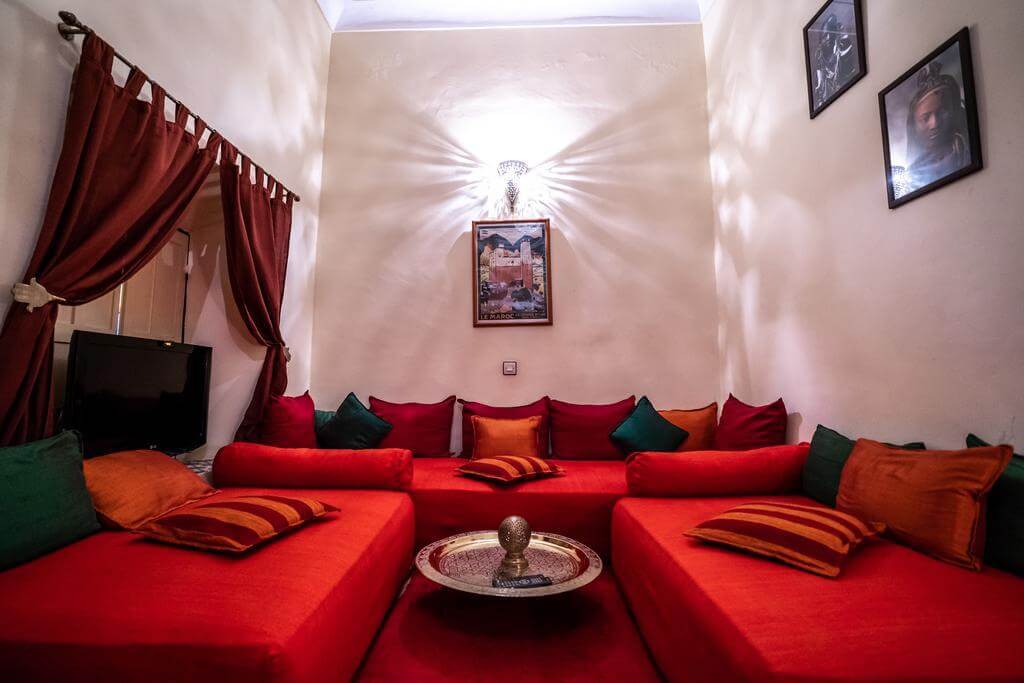 Sometimes you want to keep your costs down without sharing a room. So how do you work out where to stay in Marrakech while still keeping your costs low? Well, Hotel Sherazade can help with that. Also in the vicinity of Jemaa el Fna Square, this cool budget hotel provides a view of the Koutoubia Mosque from its roof terrace. All rooms come with air-conditioning too, so you'll be able to cool off after a day walking around the souks… and probably getting a little sweaty!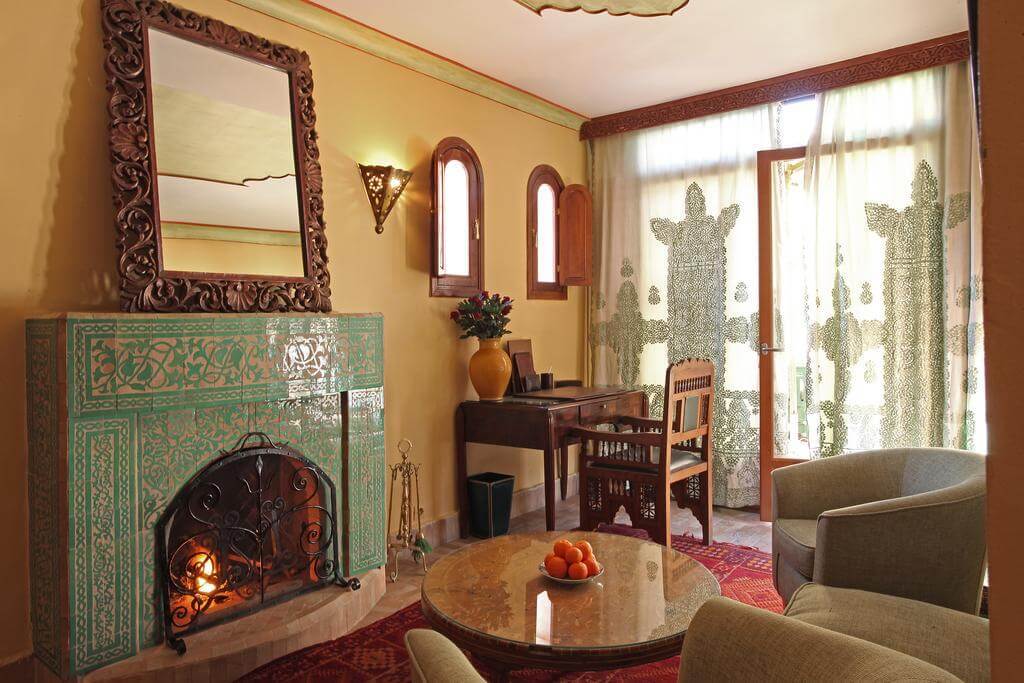 One of the things you'll want to take advantage of when you visit Marrakech is the hammams and spas. In that case, La Maison Arabe is definitely one of the best places to stay in Marrakech as it has 2 traditional hammams and 5 massage rooms! That's not all – this five star hotel also offers a complimentary bottle of wine and afternoon tea. Just be sure to leave an hour between enjoying that and using the heated swimming pool! With everything on offer here, you could be forgiven for not wanting to explore Marrakech, even though Jemaa el Fna Square is within a 10 minute walk of this luxurious spot.
Need a place quick? Here's the best neighbourhood in Marrakech:
BEST AREA IN MARRAKECH
Medina
There is no better place to stay than the Medina if you are visiting the city for the first time. A series of winding alleys and narrow streets, the Medina is the heart and soul of historic Marrakech.
Places to visit:
See historic and contemporary works of art at the Musee Dar Si Said
Enjoy a moment of peace as you visit Mosque Koutoubia, the largest mosque in Marrakech
Take a seat on a rooftop patio and savour a glass of traditional Moroccan mint tea
These are the BEST Places to Visit in Marrakech!
#1 – Jemaa el-Fnaa
A great place in Marrakech if you love to shop
The beating heart of Marrakech
A great place to try typical Moroccan street food
Look out for snake charmers and henna tattooists!
Why it's awesome: Where to even start with why Jemaa el-Fnaa is awesome? The central square of Marrakech's Medina District is the heart of everything that happens in this buzzing city. No matter what time of year you go, it'll be a vibrant feast for the senses. Listen to the flutes of snake charmers, smell the spices on the street food, and see all the twinkling lights. You'll probably hear a lot too – mostly of people getting your attention to check out their stall! Jemaa El-Fna is not to be missed off any Marrakech itinerary!
What to do there: When it comes to food, you'll find some of the best places to eat in Marrakech in this square. And they're just little street food stands! Try orange juice, lamb kebabs, and perhaps buy a few spices to take home. This particular square also inspired UNESCO to create Masterpieces of the Oral and Intangible Heritage of Humanity, so don't miss hearing a poem or a tale from a storyteller! The souks off the square and in the Medina District are a great place to pick up souvenirs too.
#2 – Jardin Majorelle
A beautiful and scenic place to check out in Marrakech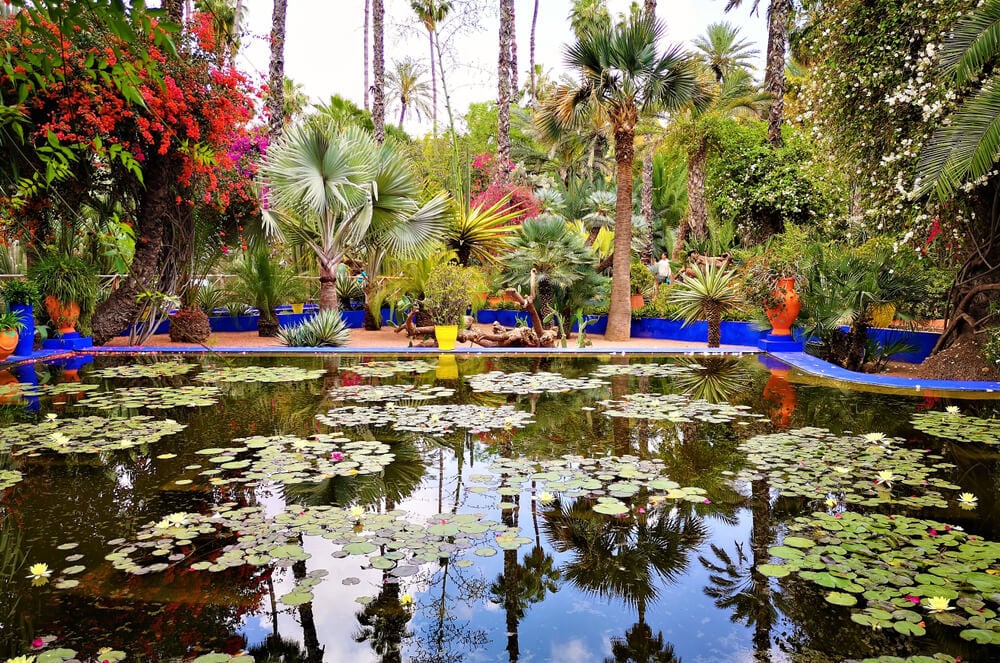 Tropical gardens by the French painter Jacques Majorelle
One of the best places to escape the hustle and bustle of Marrakech
Don't miss the stunning blue art deco house – the garden's centrepiece!
Why it's awesome: If you've found Jemaa el-Fna a little overwhelming and hectic, then make the next stop on your Marrakech itinerary the Jardin Majorelle. These botanical gardens are the exact opposite to the hectic souks, and you can relax to your heart's content. Designed by the French painter Jacques Majorelle, these botanical gardens are packed with hundreds of different species of cacti! The highlight though is the art deco house in the centre. The blue tiled building is one of the most recognisable landmarks in Marrakech and will bag you a few new Instagram followers!
What to do there: Get lost in the depths of the garden. Wander down the narrow paths, listen to the bubbling of the little streams, and stay in the shade out of the hot Moroccan sun! Once you feel you've spent enough time in the garden, you should definitely duck into the gorgeous blue house that was Majorelle's painting studio. It's now home to a museum dedicated to Berber artistry – a real Marrakech must see!
#3 – Koutoubia Mosque
One of the most important religious places to see in Marrakech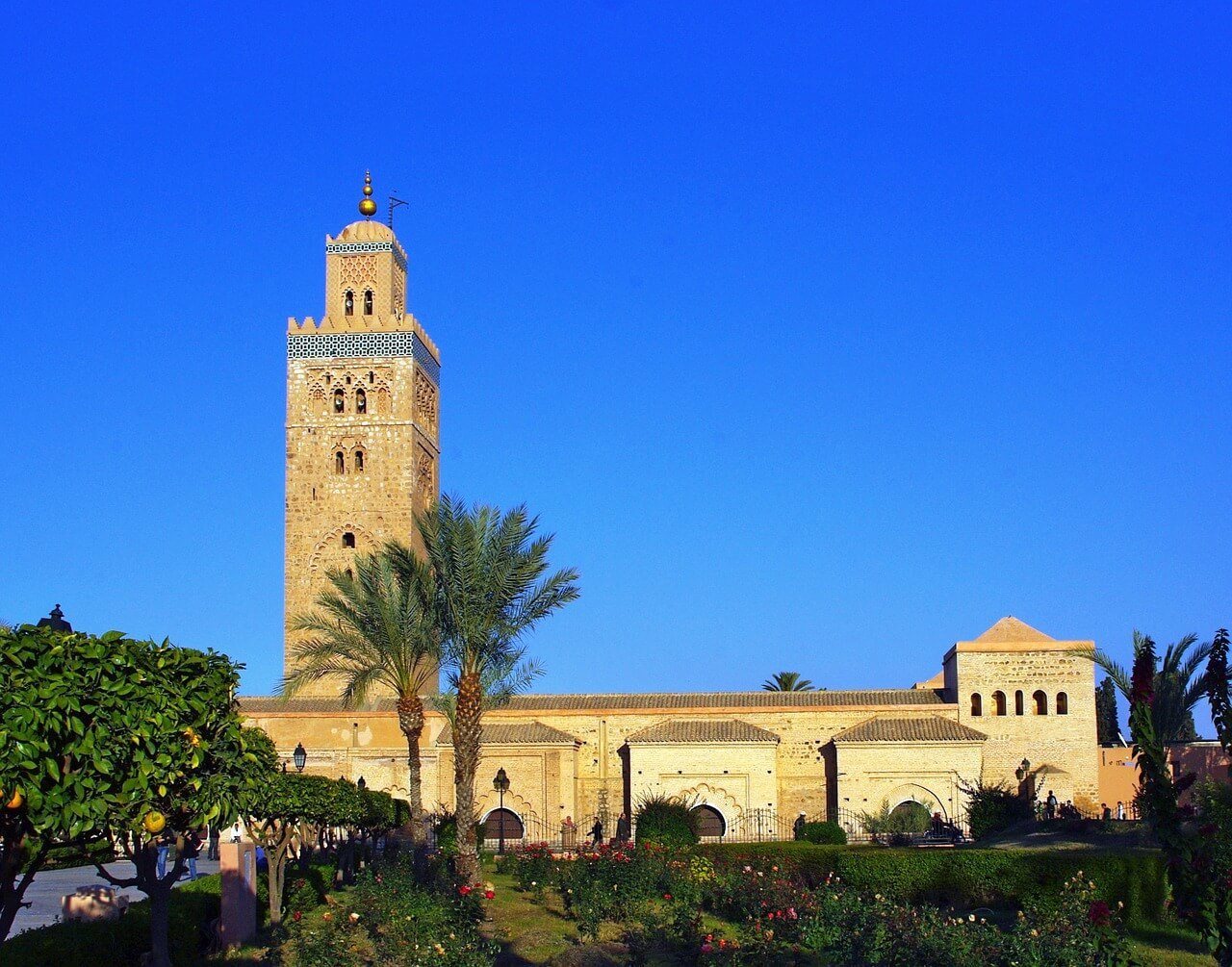 A fantastic example of Almohad architecture
Hear the call to prayer 5 times a day
One of the most recognisable landmarks in Marrakech
Why it's awesome: Mosques are an important part of Moroccan culture, and the Koutoubia Mosque might be the most important one of all. Non-Muslims are not allowed in the mosque itself, so you may think it a little strange that we've included it on a list of the best places to visit in Marrakech. That's because there's nothing stopping you from admiring the architecture from outside. The 12th century minaret is visible from every direction, and it's an intricate example of Almohad architecture, which you can see across North Africa and even in Spain.
What to do there: As we've already pointed out, it's not possible to go into the mosque unless you're Muslim. However, it's a good place to admire the beautiful and intricate architecture. Also, you can listen out for the call to prayer which happens 5 times a day, adding another layer to the atmosphere here. There's plenty of stuff to do around the mosque, so don't be put off visiting if you're not able to go inside. It is after all one of the most important landmarks in Marrakech!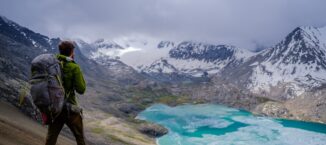 Discover Broke Backpacker Travel Secrets!
Pop your email address in below and we'll send you your copy of the Backpacker Bible for free – learn how to travel on $10 a day!
#4 – Saadian Tombs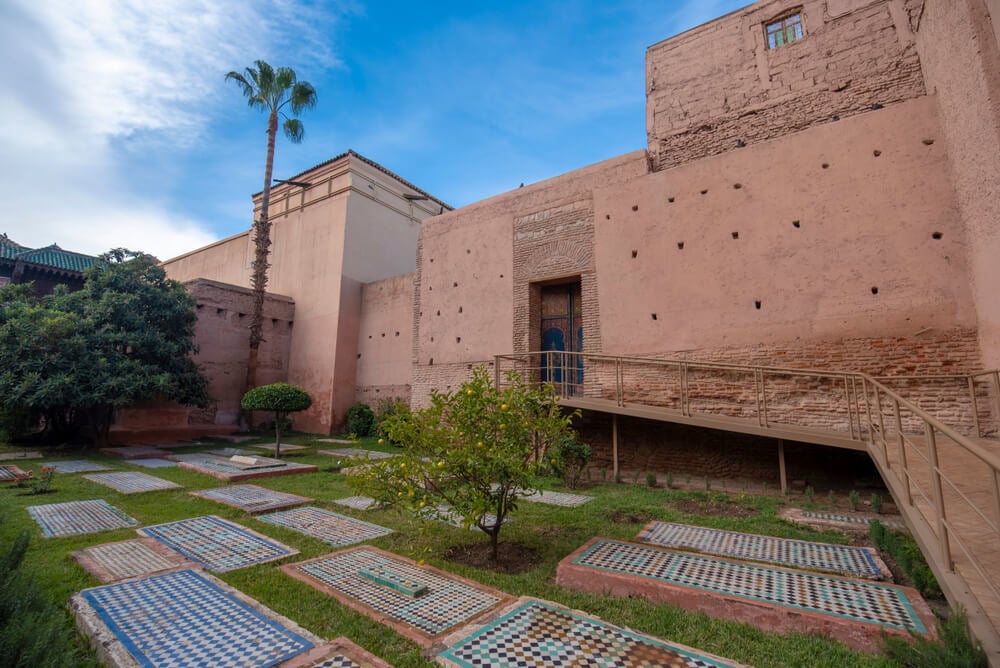 See the final resting places of the Saadian dynasty
These tombs remained undiscovered until the 20th century
One of the most famous places in Marrakech
Why it's awesome: This unusual tourist attraction is the final resting place of members of the Saadian Dynasty. Although they ruled in the 16th and 17th centuries, the 66 tombs of this burial ground remained undiscovered until the early 20th century! The ruler Al-Mansour rests here, as do his close family members. One of the most atmospheric attractions in Marrakech, the mausoleums of the Saadian Tombs are set in an overgrown garden in the Medina District.
What to do there: When visiting the Saadian tombs, make sure to keep an eye out for traditional Arabic calligraphy, colourful tiles, and intricate carvings. The tombs aren't far from the city centre, but they're peaceful and quiet, and a perfect antidote to the souks and Jemaa el-Fna square! They've been beautifully restored and preserved and it's no wonder that there one of the most famous places in Marrakech!
#5 – Bahia Palace
A great place to see in Marrakech if you love architecture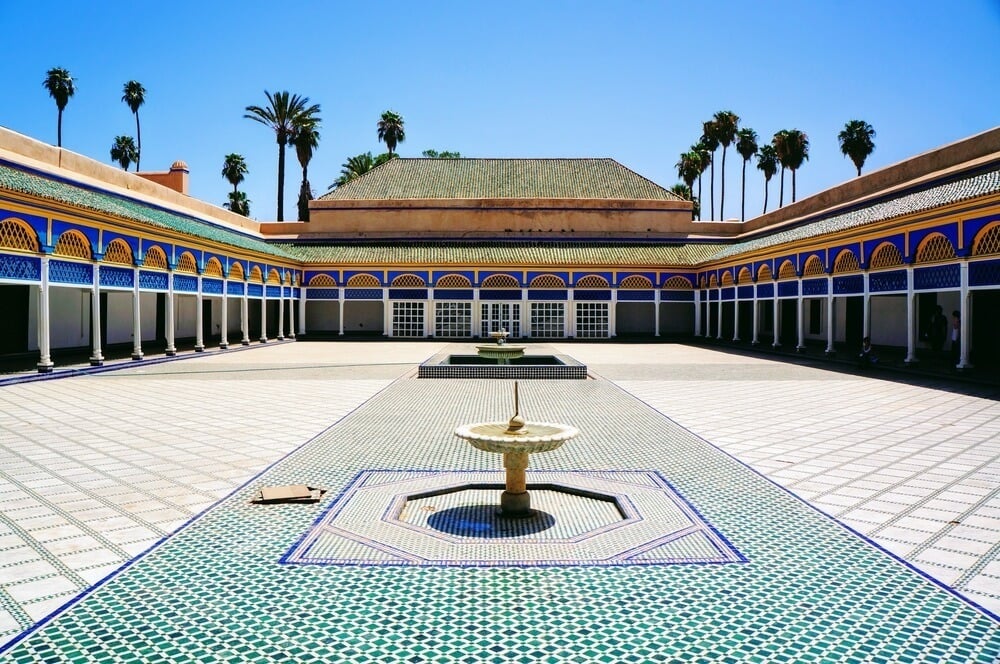 Ornate decoration on the walls, doors, floors, and ceilings
Wander through the rooms and courtyards of this sprawling palace
One of the most fascinating points of interest in Marrakech
Why it's awesome: Bahia means brilliance, and that's certainly applicable to this late 19th century palace. It's another place where you can easily escape the hustle and bustle of the city, swapping buzzing streets and vibrant souks for tranquil courtyards and wide-open airy rooms. You can really get an idea of the opulent lives that those who lived in the palace lived from the colourful tiled rooms and intricate iron features. Don't miss the Grand Courtyard or the salons of the Haram area!
What to do there: You can easily spend half a day wandering through the Bahia Palace, and you're bound to be astounded at every turn. If you have a chance to spend some time sitting and relaxing on your visit to the palace, why not do it in the courtyard of the Grand Riad? This lovely area is adorned with citrus trees and banana-leaf plants. It's the perfect place to disconnect from the world in one of the most famous landmarks in Marrakech!
The BEST Travel Backpack?!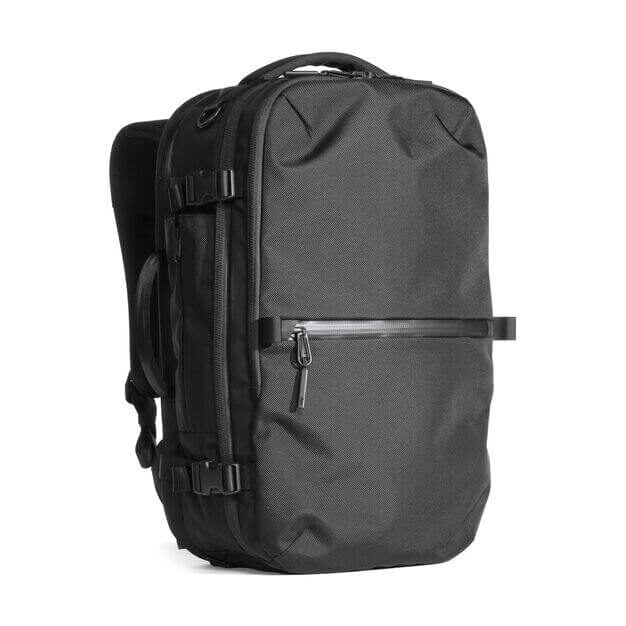 Pssssst! Not picked the perfect travel backpack yet? The Broke Backpacker team has tried out over thirty backpacks this year! Our favourite travel backpack is the Aer Travel Pack 2.
View on AER
#6 – Madrassa Ben Youssef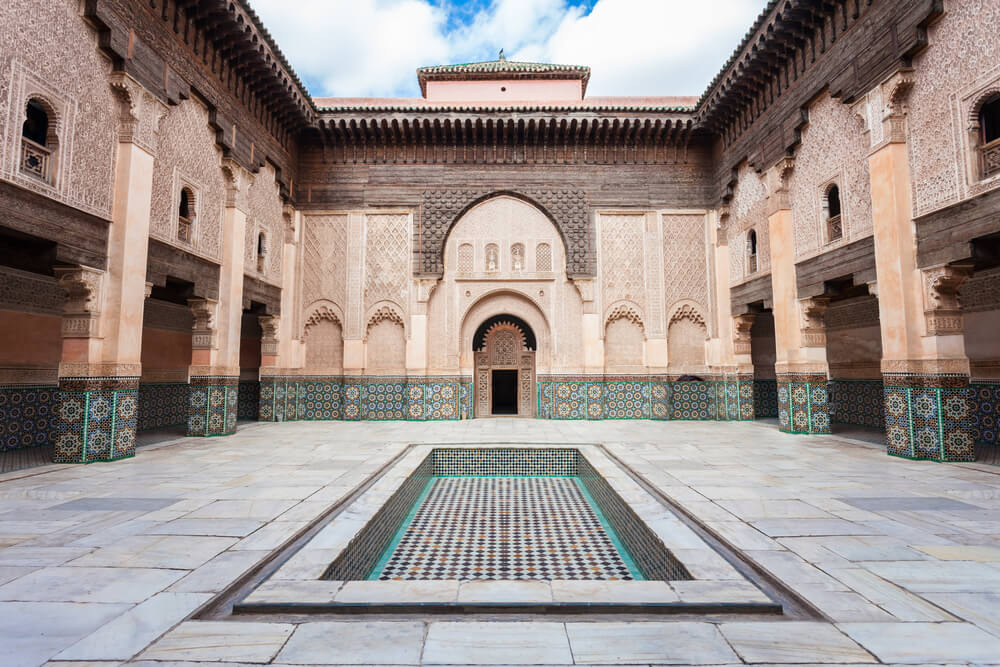 Visit the largest theological school in Morocco
One of the most beautiful buildings in the city's Medina District
Another of the best places in Marrakech to appreciate architecture
Why it's awesome: In case you still haven't realised, Marrakech really is a fantastic place if you're an architecture lover. The Madrassa Ben Youssef dates back to 1565 and was built by the Saadians. Yes, they're the same people that have the beautiful tombs – also on our list of the best places to visit in Marrakech! The Madrassa is the largest Islamic theology school in the whole of Morocco, but it's the architecture that will really take your breath away. From students' cells (the Madrassa can house 900 pupils) to intricate Islamic courtyards, you'll find plenty of spots to marvel at.
What to do there: Although the small Islamic courtyards and corridors through the Madrassa are certainly worth a look, the main attraction here is the central courtyard. It's decorated with Kufic inscriptions, zellige tiling, and stalactite ceilings, all coming together to result in a beautiful place to spend a few minutes or even hours! It may be more than 6 centuries old, but this medieval Madrassa is more popular than ever, and should have earned a spot on your Marrakech itinerary!
#7 – ANIMA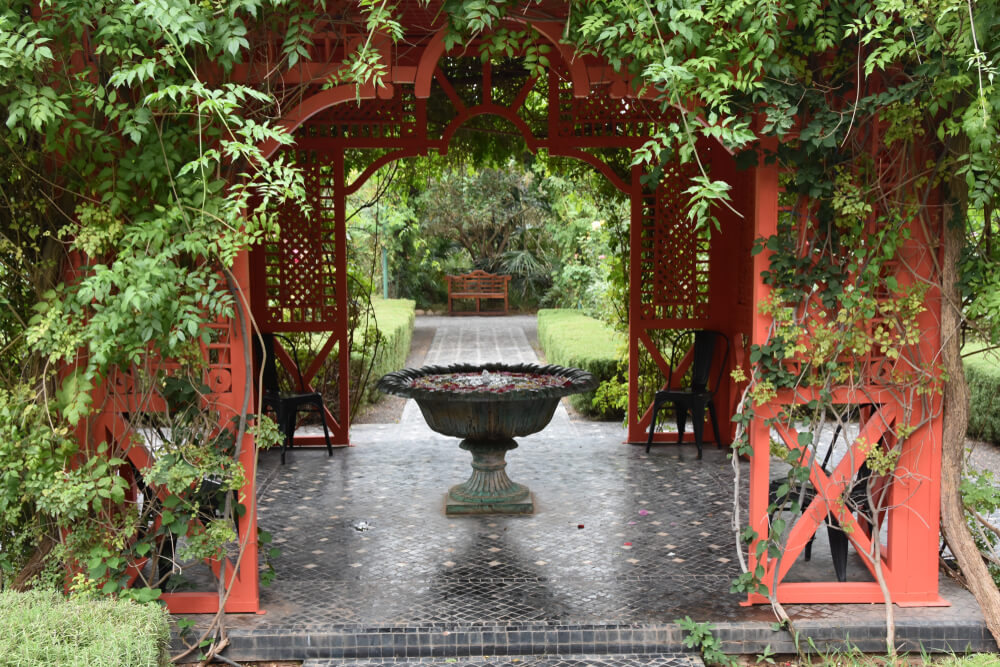 An oasis of art designed by André Heller
The perfect escape from the busy centre of Marrakech
35 minute drive from the city centre
Why it's awesome: ANIMA isn't the easiest place to find, but it's definitely worth the visit. Located around a 35 minute drive south-east of the city centre, this artist's private garden can be reached by a free shuttle from the city's Medina. The garden is a stark contrast to the desert surrounding it, with cacti, roses, and lush greenery that form this unusual garden. This fantastical place was designed by artist André Heller but includes works by iconic artists like Picasso too!
What to do there: Spend a few hours here to escape the hustle and bustle of Marrakech and immerse yourself into the worlds of nature and art. It's almost like a treasure hunt spotting the artwork that dots the gardens, and even after a couple of laps, you'll still be spotting paintings and sculptures that you didn't catch the first time round! After you've spent enough time relaxing in the garden, you can head to the small on-site museum and café. After taking a look at the exhibits, enjoy a calming and comforting peppermint tea, the drink of choice here!
Quick Note – Staying Safe in Marrakech
Marrakech is generally a safe place to travel, but there are a few things you should watch out for. The first is something you get in every big city – petty crime. It's a good idea not to be too showy with your valuables, and don't carry wads of cash around. In the souks and markets, locals will offer to be your guide, and sometimes this is a scam. So, be careful when approached but don't be too dismissive as you may offend people who genuinely want to talk and make a foreign friend!
Morocco can be overwhelming, especially if you're a solo traveller. So, it may be a good idea to take a guided tour of the country if it's your first solo trip to Africa. Solo female and LGBT travellers should also take care here. However, most tourists have an amazing time and encounter very few problems.
Do you need Travel Insurance for your trip? I have been using World Nomads for some time now and made a few claims over the years. They're easy to use, professional and relatively affordable. They may also let you buy or extend a policy once you've started your trip and are already abroad which is super handy.
If there's one insurance company I trust, it's World Nomads. To find out why I use World Nomads, check out my World Nomads Insurance review.
Want to keep your money safe?
You should always have emergency cash hidden on you – pick up this awesome security belt with its hidden pocket before you travel, it's perfect for hiding money, a passport photocopy.
#8 – Marrakech Tanneries
Watch workers hand-dying materials to be sold in the city's souks
Come here early in the morning to see one of the busiest hotspots in Marrakech
Head up to the leather workshops to get panoramic photos of the whole tanneries
Why it's awesome: The Marrakech Tanneries may not be as big as those in Fez, but they're an excellent way to see how the products that end in the souks get their colour! You may not find the smell too agreeable, but it's worth putting up with to see the plethora of coloured dyes that shoes, jackets, and all sorts of traditional products get their colours from. Guides will often try to entice you into the tanneries, and if you go with one, you'll be expected to give a tip.
What to do there: First of all, we'd recommend going to the tanneries early in the morning. This is the busiest time for the workers, but it's not yet jam-packed with tourists, so you might be able to get talking to someone about their work and learn a few interesting things. If you want to get some great photos of the tanneries, enter one of the leather workshops to get a bird's eye view. In the same way, as you'd be expected if you choose a guide, you'll have to pay a tip. It'll be worth it for shots of one of the most famous landmarks in Marrakech though!
Need some extra energy?
One of the best investments you can make is a worldwide travel adapter that will work anywhere! The one featured here is tough, reliable and a solid buy – Don't leave home without one.
Buy your travel adapter on Amazon now.
#9 – Cactus Thiemann
An unknown (but awesome) place to see in Marrakech
The largest cactus farm in Africa
More and more visitors come to Cactus Thiemann each year
One of the more unusual things to do in Marrakech
Why it's awesome: Located to the north of Marrakech, Cactus Thiemann doesn't really do a lot of marketing. In fact, the only reason you'd know you were there is if you spot the sign on a fence that says "cacti". However, it's definitely worth a visit to this cool spot – it's the largest cactus farm in Africa! Originally started by a German who had come over to buy plants from the Jardin Majorelle, Hans Thiemann returned to the city permanently in the 1960s. At the farm, there are over 150 different varieties of cacti, including a 26 foot tall elephant cactus!
What to do there: Take a walk through this cool attraction and spot as many of the 150+ varieties of cacti that you can. The garden is now a research facility but it's also a great place to admire the lunar landscapes that surround Marrakech. Should you fancy adding a guided tour of Cactus Thiemann to your Marrakech itinerary, you can arrange that by email. There are plans to add a café to the farm in the near future too, so that will be a nice place to relax!
#10 – Toubkal National Park
A beautiful outdoor place to visit in Marrakech
Home to Djebel Toubkal, the highest mountain in Morocco and North Africa
57km South of Marrakech
A really cool way to get out and see the Moroccan countryside
Why it's awesome: Although it's 57km south of the city, it's definitely worth adding Toubkal National Park to your Marrakech itinerary as it's the most popular national park in Morocco. It's best to visit this stunning place during the summer, as snow can make a lot of activities impossible during the winter. This is one of the best places in Marrakech for outdoor enthusiasts!
What to do there: The real star of the national park is Djebel Toubkal, the highest mountain in not only Morocco but the whole of North Africa. You can go to the national park for the day, but if you're really hardcore, why not consider a multi-day hike? There are several options, and if the altitude and height is a bit much for you, then the Aremd Circuit is a great alternative. You'll still get some awesome views on this pretty route that takes in several country villages. If you do this on your own, you're likely to be welcomed into the homes of local people for a plate of tagine and some peppermint tea!
Get insured for your trip to Marrakech!
Remember, when you are traveling you may need insurance! World Nomads are our go-to Travel Insurer; we have used them ourselves for years now.
Getting an estimate from World Nomads is simple – just click the button or image below, fill out the necessary info, and you're on your way!

Final Thoughts
So, that concludes our list of the best places to visit in Marrakech. We hope you've found our extensive list useful and informative, and that you've got a clearer idea of how to see Marrakech!
There's so much to see in Marrakech that you might think that a long weekend or a short break isn't enough time! However, we've made sure to include enough places to visit in Marrakech in 3 days so that you won't find yourself short of things to do.
We hope that our list has not only helped you to plan your trip, but also to get an idea of how to enjoy Marrakech like a local. The atmosphere may be a little intense and overwhelming at first, but with an open mind and thirst for travelling, you're sure to have a great time when you travel to Marrakech!
"Find out how YOU can support the site. We work hard to put out the best backpacker resources on the web, for free! It's all about helping out our tribe of awesome backpacker readers [that's you!]. Please visit the link to find out how you can help keep the site going 🙂
For the sake of transparency, some of the links in our content are affiliate links. This means that if you book your accommodation, buy a book or sort your insurance, we earn a small commission at no extra cost to you. I only link to stuff I've actually used and never endorse products or services that are not up to scratch. Thanks for your support.