Marrakech is a destination like no other! This vibrant city is an explosion of the senses, with things to see, touch, smell, and hear wherever you go. It is an essential part of any trip to Morocco, as this city has so much to offer its visitors. Our Marrakech itinerary will show you just what.
As you walk down the busy streets of Marrakech, you will  be inspired by the colorful walls, decorated doors, pristine piles of spices, the busy shops and the unique Moroccan charm found wherever you go. Read on to discover our ultimate Marrakech itinerary guide. You'll undoubtedly fall in love with this magnificent destination.
There is certainly no bad time to visit Morocco, as the weather here is pleasant all year round. However, there are definitely ideal seasons that will make your weekend in Marrakech as enjoyable as possible.
The best time to travel to Marrakech would have to be during the shoulder seasons. This would be from March to May, and September to November. These seasons provide the most desirable weather conditions – sunny skies with moderate temperatures. Not only this, but the city is more affordable during these periods, with accommodation prices often dropping a little.
Be aware that the summer months here can be scorching hot! If you don't deal well with the heat, then consider visiting during winter. While Morocco's warmth and sunny skies may seem appealing, the summer heat can get a little bit unbearable. While the winter months have great weather, the city also fills up with tourists over this period.
Wondering when to visit Marrakech? Take a look at our detailed weather guide below.
Choosing the best place to stay in Marrakech can be difficult. This vibrant city is split into two different sections – Medina (the historic part) and the European District (the new town). The different areas in Marrakech are all unique, giving you many different places to experience during your Marrakech itinerary.
The most popular and possibly best choice of areas to stay in Marrakech would be Medina. This is the heart of old-world Marrakech, with all kinds of charming winding streets, alleys, and points of interest. There are many great accommodation choices in this part of the city, and it is the ideal base for exploring the rest of Marrakech, as everything is within easy reach!
If you would like to stay somewhere a little bit less visited by tourists, then Gueliz is a great area. Gueliz is part of the more modern European District and is a super trendy hub of shops, restaurants, and nightlife hotspots. If you would like to experience the modern side of Morocco, then this is the place to be.
Now that you know where to stay, its time to choose your accommodation! Here are some of the best accommodation options for your Marrakech itinerary.
Has an authentic Moroccan feel to it
Central location
Awesome rooftop terrace
Rodamon Riad Marrakech Hostel is the ultimate place to stay in this city! With an ideal Medina location, clean modern facilities and comfortable rooms, everything you need is right here! The rooftop terrace, bar, and pool make this a really fun place to stay!
For more cool hostel options, check out our Best Hostels in Marrakech guide!
Riad Barbmar is a renovated traditional Moroccan riad in the Marrakech Medina. A riad is a type of traditional Moroccan house or palace with an interior garden or courtyard. It accommodates up to eight guests in four bedrooms. Regardless of whether you are 1 traveller or a group of 2-8 people, you will have the private use of the entire house and will not share with other guests. The indoor pool is perfect for cooling off after sightseeing. The third floor roof terrace is a great space for socialising with family and friends. The upper terrace on the fourth floor is shaded and ideal for outdoor meals. From there you look over the entire Medina.
Excellent location
Fantastic facilities
A beautiful outdoor terrace
Hotel & Spa Riad El Walaa is a brilliant accommodation choice for your trip to Marrakech. This place offers affordable luxury, with amazing rooms, thoughtful facilities, and a top location in the heart of Marrakech. Enjoy the authentic Moroccan decor, the stunning outdoor terrace, and the relaxing spa.
Luxurious rooms and facilities
Loads of thoughtful touches
An amazing pool area
For the absolute best that Marrakech has to offer, consider checking into the Four Seasons Resort here. This place has world-class modern facilities, well-equipped rooms, and all kinds of thoughtful touches across the hotel. The service is excellent, and the pool is a great place to relax!
Before you start to plan your itinerary for Marrakech, it is important to know how to get around this awesome city. When you are in the medina old town, walking around is one of the best things to do in Marrakech. This way you get to see and experience all the magic that this city has to offer. However, walking around here can also be pretty intimidating and confusing at times.
In terms of public transport taxis, are your best options. Taxis are easy to catch and will take you wherever you want to go without any stress. They are also very cheap – just be sure to agree on a price before you get in! The bus network in Marrakech is also pretty good, allowing you to travel all over the different parts of the city but it can be slow and can get hot.
It's time to start planning your trip! Here are some of the best things to include in your Marrakech itinerary.
Jemaa el-Fnaa | Koutoubia Mosque | Hammam | Saadian Tombs | Marrakech Museum | Souk | Bahia Palace
Your 2 days in Marrakech will start off with some of the top sights and landmarks in the city. This first day will show you some of the most iconic Moroccan points of interest and cultural attractions. Here is what to do in Marrakech on your first day.
Day 1 / Stop 1 – Jemaa el-Fnaa
Why it's awesome: The main central hub of Marrakech
Cost: Free to explore
Food recommendation: There are all kinds of delicious local foods on offer at the stalls here. Grab a fresh orange juice in the morning, a delicious lamb dish at night, or even some boiled snails if you are feeling adventurous!
Jemaa el-Fnaa is an essential addition to any Marrakech itinerary! When in the city, you just have to wander through this central hub in order to really experience the place properly. This is one of the top Marrakech points of interest due to its bustling walkways and truly Moroccan atmosphere.
Take a walk through here and take in all of the stalls and entertainers around you. You will pass snake charmers, henna tattoo artists, huge piles of spices, dates, olives, and more! As this square is the heart of Marrakech, it is always busy no matter what time you visit!
This is a brilliant place to try some delicious local foods, buy something to take home or to just soak up the unique culture in this city. No Marrakech itinerary would be complete without a trip to Jemaa el-Fnaa.
Insiders tip: This square can get very busy and a little overwhelming, so visit early to avoid crowds.
Day 1 / Stop 2 – Koutoubia Mosque
Why it's awesome: The largest mosque in Marrakech
Cost: Free
Food recommendation: Cafe Kif Kif is located nearby the Koutoubia Mosque, offering the perfect place to grab a bite to eat or a pot of local mint tea. The menu boasts some of the best Moroccan classics. This is a great setting to try some of the best local food in Marrakech.
Mosques play a huge role throughout Marrakech and these buildings have great historical and spiritual importance to the locals. Not only this, but they also offer some of the best architectural points of interest in the city.
During your Marrakech itinerary, be sure to visit the Koutoubia Mosque – the largest in the city! This stunning 12th-century mosque is a marvel to look at, being an iconic structure in the city.
Visit during the call to prayer to take in one of the most important sites in the city. It is important to understand and appreciate the various mosques here during your Marrakech itinerary, as this will give you a stronger understanding of the city.
Insider tip: The call to prayer occurs five times a day from the top of the minaret. This is great to experience up close.
Day 1 / Stop 3 – Experience a Hammam
Why it's awesome: Traditional local bathhouses found throughout the city
Cost: Entry to local hammams usually costs around USD $4, while different treatments and establishments differ in price
Food recommendation: Patisserie Anjar is located near the popular Hammam Ziani, offering the perfect place to grab a treat after your relaxing experience. Choose between many local delicacies, teas and sweet treats at the authentic patisserie.
When in Morocco, treating yourself to a relaxing hammam experience is a must. Hammams are local bathhouses/spas that are found throughout the city. These are popular attractions for locals and tourists and they will be sure to leave you relaxed, clean, and glowing.
Enjoy a massage, a steam in the sauna, or a dip in the different thermal pools. This is such a great way to escape the frenzy of the busy city and enjoy a peaceful, quiet moment relaxing inside. You can choose between busy local hammams and secluded private hammams.
Some of the most popular hammams in Marrakech include Hammam Ziani, Hammam De La Rose, Hammam-e Sultan Mir, Les Bains de Marrakech Morocco, and Hammam Mouassine. A treatment at a hammam is an essential addition to your Marrakech itinerary!
Insider Tip: Consider booking a private hammam experience if public nudity is not your thing
Day 1 / Stop 4 – Saadian Tombs
Why it's awesome: Historic tombs for many important rulers of the Saadi Dynasty
Cost: USD $1
Food recommendation: Dar Cherifa is the ideal place to grab an authentic Moroccan meal nearby these tombs. You must try the tagine and Moroccan couscous in this Marrakech gem.
The Saadian Tombs are one of the most popular Marrakech landmarks, offering visitors a great historical place of interest. These tombs are where many of the most important rulers and members of the Saadi Dynasty are buried. The tombs were rediscovered in 1917 after they had been sealed for centuries!
The Saadian Tombs are beautifully decorated with colorful tiles, carvings, and Arabic calligraphy. This is a wonderful site to explore, as you will learn all about the rich history of the area as you witness some stunning decorated tombs.
If you love history and want to learn more about this ancient city, then a visit to the Saadian Tombs should be an essential addition to your Marrakech itinerary.
Day 1 / Stop 5 – Marrakech Museum
Why it's awesome: An amazing art museum in the center of Marrakech
Cost: USD $4
Food recommendation: Le Trou au Mur is an excellent restaurant near the museum. With a stylish interior and delicious cuisine, this is a fantastic place for a sightseeing break!
Marrakech boasts many brilliant museums, with the Marrakech Museum being one of the best! This is an art museum located in the heart of the city. Expect to see loads of modern and traditional Moroccan art, as well as many other interesting displays.
While the museum is a fascinating place to visit with all its exhibitions, the building itself is definitely worth adding to your Marrakech itinerary! Housed in a 19th-century palace, this is a grand building to explore.
Admire the magnificent Moroccan architecture and details throughout this museum. Soak up art, history, and culture as well! This is one of the best Marrakech attractions for those wanting to discover more about the city and its interesting past.
Day 1 / Stop 6 – Old Town Souk
Why it's awesome: The old town trading hub offers the most authentic Moroccan market experience
Cost: Free to browse
Food recommendation: Terrace des Epices is the perfect place to grab something to eat between shopping in the busy souks. This rooftop terrace provides a peaceful escape from the busy streets below, with some fantastic food options!
Exploring the bustling souks of Medina is an essential addition to any Marrakech itinerary. Souks are the traditional market streets that are found all over the city.
These originate from the times when merchants would sell their goods that were transported by camel across the desert into Marrakech. There may not be the camels anymore, but souks today are just as vibrant and important to the Moroccan lifestyle as they have always been!
Wander through the busy market streets and admire all of the goods for sale. Carpets, lamps, leather products, spices, foods, and all kinds of other things will be on offer here. If you are after a truly authentic Marrakech experience, then the souks of the Old Town/Medina are the places to be.
Insiders tip: While the souks are a lot of fun, they can also be pretty intimidating. Merchants will often try to rip off tourists, and taking in all of the stalls on offer can be overwhelming. Try to bring your negotiating skills and a firm attitude when navigating through the busy souks.
Day 1 / Stop 7 – Bahia Palace
Why it's awesome: Magnificent 19th-century palace and gardens
Cost: USD $4
Food recommendation: La Table de Marrakech is the perfect place to grab something to eat or drink after a long day of sightseeing. Sit outside next to the palace and enjoy some quality Moroccan cuisine.
The Bahia Palace is a 19th-century building that was designed to be the greatest palace of its time. This stunning structure is a real marvel to take in, with its iconic Islamic and Moroccan style. Bahia translates to brilliance, and you will see why when you visit.
The palace is a great place to explore and learn more about the history and cultural traditions of Marrakech. It is also the perfect place to take in some of the best architecture in the city. Beyond the amazing palace building, there are also beautiful gardens located here. These are well worth spending some time exploring.
For a look into the royal life of this old city, be sure to add the Bahia Palace to your Marrakech trip itinerary!
Jardin Majorelle | El Badi Palace | Ben Youssef Madrassa | Maison De La Photographie | Menara Gardens
Day 2 of our 3-day itinerary in Marrakech will give you a deeper insight into the history, culture, and atmosphere in the city. Here are some must-do attractions for you if you are seeing Marrakech in 2 days.
Day 2 / Stop 1 – Jardin Majorelle
Why it's awesome: A stunning botanical garden to add to your itinerary for Marrakech
Cost: USD $20
Food recommendation: Cafe Jardin Majorelle Marrakech is the perfect place to grab some food, tea or coffee during your trip to the garden. Enjoy local favorites in a beautiful setting.
Jardin Majorelle is a two and a half acre botanical garden in Marrakech, but really it is so much more than that! This beautiful attraction is a kind of artistic landscape created by the French artist Jacques Majorelle over a period of almost 40 years. The garden was then acquired by the famous designer Yves Saint-Laurent who restored it to its glory.
As you walk through this amazing garden, you will pass through an absolute Eden. There are many magnificent plants, water features, trees, and sculptures. Beyond the gardens, the space also houses the Berber Museum and the Islamic Art Museum of Marrakech. Both of these cultural institutions are well worth the visit.
If you are after amazing art, culture, history, and an unbeatable garden oases, then Jardin Majorelle is the place to go. This stunning city attraction will certainly be a highlight of your Marrakech itinerary.
Insider Tip: These gardens and museums are not to be confused with the Yves Saint-Laurent museum nearby (which is also well worth the visit!)
Day 2 / Stop 2 – El Badi Palace
Why it's awesome: An ancient ruined palace
Cost: USD $20
Food recommendation: Dar Marjana, located close to El Badi Palace, is one of the best traditional Marrakech riad restaurants. Try some of the tastiest authentic Moroccan food here in a charming setting!
El Badi Palace is one of the world's greatest examples of ancient ruins. Comparable to the Roman Forum, or the Acropolis in Athens, this enormous building shows off the ancient past of Marrakech.
Explore the huge ruins of El Badi Palace to experience just how grand this place must have been back in its time. The palace was built in the 16th century to commemorate the victory of The Battle of the Three Kings. The palace consisted of 300 rooms, decorated in gold, turquoise, and crystal.
Visiting this site will teach you a great deal of the history behind Marrakech. Experience first hand what the ancient city might have looked like, and learn about its interesting past. This is a must-do activity for history lovers!
Day 2 / Stop 3 – Ben Youssef Madrassa
Why it's awesome: A beautiful 14th-century Islamic school
Cost: USD $6
Food recommendation: Jnane Tamsna is a brilliant place to grab a bite to eat or some relaxing tea when visiting Ben Youssef Madrassa. Enjoy the tranquil setting and excellent food!
Ben Youssef Madrassa is a former Islamic school dating all the way back to the 14th century. Ben Youssef Madrassa is a popular attraction in Marrakech for anyone wanting to get a glimpse into the magnificent past of this city.
While it is old, the Madrassa is beautifully preserved providing an unbeatable example of Moroccan architecture and design.
Admire the detailed tiles and unique curves of the building. As you explore the Ben Youssef Madrassa, take some time to appreciate the tiny rooms that once held 900 students. Enjoy the peaceful courtyard and stunning wooden windows throughout the building.
This is one of the best places to visit in Marrakech for an authentic look into Moroccan design and architecture. This is also an interesting historical stop in the city.
Day 2 / Stop 4 – Maison De La Photographie
Why it's awesome: An interesting Moroccan photography museum
Cost: USD $11
Food recommendation: Enjoy a great pot of mint tea or a bite to eat from the rooftop cafe here. Not only is the food and service excellent, but the view from here is definitely worth the visit!
Maison De La Photographie is an excellent museum to add to your Marrakech itinerary. This may be a fairly small gallery, but it really has a great deal to offer. During your visit here, you can expect some of the best photography from Marrakech.
The museum mostly displays excellent street photography and portraits, but there are also some interesting photographs dating back over 150 years. This offers an amazing insight into Moroccan life and history.
The small building housing the museum is also lovely to explore, with beautiful colorful tiles and a magnificent rooftop. This is a really special addition to your 2-day itinerary in Marrakech.
Day 2 / Stop 5 – Menara Gardens
Why it's awesome: 12th-century botanical gardens
Cost: Free
Food recommendation: Cafe Oasis et Tafernout is a great spot to stop and enjoy a cup of coffee or bite to eat while exploring the Menara Gardens.
The Menara Gardens are the most popular landscaped gardens in Marrakech. The gardens can be found near the Atlas Mountains, to the west of Medina. These beautiful gardens surround a lake, and they offer the perfect breath of fresh air from the busy city. The gardens date back to the 12th century, and so they have an interesting history as well!
Enjoy walking around the pristine lake, and appreciate the wonderful pavilion alongside it. Explore the gardens and take in all of the different flowerbeds, trees, and lush green spaces. If the streets of Marrakech are getting too much, then escaping to this peaceful oasis is the perfect thing to do!
Insider Tip: Visit on a sunny day and enjoy relaxing under a tree in this picture-perfect garden
Souk Place des Epices | Gueliz | Hot Air Balloon | Dar Si Said Museum | Quad Bike Tour
If you are looking for more places to visit in Marrakech, then here are some excellent ideas. There is so much to see and do around this city, so planning at least 3 days in Morocco is always a good idea.
Souk Place des Epices
A lively souk
Famous for its many spice traders
These spices are an essential part of Moroccan culture
Souk Place des Epices is a large square-based souk in the heart of Marrakech. When you are in this bustling city, visiting the different souks is a vital way to really experience the local culture and buzz. This souk, in particular, is special due to its piles of colorful spices!
Morocco is world-famous for its unique cuisine, something that comes from its many flavorsome spices. Wandering through this souk will show you the many immaculately piled spices. The kind of smells and sights that you take in here really could never be found anywhere else in the world.
Whether you are looking to purchase some of these amazing spices to take home, or simply want to admire them in their tall piles, a visit to Souk Place des Epices will always be worth it! Exploring this busy souk is one of the best ways to get an authentic insight into Moroccan life and culture, and it is a great place to learn more about this country's delicious cuisine.
Gueliz
The most modern and trendy area of Marrakech
Offers excellent shopping and restaurants
Often called the European district
When exploring Marrakech, chances are you will be spending most of your time within the old town. This is where the majority of landmark attractions and riad accommodation options can be found. If you have 3 days in Marrakech, or if you would just like a change of scene, consider visiting the trendy district of Gueliz.
Gueliz offers you an insight into what modern-day Morocco looks like. This is a super trendy part of the city. Spend your time enjoying the vast array of boutique shops, malls, and beautiful homeware stores. Between this, there are also some of the best restaurants and cafes in the city – perfect for a break between your retail therapy!
Gueliz also boasts some of the best nightlife in Marrakech. There are plenty of fun and lively bars here to visit for an unforgettable night out!
In order to truly understand Marrakech, you will need to experience both the new and the old. This is why spending an afternoon wandering around Gueliz can be highly rewarding for any Marrakech itinerary.
Ride a Hot Air Balloon
This is a must-do activity in Morocco
The best views in Marrakech
A fun and unique experience
There are many different ways to see and experience Marrakech, but a hot air balloon is possibly the best. Taking an exciting and absolutely breathtaking hot air balloon flight is one of the most popular activities for tourists in Marrakech,
The best hot air balloon flights in Marrakech will start at dawn, allowing you to witness the magnificent sunrise during your flight. As you rise up, you will get the most unbelievable panoramic views across Marrakech.
As you float across the stunning desert and towards the Atlas Mountains, you will get to experience the true majesty of this destination. Beyond the amazing views though, hot air balloon rides are such a fun experience. This way of flying cannot be compared to anything else. This is a truly unique thing to do in Marrakech, and an experience you will certainly remember!
There are a number of hot air balloon companies that operate from Marrakech. Flights generally last about an hour, giving you plenty of time to soak up all of the incredible views around you.
Dar Si Said Museum of Weaving and Carpets
A fascinating museum
The museum is focused towards Berber carpets
A great place to learn more about Moroccan cultural heritage
A museum completely dedicated to carpets may not sound that exciting to everyone, but this Marrakech attraction is seriously worth the visit. Whether you are interested in Berber carpets or not, you will be sure to learn a great deal of interesting information here, as well as admire some very impressive exhibitions!
The museum will teach you all about the unique Berber carpets in Marrakech. There are all sorts of fascinating displays devoted to this. There is also a central focus on the art of weaving these products, and what kind of role that has played in Morocco.
As you will learn from a visit here, these carpets are truly special parts of the cultural heritage in this country. They have a rich and interesting history and have helped to shape Marrakech in many ways. Beyond the carpets though, this museum is an awesome building to visit!
There are some seriously impressive halls here, as well as stunning courtyards and gardens within the museum. This is a great place to take in some beautiful examples of Moroccan architecture while learning about some of the country's most iconic designs and products.
Quad Bike Tour
Quad bike tours are available through the desert
A fun way to see the area
Explore the rugged surrounding desert
Now that you have seen some of the best sights and attractions within Marrakech, its time to do some exploring in the surrounding desert. If you would like to experience the breathtaking desert through one of the most exciting ways possible, then consider taking a quad bike tour!
Not only is speeding along in a quad bike loads of fun, but it is also the best way to navigate the desert landscape. You will get to ride between the stone desert, the dramatic valley found here, and the famous palm groves.
There are a number of quad bike experiences available in Marrakech. While each may be unique, they will all offer a valuable insight into the life and scenery of the harsh desert. This is a really great way to experience the dramatic landscape around Marrakech.
Marrakech received loads of each year and most end without incident. While safety does not need to be a major concern while you are here, it is important to understand any potential safety precautions that you might want to take in Marrakech.
The souks are super busy, small spaces. If you are not careful, these can be easy places for thieves and pickpockets to do their work. When walking through the souks, always keep your belongings close. Also, try to avoid walking through the souks at night.
Scams are also pretty common in Marrakech, so always be on the lookout for these. Tourists can often look like easy targets for scammers or people trying to rip you off, so keep your wits about you! Also avoid walking alone at night, and stay away from empty alleys.
Shopkeepers, hawkers and unsolicited guides can be persistent and a real nuisance. Be firm and if anybody bothers you too much, use the magic word "police" and they will disappear.
Be sure to always drink bottled water, and try to avoid ice (as this may contain bacteria). You may also want to avoid eating from street vendors, as there is always the chance of getting ill.
Besides exercising regular caution and following standard safety procedures of a big city, Marrakech should be a safe destination for all visitors!
If you are also visiting other places in Morocco, you will be pleased to know that on the whole Morocco is a safe country.
Don't Forget Your Travel Insurance for Marrakech
ALWAYS sort out your backpacker insurance before your trip. There's plenty to choose from in that department, but a good place to start is Safety Wing.
They offer month-to-month payments, no lock-in contracts, and require absolutely no itineraries: that's the exact kind of insurance long-term travellers and digital nomads need.
SafetyWing is cheap, easy, and admin-free: just sign up lickety-split so you can get back to it!
Click the button below to learn more about SafetyWing's setup or read our insider review for the full tasty scoop.
If you are planning a 3-day itinerary in Marrakech, then you may want to consider exploring some more of Morocco. This city serves as the perfect base for your Moroccan travels, allowing you to do so much more while touring Marrakech.
Here are some of the best day trips from Marrakech to experience during your visit.
Full-Day Tour to Ouzoud Waterfalls
Marrakech is an amazing city to experience, but there is also plenty of natural splendor just beyond the city itself. Spend a day taking in the magnificent Ouzoud Waterfalls on this sightseeing tour from Marrakech.
The highlight of this tour is, of course, witnessing the incredible cascades of the Ouzoud Waterfalls. Your day will also be filled with plenty of other exciting activities, such as swimming in nature in the Al Abib River, and seeing local monkeys in the mountains! The tour includes round trip transportation and an expert Marrakech tour guide.
Take a Trip to the Atlas Mountains
Just beyond the city of Marrakech tower the impressive Atlas Mountains. These mountains are not just a breathtaking sight to see, but they are brimming with Moroccan Berber culture and picturesque villages. Take this exciting day trip to escape the busy city and explore a more peaceful side of Morocco.
The trip will include a visit to the village of Imlil, as well as a fun camel ride. You will get to drink mint tea, admire the highest peak in North Africa, and learn all about traditional Berber culture. This is one of the best day trips from Marrakech for those wanting to discover more about the interesting culture and natural beauty of the area.
Tour Essaouira and the Atlantic Coast
Morocco is famous for its magnificent desert landscapes, but there is also an amazing coast to discover in this country. To experience the best of the Atlantic Coast here, take a full day trip out to Essaouira.
This is a beautiful coastal town that you will be able to explore at your own pace. Enjoy the laid-back atmosphere, the historic medina in the town, and the long stretches of pristine beaches. This day trip will show you a great deal more of the unspoiled and absolutely beautiful Moroccan landscape.
Visit Ouarzazate and Ait Benhaddou
Across the Atlas Mountains lie two of the most majestic deserts in Morocco. Enjoy a day trip out to this area to take in some of the most impressive and important sites in the area. The day will include a visit to the UNESCO World Heritage site of Ait Benhaddou kasbah, a crossing over the Tizi-n-Tichka pass, and a journey through Ouarzazate.
This area is referred to as the "Hollywood of Africa" as famous films such as The Mummy, Lawrence of Arabia, and Gladiator were filmed here. Needless to say, this day trip will show you some of the most magnificent landscapes in Morocco!
Explore the Berber Villages and 3 Valleys
If you are planning a trip to Marrakech, exploring the unique Berber culture here is a great idea. If this sounds like fun, consider taking this day trip out to the beautiful Berber settlements high up in the Atlas Mountains.
You will get to trek through beautiful hamlets and valleys, and soak up some of the best scenic views in the area. You will get to stop for lunch in a traditional Berber home in one of the stunning villages that you visit. This is a truly unforgettable experience that could only be enjoyed during your Marrakech itinerary!
Find out what people want to know when planning their Marrakech itinerary.
Conclusion
Marrakech is a busy and vibrant city, with so much going on in every street. Walking through the old town truly is an explosion of the senses, as there is just always such a great deal to take in. This city has such a unique charm to it, and should be a definite bucket-list destination for any traveler.
Marrakech is famous for its spices and cuisine, its peaceful riads, bustling souks, visible history, and beautiful desert landscapes. As you walk down the streets here, you will notice the iconic Moroccan design and sights that just can't be experienced anywhere else.
Marrakech really is a destination like no other! With so much to do and see in this city, one day in Marrakech probably isn't enough. You could spend weeks here without getting bored. We hope our ultimate Marrakech itinerary helps you to make the most of your time in this epic North African destination!
If your plan is to travel around Morocco and you need to sort your accommodations, check out our Best Hostels in Morocco guide!
---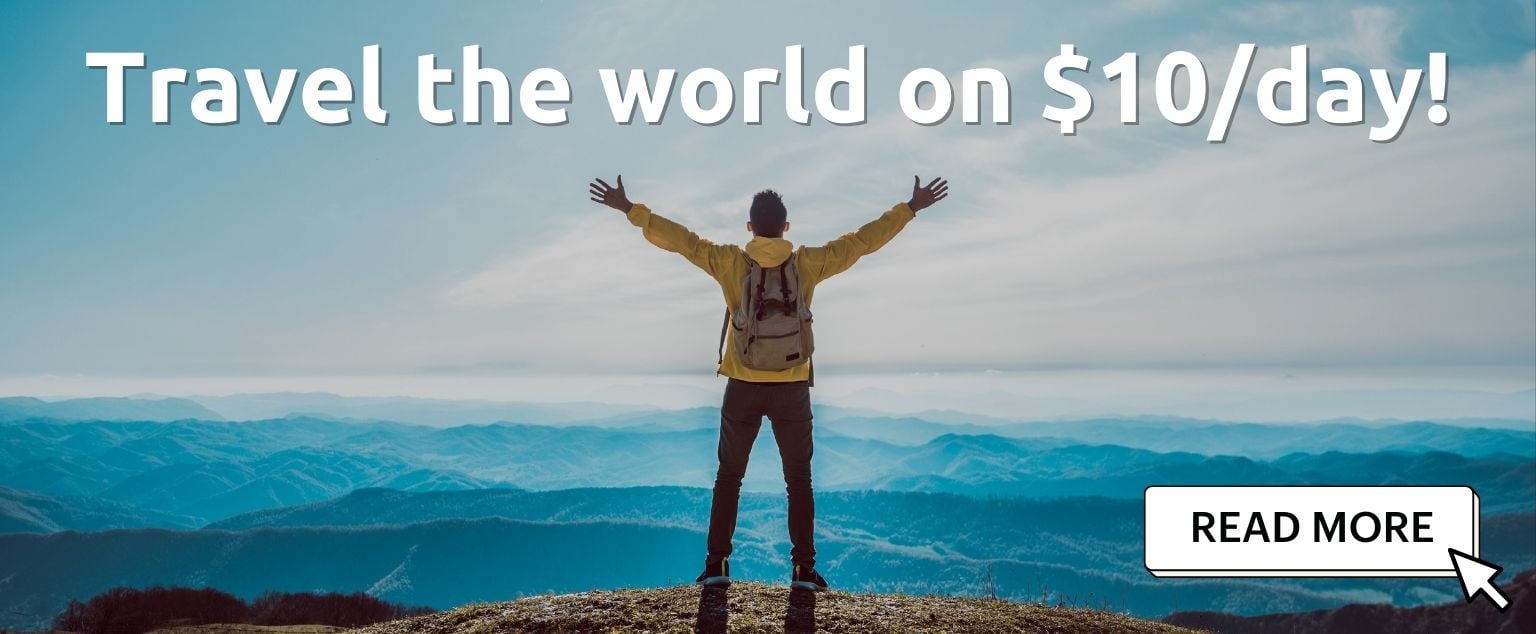 And for transparency's sake, please know that some of the links in our content are affiliate links. That means that if you book your accommodation, buy your gear, or sort your insurance through our link, we earn a small commission (at no extra cost to you). That said, we only link to the gear we trust and never recommend services we don't believe are up to scratch. Again, thank you!