Morocco is a dream destination. A world of vibrant colours, delicious food, exciting cities, and amazing natural landscapes – it's no wonder you're considering an epic adventure there!
When you have a budget to consider though, you can find yourself asking, but is Morocco expensive?
Never fear, intrepid traveller! There's nothing to worry about. The ultimate trip can be had to this amazing African nation without breaking the bank, you just need to know how and where to spend your cash.
All of us are going to have a range of expenses, but we here have prepared the ultimate budgeting guide that covers them all, so that you can prepare a budget for your very own Moroccan adventure.
The costs of a trip to Morocco are going to depend on a bunch of different things. First of all, there's the basic stuff – accommodation and flights. But you'll also want to factor in everything else – food and drink, souvenirs, sightseeing, and even tipping. Ahhh! So much to think about! This is why we have broken each factor down into bite-sized pieces, right here in this post.
Note that travel costs are estimates and are subject to change. Prices are listed in US Dollars.
Morocco uses the Moroccan Dirham (MAD). As of April 2021, the exchange rate is 1 USD = 8.90 MAD.
Check out the costs of a two-week trip to Morocco as summarised in the table below:
2 Weeks in Morocco Travel Costs
ESTIMATED EXPENSE: $900 – $1476 USD for a roundtrip ticket.
Flying into Morrocco can be expensive. But, it can be made cheaper by avoiding the high season (November – January and June – September) when the country is flush with international tourists. The cheapest month for plane travel to Morocco is in May.
Morocco's busiest airport is Mohammed V International Airport (CMN), located 15.5 miles away from the city of Casablanca and 80 miles from Marrakesh. The distance from both these cities means that you'll have to also factor in the cost of transfers into your budget.
Below you'll find the average costs of flying to Morocco from several international air travel hubs:
New York to Mohammed V International Airport: 880 – 1322 USD
London to Mohammed V International Airport: 160 – 660 GBP
Sydney to Mohammed V International Airport: 1333 – 1527 AUD
Vancouver to Mohammed V International Airport: 1259 – 1,670 CAD
While some of those flights may look pricey, it's possible to save a little extra by opting for a flight with multiple connections. It may take much longer to reach your destination, but it pays off when you have extra coin in your pocket upon landing!
Another great way to save money on your trip to Morocco is to use a nifty service like Skyscanner. Getting online and scrolling through a whole load of flights will help you find a cheaper deal.
ESTIMATED EXPENSE: $9 – $80 USD per night
One of the best parts about any trip to Morocco is finding a dreamy place to stay that will make your experiences in this magical country as memorable as possible! But the budget, the budget, what about the budget? How much will accomodation in Morocco cost?
Well, there's something for varying budgets and travel styles here! There are cheap hostels and Airbnbs at one end, and a good selection of hotels, and even the famed riad at the other. So what style of lodgings you choose will have a big impact on your bottom line. If you're looking to save the coin, we've found the best hostels. If you're looking to splurge and treat yourself to some luxury, we've found the best hotels too!
So, without further ado, let's take a look at each type of accommodation in more detail below.
Hostels in Morocco
You may be surprised to learn that there is a good deal of hostels situated throughout the country. Hostels in Morocco help backpackers and independent travellers get around on a budget – and in style too! Many hostels throughout the country are set in traditional buildings, adding to the grand experience of adventuring in Morocco.
The cheapest hostels in Morocco start at around $9 per night.
Hostels don't just help you travel Morocco cheaply. They're also social places where fellow backpackers congregate, making them especially good for solo travellers who want to meet new people to go on epic backpacking adventures with! There are also further money-saving perks like free breakfasts, communal kitchens, and activities, too.
(Sound cool? Then check out our guide to the best hostels in Morocco!)
Here's a handful of Morocco's top hostels to give you an idea:
Hostel Riad Marrakech Rouge – This super nice and relaxing riad-style hostel offers a chance to stay in a riad at a snip of the cost. There's a free breakfast served up in the courtyard lounge, as well as a rooftop terrace for views and vibes.
Roof House Hostel Taghazout – This place will be your home away from home while travelling. Just two minutes from the beach, it's a chilled spot where you can mix with locals and international travellers alike.
Medina Social Club – Right in the heart of Fes medina, this is a stunning and renovated riad is more like a boutique hotel than a budget hostel. Expect cultural events and artists in residence.
Airbnbs in Morocco
There are many, many Airbnbs spread throughout Morocco. With the major cities of Rabat, Marrakesh and Casablanca boasting hundreds of options each, you'll be spoilt for choice if you're in the market for an Airbnb in Morocco.
The cheapest can be priced as low as $30 – $40.
There are definitely perks to staying in an Airbnb. First of all, the sheer number of Airbnbs means you are spoilt for choice – from cosy studios to large apartments! Secondly, they are often located in authentic, local areas, so you get to explore a different side of your destination. Cooking facilities and helpful hosts seal the deal!
Here are some Airbnbs in Morocco to inspire your trip:
Calm Casablanca Apartment – This cool and calm apartment is right in the centre of Casablanca. It's decked out with modern, stylish interiors, and boasts enough room to sleep up to three guests.
Apartment in Gueliz – Situated in Marrakech, this spacious apartment features colour pops and modern art throughout. Its high-end decor makes you feel like you're staying in a swish hotel – think marble countertops and houseplants.
Bright Studio in Rabat – A good option for a couple, this cosy studio comes fully equipped with air conditioning, a TV, a kitchenette and even a small balcony. It feels safe and secure.
Hotels in Morocco
Are Moroccan hotels expensive? The answer is that it depends. Hotels come in all shapes and sizes all over the world, from the budget to the very, very high-end and Morocco is no different.
Budget hotels in Morocco can be as cheap as $40 per night.
Staying in hotels may not be the best way to travel cheaply in Morocco, but they are the option for you if you like to sit back, chill out, and not lift a finger during your stay. Housekeeping means no chores, while on-site restaurants, bars, fitness centres, and pools mean extra convenience. Uh, yes, please! They can also help to provide you with an extra sense of security, but if you're really worried about hitting the road here, we'd recommend checking out our guide to staying safe in Morocco.
Below you'll find a few of the best cheap hotels in Morocco to give you an idea of what's in store:
Marina Bay – This Tangier hotel features polished rooms with views out across the water. In terms of amenities, there's even a swimming pool and a restaurant for guests to enjoy at this beachfront location.
Dar Mayssane – A more traditional and authentic hotel in Rabat, this place boasts unique decor throughout. The rooms here are warm and relaxing, and there's a restaurant on-site serving up traditional Moroccan dishes.
Domaine Casa Cecilia – This stylish option is close to the Yves Saint Lauren museum in Marrakesh. Boasting its own outdoor swimming pool, rooms at this four-star hotel are tastefully decorated.
Riad accommodation in Morocco
If you really want a truly epic experience during your trip to Morocco, then you have to stay in a riad. Hidden behind high walls down nondescript alleyways, these are nothing short of secret oases of luxury, some of which date back to Roman times!
As you can imagine, these are pretty high-end, with a price tag of between $100-$200 per night.
Ah, but the perks are plentiful. Riads come with beautiful courtyard gardens full of lush greenery and water features, ornamental architecture, and shady places to chill and sip atay (sweet mint tea) when you're done exploring for the day. In short, they're nothing short of amazing.
Here are just a few examples of riads in Morocco:
Riad Louaya – Right in the medina of Marrakesh, the interiors at this stunning riad are carefully crafted. With five rooms spread over two floors, there's a charming patio and traditional lounge shaded with orange and mandarin trees.
Riad Zyo – A contemporary take of a riad in Rabat, Riad Zyo features white-washed walls and minimalist design. It's got a chic courtyard with a plunge pool, as well as a rooftop terrace, plus a hammam.
Riad Palais Calipau – Situated in Marrakesh, staying here is like staying in the pages of a design magazine. It's an elegant riad in the Kasbah district, including perks like a hammam, an indoor swimming pool and two traditional restaurants.
ESTIMATED EXPENSE: $0 – $50 USD per day
Getting around Morocco is not only relatively easy, but it's reasonably priced too. There is a range of trains, buses, taxis, and air travel that help travellers to get from A to B. It can seem daunting for first-time visitors to Morocco to hop on a bus or a shared taxi, but it's worth it!
Morocco is a fairly compact country and the public transport network reaches out to fairly far-flung destinations. But sometimes, you will have to take into consideration that things here run on "Moroccan time" (delays are not uncommon). Just take it all in your stride, you're on a damn adventure after all!
For now, let's take a more detailed look at the public transport in Morocco.
Train Travel in Morocco
Train travel in Morocco is pretty awesome. It's an amazing way to see the country. In fact, Morocco boasts some of the best train travel in the whole African continent, and is the best way to travel between the country's major cities.
There are two main railway lines. One runs between Tangier and Marrakesh, via Rabat and Casablanca; the other runs between Oujda in the northeast to Marrakesh through Fes and Meknes.
There's even a high-speed train service. Unveiled in 2018, this reduces train travel time between Tangier and Casablanca to around two hours.
For where the trains don't run, there are buses (more on that later).
Trains provide a good way to travel Morocco cheaply, and they're often a much more comfortable experience than travelling by bus. They're usually reliable and stick to their time table.
The slower trains are cheaper, while the high-speed service is more expensive. But for extra convenience, you should consider getting a Rail Pass. Prices are as follows:
Seven days: $66 (2nd class) / $99 (1st class)
15 days: $129 (2nd class) / $176 (1st class)
30 days: $231 (2nd class) / $347 (1st class)
If you're under 26, you're eligible for discounts on train passes; for children under 12 years of age, there are yet further discounts, helping to keep the cost of your trip to Morocco low.
Bus Travel in Morocco
If you're really on a tight budget in Morocco, then bus travel is the mode of transport for you. Much cheaper than trains, buses in Morocco range from hair-raising local minibuses all the way to shiny, modern coaches.
Bus travel is the most popular way to travel around the country for Moroccan people. Part of the reason for this is not just their cheapness, but also because buses can reach much more remote destinations than the train network.
The bus network, however, is pretty complicated. There is a range of different bus companies that trundle across the country, all competing for the most well-trodden routes. The main companies you'll want to use are Compagnie de Transports Marocains (a national company), Supratours, SATAS, and Trans Ghazala.
All of them boast modern, air-conditioned coaches with seat numbers, so you won't have to worry about being packed in like sardines.
An example cost of bus travel in Morocco is Marrakesh to Agadir, $12 one way; luggage is $0.55 (the cost of "checked" luggage is often on top of your ticket). Another is Meknes to Fes (around 1 hour), $4.50. Longer journeys, taking upwards of 12 hours, will cost you $35.
Other private companies have smaller fleets. These depart when the driver deems them full enough. Usually these are poorly maintained vehicles with reckless drivers, but they do ply routes into more far-flung destinations.
Getting Around Cities in Morocco
There is a number of large cities in Morocco, each with its own take on public transport. Only two have a modern tram network – that's Rabat and Casablanca – with one in the works for Marrakesh too.
Trams are quick and efficient in cities in Morocco, and a safe, affordable way to get around. One trip on a tram in Rabat or Casablanca will cost you around $0.65. You buy tickets at tram stations.
Other big cities are served by a public bus network. Marrakesh, for example, features a BRT (Bus Rapid Transit) that works sort of like a tram. A standard ride on the Marrakesh BRT costs around $0.55.
Buses in other places can be overcrowded, rickety and difficult to work out route-wise. Many cities also operate a petit and grand taxi system. Petit taxis are pretty much like normal taxis with a base fare of $0.77 and $0.21 per kilometre. Grand taxis, on the other hand, are shared taxis that follow set routes – very cheap (a typical ride is $1), but these are not for everyone!
Renting a Car in Morocco
Outside of its hectic cities, Morocco is a fun country to drive around. Having your own wheels means getting to travel at your own pace and explore more unusual routes without having to think about public transport.
There is a surprising number of epic routes along well kept highways. One runs along the Atlantic Coast from Tangier to Safi. Another winds south from Casablanca, through Marrakesh and on to Agadir.
Hiring a car in Morocco costs approximately $30 per day. The longer you rent for, the cheaper it will be per day. It's best to pre-book online to get the best deal – international firms run here, including Europcar and Avis.
Bear in mind you will need to pay a cash deposit of between $330 – $550, unless you have a credit card.
Insurance is a must. It's included in the rental agreement. Collision damage waiver, though not required, is recommended (upwards of $4 per day).
Petrol in Morocco costs around $1.04 per litre. You should also factor in highway tolls as part of the cost of hiring a car in Morocco.
Want to save some cash and explore Morocco by rental car? Use rentalcar.com to find the best deal possible. There are some great prices on the site and they aren't difficult to find.
ESTIMATED EXPENSE: $10-$30 USD per day
Morocco is a delicious wonderland of food. Packed full of cuisine that reflects the country's rich history, there are aspects of Arabic, African, and Mediterranean influences in its array of dishes. Spices, stews, meats, salads and pastries all play a part.
Luckily, food in Morocco is not expensive. In fact, it's possible to eat quite well on a shoestring budget in this melting pot of mouthwatering morsels. That means you won't have any trouble getting some of the following specialities, even if your budget is tight:
Couscous – Couscous is world-famous. This Moroccan staple must be tried when you're here. It varies from region to region; in Casablanca, for example, it's seksu bedawi (couscous with seven vegetables). Costs around $5.50.
Bissara – Bissara is fava bean stew spiced with paprika and cumin, with plenty of olive oil and lamb, all simmered up for hours on end. This can be enjoyed very cheaply for $0.43 per serving.
Kamama – If you find yourself in Meknes, you should try kamama. This lamb stew is flavoured with ginger, fermented butter, ginger, saffron, sweet onions and cinnamon. Quite simply delicious! Priced as low as $3.50.
If you're wondering how you can save money on the already affordable Morocco food scene, see below..:
Al ftour (breakfast) – Don't skip al ftour. This is a Moroccan staple and is usually a long, leisurely event. If you're staying in a guesthouse or homestay, expect to be plied with a whole array of scrumptious breakfast delights.
Eat those snaks – You may be worried about eating street food in Morocco, but we say tuck in. Vendors and sidewalk kiosks called snaks are aplenty in Morocco's many cities – think kebabs and all sorts of deliciousness (even pizza and tagines).
Get your five a day – Fruit is a big deal in Morocco. Either dried or fresh, fruit is a good way to keep you satiated between meals when you're on the road (just make sure you can wash it if it's been peeled).
Where to Eat Cheaply in Morocco
Although Morocco is a pretty cheap place for dining anyway, it still pays to know more money-saving tips. After all, if you want to get the most out of your vacation, saving money and eating delicious food is a good place to start.
Here are a few more ways to source cheap eats in Morocco:
Look for a lunch menu – You'll often get deals at lunch, so if you want to enjoy a feast head out at lunchtime. It's a more relaxed time than in the evening, and also much cheaper. Expect three courses of couscous, vegetables and meat, tagine, and, of course, mint tea.
Stop off at a cafe – Head to one of the numerous cafes around cities. These are good places to enjoy something light to eat and a tea or coffee away from the heat of the day. Sometimes they're hidden on rooftops, so you get a good view thrown in, too.
Relax at a riad – Often riads open their doors to non-guests, which is good because they have excellent restaurants hidden inside their walls. They're affordable, authentic and may also serve alcohol!
However, if you're really watching the pennies, then you'll want to cook for yourself. In that case, here are some of the best places to pick up bargain produce:
Acima – A supermarket chain found throughout the country. You'll be able to find a range of products, and they even serve alcohol too (and they're open during Ramadan).
Marjane – Marjane is a hypermarket chain and possibly the most well known in Morocco. There are numerous locations, with each one boasting a wide selection of pretty much any foodstuffs you could desire.
ESTIMATED EXPENSE: $0-$25 USD per day
As Morocco is a predominantly Muslim country, alcohol is not always easy to come by. It's not usually served at restaurants, and there's not exactly a pub on every corner.
But this doesn't mean that Morocco is a "dry" country. It just means that drinking out and about in public is not the norm – drinking certainly happens, just in select locations.
For example, in Marrakesh, there are bars or upscale restaurants that have a liquor license. These can sell beer and wine as well as spirits too. Tourist hotels will have a bar attached, too, so you can enjoy a drink after a long journey.
Is alcohol expensive in Morocco? Mmm, yes. It has a high tax, and so compared to many European destinations it'll cost more for an alcoholic beverage. For a small 250ml bottle of local beer in a bar, you'll pay around $3.80; a 330ml bottle costs around $6.60.
Regardless of how typically "dry" Morocco is, there are still local beverages to sample, such as:
Local beer – Brands include Casablanca, Stork and Flag. These are refreshing, tasty and easy to come by in bars. These are often much cheaper than opting for an international brand.
Mahia – Meaning "water of life", this liquor is made from figs and flavoured with anise. And at usually around 80% proof, it's a force to be reckoned with!
For those of you looking for a glass of wine, there is Moroccan wine available. It's actually the second-largest producer of wine in the Arab world. Being a former French colony, there's French wine too. But if you're in the market for something local, hit up a vineyard; mostly it's red wine and rosé.
ESTIMATED EXPENSE: $0-$25 USD per day
Morocco is an incredible destination for those who want to get out into nature and there are some amazing ways to lap it all up.
From camping out in the desert, to hot air balloon rides and journeys on camelback, Morocco certainly delivers on its epic amount of outdoors activities.
The compact size of the country means you can pack in a range of adventures in a two-week trip, from hiking in Atlas mountains one weekend to surfing on the Atlantic the next.
There's also all the vibrant cities to explore. Think centuries-old mosques, souks crammed full of produce and curios, wandering the insane "blue city" of Chefchaouen as well as cultural institutions like the Jardin Marjorelle in Marrakesh.
To make it all easier, there are tours that whisk you from place to place, connecting the dots. But it doesn't always come cheap.
Here are some tips to keep you entertained for a low price during your Morocco adventure:
Enjoy the nature – Morocco is a veritable paradise when it comes to nature. Birdwatching is particularly amazing here, with over 460 species to spot in the country. Even in winter, birds are still active. Head to Merja Zerga National Park and enjoy.
Head to a Hammam – Traditional bathhouses or hammam is a must if you like a bit of pampering. Located in pretty much every town, these are usually pretty modern facilities and social spots for discovering local life. They're welcoming and affordable – admission is typically just $1!
Think we've covered pretty much everything you need to consider for your budget? Think again. There are still a few more things to factor in to keeping the cost of your trip to Morocco low. While flights, accommodation, sightseeing and food will make up most of your budget, there's also unforeseen costs to consider too.
You may need to pay for luggage storage, you may get caught up in all the haggling in the medina and bag yourself a satchelful of souvenirs, or you may want to send a postcard home (old-school, right?). This all costs money – set aside around 10% of your original budget to be on the safe side.
You'll also need to think about:
Tipping in Morocco
Tipping is well and truly part of the culture in Morocco, so you'll have to budget accordingly. You'll be expected to tip for pretty much every service you receive when in the country.
That said, don't feel like you need to shell out a whole heap of dirhams for a service that someone has seemingly volunteered for. This sort of thing could be seen as a scam. Take each situation individually.
In restaurants, you should pay at least 10% of the bill as a tip. It may be added on as a service charge in high-end restaurants. Whether it's for a meal or just one drink, you'll need to tip.
At a cafe, you should tip around $0.20 (2 dirham).
You can tip car park attendants around $0.30. When you use public toilets, you should pay the attendants $0.10 – $0.20.
Bellboys at hotels can be tipped as much as you like, but between $1 – $2 is fine. Baggage handlers when getting on buses ought to be tipped around $0.50.
You can tip tour guides a discretionary amount. Anywhere between 10 and 20% of the total cost of the tour should be ok.
Get Travel Insurance for Morocco
World Nomads' mission is to support and encourage travellers to explore their boundaries. They offer simple & flexible travel insurance, and safety advice to help you travel confidently.
They've been doing it since 2002 – protecting, connecting, and inspiring independent travellers just like you.
Get a quote below or read our in-depth review!
World Nomads provides travel insurance for travelers in over 100 countries. As an affiliate, we receive a fee when you get a quote from World Nomads using this link. We do not represent World Nomads. This is information only and not a recommendation to buy travel insurance.
If you're always on the look-out for more budget travel advice, then you'll be pleased to know we've got a few more tried-and-tested tips for Morocco to keep your costs low:
Look for deals – Keep your eyes out for cheap travel deals and tour packages. You could bag yourself a combined plane ticket and hotel accommodation for a snip of the usual cost, and there's also deals to be had on tours too. Take the time to hunt down the deals, you won't regret it!
Travel out of season – A good way to save money on your trip to Morocco is to not travel during high season (July – August). The cost of flights and accommodation during this time can be much higher than in quieter periods for tourists.
Go local – Tourist traps are a sure-fire way to spend a load of cash. Leave the big sights behind and eat in restaurants and cafes that cater to locals instead of tourists. That way you will be able to save money and enjoy authentic food.
Go couchsurfing – Couchsurfing is not only one of the best ways to not only save money when you travel, but also get to know a new local friend too. There's a ton of Couchsurfing hosts all over Morocco, just check out their profiles and get chatting!
Have a water bottle: Don't waste money on plastic, bottled waters; carry your own and refill it in the fountains and the tap. If you're worried about potable water, get a filtered bottle, like the GRAYL, which filters out 99% of viruses and bacteria.
Earn money while you travel: Teaching English while traveling is a great way to make ends meet! If you find a sweet gig, you may even end up living in Morocco.
Become a volunteer with Worldpackers: Give back to the local community and, in exchange, you're room and board will often be covered. It's not always free, but it's still a cheap way to travel in Morocco.
While some parts of a trip to Morocco can be expensive, generally it's a very affordable place to visit. That's great news for fans of history, culture, nature, good food, and epic cities – it's all here in Morocco, and it can all be experienced without coming home broke!
Let's round it all up now with some of the basic takeaways from our guide to budget travel in Morocco. Follow these tips, and you'll be well on the way to enjoying a trip to this amazing country without breaking the bank:
Skip the big ticket places – Travelling to Morocco is enough of an adventure in itself, you don't need to shell out for big expensive hot air balloon rides or a drink at Rick's Bar. Save your money and explore the markets or hit up a hike for free instead.
Don't eat at a restaurant – Eating out every night at restaurants is going to eat a big chunk out of your daily budget. Either buy fresh ingredients and cook at your Airbnb or hostel, or hit up the food kiosks for some cheap local treats.
Know how to haggle – Haggling is part and parcel of everyday life in Morocco. Whatever price you're quoted at a market stall, you've got to come back with a lower one (start low – less than 50% of the price should do). A quick back and forth can really result in savings – don't take anything less than 75% of the original price.
Choose your accommodation wisely – Although there's plenty of cheap accommodation in Morocco, there's also a lot of high-priced places too. The best option is to pick somewhere that isn't dirt cheap so you can be comfortable and enjoy your trip, and also choose somewhere that offers extras like breakfast, too.
Pack a filter water bottle – Don't spend your hard-earned cash on bottles of drinking water. Instead, you can opt for a filter drinking bottle. This way, you can enjoy clean, safe drinking water, but also save the planet (as well as money).
What we think the average daily budget for Morocco should be:
With all our money-saving tips, we think the cost of a trip to Morocco can be between $60 to $80 USD per day.
One last thing – be sure to check out our essential packing list. Forgetting that one essential item you should've remembered to pack can mean buying it again, more expensively, in Morocco. Make a list a check it twice!
---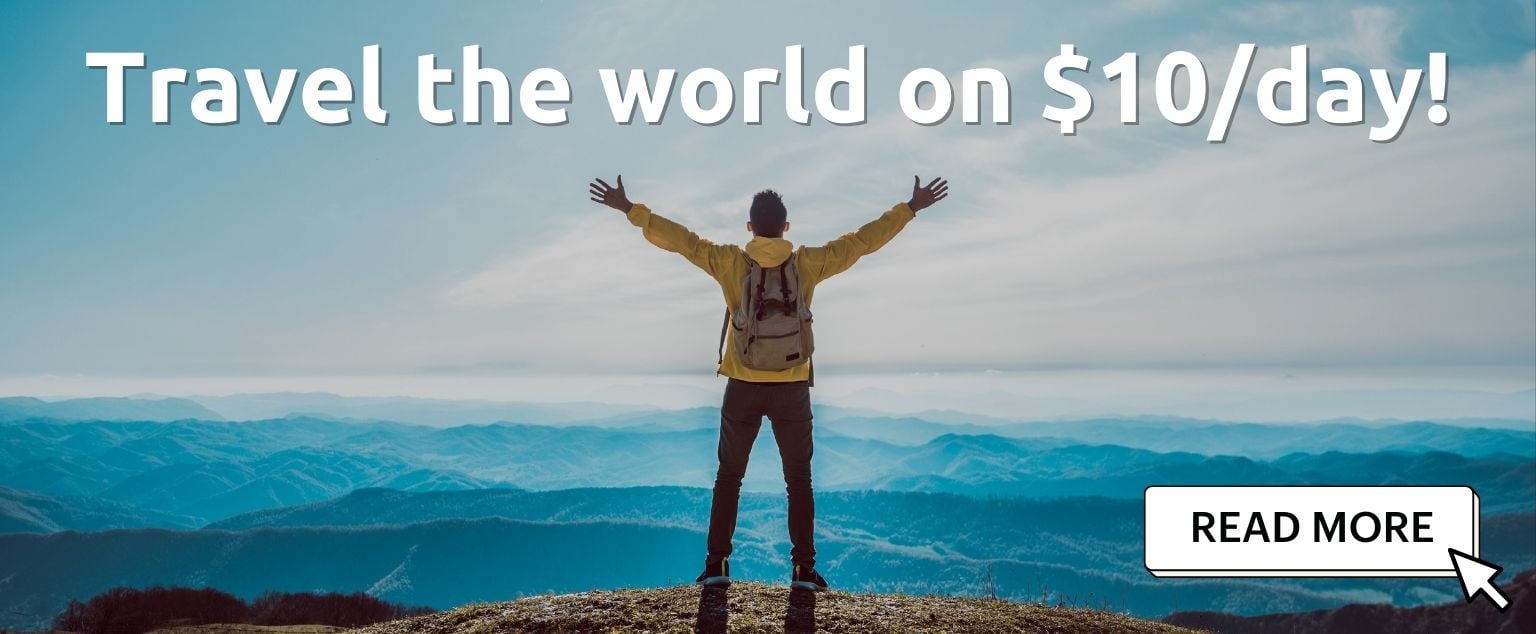 And for transparency's sake, please know that some of the links in our content are affiliate links. That means that if you book your accommodation, buy your gear, or sort your insurance through our link, we earn a small commission (at no extra cost to you). That said, we only link to the gear we trust and never recommend services we don't believe are up to scratch. Again, thank you!