"Marrakech? What's Marrakech?", "Where's Marrakech? Is Marrakech in Africa?" – these are the types of questions regularly asked as soon as we start describing this amazing city! If you are also curious to find out more, you've come to the right place.
Marrakesh is a desert city in the north African country of Morocco. Also spelled Marrakesh, it is home to mosques, palaces, and gardens, and welcomes millions of visitors to the city walls each year!
The Medina is a densely packed, walled medieval city dating to the Berber Empire. The maze-like alleyways lead through souks (market places) that sell traditional textiles, pottery and jewelry.
A weekend visit to Marrakech, Morocco will guarantee incredible pictures and some magical memories! Read on for some great advice when traveling to this fantastic city, and allow us to be your weekend Marrakech travel guide!
A weekend in Marrakech will give just enough time to see the highlights, and get a taste of this special city. Check out our top tips to get the most out of your stay, they may be a useful guide to Marrakech!
Know Where to Stay in Marrakech
Marrakesh provides travelers with plenty of interesting places to explore, shop and eat. Essentially, the city has two parts to it – the old town and the new town. The old one is based around the Souks and full of ancient buildings. The New Town is a modern European, inspired metropolis.
In the heart of Marrakech is the historic neighborhood of Medina. Here you will find a concentration of Marrakech points of interest, traditional restaurants and cafes, a myriad of souks and the bustling Jemaa el-Fna Square. This area is atmospheric and quintessentially Marrakech – if you want to stay in an old, traditional Riad then stay here.
Also fairly central is the hip neighborhood of Hivernage. This area is more upmarket with lots of opulent hotels and fine-dining restaurants dotted around, and high-end shopping malls dotted around. If you want to stay in modern digs, enjoy a good night out too, and have some extra money to spend, then Hivernage may be ideal for your Marrakech weekend break!
Choosing your Marrakech accommodation will depend on the environment you wish to be surrounded by. Our list of the best hostels in Marrakech will come in handy.
Perfectly located, right in the center of Medina, this hostel is surrounded by souks
Offers mixed dorm or private room accommodation
Private rooms come with en-suite bathrooms and air-conditioning
Riad Layla Rouge is our favorite hostel, and is a wonderful option for solo travelers and couples visiting Marrakech. Each room has iPod speakers, and the rooftop terrace is a gorgeous hang out spot with excellent views over Medina!
Riad Barbmar is a renovated traditional Moroccan riad in the Marrakech Medina. A riad is a type of traditional Moroccan house or palace with an interior garden or courtyard. It accommodates up to eight guests in four bedrooms. Regardless of whether you are 1 traveller or a group of 2-8 people, you will have the private use of the entire house and will not share with other guests. The indoor pool is perfect for cooling off after sightseeing. The third floor roof terrace is a great space for socialising with family and friends. The upper terrace on the fourth floor is shaded and ideal for outdoor meals. From there you look over the entire Medina.
Our Favorite Budget Hotel – Sindi Sud
Located in the heart of Medina, this hotel is perfect for tourists wanting to be in the thick of the action!
Offers options for solo travelers, couples, group travelers and families
Just a short walk away from Jemaa el-Fna Square
Sindi Sud is the perfect choice of hotel in Marrakech if you are traveling on a budget. The hotel offers a beautifully decorated retreat from the busy city, tucked away in a side alley in Medina. The friendly staff are always at hand to help you out.
Located in the chic Hivernage neighborhood
Offers pristine accommodation with all the ingredients of a deluxe resort!
The spa is on hand to pamper guests after a day of sightseeing in Marrakech
This luxurious hotel is located in the hip and happening suburb of Hivernage, just a 2 minute walk away from Menara Gardens. This hotel is a great choice for those wanting to experience the finer side of Marrakech! The Savoy has a pool, spa, fitness center, bar and restaurant.
Know How to Get Around in Marrakech
Walking and exploring on foot is a great way to explore the streets around your accommodation, and to find those hidden gems close to where you stay! It is recommended to explore the old part of the city on foot, this way you'll be able to soak up the atmosphere of Medina and get a true sense of daily life in Marrakech. Note that you will get lost in the Souks. You can try asking for directions but don't expect these to be correct – even if you pay someone for them.
However, the modern part of the city is a lot more spread out, so you may want to explore the following options before deciding what to see in Marrakech, Morocco!
Taxis are readily available throughout town and probably the most efficient way of getting to the main sites. Tuk-tuks are around but are less common. For both taxis and tuk-tuks make sure your driver is crystal clear on the destination, to avoid being taken for an extra long ride. Negotiate the fare up front, barter VERY VERY HARD and only pay after you get out.
Caleche is a horse-drawn carriage and a popular way for tourists to get around Marrakech. There are set prices for the more common routes, but for other routes you'll have to bargain with the driver. Agree on the price before you hop in! Note that the horses don't always get treated particularly well by the drivers.
Buses within the town are frequent and cheap but can get crowded and are hard to navigate. You can pay the bus driver directly. Only try this if you speak French, Arabic or are happy to get totally lost for a bit.
If you are looking to enjoy a few drinks to get you in the mood for a night out, then starting at your hotel bar is a great option. To keep the buzz going you can either enjoy a more relaxed and sociable time in Medina, or head out to the glitzy venues in Hivernage and Gueliz to experience a modern Marrakech nightlife!
Jemaa El-Fna Sqaure
Enjoy a social gathering at a local cafe and let the street performers entertain you
For a few drinks or a romantic nightcap try out Dar Anika near the Mellah Plaza
Enjoy a bottle of wine with a delicious meal at Kosy Bar
Medina's nightlife generally centers around Jemaa El-Fna Square which is a UNESCO Listed Cultural phenonemal. El-Fna is a refreshing blend of small gatherings, artistic performances and rooftop restaurants. Here you will here musicians jamming traditional Berber tunes and wild eyed locals dancing, entranced. Alcohol is forbidden in the Old Town as it faces the Holy Mosque so bars can be hard to find. However if you look hard enough and you'll find a few rooftop restaurants with great views to enjoy a meal and a drink or two!
Hivernage
Has a dense cluster of chic night clubs and glamorous cocktail lounges
Head to Theatro for international DJs, acrobatic performers and amazing parties
For some salsa and Latin flair try La Perle Skybar at La Mamounia Hotel
Hivernage is the neighborhood you want to head to if you are looking for a party atmosphere! Hivernage is known for its swanky cocktail scene, and has a high concentration of fancy hotel bars, casinos, cabarets and nightclubs. It's the playground of the rich and famous, and comes to life after dark! Note that drink prices here can be expensive even by western standards.
Gueliz
A modern section of Marrakech with a European feel to it
Mama Afrika is a favored hangout for local musicians and artsy types
For chilled-out vibes and American-style cuisine, Cafe du Livre will get your night going
Forming part of the modern section of Marrakech, Gueliz has French-era streets that are home to upmarket restaurants, cabarets and chic bars! The whole vibe of the area is much more westernized and you can expect to feel this on a night out here too. You can enjoy all types of cuisines and drinks, party the night away at a rooftop club or chill out in an intimate bar with new-age local musicians.
Marrakech has one of the largest selections of restaurants in Morocco, serving both local Moroccan and international cuisine. A tasty tagine, named after the ceramic pot it's served in, can be enjoyed all over the city and is a local favorite! With everything from street food to fine-dining restaurants you'll be able to enjoy a delicious meal in Marrakech to suit any budget.
Jemaa El-Fna Square
A popular choice for tourists to enjoy some local street food
It's a must-do Marrakech experience!
Enjoy anything from soup to sheep heads
You can find just about any local dish at one of the many food stalls in the popular square. Many of the menus are replicated from stand to stand, and it can feel like a tourist trap, but that shouldn't discourage you from venturing out and indulging in a tasty local dish or two! Try some snail soup, freshly squeezed orange juice or a decadent chebakia (Moroccan sesame cookie). Simply sitdown where you can find a spare bench and point at what your want.
Dar Moha
An upmarket restaurant serving delicious Moroccan fusion cuisine!
Reservations are necessary if you wish to dine at this leading restaurant
Serves alcohol
Setting new standards for Moroccan fusion cuisine, this upmarket restaurant is the culinary star of Marrakech. New flavor combinations, inspired from the surrounding souks, are dreamt up by esteemed Chef Mohammed Fedal. Reserve a table in the garden next to the pool, and enjoy the accompanying sounds of live music with your meal!
Take a Food Tour
Explore the markets of Jemaa El-Fna Square with a local guide
Stop at some hidden local shops and try some of their offerings!
5-hour walking tour through the souks, spice markets of Marrakech
Morocco is known for its bold and flavorful cuisine, and what better place to discover it than in Marrakech? Wander through the souks sampling olives, dried fruits, nuts, and pastries on an evening food tour! Get a comprehensive introduction to local spices, then sit down for a delicious dinner in Jemaa El-Fna! A Marrakech Food Tour is a great way to find the best spots – something you will struggle to do alone.
Morrocons are not exactly an active bunch but there is a lot to do if you can muster energy! The city has most modern facilities for many recreational activities to quench your thirst for outdoor experiences!
Play a Round of Golf
More than 20 golf courses around the city to choose from
The Royal Marrakech is the oldest and most prestigious course in the city
The World Golf Awards awarded Assoufid Golf Club with Morocco's best golf course in 2015
With elegantly designed greens and courses suitable for all levels, the golf courses of Marrakesh are a must! Indulge your passion for pitching and putting on original courses designed by the best Golf architects. The backdrop of the Atlas Mountains, and the occasional palm grove is just as spectacular as the courses themselves!
Go Kart Racing
Burn some rubber while in pursuit of pole position!
The track has hosted the FIA ?? World Touring Car Championship (FIA WTCC) since 2009
A fun and safe activity for all ages!
Fuel your passion for driving and satisfy your need for speed at Marrakech Kart Racing!
The karting track can be found in the paddocks of Circuit Moulay Al Hassan, a world-class circuit that hosts an annual FIA World Touring Car Championship event! The half-mile karting track is technical with sharp corners and long straights!
Take a Crossfit Class
Stay in shape even while on a Marrakech city break!
The instructors may speak limited English, but the movements are international
If you work-out regularly in the gym, then this activity is for you
If you're feeling up to it, why not challenge yourself to a crossfit workout? Keeping active and in shape on vacation isn't always easy, but at Crossfit Infinite Progress you can drop-in for a once-off class of high intensity fitness! It's a clean gym providing familiar crossfit workouts.
Marrakech has a fair share of live-music and theater options that are not to be missed. Here are three venues that we think you may enjoy while visiting the city!
Le Bar Churchill
A great venue to listen to jazz and blues in a sumptuous setting
Be sure to dress in elegant evening wear as they enforce a smart dress code
Open from Wednesdays to Saturdays each week
For a sophisticated evening in Marrakech head to the refined Le Bar Churchill to listen to live jazz and blues. Part of the five-star La Mamounia Palace Hotel, the bar oozes style and opulence. The music usually consists of sultry jazz to blues, the perfect ambient sounds for a sumptuous evening in Marrakech!
Epicurien
A great venue for live music and dressing up in all sorts of crazy outfits!
Serve hearty burgers and whacky mixed plates
VIP tickets reserve the best tables and come with extra perks
Epicurien is a venue not shy of hosting crazy, kitschy-themed nights and live concerts. Expect inflatable props to be thrown and guitarists dressed up as teddy bears. Epicurien is known for having costume nights during its live shows, so locals use this venue as an opportunity to dress up in the craziest outfits they can put together!
Marrakech Royal Theatre
The flagship theatre for cultural performances in Marrakech!
Inaugurated in 2001 by His Majesty King Mohammed VI
Call ahead to inquire about performances and exhibitions, and advice on how to get there
Located in the modern Guiliez quarter, the Théâtre Royal de Marrakech is the major artistic and cultural focal point in the red city. Between its impressive 1200-seat open-air theatre and 800-seat opera house, the theatre hosts a variety of national and international cultural events including opera, ballet and musical performances!
10 Other Awesome Things to do in Marrakech This Weekend
So you're still looking for more things to see and do in Marrakech? Here are 10 activities that you just have to do when you travel to Marrakech!
#1 – Jardin Majorelle
A living masterpiece composed of exotic plants and rare species, the Jardin Majorelle is the creation of French painter Jacques Majorelle. The garden is a small, peaceful oasis in the heart of Marrakesh and a perfect spot to take a break from the busy city!
The garden is made up of enchanting paths, trickling streams and a myriad of flowering plants. Exotic species such as Cacti, Yuccas, Water Lilies, Jasmine and Bougainvillea were brought to the red city during the painter's travels abroad.
Every inch of the garden lends itself to making a great picture, and with the ultramarine blue house as the centerpiece, the whole setting is just stunning!
#2 – Museum Yves Saint Laurent
This museum is dedicated to the work of the legendary French fashion designer. The Yves Saint Laurent collection is an amazing body of work that even non-fashionistas can appreciate!
Right next door to Majorelle Gardens is the museum's modern building displaying hundreds of garments from the designer's 40-year career. It features a permanent exhibition designed by Christophe Martin, a temporary exhibition space, a 130-seat auditorium, a bookshop, a café-restaurant with a terrace and a research library housing 5,000 books!
#3 – Bahia Palace
Bahia loosely means brilliance in Arabic, and is aptly applied to this wonderful palace. Named after the favorite wife of Ba Ahmed, the grand vizier who commissioned the palace, it stands as a great example of nineteenth-century Moroccan architecture.
A labyrinth of rooms and courtyards stunningly decorated with colorful ornaments can be found at every turn, and from floor to ceiling. The best Moroccan and Andalusian craftsmen worked on Bahia Palace for fourteen years, which was intended to be the greatest palace of its time!
The shaded spaces of Bahia Palace makes for a welcome escape from the midday sun and the busy city. Absorb the magical detail of the tiles and take Instagram-ready pictures in the courtyards!
#4 – Koutoubia Mosque
One of the most spectacular monuments in Marrakesh, Koutoubia Mosque is a must-see! Mosques hold significant importance in Morocco, and this one should be first on your list of mosques to visit. It's the largest mosque in Marrakech, and possibly one of the most beautiful in the world!
Koutoubia is not only a spiritual center but a point of reference for international architecture. The whole structure is decorated with intricate carvings and colorful tiles. The indistinguishable feature is the beautiful 12th-century, 250 ft ashlar minaret that soars above the Marrakech skyline, broadcasting the call to prayer 5 times a day!
#5 – Ben Youssef Madrasa
Madrasas, or islamic colleges, are dotted all over Morocco as historical representations of a bygone era of traditional education. Right in the heart of the medina stands the Ben Youssef Madrasa, one of the largest madrasas in North Africa!
Inscriptions on the entrance gate, and capitals of the prayer room, suggest the building has stood since the 16th century. Explore more than 100 tiny, windowless student chambers and admire the stunning architecture, from the great courtyard to the richly decorated prayer halls!
The madrasa was dedicated to the teaching of Islamic law, and used to accommodate 130 students over two floors. Now it stands as one of the more remarkable historic monuments in Marrakech.
#6 – Maison de la Photographie
In a small building in the heart of Medina is a peculiar museum that is absolutely worth a visit! Maison de la Photographie (House of Photography) showcases a collection of photographs documenting Marrakech people and the history of the city from the 1870's onward.
The museum gives fascinating insight into Morocco's traditions, the local way of life, and the city's characters. If you have an interest in photography or art this understated museum could turn out to be your favorite thing to do in Marrakech!
The rooftop cafe also serves a delicious array of teas and provides a brilliant view over the city!
#7 – Saadian Tombs
The Saadian tombs are one of the only remains of the Saadian dynasty that reigned over Marrakech in the 16th and 17th centuries. Shortly after the fall of the dynasty, the tombs were sealed off and hidden, only to be rediscovered in 1917!
Magnificently decorated with bright tiles, Arabic calligraphy, and intricate carvings, the tombs are a beautiful site to visit! Together with the orange trees and landscaped gardens the tombs make for a peaceful escape from the busy city, and provide plenty of picture opportunities.
#8 – Tanneries
Located in the northeast of the Medina are the tanneries of Marrakech. Finding the tanneries is a bit of challenge and asking the locals is no guarantee of help.
Everything from bags to dresses are found here, and you can view how all the items are made. Visitors can watch workers as they hand dye material in an age-old tradition that will later be traded in the city. The methods on display at the tanneries pre-date modern factories, and serve up an assault on the senses!
#9 – El Badi Palace
In Arabic el badi means "the incomparable palace" but all that remains are ruins. It's a relic from the Saadian dynasty built in the 1500s, and must have been one of the most spectacular palaces of its time.
The vast ruins of the palace are definitely still worth visiting, with beautiful ornate tiles decorating parts of the palace and the crumbling walls slowly eroding with the sands of time. The sheer size and age of the palace lends itself to a feeling of introspection.
When it was built El Badi was actually designed as a lavish display of the sultans riches, built with some of the most expensive materials of the time. After the fall of the Saadian dynasty the palace fell into a state of disrepair, with the following sultan stripping it of its decorations to use in the construction of his own palace.
#10 – Unwind in a Traditional Hammam
No Marrakech guide would be complete without recommending a visit to a hammam (local bath house). Hammam is a traditional Moroccan experience, where you get cleaned and exfoliated in a steam room. It does involve stripping down the bare essentials, but thankfully, hammams are separated in men or women only!
There are a number of bath houses throughout Marrakech, and the price will depend on your budget and how fancy the bath house is. For those ready to join the locals, you can find hammams close to mosques, and away from the touristy spots.
Even a weekend trip requires some research to get the most out of your visit. To keep that time to a minimum for you, we've compiled some of the most frequently asked questions about a weekend trip to Marrakech.
Don't Forget Your Marrakech Travel Insurance
World Nomads' mission is to support and encourage travellers to explore their boundaries. They offer simple & flexible travel insurance, and safety advice to help you travel confidently.
They've been doing it since 2002 – protecting, connecting, and inspiring independent travellers just like you.
Get a quote below or read our in-depth review!
World Nomads provides travel insurance for travelers in over 100 countries. As an affiliate, we receive a fee when you get a quote from World Nomads using this link. We do not represent World Nomads. This is information only and not a recommendation to buy travel insurance.
Final Thoughts on a Great Weekend in Marrakech
By now you have the best information on where to go in Marrakech, things to see in Marrakech, and insight into the local culture and Marrakech people. All that's left is to pick a time that suits you and enjoy an incredible experience!
This city has a rich historya , vibrant market scene, impressive architecture, and delicious food! There's an array of impressive sights dotted throughout the city, and although it's a relatively small city, getting around isn't always easy!
Be sure to take in all the colors and flavors that the Red City has to offer! It's possible to see a lot of Marrakech in 2 days and should definitely be included in any Morocco 4 day itinerary. If you are interested in backpacking through Morocco be sure to check out our backpacking Morocco travel guide.
---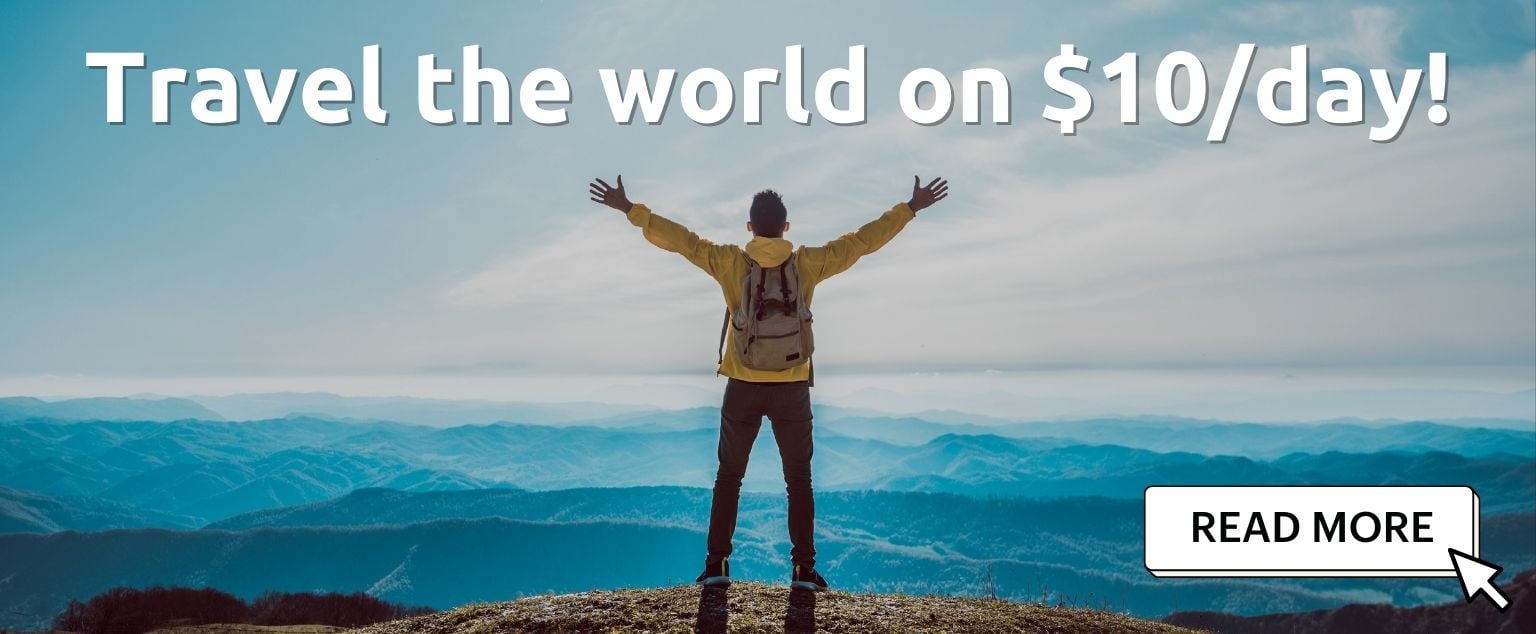 And for transparency's sake, please know that some of the links in our content are affiliate links. That means that if you book your accommodation, buy your gear, or sort your insurance through our link, we earn a small commission (at no extra cost to you). That said, we only link to the gear we trust and never recommend services we don't believe are up to scratch. Again, thank you!