Medieval mosques, tagine cuisine, crumbling minarets, crazy backstreets, tiled palaces, maze-like markets and a whole lot of colours, sights, smells, sounds, aromas, and spectacles to take in: it must be Marrakesh. This is truly a must-see destination.
However, it also has a reputation for being a frantic, frenetic city. Here you will find genuinely dangerous road conditions (the traffic is terrible), pushy sellers, scams, pickpockets, and there's even the threat of terrorism to contend with in this city.
There is a lot about this city that puts people off and a lot of it based in and around the medina area. However, if you know the dangers, annoyances, how to not look like an unsuspecting tourist and not be targeted for scams in the first place, then you'll know how to avoid them. In this guide, we've got a ton of tips, ways to not get scammed or how to deal with taxis!
You may be a solo female traveller worried about a trip to this city, or you may just be wondering about its food safety – whatever it is we've got all this covered and so much more in our handy guide, so let's go!

Unlock Our GREATEST Travel Secrets!
Sign up for our newsletter and get the best travel tips delivered right to your inbox.
How Safe is Marrakesh? (Our take)
Marrakesh is a busy, bustling former imperial capital city that's verging on manic. Labyrinthine lanes in the souks and the mad Jemaa al-Fnaa square. It's definitely a cool place to visit.
However, Marrakesh isn't always cool – far from it, in fact. And when it comes to safety, there are few things to be aware of.
There's not a huge amount of risk for travellers who go to Marrakesh but there is definitely still a problem with petty theft and scams. Dangerous driving also poses a bit of a threat. It's a shame to say it but women travelling alone may face some issues, too.
Morocco is a Muslim country and it's important to remember that even visitors should be at least respecting Islamic law and local customs.
Hassling hagglers, unscrupulous touts, and a whole lot else to watch out for: let's look in detail at what that all means.
There is no such thing as a perfect safety guide, and this article is no different. The question of "Is Marrakesh Safe?" will ALWAYS have a different answer depending on the parties involved. But this article is written for savvy travellers from the perspective of savvy travellers.
The information present in this safety guide was accurate at the time of writing, however, the world is a changeable place, now more than ever. Between the pandemic, ever-worsening cultural division, and a click-hungry media, it can be hard to maintain what is truth and what is sensationalism.
Here, you will find safety knowledge and advice for travelling Marrakesh. It won't be down to the wire cutting edge info on the most current events, but it is layered in the expertise of veteran travellers. If you use our guide, do your own research, and practise common sense, you will have a safe trip to Marrakesh.
If you see any outdated information in this guide, we would really appreciate it if you could reach out in the comments below. We strive to provide the most relevant travel information on the web and always appreciate input from our readers (nicely, please!). Otherwise, thanks for your ear and stay safe!
It's a wild world out there. But it's pretty damn special too. 🙂
Is Marrakesh Safe to Visit? (The facts.)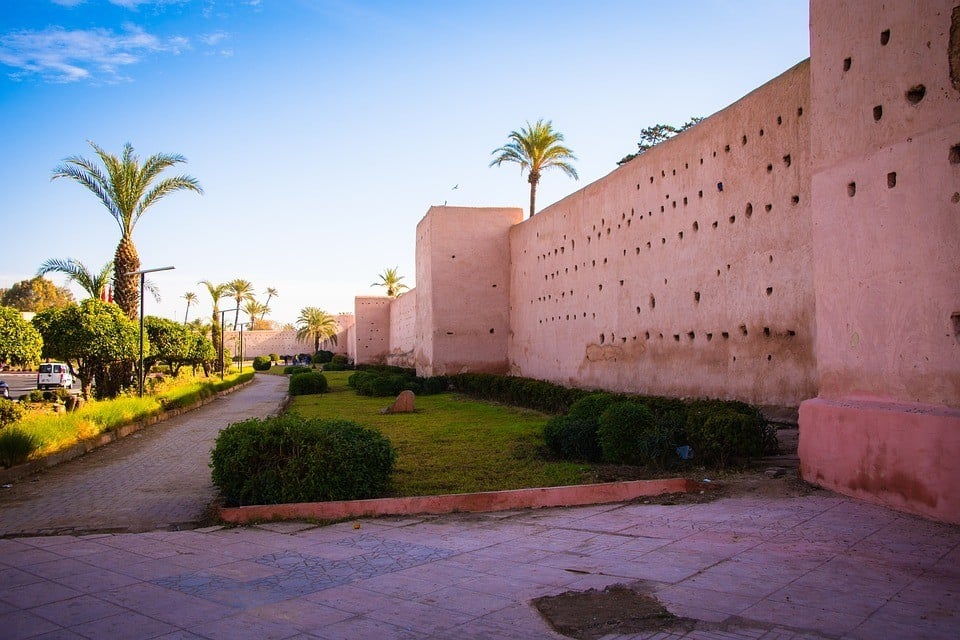 According to the tourist numbers Marrakesh is certainly still on the cards for a trip, which could mean that it's a safe destination.
In 2017 Marrakesh broke its own record, crossing the 2 million mark for tourists in the city with more than 6 million overnight stays; that's a lot for a city with a population of just under 1 million!
Tourist numbers are still on the rise. From January through November of 2018, Marrakesh recorded over 2.4 million tourists.
People heading to Marrakesh are overwhelmingly from Europe: France, Spain, and Germany, with a few from Eastern Europe, too. Chinese tourists are beginning to show up in the city as well.
Marrakesh is, in fact, the most visited destination in Morocco, which in turn is the most visited country in Africa.
Where does safety fit into all this? Marrakesh officials have responded to the increase in tourists by attempting to sort out the wild traffic, restoring monuments and giving certain districts some much-needed renewal.
Is it Safe to Visit Marrakesh Right Now?
Marrakesh has had its fair share of worries for tourists and visitors over the past few years; this does, unfortunately, include terrorism.
In fact, Moroccan authorities regularly report the disruption of terrorist cells and their threats across the country from extremist groups, some of whom align themselves with Daesh.
Crowded areas, transport hubs, global and western businesses, as well as government buildings, are all targets for terrorist attacks. Security measures, including security personnel, can be visibly seen in tourist sights. Though this looks scary, it's better that they're there than not.
There has also been a recent increase in the use of armed robberies against tourists, specifically knives. Petty crime in the medina quarters – things like pickpocketing, bag snatching, credit card fraud, confidence tricks, aggressive begging, and other travel scams continues to be a very real issue.
Protests and demonstrations take place quite frequently in Marrakesh. Usually, they are peaceful but these can definitely turn violent, but usually only with isolated incidents. Even so, these should definitely be avoided.
Overall, it's pretty safe to visit Marrakesh right now, so long as you're using your common sense.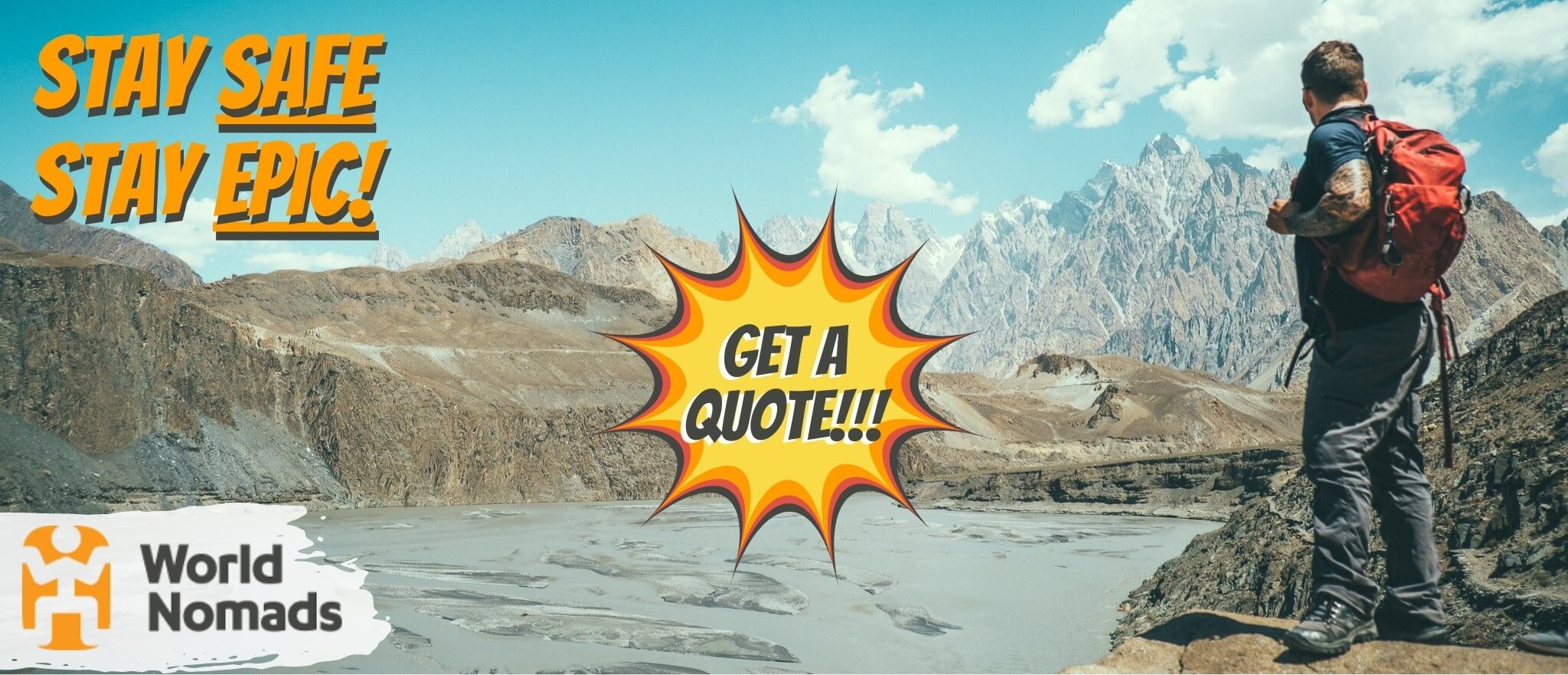 World Nomads' mission is to support and encourage travellers to explore their boundaries. They offer simple & flexible travel insurance, and safety advice to help you travel confidently.
They've been doing it since 2002 – protecting, connecting, and inspiring independent travellers just like you.
Get a quote below or read our in-depth review!
With all the level of petty crime, busy streets, unfamiliar terrain and a reputation for overzealous stallholders with forceful sales techniques – not to mention the threat of terrorism – no doubt you're pretty worried, especially if you've never travelled alone. However, there's a lot to do and see in Marrakesh and if you apply our tips, you can stay safe in this mad city.
Streets are easy to get lost in – even if you ask a local for directions, it might not be helpful (especially in the medina area).
Carry a business card from the hotel you're staying at – this will help you ask for help; or show it to your taxi driver.
Be super careful taking money out of ATMs – try and use the ones inside whenever possible.
Only carry a small amount of cash with you – 1) no one can see a big wad of cash when you pay for something; 2) if your wallet goes missing, you don't lose a load of money.
Wear a money belt – this way, you can hide extra cash. More on this later.
Be very careful of distraction techniques – a good rule of thumb: be suspicious of everyone who comes up to you unprompted.
There are a high number of shady characters – it's good to know this. We're talking fake guides, hustlers, confidence tricksters, "I recognise you from the hotel" kind of lines; there are so many people like this to watch out for.
Try to find the tourist police – these are set up around tourist sights. The aim is to try to curb that sort of scammy behaviour.
Agree on a price for a guide before you leave – and know you will be taken around a load of tatty tourist shops.
Head to a tourist office for an official guide – these tend to be much better and safer.
Be humorous – bantering with people who want to sell you stuff is fine, but getting into a big conversation or (worse) disagreement with them isn't recommended as you'll either never getaway or cause a scene and unnecessary upset.
Try to look like you know what you're doing – looking like a lost tourist will get you so much more hassle: trust us.
Don't look wealthy – looking like a rich tourist is just going to make you a target for all sorts of thieves.
Marijuana, kif, hashish isn't legal – for tourists. Loads of old guys here smoke it, but it's not worth getting involved as a tourist as the person you buy it from may rip you off and you may curiously find yourself pulled up by police very soon after.
Respect local laws, customs, and traditions – if you're going to a religious site in particular, especially during Ramadan.
Public displays of affection are just not the done thing – sexual relations outside marriage are punishable by law and homosexuality is a criminal offence. It's that sort of place. Be sensitive to that or you could end up in trouble.
Drinking alcohol in public or unlicensed places is illegal – you could get arrested for doing so.
Be very careful taking pictures near government or military sites – just don't.
Drone users, don't bother – flying one without permission is illegal in Morocco and could get your actual passport confiscated.
Walking around can be hazardous – paths are almost non-existent, the traffic is crazy, crossings aren't used. Be careful!
Learn a few words of Arabic – it's not that hard and it's great for a bit of joking around if you want to haggle!
Try to blend in – men and women in Marrakesh don't really wear shorts, maybe sometimes short sleeves. On the whole, the general rule is to show less skin. Stops you getting burnt in that horrific sun, too.
There's a lot to think about in Marrakesh, especially when it comes to safety. Like every other city, you have to use your common sense – that's a given. However in Marrakesh, there are a lot of people trying to sell you stuff, talk to you, get your attention, and yes: some might want to steal your stuff, too. It's just important to take it all with a grain of salt and try to have a good outlook, otherwise, you could find yourself worn out quickly!
Sleep safe! Choose your hotel, hostel or Airbnb ahead of time so you're not last-minute booking a less-secure place.
Read our Neighborhood Guide for our favorite accommodations in Marrakesh by area.
Check out our Hostel Guide for the best budget options.
Keeping your money safe in Marrakesh
The best way to cut a trip short, or simply put a dampener on your holiday, is to fall for some stupid scam – or get money stolen from you. It's really annoying having a pickpocket secretly pinch your cash and can change your perception of a country.
In Marrakesh, we're going to level with you: there's a lot of opportunities for petty crime. Potential thieves are everywhere and may try with words, or maybe by distracting you, to get to your money. There is a solution to this though and it's a travel money belt.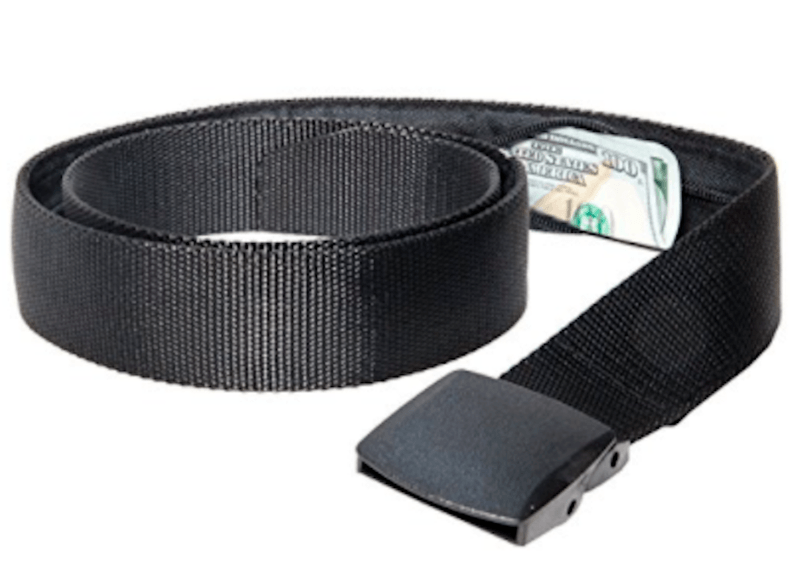 The Pacsafe Money Belt is our best bet. It's affordable, it looks and acts like a belt, and it's sturdy – what more could you ask for out of a money belt!
Unlike a lot of other money belts out there, there's no big pouch to get in your way and look obvious under clothes, no extra belt to wear if you've already got a belt on, no discomfort. The Pacsafe Money Belt is a belt – it's just got a secret zip pocket where you can stash your cash and keep it safe from prying fingers and sticky hands. We would recommend wearing this anywhere in the world!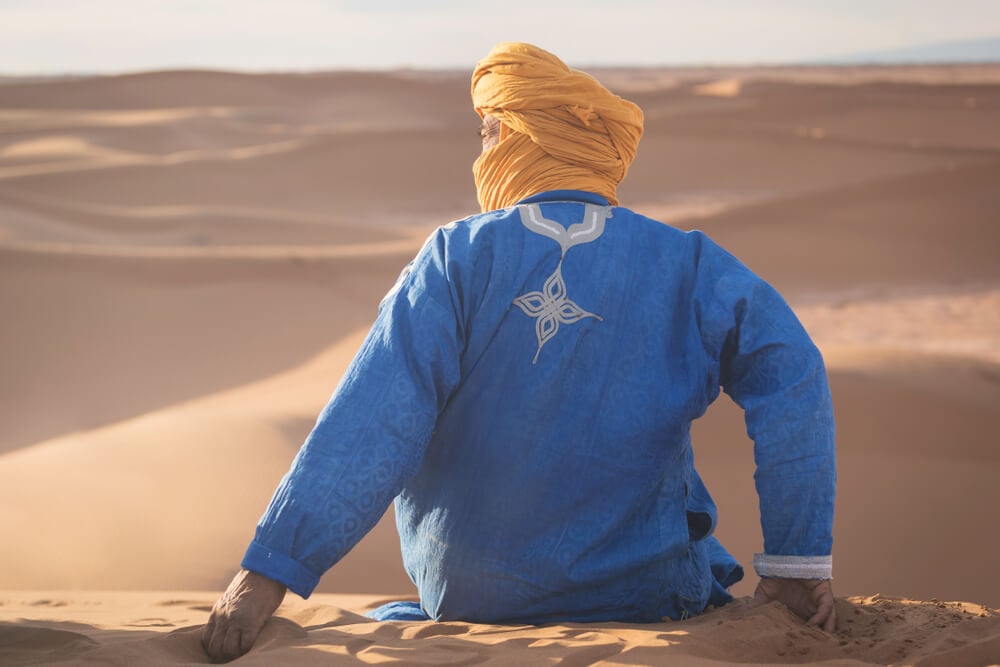 Solo travel is really cool – we love it. There's a lot going for travelling the world by yourself. Mainly, being by yourself, you have only your own smarts to rely on, which usually means challenging yourself and reaping the rewards of levelling up as a traveller and as a person!
It's definitely not always fun though and travelling to Marrakesh as a solo traveller may feel more than a little bit daunting. We think there's nothing to worry about, though. Plus, to help your trip go as smoothly as can be, we've actually got a few pointers for you solo travellers…
When you walk around the city, have your wits about you. This doesn't mean that you should be walking around tense and paranoid all the time, but just, you know, have your guard up a little bit and know that not everybody who wants to talk to you is doing so for purely friendly reasons.
Try to find some accommodation that works for your travel style. If you want somewhere to be super social and have a bit of fun, then look for a social party hostel in Marrakesh; if you want something more chilled, then maybe go for something a little more high-end. The important thing (always) is to read reviews; make sure other solo travellers enjoyed their time at the place you're going to book.
At your accommodation, you should ask for local advice on what to do in the local area. Not only that, but you should also be asking where you shouldn't be going either. Locals will know the sketchy areas of town where locals are most likely to be the victim of petty crime or get ripped off, so ask!
Be wary of who's approaching you. Being by yourself may mean that you can blend in with the crowd a bit more. However, if you're being hassled it can be harder to get away sometimes, having no one else to have a conversation with or be dragged away by. Try to walk around with purpose and you'll be less likely to get accosted.
Wear dark glasses. Funnily enough, it can help with the hassle as eye contact is sometimes what will set someone off and have them following you down the street trying to get you to look at their monkey.
Avoid wandering around down dark alleyways and around blind corners in quiet parts of the medina. Doing that is sort of asking for trouble.
Keep track of your credit cards as well as your cash. Don't keep them all in the same place; if that same place (a wallet, let's say) goes missing, then you've lost everything. Try to spread your valuable, money-related stuff around. An emergency credit card may also be a good idea, too.
When you go out at night be very careful and don't drink too much. Being completely drunk is a good way to lose your common sense, make bad judgment calls, and generally get into trouble for stupid reasons. Have fun, of course, but getting totally trashed in Marrakesh isn't something we'd describe as a good idea and not the best way to stay safe.
Have emergency numbers or emergency contacts easily available. We'd recommend saving them high up in your contacts list, so you don't have to scroll through every name in your phonebook. A sim card may be a good idea so you can use your phone in an emergency, use maps, and keep in touch with people.
Travel light. Arriving with huge backpacks and a load of hand luggage is not going to be fun in Marrakesh, where it gets hot, but also you're going to be more of a target: all that heavy luggage screams "TOURIST". Try to travel as lightly as possible and stick to one bag if you can. Check out our Morocco packing list if you're not sure what to pack.
So there you have it. Travelling solo in Marrakesh doesn't need to be stressful at all, and overall you should be fine and safe, but you should be smart, assertive, letting people know you're in control and know where you are (even if you don't) without being weird or scary about it.
Keeping positive about stuff, even if you feel lost or overwhelmed, is a good way to go. Be smart and careful of your surroundings – no one else is there to look out for you!
Is Marrakesh safe for solo female travellers?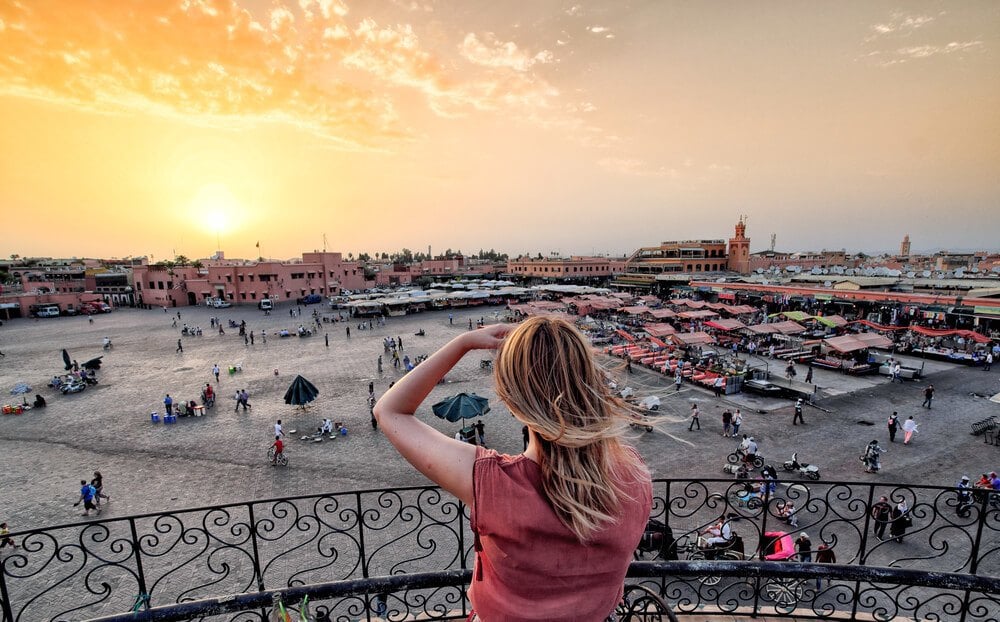 Women in Marrakesh is a whole other story. Solo female travellers thinking of a trip to this city are probably going to be nervous – and we can see why. There's totally a risk going somewhere like Marrakesh by yourself, it's not always very safe, but overall we think you're going to be fine.
Other females travelling alone have a great time travelling Marrakesh and we're confident that you could do that too. All you'll have to do is follow your intuition and prepare yourself – and, of course, keep our tailored safety tips for solo female travellers in mind…
Dressing modestly. Cover your shoulders, your knees, and don't wear low-cut tops. Looser, baggier clothing is the name of the game. You're going to be getting unwanted attention anyway, so try and limit it as best you can, which is why we don't recommend tight clothing.
Men in Marrakesh are usually quite harmless. You may get some catcalls, or comments, as you walk by men or groups of men. Just be smart and assertive; follow your gut on the best course of action for the situation.
Understand cultural differences. Basically, men here have a different role to play in society than they do in your home country. Before marriage, Moroccan men don't get much of a chance to meet single women, so usually, the comments and hassle won't go much further than the sheer excitement of being able to interact with a female – and an exotic one at that!
Don't hesitate to ask for help. If you are lost or something stressful is happening, go to a woman, groups of women, or families, and ask for help. Do not approach young guys as this gives the wrong impression.
It's really, really not a good idea to walk around yourself at night time. This could be said for many other cities, but not only is it riskier than in the day, you just won't feel comfortable.
Find yourself suitable accommodation that has come favourably reviewed by solo female travellers before you. Budget hotels are usually no-go; cheap hotels above bars are usually brothels. So definitely do your research, find legitimate reviews that help you choose somewhere well located, where the staff has been praised for helpfulness, and with comments like "would go back" or something similar.
Join a tour. Any sort of group activity (a walking tour, an excursion or day trip), either through your accommodation, or booked through an official channel, is going to be a good way to see the city and feel safe whilst you do it. There'll be no opportunity for you to feel overwhelmed and you'll get to chat with fellow travellers, too.
Hire yourself a guide who can take you around the medina. Doing this will get you so much less hassle you wouldn't believe; you'll almost be able to explore as an insider, as the (probably male) guide you're with will most likely be seen as your chaperone. Make sure the guide is reputable, however.
Being a woman in Marrakesh gives you an insight into the world of women in the city. There are female-only spaces in the city, like sex-separated hammams and the top floor of teahouses, where you'll get to rub shoulders with local ladies and see what life is like when the men aren't looking!
If you do go on public transport, make sure to sit next to another woman when you can. It's just must safer and is basically the done thing anyway.
As a first-time solo female travel destination, we wouldn't be recommending Marrakesh anytime soon. Unless you're going to be spending time in a very expensive hotel, going on tours all the time and basically pampering yourself. We wish we could do that, to be honest!
We would, however, recommend Marrakesh as a place for solo females who have travelled places like this before. Many women make their way to the city, alone, and have a pretty awesome time. It's true: it's basically a fairly safe city to travel in, in spite of the reputation.
You just have to follow the same precautions you would do as a solo female traveller anywhere in the world. It's just a little bit more mental in Marrakesh. There's a lot of people, and a lot of men, but be confident, trust gut and you'll travel like a pro in this city.
Is Marrakesh safe to travel for families?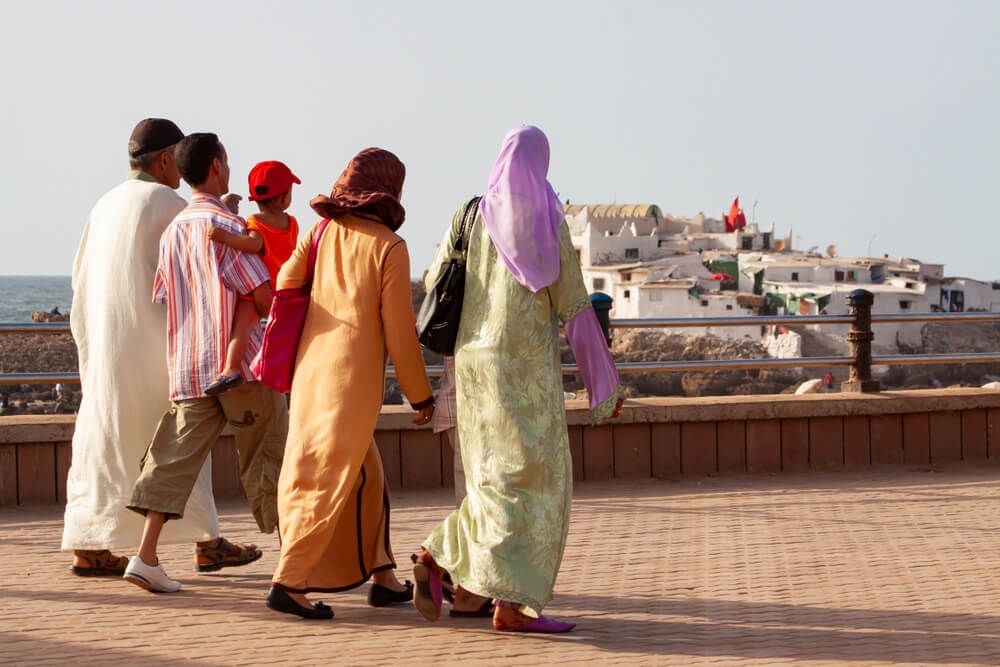 Marrakesh is totally safe to travel with families. It might be overwhelming at times and, yes, it can get pretty stressful, too.
However, in general, there's nothing that is really going to apply to families that makes it any less safe than it would for any other type of traveller heading here. If you're a travelling family anyway, or you are parents who have been to places like this before, chances are you'll ace it.
We imagine you'll be staying in one of Marrakesh's family-friendly hotels. If so, there's even more chance of your trip going totally smoothly. These hotels come with family rooms, family amenities, and people will generally be pretty happy to help you with any request.
Moroccans will welcome you with open arms in Marrakesh. In fact, you'll probably get a lot of attention and having children, especially little ones, could help ease any potential tensions.
Children may find Marrakesh a bit overwhelming and you'll probably want to take things at a slow pace. Don't try to rush around the city seeing all the sights: it's just going to make everyone stressed and tired – plus it can get super hot in Marrakesh.
Speaking of which: make sure your children are covered up between noon and 4 pm when the sun is at its strongest (sunscreen is a must).
If you're travelling with teenage girls, take tips from teenage girls the same age in the city and try to follow what they're wearing.
If you're heading out to eat with your children, local restaurants usually welcome families. You're probably going to want to be careful about food; make sure it's been served to you hot. Salads should probably be avoided. Picky eaters will probably be ok eating things like bread and potatoes, but it's a big city with a fair few international eateries, too.
Don't expect to find facilities in most restaurants – we're talking things like high chairs and children's menus. However, they will accommodate you; big meals with all the family are very much the norm in Morocco and people will try their best to get you and your family seated in their restaurant.
With smaller children, you'll probably want hand sanitiser, just so they have clean hands before they eat. Also, avoid dogs.
If you need things like nappies and baby formula in Marrakesh, you can find them but not everywhere. It's a good idea to come prepared; pack things you and your children use daily, assume that you won't be able to get what you need.
Overall, however, Marrakesh is safe for families.
Is it safe to drive in Marrakesh?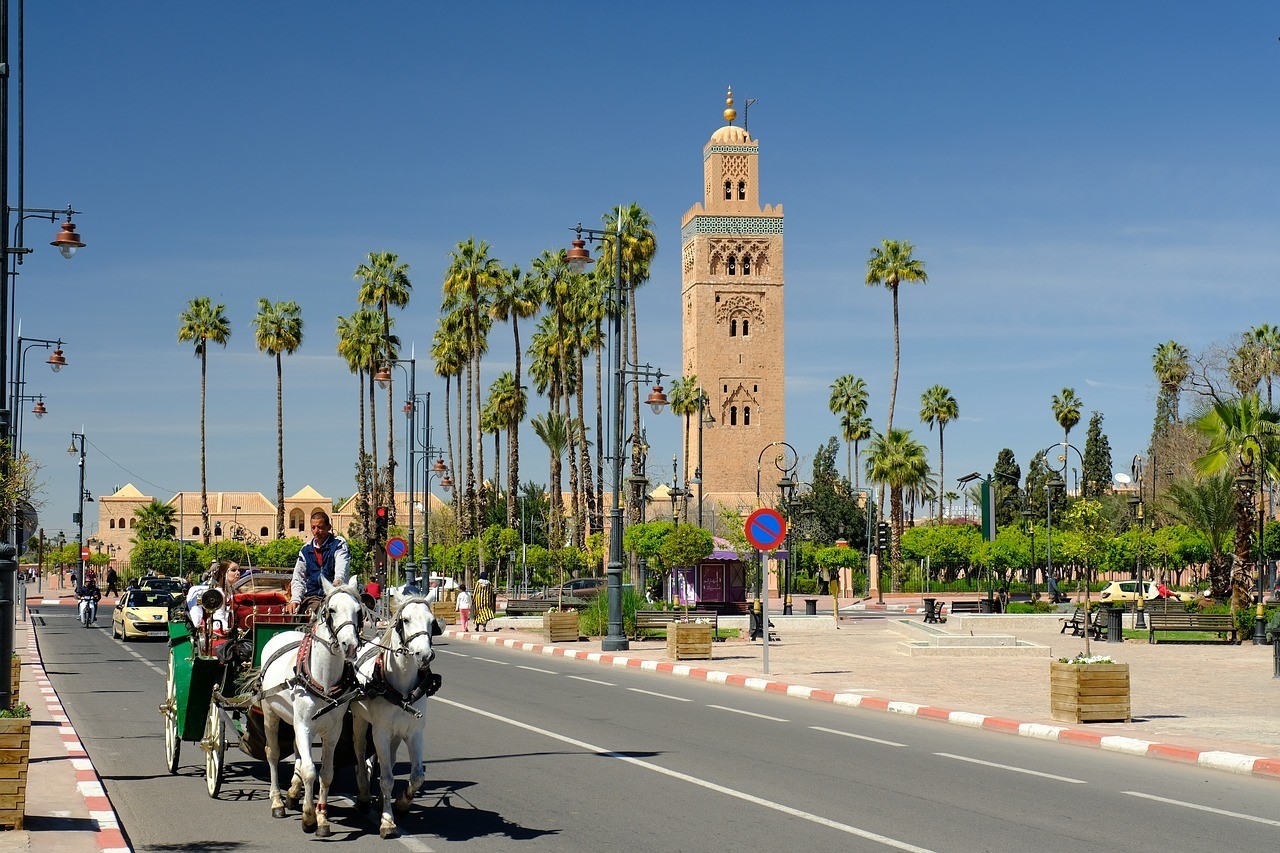 Driving in Marrakesh is crazy. Honestly, if you're thinking about driving here think again.
Traffic comes from all directions. It's very confusing. There's no regard for signposts. Overloaded motorbikes zoom up. Taxi drivers will lean out the window and chat with passing drivers whilst speeding. People drive erratically. Parking is hard to find. It's basically just manic driving in Marrakesh.
Driving into the centre of Marrakesh is tough too. If you aren't in an accident yourself, you'll probably see one yourself – if not, plenty of near misses.
Morocco, in general, has a poor road safety record.
To put that into perspective for you, in 2018 the road fatality rate was 9 times higher than that of the UK. 3,485 people were killed on the roads that year across the country; it's thought that over 100,000 people were injured in road traffic accidents.
It goes without saying that you should drive very, very carefully if you want to drive in Marrakesh. You'll need experience driving in a place like this and you should definitely be a confident driver at that.
Even if you're just going on a road trip from Marrakesh to Fez, for example, there's still so much to worry about and take into consideration on the roads. Hustlers exist on four or two wheels on the road (really); there are overloaded lorries; animals in the road; pedestrians on motorways. There's just so much that makes even a potentially "scenic" road trip not fun at all.
All in all, we don't think driving in Marrakesh is safe and don't recommend it at all.
Is Uber safe in Marrakesh?
Uber is not allowed to operate in Marrakesh.
There was a bit of friction between Uber drivers and taxi drivers, the latter hassling the former, so needless to say, it's just not available anymore.
Are taxis safe in Marrakesh?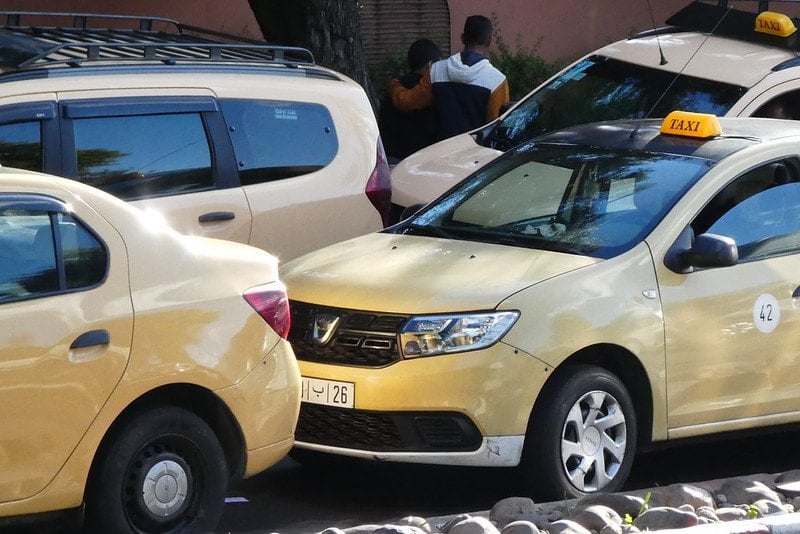 Taxis come in two forms in Marrakesh. There are petit taxis and grand taxis: small and big. Small do short distances, grand taxis do longer, but they can – at the whim of the taxi driver – pick up extra passengers, and drop them off wherever they need to go.
They can be found all over the place, 24 hours a day.
They all have meters but that's not to say that every single taxi driver is going to activate their meter. They might want to negotiate the price of the journey instead – haggling is a national past time in this city, it seems. How do you get one? Just flag one down; there are that many.
To help you out on your taxi adventures in Marrakesh, we've got some pro tips for you.
Small change. Going in with big notes is a rookie mistake. You'll probably get ripped off, shortchanged, or given no change at all. Have 10 and 20 dirhams at the ready; it's all about small change.
Be friendly. The more chatty you are with the driver, the more you joke, whatever, the more it shows you as a confident, experienced person who is less easy to rip off. Talk less, and you'll (most likely) be seen as a timid tourist who can be at least swindled of a few dirhams.
Express your destination clearly. Have it written down, say it if you're confident enough to say it, but make sure it's right and follow the journey on Google Maps or equivalent maps app.
Meter. If the driver doesn't switch on the meter, ask them. If they refuse to turn it on, or suggest that it's broken, ask them again. If they refuse a second time, just find another cab. This may make the driver change their mind, but either way, you'll be able to find another taxi easily.
Tip if you want. If you're happy with the way the drive's gone, it's been funny, or the driver has been nice, knowledgeable, chatty (or all three), or you're just feeling generous, it's ok to tip. Don't feel forced to do so, though, if the experience wasn't good.
Avoid conflict. Leave your principles at home: it's probably not a good idea to get into an argument or verbal fight with your driver. Misunderstandings over what is probably a very small amount of money are just not the way to go.
Arrange a taxi through your hotel. Usually, it's more expensive, but you get a premium service, including one or more of the following: newer car, air-con, English-speaking driver, who knows where they're going.
To sum up, the taxis in Marrakesh are pretty safe. Sometimes the cars are a bit not up to par with Western safety standards (missing window winders, cracked windscreens, questionable interior decor), the drivers may be super speedy, you might get ripped off. However, as long as you're smart and confident with how you approach the situation, you should be fine. Taxis will get you from A to B most of the time.
Is public transportation in Marrakesh safe?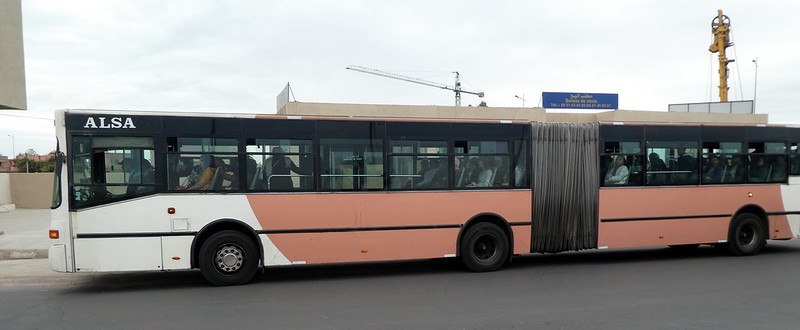 The public transport in Marrakesh is not the best – not much so much in terms of safety but just how not very good it is.
You might not even need to use it. The medina in Marrakesh is only traversable, really, by foot – maybe on a bike or a scooter.
For the rest of the time you can take taxis, which are generally inexpensive, but never fear: for the truly budget-minded there are local buses.
These are pretty old, they're usually jammed full and make for a generally not very nice way to travel. Unless you're used to this way of travelling around or fancy a truly local experience, then you might not want to use buses in Marrakesh.
The buses are run by a company called Alsa. There's a route map on their website, which – we're going to be honest – could come in handy. Running times are from around 6 am till about 9:30 or 10 pm. Most buses run every 20 to 15 minutes and are pretty cheap.
You'll find the Central Bus Station in the heart of the Old City from where you will be able to catch buses on different routes all over the place.
There are also long-distance buses which take you out of the city to other destinations – they are usually air-conditioned and are not too bad.
Horse-drawn carriages can will and definitely want to take you around the city. They're pretty popular, pretty traditional and kind of touristy. There are actually set prices for the routes, but there may be some bargaining involved: be prepared to haggle, sometimes with more than one person at once.
Basically, there's not too much to worry about. The public transport in Marrakesh is safe-ish, but it's not exactly world-class and you will have to watch your pockets and keep an eye on your luggage, too.
(PSSSST – Are you visirting Marrakesh? Well have a look at our Weekend in Marrakesh Itinerary)
Bum bags aren't just for Adidas lads and super dads!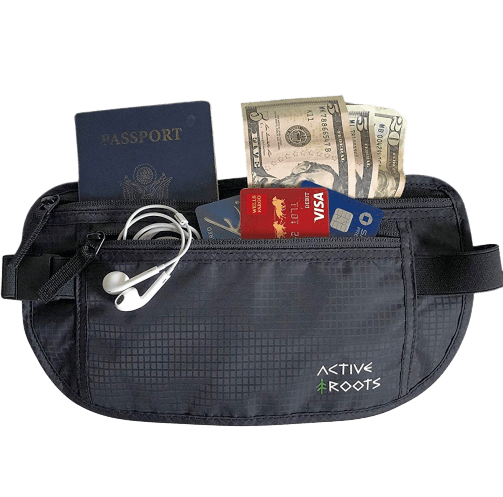 Seriously, once you enter the travel belt life, you never go back. You can NEVER overstate just how useful having all your most important valuables right around your waist is.
A full-sized travel belt stays tucked under your shirt and keeps your valuables – documents, passport cash, headphones, lip balm, illicit goodies 😉 – organised and on-hand for moment's notice.
Hide Yo' Money!
Is the food in Marrakesh safe?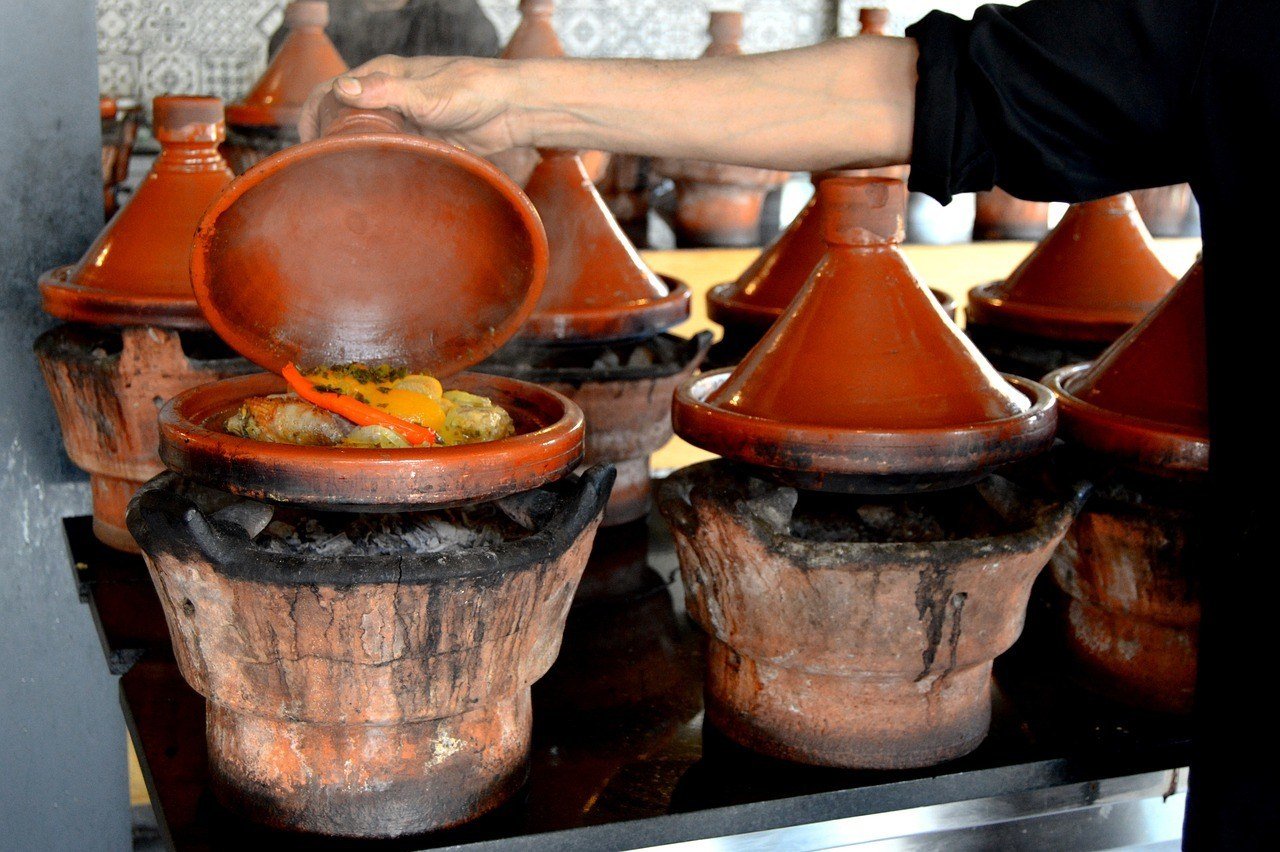 Food in Marrakesh means Moroccan food and that means tagine, tasty salads, flatbreads, and that ubiquitous Moroccan favourite very sweet mint tea. Don't forget the sweet puddings, doughnuts and other delights that can make this city a veritable haven for foodies.
However, you should be careful. The food in Marrakesh is not always going to be up; it's easy to get a stomach bug from something as simple as the cutlery that's not been washed up so properly, so here are some pro tips to help you and your stomach have a good time here…
Go where the locals go. If there is a local looking place that you want to try, there's one main way to see if it's a good place to eat and that's the number of local people hanging around outside or eating inside – or both. If it's busy, it's popular; if it's popular, it's tasty and unlikely to be giving people upset stomachs.
Eat at the right times. Chances are the food is going to be freshly cooked at respective meal times. That means you should be eating lunch when locals are eating lunch, going out for dinner when they're eating dinner. It's simple and means you won't have leftovers or seconds that nobody wanted the first time around.
Be careful with hotel buffets. They can be a great way to explore Moroccan food without being too scared of walking into a local restaurant. However, hotel buffets can be a hotbed of potential tummy troubles; make sure you eat (again) at the right time. If lunch runs from 12 to 3 pm, go at 12 – not 3; it's more likely not to have been sitting around attracting germs and ceasing to be fresh and hot.
Go slowly. It'd be a shame to miss out on all of Marrakesh's tasty food, and a good way to make yourself ill is to overeat, which is easily done if it turns out you are a particular fan of Moroccan food. Limit yourself, especially on the spicy stuff, and you should be fine.
Be careful with fruit and salads. You don't know how thoroughly they've been washed, what sort of water they've been washed with, or if they've been washed at all. With no cooking involved, germs will stay on these fresh foods unless they're cleaned properly; even then they can be sketchy. To be on the safe side, avoid.
Keep your hands clean. At restaurants in Morocco there's usually a sink to wash your hands, which is great, but don't expect there to be soap; there often is none. This is because a lot of food is eaten with hands. You're going to make sure they're extra clean. Make sure they're extra clean by using an anti-bacterial wash or hand sanitiser. Another thing related to hands is what each one does in Morocco traditionally. The right one is for eating, the left… well, you know. To keep yourself germ-free, maybe consider adopting the same policy!
At the end of the day, food in Morocco is tasty but it can be difficult to find the best places to eat. Luckily for you, there's the internet. You can look at TripAdvisor for the best places to eat in Marrakesh, read reviews, and find somewhere that sounds as though it's going to be amazing.
That said, sometimes you can just not be used to a change in diet. If you've got a particularly sensitive stomach, you may get ill just from eating anything; in this instance, maybe think about bringing anti-diarrhea tablets and re-hydration sachets, just in case. But overall, food in Marrakesh is safe and super tasty!
Can you drink the water in Marrakesh?
You may be thinking that you can't drink the water in Marrakesh but you would be incorrect in thinking so.
Generally, the water in Morocco is safe to drink, but it is very chlorinated which you might not like at all.
If you're not feeling chlorine-y water at all and would rather something, well, better, then bottled water is widely available – don't worry. If you don't mind it, you can bring a refillable bottle to save the planet and your wallet. If you're overwhelmed with the number of bottle options, not to worry anymore, we've put together a guide for the best travel water bottles in 2021.
Is Marrakesh safe to live?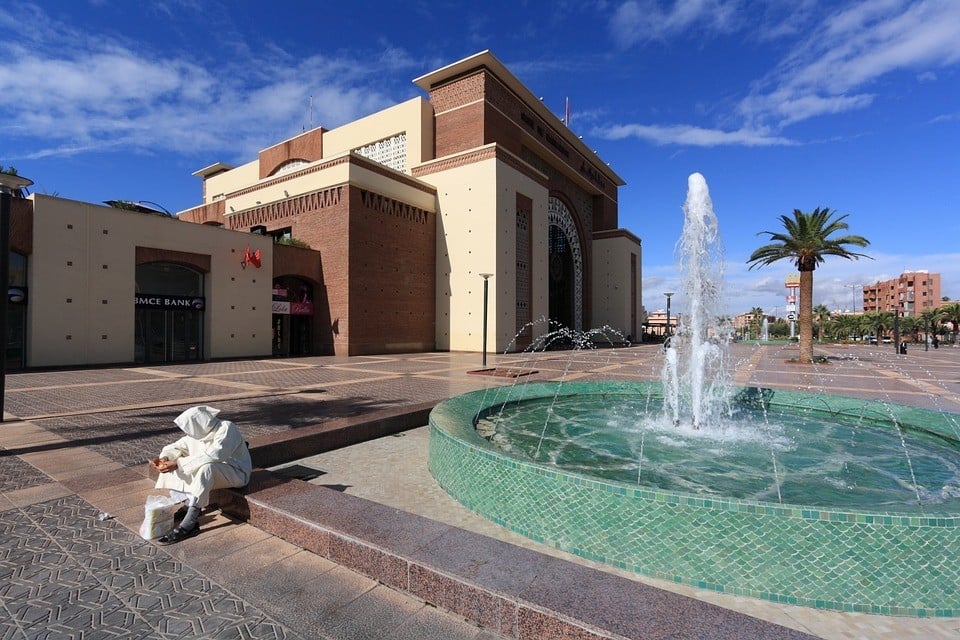 Marrakesh is a big, busy city – in fact, it's one of the busiest cities in Africa. This is a massive tourist destination and a huge economic hub for Morocco as a whole and it's a great place to visit.
If you're thinking about living, however, there are probably a few concerns you have.
Obviously, there's the romance of living in the walled luxury of a riad, but then again you really are going to be consistently and constantly challenged by simple, everyday life in Marrakesh.
The roads, we keep saying, are very unsafe, the summers are incredibly hot and the winters are cold – especially at night.
If you're not a fan of being around so many people in your day-to-day life, then you're going to find it quite stressful living in such a busy city. As a side note, things can get quite pricey in Marrakesh.
The levels of bureaucracy are actually pretty crazy in Marrakesh. Not only that, the annoyance of having to fill in forms for just about everything is heightened by not knowing either the culture or the language. Learning some Arabic is really going to help you out; not just speaking, but reading, too. If you approach it the right way, it might even be fun to learn a new language!
Another thing is that you'll be living in a Muslim country. This may be fine if you're a practising Muslim, but if you're not you could find that it affects your everyday life in a way that you've never experienced. Everything from alcohol laws, to not being able to eat in public during Ramadan, can get tricky.
Living in Marrakesh, you'll probably get used to the hassle; you'll probably be able to, gradually, find your way around and walk around confidently. Even so, you will most likely be seen as a tourist and approached as such – if not, you'll be seen as rich Westerner (if you are Western).
In terms of where to live, you may want to consider the suburbs. Summers here will be quieter, safer, with fewer tourists, but may lack the buzz and authenticity that drew you to Marrakesh in the first place.
Marrakesh isn't a particularly unsafe place to live, it's just that there are going to be a lot of adjustments that you have to make, including different social boundaries to be aware of.
The Future of the SIM Card is HERE!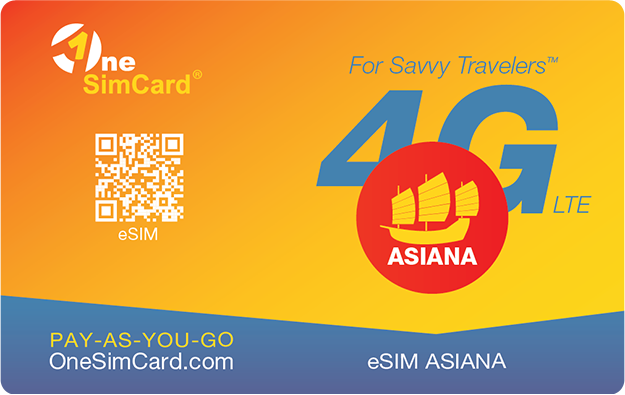 A new country, a new contract, a new piece of plastic – booooring. Instead, buy an eSIM!
An eSIM works just like an app: you buy it, you download it, and BOOM! You're connected. It's just that easy.
Is your phone eSIM ready? Read about how e-Sims work or click below to see one of the top eSIM providers on the market and ditch the plastic.
Buy an eSIM!
How is healthcare in Marrakesh?
Healthcare in Marrakesh is both public and private.
If you're visiting the city, and something happens to you, you'll most likely want to visit a private facility. The public healthcare in Marrakesh can suffer from underfunding, meaning a lack of staff and equipment, basic facilities and long waiting times.
If you want to see a doctor, you can usually just walk into a doctor's surgery or clinic; for some, however, you may need an appointment to see a GP (general practitioner).
To get yourself to a good clinic or hospital, ask the staff at your accommodation – they'll know the best ones in town.
When it comes to getting advice, picking up prescriptions, and buying over the counter medical supplies, pharmacies are all over the city and are identifiable by either a green crescent or a green cross. Pharmacies in the city are generally pretty well stocked with medication; advice can be supplied, but it will probably be in French (the "educated" language in Morocco).
You may be surprised to learn that you can buy things like anti-biotics over the counter at pharmacies. At first thought, that's great! However, you should be very careful as you're not a doctor and won't know what you're buying, that's why doctors prescribe things and not you.
Basically, the healthcare system in Marrakesh isn't that good in terms of public. Go private, we say, and make sure that the insurance you have covers you for this.
FAQ about Staying Safe in Marrakesh
Here are some quick answers to common questions about safety in Marrakesh.
Final thoughts on the safety of Marrakesh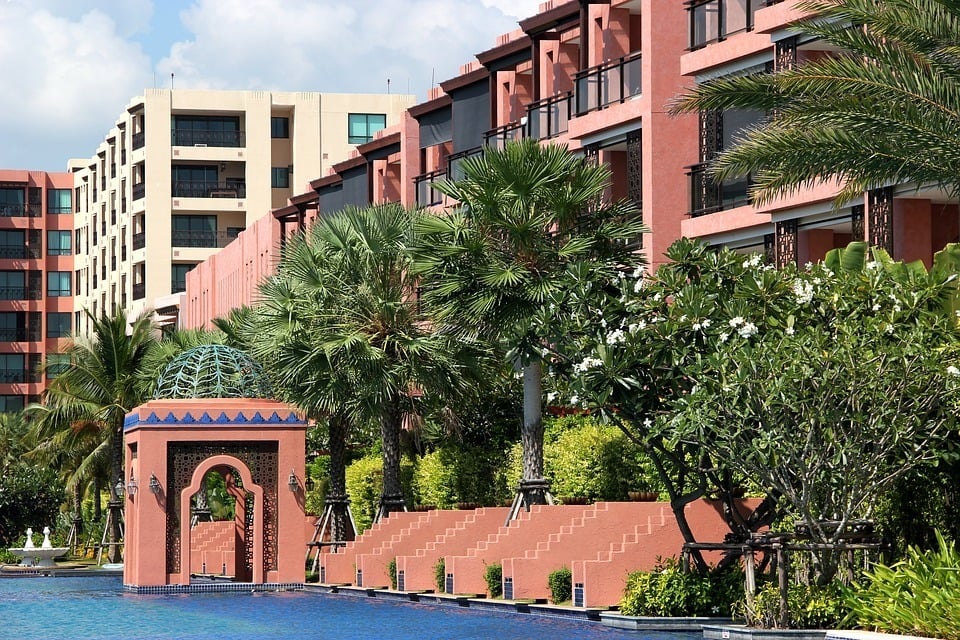 Sometimes the reputation of a place goes before it and, actually, the destination isn't half as bad as you imagined. In the case of Marrakesh, however, we would think it's pretty fair to say that this city is as mad as people say it is. Take it from us, if you're easily overwhelmed, hate the hassle and feel stressed out in crowds, then you might find it a little bit difficult staying cool-headed in Marrakesh.
However, hassle and all that comes with it doesn't mean that a city isn't safe and that goes for this one. If you are the sort of person who just doesn't know how to get rid of people trying to sell them stuff, learn to say 'no' politely and move on; have a joke with people and try not to get annoyed at being pestered. The whole buying, selling and haggling thing in Marrakesh is a game – it's not very serious.
As we said, hassle doesn't mean a place isn't safe. If you can get over that, then there's the safety points, the pickpockets and scammers, but if you look confident and walk like you've been to Marrakesh before, chances are people aren't going to try any 'unsuspecting tourist' stuff on you. Lo and behold you'll probably get hassled less – because you don't look like you might crumble under a bit of persistence!
Disclaimer: Safety conditions change all over the world on a daily basis. We do our best to advise but this info may already be out of date. Do your own research. Enjoy your travels!
---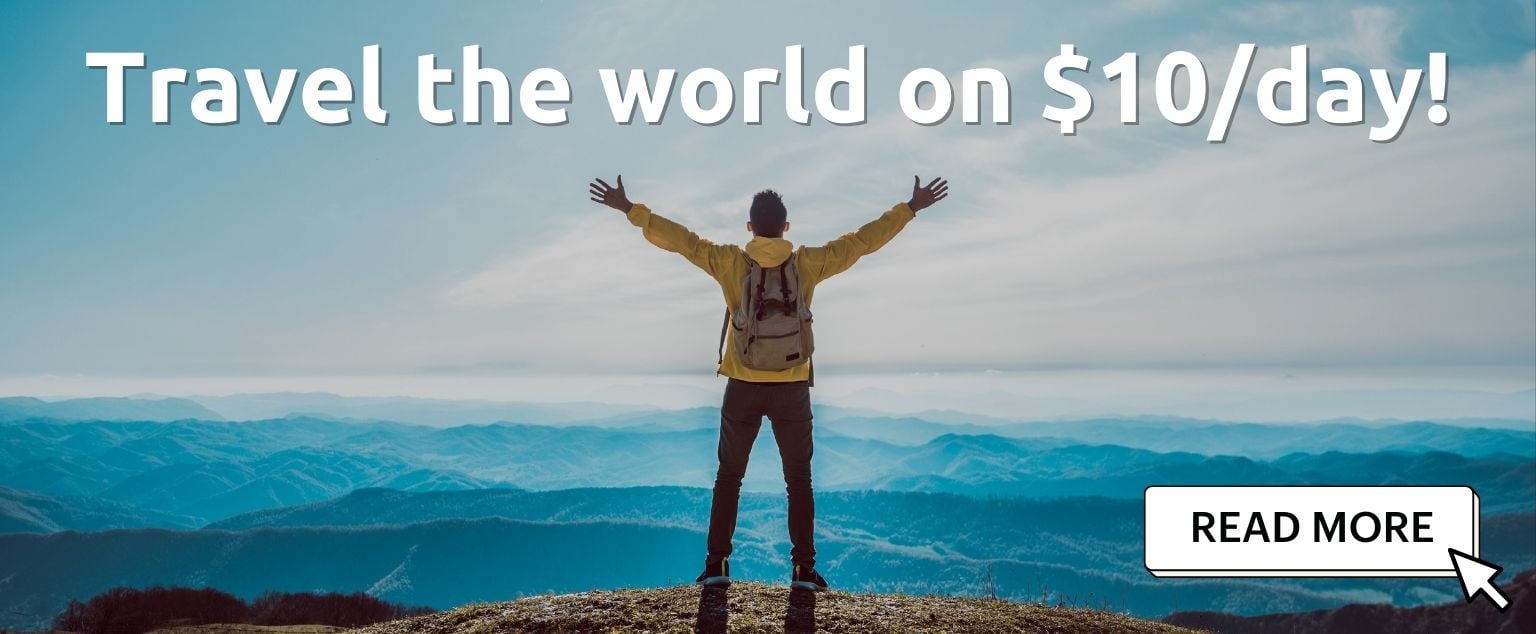 And for transparency's sake, please know that some of the links in our content are affiliate links. That means that if you book your accommodation, buy your gear, or sort your insurance through our link, we earn a small commission (at no extra cost to you). That said, we only link to the gear we trust and never recommend services we don't believe are up to scratch. Again, thank you!