If you're planning a trip to the island of Zanzibar, one thing's for sure – paradise awaits you! This incredible place offers everything you want in a destination all wrapped into one compact island. Whether it's lazing on the beach, swimming with dolphins or soaking in the unique culture, history and architecture of Stone Town. No matter what type of traveller you are, you can't go wrong here!
If the cobalt blue waters lapping on the sandy beaches and the unique charms of this island is calling your name, don't worry about them tugging at your wallet. Zanzibar is a great budget destination and you'll find there are many affordable places to stay all over the island. So, you don't need to pay an arm and a leg at some overpriced fancy hotel, instead, check out the many great hostels at a fraction of the price. Many have private rooms and pools too, but you'll always find great social vibes in all these hostels!
Quick Answer: Best Hostels in Zanzibar

Do You Want to Travel FOREVER??
Pop your email in below to get a FREE copy of 'How to Travel the World on $10 a Day!'.
What to Expect from Hostels in Zanzibar
Staying at a hostel is a perfect way to experience the paradise, colours and culture of Zanzibar without paying premium prices. Great places to stay are dotted all over the island and you can pick from sleepy coastal locations or staying in the heart of bustling Stone Town all whilst sticking to your budget.
Choose from hostels that:
Have on-site beachfront bars.
Are close to the airport.
Are either in Stone Town or a short distance away.
Wherever you stay in Zanzibar you'll be able to experience it all on your trip as the island isn't huge and the main tourist locations are well connected.
Free Wi-Fi is pretty much standard across the board in Zanzibar, so no need to stress there if you've got work or need to get your insta fix. Most hostels rent towels so you might want to chuck one in your backpack if you want to save a few $.
While very few hostels on the island have the standard communal kitchen, many have an on-site restaurant and bar, serving up some tasty treats to fill your belly and wet your whistle. Some places offer free breakfast which is a nice alternative when you're backpacking in Tanzania.
Hostel prices vary depending on the location and what they offer. Average rates for dorms are about $20 but you can find some as low as even $8. You're looking at about $30 a night in private rooms but they can reach up to $80 or more depending on the amenities they offer.
Some hostels accept payment in Euros and US Dollars, in addition to the Tanzanian shilling. While a handful of hostels offer currency exchange on-site, others recommend hitting the ATM in Stone Town before heading to the more remote locations.
Something to note is that taxes and fees are not always included in the quoted prices. This is particularly important to know because there are tourist fees costing upwards of $8 per person per night. So, it's probably a good idea to check the fine print before booking.
Best Hostels in Zanzibar
So now you're up to speed with what to expect from most of the hostels in Zanzibar. Now, let's take a closer look at the best ones out there so you can make your choice.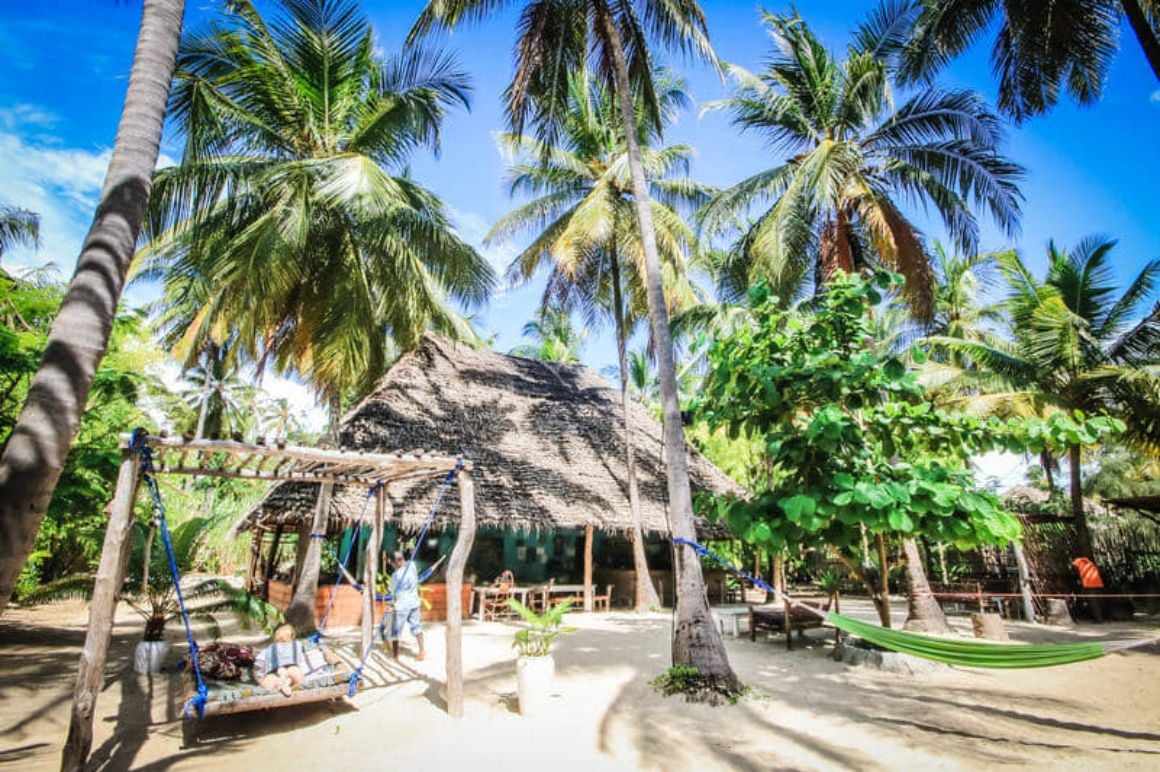 $$
Located in Paje
Dorm & Private Rooms
Free Breakfast
You're coming to an island paradise, so why not go all in? Your Zanzibar Place gives the unique experience of living life on the beach complete with bungalows made of woven palm leaves. You'll be transported to a whole other world once you feel the sand under your feet and fall asleep with the sound of the waves in your ears.
The rooms at Your Zanzibar Place are individual makuti bandas (bungalows). Choose a private banda for two, three, or four. If you're travelling solo, stay in the dorm banda with fellow travellers instead. You'll be set with mosquito nets on the beds and a fan to keep cool.
Hammocks and swings around Your Zanzibar Place add to the paradise vibes. Relax as you sway with the breeze between the palm trees. Ahhhhhh. This is the life.
To top it all off, Your Zanzibar Place offers a yummy free breakfast, a great way to help you get energised for the day of adventure ahead, or help you recover from the killer night before.
Your Place has some great features that are hostel standards likedorms, washing machines, book exchange and a friendly communal vibe. However, it doesn't have things like a shared kitchen. Instead, their restaurant can whip you up a meal or you can head out for some affordable local food.
Why you'll love this hostel:
Makuti Bandas (bungalows made of woven palm leaves)
Beachfront
Bike Rental
The vibe of Your Zanzibar Place is awesome. It feels like you're in a dream, but when you pinch yourself, you'll know it's real. This place will blow your assumption of hostels out of the water when you're living it up at the beach!
Everything is here for you to have an awesome day or night. By day go swimming, snorkelling, or kite surfing. By night enjoy a drink with fellow guests at the bar.
If you want to venture a bit further than the hostel, the staff can help you plan trips around the area like Prison Island or deep-sea fishing. You can rent a bike from Your Zanzibar Place to get around easier and Paje also has great restaurants and bars in the area.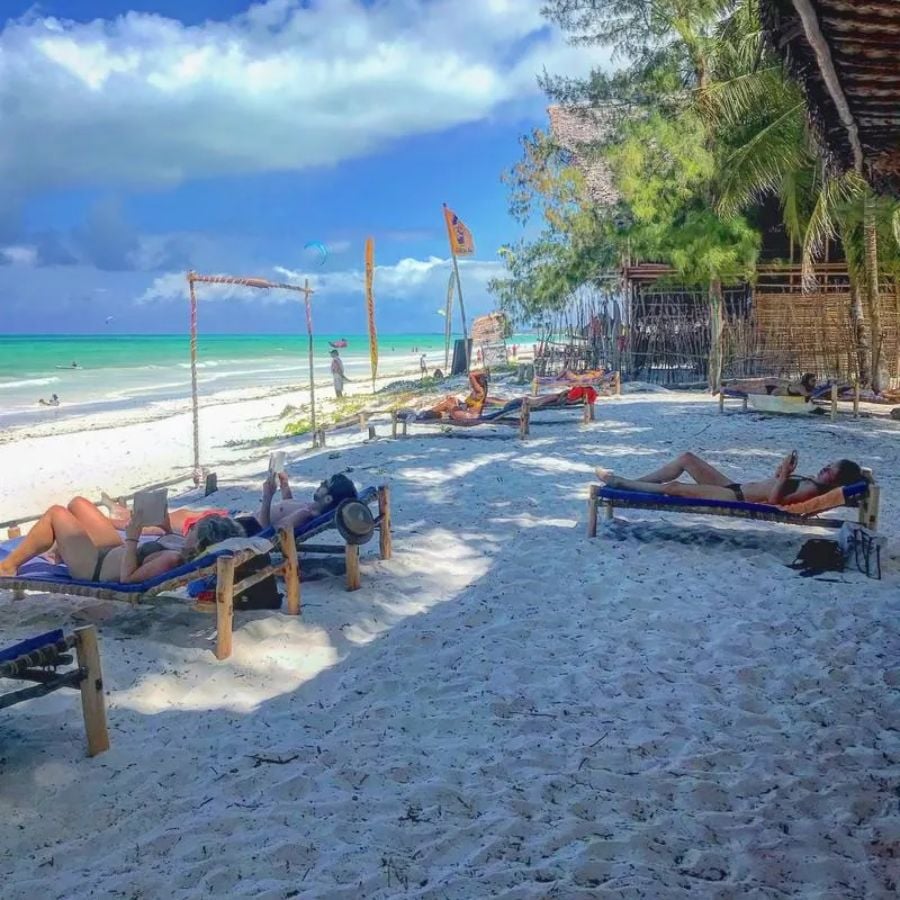 $$
Located in Paje Beach
Mixed and Female Dorms & Private Rooms
Beachfront Bar
Drifters Backpackers is a traveller's dream, in fact, it's one of the best hostels in the world! It's located right on the beach for absolute paradise vibes and it's even gotrates that you can't complain about at all.
It's a hostel with everything we love about hostels including the communal kitchen and large communal chill-out areas. But Drifters is even more than just that!
The vibe. The feel. The experience. Drifters is the place you want to be when you're in Zanzibar. It's the place to relax, have fun, and meet new people in stunning surroundings. It's a hostel run by travellers for travellers and its location is unbeatable.
Choose from dorms facing the beach or private rooms that are cosy and intimate with their own balconies. All come with linens, towels, bedside lamps, fans and mosquito nets to help you have a tranquil sleep alongside the sound of the rolling waves.
Why you'll love this hostel:
Pool
Book Exchange
Bike Rentals
Drifters has what you're looking for by day or by night. Chill out at the poolside under the shade of the palms or tip your tan up on the sandy beach. Drifters also organise their own tours and beachfront yoga. Want something more adventurous? No problem, they'll get you all hooked up with anything from snorkelling to kite surfing at the nearby watersport centres.
In the evenings, Drifters is still where it's at! The hostel cooks up low-cost family dinners so everyone can gather around and get to know each other over some great grub. Later onhead to the on-site bar for a drink or a friendly round or two of drinking games. The party is always happening at Drifters. Good thing they offer free Lavazza coffee in the mornings!
Best Cheap Hostel in Zanzibar – Lost and Found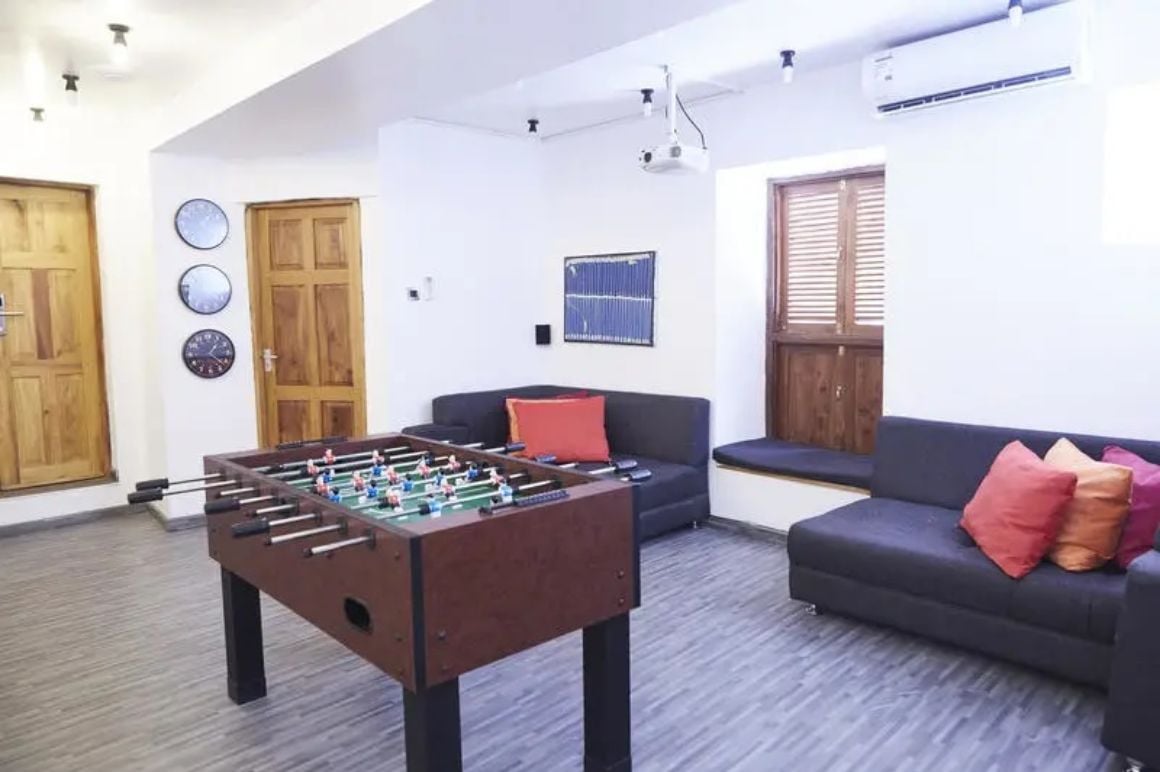 $
Located in Stone Town
Mixed Dorm Rooms Only
Air Conditioning
Lost and Found has some awesome things going on that make it a sick place to stay while you're in Stone Town.
First, the location: You're there! Right in it the centre of it. Perfectly positioned to see everything and do everything there is to do on Zanzibar. Don't want to walk it all? Just ask the hostel to rent a bike. Sound!
Next, the bed set-up. Yes, it says mixed dorms, but the reality is that each bed is nestled in its own little pod. So you're not gonna feel like you're sleeping out in the open here. Instead, the pod-like beds have walls on nearly all sides and privacy curtains completing your space. While you're blocking out the rest of the world in your semi-private nook, rest assured your stuff is secure in your own locker nearby.
Another major feature at Lost and Found is the AC. Yes, that's right: Air Conditioning. All rooms have it, so you'll be able to chill out while you unwind after a fabulous day exploring everything Zanzibar has to offer.
Why you'll love this hostel:
Bike Hire
Foosball
Book Exchange
Nothing says "friendly" more than a foosball table. It's such a great icebreaker – let's get real, it practically calls out "play me! As a spectator, you just have to get up and close to see who's winning. You know you want to get in on the action and call "I play the winner!"
The friendly, communal feel is thriving at Lost and Found. With things like the book exchange and the ability to rent a bike for a day, you know this is the place that is perfect for backpackers just like you. So, explore this historic town on two wheels and get into a good read on the balcony overlooking this beautiful city. It's just around the corner from Freddy Mercury's house too, so if it's good enough for that legend then it's good enough for us!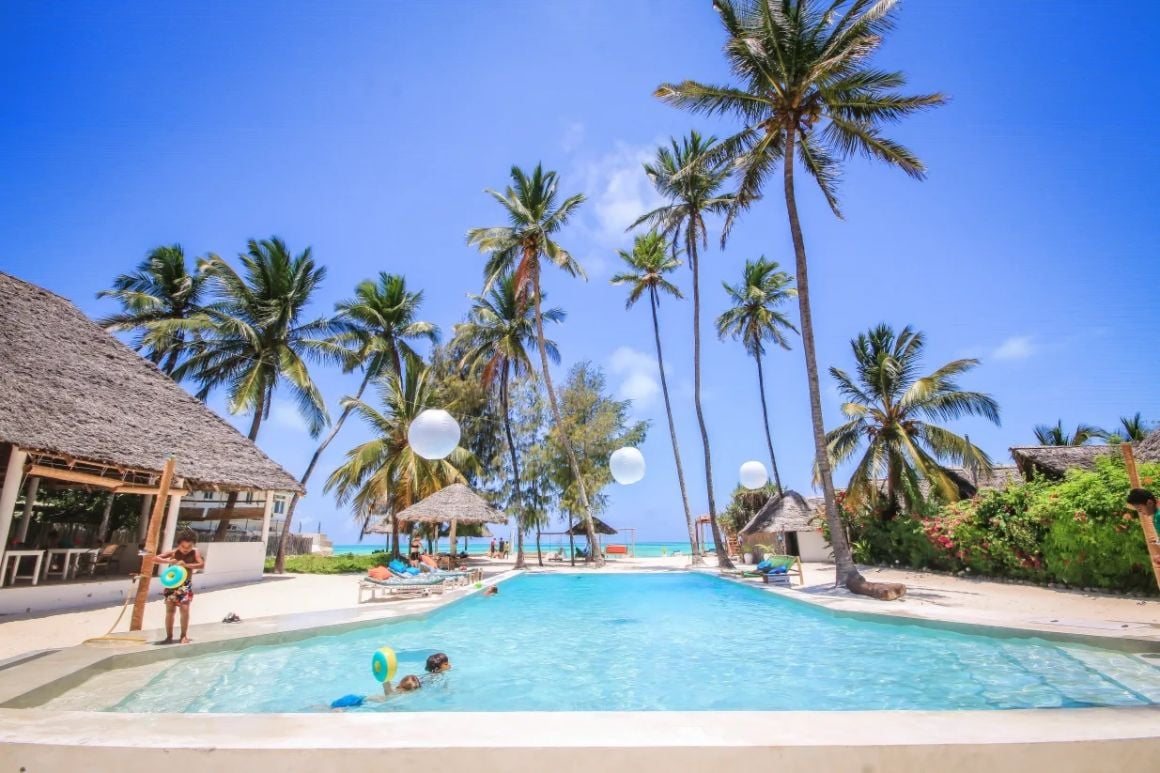 $$
Located in Jambiani
Dorm & Private Rooms
Free Breakfast
Ahhh. You've made it. You're here. It is truly paradise at New Teddy's On the Beach.
Breathe it in. You're on holiday now! There are so many ways to relax and enjoy yourself at New Teddy's. You can sunbathe on the white sandy beach, swing in the breeze in the shade of the palm trees or cool off in the gorgeous pool. That's not it, you can also enjoy a drink at the bar, test your balance on the slackline then fall asleep while listening to the waves lapping on the shore. Okay okay, we could go on forever but let's go over the specs.
New Teddy's has room options for every traveller. Dorms or private? They've got it covered. Private rooms can sleep anywhere between two and five people. Some privates include an ensuite bathroom which makes it even that much better. I mean, sometimes it's just really nice to have the toilet all to yourself, ya know what we're saying?
No matter what room set up you choose, you'll be set with mosquito nets and a fan to help you have a pleasant night's sleep.
Why you'll love this hostel:
Pool
Private Rooms That Sleep Up to 5
Bar/Restaurant
The beautiful pool at New Teddy's matches the azure blue of the Indian Ocean, both are breathtaking. When the tide is a bit too low on the beach, dive right into the pool without missing a beat. Whether you prefer the beach or the pool there's somewhere to cool off.
The Bar at New Teddy's is ready to whip you up a delicious plate any time of day. Sadly, there is no communal kitchen to make your own meal, but the free breakfast is a nice way to make up for it. That and the sick cocktails from the bar will make your night.
The white sand beach is to die for at New Teddy's and is located on the east coast of the island. If you're looking to take a moment away from the beach, the fishing village of Jambiani is close by. Stroll around the area to experience some authentic local Zanzibar life.
Best Hostel Female-Only Dorm Room in Zanzibar – zLife Hostel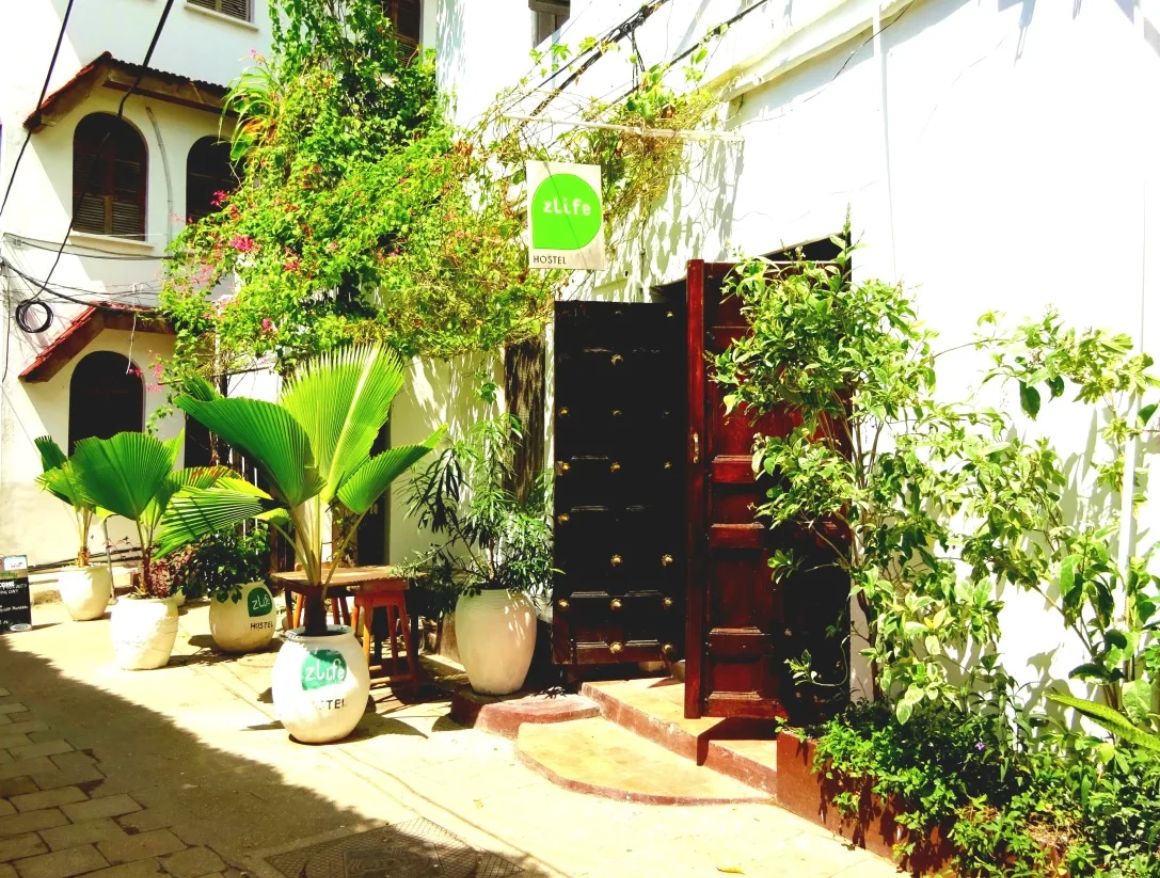 $
Located in Stone Town
Female and Mixed Dorms & Private Rooms
Courtyard
Looking for a traditional hostel in Zanzibar? Look no further– You've found it! zLife Hostel offers all the things we love about hostels: various room options at affordable rates, communal spaces to meet fellow travellers, and shared facilities so you can do your thing.
The location is perfect to see all of Stone Town. It's within walking distance of all the sites. If you're looking to get around a bit faster than your feet can take you, rent one of the bikes from the hostel to see it all. If you've gotta get somewhere faster or further, zLife will help you get a car for hire. An awesome feature is that the courtyard allows guests to enjoy the beautiful weather without leaving the hostel.
When deciding how to fill your belly, the choice is yours. Cook your own meal in the shared kitchen, grab something nearby – being in the middle of town means you're only steps from the best places to eat, drink, and be merry. Better yet, join in on one of the Swahili cooking classes offered at zLife.
Why you'll love this hostel:
Bike Rental
Air Conditioning
Swahili Cooking Classes
The room options at zLife is a huge selling point. Wanna stay in a dorm to keep your travel costs to a minimum? Sure. Do you want to stay in a female-only setup? Not a problem, they offer female and mixed-gender dorms. Going the private route? Great, you'll be set up and some even have a private bathroom, balcony, and AC. Tbh, you'll forget you're in a hostel in one of these rooms!
Just pick the type of room you want to be in and *boom* you're set up. Yes, the rooms and beds are priced slightly differently but you get to decide if you want to pay a few more bucks for a chilled room, or if you can handle the heat and save your money for your next adventure in Zanzibar.
Best Hostel with Air Conditioning in Zanzibar – Stone Town House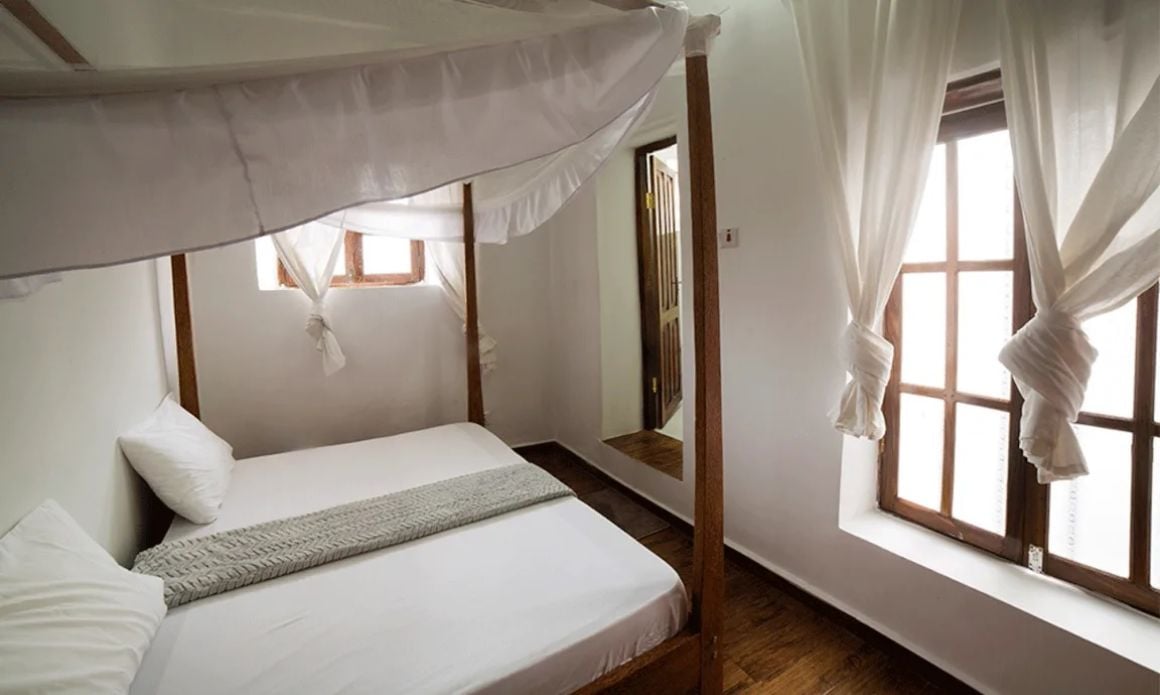 $
Located in Stone Town
Dorm & Private Rooms
Towels Included
Stone Town House is a great home base when you're visiting Zanzibar City. Located in the historic neighbourhood of Stone Town (hence the name), it's close to everything to see and do around here. It's also just steps from the water, so it has the best of both worlds. You can stroll along the water or wander the narrow streets of this historic area.
At Stone Town House you're steps from all the great restaurants and food stalls in the night market. The aromas of their delicious foods will call to you from the streets, making it impossible for you to resist. With all of the enticing food nearby, you won't even mind that Stone Town House doesn't have a communal kitchen. At such affordable rates, you'll have a bit more cash in your pocket so you can taste everything Zanzibar has to offer.
Why you'll love this hostel:
Air Conditioning
Great beds
Lockers
Stone Town House has air conditioning, which isn't that common. So, if you're one that prefers to get a good night's sleep in the comfort of a chilled off room, then you're in luck. Stone Town House is a place to stay if you want to indulge in the cultural side of the island.
The bed options here are top class at affordable rates. No need to bunk it up, at Stone Town House the dorms have single beds that are not stacked. So, no need to worry about climbing up or having someone else rock you out of your slumber as they get up into bed. Mosquito nets on each bed stop the pesky bugs from disturbing your beauty sleep too.
While you're cosy in bed, there's no need to worry about your stuff. The lockers help to keep it all safe and sound as you're sleeping or out exploring Zanzibar.
Best Hostel with Free Breakfast – Mount Zion Lodge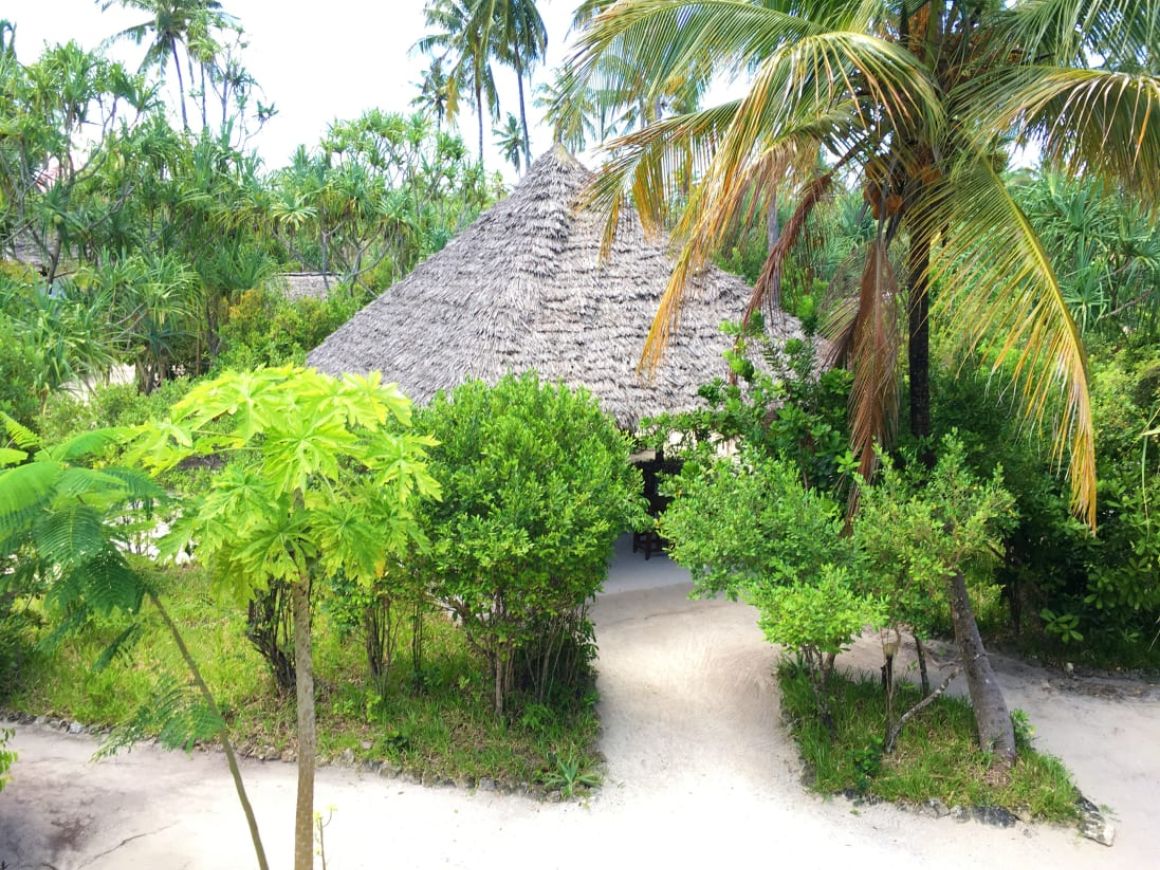 $$
Located in Michamvi
Dorm & Private Rooms
Towels Included
Mount Zion Lodge is an island oasis located on a peninsula on the east coast of Zanzibar. Nestled in the beautiful green plants of the forest, you'll be transported to another world. Small sandy paths bring you from hut to hut and even to enjoy free breakfast in the morning. With pancakes, smoothies, fruit and coffee or tea, you're getting pampered first thing in the morning. This is what a holiday should always feel like.
You know the beach isn't too far off when you can feel the sand between your toes before you've left the hostel grounds. A short walk brings you to the water's edge and the wondrous mangrove forest. Wanna relax instead, sway with the breeze on a hammock in the garden or enjoy the stars at the fireside in the evenings. Can it get more magical than this? Nah fam!
If you're looking for a bit more pep in your adventure, stop at the tour desk and they'll get you hooked up with a spice tour, safari blue, or even with a day trip to Stone Town. If you're interested in seeing the island on your own, Mount Zion will get you set up with a car or motorbike rental so you can zip around as you please.
Why you'll love this hostel:
Mangrove Forest
Free Breakfast
Book Exchange
Keeping with the hostel feels Mount Zion Lodge offers dorms and private rooms. Laundry facilities give you the luxury of getting your stuff all nice and clean for your next trip. The book exchange is an insight that some serious travellers have enjoyed this paradise already. So leave a book and keep the positive karma rolling.
They also provide free breakfast and towels which is a bonus. Private rooms are also ensuite, so there's no waiting your turn to use the facilities. When you gotta go, you can just go. Ya know?
Best Hostel with Private Rooms in Zanzibar – Kipepeo Backpackers, Nungwi, Zanzibar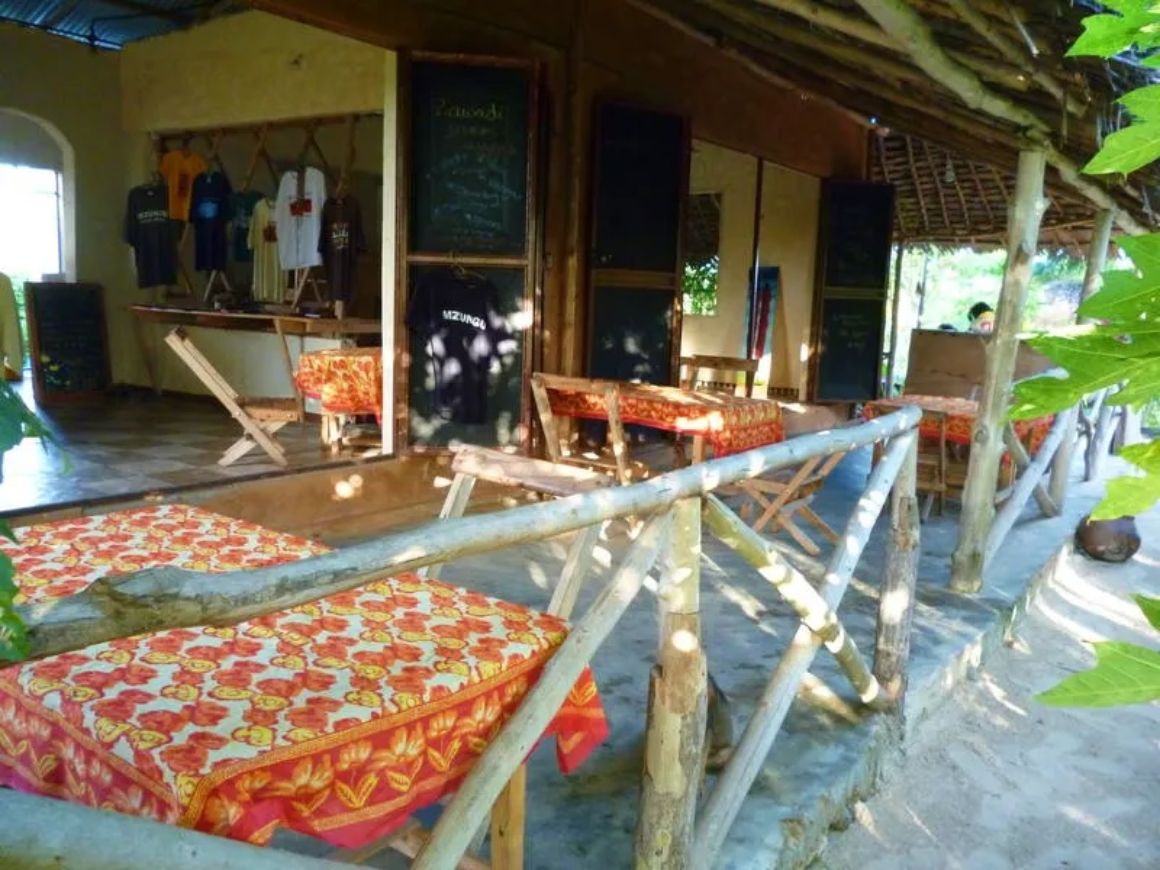 $
Located in Nungwi
Private Rooms Only
Beachfront
Located in Nungwi, Kipepeo Backpackers is at the furthest most tip of Zanzibar. This amazing spot draws visitors from all over the world. Even though this is a major tourist spot, you'll feel at home in this family-run hostel.
The rates at Kipepeo will definitely help you keep to your travel budget. The private rooms are balanced with shared spaces like the bathrooms to keep the prices at affordable levels. They may expect payment in cash, so just check beforehand (it's better to know before you go, right?).
When you're staying in the banda huts you'll feel like you're in another world. It's the ideal space for two people to stay in either double or single beds, you'll be comfortable with a fan and mosquito nets to help keep the pesky bugs away as you sleep.
Although there is no communal kitchen to make your own meals, the onsite Cafe Kipepeo makes delicious local food to keep your belly full and energised for your next adventure in Zanzibar.
Kipepeo is close to everything to do and see in Nungwi, but just far enough away from the hustle and bustle of the tourists. Being surrounded by beautiful green nature, you'll feel relaxed and laid back.
Why you'll love this hostel:
Friendly Staff
Cafe Kipepeo
Bike Rental
Sometimes it's the people that really make the place. This is true at Kipepeo. Yes, you could come to Zanzibar prepped with the typical tourist to-do list, but you'll have a better time guaranteed if you ask Kipepeo staff for recommendations. They know all the best places to go as well as the hidden gems that are not overrun by all the visitors each year. The difference between using your guidebook and asking the people who actually live there is invaluable. Hands-down, you'll have the most incredible time going with their local advice.
Once you've got your recommended list of places to visit, getting there should be a breeze. Just ask the hostel to rent a bike for the day. This way, you'll have the ability to get around easily without the need to rent a car or use public transport.
Kipepeo Backpackers, Nungwi, Zanzibar is one of our favourites in Zanzibar but they're not taking guests right now. We're not sure if they're closed for good but we hope they'll come back soon.
Best Hostel for Large Groups – Bwejuu Beach Palm Villa
$$
Located in Bwejuu
Dorm & Private Rooms
Bar / Restaurant
What's better than spending your time on a beautiful beach in Zanzibar? Doing it with all of your besties! Bwejuu Beach Palm Villa has many different room setups including dorm rooms. If you're travelling as a large group, you can rent out the entire dorm. This way you don't have to break up the band!
Bwejuu Beach is a great place for you and your best buddies to take a vaca. Located right on the beach, just roll out of bed and step right onto the white sandy beach with its crystal clear blue waters. Absolute paradise!
If you're rolling with a smaller crew, check out the private rooms. Some boast private bathrooms and even self-catering facilities. Making your own meals is a great way to keep to your travel budget, so is splitting the cost of a private room.
Why you'll love this hostel:
Located on South East Coast
Tour Desk
Private Beach
If you're looking for your next group adventure, stop by the tour desk to see what they recommend. The location on the east coast of Zanzibar can't be beaten. It's got stunning beaches and some of the best kite surfing around. It's also within a short distance of all the best things to do like scuba diving. A short drive to Paje means you're just minutes to even more places to eat, drink, and be merry.
No matter who you're travelling with (even if by yourself) Bwejuu Beach Palm Villa you're in heaven.
Bwejuu Beach Palm Villa is one of our favourites in Zanzibar but they're not taking guests right now. We're not sure if they're closed for good but we hope they'll come back soon.
Best Guesthouse Near the Airport in Zanzibar – Amira's Roomz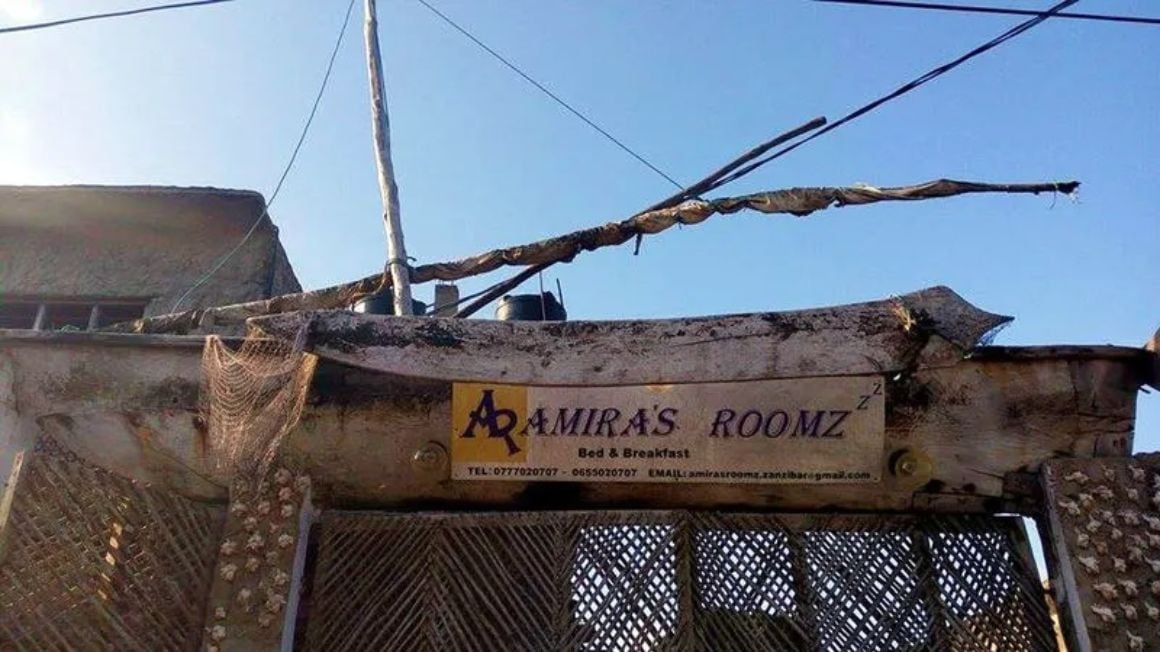 $
Located in Kiembe Samaki
Dorm & Private Rooms
Towels included
Amira's Room is the perfect place if you need to get to the airport in a hurry. Located literally down the road from the Abeid Amani Karume International Airport, the hostel can make sure you make it to or from your flight for a small charge. Just let them know ahead of time and they'll get you there.
Amira's has the rates and room options like a hostel, but it doesn't really have the communal vibe due to mostly Catering to travellers in transit. Skipping the shared kitchen, there's a restaurant where you can order something to eat instead.
A quick heads-up: Payment is expected in cash when you arrive, which shouldn't be an issue because you'll know before you go.
Why you'll love this hostel:
Super close to the Airport
Private Ensuite Rooms
Airport Transportation
Amira's has super affordable dorm rooms and ensuite private rooms if you're travelling by yourself or in pairs. Let's get real, having your own, private bathroom is key especially if you're coming in late or leaving early from a long ass flight! No fussing, it's all yours. Another cool thing is that some of the double rooms have air conditioning, so if you know that you sleep better in a chilled off room, definitely check out that option.
Amira's Roomz is one of our favourites in Zanzibar but they're not taking guests right now. We're not sure if they're closed for good but we hope they'll come back soon.
Zanzibar Hostels FAQ
Travel Safety Tips for Zanzibar
ALWAYS sort out your backpacker insurance before your trip. There's plenty to choose from in that department, but a good place to start is Safety Wing.
They offer month-to-month payments, no lock-in contracts, and require absolutely no itineraries: that's the exact kind of insurance long-term travellers and digital nomads need.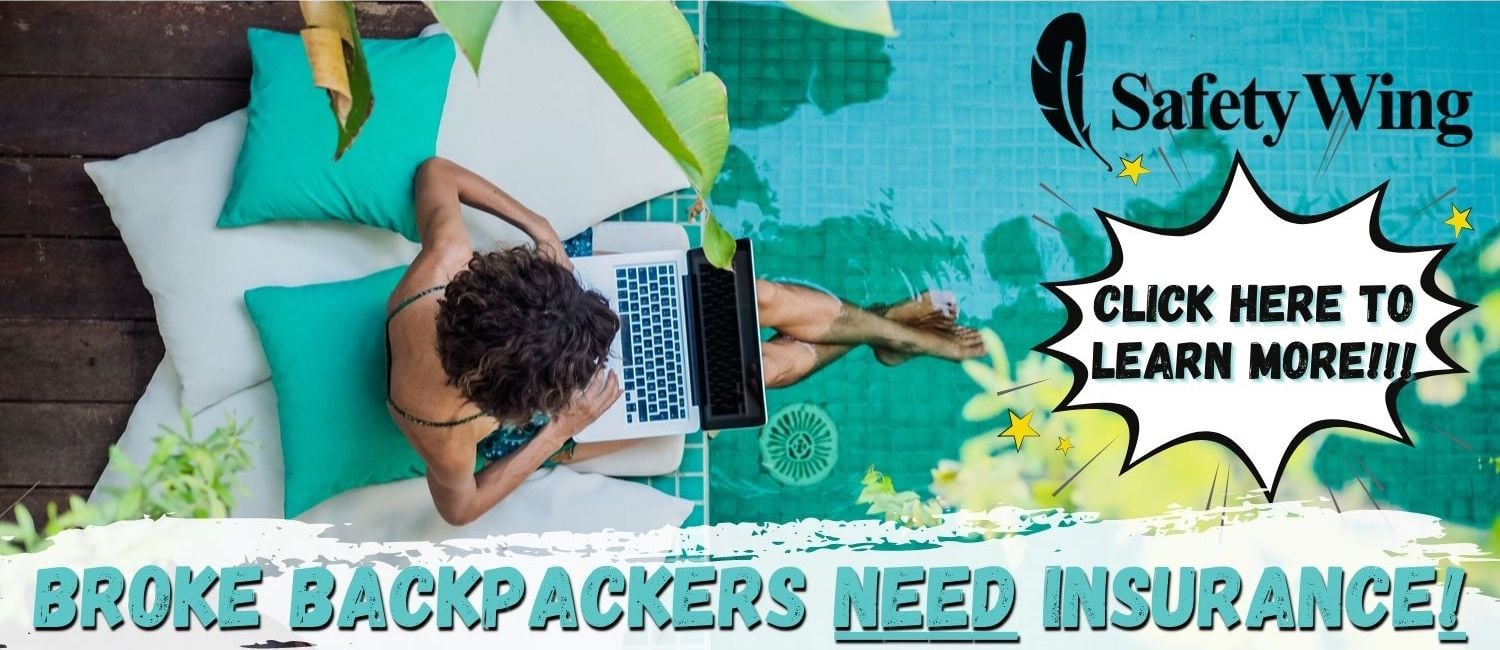 SafetyWing is cheap, easy, and admin-free: just sign up lickety-split so you can get back to it!
Click the button below to learn more about SafetyWing's setup or read our insider review for the full tasty scoop.
Final Thoughts
There you have it, our Best Hostels in Zanzibar. It's easy to see that the island has heaps of places to stay to suit every visitor. The best part is that you don't need to break to the bank to explore this paradise island.
We think Your Zanzibar Place gets it all done with rates that can't be beat. Regardless of which one on the list you choose, you're headed on the trip of your dreams.
---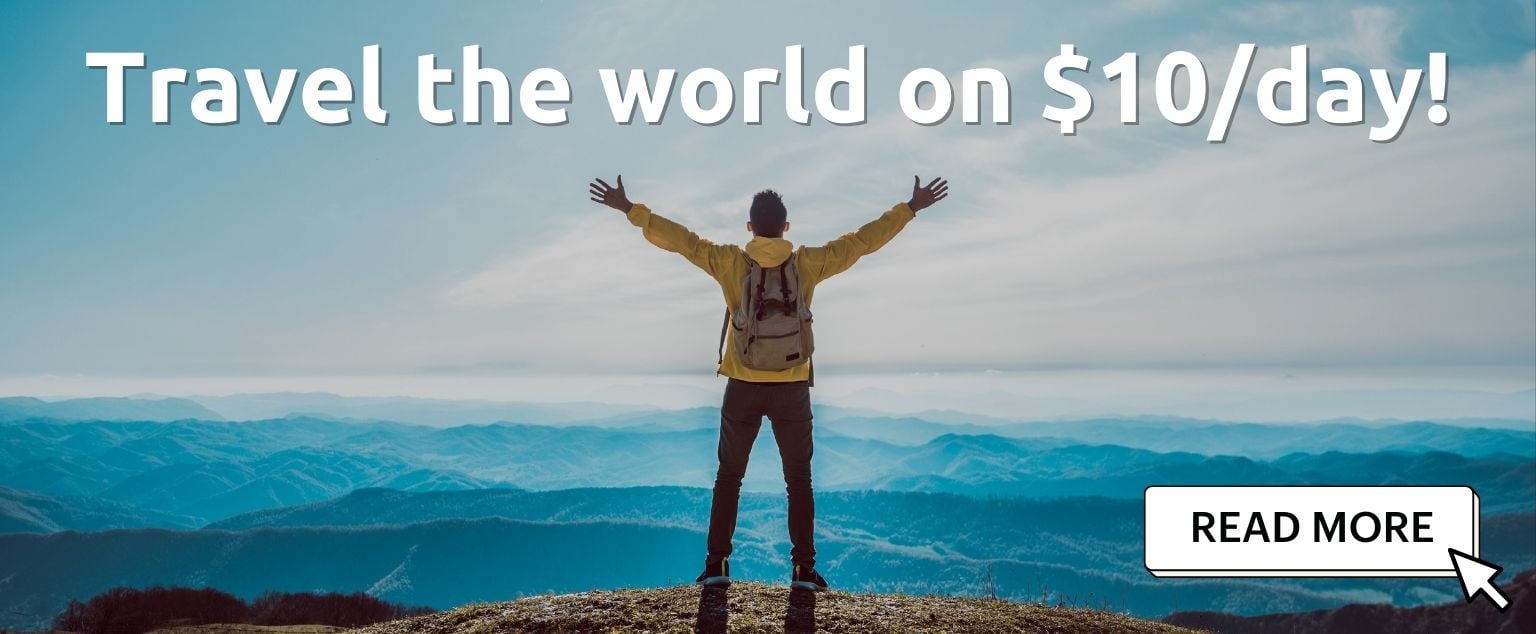 And for transparency's sake, please know that some of the links in our content are affiliate links. That means that if you book your accommodation, buy your gear, or sort your insurance through our link, we earn a small commission (at no extra cost to you). That said, we only link to the gear we trust and never recommend services we don't believe are up to scratch. Again, thank you!