I've written the best travel guide to backpacking Tanzania on a budget, for I can think of few other countries that better represent the African continent.
Lush, verdant, rich in lore and industry, and home to some of the noblest creatures and mountains in the world, Tanzania is a world wonder.
Tanzania has been romanticized countless times by the greatest Western authors. Hemingway, Fitzgerald, and many more from the Lost Generation traveled to Tanzania in search of a greater truth.
Philanthropy legend Jane Goodall started her career here. So many people over the years have fallen in love with Tanzania and I'm sure you will too.
With this travel guide to Tanzania, you'll gain valuable information about how to have an amazing trip in the country.
We'll cover a wide range of topics over the course of this article, covering vital topics like what to do in Tanzania and the best places to stay.
By the end of this guide, you'll be equipped with all of the necessary tools to go backpacking around Tanzania on a budget!
Why Go Backpacking in Tanzania?
Backpacking Tanzania is one of the best experiences a traveler can have.
On a journey through this marvelous country, backpackers will find a menagerie of exotic wildlife, heavenly beaches, and friendly and warm people. Moreover, they may discover an elusive piece of themselves that has escaped so many journeymen before them.
Think great food, stunning beaches, interesting cultures, and—last but not least—the mighty Kilimanjaro. There are so many different backpacking routes in Tanzania, but no matter which backpacking route you choose they will all be amazing.
We're going to break down the best places to visit in Tanzania soon, but before we get to that section we need to talk about specific routes for backpacking Tanzania.
Below are a couple of itineraries for backpacking Tanzania that are meant to inspire you. Each one is specially drafted to give you the best experience possible. Though if you wish, please feel free modify them in any way that you like.
Afterward, we're going jump into the meat of the article – the destinations – and then follow up with some more specific information e.g. Costs, Food, Diving, etc.
Hang tight my fellow broke backpackers; we're getting into the meat of the article now!
Best Itineraries for Backpacking Tanzania
I have written four travel itineraries for backpacking Tanzania. They are titled Sea to Sky, Time to Enjoy Tanzania, More Sun and Savannah, and the Grand Tour.
These vary from 1 week to 3 weeks in length and cover the majority of the best places in Tanzania to travel to.
Backpacking Tanzania 7 day Itinerary #1: Sea to Sky
With so little time to go backpacking in Tanzania, you'll have to settle for its two greatest attractions: Zanzibar and the landscape around Arusha (poor you). On this 7-day Tanzania itinerary, you'll either fly into Zanzibar or Arusha, head to the other and then fly out.
Go on a quick safari in the Tanzanian Nationa Park, Serengeti or Ngorongoro Crater. Be sure to keep an eye for Mt. Kilimanjaro (I hear it's quite big…).
Afterward, relax on the beaches of Zanzibar and drink a Kilimanjaro beer. You can go snorkeling or scuba diving, kite surfing, or maybe go on a sailing trip in a traditional dhow.
If you'd like, reverse this itinerary and start in Zanzibar, then go to Arusha afterwards!
Backpacking Tanzania 10 day Itinerary #2: Time to Enjoy Tanzania
This 10-day itinerary for Tanzania is very similar to the one above except now you have more time to really enjoy all of the best places in Tanzania!
Visit all of the hidden gems around Arusha including Lake Natron and Ol Doyino Agani! Scuba dive off the coast of Pemba Island near Zanzibar! Maybe even attempt to climb the mighty Kilimanjaro! All of this and more is possible because you have more time to spend in this amazing country.
Backpacking Tanzania 2 week Itinerary #3: More Sun and Savannah
On this 2-week itinerary for backpacking Tanzania, you'll have time to explore the more distant locations, but only a little…
With the extra 4 days, you'll be able to visit Mafia Island, which is the best place to go diving in Tanzania! Whale sharks are common here and swimming with them is an unbeatable experience. Aside from the diving, Mafia Island also has some of the best beaches in the country; bonus, they are completely deserted.
Backpacking Tanzania 2 week Itinerary #4: The Grand Tour
Now we're talkin'! With 3 weeks to backpack Tanzania, you'll be able to experience this country properly. In addition to all of the locations discussed prior (Arusha, Serengeti, Kili, Zanzibar, Mafia, etc), you'll have time to venture deep into the south the Southern Highlands, where some of Tanzania's great treasures are located.
Make the long(ish) bus journey through Mikumi and Udzungwa on the way to Iringa. If you like, stop for the chance to see some big game and awesome scenery.
Once you've arrived in Iringa, head straight for Ruaha, which is one of the best national parks in Tanzania. While here, you'll get to see most of the wildlife that the Serengeti has but without the tourist crowds!
Places to Visit in Tanzania
Backpacking Dar es Salaam
Dar es Salaam or simply Dar is the largest city in Tanzania and the center for most of the country's business. It's a typical Africa city, one defined by equal parts of urban growth and apparent chaos. Regardless, Dar is one of the most important economic centers in all of Africa.
Because it is a city mostly aimed at business, those who are backpacking around Tanzania usually end up skipping Dar or simply use it as a base to organize tours. While Dar does offer less in the way of tourist attractions compared to powerhouses like Arusha or Zanzibar, it still has its own merits!
Dar has a ton of markets to visit, some of the best restaurants in Tanzania, and interesting cultural sites as well for that matter.
Shopping is the name of the game in Dar es Salaam. All of the markets are amazing and offer an awesome array of goods. Note that bartering is practiced in full force in Tanzania!
The Kariakoo Market is the most famous in Tanzania, renowned for its huge selection and very low prices. The Mwenge Market is great for woodcarvings while the Illal Market has lots of kitschy little secondhand stuff. Be sure to also drop by Kivukoni for a fresh albeit smelly seafood experience.
Some of the most interesting cultural sites in Dar include the Makumbusho Village Museum, the National Museum, the Azania Front Lutheran Church, and the Askari Monument.
There are several beaches in Dar that are of a respectable quality. Coco and Mikardi are two of the most popular, so usually pretty busy. Just across the channel is Zanzibar, which is one of the great jewels of the Tanzanian coastline.
Backpacking Zanzibar
Zanzibar is home to some of the most beautiful beaches in all of East Africa and some very significant historical architecture as well. Consequently, it is one of the most popular places in Tanzania and probably ground zero for travelers.
Zanzibar is a semi-autonomous region, having only joined Tanzania in the last 50 years. As such, it has its own immigration offices for both air and sea. You'll have to pass through customs when traveling both in and out Zanzibar so keep your passport handy!
It should be noted that Zanzibar, along with much of the Tanzanian coastline, is predominantly Swahili, which means that Islam is the prevailing religion. Please dress and act respectively. Refer to the section on People for information on local taboos.
Zanzibar is a fairly large island with several villages with their own unique vibe. Stone Town is the historical center and a UNESCO heritage site because of its significant Arab-Africa architecture. Some important landmarks in Stone Town include the Fort, House of Wonders, Livingstone's House, and the Palace Museum.
Fun fact: Freddie Mercury of Queen was born in Stone Town! There are several restaurants and bars around town that are dedicated to Mercury. Many will make bold claims of their connection to him, some being more authentic than others.
The northern tip of Zanzibar is where much of the action takes place due in part to its excellent beaches that are visitable at all tides. Nungwi is the busiest village in this region and Kendwa is a close second.
The beaches of Zanzibar are obviously the biggest draws. Some of the best budget accommodations in Zanzibar are on this part of the island as well. That said, you'll also find some of the fancier beachside accommodation too.
Adventurous people can go to check out one of the many caves and islands located on the rim of Zanzibar. Kiwenge and Mangapwani are two cool caverns. Changuu (aka Prison Island)is a great place to see giant tortoises, and idyllic Mnemba Island has some great snorkeling.
Backpacking Paje
Paje is the largest village on the quieter southeastern coast of Zanzibar Island. Paje and many of the other proximitous villages have a much more relaxed vibe than the northern shores of Zanzibar.
Paje appears to be much more Swahili than the northern tourist areas. Buildings here are built in traditional style with the palm leaves and thatched roofs. Locals tend to keep to themselves here and go about their daily business, though in the evening it feels like the entire village (the men at least) move to the beaches to play football, which is the favorite sport in Tanzania.
The beaches in Paje are very long and beautiful. You could walk along them all the way to Jambiani or Dongwe, which are each about an hour away from Paje in opposite directions.
The beaches are often best for swimming when the tides are high. Kitesurfing is another popular activity here as the conditions are quite good.
If you can manage it, I definitely suggest hiring a dhow and captain for the day. Sailing in these watercrafts is an amazing experience because they are fun but mostly for the story! Dhows are sometimes nothing more than a hallowed-out tree and sail made of old t-shirts. The prospect of braving the seas in one of these whimsically precarious boats is a blast (for me at least)!
The southern villages of Zanzibar are notably more expensive but not prohibitively so. You can still find budget accommodation in Zanzibar's southern reaches.
Though to really travel around Zanzibar on a budget, you should probably stick to the northern beaches. On that note, try and use the local dala-dalas as much as possible – private taxis are expensive on Zanzibar.
Backpacking Arusha
By now, we've left the coastline behind and entered into the heartland of Tanzania – a region characterized by vast savannahs, celestial mountains, great animal herds, and tribal peoples. This area truly looks like the stereotypical Africa and it's, regardless of any predispositions, an amazing part of the country.
Arusha is the largest city in the region and the primary hub for organizing safaris and trips to Kilimanjaro. Many people just blow through town, eager to start their safaris and climbs. Though Arusha is, admittedly, an aesthetically unattractive town, it still deserves to be visited.
The markets of Arusha are the central nervous system of the city and are well worth seeing. There is a Maasai market as well that is more for tourists and souvenirs. Keep an eye for the rare tanzanite in the city as it's famous here.
Arusha is surrounded by many coffee plantations as well and a tour of them is mandatory for any caffeine fiend! Visit one of the many cafes in Arusha (a good one is Africafe) and inquire about visiting a plantation.
If you're looking for a way to acclimate for a Kilimanjaro climb or just want to climb something quieter, Mt. Meru is right next to Arusha and makes for a great adventure. The mountain is 4500m tall so it will require several days to summit. Competent climbers may not need a guide but will need an official escort.
If you can manage it, try to organize a trip to the Oldupai Gorge, which is considered the "Cradle of Civilization." Aside from being one of the most anthropologically significant places in the world, it's also very unique looking.
Nearby Lake Natron and Ol Doinyo Lengai are even weirder destinations that offer some truly surreal experiences.
Backpacking Moshi
Moshi is the primary gateway to Mt. Kilimanjaro and, like Arusha, often used simply as a base for tourists. Much of Moshi's attractions are hidden gems, much in the same way Arusha's attractions are.
There's a grand market, plenty of coffee plantations, the chance to visit Maasai villages, and two of the highest mountains in Africa nearby. Moshi does offer a few unique attractions of its own too.
One of the best things to do in Moshi is explore the surrounding countryside; there are plenty of awesome little wonders like waterfalls, hikes, and a gorgeous lake.
Lake Chala is on the border of Kenya and Tanzania and totally worth checking out. It is a very relaxed and totally lush place as well. You'll see plenty of monkeys here and maybe the occasional elephant or two.
Marangu Falls and Materuni Falls are two very picturesque waterfalls located on the outskirts of Moshi. Both are great for swimming but be careful as the water can be freezing cold! If you searching for warmer water, head to the Kikuletwa Hot Springs to feel your toes again.
For those who want to stay in Moshi long term, there are plenty of social welfare programs and rehabilitation centers that could use extra help. With these NGOs, you'll often help children and abused women learn English and other vital skills that will prepare them for the modern world.
Note that many of these organization still require to you pay for your own food and board, though discounts may be offered. Ask around town to see which of the NGOs need help.
For information on climbing Kilimanjaro, refer to the Climbing Kilimanjaro section near the bottom of the article.
Backpacking Iringa and Ruaha
Iringa is the primary tourist hub for Tanzania's Southern Highlands, which is one of the most beautiful parts of the country. This is one of the most alluring regions of Tanzania, not to mention the setting for some of its most magnificent game reserves.
The bus ride from Dar es Salaam to Iringa is worth making the trip alone. Along the way, you'll pass through both Mikumi National Park, one of the best places to spot big game, and the Udzungwa Mountains. While driving to Iringa, there is a good chance you'll see elephants and other animals just chilling on the side of the road.
Try and stop by the Udzungwa Mountains. Aside from being an ecological marvel, the mountains also host one of the greatest waterfalls in East Africa: Sanje Waterfall.
Upon arriving in Iringa, you may notice that it looks a bit different from other Tanzanian towns. This town was originally settled by the German Empire and so it has a distinctive Teutonic flair. Many of the local attractions in Iringa either relate to the original German colonization or their glorious defeat at the hands of the Wahehe. Some notable cultural landmarks include Kalenga Museum and the Gangilonga Rock.
The main reason to visit Iringa, however, is for the chance to visit Ruaha, one the greatest places to go on a safari in Tanzania; it is arguably better than the Serengeti!
I think Ruhaha is potentially superior to the Serengeti because it receives far fewer tourists. This means you won't have to deal with crowds and can easily relatively affordable safaris!
You can organize a safari in Iringa or Tungamalenga village, which is at the boundary of the park. Should you choose the latter option, you should take a bus to the village and sleep at a local campground.
Backpacking Mafia Island
Mafia Island is a much quieter version of Zanzibar, devoid of the raucous crowds and rampant tourism that can make the latter somewhat unattractive at times. It's quickly gaining a reputation as an eco-friendly destination, yet the same time dangerously close to being discovered by the masses.
Those backpacking in Tanzania should definitely check out Mafia Island before it's spoiled by those hordes of Zanzibarbarians.
Most travelers will fly to Mafia Island via Dar es Salaam. Tickets can be bought in advance though I've heard that you'll pay less if you book in Dar itself within 2 weeks of the flight.
The other option is to grab a ferry from Nyamisati, which is about 4 hours south of Dar by bus. The ferry costs $8 and leaves at 3 am every morning though delays and/or cancellations are regular.
Upon arriving in Kilindoni, the largest town on Mafia, you'll find it is much less busy than Zanzibar. There are very few vehicles on the island, so we suggest that you find a rental bike as a means of getting around.
The beaches of Mafia Island are gorgeous and often empty. You could spend your entire trip just being a beachbum, and chances are you'll encounter less a handful of Westerners. The best beaches are on the west coast as the east has a lot of mangroves.
Mafia Island has the best snorkeling and diving in Tanzania! Whale sharks are very common and swimming with them is actually pretty affordable ($60 w/Afro Whale Shark Safari).
If you can, try to book a dhow to pay a visit to the beautiful lagoon and visit the surrounding islands: Chole, Bwejuu, Jimbondo, and Juani.
Off the Beaten Path in Tanzania
Some of the best places in Tanzania are way out in the middle of nowhere! Backpacking to Tanzania's farthest corners can be extremely rewarding and chances are you'll be the only mizunga (white person) for miles. Sounds adventurous, right?
Below is a list of Tanzania's most worthwhile off-the-beaten-path destinations. The journey to these will be long (Swahili time will be in full effect!), the destinations themselves will sometimes be rough, and the locals will look at you funny.
For those who enjoy this sort of traveling, these remote locations prove to be irresistible.
Backpacking Pemba Island
If you liked the idea of Mafia Island's solitude, then you'll love Pemba Island just as much. Yet another tame alternative to Zanzibar, this island may be the most infrequently visited of them all.
Here you'll find rolling hills, fishing villages, and few tourist lodges. Consequently, the beaches are pristine and the diving the best in Tanzania.
You can reach Pemba via plane from Dar es Salaam or Zanzibar for around $150. There's also a direct ferry leaving from Dar es Salaam twice per week and another from Tanga. Both schedules are highly variable and very prone to delays.
Chake Chake and Wete are the two main villages on the island and both have little in the way of tourist infrastructure. There are a few resorts and dive schools but not much else. Granted, there are still plenty of residents on Pemba Island; they tend to the fields and live a very quiet life.
The few lodges on the island are pretty expensive. You'll have to look very hard to find an affordable lodge. As of now, I've not heard of any campgrounds around the island.
As you'd expect from an island off the tourist track, the beaches are amazing and completely devoid of tourists. There are a lot of mangroves to sort through but once you arrive at the sand you'll be shocked by the purity of it. The north of the island has plenty of jungle to explore as well.
The diving around the island is also top notch and receives its fair share of whale sharks. Humpback whales have been spotted during the migratory season.
Backpacking Western Tanzania
The far western provinces of Tanzania that border Burundi, Rwanda, and the DRC, are among the least visited areas in the whole country. Here are some of Africa's most magnificent lakes as well as a number of significant wildlife refuges that receive far fewer tourists than likes of the Serengeti and even Ruaha.
The two gateways to the West of Tanzania are Mbeye in the south and Mwanza in the north. For the sake of simplicity, we're going to highlight the top attractions in the area starting from Mwanza.
Note that there are commuter trains from Dar es Salaam to many of the major cities in Western Tanzania, including Mwanza, Kigoma, and Mbeya. These trains are reliable and relatively comfortable.
Sitting on the banks of Lake Victoria, Mwanza is a regional hub and a popular stopping point for those heading to Rwanda and Burundi. It can be accessed by road from more popular locations in the East via Dodam, the administrative capital of the country.
Trips to the Serengeti can be arranged in Mwanza but the shores and many islands of Lake Victoria are the more unique attractions.
Heading southwest from Mwanza, you'll eventually hit Kigoma on the banks of Lake Tanganyika. This is a fabulous freshwater lake with sandy shores and crystalline waters that can be compared to the likes of the superlative Lake Malawi. Relaxing and swimming around the lake are highly recommended activities.
Within a day's journey from Kigoma is the Mahale Mountains, which is perhaps the most significant sanctuary for the chimpanzee monkey.
To reach the Mahales, you will have to take the historical MV Liemba boat to Lagosa, whereupon you organize treks into the mountains for chimpanzee viewing. This endeavor is rarely undertaken by foreigners, though it is extremely rewarding.
From Kigoma and the Mahales, you'll head south again until you reach Mbeye, passing Katavi and Lake Rukwa along the way.
Backpacking Kilwa
One of the most significant historical sites in all of Tanzania is located way down south in the Kilwa Islands. These islands are the very essence of off the beaten path travel but reaching them will be totally worthwhile.
Buses depart to Kilwa Masoko, the main village in the area, from Dar es Salaam. Be sure to catch the early bus as it's a long drive and later buses have been known to drop off passengers at Nangurukuru.
There is very little to do in Kilwa Masako besides visiting the nearby ruins. There are the usual attractions on the Swahili coastline, like deserted beaches, mangrove forests, local markets, and fishmongers, but you should be accustomed to these by now.
You can also visit neighboring Kilwa Kivinje if you like; this town is more modern than Masako and has some interesting German history.
The primary and perhaps sole reason to visit Kilwa is for the ruins of Kilwa Kisiwani. Kiswani is considered to be the most important Swahili historical site and dutifully a UNESCO World heritage site now.
To visit the ruins, you will need a permit from the local government as well as a dhow. The island itself is not too far away from the mainland. Note that you will also have to pay entrance at the ruins.
Kilwa Kisiwani is a huge complex full of decrepit buildings, crumbling walls, and shadows from the old Islamic Sultanate. There was formerly a palace, a grand mosque, and an imposing fort, though they are in ruins.
Songo Mnara is near Kiswani, a stone town that is equally as impressive. Between these two archeological sites, you could easily spend the entire day getting lost.
Top Things to Do in Tanzania
1. Go on safari
There are over 40,000 square km of protected park in Tanzania, much of which offers amazing opportunities for wildlife viewing. Go on a safari for both yourself and for the local community – your support helps to protect these lands and bring jobs to the people.
2. Explore Stone Town in Zanzibar
Stone Town is one of the most recognizable landmarks in Tanzania. It is a testament to the old days of Arab rule and a wonder to walk around.
3. Climb Kilimanjaro
This is a bucket-list item for many of those backpacking Tanzania and Africa altogether! Climb the continent's highest peak and touch the "Roof of Africa."
4. Dive with whale sharks
Tanzania has some of the best diving opportunities in all of Africa. To really reach the best diving, you'll have to head to some of the more off-the-beaten-path locations, like Mafia Island or Pemba Island.
5. Sail in a dhow
For seafaring Swahilis, the dhow is like an extension of their own body. Everyday they captain their boats for work, pleasure, and sometimes for no reason at all. Joining a Swahili on his dhow is truly a spiritual experience.
6. Visit the markets
Tanzanians love to shop and the markets are absolutely bonkers! You can find just about anything at a Tanzanian market from little baubles to rare tanzanite.
7. Hang out with local tribes people
Among the myriad of tribal communities in Africa, Tanzania has some of the most interesting well known of them. Visit one of the many villages in the heartland of the country for a peek into the local lives. Just remember to be RESPECTFUL and to not treat the tribes people like zoo animals.
8. Chill on the beach in Zanzibar
The beaches of Zanzibar are among the most beautiful places in Tanzania. With their bleached sand, sapphire water, and the occasional dhow sailing by, few parts of Tanzania are more enchanting than Zanzibar's beaches.
9. Witness the Great Migration
The Great Migration of Africa is often described as one of the most incredible natural wonders of the world. Seeing the wildebeest, among other beasts, travel across the plains in such an epic fashion is truly one of the best things that you can do while backpacking in Tanzania.
10. Explore Western Tanzania
Tourists rarely visit Western Tanzania, yet it offers some of the best attractions in the country! Go swimming in Lake Tanganyika and explore the Mahale Mountains for a chance to see a chimpanzee in its natural habitat.
Backpacker Accommodation in Tanzania
Tanzania has been on the backpacker radar for some time now and so the country has a lot of different forms of accommodation, many of which are affordable! Between the many hostels, campgrounds, apartments, and bush lodges, you should have no trouble choosing between some of the best places to stay in Tanzania.
Hostels in Tanzania are generally good quality. Areas popular with tourists, like Zanzibar and Arusha, will have a greater selection. Some of the hostels in these places are pretty slick as well!
Staying in a lesser visited location, like Iringa or Mafia, will mean you have to stay in more basic lodges (such is Africa).
In order to save money, I definitely suggest bringing your own tent and staying in the campgrounds as much as possible. You can also bring a hammock but make sure it's sealed to keep away the mosquitoes.
If you're going on safari, you'll be camping anyway! What is more, many hostels in Africa have campgrounds that share facilities. Taking advantage of hostels like this means that you have access to the communal showers and kitchens.
If a hostel doesn't have a designated campsite, you can convince them to let you pitch your tent in the garden.
Staying in an apartment can be an awesome experience, especially in places like Zanzibar or Dar es Salaam. Airbnb is my favorite way to book an apartment, no matter where I travel.
Consider couchsurfing in Tanzania as well! Doing so will unlock another side of the country.
Where to Stay in Tanzania
Travel Costs for Backpacking Tanzania
Like the rest of Africa, Tanzania can be both very cheap and very expensive at the same time. Whereas the costs of living can be very low, going on a safari or a multi-day hike can turn out to be exorbitant.
All of that hard work of sticking to a budget while traveling Africa – those days of spending less than $10 – can be eradicated by a couple of days in the Serengeti or Kilimanjaro.
You can travel on a budget in Tanzania though! You just need to have the right practices, my eager broke backpackers.
A comfortable daily budget for Tanzania should be around $30-50 per day. With this, you should have no problem finding a dorm bed, groceries, beer money, and cash for transport. This does not include safaris.
Hostels can cost anywhere from $15 for a large dormitory to $35 for a private room. Conventional Western lodging can be expensive in Tanzania and the costs add up quick. Note that Zanzibar is more expensive then mainland Tanzania. Check out the hostels in Zanzibar for the lowdown.
The best way to go backpacking in Africa on a budget is to bring a tent with you! Carrying around your own shelter while traveling in Tanzania allows you to take advantage of campsites and skip on renting tents for safaris.
Food, drink, and transport can all be cheap if you stick to the local methods. Eat at the little cafes and street vendors where a meal costs between $3-$5.
Stick to the crowded minibusses where even long hauls cost a matter dollars. Domestic flights will not be cheap; ferries and buses will save you hundreds of dollars, but will take hours or possibly days of travel.
Stick to these local habits and you save lots of money while backpacking in Tanzania. This way you can splurge on the big ticket items, like a diving trip or safari.
Budget Safaris in Serengeti and Elsewhere
Going on a safari in the Serengeti or anywhere for that matter is one perhaps the #1 reason people visit Tanzania in the first place. How many dream of going off-roading in the plains of Africa in search of elephants, lions, and the rest of their favorite childhood animals?
Going on a safari in Tanzania is an amazing, once-in-a-lifetime experience, but it can also be a very expensive one.
Never fear my broke backpackers! Where there's a will, there's a way and there's certainly a will for finding budget safaris in the Serengeti and elsewhere in Tanzania.
There are plenty of budget safaris in Tanzania. These multi-day tours are usually pretty basic, consisting usually of a guide or two, a single 4×4, and a group of enthusiastic backpackers.
You may camp out in the middle of nowhere but most likely you'll end up staying in a shared campground with other groups of travelers.
Tents will be pretty rudimentary and you'll probably be expected to bring your own equipment, like a sleeping bag, mat, and headlamp, though you should have all of these things for backpacking Africa on a budget anyway!
There are a ton of companies that offer budget safaris in Tanzania and it's just a matter of doing your research. You should have little problem finding the right safari in tourist hubs like Dar es Salaam, Arusha, and Iringa, so shop around!
Don't be afraid to go on a safari in a lesser-known wildlife park. The Serengeti and Ngorongoro Crater get all of the attention but places like Ruaha, Tarangine, and Lake Manyara can be just as beautiful and even cheaper! Taragine and Lake Manyara are very close to Arusha as well and make for relatively easy trips.
Money in Tanzania
The official currency of Tanzania is the Tanzanian shilling. As of October 2018, the official conversion rate for the Tanzanian shilling is 1 USD=2,289 shilling.
For small transactions in Tanzania, the kind you accrue at local markets, bars, cafes, street carts, etc, shillings will be requested. Most vendors will only accept smaller bills and may look at you irritatingly if you whip out a large bill. (Who could blame them for breaking a 10,000 note when something like a beer costs 600 shillings?) Try to save small notes as much as possible for situations like these.
You can buy shillings at one of the many currency exchange businesses, which are primarily located in the more popular tourist areas. You'll get a better exchange rate for larger and newer bills as well.
Often times you will see hotels, safaris, and activities priced in USD, Pounds and/or Euros. These currencies are the most commonly accepted form of payment when it comes to larger, more tourist-related activities – entry into National Parks is a good example of when you need to pay with USD.
More often than naught, you will be expected to pay with foreign currency, which can be frustrating since you probably bought a shit ton of shillings in the first place!
If you are planning on going on a safari, or have any unpaid bookings for that matter, bring USD, Euro, or Pounds to settle these up. If you only have shillings, most tourist businesses will still accept them with a little convincing.
Top Tips for Broke Backpackers
Camp: With plenty of gorgeous places, Tanzania can be a great place to camp. Check out this post for a breakdown of the best tents to take backpacking. Or, if you're feeling really adventurous and want to save some cash, consider picking up a backpacking hammock.
Cook your own food: If you are on a tight budget, you can save money by cooking your own food. I recommend bringing a portable backpacking stove.
Book your transportation early: Both plane and bus tickets are much cheaper if you purchase them in advance.
Couchsurf: Tanzanians are awesome, and I am so grateful I was able to explore its cities with local friends. Check out Couchsurfing to make some real friendships and see this country from the perspective of locals.
Pack a travel water bottle: Save money and the planet every day!
Why Should You Travel to Tanzania with a Water Bottle?
Plastic washes up on even the most pristine beaches… so do your part and keep the Big Blue beautiful!
You aren't going to save the world overnight, but you might as well be part of the solution and not the problem. When you travel to some of the world's most remote places, you come to realise the full extent of the plastic problem. And I hope you become more inspired to continue being a responsible traveller.
STOP USING SINGLE-USE PLASTIC! If you'd like some more tips on how to save the world.
Plus, now you won't be buying overpriced bottles of water from the supermarkets either! Travel with a filtered water bottle instead and never waste a cent nor a turtle's life again.
Best Time to Visit Tanzania
Due to its size and geographic location, Tanzania has a unique climate that can be hard to characterize or predict. In the broadest sense, Tanzania has two rainy seasons: the "long rains" from March-May and the "short rains" from November-December.
The long rainy season is characterized by large tropical deluges that occur in the afternoons. Humidity is very high during this time and, for much of the country, the temperatures are still quite high.
Washouts are common during this season and the vegetation is overgrown; both of these factors allow for very poor safari conditions.
The long dry season that follows the long rains (June-October) is generally seen as the best time to go backpacking in Tanzania. Rains become erratic, temperatures fall to a comfortable level, and the skies are the clearest all year.
That being said, the Long Dry is still not the best time of year for safaris as the rivers and watering holes are still full, which makes animals less inclined to go out in open.
If you wanted to see the Great Wildebeest Migration in the Serengeti, you'd be too early as well. This time of year is best for activities like island hopping or climbing Kilimanjaro.
Following the Long Dry, Tanzania enters another short rainy season in November and December that is much less dramatic. Following this is another short dry season from January to February before the whole cycle starts again. Depending on the year's precipitation, the line between these two short seasons may be vague as rain.
Together, the short seasons are another excellent time to visit Tanzania. Game will be out in the open, the Migration will have returned to the Serengeti, and the weather will be reliable. Note that temperatures will be very hot at this time.
Festivals in Tanzania
Tanzania has some of the craziest and most unique festivals in East Africa! From cultural to musical to just downright weird, there's a celebration for everyone in Tanzania.
Watch men lash each other (civily) to settle beefs from last year! Participate in a marathon at the base of Mt. Fuckin' Kiliamnajaro, which has to be the coolest setting for a race that I've ever heard of. All of these and more are really happening in Tanzania!
Here's a list of some of the most interesting festivals taking part in Tanzania:
Wanyambo Festival (January) – Traditional festival that features song, dance, performances, and food. Held in Makumbusho, slightly north of Dar es Salaam.
Sauti za Busara (February) – A big musical festival featuring jazz, pop, afrobeat, and more. Held on Zanzibar.
KiliMan Challenge (February) – Perhaps the greatest triathlon ever. Includes a climb up Kilimanjaro, a mountain bike race around it, and, finally, a marathon at the base.
Unification Day (April) – Celebration of the day Zanzibar joined with Tanzania. Lots of nationalistic ceremonies and flag waving.
Mwaka Kogwa (July/August) – Multi-day festival where men beat each other with banana leaves to settle arguments. A ceremonial straw hut is set on fire too. Held on Zanzibar.
Eid al-Fitr (dates changes on account of the Muslim calendar) – The celebration of the end of Ramadan. There is feasting, gift-giving, praying, and dancing involved.
What to Pack for Tanzania
On every adventure, there are six things I never go traveling without:
For plenty more inspiration on what to pack, check out my full backpacking packing list.
Staying Safe in Tanzania
Tanzania suffers from much the same crime that is endemic to Eastern Africa: theft is ordinary, corruption is rampant, and violence is not unheard of.
When backpacking in Tanzania, you must be alert and aware of your surroundings, especially in empty streets or when it's dark out. I cannot tell you how many times I've heard of backpackers getting in trouble because they were not careful; myself included.
There are a lot of petty criminals and desperate opportunists in Tanzania that have no problem targeting a tourist. Law enforcement often likes to get a cut of the business and will often solicit backpackers for bribes as well.
Even the odd taxi driver may attempt to screw over a backpacker and hold him hostage for a bribe. I'll never forget the story my friend told me about how a simple a taxi ride turned into a stand-off and eventually led to an awkward conversation with a local mob boss (but that's a long story).
We suggest to everyone to study our guide on being a safe backpacker. In this article, we cover a lot of scams and how to avoid them. We also cover a lot of practicalities like avoiding the display of expensive items, traveling in groups, and using the proper safety garments. Be sure to check it out.
We mentioned before that cops like to pick on tourists by soliciting bribes. Usually, they'll invent some sort of infracture on the spot and say that you need to pay them right there. If you're positive that you've done no wrong, just hold your ground and insist on credentials. The cop will get annoyed and most likely walk away.
Staying Safe Around Tanzanian Wildlife
Tanzania is deep in malaria territory so you will need to consider your antimalarial options. Consult a doctor beforehand to see if malaria medication is right for you. I didn't use malaria medication once in Africa – I wore long clothes and used lots of repellent instead – and probably got lucky.
Also be very cautious around the wildlife. Most of the animals that you encounter on a safari will be skittish. On the off chance you take the wrong step and encroach on a beast's territory, things can get really hairy.
You don't want to fuck with a charging bull elephant or a hungry lion. You especially don't want to get caught up with a hippo, which are the number one killers in Africa.
Always ask your safari guide if it's ok to leave the car, campsite, etc. Do not wander into areas that marked off or labeled as dangerous.
For a proper briefing on safety on safaris, read this guide here. The article discusses Kenya specifically but is still applicable to Tanzania.
Sex, Drugs and Rock 'n' Roll in Tanzania
Tanzania is a fairly laid back country that doesn't attract so many party animals. People tend to unwind by drinking a beer at the campground with a nice bonfire rather than getting pissed drunk at a bar. That being said, there are definitely ways to party in Tanzania!
The best parties in Tanzania will be on the coast in either Zanzibar or Dar es Salaam. Zanzibar generally has more casual beach bars while Dar can be a little posher.
There are a couple of noteworthy bars in Dar es Salaam like Q Bar, Samaki Samaki, The Savannah Lounge, and New Maisha Club. A lot of these places are restaurants during the day and clubs at night, so if you arrive at a spot and it looks tame, it's because you're too early.
From what I've heard from fellow travelers, each bar in Dar has a certain night where things get wild. A good example is Mediterraneo, which is usually stuffy, but every third Saturday goes fuckin' crazy. Ask around to see when is the "good night" for each bar.
Zanzibar has more beach bars and the scene here is more intimate than Dar es Salaam. Most of the bars are pretty small but you do get the occasional big one in Stone Town or on the north of the island.
Of local infamy is Zanzibar's own Full Moon Party at Kendwa Rocks. If you've been to the ones in Thailand, then this will feel familiar albeit less rowdy. There will be bonfires, DJs, and lots of drunk Zanzibarbarians.
Please be aware that both Dar and Zanzibar are Muslim communities. Most of the locals look the other way at drinking, some even partake themselves, but they will not appreciate dealing with wasted tourists. Please be respectful of them.
Travel Insurance for Tanzania
Traveling without insurance would be risky so do consider getting good backpacker insurance sorted before you head off on an adventure.
I have been using World Nomads for some time now and made a few claims over the years. They're easy to use, professional, and relatively affordable. They may also let you buy or extend a policy once you've started your trip and are already abroad which is super handy.
ALWAYS sort out your backpacker insurance before your trip. There's plenty to choose from in that department, but a good place to start is Safety Wing.
They offer month-to-month payments, no lock-in contracts, and require absolutely no itineraries: that's the exact kind of insurance long-term travellers and digital nomads need.
SafetyWing is cheap, easy, and admin-free: just sign up lickety-split so you can get back to it!
Click the button below to learn more about SafetyWing's setup or read our insider review for the full tasty scoop.
Getting Into Tanzania
There are lots of international airlines that provide service to Tanzania. Most of these international routes are centered around Tanzania's top landmarks like Kilimanjaro and Zanzibar.
There are 3 international airports in Tanzania: Julius Nyerere International in Dar es Salaam, Kilimanjaro International between Arusha and Moshi, and Abeid Amani Karume International on Zanzibar.
Most international flights will arrive at Dar es Salaam, whereupon you'll disembark or catch a connecting flight. That being said, there are still many major airlines going to Kilimanjaro and Zanzibar – Turkish, KLM, Emirates, and Ethiopian all offer frequent flights to some if not all of Tanzania's international airports.
There is one luxury train that connects Tanzania and Zambia, which is called the Tazara. Riding it is an awesome way to experience the African countryside. Many ride this train as far as Mbeya and then catch a local bus to start backpacking in Malawi. For for information on the Tazara, refer to this informative website here.
Adventurous backpackers can catch a cargo freighter from Dar es Salaam or Zanzibar to the tiny island nations of Comoros and Mayotte, halfway to Madagascar. There are no online resources for these islands, so interested parties will have to go to the local docks to start their journeys to these islands. If you're lucky, you may find a more comfortable yacht that can give a ride in exchange for being a deckhand.
For more information on traveling to and from Tanzania by road, refer to the Onward Travel section.
Entry Requirements for Tanzania
Nearly every foreign country can receive a visa-upon-arrival in Tanzania. Visas-on-arrival cost $50 for a single entry 90-day visa or $100 for a double-entry 90-day visa. Note that American citizens can only obtain a multiple entry visa for $100. Most African nationalities require no visa to enter Tanzania and so only a passport is required to visit.
The Tanzanian government, as well as many foreign governments, advise that you arrange a visa beforehand. While I can see the logic in this – you won't have to deal with bureaucracy as much in Tanzania – you may actually have to pay more when applying for a visa ahead of time. By all means, get the visa in your home country and risk paying more but I'd rather save a buck and wait in line a bit longer.
For more information, refer to the official visa website for Tanzania here.
How to Travel in Tanzania
The best way to get around Tanzania is by the local bus system. Between the large intercity buses and the ubiquitous minibusses (referred to as dala-dalas in Tanzania), you can get just about anywhere in Tanzania.
Getting around the urban centers of Tanzania can be a somewhat harrowing experience depending on your constitution. Roads are in poor condition, sidewalks disappear without warning, and motorists are generally reckless.
You'll have to have the courage to navigate the city streets in Tanzania, or you can just do what I do and head straight to the beach!
The most common form of public transit is the dala-dala, which costs next to nothing to ride and is usually jam-packed. Be aware of your belongings and where you're going on these.
There are lots of taxis and rickshaws that ply the streets of Tanzania as well. Be sure to negotiate prices prior to entering one and be sure that they're legit – people sometimes get mugged while riding unmarked taxis.
Driving between cities is a matter of catching another dala-dala, one that travels longer distances, or a larger mainliner.
The intercity mainliners are definitely more comfortable than the clown car minibusses but don't expect too much luxury. Breakdowns occur all the time and often the AC and/or recliners don't work either.
Hitchhiking in Tanzania should be a relatively straightforward task since many African people use it as a common mode of transport. Just be sure to follow all of the usual rules of hitchhiking and to be aware of your surroundings.
A special note on hitchhiking in Tanzania: instead of using your thumb, wave your hand with the palm up to indicate that you need a ride; having your palm face down means you want to pay.
Onwards Travel from Tanzania
Whilst most travelers choose to pair their trip to Tanzania with a backpacking adventure to South Africa, why not explore the countries nearby? Tanzania shares a border with 7 other nations and all of the borders are open to tourist crossings. Buses ply these routes very often and, regardless of the usual border town craziness, will get you safely to your onwards destination. You can be backpacking in Kenya, Zambia, Burundi, or whichever you please in no time! If you're going to Nairobi, you'll want to book your accommodation ahead of time – the city is a bit hectic and wandering around looking for a place to stay wouldn't be much fun.
Most Tanzanian buses bound for a bordering country will start in Dar es Salaam, so you should have no trouble finding the right one. If you're in a major satellite city like Arusha, Mwanza or Mbeya, you are usually close enough to a border and shouldn't have trouble finding a bus going over it either.
Backpacking Mozambique is another popular route for travelers but note that the border between Mozambique and Tanzania is a bit rough since it requires crossing of the mighty Zambezi River. Crossing this border at one of the two major checkpoints is certainly possible but just keep in mind that it'll be an all-day affair.
Below is a graph outlining all of the major border crossings in Tanzania.
Volunteering in Tanzania
Volunteering overseas is a great way to experience a culture whilst doing some good in the world. There are lots of different volunteer projects in Tanzania which you can join ranging from teaching, to animal care, to agriculture to pretty much anything!
Tanzania is a developing country that benefits greatly from volunteer contributions. English teachers are in high demand, and there are loads of opportunities in childcare. Whether you choose social work or contribute your skills in manual labour, you'll get to connect with local communities and have a lasting impact on your surroundings. Volunteering for 90 days or less will require you to get a visa on arrival, whereas long-term travelers should apply for a Residence Permit 'C'.
Worldpackers
If you want to find volunteering opportunities in Tanzania, then we recommend that you Signup for Worldpackers – a volunteer platform that connects local hosts directly with traveling volunteers. As a Broke Backpacker reader, you'll also get a special discount of $10 when you sign up. Just use the discount code BROKEBACKPACKER and your membership is discounted from $49 a year to only $39.
Volunteer programs run through reputable work exchange programs like Worldpackers are usually very well-managed and reputable. However, whenever you are volunteering, do stay vigilant, especially when working with animals or children.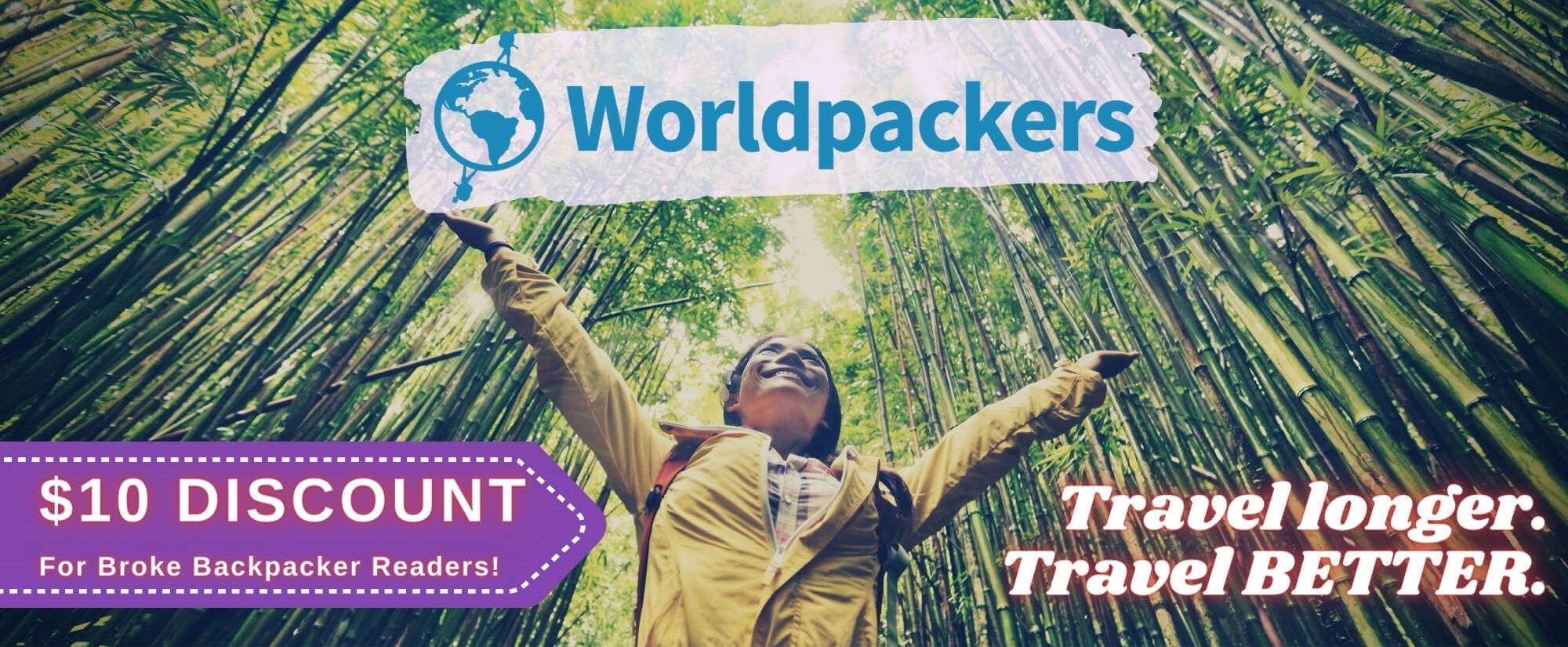 Worldpackers: connecting travellers with meaningful travel experiences.
Workaway
Alternatively, Workaway is another excellent common platform used by travellers searching for volunteering opportunities. Workaway is pretty massive, with over 40,000 hosts registered (that's 40,000 opportunities) and over 350,000 reviews on the site. With a database base that big, odds are you'll be able to find something that strikes your fancy. You can read our review of Workaway for more info on using this terrific platform.
Volunteer programs run through reputable work exchange programs like Worldpackers and platforms like Workaway are usually very well-managed. However, whenever you are volunteering do stay vigilant, especially when working with animals or children.
Global Work and Travel
Global Work and Travel is another viable option for finding volunteer opportunities in Tanzania. What sets Global Work and Travel apart from other volunteering platforms is the amount of assistance they give, from a 24/7 global help-line, help with VISA processing to airport transfers and continued support once you are in Tanzania. It may be a smaller platform, but the projects you'll find are high quality and immaculately organised. There are new programs and opportunities listed constantly as Global Work and Travel continues to grow its reach.
For those interested in volunteer work in Tanzania, Global Work and Travel offer community outreach projects in Arusha and Zanzibar Island where you'll be working with children or promoting women's empowerment. As with all volunteer abroad programs, there's a cost, but you'll be able to pay it off in interest-free instalments. Don't forget to bring your camera and make sure you are between the ages of 18-85 to qualify!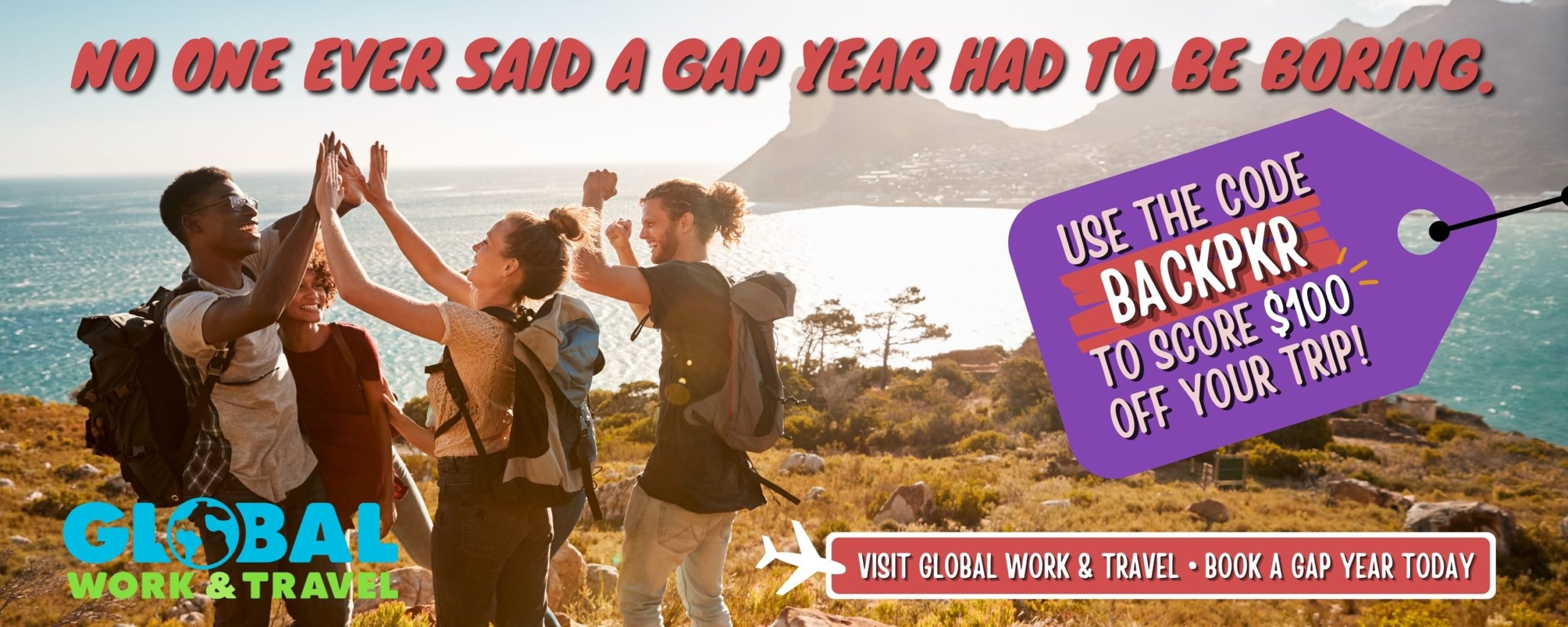 Staying Connected in Tanzania
Internet access and connections are more commonly found in the major urban areas of Tanzania, like Dar es Salaam and Arusha, and are fairly reliable. You can often find internet connection at your lodge or at a local cafe that will give you the password if you buy something.
Internet becomes dodgy out in the African wilderness. You can expect to find little to no internet while on safari or while staying on a remote island. Probably a good thing, as unplugging sometimes can be hugely refreshing. In my experience, when there was internet in remote places it was extremely slow, and only efficient for simple tasks like texting, not for loading web pages, streaming or downloading.
Those who need to stay connected more regularly while backpacking through Tanzania should consider buying a local SIM card and getting a data plan. Like WiFi, data will be strongest in the more developed parts of the country.
Several local telecommunications companies offer special tourist packages that have a lot of data for a low price.
What to Eat in Tanzania
The origin stories of Tanzanian cooking are as rich as the ingredients themselves! Taking inspiration from the various cultures that have passed in and out of the nation's ports and history, Tanzanian food is varied, full of flair, and at the end of the day, very tasty.
Arab traders had a huge influence on Tanzanian cooking, thanks to the many exotic ingredients that they brought with them. The spicy meat and rice dishes that prevail in contemporary Tanzanian cooking are thanks to these traders.
The various colonial powers left their mark as well. The Portuguese introduced cashews and cassava, the British popularized tea and boiled vegetables, and the Germans cultivated coffee plantations.
The result of all of these mingling culinary styles is a form of cooking that will certainly make you smack your lips. Below is a list of the best Tanzanian foods to try.
Tanzanian Culture
The first thing that you need to know is that "Tanzanian" is a pretty board term. There are over 120 ethnic groups currently inhabiting this country and each has their own social dynamics.
Throw in some European customs, which were introduced during colonization, and you have a very complex system of civics. To say that all Tanzanians fall into a neat little category would be an injustice.
Generally speaking, the coastline is dominated by Swahili culture, which is predominantly Muslim. Swahili people are often religious or not semi-practicing, so you should be aware of all the proper behaviors when it comes to Islam.
Swahili people are the most cosmopolitan in the country and are exposed to foreigners quite often – they'll understand if you don't know everything about their beliefs.
The deeper you travel into Tanzania, the more varied and traditional the cultures become. You'll encounter Arusha people, Iraqw people, Maasai and probably a lot (a whole lot) more once you arrive in the heartland.
It is very important to not lump all of these cultures into one because a) it's presumptuous and b) it could get you in trouble as not every ethnic group is friendly with the other.
The Maasai are one of the most well-known tribal groups and Africa. They are a very fascinating people, as refined and enlightened as they are raw. They practice several traditions that are meant to enrich the mind, soul, and body and are accomplished healers. Meeting a Maasai in his/her natural habitat would be a very positive experience.
There are so many different people in Tanzania that it could require a whole post to explain their cultures and traditions.
I could talk more about some general traits of each, like how the Meru are accomplished agriculturists or how the Baraig are excellent metallurgists, but these would be great understatements. To understand the cultures of Tanzania, you'll just have to visit.
Language in Tanzania
Swahili is the official language of Tanzania and is spoken/understood by the grand majority of the population.
That being said, Tanzania has over 100 different languages that are recognized by the government and most Tanzanians can speak at the very least 3 different languages. Among these is English, which is a remnant of colonial times when Tanzania was a vassal of the British Empire.
Swahili is primarily a Bantu language that can be traced back hundreds of years. It was heavily influenced by the Arabic language due in part to the large amount of traders visiting Tanzania from the Arabian Peninsula.
When the European powers first arrived, they sought to standardize Swahili as a means to improve trade and communication. Upon successful implementation of standardized Swahili, it quickly became the de facto language of Tanzania, Kenya, (now) Rwanda, and the DRC.
Fun fact: the local dialect from Zanzibar was at the time chosen to be the model for a standardized Swahili.
Aside from Swahili, English is widely spoken by those in business and tourism. If you stick to the general Tanzania backpacking route, you shouldn't have a problem communicating with the locals.
Some Useful Phrases for Traveling in Tanzania
If you do find yourself in a situation where no one speaks English, it would definitely pay to know a Swahili word or two. For your benefit, I've created a list of 10 useful Swahili travel phrases for backpackers traveling to Tanzania.
Books to Read on a Trip to Tanzania
These are some of my favorite travel reads and books set in Tanzania, which you should consider picking up before you begin your backpacking adventure…
Brief History of Tanzania
Tanzania is one of the great crossroads of the African continent. Many different cultures and ethnic groups have visited Tanzania over the years in search of better game, trade, resources, and treasures. The Romans, Persians, Germans, and an uncountable number of Africa nomads have all visited Tanzania.
For several hundred years, Arabs regularly visited the Tanzanian coast for trade purposes and eventually established their own outposts. Their presence would have a huge influence on Africans. The local tribes came to adopt Islam as their religion and began speaking a form of Bantu heavily influenced by Arabic; this is the origins of the Swahili language.
The first Europeans, specifically Vasco de Gama and the Portuguese, arrived in Tanzania in the 16th century. The Portuguese were initially complacent in the region but soon became aggressive and started taking the land. For most the century, they controlled the East African coastline until the Arab powers retaliated. The Portuguese were expelled in the 17th century by the Arab Sultans.
In the 19th century, the British and German powers lead expeditions to Tanzania. The two countries began to contest over Tanzania, which eventually lead to the partition of the country into two parts.
The continental landmass became German – and was later called Tanganyika – and Zanzibar became English. Both quickly developed the land and began to build infrastructure, much of which still exists today.
The Tanzanians would not go quietly. For the duration of the European occupation, there were many revolts and proxy wars. The Germans were successful in squashing the uprisings but stretched thin. They remained in Tanzania until the Empire collapsed following World War I. Afterwards, the English took control of the greater landmass.
It wasn't until the 1950s that the modern state of Tanzania became a plausible reality. Following much political movement, the Tanzanians, lead by Julius Nyerere, took control of the government via democratic methods in 1957. Zanzibar was reunited with Tanganyika and Tanzania was born.
Unmissable Adventures in Tanzania
Safari Parks in Tanzania
There are a lot of places to go on a safari in Tanzania; a lot. Choosing which one can be a daunting task. You're about to drop big bucks on one of these trips so it had better be what you want.
For your convenience, I've created a list of the best areas to go on a safari in Tanzania. Besides being full of wildlife, they're among the most beautiful places in Tanzania as well.
Serengeti – Absolutely massive park that would need weeks to explore. One of the busiest safari parks in the country, in terms of both wildlife and human spectators. Can be expensive and crowded. Best known for the Great Migration.
Ngorongoro Crater – Perhaps the most epic place to go on a safari. Lots of big game inside an astounding natural amphitheater, where animals live year-round due to fertile soil and reliable water sources.
Ruaha – Equal to the Serengeti in biological diversity but far fewer tourists. Hotter and drier than Serengeti.
Lake Manyara – Smaller safari area that is often combined with Serengeti or Ngorongoro. Impressive in itself.
Mahale Mountains – Arguably the most important sanctuary in the world for chimpanzees. Very off the beaten path so not many people visit here.
Mikumi and Udzungwa – A small but dense series of parks that has a lot of threatened wildlife.
Katavi – A very remote safari park that has excellent wildlife.
Tarangire – A smaller park that hosts decent game given the right conditions.
Selous – One of the largest safari parks in Africa. Requires a guide, 4×4, and plenty of time.
Climbing Kilimanjaro
Climbing Mt. Kilimanjaro is one of the greatest achievements that many could accomplish in their lifetime. It is an epically imposing mountain – a monolithic figure that casts a shadow on landscapes and aspirations alike – and a beautiful one too.
Should you decide to summit this peak, your time will have been very well spent regardless if you reach the top or not.
Kilimanjaro is best attempted in the dry months between June and October and sometimes in January and February if it has been dry.
Climbing time is an average between 4 and 7 days. Don't be fooled by the steamy jungles around Kili as well – it's frigid cold, even glaciated, at the summit, though not for long.
There are several routes that lead to the top of Kilimanjaro and each offers a different experience. The most popular route to the top is the Marangu because it's relatively quick (3-4 days) and cheap.
This route also has one of the lowest success rates because people often have trouble acclimating (but that's what happens when you rush a 6000m peak).
The other routes to the summit of Kili include Machame, Rongai, Mweka, Umbwe, and Shira. Machame is gaining popularity because people succeed in greater numbers.
If you want to climb Kilimanjaro, you'll have to reach out to a local climbing company. Expeditions can be arranged in Arusha or online, and a good price is around $1000-$2000 depending on how many days the climb takes.
Final Advice Before Visiting Tanzania
Try and book locally to save cash – foreign companies are often way more expensive. Also, try not to go too cheap – you'll be taking money away from local porters/guides who need deserve your support and you'll be putting your own life in danger as many safety expenditures are done away with.
There are a ton of good times to be had while backpacking in Tanzania but everyone, myself included, can get carried away sometimes. It is important to keep in mind that you are an ambassador for your country, which is awesome.
We can make a positive impact on people when we travel and get rid of any ugly stereotypes that may be associated with your country.
If you visit villages or small communities outside of the Tanzanian cities always ask before taking photos, especially when it comes to taking photos of women (you should ask in the cities as well).
The people who live in these villages are not exhibits in a museum. They are normal folks just living their lives. Always show them the complete respect that they deserve.
When buying local crafts or knick-knacks, do not haggle so low that the price is unfair to the person who spent countless hours crafting it. Pay people what they are worth and contribute to the local economies as much as possible.
Backpacking through Tanzania, or any region for that matter, often illuminates some of the great socio-economic inequalities of the world. Never take it for granted that you are healthy and financially able to go traveling.
Show the world around you some gratitude and help to make a positive impact on it. Most of all have the time of your life and spread the love in Tanzania!
---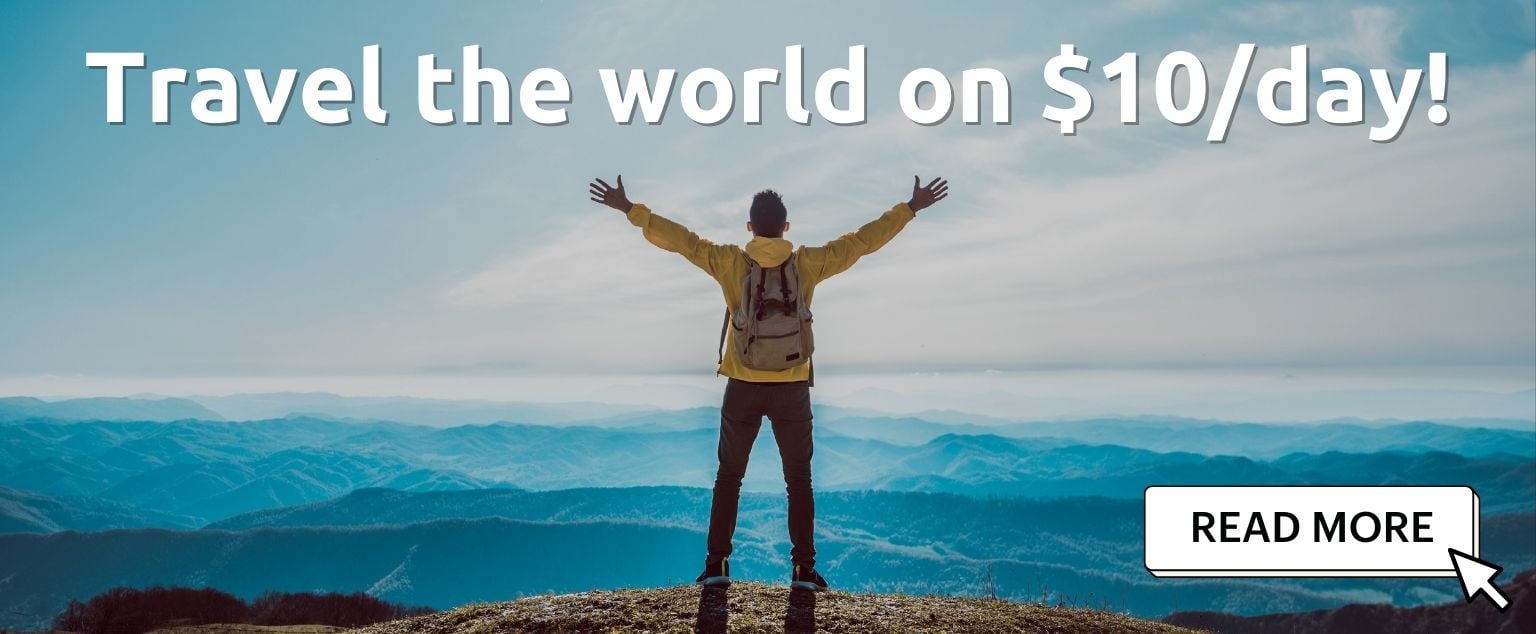 And for transparency's sake, please know that some of the links in our content are affiliate links. That means that if you book your accommodation, buy your gear, or sort your insurance through our link, we earn a small commission (at no extra cost to you). That said, we only link to the gear we trust and never recommend services we don't believe are up to scratch. Again, thank you!