Kenya is a dream destination for many — and it's not hard to see why. From the unreal wildlife encounters you can get on a safari to its stunning coastline, Kenya is home to some pretty epic bucket list experiences.
And it isn't exactly new to the backpacking scene, either. East Africa has been a mecca for travelers for years, and Kenya is often considered one of the most stable and friendly countries to visit in the entire region.
Can you go off the beaten path, though? Oh, you sure can — and I'm here to show you how.
Whether you have a couple of weeks or a couple of months, there is much left for the intrepid traveler to explore in Kenya. This guide will help you plan the ultimate East African adventure, giving you all the tools you need to have an epic time backpacking in Kenya.
We'll be covering the best places to visit, our suggested itineraries, some safety tips, and how to cut down costs. Your trip to Kenya is one step closer!
Why go backpacking in Kenya?
Not much can beat spotting a lion in the savannah of the Maasai Mara or a herd of elephants against the backdrop of Mount Kilimanjaro. Kenya offers some of the best wildlife spotting opportunities on the continent!
Do you know about the Big Five? It's what they call the elephant, lion, buffalo, rhino, and leopard. They're some incredibly magnificent animals, and you'll get to see them all when visiting Kenya's National Parks.
But while a safari is undoubtedly a highlight of any trip to Kenya, you'll be pleasantly surprised to know what else the country has to offer.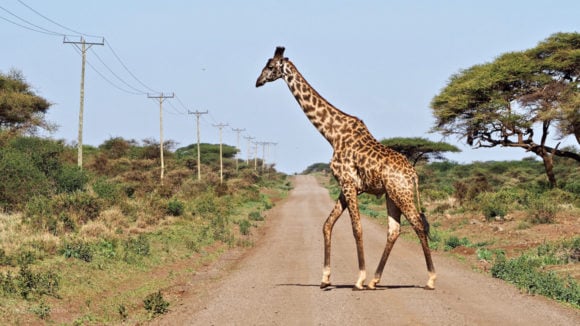 Heading east to the Indian Ocean coast, you'll find long stretches of palm tree-lined beaches with the clearest azure water. Towards the equator, the snow-capped jagged peak of Mount Kenya stands tall over the harsh arid plains. Then you've got the bustling metropolitan center of Nairobi!
You'll soon find that Kenya is probably way more than you had in mind…
Linger long enough, and you'll come to appreciate the proud and fascinating tribal landscape of Kenya's population. The Maasai people, the Samburu, Turkana, Swahili, and Kikuyu… these are cultural experiences that are bound to stay with you for life.
With so much to see and do, I've prepared a few itinerary options for you to consider when backpacking Kenya. Let's get this started!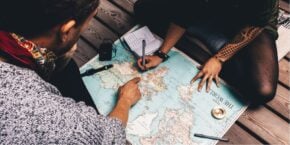 Heading Off-Grid? • Download This Guide as a PDF!
Sign up to The Broke Backpacker's EXCLUSIVE VIP AREA below and download our top backpacking guides as PDFs – go offline with peace of mind!
Best Travel Itineraries for Backpacking Kenya
Depending on what's driving you to visit Kenya, I'd say you should spend anywhere from 10 days up to two months backpacking the country.
Most people opt for a quick safari trip and possibly a few days on the coast, but then again… most people never get to see the real Kenya.
You will, though! Below, I'm providing you with a few sexy itineraries for your Kenya trip. They're based on my own trips there, but you can easily adjust them to suit your own adventure.
And mark my words: it's gonna be an epic one.
Backpacking Kenya Itinerary 10 Days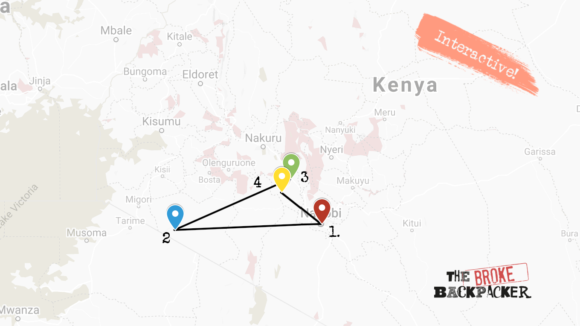 Most people begin their Kenya backpacking journey in Nairobi, the capital. And while it's had a bad reputation in the past, the city can be a hella vibrant! Save at least one full day to explore the markets and the Kenya Museum Society. You could even visit Nairobi National Park.
From here, you'll want to head straight to the Kenya's number one highlight: Maasai Mara National Reserve. You can easily book a safari through any hostel or hotel — you can even book them online. The package deals are usually more convenient than booking it all separately.
After you've spotted the Big Five (hopefully!) in the national reserve, you can head north to Lake Naivasha, the highest freshwater lake in Kenya. It's a popular place to spot hippos, crocodiles and many bird species.
From there, it's onwards to Hell's Gate National Park. It's a great place to try to walk/bike your way through a more independent safari. And you've got affordable accommodation inside the park, too!
Try to allocate at least a couple of days for Lake Naivasha and Hell's Gate to really enjoy the area. From there, head back east to Nairobi to wrap up.
Backpacking Kenya Itinerary 1 Month
If you have up to a month in Kenya, you're in for a real trip!
Following the above 10-day itinerary, you start moving further east to Mombasa. It's the second-largest city in Kenya, and worth spending a couple of days in to check out its historical sites. Make sure you see Fort Jesus, Mandhry Mosque and the Spice Market.
From Mombasa, you can travel north along the coast to some incredibly dreamy destinations. Depending on how fast you move, you can head all the way up to Lamu Island, stopping at Kilifi and Malindi on the way.
You should be warned, though, the Kenyan coastal towns are very enticing, and you'll find most backpackers staying in the same spot for indefinite amounts of time — the place's sticky!
On the way back to the start, take a detour to a lodge inside Tsavo West National Park. You can even combine a safari here with Amboseli National Park, and finish your trip with more animal sightings against the towering backdrop of the Kilimanjaro peak.
Backpacking Kenya Itinerary 6 Weeks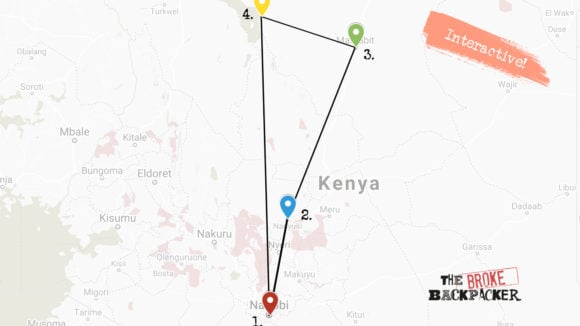 More than a month? What more could possibly be left to see in Kenya? Well… the entire northern half of the country! Travelers usually ignore this region completely, but for intrepid backpackers with the time, it can be the country's ultimate adventure.
Following the one-month itinerary above, your next destination is Mount Kenya — and if you're keen, you can spend almost a week trekking to the summit. This is one of the best spots in Africa for hiking, but you'll want to make sure that you do this with a guide and porters.
After the summit experience, continue north by bus through Isiolo and all the way to Marsabit. From here, it's best to arrange a driver to take you west to Lake Turkana in the wild northwest of Kenya.
You can venture further and try to reach Loiyangalani, an incredible lakeside settlement that0's home to the Turkana and Samburu people. Take at least a couple of days to enjoy the lake and cultural experience in town.
After that, it's back to Nairobi.
With the exception of Mount Kenya, northern Kenya is by far the least visited area of the country. You won't find a lot of infrastructure here, especially when you compare it to the south. However, if you're after a wild and adventurous journey, this is what you need in your Kenya itinerary.
Places to Visit in Kenya
Kenya is blessed with some incredibly beautiful landscapes, whether that's the coast, the savannah, or Mount Kenya. And most of the top places to visit in Kenya are relatively near these locations, so it's truly a nature lovers dream.
The southern half and the coast have been enjoyed by generations of travelers, so they're a bit easier to navigate. Northern Kenya requires a bit more of a sense of adventure, but if you're in for the ride… go for it!
Backpacking Nairobi
Nairobi might not have the best reputation, but it's by far East Africa's most cosmopolitan city. It is often nicknamed "Nai-robbery" by backpackers, but don't let that put you away. As long as you protect your belongings and don't carry any valuables around, you can the city's beating heart and get a real feel for the country's promising future.
It has a number of great central markets where you can pick up arts, crafts, and souvenirs from all around the country. You can pick up some Maasai jewelry, wood carvings, and paintings on your way back home.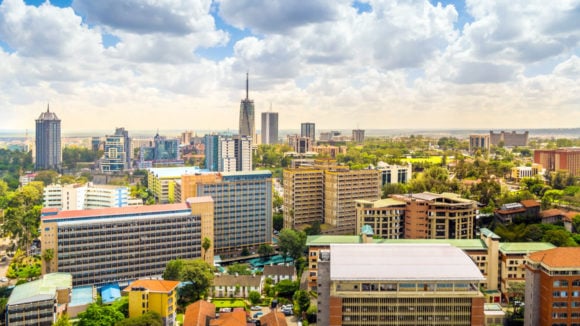 You can also head out on a safari within just kilometers of the city center. Nairobi National Park is something of an anomaly as you can literally spot giraffes and elephants against the backdrop of the city's skyscrapers. It's relatively small, so you can easily arrange a half or full-day trip.
Here are some of the best things to do in Nairobi:
Maasai Market: an open-air marketplace in the middle of Nairobi where you can pick up souvenirs and crafts.
Kenya Museum Society: A museum with exhibitions on East African traditions and history.
Nairobi National Park: Head out on a safari just a short drive outside of the city. It's one of the most accessible safari destinations in the world, and one of the only national parks that borders a capital city.
Karen Blixen Museum: You can tour the 1920s farmhouse where Blixen lived and wrote her famous memoir, Out of Africa.
Backpacking Maasai Mara National Reserve
Arguably the most famous safari park in the world, the Maasai Mara is an unmissable stop on any trip to Kenya. The reserve is contiguous with the Serengeti National Park across the border in Tanzania, and it's the best place in East Africa to spot the Big Five.
It's also the world-famous setting of the Great Migration, one of nature's biggest spectacles — over 2 million animals travel from Serengeti to Maasai Mara, from July to September.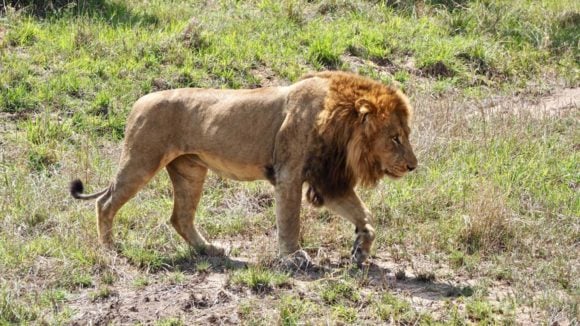 The reserve spans an area of around 1,500 square kilometers and is characterized by open grasslands dotted with acacia trees and small hills. Sunrise and sunset missions are the real highlights because that's when animals are most active and the lighting is killer for photos.
Most people visit the Mara on a safari package which includes accommodation, meals, and game drives — designed to take you close to the wildlife-rich spots. You've got packages with lodging inside the park included.
Backpacking Naivasha
Lake Naivasha is one of Kenya's real highlights of the Great Rift Valley. It's a shiny blue lake sitting at an elevation of just over almost 2,000 meters. It's not far from Hell's Gate National Park, so you can easily visit both in a matter of days.
The lake is rich in wildlife and there is a large hippo population living here. The surrounding forests are also home to buffalo, giraffe, monkeys, and a wide variety of birds.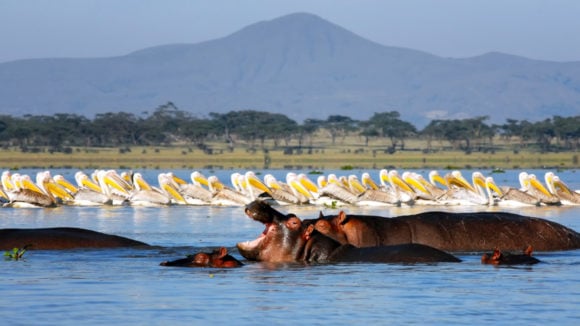 Lake Naivasha is the perfect place to relax and get away from the chaotic hustle of Nairobi, which is just 100km away. The town itself is a very typical Kenyan urban setting with not a whole lot to hold your interest. It's still where you'll find transportation to Nairobi and other destinations.
Most of the budget accommodation around the lake are also based in Naivasha town, but some can also be found further around in Karagita.
Backpacking Hell's Gate National Park
Don't be put off by the slightly daunting name, because Hell's Gate is a real treat to explore. The national park is just three hours northwest of Nairobi and slightly south of Lake Naivasha.
It's characterized by volcanic rock formations, deep valleys, and high escarpments that are enough to get any outdoorsy person excited. For many, it seems to fit the bill as the real-life inspiration for The Lion King!
Amidst the incredible natural beauty, you can spot wildebeest, buffalo, and lions within the 68-square-kilometer area. It's become increasingly popular among backpackers because it's much more affordable than the Mara — plus, you can self-tour the park on foot or two wheels.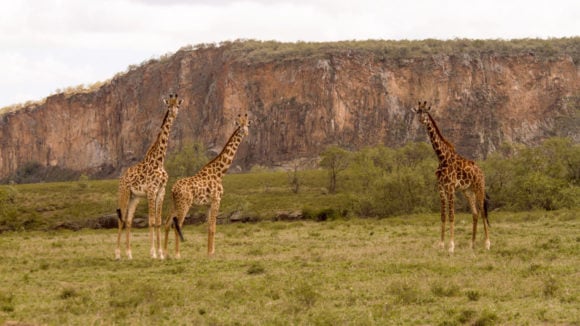 The easiest way of getting there is taking a minibus (or matatu) from Naivasha to the park's entrance (Elsa Gate). And the daily park fee is only $30! An absolute steal compared to other parks in East Africa.
You'll find plenty of bicycles to rent, but don't expect much in terms of quality. Be sure that you at least have working brakes and you should be fine! Adventure, remember?
If you've packed a tent, you can also camp inside the national park at a few designated sites. This is, of course, the best way to experience it and allows you to see it once all the day-trippers have gone home.
Backpacking Mombasa
Mombasa is the main hub of Kenya's Indian Ocean coast, and it's both rich in history and culture. It's a huge bustling city and a major shipping port, but you can easily find the city's charm amongst its historical sites. The Old Town area is where you'll probably spend most of your time.
Kenya's oldest city has a long history and a fascinating culture — an intoxicating blend of Arabia, India, and Africa. You'll feel almost in a completely different country here! And it's only really an introduction to the rest of the coast.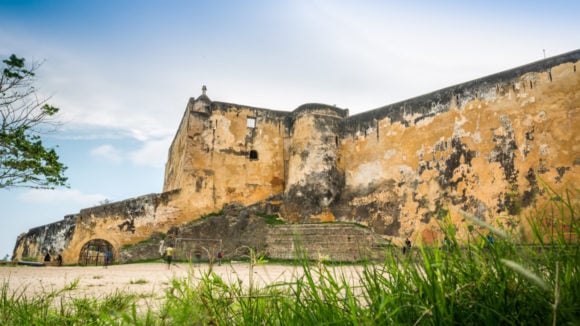 It's likely that you have to return here after traveling more of the coastline since it's well connected to Nairobi by both train and bus.
Here are some of my favorite things to do in Mombasa:
Fort Jesus: This seaside fortress is a UNESCO World Heritage Site and Mombasa's crown jewel. It was built by the Portuguese in 1593 and has stood the test of time as traders and colonizers have come and gone.
Old Harbour: This is a disused harbor but the old dhow boats that are still docked here make for a picturesque image.
Basheikh Mosque: The oldest mosque in the Old Town, it was built in the 13th century.
Mandhry Mosque: A beautiful 16th-century mosque in Old Town.
Spice Market: An aromatic and colorful experience in Old Town, on Nehru Road.
Travel CHEAP and Make a Difference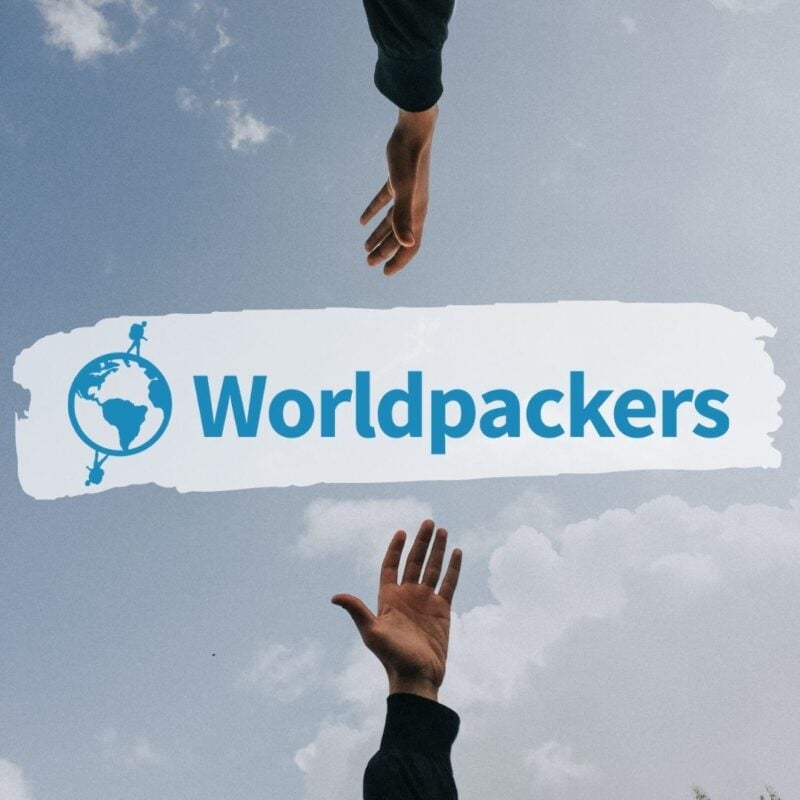 Worldpackers connects travellers with hostels, schools, NGO's and many more. Get free accommodation in exchange for volunteering a few hours a day. You won't just save serious $$$, you'll experience a different culture, cool projects, meet new people and integrate into the community in a different way.
Broke Backpacker readers get a $10 discount when you sign up. Use the discount code BROKEBACKPACKER. Plus, get 3 free months on your membership during their summer promo!
Travel well with Worldpackers
Backpacking Malindi
Malindi is the second largest coastal town in Kenya and it sits just 120km north of Mombasa. It's welcomed foreigners since Vasco da Gama landed there in 1498, and has since become a popular getaway spot for travelers in Kenya.
It's a bustling town and is not as laidback or charming as Kilifi or Watamu. Still, it makes for a great place to explore some sights and can be used as a transport hub for getting to more secluded spots on the coast.
The old town is an interesting place to wander and you can easily explore some of its history with its prominent Vasco da Gama pillar near the pier. However, its most enticing attraction is definitely the white sand and coconut palms on the water's edge.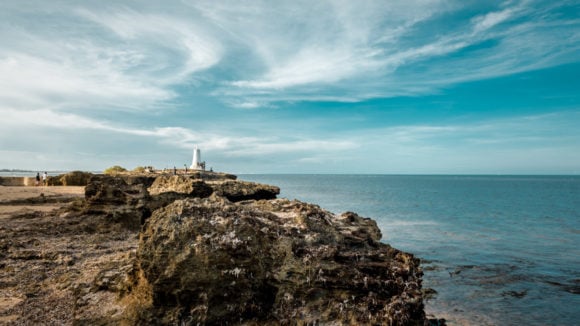 Once you lay your towel down there, you may never want to move. Off the coast, the Malindi Marine National Park has incredibly crystal-clear blue water and is perfect for snorkelling and cooling off after baking in the sun.
There has been considerable resort construction along the coast in Malindi, but you can still find some relatively cheap guesthouses to stay at. If you want to escape the big town, most backpackers tend just head slightly south to Watamu, which has incredible coral reefs to explore.
Backpacking Lamu Island
Off the northern coast of Kenya is the Lamu Island archipelago. The main island, Lamu, is one of the most incredibly dream-like and picturesque spots in the country. It's basically Kenya's version of Zanzibar, except a lot quieter and maybe a bit more charming.
The little island is just 10km long but it is one of the culturally richest places in the whole of Kenya. Lamu's Old Town is a UNESCO World Heritage Site, thanks to its stunning traditional Swahili architecture.
There are no vehicles on the entire island, so you'll be getting lost in the maze of streets with only locals and a few donkeys. The island is ringed by incredible sandbanks and floating dhow boats.
You can spend a few days by the beach, but if you're feeling restless, take a boat to Shela Village or Manda Island which are even more secluded.
If you're able to, time your visit with a festival. The Lamu Cultural Festival happens every August and the Maulidi festival celebrates the prophet, Mohammed, during the third month of the Muslim calendar.
To reach Lamu, you can either fly straight there — there are regular flights from Mombasa or Malindi which are relatively affordable — or take a bus from Mombasa to Mokowe, and from there a 25-minute ferry ride.
Backpacking Amboseli National Park
If you're in luck and Kili's lofty peak isn't shrouded in cloud, Amboseli is often considered one of the most picturesque national parks in all of Africa. The continent's highest mountain, Kilimanjaro, stands across the border in Tanzania but looms high over the park for an incredible safari backdrop.
The park is known primarily for its herds of elephants, but it's also home to cheetahs, wildebeests, giraffes, lions, and zebras. You can also spot over 370 species of birds in the park, making it a prime spot for bird watchers.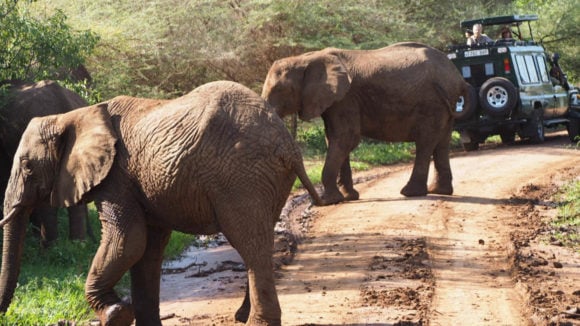 The park is not as big as the Maasai Mara, so a couple of days is usually enough to cover most of it. And just like the Mara, it's best seen on an organized tour or safari that you can book virtually anywhere.
You'll be close to Tsavo West National Park, which is just two hours away, so you can even combine the two for something a little different.
Backpacking Mount Kenya National Park
Mount Kenya is Africa's second-highest peak, sitting at over 5000m. This rugged, lofty extinct volcano sits in central Kenya, almost directly north of Nairobi, and the peaks are covered in snow and glaciers year-round.
It actually has three distinct high points. The highest two are technical climbs and are reserved for mountaineers with proper knowledge and gear. The last one is Point Lenana at 4985m, which you can summit and come back down in about five days' time.
In theory, anyone who is fit and able can climb up to Point Lenana, but around a quarter of trekkers fail mostly due to the sudden change in altitude. The weather conditions on the mountain are like nothing else in the country, so it'll require some preparation. Get a team of guides and porters, and you'll have one of the most thrilling experiences of your life.
Take your time and research into the tour operators before signing up and handing over any cash. You'll need experienced guides who know the mountain, camping, and cooking equipment.
While a full summit attempt is an incredible adventure to be had, you can also opt for shorter one or two-day hikes in the lower slopes. You'll get to take in the beauty of the landscape without risking altitude sickness.
Nanyuki is the closest town to the mountain and has some good accommodation options.
Backpacking Loiyangalani
Looking for a place none of your friends ever heard of? Head to Loiyangalani! It's unlikely for this town to come up in most backpacking Kenya guides, but to exclude it would be a real shame.
Loiyangalani is an incredibly fascinating place, and it should be your main destination if you're heading north. It lies on the southeast coast of Lake Turkana in northwest Kenya, and you can reach it via a bone shattering bumpy road from Marsabit.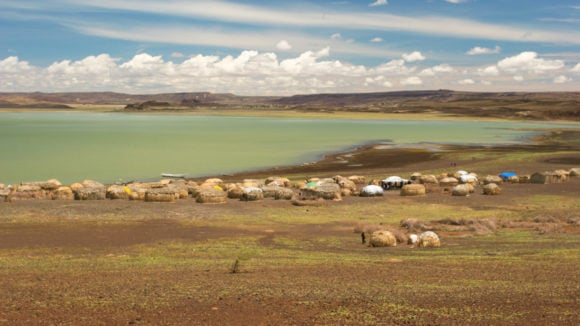 The town is a sort-of crossroads and home to some of Kenya's most interesting tribes, the Turkana and Samburu. Although there's not a whole list of attractions in town, the joy is in the journey of getting there and simply spending time with the local people.
The landscape is quite desolate and the harsh climate is a testament to the people who have called the area home for centuries. There is a local Desert Museum in town that is worth stopping by, but don't think too much about swimming in the lake as it's croc infested!
Getting Off the Beaten Path in Kenya
Kenya has one of the oldest running tourism industries in Africa, but it's still not too hard to get off the beaten path. Most people traveling here just head to the Mara and the coastal towns, with very few exploring elsewhere.
This means that if you prefer to travel without the crowds, you can easily have Kenya's landscape and culture to yourself.
Northern Kenya is by far the least visited area, and you'll likely not encounter another foreigner here for days. This is certainly Kenya's biggest adventure! You've got incredible cultural experiences and some crazy wildlife sightings waiting for 'ya.
However, if you're running low on time, you can try avoiding the crowds of safari jeeps and high-end resorts by opting for lesser-known parks and towns.
You can head to Tsavo West National Park and Tsavo East National Park, which are both between Nairobi and Mombasa and home to the Big Five. On the coast, try Tiwi Beach (south of Mombasa) or Kilifi to the north.
They might not boast recognizable names, but you can easily enjoy the highlights of Kenya without the crowds at these spots.
Is This the Best Backpack EVER???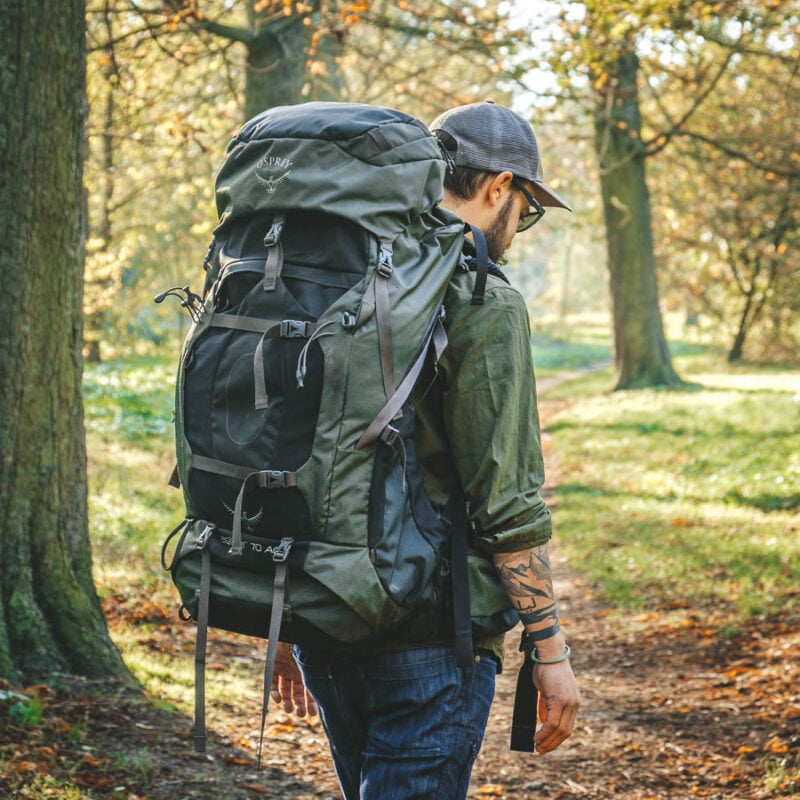 Top Things to Do in Kenya
Kenya packs a bunch of exciting activities for backpackers! To give you a little inspiration for the trip, I've put together a list of the ultimate things to do in Kenya:
1. See the Big Five on a Safari
Whether you decide to plan your own African safari on a budget or splash out on one of those more typical bougie tourist experiences complete with bucket hats and binoculars – a safari is easily the number one thing to do in Kenya. This is one of the best places in Africa to spot the Big Five, and with the number of national parks available here, you can easily hop around for weeks at a time.
Elephants, lions, leopards, rhinos, and buffalos — this is your chance to see them all. Maasai Mara National Reserve is the most popular and likely place to spot them all on the same trip.
2. Witness the Great Migration
Hold on tight, because you're in for one of the world's greatest spectacles. The annual wildebeest migration in Kenya is a once-in-a-lifetime experience and the reason most people schedule their trip between July-September.
The migration is the largest mammal migration in the world and is one of the most breathtaking sights you'll ever see. Two million wildebeests, zebras, and antelopes migrate from Serengeti National Park in northern Tanzania to Kenya's Maasai Mara National Park.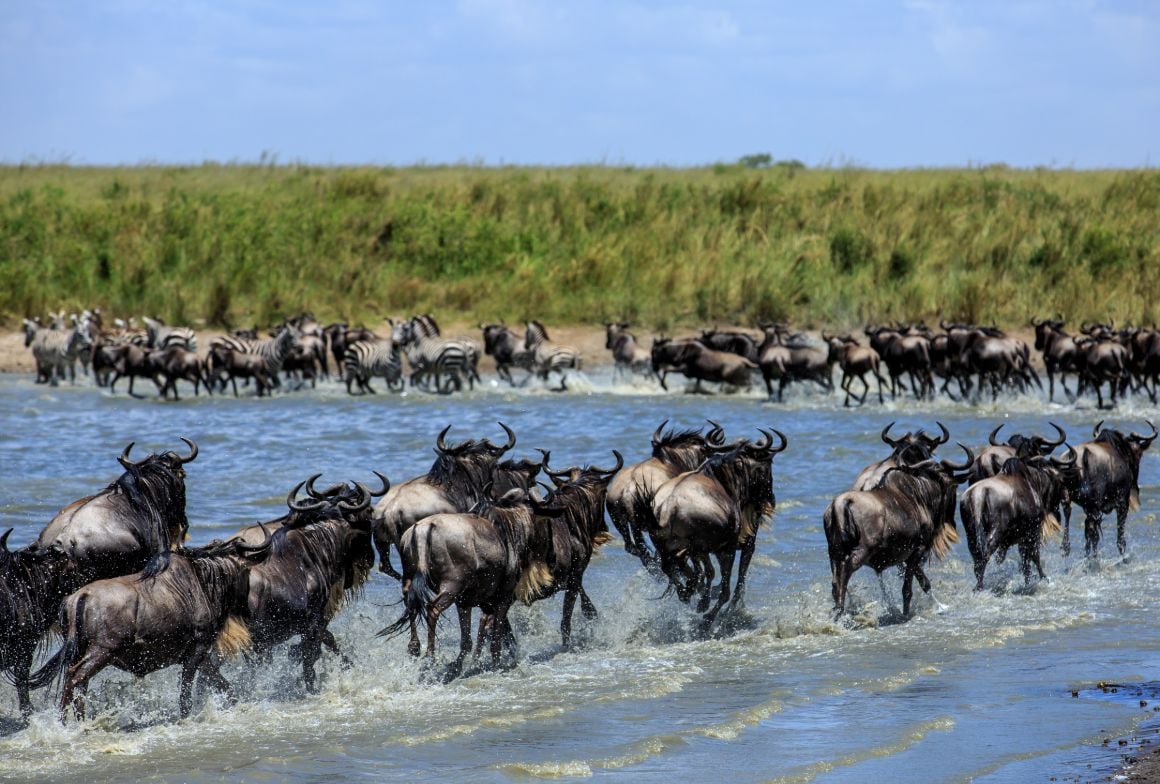 3. Climb Mount Kenya
If you're an outdoor enthusiast looking for the ultimate bucket list experience, climbing Africa's second-highest mountain is one of the best things you can do.
The two highest points of the peak are technical climbs, but Point Lenana is achievable on around a 5-day trek. It stands high up at almost 5000m!
If you don't want to attempt a summit trek, you've also got shorter options for 1 or 2-day hikes inside the national park.
4. Relax on the Beach
Kenya's Indian Ocean coastline is a true paradise. Adorned with palm trees, clear water, and white sandy beaches, the coastal towns in Kenya are an absolute delight.
This is the mecca of chill in Kenya. Come here if you're looking to rest and relax — there's plenty of opportunities to snorkel and explore the underwater world, too.
5. Explore the Old Town of Lamu
Lamu's Old Town is a UNESCO World Heritage Site and an incredible place to escape for a while. The small Swahili port town on the island of Lamu has an incredible blend of unique architecture and dhow boats floating in the water that reflect its Portuguese, Arabic and Indian influences.
Wander the skinny streets to admire the carefully preserved heritage and fascinating history of Kenya's coast.
6. Visit a Maasai Village
The Maasai tribe is one of the most fascinating in the world. They inhabit the southern part of Kenya, around the Maasai Mara and Amboseli National Parks.
They have been welcoming foreigners to their land for many years and villages often allow short visits by people wanting to have a brief glimpse into their traditional way of life.
This is something you don't wanna miss!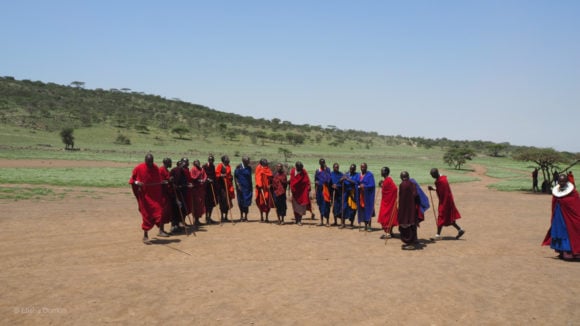 7. Eat Nyama Choma
If you a real foodie, you have to try nyama choma, Kenya's beloved national dish. And what is it, you may ask? Barbecued goat meat! They serve it on every possible occasion in Kenya.
You can also find it on most menus in restaurants. If you want to go full traditional, pair it with a side of ugali (maize) and eat it with your hands. Make your momma proud.
8. Cycle through Hell's Gate
One of the most unique African safaris you can do is a cycle tour of Hell's Gate National Park. The park is part of the Great Rift Valley and is characterized by a dramatic volcanic landscape.
There's a range of different activities in the park, but one of the best things you can do is to grab a bike and take a self-cycle tour. The trails are well defined, and you can spot zebras, wildebeest, and even lions as you ride.
Small Pack Problems? 😉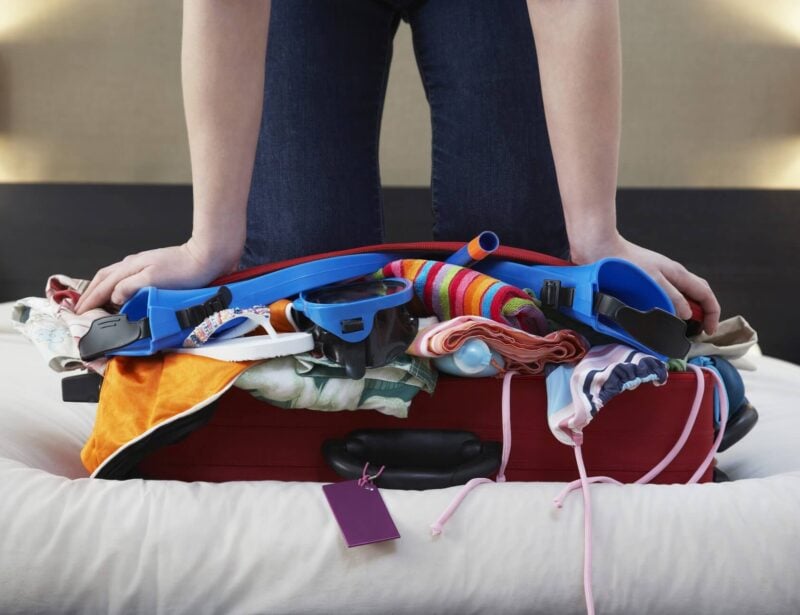 My missus travels with all her clothes in ziplock bags: don't be like my missus. UP YOUR PACKING GAME!
Packing cubes for the globetrotters and compression sacks for the real adventurers – these babies are a traveller's best kept secret. They organise yo' packing and minimise its volume too so you can pack MORE.
Or, y'know… you can stick to ziplock bags.
View Our Fave Cubes
Or Check Out the Sacks!
Backpacker Accommodation in Kenya
You'll find accommodation options in Kenya for every end of the spectrum, and while the safaris might take a toll on your wallet, you can still practice the art of budget travel!
Despite having a longstanding history of tourism, Kenya doesn't really have a solid hostel network. But that doesn't mean that it's expensive; you can still find plenty of affordable guesthouses in towns around the country.
As a country that prides itself on its protection of wildlife and the environment, there are many great and affordable eco-lodge in Kenya.
It's not uncommon to find private rooms in basic guesthouses for the price of a dorm bed in other countries, but you've got other options to save up.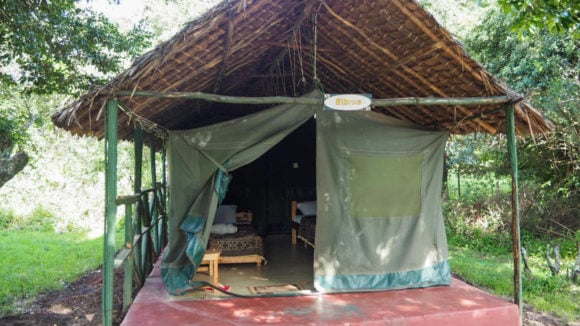 If you really want to travel Kenya on a shoestring, you can bring a tent and stay in campgrounds around the country — or wherever you feel like calling home, as long as it's not a massive lion's home already.
You can also try Couchsurfing or volunteering to save money, as you'll often get a much more real experience, and accommodation included in the package. Try checking Workaway, for example!
The Best Places to Stay in Kenya
Kenya Backpacking Costs
East Africa is generally a pretty affordable region to travel to, and it's been on the Africa backpacker circuit for many years now. The cost of living in Kenya is pretty low, so accommodation, transport, and food won't really break the bank.
In general, a safari will be the most expensive thing on your Kenya itinerary. These are expensive endeavors with exorbitant national park fees, but since most of it goes back to the conservation efforts, it ain't all that bad in the end.
Still, a safari or climb up Mount Kenya will easily blow your daily budget out of the water and there's not a whole lot you can do about it.
A realistic daily budget for Kenya is around $30-50 per day, and this includes a guesthouse room or dorm bed, daily meals, groceries, transport, and maybe a beer or two.
You can push it even lower if you eat 100% local, stick to the crowded minibus, and camp. Or Couchsurf and make new friends! Best to try Couchsurfing once Covid has subsided.
A Daily Budget in Kenya
A Daily Budget in Kenya

| Expense | Broke Backpacker | Frugal Traveler | Creature of Comfort |
| --- | --- | --- | --- |
| Accommodation | $10-20 for a dorm bed | $20-30 for a private room | $30-50 for a nice hotel room |
| Food | $2-5 | $6-10 | $10-20 |
| Transport | $0.50-2 for a local matatu | $8-12 for long distance buses | $50 for a domestic flight |
| Nightlife | Stay sober! | $1-2 for a beer | $3-6 for drinks at a trendy club |
| Activities | Markets and beaches (all free!) | $6-12 for museum entrance fees | $100-150 for a group safari in Maasai Mara |
| Total per day: | $15-30 | $50-60 | $200-250 |
Money in Kenya
The Kenyan shilling is the official currency. ATMs are scattered around the country, and you can usually always find one (even in small rural towns).
It helps to travel with a wad of cash though, as almost all shops, restaurants, and ticket offices will only accept cash from foreigners.
You should also keep small bills on you as much as possible and only use larger bills for paying things like accommodation. Most small vendors don't appreciate having to break large bills for a small purchase.
You can easily get cash out at ATMs with most foreign cards but in larger cities, you'll also find currency exchange shops.
Large expenses like safaris and treks are usually quoted in USD or Euros, but most of the time you can still pay in shillings as long as you can get that amount out of an ATM — and it will probably take a few withdrawals!
Travel Tips – Kenya on a Budget
Why Should You Travel to Kenya with a Water Bottle?
Plastic washes up on even the most pristine beaches… so do your part and keep the Big Blue beautiful!
You aren't going to save the world overnight, but you might as well be part of the solution and not the problem. When you travel to some of the world's most remote places, you come to realise the full extent of the plastic problem. And I hope you become more inspired to continue being a responsible traveller.
STOP USING SINGLE-USE PLASTIC! If you'd like some more tips on how to save the world.
Plus, now you won't be buying overpriced bottles of water from the supermarkets either! Travel with a filtered water bottle instead and never waste a cent nor a turtle's life again.
Save $$$ • Save the Planet • Save Your Stomach!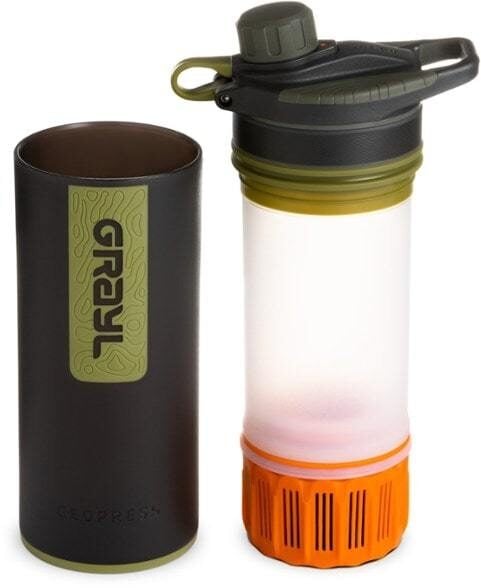 Drink water from ANYWHERE. The Grayl Geopress is the market's leading filtered water bottle protecting your tum from all the waterborne nasties. PLUS, you save money and the environment!
Single-use plastic bottles are a MASSIVE threat to marine life. Be a part of the solution and travel with a filter water bottle.
We've tested the Geopress rigorously from the icy heights of Pakistan to the tropical jungles of Cuba, and the results are in: it WORKS. Buy a Geopress: it's the last water bottle you'll ever buy.
Buy a Geopress!
Read the Review
Best Time to Travel to Kenya
Kenya's weather patterns can be a little unpredictable. It's a combination of hot, dry, and wet seasons, but you're unlikely to ever feel really cold unless you hike up Mount Kenya.
In general, the weather is hot and dry from December-March, and hot and wet from April-June when the long, heavy rains arrive. July-October is warm and dry, and November to early December might bring along a few short rainfalls.
The coast is slightly different, and its weather is influenced by the Indian Ocean's monsoon — this brings heavy rain from May to October.
The first high season in the country runs from December to January because that's when the weather is more pleasant across the country; the second coincides with the Great Migration (July-September), which is peak animal-sighting season.
Don't let the wet seasons in Kenya put your travels on hold, though, as the rains tend to come for only brief periods of the day. You'll also have fewer crowds in the parks and the landscape will be glowing green!
Festivals in Kenya
Kenya has surprisingly few festivals that are worth planning your trip around, but there are still a few that might interest you:
Lamu Cultural Festival: One of the best times to be in Lamu is during the cultural festival where the beauty and culture of the Swahili town are on full display. It happens every November for around 3 days and includes sailing, donkey races, and Swahili delicacies.
Maulidi: This one is also held in Lamu, during the third month of the Muslim calendar. The festival has been going since the 19th century and consists of traditional music, dance, art exhibitions, and dhow races.
Lake Turkana Festival: For a truly colorful and vibrant festival, this one is an incredible experience. The Lake Turkana Festival celebrates the Turkana tribe in Loiyangalani, on the coast of Lake Turkana. It runs every August for 3 days, showcasing traditional dresses, songs, and dances from 14 different tribes.
What to Pack for Kenya
If you're wondering what to pack for your Kenya trip, here's a list of my recommended essentials.
Somewhere to hide your cash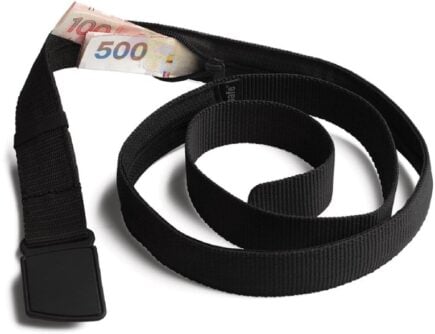 Somewhere to hide your cash
Travel Security Belt
This is a regular looking belt with a concealed pocket on the inside – you can hide up to twenty notes inside and wear it through airport scanners without it setting them off.
A travel water bottle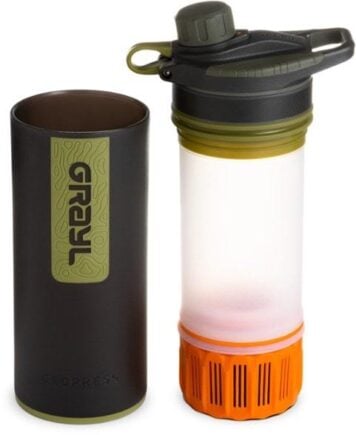 A travel water bottle
GRAYL Geopress Filtered Bottle
Having a filtered water bottle means you can drink from just about any source. The GRAYL Geopress is hands-down the most effective one we've ever used as well!
For those unexpected messes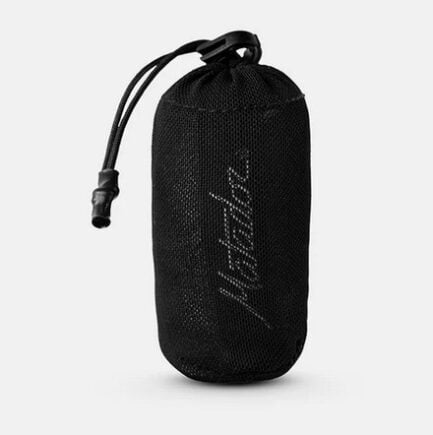 For those unexpected messes
Microfiber Towel
Hostel towels are scummy and take forever to dry. Microfibre towels dry quickly, are compact, lightweight, and can be used as a blanket or yoga mat if need be.
When the power goes out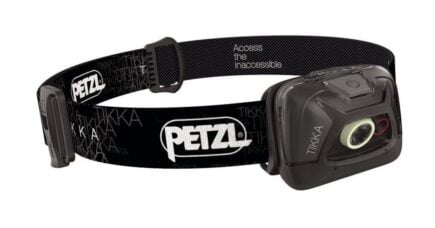 When the power goes out
Petzl Actik Core Headlamp
A decent head torch could save your life. If you want to explore caves, unlit temples, or simply find your way to the bathroom during a blackout, a headtorch is a must.
Sleep anywhere
Sleep anywhere
Camping Hammock
Taking a tent backpacking is not always practical but hammocks are lightweight, cheap, strong, sexy (chicks dig hammocks), and allow you to pitch up for the night pretty much anywhere.
To stay a clean backpacker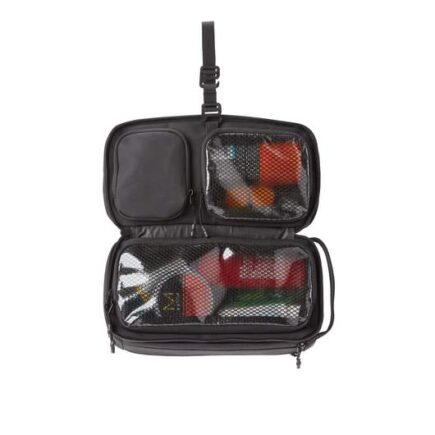 To stay a clean backpacker
Hanging Toiletry Bag
I always travel with a hanging toiletry bag as it's a super-efficient way to organize your bathroom stuff. Well worth having as it helps to have quick access to all your stuff.
Staying Safe in Kenya
While overall Kenya is a pretty safe country to visit, you've likely heard of stories related to crime and terrorist attacks. To get the bad stuff out of the way, there is a bit of a crime issue in major cities like Nairobi and Mombasa.
Pickpocketing is likely the worst offense that happens to foreigners. In crowded places, keep all of your valuables hidden or held in your hand. And keep your bags with you at all times — this is safe travel 101!
The other major issue concerning people is terrorism. There are foreign government travel warnings for much of the coastline of Kenya and towards the Somali border for this reason.
Attacks have happened in the past, with members of Al Shaabab entering Kenya from Somalia. The most well-known incident, and one of the worst, occurred in 2013 in Nairobi's Westgate Shopping Mall.
You should not ignore these situations, because they're very real. But you should also have in mind that not only are they not directed at tourists, but they're also not frequent. The situation has been stable even on the coast for some time now.
As long as you use common sense and your special backpacker powers — we do have a reputation, don't we? — you'll do just fine. Carrying a money belt with you is a fine way of keeping your essentials protected at all times.
As a female solo traveler, I can tell you I've never had any bad experiences, and I've traveled to Kenya on three different occasions. I can certainly vouch for the fact that it's a safe country for women and solo travelers too.
Sex, Drugs and Rock 'n' Roll in Kenya
Kenyans love to get it down on the weekends, and you'll find bars and clubs in major towns and cities around the country. Nairobi has by far the best nightlife and there are a variety of places that are open until sunrise.
If you're keen on a good drink and boogie over the weekend, definitely go for it. East African hip-hop and RnB is probably going to be the soundtrack.
Beer is the most popular drink, along with whiskey, vodka, and basically any other spirit you can think of. It's relatively cheap too, which helps, but make sure you maintain that common sense we've just talked about.
Drinking a bit too much can make you silly (and vulnerable), you know that!
Weed/hash and khat (a herbal stimulant that is chewed) are the most common drugs you'll come across in Kenya. It's not uncommon for the youth to smoke or chew, especially in the coastal areas.
Hard drugs are also becoming a prevalent problem in Kenyan society, however, I didn't come across anything during my time there.
Contraception is not as accessible and reliable as what you might be used to in your own country. And even though you'll find condoms at most supermarkets and pharmacies, I wouldn't rely on that. Come prepared!
Or don't come at all… eheh. But seriously, stay safe.
Travel Insurance for Kenya
You never know what can happen on the road, and Kenya is unpredictable! Getting good backpacker insurance is a good way to cover your ass in case things go south.
I've been using World Nomads for some time now, and already made a few claims over the years. You can even buy or extend a policy mid-trip which really comes in handy.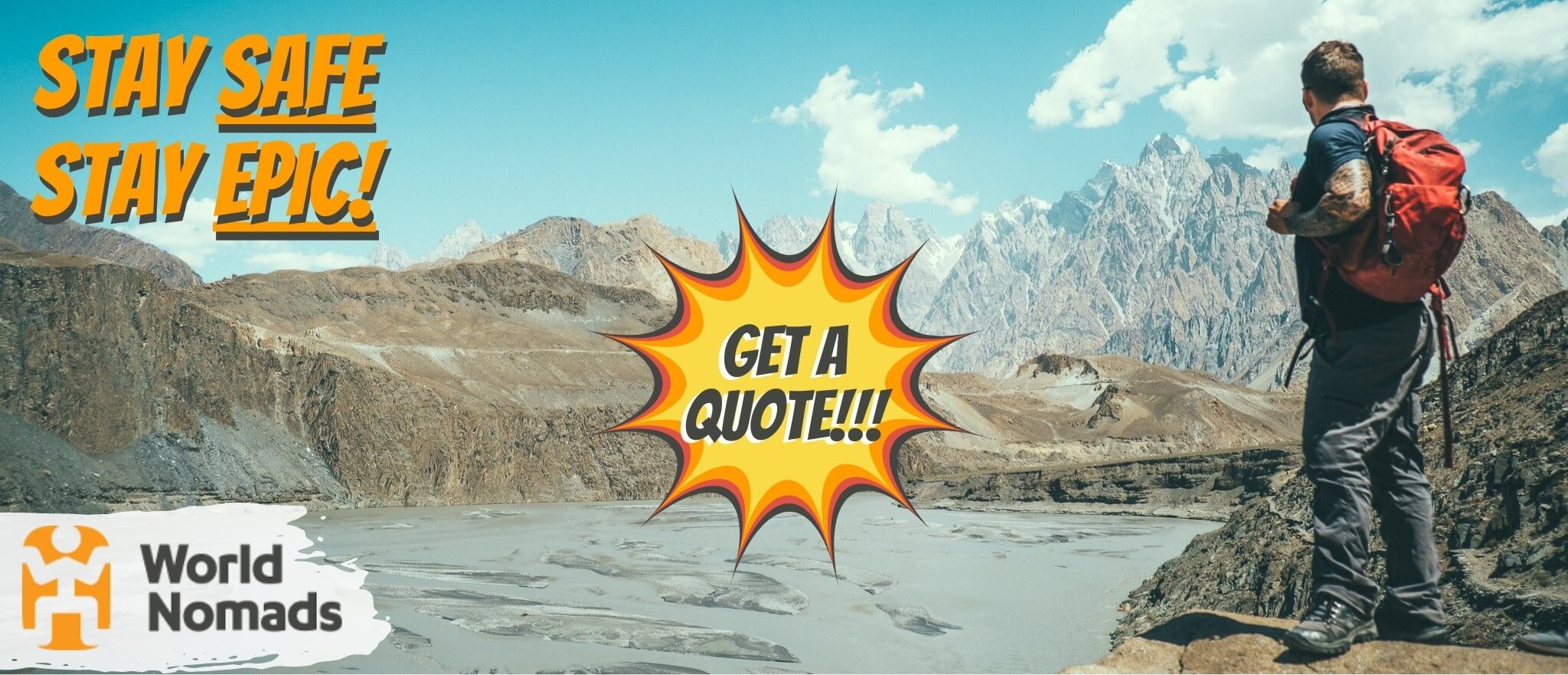 World Nomads' mission is to support and encourage travellers to explore their boundaries. They offer simple & flexible travel insurance, and safety advice to help you travel confidently.
They've been doing it since 2002 – protecting, connecting, and inspiring independent travellers just like you.
Get a quote below or read our in-depth review!
World Nomads provides travel insurance for travelers in over 100 countries. As an affiliate, we receive a fee when you get a quote from World Nomads using this link. We do not represent World Nomads. This is information only and not a recommendation to buy travel insurance.
Getting into Kenya
Most people arrive in Kenya by air. The main airport is Jomo Kenyatta International Airport in Nairobi, which is around 30 minutes to one hour from the city center. You can also fly into Mombasa at Moi International Airport, but it's not as commonly serviced internationally.
Crossing into Kenya overland is quite common for backpackers, particularly between the East African nations. The borders with Tanzania and Uganda are relatively easy to cross and can even be entered with an eVisa.
There are regular bus services from Tanzania to Kenya across five different border posts, although the Namanga crossing is the most common — it connects Arusha to Nairobi. But then you've also got Loitokitok…
Between Uganda and Kenya, there are two border crossings open. The most common is Busia, which connects Kampala with Nairobi with regular bus services. With other borders, things get a bit trickier — there are no open crossings from Somalia to Kenya, for example.
The Ethiopian and South Sudanese borders are more precarious and entry requirements change all the time. However, you can still cross them with appropriate visas from an embassy, it's just a long and arduous journey.
Entry Requirements for Kenya
Kenya's visa policy makes it relatively easy for most travelers to get in. People from the US, UK, Canada, Australia, New Zealand, and EU nations require a visa, but it's easy to get.
eVisas are the most convenient and you can apply for one online. They can take up to seven days to process and give you 90 days with a single entry. You can also get multiple entry visas, but the price is heftier!
If your plan includes other East African countries, you should absolutely consider an East African Tourist Visa. It allows you to roam freely between Kenya, Rwanda, and Uganda. And it runs for three months — you save money, and you save the hassle of getting individual visas.
Forget boring accommodation… book yourself an EPIC STAY!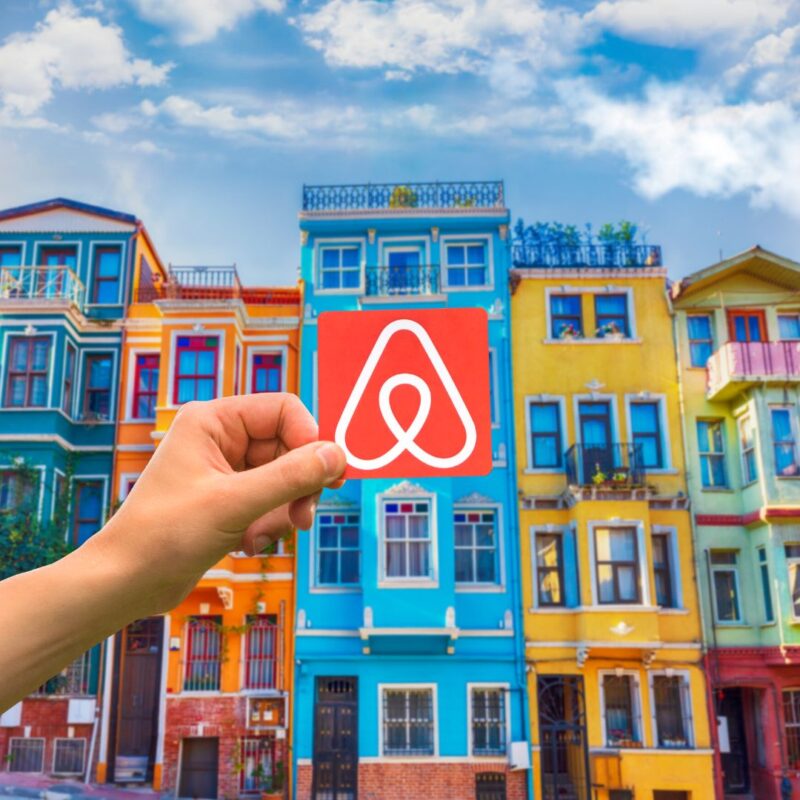 Why stay in a naff hotel when you can stay in a cosy, stylish local house instead? And for half the money too!
Stay somewhere EPIC and save your hard-earned dollars — from houses to barns to castles and caves, there is an Airbnb for every occasion!
Book an EPIC Stay
How to Get Around Kenya
Kenya is relatively easy to get around. You've got a wide range of transportation options depending on your budget and time constraints.
You can find domestic flights with Kenya Airways between Nairobi and regional cities. Even into national parks! It's best to book way in advance, especially during the high season.
Trains are not so common in East Africa, but the new high-speed Nairobi to Mombasa rail service is certainly something you should consider. It cuts the journey time from a full day on a bus to just 4.5 hours by train. A lower-class ticket is around $9.
By far the most common way of getting around Kenya is by bus. There is an endless network of buses and minibuses (called matatus), which service almost every town and city in the country.
Buses are all run by private companies, so comfort, quality, and speed vary wildly. Still, they're the most convenient and cheapest way to move around — unless, of course, you're a hitchhiking ninja. A bus ticket from Nairobi to Mombasa can cost around $6.
For all forms of transport, it's best to book directly at stations or ticket offices. You'll find bus ticket counters jammed up at major stops, but you can also pay directly to the driver.
Traveling by Motorbike in Kenya
Many travelers opt to bring their own motorcycle to Kenya, often as part of a bigger African odyssey. Your bike needs registration papers, insurance, and a valid driver's licence. You also need a Carnet de passage en douane, which is basically a passport for your vehicle to avoid paying import tax.
It's common for people to ship their bikes in and out of Kenya from Mombasa to other destinations, although this is obviously a pricey endeavour.
Having a motorbike allows you to explore the country at your own pace, and it can also enable you to see places that would otherwise be unreachable!
Be aware though that Kenyans are notoriously crazy drivers. If you're riding a bike, you're certainly the weaker element. Be aware of trucks and buses in particular, as they don't tend to care much about other vehicles.
Hitchhiking in Kenya
This is a common practice in rural parts of Kenya, and locals will certainly understand what you're doing. Flag them down on the side of the road, and good luck…
Hitchhiking is one of the main of getting around parts of Kenya where public transport doesn't reach. And it's one hell of an experience! Be wary though, as it's not necessarily the safest option as a foreigner — do it in pairs if you can.
Working and Staying Connected in Kenya
While most people don't think of Kenya as a remote-working hub, it's certainly possible to work and stay connected in Kenya. Nairobi is by far the best option, as there is a growing start-up and digital nomad community.
Nairobi is also a popular place to live for expats in general, with many aid agencies and international companies basing there.
The city has over 30 co-working spaces with Nairobi Garage in Westlands being the first and most popular. You've also got Ikigai with four different branches across the city.
Wi-Fi at cafes is not usually reliable, but getting a SIM card in Kenya is pretty cheap (and easy). Safaricom is the most reliable 4G provider, and you can always top it with more data. Pick one up at the airport or at one of their shops in Nairobi.
The Future of the SIM Card is HERE!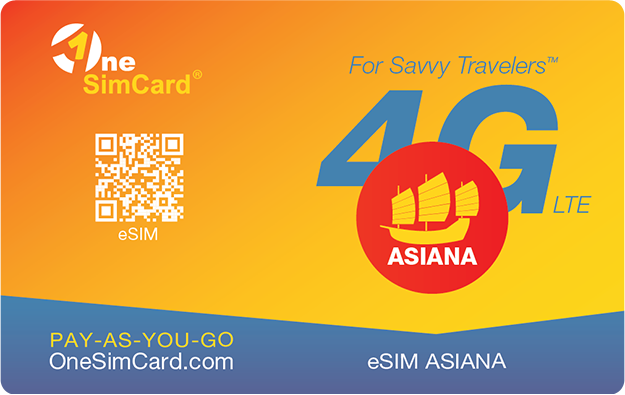 A new country, a new contract, a new piece of plastic – booooring. Instead, buy an eSIM!
An eSIM works just like an app: you buy it, you download it, and BOOM! You're connected. It's just that easy.
Is your phone eSIM ready? Read about how e-Sims work or click below to see one of the top eSIM providers on the market and ditch the plastic.
Buy an eSIM!
Teaching English in Kenya
Teaching English is probably one of the most popular options when it comes to volunteering in Kenya. Although many people in Kenya are relatively fluent, there is a constant demand for help in schools, especially in rural areas.
Most English teaching gigs are volunteer-based, with accommodation and food in exchange. However, with a course certificate from MyTEFL and a Bachelor's Degree, you can often find paid work teaching in private schools.
Volunteer in Kenya
Volunteering overseas is a great way to experience a culture whilst doing some good in the world. There are lots of different volunteer projects in Kenya which you can join ranging from teaching, to animal care, to agriculture to pretty much anything!
Kenya is a developing country where volunteers are always in high demand. Community development, social work, and teaching are all areas where backpackers can make a huge difference to small communities. You'll also find opportunities to help out with eco-projects, like tree planting or agriculture. Most travelers only need a tourist e-visa to volunteer in Kenya, which you'll need to have before arriving.
If you want to find volunteering opportunities in Kenya, then we recommend that you Signup for Worldpackers – a volunteer platform that connects local hosts directly with traveling volunteers. As a Broke Backpacker reader, you'll also get a special discount of $10 when you sign up. Just use the discount code BROKEBACKPACKER and your membership is discounted from $49 a year to only $39.
Volunteer programs run through reputable work exchange programs like Worldpackers are usually very well-managed and reputable. However, whenever you are volunteering, do stay vigilant especially when working with animals or children.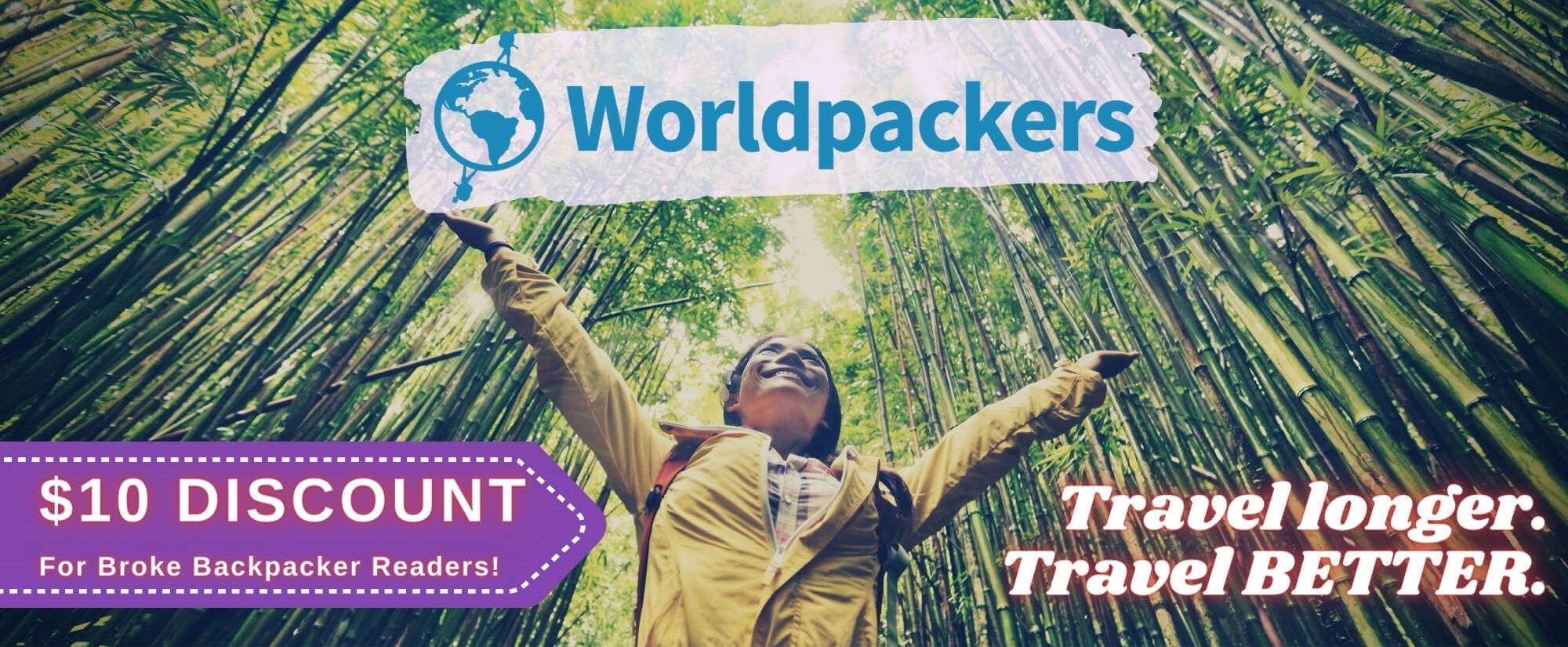 Worldpackers: connecting travellers with meaningful travel experiences.
What to Eat in Kenya
Food in Kenya has a plethora of influences from early Arab settlers to Indian railway workers. And while it might not be anything extraordinary to write home about, you should still try it! I found it delicious, and there's plenty of options for meat lovers and vegetarians alike.
Kenyan food is very carb and meat-heavy. The main staple is corn or maize, which is ground into coarse flour and then cooked into a thick paste/cake called ugali. This is then served as a side dish with a stew or sauteed spinach known as sukuma. For many backpackers, ugali is the one thing they have to learn to acquire a taste of in Kenya.
If you can't get into the ugali, rice is the other main carb staple and can be served instead of ugali. With a bit of a South Asian twist, you'll often find chapati or flatbread served with the stew, too.
Kenyans consider meat a staple to their diet, which is bad news for vegetarians. Nyama choma (aka grilled goat) is the national dish and is often on most menus, but you'll also find sauteed spinach dishes, sukuma, and plenty of other legumes as well.
The Best Food in Kenya
Here are some of the best foods that you should try in Kenya.
Nyama choma: Grilled or barbequed meat, usually goat, served with relish and eaten with your hands.
Ugali: Kenya's staple food dish is made of coarse, white maize meal cooked into a spongey cake. It's served with relish, spinach, and stew, and you eat it with your hands!
Mandazi: A sweet or savoury deep-fried dough, similar to a doughnut. You usually eat it in the morning with chai.
Chapati: Flatbread inspired from the Indian continent and served as a side dish to stews.
Githeri: A hearty bean stew made with an assortment of beans in a tomato sauce. It can sometimes come with potatoes!
Pilau: Another aromatic Middle Eastern-inspired dish in Kenya is pilau. This fragrant rice dish is usually made with beef or chicken.
Kenyan Culture
Kenya is far from a homogenous country in terms of ethnicity and culture. There are around 13 main ethnic groups and 27 additional groups scattered across the country.
There's also a significant portion of Kenya that is of non-African descent, with large populations of Indian, Arab, and European immigrants living here.
This makes Kenya a fascinating cultural experience. And one that you can't describe as one whole: from the Maasai villages in the south to the Turkana in the north, all the way through the Mijikenda tribe on the coast… you'll witness a change in language, dress, and traditions as you move from one side of the country to the other.
There is real distrust between some of the tribes in Kenya, too. It's not uncommon for a Maasai to tell you to never trust a Kikuyu and vice versa. Many of these animosities date back generations and are more tongue in cheek these days.
In general, the different tribes live together in relative harmony, although in rural Kenya they still tend to stick to their traditional territory.
Kenyans are incredibly friendly, heart-warming, and kind people. You will usually always be met with a big smile and a friendly chat, or a helping hand. The Kenyan people hold a dear place in my heart and is the main reason that I return to the country again and again!
Speaking Swahili – Useful Travel Phrases
It is believed that over 50 languages are spoken in Kenya, belonging to the various tribal groups in the country. However, English and Swahili are the two official languages. Swahili was adopted as a common language and is taught in schools so that the entire country can understand one another.
However, English is slowly taking over that role and most young people prefer to speak English, especially in Nairobi. The youngsters usually know their English well, but the older generations are more into their tribal language and Swahili.
Many people are multilingual, so it's unlikely that you run into a lot of communication barriers — although to me it just makes traveling more exciting!
Before you start your journey backpacking Kenya, be sure to learn a few useful phrases in Swahili:
Jambo – Hello
Habari gani – How are you
Nzuri – Fine
Kwa heri – Goodbye
Asante sana – Thank you very much
Unasema kiingereza – Do you speak English?
Sielewi – I don't understand
Samahani – Excuse me
Books to Read About Kenya
Out of Africa: By far one of the most famous books about Kenya. This is the memoir of Karen Blixen, who lived at the foot of the Ngong Hills and managed a coffee plantation from 1914 to 1931. The language can be a little hard to swallow, but it's a testament to the time it was written.
A Grain of Wheat: A fiction book set in the time of the Mau Mau rebellion in a small village. It's written by Ngugi wa Thiong'o who was 25 when Kenya received independence and reflects the struggles of colonialism in his work.
Dust: This book takes a more current look at Kenyan society. It starts with the violence that followed the 2007 presidential elections and questions the brutality in the society by going back to the time of independence. Shortlisted for the Folio Price in 2015!
Unbowed: A Memoir: This tells the story of the incredible woman who led an environmental and social movement to save the Karura Forest in Kenya. She tells her story as she went from peasant to movement leader to Nobel laureate.
Final Advice Before Visiting Kenya
There are very few places in the world that can offer this much variety in landscapes, wildlife, culture, and natural beauty. Kenya is truly one of the most memorable places that I've ever traveled to, and I'm sure you'll soon be on my side!
I hope this guide gave you the tools and motivation you needed to plan your Kenya trip. The country's been welcoming tourists for quite some time, so you're unlikely to run into any issues while navigating it.
Still, you should always keep in mind that you're a mzungo (a foreigner) in the country. Be respectful of the people, the wildlife and the environment. Take photos, but ask first. Leave your footprints, but no other trace behind.
Backpacking Kenya is a magical experience and one that I didn't know I needed so deeply. Enjoy your time there, amigos!
---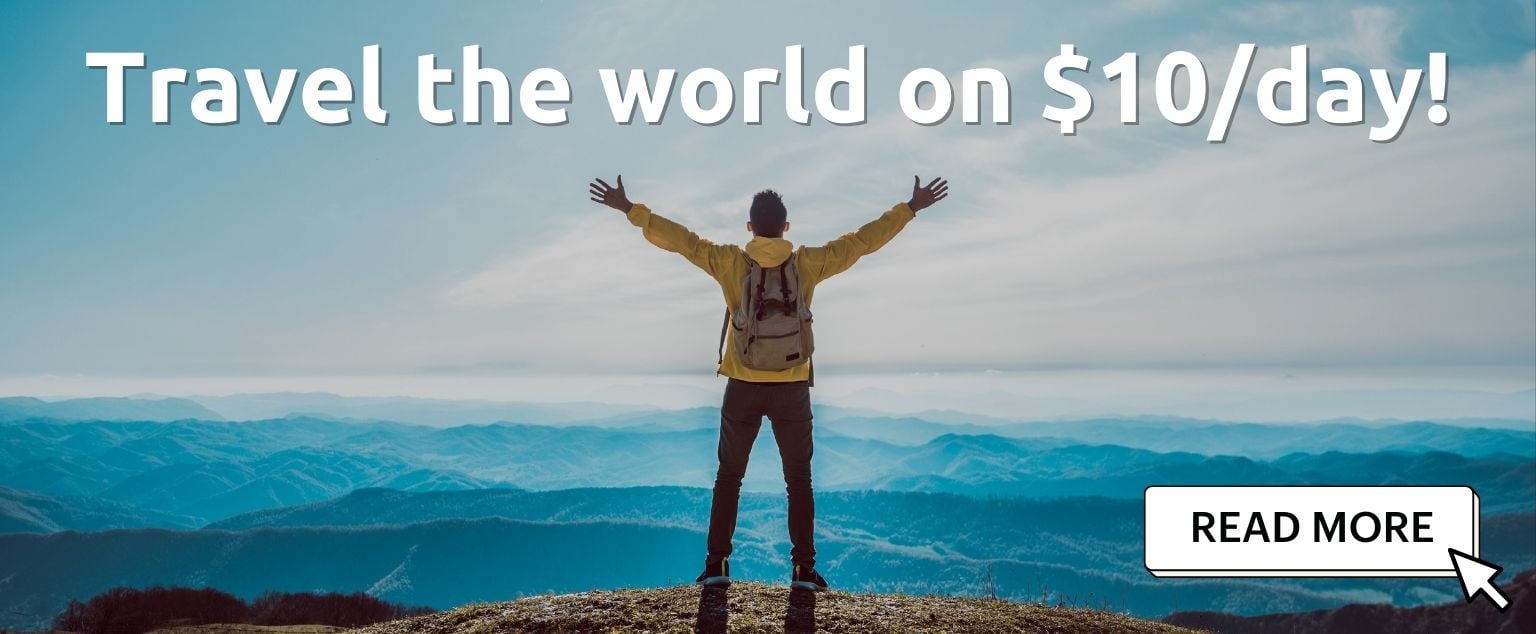 And for transparency's sake, please know that some of the links in our content are affiliate links. That means that if you book your accommodation, buy your gear, or sort your insurance through our link, we earn a small commission (at no extra cost to you). That said, we only link to the gear we trust and never recommend services we don't believe are up to scratch. Again, thank you!