With a varied landscape that includes dry savannah bushlands, snow-capped mountains, lush green forests, and an almost-tropical coastline, it can be hard to choose what to do and where to visit when it comes to Kenya. With all the confusion, the one thing you should make sure of is to see a few of the top national parks in Kenya.
Located in the center of Africa, with the equator running directly through the center of the country, Kenya boasts one of the most diverse and beautiful landscapes on the continent. You could snorkel in tropical oceans along the coastline, hike the peaks of towering volcanic mountains, cruise around the African savannah in a jeep vehicle, or swim in rock pools below incredible waterfalls.
Kenya's parks are home to some of the world's most unique and endangered wildlife and fauna. With iconic events like the Great Migration, where millions of wildebeest pass through the country's parks each year, you can only imagine the sheer quantity of wildlife viewing there is to do here.
What are National Parks?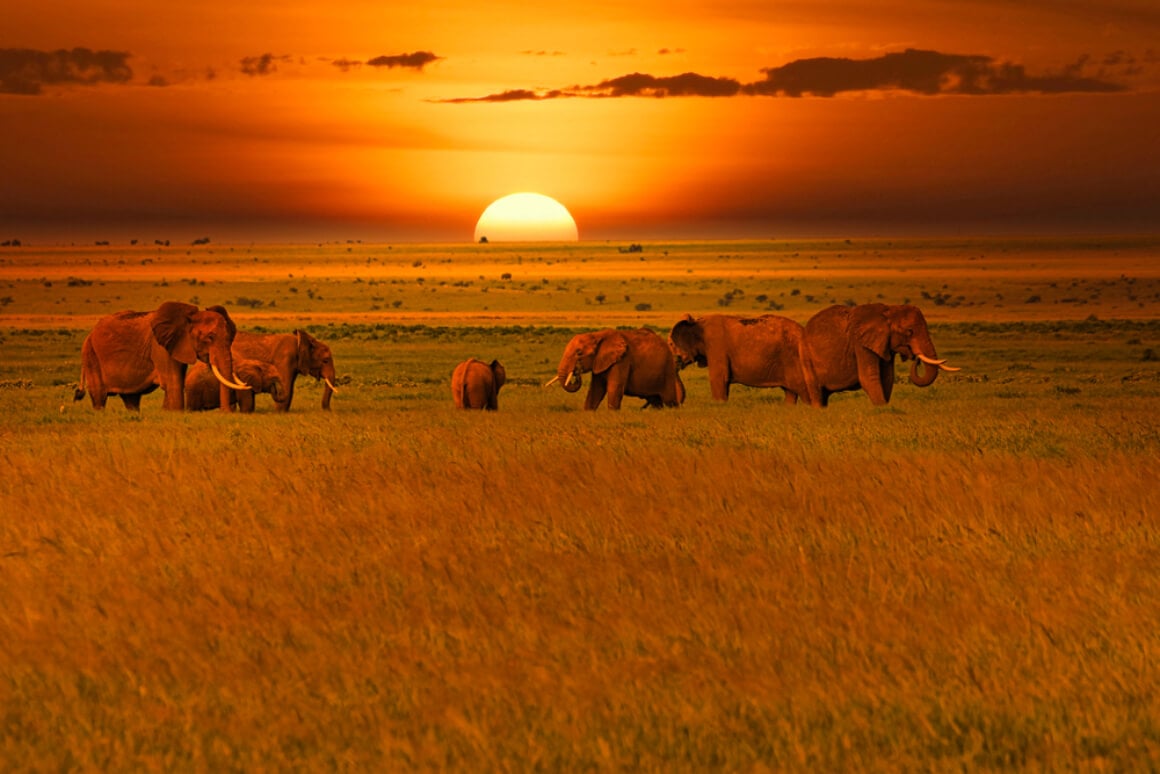 A national park is defined as an area of land that is protected for the preservation of wildlife. Like much of Africa, Kenya's national parks provide a massive source of tourism income for the country. Visitors travel from across the globe to explore these unchartered lands, enjoy jeep safaris through the African bush, and embark on exciting adventures across the wild landscapes.
Kenya boasts 24 national parks, not including an abundance of national reserves, marine parks, and private conservancies. These national parks are maintained and managed by the Kenya Wildlife Service, which oversees these precious areas' protection and conservation efforts.
The difference between a national park and a reserve is simple: parks are government-owned, while reserves are privately owned and managed. Everything else, from the principles they adhere to, to the rules and regulations about wildlife protection, are the same.
Naturally, the country's varied landscapes provide refuge to some of Africa's most exciting animals, including the iconic Big Five (lion, leopard, rhinoceros, elephant, and buffalo). Some national parks in Kenya allow you to do self-drive safaris in your own vehicles, while others request that you follow strict rules and only travel with the guidance of an expert.
If you're after some wildlife sightings, the best time to visit Kenya and the parks is during the dry season, at dawn or dusk – to be precise. The animals flock to the few waterholes to bathe and drink while temperatures are still cool, making it easy to find them across the vast landscape.
National Parks in Kenya
The beauty of Kenya is hidden in its raw and wild natural parks. With that, let's take a look at some of the most impressive parks in the country.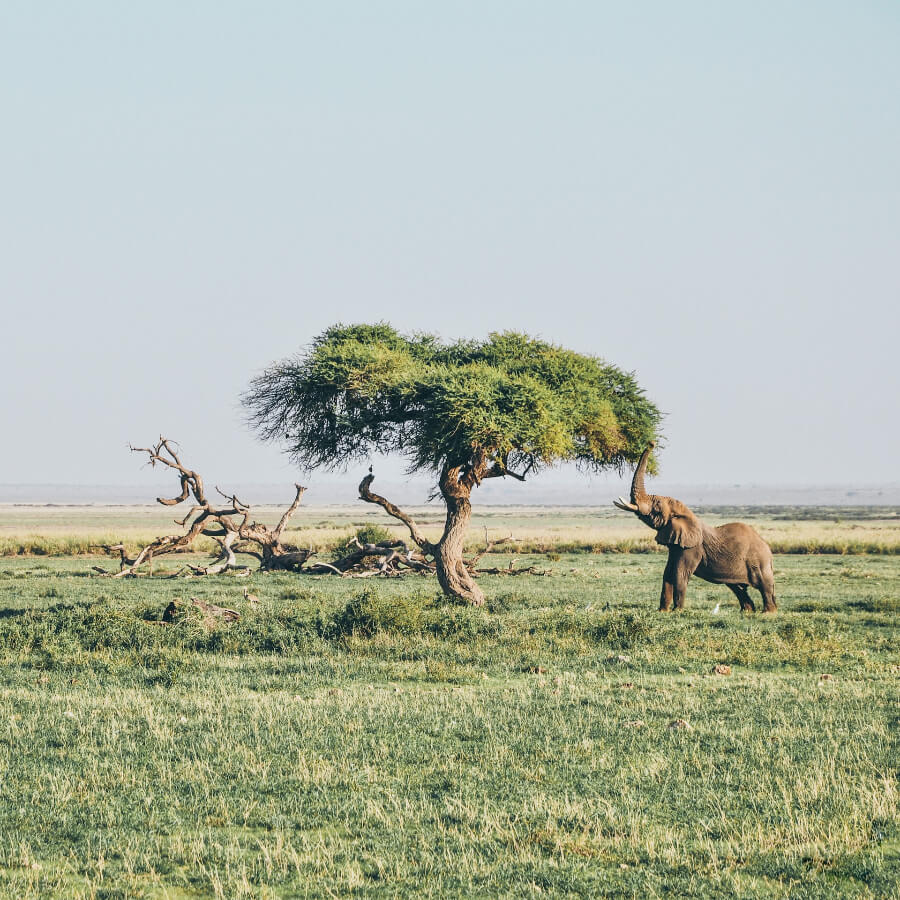 Size: 151 square miles
Location: Kajiado County, near Nairobi
Entrance Fee: $40 per adult per day during low season / $70 per adult per day during high season / $20 per child per day
Best known for its views of Mount Kilimanjaro and substantial elephant populations, Amboseli National Park is located on the Tanzanian border in Southern Kenya.
The name Amboseli is translated from the local Maasai language and means 'salty dust' – and you'll see exactly why once you step onto the dry salted mud that cakes the park. The region is home to some Maasai communities, that tourists can support by visiting their villages.
The park is the base of the Amboseli Elephant Research Project, which is, for sure, a significant influence on the large elephant population in the park. The project is one of the world's most celebrated elephant research organizations. There are around 1,500 elephants in Amboseli National Park in Kenya, and this population has remained stable for a long time.
Although this southern Kenyan park doesn't get as much annual rainfall as other parts of the country, the park maintains a year-round water source for its animals in the form of a swamp system. With a mountainous forest landscape, the park also attracts a bunch of predator cats like lions and leopards, as well as buffalo, giraffes, and antelopes.
One of the best places to view the swamps in all their glory is Observation Hill, which overlooks the marshlands regularly visited by elephants, hippos, and other safari animals. There aren't too many spots where you can watch as hippos bathe in the mud under a hazy blue sky with horizons as far as the eye can see.
Another one of the most incredible things about this park is its mountain views. Not just any mountain views, but world-class views of Africa's tallest peak – Mount Kilimanjaro. Where else can you photograph an African elephant with an uninterrupted view of one of the globe's most iconic volcanic mountains?
Where to Stay near Amboseli National Park:
The Kilima Safari Camp is set in the heart of Amboseli and offers gorgeous private rooms with views of the waterholes and Mount Kilimanjaro. The lodge also includes an onsite restaurant, an outdoor swimming pool, and, most importantly, guided day and night game drives.
Size: 1.2 square miles
Location: Trans-Nzoia County, Kitale
Entrance Fee: $20 per adult per day during low season / $25 per adult per day during high season / $15 per child per day
Although this Kenyan national park is pretty tiny, it has a particularly special purpose. Saiwa Swamp National Park is a sanctuary of the Sitatunga antelope, a rare and endangered semi-aquatic antelope.
The park is located near the town of Kitale in the Rift Valley Province and is the smallest national park in Kenya. With a varied landscape, including forest and wetland swamps, Saiwa is a haven for nature enthusiasts passionate about interesting insects and flora.
Those with a soft spot for flowers will go nuts for the swamp vegetation, which includes some of Kenya's most beautiful orchids. Swarming around the flowers and water's surface, these swamps are especially rich in dragonflies.
With its tropical wetlands and riverine forest filled with exotic trees and flowers, it is no surprise that the Saiwa Swamps attract many bird species. Among others, water birds found in the small park include the lesser jacana, grey heron, and African black duck. It's also the primary habitat of a rare De Brazza monkey.
On the fringes of the swamps, the tropical forests are home to even more colorful and unique bird species, who spend their days under the humid tree canopies. The forest is one of the few places where the Narina trogon lives, one of the country's most spectacular birds.
Naturally, one of the more common activities people visit the park for is bird watching and photography, taking advantage of the exquisite natural scenery.
Where to Stay near Saiwa Swamp National Park:
There are some tree-top huts and campsites in this national park in Kenya, as well as a day picnic spot and even an event site. The park has only one on-site tented camp, so make sure you book a space well in advance if this is where you'd like to stay.
The closest town to the wetland national park is called Kitale. If you're looking for a spot to rest your head near the park, the Cranes Suites Hotel is located 21km from the national park and offers guests a continental or buffet breakfast.
Size: 336 square miles
Location: East of Meru
Entrance Fee: $35 per adult per day during low season / $60 per adult per day during high season / $20 per child per day
When you first think of Africa, the image of cruising in an open-air safari jeep across remote savannah bushland probably comes to mind. Well, this is precisely the image of the Meru National Park, a rugged and remote park located in the Rift Valley.
This relatively large park is spread across various landscapes and terrains, from a thick jungle to rushing rivers to a prickly bush to a seemingly never-ending grassland. The park is one of the best known in the country (and largest, for that matter), with more average yearly rainfall than most other regions in Kenya.
As you might expect, this beautiful yet diverse landscape combined with abundant rain attracts thousands of animals who call the Kenyan national park home. On an average safari through the savannah, you might encounter a pack of lions, a herd of African bush elephants, and many zebra and giraffes. You might even spot an elusive leopard or cheetah in their natural habitats if you're lucky (usually during dusk and dawn and even once the sun has completely set).
The park is also home to the endangered eastern black rhinoceros and southern white rhinoceros, heavily protected by the national park rangers from poachers.
Believe it or not, the park was in utter despair and ruin due to poaching before the turn of the century. Between 2000 and 2005, the Kenya Wildlife Service, with the help of a few international organizations, turned the park around to become one of the most promising safari destinations in the country.
The park is a pretty far drive from Nairobi (about eight hours, to be precise), making it one of the more off-the-beaten-path national parks in Africa. To most (myself included), this is what makes Meru so unique. You won't have to worry about bumping into other tourists on their own safaris here.
Where to Stay near Meru National Park:
There are tons of spots where you can set up camp within Meru National Park. However, if you're a sucker for a comfortable bed, mosquito protection, and a Wi-Fi connection, the Ikweta Safari Camp in Maua is an excellent option.
Size: 1.6 square miles
Location: Lake Victoria
Entrance Fee: $20 per adult per day during low season / $25 per adult per day during high season / $15 per child per day
Set just off the Kenyan mainland in Lake Victoria, Ndere Island is one of Kenya's national parks with an impressive array of fauna and flora. Lake Victoria is the biggest lake on the African continent, bordering Tanzania, Uganda, and Kenya in central Africa.
The island sits surrounded by water just off the local village of Kamuga. However, the largest town in the area is called Kisumu, further north up the lake. It will take about forty-five minutes to get from Kisumu City to Ndere Island National Park by speed boat.
With no human infrastructure or interference on the island, Ndere island is a serene park that acts as a haven for all sorts of birds, insects, and animals. The small island is less than two square miles big and is mainly covered in grassland where you can find some zebra, impalas, antelope, waterbucks, and warthogs.
Bird watching is one of the most popular activities here, with over one hundred different species of birds to spot. If you're patient enough (with some luck on your side), you could spot an African fish eagle or grey-headed kingfisher diving into the water. Remember your binoculars!
The scenery from this national park in Kenya is exquisite, with views of Kampala in Uganda in the distance across the lake, the Homa Hills, and Magenta Island. I wouldn't consider the island safe for swimming, with the odd Nile crocodile and snakes hiding below the surface.
Where to Stay near Ndere Island National Park:
Since there is no accommodation on the actual island, you'll have to find a place to stay in the small village of Kamuga on the mainland. This spacious villa is set on a gorgeous farm overlooking the ocean and is spacious enough to fit your whole family.
Size: 296 square miles
Location: East Rift Valley, Aberdare Mountains
Entrance Fee: $35 per adult per day during low season / $60 per adult per day during high season / $20 per child per day
For a change of scenery from the traditional African bushland safari, Aberdare National Park is a luscious forest set between gorges at the base of the towering Aberdare mountain range.
Aberdare is in the heart of the Great Rift Valley, with expansive moorlands, dense forests, and impressive waterfalls framing the backdrop of the national park. The park has its fair share of the game, too – large wildlife, including the giant forest hog, wild African elephants, and different antelope species, roam the moorlands and forest floors.
But what makes this Kenyan national park so unique from others in the area are the incredible waterfalls that flow with so much force during the rainy months. The picturesque forest ravines provide a habitat for some incredible monkeys and baboons, as well as the golden cat, serval cat, civet, and African wild cat.
When you visit the park, you can indulge in an off-the-beaten-track picnic or camp in the moorlands. Bird watchers rave about this spot for its incredible diversity of birds, with over 250 species of birds calling the park home. My favorite activity is trekking or hiking through the wild forests, which are often overgrown so much that they can make you feel like you're living in a scene of 'The Jungle Book', so be sure to pack your hiking boots.
If you're familiar with the park name but are not sure from where, you've likely heard about the famous Treetops Hotel, which was made famous by the British Royal Family. It was here where Princess Elizabeth was staying when her father died in 1952, subsequently being crowned as queen.
Where to Stay near Aberdare National Park:
Can you believe that you can rest your head in a gorgeous African lodge right in the heart of this national park? The Ark Lodge is located right on the banks of a waterhole, providing year-round animal viewing from just about every guest suite at this lodge in Aberdare National Park in Kenya.
Have you sorted your accommodation yet?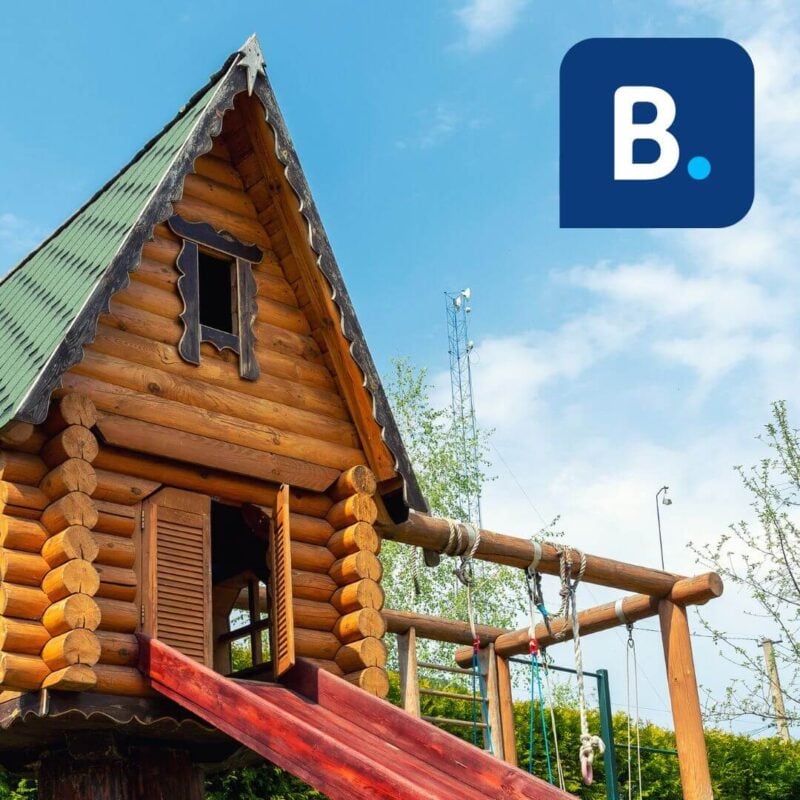 Get 15% OFF when you book through our link — and support the site you love so dearly 😉
Booking.com is quickly becoming our go-to for accommodation. From cheap hostels to stylish homestays and nice hotels, they've got it all!
View on Booking.com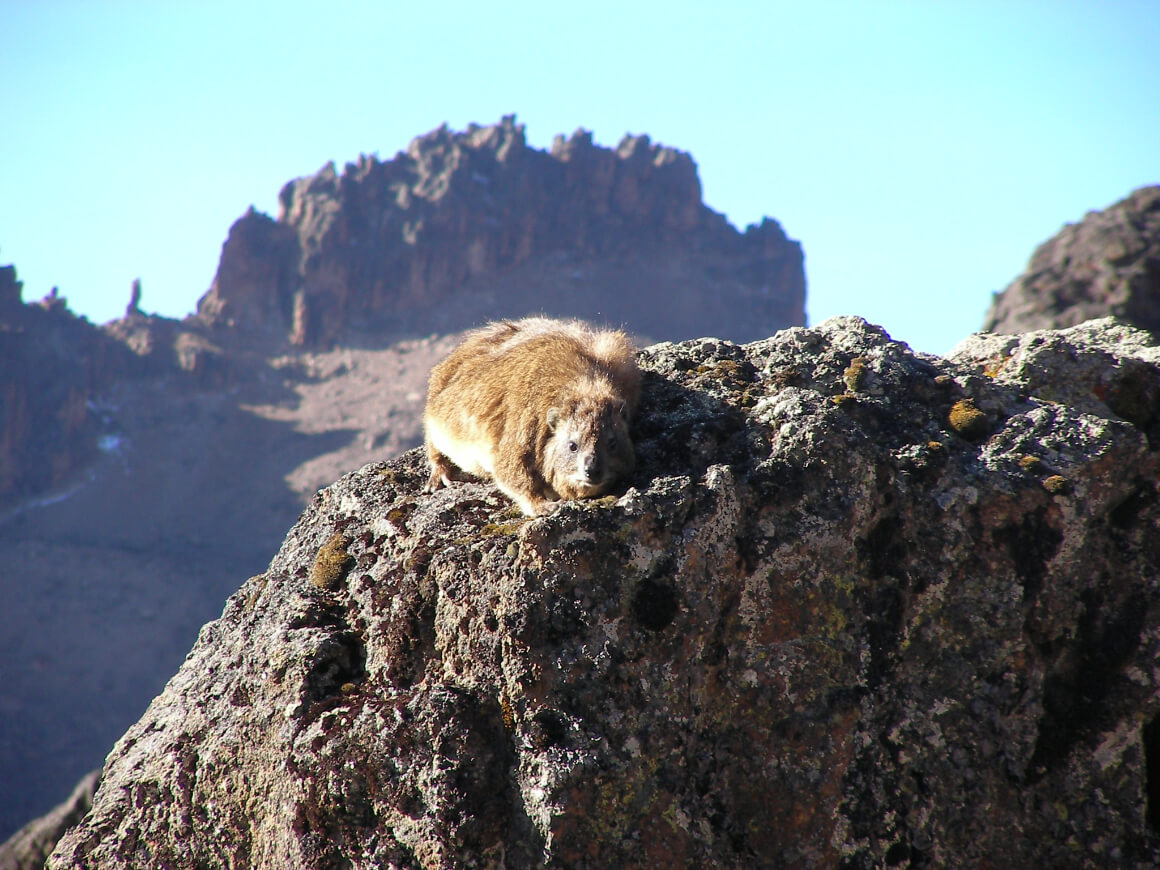 Size: 276 square miles
Location: Nyeri
Entrance Fee: $30 per adult per day during low season / $52 per adult per day during high season / $20 per child per day
There's no doubt about it – Mount Kilimanjaro steals the show when it comes to Mountains in East Africa. That being said, we can't forget about Mount Kenya – the second-highest mountain on the continent, reaching 17 thousand feet high. Hikers travel from across the world to conquer the peaks of this snow-capped mountain, just like they do with Kilimanjaro.
Designated as a UNESCO world heritage site, the mountain's scenery is absolutely breathtaking. In fact, many aren't even aware that the mountain is surrounded by a national park dotted with lakes, glaciers, forests, and mineral springs.
In and amongst the varied terrain, which changes drastically from one point in the park to another, there are tons of endangered animals and rare plant species. The high-altitude plains and unique alpine environment are suitable for vegetation and animals not usually found in other parts of the country.
The best time to visit the park is between December and March when temperatures are more stable. As you might expect, Mount Kenya is popular with hikers, climbers, and campers. Even the odd cave-hunter can be found scaling the tricky terrain in search of unchartered caves.
Don't be fooled; these hiking trails are not for the faint-hearted. Like Mount Kilimanjaro, hikers should come prepared and trained for a strenuous multi-day adventure, hiking through arid rocky cliffs and around desolate glaciers.
Where to Stay near Mount Kenya National Park:
You can't get accommodation closer to Mount Kenya than the Bessotted Farmstay. This gorgeous farmhouse in the Kenyan national park is entirely remote and will make you feel disconnected from the world. The magnificent property has a shared lounge and garden and includes a continental breakfast served daily.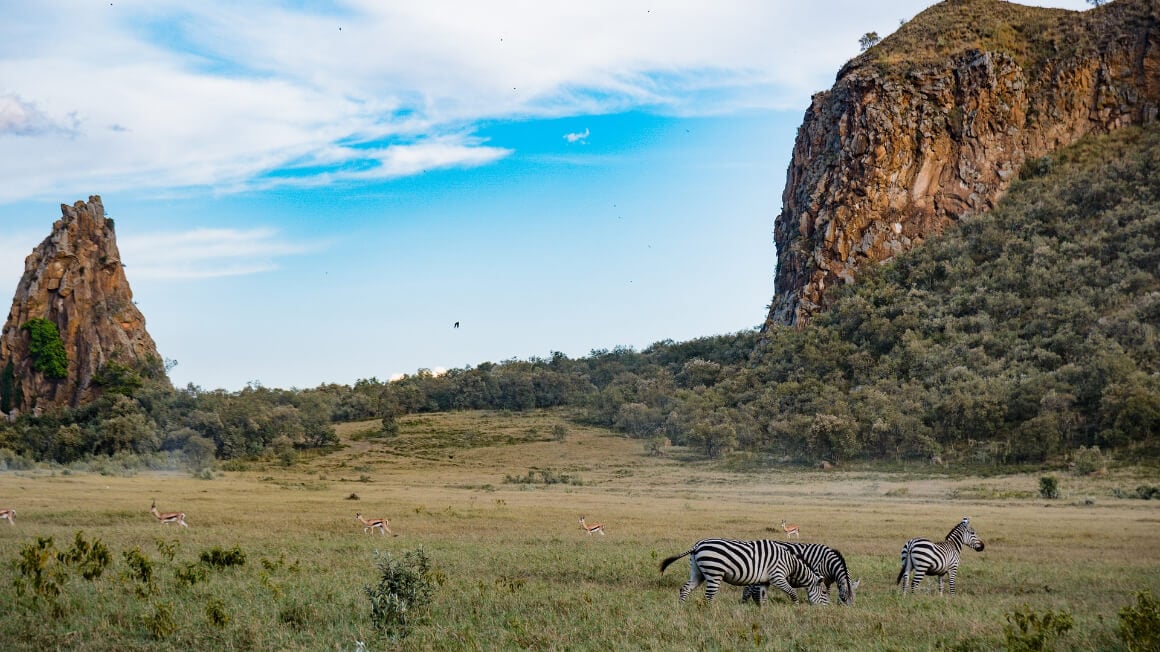 Size: 26 square miles
Location: Nakuru
Entrance Fee: $20 per adult per day during low season / $30 per adult per day during high season / $20 per child per day
Named for the incredible geothermal activity within its borders, Hellsz` Gate National Park is an impressive park that offers a chance for visitors to venture into the wild side of Kenya. Located in the Great Rift Valley, near the town of Nakuru, the park is best known for its fantastic scenery and views.
Hells Gate isn't too far from Nairobi, making it an excellent place for a day trip from the capital. Alternatively, flying to the local airstrip at Naivasha is the quickest way to get to the park from Nairobi.
You can expect some otherworldly scenery here, which I can only compare to national parks in the United States. From towering cliffs, water-carved gorges, and rock formations towering in the sky to belching fumes released from geothermal pockets under the ground, it is a pretty spectacular place to visit.
The park is centered around two extinct volcanoes surrounded by prehistoric molten lava rocks and red cliffs. This place is totally unpredictable and is a sure way to make you feel like you're living in another era.
Most visitors visit this Kenyan national park to marvel at the intense geography and landscape, while others come for rock climbing or mountain biking. If you prefer a more relaxed national park experience, there are even a few natural spas and hot springs where you can enjoy a slow soak in the mineral-rich waters.
Other than impressive geographical landmarks, Hells Gate is also home to some incredible wildlife. Driving through the park, don't be too surprised if you wander into a herd of buffalo, zebra, eland, hartebeest, or baboons.
Where to Stay near Hells Gate National Park:
Just outside the entrance to the national park, Milima House Kedong Naivasha is a well-kept home with space for six guests. The house includes a swimming pool and spacious living area and is decorated with funky African-inspired interiors. What more could you ask for?
Size: 73 square miles
Location: Nakuru
Entrance Fee: $40 per adult per day during low season / $70 per adult per day during high season / $20 per child per day
Within driving distance of Nairobi, Lake Nakuru National Park is one of the more popular parks in the capital region. The lake is a UNESCO world heritage site located on the Great Rift Valley, which created the lake millions of years ago.
The town of Nakuru is located right by the Mau Mau Cave, where guerilla soldiers used to camp out during the Mau Mau uprising against British colonialism in the 1950s.
While there are quite a lot of tourists who visit the park, it's not without good reason. Lake Nakuru National Park in Kenya is an easy spot to fit a game drive, birdwatching, hiking, and a leisurely picnic into a single-day visit.
In fact, birdwatching is one of the more popular activities here, thanks to the 450 different bird species recorded in the park. With high algae levels, the lake is a particularly great place to spot water birds like flamingoes and fish eagles.
The best time to visit for birdwatching is in the spring and fall months when migratory birds pass through the area en route to southern Africa from Europe and vice versa.
Once a year, a 31-mile cycling race known as 'Cycle with the Rhinos' takes place around the lake, raising funds for the endangered rhino species across the country. Of course, the park is home to a few herds of white rhinos itself.
Surrounded by tall hills and mountainous ridges, there are a few viewpoints around the lake that provide impressive views. Head to the Lion Hill Viewpoint or Baboon Cliffs for some of the most incredible valley and lake views.
Where to Stay near Lake Nakuru National Park:
Make yourself at home at the gorgeous Punda Milias Luxury Bush House in Nakuru town. The house is surrounded by wild gardens and includes four bedrooms with space for eight guests. Another plus? It's only a fifteen-minute drive to the Lanet Gate at the Lake Nakuru National Park in Kenya's entrance.
Size: 45 square miles
Location: Nairobi
Entrance Fee: $40 per adult per day during low season / $60 per adult per day during high season / $20 per child per day
Closing off our list of national parks in Kenya, Nairobi National Park is a compact park located on the border of the capital of Nairobi. As you might expect, the park is extremely popular with day tourists, who can visit the park from the capital within just a short drive.
The park was Kenya's first national park and is the only park in the world located within city boundaries. It might feel a bit staged standing on an open savannah plain watching lions stalk their prey with a city skyline in the background, but this park is no zoo.
It boasts a variety of wildlife, from lions to leopards to buffalo and even the odd endangered black rhino. To protect the rare rhinoceros, the park maintains a successful conservation program that has rehabilitated and 'restocked' other parks with rhinos thanks to their breeding program.
Even being so close to the largest city in the country, the birdlife in the park is second to none. With over 400 species of birds floating around the park, it's an excellent place to do birdwatching.
This Kenyan national park has several picnic spots and walking trails around animal hotspots, making it perfect for a day trip from Nairobi. You can also buy a car pass and drive yourself through the park on a self-guided safari. However, game drives are always the best when guided by an expert who is trained to know where and when the most exciting wildlife will be.
Where to Stay near Nairobi National Park:
If you do have time for an overnight visit, you could camp at one of the designated campsites, including the Nairobi Tented Camp or Ololo Lodge.
While you can stay in the bustling city of Nairobi, it's always more charming getting out of the city and experiencing the great African bush. Nairobi National Park is dotted with gorgeous tented camps and luxury villas to stay in. You won't be disappointed with a stay at Kampi Ya Karin, a self-catering home with exquisite park views.
Final Thoughts
With 24 national parks, 15 national reserves, six marine parks, and a bunch of private conservancies choosing where to go when you visit Kenya can be overwhelming. The country is full of diverse terrains and landscapes, from dry bushland to luscious green forests to a beachy Indian coastline.
Whether you have time to venture out into the countryside or only have a few days to spare near the capital of Nairobi, there are enough national parks in Kenya to suit every budget and type of adventure.
If you're making a trip to Africa, do yourself a favor and don't miss out on a traditional African safari adventure. It is a once-in-a-lifetime experience to view the Big Five up close and personal in their natural habitats. The top safari parks on this list have to be Amboseli and Nairobi National Parks.
---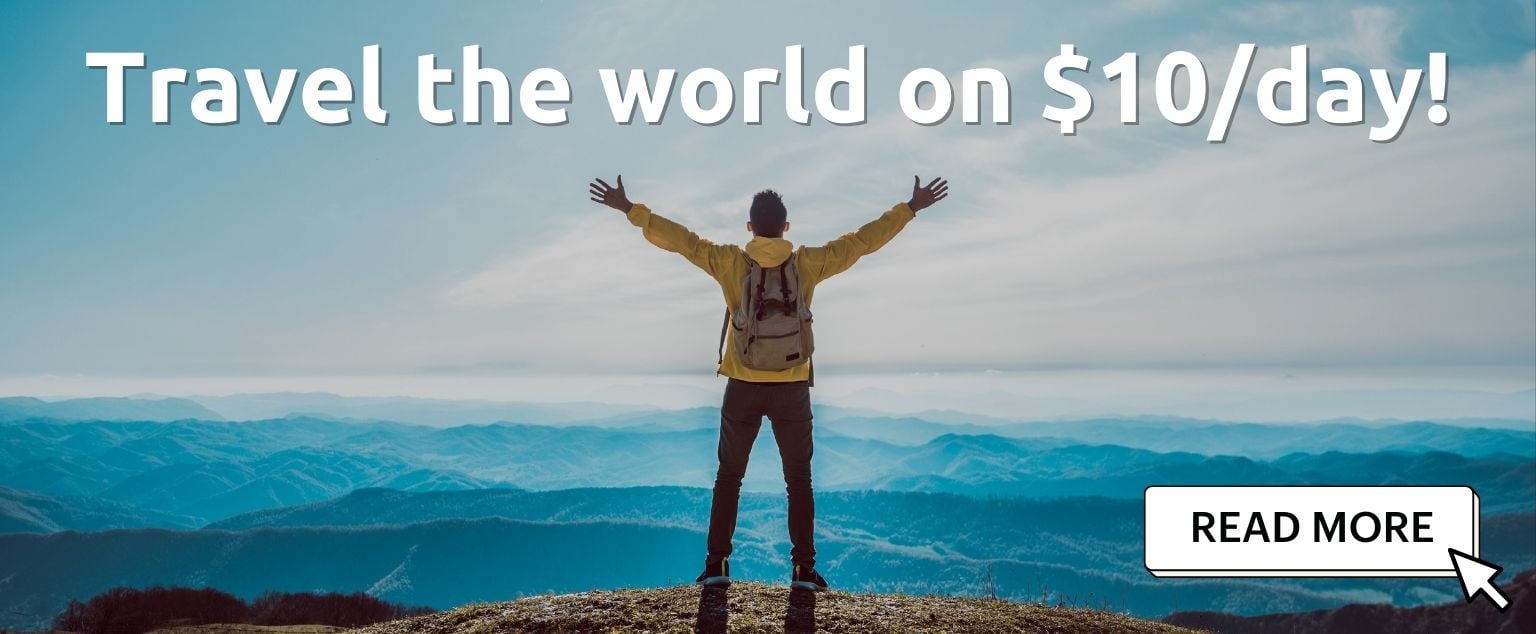 And for transparency's sake, please know that some of the links in our content are affiliate links. That means that if you book your accommodation, buy your gear, or sort your insurance through our link, we earn a small commission (at no extra cost to you). That said, we only link to the gear we trust and never recommend services we don't believe are up to scratch. Again, thank you!