Welcome to our ultimate list of the best travel binoculars!
From birding to hiking, there are hundreds of uses for a pair of travel binoculars. What's not to love about seeing nature up close and in detail?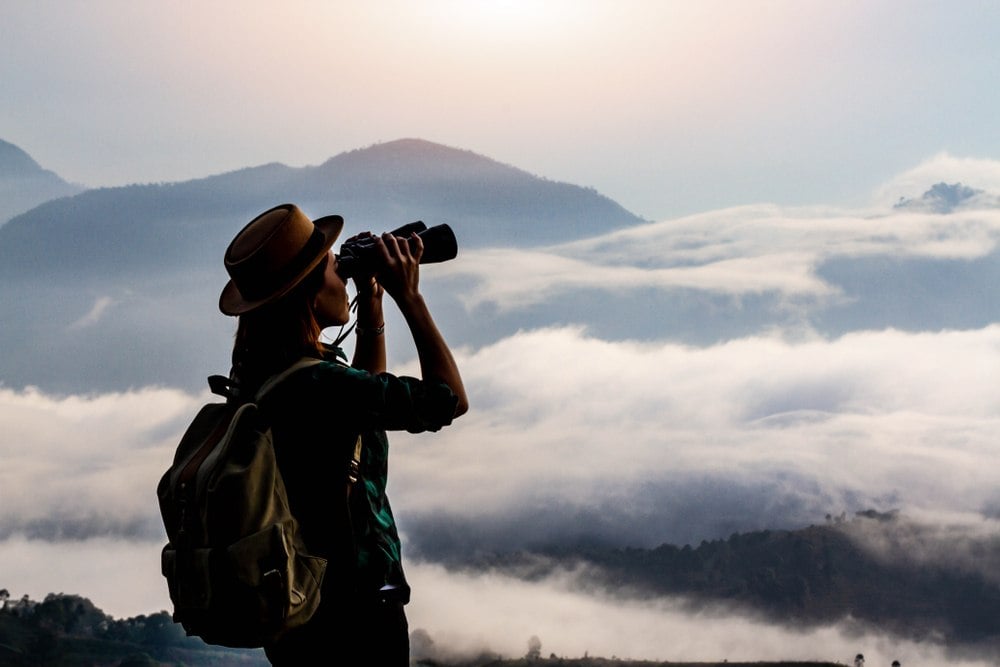 Of course, it's no fun to carry around a ton of extra gear or spend a bunch of money on something that's not totally "essential." However, if you've often found yourself wishing for a pair of binoculars when you're out exploring, then you're in luck! We've put together a list of awesome travel binocular options for a variety of uses.
Nobody travels the same, and everyone is working with a different budget, so we've made sure to cover all the bases on this list. Read on to discover what distinguishes the best travel binoculars and which type would be perfect for you.
Get's get right to it…
Quick Answer: These are the Best Travel Binoculars of 2022
BEST TRAVEL BINOCULARS OVERALL
BEST COMPACT BINOCULARS #2
BEST BINOCULARS FOR THE MONEY
BEST BINOCULARS FOR THE MONEY #2
BEST COMPACT BINOCULARS UNDER $20
BEST TRAVEL BINOCULARS FOR BIRD WATCHING
BEST WATERPROOF BINOCULARS
BEST BINOCULARS FOR HIKING
Winter is coming… WARM UP!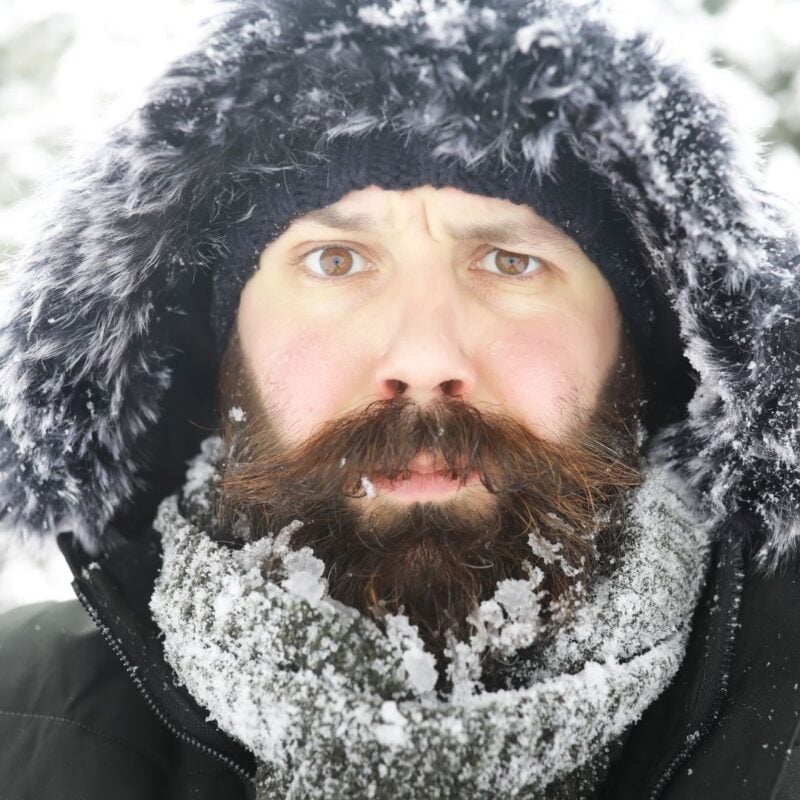 Get up to 50% OFF when shopping gear for the winter on REI.
Warm up for the holidays and SAVE on outdoor gifts all the way through Dec 18!
View on REI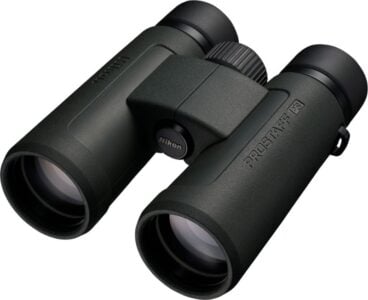 Nikon Prostaff P3 10 x 42 Binoculars is our top pick for the best travel binoculars overall
Specs
Best Use-Wildlife Viewing
Magnification-10x
Weight-1 lb 4.8 oz
Waterproof?-Yes
Waterproof, relatively lightweight, and with great magnification, the Nikon Prostaff P3 10×42 are just about everything you could want in a pair of good travel binoculars.
They are a full-sized model, excellent for viewing wildlife and scenery. Thanks to the wide field of view, they also work well for birders.
The lenses of the Prostaff P3 10×42 are coated with a silver alloy, which is very reflective to help reduce glare and give you a clear view. Thanks to the long eye relief design, these binoculars are also well suited to function for glasses wearers.
In addition to the high-quality visuals, the Prostaff P3 10×42 are also very durable. The waterproof design will protect the binoculars in case you drop them in a stream, and the fiberglass-reinforced body can withstand getting bumped around a little while you're out on an adventure.
Although the price is a bit too high to make these a "budget" pair of binoculars, the quality to price consideration makes the Prostaff P3 10×42 a bargain compared to other binocular models.
Pros
Silver alloy lens coatings
Waterproof and durable
Cons
A bit heavier
Not good at night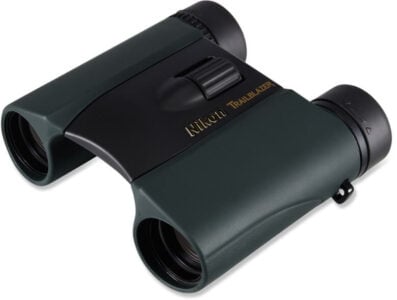 Specs
Best Use-Hiking
Magnification-8x
Weight-9.9 oz
Waterproof?-Yes
Small and lightweight, the Nikon Trailblazer ATB binoculars are a perfect pair to take on your hikes.
To protect against bumps along the trail, they are rubber coated, which not only absorbs shocks but also provides a firmer grip when it's wet. On top of that, the Trailblazer ATBs are waterproof, so no worries if they briefly slip into a puddle or creek.
You'll get a clear image thanks to the multiple anti-reflective coatings the lenses receive. Glasses wearers can also use these binoculars since they feature long eye relief.
If it's colder out and you're wearing gloves, it's still easy to adjust the focus thanks to the large central focus. They also have a fairly wide field of view, so in addition to hiking, they can be used to watch sports matches or other activities.
Pros
Lightweight
Large central focus
Cons
Lens caps only on eyepiece
Rubber coating is thin
For another best compact binoculars, check out Nikon Trailblazer ATB Waterproof 8 x 25 Binoculars
Specs
Best Use-Hiking
Magnification-8x to 25x
Weight-12.3 oz
Waterproof?-No
If you like zoom style binoculars, then the compact Nikon Trailblazer ATB is a good pick for you. The magnification can be adjusted from 8x to 24x to accommodate various situations.
These binoculars are made with porro prisms and multicoated lenses to help provide a clear quality and reduce glare.
It's important to keep in mind that zoom binoculars won't be able to achieve quite the same level of resolution as standard single binoculars.
Typically, the lowest magnification will provide the clearest image, and higher magnifications (in this case closer to 24x) the image quality will be slightly less defined and a little darker. However, the benefit of being able to narrow in on an object still makes zoom binoculars preferable for some people.
The Nikon Trailblazer ATB Waterproof 8 x 25 Binoculars are lightweight and very durable, although they aren't waterproof, so not suitable out on a boat or in very rainy conditions.
Pros
Multicoated lenses
Zoom magnification
Cons
Higher magnification yields a darker image
Not waterproof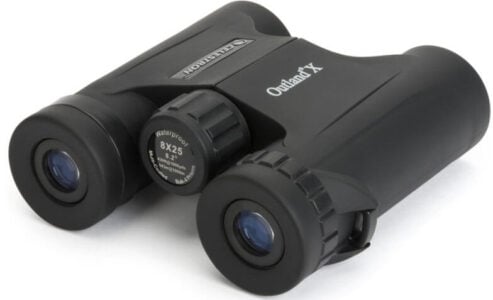 Our pick for best binoculars for the money is Celestron Outland X 8 x 25 Binoculars
Specs
Best Use-Hiking
Magnification-8x
Weight-10.6 oz
Waterproof?-Yes
Waterproof, fog-proof, and compact, the Celestron Outland 8×25 binoculars also happen to be very budget-friendly.
The rubber protective outer layer helps give you grip and prevent the binoculars from being damaged if accidentally dropped. To provide comfort, you can also adjust the twist-up eyecups to better fit your face.
The Celestron Outland 8×25 lenses are multicoated, and the binoculars feature BaK-4 glass prisms, which are better for preserving color. With the 25mm objective lenses, you'll have an 8.2-degree field of view, perfect for most hikers.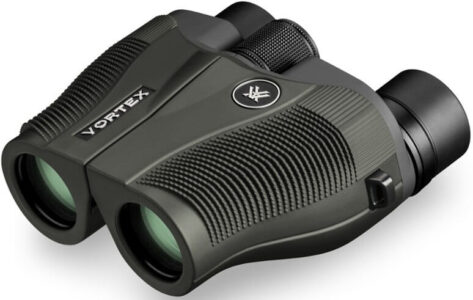 For another best binoculars for the money, check out Vortex Vanquish 8 x 26 Binoculars
Specs
Best Use-Birding
Magnification-8x
Weight-12.7 oz
Waterproof?-Yes
The Vortex Vanquish 8×26 binoculars are a perfect solution if you're looking for something lightweight and suitable for birding. Thanks to the adjustable twist eyecups, they can be used with or without glasses.
In addition to the protective rubber coating, the Vortex Vanquish are waterproof and fog-proof to prevent moisture from clouding your vision or damaging the internal mechanisms of the binoculars.
For further protection and security, these lightweight binoculars come with a carrying case, neck strap, and protective covers for the eyepieces.
Cons
A bit small
Not good for nighttime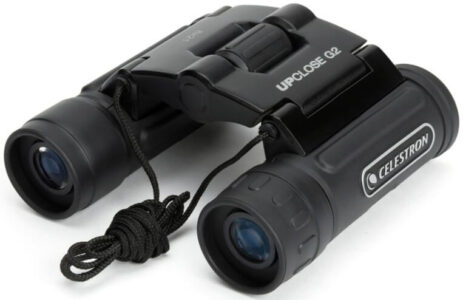 Celestron UpClose 8 x 21 Roof Binoculars is our top pick for the best compact binoculars under $20
Specs
Best Use-Hiking
Magnification-8x
Weight-8 oz
Waterproof?-No
Although you can't expect quite the same level of quality as some of the other binoculars on this list, the Celestron Upclose 8×21 binoculars will do the job for just a fraction of the price of other models.
These are a great option if you're on a tight budget or only plan on using the binoculars infrequently and don't want to invest a lot of money in a pair.
A rubber coating provides a layer of protection, but the Celestron Upclose model is not waterproof, so make sure you're cautious around bodies of water or in rainy conditions.
Decent image quality is provided with the multicoated lenses, and the 7.4-degree field of view is a decent amount for most casual hikers or birders.
Pros
Budget-friendly
Very lightweight
Cons
Not waterproof
Not fog-proof

Do You Want to Travel FOREVER??
Pop your email in below to get a FREE copy of 'How to Travel the World on $10 a Day!'.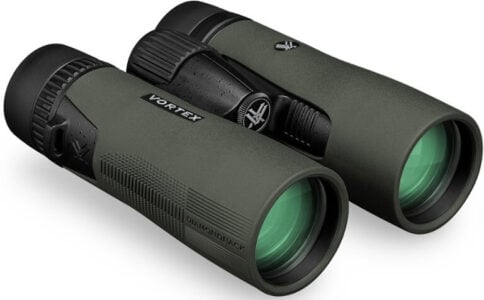 Vortex Diamondback HD 8 x 42 Roof Prism Binoculars is one of the best travel binoculars for bird watching
Specs
Best Use-Viewing wildlife, Birding, Camping
Magnification-8x
Weight-1 lb 6.4 oz
Waterproof?-Yes
These full-size binoculars are perfect for avid birders or wildlife viewers. Whether you're out at the cabin or watching a migration, the Vortex Diamondback HD 8×24 are durable and provide clear images.
The binoculars are protected with a rubber coating and an ArmorTrek coating to prevent scratches or damage from dirt. They're also waterproof, so even if it's seabirds you're hoping to spot, you won't have to worry about the splashing waves.
Since the Diamondback binoculars are full-sized, they're quite a bit heavier than their compact counterparts. However, the enhanced multicoated lenses and exceptional roof prisms give you a much clearer image – although, of course, at a higher price.
The binoculars come with a harness strap instead of a traditional neck strap for more comfortable transportation. You can also purchase a separate tripod adapter, so you can mount these birding binoculars on a tripod for easier viewing.
Pros
Very durable
Lifetime warranty by manufacturer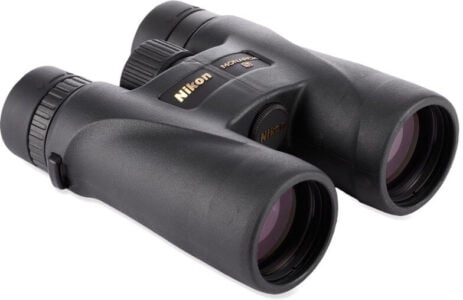 Our pick for the best waterproof binoculars: Nikon Monarch M5 8 x 42 Waterproof Binoculars
Specs
Best Use-Birding/Wildlife Viewing
Magnification-8x
Weight-1 lb 6.4 oz
Waterproof?-Yes
While other binoculars on our list meet the requirements for being waterproof, the Nikon Monarch M5 8×42 takes things to another level.
Most waterproof binoculars can only withstand splashes or a quick drop in a stream. The Nikon Monarchs, on the other hand, can be submerged in up to one meter of water for up to ten minutes! Of course, it's not recommended to dunk your binoculars for a test, but if you're going to be around water a lot, these might be the best pair for you.
The high quality of these camping binoculars also comes at a higher price, but for hardcore adventurers who want a hardcore pair of binoculars, the investment can pay off.
In addition to being highly durable, you can count on clear image quality. The lenses are multicoated, and the roof prisms feature a phase-correction coating for higher resolution.
You can adjust the rubber eyecups and the long eye relief feature if you are already a glasses wearer.
Pros
Highly waterproof
Multicoated lenses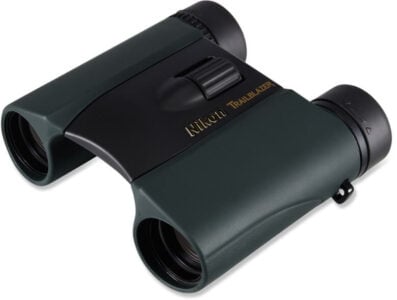 Nikon Trailblazer ATB Waterproof 8 x 25 Binoculars is our top pick for the best binoculars for hiking
Specs
Best Use-Hiking
Magnification-8x
Weight-9.9 oz
Waterproof?-Yes
It's true that the Nikon Trailblazer ATB already made the list for being one of the best compact binoculars, but it also happens to be the best selection for a good pair of binoculars for hiking.
Compact binoculars will never quite achieve the same image quality as full-size, but they do just fine. And when you're on a trail for hours on end, you really don't want to be carrying any more weight than necessary.
Since the Nikon Trailblazer ATBs are just under ten ounces, they won't add much weight to your load. They still serve their purpose well in terms of being great binoculars to use for birding, watching wildlife, or just checking out the distant scenery.
Even if the binoculars slip and fall while you're on a hike, they'll be protected thanks to the rubber-armor coating. Plus, being waterproof, you won't have to worry about a bit of rain damaging your binoculars.
Pros
Lightweight
Wide field of view
Cons
Lens caps for eyepiece only
Best of the Rest
Now that we've gone through the ultimate binoculars to use for camping, birding, and hiking, here are a few other picks for great travel binoculars if you're looking for something a bit more precise.
Specs
Best Use-Wildlife Viewing
Magnification-10x
Weight-1 lb 8 oz
Waterproof?-Yes
These are definitely the most expensive pair of binoculars on this list, but if you're an avid birder or wildlife watcher looking for the best of the best, then the Nikon Monarch M7 are the way to go.
Being a full-sized pair of binoculars, these are much heavier than compact versions, but the image quality is far superior. The multilayer prism coatings and fully multicoated lenses will deliver a detailed and high-resolution image of whatever species has captivated your attention.
You can easily adjust the central focus wheel even if you have gloves on, making them suitable for colder weather. Glasses wearers can also make use of the long eye relief and click-stop rubber eyecups to adjust the binoculars to your face even when wearing glasses.
High-quality images are complemented by excellent durability. The Nikon Monarch M7 are waterproof, fog-proof, and protected by a rubber-armor exterior to keep them safe even if they get bumped around a bit.
Pros
Highly durable
Great quality image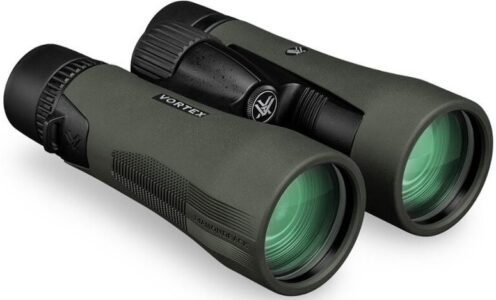 Specs
Best Use-Camping, Wildlife Viewing, Birding
Magnification-10x
Weight-1 lb 14 oz
Waterproof?-Yes
Another high-quality, full-sized pair of binoculars, the Vortex Diamondback HD 10x50s are an excellent choice for people invested in having a good pair of binoculars.
Thanks to the wider objective lens, these are also better nighttime binoculars; they can even be used for stargazing since they can let in more light.
The binoculars come with a GlassPak harness for easy transportation, and you can purchase a separate tripod adjuster to make stargazing or wildlife watching a bit easier on your shoulders!
You can adjust the twistable eyecups to fit your face size and accommodate glasses for easy viewing. The multicoated dielectric lenses are well-suited to low-light conditions but can also be used perfectly well in sunny and bright surroundings.
The ArmorTrek coating protects the binoculars from accidental drops and bumps. Since they are waterproof, these are also suitable to use on boats or added security for nights spent stargazing by the backyard pond.
Pros
Good low-light binoculars
Very durable
The best present of all… is CONVENIENCE!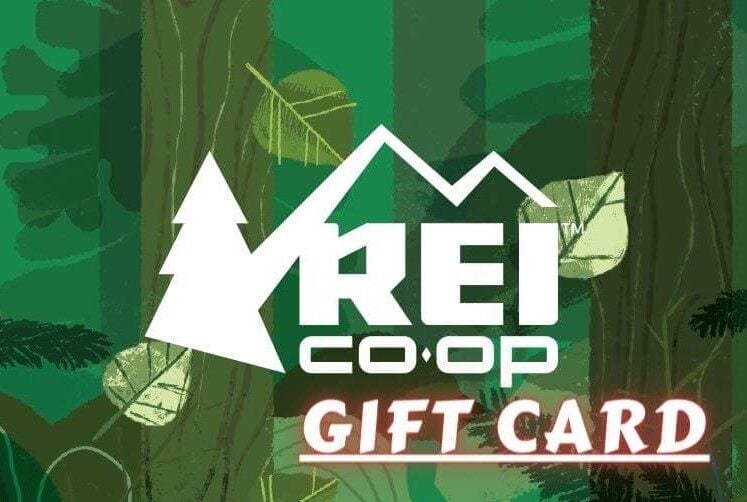 Now, you could spend a fat chunk of $$$ on the WRONG present for someone. Wrong size hiking boots, wrong fit backpack, wrong shape sleeping bag… As any adventurer will tell you, gear is a personal choice.
So give the adventurer in your life the gift of convenience: buy them an REI Co-op gift card! REI is The Broke Backpacker's retailer of choice for ALL things outdoors, and an REI gift card is the perfect present you can buy from them. And then you won't have to keep the receipt. 😉
Buy on REI!
How to Choose the Best Travel Binoculars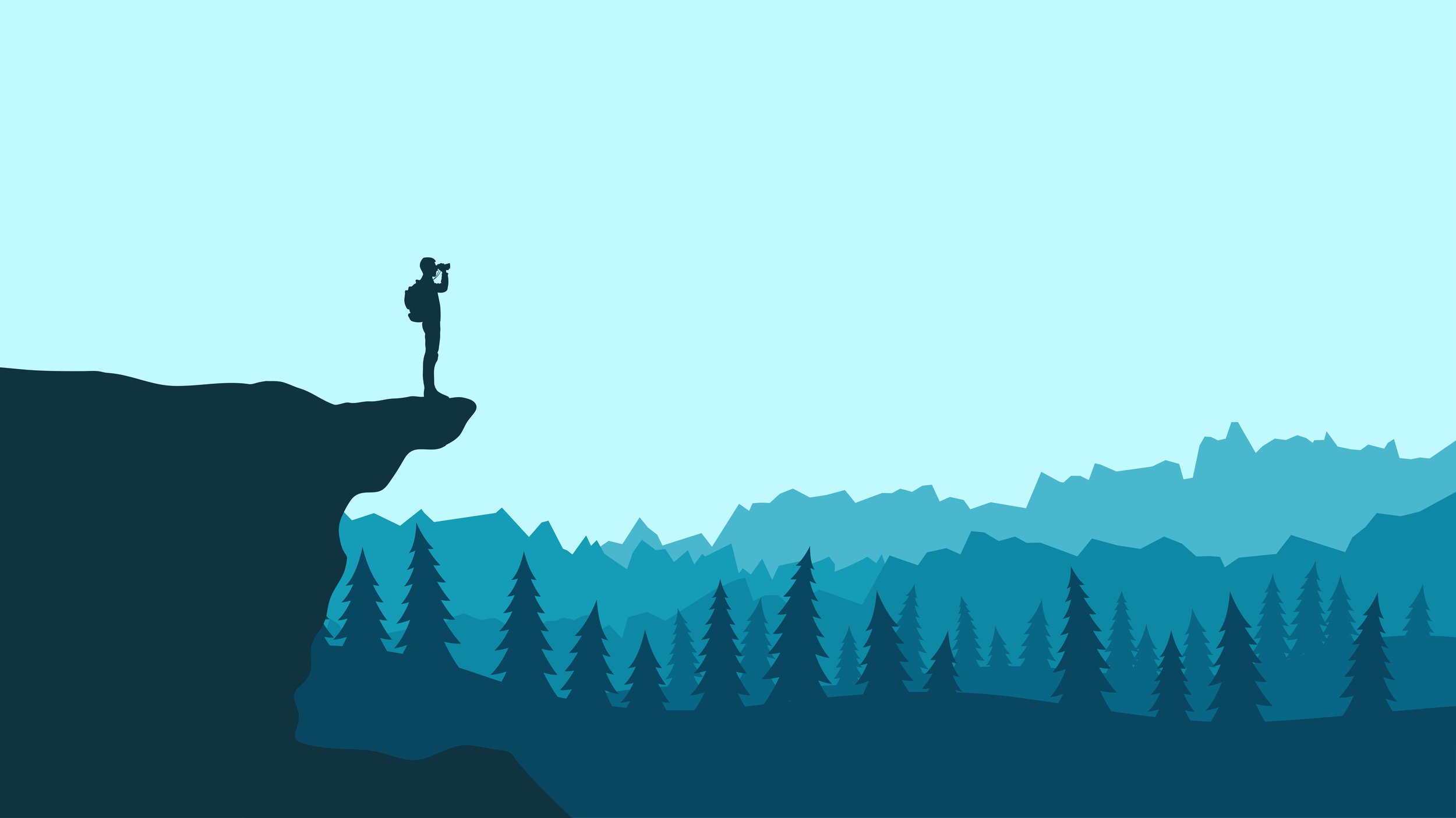 Whether you're buying your very first pair of binoculars or planning to upgrade from an old model, here are some things to keep in mind when shopping for good travel binoculars.
Certain features in binoculars lend themselves better to various situations. Based on your own travel style and intended use, we've put together this quick guide to help you make an informed decision on your purchase.
Weight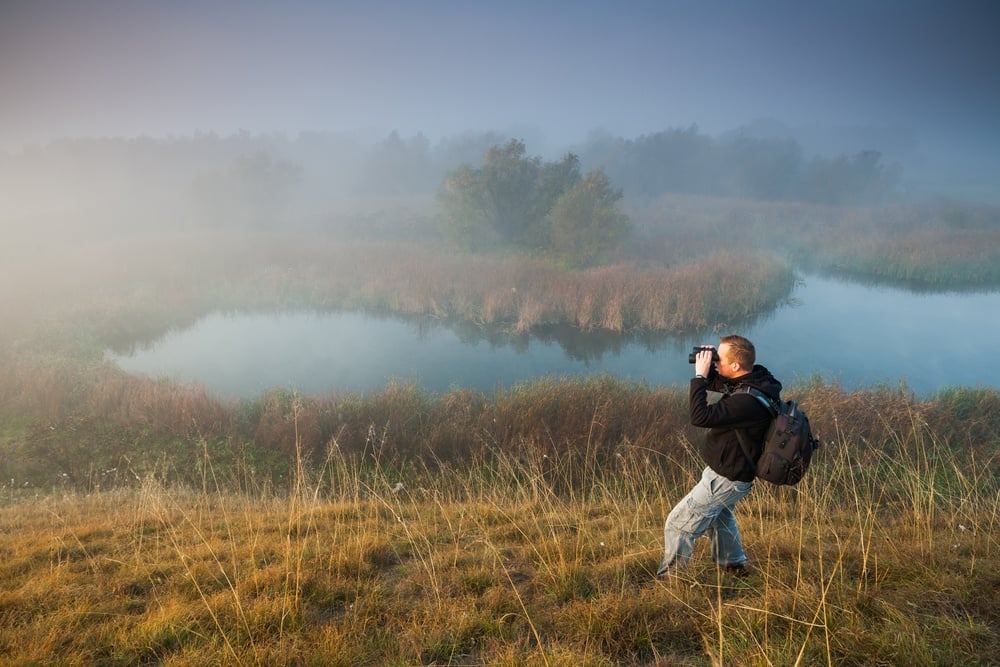 Good binoculars can get heavy quickly. Most travelers want something durable to survive bumps and jolts on rough adventures.
In our list, we focused mainly on lighter-weight travel binoculars that give good value without adding too much weight to your load. When purchasing a pair of binoculars, it's also a good idea to check if they come with some type of carrying case.
If you're someone who plans on using binoculars a lot during your travels and want them ready-at-hand, you can get chest or side straps to carry the binoculars more conveniently and reduce strain from carrying them over long periods.
Almost all the binocular options on our list are less than one pound, so even if you're lightweight backpacking for a long time, you can find a pair to fit in your weight allowance.
Keep in mind that a lot of times heavier binoculars are more durable; they can withstand being dropped, bumped around, and withstand the rigors of trail life better than the lightweight models. However, there are also plenty of lighter and durable binoculars, and it's always a possibility to purchase a case to help protect them.
Optics/Lenses
There are two numbers in the model number of all binoculars, written as "# x #." The first of these numbers is the magnification power (we'll get to that in a little bit), and the second is the objective lens diameter.
The objective lens is the lens farthest from your face, and the diameter tells you how much light the binoculars let in. Different lens sizes are better suited to birding vs. stargazing, which can make a big difference in your final purchase.
For whale watching and safaris, go with midsize lenses (32mm) for something a bit more compact. If you're concerned about weight and size, it's best to look for smaller lenses (diameter less than 28). For stargazers, on the other hand, you'll want the binoculars to be able to take in the maximum amount of light possible, so lenses that are 42 or 50mm are good options.
Lens Coatings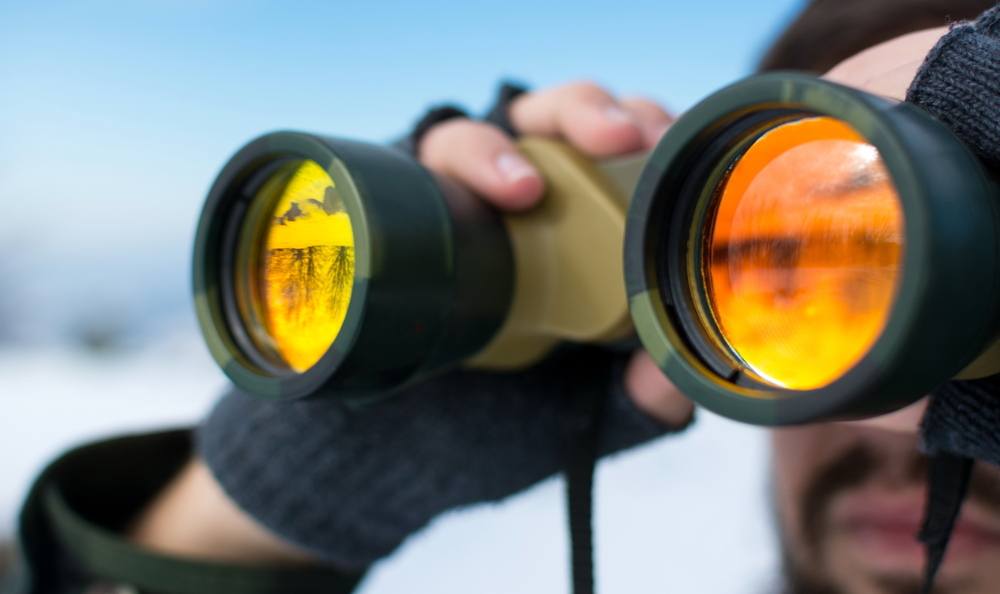 The technology around binocular lenses and coatings has become quite complex as new materials and methods are introduced.
Some binoculars have the same magnification and objective lens size, yet one has a far superior image quality than the other. So what's the difference?
It all comes down to what's inside, and a big part of that is the lens coatings. The coating helps prevent loss of light from internal glare and reflection. Having a bigger objective lens can also prevent glare, but this makes the binoculars much heavier.
Magnesium fluoride was one of the first substances used to coat binocular lenses, and now other coatings have been added. There are also different coating types, such as phase correction coating, multicoated (MC), and fully broadband multicoated (FMC), which each produce different quality pictures.
If you're shopping for binoculars, an easy way to tell if they are coated is to tip them back to see if the light reflections in the objective lens appear colored. Greenish, blue, or brown tints indicate coatings, while clear lenses are uncoated.
Once more, price comes into play; the higher quality coated lenses will definitely make a pair of binoculars much more expensive.
Magnification Specs
Most binoculars have either an 8 or 10 magnification power, although higher or lower levels are also available.
The number indicates how much closer an object will appear than to your naked eye. With 8-power binoculars, an object will appear 8 times closer, and a 10-power pair will produce an image 10 times closer.
8-power binoculars have a wider field of vision, while 10-power binoculars are better for close up and detailed images. Although it's great to see even more detail and smaller objects with higher magnification, it can be difficult to locate small objects, particularly if they are moving – like birds.
Just because a pair of binoculars has a higher magnification level doesn't necessarily mean it will be more expensive. The quality of the lenses and prism will more dramatically affect the price.
To give you the best of both worlds, there are also zoom binoculars that allow you to adjust the magnification. However, although this might sound like the ideal product, the image quality is often less defined.
Prism Types
There are two types of prisms used in binoculars: porro prisms and roof prisms. Both have the potential to produce excellent, high-quality images as long as the lenses are well constructed.
Porro prisms are the older type of prism, where the barrels of the binoculars are more widely set, and the prisms don't align with the eyepiece.
More recently, binoculars have been made using roof prisms. These have a narrow design in which the prisms align with the eyepiece and objective lens.
The type of prism you pick is mostly of shape and aesthetic preference. If you're in search of a lightweight pair of binoculars, roof prisms are definitely the way to go. If you prefer an older "classic" looking set of binoculars, then opt for one with porro prisms.
Waterproof/Weatherproof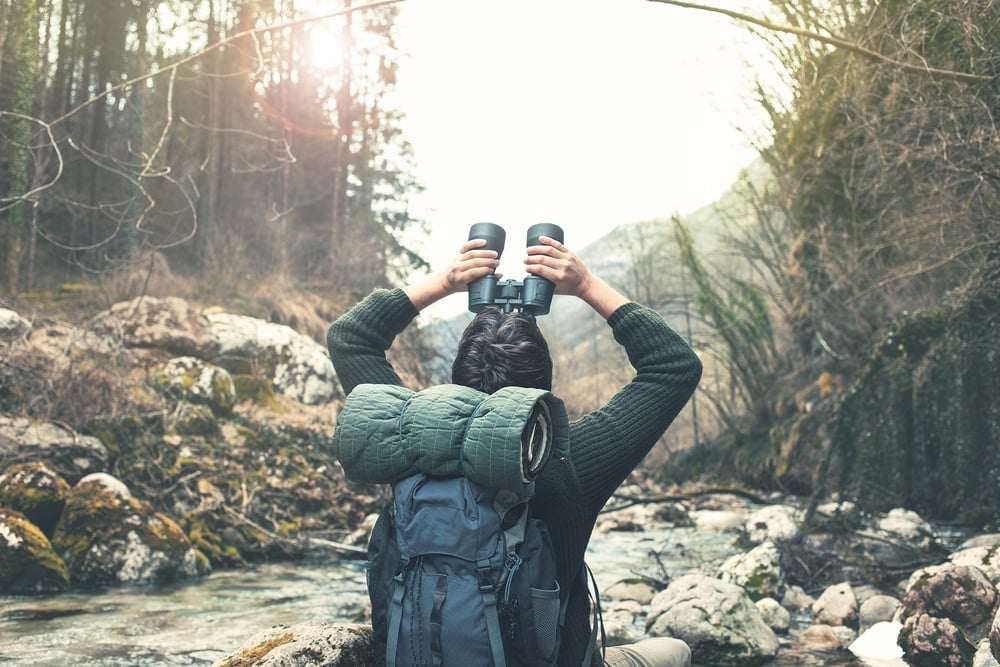 A huge part of making a successful travel product is making sure it's durable enough to survive the rough conditions and inevitable scrapes and scratches that come with an adventurous lifestyle.
If you're going birding or want a pair of binoculars to take with you on a road trip, it's not so important to have a waterproof pair. However, if you plan on using your binoculars out in a kayak or sailboat, it's a wise move to pay a bit more money for waterproof binoculars.
"Waterproof" usually means the binoculars have o-rings that create a seal to prevent water from entering to damage the lenses and prisms. However, this doesn't mean that you can take them underwater to use; the o-ring will not work if submerged for an extended period.
Binoculars almost always sink, so having a safety strap around your neck or wrist is a very good idea while you're out in your kayak or even chilling on a dock at the cabin.
Weather-resistant binoculars (also called water-resistant) still offer a level of protection against the elements. These will hold up fine to light rain or being set on dewy grass, but not a plunge in the river.
A rubber coating on binoculars is also a good feature to look for, especially if you plan on rougher adventures. The rubber provides an extra layer of protection and cushion against the small bumps and jolts bound to happen when you're out on the trails.
Many binoculars are also fog-proof, which not only protects them from moist and foggy conditions but also when they are moved from cold to hot temperatures. Moisture can damage the lenses over time, so even if you're not going to a cloud forest, fog-proofing is a helpful feature.
Intended Use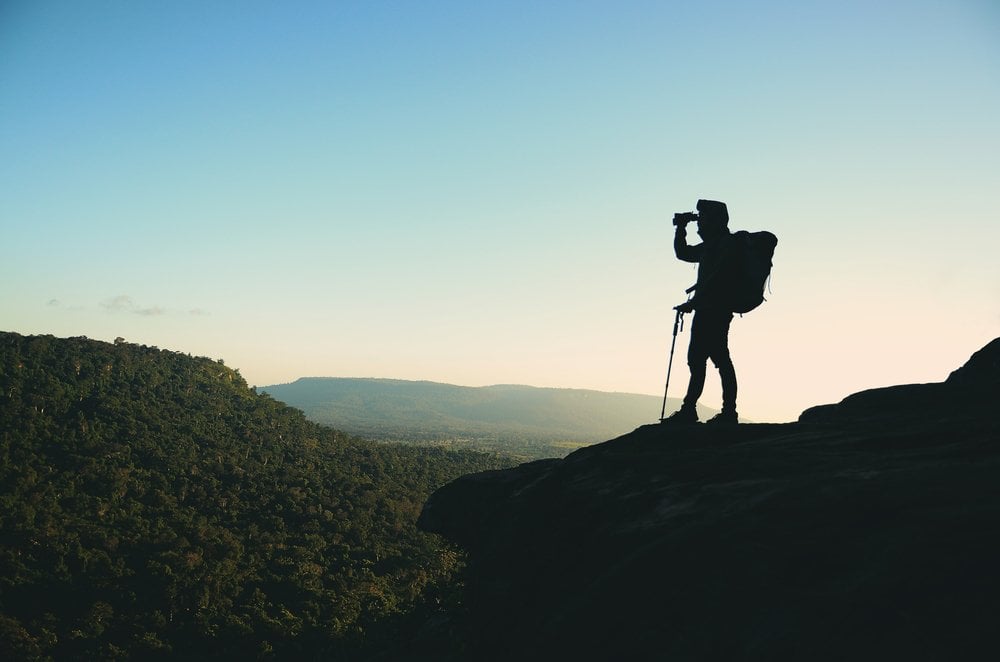 Ultimately, how you plan on using your binoculars will be the best guide for what pair to buy. We've focused mostly on lighter models that are better suited for travelers who don't want to carry around too much extra weight.
Before shopping for a pair of binoculars, make a list of all the places you plan on using them. Are you always out on a boat? Definitely look for waterproof. Do you enjoy stargazing at night? You might want to look for a larger pair of binoculars with high magnification.
It's helpful to try out a few pairs before making a final purchase, especially if you're new to shopping for binoculars. You can check out camping outlet stores or see if your friends have a pair you can try to get a feel for weight, size, and shape.
Budget/Cost
There's always a delicate balance between cost and quality. Even on a tight budget, you can still get a decent pair of binoculars – they might not have all the fancy features and high definition of a more expensive pair, but they'll accomplish the job perfectly well.
If you've been carrying around a pair of binoculars for years and are wanting to upgrade, it might be worth investing more money in something waterproof with high-quality lens coatings.
We made sure to include some great budget binoculars on our list; if you're just beginning to use binoculars, you can always try one of these pairs out for a while. If you love having the ability to see detail at a distance, it might be time to consider getting a more expensive and higher quality pair.
FAQ about the Best Travel Binoculars
Still have some questions? No problem! We've listed and answered the most commonly asked questions below. Here's what people usually want to know:

Our GREATEST Travel Secrets…
Pop your email here & get the original Broke Backpacker Bible for FREE.
Final Thoughts on the Best Travel Binoculars
Every traveler loves seeing the details of a new place, and what better way to accomplish this than with a pair of travel binoculars? Whether you're sightseeing on an international tour or out on a whale watch, the up-close experience binoculars can give you opens up a whole new dimension.
After going through our list of the best travel binoculars, hopefully, you have some good ideas about what pair will work best for you. Based on your own travel style and preferred use, you can narrow down the options to find the perfect set of binoculars.
From bird watching on the trails to spotting dolphins during your kayak trip, think of all the possibilities for new sightings binoculars will give you! Before you know it, a pair of binoculars will be on your essentials list whenever you pack your bag for your next trip.
Feeling stuck on which pair of binoculars to go for? Go for my top pick – the Nikon Prostaff P3 10 x 42 Binoculars – which are always going to be a sure-fire bet.
What are your thoughts? Did this Best Travel Binoculars review help you? Anything I didn't answer? We want to hear about it! Let us know in the comments below – thanks, guys!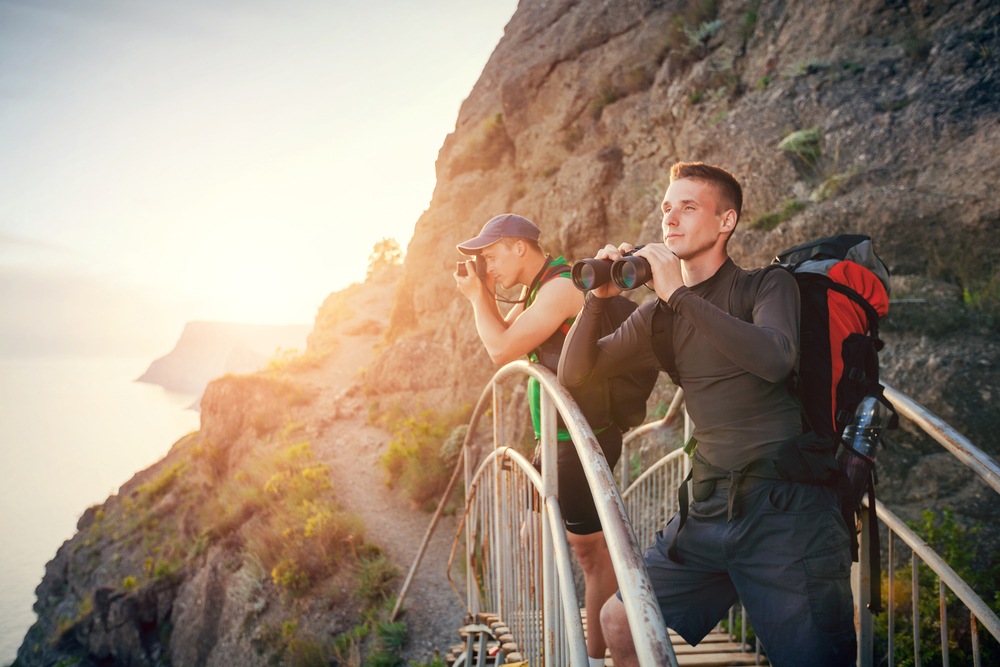 ---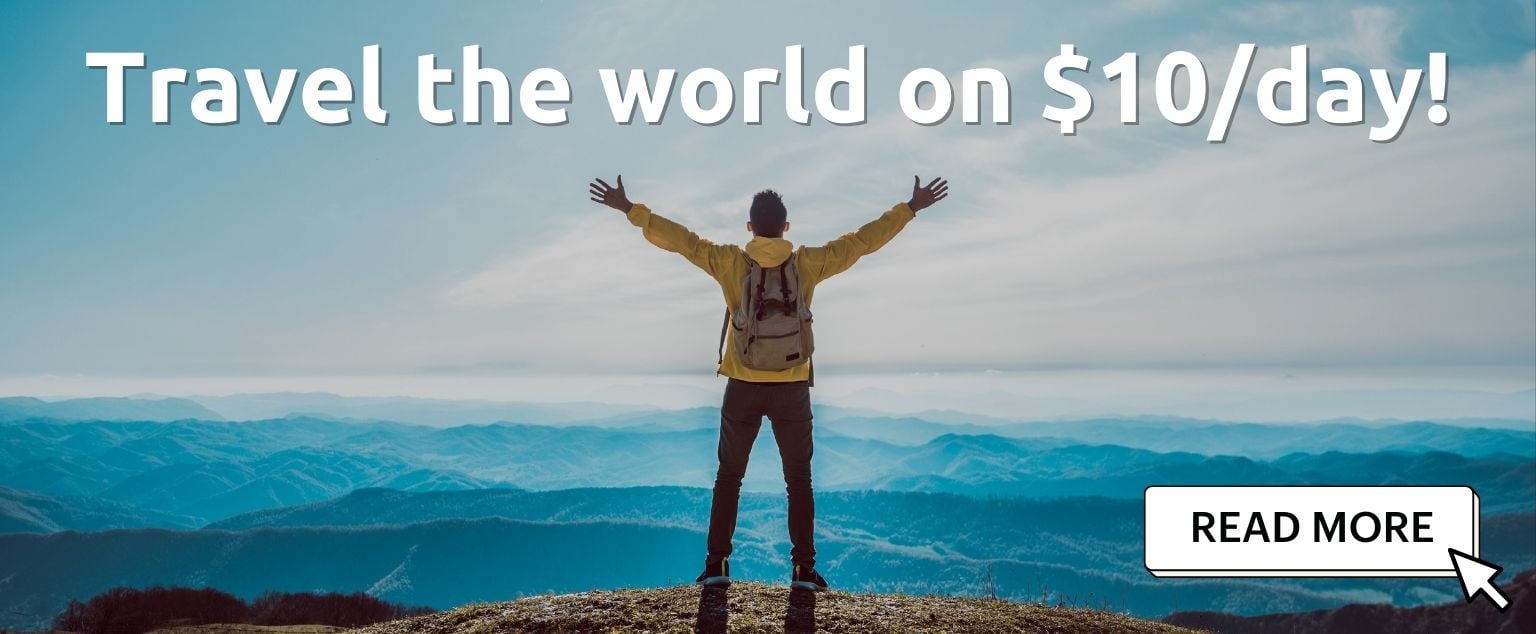 And for transparency's sake, please know that some of the links in our content are affiliate links. That means that if you book your accommodation, buy your gear, or sort your insurance through our link, we earn a small commission (at no extra cost to you). That said, we only link to the gear we trust and never recommend services we don't believe are up to scratch. Again, thank you!