Kenya is known across the world for its expansive savannahs, thriving lakelands, and edgy mountain ridges. But most of all, for its wildlife.
Renowned safari parks like the Masai Mara, Ol Pejeta Conservancy, and Nakuru National Park are home to an abundance of thriving wildlife and untouched landscapes, where animals can roam freely under the protection of the park rangers who risk their lives every day to protect these majestic creatures.
On top of this, Kenya's tropical coastline is also thriving with wildlife. The stretches of powdery sand, lush coastal vegetation, and incredible marine life to marvel at, quickly show that no matter where you are in this stunning country, a trip to Kenya is a magical animal-fueled experience.
But it's not just the wildlife that Kenya wants to protect. Since it gained independence in 1963, Kenya has been on a mission to adopt a way of sustainable living by 2030. Incorporated with their goals to end poverty, improve healthcare and improve equality, Kenya wants to provide a clean and secure environment for all of its residents to live in.
So how can tourism help? Well, to keep in line with this ideal there have been tonnes of eco-friendly vacation rentals springing up across the country. Staying in an eco-lodge is a great way to help a country with its efforts to operate more sustainably and ensure you create less of an impact on the environment while you visit.
But Kenya is big. Really big.
With over 580,000 squared km of landmass, it is impossible to see it all from one location. That's why we have prepared this list of some of the best eco-lodges in Kenya, so that no matter whether you're planning to visit the savannahs or beaches, we've got a property for you.
In a Hurry? Here's Where to Stay in Kenya for One Night
FIRST TIME IN KENYA
Sweetwaters Eco-farm
Sweetwaters eco-farm and cottages overlook the beautiful Mount Kenya and the Aberdare Mountains in the distance. The cottages are ideally located for a visit to Nanyuki town, just 15 minutes away, and the conservation dedicated Ol Pejeta Conservancy.
Places to visit:
Ol Pejeta Conservancy
Nanyuki town
Equator marker
Is this amazing Kenya Eco Lodge booked for your dates? We've got your back with our other favourite properties below!
Why Stay in an Eco-Lodge in Kenya?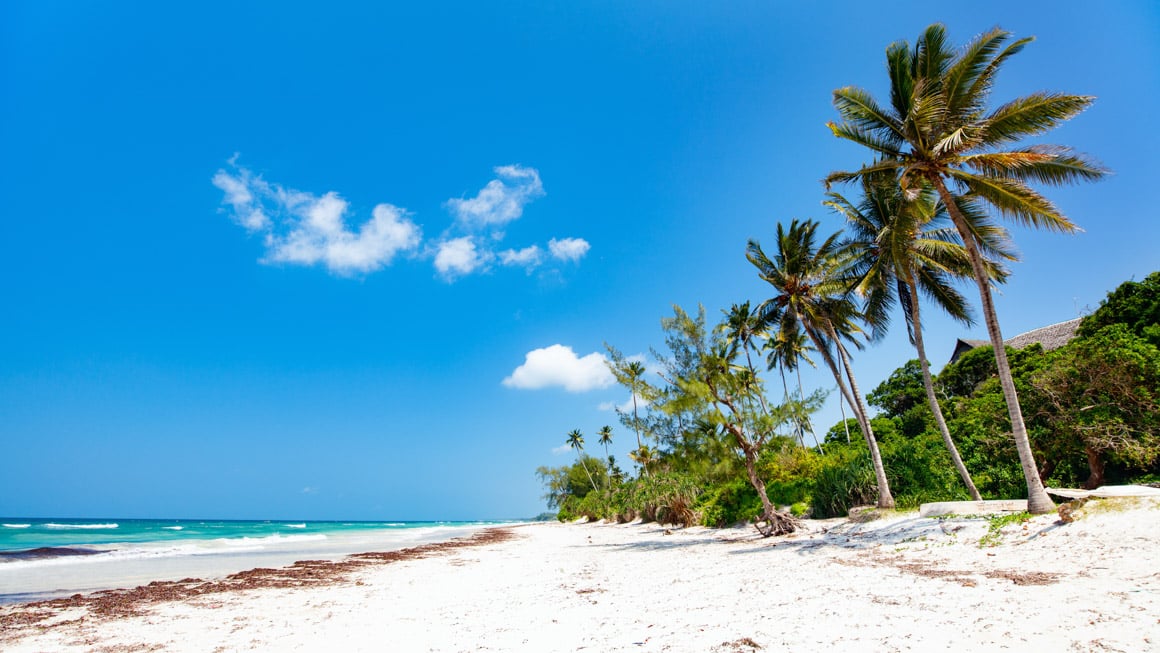 Kenya is a country that derives a great deal of its income from tourism who come to see its immense areas of natural beauty. Much of Kenya is made up of untouched and undeveloped wilderness areas. In many of these areas, it's more cost-effective for lodges to make use of renewable energy than try to connect their properties to the grid.
Much of the safari industry in Kenya is dedicated to sustainable tourism, aiming to protect the wildlife and nature that they share with their guests. This not only keeps the animals happy, but the planet as well.
Some vacation rentals also work closely with local communities to not only uplift and empower them, but to offer visitors a chance to experience a truly authentic part of the fascinating and unique cultures found only in East Africa.
What is an Eco-Lodge?
An eco-lodge at its very heart strives to respect and protect the environment by committing to various initiatives that minimize the impact its operations have on the environment. Whether that is through using renewable energy, eliminating single-use plastics, composting, and recycling, an eco-lodge must be committed to sustainable practices.
And it isn't just about the environment. It's about supporting local communities too. Purchasing from and supporting local businesses and artisans nearby, making use of local guides and experts, and offering guests a way to understand and experience local cultures in a meaningful way is also a big part of this commitment.
Overall Best Value Eco-Lodge in Kenya
Overall Best Value Eco-Lodge in Kenya
Sweetwaters Eco-farm
> $
> 2 guests
> Fully solar-powered
> Mount Kenya views
Best Budget Eco-Lodge in Kenya
Best Budget Eco-Lodge in Kenya
Oasis Eco Camp
> $
> 2 guests
> Built from eco-friendly materials
> Peaceful lakeside location
Best Eco-Lodge for Couples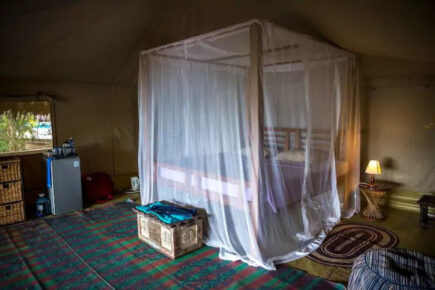 Best Eco-Lodge for Couples
Firefly Ocean Camp
> $
> 2 guests
> Safari-style eco-tents
> Traditional Kenyan coastal village
Most Ecological Eco-Lodge in Kenya
Most Ecological Eco-Lodge in Kenya
Sabache Eco Camp
> $
> 2 guests
> Solar-powered safari tent
> Unspoiled African wilderness
Best Eco-Lodge for Families visiting Kenya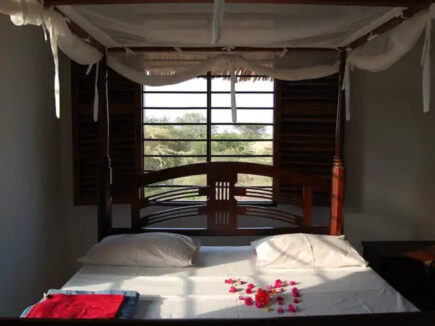 Best Eco-Lodge for Families visiting Kenya
Mkoko House
> $
> 8 guests
> Off-grid island villa
> Quiet and peaceful setting
Best Eco-Lodge for Backpackers
Best Eco-Lodge for Backpackers
Distant Relatives Lodge
> $
> 2 guests
> Eco-friendly waterless toilets
> Budget-friendly beach retreat
Amazing Luxury Eco-Lodge in Kenya
Amazing Luxury Eco-Lodge in Kenya
Luxury Living Bush Home
> $
> 4 guests
> Ecologically built among the trees
> Peaceful and tranquil location
The 15 Top Eco-Lodges in Kenya
Staying in an eco-lodge does not mean camping in a tent and pooping outside. In fact, you can find luxury eco-resorts as well as budget options more suitable for backpackers in Kenya.
In this list of the best eco-lodges in Kenya, we have selected properties for all types of travelers, that will offer a comfortable and well-managed stay while making a real effort to be sensitive to the planet and benefit the local communities in some way.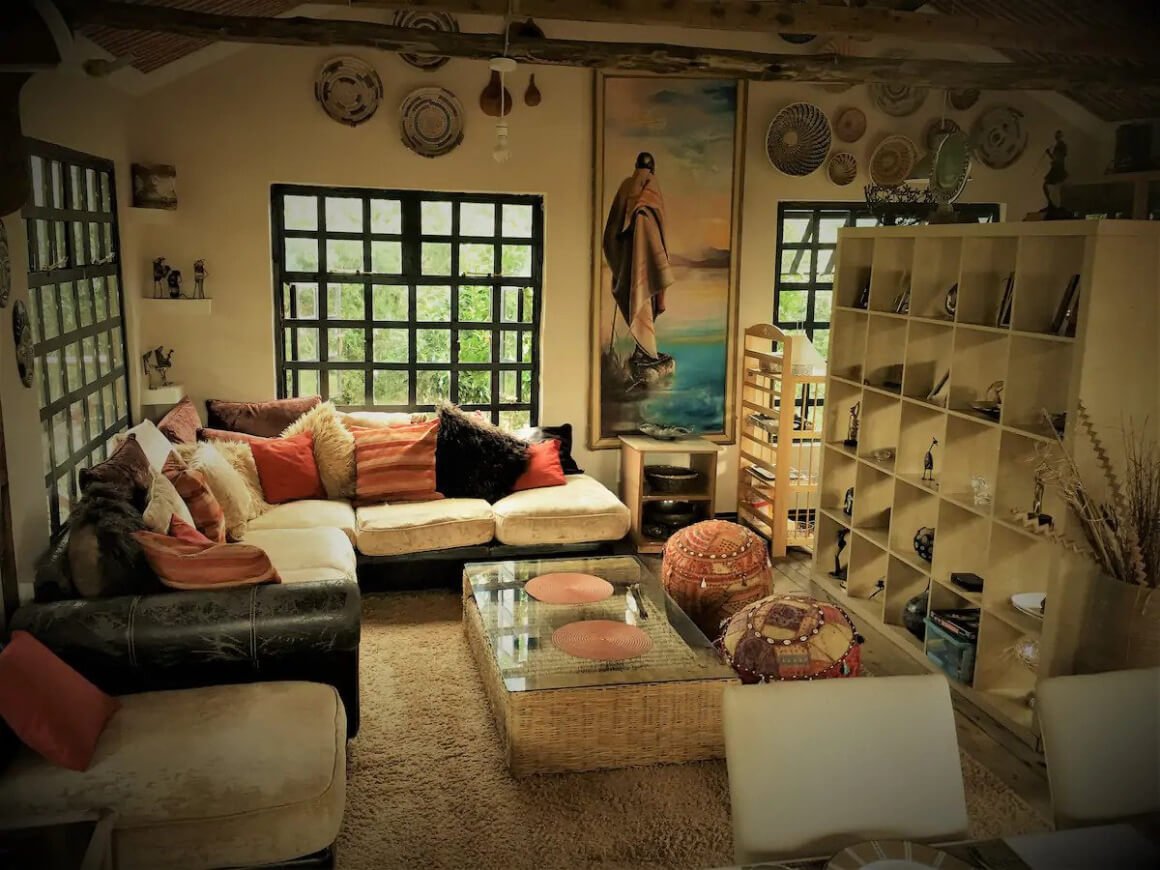 $
2 guests
Fully solar-powered
Mount Kenya views
Located just 15 minutes from Nanyuki town, Sweetwaters Eco-farm overlooks beautiful Mt Kenya as well as the Aberdares range. The tranquil natural setting is within easy reach of Ol Pejeta Conservancy – home to the last two remaining northern white rhino in the world.
The eco-cottage is surrounded by trees and flowers, and a garden that supplies the kitchen with tasty vegetables and herbs. There is a central cabin that features a kitchen and living area, and each of the four ensuite rooms are semi-detached offering more privacy. Electricity is provided via solar panels and a backup generator – common among many of the best eco-lodges in Kenya.
Visit Nanyuki town for some shopping and dining, or take a visit to the Equator Marker for a photo with one foot in each hemisphere. Enjoy exceptional game viewing in the Ol Pejeta Conservancy and one of the many conservation experiences on offer, including lion trekking, cycling safaris, and trekking with the anti-poaching K9 unit.
Best Budget Eco-Lodge in Kenya – Oasis Eco Camp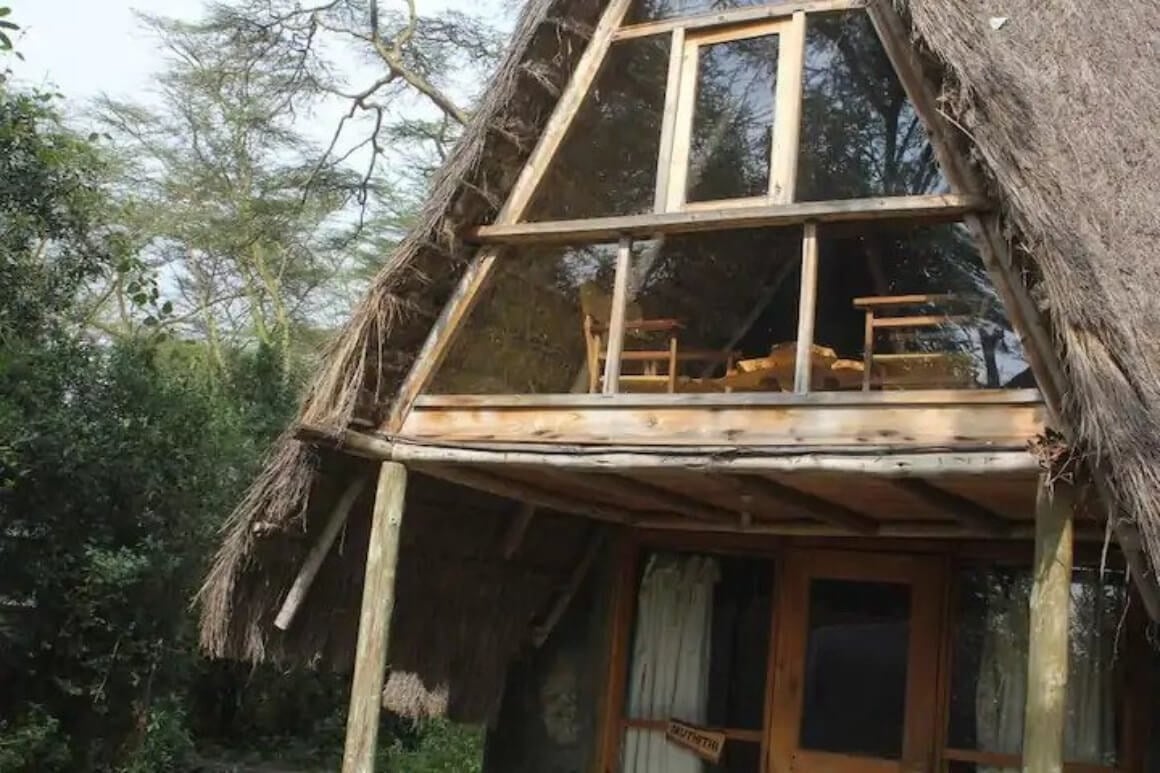 $
2 guests
Built from eco-friendly materials
Peaceful lakeside location
Located on the shores of Lake Ementaita, Oasis Eco Camp is surrounded by pristine nature and exceptional birdlife. The camp is within driving distance of Lake Nakuru, famous for its flurry of pink flamingos.
The eco-camp has been constructed using natural, eco-friendly materials which also blend in with the surrounding acacia forest. Solar power provides all the electricity for the camp. When you stay at Oasis Eco Camp, you have your own private cabin with a double bed and ensuite bathroom.
Explore the surrounding wilderness on nature walks, hikes, or by bicycle to see the local wildlife and exceptional birdlife of the area. From the resort, you can head further out to Nakuru town for some shopping or visit the shores of the nearby Lake Nakuru and Lake Naivasha to see the incredible wildlife here.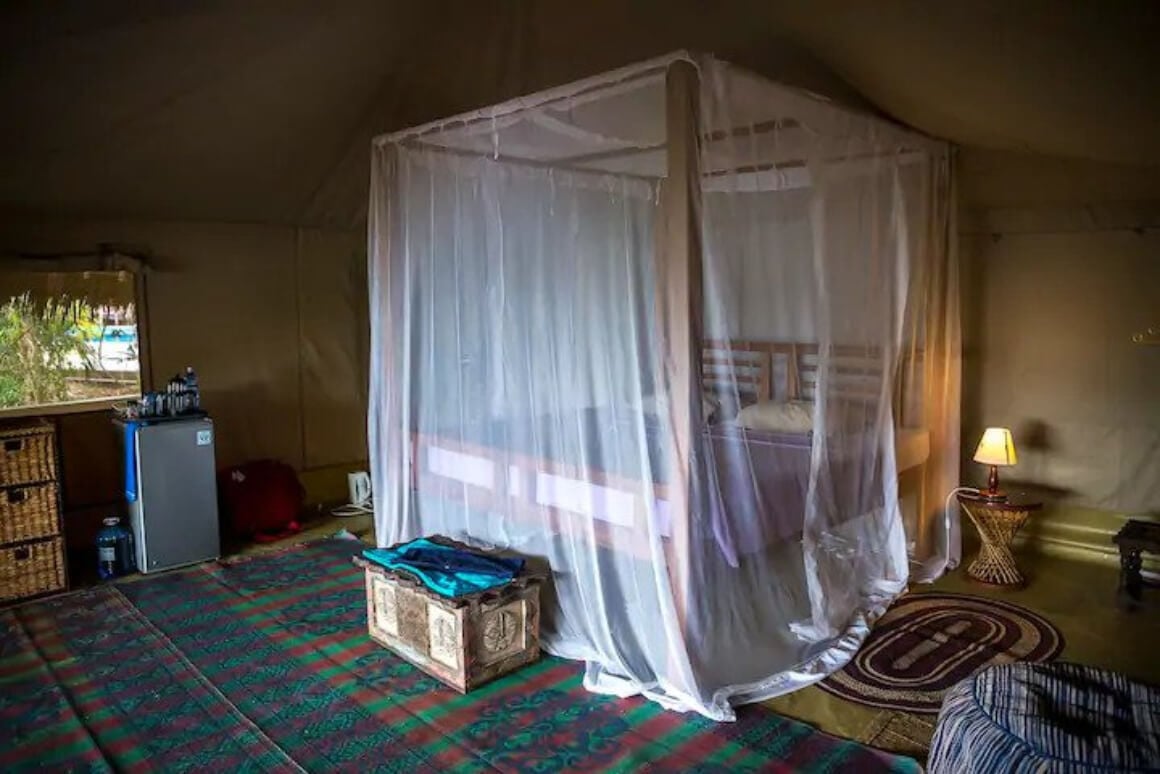 $
2 guests
Safari-style eco-tents
Traditional Kenyan coastal village
Firefly Ocean Camp is located along Kenya's beautiful coastline, in the traditional fishing village of Shimoni. Surrounded by pristine marine environments, the camp lies within a preserved forest and within a laidback setting.
The camp comprises of traditional safari-style canvas tents with all the comforts needed for a restful night's sleep. Each spacious tent lies on a raised platform with gorgeous ocean views. Bathroom facilities are shared.
From the resort, you can spend lazy days soaking up the sun at the swimming pool, or head to one of the sandy beaches nearby. Set out on a traditional dhow, and enjoy snorkelling and scuba diving in the Kite Marine Park where you may also see turtles, dolphins, and an abundance of coral life.
Most Ecological Eco-Lodge in Kenya – Sabache Eco Camp
$
2 guests
Solar-powered safari tent
Unspoiled African wilderness
Located within a conservancy at the base of Mount Ololokwe, Sabache Eco Camp is a unique accommodation in Kenya that looks out over the Samburu Plains. The experience here is rustic and authentic, with untouched wilderness and an abundance of wildlife to see.
The camp is owned and operated by local communities and directly benefits them. The traditional safari tents are solar-powered and more than comfortable, with hot showers, flushing toilets, and private verandas.
Explore the natural, untouched wilderness to enjoy wildlife viewing and bird watching. Climbing, hiking, and game drives are on offer to show you the Kenyan wilderness at its best. Traditional sundowners at a scenic spot and bush picnic are also highly recommended.
Best Eco-Lodge for Families visiting Kenya – Mkoko House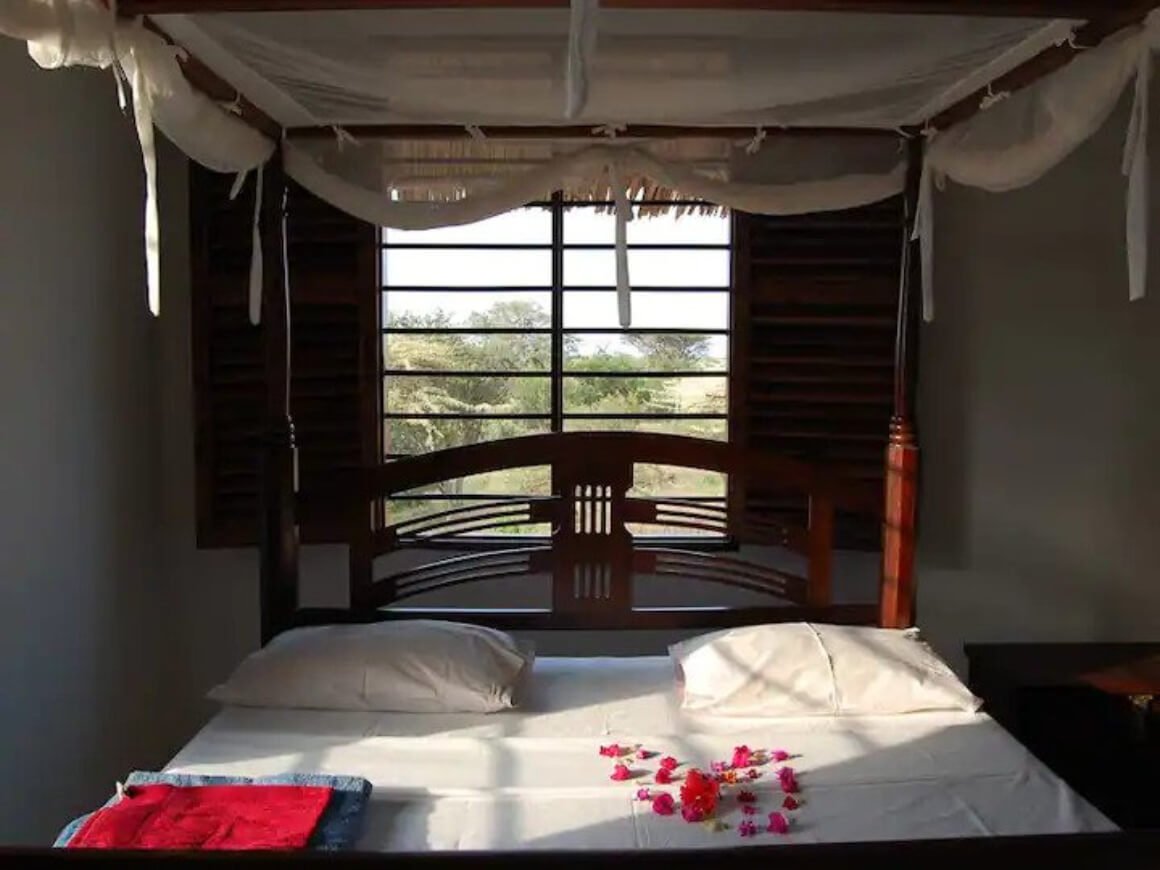 $
8 guests
Off-grid island villa
Quiet and peaceful setting
Mkoko House is located on the edge of the mangroves on Manda Island, just across the channel from Lamu Island. The house enjoys a tranquil setting, perfect for a memorable family holiday.
The traditional coastal architecture ensures a through-flow of air, minimizing the need for additional cooling, while solar panels provide electricity for the house. There are three en-suite double bedrooms with mosquito nets over the beds and fixed onto the shutters to keep all the bugs at bay.
From this resort, you can explore the historic Old Town in Lamu, try out the local cuisine at one of the many restaurants, or explore the markets. Boat trips in a traditional dhow can easily be arranged. Lazy days can be enjoyed at the house on a day bed or hammock on the roof, with views over the mangroves, sea, and acacia plains.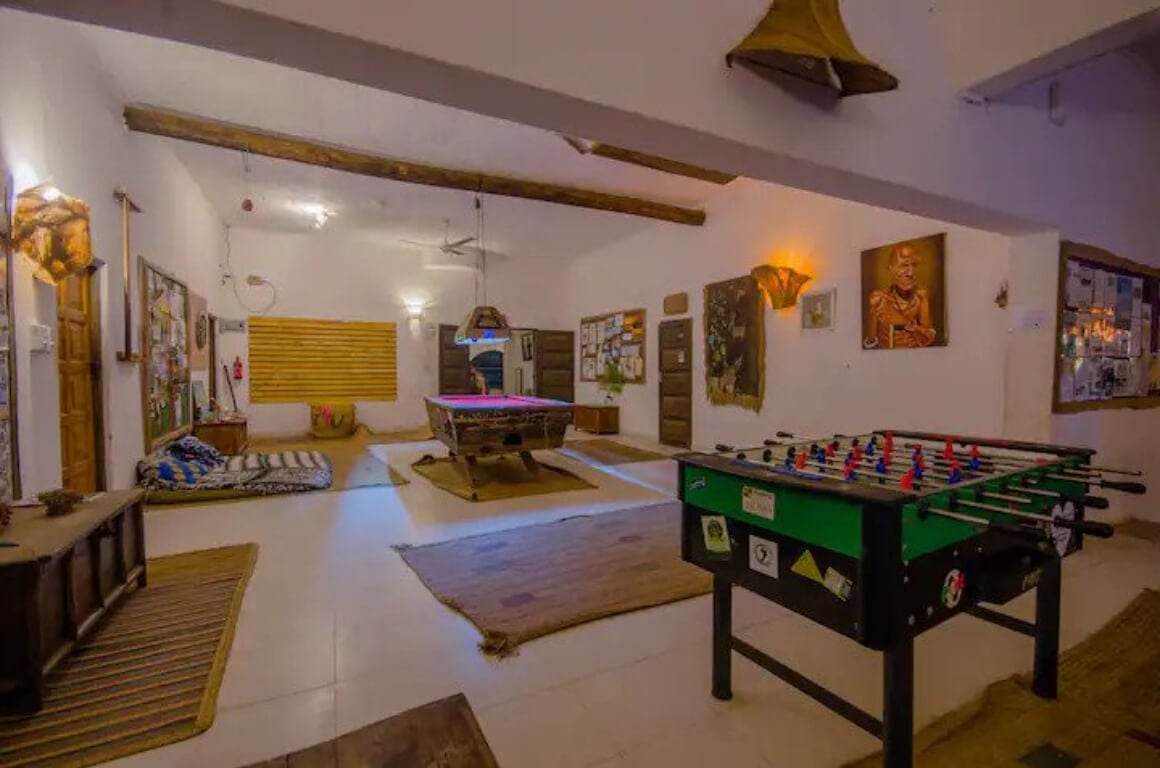 $
2 guests
Eco-friendly waterless toilets
Budget-friendly beach retreat
Set between two small villages, Giriama and Fumbini, Distant Relatives Lodge overlooks the idyllic Kilifi Lagoon. The lodge is just 60km from the vibrant streets of Mombasa in a pristine and lush setting on the coast.
Distant Relatives has been built to fit in with the surrounding environment. Waterless, composting toilets not only minimize water usage but provide fertilizer for the gardens which in turn, provides food for the lodge. You know, it goes full circle (not the circle of life you had imagined, right?).
Activities in the area include dhow sailing, snorkelling, scuba diving, kayaking, and stand-up paddling. The lodge also offers yoga, volleyball, permaculture tours, and swimming in the incredible bioluminescent waters of Kilifi Creek.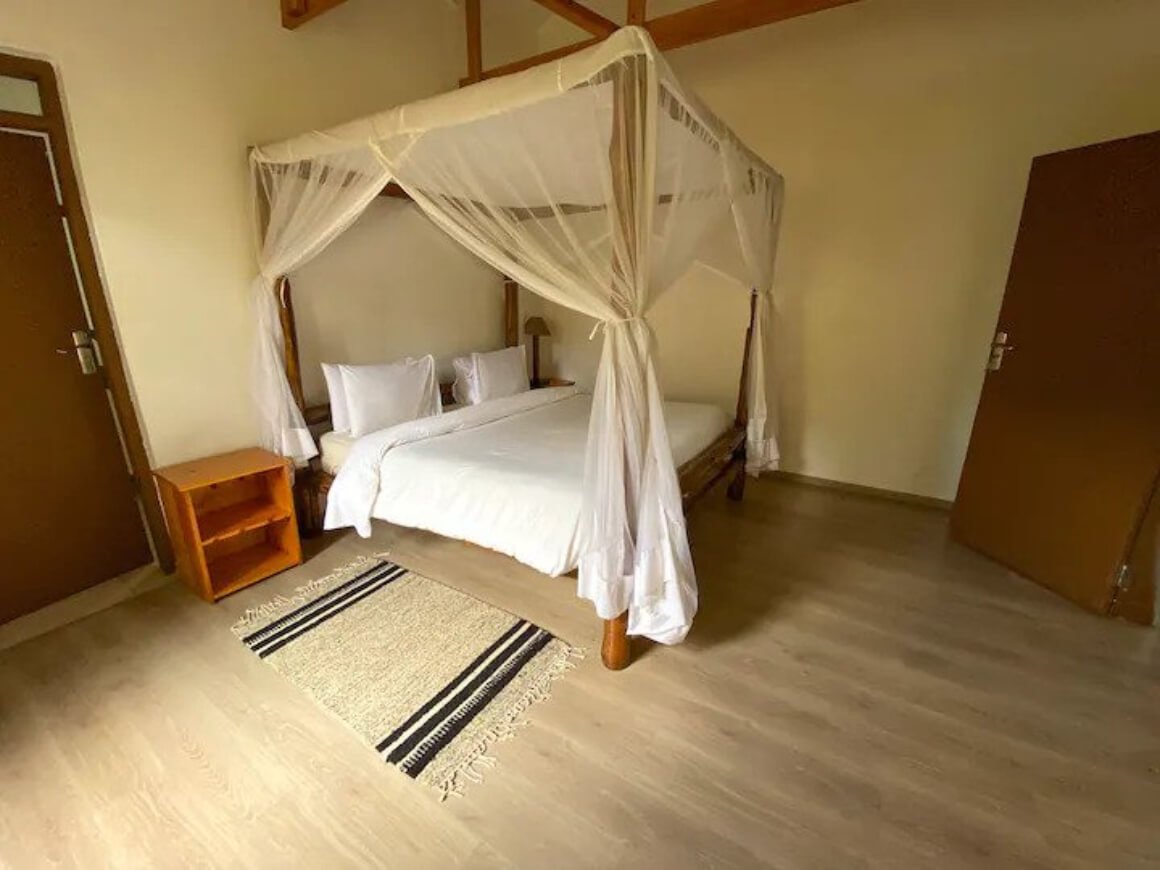 $
4 guests
Ecologically built among the trees
Peaceful and tranquil location
Luxury Living Bush Lodge is adjacent to Ziwa Bush Lodge in a tranquil natural setting in Nakuru. This eco-lodge in Kenya is within easy reach of Lake Nakuru National Park – ideal for wildlife watching.
The house has been constructed around the natural environment in an attempt to minimally impact nature. Eco-friendly construction methods have been used, including the use of plenty of local materials.
From this property, you can explore the wonderful Lake Nakuru area and see the multitude of African wildlife here. Once you return to the home, you can pop over to Ziwa Bush Lodge for a refreshing swim in their pool. In the evening, enjoy a barbeque and great conversation around the fire.
Best Eco-Lodge for a Weekend in Kenya – Rock & Sea Watamu
$
2 guests
Traditional beach architecture
Incredible stargazing
Rock and Sea is tucked among the trees overlooking the beaches and sparkling waters of Mida Creek in Watamu. This idyllic beach destination combines well with a safari in Tsavo East National Park, just 2 hours away.
The eco-lodge features traditional beach architecture and barefoot luxury, with reeds, thatched roofs, and various locally-sourced materials were used to create an authentic Kenyan coastal escape.
Meals here are created using plenty of locally grown produce and freshly-caught fish from the local fishermen.
Activities that can be arranged include snorkeling, diving, dhow sailing, kayaking, kitesurfing, wakeboarding, and bird watching. There is also the option to enjoy a private yoga session with a professional teacher.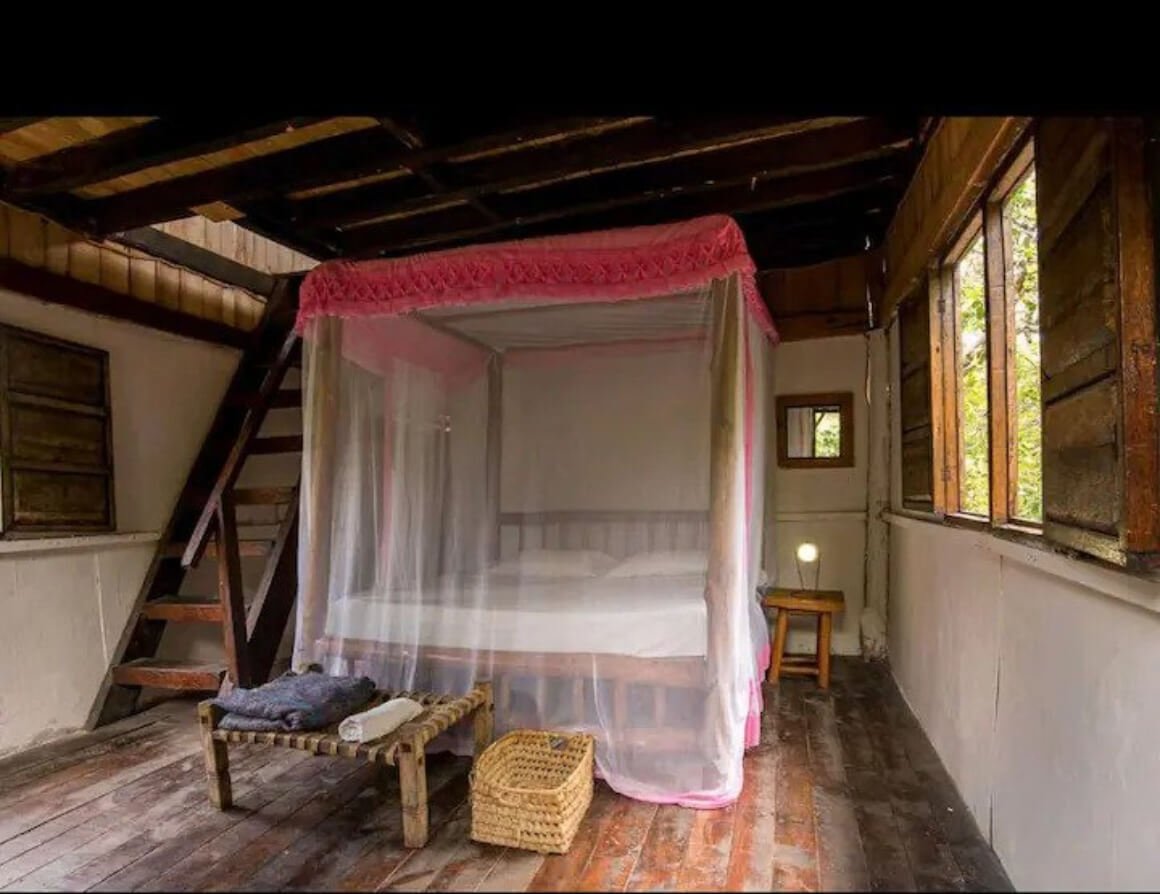 $
10 guests
Within a marine reserve
Surrounded by pristine nature
Mida Creek Eco Camp is situated within the Watamu Marine Reserve and is surrounded by natural forests. The property is located just off the highway that connects Mombasa and Malindi.
This is a truly rustic beach retreat, made from local timber and reeds using traditional methods. This UNESCO biosphere reserve is home to incredible birdlife and marine species to see and learn about.
Each of the bedrooms comes in its own unique wooden cabin, and comes with a double bed with mosquito net, and a shared bathroom.
Explore the marine reserve and forest to see the many species that live here, explore the mangroves, or visit the nearby village to experience a cultural dance display. Alternatively, relax on one of the shaded, swinging day beds and enjoy the sounds of nature.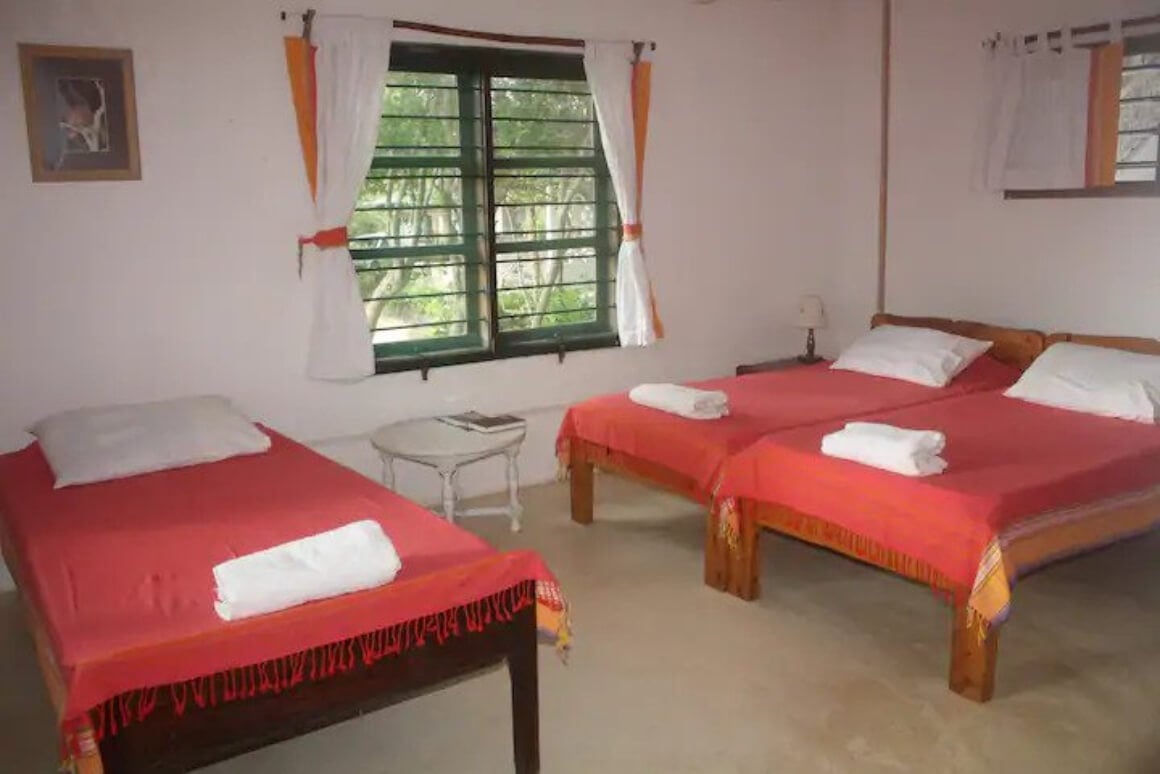 $
3 guests
Community conservation initiatives
Rustic beach setting
Surrounded by coastal forests, A Rocha Eco-Lodge is located along the beach in Watamu, near Mida Creek. From its position right on the beach, the lodge is ideal for watersport enthusiasts and nature lovers.
A stay at this unique accommodation in Kenya offers guests the opportunity to join meaningful conservation initiatives in the area, including eco-scholarships for local secondary school students, and turtle protection programmes.
The beaches here are perfect for long walks, swimming, snorkelling, and trips out to sea in glass bottom boats to see the variety of marine species. The nearby forest is perfect for bird viewing with over 400 species recorded.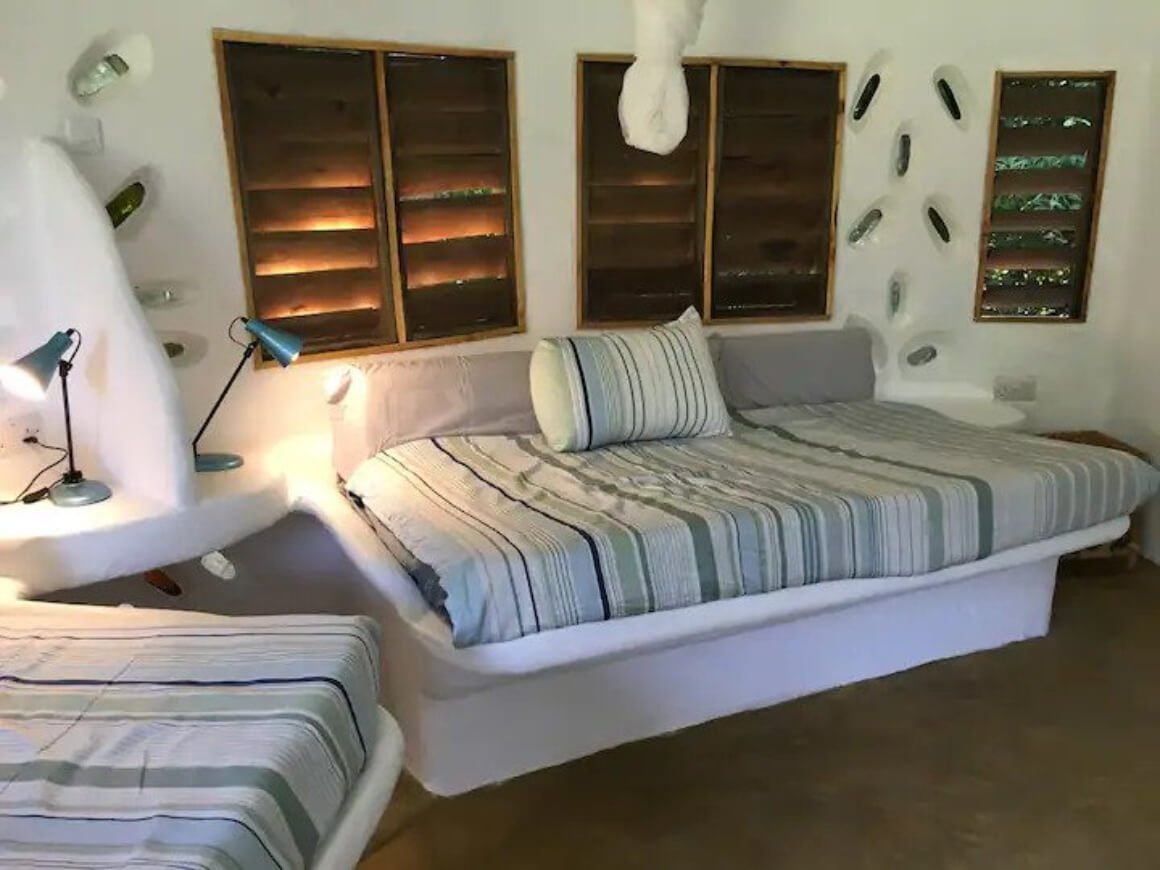 $
12 guests
Permaculture cultivation
On the shores of Lake Victoria
Located on three acres of Rusinga Island, in Lake Victoria, Wayando Beach Ecolodge is near to small traditional fishing villages and pristine nature.
The lodge practices permaculture, so the recycling of greywater and composting toilets are part of life here. Wherever possible, waste is recycled and plastic waste is avoided.
Bird watching, hiking, and fossil hunting are just some of the activities on offer here, in addition to boating and village visits to get to know more about the local way of life. Alternatively, you can relax in a hammock under the trees and enjoy the sounds of nature around you.
$
2 guests
Eco-construction around a palm
Rooftop star bed
Nani's Ecotower overlooks Watamu from its perch on three levels surrounding a doum palm. Encompassed by original coastal forest and just steps to the water's edge, the Ecotower is ideally located for a tranquil retreat with incredible views.
The Ecotower is itself a piece of art created by celebrated artist Nani Croze. It's constructed respectfully around a doum palm, with few walls to allow the ocean breeze to enter. The third floor offers a magical sleep out experience under the stars.
Explore the lush setting, take long walks along the beach, or partake in the wide range of water sports on offer. The Watamu Marine Reserve is home to exceptional marine species and coral gardens – snorkelling and trips on glass-bottomed boats are just two activities not to be missed.
Best Eco-Lodge for Long-Term Travellers – Amani Eco Retreat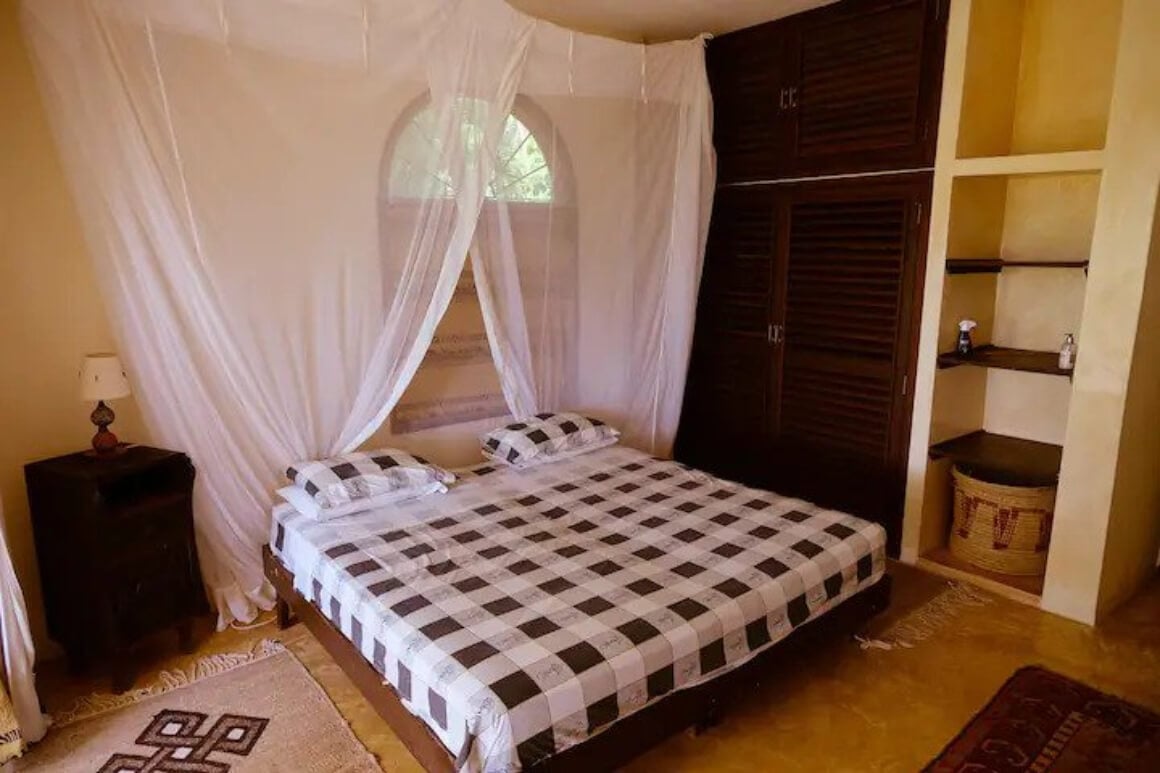 $
5 guests
Solar and wind-powered villa
Rooftop terrace with pool
Located in a tranquil setting overlooking the Mtwapa Creek, Amani Eco Retreat is just 5km from the beach and entertainment options.
Amani Eco Retreat is powered entirely by solar and wind power. In addition, water is obtained from both a well and from rainwater collection. It's essential therefore to use resources sparingly when staying at this unique accommodation in Kenya. Drinking water is filtered and UV treated for safety.
The property itself looks like a castle and comes self-catered. There are two spacious bedrooms and a sofa bed, so up to 5 guests can sleep comfortably here.
There are many ways to enjoy the idyllic natural environment here, from long walks to tours with local guides. Explore the nearby protected mangrove forest and learn more about this fascinating ecosystem, or head out on the creek in a canoe with local fishermen.
Best Eco-Lodge for Honeymooners – Diamond Beach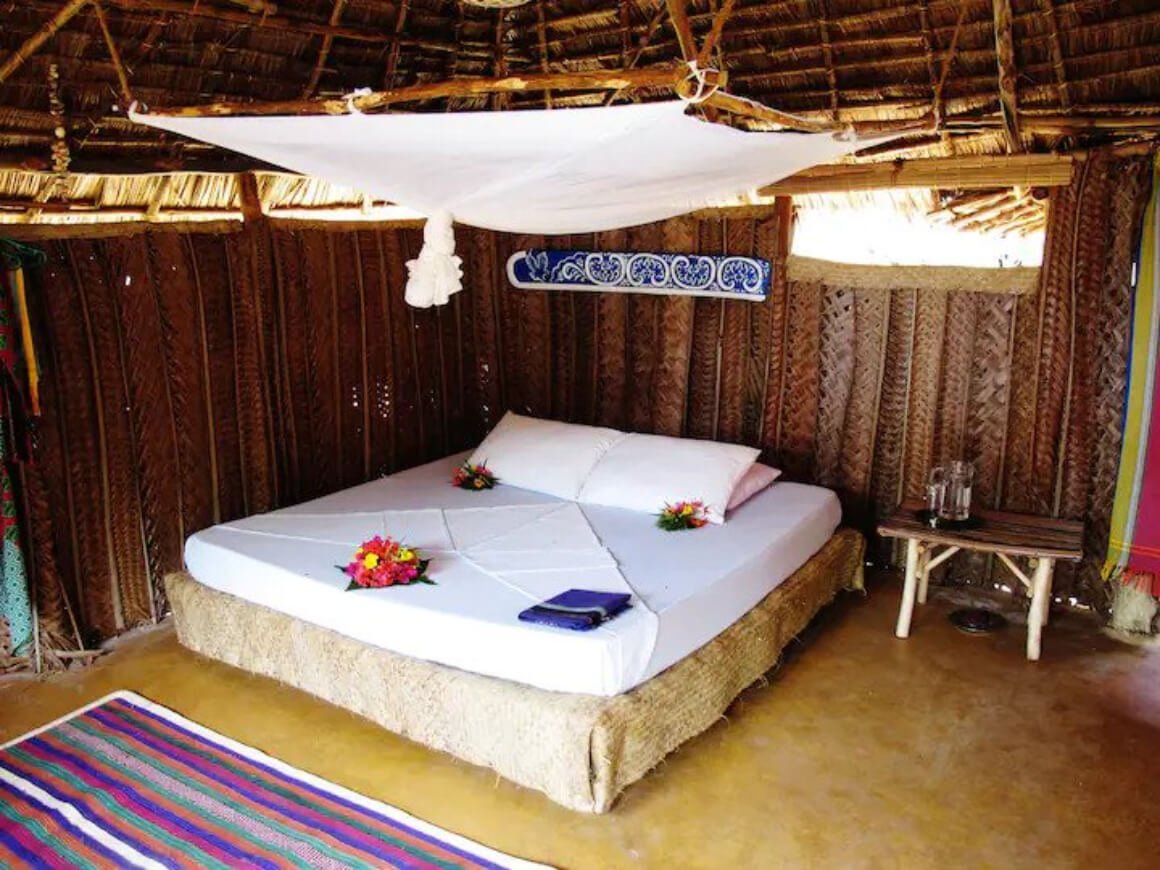 $
4 guests
Traditional style banda
Overlooking the beach and ocean
Diamond Beach is located on the beach on Manda Island, across the channel from Shela on Lamu Island. The lush, tropical setting is perfect for a beach escape without many other tourists, especially if you are looking for an island escape in August when the weather is at its finest.
The lodge features authentic local beach architecture and furnishings made from cane, bamboo, timber, and palm thatch. Fresh local dishes and wood-fired pizza are made using locally sourced ingredients.
Lazy days can be spent on the outdoor day bed or on a lounger overlooking the ocean. The beach is perfect for long walks and swimming, and where you'll find boats for hire to get you to Lamu Island for a day excursion of Old Town.
Most Beautiful Eco-Lodge in Kenya – Kika Lodge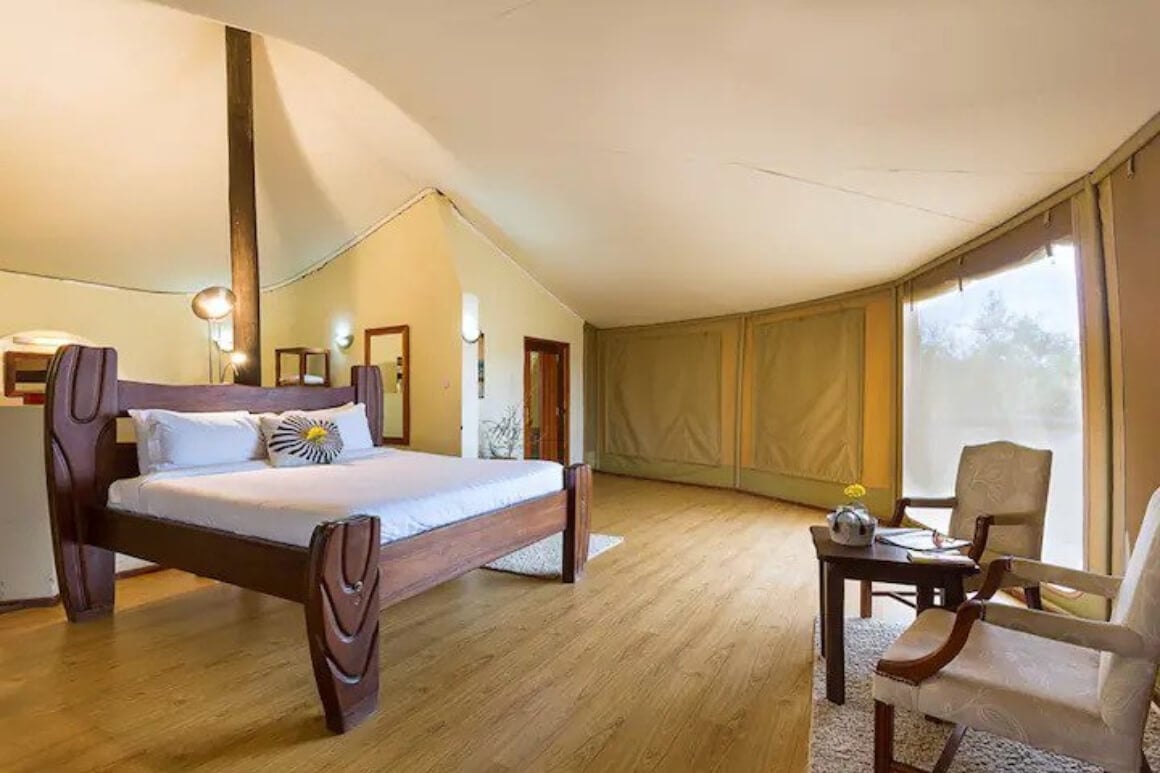 $
3 guests
Canvas and timber safari tents
Exclusive wilderness lodge
Located in the heart of Kenya's Rift Valley, Kika Lodge is ideally located within easy reach of some of the best wildlife viewing areas, including Nakuru National Park, Hell's Gate National Park, and Lake Naivasha.
The lodge is made up of traditional safari-style canvas tented cottages on raised wooden decks. There is one double bed and one single bed, which makes this the ideal accommodation for groups of three. It has been designed using authentic local décor and artworks to add some local culture to the experience.
The surrounding wilderness areas are best explored on game drives and guided walks to explore the untamed African bush in search of wildlife. From this property, you can enjoy a refreshing sundowner on your deck at the end of the day.
Final Thoughts on Kenya's Eco-Lodges
Kenya is home to some of the last true remaining wilderness areas on Earth, not to mention a wealth of wildlife species that are only found in this corner of Africa. Safari parks and beach destinations here invite travelers to come and explore wildlife in its natural habitat. In addition, there's an opportunity to encounter the fascinating African cultures that have changed little over time.
Perhaps you have been inspired to do more, and are considering volunteering initiatives in Kenya – if so, make sure to check out our guide on volunteering in Kenya.
Whether you're coming to explore the magical Kenyan coast or one of the exceptional safari parks, choosing to stay in the unique accommodation in Kenya will offer you a memorable experience. Do you have a favourite eco-lodge from this list? Let us know in the comments.

---
Find out how YOU can support the site.
We're a big site with a big team and this job isn't always easy. But we do it because we love it – we love providing epic and free content. We love the knowledge that our content keeps you adventuring. We don't ask for money, but if you'd like to find out how you can help the site in more organic ways, click the button below.
Thank you for your support 🙂
And for transparency's sake, please know that some of the links in our content are affiliate links. That means that if you book your accommodation, buy your gear, or sort your insurance through our link, we earn a small commission (at no extra cost to you). That said, we only link to the gear we trust and never recommend services we don't believe are up to scratch. Again, thank you!