Ahh Portugal.
These days, Portugal is a prime travel spot with hiking, beautiful beaches, a bursting party scene, and a wealth of awesome places to stay and meet backpackers.
So, what about all those awesome hostels in Portugal. Well, there are a lot to choose from… and a lot of epic ones! That's exactly why I absolutely had to look into it and whip up this huge, handy guide to the best hostels in Portugal!
I've divided this roundup up by location, from the bustling coastal capital to more of Portugal's best destinations. Expect a lot of beaches, parties, and good vibes. From Portugal's budget hostels to their bouncing backpackers, this list will have you ready for a youth hostelling adventure in Portugal.
So, without further ado, let's dive in and see what the best hostels in Portugal can offer you!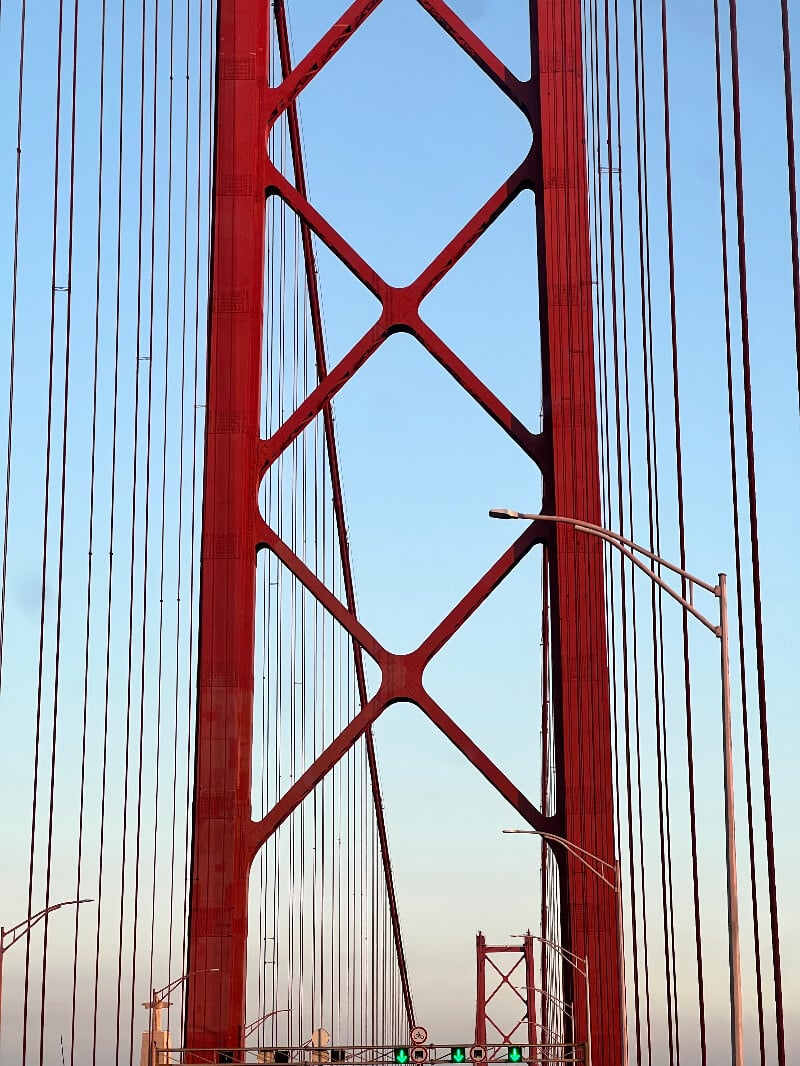 Quick Answer: What are the Best Hostels in Portugal?
What to Expect from Hostels in Portugal
Backpacking in Portugal is full of surprises, so best to go in with no expectations. Just sit back and let the magic unfold… You will be surprised in the best of ways!
I mean if I told you that you were about to embark on a backpacking trip throughout a country with some of the world's most beautiful beaches, oldest castles, and liveliest cities, would you believe me?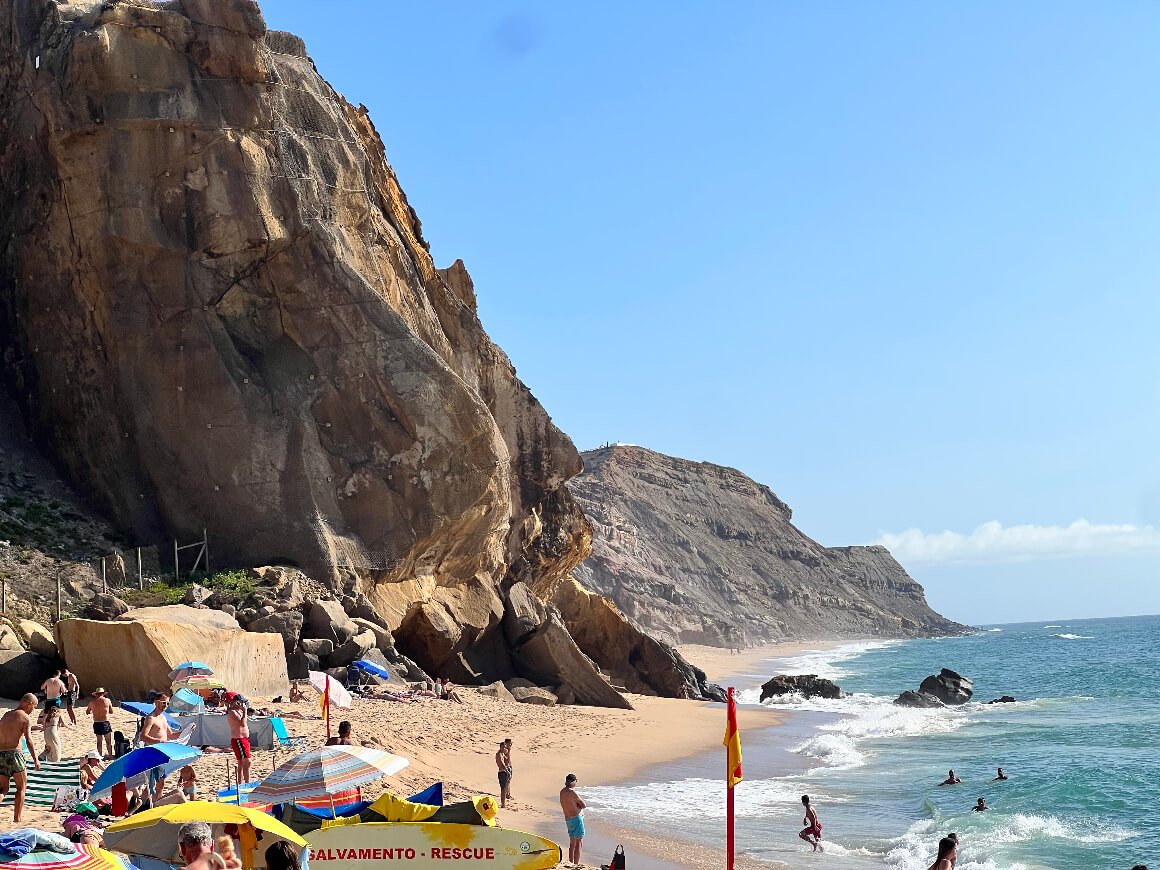 Usually, I like to show up at a hostel, with no bookings, and my fingers crossed they have a bed. But not in Portugal. This country is a super popular backpacking destination and it's definitely best to plan a bit in advance. No worries here, I got you covered with some of my favourites from my time in Portugal!
The 5 Best Hostels in Portugal
Wondering where to stay in Portugal and need some hostel picks?! Before I start this list properly, I'm going to talk about the top hostels in Portugal as a whole. These are the absolute best places to stay in Portugal for backpacker vibes. When in doubt, just go with the best!

Do You Want to Travel FOREVER??
Pop your email in below to get a FREE copy of 'How to Travel the World on $10 a Day!'.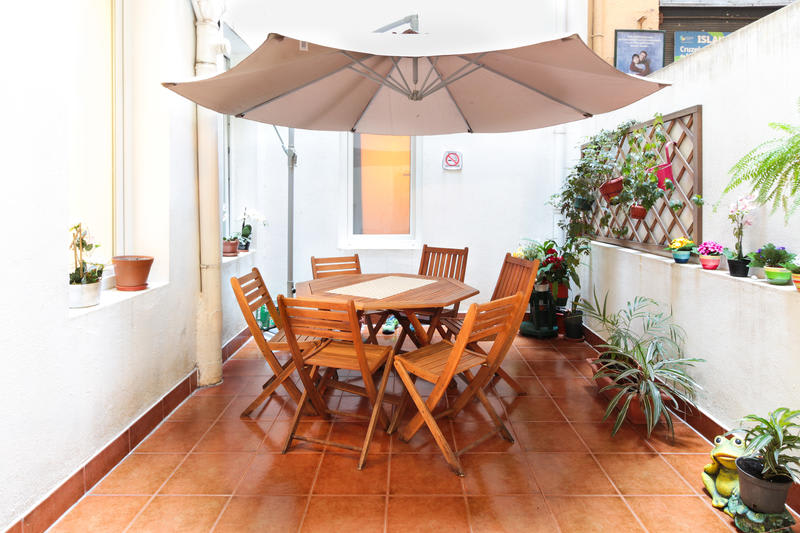 Loads of events
Games Room
So, yeah, if you're looking for not just the best hostel in Lisbon but the best overall hostel in Portugal… here it is! Seriously.
Why you'll love this hostel:
Fruit pancakes + more for breakfast
Prime location
Ran and owned by locals
Can I tempt you with homemade soup? Homemade milkshakes? Yeah, I thought you'd like that.
The staff here will also sort you out with cheap beer, sangria at a steal, super fun bar crawls and movie nights for when you can't do anything but veg out in front of a screen. But don't worry: you won't feel grimy staying here since it's pretty dang clean. And the staff are super friendly too.
I rank this one number one because it checked all the boxes! literally… I couldn't find anything wrong even if I wanted to. And if you arent vibing with the hostel, you can take the train leaving from Marques de Pombal close by for your convenience.
2. Best Cheap Hostel in Portugal – Hostel Gaia Porto
Themed Events
Laundry Facilities
On the other side of the river to the main hub of the city, this backpackers hostel in Porto is pretty much a calm place to stay because of that. Solo travellers, couples, groups of friends, whoever you are: this will be a good and cheap choice for you.
Why you'll love this hostel:
Many activities
You will enjoy the cute garden
Relaxed and cozy ambience

Imagine lounging in a chill garden that overlooks a river with a cold brewski in hand, the absolute dream. Need to make some cheap eats? They've got a kitchen that's just begging for you to get your chef on. And don't even get me started on the laundry facilities—no more rockin' the three-day-old socks.
The best part about this hostel is the crew, such friendly vibes! Perfect start to a banging hostel experience.
3. Best Hostel in Portugal for Digital Nomads – Selina Peniche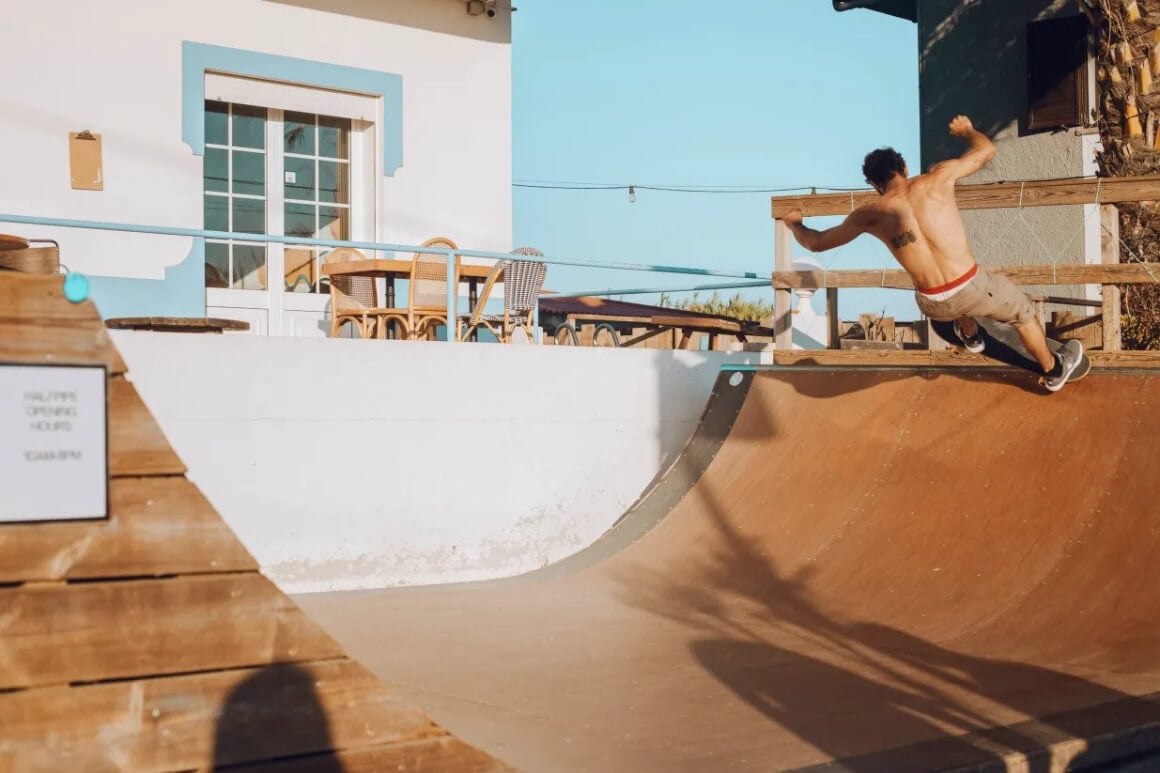 This place has it all…Skate rentals, surf lessons, tattoos and good vibes.
During my stay at Selina Peniche, I got the full Silver Coast experience. Selina is really good at creating fun activities to bring people together… From movie night to bar crawls, I had the best time and met such cool people!
Why you'll love this hostel:
The onsite restaurant is SO yummy.
Located in a prime surf location
Great daily activities to meet new people
As a Digital nomad, this place is PARADISE. The top level of the hostel has a coworking space free for anyone staying at the hostel. The space includes a mini fridge and a coffee maker available 24/7. Something else i found super convenient is the booths they had available for work calls. Making my time working here such a breeze.
The dorm rooms and lounge areas are cosy too. It is super common for people to spend the evenings outside enjoying the cool breeze and watching the skaters hit the ramp. You can count on the friendly staff to make you feel right at home once you arrive- you'll fit right in!
4. Best Hostel in Portugal for Comfort – LX Hostel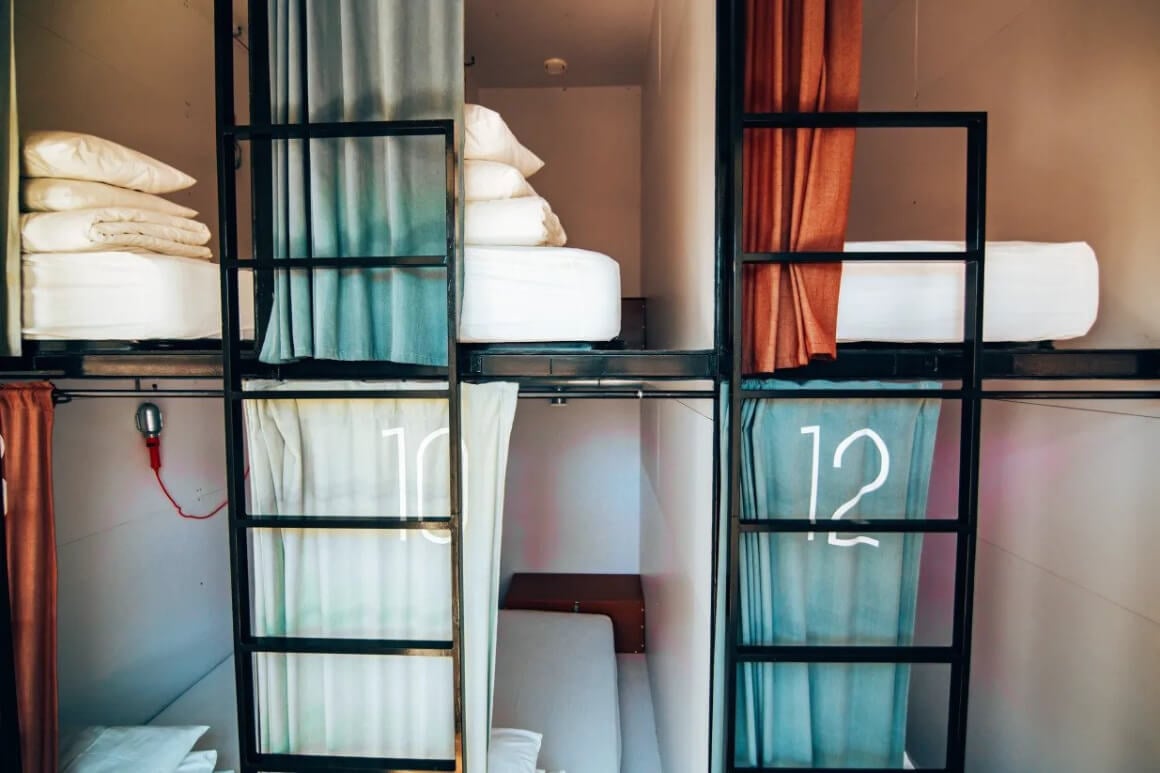 Rooftop Terrace
Private Rooms
During my time in Lisbon, I spent a few nights at this hostel and boy was I in for a treat! Upon arrival, I got a welcome shot and they had free sangria for sunset… It really doesn't get better than this.
Not only does it fit the vibe check, but the location truly is prime… Located In the heart of the LX district, where good food and live music are just a walk away.
Why you'll love this hostel:
Located in the HEART of Lisbon
Very comfy dorm rooms and beds
Chill and relaxed atmosphere
It's safe, the atmosphere is friendly, and it's close to nearby attractions that you might want to go snap some photos of. It's one of the best hostels in Portugal for those backpacking alone. The balcony is good for a drink and catching the sunset.
If you are easing into hostel life, you can even book a private room for your comfort.
5. Best Hostel in Portugal for Solo Travellers –The House of Sandeman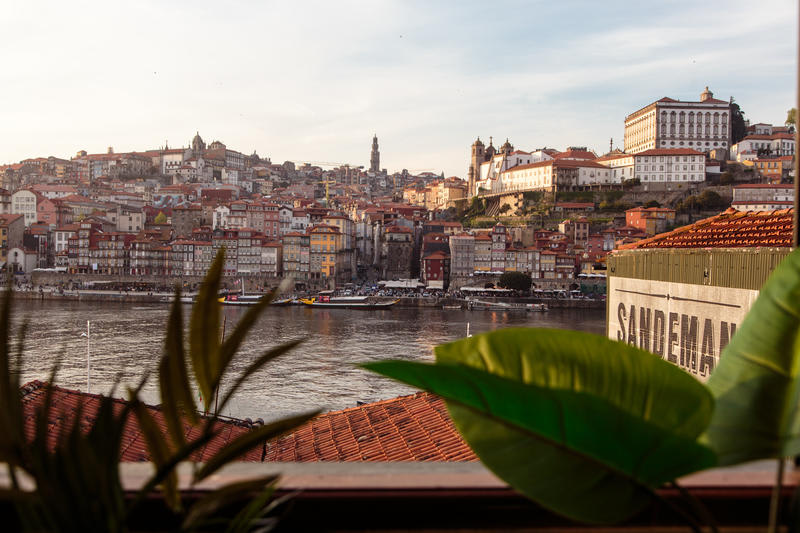 We know, we know, House of Sandeman just makes us think of something spooky as well. Probably something to do with that Neil Gaiman comic. But actually, this couldn't be less scary.
Well, it is in a historic building to be fair. And the rooms here are mental. The bunks are actually in the old frames of barrels used to make port wine. How cool is that?
Why you'll love this hostel:
Welcome drink included to get you excited!
Breaky that is mind-blowing
ON-SITE bar
Where is it? Downtown Porto, of course, so it's a pretty sick locale we gotta say (history, river, all sortsa stuff on your doorstep here). It's a memorable hostel, the kind of place you'll use as a measure when you visit other hostels. Definitely the top dog for the best hostel in Porto.
From the depths of the hostelsphere, we bring you… the Hostel Card!
HostelPass has spent years & years looking for the best places to stay in Europe, and they just came back with something GREAT.
The Hostel Card is a hassle-free solution with up to 25% discount at the most amazing hostels, tours, and experiences. Any-where-you-go.
Don't sleep on the ultimate budget travel card — use code "brokebackpacker" at checkout for 25% off!
Get the Card
So, about Lisbon, it's the best! Cascading hills of gorgeous architecture that flows down to meet the Atlantic Ocean. And the kickass party scene isn't half bad either!
There are a lot of awesome hostels in Lisbon so why delay? Here are the best!
This. Is. LISBON!!! … Wow, sorry. But it is…
This Hostel has been given the award of the "most popular hostel in Lisbon" many years in a row for a reason.
The staff are super friendly here, helping to create a wonderful atmosphere that makes this one of the best hostels for solo travellers in Portugal. Free walking tours, beach trips, and tasty home-cooked Portuguese dinners, as well as lessons in the local lingo, make it pretty easy to get chatting and make some pals.
Oh and shout out to the family dinners at this Lisbon hostel. One word: immense.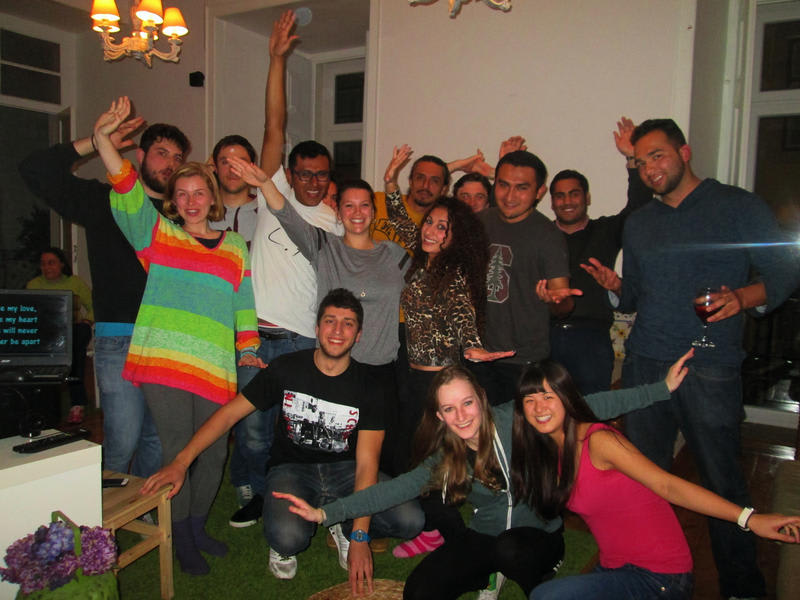 Yay, puns! Putting aside the winning name, we do actually rate this place very highly. Yep, it's one of the best hostels in Lisbon's Chido neighbourhood and it's pretty sick: the building is from the 18th century and the floors are all decorative tiles and stuff.
The location is amazing (very close to the metro), but since it's so central you can walk pretty much everywhere, part of what makes this one of the best cheap hostels in Portugal. There's also a free breakfast, and a common room complete with… musical instruments.
Let the jams commence!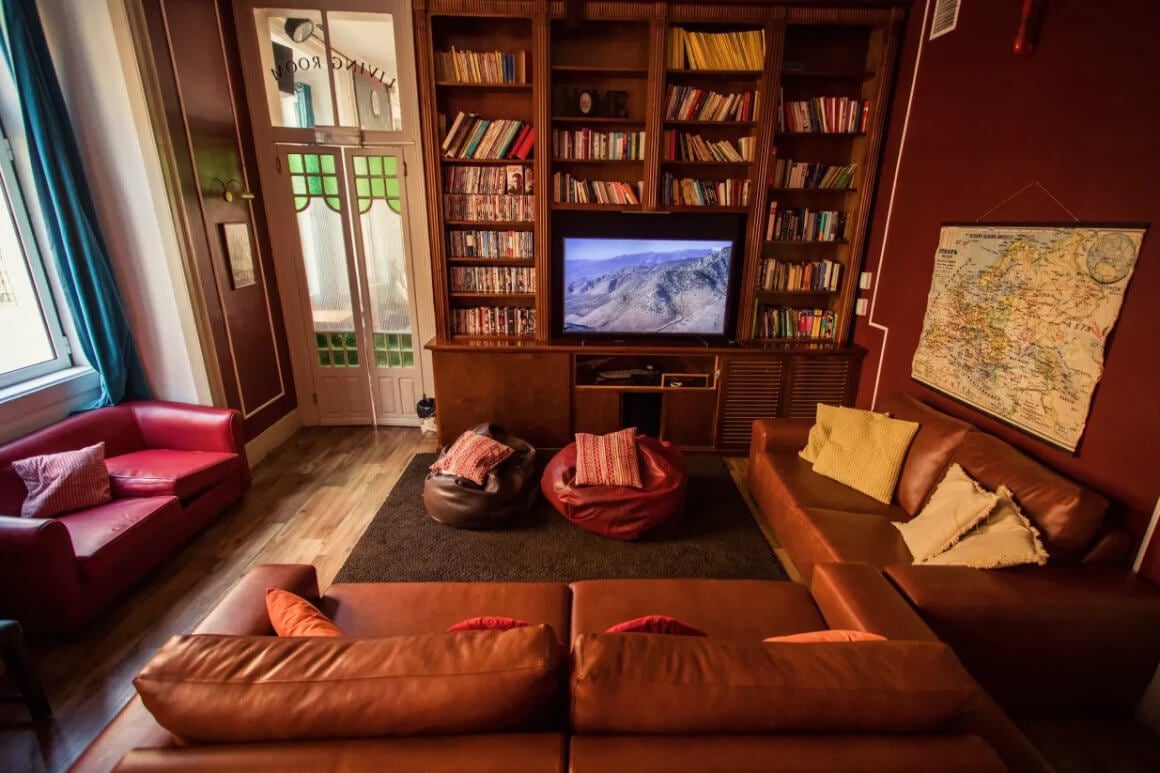 social dinners
Self Catering Facilities
This place is in a smack-bang amazing location and packed full of activities and nightly events and all that sort of caper that makes it one of the best hostels in Portugal. For one thing, the staff make sure the vibe never dips and come up with fun stuff to do every night.
And if you have a literally terrible hangover the next day this Lisbon hostel serves up a big ol' greasy dinner to chase your demons away and send you on a journey to take on the city. And it's award-winning too. We give it our own award too… of awesomeness.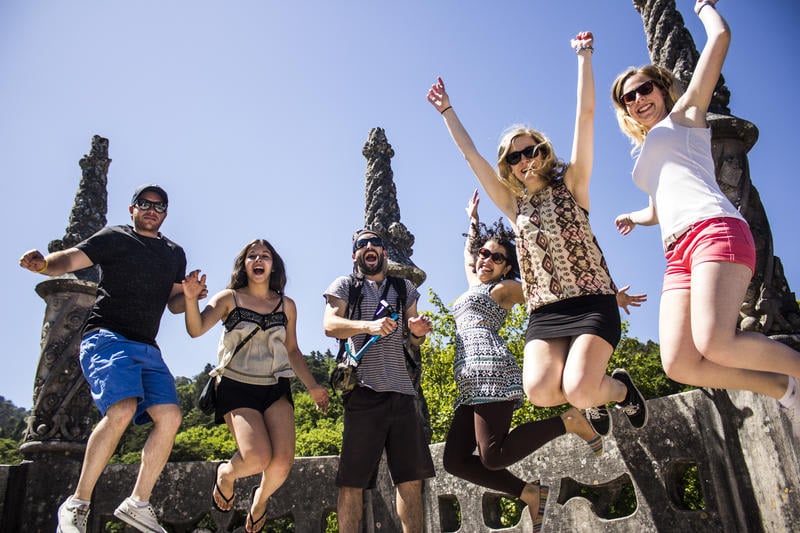 Free Drinks
Free Breakfast
Wow. How is this place so nice? This is amazing. Maybe it's because of the hour of power they put on every night (that's free-flowing drinks), maybe the staff are just amazing, or maybe it's just because it's one of the best party hostels in Portugal.
It's not, like, an absolutely mental party hostel – you can choose to stay in drinking or go out. Whatever. Yep, you'll get to have a rowdy night out with the people you meet here but it's CIVILISED. They've got cooking classes and walking tours, you know. We can't leave without mentioning the breakfast: top marks.
Is This the Best Backpack EVER???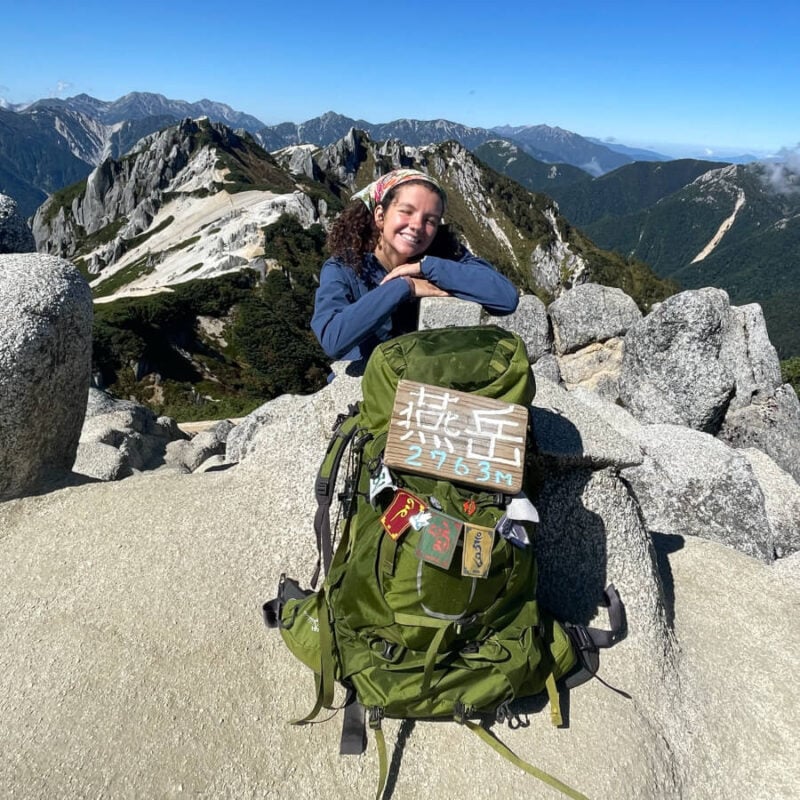 With old-world flair and mixed contemporary highlights, Porto is another of Portugal's best places to go. The kind of city that's best explored just by wandering its woven streets, there is a lot to discover in Porto from its scrumptious food and wine scene to its delicious picturesque skyline.
Porto is another strong favourite for those backpacking in Portugal. With so many cool things to do and see, you can spend some days just enjoying the beautiful city. But first, you'll need to pick a sweet hostel in Porto.
Fully equipped kitchen
Private rooms
"Onefam"? You may ask what that means, but better to find out yourself. The ambience this place has makes everyone feel right at home with family.
This super Porto backpackers hostel is equipped with a lounge where you can chill, watch movies, play the guitar, drink, and chat. It's all good!
This place even has raving pub crawls, which helps add brownie points. The events like free walking tours, and the general social space here making it one of the best hostels in Porto for backpackers.
Airport Transfers
Free welcome wine!
Here is another of the best hostels in Portugal and definitely the best budget hostel in Porto. We love that this place actually embodies one of the biggest reasons people travel to Porto… to taste the wine! A little something to help with the social butterflies.
But one of the BEST things about this place is that it's cheap! These days, finding hostels under $50 in Portugal is rare, so this hostel is a big score!
Some might even say that it's… awesome. Hah! Subverted your expectations.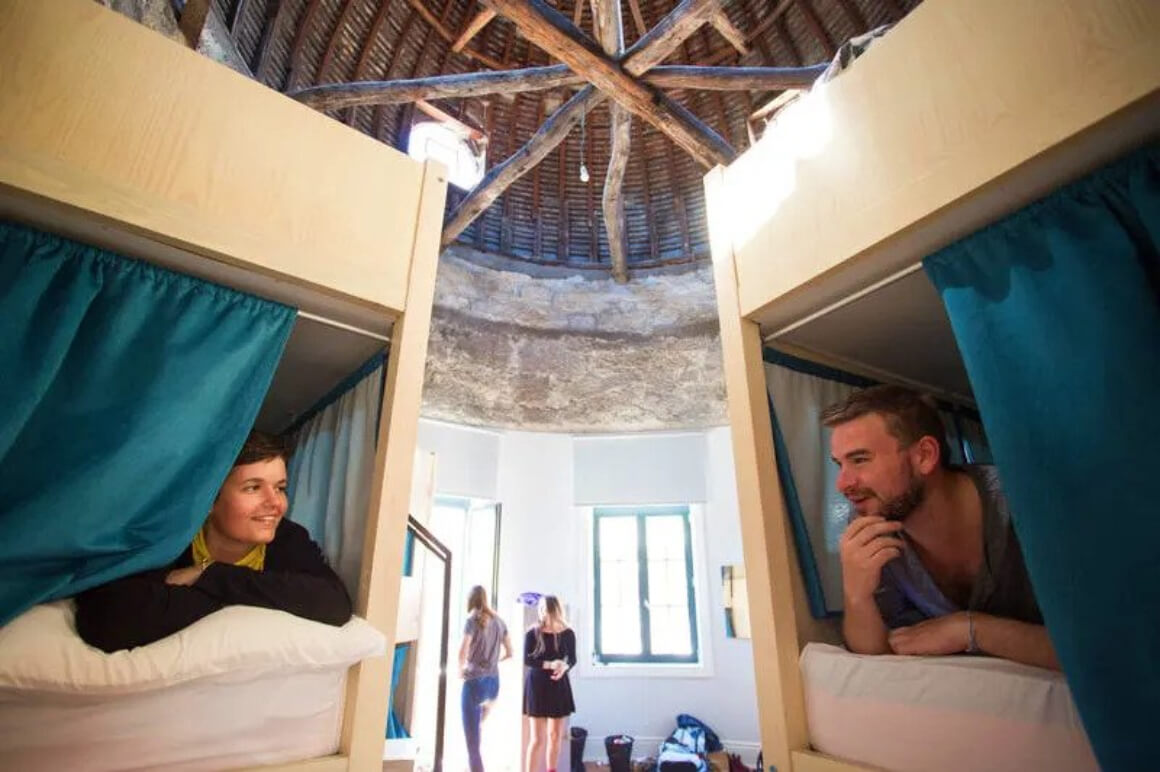 Self Catering Facilities
Free Walking Tours
This is a place to bring people together in Porto. A charming common area with cosy couches just ripe for spooning in, it'll be a romantic weekend in Porto together.
So if you're looking for the best hostel for couples in Porto, well, here it is! There's a calm pace of life here, plus the private rooms are perfect if you just don't do dorms. The location is just 5 minutes from the metro and booming nightclubs!
Moving away from the pretty city life now to the pretty town life! It is a tourist town for sure, but that just means there are heaps more things to do in Lagos. From the surrounding awe-invoking nature and cliffs to the fabulous beaches, Lagos is a dope place to visit in Portugal.
Plus, all those tourists just mean an awesome selection of hostels in Lagos.
There are no words. Perhaps two words: Rising Cock. I can't believe I get to write those words.
Look, based on the name, you already know what to expect. It's a party hostel in Lagos that will send you nutty in the best way possible. Centrally located in Lagos's old district, it's a walking distance from a bunch of sweet restaurants, bars, and other goodies.
Being one of Portugal's best party hostels, days here are about chilling out and recharging those poor batteries of yours (BBQs on Saturdays – winner). But the nights here are about getting absolutely on it. Free pub crawls is one thing. Another is, well, the staff just know how to get down.
Or up. 😉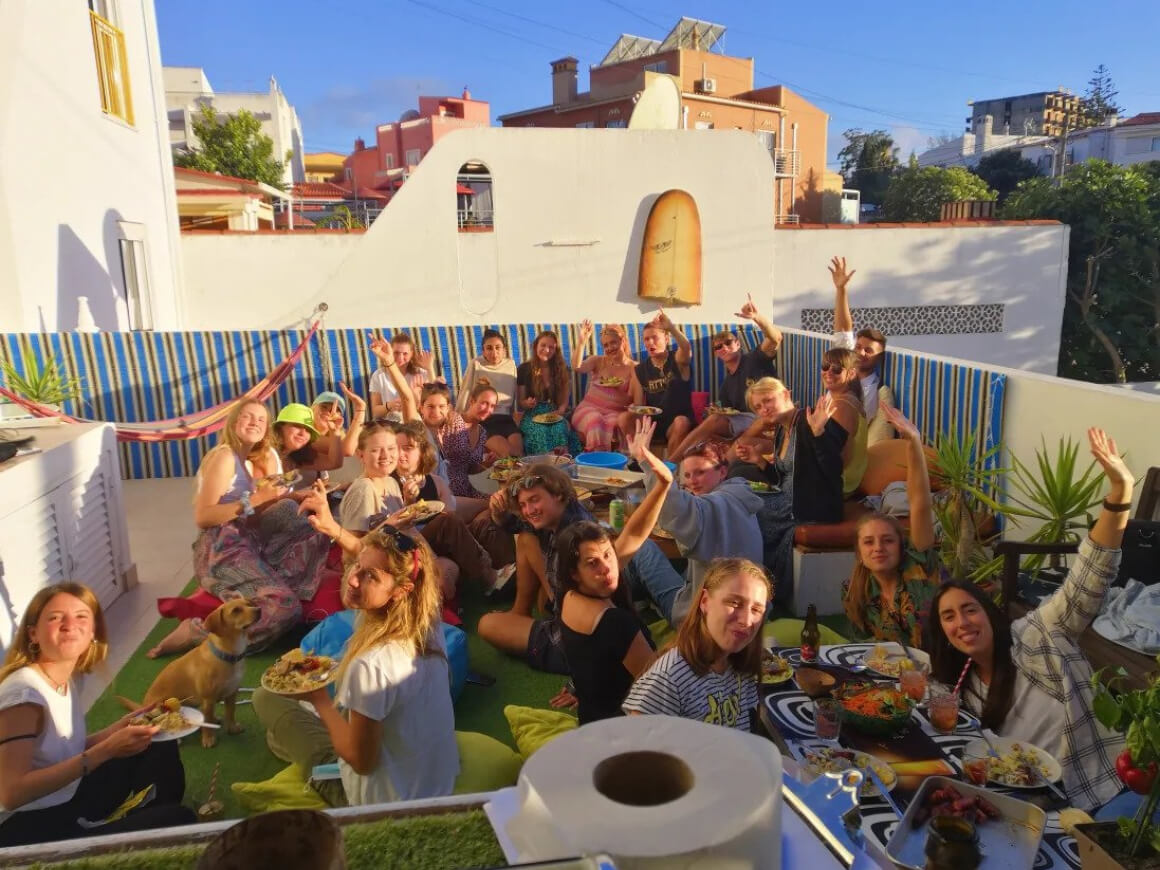 Family dinners
Rooftop Terrace
If you're a surfing person you'll love this place. It's basically all about surfing. Or not just surfing, but doing all those sunshiney, beachside sorta things like hanging out around the pool, in the pool, or in view of the pool. Think BBQs in the afternoon and drinks in the evening sort of vibe probably followed by a surf the next day.
– Make this one of the best cheap surf hostels in Portugal. That's right: in the whole damn country.
(For surfers.)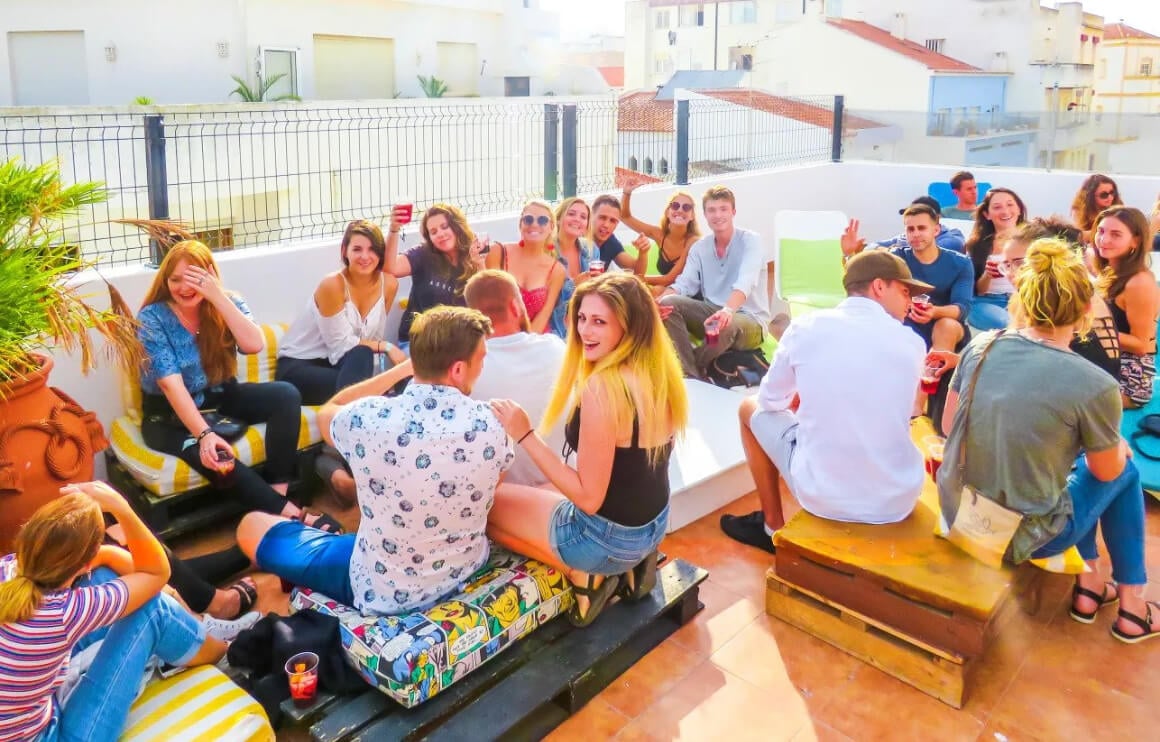 Sol A Sol has that perfect balance between the fun stuff and chilling that's pretty hard to attain. In fact, this Lagos youth hostel literally claims that it provides "the ultimate Lagos experience." It is a bold claim indeed, but not far from the truth. It's also cheap!
They do trips to caves, daily tours, rooftop BBQs, yummy family dinners, and bar crawls, and the staff are helpful, which easily gives it creds enough to be one of the best hostels in Portugal for the lonely wanderers. This budget hostel in Lagos is also very close to the beach – perfect!
For another one of the best hostels in Portugal, get yourself to Lagos for a majorly chilled beach hangout. It's a family vibe hostel which always, always makes a difference – good times all around here. They'll also take you out for fun stuff like surfing and all that outdoor beach biz.
This is one for the refined backpacker, surfers, and people who just wanna hit a few sangrias in the evening and wake up for a stroll on the beach. Calm by name, calm by nature.
Faro is sometimes overlooked by travellers in Portugal which is a damn shame. Though not as vibrant as Lisbon or as picturesque as Lagos, some truly awesome nature surrounds Faro and the hodge-podge mix of architectural styles makes it one of the more unique places to visit on Portugal's south coast.
Comfy Beds
Location, Location, Location
This cool backpackers hostel in Faro is inside a super stunning villa that's probably very historic or something but whatever! You won't be coming to this place to stare at the walls. It's ALL about the atmosphere here, which definitely goes a long way to making this one of Portugal's best hostels.
You can eat your fill and get silly at their sangria and BBQ nights. It's also easy to get chatting with fellow travellers. Make the most of your days here by heading out on a bike tour, spotting some wild flamingos, or rolling through Faro's old town. This is the kind of place you end up extending your stay.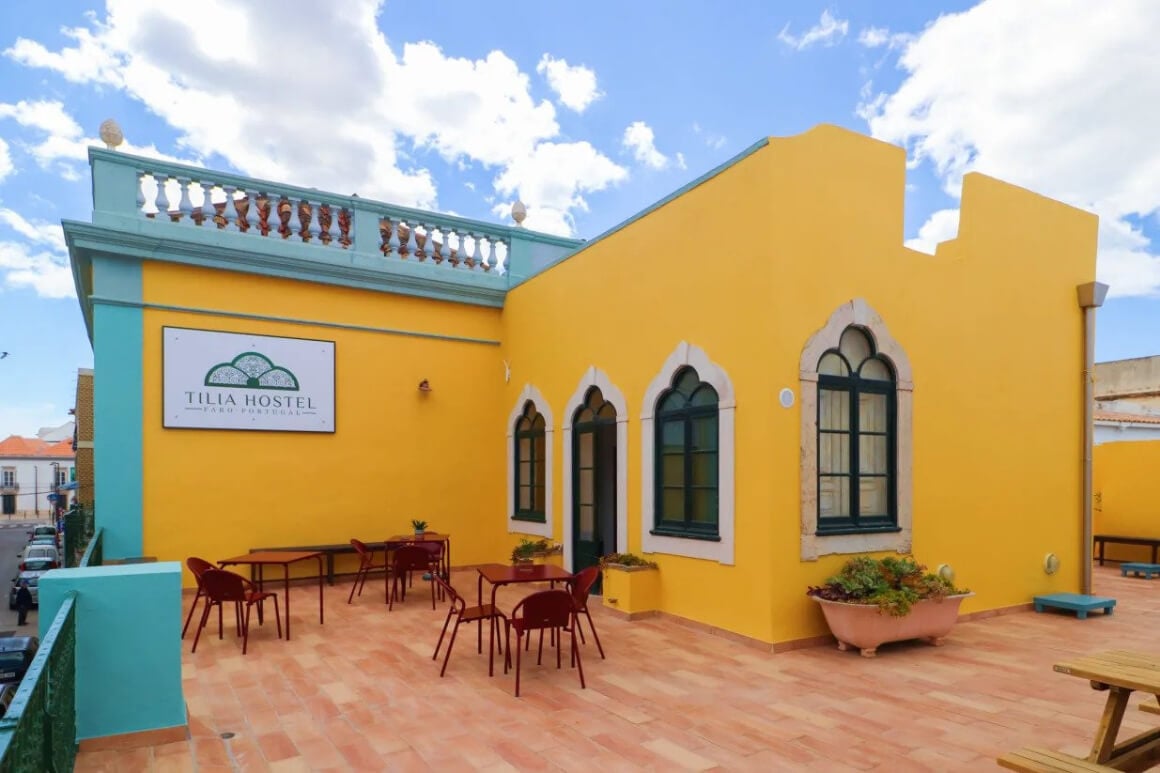 Outdoor Terrace
Prime location
This Faro backpacker hostel also happens to be one of the top hostels in Portugal for solo travellers. Not going to lie, it's probably because it's so compact; you literally have to make friends with people otherwise you'll just fume all day long.
But seriously: mix comfy beds, quiz nights, a platter of social opportunities, add a side serving of a huge outdoor terrace, and garnish with big family dinners and you got yourself a great place to meet other peeps. Also, it's just a few minutes from the centre of town!
It's in an old Mediterranean house in Faro and it's a chill, cool place to stay. What else can we say?
It's got modern amenities meeting traditional stylings and is all-round just a really cool hostel in Faro. The vibe is good too!
The staff here are amazing: like really, really nice. There's a rooftop terrace where you can get some nice views. There's a free breakfast (feat. fresh coffee and homemade pancakes). They also respect siesta time, which we also respect very strongly.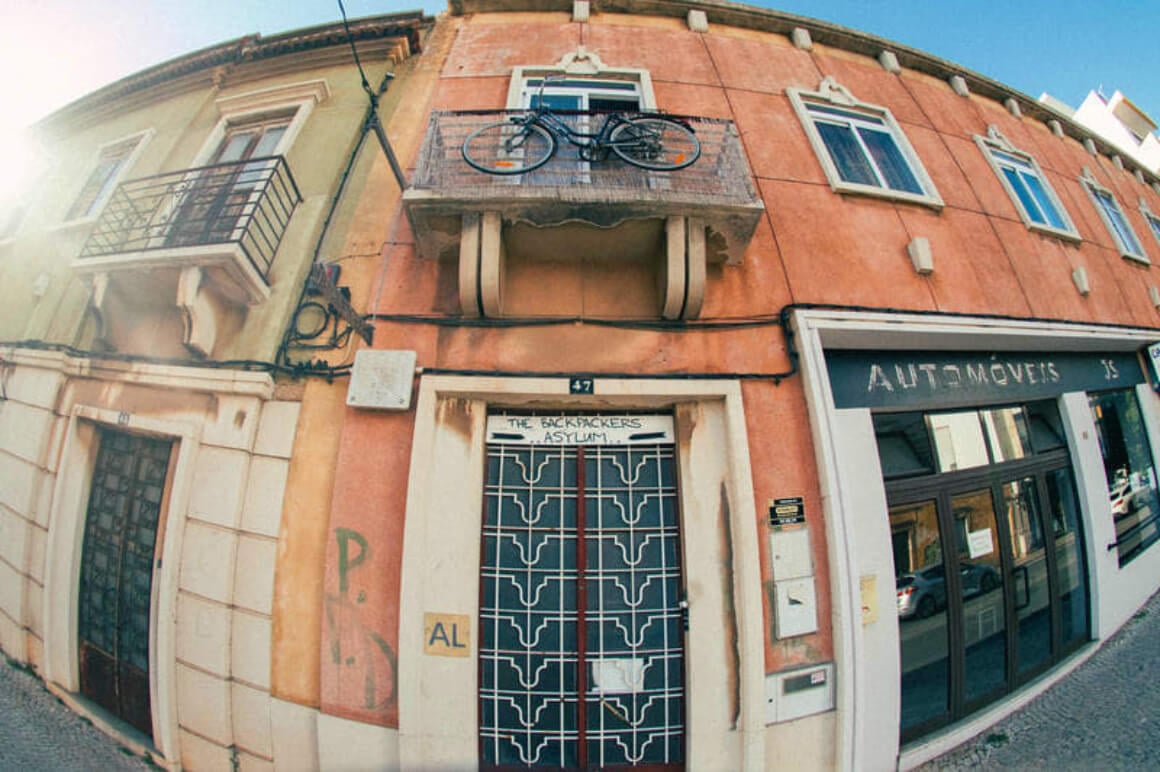 Outdoor Terrance
Big Old Building
Mmmm… this is a pretty cool hostel! The name basically says it but it's decorated with the intention and charm of pirates. If you like the sound of that, then you'll probably love staying here.
It's also one of the best budget hostels in Faro. Why? Well, that's because it's literally in the centre of Faro, and has a great vibe for travellers looking for a homey hostel. They only host 10 travellers at a time, so it's the perfect chance to take a break from the constant movement of backpacking and chill in a family-style hostel.
The value-for-money game is strong here.

Our GREATEST Travel Secrets…
Pop your email here & get the original Broke Backpacker Bible for FREE.
Holy crap, there are no beaches. We're in Central Portugal now! There's still a river though.
With old architecture, an ongoing university life, and a lot of history in this city's walls: it used to be Portugal's capital city for over a century. So while yes, there may be no beaches, there are still a lot of things to see in Portugal's old capital, Coimbra. There are good places to stay too.
Rooftop Terrace
Private Rooms
Well, the swank keeps on coming! We dunno what this is but it's a mental ornate world of next-level murals, a grand staircase, and loads of other un-nameable decoration that makes it perfect as a top hostel in Portugal who want a classy vacation stay.
But on top of how sick this place looks inside – and out – is the location. Yep, this is easily one of the best hostels in Coimbra, close to some pretty stunning historical sites. So why not stay in an actual slice of its history at this mad palatial hostel? We definitely would.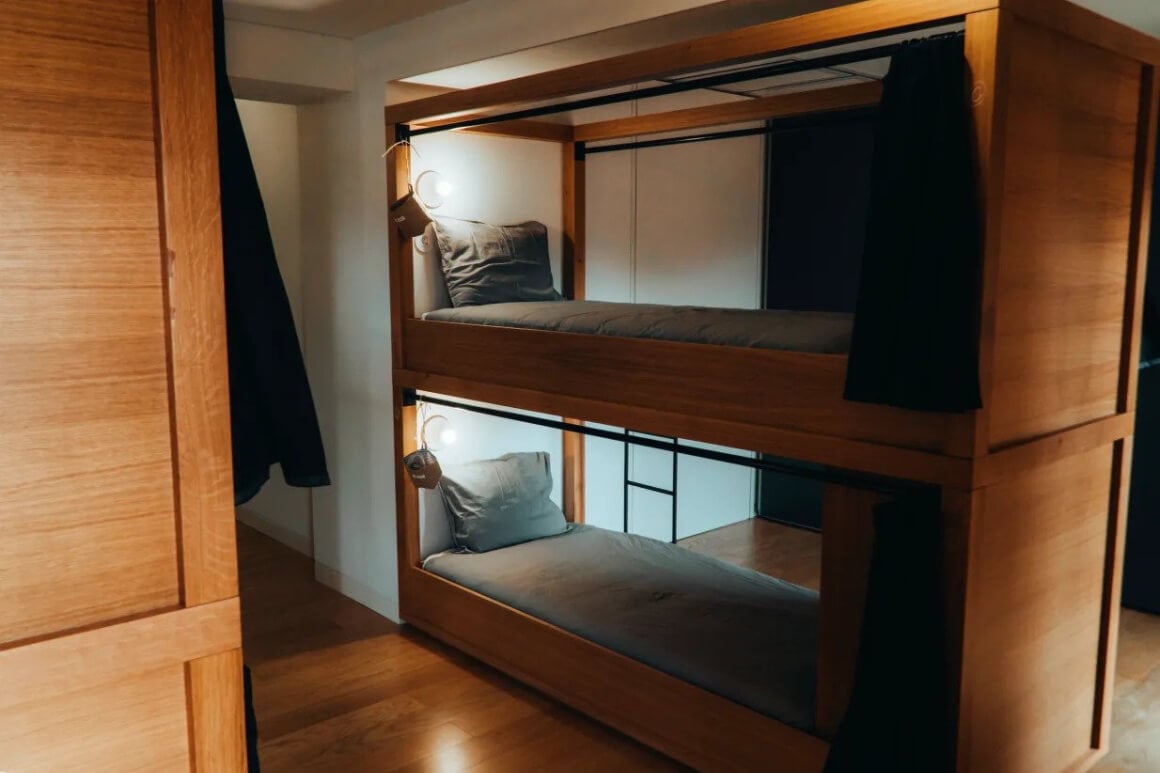 Air Conditioning
(Sick) Free Breakfast
This hostel goes above and beyond to make you feel like you are experiencing a "deluxe hostel". I mean most people who come say it feels like a hotel with how amazing all the Facilities are. The breakfast here is literally amazing too.
It's probably one of the best place to stay in Coimbra for a solo traveller. The atmosphere and location make you excited to go explore. Oh, did I mention the location is walking distance to the castle? What a dream!
Castel-Creative Living is a nice choice for anyone looking for a swankier stay.
Don't Forget Travel Insurance for Portugal
If you're staying at hostels like The Rising Cock Party Hostel, chances are you'll want to be extra safe for those drunken nights. Travel insurance has your back.
ALWAYS sort out your backpacker insurance before your trip. There's plenty to choose from in that department, but a good place to start is Safety Wing.
They offer month-to-month payments, no lock-in contracts, and require absolutely no itineraries: that's the exact kind of insurance long-term travellers and digital nomads need.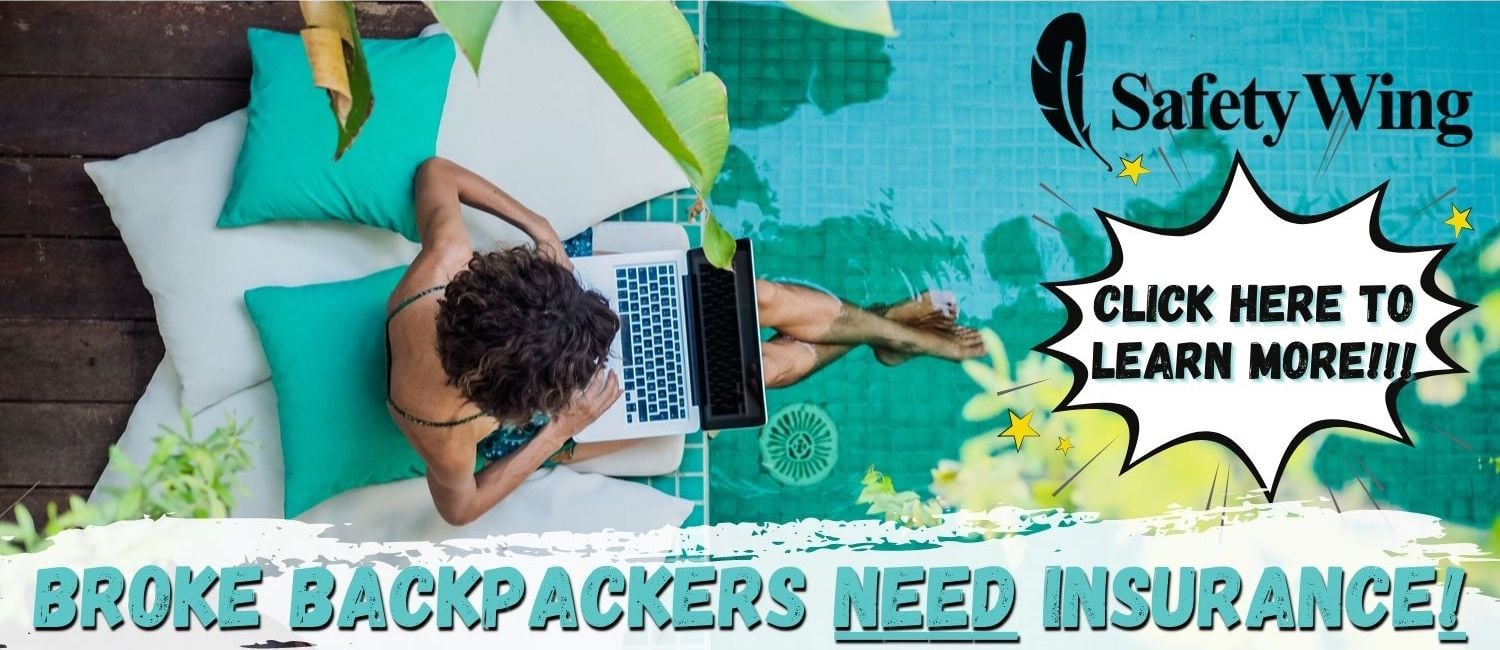 SafetyWing is cheap, easy, and admin-free: just sign up lickety-split so you can get back to it!
Click the button below to learn more about SafetyWing's setup or read our insider review for the full tasty scoop.
FAQ on Hostels in Portugal
Here is what people usually ask me about where to stay in Lisbon:
Final Thoughts on the Best Hostels in Portugal
Wow. Like, seriously – wow. Who knew that Portugal was gonna be packed with such a selection of stunning hostels?
There are literally so many on this list (22, I know it's a lot) so if you're struggling to choose, don't worry. Just bear in mind Lisboa Central Hostel – it's easily the best overall hostel in Portugal. Book a bed here and make life super easy for yourself…
If you've backpacked through Portugal before, what were your favourite (or not so favourite) places to stay? And if I've missed something, or you've crashed at any of these hostels recently, let me know. I need to stay up to date on what's going on in the Portuguese hostel scene!
Otherwise, go get silly, folks! But not too silly. Maybe just silly enough to stay at a place named "Rising Cock"…
Do you own or run a kick-ass hostel? Want to be featured on this list? Get in touch at [email protected]
Updated August 2023
---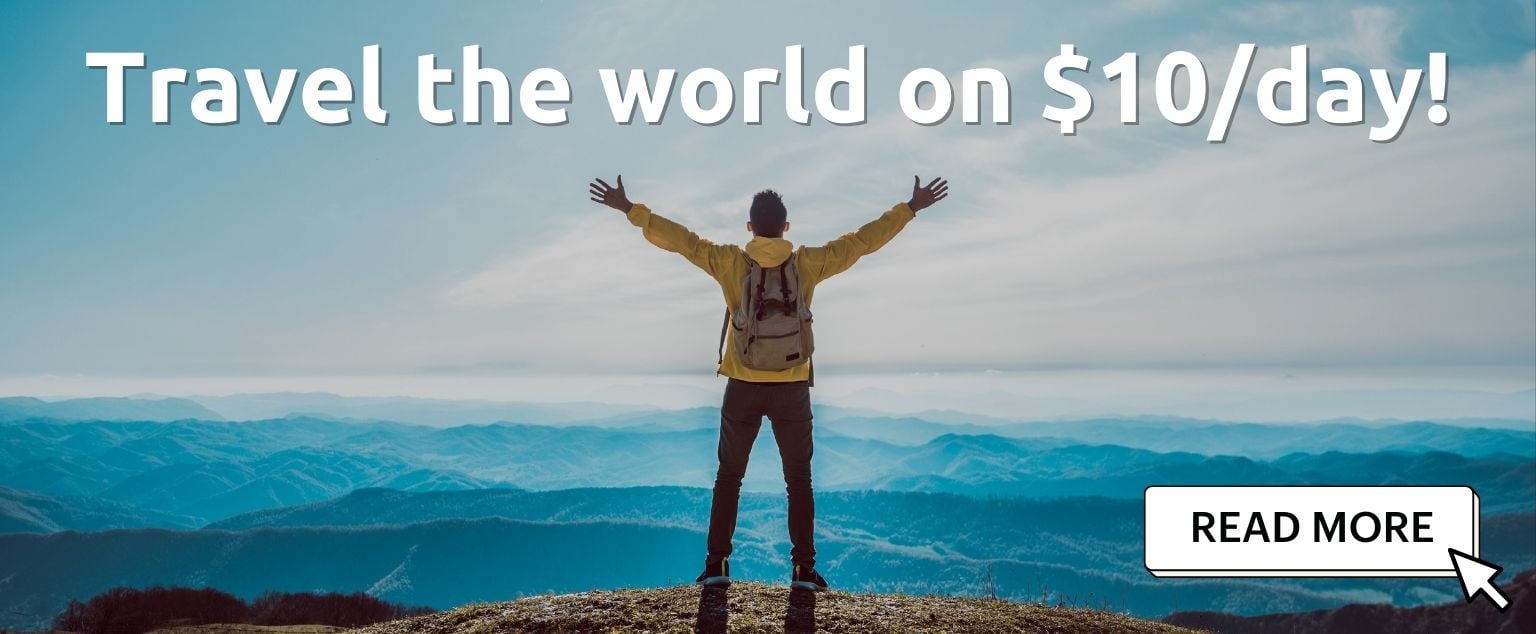 And for transparency's sake, please know that some of the links in our content are affiliate links. That means that if you book your accommodation, buy your gear, or sort your insurance through our link, we earn a small commission (at no extra cost to you). That said, we only link to the gear we trust and never recommend services we don't believe are up to scratch. Again, thank you!