Lagos is one of the most visited parts of Portugal, and for good reason. Known for its beautiful beaches, nature, and nightlife, Lagos has something for every vacationer. Located in the Algarve region, you will experience a part of Portugal you can't get in Lisbon or up North.
But if you think Lagos is popular now, it's only becoming more recognized. And being a coastal town, the area and Algarve region is quite spread out, so much of it requires a car to fully explore.
With that in mind, knowing a good place to base yourself in the best area to stay in Lagos, will turn your trip up! In each different neighbourhood there's something different for your travel style and interests.
Do you want to stay near the best beaches? Somewhere near the city centre? Near the history, culture, and restaurants?
Read on to learn about the best areas to stay in Lagos, Portugal!
Check out our top picks for the best accommodation in Lagos if you're looking for a prime place to stay in Portuguese paradise…
A gorgeous apartment in the center of Lagos town with enough space to fit four guests. Enjoy the pretty patio area with a glass of wine in the evening and it's just a short walk outside the front door to find excellent restaurants and bars.
The apartment is clean, bright and modern, and best of all, it is just a short stroll to the beach.
This is the kind of place you just don't want to leave: the best of Lagos's hostels! With some of the best reviews in the city from other travellers, you can see for yourself why we love going back there.
If you are looking for a fun, modern and friendly place to stay and meet cool people, then this is it: featuring clean rooms, attention to detail decor, an outdoor terrace, and more. Explore Lagos on foot – it's just on the doorstep!
The perfect holiday hotel with a great atmosphere, this hotel has everything to make your Portugal holiday amazing. There's a sun terrace and outdoor swimming pool for the days you just want to lounge around in the sun.
Take the bus from the nearby terminal to explore other areas of Lagos. It's also close to the Old Town and many eateries and bars.
The Portuguese port city of Lagos is located in the Algarve region of the country – it's one of the most visited cities on Portugal's travel trail, with people drawn here for its prime beaches and nightlife.
Lagos is also known for its Old Town. In fact, this city was the epicentre of the Portuguese Age of Discovery, with a long maritime heritage, which actually dates back over 2,000 years to when Lagos was a Celtic settlement.
Today these layers of history show themselves in a beautiful harmony alongside modern beach living and vibrant city life.
But being a coastal town there are lots of different areas of Lagos – some near the beach, some more central – so you'll want to have an idea of what sort of city break you want. Let's go through the best areas of Lagos to see, shall we?
We begin with Lagos Marina, a harbourside area with the best of everything in Lagos on offer: this includes the best beaches and history; the medieval town centre is within walking distance from the Marina, for example.
With as many boats and yachts as there are chilled cafes and bar terraces for drinks, this is a vibrant and diverse area of town, convenient for most visitors.
The Old Town of Lagos is the jewel in the crown of the city with a wealth of historical sights and attractions as well as museums to learn about Lagos' storied past. This is the best place if you're travelling on a budget.
Just in front of the Old Town is the most famous beach in the city, Batata Beach. Located close to the centre – with Bandeira Fort a stone's throw away – this small beach is extremely popular for its energetic atmosphere and great facilities.
Across the bay to the east of the Lagos' centre is the small area of Alvor. Formerly a fishing village, this place has its own historical area (including a castle), plus access to the large Praia do Alvor beach. This place feels quieter and more secluded than Lagos itself, with plenty of beachfront accommodation that offers fantastic views of the bay.
Last, but certainly not least, we arrive at the long stretch of Meia Praia Beach. This huge beach – the largest in the Lagos region at 4 kilometres long – is popular with tourists as well as locals.
Despite its popularity, it remains a chilled-out location, with cafes dotting its shores. Even in peak season, you can find your own spot on the beach.
If you still can't decide where to stay in Lagos, don't worry! We're about to dive into these areas in more detail to help you find the place that's best suited for you.
Being a coastal town means two things: first of all, Lagos has a long history as a port city and was the centre of exploration when Portugal set about discovering the New World; secondly, it means beaches – and plenty of them. This means Lagos is a balanced place full of sightseeing and relaxation (and fun!).
No matter where you stay in Lagos, getting from point A to B is always quite simple, but there's a scenic railroad that runs from Lagos to Alvor in the east, meaning you can explore the different Portuguese beaches and historic sights from one stretch of the region to the other with ease.
But you'll want to pick somewhere that's right for you, so let's have a look at the best areas to stay in Lagos…
1. Lagos Marina – Where to Stay in Lagos for First Visits
A centre for watersports as well as laid-back lunches, this social centre features a great balance of all that Lagos has to offer.
Here, you can do everything from watching wild dolphins from the bay to laying out on the beach to checking out the Old Town where you'll find many of Portugal's best hostels. Both the beach and Old Town are within easy walking distance. Even watching boats come in and out of the marina from a cafe terrace is a great pastime at the Lagos Marina.
Arguably, this is the best place to stay in Lagos for people who want to stay central and do a little bit of everything.
This amazing apartment also happens to be one of the best Airbnbs in Lagos. Just a 2-minute short walk from the Marina, you'll find the heart of the sea city with all the top restaurants and bars. There's an outdoor swimming pool for guests to enjoy and a little private balcony to enjoy the delicious Lagos weather. There's a fully equipped kitchen, a washing machine, and a desk – perfect for long-term stays!
Affordable Hotel in Lagos Marina: Marina S Roque
Situated in an upscale area, this family-run boutique hotel is great for a budget stay in Lagos. The hotel is kept immaculately clean and guests are made to feel welcome by the owners.
If you want to spend some time near to the centre of Lagos, but not amongst the hustle and bustle, then stay at Marina S Roque. The family-friendly beach is walking distance, and you can walk across the pedestrian bridge that crosses the marina for dinner at one of many nearby restaurants.
This chic and stylish resort will make your beach holiday feel luxurious. Just on the marina, everything you need is just a short walk away, including the beach.
You'll enjoy spacious rooms that come with a kitchen. Enjoy splashing about in the pool or pamper yourself in the spa area.
Things to See and Do in Lagos Marina
Take a train ride from Lagos train station and experience the beauty of the coast or other Portuguese cities.
Stroll along the marina itself and down to the beach.
Visit the Wax Museum of Discovery for a unique way to learn about Portugal's history and ocean-going adventures.
Have a top-quality lunch or even join a food tour.
Walk out onto the Replica Caravela Boa Esperanca, the old gated dock of Lagos.
Shop for lunch at the Pingo Doce, a large market featuring fresh produce…
… And eat it waterside whilst people-(and boat)-watching.
Go for sunset drinks at A Barrigada.
2. Lagos Old Town – Where to Stay in Lagos on a Budget
The historic center of Lagos is tucked behind 16th-century walls, with tessellations of traditional white-washed buildings lining the labyrinthine streets. At its center are a medieval Arab-built castle and other heritage buildings for you to explore.
Not just great for its history, Old Town is a vibrant area for nightlife, and also our pick for where to stay in Lagos for the best bars and clubs. It's a cool place to visit if you're travelling Europe for the party.
When evening falls the streets come alive with hungry holidaymakers and locals lapping up the atmosphere at one of the many, many bars located in this buzzing district.
This classy and comfortable tiny house in Lagos Old Town is the perfect choice for travellers on a budget. Not only do you get an incredibly low price, you can also enjoy heaps of value that comes with the booking. You'll have a full kitchen, bathroom, and a cosy living room in the historical center of the city. If you're travelling with a van or car, you'll be pleased to know that there's a free parking spot as well!
This is the kind of place you just don't want to leave; enjoy your Portuguese holiday in this brilliant hostel. With some of the best reviews in the city from other travellers, you can see for yourself why we love going back there.
If you are looking for a fun, modern and friendly place to stay and meet cool people, then this is it: featuring clean rooms, attention to detail decor, an outdoor terrace, and more. Explore Lagos on foot – it's just on the doorstep!
Right in the centre of town, this boutique hotel is the place to stay if you want to be among all of the action. Bars, restaurants, shops and everything you could need are just outside the front door. The beds are comfy, the showers are powerful (a huge plus), and the entire hotel is decorated in a pared-down minimal style.
Things to See and Do in Lagos Old Town
Visit the macabre Chapel of Bones at the Church of San Sebastian; the walls are embellished with skulls and bones!
Go to the Castelo de Lagos, a seaside castle with a wealth of history.
Admire the beautiful church of Igreja de Santa Maria.
Taste the best of Portuguese wine and visit the vineyards.
Catch a performance of Sufi dancing and music at the Lagos Cultural Centre.
Learn about local history at Museu Municipal Dr. Jose Formosinho, set in an exquisite baroque church.
Check out the Statua Infante dom Henrique located in a tranquil city square.
Get yourself a tasty ice cream at Gelateria Crema di Gelato.
Grab a drink at one of the many bars at Rua 25 de Abril…
… And hit the clubs 'till the early morning.
3. Batata Beach – Where to Stay in Lagos for Beach Town Vibes
This tiny beach is so close to the centre of Lagos that it's packed to the rafters with bars, shops, cafes and all the other amenities that you will expect of a city beach.
Batata Beach is a popular family hangout as the sea here is calm with no currents, meaning little ones can paddle without parents worrying too much – and it comes complete with a lifeguard during the summer.
The picturesque surroundings of the Castelo de Lagos, the craggy cliffs and pleasant views across the harbour and bay create a fantastic environment for those looking for a beach experience that truly has it all.
A gorgeous apartment in the center of Lagos town with enough space to fit four guests. Enjoy the pretty patio area with a glass of wine in the evening and then take a short walk just outside the front door to find excellent restaurants and bars.
The apartment is clean, bright and modern, and best of all, it is just a short stroll to the beach.
This hostel's laid-back feel fits well with its proximity to the beach. The owners are friendly too! Whip up a meal in the well-stocked communal kitchen or kick back after a day on the beach in the shared lounge.
Decorated in a simplistic modern style with pops of colour, these hotel apartments have a great atmosphere. Make yourself a coffee in the small kitchen and sip it on the private balcony whilst enjoying views of the ocean.
The room also comes with a relaxing lounge space and plenty of room. The friendly owners will help you navigate the area and figure out what to do around Lagos.
Things to See and Do in Batata Beach
Catch some rays on Batata Beach itself.
Go on a boat tour to explore the Benagil Caves.
Take a kayak tour of the bay at Praia Dona Ana Beach.
Have a spot of lunch (or evening cocktails) at the popular Cafe do Mar.
Admire the views from Miradouro Praia do Batata.
Stroll through the cool rock tunnel to neighbouring Student Beach.
Try out a spot of paddleboarding around the historic fortress.
4. Alvor – Coolest Place to Stay in Lagos
A town in its own right, the relatively suburban Alvor comes complete with its own historical centre, including the Castelo de Alvor. Dotted with relics of a Moorish past as well as native Portuguese, it's a laid-back alternative to staying in bustling Lagos itself.
Alvor's long beaches are blue flag designated, and the beach at Torralta is particularly beautiful. Also featuring some of the best wining and dining in the western Algarve, staying here means you'll be spoilt for choice in this charming town.
Best Airbnb in Alvor: Quinta David – Casa Oliveira
Not only do you get a breathtaking view of the ocean, you can also enjoy an ideal location in charming Alvor. The studio has been renovated recently and is fully equipped with a great kitchen, a comfy bed, and a beautiful private balcony. The sun is shining onto your sun terrace all day long. You'll just have to walk a few steps until you have golden sand beaches under your toes!
This is an awesome, chilled-out hostel run by the love of surfers. They also have everything ready for all kinds of beach-adventure sports you could wish for in Alvor! Comfortable, clean, and air-conditioned rooms are perfect for coming back to for the rest you need after a long day on the beach. The common areas are brilliant for meeting and mixing with other guests. And, with some of the best beaches within walking distance, this hotel is fantastic value for money.
With one of the more beautiful beaches in the area a couple of minutes away, this warm and welcoming hotel offers a touch of luxury.
The apartments include small kitchens, and lounges are well kept, as are the crystal clear swimming pools. Have a lazy breakfast on the terrace and then spend the day exploring the Algarve.
Things to See and Do in Alvor
Visit the 16th-century Igreja de Martes church, which towers over the town.
Discover the town's three Islamic shrines and delve into Alvor's Moorish heritage.
Check out the Castlo de Alvor, complete with a children's playground.
Linger over sunset cocktails at Restinga Praia.
Stroll around the tranquil Cemitério de Alvor.
Spend the day relaxing at Piscina Atlantica, a large outdoor swimming pool with views of the ocean.
Enjoy a chilled cruise on the river from Trigana Boat Trips.
Grab yourself a tasty dessert at the bakery Confeitaria d'Alvor.
5. Meia Praia Beach- Where to Stay in Lagos for Families
This is the largest beach in the Lagos region. Rather than being set in front of the town itself, Meia Praia Beach is lined by grassy sand dunes and quiet roads, meaning there's a pleasantly tranquil feel to it.
It does, however, feature its own train station in the centre of things, meaning getting to and from the beach is relatively easy.
Most beachgoers cluster around the area nearest to the Old Town of Lagos (the western end, which is also lifeguard-supervised), but if you continue walking, there are whole stretches of deserted sand where you can hang out with friends and family, play volleyball, and more.
Travelling with the whole family? This Airbnb offers plenty of space for the whole group. With two bedrooms and 3 beds, the townhouse accommodates up to 4 people comfortably. The location is ideal as well, close to the beach but in a very family-friendly area. Lagos Old Town is a 15min stroll away as well, ideal for getting a tasty dinner. Once you come back home after a long day of exploring the city, you can enjoy the massive living area or take a dip in the outdoor pool.
Best Hotel in Meia Praia Beach: Vila Galé Lagos
Chill out and kick back on your Portuguese holiday at one of the best Lagos hotels for families. With spacious rooms, nearby beaches, a play area for the kids, and 2 swimming pools, this luxury resort is perfect to spend your days poolside or playing in the surf at the beach. Enjoy sea views from your room and gourmet restaurants and bars within walking distance.
Things to See and Do in Meia Praia Beach
Try a spot of surfing at the Surf School.
Go to the Parque Aventura Lagos for a fun afternoon and challenge yourself on the courses.
Take the train from Meia Praia station to discover areas further along the coast.
Visit the old Forte da Meia Praia, good for intrigued adventurers.
Check out Mud Valley Beach, a practically deserted area along the beach where you can have a mud bath.
Play a game of golf at Onyria Palmarez.
Grab dinner at Palmarez Beach Club.
Simply chill on the beach!
Here's what people usually ask us about the areas of Lagos and where to stay.
Before any trip, getting good travel insurance is essential. It can really be a lifesaver!
World Nomads' mission is to support and encourage travellers to explore their boundaries. They offer simple & flexible travel insurance, and safety advice to help you travel confidently.
They've been doing it since 2002 – protecting, connecting, and inspiring independent travellers just like you.
Get a quote below or read our in-depth review!
World Nomads provides travel insurance for travelers in over 100 countries. As an affiliate, we receive a fee when you get a quote from World Nomads using this link. We do not represent World Nomads. This is information only and not a recommendation to buy travel insurance.
The Algarve region is spoilt with beautiful beaches and nature as well as the historic center(s) and vibrant restaurants and bar life. No matter what you crave on your vacation, there is something in Lagos for you.
So now you know where to stay in Lagos, hopefully, you can narrow down the best spot to base yourself. If you've got a car, it gives you much more freedom. But with that, you still have the pain of parking. So having a solid base to start with changes everything!
If you're still not sure where to stay, you can't go wrong with our top two choices for the best hotel and Airbnb in Lagos. The Perfect Sea View Apartment is easily my favourite. (It's no secret – I love an Airbnb.)
But if you're more of a hotel person, The luxury Hotel Marina Rio doesn't let people down. If you're on a tighter budget, you'll be treated to amazing hostels with the coolest vibes!
The Algarve can be overrun with parties and backpackers sometimes. But that doesn't mean you have to mix. (Yet, you can if you want to!)
Whatever kind of person you are, there's a special area of Lagos that will stick in your memory forever.
Do you own an awesome hostel, hotel or apartment? Want to be featured in our list? Email [email protected] to find out how.
---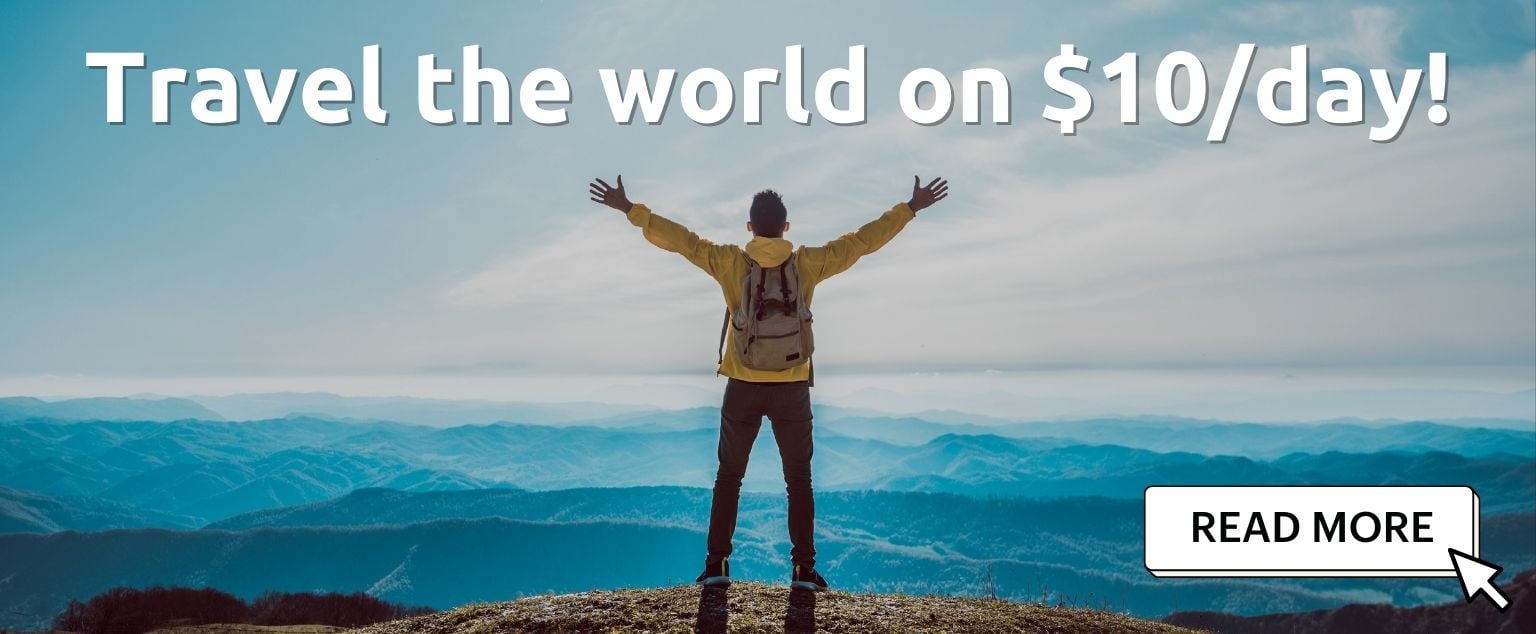 And for transparency's sake, please know that some of the links in our content are affiliate links. That means that if you book your accommodation, buy your gear, or sort your insurance through our link, we earn a small commission (at no extra cost to you). That said, we only link to the gear we trust and never recommend services we don't believe are up to scratch. Again, thank you!