Portugal is having a renaissance of sorts – people from all over the world have heard how amazing this country is and start to flock to it. Once overshadowed by the likes of Spain, Portugal is quickly becoming the next hotspot on the Iberian peninsula.
Don't let the size of Portugal fool you; there are heaps to do in this tucked-away country! Surfing, island hopping, trekking, and much more are all possible while backpacking through Portugal.
Backpacking in Portugal is one of the greatest thrills you can have! In hindsight, I have no problem saying that Portugal made me the man that I am today. The country is very accessible and a great place to begin your international adventure. Visit Portugal and share with everyone the joy and wonder that you experience!
This travel guide is going to cover all sorts of topics related to backpacking in Portugal. Transportation, costs, itineraries, hidden gems, all that and then some. By the end, you should know exactly where to go and what to do, all without breaking the bank!
Let's dive in.
Why Go Backpacking in Portugal?
Backpacking through Portugal was the first real adventure that I ever went on.
I vividly recall walking around the streets of the Alfama neighborhood in Lisbon, following the phantom strings of some distant guitar. I wandered for, what felt like, hours and never found their source. Was it all in my head? Did Portugal just exude ambiance? Did the buildings vibrate and resonate on their own like a plucked chord? I still don't know but such is the effect that Portugal has on people.
The parties were epic. I remember spending a night in Porto with a group of backpackers exploring the city. We were looking for the perfect spot. By chance, our company found a pub filled with sand and beach stalls – in the middle of the city! It seemed that we had stumbled upon a separate universe, a wrinkle in the fabric of our own reality. We danced all night in that absurd and wonderful place.
I remember laying on the sand in Lagos. I'd had a rough night before, and nothing was better than listening to the waves on the shore. Several years later, I had a dream that I was back at that beach with my family. I returned to the ocean and was home again.
I love Portugal. I think that much is fairly obvious by now.
Best Itineraries for Backpacking Portugal
In the following sections, you will find four different itineraries covering several regions of Portugal. Over the course of these backpacking routes, you will have the opportunity to see most of what Portugal has to offer. Because of its size and excellent transportation network, you won't have to spend a lot of time or cash when your traveling in Portugal.
Below is a list of four travel itineraries for backpacking Portugal. They cover the regions of The South, The North, The Islands, and The Whole of the country. They vary from one week to one month in length and cover the majority of the top things to do in Portugal.
Backpacking Portugal 7-Day Itinerary #1: The South of Portugal
Visit some of the best beaches that Portugal has to offer! The majority of this travel itinerary will take place in the Algarve, so be sure to pack lots of sunscreen and swimsuits!
We start in the captivating city of Lisbon. Get your fill of culture here while walking around the neighborhoods of Belém, and Alfama. Be sure to take a day trip out to Sintra as well, and marvel at the fairytale-like Romantic architecture. Plan your Lisbon itinerary well as there's a lot to do here.
After spending a few days in Lisbon, we depart to the south and the Algarve. The Algarve is full of beach towns, and each one is catered to a different type of backpacker. Party it up in Lagos or Faro, strut around the posh Albufeira, or relax like a local in Sagres or Tavira.
Driving a campervan is one of the top things to do in the Algarve! If you rent one, you'll be able to utilize Portugal's amazing campground network! This would be a great start to a road trip itinerary through Portugal as well.
Backpacking Portugal 10-Day Itinerary #2: The North of Portugal
This backpacking itinerary will be a great way to compare the rival southern and northern regions of Portugal. Start in Lisbon and make your way north to Porto, all the while absorbing as much as possible. I'd recommend this trip to solo travelers in Portugal – especially first time solo travelers!
Visit the usual attractions in and around Lisbon, including the Praça do Comércio, Jerónimos Monastery, and Sintra. Once you've had your fill, head north to Coimbra and Aveiro. Coimbra is home to one of Portugal's most important universities. The energy of this town is amazing when students are present! Nearby Aveiro is known as the "Portuguese Venice," and is very charming in its own right. Be sure to visit the beach while you're in Aveiro.
Keep moving northward until you reach Porto, Lisbon's most ardent rival. Note the difference in attitudes and architectures here. Porto is a more industrial city and prides itself on its work-hard-play-hard culture. Visit the port cellars of Vila Nova de Gaia, and then head to Galerias de Paris Street for some hard partying.
Finally, a visit to Braga and Guimarães rounds out this travel itinerary through the north of Portugal with little extra history. Braga is the religious center of Portugal and has many holy sites to visit. Guimarães is the birthplace of Portugal and is full of medieval sites chronicling the rise of the nation.
Backpacking Portugal 14-Day Itinerary #3: The Islands of Portugal
Spend a few weeks backpacking in Portugal's autonomous regions, the Azores and Madeira! This travel itinerary will require you to fly a few times in and out of Lisbon. Depending on your country of departure though, you could easily fly directly to one these archipelagoes. Arrive in one, fly to Lisbon, and then connect to another. It's up to you!
Go island hopping in the verdant Azores, and see as many volcanic lakes as possible. Charter a vessel to another island, keeping your eyes open for whales.
Feel the ruggedness of Madeira as you hike along the coast, or into the highlands. Feeling drained? A trip to Porto Santo will give you the opportunity to lounge on a desert beach. Bask in the temperate climate of the islands that world calls "The Land of Eternal Spring."
Or if you want to get to know just one island, go to Madeira!
Backpacking Portugal 1-Month Itinerary #4: The Whole Thing!
Go backpacking through all of Portugal! Portugal is not a big country and is very easy to get around.
There are so many beautiful places in Portugal. And good news, you could easily see the whole of it – including the Azores, and Madeira – in one month.
Start in Lisbon and make your way to each of Portugal's regions. Head south, and then swing back north, or vice versa. Fly in and out of the Azores and Madeira via Lisbon, either before or after seeing the mainland.
Want somewhere a bit off the beaten track, check out Leiria with its stunning hilltop medieval castle and quaint streets. There are some great hostels in Leiria to stay in too.
Places to Visit in Portugal
Backpacking Lisbon
Lisbon, or Lisboa in Portuguese, is one the most enchanting cities in all of Europe. Visitors will immediately be captivated by its eclectic mix of historical, contemporary, and maritime features.
The center of Lisbon is the Rossio district. Essentially, Rossio is the main square and a good place to start exploring the rest of the city. The best hostels in Lisbon are also located around this area. Be sure to take a quick walk to the Praça do Comércio before moving on.
From Rossio, you can visit Lisbon's most famous neighborhoods. These include Belém, Alfama, and Bairro Alto.
Belém district is full of history. Visiting the Belém Tower, and Jerónimos Monastery are two of the top things to do in Lisbon. These places do get solid crowds though, so try and arrive early.
The Alfama neighborhood is the oldest district in Lisbon and is a great place for just strolling about. Follow the ethereal sounds of the guitar, and try to find your way around. Chances are you'll end up at a local hangout or fado bar.
Bairro Alto is the party place in Lisbon. If you're going out, 99% of the time you will end up here. The streets are narrow, and thirsty travelers pack into tiny waterholes. Most of the time, people end up spilling out onto the cobblestone streets, much to the irritation of the neighbors.
If you have plenty of time in Lisbon and want to explore the surrounding areas, check out this epic post on the best day trips from Lisbon.
Finally, no backpacking trip to Lisbon is complete without visiting Sintra. Sintra is a town most known for its Romantic estates. Most famous is the Palácio da Pena, which is an absolutely stunning complex. Also worthy is the old Moorish Castle, and the Quinta da Regaleira, whose stairs are a thing of photographic legend.
Backpacking the Algarve – Lagos
The Algarve region hosts the best beaches in Portugal and is probably the most touristy place in the entire country. There are lots of different villages though, and each has its own personality. Most of those backpacking the Algarve will have no trouble finding the place best suited for them.
Lagos is one of the biggest parties in the Algarve and is full of raucous backpackers. The galas here are absolutely legendary, and people fly from around Europe to join. The hostels in Lagos are infamously raunchy as such.
Lagos isn't just debauchery though. Many don't notice that the coastline is actually some of the most stunning in the entire country. Praia da Batata and Praia do Camilo are both stunning locations. Ponta da Piedade is a popular place to go kayaking, as navigating the arches and sea stacks make for a wonderful adventure.
Those wanting to get further away from the parties might be better off in Portimão or Sagres.
Portimão is the second-largest city in the Algarve and is a little more professional than Lagos. There, you can visit the famously long Praia da Rocha, and then cozy up to one of the many beach bars. Sagres is the westernmost part of Europe and was a sleepy town for a long time. Increasing construction in the Algarve has threatened small communities though, and, unfortunately, Sagres is not immune.
Get here before it's overdeveloped. For more info on where to stay in Lagos, check out this guide on the best areas in Lagos to stay
Backpacking the Algarve – Faro
Further east from Portimão are the coastal towns of Albufeira, Faro, and Tavira.
Albufeira has become one of the most touristic places in the whole of Algarve, for good reason. There are plentiful beaches around Albufeira, including Praia dos Pescadores, Praia do Coelho, and Praia de Arrifes. Stay in Albufeira if you're looking for a more upscale holiday.
Faro is the regional capital of the Algarve, and it definitely feels more like a city. Being a city, the parties are much more frequent so expect a bit more rowdiness in the local hostels. If you want to go to the beach though, you'll have to travel a little to the outskirts. Faro's beach, Praia de Faro, is quite nice though, and exceptionally long. Crowds shouldn't be too much of an issue.
Tavira is a favorite among the local Portuguese and is a much more laid back destination in the Algarve than Albufeira or Faro. The town isn't actually located on the coast, but slightly inland on the Gilão River. You'll have to take a short water taxi downriver to reach the beaches, which are totally-worth-it. Praia da Tavira, Praia do Barril, and Praia das Cabanas are all stunning stretches of sand with lots of room. These beaches are also technically "island beaches," as the estuary separates them from the mainland.
Backpacking Coimbra
Coimbra is the largest city in the Centro region of Portugal and is mostly known for its highly prestigious university. The University of Coimbra is the oldest academic institution in the Lusophone world, and it attracts students from all over the world. Consequently, the university is the center of all affairs in the city.
Those backpacking Portugal between autumn and spring, when the students are present, will find Coimbra very lively. Visiting in the summer is a slightly more subdued experience as those same students are away on break.
There is more to Coimbra than just the university though. You can visit many historical sights around the city, like the Convento de Cristo, or the Monastery of Santa Clara-a-Nova. Just outside of the city is Conímbriga, which is one of the largest Roman ruins in Europe. You can easily catch a bus to this archeological site.
Backpacking Aveiro
Traveling north of Coimbra and towards the coast, backpackers will arrive in nearby Aveiro. Aveiro is famous for its many canals and colorful gondolas, which have lead people to dub the city "the Portuguese Venice." The waterways are very humble compared to those of the actual Venice, but it's no less charming.
Aside from its canals, Aveiro is also an important university town and does possess a few important cultural sites, like the Museu de Aveiro and Aveiro Cathedral. Aveiro does have the advantage of also being near the coast, so those looking for some fun in the sun will not be hassled. Sunbathe on Praia da Barra, and then be sure to check out the rainbow houses of nearby Costa Nova.
Being on the Atlantic coast, surfing is popular on Praia da Barra and Costa Nova. Windsurferes and kitesurfers also like this area as the conditions are optimal.
Backpacking Porto
There's a big fuss over which is better: Lisbon or Porto? In my opinion, Porto is the best city to visit!
Porto is culturally distinct from other Portuguese cities. In the past, Porto was a more industrial city that thrived on shipbuilding and the export of northern products. This lifestyle is not lost on the locals. They say: "Porto works, Braga Prays, Coimbra studies, and Lisbon gets the money." Obviously, people from Porto are very proud of their city.
For a long time, Porto was a grimy place. Recently, it has undergone a civic revival though, and has become a very vibrant place. The feeling that I get from Porto is unlike anything else.
The best hostels in Porto, as well as the biggest attractions, are all around the city center (Cedofeita). A walk down to the Ribeira, which is the main square near the riverfront, is a must. Walk along the Douro River, or charter a boat tour on it.
Across the Douro River is Vila Nova de Gaia, where you'll find the wine cellars storing the region's famous port. These vaults are chalked full of other precious wines from the Douro Valley. Try lots!
Footballers should visit hallowed Dragão Stadium, which is home to FC Porto. Porto fans are fanatical. If you get the chance to attend a match, do it. It'll be one of the best games of your life.
Experiencing the nightlife is one of the top things to do in Porto! Bars are abundant – around Galerias de Paris Street – and the clubs are open till sunrise. Partiers should have no problem finding a good time in this city.
For information on local districts, be sure to read our comprehensive guide on where to stay in Porto.
Backpacking Braga
Braga is probably the most religiously significant city in all of Portugal. It is home to the Portuguese Archdiocese, which acts as the seat of religious governance for the rest of the country. Thus, the attractions of Braga are holy in nature.
The Sé de Braga is the oldest cathedral in Portugal, dating back almost one thousand years. Bom Jesus do Monte is a large sanctuary on top of a hill overlooking Braga. Walking around the grounds makes for a great day trip. You can use the bus to arrive Bom Jesus.
Braga's football stadium, the Estádio Municipal de Braga, is worth visiting as well. It's nicknamed A Pedreira (The Quarry) because it was carved right out of the side of Monte do Castro. Home team SC Braga is one of Portugal's more popular clubs and has been very successful on the international stage.
There is not much to do in Aviero outside of the religious attractions and the occasional football match. The nightlife is a little lame compared to Porto, but some backpackers may find respite in the lack of temptation.
Backpacking Guimarães
Near Braga is Guimarães, which is considered Portugal's first city, and place of birth. From here, the first king of Portugal, Afonso I, was able to conquer the surrounding lands, and gain independence from the Kingdom of Leon, which is now in present-day Spain.
Guimarães is known for its medieval buildings. The Castelo de Guimarães is an absolute must while visiting. The castle is one of the most important cultural sites in Portugal and is very well preserved. Also worth visiting is the medieval Paço dos Duques de Bragança, and the Largo da Oliveira.
Just outside of Guimarães is Portugal's only national park, Penada-Gerês. Penada-Gerês is a mountainous region straddling the border of Spain and offers great outdoor opportunities. Very few foreigners actually know about this park as well. If you go walking here, chances are you'll only run into the local Portuguese hikers.
Backpacking the Azores
The Azores Islands are the Hawaii of Portugal! Located about 850 miles west of Portugal, in the middle of the Atlantic, the Azores are a group of nine volcanic islands. The Azores are a treasure, and one of Portugal's most precious regions.
Visit the Azores for their traditional and unique cultures, world-class whale watching and hiking, fresh food, biking, canyoneering, and more!
I've provided some highlights below, but check out our complete Azores travel guide for everything you need to know about these islands.
Ponta Delgada of São Miguel Island is the largest settlement and capital in the Azores; you can visit some of the historical sites, like the Museu Carlos Machado or the Portas da Cidade, but the best part of the Azores is the nature. There are many affordable hostels in Ponta Delgada.
While on São Miguel Island, you have to visit the volcanic lakes. Lagoa das Sete Cidades, and Lagoa do Fogo are the most popular places, and for good reason: they're spectacular.
Though in terms of nature I would argue Flores and Sao Jorge are even better. These are the best islands for hiking and extreme sports, along with Sao Miguel and Pico Island. Pico is best known for Mount Pico, Portugal's highest point and one of the Azores' best hikes, and the local wine and vineyards.
Terceira is home to the second largest town (and one of the most beautiful) in the Azores, Angra do Heroismo. Terceira locals love traditional parties and bull running.
Every island in the Azores has a settlement and port, which makes island hopping a breeze. You can take flights or the local ferry during the summer months. Of course, schedules are subject to weather change. You can visit this website for more details.
Backpacking Madeira
Far to the south, off the coast of Africa, is the small archipelago of Madeira. Madeira is famous for its pleasant year-round climate, and gorgeous scenery.
Madeira consists of two inhabited islands, plus a number of small, deserted ones. The largest island is Madeira Island and is home to both the local airport and the majority of budget-accommodation. The largest settlement is Funchal. Here, you will find lots of gardens and golf courses, which may or may not appeal to the common backpacker. If you wanted to get out of the city, you could easily get around Madeira Island using the public bus. Renting a car is also a good idea, as it will give you more freedom to explore the island.
Note that that aren't many beaches on Madeira Island either. The coast is very rocky due to all of the volcanic activity and isn't really suited to sunbathing. If you want a good beach, you'll have to take a 2-hour ferry to the arid Porto Santo Island, which does have a great stretch of sand.
Madeira's real draw is all of the amazing trails. Madeira is a very wild place – the topography can be extreme in some places. This landscape makes for great hiking though! A walk on the Vereda da Ponta de São Lourenço will gift hikers with an amazing view of the Madeira coastline. Brave backpackers staying in Madeira will enjoy the thrilling hike up the Vereda do Areeiro as they attempt one of the highest summits on the island.
Off the Beaten Path Travel in Portugal
It is very easy to get off the beaten path when backpacking in Portugal, and see the hidden side of the country! Most people just ply the coastal routes or visit the usual touristy spots. While these are all well and good, you should try to visit some of the lesser-known locations. Your effort will be rewarded.
Portugal is rife with little villages that will charm you immediately. Most of them are remnants from medieval times when Portugal was just establishing itself as sovereignty. Expect to see lots of castles, and old fortifications while visiting these remote locations.
Most of these secret villages only have a hostel or two in-town. If do you want to stay in a hostel while visiting one, I suggest booking it immediately because availability will be extremely limited.
I've labeled the locations that have hostel accommodation with a "*" for your convenience.
Top Things to Do in Portugal
There's really no shortage of adventure in Portugal. Let's start with some must-see activities.
1) Go on a fitness and wellness retreat
Portugal is one of the best places in Europe to go on a fitness holiday… WanderFit wellness retreats to Portugal combine the best of exploring this amazing country with keeping fit while traveling!
I am not an affiliate or earning any kind of kickback – I've trained with the founders personally and these guys simply rock.
Trips include luxury villa accommodation, awesome activities (paragliding, sailing, cycling, yoga), endless good vibes, and daily workouts.
If you want a more relaxing and yet still active retreat, there are many great yoga retreats in Portugal.
2) Lounge on the Beach
Portugal has some of the best beaches in Europe! Hang out in the idyllic and increasingly posh Algarve, or watch the surfers along the Atlantic.
3) Tour the islands of the Azores, or Madeira
Go island hopping in one of Portugal's archipelagos! Look out for migrating whales, and be sure to do a little hiking.
4) Surf Some Monster Waves
Portugal is a mecca for surfers. The Atlantic Coast gets some of the biggest waves in Europe, and these attract world-famous surfers. Even if you can't make it far from Lisbon, there are still plenty of surfing opportunities nearby the capital.
5) Eat Epic Food
Being a maritime nation, Portugal relies heavily upon on os frutos do mar (seafood) and they've become very good at preparing them. Another must try dish is the famous Pastel De Nata.
6) Drink Wine
Portugal has a thriving wine culture and is famous for several native varieties including port, vinho verde, and bairrada. There are so many opportunities to drink wine here that whole itineraries for Porto are created around tasting them!
7) Visit a Secret Village
Portugal is full of little medieval towns and villages. Take a moment out of your trip to witness a side of Portugal that is rarely seen.
8) See the Monuments
Portugal is full of historical monuments, which the locals take great pride in. See famous historical sites like Sintra, and the Castelo de Guimarães.
9) Kayak in the Algarve
Portugal has a gorgeous coastline. Kayaking around haystacks and arches is one of the top things to do in the Algarve!
10) Listen to Fado
Fado is a somber genre of music that captures the Portuguese sentiment of saudade or "longing." Going to a fado bar is one of the best things to do in Lisbon!
Backpacker Accommodation in Portugal
Portugal's hostels are some of the best in Europe! They are clean, fun, and (best of all) cheap. The highest density of hostels is in Lisbon, Porto, and the Algarve. Travelers looking for something more exclusive will have no trouble finding a lovely pousada or Airbnb as well.
Camping is also very popular in Portugal. Sometimes pitching a tent is even free, which is very rare in Europe. Expect a very large and diverse selection in all of these places, including an increasing number of eco hostels!
Also gaining momentum with travelers in Portugal are campervans. Many travelers are using RVs to see the country in a more dynamic way, snoozing wherever they end up. Sleeping in your car, and overnight parking are both legal practices in Portugal, though there can be some conditions to the latter. These conditions make using a campervan a very liable and fun option.
Of course, Couchsurfing is always a good way to save cash. European hosts are usually very safe and reliable.
The Best Places to Stay in Portugal
Portugal Backpacking Costs
Compared to other European nations, backpacking in Portugal is very inexpensive. The cost of living in Portugal can be half of what you'd expect in Germany or France. You could definitely get by in Portugal on far less than these more extravagant nations.
That's not to say Portugal is one the cheapest places on the planet. Southeast Asia and Central America will always be some of the cheapest out there, so expectations need to be set.
You can go backpacking around Portugal comfortably for around $30-40 per day. This will get you a good dorm bed, groceries, some beer, and a ticket or two to the local attractions.
Budgets vary depending on where you stay in Portugal. It is possible to travel around Portugal for less though – even $10 per day – using a couple of frugal practices. Here are a couple of tips:
Go camping – camping is by far the cheapest way of sleeping
Couchsurf – it's very popular in Europe
Hitchhike, or use BlaBlacar – hitchhiking/carsharing is very safe in Portugal
Cook at home – eating out adds up
Drink less – going over the deep end is a sure way to waste money
Find free stuff – there are plenty of free things to do in the cities. Check this guide out here for a good start.
Backpack with friends – you'll end up splitting costs.
Note too that Portugal is very subject to seasonal rates. The price of a bed could double in the summer, especially in popular locations like the Algarve. Stick to the shoulder seasons (Spring/Autumn) and offseason (Winter) for the best prices. Portugal has a long summer as well, so the shoulder seasons could be a perfect mix of good weather and affordability.
A Daily Budget in Portugal
Money in Portugal
Portugal uses the Euro, which is accepted in over twenty-four European nations. As of September 2023, the Euro's conversion rate is 1=1.07 US dollars.
ATMs and banks can be found throughout Portugal. You should never have a problem withdrawing cash. Most ATMs charge a fee for converting currency. I always suggest getting a zero foreign transaction fee card, like a Quicksilver Visa or a Charles Schwab card, to alleviate these extra costs.
Haggling is an acceptable practice in some of the smaller shops in Portugal. Don't expect a bartering culture though, like in Turkey or the Middle East. Definitely, try and shave a few bucks off those souvenirs if you can.
Travel Tips – Portugal on a Budget
To keep your spending to an absolute minimum whilst backpacking Portugal I recommend sticking to the basic rules of budget adventuring….
Camp; With plenty of campgrounds, Portugal is a great place to camp. You can often pitch a tent for much cheaper than staying in a guest house or for free altogether. Check out this post for a breakdown of the best tents to take backpacking or maybe you prefer a camping hammock?
Cook your own food; If you're on a real tight budget; it's worth taking a portable stove – check out this post for info on the best backpacking stoves.
Hitchhike – In Portugal, it is relatively easy to thumb a ride. Hitchhiking is an ace way to keep your transport costs down.
Pack a travel water bottle and save money every day!
Camp often, or rent a campervan to save on accommodation.
Drink wine, which is the best bang for your buck.
Visit during the shoulder seasons – Spring/Autumn.
Travel with friends to split costs.
Why Should You Travel to Portugal with a Water Bottle?
Whilst there's a lot that we can do when it comes to travelling responsibly, reducing your plastic consumption is one of the easiest and most impactful things you can do. Don't buy one-use water bottles, don't take plastic shopping bags, and forget straws. All of this just ends up in landfills or in the ocean.
There's nothing worse than showing up to a picture-perfect beach, only to discover plastic bottles littering the sand. One way to get around this is by investing in a premium filtered travel bottle like the Grayl Geopress. You can filter any kind of water, save money on buying endless plastic bottles – and sleep easy knowing you're not contributing to the plastic bottles lining our beautiful beaches.
When to Travel to Portugal
Portugal has a wonderful climate and can be visited year-round.
Both the mainland and the Azores are subject to a warm, dry summer (June-September) and a cool, damp winter (December-February).
Portuguese summers can be quite arid, but the country's close proximity to the ocean means that it receives plenty of sea breeze. Note that the Algarve does get quite hot in the summer and can reach over 100°F.
Mainland Portugal does receive a fair amount of rainfall and storms in the winter, but the temperature is always mild. Outside of the mountains, freezing weather is very rare in Portugal. The winter is a great time for surfers as the wind picks up, and the swell increases.
Spring and autumn are a lovely time to go backpacking in Portugal. There are fewer tourists, and the universities are full of students. Definitely expect prices to be lower, especially as the winter approaches.
The Azores has a somewhat similar climate to the mainland, except that temperatures are milder and precipitation is greater year round. Expect the summers to be cooler, the winters to be warmer, and the rain to be more consistent in the Azores.
Madeira is famous for its pleasant weather that occurs year round. For this reason, it's known as "The Land of Eternal Spring." Here temperatures usually hover in between 55° F and 75°F, regardless of the month. Madeira does have a distinct winter rainfall, but it's far less than what the mainland and the Azores receives.
Festivals in Portugal
Portugal loves it's music festivals and religious holidays. Some are very civil, and others are downright debaucherous. There's something for everyone!
Here are some of Portugal's most popular festivals.
Carnaval (February/March) – The celebration of the last carnal moments before abstaining for Lent. Not as big as the Brazilian version, but still good.
Semana Santa (March) – The final week leading up to Easter. Lots of religious ceremonies. Braga hosts the most elaborate celebration.
Primavera Sound (June) – Annual music festival held in Porto. Big selection of acts ranging from hip-hop, to electronic, to indie.
Festa de São João (June) – Tribute to Saint John. A mix of respect and revelry. Lots of fireworks and paper lanterns in the sky.
Festas dos Santos Populares – Santo Antônio (June) – one of largest galas in Lisbon. Lots of food, and romance, as the Anthony was considered a matchmaker.
Arraial Pride (June) – Portugal's biggest LGBT pride festival. Held in Lisbon.
Colete Encarnado (July) – Portugal's own running with the bulls! Pamplona style. Held in Vila Franca de Xira.
What to Pack for Portugal
On every adventure, there are six things I never go traveling without:
For plenty more inspiration on what to pack, check out my full backpacking packing list.
Staying Safe in Portugal
Portugal is an extremely safe country – one of the safest in the world, in fact.
But that doesn't crime doesn't exist here. Pickpockets, con artists, and shitty drug dealers are still active here and you'll have to deal with many of them regularly.
Check out Backpacker Safety 101 for tips and tricks to stay safe whilst backpacking.
Check out this post for plenty of ideas on ingenious ways to hide your money when traveling.
I strongly recommend traveling with a headlamp whilst in Portugal (or anywhere really – every backpacker should have a good head torch!) – check out my post for a breakdown of the best value headlamps to take backpacking.
Sex, Drugs, and Rock 'n' Roll in Portugal
Portugal is very much a wine culture. Many of the world's most regarded drops are produced in Portugal. Port wine is the most famous, though there is more to Portuguese wine than the sweet stuff. Just about every hue of wine of is available here – whites, reds, roses, sparkling, even greens!
Do yourself a favor and actually experiment a little! Try an Alicante Bouschet, which has been described as smokey and sweet, like barbecue. Maybe taste one Portugal's whites, like a Encruzado, and see how it stacks up against your sacred California Chardonnay?
Beer and spirits are widely available as well. Outside of the occasional craft brewery or distillery though, they do tend to be a little on the generic side. Don't expect prize-winning brews here.
Contrary to popular belief, drugs are actually not legal in Portugal. They are decriminalized, which is a key distinction. If they were legal, they could be openly produced and consumed with little penalty. Decriminalization means that the consumption drugs in Portugal are simply not a criminal act. If you're caught with drugs in Portugal, you're still in trouble but the repercussions are far more lenient than say the USA. This system actually works pretty well too.
Because of Portugal's tolerant policy towards drugs, they can be pretty easy to find. Reportedly, you can find just about anything on the streets. All of the usual substances are popular in Portugal.
As always, I never try to scare people away from doing any sort of illegal substance – I've done plenty while backpacking. I always make sure to remind my readers to be smart. Always know who you're buying from, what your buying, and who you're with. Arm yourself with knowledge, and look after your own well-being.
Travel Insurance for Portugal
Traveling without insurance would be risky so do consider getting good backpacker insurance sorted before you head off on an adventure.
I have been using World Nomads for some time now and made a few claims over the years. They're easy to use, professional and relatively affordable. They may also let you buy or extend a policy once you've started your trip and are already abroad which is super handy.
ALWAYS sort out your backpacker insurance before your trip. There's plenty to choose from in that department, but a good place to start is Safety Wing.
They offer month-to-month payments, no lock-in contracts, and require absolutely no itineraries: that's the exact kind of insurance long-term travellers and digital nomads need.
SafetyWing is cheap, easy, and admin-free: just sign up lickety-split so you can get back to it!
Click the button below to learn more about SafetyWing's setup or read our insider review for the full tasty scoop.
How to Get into Portugal
Portugal is a very convenient country to arrive in, either by land, sea, or air.
Portugal shares a land border with only one country: Spain. You can cross the border at several points via bus, train, automobile, even zip line!
Arriving into Portugal by bus is one of the most convenient means of arriving because every border is serviced by some bus company. Popular routes include Madrid-Lisbon, Seville-Faro, and Vigo-Porto.
Arriving via train is also doable, though this method is not available in the south of Portugal. Note that bus travel will be much cheaper than train travel, as the latter is a bit of luxury in Europe.
Travelers can actually zip line across the border in the south of Portugal, which is fucking brilliant if you ask me. The 2300 foot zip line connects the towns of Sanlucar de Guadiana (Spain) and Alcoutim (Portugal), crossing the Guadiana River in the process. I honestly have no idea if any backpacker has actually used this as a means to cross the border for a long period of time. Most people just return via boat soon after finishing. Maybe you'll be the first?
Flying is also a viable means of arriving into Portugal. There are three international airports in Portugal: Lisbon, Porto, and Faro. Lisbon is by far the busiest, and will most likely be the port of your entry. Being islands, the Azores and Madeira are accessed only by plane or boat. There are several airports spread throughout the Azores. Madeira only has two airports: one on the main island, and one on Porto Santo.
Entry Requirements for Portugal
Portugal is a part of the Schengen Zone, which is a trans-European pact enabling visa-free travel between participating nations. The Schengen agreement is an extremely convenient means of entry for those backpacking Europe. You can easily cross the border from Portugal to Spain and receive little to no attention from authorities.
Those who reside in the Schengen Zone only need an EU ID card to enter a neighboring country. All other world nations require a passport.
Most non-EU nations can qualify for a 90-day visa that is valid in any participating European nation. There are always exceptions though, so be sure to do appropriate research if you want to travel long-term in Europe.
How to Get Around Portugal
Portugal has an extensive network of buses and trains that connects the entire country. The two modes of travel have their own pros and cons. Travel by bus is cheap, and usually more encompassing, as you can get just about anywhere. Travel by train is more expensive, and the routes are limited, but the experience can be quite luxurious.
Hitchhiking in Portugal can be a hit-and-miss experience. Lots of hitchhikers find success on the busy roads, like those in the Algarve. Others have trouble catching a ride at all, either because they're in the middle of nowhere, or because the drivers weren't feeling it. Reportedly, Portuguese drivers can be overly suspicious and don't really want to deal with strangers. My advice: hitchhike if you're in a bustling area, but don't bother if you're off the beaten path.
Renting a vehicle could be an excellent idea while backpacking around Portugal. You will have to deal with some reckless drivers and bad roads every once in a while. Generally speaking though, driving in Portugal is a reasonable task. You can rent a campervan as well, and then have a bed!
You can sort your car rental here in just a few minutes. Booking in advance is the best way to ensure you score the lowest price and your choice of vehicle. Often, you can find the best car rental prices when you pick up the rental from the airport. Make sure you also purchase a RentalCover.com policy to cover your vehicle against any common damages such as tires, windscreens, theft, and more at a fraction of the price you would pay at the rental desk.
As is the case with most European cities, be aware of driving around the center. Usually, there are lots of roadblocks and one-ways, which can be a nightmare. If you have a car in the city, park it somewhere outside of the busy center, and take public transport. You'll be glad that you did.
BlaBlaCar is a very popular means of getting around in Europe. Essentially, you use this app to find people road tripping and join in to split the cost. This is a great way to save cash! Drivers can be flaky though, so don't rely on this method religiously.
Campervan Hire in Portugal
As I mentioned before, Campervan hire in Portugal is a truly solid option for backpackers. Traveling Portugal by campervan allows you to have all the freedom you need (and want). It also eliminates the need to pay for any additional accommodation.
Onwards Travel from Portugal
Unless you're planning on flying, there's pretty much only one place that you can travel to after finishing Portugal: Spain. Backpacking Spain is an awesome experience though!
Backpacking through Spain is very similar to backpacking around Portugal. The cultures are quite alike, and the countries are equally beautiful. Spain is much larger though and has a greater amount to see and do. You can go hiking in some (real) mountains i.e. the Pyrenees, or urban exploring in one of several megalopolises. Madrid or Barcelona, in particular, are crazy big cities, and definitely worth checking out.
There are many border crossings with Spain, and hopping the border should never be an issue for travelers. Many of the major destinations of Portugal and Spain are linked via train or bus. Refer to the Arriving into Portugal section for a refresher on these popular routes.
Note that Spain is also a member of the Schengen Zone, so the visa situation is the exact same as Portugal. If you're traveling by land, then you've already passed through some sort of EU customs. Guards probably won't pay much attention to you. Most likely, you won't even be bothered at the border.
Have a great time while backpacking Spain! It can be easy to forget little ol' Portugal sometimes, but never let go of the amazing experiences that you had here. You're always welcome, and the locals would love to have you back.
Working and Staying Connected in Portugal
If there was a digital nomad paradise in Europe – akin to what you might find in Southeast Asia – then it would be in Portugal. Here are all the hallmarks of a remote worker's dream: (dirt) cheap costs of living, good food, high standard of life, beaches, surfing; already starting to sound a bit like Bali right?
Lisbon is the best place for digital nomads to base themselves. Coworking spaces are popping up all over the city and it's been said that the tech boom here is the real deal. Porto isn't too far behind either though.
Portugal is one of the few European nations that actually offers a visa for digital nomads. It's called a D7 Passive Income Visa and is relatively easy to apply for.
The visa is good for one year and even allows unlimited travel within the EU! It can be extended by an additional year and after five years you can even apply for citizenship. I lived the digital nomad dream staying in LX hostel Lisbon.
It is possible to find local work in Portugal as a foreigner. But the average wage is really low in Portugal. If you are a freelancer or have your own means of income already, you might just want to stick to that while living in Portugal.
Another thing to keep in mind is that internet access can be quite expensive at least for those staying long term. This is due to "net neutrality" laws that, whilst good for creating a more fair and equal online environment, usually means higher prices. That's the topic in a nutshell at least.
If you are indeed just backpacking through Portugal, you'll hardly notice this though. Internet is still widely found and easily accessed regardless.
Volunteering in Portugal
Volunteering abroad is an amazing way to experience a culture whilst helping your host community. There are plenty of different volunteer projects in Portugal including teaching, construction, agriculture and pretty much anything.
Obviously, Portugal is well-established and doesn't need as much volunteer help as developing countries. That being said, it still provides plenty of opportunities for backpackers to help out in areas including farming, helping out in permaculture, or teaching English among other things. The best part is, Portugal offers visa-free entry for a number of nationalities, and this will let you volunteer for up to 90 days.
Want to find some awesome volunteering opportunities in Portugal? Then signup for Worldpackers, a platform that connects local hosts with volunteer travelers. As a Broke Backpacker reader, you'll also get a special discount of $10. Just use the discount code BROKEBACKPACKER and your membership is discounted from $49 a year to only $39.
Programs run through reputable work exchange programs, like Worldpackers, are generally very well-managed and highly reputable. However, whenever you are volunteering do stay vigilant especially when working with animals or children.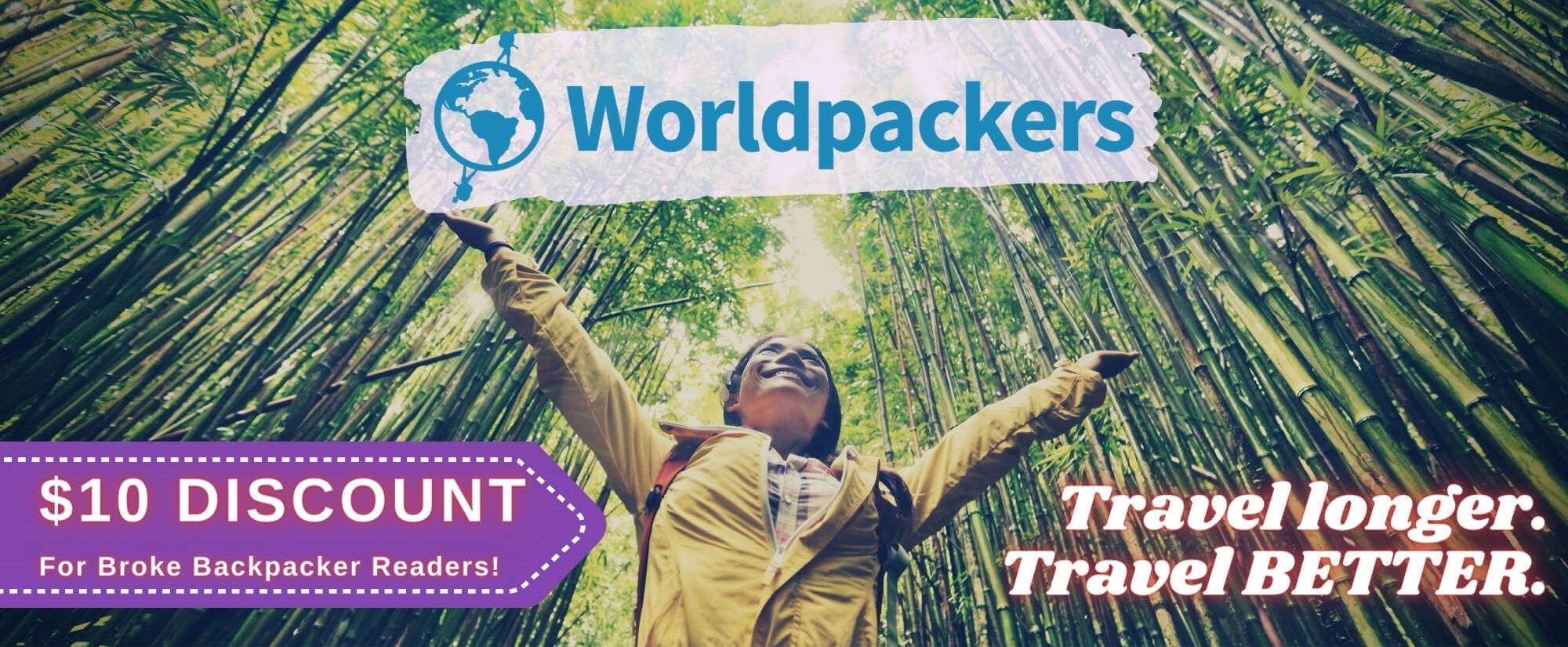 Worldpackers: connecting travellers with meaningful travel experiences.
Teaching English in Portugal
Portugal is very common place to teach English these days! There's a high demand for teachers and, as we've talked about already, some real benefits of working in Portugal.
To teach English in Portugal you will need to be a native speaker and have your TEFL certificate already. If you aren't certified yet, we suggest using MyTEFL. Broke Backpacker readers get a 35% discount on TEFL courses – simply enter the code BACKPKR when checking out.
To learn more about requirements and how to score a gig, read our in-depth guide on teaching English in Portugal.
What to Eat in Portugal
Portuguese food is usually a hearty affair, full of starches and meats, but there are dashes of foreign culinary styles here and there.
Seafood is an extremely important part of the local diet. In fact, Portugal is the greatest consumer of seafood per capita in all of Europe. Cod, in particular, is a staple, though you can find just about any ocean dweller at the local market.
Being a former empire, there are lots of foreign elements to Portuguese cooking. Olive oil – a staple of the Mediterranean diet – is heavily relied upon. Exotic spices, like piri piri (small chili peppers) and cinnamon, are practically staples of the Portuguese diet now.
The cost of eating out in Portugal is fairly affordable. Expect to pay between 5-10 euros for a standard meal, and up to 20 for a nice entree. Beer and wine are usually found for around 3-4 euro, with the latter in particular being cheaper.
Alternatively, consider going on an in-depth Portuguese food tour instead! They can be pretty informative and with a local guide you'll get to see places that tourists might have otherwise missed. There are plenty of food tours in Lisbon to get started with.
The Best Dishes in Portugal
When eating in Portugal, be on the look out for these dishes:
Portuguese Culture
Cultural rivalries aside, Portuguese people share a lot of similarities with the other Romantic Mediterranean nations. Portuguese people – like the Spanish and Italians – can be hot-blooded, emotional, and fairly curt during a conversation.
In my experience, the Portuguese are more sentimental than their Mediterranean neighbors. Portuguese people can sometimes drift away and get lost in a memory. This is evident in the culture's obsession with the word saudades. Saudades roughly means "longing" or "nostalgia." It's a unique word that really doesn't have any linguistic rival and the Portuguese love to refer to it.
Do not make the mistake of associating the Portuguese with the Spanish though – especially when it comes to the language. There is a lot of tension between these two nations, and Portuguese people will let you have it if you unfairly think of them as Spanish. If you think that you need to speak Spanish because you don't know any Portuguese, don't – just speak English.
Portuguese people love to take care of tourists. They are very proud of being Portuguese but are sometimes too critical of their own country. They will do everything that they can to represent the nation in the best light possible.
There are some little behaviors that you may or may not notice while backpacking Portugal. Firstly, nobody walks and drinks or eats at the same time. This is considered a barbaric practice. Sit down on a park bench if you must have a snack or a drink. Secondly, topless sunbathing is very common here. Try not to stare. Thirdly, there really isn't any taboo during a conversation. You can talk about almost anything with a Portuguese person.
Portugal Travel Phrases
Portuguese is a gorgeous language. It's a Romance language, and the written form looks a lot like Spanish. Make no mistake though: this isn't Spanish. The pronunciation is very, very different. Portuguese, in particular, European Portuguese, is very melodic. There are a lot of sounds that get blended together to form a string of communication. Some people comment that spoken Portuguese can resemble singing. Others believe that the language sounds like a crazy blend of French, Slavic, and Italian. Such is the uniqueness of Portuguese.
It should be noted that Portuguese varies greatly depending on the dialect. European, Brazilian, and Mozambican, for example, all sound totally different. If you learned a version of Portuguese that is not native to the lusophone country that you're currently in, there can be some confusion.
Thankfully, English is widely spoken in Portugal. Almost every young person speaks a fair amount of it. Even the middle-aged are pretty good at English. English will become rarer as you venture out into more remote and rural parts of the country though.
If you'd like to learn some Portuguese, it'd be beneficial. The locals will open up to you easier, and you may even get a sweet deal here and there. So, here are 10 phrases that will hopefully help you out.
**Obrigado changes depending on the gender of the speaker. Men say obrigado. Women say obrigada.
Listen to Fado – The Heart of Portugal
Portugal's favorite music is called fado, which literally translates to "fate." A fado group will usually have a small ensemble: the frontman with the Portuguese guitar, a few more supporting guitarists, and sometimes a vocalist.
Fado music is usually quite subdued, hauntingly so at times. People have described the sound as very melancholic, or nostalgic. This is actually quite appropriate, given the Portuguese's sensitivity to saudades or the feeling of longing. Many say that fado is literally the "heart of Portugal." The songs, which can be about literally anything, usually illustrate the lives of the poor or wretched – the overworked dockmen, or widow who lost her husband to the sea.
Listening to fado in a fado bar will definitely be one of the best experiences that you have while backpacking in Portugal. It's easy to party all night long, and have not a care in the world. Taking a moment to hear the story of another soul is always worthwhile, especially when a whole nation shares the same feeling.
Books to Read While Traveling Portugal
Night Train to Lisbon – A teacher meets a mysterious woman and begins to question his life. Inspired by Portuguese writer Amadeu do Prado, he heads to Lisbon to change his life.
The Book of Disquiet – A melancholic autobiography rife with ruminations and absurdities. Posthumously published and never edited by the author.
Alentejo Blue – A collection of short stories taking place in a village in Alentejo. Mostly centered around a young girl.
A Small Death in Lisbon – A German's account of the effects of World War II on Portugal. Fictional work.
The Fat Man and Infinity – Autobiographical tale of author's attempt to become the next great writer. Fiery and lyrical.
The Year of the Death of Ricardo Reis – Dr. Ricardo Reis returns to Lisbon in the midst of fascism and impending civil war.
Brief History of Portugal
Despite its small size and remote location, Portugal is one of the most important countries in European history. Human settlement can be traced back to over four hundred thousand years ago when early hominids and Neanderthals roamed the Iberian Peninsula. Not much was recorded during these prehistoric times until the Romans arrived in 200 BC.
Rome saw value in the Iberian Peninsula as both an economic boon, and a barrier against rival Carthage. Carthage was eventually defeated, and the whole of Iberia was under Roman control following the 1st century AD. By the 5th century though, Roman Portugal would be in ruins as well, leaving Iberia vulnerable to invading Germanic tribes, like the Suevi and Visigoths.
In the 7th century, the Muslim Moors and Berbers arrived from Africa. Over the next several centuries, the Africans conquered almost half of the Iberian Peninsula. The remaining Visigoths – who were mostly Christian by now – bastioned themselves in the north, and fought many battles to reclaim their land from the Muslims. This period of conflict is known as the reconquista.
In the midst of the reconquista, the Kingdom of Portugal was founded by Afonso I in 1139 AD. This kingdom would go on to recapture the Algarve in 1249 and set the boundaries for what is modern-day Portugal. These borders have barely changed since.
The Portuguese Empire, and Modern Portugal
Following the expulsion of the Moors and Berbers, Portugal entered its own golden age. Long distance naval navigation became possible in the 15th century, and the Age of Exploration began. Portugal flourished as a naval power and would become one of the largest empires in human history. The Portuguese Empire spanned the entire globe, from Brazil, to Mozambique, to India, and rivaled other supreme powers like England and Spain.
The empire became corrupt though and would devolve into greedy power grabs and attempted assassinations. Over the next five hundred years, Portugal would lose one foreign province after another, to either revolution or competing empires. Its last international vassal, Macau, gained independence in 1999.
Modern times have not been good to Portugal. The once eminent nation had lost so much. Rebellions and poor management had left the nation a shadow of its former self. New forward-thinking policies have shifted the tide though, and Portugal is now emerging as one of the top European nations. The sky's the limit for Portugal, and people are quickly catching on to this as more and more digital nomads flock to Portugal.
Unique Experiences in Portugal
Trekking in Portugal
Though Portugal isn't usually known as a world-class hiking destination, it still offers some truly amazing walks. The most well-known trails will be in the Azores and Madeira, but even if can't make it that far, there are still plenty of awesome hikes on the mainland. Those who are hiking in the Azores will find the WalkMeAzores app very useful!
Here are online references for trails in the Azores and Madeira.
There are lots of campgrounds in Portugal – one of the densest networks in Europe, actually – so you'll be given lots of opportunities to go all-natural in the wild.
I always suggest getting a sturdy backpack as well. My first backpack was a cheap one. Though it lasted a respectable amount of time, it would eventually be held together by duct tape and carabiners. Needless to say, it was far from waterproof.
Take my advice: invest in a quality backpack because by the end of your trip you'll be wearing it so much that it'll become an extension of your own body.
The Best Trails in Portugal
Below is a brief list of some of Portugal's best trails.
Seven Hanging Valleys Trail (5 hours, 12 km round) – Lovely walk through some of the Algarve's quintessential landscapes. Hike includes a visit to Benagil Beach where you'll find a unique cave with a natural "skylight."
The Via Algarviana (14 days, 300 km) – A route that traverses the entire Algarve – from Alcoutim at the Spanish border to Cabo de São Vicente. The trail mostly stays in the highlands of the Algarve and doesn't reach the coast until the last third.
Trilho da Cidade da Calcedónia (4 hours, 7km round) – Offers great views of the Peneda-Gerês National Park. Includes a visit to a fortified village from the Iron Age.
Mata do Canário – Sete Cidades Trail (3 hours, 12 km round) – A trail that starts on a dirt road, and ends by skirting the Blue Lake of Sete Cidades.
Vereda da Ponta de São Lourenço (2.5 hours, 8 km round) – Well-trodden trail that takes you to the end of a peninsula on the eastern edge of Madeira. Amazing coastal views.
Vereda do Areeiro (3.5 hours, 7km) – Very strenuous hike to the third highest peak on the island, Areeiro. Can be used to reach nearby Ruivo, the highest peak on Madeira.
The Rota Vicentina (21 days, 450 km) – A new trek that connects several pre-exisiting trails between Cabo de São Vicente and Santiago do Cacém. One of the longest walks in Portugal! Lots of wild coastline, and remote fishing villages. Connect this with the Via Algarviana for the ultimate trekking holiday!
Diving in Portugal
The best places to dive in Portugal are definitely around the Azores and Madeira. Both locations offer great chances to see whales and other large pelagics, as well some sunken ships. Combined, the Azores and Madeira actually form one of the largest unofficial whale sanctuaries in the world!
While diving in the Azores, you can spot the following marine animals: humpbacks, beaked whales, false killer whales, sperm whales, fin whales, manta rays, dolphins, and turtles.
The best time to see these animals is between April-October, with chances peaking after the month of May. Water temperature ranges from 60-75?F.
Diving in Madeira offers a less diverse selection of wildlife, but a larger window for optimal weather conditions. Marine animals include barracudas, groupers, monkfish, mobula rays, manta rays, stingrays, sperm whales, sei whales, pilot whales, and dolphins.
You can dive in Madeira year-round, though the water and weather are slightly colder in the winter months (Dec-Feb). Average water temperature is 72?F all year long.
Surfing in Portugal
Portugal is one of, if not the best place to go surfing in all of Europe! The whole of Portugal's Atlantic coast is prime for some huge swells and waves, especially in the autumn and winter months. The water isn't too cold or too warm – the latter of which attracts deadly sharks – and the weather is generally predictable. All of these factors combined make for the perfect surfing experience!
The center of Portuguese surfing is the town of Nazaré. Nazaré is the promised land for surfers. The waves here are legendary, known for their gargantuan size. The record for "largest roller to be ridden" was broken here when Garrett McNamara conquered a (reportedly) +100ft high wave. The power of Nazaré's waves can be linked to the unique geology of the seafloor, which creates a sort of funneling effect.
The flip side is that these waves are not to be taken lightly. Many locals and professional surfers can attest to knowing someone who has been injured or died while surfing in Nazaré. Nazaré is not a place for beginners. It's not even a place for the innocent bystander who wants to go swimming.z
These waves are serious and will take any who don't respect them.
For surfers wanting a more manageable wave, Peniche is a safer, and actually more reliable destination than Nazaré. Peniche is Portugal's most popular surf spot for good reason: there's always good waves. Because of its geography, Peniche gets good swell regardless of the time of year or weather. The waves don't get extremely high either – at least, not like Nazaré.
Other famous surf hubs are Ericeira, Figueira da Foz, and Carcavelos. Regardless of where you choose to visit, the surf will be great anywhere on the Atlantic coast.
The Best Beaches in Portugal
Having over a thousand miles of coastline, there is bound to be some secret beaches in Portugal. Many of these beaches are known only to locals. Others are just inconvenient to get to. Either way, these beaches will be far quieter, and much more peaceful than those already discussed. Take your pick, or see them all!
Final Advice Before Visiting Portugal
Backpackers and holidayers can sometimes get a little carried away in Portugal. Cheap drinks + good weather + lack of responsibility usually leads to neglectful behavior.
Remember: you're a visitor in Portugal. You need to respect this country like it was someone else's home. People do live here after all. Just try to be aware while you're backpacking through Portugal.
In closing, I'll give you my usual advice of "don't be an asshole on holiday." Drink only what you can handle, be respectful of the locals, and don't be a shit-stirrer.
Portugal is an amazing country, full of wonderful people and wonderful places. If you come here with an open mind and open heart, you're sure to have the time of your life, like I did. Just remember the things we've talked about in this Portugal travel guide as well as being a respectable backpacker, and you're golden.
Have fun out there everyone! Portugal will not disappoint.
---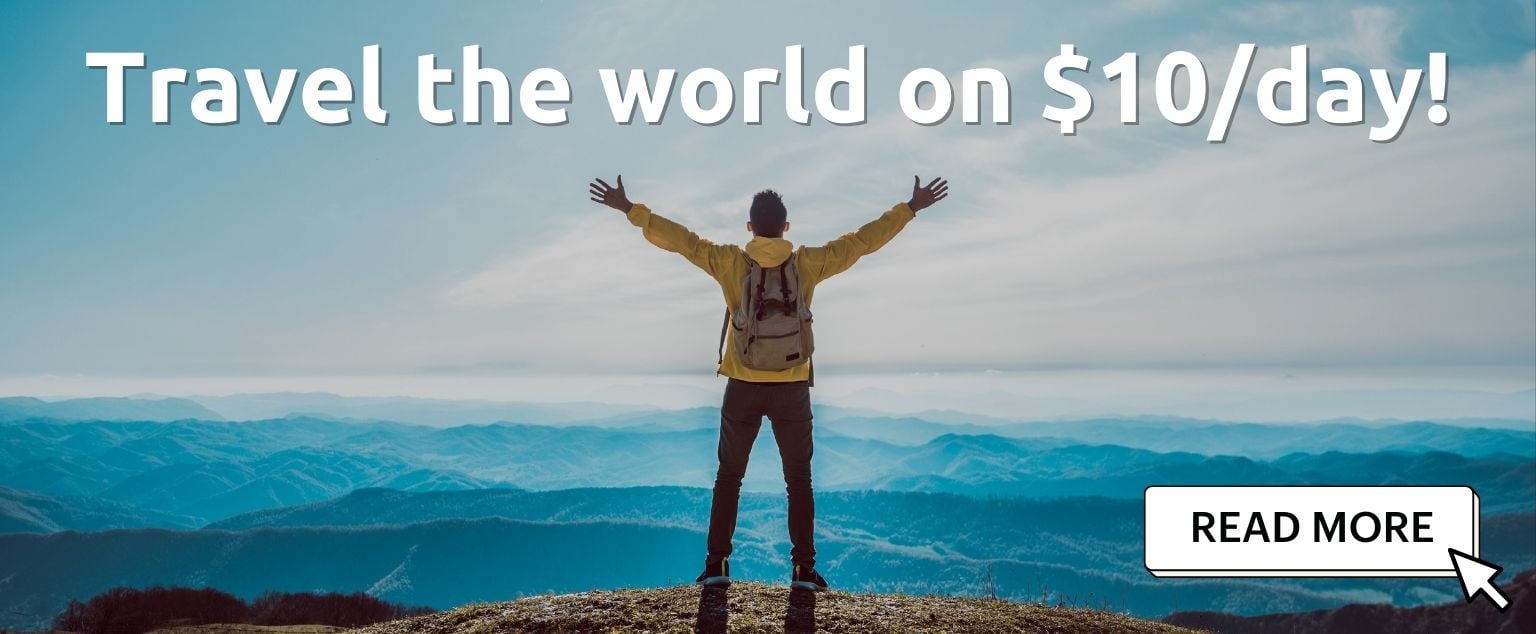 And for transparency's sake, please know that some of the links in our content are affiliate links. That means that if you book your accommodation, buy your gear, or sort your insurance through our link, we earn a small commission (at no extra cost to you). That said, we only link to the gear we trust and never recommend services we don't believe are up to scratch. Again, thank you!