Portugal's capital city of Lisbon sits at the edge of the Atlantic Ocean and boasts a rich culture and laid-back vibe. Spread across a number of hills, each part of the city offers a wealth of new and interesting experiences. With warm summers and mild winters, you can have a pleasant trip to Lisbon at all times of the year.
Despite being the capital, Lisbon is often overshadowed by other Portuguese destinations, with many travellers seeking out the beaches and coastal landscapes of the Algarve and islands like Madeira. Until fairly recently, Lisbon was considered by many as merely a transit point.
Lisbon is, however, starting to come into its own as a terrific place for a city break. It's well worth planning a trip before it truly booms—it's always nice to explore away from the crowds! We've compiled this list of the best places to visit in Lisbon to entice you to add the charming capital to your travel bucket list.
Be warned: some of these best places to visit in Lisbon are sure to amaze you!
Need a place quick? Here's the best neighbourhood in Lisbon:
BEST AREA IN LISBON
Bairro Alto
Bairro Alto is the centre for nightlife in the capital. Here you'll find streets packed with everything from small bars and cosy cafes to upmarket restaurants and rooftop terraces.
Places to visit:
Sip cocktails and enjoy the view at Park Bar.
Indulge at Belcanto, a two Michelin star restaurant.
Dance the night away at Incognito.
And now onto the good stuff … here are the best places to visit in Lisbon.
These are the BEST Places to Visit in Lisbon!
Don't tuck into those pastel de natas just yet…you're missing one key ingredient to this travel experience and that's checking out where to stay in Lisbon! With 5 of the best neighbourhoods to choose from, we've broken down accommodation options for each one. Give it a whirl and then continue on down this list!
#1 – Alfama – One of the most amazing places in Lisbon!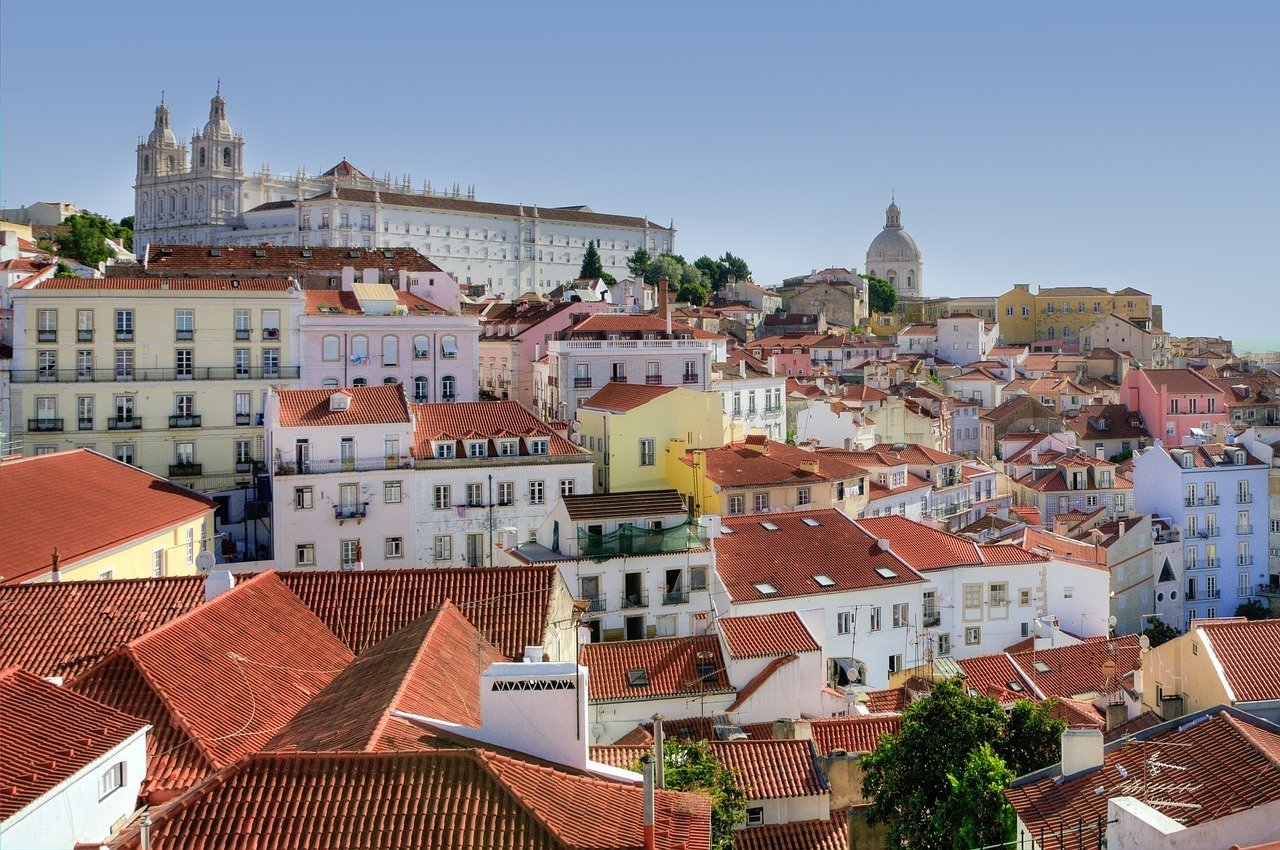 Historic neighbourhood
Regeneration projects
Home of fado
Major Lisbon landmarks
Why it's awesome: Alfama is one of the oldest neighbourhoods in Lisbon. Rich in history and culture, it's also one of the most popular tourist hotspots in Lisbon today. Charming cobblestone streets lined with quaint homes built many years ago wind up the hill. The area boasts several key city attractions and it's easy to spend a whole day roaming around and taking in the sights and vibe.
Initially thought of as an area for underprivileged people, it has transformed into a hip and trendy area with lots of olde-worlde character. Alfama is also the home of Fado music, a soulful type of music that often stirs up a sense of nostalgia and wistfulness.
What to do there: Stroll the narrow winding streets (the best way to keep costs down in Lisbon) and soak up the area's charming ambience. Visit major architectural treasures like the National Pantheon, the Romanesque Se Cathedral, and Saint Anthony's Church, and travel back in time at the impressive Castelo de São Jorge. One of the most popular tourist attractions in Lisbon, the castle has imposing walls and looming towers that offer sweeping views, a museum, and archaeological finds.
Give your legs a rest from walking with a ride on the tram. Learn more about the roots of fado at the Fado Museum and experience a haunting performance at a fado dinner restaurant. The offbeat National Tile Museum is a fabulous place for lovers of functional art, and you can also visit the ornate Madre de Deus Church. Discover cute squares, awesome viewpoints, lovely cafes, and a wealth of small unusual shops. Some of Lisbon's best hostels can be found in Alfama too!
#2 – Igreja-Museu São Roque – One of the most underrated places to see in Lisbon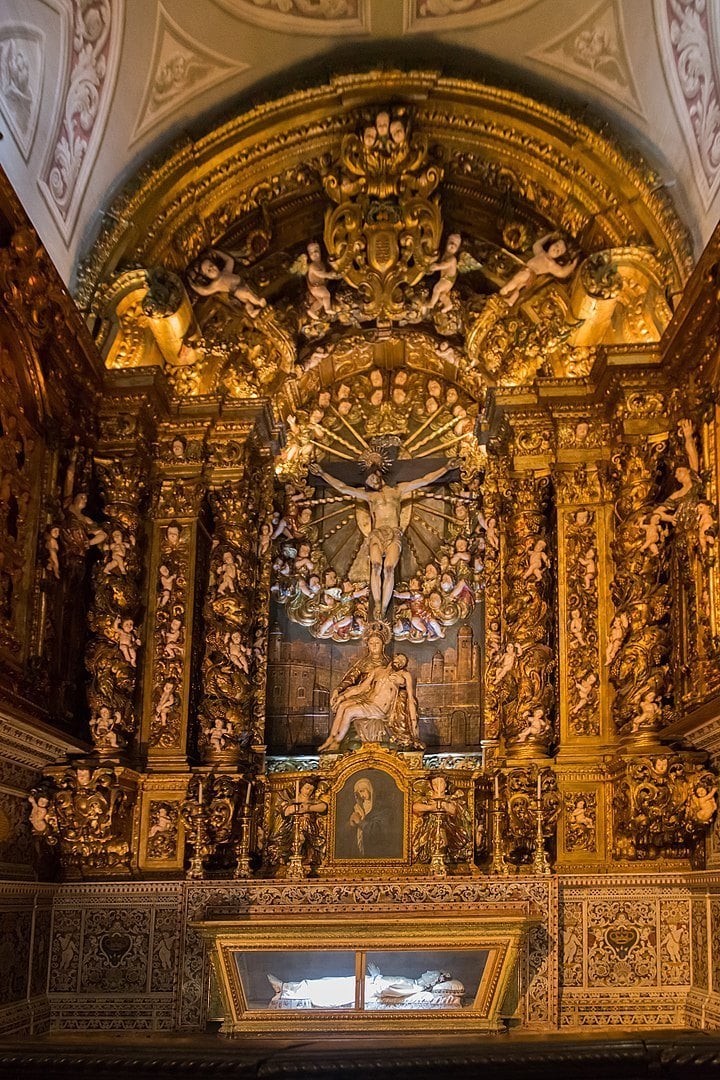 Stunning interiors
Religious art from around the world
Spiritual air
Historic features
Why it's awesome: It would be easy to walk past Igreja-Museu São Roque without giving a second glance. The exterior of the 16th-century Renaissance church-turned-museum is fairly plain in appearance. The inside, however, is one of the most opulent places in Lisbon! Some of the interior details were made in Rome in the 1740s and sent to Lisbon to embellish the religious building.
In one of the stunning chapels, visitors will find some of the oldest decorative and colourful tiles in all of Lisbon. There's also a feature that was made in Goa in the 1680s. As well as precious metals and jewels, the church also contains a number of fine pieces of art and religious artefacts.
What to do there: Be dazzled by artistic gleaming beauty when you step into the magnificent Igreja-Museu São Roque and explore the various small chapels around its edges. The Capela de São João Baptista, largely created in Rome, showcases a stunning mosaic called The Baptism of Christ. It has gold, silver, marble, amethyst, and lapis Lazuli details.
Enter the São Roque Shrine to admire painted panels from the 16th century that depict the saint's life, and see the glorious frescoes and tiles in Capela de São Roque. Visit the museum to see religious artworks and treasures and marvel at the woodwork, tiles, and marble found throughout the spectacular church.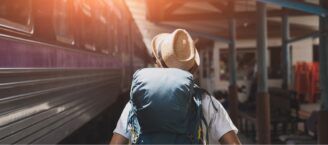 Unlock the The Broke Backpacker's GREATEST Travel Secrets
Sign up for The Broke Backpacker Newsletter to receive weekly tips on how to travel on a budget + a FREE copy of The Backpacker Bible!
#3 – Jardim do Torel – A nice non-touristy place to visit in Lisbon
Lovely views
Children's play area
Why it's awesome: A somewhat off-the-beaten-track and hidden outdoor gem in Lisbon, Jardim do Torel is a peaceful park with a romantic air great for relaxing in after a night of partying in Bairro Alto. Perched atop one of Lisbon's hills, the park offers lovely views across the city. As well as open spaces with lots of flowers and trees the park has a children's play area, a beautiful mansion, and a cafe. It's a great place to unwind away from the crowds when visiting Lisbon's more popular attractions.
What to do there: Walk to Jardim do Torel from Liberdade and take in the lovely homes and street art along the streets. Alternatively, give your legs a break and ride the Ascensor do Lavra funicular. Take a seat on one of the benches and bask in the peaceful ambience as you listen to the chatter and singing of birds. Let kids cut loose in the play area and admire the scenic views of the harbour, river, and various city areas. Look out for various landmarks in Lisbon spread out beneath you. Feeling peckish? Call into the quaint café for lunch before leaving.
#4 – Belém – An awesome place to visit in Lisbon for half a day!
Many interesting buildings
Popular tourist destination
Outdoor spaces
Culinary treats
Why it's awesome: One of the most popular neighbourhoods in Lisbon, Belém boasts a number of famous landmarks and architectural treasures. Once a bustling port, Belém sits alongside the Tagus River. Boat rides are a great way to see the area from a different perspective. There are plenty of green spaces, such as parks and tree-lined plazas, to enjoy. With romantic spots, art, culture, history, and outdoor activities, there's something for everyone in Belém. Furthermore, the area is where explorers set sail to visit new lands and where the delicious pasteis de nata were born.
What to do there: Explore the iconic UNESCO-listed Torre de Belém, built in the early 1500s as a defensive fort and filled with sublime details. Go to the top of the Padrão dos Descobrimentos for terrific views and stroll along the nearby waterfront to see statues of historical figures.
Visit the official presidential home of Belém Palace, a beautiful building constructed in the 16th century, learn tons of interesting new things at the Museum of Art, Architecture and Technology, admire art at the free-to-enter Berardo Museum of Modern and Contemporary Art, and take a romantic stroll through the pretty botanical garden. The 16th-century Jerónimos monastery is a UNESCO World Heritage Site and a Lisbon must do. It was established to celebrate Vasco de Gama's journey to India in the late 1400s and the famous explorer's remains are contained within the monastery's church. This was also where the delectable pasteis de Nata were created by the monks.
#5 – Oceanário de Lisboa – Awesome place to visit in Lisbon with kids!
Family-friendly Lisbon attraction
Many aquatic species
Why it's awesome: One of the top aquariums in Europe, the large, fun, and educational Oceanário de Lisboa is one of the best places in Lisbon to take the kids for a great day out. Located in Parque das Nações, the large oceanarium is arranged into four distinct areas, representing the water and land environments of the four major oceans of the Pacific, Atlantic, Indian, and the Antarctic.
Not only home to a huge selection of aquatic life, but the aquarium also contains numerous fascinating species of birds. There are lots of small tanks as well as the enormous and impressive central tank. In addition to being one of the major attractions in Lisbon, Oceanário de Lisboa is also active in conservation, preservation, and education.
What to do there: Stand transfixed in front of the gigantic central tank and watch in awe as creatures like rays, colourful schools of fish, sunfish, and sharks swim right in front of your eyes. Discover the habitats, creatures, and ecosystems of different oceans, seeing penguins in the Antarctic zone, sea otters in the Pacific area, and more.
Birds include Inca terns and Atlantic puffins, while among the diverse fish species you'll find perch, butterflyfish, anglerfish, clownfish, rockfish, pufferfish, grouper, seabass, angelfish, wrasse, barracuda, grunt, and many, many more. Other fascinating creatures include sea dragons, different types of frogs, salamanders, eels, newts, coral, starfish, crabs, octopus, sponges, anemones, sea fans, sea urchins, and lobsters. Don't forget to pick up themed merchandise from the gift shop before leaving.
#6 – Carcavelos Beach – A perfect place to visit in Lisbon if you are on a budget!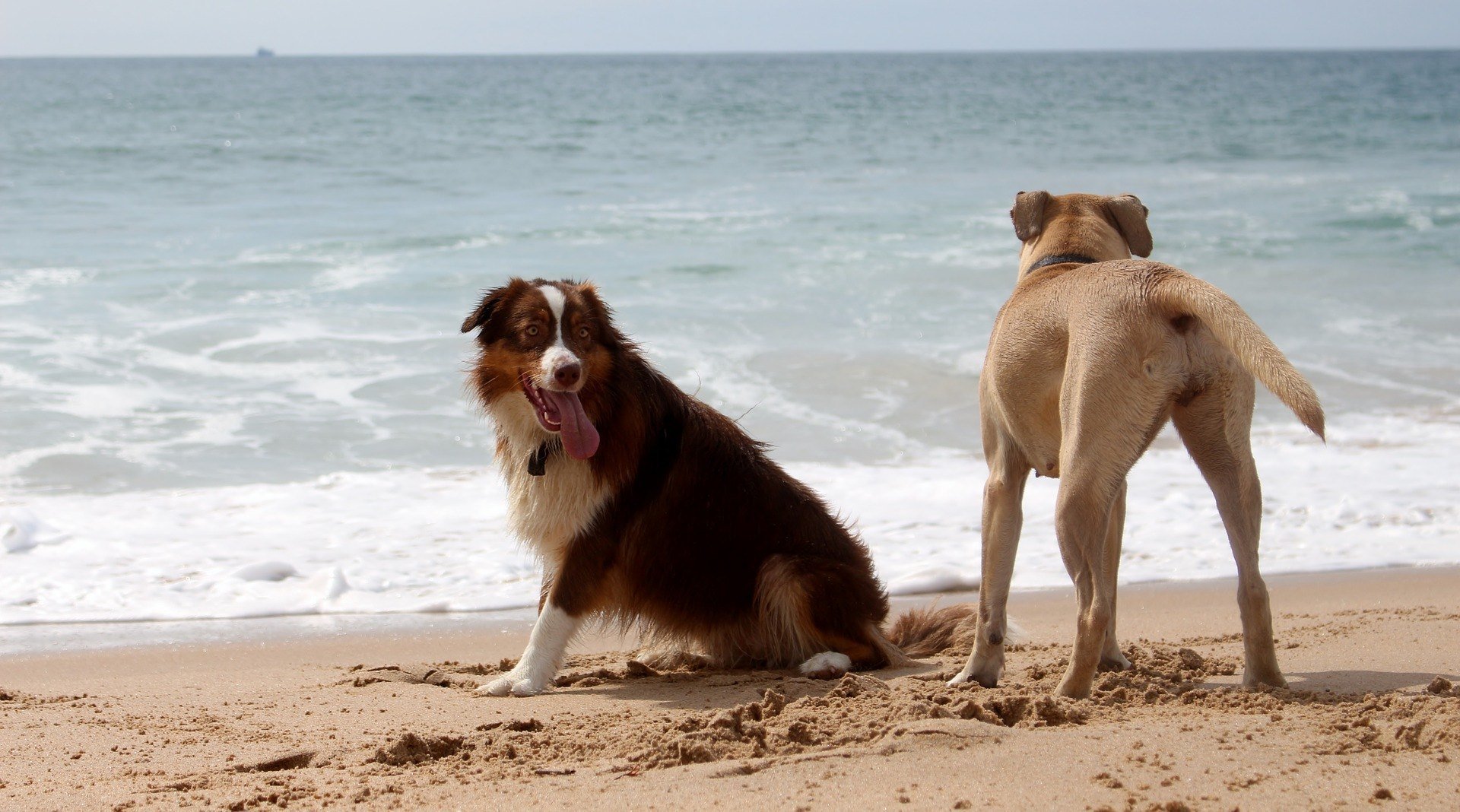 Relaxation opportunities
Seaside activities
Surfing hotspot
Laid-back bars and cafes
Why it's awesome: One of the closest sandy beaches to the heart of the city, Carcavelos Beach is a great place to enjoy a budget day at the seaside. There are good facilities for visitors and the vibe is energetic. Whether you want to chill or join in with diverse activities, the beach has something for everyone. Popular with locals and tourists alike, the beach attracts couples, families, and groups of sun-seeking friends.
What to do there: Relax on the soft golden sands and top up your tan as you laze in the sunshine, or take a dip in the cool and refreshing water. The waves make for great surfing too. Join in with a spirited game of beach volleyball, toss a Frisbee, build a sandcastle, play beach football, and stroll barefoot along the stretching sands. You can also unwind in one of the ocean-facing cafes and bars to soak up the vistas while enjoying refreshments in the shade.
#7 – Núcleo Arqueológico – One of the more unique places to visit in Lisbon!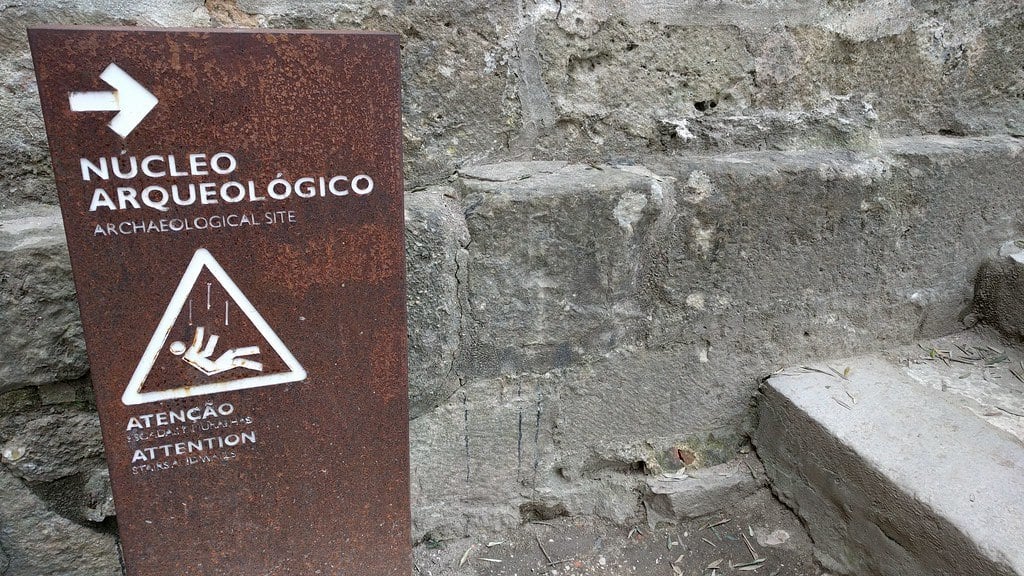 Archaeological excavation site
Hidden underground
Unusual attraction
Travel back in time
Why it's awesome: Located in downtown, visiting Núcleo Arqueológico is one of the most unusual things to do in Lisbon. The cool archaeological museum was constructed around the discovered remains of homes from the Iron Age, Moorish buildings, and structures from the Roman era. Various ancient artefacts were unearthed during excavations, reflecting different time periods and groups of people that once called the area home. Free tours are available of the interesting site. What makes the museum particularly interesting is the fact that it lies hidden beneath the Millennium BCP bank.
What to do there: See a collection of eye-catching paintings by 20th-century artists while waiting for your free one-hour underground tour to begin. Descend into the chambers and passageways underneath the bank to travel back in time through Lisbon's long and varied history. Peer through glass floors to see remains from different eras, including a Christian burial chamber from the 5th century and Roman mosaics, and see a range of items uncovered at the site.
#8 – Cemitério dos Prazeres – A nice quiet place to see in Lisbon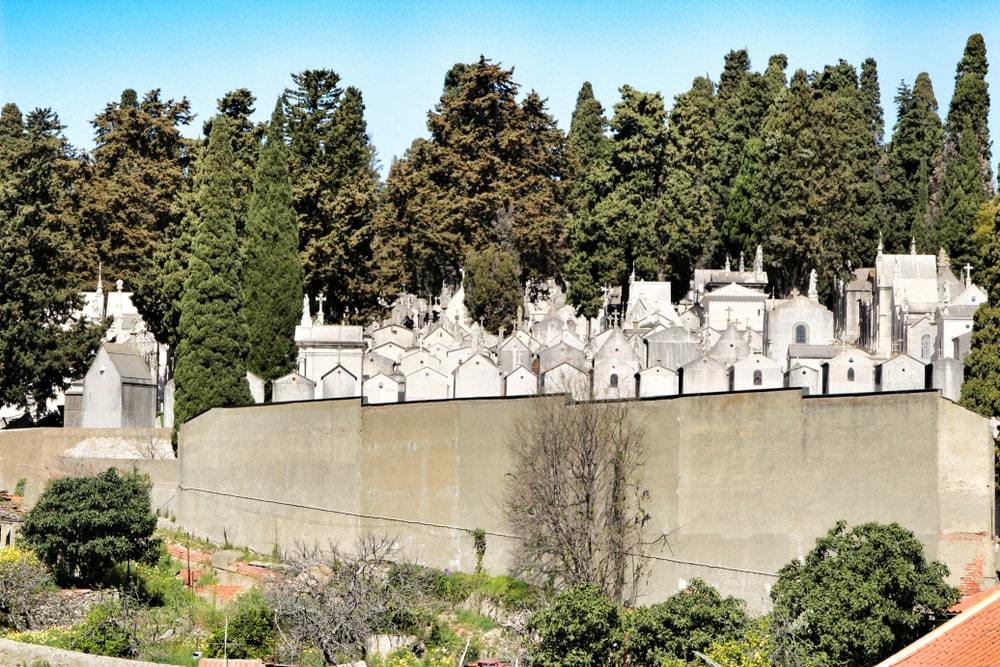 Serene ambience
Striking monuments
Why it's awesome: Something of a hidden gem, the peaceful Cemitério dos Prazeres is well worth adding to your Lisbon itinerary. It's the biggest cemetery in the city, founded in the 1830s following a devastating outbreak of cholera. As well as cholera victims, the burial ground is also the final resting place for a number of famous local people, including politicians, authors, and artists. There are many interesting graves and tombs and the attractive cemetery also offers terrific views away from the masses.
What to do there: Wander around the tranquil cemetery and admire the ornate and elegant funerary architecture. There are grand mausoleums to honour the dead, many built in a Baroque style. The cemetery is a great place for photography fans too, so make sure you bring your camera with you. Soak up the excellent views that include the 25 de Abril Bridge and the Tagus River.
#9 – Time Out Market – A must-see for foodies!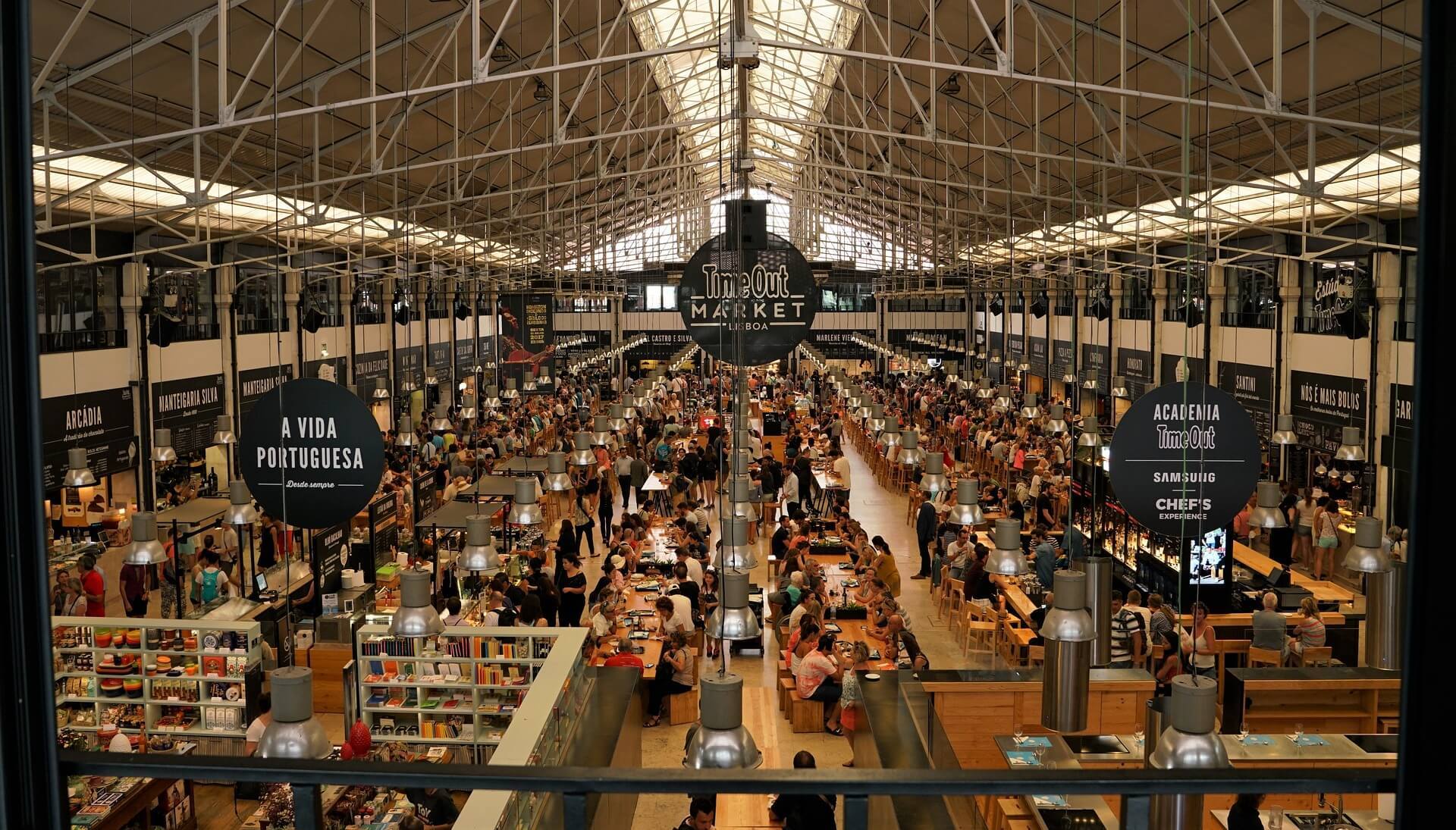 Variety of food stalls
Good price range
Typical Portuguese fare
Popular place to eat
Why it's awesome: Time Out Market can be found in the renovated Marcado da Ribeira market hall. There are some 30 stalls selling a tempting assortment of foods, and the prices range so as to suit all budgets. Open every day, the market is easy to reach, thanks to its location right across from Cais do Sodre train station.
What to do there: Let your senses guide you from stall to stall as your nostrils inhale the tempting aromas, your eyes soak up the lip-smacking sights, and your taste buds start to tingle. Grab a selection of items for a picnic, sit down for a larger meal, and buy a range of mouth-watering snacks to enjoy throughout the day.
Whether you're looking for traditional Portuguese fare, quick and easy fast food, international dishes, sweet treats, or something else, the market is sure to satisfy most cravings. It's definitely among the great food experiences in Lisbon!
#10 – Hospital de Bonecas – Quite the quirky place in Lisbon!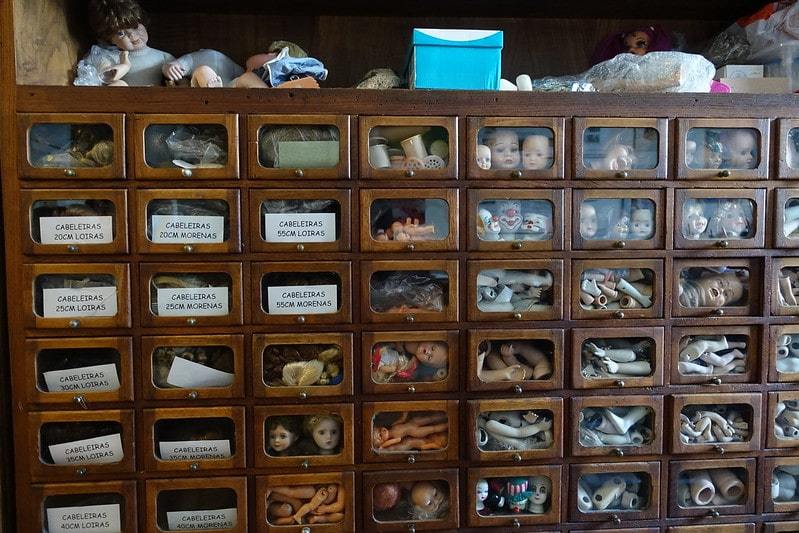 Unusual attraction
Off the beaten track
Nostalgic atmosphere
Purchase doll accessories
Why it's awesome: The Hospital de Bonecas is one of the most unusual things to do in Lisbon. Tucked away along Praça da Figueira and well and truly away from the typical tourist trail, it's a combination of a repair shop for dolls, shop, and whimsical museum. People have been taking their precious dolls here to be lovingly repaired since the 1830s. It all grew from an elderly lady who used to sit outside a herb shop sewing clothes for dolls, later branching out into repairs to pacify upset children.
What to do there: Peek inside the Hospital de Bonecas (Doll Hospital) and absorb the sense of history as you view dolls and antique toys from through the ages in the museum. You'll see everything from plush stuffed animals and old toy cars to fine porcelain dolls and games from yesteryear. If you have a treasured doll yourself that needs fixing, this is a great place to visit! Pick up quaint miniature furnishings for dolls houses and a wide selection of gorgeous tiny outfits and accessories.
Get insured for your trip to Lisbon!
Remember, when you are traveling you may need insurance! World Nomads are our go-to Travel Insurer; we have used them ourselves for years now.
Getting an estimate from World Nomads is simple – read the review or click below, fill out the form, and you're on your way!

FAQ on the Best Places to Visit in Lisbon
Find out what people want to know about the best places to visit in Lisbon
More best places to visit in Lisbon
There are numerous museums in Lisbon to cater to almost all tastes. Ogle gorgeous historical artworks in the Museu Calouste Gulbenkian and the National Museum of Ancient Art, admire the ceramics in Museu Bordalo Pinheiro and learn more about Portugal's role in Asia at the Museu do Oriente. Dig deeper into Lisbon's past at the fascinating Lisboa Story Centre. Ride in the unusual Gothic Elevador de Santa Justa and soak up the views. Visit the gorgeous Basílica da Estrela and stroll through the pretty Jardim da Estrela. Feast your eyes on the spectacular Cristo Rei Monument and the historic Aqueduto das Águas Livres.
Take kids to Lisbon Zoo, explore the ruins of Carmo Convent, enjoy fabulous city views from the top of the monumental Arco da Rua Augusta, take a walk through trendy Baixa, and join a tour of the stunning Palácio dos Marqueses de Fronteira. Take day trips from Lisbon to places like the pretty Praia da Figueirinha, the wine regions of Cheleiros and Bucelas, stunning Sintra, religiously significant Fatimá, the medieval gem of Óbidos, historic Tomar, and the stunning Arrábida National Park. Check out Bairro Alto at night time, with its many excellent restaurants, bars, and nightclubs. There truly are many awesome places to visit in Lisbon!
---
Find out how YOU can support the site.
We're a big site with a big team and this job isn't always easy. But we do it because we love it – we love providing epic and free content. We love the knowledge that our content keeps you adventuring. We don't ask for money, but if you'd like to find out how you can help the site in more organic ways, click the button below.
Thank you for your support 🙂
And for transparency's sake, please know that some of the links in our content are affiliate links. That means that if you book your accommodation, buy your gear, or sort your insurance through our link, we earn a small commission (at no extra cost to you). That said, we only link to the gear we trust and never recommend services we don't believe are up to scratch. Again, thank you!