Lisbon is one of the best foodie cities in Europe! With plentiful seafood, tasty desserts, and plenty of interesting plates, you will not be wanting for flavors while visiting. Portuguese food will treat you very well if you know where to go.
Like every gastronomic culture in the world, there's a lot to know about Portuguese cuisine. It has been developed over centuries and influenced by dozens of international styles.
That is why going on a food tour in Lisbon is a good idea.
By joining a local Lisboeta guide, you will not only be offered the best of local restaurants but also gain valuable insider information. Food is one of those cultural aspects that need context and having some also provides more context for the culture itself.
We've listed out some of the most interesting and exciting foodie tours in Lisbon below. Each offers a unique experience and a different taste of the city. Some of these are so special that you can not find anything else like them in the world!
Give them a quick look, find your favorite, and then book your place before you start traveling!
Quick Answers: The Coolest Foodie Tours in Lisbon
The Most COMPLETE Foodie Tour in Lisbon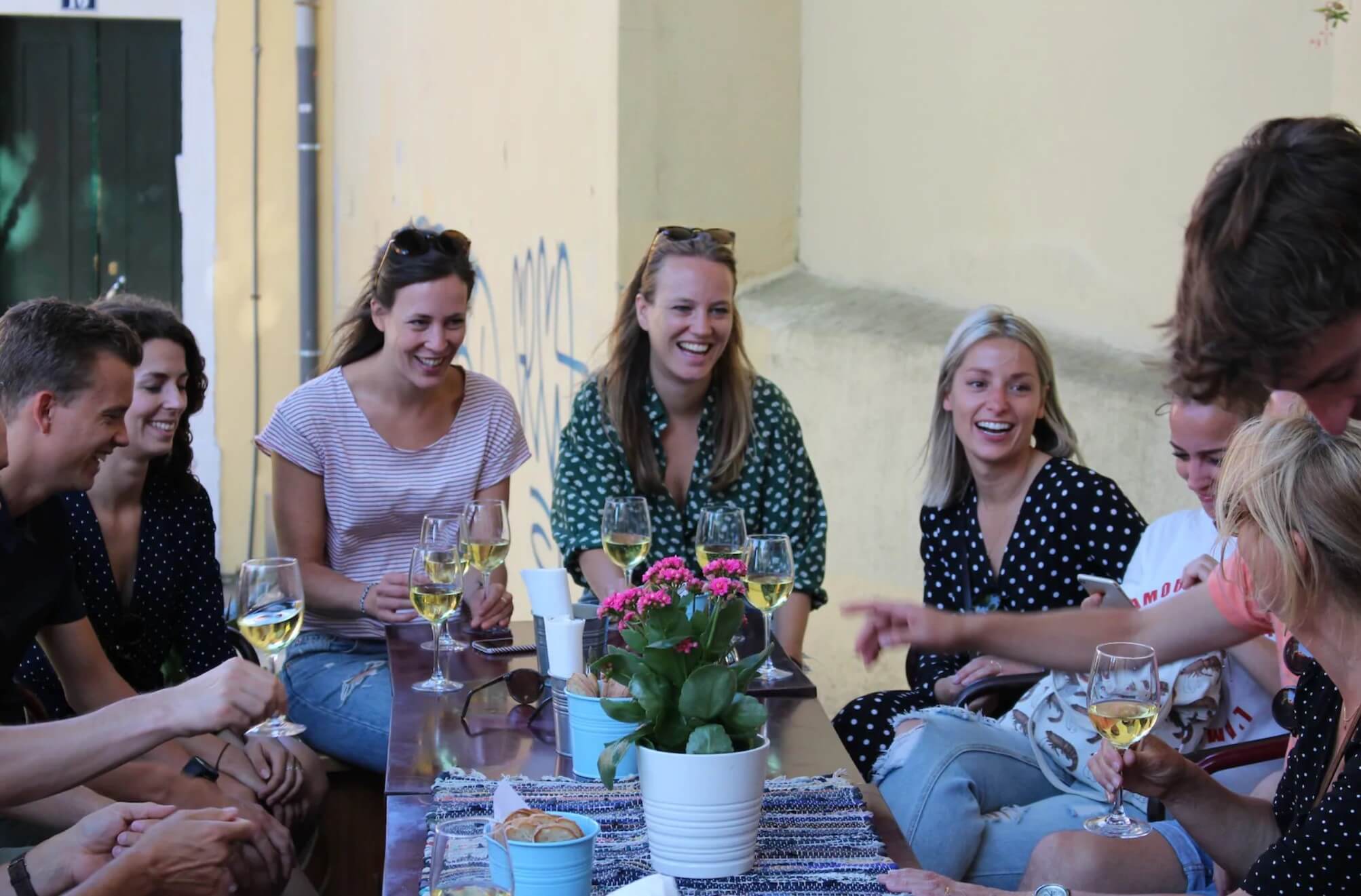 This is one of the best ways to experience Lisbon's food culture. Featuring a whopping 18 FOOD TASTINGS, 6 drink tastings, and three different neighborhoods, this tour is (literally) a mouthful. Finishing it will be like a crash course in Lisbon.
This tour focuses on local businesses and traditional Portuguese cuisine. On this epic journey – you'll walk almost 2 miles ultimately – you'll be afforded lots of insight plus the chance to burn some of those calories.
The revelations don't just come from the food either – your host will be sure to point out lots of interesting landmarks along the way and to provide some additional facts.
Your host is Silvia, psychologist, anthropologist, foodie, and Alfama native. She is helped by Thais, Darida, and Samuel, who hail from Brazil and Mexico and fell in love with Lisbon's culinary scene. Together, they will make sure you walk away satiated.
This tour is still suitable for vegetarians and those who adhere to halal. LGBT travelers will also be treated to some local after-hours suggestions 🙂
Where: Baixa
When: 11:00am-2:30pm and 4:00pm-6:30pm
Duration: 3.5 hours
Includes: 14+ food tastings and 6+ beer/wine tastings
Price: $70/person
A Romantic Dinner Experience in Lisbon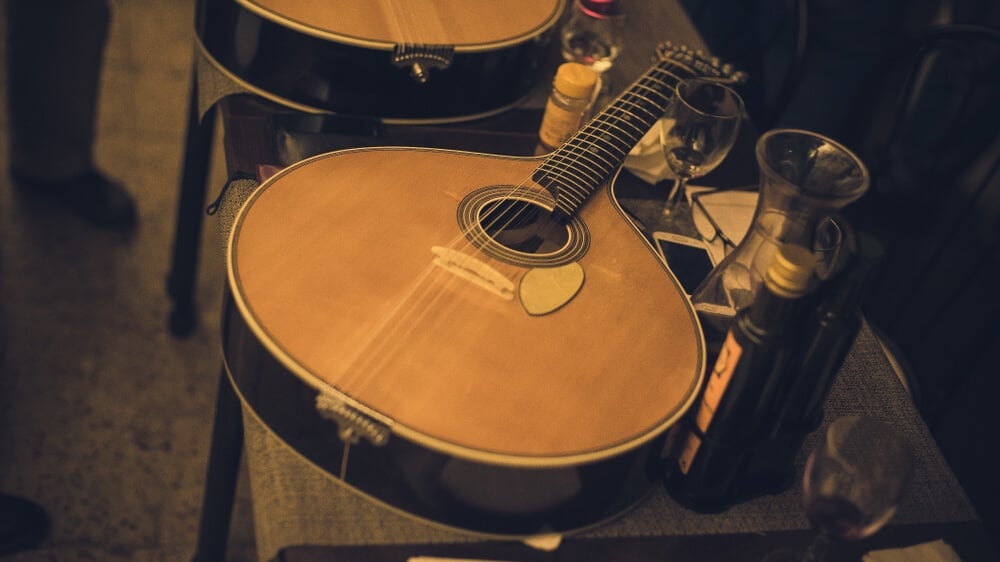 Fado is the beating heart of Portugal – a sorrowful, beautiful style of music that reverberates with almost every single native, domestic and abroad. Invented by weary sailors who longed for home, it is perhaps the most Portuguese thing there is.
No trip to Lisbon would be complete without seeing some sort of fado performance.
The traditional 'O Corrido' fado house offers fado shows accompanied by dinner. Claudia, a singer, and Filipe, a guitarist, lead the performance and most guests into the depths of emotion. Their music is resounding and many people exclaim that they are overcome with emotion after hearing them play. Both hosts invite guests to ask questions about fado.
Although the music is the centerpiece, the food is not neglected. A full dinner is served and includes bread, a starter, first course, second course, and dessert. Each will be lovingly prepared as well.
Wine is also included but only two glasses. For God's sake, I NEED A BOTTLE TO HANDLE ALL OF THESE EMOTIONS.
Where: Alfama
When: 8:00pm-12:00am
Duration: 4 hours
Includes: Food, 2 drinks, and entertainment
Price: $70/person
For Those Who Don't Give a Sh** About Calories
We go on vacation to let loose and have fun, right? So let's leave the diet at home while we're at it! Who wants to travel halfway around the world and NOT be able to eat something anyway?!
The "SAY NO TO DIET" food tour is one way to experience Lisbon uninhibited. With your guides Alex, Pedro, Miguel, and Andrea, you will get to eat whatever you want without having to worry about counting calories. In their own words: "(this) is your go-to walking food porn experience with a Portuguese group of foodies!" Sold.
Notably, this tour does not limit itself to just Portuguese food – you'll get to try some famously unhealthy international food like ice cream, pizza, and whatever else sounds good that day.
People who are looking for a more traditional foodie tour in Lisbon will still enjoy this but diehard traditionalists may want to turn to something else. Bacalhau will be shunned in favor of a towering ice cream cone.
Where: Baixa
When: 2:30pm-5:30pm
Duration: 3 hours
Includes: Food + Drinks
Price: $59/person
The Best Lisbon Food Tour After a Night Out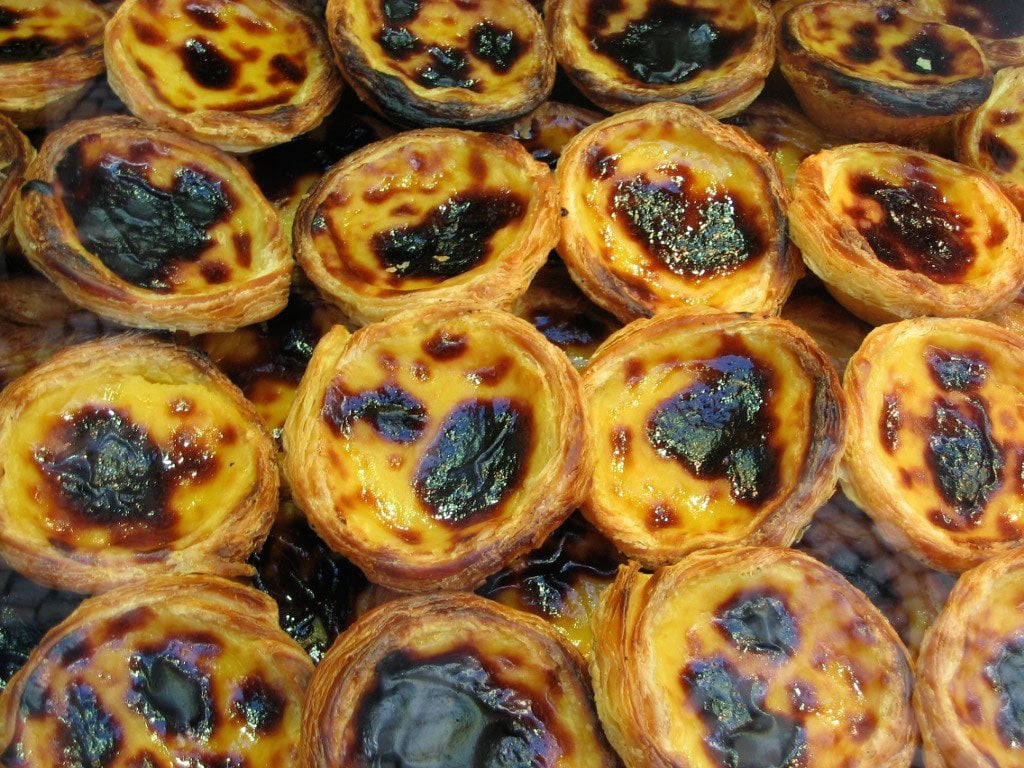 Lisbon has a pretty damn good nightlife and lots of people come here just to go out in Bairro Alto. A lot of people end up staying out all night long and it goes without saying that the following mornings can be a bit rough.
Enter one of the greatest inventions in human history: the brunch. A bit too late to be breakfast, a bit less formal than lunch, and always served with a drink, brunches are a godsend for hangovers and late starts. They are becoming quite popular in Lisbon as well these days.
This food tour in Lisbon is great for those who need a little extra help in the morning. By leaving all of the tough decisions, like where to go and what to eat, to the guide, you'll get to enjoy your brunch to the fullest. You'll be offered petiscos, a stiff cup of coffee, tarts, and some crucial hair of the dog.
This tour takes place in the Campo de Ourique area, which is relatively unknown to tourists. Conrad, Marie, Maria, and Katia share tour guiding responsibilities. They will explain to you what makes a good Portuguese brunch and where to find the best morsels. So this tour is not only convenient but educational.
Where: Campo de Ourique
When: 10:00am-1:00pm
Duration: 3 hours
Includes: Breakfast + Lunch = Brunch
Price: $57
One of the Most Responsible Food Tours in Lisbon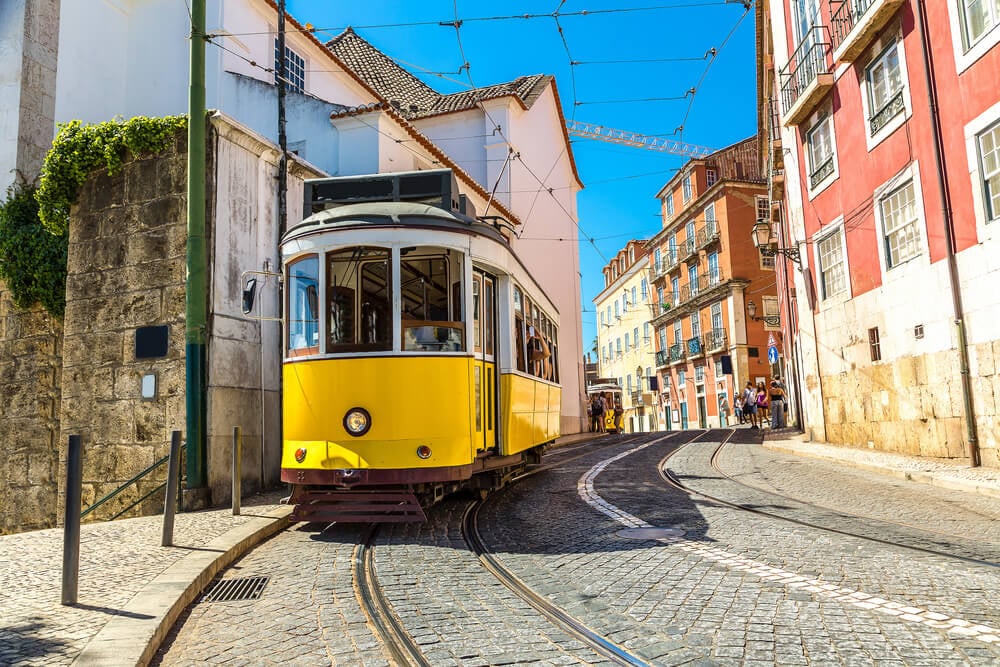 This tour commits itself to being one of the more socially and environmentally conscious in Lisbon. Not only do the hosts promise to visit only local kitchens but they also claim that this is "the first in Lisbon to have banished all kinds of plastic from our experience." As environmentalists ourselves, we applaud this kind of tourism.
On this tour, your guides, Ruthy, Rita, Francisco, and Marianne, will take you around the Alfama neighborhood. Being one of the older neighborhoods in Lisbon, Alfama will offer a lot more traditional flavors and plates. There will be staples like codfish and sardines as well as pastries, meats, cheeses, and local wine. All will take place in some sort of local establishment, which may or may not be run by a local avó (grandma).
If you want to mix things up and visit a more authentic side of Lisbon, this tour will be right up your alley.
Where: Alfama
When: 10:00am-1:30pm
Duration: 3.5 hours
Includes: Homemade and local food+drinks
Price: $70/person
FIRST TIME IN LISBON
Baixa
At the heart of Lisbon is the Baixa neighbourhood. A lively and vibrant district, Baixa is comprised of weaving lanes, meandering alleys and countless plazas. Baixa is also the best area of Lisbon to stay in for sightseeing.
Places to visit:
Take a stroll through Praça do Comércio, one of the biggest squares in Europe.
Marvel at the incredible Arch of Rua Augusta.
Stand in vibrant Rossio Square, the heart of Lisbon.
One of the Most Unique Things to Do in Lisbon (or Anywhere)
Fun fact: Portugal is one of the most gay-friendly nations in the world. The LGBT community is very strong in Lisbon and is regularly coming out (no pun intended) and throwing amazing parties and events, it's just one of the reasons it ranks as one of the best party cities in the world.
One of the most popular ways of getting in touch with the local LGBT community in Lisbon is by cooking with drag queens. For one reason or another, glamorous outfits, heavy makeup, and Portuguese cuisine just go really well together.
DRAG TASTE, which is curated by local LGBT activist Pedro, organizes daily cooking classes in the Alcântara neighborhood of south Lisbon. Your drag chef will walk you through the preparation of many Portuguese staples all to the tune of a funky soundtrack.
When you're not cooking, you will be invited to dress up and become the drag king or queen that you always wanted. In the end, everyone in the group will sit down at the table to share their dishes as well as their alter egos. The reviews for this experience are spectacular and totally deserved as this is one of the most fun things to do in Lisbon.
Where: Alcântara
When: 6:00pm-11:00pm
Duration: 5 hours
Includes: Full meal, open bar + DRAG OUTFITS
Price: $111
A Very Intimate and Local Food Tour in Lisbon
The concept of a Supper Club is simple: local chefs open their homes to strangers and prepare for them homemade meals. The idea is similar to a pop-up restaurant or even to speakeasies, that is they are unofficial public gathering places. Supper clubs are a great way to get up close and personal with local chefs and are a great alternative to more conventional dining.
This supper club is hosted by Andre, a professional wine consultant, inside his apartment in the Baixa neighborhood. He has worked with several Portuguese wine producers in his life ipso facto he knows his shit.
Over the course of dinner, which is prepared by a local chef, and much wine, Andre will explain to you the Portuguese wine tradition. He'll go over regions, producers, styles, and terroir. All of this in the privacy and tastefully designed digs of Andre's own casa.
Gluten-free and vegetarian options available with prior notice.
Where: Private apartment in Baixa
When: 8:00pm-11:30pm
Duration: 3.5 hours
Includes: food, drink, and presentation
Price: $82/person
The Easiest Food Tour in Lisbon
Sometimes you only have to focus on one thing to get a bigger picture.
One such place in Lisbon is the Mercado da Ribeira, commonly referred to as the "Time Out Market." This is one of the most impressive, most gastronomically inspiring locations in all of Europe. One could easily get lost for an entire day here just perusing all of the local stalls and kiosks inside.
To really dive deep into this labyrinthian market will require a local guide though. The Mercado da Ribeira is just too storied, too grand, and too much to handle in a single trip.
Oska, a Dominican/English native and former radio food program contributor, has been living in Lisbon since 2017. He offers many personal foodie tours around Lisbon and enjoys showing guests a different view of Lisbon, one that is less about the masses and more about the details.
If you join Pedro in the Mercado da Ribeira, he will show some of his favorite local vendors. You'll get to try local honey, fruits, preserves, cheeses, meats, and more. You will also be introduced to ginjinha – a local spirit made from sour cherries.
Pedro also hosts a food tour in Lisbon that is specifically catered to seafood.
Where: Mercado da Ribeira
When: 11:00am-2:00pm
Duration: 3 hours
Includes: A few bites + ginjinha
Price: $18/person
For Those Who Like to Drink When They Study
Portugal has a very respected wine culture. Rich red douros from the north, savory whites from Tejo, and plenty more in-between, Portugal has more than enough varieties to keep a wine-o busy.
For a crash course in Portuguese wine, look no further than local Lisbon wine expert, Teresa. A sommelier since 2001, she now hosts private wine tastings and lessons in her flat, which appropriately named 'The Wine Flat.'
If you should join Teresa for a tasting, you will be treated to five different wines from five different Portugues regions followed by food pairings. Along the way, Teresa will be sharing with you lots of information about not only the local varieties but also wine in general. The whole experience is very casual as it all takes place in Teresa's living room.
To top things off, you'll also get a free educational ebook when you finish!
Where: Pena
When: multiple slots from 11:00am-9:30pm
Duration: 2.5 hours
Includes: Wine, food, and a free ebook
Price: $53/person
A Great Way to Get Outside of Lisbon
Want to get out of Lisbon for a bit? Why not visit a bee farm in the countryside?!
Portuguese honey is very high quality, thanks in part to centuries of beekeeping traditions and an extremely diverse biome. You may have had some local honey on a foodie tour in Lisbon already, but nothing beats the source.
This activity is hosted by Joana, who is a fourth-generation Portuguese beekeeper. She hosts guests at her bee farm in Lousa, located about 30-45 minutes outside of Lisbon.
When you visit, Joana will walk you through all of the aspects of bee farming and why bees are so ecologically important. You'll even have the chance to wear a bee suit and get up close and personal with the beehives. Kudos if you can spot the queen bee in the hive.
Food-wise, you'll be offered a fresh lunch prepared on-site. Of course, there will be plenty of honey samples throughout as well.
Note that this tour meets all the standards of Airbnb's Animal Welfare Guide.
Where: Lousa
When: multiple slots from 9:30am-2:00pm
Duration: 2.5 hours
Includes: Lunch, fresh honey, and bee protection
Price: $53/person
Food in Lisbon – Why is it Special?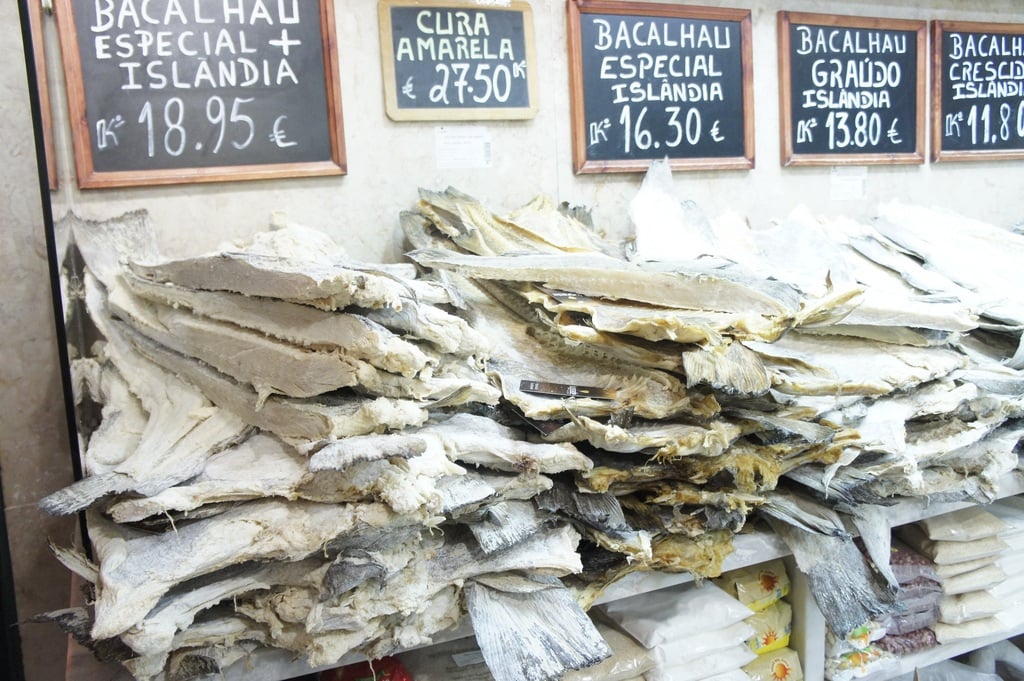 Portuguese food offers some of the most unique flavors and dishes in all of Europe. A healthy portion of Atlantic ingredients, a little bit Mediterranean style, and a dash of colonial spices makes Portuguese food very different, and, ultimately, delicious.
Portuguese cuisine relies HEAVILY upon seafood. In fact, Portugal is the one of, if not the largest consumer of seafood in Europe. You'll be hard-pressed to find a Lisboeta who doesn't love bacalhau (salted codfish), caldeirada (seafood stew), or any kind of seafood for that matter.
But Portuguese food also features a lot of Iberian staples, like cured ham, sausages, beans, and sweets. There's even small plates and appetizers, called petiscos, which are very similar to Spanish tapas.
While you're on your foodie tour in Lisbon, be on the lookout for these popular Portuguese dishes:
Bacalhau – Salted codfish, which is everywhere
Sardinhas – Sardines, a local favorite
Linguiça – A fatty, spicy sausage
Pasteis de Nata – Legendary egg-custard tarts
Caldo Verde – Hearty veggie and meat soup
Azeitão – A soft cheese
Bifana – A sandwich that makes great street food
Ginjinha – A special Portuguese liqueur
Lisbon Foodie Neighborhood Breakdown
Lisbon has everything that a good foodie city needs: a diverse community, good local products, and all the bounties of the ocean. Thanks to its eclectic array of ingredients and styles, the food in Lisbon is seriously some of the best in Europe.
Lisbon is a crock pot of cultures and culinary styles itself. Different neighborhoods offer different kinds of flavors. Take a tour around the marina and you'll be bombarded with fresh catches of the day. Head to the outskirts where the middle and lower classes live and comfort food becomes the norm.
When choosing a food tour in Lisbon, be aware of where it takes place in the city. Going on a tour in one area could offer a vastly different experience than the other.
Here are some foodie neighborhoods in Lisbon to consider:
Alfama – One of Lisbon's oldest and most traditional neighborhoods and a good place to go on a tour if you want more classical Portuguese food.
Baixa – The most central neighborhood in Lisbon with the most offerings. Hosts the fantastic Mercado da Ribeira, also called the "Time Out Market." Your host could spend the whole day showing you this place and it wouldn't be a waste.
Campo de Ourique – Another older foodie neighborhood in Lisbon with a great market. A favorite among locals and culinary tour guides in Lisbon.
Don't Forget Travel Insurance for Portugal
As a wise man once said, if you can't afford travel insurance, you shouldn't be travelling!
Presenting The Broke Backpacker's top recommendation: World Nomads!
ALWAYS sort out your backpacker insurance before your trip. There's plenty to choose from in that department, but a good place to start is Safety Wing.
They offer month-to-month payments, no lock-in contracts, and require absolutely no itineraries: that's the exact kind of insurance long-term travellers and digital nomads need.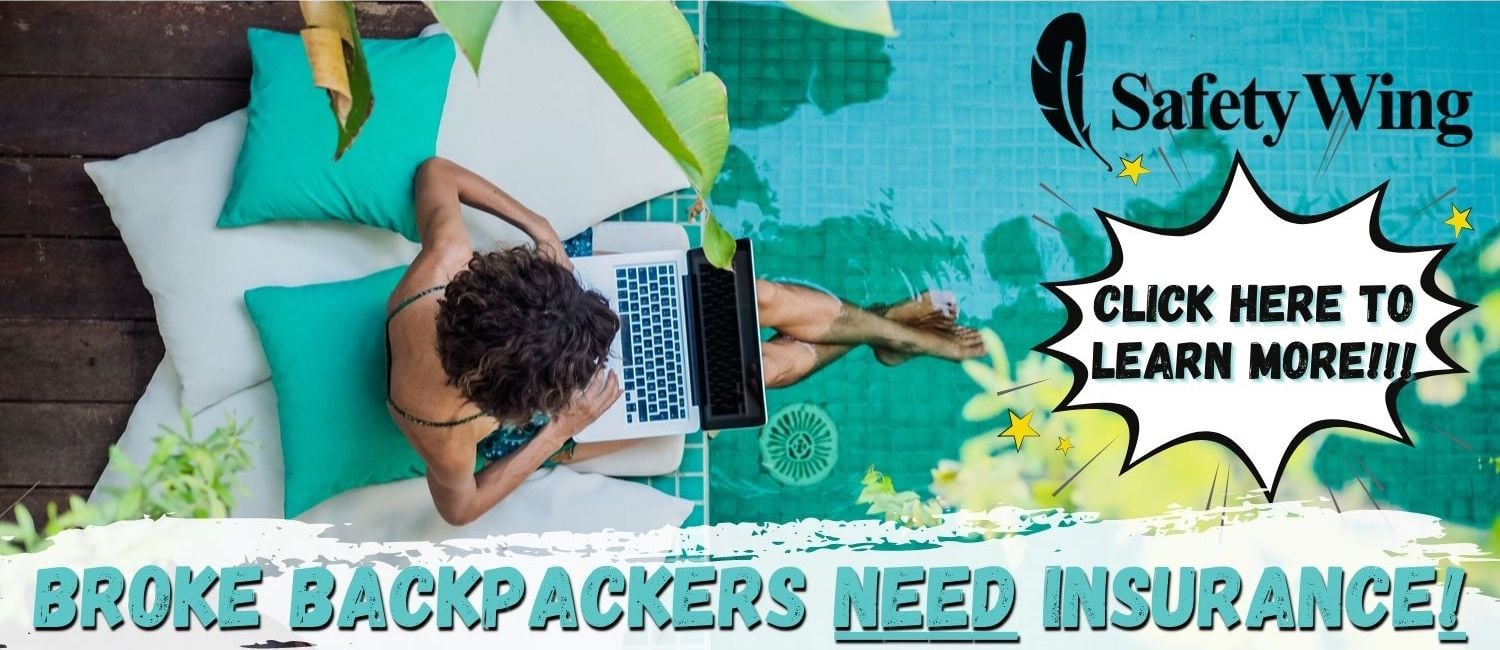 SafetyWing is cheap, easy, and admin-free: just sign up lickety-split so you can get back to it!
Click the button below to learn more about SafetyWing's setup or read our insider review for the full tasty scoop.
---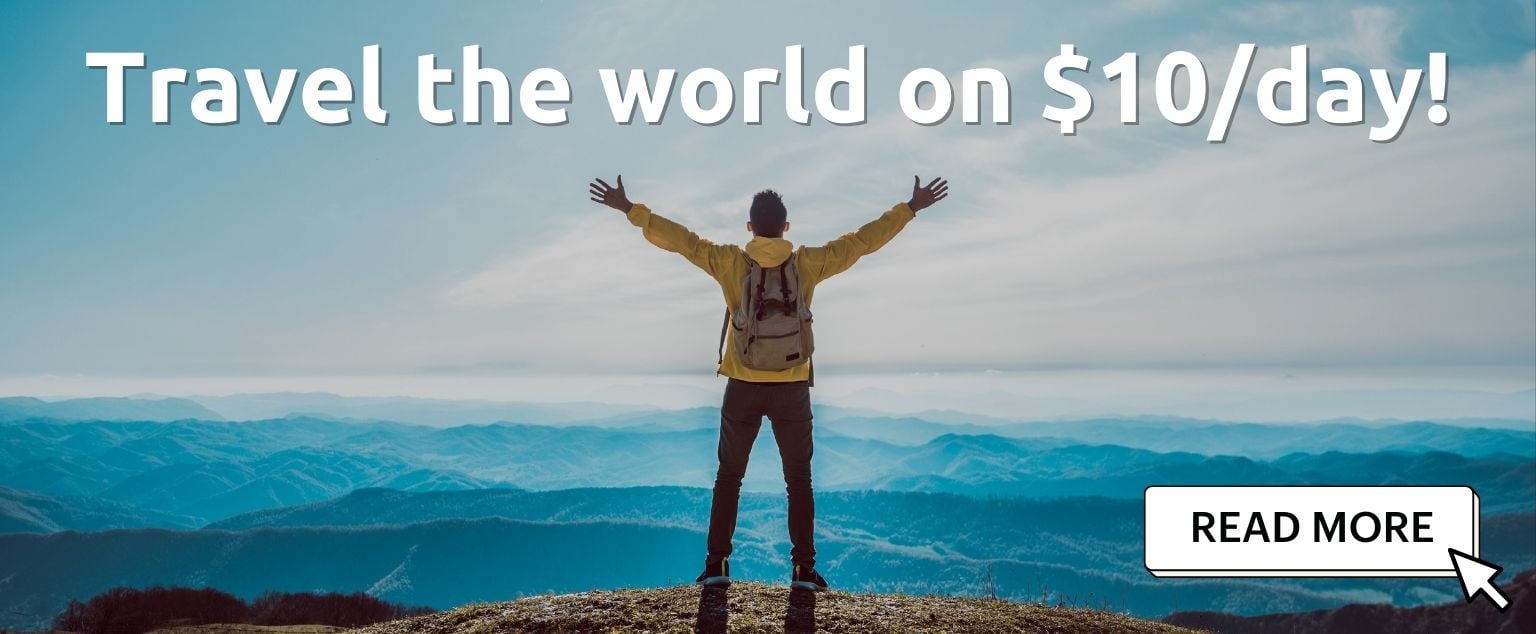 And for transparency's sake, please know that some of the links in our content are affiliate links. That means that if you book your accommodation, buy your gear, or sort your insurance through our link, we earn a small commission (at no extra cost to you). That said, we only link to the gear we trust and never recommend services we don't believe are up to scratch. Again, thank you!