There is a reason I keep returning to Lisbon; I am returning at the end of summer for a third time, after all. Maybe it's the pastel tiled houses and yellow vintage trams. Maybe it's the food and wine with a million dollar view.
Perhaps it's simply that Lisbon reminds me of my home away from home, San Francisco. Both are cities with nearby beaches and ocean views, famous for historic trolleys and hilly streets that double as a calf work-out. Both cities even have their own iconic red bridges designed by the same architect. But that's where the similarities end.
Lisbon is a city that is changing with the rest of the world – new cuisine, modern and artesanal shops, bohemian markets, and artistic projects are popping up everywhere – but still respects Portuguese tradition.
Next to new businesses you'll find traditional Tabernas with food that tastes like it's from your grandmother's kitchen on cobblestone streets that still look like Lisboa pre-earthquake. A city with a nearby surf culture (that isn't California whatsoever) and a fado culture that is just as loved as it was in the 1800s.
Lisbon is a perfect blend of old and new. But Lisbon is no longer an up-and-coming destination. The hordes of tourists are beginning to arrive by the bus loads, and it's only going to get more expensive to go backpacking in Lisbon.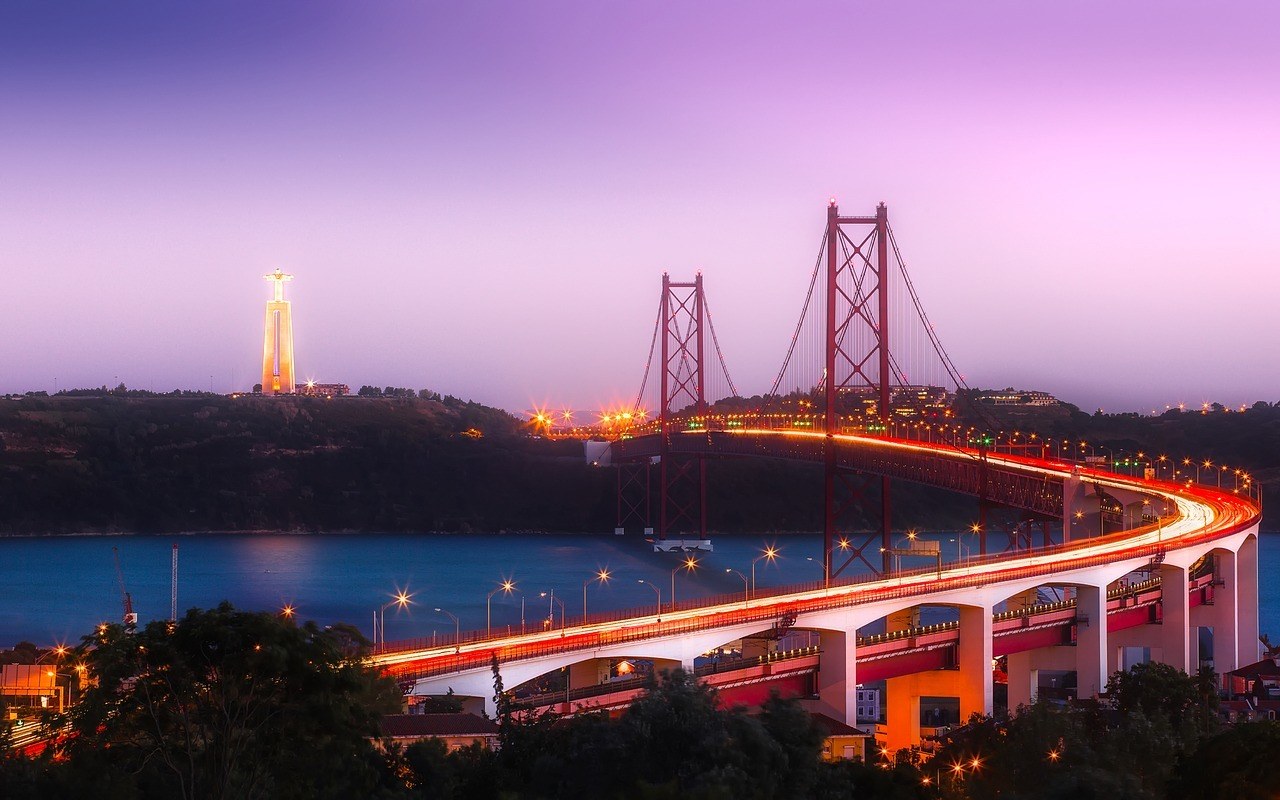 The rising expense coupled with so much room for activities (yes, that's a Stepbrother's reference) means you may be wondering how to tackle your visit to Portugal's capital.
I've put together this Lisbon travel guide with everything you need to know before backpacking Lisbon, complete with valuable travel tips, backpacking costs, a 3 day Lisbon itinerary, and more! Keep on reading to learn more about why Lisbon has captivated my heart (and my stomach).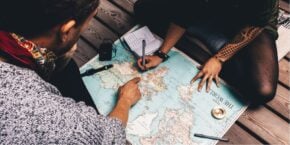 Heading Off-Grid? • Download This Guide as a PDF!
Sign up to The Broke Backpacker's EXCLUSIVE VIP AREA below and download our top backpacking guides as PDFs – go offline with peace of mind!
Lisbon is one of the best cities in Europe, but it's still Portugal's most expensive one. Still, it's considered plenty affordable in comparison to the rest of Western Europe. There are also some amazing places to visit in Lisbon so it's well worth your time, money and effort.
Plus, Lisbon has solid accommodation and food options for backpackers to keep costs low.
The average daily budget for Lisbon is around $40-$60. This will get you a dorm bed, grocery money, some store-bought wine, a few eating out experiences, and visits to museums and other tourist attractions.
Lisbon can be even cheaper with the right spending habits. Should you get free accommodation – like Couchsurfing – and cook and drink at home, you backpack Lisbon for $20-30 easily.
A typical hostel dorm bed in Lisbon will cost you $16-25. I have stayed at four separate hostels now, and all of them were excellent value: modern and clean, free breakfast, fun group activities, etc. The Lisbon Airbnb is varied ranging from $50 – $1000 per night!
Groceries in Lisbon can be cheap depending on where you shop. My biggest advice is to eat and drink products made in Portugal. Eating local is good for the environment and your budget, as most imported foods and alcohol are more expensive.
Eating out can be affordable too, so long as you avoid the tourist traps in the center of town. That said, touristy markets like Timeout Market have decent and affordable seafood options.
Drinking in Lisbon will be much like the rest of Portugal – pretty dang affordable if you are drinking local wine, beer, and liquor like Anis and Ginjinha. You can order a beer in a park for as little as 1 euro.
As soon as you start ordering Belgian beer and French wine, however, expect the prices to drive up.
Below is a breakdown of the costs of travel in Lisbon for the average backpacker.
Lisbon Daily Budget Breakdown
Hostel Dormitory: $16-$25
Basic room for two: €55+
AirBnB/temp apartment: $50+
Average cost of public transport: €1.50+
City-Airport transfer: €4+
Casual Lunch: €5-10
Beer at a bar: €2 domestic
Coffee: €1.50+
Bottle of wine from the market: €3-8
Sit Down Dinner for two: €30+
Torre de Belem: €6
Museu Sao Roque: €2.50
Lisbon Budget Backpacking Tips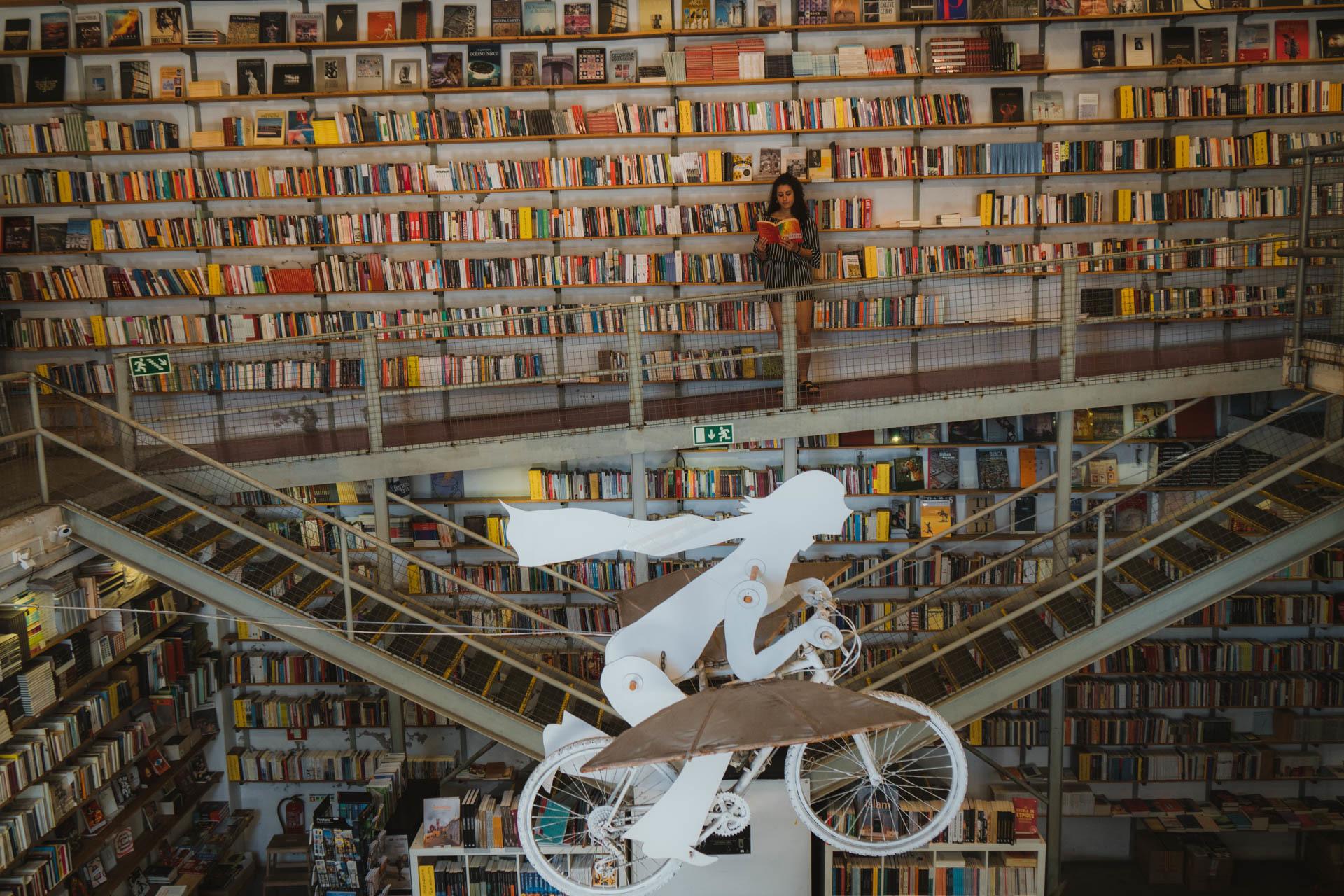 There are always ways to save cash while backpacking Lisbon! As I mentioned earlier, it isn't hard to backpack Lisbon on a budget. With my tips below, you'll be well on your way to visiting Lisbon affordably.
Choose accommodation away from the center: Hostels and hotels aren't too expensive in the center but you can get some awesome valued places just outside of other famous neighborhoods like the Alfama and Bairro Chiado/Alto. By staying away from the center, you'll avoid the overpriced food and get free breakfast/bed for $15.
Travel Shoulder Season: Summer is the most expensive time to backpack Lisbon, and spring has perfect city weather.
Pick a hostel with free breakfast: This isn't hard to do, as most of the ones I've stayed at have decent breakfast with coffee/tea.
Cook at home as often as possible: This is a money saver no matter where you are backpacking. I always suggest eating lunch out (as it's cheaper) and then making dinner at home to save some cash.
Send the bread away: It usually costs money!
Eat lunch out at a Taberna: These are traditional Portuguese restaurants with home-cooked style meals. Your best bet is to pick restaurants frequented by locals and ask for the menu of the day.
Order local beer or wine: A small Super Bock or Sagres is as little as €1
Walk around: Sure the hills can be brutal, but this is my favorite thing to do whilst backpacking Lisbon! The buildings and atmosphere are gorgeous! Make sure to walk around Alfama and around Bairro Alto.
Go to the beach: Cascais is the most famous one. While you need to pay for a train ticket, the beach itself is a fun, free day.
Do the Free Stuff: Speaking of free, watch the sunset at one of the dozens of miradouros, hang out by the coast, and go to free museums, like the Bernado Museum which shows work by Warhol and Picasso. There are plenty of free things to do in Lisbon while backpacking on a budget.
Pack a travel water bottle and save money every day!
Head to one of Portugal's National Parks; there are two within a one-hour driving distance!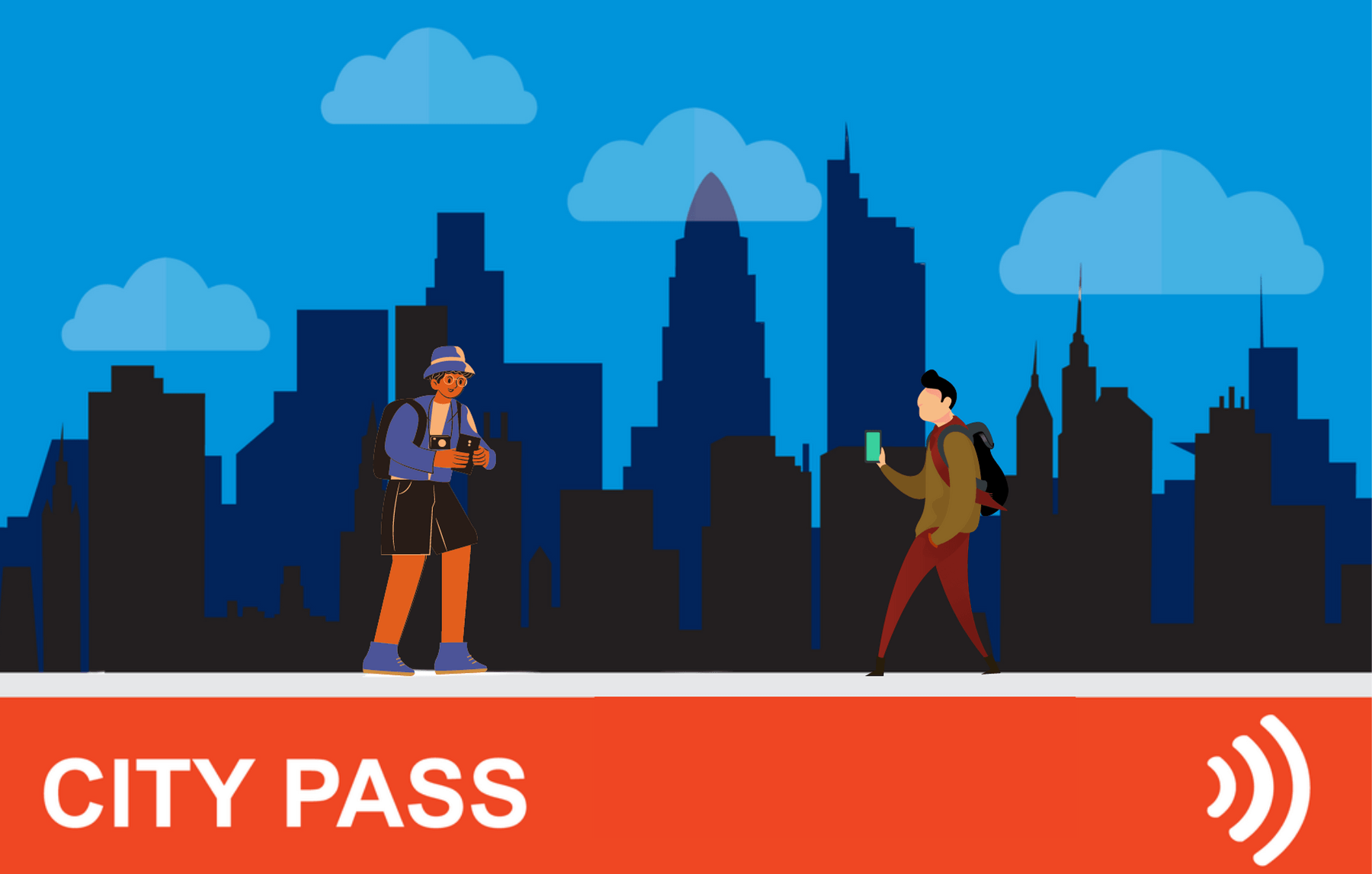 Travelling to Lisbon? Then plan yo' trip the smart way!
With a Lisbon City Pass, you can experience the best of Lisbon at the CHEAPEST prices. Discounts, attractions, tickets, and even public transport are all standards in any good city pass – be sure invest now and save them $$$ when you arrive!
Buy Your Pass NOW!
Find out where to stay in Lisbon using our comprehensive insider's guide!
IN A RUSH? THIS IS OUR FAVORITE HOSTEL IN LISBON!
Lisbon is home to some of the best hostels in Portugal, nay, all of Europe! They have all been clean and comfortable with social atmospheres to meet other travelers. Most offer free breakfast too.
The best part about hostels in Lisbon? They don't burn a hole in your wallet in comparison to other Western Cities… I'm looking at you Paris.
Some hostels are quite big, and others have a more intimate experience. 3 of the 4 hostels I stayed at offered fun group dinners, which is a great way to meet people over bottomless sangria.
If you plan to be backpacking Lisbon for more than a few weeks, try getting a free room for work.
You can, of course, reach out to potential hosts via Couchsurfing though this is becoming harder in recent years.
Below, you'll find a brief breakdown of the best hostels in Lisbon. Make sure to check out our Lisbon hostel guide too!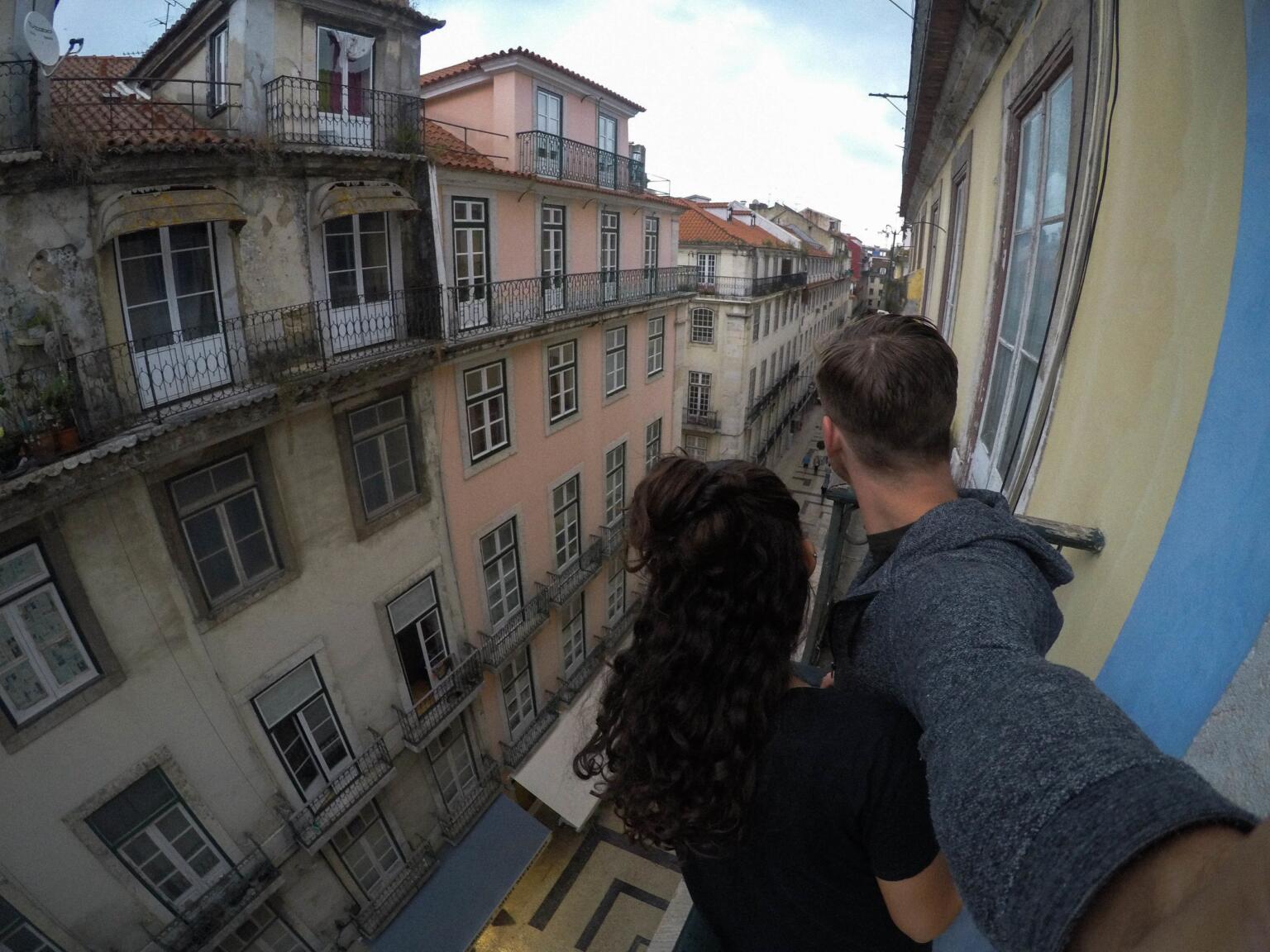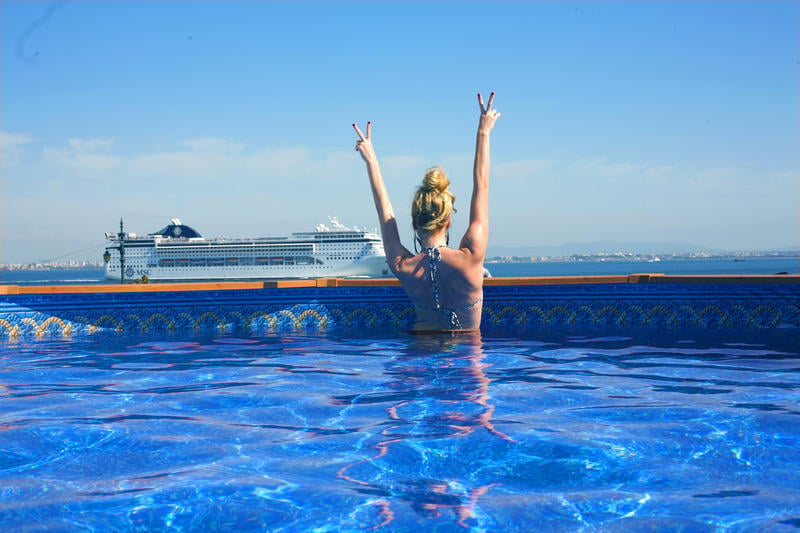 Sunset Destination Hostel is our top pick for hostels in Lisbon because of their epic swimming pool and onsite bar. They also offer free tours. The rooms are comfortable and the dorms offer privacy. They are located by the metro station, so you can explore multiple neighborhoods in Lisbon.
There's a reason this hostel was voted one of the best hostels in Lisbon in 2018!
Best Hostel for Solo Travelers in Lisbon – Lisboa Central Hostel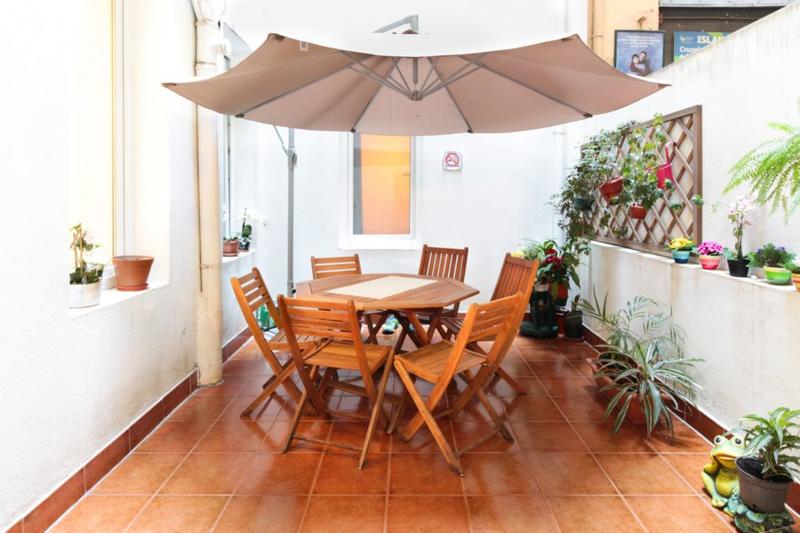 We chose Lisboa Central Hostel as the best hostel for solo travelers because of the hostel's regularly scheduled events, including pub crawls, movie nights, Monday milkshakes, and an onsite socialable bar!
This hostel is conveniently located in the city centre, so you can get to most of Lisbon's attractions and night spots on foot. They have a fully equipped shared kitchen, lounge with TV and PlayStation, and a terrace to hang out. There is also a luggage storage, book exchange, and laundry available.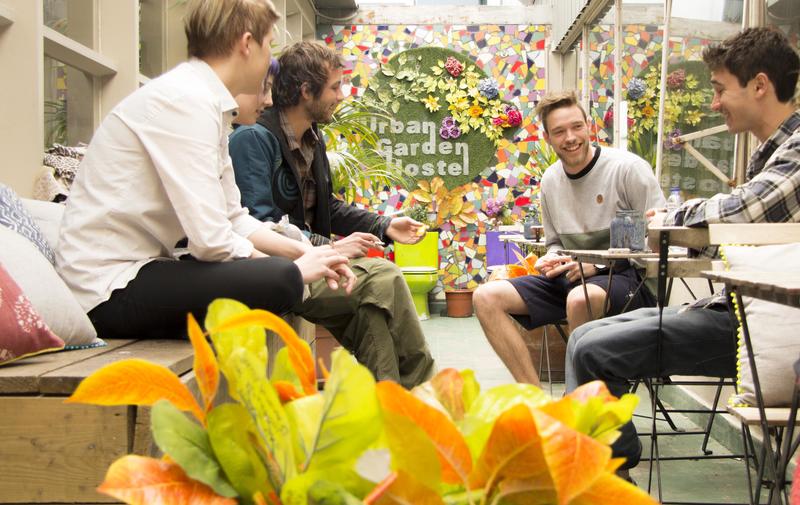 We consider this hostel one of Lisbon's most affordable hostels. It also includes free breakfast! This is a laidback hostel with communal dinners, a common room, outdoor terrace, laundry facilities, and luggage storage.
The beds are comfortable, and there are female dorms as well as mixed ones. If you are backpacking Lisbon on a budget, Urban Garden is the perfect hostel for you.
If you're not sure where to stay on your first Lisbon visit, you should check out this Airbnb. With only the best reviews, the apartment is beautifully furnished, in the best location possible and has all of the amenities you'll need. You can truly call this place a home! The main metro station is only a short walk away. Cute cafes, local restaurants and attractions are right around the corner too.
1. Walk around Alfama
This is Lisbon's oldest neighborhood, a narrow maze of cobblestone streets, tiled buildings, and grandmothers hanging laundry out the window. The best way to see Alfama is to walk around and admire the beautiful buildings and architecture.
2. Listen to Fado
Fado is a traditional genre of Portuguese music, where the performer sings somber and emotional stories of "longing" with a guitarist. Fado shows are often in small, intimate rooms, so you can hear every note. There are tons of Fado options in the city: some are amazing, and others are tourist traps, so do your homework and ask locals where to go.
3. Visit Sintra
This city by the sea is just an hour outside Portugal and well worth a trip! You can visit multiple castles and still make it to the beach for an afternoon nap. That said, I recommend staying the night if you have time — there's plenty you can include in your Sintra itinerary.
Early mornings and evenings are Sintra's most magical times (when the tourists retreat back to the city on their buses).
4. Eat Pasteis de Natas
A small, flaky custard egg tart, this Portuguese desert has to be on everyone's top things to do and eat in Lisbon list.
The best places to eat a Pasteis de Nata are Pasteis de Belem in Belem and Manteigaria, conveniently located in the city. Yes, I'm speaking from personal experience.
5. Eat Bacalhau and Seafood at a Taberna
A Taberna is a traditional styled Portuguese restaurant. Most traditional foods surround some type of seafood or pork. Bacalhau is Portugal's most famous dish (made with salted cod fish). I'll cover more in the food section below.
6. Surf some Waves
Portugal is a mecca for surfers, and the Atlantic Coast gets some of the biggest waves in Europe. You can actually catch some great surf at multiple beaches within 40 minutes from Lisbon. Carcavelos is only 10 minutes away and has consistently great surf.
7. Go out in Bairro Alto
Bairro Alto has Lisbon's best and most consistent nightlife, so you're guaranteed to end up in this neighborhood after dark.
8. Grab Lunch at Timeout Market
At the bottom of Bairro Alto, you'll find a sheltered market that brings some of Lisbon's best restaurants, coffee shops, and dessert shops under one roof for an affordable price! I highly recommend visiting Timeout Market when visiting Lisbon!
9. Spend a day in Belem
This neighborhood is probably most famous for the Belem Tower, which is worth walking by and checking out. Make sure to get some Pasteis de Nata at Pasteis de Belem, though get there early or at an off-time to avoid massive lines.
You also have access to some great museums around here, like the MAAT and Berardo Museum, which features work by Warhol, Picasso, Dali, and many more.
10. Watch the sunset at a Miradouro
There are hundreds of miradouros in Lisbon, which are viewpoints of the city. Some have restaurants or food stalls selling cheap eats and drinks. Others are more private. Don't want to pay to enter Castle St. Jorge? That's fine. You can still admire this castle from one of the miradouros.
Is This the Best Daypack EVER???
Looking for a little inspiration? Well here's a sample itinerary for spending 3-4 days in Lisbon!
Day 1 in Lisbon: Center and Alfama
I recommend you start your day in Lisbon's most popular area, downtown and in the district of Baixa. In my opinion, the chain stores and tourist trap restaurants are obnoxious, but this is the location of some of Lisbon's top tourist attractions, like the Praça do Comércio – which is an impressive square – Elevador Santa Justa, and Igreja do Carmo Church.
Next, we head to the oldest neighborhood, Alfama. Here you can walk around and admire the beautiful tiles and architecture. This is also a good time to head to the National Tile Museum to learn about what the tiles are all about.
You can walk up to the Miradouro da Nossa Senhora do Monte to catch an excellent view of the city at sunset. Since you are in Alfama this is the perfect time to catch a Fado at night. Anyone backpacking Lisbon needs to listen to the musical style of Fado, a combination between hauntingly beautiful voice and melodic guitar.
Day 2 in Lisbon: Belem + Bairro Alto
Today, take a train to Belem, where you can spend the majority of your morning and early afternoon. Grab a Pasteis de Belem and check out the Torre de Belém (Belém Tower) nearby though I wouldn't bother going inside.
The Mosteiro dos Jerónimos (Jerónimos Monastery) is quite pretty though. There are some lawns in front that make for a great spot to eat your Pasteis de Nata.
Next up, visit a couple museums like the MAAT and Bernardo Museum, which has a free entry.
Then grab lunch at LX Factory, an awesome project put on by artists and business owners. Here you can peek around the artisinal, vintage, and trendy shops and indulge in some non-Portuguese food, like healthy smoothies blended by bicycle power, vegetarian food, Mexican food, etc.
Head to Principe Real Neighborhood (at the top of Bairro Alto) next. You can walk around this charming neighborhood and check out more artisenal shops. (There are plenty delicious gelatto and artisenal chocolate options too.)
Make sure to check out one of Portugal's many Miradouro's (view points) on your walk down to Bairro Alto. I recommend Miradouro de São Pedro de Alcantara, which is between the downtown area and Bairro Alto for sunset.
There are plenty of places to grab dinner in Bairro Alto. Time Out Market is great for sampling many of Lisbon's best restaurants.
There are some awesome breweries and bars within 10 minutes from the Miradouro I mentioned (São Pedro de Alcantara), where you can start your evening before a big night out in Bairro Alto and beyond!
Day 3 in Lisbon: Beach Day + Sintra?
Big night out in Lisbon last night? Go nurse off your hangover at one of the nearby beaches. The two best beaches in Lisbon (reachable by public transport) are Praia Sao Pedro and Praia de Carcavelos. They can be reached on the Lisbon-Cascais railway. There are a number of other amazing beaches near Lisbon, Portugal, but they are only accessible by car.
I suggest getting to the beach early and grabbing a free bicycle at the station. Otherwise, you can rent one from one of the shops in town. Get some icecream, have a picnic on the beach, catch some waves, and enjoy the Portuguese sun.
Another option for day 3 in Lisbon is to head to the magical city of Sintra.
Sintra was the equivalent of the Hampton's to Portuguese royalty. There are beautiful castles and mansions overlooking the city with ocean views to top it all off! From 10-4, Sintra is crowded and hot. Still worth going, in my opinion, but I enjoyed myself much more in the early morning and late afternoon, so get there early if you can.
Another option – if you have a fourth day in Lisbon – is to head to Sintra on the evening of day 3 as the crowds thin and the tempurature cools. Stay the night in Sintra and spend the morning of day 4 there too. This way you miss the crowds in the evening, and get an early start the next day. You can get to Sintra from Lisbon or Caicais by regional train.
Praia de Rocha is also a great day trip from Lisbon. (This area reminded me of Big Sur and Highway 1 in California.) It's easy to combine Rocha with a beach day to Caiscais or a day spent in Sintra.
Off the Beaten Path in Lisbon (More Awesome things to do in Lisbon)
Below are some more ideas and options for your Lisbon itinerary that take you a bit off the tourist map.
Explore the Neighborhood, Ajuda: Ajuda is one of Lisbon's oldest neighbourhoods and home to the Jardim Botânico da Ajuda (Portugal's oldest botanical garden).
Avenidas Novas and Parque Eduardo VII: One of Lisbon's best city parks, complete with plenty of exotic plants, epic views, and areas to walk around.
Shop at Feira da Ladra: This is Lisbon's largest flea market – which translates to Thieve's Market – and a fun market to spend an afternoon.
Grab food and shop at LX Factory: Once an industrial area, the LX Factory received a face-lift and is now a creative hotspot for artists and entrepreneurs. You'll find awesome restaurants, a yoga studio, trendy shops, street art, etc. Plus, the neighborhood around the LX Factory is much more residential and local than the center of Lisbon, which caters to tourists. Feel free to stop into any of the local restaurants and bars around here.
Explore Arrabida Natural Park: Aside from being drop-dead gorgeous, Arrabida is full of great adventure sport opportunities. Try caving, rock climbing, and abseiling while visiting and then chill on one of the local beaches. Nearby Sesimbra also has some wonderful diving and local school host regular PADI lessons.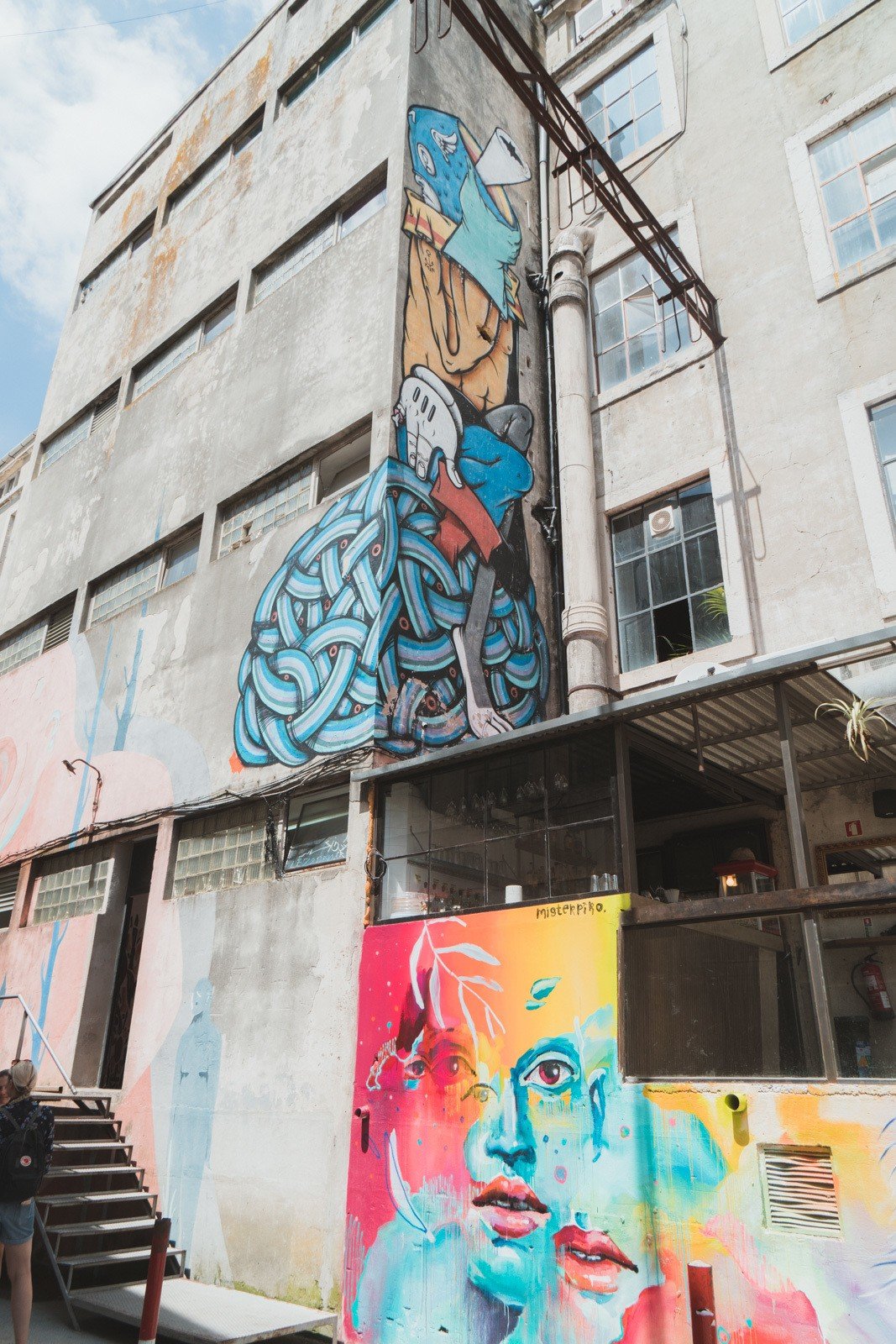 Having over a thousand miles of coastline, there are plenty of awesome secret beaches just a stone's throw away from Lisbon, though most will require your own wheels to find.
There are lots of opportunities to explore the coast via sea kayaks or by coasteering. Coasteering is a relatively new activity that involved exploring a portion of rugged coastline without the use of boats or vehicles, which is actually really thrilling.
The seaside town of Cascais is a popular spot and just 30 minutes by train, which I mentioned before in my Lisbon 3 day itinerary. There are some narrow beaches all along the Cascais line, though the nearest wide sand beach is called Costa da Caparica. With a few extra days in Lisbon, you can rent a car and explore many of the nearby beaches.
Maybe drive that car all the way down Portugal's coast for the ultimate adventure.
Explore the Coast by Bike too!
I mentioned this earlier, but make sure to grab a bike when visiting the beach towns. The bike trail to Cascais is beautiful and you can get a free rental at the station.
Best Walks in Lisbon
Miradouro da Senhora do Monte – Possibly the best views of the city. Great sunset views.
Miradouro Sao Pedro de Alcantara – I mentioned this viewpoint before. Located in Bairro Alto, this one has great views, stalls selling food and drinks, and shady trees to eat under.
Walk around Alfama – While there is no particular route, you will get lost and that is the point. Enjoy it!
Walk around Pena Palace in Sintra – Most people only go inside the castle. Well, your entrance ticket also gives you access to the trails and park around it! Make sure to wear solid walking shoes though.
Praia de Rocha – Praia means beach, though I wouldn't call this a beach. It's actually an area of towering seaside cliffs to hike around and admire the ocean views.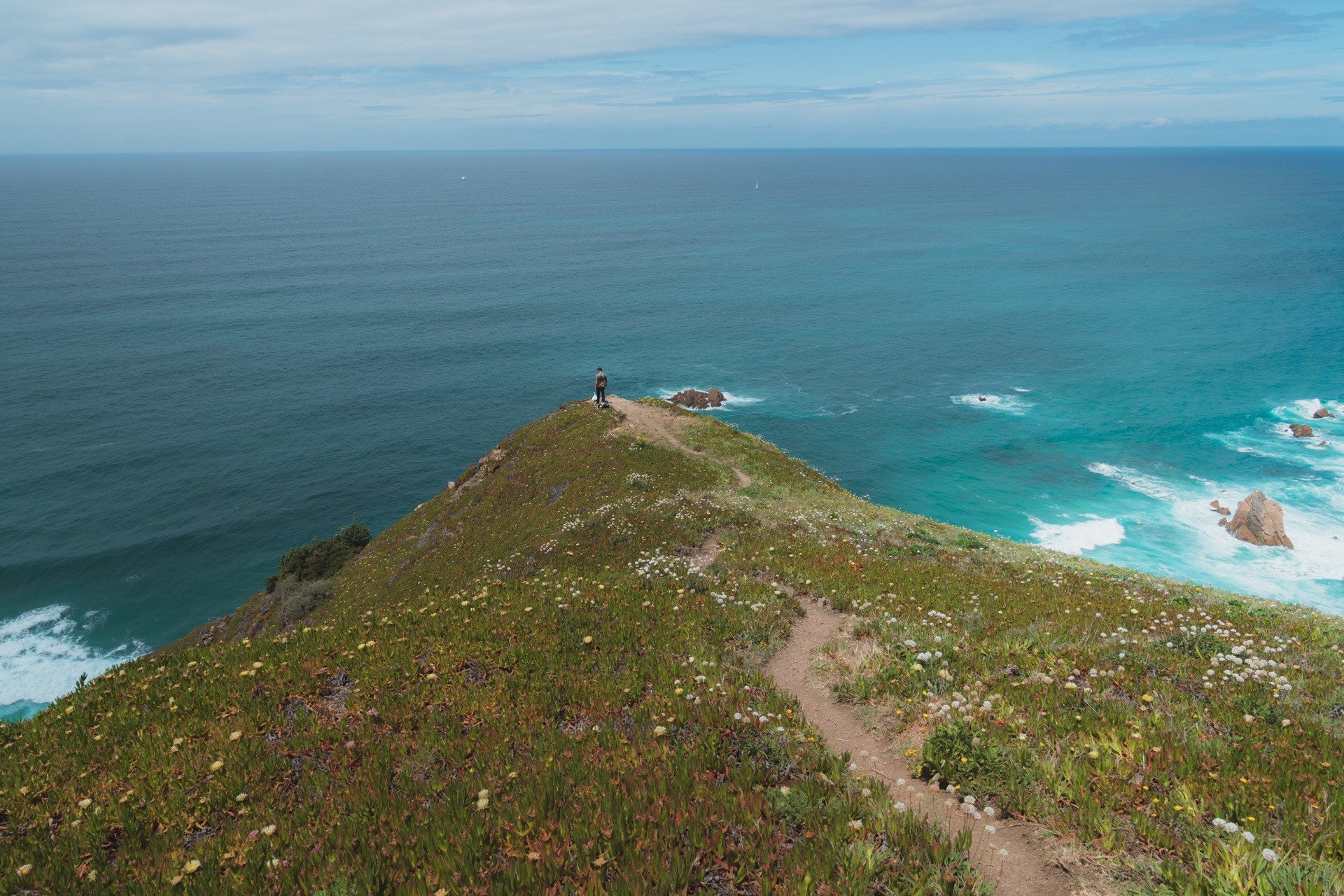 Best Time of Year to Visit Lisbon
There really isn't a bad time to visit Lisbon, which is home to coastal, temperate weather year-round!
Summers are the most crowded and expensive, but there is also a lot going on in the city like popular Portugal music festivals and summer events. There will be uncomfortably hot days, which means it's the perfect day to escape to one of the many beaches.
Spring and Autumn are the best times for backpacking Lisbon because you have great weather and fewer crowds. Expect temperatures in the 60s and 70s (that's 20s C). Winter can be nice, but it is most likely to be rainy and cold.
I was able to catch the end of spring on my first trip to Lisbon, and it was absolutely beautiful! From late April to early May, the Jacaranda trees begin to blossom purple flowers around many of the square and avenues.
Get in and out of Lisbon
Lisbon's international airport (Lisbon Portela Airport) is the main gateway to Portugal, though it's decently small and easy to navigate. You can catch a metro for 1.40 euros to the city center. Budget airlines land and take-off from terminal 2, which is easy to walk to from terminal 1.
The metro doesn't run until 6 am, so you will probably have to take a taxi or Uber to the airport for an early flight. Depending on where you are staying (and if there are prime rates), an Uber to/from the airport will cost around 7-12 euros.
How to get around Lisbon
Lisbon has a pretty good public transportation system. There is the underground metro, which most of the central parts of Lisbon. You can take the over-ground train from Lisbon to Caiscais, and stop at Belem enroute.
One-time Viva Viagem card purchase: €0.50
1 CARRIS/metro fare: €1.40
24-hour CARRIS/metro fare: €6
The historic, yellow trams also serve as public transportation, but I haven't actually ridden one to be honest. I don't see the point of waiting in line to board the touristy tram 28, though definitely admire it from afar!
You will also see plenty of tourist vehicles, like tuk-tuks and tricycles throughout the city. I have avoided these and many locals aren't fond of them. That said, the cobblestone hills can eventually be wearing for even the most seasoned walkers. When my mom visited Lisbon, she took advantage of the tuk-tuks and didn't regret a thing.
You will need to purchase a refillable Viva Viagem card before you use public transport; cost is written above. Unlike most cities, cabs in Lisbon are actually quite affordable and worth using at night. Lisbon also has Uber, which is convenient for early morning airport rides.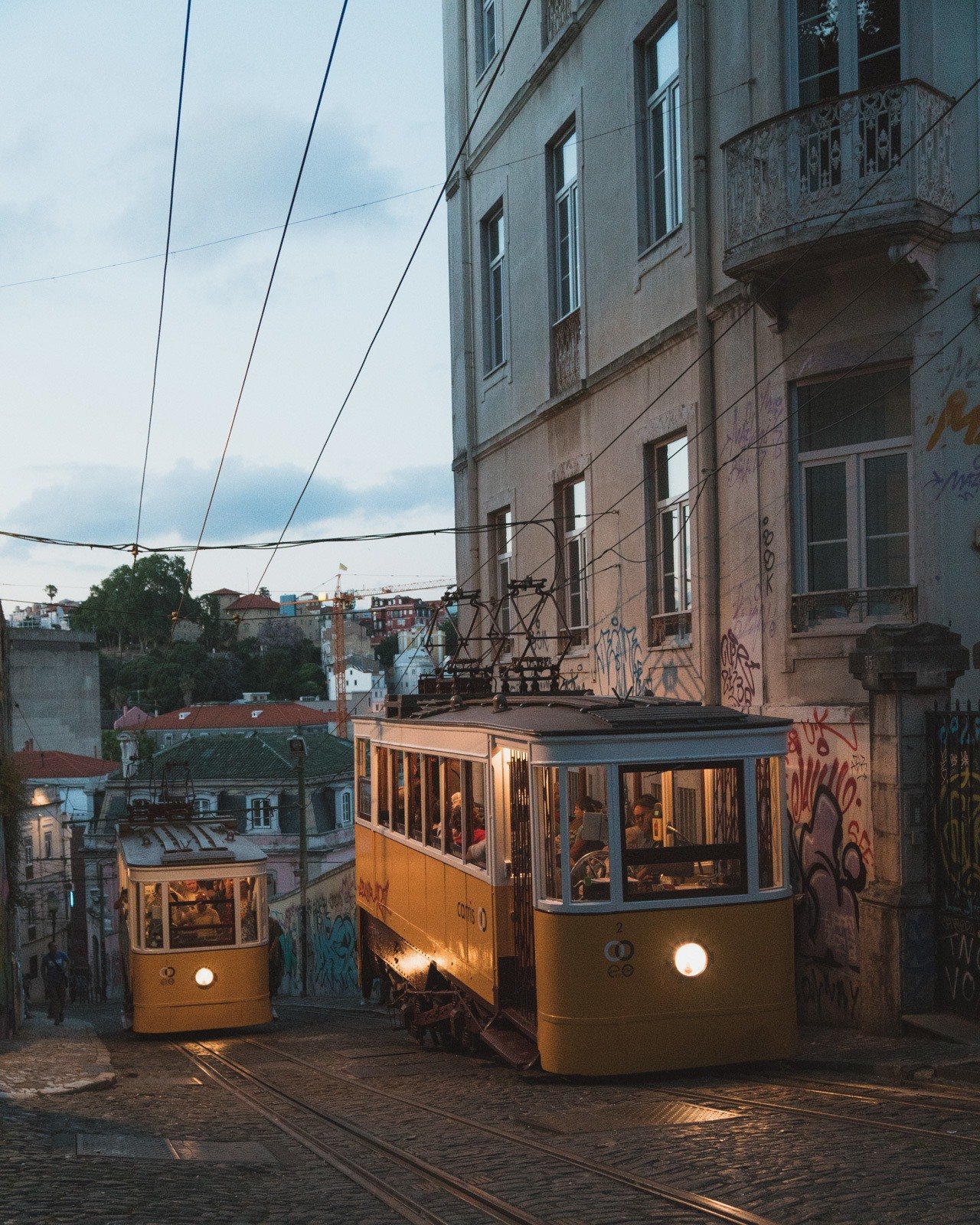 Long Distance Travel from Lisbon
You can take a train or bus to get in and out of Lisbon. The train station is in the city center by Rossio's metro stop. I have taken the regional train to Sintra, and it's straightforward. Just show up, buy your ticket, and hop on the train.
Consider backpacking Porto next – Lisbon's second largest city. It is only 3 1/2 hours away by train and is famous for port wine and unpretentious fun. Head south a few hours to the Algarve coast, which is Portugal's premier summer beach spot.
For longer train rides, I always recommend buying a train ticket in advance, especially if you are traveling to Spain. I wrote an entire guide on European Train Travel that covers everything you need to know about train tickets, how to choose the best Eurail pass, costs, etc.
Portugal isn't a big country, so it's easy to get in and out of Portugal with relatively little vacation time. You can also catch a bus or flight to Spain – often cheaper than a train ticket – which is the perfect country to combine with a Portugal backpacking trip.
I also recommend checking out the ride sharing app, Bla Bla Car. I scored a ride for $20 to Seville, Spain, which was a better deal than public transportation.
Use Bookaway to find the best deals on transport – buses, planes, trains, and ferries. It'll save you a load of time when organising transport and you'll probably nab an EPIC DISCOUNT too!
Book your transport on Bookaway NOW. Get the best price for the best ride… then use those savings to buy the best feed in town!
Book Your Transport Here!
Safety in Lisbon
Just a few decades ago, Lisbon was known for its dangerous neighborhoods after dark. Now, however, Lisbon is quite safe except for occasional scam artist and petty crime, which mainly occurs around the touristy areas and Rossio Square.
The famed "drug dealers" on Praça do Comércio and Rossio Square are actually scam artists, often selling "fake" drugs and going as far as selling oregano as weed. Yes, they're selling young, naive backpackers herbs. They are harmless, though obnoxious.
Get Insured before Backpacking Lisbon
Traveling without insurance would be risky so do consider getting good backpacker insurance sorted before you head off on an adventure.
I have been using World Nomads for some time now and made a few claims over the years. They're easy to use, professional and relatively affordable. They may also let you buy or extend a policy once you've started your trip and are already abroad which is super handy.
If there's one insurance company I trust, it's World Nomads.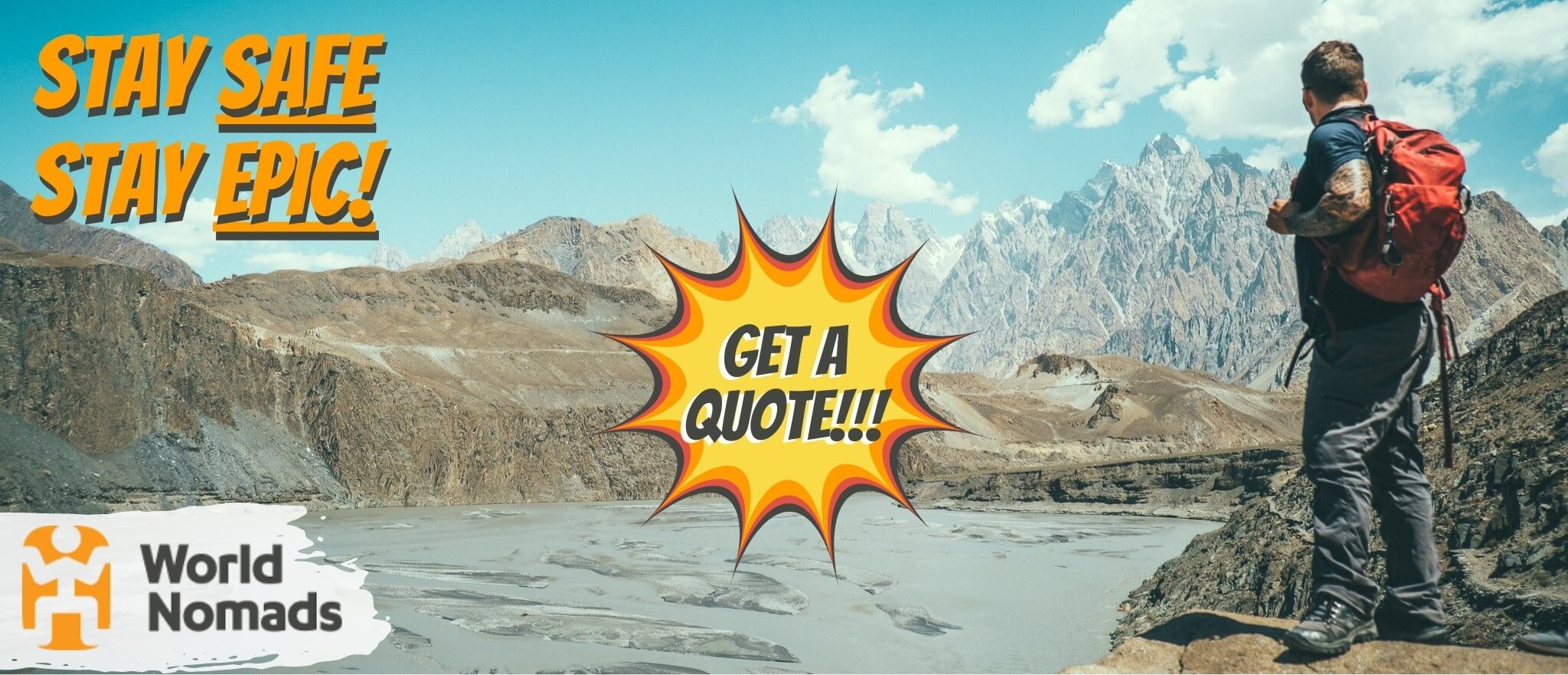 World Nomads' mission is to support and encourage travellers to explore their boundaries. They offer simple & flexible travel insurance, and safety advice to help you travel confidently.
They've been doing it since 2002 – protecting, connecting, and inspiring independent travellers just like you.
Get a quote below or read our in-depth review!
World Nomads provides travel insurance for travelers in over 100 countries. As an affiliate, we receive a fee when you get a quote from World Nomads using this link. We do not represent World Nomads. This is information only and not a recommendation to buy travel insurance.
Lisbon Accommodation Travel Hacks
Let's face it, sometimes we all need to stay in a hostel. Hostels are great for meeting fellow travelers and having a comfortable space, and the hostels in Lisbon are of good value. That said, there are also ways to save on accommodation while backpacking Lisbon.
Couchsurf!: If you manage to land a Couchsurfing spot in Lisbon, you will have successfully eliminated your biggest cost, though Couchsurfing has become harder than ever, especially when people can make money on Airbnb.
Eating and Drinking in Lisbon
Lisbon has a fantastic and unpretentious food and drink scene that even backpackers can afford! Hell, you can even go on a foodie tour in Lisbon and not break the bank! Below are a few things you have to try in Lisbon:
Caldo Verde – A green soup, often made with leafy greens and potatoes, and a chicken or fish based broth/meat. There are also vegetarian options!
Bacalhau – Portugal's most famous entree made with salted cod that is dried out for days.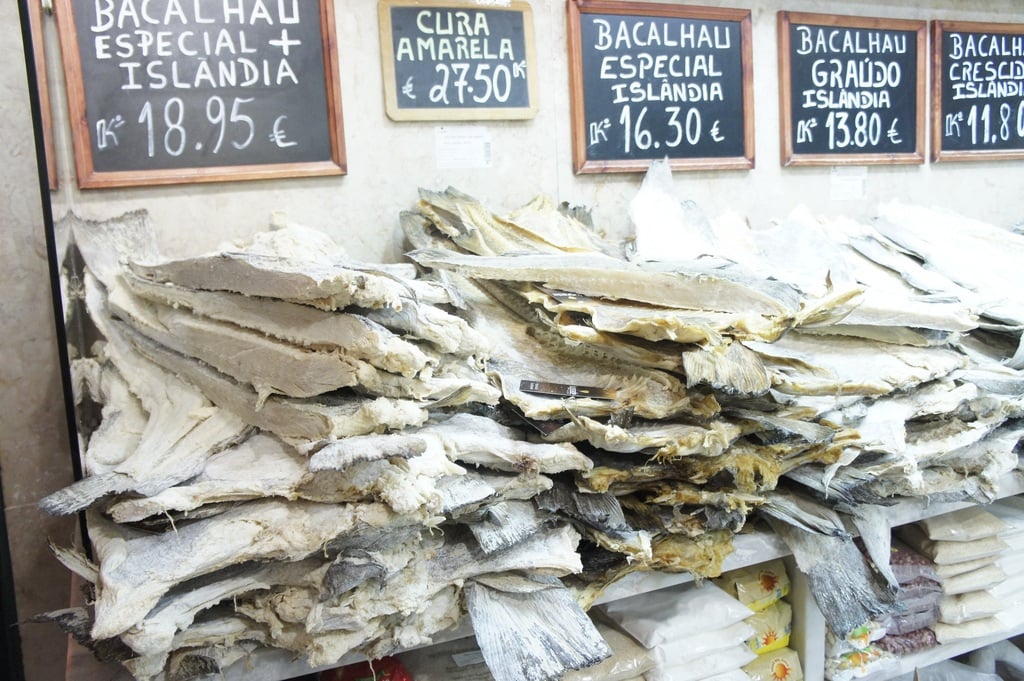 Sardines – Canned sardines, as you will quickly come to learn, are quite a novelty in Portugal, and consumed often.
Seafood, in general – With over a 1,000 km of coastline it should come as no surprise that Portugal consumes a lot of seafood… Cod is probably the most common fish, but any ocean fish can end up on your plate. Shellfish – like lapas in the Azores – are also common.
Linguiça – A fatty, pork sausage usually spiced with paprika and garlic (that needs to be cooked before serving). It is usually roasted over charcoal, though it also can be pan fried or used in stews. Linguiça is a common breakfast dish, which I know from personal experience visiting my Portuguese grandmother. Don't confuse it with Chorizo, which is similar but more Mexican/Spanish.
Cheese – The Portuguese love their cheese. They love their dairy in general. Lucky for you, you can buy every type of regional Portuguese cheese in Lisbon. Usually strong, aged cow cheese.
Pasteis de Nata – I have mentioned this Portuguese dessert a few times because it is so famous. This is a small, custard filled egg tart that originates in Lisbon. I'm not even a custard person – I'm more of a chocolate aficionado – but I look forward to these little tarts every time I go backpacking in Lisbon.
As for restaurants in Lisbon, you can't go wrong with Taberna de la Rua in Bairro Alto for traditional food and wine.
Bela Vinhos e Petiscos is also a great little restaurant that specializes in traditional Portuguese snacks while fusing them with former Portuguese colonies in Africa and Asia. They also have great, inexpensive sangria and live Brazilian and African music and fado!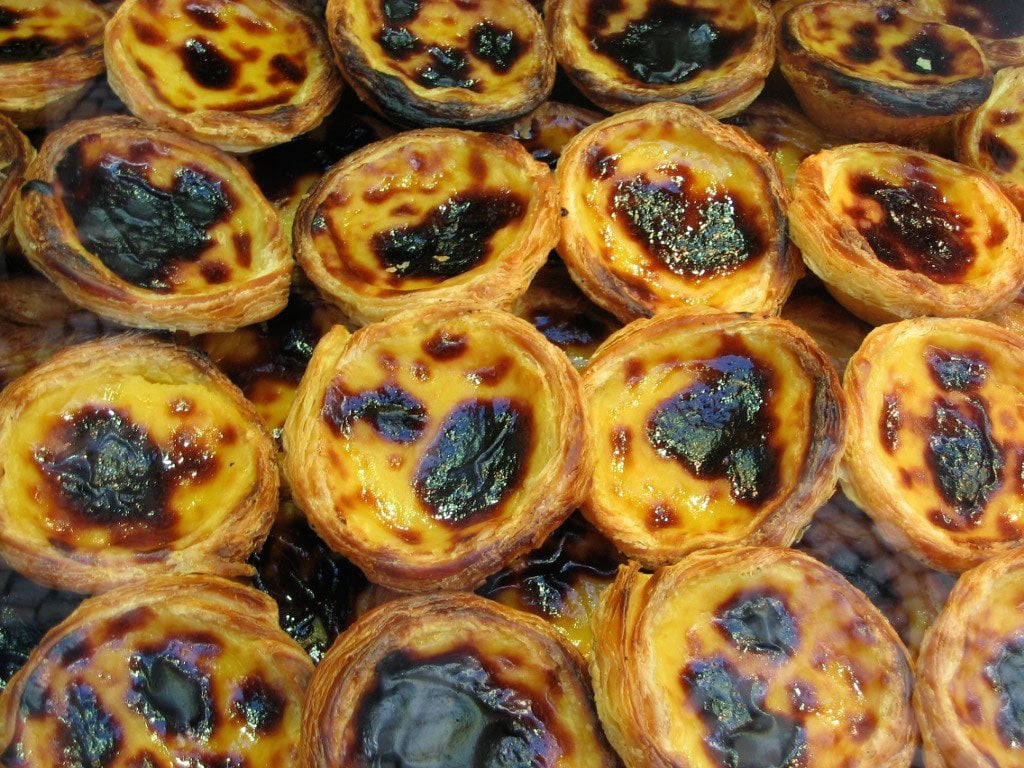 Cheap Eats in Lisbon
Okay, first of all, to eat cheaply in Lisbon you should avoid the Rossio and the Baixa districts, which cater to tourists.
Next, eat where the locals do. Look for Portuguese menus and Portuguese people! Better yet, ask a local!
For example, we were in the middle of a busy, touristy street in Alfama, lined with souvenir shops. We actually asked one of the souvenir shop owners where to eat. She directed us towards a small spot a street over, where both of us ate a salad, amazing Bacalao, and drank wine for under 15 euros. The waiter/owner didn't speak a lick of English and it was perfect.
This brings me to my next point. For cheap eats in Lisbon, eat local dishes from the fixed-price lunch menu. Ask for the prato de dia. Ordering the same dishes a la carte will cost you twice as much in the evening, hence why I suggest making your own dinner and eating out for lunch.
You can also frequent the neighborhood bars for olives, cheese, and pastries paired with local wine and beer for cheap eats in Lisbon. When all else fails, go to a bakery and get freshly baked bread, then head to the store and pick up some delicious Portuguese cheese for cheap!
Vegetarian and Vegan Food in Lisbon
As you can see, traditional Portuguese food isn't very vegan, let alone vegetarian-friendly. Honestly, if you do not consume meat or dairy products, it'll be difficult to partake in traditional Portuguese food, but that doesn't mean it's impossible! (You may be consuming a lot of potatoes and vegetable soup though.)
That said, there are tons of vegetarian and vegan-friendly restaurants in Lisbon, which are nice to frequent even if you do eat meat. For vegetarians, one of the best places to eat is a restaurant called Terra.
There are tons of options around Bairro Alto in general, and some great vegetarian options in the LX Factory. Fair warning though, if you are continuing your travels into rural Portugal, vegan restaurants will be rare.
For Lisbon cooking classes, check out this site for awesome deals.
Nightlife in Lisbon
The nightlife in Lisbon is low key and unpretentious. Bars tend to stay open until midnight-2am on weekdays, and a little later on weekends. The few nightclubs only have a real presence on weekends. Principe Real and Bairro Alto have most of the bars.
Pink Street in Bairro Alto was once the red-light district, but most of the brothels were turned into bars, keeping the original décor. This is usually where people move once the rest of Bairro Alto closes down.
I feel like the bar scene in Bairro Alto has quite a backpacker, young traveler vibe, with smaller bars and grungy live music spots, so if that's your scene you'll feel right at home.
There are some cool bars in this area though for other atmospheres. Other areas of Lisbon with good nightlife include Alcantara, Santos, Bico, and areas around the São Jorge castle.
Apart from the bar scene, there are also nightclubs in Lisbon, the most famous one is Lux. Park is pretty fun too. That being said, the club scene in Lisbon is pretty tame on the surface.
Otherwise, my idea of a great night out in Lisbon is dinner, wine, and a show. You have to go to a fado performance when backpacking Lisbon! Combine this with a visit to one of Lisbon's awesome Tabernas or wine bars.
Wine Bars in Lisbon
Speaking of wine, Portugal has some of the best underrated wine regions in Europe, and good wine is affordable in Lisbon. In my opinion, Portuguese beer is pretty mediocre, so you are best sticking to wine if you want to sample the local stuff.
You have endless options to try Portuguese wine, but The Old Pharmacy has a distinct atmosphere as it was a former pharmacy turned wine cellar with 200 selections of wine from Portugal! They also offer classic tapas and snacks.
In the neighborhood of Chiado, you'll find By The Wine which offers the traditional atmosphere of a wine cellar and some great choices for a fun night out.
If you are not making it to Porto on your Portugal trip, make sure to sample some Porto wine! One of the best wine cellars that focuses on ports is Solar do Vinho do Porto. They have over 150 different kinds of wines for every price range.
Breweries in Portugal
Even though Sagres and Super Boch are only decently tasty if you're on a budget, there are a couple of good breweries in Lisbon serving other beer if you're craving a nice pint.
Duque Brew Pub and Delirium have the best selection of beers in the city, hands down! I have had a fantastic sample of Belgian, German, and other European brews here, but they aren't cheap.
Another recommendation is the local craft brew at Dois Corvos, which has fantastic IPAs and other West Coast style American craft brew. It was founded by a guy from Seattle, so makes sense. This coupled with the local rock climbing gym nearby made me feel quite at home after a few months on the road away from the US.
Books to Read while Traveling in Lisbon
Night Train to Lisbon – A teacher meets a mysterious woman and begins to question his life. Inspired by Portuguese writer Amadeu do Prado, he heads to Lisbon to change his life.
The Alchemist – Yes, this world famous modern classic was actually originally written in Portuguese, so when better to read the Alchemist than when you are backpacking Lisbon?
The Book of Disquiet – A melancholic autobiography rife with ruminations and absurdities.
A Small Death in Lisbon – A Fictional work based on a German's account of the effects of World War II on Portugal.
The Fat Man and Infinity – an Autobiographical account of the author's attempt to become the next great writer. Fiery and lyrical; this is a great book set in Portugal.
The Year of the Death of Ricardo Reis – Dr. Ricardo Reis returns to Lisbon in the midst of fascism and impending civil war. Highly recommend.
Lonely Planet Portugal – Sometimes it's worth travelling with a guidebook. Check this one for up to date information on Portugal.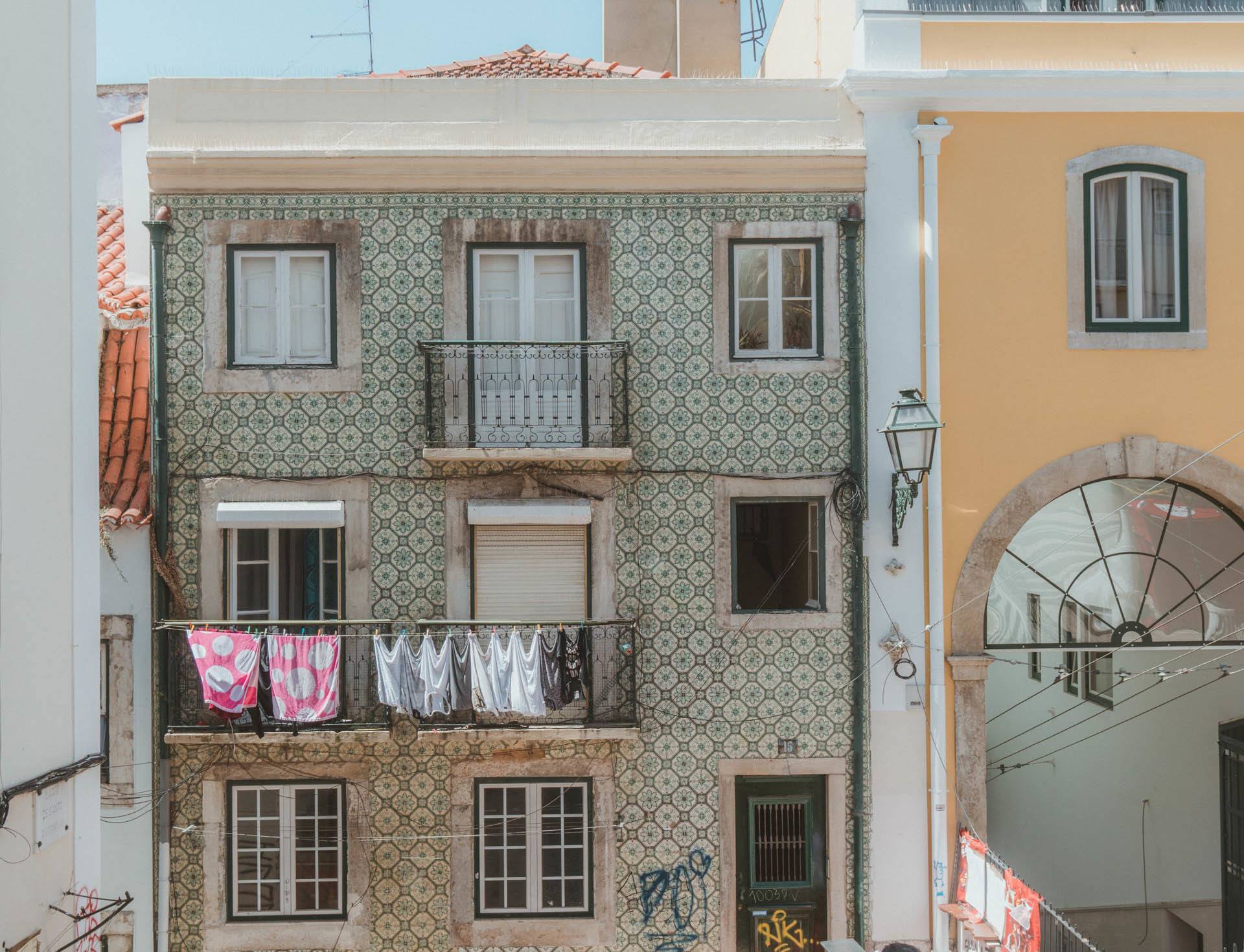 Volunteering in Lisbon
Long term travel is awesome. Giving back is awesome too. For backpackers looking to travel long-term on a budget in Lisbon whilst making a real impact on local communities, look no further than Worldpackers. World Packers is an excellent platform connecting travelers with meaningful volunteer positions throughout the world.
In exchange for a few hours of work each day, your room and board are covered.
Backpackers can spend long periods of time volunteering in an awesome place without spending any money. Meaningful life and travel experiences are rooted in stepping out of your comfort zone and into the world of a purposeful project.
Worldpackers opens the doors for work opportunities in hostels, homestays, NGOs, and eco-projects around the world. We've tried and approved them ourselves – check out our Worldpackers in-depth review here.
If you're ready to create a life-changing travel experience and give back to the community, join the Worldpacker community now. As a Broke Backpacker reader, you'll get a special discount of $10. Just use the discount code BROKEBACKPACKER and your membership is discounted from $49 a year to only $39.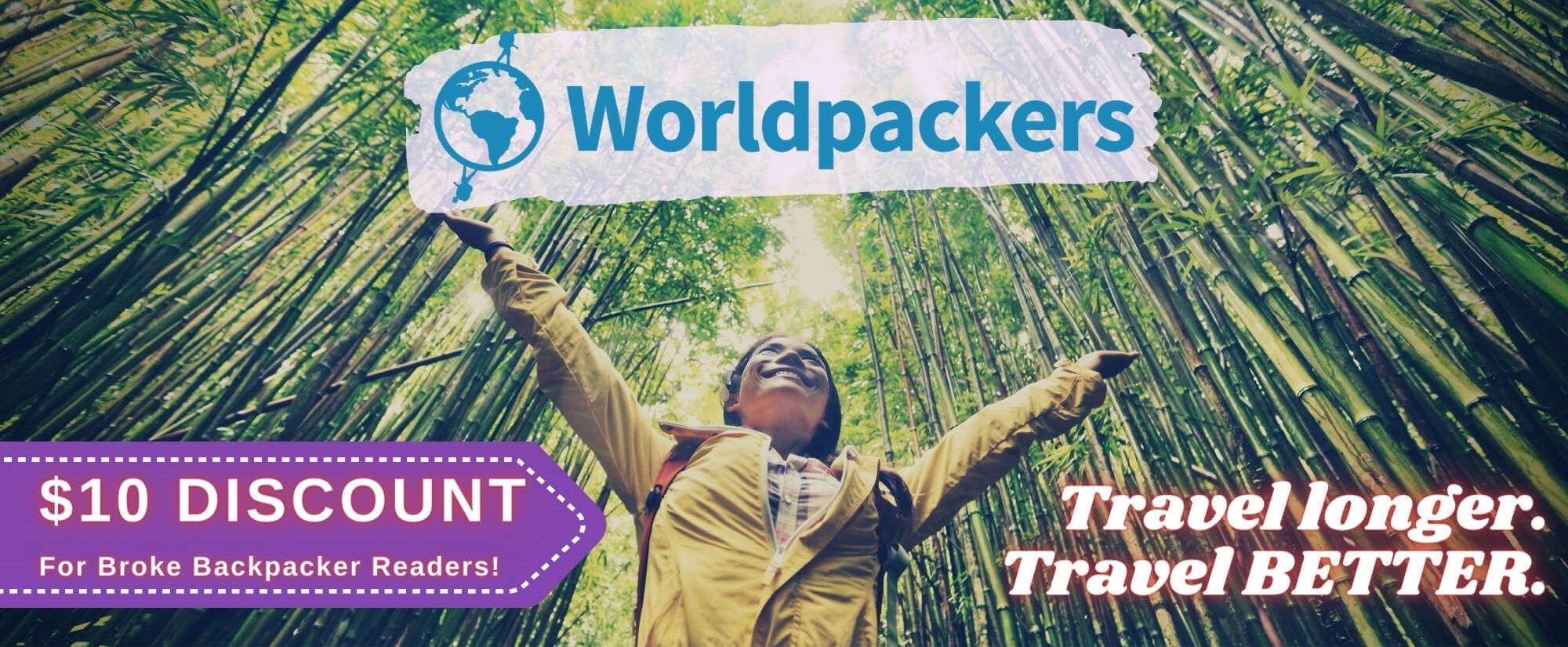 Worldpackers: connecting travellers with meaningful travel experiences.
Make Money Online Whilst Backpacking Lisbon
Traveling in Lisbon or Portugal long-term? Keen to make some cash when you are not exploring the city?
Teaching English online is a great way to earn a consistent income—from anywhere in the world with a good internet connection. Depending on your qualifications (or your motivation to obtain qualifications like a TEFL certificate) you can teach English remotely from your laptop, save some cash for your next adventure, and make a positive impact on the world by improving another person's language skills! It's a win-win! Check out this detailed article for everything you need to know to start teaching English online.
In addition to giving you the qualifications to teach English online, TEFL courses open up a huge range of opportunities and you can find teaching work all over the world. To find out more about TEFL courses and how you can teach English around the world, read my in-depth report on teaching English abroad.
Broke Backpacker readers get a 35% discount on TEFL courses with MyTEFL (simply enter the code BACKPKR), to find out more, please read my in-depth report on teaching English abroad.
Whether you are keen to teach English online or looking to take your teaching game a step further by finding a job teaching English in a foreign country, getting your TEFL certificate is absolutely a step in the right direction.
It's worth noting that living in Lisbon as a digital nomad is now easier than ever with Portugal's Digital Nomad Visa.
Being a Responsible Backpacker in Lisbon
Reduce your plastic footprint: Perhaps the best thing you can do for our planet is to make sure you do NOT add to the plastic problem all over the world. Don't buy one-use water bottles, the plastic ends up in landfill or in the ocean. Instead, pack a tough travel water bottle.
Go and watch A Plastic Ocean on Netflix – it'll change how you view the plastic problem in the world; you need to understand what we are up against. If you think it doesn't matter, get off my fucking site.
Don't pick up single use plastic bags, you're a backpacker – take your daypack if you need to go to the shop or run errands.
Bear in mind, that many animal products in countries you travel through will not be ethically farmed and won't be of the highest quality. I'm a carnivore but when I'm on the road, I only eat chicken. Mass-farming of cows etc leads to the rainforest being cut down – which is obviously a huge problem.
Need more guidance? – Check out our post on how to be a responsible backpacker.
Backpacking in Lisbon will bring you ample opportunities to participate in debauchery, and it is very important to have fun, let loose, and get a bit wild at times (so much tasty wine). Most backpacking trips I have been on across the world have included at least a few mornings where I wake up knowing I went too far.
There are some things that will put you in the category of a straight up jackass if you do them. Being super loud and obnoxious in a tiny hostel at 3 AM is a classic rookie backpacker mistake. Everyone in the hostel will hate you when you wake them up. Show your fellow travelers (and locals) respect whilst backpacking in Lisbon and anywhere else for that matter!
I hope you enjoyed my Lisbon travel guide, which covers everything you need to know about Portugal's capital: top things to do, which neighborhoods to check out, where to stay, and more!
Lisbon truly is an incredible city that blends tradition and modernity seamlessly. Enjoy your trip!
---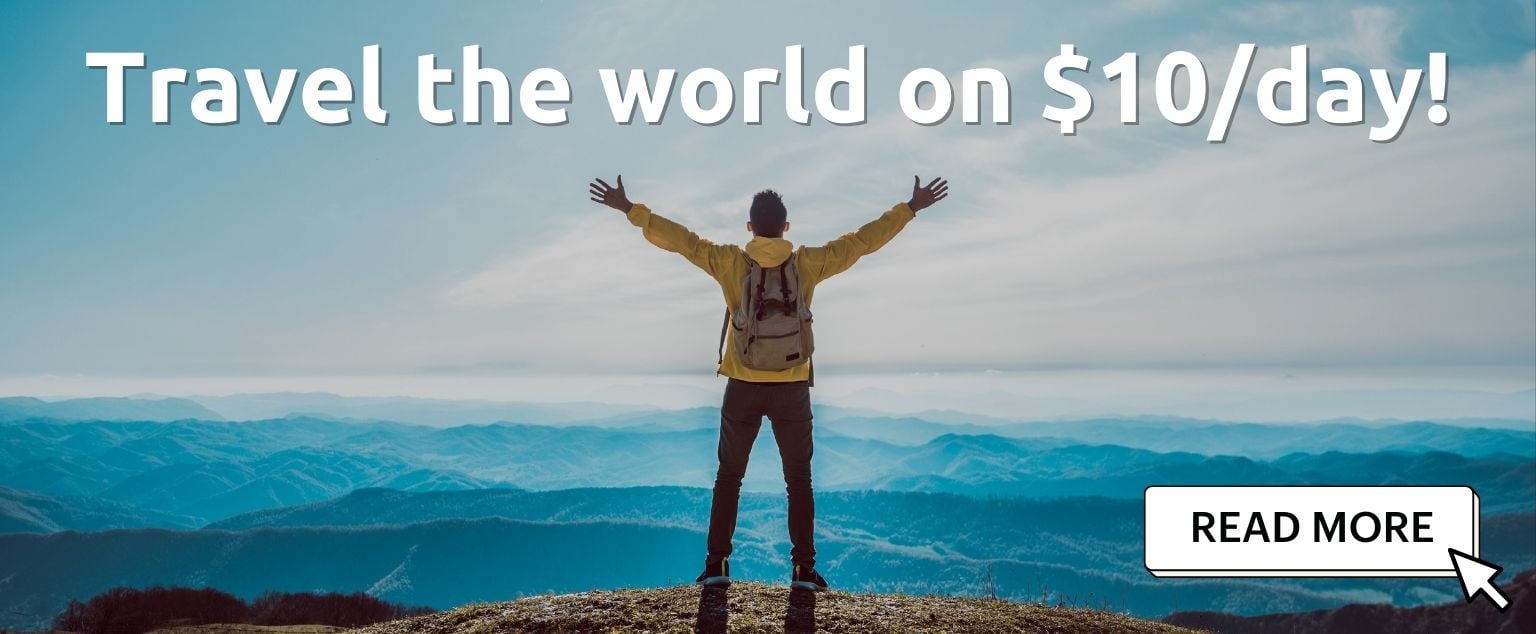 And for transparency's sake, please know that some of the links in our content are affiliate links. That means that if you book your accommodation, buy your gear, or sort your insurance through our link, we earn a small commission (at no extra cost to you). That said, we only link to the gear we trust and never recommend services we don't believe are up to scratch. Again, thank you!