Lisbon is quickly becoming one of the most popular cities in Europe to visit, and it's easy to see why. With the introduction of a Digital Nomad visa, affordable accommodation, and delicious food, more and more people are recognizing Lisbon as one of the best destinations to visit in Europe.
But it's not just great prices and convenience that attract visitors to the city, in fact, there's a flood of things to do in Lisbon that can keep anyone entertained for weeks.
It's one of the oldest cities in Europe, and this means there are plenty of historical attractions and museums to educate you about its expansive history. If you enjoy a vibrant and buzzing arts scene, well, you'll find plenty of that and more here.
All that and much more is why Lisbon was voted the world's "Coolest City" by CNN and Europe's Best City Break Destination by the World Travel Awards. If you're not sure what to do in Lisbon, then read on to see all the best attractions in Lisbon!

Unlock Our GREATEST Travel Secrets!
Sign up for our newsletter and get the best travel tips delivered right to your inbox.
Top Things to Do In Lisbon
Whether you have a weekend in Lisbon or a month, these are the 5 most unmissable attractions in Lisbon for every type of traveler. If you get to do them all I can guarantee you will have a good time.
There are many amazing sights and things to do in Lisbon but none compare in sheer size and scale to Jeronimo's Monastery, also known as Hieronymites Monastery. Set in the picturesque Belem neighborhood near the Belem tower, the makers were kind enough to place them next to each other so you could visit them both in one day.
This limestone-clad building took over a century to complete, so the least you could do is see for yourself why. Take a walk through the gorgeous chapel and congratulate yourself on a day well spent. They don't give out UNESCO Heritage sites to anyone that asks!
https://www.getyourguide.com/jeronimos-monastery-l3594/
Entrance: $10
Hours: 10AM-5PM (Closed Monday)
Address: Praça do Império 1400-206 Lisboa, Portugal
2. Climb up the Belem Tower
Located a stone's throw away from the monastery, is the iconic Belem tower. A mashup of Roman, Gothic, and Moorish architecture, it's an architecture nerd's dream, and still looks pretty cool for the rest of us. Originally erected to help with the city's defense, it has also been a lighthouse as well as a customs office.
The views that you get from the top are stunning and a must-see while visiting Lisbon. Inside there are exhibits that tell you all about the history of sea-faring in Portugal that made this tiny nation have a huge impact on a global scale.
https://www.getyourguide.com/belem-tower-l3590/
Entrance: $2.5
Hours: 10AM-5:30PM (Closed Monday)
Address: Av. Brasília, 1400-038 Lisboa, Portugal
3. Grab a Pastel De Nata at Pastéis de Belém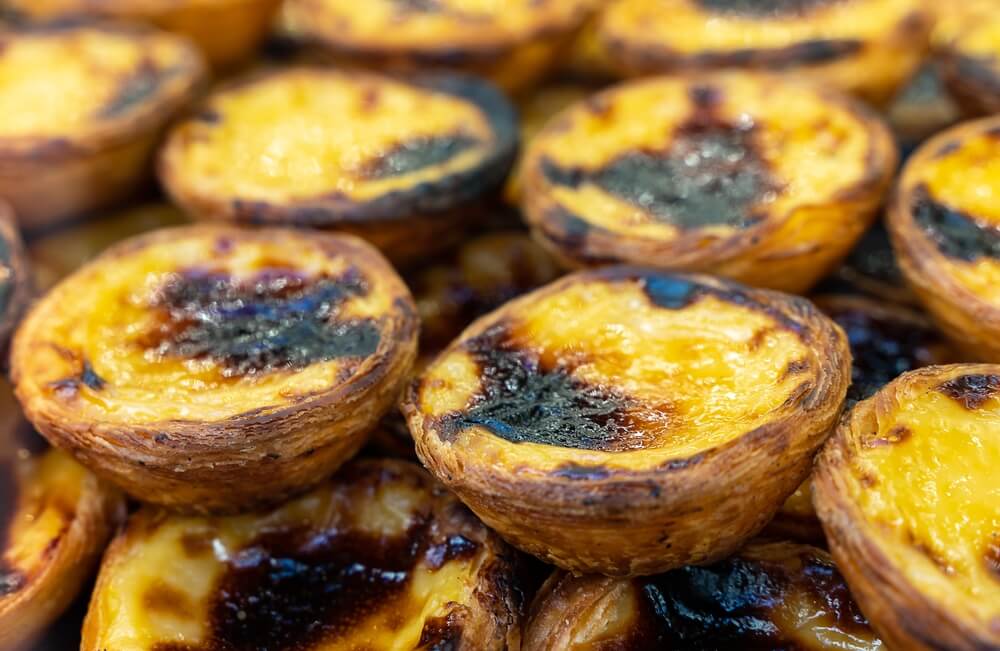 Now I'm not a huge desert person. I'm particularly fond of Pastel de Nata, commonly known as Egg Tarts in English, and when I am in Lisbon and Portugal in general I try to indulge them a little bit.
A sweet custardy packet of goodness, I first tried them when I was in Macau and was blown away. And while they are delicious in every place you can find them, nothing compares to the original.
Pastéis de Belém has been baking deliciousness since 1834 and delighting patrons ever since. Putting one of these in your mouth is one of the top things to do in Lisbon, bar none.
Portuguese food is so unique and flavorful, and the best way to try it all and learn about its history is on a food tour.
Entrance: Free
Hours: 8AM-10PM
Address: R. de Belém 84 92, 1300-085 Lisboa, Portugal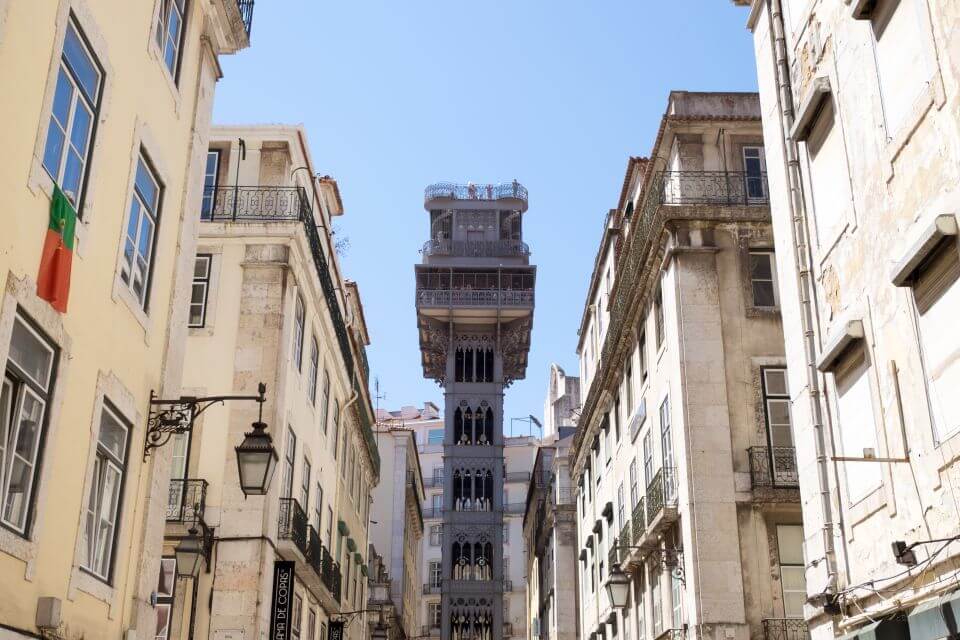 Ride a lift? Why would I waste my time riding a lift? I take a lift every day to get back to my hotel room and it's nothing special. If you are the one saying that you haven't seen the San Justa Lift.
Originally a simple transportation method to bring people up the steep hill from the Baxia District to the Largo Do Carmo, it has transformed into one of the best attractions in Lisbon.
Amazing gothic architecture? Check. A deck with some of the best views of the city? Check. Saving you an exhausting walk up a hill? Check. Not many lifts have it all but this one definitely does.
https://www.getyourguide.com/santa-justa-lift-l3597/
Entrance: $5.30 (Lift) $1.5 (Viewpoint)
Hours: 7AM-10PM
Address: R. do Ouro, 1150-060 Lisboa, Portugal
5. Sleep in the Baxia District
Now you have spent your first day traveling around the top attractions in Lisbon, and are completely exhausted. All you want is a place to rest up for your next big day ahead.
Well, look no further than the Baxia district. This is the historic center of the city and the best place to stay in Lisbon. Usually, I don't recommend the city center to stay in but I'm willing to make an exception here!
The streets and buildings have so much charm, the places to stay are affordable and the size of this city makes it so most things are walkable or very easy to reach from this point. With so much to do in all directions, staying here makes perfect sense while visiting Lisbon.
Entrance: Free
Hours: N/A
Address: Baxia, Lisbon, Portugal
6. March Around Sao George Castle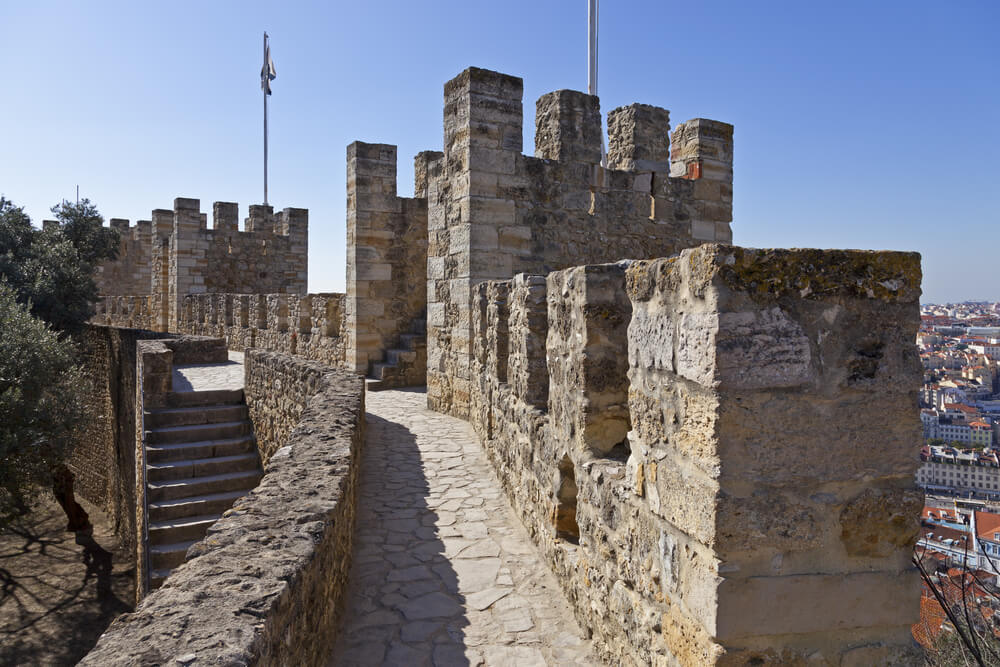 Okay, now that you are fully rested it's back to exploring! As I'm sure you have figured out by now, I'm a sucker for a good view. Well, Sao George has that and so much more than just a view, making it one of the best things to do in Lisbon.
Constructed by the Moors in the 11th Century, this is a fascinating place to learn more about the Moors who sometimes don't get their due credit for the influence they had over Portuguese and Spanish culture.
It also has a garden that is an absolute joy to walk through. But the clear winner is the view. Overlooking the Targus river, and having a Camera Obscura which provides 360 views of the city in real-time, it's too good to miss.
https://www.getyourguide.com/sao-jorge-castle-l3592/
Entrance: $10
Hours: 9AM-9PM
Address: R. de Santa Cruz do Castelo, 1100-129 Lisboa, Portugal
Small Pack Problems? 😉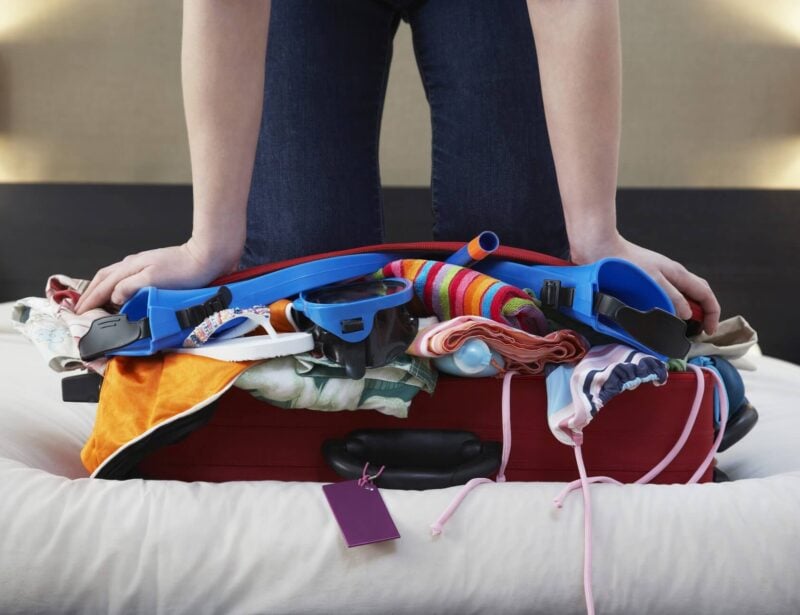 My missus travels with all her clothes in ziplock bags: don't be like my missus. UP YOUR PACKING GAME!
Packing cubes for the globetrotters and compression sacks for the real adventurers – these babies are a traveller's best kept secret. They organise yo' packing and minimise its volume too so you can pack MORE.
Or, y'know… you can stick to ziplock bags.
View Our Fave Cubes
Or Check Out the Sacks!
7. Check Out a Fado Show at Café Luso
Whenever you go to a new country, it's always nice to do or see something unique to that place, and for those visiting Portugal, that thing is Fado. Fado is a type of folk music that first shows up on records in the early 1800s but is possibly older than that.
Some might call the soul of Fado sad but I like to think of it as hauntingly beautiful with lyrics talking about loss, the life of the poor, or a life at sea. Fado has gone on to inspire folk traditions in some of Portugal's former colonies like Morna in Cape Verde and Modinha in Brazil.
Café Luso is set in an 18th-century horse stable and is full of history and good music. I would say that listening to Fado here was one of the highlights of my time in Lisbon.
Entrance: Free
Hours: 7:30PM-1AM
Address: Tv. da Queimada 10, 1200-365 Lisboa, Portugal
8. Drink All the Wine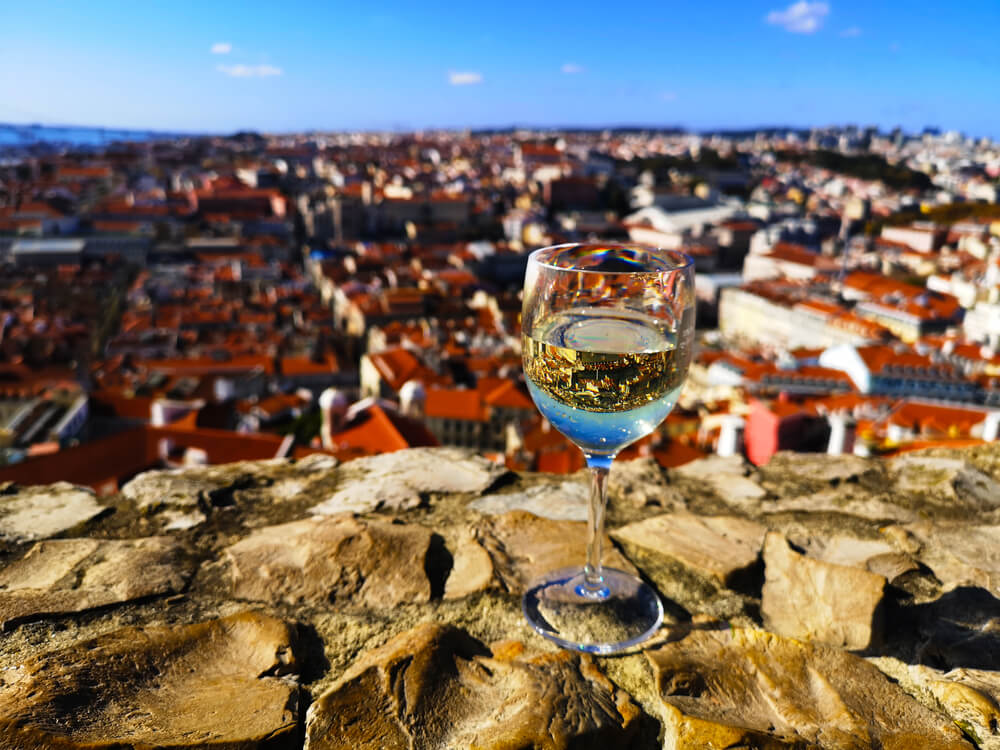 Often overlooked as a wine region compared to its eastern neighbors, Portugal produces spectacular wine. Yes there is Port wine and yes it is sweet and delicious but there is so much to try it would be a shame to just stop there. Drinking wine is one of the best things you can do in Portugal, actually scratch that, anywhere!
From the fruity Vinho Verde to the full-bodied reds of the Dao region and the myriad of flavors in between there is a wine here to fill that bottle-shaped hole in each drinker's heart.
By the Wine is one of the best restaurants known for its wine collection. Some other notable restaurants are Wine with a View,and Bla Bla Glu Glu.
Entrance: Free to enter
Hours: 6PM – Midnight
Address: Rua das Flores 41 43, 1200-193 Lisboa, Portugal
One of the best things about a city by the water is that the city looks even better from it. This is especially true of Lisbon, as some of its most important and beautiful buildings are right on the coast. Gain a better look and understanding of both the fishing and maritime traditions of Lisbon.
The best time to do that is at sunset. With the wind in your hair and the golden hour painting the buildings in a warm glow, this is the most romantic thing to do in Lisbon. It can be a little more expensive than the other things on the list, but you won't be sorry you did it.
https://www.getyourguide.com/lisbon-l42/sailing-boat-sunset-tour-in-lisbon-for-2-hours-t45788/
Entrance: Starts from $23
Hours: Several Options
Address: Near Belem tower
10. Whisk Around on Tram 28
Yeah, you can walk everywhere if you want, but sometimes you've got to give your feet a break. Enter the charming Tram 28.
Most of Lisbon's trams have been replaced with modern electric versions. They are faster, more efficient, and can hold many more passengers, but who said being practical is more fun? What makes Tram 28 a special Lisbon attraction is precisely why these vintage models can't be replaced.
It winds through the tiny streets and alleys of the old town with tight turns that the newer larger models can't keep up with. It also passes by many of the main attractions so keep your eyes peeled!
Also please keep your valuables close as this train is frequented by tourists it is an easy target for pickpockets. Just practice some common sense and you will be fine.
Entrance: $2.9
Hours: 6AM – 11PM
Address: Multiple Stops
Is This the Best Daypack EVER???
11. Stroll Through the Alfama Neighborhood
When you are on Tram 28 you are going to pass through the Alfama neighborhood. Once you are there, get off and start hoofing it. As the oldest neighborhood in Lisbon, there is so much to explore, and getting lost in the twisting alleyways is one of the best free things to do in Lisbon.
Iconic buildings like the Se Cathedral and Saint Anthony's Church are hidden in this area, interspersed with charming shops, bars, cafes, and houses that look like they are straight out of story books. Seriously, leave the guidebook at home, close Google Maps and just get to walking.
Entrance: Free
Hours: N/A
Address: Alfama, Lisbon, Portugal
There are a ton of things to do in Lisbon, but why stop there? Sintra town is located just about 30 minutes away from Lisbon and is worth every visitor it gets.
The first town to be awarded by UNESCO as a Cultural Landscape, whether you come on a day trip from Lisbon or decide to take an extra day or two to soak everything in, there are no wrong answers.
Visit the Pena Palace, Quinta Da Regaleira (a Neo-Gothic Cathedral with an incredible well), or the 10th-century Moorish castle among many other things.
You can go via public transportation but it might be difficult to get around to all the sites on a day trip without your own set of wheels. I would suggest renting a scooter or car for the day or going on a tour to see all the highlights.
Entrance: $14.25
Hours: 12.30PM – 5.30PM
Address: Estrada da Pena, 2710-609 Sintra, Portugal
13. Feast on Cod at D'Bacalhau
Note to any budding restaurateurs, if you name your entire venue after a certain ingredient, you better know how to cook it well.
Thankfully the chefs a D'Bacalhau got the memo. Cod, or bacalhau, is by far the most iconic dish in Lisbon and they do it right. Can't decide if you want your bacalhau fried, grilled, or baked? Fear not, they have a platter with it cooked four ways so you don't have to choose.
I would advise you to bring some hungry friends as the portions are large, so prices are good and the food delicious. They do have cod-less dishes for the non-seafood inclined, but that would be like going to McDonald's for the salad.
Entrance: Free
Hours: 12AM-11PM
Address: Zona Ribeirinha Norte, Rua Pimenta 45, 1900-254 Lisboa, Portugal
14. Go and Explore the LX Factory
Okay, we get it. Lisbon has a ton of cool old stuff, but how about something old with a modern twist? The LX factory was an industrial complex built in the 18th century that after 50 years of use stayed empty for over a hundred, red years. Now it is a bustling center with shops, cafes, bars, restaurants, and event spaces.
Not only that but they always have some exhibition going on. Go to eat, drink, check out the amazing art on the walls or just walk around to soak in the good vibes of one of the coolest spots in Lisbon.
Entrance: Free
Hours: 9AM-10:30PM
Address: R. Rodrigues de Faria 103, 1300-501 Lisboa, Portugal
Travel with peace of mind. Travel WITH a security belt.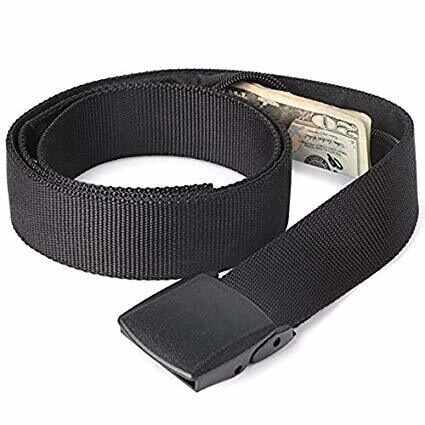 Get your cash stashed with this awesome Pacsafe money belt. It will keep your valuables safe no matter where you go.
It looks exactly like a normal belt except for a SECRET interior pocket perfectly designed to hide a wad of cash or a passport copy. Never get caught with your pants down again! (Unless you want to.)
Hide Yo' Money!
15. Educate Yourself at the Nacional do Azulejo
When I tell people that there is a tile museum and that they have to go see it a lot of people say okay but I can see in their eyes that they don't believe me. Most of us don't think of tiles often and when we do, it is usually not for very long.
However, missing out on this museum would be missing out on one of the top things to do in Lisbon. The Portuguese have a long storied history with the tile and maximize their use probably better than anyone.
Walking around the streets of any Portuguese city or even former colony and you can see streets, buildings, and artwork all adorned with the coolest tiles you've ever seen. Visit this museum to learn all about the history and feast your eyes on the cream of the crop of tiles too beautiful to be exposed to the elements.
https://www.getyourguide.com/s/?q=National%20Azulejo%20Museum&searchSource=3
Entrance: $5
Hours: 10AM-5:30PM
Address: R. Me. Deus 4, 1900-312 Lisboa, Portugal
16. Be Awed at the Calouste Gulbenkian Museum
If learning about history and tiles isn't your thing and you prefer your art on canvas, then head over to the Calouste Gulbenkian Museum. Usually, in a museum, you get one style of painting in an exhibition, but as this is a private collection you get a wide-ranging selection of styles.
Calouste Gulbenkian was an oil baron and a man with extensive art tastes and even more extensive pockets.
His motto "only the best" ensures the visitors are not only able to see ancient Greco-Roman, Mesopotamian, Persian and Egyptian pieces, but also western masters like Degas, Monet, Guardi, Rembrandt, and Renoir all under the same roof.
Entrance: $10
Hours: 10AM-6PM
Address: Av. de Berna 45A, 1067-001 Lisboa, Portugal
17. Relax at the Beach in Estoril
You've been in the city exploring for too long, and now you just need a break. Lucky for you there is a gorgeous beach nearby in Estoril. Just far enough to be away from the hustle and bustle of the city but also close enough to not have to travel too far, this getaway is perfect for the whole family.
The beaches that surround Estoril are calm with beautiful soft sand. Spending time here is one of the best things to do in Lisbon with kids.
If you are looking for surfing waves, however, just go up a little further on the coast towards Cascais and Sintra. There are a bunch of great beaches in this area but my personal favorite is the Praia de Carcavelos.
Entrance: Free
Hours: 24 Hours
Address: Estoril, Portugal
18. Be Amazed at the Lisbon Cathedral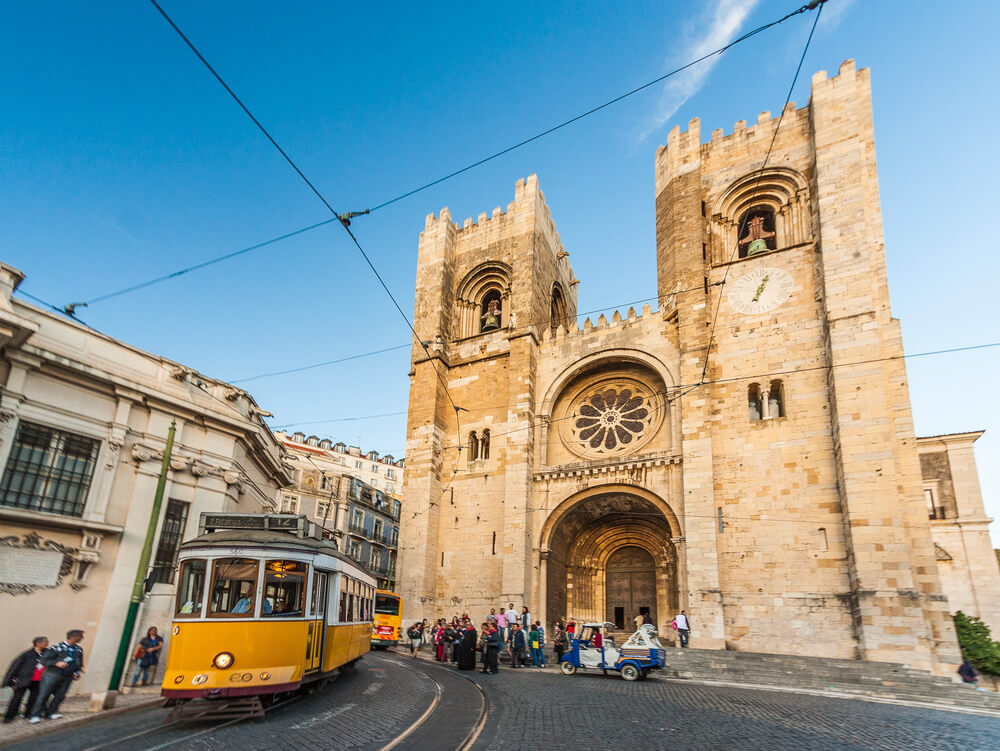 A trip to a major European city would not be complete without checking out its best churches. Not only is it the largest and most beautiful of churches in Lisbon it is also the oldest.
And as with many attractions in Lisbon, it is a fascinating mix of many different architectural styles, Baroque, Gothic and Romanesque in this case. This is because it has been partially destroyed several times due to earthquakes and has had to be restored.
In addition to the super interesting blend of outer styles, It is honestly one of my favorite interiors of a church I have been in. It balances the line between being minimalistic while still keeping true to the ornate features we all come to expect from the inside of cathedrals.
Entrance: Free
Hours: 9:30AM-7PM
Address: Largo da Sé, 1100-585 Lisboa, Portugal
19. Stuff Yourself at the Time Out Food Market
I have given you recommendations on where to get the best Pastel de Nata or where to try the most cod or drink underrated Portuguese wine. But this is just a snippet of some of the best food in Lisbon, there's really so much more to discover!
This is why I always appreciate a good food market and thanks to Time Out, Lisbon has one of the best in the world. Choose from over 50 food stalls and eat your way through it one dish at a time. If you're like me and food is one of your motivating factors for travel then this will be one of the top places to visit in Lisbon.
Entrance: Free
Hours: 10:00AM-12PM
Address: Av. 24 de Julho 49, 1200-479 Lisboa, Portugal
Forget boring accommodation… book yourself an EPIC STAY!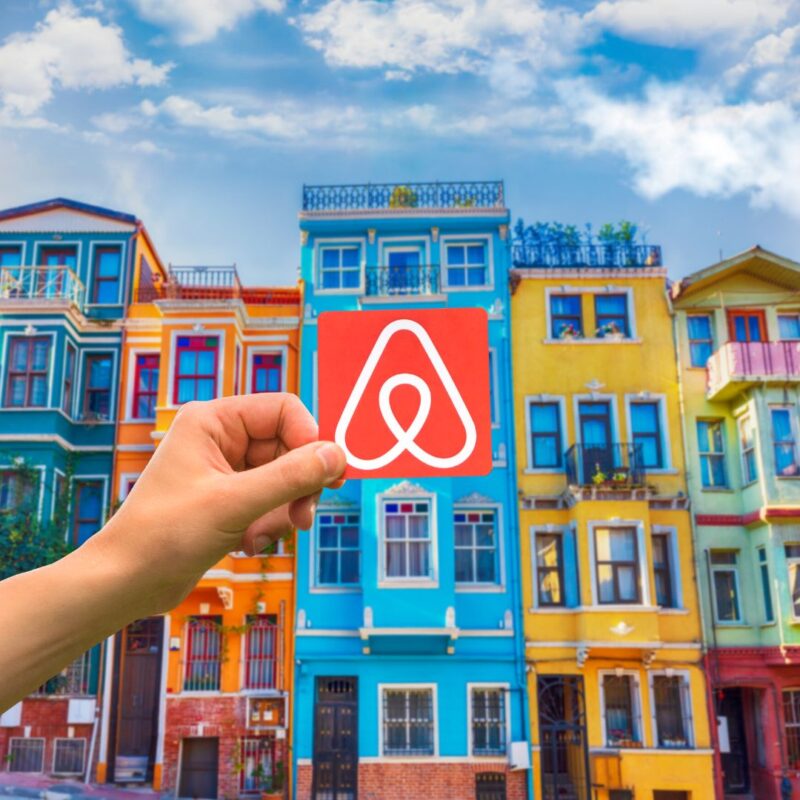 Why stay in a naff hotel when you can stay in a cosy, stylish local house instead? And for half the money too!
Stay somewhere EPIC and save your hard-earned dollars — from houses to barns to castles and caves, there is an Airbnb for every occasion!
Book an EPIC Stay
20. Head to Porto for the Day
You really should be giving Porto the time it deserves, it's an incredible city. But if you are time constrained or would just like to keep a base in Lisbon, then taking a trip is something you need to do.
Just over a three-hour train ride away, you can be there for lunch and be back before bedtime easily. It has a little more of a hip laid-back vibe than Lisbon and is perfect for a day of just strolling around and exploring.
Don't think that just because Porto is about half the population and size of Lisbon that it has half the things to do or is half as good. The food, nightlife, and culture scene rivals anything its big brother throws at it.
Entrance: Free
Hours: N/A
Address: Porto, Portugal
21. Treat Yourself to Lisbon Under the Stars
Tired of just going around visiting churches for the sake of visiting churches? Well, this will be right up your alley.
The Carmo Convent was a convent and church that was damaged beyond repair due to an earthquake in the 1700s and is still roofless. There is almost nothing worse than when a beautiful structure is unused but thankfully that is not what happened here.
During the day it is a museum but at night the walls are transformed into a 45-minute multi-sensory light show that plays Portuguese music. I almost don't want to tell you what happens as it would feel like recommending a show and spoiling the ending.
So I will just cap it off by saying that it was one of my favorite things to do in Lisbon and I'm pretty sure it will be one of yours too.
Entrance: $15
Hours: 9:30PM and 10:45 PM
Address: Largo do Carmo, 1200-092 Lisboa, Portugal
Where to Stay in Lisbon
There are tons of great neighborhoods in Lisbon, with all different types of places to stay. Some people prefer hotels for a little more comfort and service, some like to stay in social hostels, and some like the privacy of Airbnbs.
If you're still deciding on where to stay, here are some of my top recommendations.
As I have said earlier, I am a sucker for a view, but I might be an even bigger sucker for a skylight. And this Airbnb in Lisbon has both in spades. It is a little bit outside the main area but, for that price and access to six balconies, this space is too good a deal to pass up. Located right next to the historic 28 tram so the center is only a short ride away. Can fit up to 4 people and has an AC, great for the summer months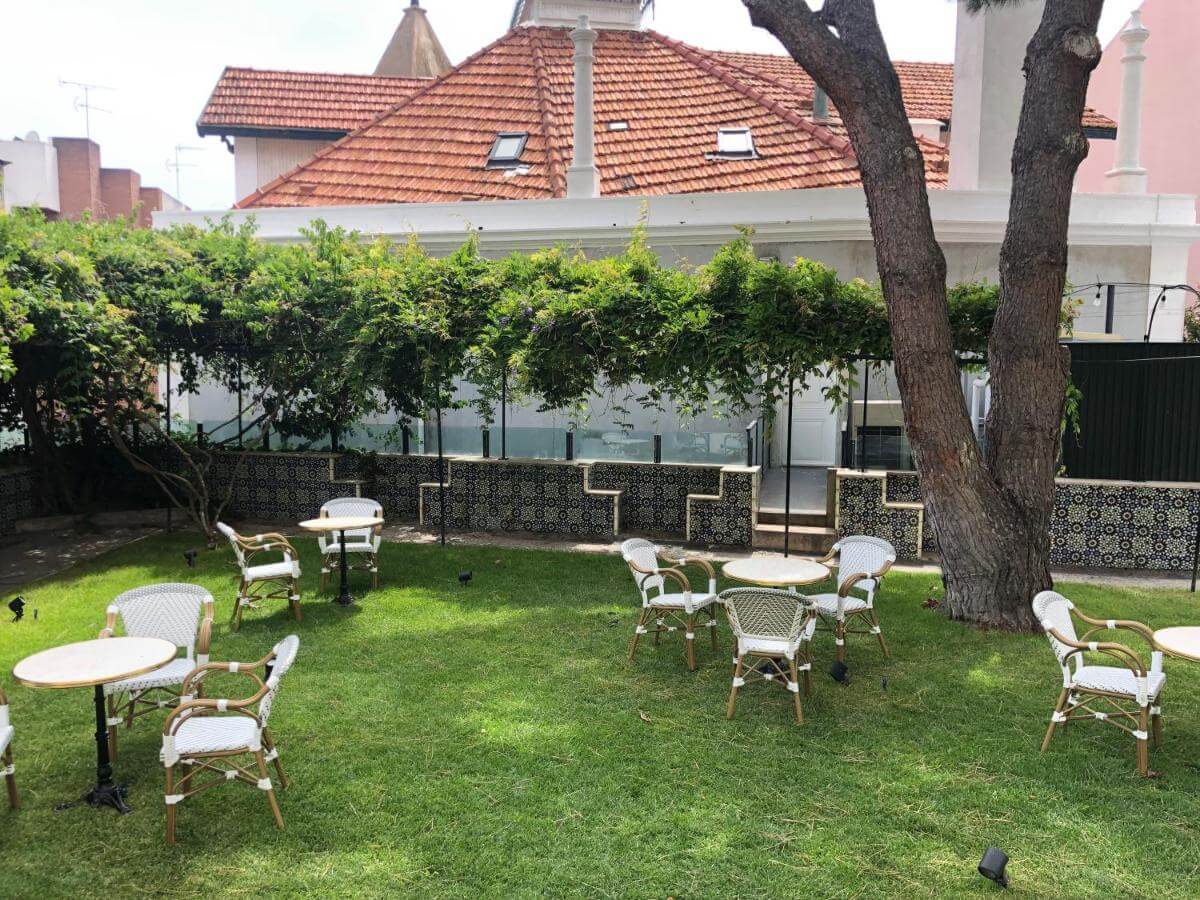 With a perfect mix of old-world charm and new-world luxury, this 4-star hostel in Lisbon is the balance that encapsulates where Portugal is at the moment. Beautiful rooms with balconies and garden views that are unbeatable. The breakfast and bar facilities are also top-notch. The location is far enough out of the town to get away from the noise but is convenient to all the tourist sites.
There are a lot of hostels that claim to have a homely feel but Home Lisbon Hostel really delivers. The owner's mother cooks budget meals every night and you can eat communally. If home-cooked food by a mom isn't homely then I don't know what is. They also have nightly events that really bring the community together. Add on top of that clean rooms, comfortable beds, and a fantastic location and you've got a winner.
Tips for Visiting Lisbon
I'm sure you're ready to get out an explore all that Lisbon has to offer, but before you go, here's a few more tips for you!
Invest in travel insurance! You never know what may happen on the road.
Keep an eye on your stuff. Even though Lisbon is a relatively safe place, especially regarding violent crime, there has been an uptick in pickpocketing so please make sure to keep a close eye on your belongings.
Bring a good water bottle with you and avoid buying single-use plastic ones!
Buy the Lisboa card, if you plan on being out and about it is a good investment as it gives you unlimited public transportation and entrance to Lisbon's attractions. You will definitely save money.
Wear comfortable shoes, one of the best things to do in Lisbon is walk the streets and you will be doing a lot of walking.
The best time to visit is autumn, not as busy and fantastic weather.
If you're interested in some of Portugal's festivals, make sure to time our trip at the same time as your favourite event.
Don't forget your travel insurance for Lisbon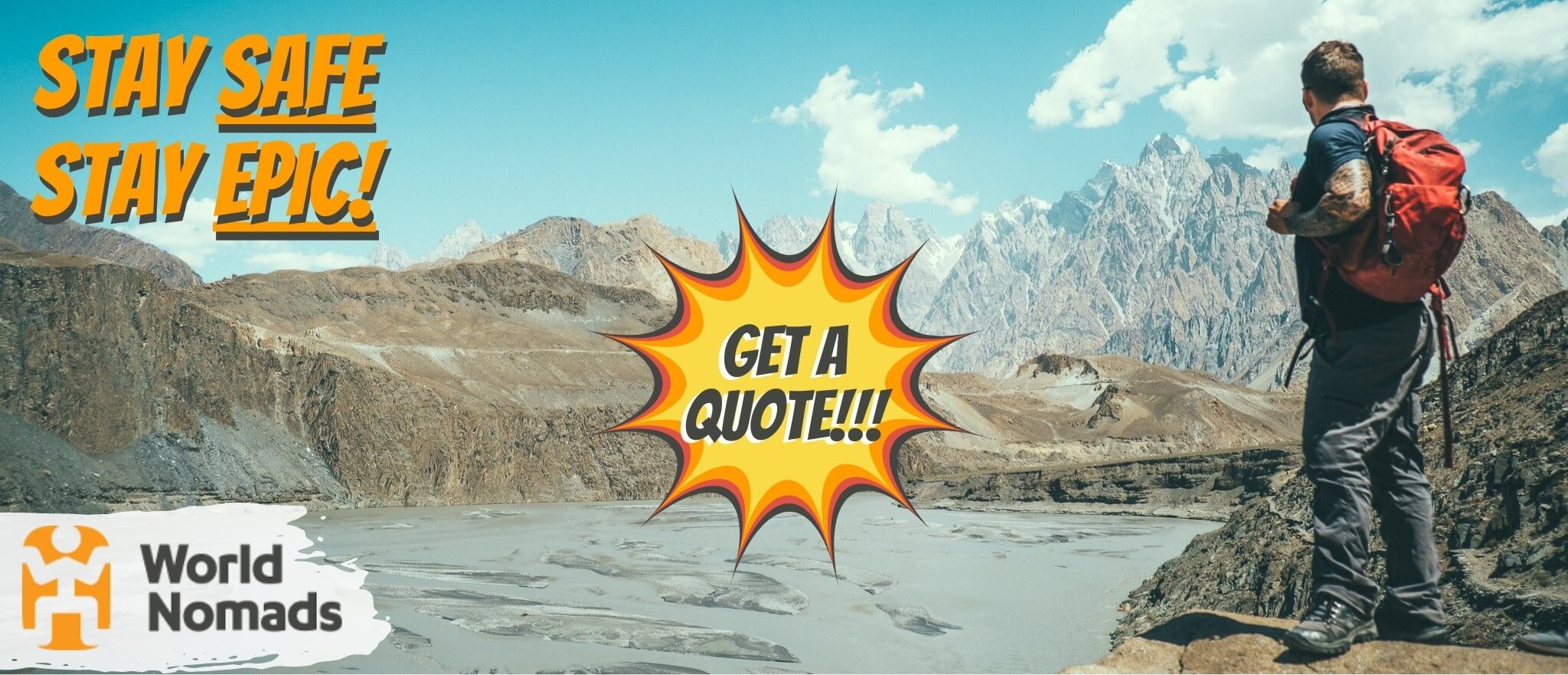 World Nomads' mission is to support and encourage travellers to explore their boundaries. They offer simple & flexible travel insurance, and safety advice to help you travel confidently.
They've been doing it since 2002 – protecting, connecting, and inspiring independent travellers just like you.
Get a quote below or read our in-depth review!
World Nomads provides travel insurance for travelers in over 100 countries. As an affiliate, we receive a fee when you get a quote from World Nomads using this link. We do not represent World Nomads. This is information only and not a recommendation to buy travel insurance.
Final Thoughts on Things to Do in Lisbon
If you've made the decision to come to Lisbon, congratulations! You are going to have a blast. If you are reading this trying to decide if Lisbon is worth a visit I am here to tell you that it is.
With fantastic architecture, food, and wine to keep you full, history for days and stunning views, these are all things that make Lisbon a worthy city to visit.
I hope this guide to the best things to do in Lisbon has helped you map out which attractions to add to your itinerary. No matter who you are or when you decide to go, I think we can all agree Lisbon has a lot to offer.
---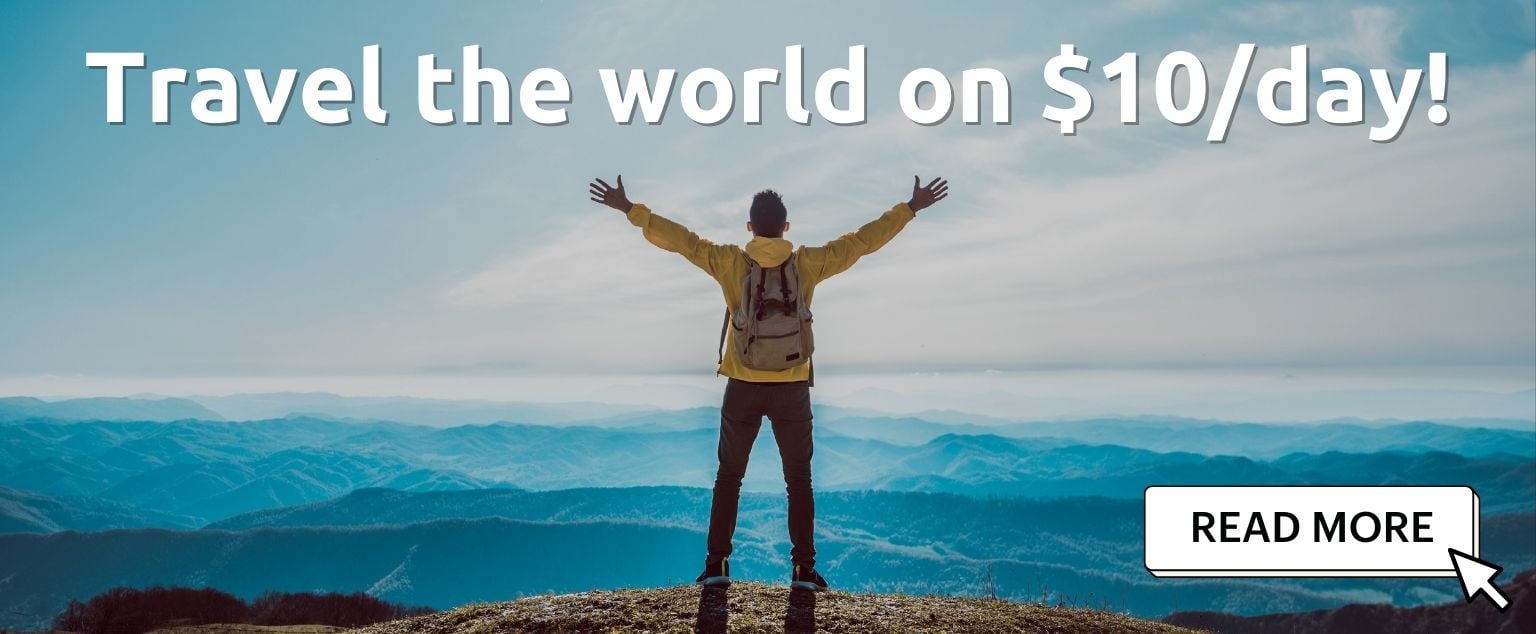 And for transparency's sake, please know that some of the links in our content are affiliate links. That means that if you book your accommodation, buy your gear, or sort your insurance through our link, we earn a small commission (at no extra cost to you). That said, we only link to the gear we trust and never recommend services we don't believe are up to scratch. Again, thank you!