Lisbon boasts great weather, lovely pastel-colored buildings, and a very hip vibe. The city is booming and pulling in visitors from all over the world.
Being a popular destination for backpackers, Lisbon offers numerous stunning hostels. Having to choose from so many can be a bit overwhelming, which is why we listed up our absolute favorites and best hostels in Lisbon.
So whether you are traveling solo, or as a couple. Looking to party, or looking to chill. Want to explore or just want a cheap sleep, this stress-free guide will help you find the right hostel.
Let's get right to it!
Quick answer: Best Hostels in Lisbon
The Lisbon Hostel Scene
What makes this city one of the most underrated in Europe is its endless supply of entertainment, at such a quality price. Shows, an incredible amount of historical sights, beautiful architectural masterpieces – the list of Lisbon's highlights goes on and on.
By European and international standards, the hostel scene in Lisbon is quite good. Plenty of hostels offer free walking tours, city maps, have on-site laundry facilities, and my favorite hostel hack of all – free breakfast!
Being one of the cheapest accommodation options pretty much everywhere in the world, this works out perfect for those visiting Lisbon on a budget. Keep the money in your pockets while still being able to explore the beautiful city.
The 27 Coolest Hostels in Lisbon
We've brought you the best Lisbon hostels and divided them into different categories, so you'll find exactly what you're looking for. Whether you want the best place to meet other solo travelers or somewhere to have a romantic stay in Lisbon, we'll have the right one!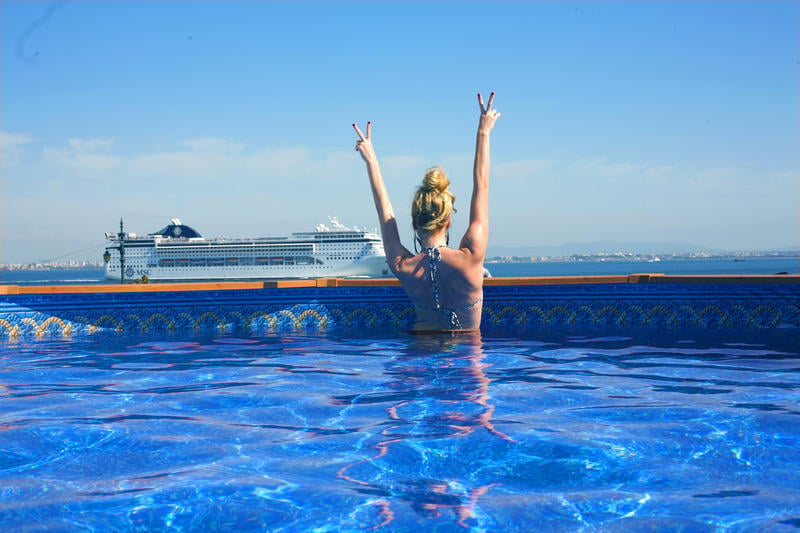 $$
Bar-Café
Swimming Pool
Tour Desk
A stay at Sunset Destination Hostel is sure to be pretty sweet. In addition to fairly standard hostel features, like free Wi-Fi, a shared kitchen, and a lounge, Sunset Destination Hostel also boasts a roof terrace with gorgeous views, a swimming pool, a lush garden, and a fantastic onsite bar/café. Head to the bar for sunset and you'll also get a free drink.
Free walking tours and other daily activities, such as Fado tours, Portuguese food tours, and street art tours, help you get the most from your stay in Lisbon and meet new people, and the location right inside a train/metro station makes independent explorations a piece of cake. Rooms are comfy and there's plenty of privacy in dorms. This is the best hostel Lisbon has.
Best Hostel in Lisbon for Solo Travelers – Lisboa Central Hostel
$$$
Free Breakfast
Café-Bar
Key Card Access
Lisboa Central Hostel is conveniently located in Lisbon city center, just a short walk from major attractions and the hottest nightspots. There are single and twin rooms if you'd like a bit more privacy, as well as dorms for four and six. The outgoing and friendly members of staff arrange regular varied events, including pub crawls, movie nights, and free milkshakes on Mondays. As well as free breakfast, you can also enjoy free soup every day!
Alternatively, cook up a feast in the shared kitchen. Drinks are cheap in the sociable bar and the lounge has a PlayStation and TV. Chill on the terrace and benefit from free Wi-Fi, lockers, a tour desk and book exchange, luggage storage, and laundry. This is one of the best solo-traveler hostel Lisbon has.
$
Free Breakfast
Bar
Laundry Facilities
One of the best cheap hostel in Lisbon, Urban Garden Hostel has comfy beds in dorms for four, six, eight, 12, and 16. There are both mixed dorms and those just for female travelers. Since it's such a popular hostel, it'll be easy to meet heaps of cool new people for days and nights out. There are varied choices for the free breakfast and the hostel sometimes arranges communal dinners.
There's a bar and laid-back common room with a huge TV, as well as an outdoor terrace, a book exchange, laundry facilities, and luggage storage. There are actually quite a few cheap hostels in Lisbon and this one is perhaps the best.
Best Cheap Hostel in Lisbon #2 – Surf in Chiado
$
Tour Desk
Bike Hire
PlayStation
With a laid-back surfing vibe and friendly staff who will go out of their way to tell you the best places to hit up in Lisbon, Surf in Chiado could be the coolest hostel in Lisbon for active and adventurous souls. The location couldn't be much better and the facilities are top class.
Mixed dorms are available for six and 12 and there are single-gender dorms for four. Groups of mates can book the private seven-bedroom too. Rent a bike and explore, surf both the waves and the free Wi-Fi, and battle it out on the PlayStation.
$
Free Breakfast
Café
Laundry Facilities
Situated right in the heart of Lisbon, Nest House Lisbon Hostel has everything you need for a great time discovering Lisbon and chilling out indoors. Homey vibes rule supreme and you'll likely be more than a little sad when the time comes to move on from here. The TV lounge is filled with light and comfy cushions, the terrace is cute, and the kitchen is spacious, modern, and home to everything you need to cook up a feast.
Key Card Access stops unwanted visitors from getting in this recommended hostel in Lisbon and all guests have a large locker.
$$
Free Breakfast
Café
Laundry Facilities
Within a historic building that blends original features and modern comforts, Lost Inn Lisbon Hostel is one of the best hostels for couples in Lisbon. There's a romantic vibe and the hostel is located in the lovely district of Chiado, while also being close to the metro and with plenty of stylish bars, clubs, and restaurants close to hand. Although private rooms and dorms share bathrooms the private doubles give you your own private sanctuary for sleeping. The hostel has a computer room, lounge, dining room, and kitchen, as well as free Wi-Fi, regular activities, and laundry facilities.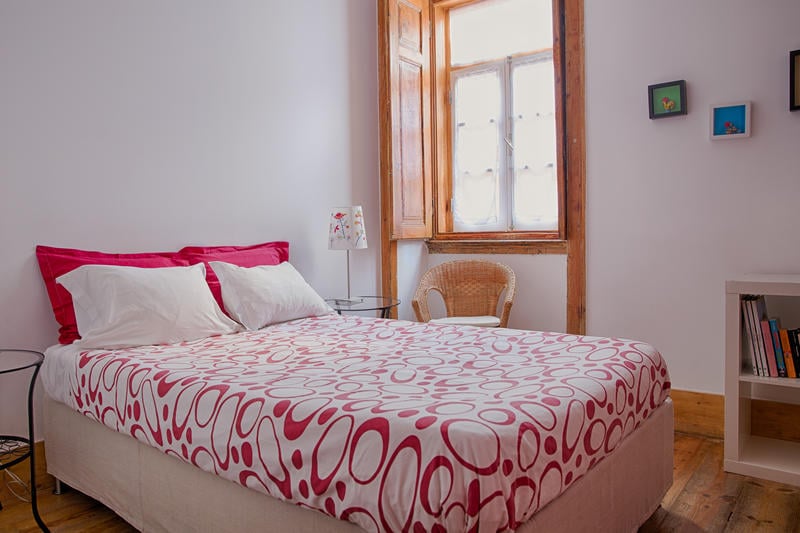 $$
Free Breakfast
Bar-Café
Laundry Facilities
Located close to the romantic neighborhood Alfama, This is Lisbon Hostel sits in a traditional neighborhood that is within easy reach of dozens of cozy restaurants for a dinner for two and many other attractions. The combination of comfortable double rooms, the charming historic building and surroundings, great views from the roof terrace, peaceful vibe, and top-notch facilities make this a top hostel for couples in Lisbon.
Free walking tours run regularly and you can do some DIY cooking, eat out nearby, or join in with frequent communal dinners. The common room is a great place to mingle and there are laundry facilities, computers, free Wi-Fi, and yoga classes.
Best Party Hostel in Lisbon – Rossio Hostel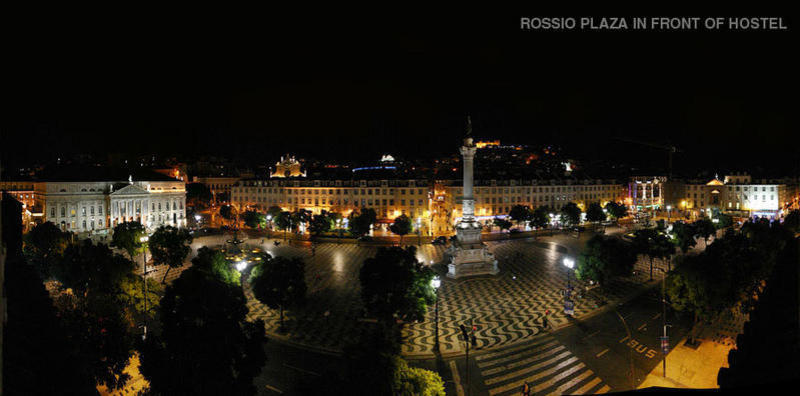 $$
Complimentary Breakfast
Café-Bar
Key Card Access
A comfy and clean base in downtown Lisbon near the party neighborhood of Baixa, the award-winning Rossio Hostel is a brilliant Lisbon backpackers hostel for party-loving travelers. Social divas will fit right in! There are nightly events to help you meet others and have heaps of fun, and the outgoing members of staff will almost certainly feel like your mates from the moment you check-in. Don't worry if you want a night off though; even party animals need time to recharge!
There's a comfy common room with a TV and book exchange, and the dorms are quiet at nighttime. The shared kitchen is new and well-equipped and breakfast is included each morning to help fight off hangovers. Tea and coffee are free all day too at this top hostel in Lisbon.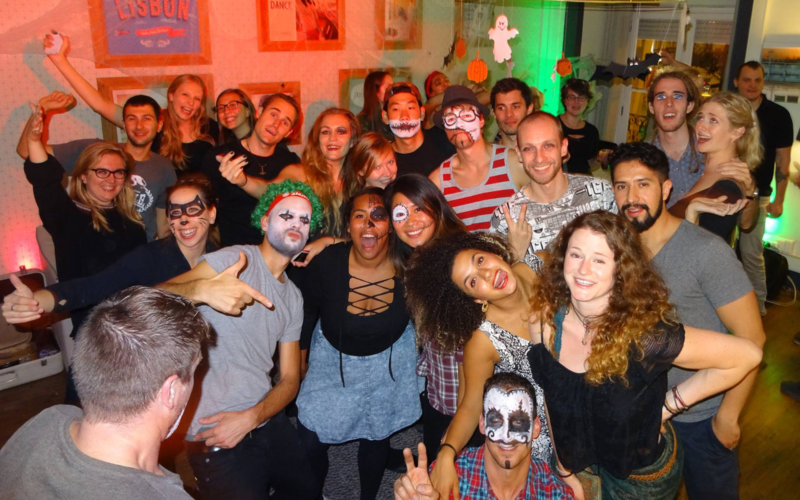 $$
Complimentary Breakfast
Bar-Café
Laundry Facilities
A simultaneously lively and laid-back Lisbon hostel. Goodmorning Lisbon Hostel is a top party hostel in Lisbon as well as being a place that you can chill and recharge your batteries after one too many glasses of sangria. A filling breakfast is included each morning to get you feeling straight, ready to explore and join in with the social events each evening. There are activities in the daytimes too, such as cooking classes, to help you uncover Lisbon's culture. The awesome staff members are the icing on the cake here.
Best Hostel for Digital Nomads in Lisbon – Home Lisbon Hostel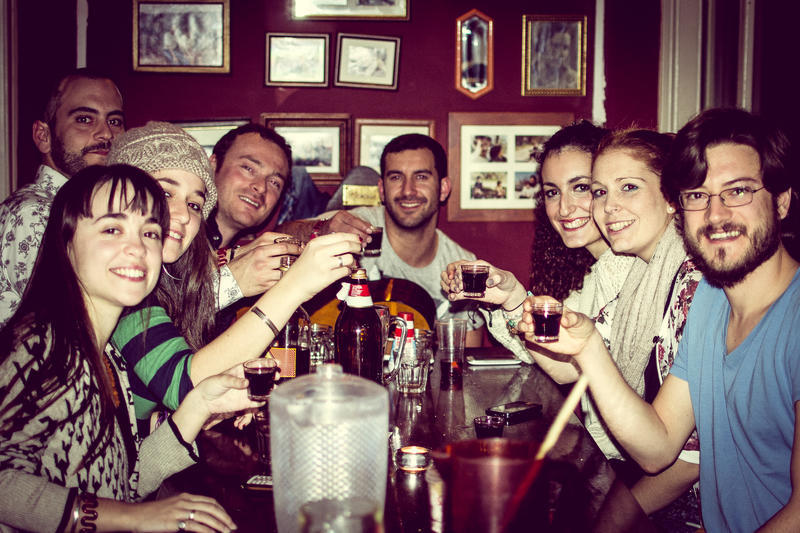 $$
Restaurant/Bar
Lockers
Games Room
An award-winning youth hostel in Lisbon, Home Lisbon Hostel is truly a home from home. Cheap communal dinners, daily free walking tours, and housekeeping to make sure everywhere is spick and span are a few benefits of staying here. The best hostel for digital nomads in Lisbon, there's a free co-working space as well as free Wi-Fi; getting your head down and focusing on work couldn't be much easier! Take a break in the lounge, bar, or on the patio, and enjoy a good night's rest in the comfortable and spacious dorms.
$$
Included Breakfast
Café
Meeting Rooms
Host'Bell Rooms & Suites is another best hostel for digital nomads in Lisbon. The stylish hostel has computers that guests can use as well as free Wi-Fi all around the property, and there are plenty of calm spaces where you can settle down for an intensive work sesh. If you're planning on networking and building up new contacts and opportunities while in Lisbon, the meeting room and classy common areas are ideal.
Free breakfast gives your brain a boost each morning and you can make your own favorite meals in the kitchen. Do note that a minimum stay of two nights applies at this recommended hostel in Lisbon.
$$
Bar-Café
Games Room
Laundry Facilities
A sociable and lively backpackers' pad in Lisbon, Oasis Backpackers Mansion Lisboa has a wide selection of rooms, ranging from four-bed dorms to dorms for 14. There are also private doubles. Affordable, clean, comfortable, and fun, it's a great youth hostel in Lisbon for solo travelers looking to meet others, groups who love a laugh, and couples who don't want to spend every second in each other's pockets.
Full of character, the hostel arranges regular events by day and by night, common areas include a lounge, kitchen, and terrace, and there are laundry facilities, a tour desk, and free Wi-Fi. Oh, it's sometimes erroneously referred to as the Oasis hostel Lisbon.
Psst!
Heading to a hostel? Don't forget to pack a
padlock
! It's well worth having one so you can secure your locker and protect your stuff!
More great Lisbon hostels
And, because we're super thorough and want you to find the very best hostel in Lisbon for you, here are even more top-class backpackers' hostels in Lisbon for you to consider.
Keep in mind where you want to stay in Lisbon. Close to attractions, a busy party area or a rather quiet and safe neighborhood?
$$$
Complimentary Breakfast
Luggage Storage
Age Restriction
NOMAD 64 has excellent self-catering facilities for budget backpackers who want to shave even more off the cost of their stay in Lisbon. There's even a dishwasher so you don't have to worry so much about washing your pots, pans, and dishes. A free breakfast is also provided every morning. It's right in the city center and the common area is ideal for relaxing in front of the TV and chatting with other travelers. There are mixed and female-only dorms for six, each with comfortable beds and lots of natural light.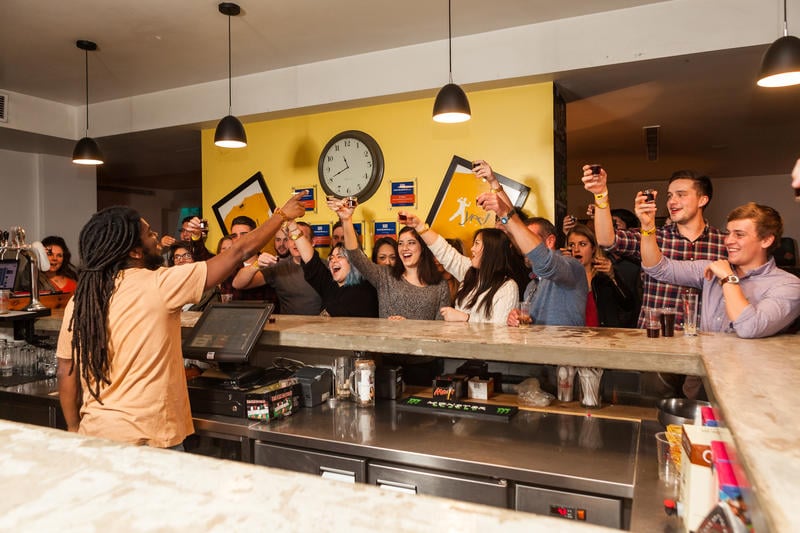 $$$
Restaurant-Bar
PlayStation
Luggage Storage
No need to worry about lugging your heavy backpacks up flights of stairs at Yes! Lisbon Hostel—this cool Lisbon hostel has an elevator. Of course, it's not only the elevator, though, that makes this a great place to stay. The award-winning Lisbon backpackers hostel has awesome members of staff and is clean, secure, well-equipped, and bags of fun. Freebies include tea and coffee, shots in the bar, Wi-Fi, walking tours, and pub crawls, and cheap dinners are available each evening.
$$$
Included Breakfast
Bar-Café
Lockers
A great youth hostel in Lisbon for people who like to spend their days out and about exploring before returning to a comfy and practical city center base. Live Lisboa Hostel has clean and attractive dorms and a laid-back common area. Lockers are big enough to fit a whole backpack in and the maximum number of guests in any dorm is six. Breakfast is included each morning and there's a small kitchenette where you can prepare basic meals. The hostel's layout is more like stepping into a friend's home than staying in paid accommodation.
$$
Free Breakfast
Restaurant/Bar
Luggage Storage
A classy and chic top hostel in Lisbon, Grapes & Bites – Hostel and Wines is certainly one of the most unique backpackers' hostels in Lisbon. Set up as a place for the owner to blend their love of fine wines with a stylish and comfortable accommodation option, you can savor delicious Portuguese wines before sinking into a deep sleep in the pleasant two-person private rooms or ten-bed dorms. There are indoor and outdoor areas to relax, as well as laundry and luggage storage facilities.
$$$
Laundry Facilities
Housekeeping
Cable TV
With small touches of luxury, travelers can feel a little bit fancy at Happy Mike Hostel. There are just 19 beds in total, spread between small dorms and private rooms, making it a fab choice for people who feel more at home in smaller groups. Situated in Benfica, you're far enough from the tourist crowds to feel as though you're seeing the authentic side of Lisbon, yet close enough to have a great time exploring Lisbon's highlights. The high-class hostel has an awesome modern kitchen, free Wi-Fi, cable TV, and more.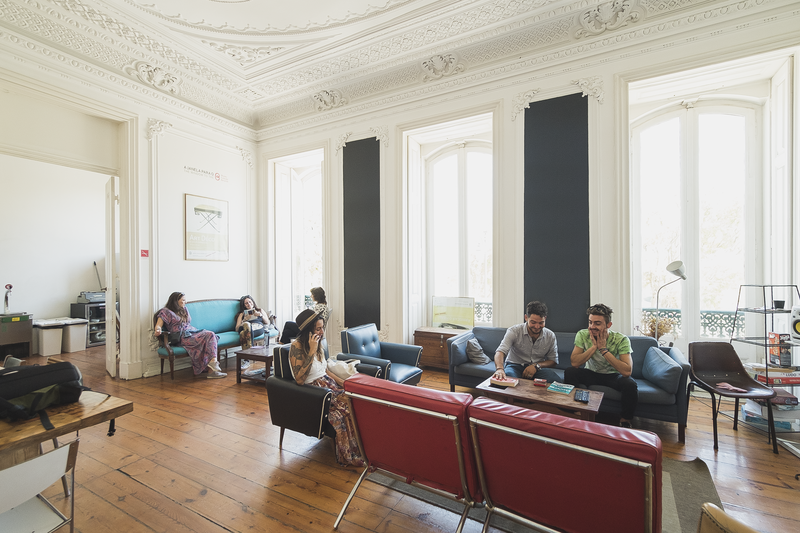 $$
Free Breakfast
Restaurant-Café-Bar
Tour Desk
One of the swankiest backpacker hostels in Lisbon, The Independente Hostel and Suites, is a fabulous home-from-home in a historic former palace. There are plenty of bathrooms and spacious common areas to cater to its 90 guests, and there are dorms just for female travelers, as well as mixed dorms and private rooms. Regular events are arranged all through the week, including happy hours at the bar with free beer, poker nights, and movie marathons.
Want to save the world? Single-use plastic bottles are a huge threat to Marine Life – Be a part of the solution and travel with a
filter water bottle
.
The GRAYL GEOPRESS water bottle is the ONLY all-in-one filter water bottle setup you'll need. Whether you need to purify the water from a hostel sink in Kathmandu or a stream trickle in the Andes, the Geopress has got you covered.
$$
Included Breakfast
Steam Room
Housekeeping
Inject a little class and style into your Lisbon vacation with a stay at The Loft – Luxury Boutique Hostel. Sociable and friendly. but definitely not a place for people who love to spend all night partying, this Lisbon hostel is all about the chill factor and bonding with new buds. Feel any tensions melting away as you bliss out in the sunshine on the terrace and enjoy a tasty al fresco breakfast. Housekeeping services keep the spacious dorms and bathrooms neat and tidy while you're out discovering the local sights. It's time to relax!
$$
Included Breakfast
Luggage Storage
Book Exchange
Quiet, relaxing, central, and secure, Shido Hostel can be found in the cultural heart of Chiado. Wits its funky artwork, the hostel can compete as one of the coolest ones too. It provides a shared kitchen, lockers, free breakfast and Wi-Fi, a lounge with cable TV, and friendly staff members who are happy to offer up local insights and tips.
$$
Complimentary Breakfast
Games Room
Laundry Facilities
This hostel is a peaceful sanctuary within easy reach of Lisbon's main places. It tries its very best to make all travelers feel comfortable and welcomed. There are mixed dorms for six as well as single-gender dorms for eight and private rooms for four. The family-friendly Lisbon youth hostel is located in Arroios. There's great separation between sleeping spaces and common areas and all dorm beds have a privacy curtain, a private reading light, a power outlet, and a locker. Breakfast and Wi-Fi are free.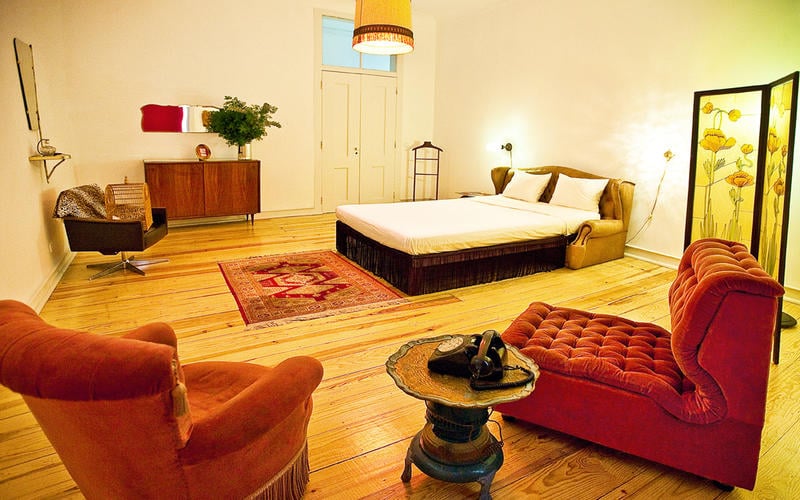 $$
Free Breakfast
Laundry Facilities
Book Exchange
A unique Lisbon hostel with heaps of character and personality, Lisbon Calling has cool themed rooms for two, which are especially great for travelling couples, and dorms for four, six, and ten. The beds are extra big for maximum comfort. Common areas include a well-equipped kitchen and an elegant living/dining area, and the hostel also has luggage storage, laundry facilities, and free Wi-Fi. There are lots of quirky design details for artistic souls to soak up.
$$
Free Breakfast
PlayStation
Laundry Facilities
The blue and white designs of NLC Hostel give it an almost nautical vibe. The clean and stylish concept hostel has large common areas and spacious dorms, with high ceilings and plenty of natural light. Socialize in the common room, bond over shared meals in the kitchen, catch up with laundry (dull, but gotta be done at some point!), and step out the door to find yourself surrounded by tons of restaurants and shops.
$$
Free Breakfast
Steam Room
Housekeeping
Whether you're feeling the indoor vibe or want some fresh air and views, Lisbon Forever Hostel's common area will keep you happy—there's a large lounge with a roomy balcony. A nice youth hostel in Lisbon close to El Corte Ingles, mod-cons include a well-equipped kitchen, free Wi-Fi, and cable TV. Housekeeping services, luggage storage, lockers, a steam room, laundry facilities, and an elevator ramp up the comfort levels. Plus, you're just a short walk from the closest metro station if you stay at this top budget hostel in Lisbon.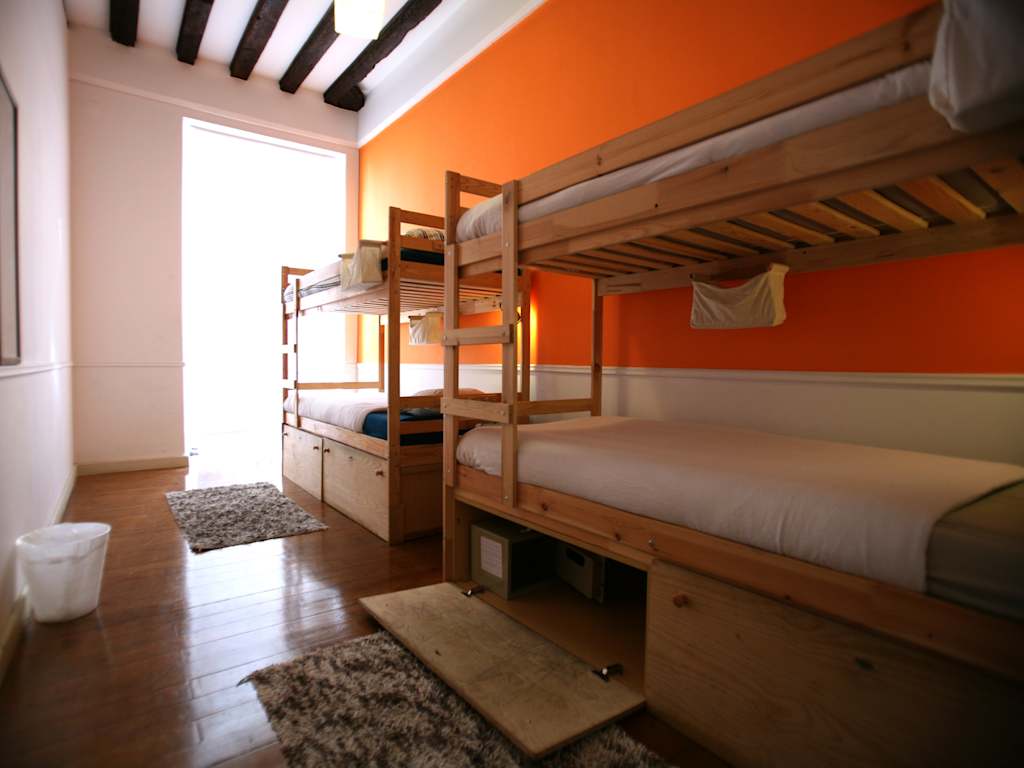 $$$
Free Breakfast
Café-Bar
Tour Desk
With single and double private rooms as well as dorms for four and six, The Travellers House is a great Lisbon youth hostel in the lively area of Baixa. Housed within a historic building, the sociable common areas include a TV lounge, a reading room, and a music lounge. Wi-Fi, tea and coffee, and luggage storage are free. Security is provided by key card access and lockers, and the housekeeping team works hard to keep everywhere spick and span. It's one of our recommended hostels in Lisbon.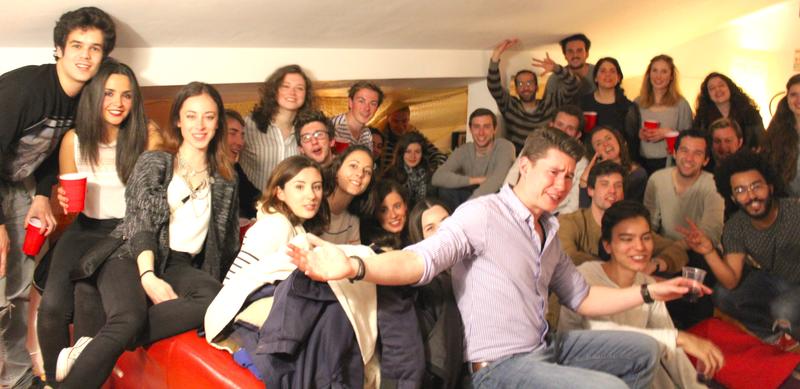 $$
Free Breakfast
Bar/Cafe
Bike Hire
Situated in the center of Lisbon just a stone's throw from the majestic São Jorge Castle, We Love F. Tourists is bound to continue being one of the best Lisbon hostels in 2020. The two separate common areas are perfect for chilling and mingling and the lounge-bar is a hive of activity most of the time. You can grab a snack onsite if you don't feel like going out, and breakfast is included every morning.
Challenge pals to board game play-offs, record your memories on the iPad – a rather novel touch – and pick up a great read from the book exchange. There are laundry facilities, free Wi-Fi, bike hire, lockers, and luggage storage too.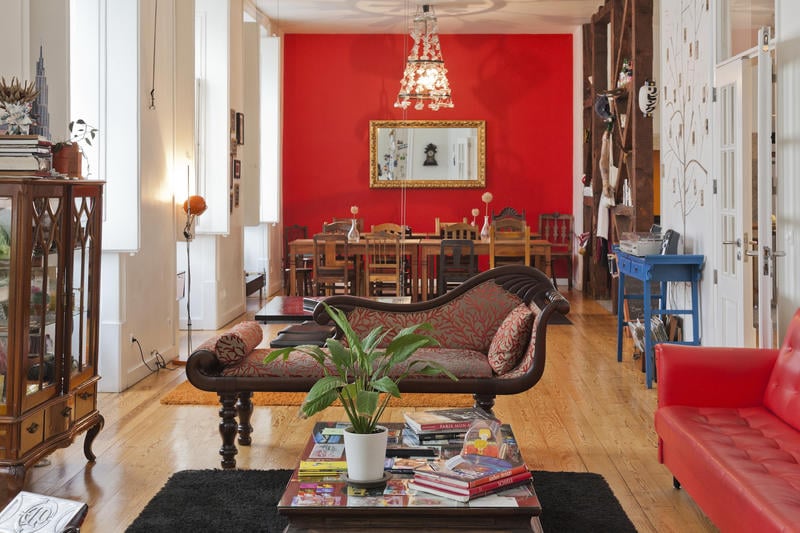 $$
Free Breakfast
Bar/Cafe
Bike Hire
As a top recommended hostel in Lisbon for lovers of art and the finer things in life, the award-winning boutique Living Lounge Hostel is a place for thinkers and creative travelers. The sociable lounge and tranquil garden cater to different moods and there are self-catering facilities to cook up a storm. Breakfast is included; sink your teeth into tasty pancakes for a great start to the day.
Pick up a free city map to help you explore or hop on a rented bike and peddle your way around Lisbon. There's a tour desk too, and other perks include round-the-clock security, luggage storage, laundry facilities, free Wi-Fi, and a book exchange.
What to Pack for your Lisbon Hostel
Packing your bags for your trip is probably the most important part before you start traveling. make sure you're well prepared for whatever could come up. To make this a bit easier for you, we've listed the must-pack items for every backpacker, especially when you're going to stay at hostels.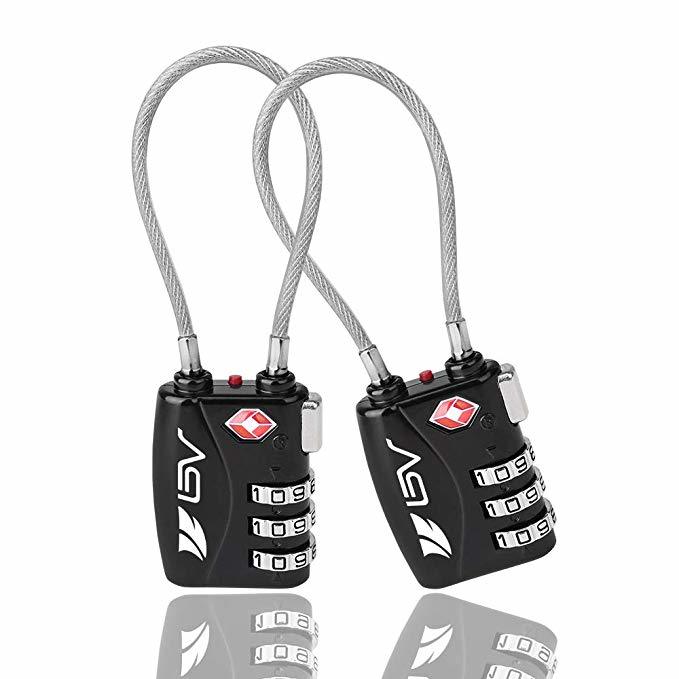 1. Padlock: Keep your stuff safe, guys. Unfortunately not all dorm lockers share the same security standard. You'll want a lightweight lock that can fit all the various dorm lockers you'll clip it to. Having a padlock that is flexible and can fit a variety of locker styles is the best way to make sure none of your belongings wander away while you are out.
2. Power Bank: Showing up to a new city, after a 14-hour bus ride, with a dead phone and no directions to your hostel is a half-awake, messy nightmare. Putting a good power bank in your pack is the best and easiest way to keep your important electronics charged up for those long travel and sightseeing days.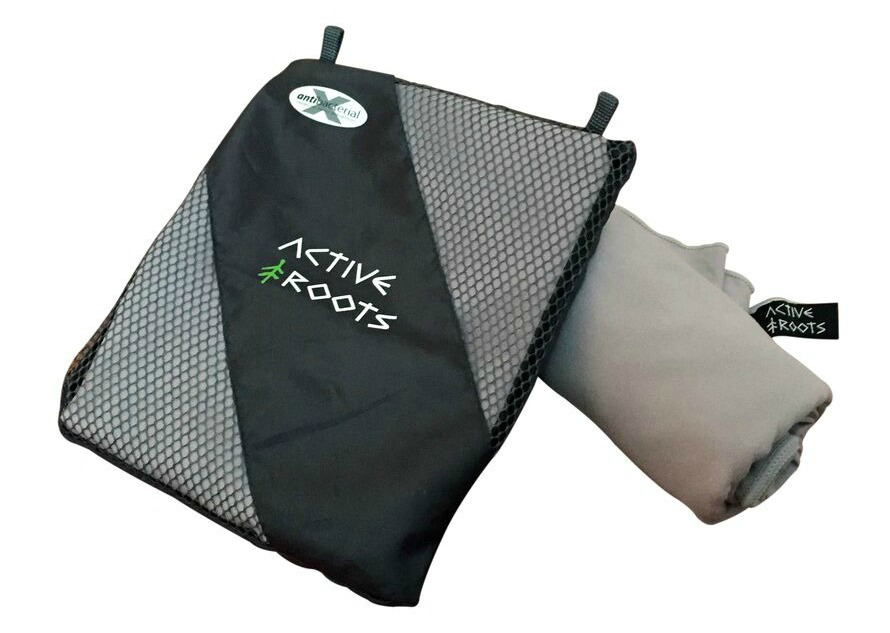 3. Active Roots Microfiber Towel: Quick-drying, lightweight, super soft and compact – the Active Roots Microfiber Towel is essential for every backpacker. No need to use the scabby towels your hostel may or may not provide! Use it for drying off, as a yoga towel or even as a picnic blanket – the options don't stop here. Made of antibacterial material, you don't have to worry about your towel starting to smell unpleasant either after lots of use.
4. Power Bank: Showing up to a new city, after a 14-hour bus ride, with a dead phone and no directions to your hostel is a half-awake, messy nightmare. Putting a good power bank in your pack is the best and easiest way to keep your important electronics charged up for those long travel and sightseeing days.
5. Active Roots Toiletry Bag: Your toothpaste is lost in the depths of your backpack again? You won't have this problem with the Active Roots Toiletry bag. The bag is made from a durable, water-resistant material, which can be a lifesaver on long travels. Super cool bonus: for every purchase, the company donates to an environmentally-friendly charity – it's a win-win situation for everyone.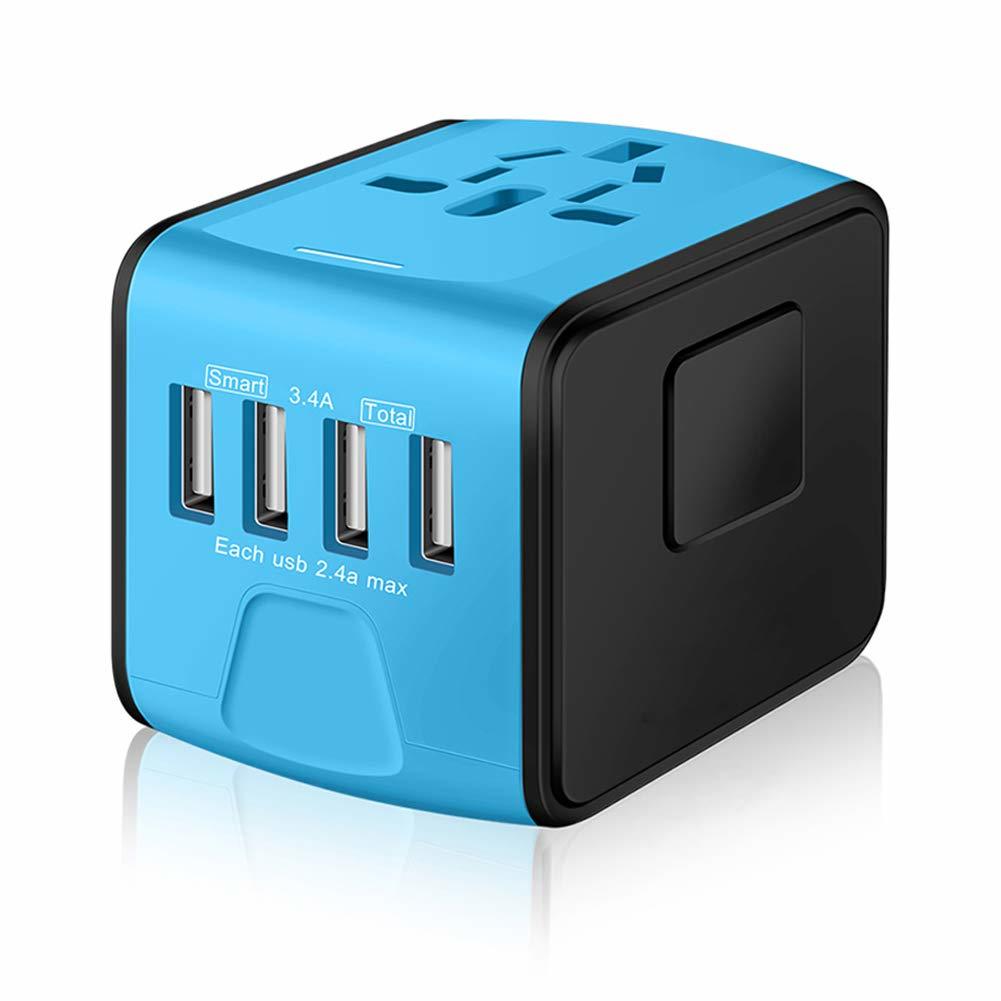 6. Universal Travel Adapter: This universal travel adapter is the best we've found. Covering over 150 countries, you'll always have the right plug charge your phone. You can also charge up to 5 devices simultaneously with the multiple USB ports.
Why you should visit Lisbon
As we mentioned before, Lisbon is a true gem under all the European cities you should visit. With so many things to do and see here, you'll never get bored. Therefore, make sure you plan your trip ahead and come up with a Lisbon itinerary, so you don't end up pointlessly wandering through the streets.
With many different accommodation options and numerous great hostels, Lisbon is definitely suited for every traveler, from rich business person to broke backpacker. Whether you're looking for just a weekend in Lisbon, a place to party or just explore a different culture, you'll always find the right place.
Make sure to check when it's best to visit Lisbon before you plan your visit. You don't want to end up freezing because you didn't pack properly!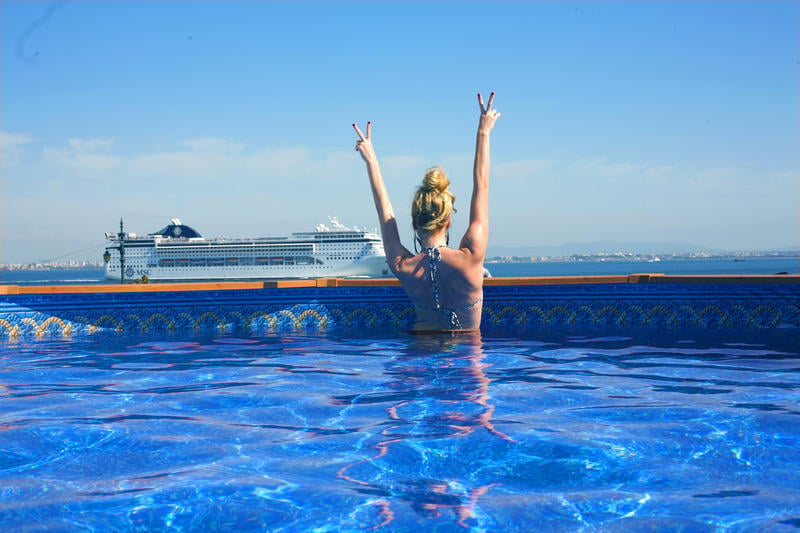 Travel Safety Tips for Lisbon
Don't forget to sort your travel insurance before heading to Lisbon! We've put together a roundup of the best travel insurance for backpackers – check it out here, or if you're low on time, get a quote from World Nomads, our favorite travel insurance provider.
Getting an estimate from World Nomads is simple – just click the button or image below, fill out the necessary info, and you're on your way!

Doubt that Portugal is, in fact, one of the safest countries in the world? Read our insider's safety guide for Portugal if you need any convincing.
More Epic Hostels in Portugal and Europe
Where you stay certainly matters. Hopefully, with the help of this article, you'll have a great idea of the different hostels Lisbon has to offer, so you can book with confidence!
Planning an epic trip all across Portugal or even Europe itself? Don't worry – we've got you covered!
For more cool hostel guides around Europe, check out:
Final Thoughts on the Best Hostels in Lisbon
With the help of this list, you should be able to find the best hostel in Lisbon that perfectly fits your needs. If you're still in doubt, going with the best-overall hostel is always a good idea. Sunset Destination Hostel offers you a great home, at an affordable price and you're in one of the hottest areas in Lisbon.
So what are you waiting for? Pack your bags, plan your trip ahead and off you go!
If you think we've missed anything or have any further thoughts, hit us up in the comments!
Yay for transparency! Some of the links in this post are affiliate links. This means that if you book your accommodation through the site, The Broke Backpacker will earn a small commission at no extra cost to you. Your support helps keep the site going.
---
Need More Inspiration?
Like this Post? PIN ME!!
Noodle addict. City dweller. Aaron Radcliffe is the marketing ninja for The Broke Backpacker, founder of Nomads Nation and Co-Founder of Ditch Your Desk.