A land of beaches, hills, islands, and mountains, Portugal is a great idea for anybody looking for a slice of nature. Add to that Portugal's former colonial riches, which are reflected in the stunning architecture of Lisbon and Porto, and there's even more reason to go.
But there's one problem: petty theft. It's a huge issue in Portugal, especially around tourist areas. The steady influx of visitors and a layer of unseen poverty collide here, and, for thieves, it's an opportunity.
To help you steer clear of these thieves and to prove that Portugal is safe, in fact, we've created this epic insider's safety guide.
We're going to be sharing a ton of ways to stay safe in Portugal. We'll talk about the safety of the roads in Portugal (and if you should be driving on them), how safe it is for female travellers, and just about everything else in between.
You may be wondering if Portugal is a good destination for you as a solo traveller, you may be wondering if Portugal is a good place to travel with children – you may just be wondering how safe Portuguese food is. Whatever your concerns are, we're here to help.
COVID-19 UPDATE
Whilst COVD 19 has not gone away, the world is opening up again to travellers. However Portugal remains subject to some restrictions. Visitors will be subject to screening on arrival, and may be subject to quarantine on arriving home.
For the most up-to-date safety information and what you should be doing to help, please consult the WHO and your local government.
15/05/2020
How Safe is Portugal? (Our take)
With a TON of history to learn about, some pretty stunning architecture to gawk at, and plentiful beaches, we're all for a trip to Portugal.
And actually? It's one of the safest countries in Europe as crime levels are very low.
But that's not to say that it doesn't come without the usual annoyances you find in tourist areas. Cities like Lisbon and other cities have higher crime rates than rural areas, for example. In urban areas, petty theft is a serious issue. Pickpocketing and bag snatching is common, unfortunately, which always sucks.
With the rising numbers of visitors, would-be thieves are having a field day with unsuspecting tourists. So basically, it pays to NOT be unsuspecting and you have to be vigilant in busy areas.
There are also seedy sides to Portugal's towns and cities, too. Drugs and prostitution aren't exactly rare in certain neighbourhoods.
Nature-wise, the hot weather can be ACTUALLY dangerous. Not only for stuff like sunstroke, but forest fires in the summer are a real threat.
All that being said, we'd say Portugal is absolutely safe on the whole.
Is Portugal Safe to Visit? (The facts.)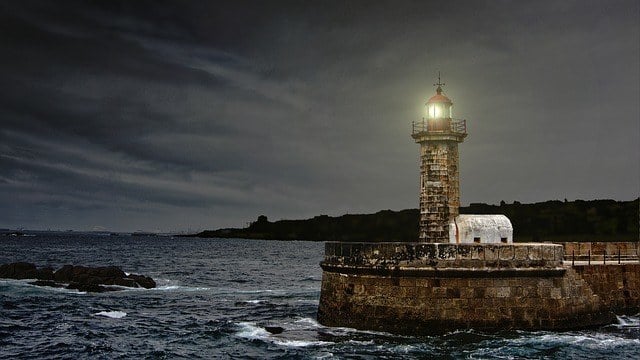 In the 2018's Global Peace Index, which measures the essential safety and stability of a country, Portugal ranked 4th. That's ahead of Denmark, Canada, Singapore, AND Japan.
So yes – Portugal is safe to visit.
Due to its relative security, Portugal is getting more and more popular as a tourist destination. In 2016 over 21 million people visited Portugal. That number rose to 26 million in 2017.
Thieves still DO operate and actively TARGET tourists. That means pickpocketing around tourist attractions as much as robbery of holiday homes. Sad but true: more tourists = more opportunity.
But generally? Your life should almost never be threatened.
Is it Safe to Visit Portugal Right Now?
At the moment there's nothing stopping you from visiting Portugal.
In fact, whilst much of Europe is currently tending to lean towards ring-wing politics, Portugal has gone the other way and has elected a socialist government. We think that says something about Portugal, at least.
In December 2018, the yellow vest protests found their way to Lisbon. These ended up in scuffles with the police. But usually protests in Portugal AREN'T violent.
Do you need Travel Insurance for your trip? Even if you're only going for a few days, that's more than enough time to get smote by wrathful angels. Have fun in Portugal, but take it from us, overseas medical care and canceled flights can be seriously expensive – insurance can, therefore, be a life-saver.
Travel mishaps can and do happen and it is well worth thinking about insurance before you leave home.
We have used World Nomads for years now and I have personally made several claims. Why not get a quote from them yourself?
Do be sure to read the terms and conditions to make sure that the policy covers your needs.
Getting an estimate from World Nomads is simple – just click the button or image below, fill out the necessary info, and you're on your way!

If you want to shop around a little, then read up on competing companies and what they can offer. There are lots of insurances out there, so don't feel limited.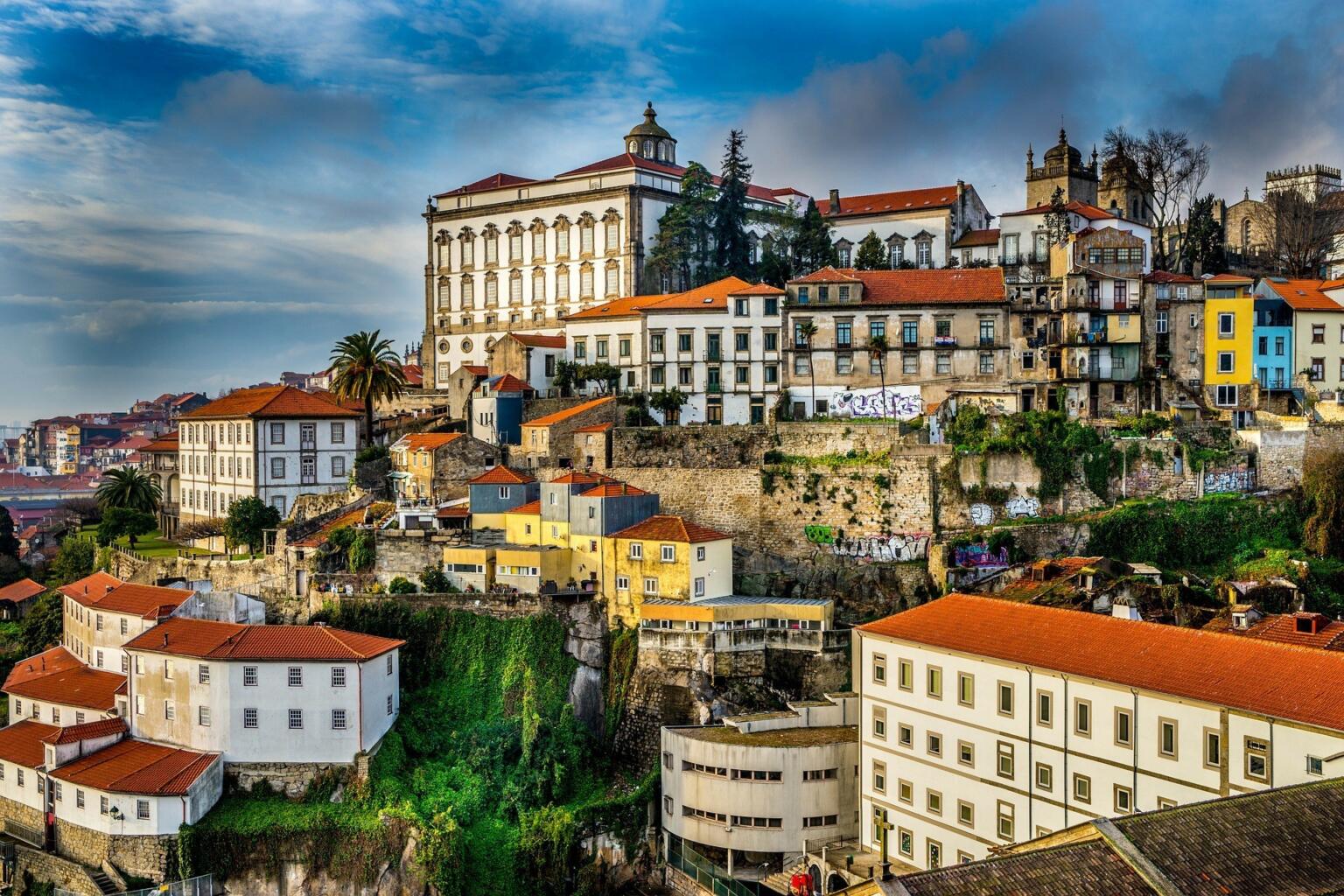 On the whole, Portugal may be one of Europe's safest countries, but that doesn't mean tourists are immune. In fact, you're MORE likely to be targeted as a tourist. Pickpocketing on public transport and even muggings do occur.
The solution? Don't look like a tourist. With that in mind, we've got together a whole load of tips for travelling safely in Portugal so you can keep your wallet intact.
Know about areas rife for crime – in Lisbon, the stations of Santa Apollonia, Rossio, and Oriente are known for their petty theft.
That goes for the trams in Lisbon too – particularly the Number 15, and Number 28 tram that goes to Sao Jorge. Watch out.
Be vigilant on ALL public transport – stay close to the people you're with and keep your belongings CLOSE to you. You can use a money belt, which the ultimate way of keeping cash on your person.
Keep bags on your lap while in restaurants – hanging on the back of a chair? Under the table? Nope. Keep them in sight at all times.
Keep a copy of your passport on you at all times – the police might want to see it and it's not worth having the REAL THING swiped by a thief.
SCAMS – Over-friendly people, distraction techniques; these are ALL elaborate ploys to get your cash. Read up and practise vigilance.
Don't buy drugs on street corners in Baixa, Lisbon – the drugs are fake, the dealers are dodgy. Ignore ALL offers.
Head to tourist police in Lisbon – if you have any trouble.
Leave valuables in a safe or secure place – hotel rooms and hire cars have been robbed. Don't leave stuff on show, basically.
Lock your doors and windows when you go out – we mean, this is a NORMAL thing to do in cities anyway.
The sea is DANGEROUS – people have lost their lives due to powerful waves and undercurrents at some beaches. Lifeguards can and will report you to the police if you disobey warning flags. This means a fine.
And don't leave your stuff unattended at the beach – this is just easy pickings.
Watch your surroundings at the ATM – again, fresh money is easy pickings.
Don't walk around looking flashy/like a tourist – dangling SLR, jewellery, designer clothes, looking lost, shouting around in English; this makes you LOOK like a target.
Be careful of the heat – it can get hot, hot, hot in Portugal. Keep hydrated, limit your time in the midday sun, cover up. Always pack a water bottle with you.
Don't push yourself when hiking – like we said: HOT. The levadas in Madeira are great but routes can go on for ages. If you don't have enough food and water on you, it can get horrid pretty quickly. Also they can precarious, so take it slow.
Forest fires can spread quickly – if they're happening, keep tuned in to the news. Things can turn ugly quickly.
Don't CAUSE a forest fire – dropping cigarette butts, having a BBQ in woodland areas, or even leaving glass bottles behind; these can cause literal devastation.
Know your limits with alcohol – party resorts are notorious in Portugal. Being completely trashed can end in tears. Or worse.
Basically, Portugal is safe. But it's in the cities, mainly Lisbon, where you will probably encounter some annoying, tricky and sometimes dangerous characters.
The main thing is to know which neighbourhoods NOT to walk around, to not look like you're an easy target, and to PAY ATTENTION to your surroundings. It's all about travelling smart – be savvy and you'll be alright!
Some General Safety Tips from the OG Broke Backpacker
Keeping your money safe in Portugal
Petty theft is pretty much a problem almost everywhere in the world and it can really put a dampener on your travels. Unfortunately, for some reason, Portugal, in particular, seems to have a real problem with petty theft.
You'll have to watch out for distraction techniques, pickpockets, and even muggers. Sometimes you're just in the wrong place at the wrong time. And in these cases, the best prevention is a money belt.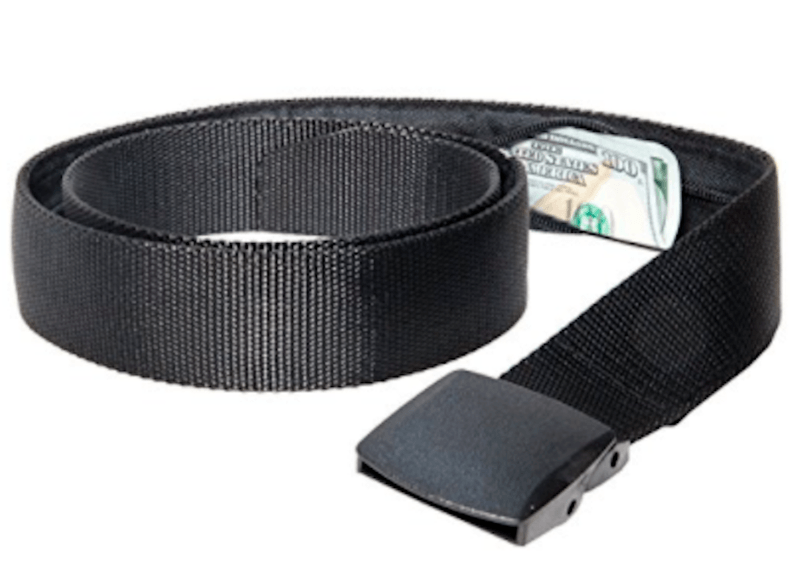 But not just ANY old money belt because we know, there are a whole load of different ones to choose from out there. What we definitely recommend is the Active Roots Security Belt.
It's a subtle piece of rugged travel equipment that's affordable to boot. It even LOOKS like a regular belt, so it doesn't get in the way.
You might be as vigilant as can be, but a pickpocket might still try to work you over. And if they do, with a money belt, you're going to be able to foil most of their attempts. If the worst happens and your room gets robbed, you'll always have a stash of cash in your money belt to fall back on. In a place like Portugal, a money belt is TRULY valuable.
If you need a little more room for your passport and other travel valuables, have a look at a full-size money belt that tucks under your clothes instead.
If neither of those options appeals to your refined fashion sense, don't compromise! Opt for an infinity scarf with a hidden zipper pocket.
We also ABSOLUTELY endorse solo travel because, honestly, it's awesome. Not only do you have basically nobody to answer to, but you also get to challenge yourself and reap the rewards. Any solo travel experience is definitely going to level you up as a person.
Portugal is somewhere you can travel around by yourself very safely. You'll still have to worry about thieves, maybe even more because you're an easier target.
So here are some tips to help you on your way. A lot of these will help stay sane and avoid the dreaded travelling blues as well.
Definitely, stay at a hostel. Hostels are usually located in decent, central areas and, depending on what you're looking for, have different atmospheres. Portuguese hostels often involve a family dinner – a big, social affair where you can meet and mingle with other travellers – or pub crawl nights. It's all great.
So you'll want to do your research when it comes to accommodation. You'll want somewhere social (probably) but reading reviews will ensure you're not at a mental party hostel when you don't WANT to be. Research will help you decide what hostel is going to be the most secure and safe, too.
Make some friends. This makes it more fun to go out at night. It's also cool to chat, share tips, and even get together a travel buddy or two for your onward journeying. Helps to beat the solo travel blues, too.
And make sure you keep in touch with people back home. It's NOT cool to ignore family because they might be genuinely concerned. Your friends are probably going to want to hear your cool/hilarious travel stories too.
Watch out for alcohol. It's cheap and often stronger than you're used to. Before you know it you could be on the floor; literally. It pays to keep your wits about you, especially if you're staying in a touristy area. Getting home at night drunk when you barely know the streets isn't fun or safe, either.
Find out about local meet-ups. There are loads of different events organised throughout Portugal that are specifically for, well, meeting people. You can meet locals and other travellers. It's fun if you like that sort of thing.
You could also take a tour. Most hostels offer walking tours which are a great way to not only get to know your local area but are also great for making friends with the other travellers you're bunking with.
Learn some Portuguese – it will help you get around, order food, chat to locals, generally just a lot better than communicating in English.
Because you're alone, you'll have no one to bounce ideas off or keep you in check if you're out getting drunk. So YOU'RE going to have to be the boss of yourself. Make sure you know when you're getting stupid and you should be fine. At the same time, don't lock yourself up inside.
Portugal is cool, fun, social, and ultimately, safe. Portugal is so safe that we suggest it as a great place to go solo backpacking for the first time! The hostels in Portugal are AMAZING, we're not going to lie, and staying in one will give you lots of opportunities to meet other people.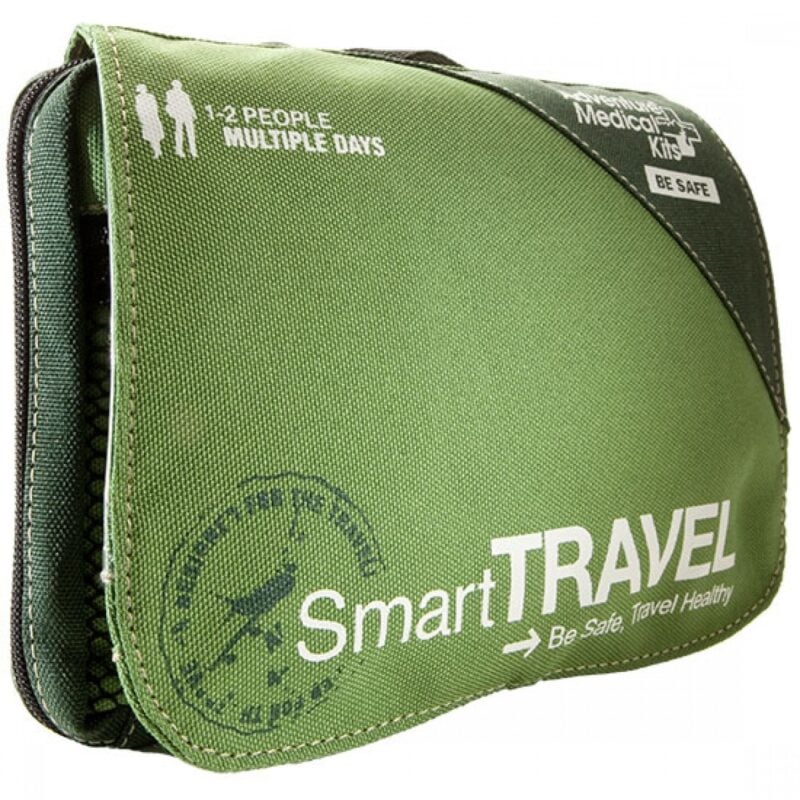 Be prepared for what life throws at you on the road. Pick up an AMK Travel Medical Kit before you head out on your next adventure.
View on REI
View on Amazon
Is Portugal safe for solo female travelers?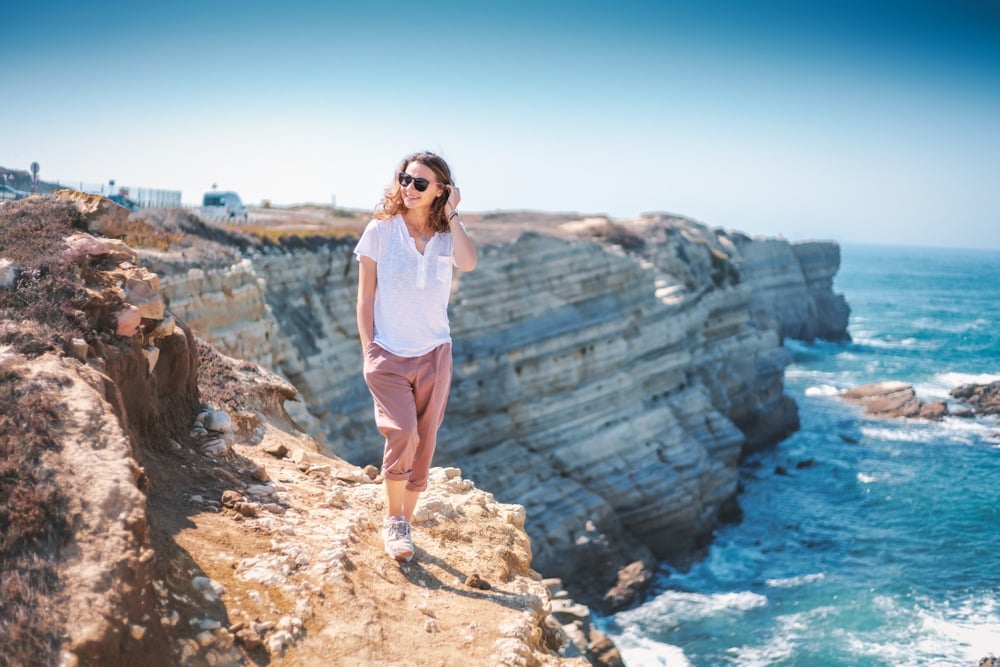 Portugal is a great place for solo female travelers. It feels safe, there's loads of different things to get up to, and many women travel in Portugal by themselves with hardly any hassle at all.
But women anywhere in the world sadly have to take more care in certain places than men. For example, Northern Portugal tends to be more machismo than the south.
Don't let that put you off. It doesn't mean Portugal is UNSAFE for solo female travellers; not at all. Women can still lap up the sunshine and drink all that wine without being troubled.
Here's how you can enjoy everything that Portugal offers – and more – as safely as possible.
We recommend that you buy your own drinks and not leave them unattended. Even if the person who offers SEEMS nice, drink spiking does happen. And if you do get spiked, it's literally horrible.
If you've made a group of mates and you head off for a night out, try not to get split up. Being alone in a city at night puts you at a MUCH higher risk of something dodgy happening. Not knowing where you are, and being drunk at the same time, can all just lead to a bad situation. Stick together.
Stay in a well-reviewed hostel. Honestly, the hostel scene in Portugal is awesome. There are some super cool places you can stay at. Just make sure you do your research and pick somewhere that comes with A LOT of high ratings and that suits you. No use staying somewhere with high scores that's super quiet if you want to meet other travellers.
Portugal is a friendly place and Portuguese people are warm and welcoming. If you feel like you're in trouble, or lost, or just need some help, asking a local is going to more than likely going to yield positive results.
You can pretty much wear what you like in Portugal. Just be respectful if you go to churches and cathedrals. And if you're heading to countryside areas, we recommend smart-casual. People will DEFINITELY look upon you more kindly if you're respectfully dressed. This isn't Glastonbury.
Rural areas are old-fashioned. As such, the role of women in the countryside may seem a bit archaic. For example, one tip is to greet a woman before you greet the man so you don't alienate anybody. Knowing about this and other customs, and following them, is going to help.
With that in mind, men may stare. Men may make comments. The best line of action is to simply ignore it.
And as with anywhere in the world, walking around alone at night isn't advised. In busier areas, it's probably fine, but in deserted streets, this is going to be risky.
Don't lose your money to a pickpocket! 
There are tons of ways to store valuables and goods while traveling but a travel scarf has to be the least obtrusive and the most classy.
The Active Roots Zipper Scarf is your run-of-the-mill infinity scarf but with a hidden pocket that's big and sturdy enough for a night's cash, your phone, a passport and (hell with it) some snacks too!
Generally, solo female travellers are going to be safe in Portugal. It's an amazingly fun place to travel around, but as long as you remember that in some parts it's not as liberal as you might like it to be and that weirdos exist everywhere in the world – you should be fine.
It's all about travelling smart. And that means keeping your wits about you and trusting your gut. If something feels like it's getting weird, get the heck out of there. And in Portugal, staying in accommodation that's secure and well reviewed will keep you safe, too.
So in conclusion, Portugal is safe for solo female travellers. Try to blend in, don't look too much like a tourist, and there's no end to the awesome times you'll have in this country.
Is Portugal safe to travel for families?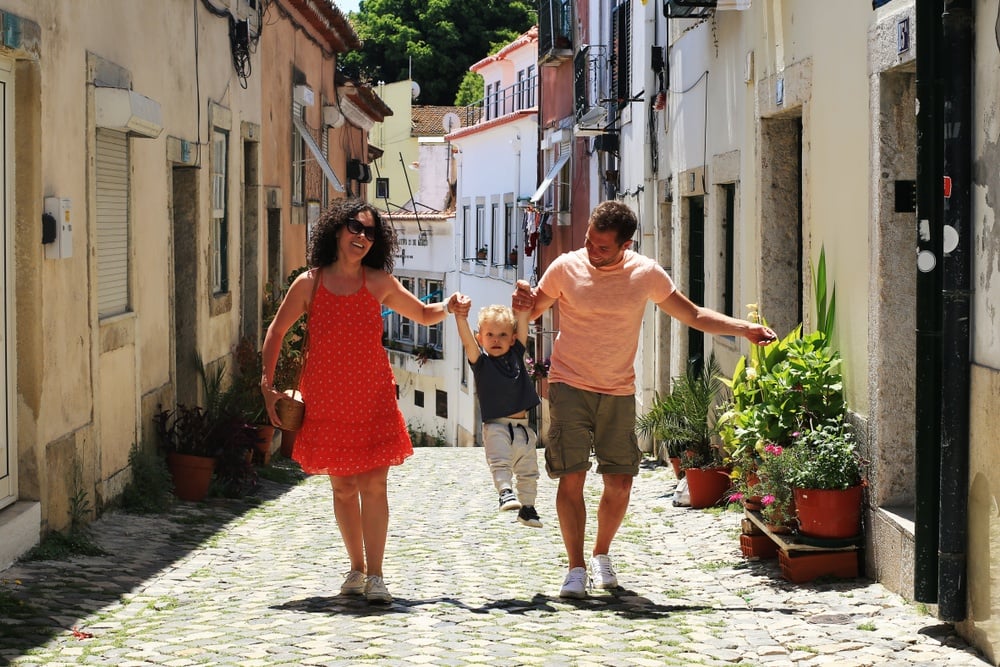 Are you kidding? Portugal is a PRIME SPOT for a family holiday.
It's well equipped for family fun. There are LOADS of resorts and guesthouses for you to choose from.
There are a lot of family-friendly beaches in Portugal too, most of which are in the Algarve. These often come with water parks, zoos, and adventurous activities for children of ALL ages. Heading out on a kayak is always fun.
Lisbon isn't bad for a short break with kids, either, as there are plenty of child-friendly museums, parks, and fun tram rides here.
But wherever you choose to go, your children will be welcomed. Portugal is a laid-back place with a BIG emphasis on family.
It's important to remember that Portugal can get super hot. Really hot. So hot that forest fires can easily start, as we said. So you'll have to make sure your little ones don't stay in the sun for too long. Keep covered up, slathered in sun cream, and have sun hats at the ready.
Staying hydrated is also a good way to NOT get sunstroke, too. Make sure everyone has a full water bottle and that they use them.
When it comes to the beaches, you're going to want to keep an eye on your little ones as rip-tides can be DANGEROUS. There will be lifeguards on the most touristed beaches, but there's still enough worry about big waves and currents that you should be watchful, too.
You'll want to keep your children protected against mosquitoes. Long sleeves and trousers when you head out in the evening and plenty of mosquito repellent should do it.
But overall, Portugal is safe for families. Super safe. Case closed.
Is it safe to drive in Portugal?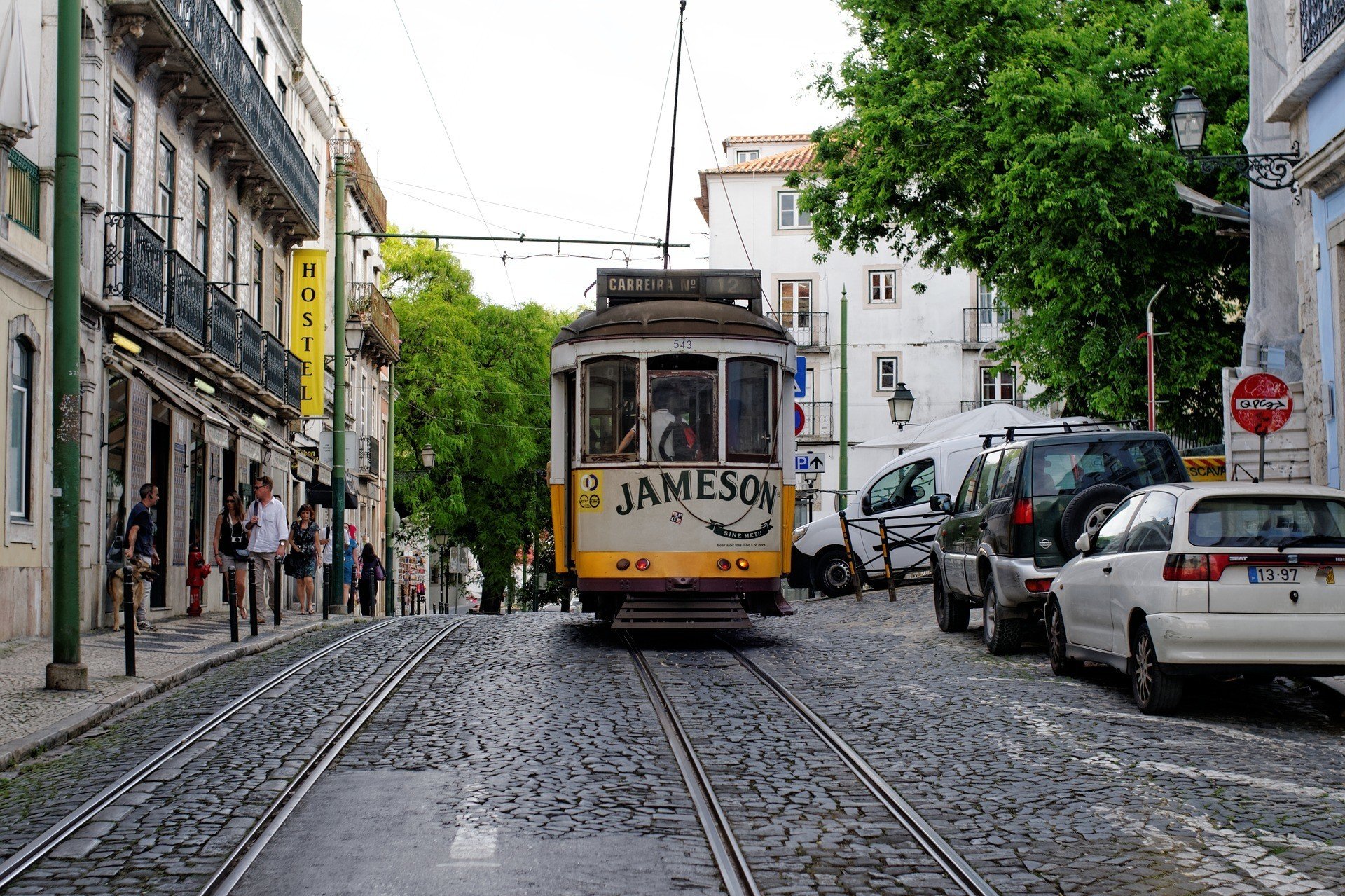 Diving in Portugal can be beautiful. There is an ever-growing network of roads, all of which are in pretty good condition. And some of which are super scenic.
On the other hand, driving in Portugal is not for first-timers, nor is it for the faint-hearted. It can be SUPER scary driving in Portugal and that's ONLY because of the other drivers whom you'll be sharing the road with, honestly.
Portugal has one of the highest road fatalities rates in Europe. That's almost double the rate of the UK, in comparison. This is mainly down to speeding but also reckless driving, which includes drink driving, is another major culprit.
So, driving in Portugal means that you'll have to watch out for other people's driving habits. For that reason, we don't exactly recommend Portugal as a good place to drive if you've never driven abroad or, for that matter, not a confident driver. You'll want to be experienced, we'd say.
Lisbon, for example, is basically NOT worth it. It can be super hectic and rush hour is just BUSY. And smaller towns have the tiniest roads and the most nightmarish one-way systems you can imagine.
That said, a lot of people DO drive themselves around Portugal. It's a great way to open up the country away from its public transport network.
So unless you're a driver with nerves of steel, we'd say it ain't worth it. Unless you're seriously fixated on a road-trip.
Is Uber safe in Portugal?
Yep, Uber is definitely safe in Portugal.
It operates in Lisbon, Porto, and around the Algarve.
And whilst it's not EXACTLY a big money saver compared to regular taxis, it DOES save you a whole lot of hassle. You'll have no problems getting one, language won't be a barrier, you can track your ride, know exactly how long it will take, there won't be ANY overcharging. It's great!
Are taxis safe in Portugal?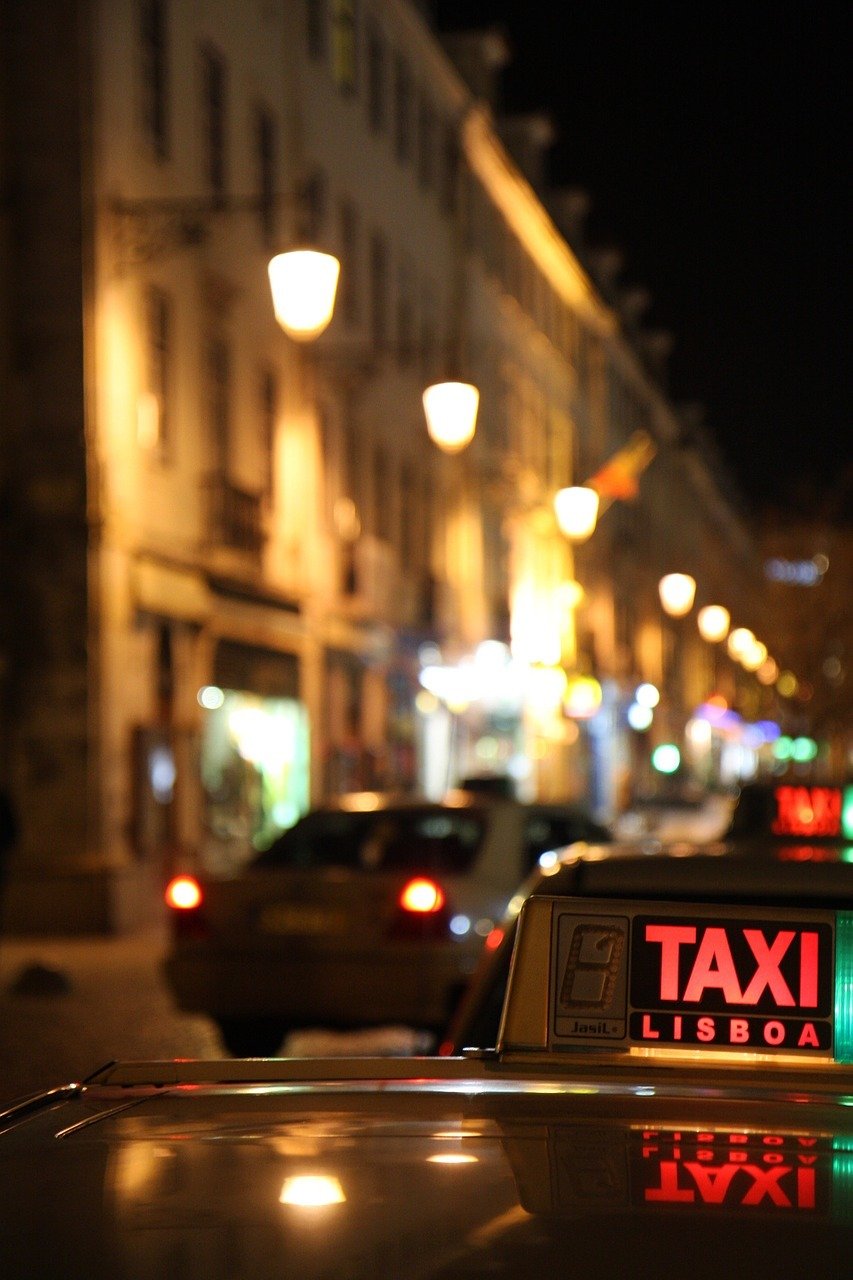 Taxis in Portugal are generally safe. They're a good option for travelling late at night or getting from the airport to wherever you're staying.
But, of course, they come with the usual string of annoyances that you can expect of taxis in almost ANY country.
In Lisbon, for example, you will have to make sure that the driver is USING THE METER and charging you a fair price.
In other areas, such as the Azores, they don't use a meter at all. You'll get charged a basic per kilometre fare. You should know the rough distance you're travelling so you're able to negotiate.
Most taxi drivers, especially older ones, won't speak much English at all, but they're pretty polite anyway. A little bit of Portuguese is going to help.
They do tend to drive pretty fast, however.
When it comes to getting a taxi, we'd recommend taxi ranks, which you can find in busy tourist areas around cities and towns. Other than that, the SAFEST way to get your hands on a taxi is to get your hotel/hostel/guesthouse to book a radio taxi on your behalf.
Taxis look like taxis. They'll have "taxi" written on them somewhere with a light on the roof. ALL taxis must be registered. They'll have a card with their photo which SHOULD be on display inside the car.
At the airport, pay for your taxi at a counter and get a receipt. This may be a little more expensive but will ensure that you get an HONEST driver and avoid any hassle with people who may try to rip you off.
Generally? Taxis are safe in Portugal. All good.
Is public transportation in Portugal safe?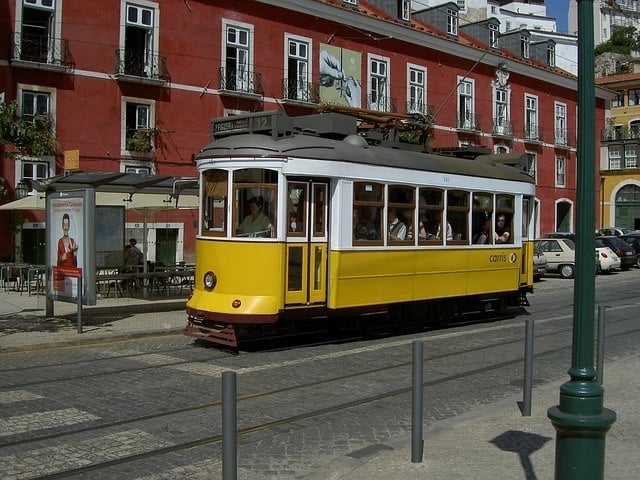 Public transport in Portugal is pretty extensive. There's a whole host of different options, all of which are affordable and will get around the cities and towns as well as between them, too.
In cities, especially Lisbon, you'll have to watch out for pickpockets on the trams that are most popular with tourists. We've already mentioned two notorious ones: the Number 15 and Number 28 trams.
There are also trams in Porto – these are a good way to travel around quickly uphill (and there are a lot of hills).
The most important thing is to exercise COMMON SENSE. Don't go around with valuables in your pockets, make sure you use a money belt, and just keep your belongings close to you when you're on crowded buses and trams.
The train network is good and there are some beautiful journeys to be had. As an added bonus, Portugal's trains are some of the least expensive in Europe. Be aware that some of them may be rickety old artifacts though so be sure to inquire which one you'll be taking. As always, keep your things close to you so you don't become a victim of petty crime.
Train stations are often quite far from destinations with the same name, meaning you'll find yourself a few kilometres from the city centre, usually. For example, in Abrantes, the train station is 6 kilometres from the city centre and there's NO public transport. So you'll have to plan ahead. Similarly, from Santarem's train station it's a 4-kilometre uphill hike to the city centre.
But in Lisbon and Porto the metro will sort you out from the main train stations.
Buses can be REALLY complicated, especially when you're in the smaller towns. Reading a bit of Portuguese, or simply knowing your destination, will help you get to where you need to go. In tourist areas, however, buses are relatively straightforward.
You can also get long distance buses between destinations. These are pretty efficient, pretty cheap, and you won't have to worry about getting a seat.
Flights operate between the mainland and Madeira and the Azores. These are frequent and as safe as any other flights.
So, yep, public transportation is safe in Portugal. Just remember that these are hotspots for petty theft.
Keep everything on you in transit!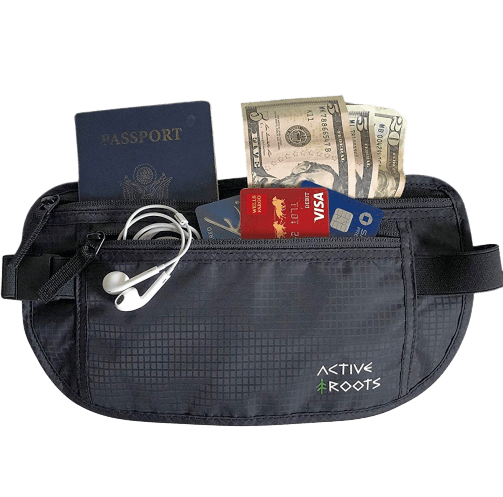 When moving from place to place, you shouldn't store travel documents in a bag, even if it's under your seat or overhead.
A full-sized money belt that stays tucked under your clothes keeps your documents and cash organized during your travels and assures nothing critical gets left behind or stolen.
Is the food in Portugal safe?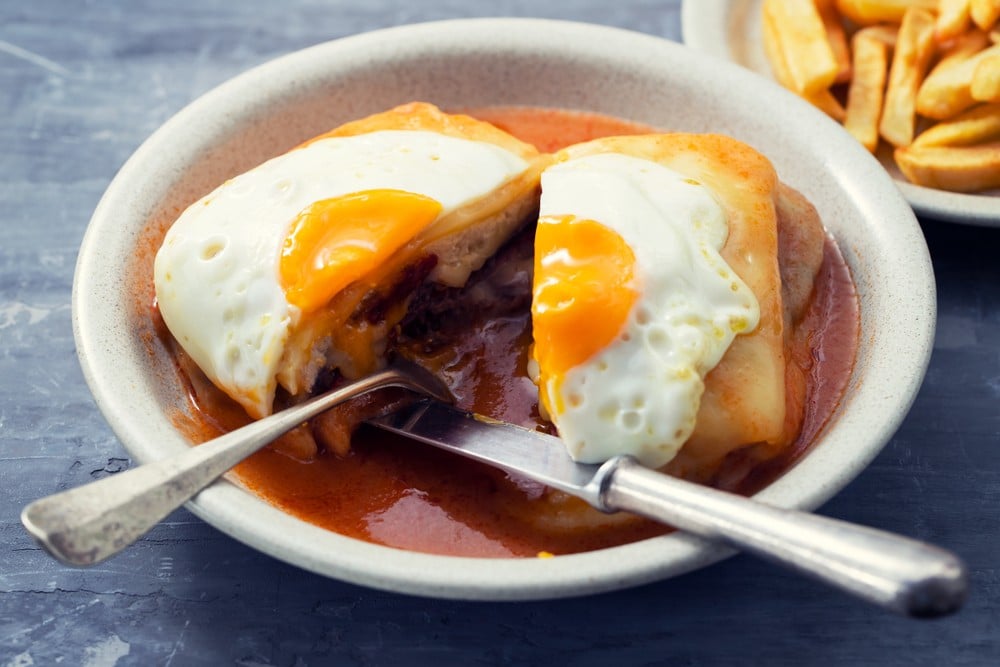 Portuguese food is NOT Nando's, but fans will be happy that frango assado (REAL piri piri chicken) DOES exist still and that Portuguese cuisine is generally tasty. So get your tongues and tummies ready for an array of Atlantic-Mediterranean delights.
You'll get stuck into suckling pig, posta mirandesa (tenderloin beef steak), and porco preto (finely ground cured ham sausages). Then there's the famous francesinha, Porto's special open sandwich of meats and cheeses served in a beer sauce.
All of that rich food can upset your stomach though. To ensure you have a fun timing eating, here are some tips to avoid any mishaps.
If you're staying in a hotel, be careful of the buffet. This is how MOST people get ill when they're on holiday in Portugal. That's simply because stuff is sitting around for too long, uncovered. And also bad hygiene standards. Avoid – and get out there to try some REAL Portuguese food.
Fancy something tasty for lunch? Head to somewhere busy with locals. Queues often mean that you're going to be safe in terms of hygiene standards. Plus it's going to be good, we tell you, GOOD.
It's also handy to note that places which look clean probably are, too. Head to clean-looking places if in doubt.
If you're the kind of person who usually gets a bad stomach when you're away, then maybe ease yourself in. The fiery chilli peppers, garlic, and a whole load of other spices can be a little bit different to what you're used to. So GO EASY ON IT. Portion sizes are pretty large, too.
Usually, ingredients are locally sourced and fresh and dishes are made without much fuss. So you shouldn't have to worry too much about stale products. There's a lot of pride in making food in Portugal.
Speaking of freshness, let's talk about fish and seafood. This sort of thing can make you SUPER ill if it isn't fresh. Make sure what you're eating is FRESH. Eat seafood at the sea, landfood when you're in the hills. (Is landfood a real word?)
There's a lot of offal on offer – animals guts, leftover parts, tripe, that sort of thing. So if you order something like a meat stew, you may get a few surprises floating around in it. Parts of animals you wouldn't USUALLY even dream of eating. A literal pig's ear, for instance. Just brace yourself if you're ordering something unknown. Or better yet: do some research on what you'd like to order.
And on that note, maybe learn some food-related Portuguese. You might be able to tailor-make your meals. At least you'll know what sort of ingredients you're going to be getting in your dinner.
WASH YOUR HANDS. You don't know where your grubby fingers have been, all over public transport and whatever. If you can't wash, sanitise.
So there you have it, a few words to the wise when it comes to avoiding any stomach trouble when you're gallivanting around Portugal on a gastronomic journey. If you're into spice and meat, there's not a lot you won't like. The existence of authentic piri piri is exciting.
But go easy on it. Unless you've got a strong stomach, we wouldn't recommend going IN on meat stews and exceptionally spicy dishes. Be kind to your tummy.
As always, use your head. It may seem counter-intuitive to a backpacker, but eat where other people (especially locals) are eating and you should be mostly fine!
Can you drink the water in Portugal?
YES – you can drink the water in Portugal! The water in Portugal is perfectly safe.
However, a lot of people choose to NOT drink the water because they don't like the taste. Many people prefer bottled water.
If you're picky about how your water tastes – or you just REALLY want to be on the safe side – go for bottled.
Otherwise, spare the Earth the extra waste and refill a good water bottle from the tap. You'll get our seal of approval if you do.
If you want to explore the backcountry, we'd suggest boiling and filtering your water or using The GRAYL GEOPRESS.
Want to save the world?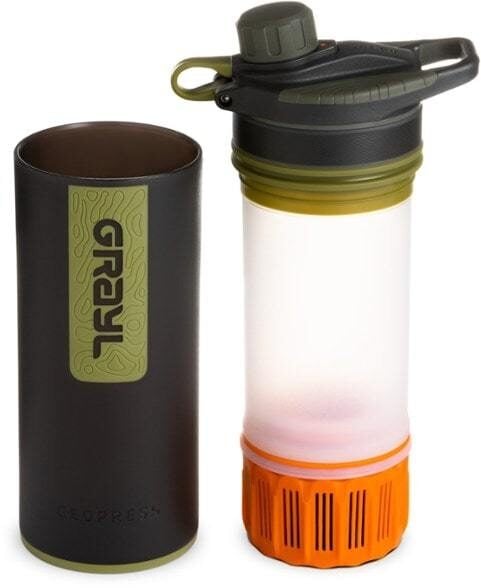 Single-use plastic bottles are a huge threat to Marine Life – Be a part of the solution and travel with a filter water bottle.
The GRAYL GEOPRESS water bottle is the ONLY all-in-one filter water bottle setup you'll need. Whether you need to purify the water from a hostel sink in Kathmandu or a stream trickle in the Andes, the Geopress has got you covered.
Read our full review of the GRAYL GEOPRESS!
Is Portugal safe to live?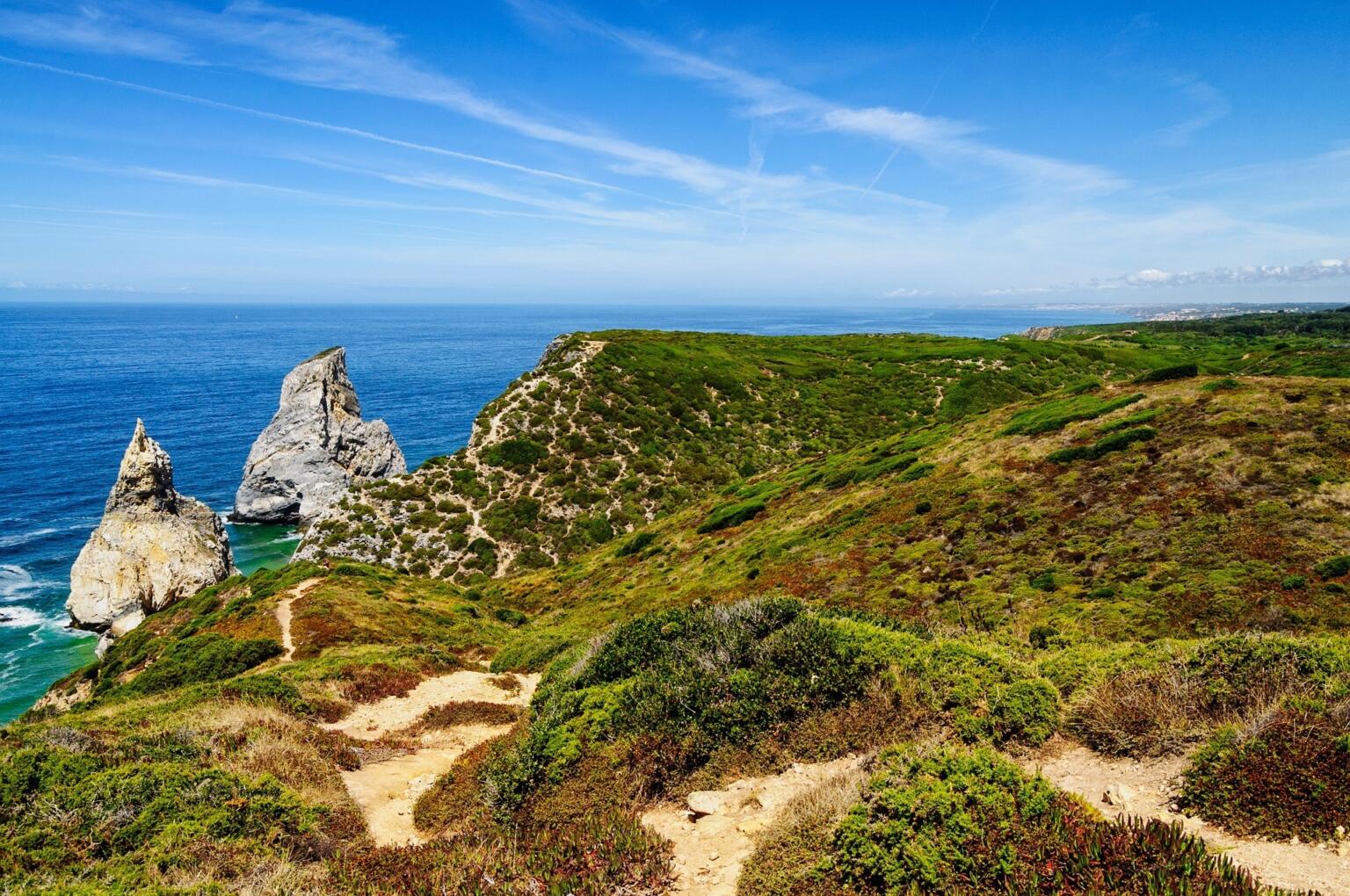 We've established already that Portugal is the fourth safest country in the world (according to the Global Peace Index). To put that into perspective, the UK is number 57 and the USA is 121…
So… yeah…Portugal is pretty safe to live in we think.
However, out of the ordinary things CAN and DO happen in Portugal.
Homes owned by foreigners have been known to be burgled. And owning your own home in a more remote rural area brings a higher risk of that happening.
There's more crime in Lisbon and Porto, thanks to a higher concentration of people, tourists, and poverty. That being said, there aren't really any no-go areas.
Portugal isn't crime free but it is still a VERY safe place to live. Violent crime is practically unheard of; the threat of terrorism is very low; people live long lives; women don't get as much hassle as they might do in other countries.
There's a lot of bureaucracy, so be prepared for that. And, remember, road safety isn't the best.
Do your research, get on some expat forums (there's are sizeable expat populations all over the country), and make some connections. Even though it's safe, being isolated isn't very fun.
How is healthcare in Portugal?
Healthcare is of a great standard in Portugal and it's pretty much readily available all over.
There are two types of healthcare: public and private.
The public healthcare is quite comprehensive, but it might not cover everything you might expect it to if you're USED to universal healthcare already. It's usually free of charge, but it's important to have health insurance.
In cities and towns, you'll find well-equipped hospitals and clinics, as well as pharmacies that will be able to diagnose and treat minor ailments (with medication).
In rural areas and, in particular, islands, healthcare is less readily available. This will mean you MIGHT have to travel further to get the treatment that you need.
Be awarer if you arrange an ambulance through your accommodation: they might be sending you to a private hospital. These cost more money than public offerings, obviously but are even better than the public ones.
But in a word, Portugal's healthcare is great!
NOTE: Portugal's emerrgency number 112.
Helpful Portugal travel phrases
Portuguese is a gorgeous language. It's a Romance language, and the written form looks a lot like Spanish. Make no mistake though: this isn't Spanish. The pronunciation is very, very different. Portuguese, in particular, European Portuguese, is very melodic. There are a lot of sounds that get blended together to form a string of communication. Some people comment that spoken Portuguese can resemble singing. Others believe that the language sounds like a crazy blend of French, Slavic, and Italian. Such is the uniqueness of Portuguese.
It should be noted that Portuguese varies greatly depending on the dialect. European, Brazilian, and Mozambican, for example, all sound totally different. If you learned a version of Portuguese that is not native to the lusophone country that you're currently in, there can be some confusion.
Thankfully, English is widely spoken in Portugal. Almost every young person speaks a fair amount of it. Even the middle-aged are pretty good at English. English will become rarer as you venture out into more remote and rural parts of the country though.
If you'd like to learn some Portuguese, it'd be beneficial. The locals will open up to you easier, and you may even get a sweet deal here and there. So, here are 10 phrases that will hopefully help you out.
Bom dia/boa tarde/boa noite
 – Good morning/afternoon/night
Tudo bem?
 – All good?
Meu nome é… – My name is…
Onde fica a praia? – Where is the beach?
(O)brigado/(O)brigada** – Thank you
Até logo – see you later
Que saudades! – It's been so long (since I've seen you)!
Você fala inglês? – Do you speak English?
Quanto custa? – How much?
Mais um! – Another!
**Obrigado changes depending on the gender of the speaker. Men say obrigado. Women say obrigada.
Final thoughts on the safety of Portugal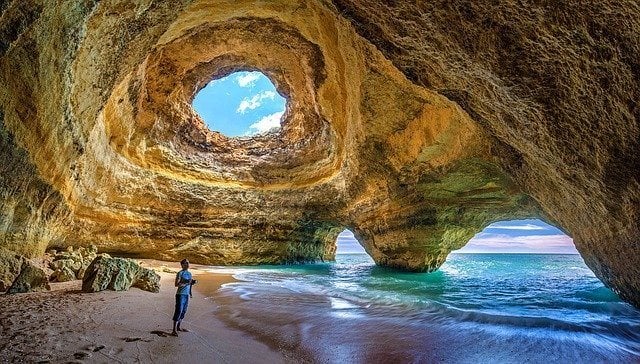 Portugal may well be the 4th safest country in the world and that definitely shows: it's a chilled out, beautiful and friendly place to travel with hardly ANY violent crime going on at all. You'll be in your element if what you're used to is an uncomplicated, unscary, and historically rich place to visit, that's for sure.
But just because it's SAFE, it doesn't mean that Portugal doesn't come without its issues. Petty theft is a genuine problem and you'll mainly find it in to be the case in cities, and in particularly touristed places. Tourists are generally pretty rich compared to the poorest people in Portugal, so any chance to get a quick bit of cash from an unsuspecting tourist is going to be desirable.
The easiest way to NOT become a victim of petty crime is to NOT look like a tourist! That means no big old SLRs, no obvious daypacks, walking shoes – all the sort of stuff that makes you stick out like a sore thumb in a city. Being smart with your belongings will help, too.
At the end of the day, Portugal IS very safe but isn't devoid of problems. KEEP yourself safe by keeping your wits about you. And have you thought about getting Travel Insurance for your trip? You can get a quote from World Nomads by clicking on the link below.
Disclaimer: Safety conditions change all over the world on a daily basis. We do our best to advise but this info may already be out of date. Do your own research. Enjoy your travels!
"Find out how YOU can support the site. We work hard to put out the best backpacker resources on the web, for free! It's all about helping out our tribe of awesome backpacker readers [that's you!]. Please visit the link to find out how you can help keep the site going 🙂
For the sake of transparency, some of the links in our content are affiliate links. This means that if you book your accommodation, buy a book or sort your insurance, we earn a small commission at no extra cost to you. I only link to stuff I've actually used and never endorse products or services that are not up to scratch. Thanks for your support.