I just spent a summer visiting the Azores Islands, a far-off autonomous archipelago in the Atlantic Ocean, where life is simple and the living is easy.
While technically part of Portugal, these islands are starkly different from continental Europe and relatively unknown within the travel community.
Scattered across the Atlantic, the Azores have been isolated from the world (and each other) for centuries, which has led to each island developing its own unique culture among its beautiful natural surroundings.
So where are the Azores? And how did I hear about them?
The nine islands are divided into three separate groups. The eastern islands are Sao Miguel and Santa Maria; the central group consists of Terceira, Graciosa, Sao Jorge, Pico, and Faial; and the western islands of Flores and Corvo are the most remote of the islands.
My father was born on Terceira, the third largest island of the Azores, and my grandparents, and their grandparents, and so forth, were born on Terceira too.
This past summer was my first time visiting the Azores, and an opportunity to rediscover my heritage and roots, reconnect with nature among the Azores' fascinating volcanic landscapes and learn more about this relatively uncharted territory.
On my summer-long visit to the Azores, I learned to appreciate the slow-paced island life that can make it feel like you are stepping back in time.
Here's the deal: there is hardly any (useful) information on traveling the Azores on the internet. That's why I put together the most complete and comprehensive Azores travel guide.
Below I will break down each island's highlights and some of the top places to visit on each island. Later in this guide, I will cover how to travel around, what to eat, where to stay, and more.
There is a section on the cost of visiting the Azores, where I'll dish the deets on how to travel the Azores affordably.
It is becoming more affordable to visit the Azores because of budget airline routes, but the Azores do not have an infrastructure for backpackers like the rest of Western Europe.
Keep reading this Azores travel guide to learn everything you need to know about the 9 islands, including 4 epic Azores travel itineraries, travel tips, budget costs, information on hiking the Azores, top things to do, and so much more!
Let's dive right in…
As I mentioned above, the Azores archipelago is made up of 9 distinct islands in the middle of the Atlantic Ocean. They are separated into three groups, the western, middle, and eastern.
I'll be covering five of the islands in this Azores backpacking guide in detail – Sao Miguel, Terceira, Flores, Corvo, and Sao Jorge – I haven't been to Santa Maria, Graciosa, or Faial, so those will only be covered briefly.
Sao Miguel is the biggest island and home of the capital of the Azores. Most travelers visit Sao Miguel for its diversity and city life, though "city life" is relative here.
Terceira is less known for its nature and more for its unique culture. That said, there are also a lot of beautiful places here to visit on Terceira too!
Pico, the second biggest island, is known for its towering volcano, which you can summit. Flores is one of the most remote Azores islands and the nature lover's paradise.
I will also cover the other islands, Faial, Corvo, Santa Maria, Sao Jorge, and Graciosa, just not in as much detail.
Each island offers up its own unique attractions, culture, and traditions, though you can be sure to hike, swim in the ocean, and eat fresh seafood on any given one.
Head to Sao Miguel and explore the streets of Ponta Delgada and dip in one of the many, many thermal hot springs.
Hike amongst the beautiful jagged hills and waterfalls of Flores. Indulge in Terceira's festas after taking a dip in one of the ocean swimming pools. Hike around the fajas of Sao Jorge, and eat their famous cheese washed down with coffee from Europe's only coffee plantation.
Take a stroll on the edge of a caldera on Corvo. Hike to the Azores tallest point, a dormant volcano on the island of Pico.
Go deep sea fishing, diving, and eat the fresh catch of the day for dinner. Dive with manta rays off the coast of Santa Maria. Go whale watching and swim with wild dolphins on an island in the Atlantic.
No matter what you like to do, a visit to the Azores has something exquisite for every traveler. Whether you love trekking, swimming, diving, or eating and drinking to your heart's content, there is something on offer for every traveler in the Azores.
Now, let's take a look at some of the best Azores itineraries and backpacking routes that I have assembled below…
If you look up "Azores itinerary," most searches will populate with pretty much only Sao Miguel itineraries. This is because Sao Miguel, the largest Azores island, is easily the most visited one.
As diverse and incredible as Sao Miguel is, I think it is only the tip of the iceberg when it comes to visiting the Azores.
My first itinerary is a Sao Miguel itinerary, but I have also included a few more Azores itineraries that cover other islands too, depending on your interests and timeframe.
5 Day Azores Itinerary #1: Taste of the Azores
5 Days in the Azores: Sao Miguel
If you only have less than a week to visit the Azores, then I would actually recommend sticking to Sao Miguel island because there is a ton to do here that will keep you busy for a week; moreover, it is home to the most accessible airport, meaning you'll spend less time in transit and more time enjoying your Azores backpacking trip.
With 5 days in Sao Miguel, you can visit a few thermal hot springs, take a tour of the pineapple and tea plantations – I'll explain later! – go whale watching, chill on the beach, scuba dive, hike around volcanic craters, and indulge in the Azores food scene!
That's a lot to do, I know. I'll discuss Sao Miguel in more detail in the island breakdown section below, but in terms of planning a Sao Miguel itinerary, keep in mind it takes about 4 hours to drive around the island without stopping.
I recommend spending 2 nights in Ponta Delgada. From Ponta Delgada, you can take day trips to Sete Ciudades to hike around the lake, visit the beach town Mosteiros on the west side where you can bathe in a hot spring in the ocean, and visit Vila Franca.
Most whale watching tours leave from Ponta Delgada or Vila Franca.
I recommend passing through Vila Franca on your third day in Sao Miguel. Plan a half-day boat trip to the Islet Franca do Campo. Afterward, you can check into your accommodation on the east side of Sao Miguel and explore the towns and nature around there.
Furnas deserves at least a day of exploration, as there are many awesome hot springs to be soaked in. Ribeira Grande has some nice beaches and is close to other attractions, like two tea plantations – Europe's only two – and Lagoa Fogo, pinned in the middle of the map above.
This will easily keep you busy for 5 days, though if you have a week, you can do even more. You can check out a longer Sao Miguel itinerary here.
7-Day Azores Itinerary: San Miguel + 1 Azores Island
With a few extra days, you can add an island to your Azores trip. I suggest either Pico or Terceira. For the sake of simplicity, I'll describe what a Sao Miguel + Terceira itinerary would look like below. I'll discuss Pico in the third itinerary.
7 days in the Azores: Visit 2 Islands
With a week to visit the Azores, I suggest exploring 2 islands. As mentioned above, São Miguel is the largest island, but adding another island, will give you a different perspective of the Azores.
The next two biggest islands are Pico and Terceira and it will be easiest to book an open-jaw flight itinerary between 2-3 of these islands.
Terceira, shown in the map above, is incredibly unique for its summer-long cultural festivals and bull runs, which I'll discuss later.
If you are interested in learning more about Azorean culture, I highly recommend visiting Terceira, which holds a special place in my heart.
The main tourist town of Angra do Heroismo is utterly charming and unsurprisingly a UNESCO Heritage Site as well as the island's university town.
I recommend spending three days on Terceira, but more if you can.
Spend a night or two in Angra do Heroismo, and another night on the north side of the island. Praia de Victoria will be the next biggest "city" with more options for accommodation and restaurants.
Having lived on Terceira for over a month, I visited every swimming hole on the island, and each has its own vibe. The island doesn't have natural sand, so while there are a couple man-made beaches, each coastal village in Terceira has instead built a swimming hole to easily access the ocean from the rocky shores.
I'll cover what to do on Terceira in the "places to visit in the Azores" section below.
10-Day Azores Itinerary #3: Hiking the Azores
10 Days on the Azores: Pico, Sao Jorge, Flores, and Corvo
If you enjoy hiking and connecting with nature then this is the Azores itinerary for you.
Pico will be the easiest island to fly into from mainland Europe. This island is most famous for Mount Pico, a 2,351-meter dormant volcano, which you can summit to catch 360-degree views of the Atlantic and nearby islands, Faial and Sao Jorge.
While it's not by any means amongst the tallest in the world, Mount Pico can be deceptively difficult to conquer, so it is best to be in moderate shape at a minimum.
After spending 3-4 days on Pico – hiking, whale watching, and sipping on wine – catch an internal flight to the westernmost island chain.
You can ferry to the island of Sao Jorge too. I haven't been to this island, but I have heard the scenery and hiking is incredible.
With more time, allot at least 5 days to Flores if you are an avid hiker and naturalist, trust me! Otherwise, about 4 days (with a side trip to Corvo Island) will be enough to get a feel of the island.
Debatedly the most beautiful, or at least the most dramatic island, Flores is also one of my favorite islands in the Azores.
On Flores, you can hike around the entire island, or conquer it in sections. The hiking here is no walk in the park, as the elevation changes frequently due to the jagged mountains.
Spend your time hiking, whale watching, swimming, and exploring the island; make sure to set aside at least one day to visit the nearby and most western island, Corvo. Here you can walk on the edge of the Caldera.
Keep in mind, you will have to fly back to Pico (or even Terceira or Sao Miguel) for an international flight home.
14-Day Azores Itinerary: #4: Azores Highlights
2 weeks on the Azores: The Best of the Islands
With at least 2 weeks to visit the Azores, you can potentially visit 5 islands and really get a taste for everything the Azores have to offer.
I suggest starting with Sao Miguel and following my advice in itinerary #1. After 4-5 days on Sao Miguel, it's time to explore Terceira and then the three triangle islands: Faial, Pico, and Sao Jorge.
Two weeks is the minimum to visit all 5 of these islands, with a few more days you will be able to relax more often. Luckily, travel times between islands are quite short (unless your flight is delayed, which is quite common).
Terceira is best known for its festivities. If you are visiting the Azores in the summer, try to be in Terceira for the festivals at Angra do Heroismo in June, or Praia de Victoria in August. All of the smaller towns host bull runs and a festival at one point or another, so there is always something going on.
Sao Jorge is pretty underrated as well. It's known for its majestic cliffs and some of the most beautiful landscapes on the Azores. This island is also the best cheese producer – though all islands produce good cheese. I would plan for 3 days in Sao Jorge.
While I haven't been to Faial, I have heard that the volcanic landscape is nice and the villages are quaint and charming. It's a rather small island, and you only need 2 days to properly explore it.
If you are pressed for time, this would be the first island I would remove from this Azores itinerary. Another option is to head to Flores instead.
Finally, end your trip with 3-4 days on Pico, ending your vacation with an epic hike to the top of Mount Pico and some wine tasting to top off your vacation.
You can also end your trip in Terceira, and visit Pico, Faial, and Sao Jorge beforehand. Check flight and ferry schedules to customize this itinerary!
The Azores are a truly unique place to visit for backpackers and families alike. By visiting the Azores, you can experience their unprecedented culture and incredibly lush nature, all a stone's throw away from the beautiful ocean.
That said, you don't travel to the Azores to lay on sandy beaches. (There are sandy beaches, but they are man-made. The only island with natural sand is Santa Maria, the most eastern island in the archipelago.)
On the other hand, the Azores have pretty epic swimming holes that allow you to dip in the sea and bask in the sun, plenty of rolling hills to hike and volcanic activity to explore. What is more, each island is known as a certain color.
Sao Miguel, for example, is the Green Island because of its vast meadows and green hills; Terceira is the Lilac Island, due to its prolific wisteria and lilac vegetation found around the island.
Santa Maria is the Yellow Island due to the predominance shrub-like lower land and coastal vegetation in the summer. Graciosa is the White Island because of its white colored rocks; São Jorge is the Brown Island due to the brown rocks at Rosais Islet and Point.
Pico is the Grey Island for its extensive volcanic rock coast and lack of vegetation up high on Mount Pico's mountain slopes. Faial is the Blue Island for its blue hydrangeas that line roads and pastures, and also because of its sea-related activities.
Flores is the Pink Island for its lush azaleas and pink sunsets among Rocha dos Bordões. And finally, Corvo is the Black Island, due to its black stone walls and the fact that it is viewed as a minute "black point" on the horizon from Flores.
Each island offers up something distinctly different for travelers and backpackers, and I'm not just talking about the colors.
Let us take a look at the islands that make visiting the Azores so awesome…
The largest and most populated island is also the most visited of the islands. That's not to say Sao Miguel is the best Azores Island, but alongside Terceira, it is definitely is the most convenient to travel to as far as international flights and infrastructure go.
Sao Miguel is known for its rolling green hills, volcanic crater lakes, and hot springs. While most of the island is quite rural, Ponta Delgada, the capital of the Azores, is the largest city among the archipelago.
This is where you will have access to most accommodation and food. If you do not rent a car when visiting Sao Miguel, I highly recommend staying here.
In terms of nature, the highlights are definitely Sete Cidades, Fogo Lake, and the hot springs around Furnas. I definitely recommend hiking or biking around Sete Cidades and hiking to Vista do Rei.
You can get some great inspiration for hiking and lakes to visit here.
Backpacking Ponta Delgada
As the largest city in the isles, Ponta Delgada is where most of the young, Azorean people and university students live. The city itself reminded me of the coastal town Malaga in Spain. This is where you'll find some of the best restaurants and nightlife on the Azores, but it's still not a big city.
If you want conveniences – or do not plan on renting a car, which you should – then I recommend staying in Ponta Delgada on Sao Miguel.
Otherwise, use Ponta Delgada as a base to visit some of the highlights in the west, like Sete Cidades, Mosteiros, and even Vila Franca from where you can plan a boat trip to the Islet Franca do Campo.
Backpacking Furnas
This quaint and charming cobblestoned town is located in the valley of a volcano. This is one of my favorite places to stay in Sao Miguel, due to its proximity to the best natural hotsprings in the Azores. I would spend at least one night in Furnas to fully explore and soak in the hotsprings.
Be sure to visit the Furnas (pictured below) where locals bake a stew, colzido das Furnas, in the hot ground for five hours!
Terra Nostra Hotel is home to one of the hotsprings, a large single pool; you can pay for day use if you are not staying here. Another worthwhile hotspring is Poça da Dona Beija, which hosts 5 natural thermal baths.
Backpacking Ribeira Grande
The next biggest city on Sao Miguel Island is Ribeira Grande on the north coast. Here you'll find both surf and tea plantations – no we're not in Sri Lanka.
This town is more quaint than Ponta Delgada, and also close to some of the best beaches on Sao Miguel, including Santa Barabra Beach.
Plan to visit one of the two organic tea plantations – Tea Porto Formoso or Gorreana – to taste the local goods! These are the only tea plantations in all of Europe.
From Ribeira Grande, you also have access to visit the stunning Lagoa do Fogo – a blue and green lake in a crater – by 30 minute hike. You can picnic on its empty white, sandy beaches wink at me from the shore.
I found that Terceira is home to some of the most friendly and festive people in the Azores. While not necessarily known for its nature – like Flores or Sao Miguel is – you should definitely visit Terceira for the culture and festivities.
In the summertime, each village and city hosts a local festa (festival) with food, music, and friends.
Most villages host a community potluck with all the local delicacies: beef, pork, lapas and seafood, cheese, wines, and liquors. Other events include parades, theatrical performances, folktales and songs, and fireworks that go late into the night. Each town also hosts a local bull run, usually spanning over 2-3 days.
The Terceira bull runs are unlike any other bullfight event in the world. For one, the bulls are not killed nor injured, but anyone can participate and run from the bulls, usually with a little liquid courage, and sometimes it is actually the people that get seriously injured or even killed.
I was hesitant to attend the bull runs for ethical reasons, but they're a part of Terceira's unique culture and as I later learned, the bulls are treated more like sports stars than circus animals. Every bull has its statistics and reputation that it builds over the years, and many locals follow their favorite bulls around the island like a sports team. I wrote about the Terceira bull runs here.
The biggest festas take place in the biggest cities: Angra do Heroismo in June and Praia do Victoria in August.
The closest city to the Terceira airport is Praia do Victoria, which is a quaint town with a large sandy beach. You'll find locals lounging in the sand and playing volleyball and football on any given summer day.
If you drive clockwise around the island, you'll pass through many villages and towns with their own swimming holes, and about 15 minutes from Praia you can drive to the top of Serra do Cuma for the best view of Terceira.
Furnas do Enxofre and Algar do Carvão are probably the most impressive sites on Terceira, as you get to an explore an extinct volcano!
Algar do Carvão is one of the only places in the world where you can actually go inside a volcano. They built a staircase inside the lava tube, so you can enter without having to canyoneer.
Furnas do Enxofre is a geothermal site about 15 minutes from Algar. You can buy a ticket for one or both of entrances at the main visitors center.
When I talked to locals, they mentioned there are dozens of other volcanic caves on the island that can be visited with a guide. If you are feeling adventurous, seek out a canyoneering guide and go on an adventure!
Eventually, you'll reach the main and largest city on Terceira, Angra do Heroismo, which is a UNESCO World Cultural Site. This is the best place to grab food and do some shopping on Terceira too.
From Angra, you can continue driving clockwise around the island or cut inland into the hills. The best hikes on the island are Rocha da Chambre and the trails on the northern side. I am personally a fan of hiking around Agua de Alva as you get to check out the cliffs.
Cuatro Ribeiras on the north side of the island is home to one of my favorite swimming holes on the island, so don't miss it! There is also a café to grab a bite to eat.
Biscuoitos is nearby and has the biggest and most facilitated swimming holes, and therefore is the most touristic one. It's actually really cool but incredibly crowded in the summertime.
Backpacking Angra Do Heroismo
As a UNESCO World Cultural Site, this city is one of the top places to visit in Terceira, and the main reason most tourists visit the island.
I think Angra is the best city to base yourself as a tourist too because it has the most options for accommodation, plenty of restaurants and an actual bar scene (albeit it is small).
The best things to do in Angra is to simply walk around and admire the colorful houses and cathedrals. You'll find plenty of restaurants and little shops around the main town. I highly recommend Tasca dos Tios for the fresh catch of the day!
There is a local beach that is actually one of my favorite places to lounge in Terceira. While man-made, the sand is soft and the bay area is easy to swim in. You are also nearby a large green hill called Monte Brazil; you can walk or drive up to the top for sunrise.
As the biggest city in Terceira, you can also arrange your ferry tickets, whale watching tours, and more in Angra.
Backpacking Praia da Vitoria
Terceira is a decently sized island, so if you plan to visit for a few days, it'll make sense to split up your time between the south and north sides of the island.
Moreover, this is the city closest to the airport and the biggest after Angra; therefore, this is one of the best places to stay in Terceira to explore some of the central and northern parts of the island.
By day, the town is pretty quiet, and there isn't much going on, but by evening many of the seaside restaurants/bars come alive. Because Praia is so close to the American Naval Base, you also get quite a few stationed Americans hanging out around here. It's nothing wild, but it is a fun area to have a couple drinks after a day of swimming and sightseeing.
Praia also has a dive shop, kayak rentals, and tour agencies, so you can arrange activities from here.
If you are visiting the Azores in August, book your accommodation for Praia months in advance. As I mentioned above, Praia hosts a huge 10-14 day festival in August.
Kind of like a fair, everyone gets together under the big tarped tents to eat, drink, and be merry. Some of Terceira's biggest events and bull runs take place at this festival, so don't miss it if you're around.
Pico is the second largest island of the Azores, and most tourists visit Pico specifically to hike to the top of Mount Pico. At about 2350 m altitude, it's the highest point of Portugal.
If you are visiting some of the greener islands, like Sao Miguel or Flores, Pico will provide a completely different, albeit less touristy experience, as much of the island is dominated by Mount Pico on its western half.
If you can't tell already, the best thing to do in Pico is to climb Mount Pico itself, though do not underestimate this hike as it takes around 7-8 hours to complete, and you are basically starting from sea level! The terrain can be quite steep, so pack trekking poles!
You'll need a full day to hike to the top of Mount Pico, and it's nice to have a bit of wiggle room in case the weather acts up, so I recommend spending around 3-4 days in Pico.
Besides its volcano, Pico is also known for its wineries and vineyards, and whale watching.
Next to the airport, you'll find the Pico unique vineyards, known as currais, now a World Heritage Site. From my understanding, Pico's vines grow on the black basalt rock, and the volcanic soil and nearby ocean air give the wine a distinctive taste only found in Pico.
Definitely make sure to visit the vineyards and learn about the Azores' wine culture at the Wine Museum as well as explore the nearby villages and walking trails through the pastures and forests.
I went whale watching on Sao Miguel, but I've heard Pico is even better. Pico used to be the base of much of the Azores' gruesome whale hunting industry, but thankfully, this industry has been forbidden and Pico and the Azores have turned a new leaf. Today, you can visit a museum dedicated to whalers and go on an eco-responsible whale watching tour.
Another awesome thing to do on Pico is visit Gruta das Torres, the largest lave tube in Portugal! Similar to the cave tours on Terceira, you descend into a large cavern/lava tube, though this one doesn't allow artificial lights inside, and is really dark so you'll need flashlights.
You can also hire a guide and descend into some of the smaller caves around the island for a more Indiana Jones-like experience.
The best places to stay in Pico are either Madalena or São Roque, though you can stay in a remote town for a more traditional or romantic stay.
Madalena is conveniently located near the vineyards, where you can also organize tours and tastings!
One of the smallest islands in the Azores, São Jorge is actually one of the least visited ones too, yet supposedly incredibly diverse.
Famous for its cliffs, green scenery, lakes, and coastline split up by small plains formed by lava flows called fajãs, Sao Jorge has a lot going for it.
I haven't been to Sao Jorge, but I know its fajes (also found on Flores) are plateaus with large elevation drops down to the shore, many of which are home to tiny towns, which is what makes this island so beautiful and dramatic.
Apart from the natural scenery, Sao Jorge is also famous for its raw (unpasteurized) cheese – Queijo de São Jorge. You can find if on other islands, so make sure you try it!
Sao Jorge also has the only coffee plantation in Europe. Family owned and operated it's quite small, and I was unable to track down the beans on the other islands, which I found quite odd.
I've also read Sao Jorge has some of the best surfing in the Azores.
As for where to stay, Sao Jorge doesn't have as many facilities as the other islands, but the main port town of Velas is going to have the most options for accommodation and restaurants.
Flores is easily one of my favorite island in the Azores, if not my ultimate favorite. The entire island is a UNESCO Biosphere Reserve, with dozens of waterfalls, lakes, mountains, and rock formations.
If you are an adventurous and outdoorsy traveler, then make sure to visit Flores.
Hiking around Flores is definitely one of the main highlights. You can find all the trail information at this site; there are signs, maps, and well-marked trails on the island as well.
I highly recommend hiking to/from Faja Grande to Lajedo on the northern side of Flores, as this part of the island is only accessible by foot (not car). Keep in mind it's a point-to-point hike, so you'll want to have some type of transportation pick-up at the end so you don't have to hike all the way back.
Poço da Alagoinha is another highlight, and probably one of my favorite places to visit in the Azores. There are tons of waterfalls falling from the sky among lush green mountains and rock formations. The trail is relatively short, but extremely slippery when wet, and Flores is pretty much always wet as it rains almost daily.
I also recommend driving around the island and checking out the small villages, crater lakes, and "Rocha dos Bordoes," a peculiar rock that shoots up out of nowhere.
My family and I went on a tour with Experience OC and had an absolute blast. The owner, Armando, is so professional and helpful, and I highly recommend using this company for driving tours, hiking, boating tours, etc. especially if you are not renting a car.
Aside from driving and hiking around Flores, there are plenty of other adventurous and relaxing things to do. For one, you should simply wander around the beautiful town of Faja Grande and taking in the waterfalls.
Do as the locals do and swim and fish in the nearby ocean.
Another great thing to do is go canyoneering. With so many running rivers and waterfalls, it's easy to see why this is the best place to go canyoneering in the Azores. We went with West Canyon and I highly recommend them for their responsible, fun, and professional guides.
If you have canyoneering experience, you can hire one of their guides to scale some much higher (think 100 meters plus) waterfalls!
Finally, make sure to take a day (or overnight) trip over to the island of Corvos. I'll cover Corvos below.
In terms of towns, there are 4 main towns on each side of the island. Santa Cruz das Flores is the main town by the airport where many tourism companies are located.
The main (and I believe only) supermarket on Flores is in this town too, though be prepared to see practically no fresh produce. It seems like the only way to get a lot of veggies is to track down whoever grows them on the island.
On that note, you don't visit Flores for the food; aside of the fresh seafood, Flores was the least culinary of the islands I visited.
Ponta Delgada (not to be confused with the capital on Sao Miguel) is a quaint town that is good for basing yourself near the northern activities. It's located in the Santa Cruz municipality.
Lajas das Flores is the southern town, which I didn't make it to, but there seem to be some good restaurants here. Lajedo is the northern coastal town that is small and quiet, mostly home to farmers. It's worth driving over here though.
Faja Grande is the most beautiful, as it is surrounded by ocean and waterfalls. Much of the middle of the island doesn't have any facilities but plenty of pastures and crater lakes to explore.
The smallest and most western island in the archipelago, Corvo makes for a great day or overnight trip from Flores, as you can ferry there in about an hour.
As the smallest island, you can walk around the entire island in a day, which is pretty incredible since the entire island is a caldera and a UNESCO Biosphere Reserve. (A caldera is when the roof of a magma chamber collapses to form a large crater. Other famous ones include Crater Lake in the US. Pretty epic that the whole island is one.)
Make sure to visit the Caldeirão (crater).
With only 300 inhabitants and one town, finding a place to stay will be pretty straightforward. You also do not need to rent a car on Corvo, but there are bikes for rent if you want one.
I haven't been to Faial, Santa Maria, or Graciosa, nor do I know anyone who has, so these islands will be covered briefly with information I obtained from the Azores Tourism Board's help!
Faial is best known for the town Horta, a hub for many sailors and maritime travelers in between Africa, the Americas, and Europe. Other things to do on Faial include the Capelinhos and Lagoa da Caldeira.
Now, from what I have heard, Graciosa doesn't have that much to do and is least known for its nature out of all of the Azores Islands, but is quite off the beaten path and as authentic as the Azores get.
Here you'll still see many farmers in the pastures and horses roaming the streets (though this is a sight you can catch on most of the islands too). The best thing to do on Graciosa is bathe in the therapeutic hot springs of Carapacho.
One of the least visited islands is Santa Maria, which has quite a different geological terrain and climate. While most of the other islands experience cloudy and rainy weather year round, Santa Maria is much sunnier, and home to the only natural sand beaches.
This also means Santa Maria is the brownest and driest of the islands. Moreover, Santa Maria is closest to some of the best diving spots in the Azores, including Gruta Azul, which I'll cover in our scuba diving section below.
The Azores off the Beaten Path
Frankly, if you are visiting the Azores you are already off the beaten path, though I predict these islands will not stay off the tourist trail for much longer!
If you really want to get off the beaten path, consider visiting the Azores' lesser visited islands, namely Faial, Santa Maria, and Graciosa listed above. Sao Jorge also doesn't get nearly as many visitors as its nearby neighbors and is supposedly really beautiful.
Another great way to get out into nature and away from the crowds is to strap on your hiking boots and hit the trails. While I haven't been to all of the islands yet, I would argue Flores is the best island for hiking, though Picos and Sao Jorge trail behind in a close second and third.
Though Sao Miguel is the most popular island, it's the biggest island too. Once you get away from the hot spring resorts and main cities, you can hike, bike, and explore at your leisure. The east side of the island is far less traveled than the west.
For getting off the beaten path in the Azores, you'll need the right gear. To get your adventure fire lit, check out my article regarding why you should always travel with a tent.
1 . Go on a Whale Watching Tour
The Azores are one of the best places to go whale watching in the world! Almost a third of the world's 92 cetacean species, 27 in all, are found in the Azores. Go at the right time and you may be lucky enough to see a sperm whale or blue whale too.
Whale watching tours are successful because they use vigias, or lookouts, where people on high land watch for whales and communicate with the captains below. These whale watching operations have helped old whale hunters make a living by saving whales instead of killing them.
I don't usually take tours, but I highly recommend taking a whale watching tour as well as a day tour on Flores. I really enjoyed my tour with Experience OC. Not only did I discover places I wouldn't have otherwise, but I learned a lot about Flores' history from the guide.
2. Swim in the Ocean
So this might be an obvious thing to do in the Azores, but it is definitely worth mentioning. The man-made swimming holes around the islands are pretty awesome.
While free diving we would regularly see tons of fish, jellyfish, and octopuses too.
3. Bask in the Hot Springs on Sao Miguel
The Azores lie on the European, American and African tectonic plates, which give them an interesting position for geothermal activity.
Sao Miguel is the most geothermically active, and the has hot springs you can soak in around the town of Furnas.
I definitely recommend Poça Dona Beija for its 5 open-air pools at different temperatures among a lush garden. Terra Nostra is a single large pool on its luxurious hotel grounds. Stay at this hotel if you can afford it!
You can visit also visit the fumaroles – where people actually cook food in the natural heat from the earth!
4. Summit Mount Pico
No trip to Pico is really complete with a summit to Portugal's highest point! This strenuous day hike is one of the best things to do on the Azores.
5. Indulge in the fresh food
Interestingly, the islands are extremely self-sufficient in terms of production, even making their own alcohol, tobacco, and dairy as a part of traditional life. While this is slowly changing, the Azores are still quite traditional.
Most islands grow their own produce, raise their own livestock, which is sold all over mainland Portugal, and of course, catch fresh seafood. From what I gathered, the fisheries here are sustainable and small-scale.
I will cover more on Azores food in the food section, but just know that food in the Azores is a very important cornerstone of their culture and you would be a fool not to experience it.
6. Take a Hike
The hiking on the Azores is nothing short of breathtaking (sometimes, literally). I'll list the best hikes on the Azores in the hiking section, but know that the best islands for hiking are Flores, Sao Miguel, Sao Jorge, and Pico.
7. Party on Terceira
Now, when I say party, I'm not talking about hedonistic parties like Ibiza or Mykonos. The parties on Terceira are not about boozy nightclubs; rather, each of the villages and cities throws a multi-day cultural festival surrounding food and drink, music, dancing, parades, and, of course, the bull runs.
Now I am usually the last person to recommend attending a bullfight – not my scene – but the traditional bull runs on Terceira are totally different from anywhere else on the world and a cornerstone of the island's culture.
For one, the bulls are not hurt, let alone killed, just sort of teased to get them moving. It's the participating locals who from the bulls that are much more likely to get hurt.
8. Visit Angra do Heroismo
This colorful city in Terceira is a UNESCO heritage site and well worth a visit, especially if you coincide your trip with Angra's week-long June festival as part of the parties I talked about in #7.
9. Explore some volcanos
As volcanic islands, there are plenty of calderas, craters, and even extinct volcanos to explore. The most dramatic caldera is definitely found on Corvo, which is basically just one big caldera in itself.
You can also explore extinct volcanos and lava tubes on a few of the islands. On Terceira, we visited one of the few places in the world where you can just walk into a lava tube.
10. Go Canyoneering
There are endless amounts of water sports to play in the Azores, including diving, surfing, and swimming, but don't forget to go inland too! One of the most fun things to do on a few of the islands is go canyoneering!
Flores is home to a river and probably hundreds of waterfalls, so this is one of the best islands for said sport, alongside Sao Jorge.
We went canyoning in Flores with West Canyon and it was really fun! They have 3-hour guided trips for beginners, but if you have canyoneering experience, you can arrange for a more intense trip. Also consider other awesome adventures, like horse back riding, mountain biking, spelunking, and kayaking!
The Azores is beginning to build an infrastructure for tourism, though this wasn't always the case. In fact, when I was visiting Flores, my guide told me that the first hotel wasn't even built until the 1970s! (And that was only because of the French Naval Base.)
Things are changing, however, and you can find a range of accommodation types throughout the islands. As I've mentioned before, the larger islands have the best infrastructure for a variety of budgets and styles.
Every island has some type of hotel or guest house accommodation, often ran by a family. This is, in my opinion, the best way to visit the Azores.
If you are on a tight budget consider the backpacker hostels in the cities and camping elsewhere. Because there isn't much competition, hostels aren't as affordable as the mainland, and dorm beds can cost around $30 a night.
If you are truly on a backpacker budget, then I suggest camping, which is welcomed in the Azores and a fantastic way to get closer to nature. I mean, what's not to love about free beach front accommodation?
On Terceira, I noticed that it was free to camp at the swimming holes in designated areas. While you'll need to bring your own supplies, there is often a café at the swimming holes and a local market within walking distance. Other campsites on other islands may require around 10 euro per person.
You won't find much information about Azores campsites online, but I assure you there are campsites in the Azores. You can also buy affordable camping gear on the islands if you need it, though we always recommend traveling with your own if you can!
Best Places to Stay in the Azores
Below are some awesome travel tips for visiting the Azores. Later, I will discuss the costs for traveling in this dreamy archipelago.
Books to Read on the Azores
Unfortunately, there aren't many books set in the Azores. (If you know of any, let me know in the comments!) That being said, you can still read some amazing books set in Portugal to inspire you to visit this country.
The Alchemist – Yes, this world-famous modern classic was actually originally written in Portuguese, so why not read the Alchemist whilst visiting Portugal?
Madeira (Walk and Eat) – Heading to the island of Madeira too? This is a great book for those who like to hike and then have a bite to eat! Guide to local walks and food.
Alentejo Blue – A collection of short stories taking place in a village in Alentejo. Mostly centered around a young girl.
The Year of the Death of Ricardo Reis – Dr. Ricardo Reis returns to Lisbon in the midst of fascism and impending civil war.
Portugal is already very safe to visit; the Azores may be even be safer. In fact, it just might be one of the safest destinations in the world. You won't have to worry about theft or crime here, but we always recommend using your street smarts and keeping valuables safe.
The biggest dangers to worry about are the natural hazards. Strong currents, riptides, and intense rainstorms can pose a threat if you are not prepared.
When engaging in outdoor activities, know the risks of what you are doing and have an exit plan. If you are unfit or inexperienced, hire a guide/local. That said, none of the hiking in the Azores is extremely wild or intense.
For more wild hikes, check out our guide to the best hikes in Madeira Island.
I strongly recommend traveling with a headlamp whilst visiting the Azores (or anywhere really – every backpacker should have a good headtorch!), especially if you're camping. Check out my post for a breakdown of the best value headlamps to take backpacking.
Travel Insurance for Azores
Traveling without insurance would be risky so do consider getting good backpacker insurance sorted before you head off on an adventure.
I have been using World Nomads for some time now and made a few claims over the years. They're easy to use, professional and relatively affordable. They may also let you buy or extend a policy once you've started your trip and are already abroad which is super handy.
ALWAYS sort out your backpacker insurance before your trip. There's plenty to choose from in that department, but a good place to start is Safety Wing.
They offer month-to-month payments, no lock-in contracts, and require absolutely no itineraries: that's the exact kind of insurance long-term travellers and digital nomads need.
SafetyWing is cheap, easy, and admin-free: just sign up lickety-split so you can get back to it!
Click the button below to learn more about SafetyWing's setup or read our insider review for the full tasty scoop.
When visiting the Azores, you should prepare for all weather. It can be chilly and cloudy in the middle of summer, and sunny and warm in the middle of winter. I recommend packing a couple layers and a rain jacket, hiking shoes, and a couple swim suits.
On every adventure, there are six things I never go traveling without:
For plenty more inspiration on what to pack, check out my full backpacking packing list.
Why Should You Travel to South America with a Water Bottle?
Plastic washes up on even the most pristine beaches… so do your part and keep the Big Blue beautiful!
You aren't going to save the world overnight, but you might as well be part of the solution and not the problem. When you travel to some of the world's most remote places, you come to realise the full extent of the plastic problem. And I hope you become more inspired to continue being a responsible traveller.
Plus, now you won't be buying overpriced bottles of water from the supermarkets either! Travel with a filtered water bottle instead and never waste a cent nor a turtle's life again.
Best Time to Visit the Azores
Most locals will say that you can experience four seasons in one day (which is sort of false since it doesn't snow) but you get what they mean. Basically, no matter what time of the year it is, you can get rain, fog, clouds, and sun.
That said, you are more likely to have warm and sunny days in the summer and cold and rainy days in the winter. Moreover, the summer days are much longer, and the sun sets around 9 pm.
Thanks to its location in the middle of the ocean, the weather can be drastically different simply depending on which side of the island you are on, as clouds can get trapped behind mountains.
My first two weeks in the Azores were mostly clouds and rain… and it was June! If that was my whole vacation, well, that would have been my entire experience on the Azores! The rest of the summer was, however, mostly hot!
Locals have told me that the summers seem to start later nowadays, as do the winters, so consider this when booking your trip.
Of course, summers are the most visited and expensive time to visit the Azores. Still, this is when the festivities, sun, and parties are happening too! If you are visiting during a holiday (like Terceira in August) consider booking a bit more in advance.
Always pack sunscreen and a rain jacket!
Since we are discussing an island chain, your only way of getting to the Azores internationally is by flight.
Flying into the Azores has become much more accessible and cheaper in recent years, especially since Ryanair and Easyjet started to serve direct flights from various European cities including London, Munich, Lisbon, and Porto.
There are also may direct flights from the US and Canada since many Azoreans have immigrated to certain pockets of this continent. Boston, Oakland, New York, Toronto, and Montreal all serve direct flights to the Azores.
Entry Requirements for the Azores
Since this is an autonomous part of Portugal, the entry requirements are the same as they are for Portugal.
Portugal is part of the Schengen Zone, which is a trans-European pact enabling visa-free travel between participating nations. The Schengen agreement is an extremely convenient means of entry for those backpacking Europe.
Those who reside in the Schengen Zone need only an EU ID card to enter a neighboring country. All other world nations require a passport.
Most non-EU nations can qualify for a 90-day visa that is valid in any participating European nation. There are always exceptions though, so be sure to check the official website before you start backpacking in Europe.
See here for a list of all European nations in the Schengen Zone. Remember that not every nation in Europe is a part of this agreement.
How to get around the Azores
Traveling between islands is fairly easy and self-explanatory. You can travel either by flight or ferry, though which method is best will depend on which islands you are traveling between.
If you are traveling within a group of islands (western, middle, or eastern) then the ferry is almost always best. Island hopping is easy between the central islands – Faial, Sao Jorge, Terceira, and Pico.
If the islands are relatively close (like under 2 hours) then I highly recommend using the ferry system, as flights tend to be delayed – more on this later.
You can also ferry between larger groups, like Sao Miguel to Terceira, but the travel time can be around 5+ hours. These ferries only operate in the summer. You can find more schedule information at Atlantico Line, which is the only company operating on these routes.
Flights are also easy, as the airports are small and all of the inner island flights are serviced by SATA. The unfortunate problem is that SATA flights are notoriously late as they only have a few aircrafts in the fleet flying between the islands.
In my experience, afternoon and evening flights are pretty much guaranteed to be delayed, so try to book a morning flight for inner-island flights (and out of the country too).
Getting around the Azores is easiest and most enjoyable if you have your own car as public transportation is infrequent and taxis can be expensive. With your own car, scooter, or even bicycle, you have the freedom to explore the islands at your leisure.
Unfortunately, car rentals are not exactly cheap for solo travelers, so if you can't split the costs, consider renting a bike or scooter! It's better for the environment anyway 🙂
Renting a Car in the Azores
As I mentioned above, renting a car at some point on your Azores adventure will give you the freedom to roam. There is nothing better than moving around at your own pace.
You can sort your car rental here in just a few minutes. Booking in advance is the best way to ensure you score the lowest price and your choice of vehicle. Often, you can find the best car rental prices when you pick up the rental from the airport. Make sure you cover your rental car with a RentalCover.com policy. It covers your car against any common damages such as tires, windscreens, theft, and more at a fraction of the price you would pay at the rental desk.
Hitchhiking in the Azores
I did hitchhike a couple times in the Azores, mostly to get back to my car. Locals are friendly and will help out a friendly face if needed, but keep in mind that much of these islands is quite rural, so it may take a while to get a ride in some places.
Onwards Travel From the Azores
The Azores are an isolated archipelago, so I doubt you arrived here by accident, but if you are traveling onwards the most logical step would be to visit mainland Portugal! Though the same country, mainland Portugal is a completely different place and well worth visiting.
You may be surprised to learn that the Azores are actually closer to the US than Europe. A lot of Azorean citizens have emigrated to the States and Canada, mostly settling in Azorean communities in Boston, Rhode Island, Central California, and Toronto.
You can get a direct flight to Boston, Oakland (just a stone's throw from San Francisco), Toronto, or Montreal.
Visiting the Azores on a budget isn't necessarily easy. You have to actively and strategically track how and where you spend your money. Nevertheless, you should be able to visit the Azores without spending hundreds of dollars everyday.
The Azores do not exactly cater to backpackers, as this is not a party destination and aside from the cities there aren't many hostels. Moreover, public transportation isn't all that reliable, so you'll want your own wheels.
Your biggest expenses will be your car rental and accommodation, so visiting the Azores on a budget is best as a couple, or with friends or family, as touristic facilities run on the higher end.
That said, the Azores food and drink are much more affordable than mainland Europe or other Western nations. Beers are around 1 euro at a bar and you can get the fresh catch of the day for around 10 euro.
A reasonable daily budget for backpackers is between $70-$100/day. Some days, you can spend less if you are camping or trekking since food is so cheap. If you decide to only visit 1-2 islands and mostly camp, then you can definitely visit for less.
With a budget of $100 a day, you can rent a car, eat well, stay in a hostel or guesthouse with another person, and have a couple beers each evening.
Your costs can really add up if you are trying to visit a bunch of islands in a couple weeks, as ferries and internal flights are not cheap.
If barebones backpacking is your style, you could easily travel in the Azores whilst spending around $30-40 on most days (including accommodation), but this doesn't including travel to/from the islands.
Below I have broken down the average daily travel costs you can expect on an Azores backpacking budget.
Daily Costs in the Azores
Azores Budget Travel Hacks
The lion's share of your budget for visiting the Azores will be spent between lodging and transportation. Below are my tips on how to avoid these expenses.
1) Camp: With plenty of awesome beaches and lush mountains, there are some great places to camp on the Azores. Traveling with a tent is the best way to save money on the Azores, as some sites are free. Otherwise, they're $10 a head, at most.
2) Cook your own food: Travel with a portable backpacking stove, or book accommodation with a kitchen, and cook your own food to save some serious cash whilst backpacking the Azores. If you are on a tight budget, cooking is the best way to do it. You can get fresh produce, seafood, meat, and cheese at any of the local markets. I highly recommend it!
3) Do Free Things: The ocean is absolutely free and a great place to spend your time while visiting the Azores! Hiking is another free thing to do!
4) Drink locally: You can get a local beer, wine, or liquor for around 1-2 euro a drink, whether you're at the store or a bar. A bottle of wine is under 5 euro at the market. Don't bother getting anything imported if you are on a budget.
5) Eat Locally: You can eat cheaply (and extremely well) by shopping locally. Hit the food trucks at all the festas and events for 2 euro sandwiches.
6) Rent a bicycle or scooter: Traveling alone? Rent two wheels instead of four to save money.
Volunteering in the Azores
Long term travel is awesome. Giving back is awesome too. For backpackers looking to travel long-term on a budget in the Azores whilst making a real impact on local communities, look no further than World Packers. World Packers is an excellent platform connecting travelers with meaningful volunteer positions throughout the world.
In exchange for a few hours of work each day, your room and board are covered.
Backpackers can spend long periods of time volunteering in an awesome place without spending any money. Meaningful life and travel experiences are rooted in stepping out of your comfort zone and into the world of a purposeful project.
World Packers opens the doors for work opportunities in hostels, homestays, NGOs and eco-projects around the world. Broke Backpacker readers get a special discount of $10 – just use this discount code BROKEBACKPACKER and membership is discounted from $39 a year to $29.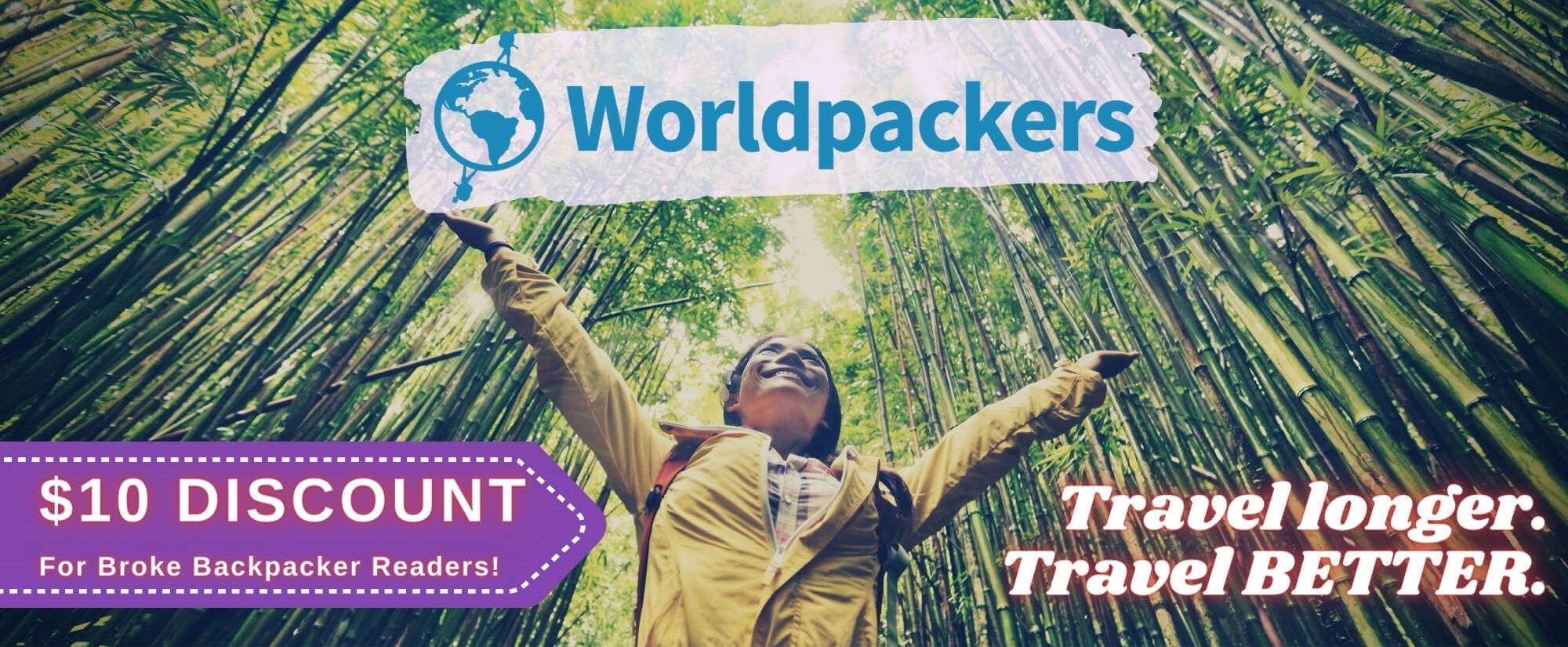 Worldpackers: connecting travellers with meaningful travel experiences.
Food in the Azores
One of the main reasons to visit the Azores is for the food, truly. For one, you are visiting a chain of isles, where the seafood is as fresh as it can be.
The volcanic soil also means that produce is quite good. Plus, before the tourism industry was a viable source of income, most locals were farmers (and still are).
There are many local customs, dishes, and foods to try in the Azores; I have listed a few below:
Fish: There are so many types of fish available, depending on the day and season. I always recommend asking the restaurant or market for their fresh catch and advice. I felt good knowing most fish is still caught traditionally and sustainably.
Lapas (limpets): The is the most famous shellfish in the Azores, a local delicacy. They are usually are served grilled with garlic, butter, pepper and a bit of lemon, though traditionally they are eaten raw. This is becoming rarer though.
Ananás (pineapple): São Miguel island actually grows an organic pineapple. It's expensive but really tasty.
Pão do Pico: typical bread from Pico island.
Alcatra: a famous dish from Terceira island that's a lot like pot roast; beef is slow-cooked with red wine, onions, garlic, allspice, and black peppercorns. This dish originally was cooked and preserved in lard (before refrigeration) and the woman of the household would prepare it for her family during the festivals when they would be out all week.
Soups and Stews: And speaking of Alcatra, soups and stews are very famous here too, anything from green cabbage soup to octopus, beef, or fish stew.
Cheese: Each island produces cheese, and some of the best in Portugal, for that matter. Sao Jorge is the most famous for its unpasteurized cheese – Queijo de São Jorge.
Vinho (wine): Many families and locals make their own wine, so you can find it just about anywhere, though it is Pico that is most famous for their wine, due to their unusual vineyards that grow on lava rocks.
Tea: The only tea plantations in Europe are in Ribeira Grande on São Miguel, Chá Gorreana and Chá Porto Formoso.
Best Festivals in the Azores
As a predominantly Catholic society, many of the holidays and festivals on the Azores are religious in nature. Holidays like Easter/Holy Week and Christmas, for example, are very important celebrations. The Azores also celebrates New Year's on January 1st and National Portugal Day on June 10th.
One festival I didn't experience but read about is called Holy Ghost Festival, which is celebrated several weeks following Easter celebrated with Sweet Bread, dancing, and parades.
In terms of unique festivals on the Azores, each island is different.
Sao Miguel's largest religious festival is the Festival of the Christ of Miracles, which takes place just after Easter. A statue of Christ is paraded through the street and other festivities take place in Ponta Delgada's streets.
Santa Maria hosts the Azores' music festival, Praia Formosa in late August. While visiting the Azores, I saw flyers for this festival all over the islands, and it seems to be a big deal.
Sao Jorge hosts the Cultural Week of Velas in the first week of July, where there are concerts, a bullfight, and celebrations.
The island Faial is best as a rest stop for many sailors in between the Americas, Europe, and Africa, so it should come as no surprise that they host a festival called "The Week of the Sea" to celebrate their history through cultural events and music.
Last but certainly not least, Terceira is known as the "festival" island, so basically there are festivities taking place all over the island all summer long.
The biggest and most famous events are in Angra do Heroismo in June and Praia da Vitoria in August that span over more than a week each. They include parades and marches, folklore, lots of food and drink, bull runs, and dancing.
Hiking in the Azores
As volcanic, diverse islands in the middle of the Atlantic Ocean, it may come as no surprise that the hiking in the Azores is absolutely superb! Each island has at least a few beautiful hikes to enjoy, though not all are created equal.
Azores hiking trails are well maintained and marked, and there are options for every fitness level.
Terceira is the flattest island, so the hikes here are less dramatic. That's not to say they are extremely easy or boring, but this is the easiest island to hike on for your average Joe.
Sao Miguel has tons of hikes to its many crater lakes. But if you are visiting the Azores for hiking and nature, the best islands are without a doubt Flores and Sao Jorge because of their dramatic fajés, vertical coastlines, lush mountains, and scenery. Both islands are considered entire Biospheres.
And of course, you can't forget the hiking on Pico. Make sure to summit Mount Pico on your trip!
One of the things that I love about trekking is that it is almost always free. If you want to enjoy some of the Azores' treasures, all you need are your own two feet.
Best Hikes in the Azores
Lagoa Furnas on Sao Miguel – Takes you around Furnas Lake in 6.3 miles for views of the lagoon and crater. One of the most beautiful places in Sao Miguel.
Sete Ciudades on Sao Miguel: 13-mile hike around multiple green and blue lakes and the towns. This is probably the most visited place in Sao Miguel.
The Great Route in Flores: Not for the faint of heart, you can circumnavigate the entire island of Flores. For more information, check out this site. There are four campsites in Flores, and two of them have hot water. You can also stay in guesthouses in the towns.
Faja Grande to Lajedo in Flores: One of the best day hikes, and a section of the Great Route. This part of the island is inaccessible by car, so make sure to hike it! Moderate to strenuous and can get muddy.
Poço da Alagoinha in Flores: A short, moderate hike to a lagoon where dozens of waterfalls drop from lush green mountains and rock formations. The trail is relatively short, but extremely slippery when wet. You cannot swim in the lagoon.
Agualva trail in Terceira: Easy hike with excellent cliff views.
Misterios Negros in Terceira: Moderate hike that shows you what Terceira used to look like before invasive plants and farmland. This area is protected to preserve the indigenous plant species.
Summit Mount Pico: Most likely, when you think of hiking the Azores, you imagine Mount Pico, specifically. This is the highest point in all of Portugal and I have only heard great things about this strenuous albeit rewarding hike.
Great Route of Sao Jorge: Similar to Flores, this island is composed of a sheer-sided ridge, lush vegetation, and dramatic fajés. To take on the best of the island, tackle this 42km beast of a hike.
Hike the Caldera on Corvo: A moderate, circular route around Corvo allows you to access Corvo's collapse crater and take in some breathtaking views. You begin and end this trail near the viewpoint of Caldeirao.
Diving in the Azores
While the Azores do not have reefs like South East Asia or Mexico, the diving in the Azores holds another special charm: its whales and large pelagic life.
If you are a freediver, spearfisher, or advance scuba diver, you can really find some unique dives and big, big fish.
Moreover, there is some cave diving in the Azores too. This isn't your typical colorful reef diving, but the water visibility is great and there are some dive sites worth coming here for. More notably, you can dive with devil rays, manta rays, blue sharks, and even whales in the Azores.
Keep in mind that diving in the Azores isn't quite as accessible as other islands.
Best Azores Dive Sites
Rosais Reef (São Jorge Island) – 3 miles from São Jorge Island is Rosais Reef. Best variety of marine life here.Terceirense Shipwreck (Graciosa Island) – A shipwreck dive resting at 20 meters.Diving in Seamounts – Visibility of more than 30 meters and devil rays are common.Second World War Shipwreck (São Miguel Island) – Shipwreck from one of the largest military operations in world history – Operation Overlord.
Whale Watching in the Azores
As I mentioned in the top things to do in the Azores section, whale watching in the Azores is world-class. 27 cetaceans are found among the Azores.
The best time to go whale watching is late spring, simply because of the sheer variety of whales and dolphins in the area. This is also when blue whales and sperm whales are migrating through the Azores.
What is more, the whale watching tours are very successful because they use vigias, which are people on high land look-outs watching for whales below. I have heard Pico has some of the best whale watching along with Sao Miguel.
While on Sao Miguel, we went whale watching with Terra Azul and they were incredibly friendly, professional, and kind. They prioritize the safety of their customers and the wildlife too.
Canyoneering in the Azores
If you are visiting the Azores, don't forget to go inland! On certain islands, tour outfitters will take you spelunking, caving, and kayaking, and last but not least, canyoneering.
It's possible to tackle world-class canyoning on the islands of Flores, Sao Miguel, and Santa Maria.
We went canyoning on Flores with West Canyon. They are extremely professional, helpful, and friendly. The gear is solid too.
They lead 3-hour guided trips for beginners, but if you have canyoneering experience you can arrange a more advance full-day trip down 100-meter waterfalls; just call ahead and prepare to pay a bit more!
Make Money Online whilst Visiting the Azores
Traveling in the Azores or Portugal long-term? Keen to make some cash when you are not exploring the city?
Teaching English online is a great way to earn a consistent income—from anywhere in the world with a good internet connection.
Depending on your qualifications (or your motivation to obtain qualifications like a TEFL certificate) you can teach English remotely from your laptop, save some cash for your next adventure, and make a positive impact on the world by improving another person's language skills! It's a win-win! Check out this detailed article for everything you need to know to start teaching English online.
In addition to giving you the qualifications to teach English online, TEFL courses open up a huge range of opportunities and you can find teaching work all over the world. To find out more about TEFL courses and how you can teach English around the world, read my in-depth report on teaching English abroad.
Broke Backpacker readers get a 35% discount on TEFL courses with MyTEFL (simply enter the code BACKPKR), to find out more, please read my in-depth report on teaching English abroad.
Whether you are keen to teach English online or looking to take your teaching game a step further by finding a job teaching English in a foreign country, getting your TEFL certificate is absolutely a step in the right direction.
Being a Responsible Backpacker in the Azores
Reduce your plastic footprint: Perhaps the best thing you can do for our planet is to make sure you do NOT add to the plastic problem all over the world.
Go to Portugal and have the time of your life, do the things you've dreamed of but be respectful along the way. Traveling the world makes you an ambassador for your country, which is awesome. We can make a positive impact on people when we travel and get rid of any ugly stereotypes that may be associated with your country…
Check out our post on how to be a responsible backpacker.
I hope you enjoyed my Lisbon travel guide, which covers everything you need to know about Portugal's capital: top things to do, which neighborhoods to check out, where to stay, and more!
Lisbon truly is an incredible city that blends tradition and modernity seamlessly. Enjoy your trip!
---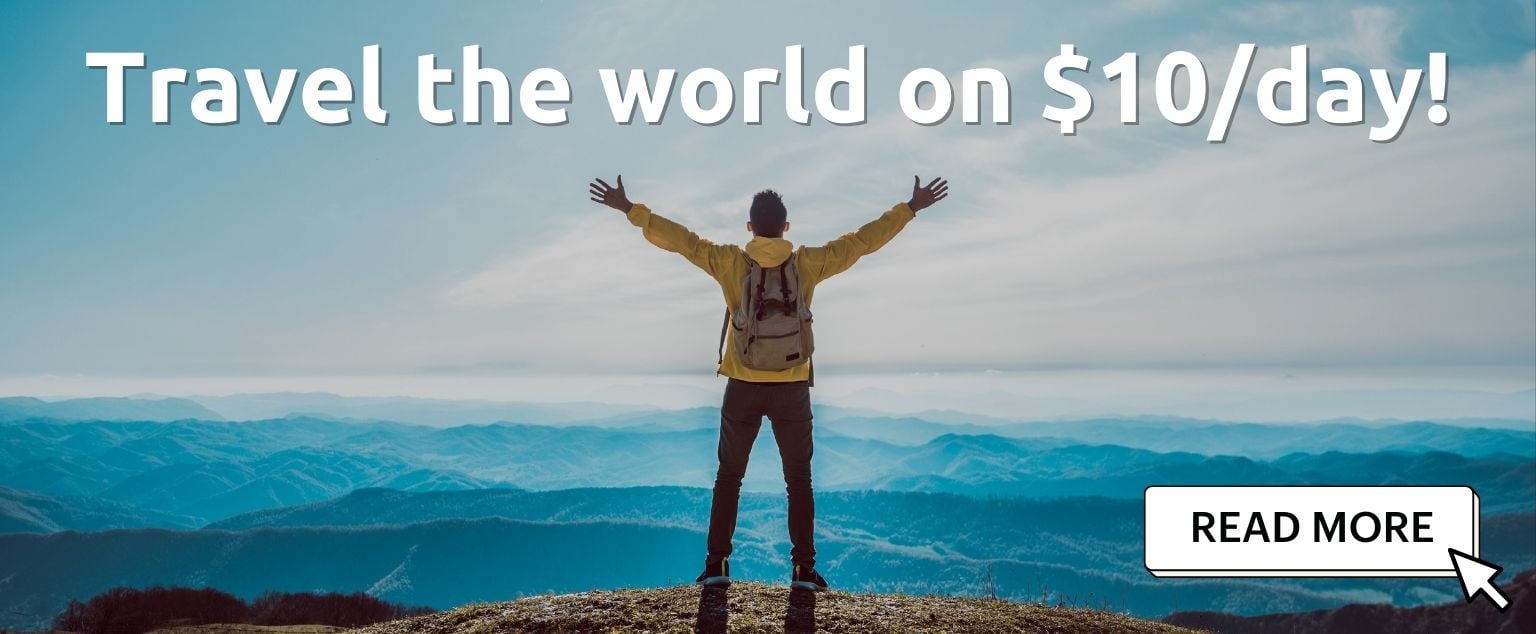 And for transparency's sake, please know that some of the links in our content are affiliate links. That means that if you book your accommodation, buy your gear, or sort your insurance through our link, we earn a small commission (at no extra cost to you). That said, we only link to the gear we trust and never recommend services we don't believe are up to scratch. Again, thank you!