The regional capital of the Azores, Ponta Delgada has plenty of attractions, with a long and rich history, well-tended gardens, cobbled squares, handsome monuments, mild weather throughout the year, and a lively waterfront area.
Tiny, and charming, it feels like the less busy and less hurried version of Lisbon, complete with traditional churches and colorful houses with unique tile patterns. Wondering if it's worth a visit? Wonder no more, and start planning your trip!
The good news is that although it's located in the Azores, it doesn't need to break the bank. A trip to Ponta Delgada on a budget can be done! You don't have to sacrifice comfort and convenience to enjoy your time.
Staying in Ponta Delgada hostels will allow you a full and well-rounded stay, while keeping your wallet happy!
Quick Answer: Best Hostels in Ponta Delgada

Do You Want to Travel FOREVER??
Pop your email in below to get a FREE copy of 'How to Travel the World on $10 a Day!'.
What to Expect from Hostels in Ponta Delgada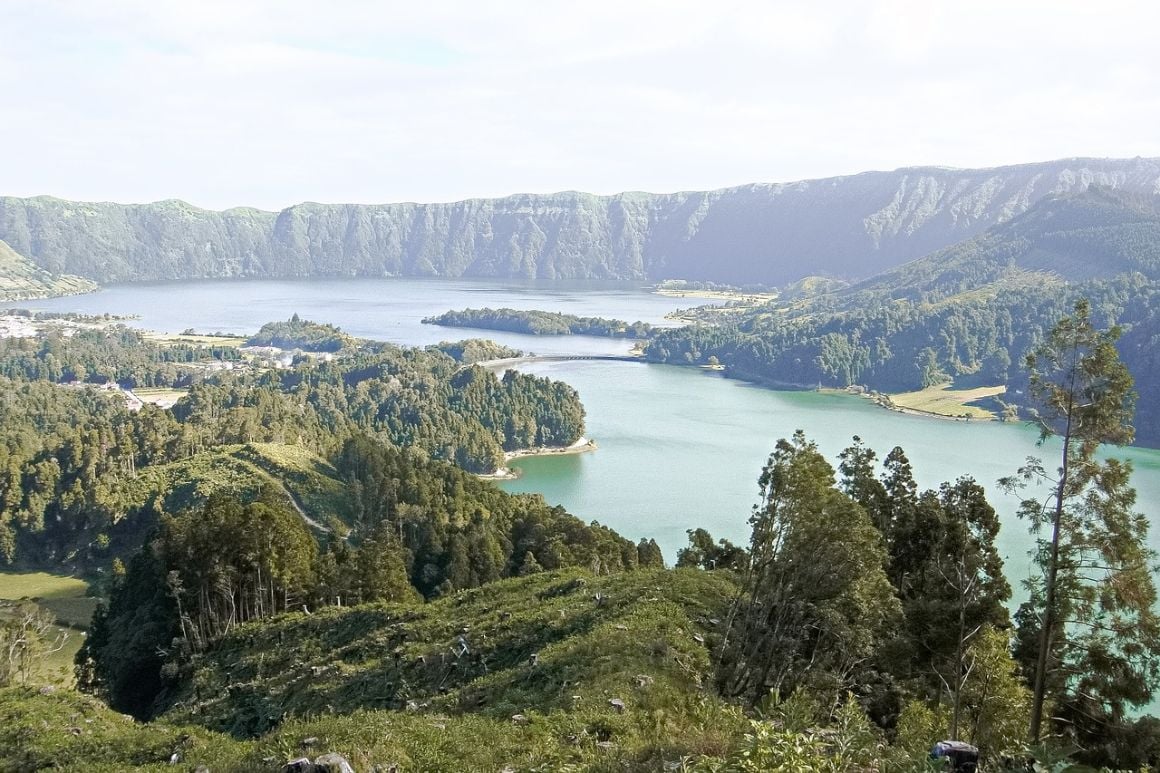 Hostels in Ponta Delgada cater to families with children, solo travelers, and couples. Although most people travel to the Azores to relax and get away from the hustle and bustle of the city, Ponta Delgada is far from boring. Several islands are nearby, and a myriad of adrenaline-pumping activities are waiting for you to try.
Hostels help you cut costs, and although it might mean forgoing a few of the usual amenities you may find in hotels – most are things that nonbusiness travelers don't use anyway. That being said, you won't lack the basics in hostels as most have Internet cafes, fully-equipped kitchens, dining areas, and sometimes even patios, pools, and BBQ grills.
Aside from being cheaper, hostels are also far more social. The common areas are great for meeting other travelers, and are perfect for getting recommendations and tips about different destinations, as well as sharing travel stories.
Like all good hotels, hostels offer advice and ticketing services. But, unlike a chain of hotels, they are more personal. Hostel owners know how it feels to be far away from home, so they understand exactly what travelers need and often go out of their way to ensure guests have a pleasant stay. Guests are guaranteed a more personal experience. Hostels tend to be more in tune with the local neighborhood too. Think of amazing group excursions tailor-made especially for a small group of backpackers! Exciting, isn't it?
You don't always have to share spaces with others when staying in hostels. Hostels in Ponta Delgada have a range of different types of room including private rooms, and dorm rooms for mixed and same genders. You can choose according to your budget and preference. Sharing a room with others obviously means saving money in exchange for a bit of privacy.
HOSTELWORLD is the best place to search for, and book, hostels in Ponta Delgada with the click of a button. You get instant confirmation so you need not spend time worrying if you have a place to stay or not. Read the description and reviews carefully and go through the pictures too. The cost of hostels vary, but is mostly dependent on the location. Hostels closer to the city center, understandably, cost more money.
Dorm rooms – $30 to $50
Private rooms – 90 to $160
The 5 Best Hostels in Ponta Delgada
Choosing from the myriad of hostels in Ponta Delgada doesn't need to be difficult. In fact, we have made it as easy as 1-2-3- for you. Check out this list of the coolest places to stay!
Best Overall Hostel in Ponta Delgada – IN53 Guest House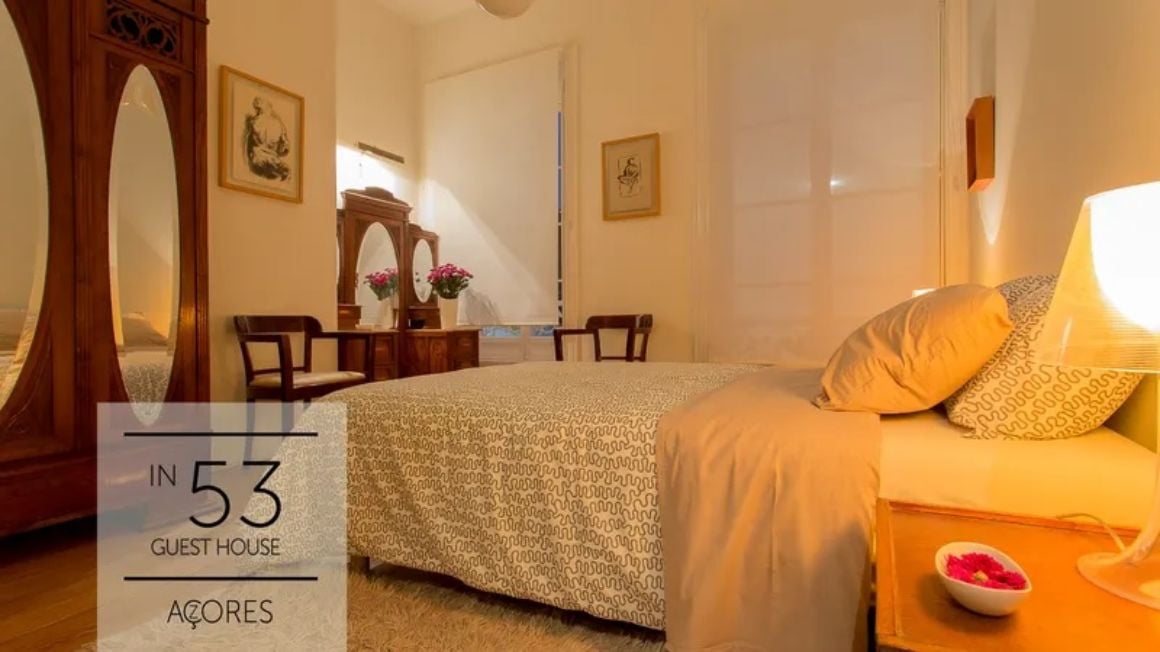 $
Located centrally
Near public transport
Neat historical center
Located in an old renovated house, IN53 Guest House retains its history, but is equipped with modern amenities to make your stay comfortable and convenient. It will make you feel right at home and is the ideal base for exploring.
A short walk will bring you to the historic center where there are many things to see and do. One of the attractions you shouldn't miss is a stroll through Avenida Infante Dom Henrique. The western end overlooks the 16th century Forte de Sâo Brás and the Azores Military Museum.
There is public transport nearby, as well as aero busses that serve the airport. Travelers don't have to spend too much on transport, and there's no need to hire a private car.
Why you'll love this hostel:
Free Wi-Fi
Outdoor terrace
Free public parking
Laundry facilities
Free WIFI is available throughout the hostel, even inside rooms, so you are always connected. If you would like to drive, take advantage of the free public parking on the street.
The hostel has 3 double bedrooms to choose from. There are plenty of common areas where guests can mingle, relax, and get to know each other better such as the outdoor terrace, and the living and dining areas. The kitchen is open for the guests if they would like to prepare meals.
Bicycle hires and airport transfers are both available, so don't forget to enquire with the staff. They are happy to be of assistance to guests.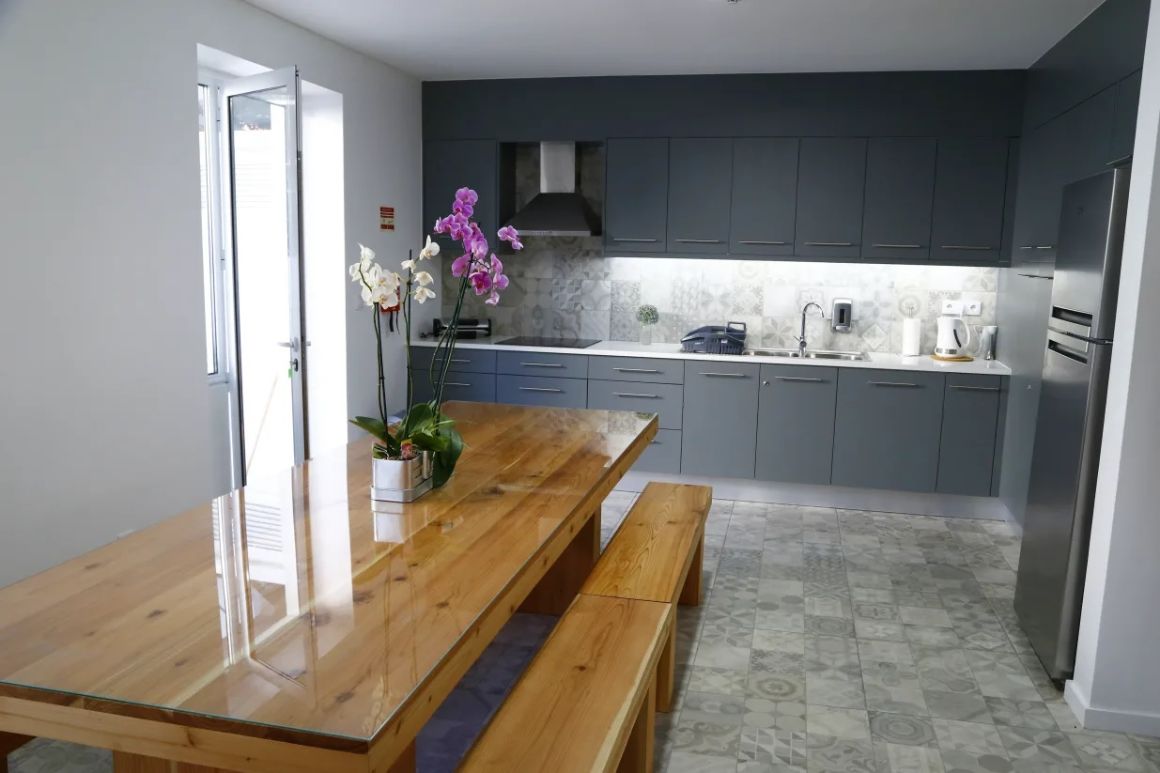 $
Free breakfast
Tours/Travel desk
Located in the city center
Being on a budget doesn't mean sacrificing comfort. City's Hostel Ponta Delgada has reasonable prices and comfy beds that will make your stay unforgettable. Located in heart of the city, moving around is quick and easy. The property is only 50 meters away from Mâe de Deus Church.
Various day trips can be easily done from Ponta Delgada such as Lagoa da Fogo, a stunning caldera with a lake at the bottom; Plantaçôes de Chá Gorreana, the only tea plantation in Europe; and Lagoa das Sete Cidades, a volcanic crater which is one of the most famous natural wonders of Azores. Approach the hostel's tours and travel desk if you need help with your itinerary.
They offer a breakfast that can get your energised for the day. It's the perfect way to fill yourself up ,and save money at the same time! Good food won't be a problem because there are a lot of restaurants and markets that are only a walking distance from the hostel. Just when you think it doesn't get any better, there are more pleasant surprises..
Why you'll love this hostel:
Free Wi-Fi
Free parking
Bicycle hire
Fully-equipped kitchen
Guests can choose from the property's same-sex and mixed-sex dorms, and all dorm rooms have private toilets and AC. The free WiFi can be accessed in public areas, as well as inside the rooms. The hostel uses codes that are emailed directly, so guests can enter the hostel no matter what time it is – perfect for those arriving late at night.
The hostel organizes various activities for guests such as hiking, biking, canyoning, whale watching, canoeing, fishing, and boat tours, so you don't need to look far for inspiration on what to do in nearby areas. Having activities organized by your hostel gives you peace of mind, and makes the process hassle-free too!
Bicycle hire and luggage storage are both available, so even if it's not your time to check-in, you can drop your bags off, hop on a bicycle and start exploring Sâo Miguel Island right away. Make the most of your time if are just in town for a short stay.
Best Hostel with Private Rooms in Ponta Delgada – Out of the Blue Azores
$
Free breakfast
Near city center
Neat restaurants and bars
This distinct hostel has plenty of character, and is situated in a traditional orange farmer's manor. Designed with guests' comfort in mind, the building doesn't forget to pay homage to the property's historical architecture.
Free breakfast is included in the rate, and is usually served in the outdoor garden. We heard that the breakfast served is not only superb, it differs every morning too! Family dinners are also served in the same place.
The property is only a three-minute walk from the downtown area, so you are never far away from the thick of the action. It makes exploration fast and easy! The hostel is within reach of various restaurants, bars, cafes, and even markets.
Don't forget to sample the area's must-try dishes, such as quince jam, cozido das furnas, bolo lévedo, and sâo Jorge cheese.
Why you'll love this hostel:
Outdoor terrace
Swimming pool
Laundry facilities
Luggage storage
The property's outdoor swimming pool, hammocks, and terrace are the perfect places to say hello to other guests, and perhaps get to know them a little more. You can even wash your clothes after a long haul wearing the same t-shirt, as laundry facilities are available.
Luggage storage and security lockers are on hand for your peace of mind. Explore the area to your heart's content without worrying about your things.
Great Dorm for Couples in Ponta Delgada – Passal Hostel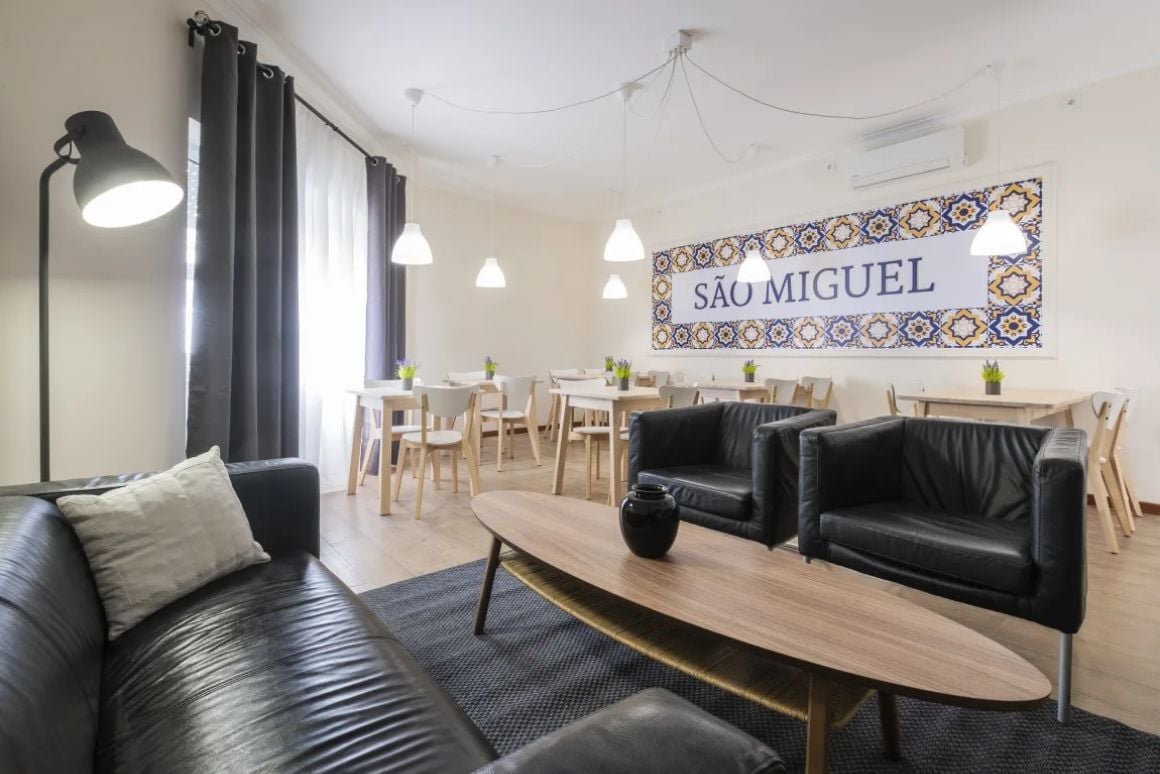 $$
Free breakfast
Near city center
Tours/Travel desk
When traveling you're with your significant other, it's important to find a place that is comfortable and provides privacy. Passal Hostel offers both, and is not only suitable for couples, it caters to all types of travelers! Located in the center of Ponta Delgada, it's the ideal base for exploring Sâo Miguel and the nearby areas.
Talk to the tours and travel desk to get more information on the various activities popular for each day of the week. You can rent a scooter and take your own sweet time familiarizing with the local area. You can go on a tour of Sete Cidades, the local hot water springs of Poça de Dona Beija, or Furnas.
Traveling from the airport of Açores is fast and easy with the hostel's airport transfers via scooter or car. You can also take a taxi, or the Aerobus shuttle bus, and you'll find yourself at the hostel in as little as 12 minutes.
Why you'll love this hostel:
Free Wi-Fi
Airport transfers
Luggage storage
Laundry facilities
Breakfast is included in the rate and laundry facilities are provided for a small fee, great news for those traveling on a limited budget!
The free WiFi is fast and strong, and you can keep connected in your rooms or around the public areas. Being close to the city center, you will have plenty of choices when it comes to restaurants, bars, and clubs.
Hostel with a Jacuzzi in Ponta Delgada – Azores Beach Surf House
$
Outdoor terrace
Airport transfers
Bicycle hire
If you are into exploration and surfing, Azores Bagus Surf House is the best hostel in Ponta Delgada. The family-like surf house is run by a couple and has a chilled-out, ocean vibe. The hosts are more than happy to assist those needing recommendations on where to go and what to do, to make the most of your time in town.
Relax in the hot tub after a day out at the beach – there is no better way to end a hectic and demanding day. Mingle with the other guests over a BBQ and enjoy the starlit sky.
A safety deposit box and security lockers are provided so you don't needto worry about your valuables when you are out and about. A few popular beaches that need a visit are Caloura Beach, Praia dos Moinhos, Ponta de Ferraria, and Piscinas do Pesquero.
Why you'll love this hostel:
Free Wi-Fi
Free parking
Children's play area
Security lockers
The hostel has a play area where children can safely entertain themselves while the parents plan the itinerary of the day. The three-story property has various rooms for guests to choose from. There are two double rooms, one with a private balcony that boasts ocean views, a private single room, and a shared room ideal for three people.
The fully-equipped kitchen, dining room, garden, and lounge/living room are the perfect places to meet other travelers, and discuss sightseeing plans. Feel free to share insider tips with others!
Airport transfers can be arranged, just don't forget to ask the hosts. Free bicycles and helmets are available as well as laundry facilities, and parking is free on the premises.
Azores Beach Surf House is one of our favourites in Ponta Delgada but they're not taking guests right now. We're not sure if they're closed for good but we hope they'll come back soon.
Is This the Best Backpack EVER???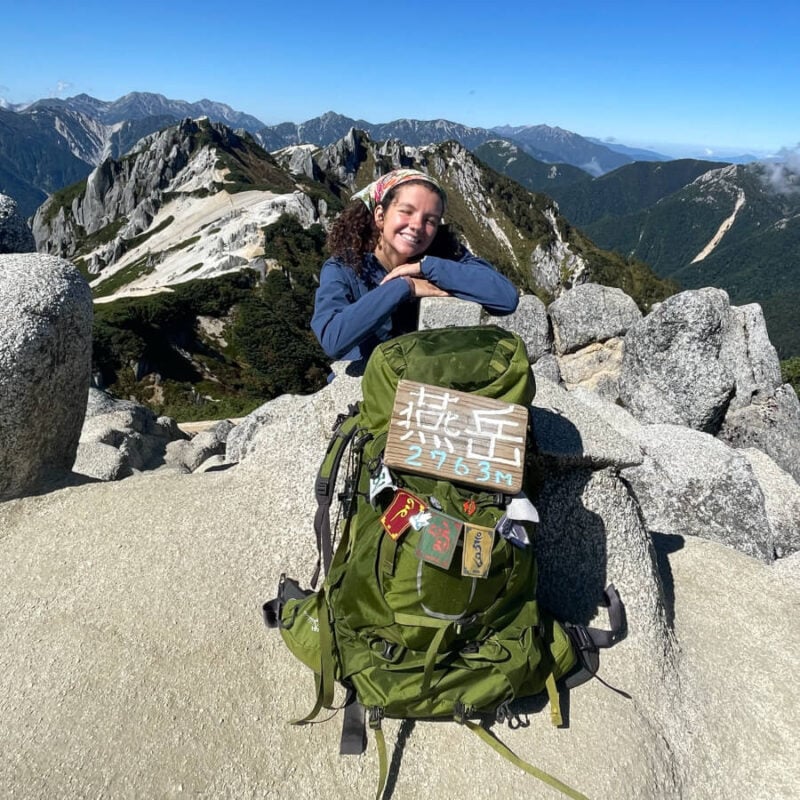 Other Hostels in Ponta Delgada
We're not done yet. We still have more awesome hostels in Ponta Delgada for you to choose from. Keep scrolling!
Hostel for Solo Travellers – A Bica Hostel
$
Excellent location
Free breakfast
Child friendly
Located in a 19th century home in the town's historic center, this hostel has been updated to make it modern and comfortable. It's ideal not only for solo travelers, but for families and friends traveling together. Private and shared rooms are available for you to choose from.
One of the best things about the property is its location. It's within walking distance of the market where you can buy fresh produce, the cruise terminal, marina, public swimming pools, gardens, shops, museums, terraces, restaurants, and of course, the best nightlife! All the best of Sâo Miguel is within easy reach.
Free breakfast is included in the rate to get you ready for the day. There are also security lockers for peace of mind, and free parking on the premises for those with cars.
$
Garden
Snack bar
Located in the city center
Located in the city center,Commercial Azores Hostel is approximately 2.5 meters away from the harbor that offers boat connections to a variety of Azorean islands
All rooms in the hostel have private bathrooms, and some of the rooms even feature balconies or seating areas. You can enjoy spending time with your loved one in the outdoor terrace and lounge, reading a book or simply relaxing.
The snack bar serves Portuguese snacks, as well as light meals. The short walk to the city center offers up a bevy of different restaurant options, too!
Another Hostel for Solo Travelers – The Nook Hostel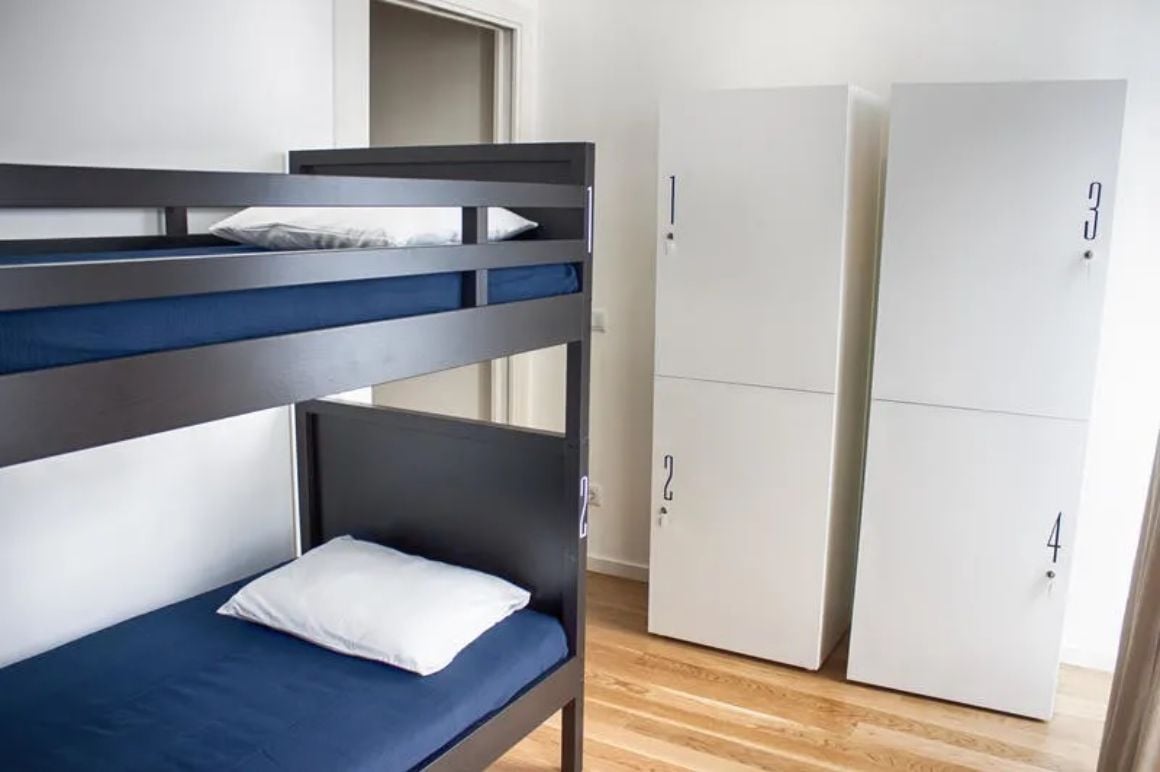 $
Free breakfast
Bicycle hire
Wheelchair friendly
Located in the city center of Ponta Delgada, in a restored 20th century building, The Nook Hostel may be small but it is cozy, warm, and friendly – perfect for solo travelers.
There are private rooms and shared rooms, as well as common areas perfect for mingling with other travelers and exchanging travel stories. Fill yourself up with the free daily breakfast, ideal for preparing for a day full of activities. The kitchen is fully equipped, and you can use it to prepare your own meals!
Check with the staff for their recommendations – be it food, day tours, activities, and the most important sights to see nearby. The WiFi is free and available throughout the premises, even in the rooms!
If you would like to take a bicycle to explore the surroundings, just rent one! Finally, security lockers are available in the dorms so you can stash your things while you're out exploring the area.
Epic Hostel for Digital Nomads – Procyon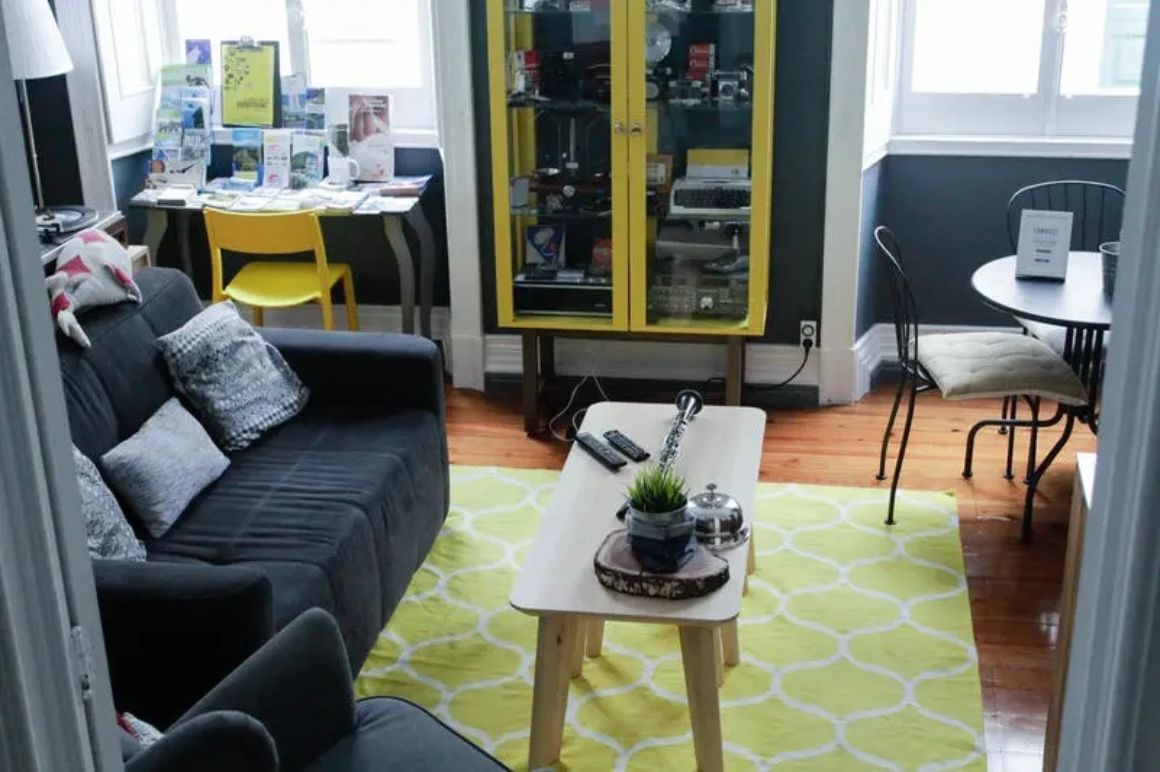 $
Bar
Free breakfast
Workspace area
If you're a digital nomad who's hoping to explore Ponta Delgada, and get some work done at the same time, Procyon is the perfect hostel for you.
It is designed for nomads, and features a workspace where you can work comfortably. You can relax after work by joining other travelers at the on-site bar – get a drink or two, and order a satisfying meal.
Located in an old and recovered building, the hostel has a lot of history, but has been updated to make it modern and comfortable. You can spend your free time getting to know the other guests in the spacious common areas.
Airport transfers and bicycle hires can be arranged, just check with the staff. There is a tours and travel desk on hand to help arrange any special trips.
Procyon is one of our favourites in Ponta Delgada but they're not taking guests right now. We're not sure if they're closed for good but we hope they'll come back soon.

Our GREATEST Travel Secrets…
Pop your email here & get the original Broke Backpacker Bible for FREE.
Most Affordable Hostel – Ponta Delgada Youth Hostel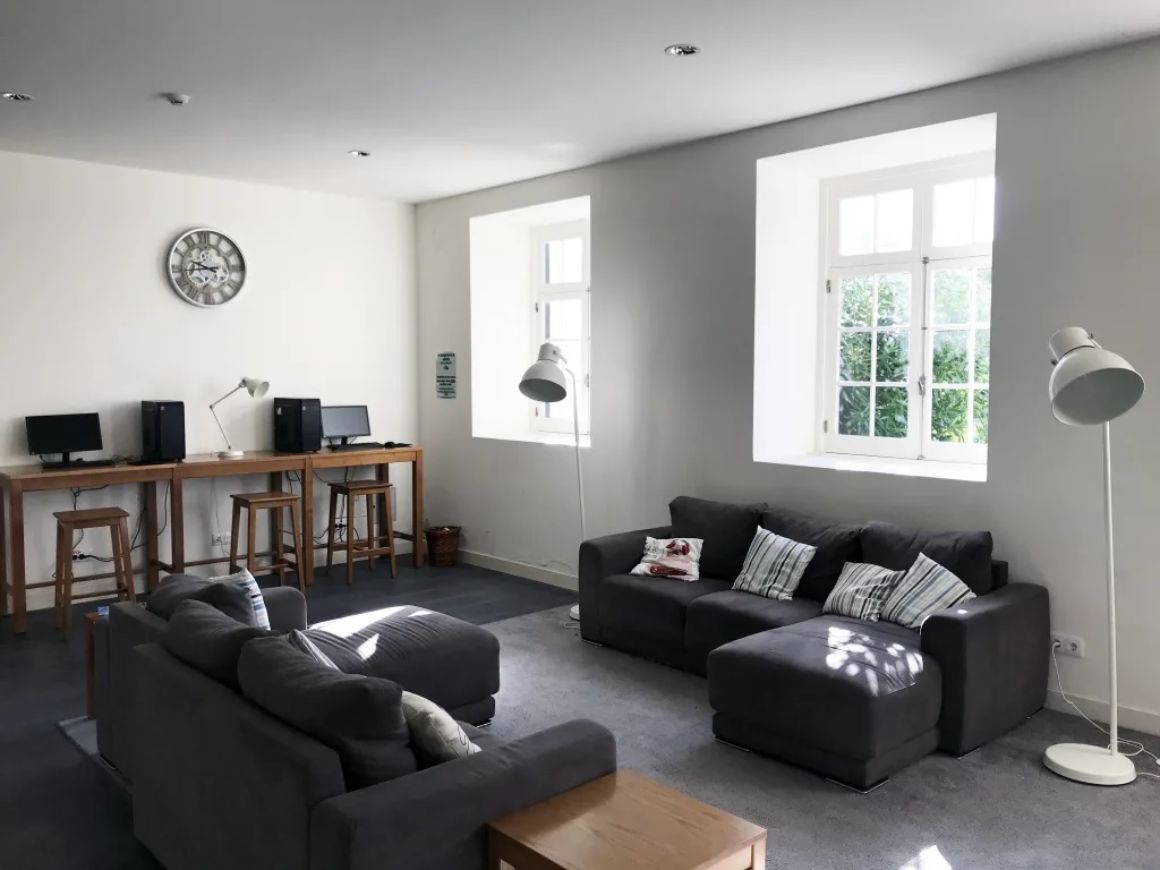 $
Free breakfast
Airport transfers
Minutes from the town center
A strict budget isn't a problem with Ponta Delgada Youth Hostel. They have a free breakfast that is served daily, and an excellent location, within 5 minutes away from the city center, saving on transport costs. You can take a stroll, while enjoying the sights and smells of the town.
Check out the Clock Tower of the Church of St. Sebastian, Sao Jose Church, Church of Sao Pedro, Hermitage of the Mother of God, Carlos Machado Museum, Conceicao Palace, and the Town Hall which looks splendid at night.
Ponta Delgada Youth Hostel is one of our favourites in Ponta Delgada but they're not taking guests right now. We're not sure if they're closed for good but we hope they'll come back soon.
Ponta Delgada Hostels FAQ
Travel Safety Tips for Ponta Delgada
ALWAYS sort out your backpacker insurance before your trip. There's plenty to choose from in that department, but a good place to start is Safety Wing.
They offer month-to-month payments, no lock-in contracts, and require absolutely no itineraries: that's the exact kind of insurance long-term travellers and digital nomads need.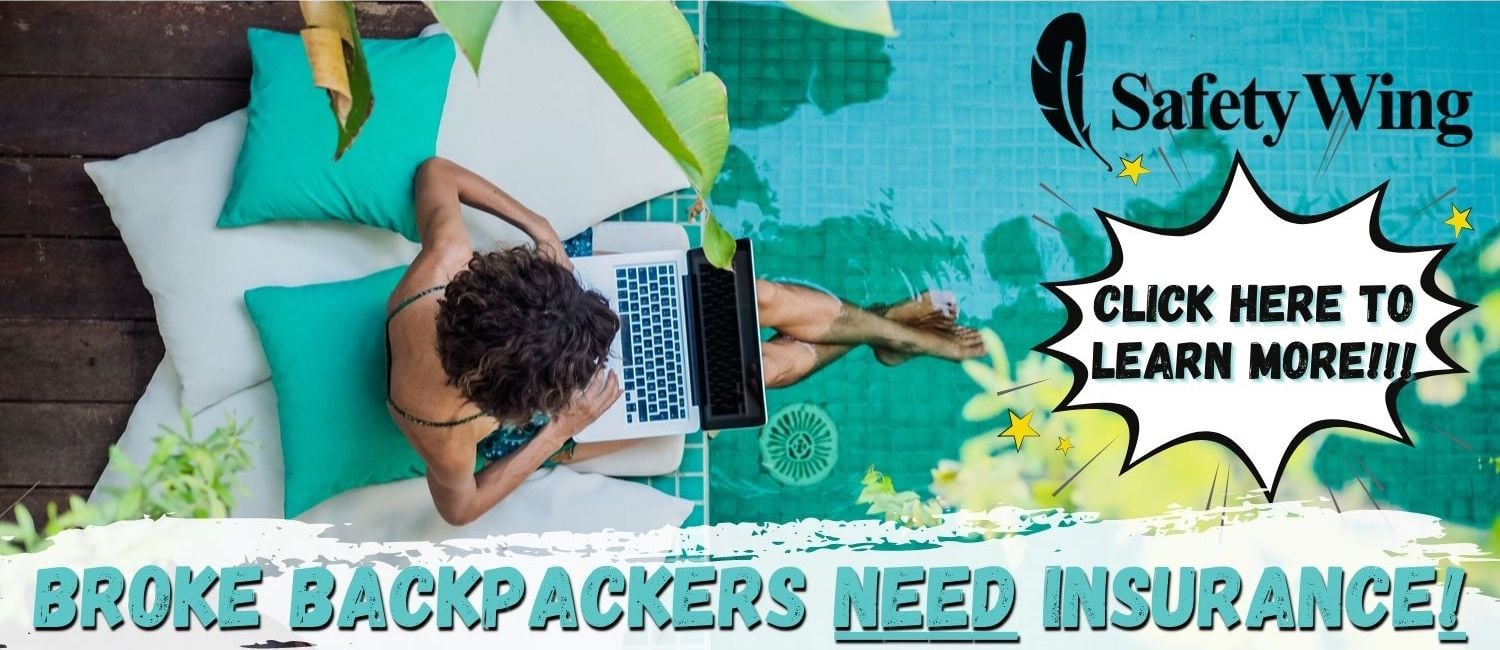 SafetyWing is cheap, easy, and admin-free: just sign up lickety-split so you can get back to it!
Click the button below to learn more about SafetyWing's setup or read our insider review for the full tasty scoop.
Final Thoughts
Aptly named the "Green Island" and situated on the south coast of Sâo Miguel, Ponta Delgada is famous for its long and beautiful seaside promenade, century-old churches, and breathtaking views. It's the perfect destination for those who would like to unwind.
We've taken the time to check out the best hostels in Ponta Delgada, so you don't have to. Still don't know where to book? You can't go wrong with IN53 Guest House – it's located centrally and is near public transport!
---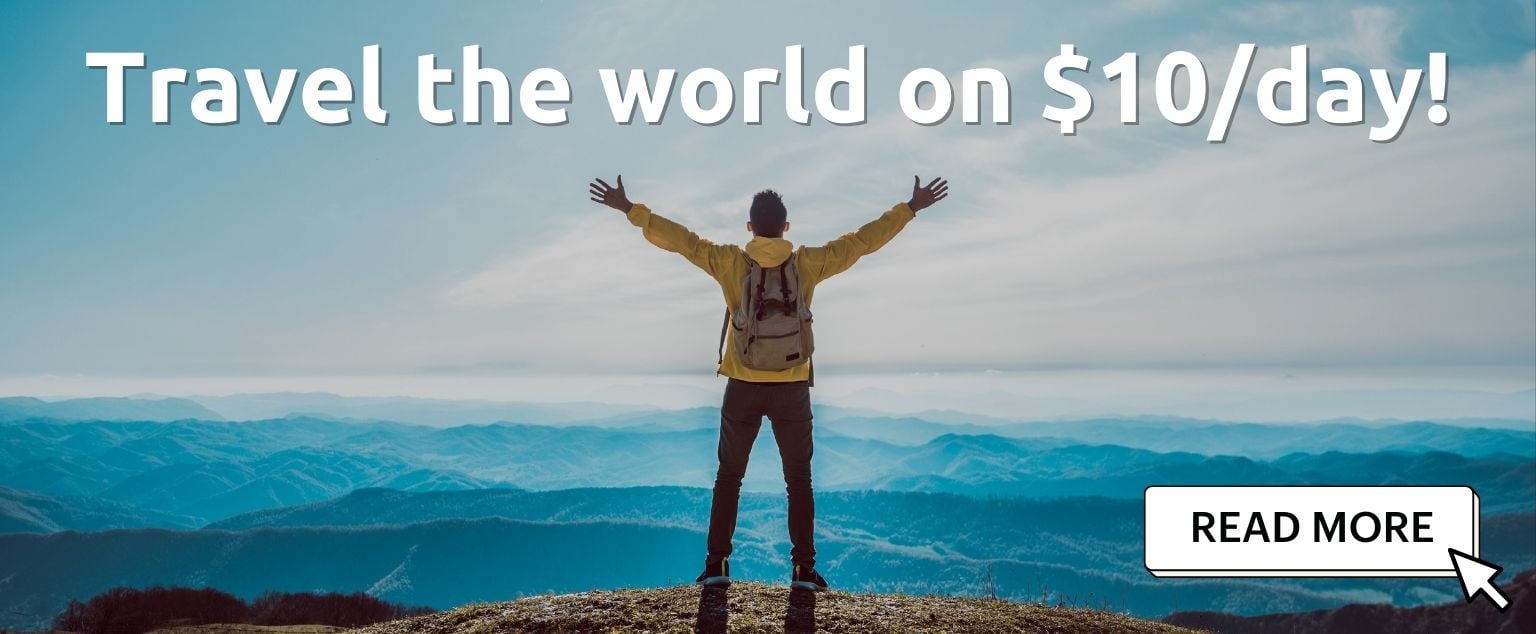 And for transparency's sake, please know that some of the links in our content are affiliate links. That means that if you book your accommodation, buy your gear, or sort your insurance through our link, we earn a small commission (at no extra cost to you). That said, we only link to the gear we trust and never recommend services we don't believe are up to scratch. Again, thank you!