Thinking about heading to Portugal?  Then do it! Get your bags packed and get ready to explore this incredible country filled with pristine beaches, delicious food, and great wine!
Have some facts. Portugal is one of the oldest countries in all of Europe. Its' borders remain relatively unchanged  since 1297. What else does Portugal have on the rest of Europe? How about loads of dolphins? Moreover, Portugal also has the largest artificial underwater park in the entire world! Psyched for Portugal? Well you should be!
In this Where To Stay in Portugal guide I will run you through some of the tip-top places to stay in Portugal. I'll cover the best hotels in Portugal and other lodgings in Portugal options, from hostels to hotels to guest houses to Airbnbs.
Ready to hang out with the dolphins and dive in? Let's go.
Quick Answers: Where is the Best Place to Stay in Portugal?
Map of Where to Stay in Portugal
Lisbon is incredible and has absolutely everything. From amazing art and museum options, (check out the MAAT, the MUDE, and the LxFactory), to the white sandy beaches just outside the city center, Lisbon truly has it all. This positively picturesque city is a beautiful blend of the old and the new. Don't forget to see Padrão de Descobrimentos and the Torre de Belém. Make sure to pick up some sweet, sugary Pasteis de Belém while in the area too.
The beach district in Lisbon is the perfect city-escape, called the Cascais. It can even feel like another city entirely! Expect plenty of relaxation and soaking up some sunshine in the Cascais, it's one of the best Lisbon day trips.
Best Places to Stay in Lisbon:
Baixa and Rossio are perhaps the most tourist-friendly neighborhoods in Lisbon. They form part of the downtown are and are close to many of the city's top tourist sites and the Rossio train station. If you'd rather have a more off the beaten path experience, stay in Barrio Alto for more boho vibes in this hip, hilly neighborhood.
Staying in Lisbon? Good because it's perhaps the best city to stay in Portugal. And you're going to want to stay at an epic Lisbon Airbnb. You'll be situated in the heart of the Baixa and Rossio neighborhood. You'll also be just a quick walk to the historic Alfama district, to the waterfront and to the exceptionally popular Praca do Comercio.
Best Hostel in Lisbon: Lisbon Old Town Hostel
Lisbon Old Town Hostel is situated on one of the seven hills in Lisbon, in the Bairro Alto quarter in a beautifully renovated 18th-century building. There's multiple types of dorms to choose from, as well as four common areas to share. What's more? There are two fully equipped kitchens that are ready for guests to make use of. This hostel is a guaranteed win.
Best Hotel in Lisbon: Hotel Expo Astoria
Ah the Hotel Expo Astoria, the perfect hotel-home-away-from-home in Lisbon. It's in a gorgeous old building, that is styled inside with tasteful, contemporary and trendy design. This centrally located hotel is within easy walking distance to most of the top Lisbon sites. In fact, it is mere steps away from Marques do Pombal Square and Eduardo VII Park. There is also an onsite restaurant available, should you want to relax and enjoy a quality meal after a long day of exploring the best city in Portugal!
Faro is the capital and one of the best places to stay in the Algarve. It's a gorgeous, coastal city that promises you and your family true relaxation. Walking around the old town, with its iconic cobblestone streets, is a treat for the whole family. Your family may also enjoy visiting the 13th century Faro Cathedral and the Municipal Museum. This museum is actually housed in a 16th-century convent, surprise surprise! And the kids are sure to enjoy all the displays of medieval artifacts and the prehistoric exhibits.
Although Faro is a capital city, don't fear, it's not a hustle and bustle situation here. In fact it's incredibly laid back and relaxing. Plus, it's right on the water at the corner of the Atlantic Ocean and the Cadiz Gulf. Guess what? This ancient city has as many museums as it does white, sandy beaches! That's sure to keep the family happy.
While it is nice to stay a little inland, you might find life more relaxing near the beach. Try to stay as close to the beach as possible to maximize those family vacation relaxation vibes.
Guest House Sao Filipe is a beautiful guest house located in old town Faro. The Cathedral of Faro is just a block away. You and your family will love the helpful, kind staff who are known for helping guests organize everything from boat tours to the best dinner options. Also, the air conditioning, modern bathrooms, and other amenities are what make this guesthouse a great pick for you and your family.
The Hotel Faro and Beach Club falls a bit more on the pricier side of places to stay in Portugal. However it comes with all the bells and whistles to take the stress out of your family vacation! The Faro Old Town is just a three-minute walk away, and you'll be just a five-minute walk from the train station and bus station too. The hotel itself looks over the marina, so enjoy beautiful views of the water below. Also, the fresh buffet breakfast is quite the crowd-pleaser.
Best Airbnb in Faro: Well'Come! To The Fisherman's House
This recently renovated old fisherman's house is a perfect Airbnb for a memorable family vacation. It has to be one of the coolest Portugal accommodation options out there! It's located in the city center, and has two bedrooms with three beds, and a fully equipped kitchen. It will be just a ten-minute walk to the old town, and a brief 15 minute walk to the bus station! There's even easy street parking right next door, if you and your family are traveling with a car. Plus, it's just a fifteen-minute drive to the beach!
If you're heading to Sao Miguel Island, could you please take me with you?! It would definitely kill your romantic vibes, but I'll happily be a third wheel to get to head back to this beautiful island. You and your significant other are sure to fall in love with Sao Miguel Island in the Azores Archipelago. All of the islands in the Azores Archipelago are known for having beautiful weather, excellent hiking, and downright delicious food, but Sao Miguel is hands down my favorite.
Sao Miguel's nickname is "The Green Island" or "Ilha Verde" as it has abundant gorgeous, green hills, mountains, and immensely verdant landscape. Sao Miguel is not just rich on land, it's also known for its incredible marine life. If you happen to be interested in scuba diving or whale watching, this is the place for it.
If you are looking to escape the real world, this one of a kind experience in Sao Miguel, will suit you and your significant other perfectly!
Best Places to Stay in Sao Miguel
Sao Miguel is the biggest island in the Azores Archipelago. There are plenty of fun areas to stay in and incredible things to see here such as the twin crater lakes of Sete Cidades that lie to the northwest. What makes those crater lakes so amazing is that one is green and one is blue! If you'd rather visit some hot springs and fumaroles, head to the east to Furanas. Or, you can always stay in the capital of the island, Ponta Delgado, for a more urban and convenient travel experience.
Are you ready to snuggle up in this mega-romantic Airbnb, Quinta do Vinhático, in Sao Miguel? Situated just five minutes from the center of Ponta Delgada by car, you will be able to bask in your own personal garden oasis. You'll be immersed in a garden that offers views of both the sea and the mountains. When staying in Portugal, and specifically, in one of the best areas to stay in Portugal, you're going to fall even more in love in this Sao Miguel Airbnb!
Skip getting squashed into a hostel dorm room, you're after a romantic getaway after all! Plus, even if you get a private room at a hostel, the noise and uber social environment can be bothersome. The Comercial Azores Boutique Guesthouse in Ponta Delgada sits just over 1,000 feet from the ocean and the harbour. The sweet and simple style of this guesthouse makes me swoon! Plus, there's even a snack-bar on site to enjoy Portuguese snacks and light meals.
There are some great hostels in Ponta Delgada for those on a budget.
The beautiful and modern hotel of Vista Do Vale is situated in Furnas, just steps away from the hot springs and the hiking trails. You and your significant other will let out a giant sigh of relief when arriving to this rural village and to your beautiful hotel. It's so peaceful here! Plus, the hotel has its own outdoor pool, which is perfect for relaxing in after a long day of exploring. Plus, these hotel rooms won't break the bank. Rooms come in at a very affordable price.
Lisbon is wildly popular with tourists with good reason. Whether its urban art, world-class nightlife, museums, architecture or culinary experiences you are looking for, Lisbon has you covered. There is as much history as there is modern fashion and shopping. Yeah, you're going to love Lisbon!
Lisbon tops the charts for the coolest place to stay in Portugal because there is just so much to see and do here! From the medieval tower of Belem, to the gothic Jeronimos monastery, to the Moorish Castelo de S. Jerome, there are delights at every turn.
But what really makes Lisbon so cool is the roaring nightlife that will keep you dancing until dawn. Also, there is an incredible amount of experimental cuisine going on in Lisbon and food is damned good. So if you're in the mood to try some bifanas (pork buns) or egg tarts (pasties de nata) you're in luck in Lisbon!
Best Places to Stay in Lisbon
I've already mentioned earlier that the Baixa and Rossio area is the tourist hub of the city. However, if you're looking for the coolest place to stay in Lisbon, then soak up the hip and boho vibes in the Bairro Alto. That district is packed with tattoo parlors, hostels, and fabulous bars. Just north of Bairro Alto, the neighborhood of Principle Real is the trendy, social district that is filled with grand and gorgeous buildings!
Living Lounge Hostel is a boutique-style hostel that is bursting with color and unique things. My personal favorite part of the hostel is the free breakfast complete with pancakes galore! Who doesn't crave pancakes when traveling? There are also affordable three-course dinners and wine available at dinner time. This chic hostel sits in Lisbon's Baixa district, just a 12 minute walk to the nightlife at Bairro Alto!
The 9Hotel Mercy is located in the hip Bairro Alto neighborhood and the rooms actually overlook Sao Jorge Castle. Talk about a room with a view. The vibes of this hotel are more opulent and luxurious. And yes, there is a price tag to go with glitz and glam. But if you're looking to talk a walk on the ritzy side of life, the 9Hotel Mercy is the place to do it!
Best Airbnb in Lisbon: 2 Bedroom Apartment in Principe Real
This Airbnb is positively darling. It's just a five-minute walk from Bairro Alto and drips with charm. It is a two-bedroom apartment with three beds, which makes staying with friends a breeze. There is a fully equipped kitchen, great wifi, and all the amenities you could need. There's also a tram and metro station nearby. You'll love the huge bathroom, too!
The original capital of Portugal, Guimaraes is one of the least tourist-centric cities in the country. It is filled with ancient architecture and lots of good food, but is quite inexpensive. If staying in Porto sounds to pricey, one could easily opt for Guimaraes and then take the train to the former. This can be a great place to stay if you want to pay less, but still stay close to the action. The best part is you won't be in the middle of the hustle and bustle and crowds!
Plus, since it was the original capital, there are plenty of historical gems there! From the Guimaraes 11th century castle, to the Palace of the Dukes of Braganza— beautiful buildings abound! Moreover, there is the Citania de Briteiros to explore, the site of ancient hill settlements that also offers beautiful views of Guimaraes below.
Best Places to Stay in Guimaraes
As Guimaraes isn't as touristy as other places, this is definitely the best city in Portugal to stay on a budget! Whether you opt to stay a little outside the city center and have a quieter experience in a residential neighborhood, or choose to stay right in the heart of it all— you can't go wrong in Guimaraes!
Can you believe that you can get a two-bedroom house with a jacuzzi for under $50 a night! That's right, up to five guests can comfortably stay in this two-bedroom—with three separate beds— home! So if you're splitting it between five friends, it's just $10 a night. You'll be in a quiet space, with free parking, and a bus stop is super close by. It's not too far from the city center either, situated in a residential neighborhood with a cafe, restaurant, and small market right on the same street.
Nestled right in the heart of Guimaraes, this hostel is close to all the main tourist spots like the City Market and the Plataforma das Artes. Of course, you'll also be close to the bus terminal and all the best shopping! The hostel itself is in an old 17th century home that has been lovingly renovated. This hostel is the best place to base yourself in Guimaraes to save some dough, and to get the most out of the city!
This historic and beautiful hotel still has a very affordable price tag. You'll love staying in the historic center of Guimaraes and being just a few minutes walk from all the beautiful tourist spots. My favorite aspect of this hotel is that while they do serve breakfast daily in the dining area, the reception can also pack a breakfast or lunch to go! How nice is that? This hotel sure is known for having very friendly and kind staff.
Fashioned after fairy tales, this incredible city rests above an ancient forest and is one of the most bizarre and intriguing sites in Europe. I'll do my best to describe it, but to fully take in the eccentricities of this city, you're going to have to come visit it yourself. Checking out some photos wouldn't hurt, though! Old Sintra is a true Portuguese gem.
Sintra lies in the foothills of the Sintra Mountains a 40-minute drive away from Lisbon. Plentiful palaces and pastel-colored villas make Sintra positively picturesque. You simply can't miss visiting the Pena National Palace, IT'S perched on a hilltop and is bright yellow and pink. Gawking at this incredibly unique architectural gem is a must-do in Sintra.
Best Places to Stay in Sintra
When looking for lodging in Portugal's Sintra, definitely stay as close to the city center as you can. You want to be in the heart of it all not miss a second of whimsy and fun! Or, you could consider staying inside the Sintra-Cascais Natural Park for a city-escape unique experience— you'll be surrounded by orchards, vineyards, and lush greenery!
This Sintra Airbnb is a three-bedroom and one bathroom home. There are a total of four beds, which makes sleeping six easy as cake! The decor is gorgeous, with lots of antique furniture and thoughtful touches. You'll be staying in a lovely stone building that was actually built right at the tail end of the 19th century! Plus, you'll be close to the historic center of the city.
Best Hostel in Sintra: Nice Way Sintra
Nice Way Sintra is actually inside a renovated ancient palace. That's right, why stay in a boring old building when you can stay in a palace. You'll be in the heart of Sintra, overlooking the Moorish Castle and the Quinta da Regaleira, just a quick five-minute walk to the National Palace. This hostel has both dorm rooms and private rooms, and each room is packed with personality. There is also a fully equipped kitchen that guests have access to.
Best Hotel in Sintra: Sarrazola House
The Sarrazola House sits just five miles outside of the city center of Sintra, inside the Sintra-Cascais Natural Park. This lovely hotel is tucked right amidst the orchards and vineyards. You'll love the tranquil outdoor parts of the properties, filled with relaxing furniture and lavender bushes! Also, it all comes in at budget-friendly prices. This hotel is so gorgeous, it doubles as a wedding venue too.
Located on the Southwestern tip of Portugal, Lagos is situated perfectly for kayaking, scuba diving, hiking, surfing, and most other outdoor activities you might want to do. It is only a twenty-minute drive to the closest point of the Southwest Alentejo and Vicentine Coast Natural Park, one of the largest parks in Portugal.
As the best city in Portugal to stay for adventure, you'll want to see the scenic rock formations at the Ponta da Piedade, and hike down the steep steps to the tiny—and completely magical—Praia do Camilo sandy beach which is one of the most spectacular beaches in Portugal. And why not take a fun boat trip to check out the legendary Bengali Caves!
Best Places To Stay in Lagos
When looking for accommodation in Lagos, try and book somthing as close to the beach as possbile.
Olive Hostel is a social hostel that still has homey, chilled-out vibes. You'll be right in the heart of the old city center, close to all the bars, restaurants, and tourist sites. What's even better is that you'll be just a 10-minute walk to the beach! You'll be feeling right at home at Olive Hostel— it's so cozy, chill, and comfortable. Olive Hostel is the perfect spot to base yourself for your Lagos adventure.
Ah, the Hotel Mar Azul! This beautiful hotel puts you just a three-minute walk to the ocean. You'll be just minutes away from the calm waters at the Meia Praia Beach— a great kitesurfing spot! Plentiful cafes and restaurants surround this hotel, so you won't be struggling to find delicious meal options.
Best Airbnb in Lagos: Casa Mar de Rosas
This large three-bedroom apartment sits in a picturesque Portuguese neighborhood, close to the beach and to the city. You'll love relaxing on the outdoor terrace, sipping a glass of wine while taking in the sunset. Just a two minute to ten-minute walk will bring you to plenty of restaurants, cafes, shops, and supermarkets!
It's no secret that Porto is the best city to stay in Portugal for enjoying great wine! Porto, in Portugals Northwest, is where port wine was invented but there are plenty of other varieties available. There are lots of beautiful buildings and historic spots from the iconic Livraria Lello bookshop, to the neoclassical Bolsa Palace.
But if it's wine that you're really after, then make sure you spend the most time on the wine trail! You should definitely head over to Calem Cellar and tour their beautiful port wine cellars and learn about their ancestral traditions. Plus, at the Caves Ferreira you'll get to visit the iconic tasting room that dates all the way back to the 19th century! Sip your port and travel back in history.
Best Places To Stay in Porto
Try to stay in the medieval Ribeira district, also known as the Riverside district. The winding cobblestone streets are filled with treasures— chic cafes and old merchants' houses! If it's over your budget, then check out the city centre.
The Porto Spot Hostel is simply fabulous. Enjoy complimentary breakfast each morning and hop on the hostel pub crawls in the evening. The hostel also provides guests with free walking tours of the city, so you'll love getting a local's view of the city. It's located in the city center – which is one of our favorite neighborhoods to stay in Porto – and is close to many of the city's top spots.
The Ribeira do Porto Hotel is simply divine. It's an elegant hotel that dwells in the upscale Ribeira District that overlooks the Douro River. On the second floor of the hotel, there is A Tasca Bar that serves a complimentary breakfast buffet each day. While this hotel is a bit more of a splurge, it promises a memorable stay in a beautiful location. Most rooms even overlook the river and the iconic D. Luis Bridge!
Best Airbnb in Porto: The Porto Concierge – Martires Duplex
The Porto Concierge is a beautiful one bedroom flat that actually has three beds in it. You'll enjoy privacy, all while being centrally located. The big windows are perfect for sipping a cup of tea and taking in the city views. It's sparkling clean and very stylishly furnished— a blend of vintage and modern.
While there may have been a few Portugal accommodation options that piqued your interest, I definitely want to cover the top places to stay in Portugal that positively make me swoon!
Wondering where should I stay in Portugal when traveling to Guimaraes? Look no further than this bargain basement priced Airbnb that offers incredible value! Up to five guests can enjoy this entire home and can spend less than $10 each! Plus, there's the steaming hot jacuzzi to enjoy— so soak up some relaxation while taking advantage of this deal! Lastly, breakfast is also thoughtfully provided each morning.
The 9Hotel Mercy sits in the trendy and very hip Bairro Alto neighborhood in Lisbon that has the best nightlife in the city! The rooms look over the Sao Jorge Castle, so you'll love soaking up the views as you sip your morning coffee. This hotel oozes luxury and opulence and you'll love living it large in Lisbon at the 9Hotel Mercy!
Best Hostel in Portugal – Nice Way Sintra – Sintra
If you are wondering where to stay in Portugal, then check out the best hostels in Portugal. Why not stay in a palace! Don't worry, this won't break the bank. You get to live like a prince or princess… just in a dorm room. The Nice Way Sintra is actually inside a renovated palace right in the heart of Sintra itself.
Books to read while traveling Portugal
Don't Forget Travel Insurance for Portugal
World Nomads' mission is to support and encourage travellers to explore their boundaries. They offer simple & flexible travel insurance, and safety advice to help you travel confidently.
They've been doing it since 2002 – protecting, connecting, and inspiring independent travellers just like you.
Get a quote below or read our in-depth review!
World Nomads provides travel insurance for travelers in over 100 countries. As an affiliate, we receive a fee when you get a quote from World Nomads using this link. We do not represent World Nomads. This is information only and not a recommendation to buy travel insurance.
Packed with wonderful places to stay in Portugal, you're sure to have an incredible trip. Whether you want to do a hike on Sao Miguel or sip some delectable port wine in Porto, you're sure to love where you go. I hope that you found what you were looking for here on my handy dandy Portugal & Azores guide.
---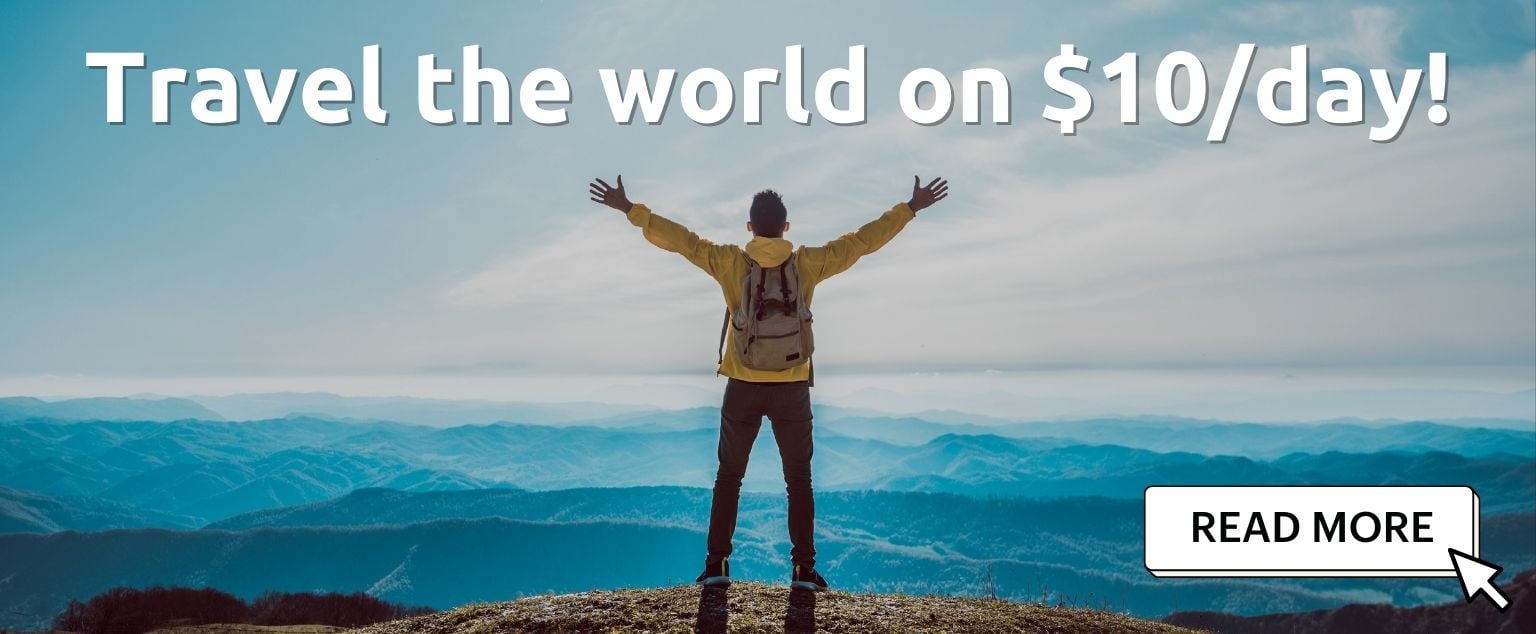 And for transparency's sake, please know that some of the links in our content are affiliate links. That means that if you book your accommodation, buy your gear, or sort your insurance through our link, we earn a small commission (at no extra cost to you). That said, we only link to the gear we trust and never recommend services we don't believe are up to scratch. Again, thank you!