Madeira Island – a small autonomous Portuguese volcanic isle found off the North West Coast of Africa is an absolute paradise for hikers of all types.
There are not many places on earth with the unique combinations of landscape features found here: lush rainforest and fern gardens, old forests, towering waterfalls, massive waves, epic cliffside coastal viewpoints, mist-covered mountain peaks – yeah, you get the idea.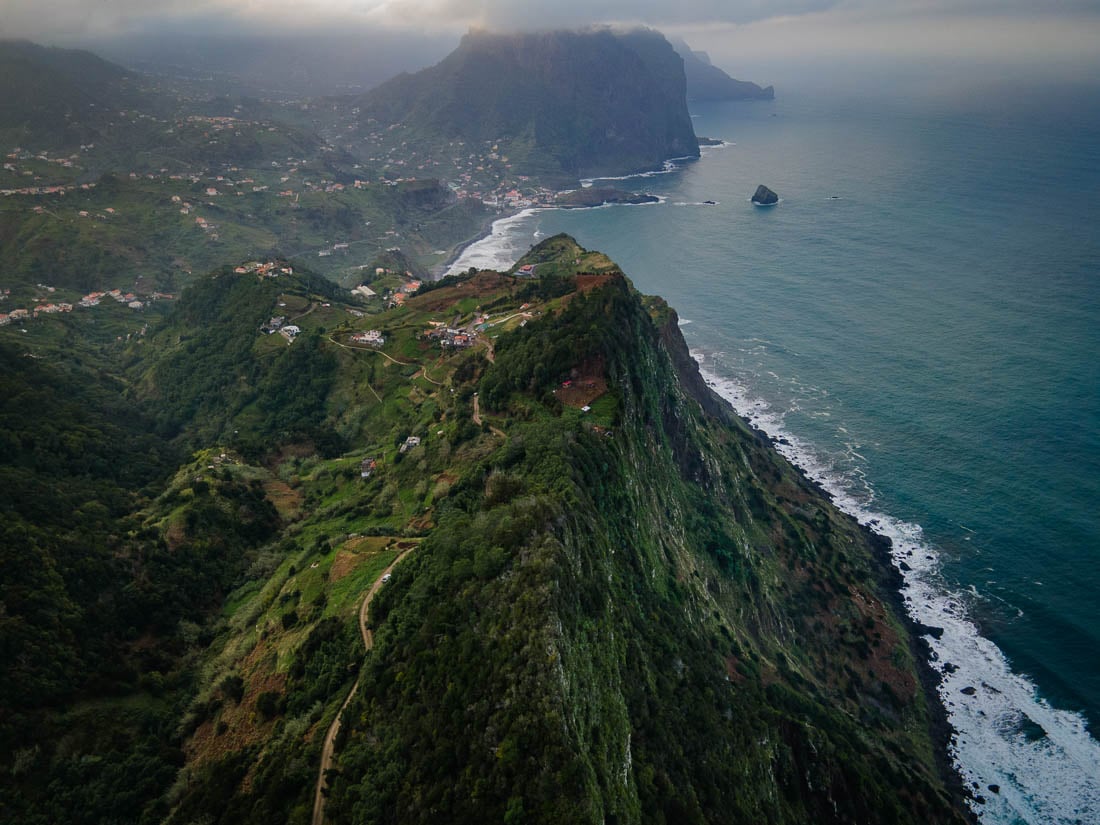 Another factual bright spot about Madeira is its size. There are no great distances to deal with when it comes to moving from your base in town to any given trailhead. In one week, you can easily hit a different trail every day in different parts of the island if you have a car rental – and still have literally dozens of different hiking options left to consider.
I've decided to base myself on this island paradise while waiting for the COVID situation to calm down across the world and will be updating this guide as I go with all of the best hikes on Madeira that I find.
Here are some of my favorite classic and off-beat hikes in Madeira…
PR9 Levada Do Caldeirão Verde (Levada of the Green Cauldron)
Hike Facts:
Distance: 12 Kilometers
Duration: 4-5 hours with food breaks and photo ops.
Difficulty: Easy/Moderate
Distance from Funchal to Trail Head: 45 mins
My first hike on Madeira, this classic out-and-back route is a must when visiting this magical island.
Along the track, you will find lush greenery, epic mountain views, and, babbling streams, plenty of waterfalls, and several tunnels that cut right through the hills. More on the tunnels in a minute.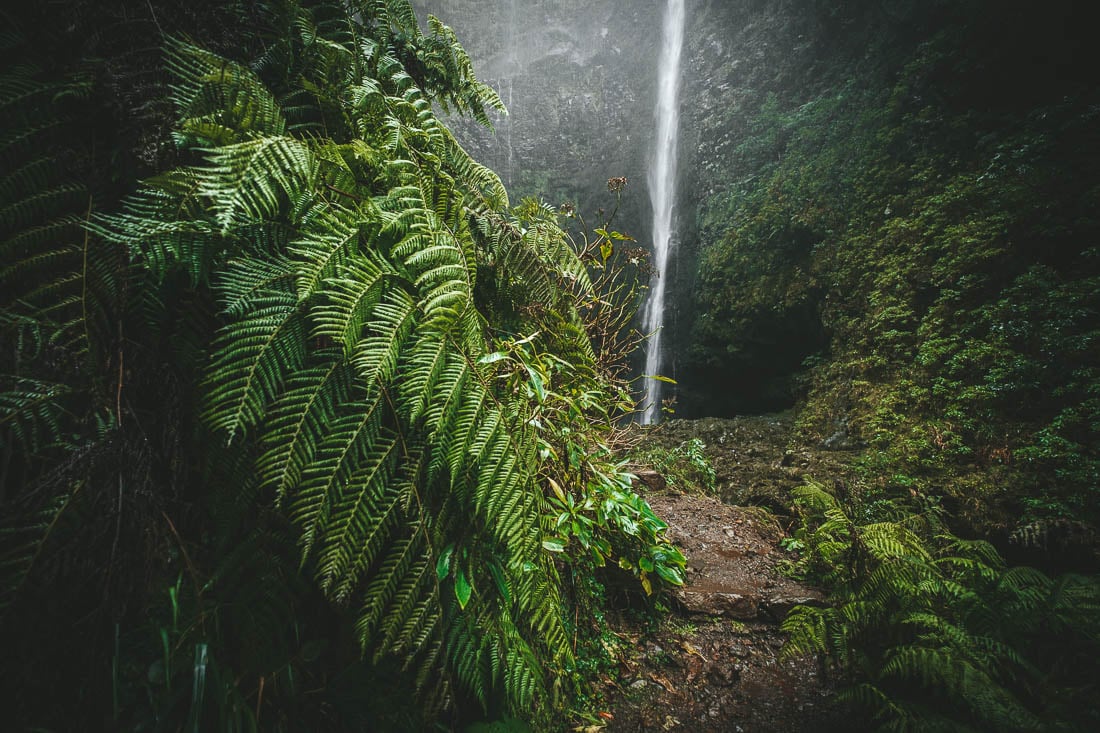 So what is a Levada? Levadas are old irrigation canal systems found all over Madeira – and nowadays many of the best hikes in Madeira follow these Levadas as they crisscross the mountains.
The Caldeirão Verde hike is a great intro walk for your first days on the island because it is 1. not steep or overly difficult and 2. the vibe of the forest and scenery are truly something special.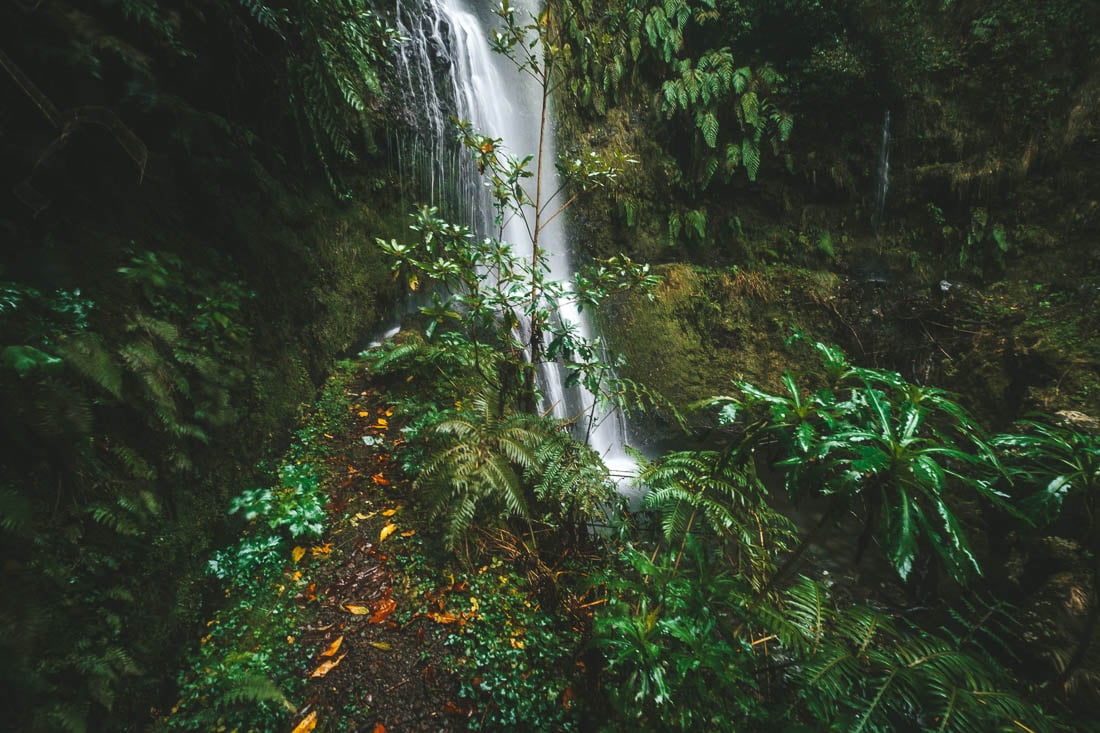 Getting There
As is the case with most treks in Madeira, you will need a car to reach the Levada Do Caldeirão Verde trailhead from Funchal. Total drive time from Funchal was around 45 minutes.
You can park your car at the main trailhead, which lies just below a set of beautiful old cottage buildings that serve as a cafe and reception area. The buildings are very distinct, almost swiss-style, and the cafe is a great place to sip a hot espresso and chow down on a cake after your trek in the little picnic area out front. The cottages also offer over-night accommodation.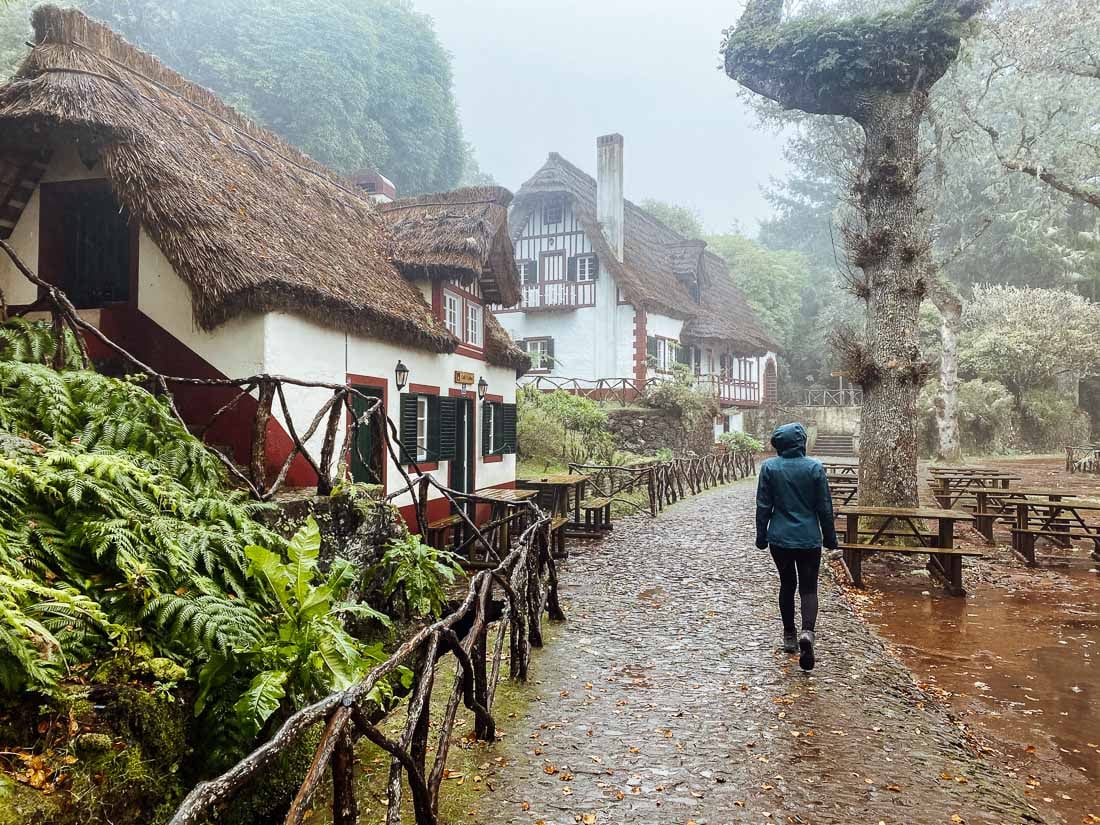 Cost of parking for the day is €3.
Once at the cafe/reception buildings, you walk up the broad leafy path to the right of the buildings if you are facing them to meet the main trail.
Trail Conditions and Route
As mentioned, this hike does not cross any overly steep or strenuous sections.
When I did this hike, it was a rainy day so small waterfalls poured onto the trail from above in places and the trail itself was muddy.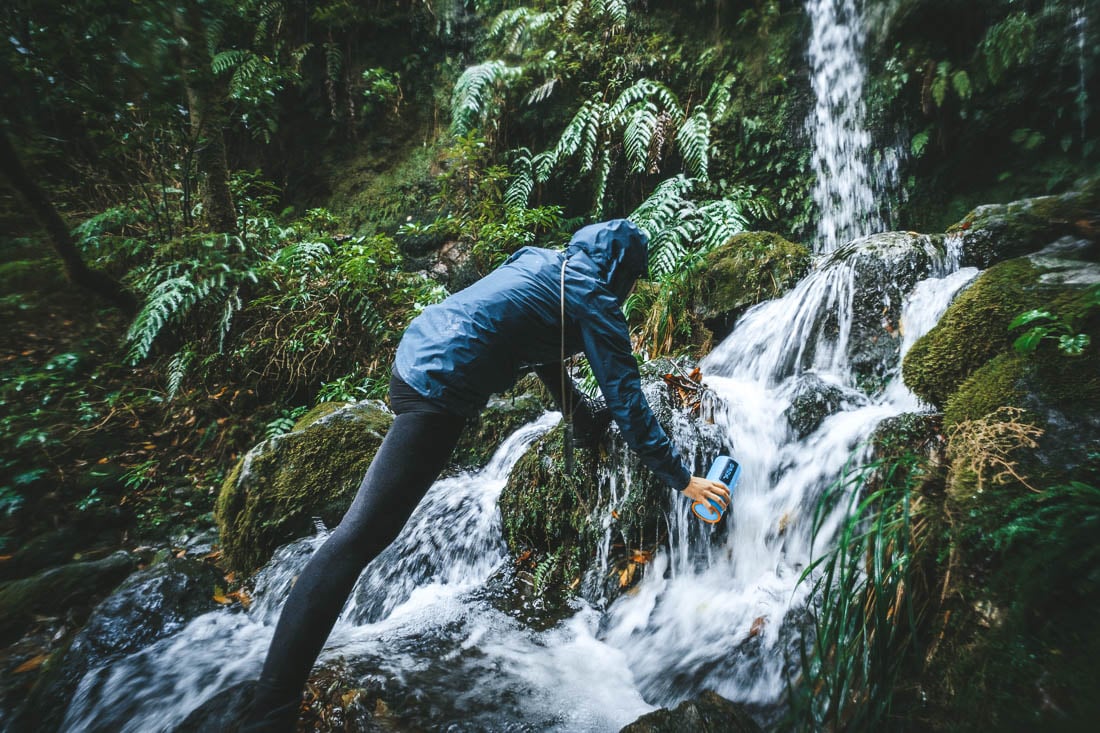 Given that Madeira is an island of microclimates – this area, in particular, is so green and lush because it receives a fair bit of rainfall. Definitely pack a rain jacket, gaiters, and a backpack with a rain cover.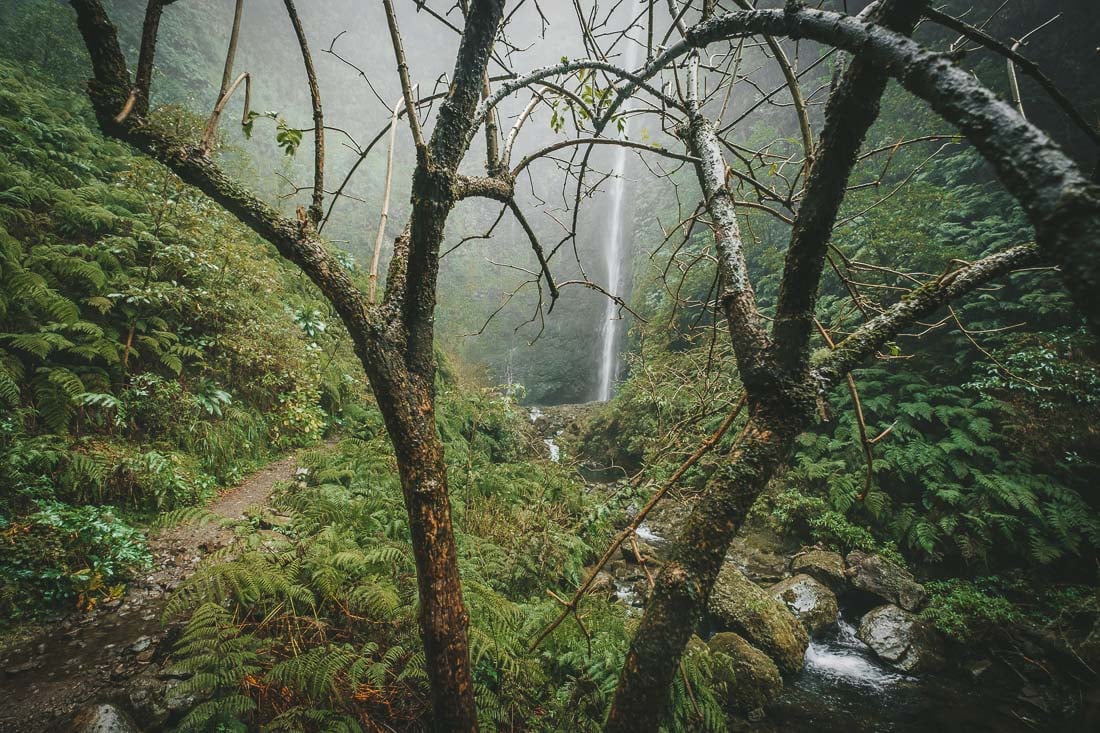 As mentioned, a unique aspect of this trek is all of the tunnels you pass through en route to the main waterfalls! Some of them are as long as a few hundred meters. Mind your head when passing through them as the "ceiling" in some places is quite low.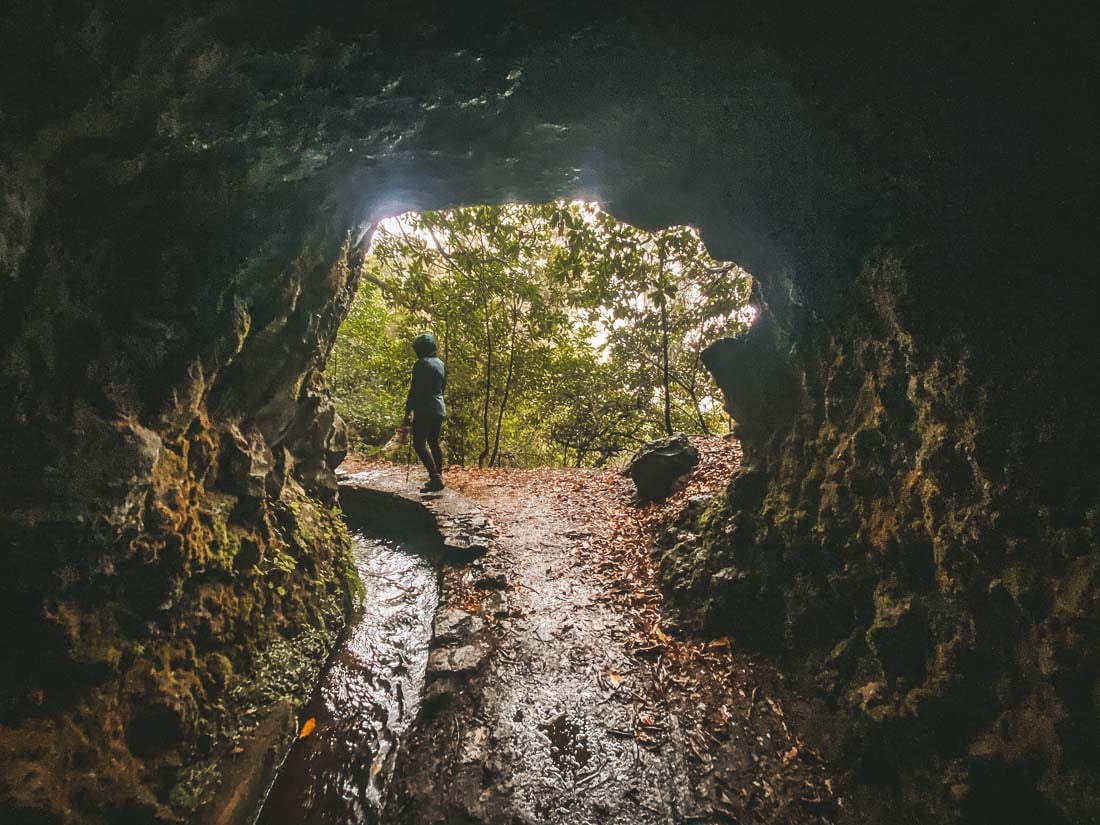 The halfway point of the trek (6 km in) is when you reach the main waterfall (the Green Cauldron) – which is an epic spot to chill out and eat some lunch. Note that due to a landslide in recent years, there is signage stating that the path to the main waterfall is closed.
Nobody was around and we did not feel like the conditions were overly dangerous at that time (even though it was raining a bit) – though it is your call whether or not you continue past the sign to the waterfall – which we did.
If you are feeling motivated, you can carry on for an extra 2.4 km to a second waterfall, called Caldeirão Do Inferno. This will likely add two hours onto your journey but is well worth it if you have the time from the photos I have seen.
Because we started the hike late (around 1 pm), we opted to not continue on to the Caldeirão Do Inferno.
Vereda Do Ponta De São Lourenço Hike
Hike Facts:
Distance: 7 Kilometers
Duration: 2-3 hours with food breaks and photo ops.
Difficulty: Easy/Moderate
Distance from Funchal to Trail Head/Parking: 30 mins
Another classic route on Madeira, the Vereda da Ponta de São Lourenço Hike brings you to the most eastern point on Madeira, whee land's end meets the sea.
This spot is famous for epic coastal views, the red-clay jagged cliffs and hills, and, unique rock formations that have been sculpted over millions of years by the pounding of the Atlantic ocean and wind.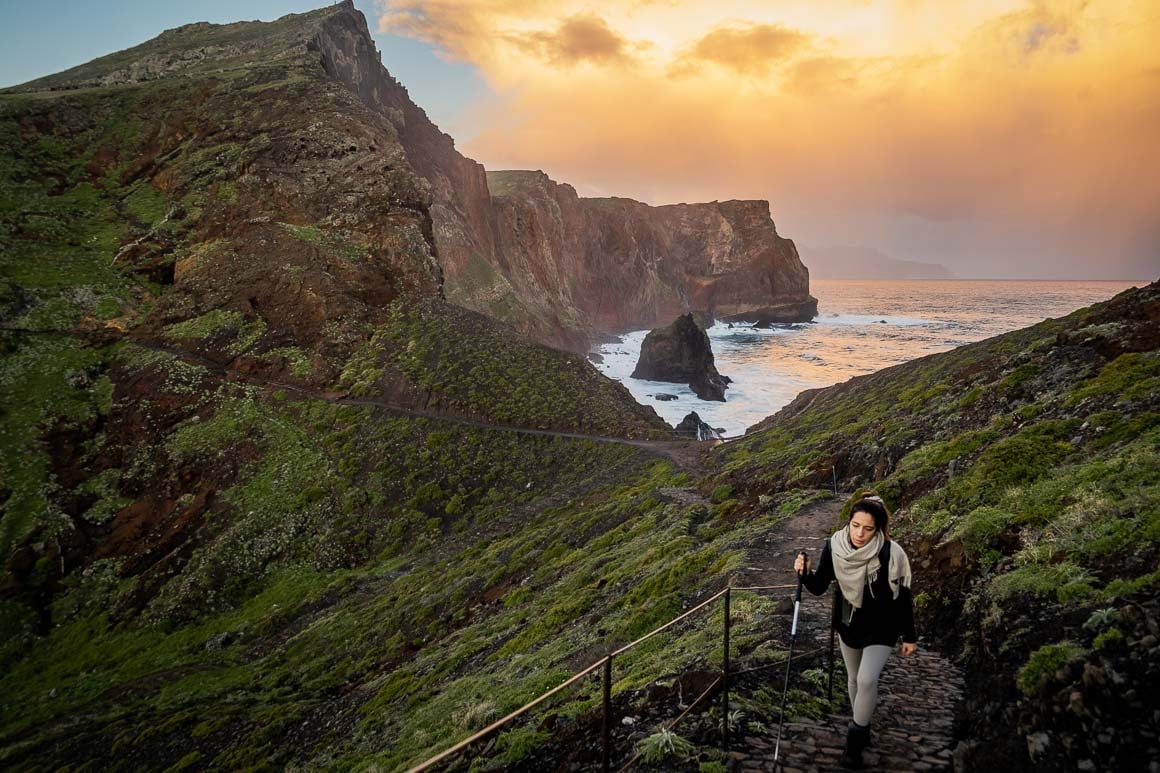 If you are a drone pilot, Ponta de São Lourenço Hike may fast become one of your favorite hikes of all time. From the air, some of the last landmasses (cut off from the trail/mainland by seawater) resemble a tail, which is why somebody aptly named it "the dragons tail".
Getting There
The Vereda da Ponta de São Lourenço Hike is a very popular day hike for both locals and foreigners, so the best time to come here from a foot traffic perspective is sunrise.
The drive from the Funchal City Center takes 30 mins or less if there is no traffic (there is rarely traffic on Madeira from what I have seen).
Parking at the trailhead is free. Just as a common sense tip, I would not leave anything of value within site within your vehicle – better safe than sorry, right?
Trail Conditions and Route
From a safety perspective the track felt very protected and is easier 1. Has the track edges roped off in exposed places or 2. is wide enough to feel quite safe.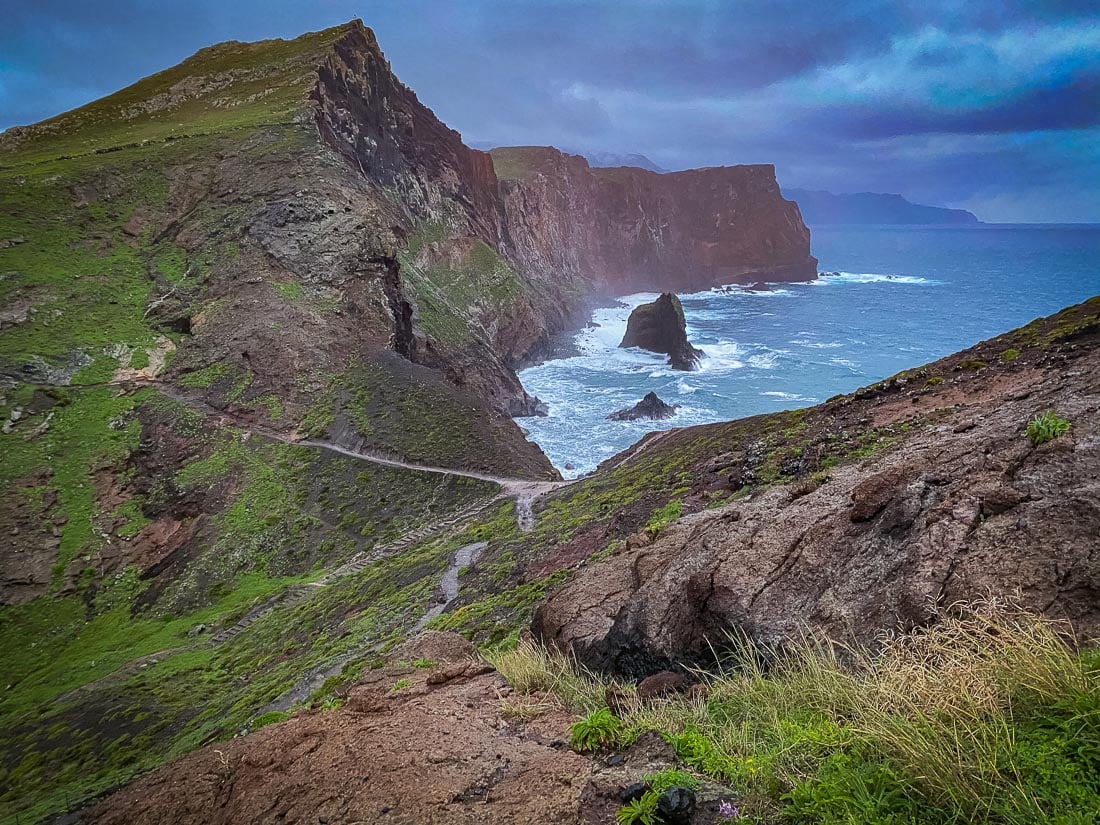 There are moderate elevation gains and losses over the course of the 7 km (out-and-back), but nothing that will leave you huffing and puffing. There are a few hundred meters of gains at the most.
Generally, the trail was quite muddy and slippery in places – which should be true if you come on a day when it has been raining.
In some places, when it was dark, the trail was a bit hard to follow initially, so be sure to have a good headlamp. Also Maps.me has the whole hike charted and is very accurate.
On the morning we went for sunrise – we were the only ones there – and you are about to find out why.
When you Find Bad Weather…
We learned the hard way that the weather on Madeira can be fierce and does not always cooperate. If you have spent some time backpacking in Portugal, the occasional harsh weather here may come as a shock to you/
First of all, we arrived about an hour early in the dark: around 6:30 am and sunrise was not until 7:42 am (in November). It was legit dark because of all of the clouds until 7:40 am. This would normally be fine – and preferred even to be early – but since it was raining the whole time in the dark – it was less than ideal.
After a few minutes of hiking, the rain was coming down so hard that it felt like we were sitting under a showerhead. The wind was also deafening – especially in the higher up exposed places. All we could do was laugh – as it was pretty comical and absurd to have so much weather happening all around us.
We did not get much of a sunrise unfortunately due to rain and cloud cover. This explains why the photos included here are not so good (photos are from my iPhone as it was too rainy to pull out my mirrorless).
Lesson? Be sure to check the weather forecast before setting out – which we did, but also be aware that the weather can change rapidly. This part of the island is known for its volatile weather so it just comes down to what happens on any given day. Hopefully, you will be luckier than us – because in fine weather – the views are insane.
I will update this guide with proper photos after we get back there for round 2!
Vereda Do Larano – Levada Do Caniçal Coastal Hike
Hike Facts:
Distance: 13 Kilometers
Duration: 5-6 hours with food breaks and photo ops.
Difficulty: Moderate
Distance from Funchal to Trail Head (Manchico): 30 mins
For accessible, sweeping-vista coastal views it does not get much better than the Vereda do Larano – Levada do Caniçal hike. This trek takes you from a meandering forest track that runs through small garden plots and rural houses to an absolutely stunning vantage point high up on the cliffs looking down on the vast sea below.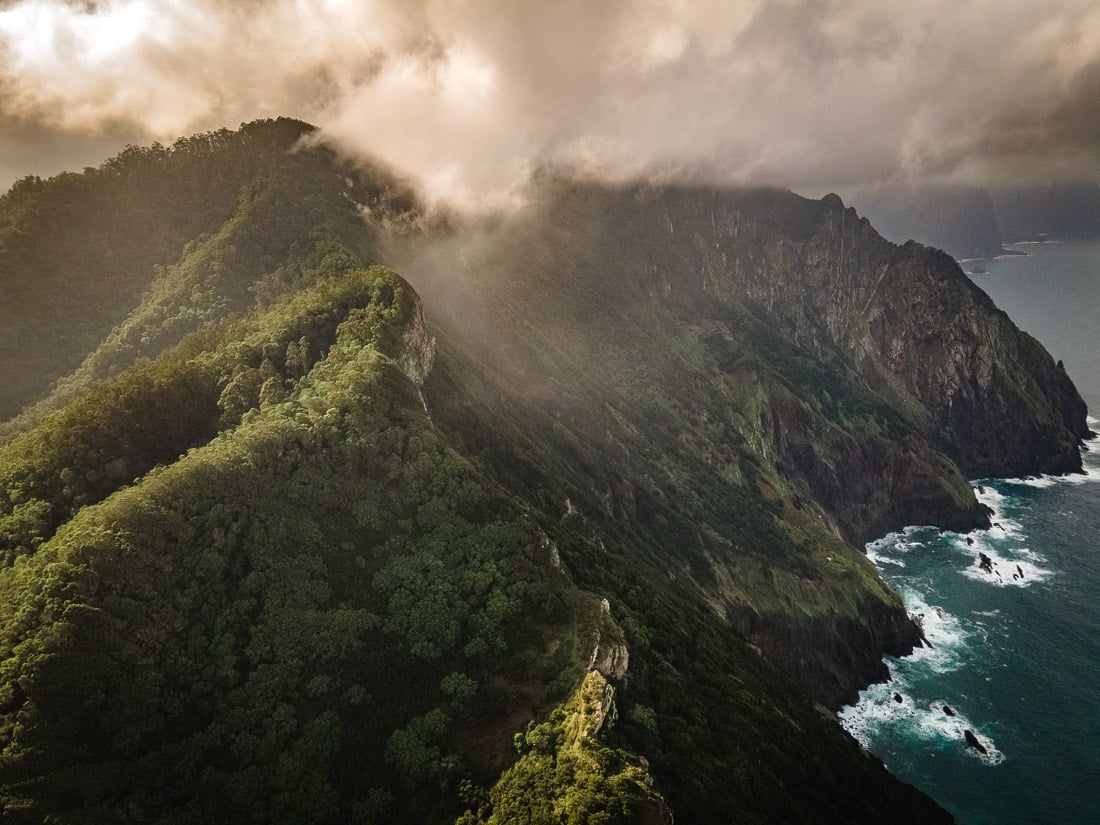 If you are looking for that quintessential Madeira coastal hike where the views are grand, the difficulty is moderate, and the trail is safe – look no further.
Another plus to this hike is that though fairly long, the degree of strenuous difficulty is minimal, making it an ideal hike for casual day hikers, photographers, and the like.
Getting There
To start this hike, you have a few options. Most people start the hike at Levada do Caniçal / Machico side and finish in Porto da Cruz. You could do it the other way around I suppose – or if you did not want to do the whole thing – one can start in Porto da Cruz and return there after a few hours.
Doing the end-to-end hike is the way to go though (Machico -> Porto da Cruz ). Ending in Porto da Cruz is much better as well because there are many food/drink options whereas at the start of the Levada do Caniçal – there is nothing around. Gotta get that post-hike coffee/beer and burger in.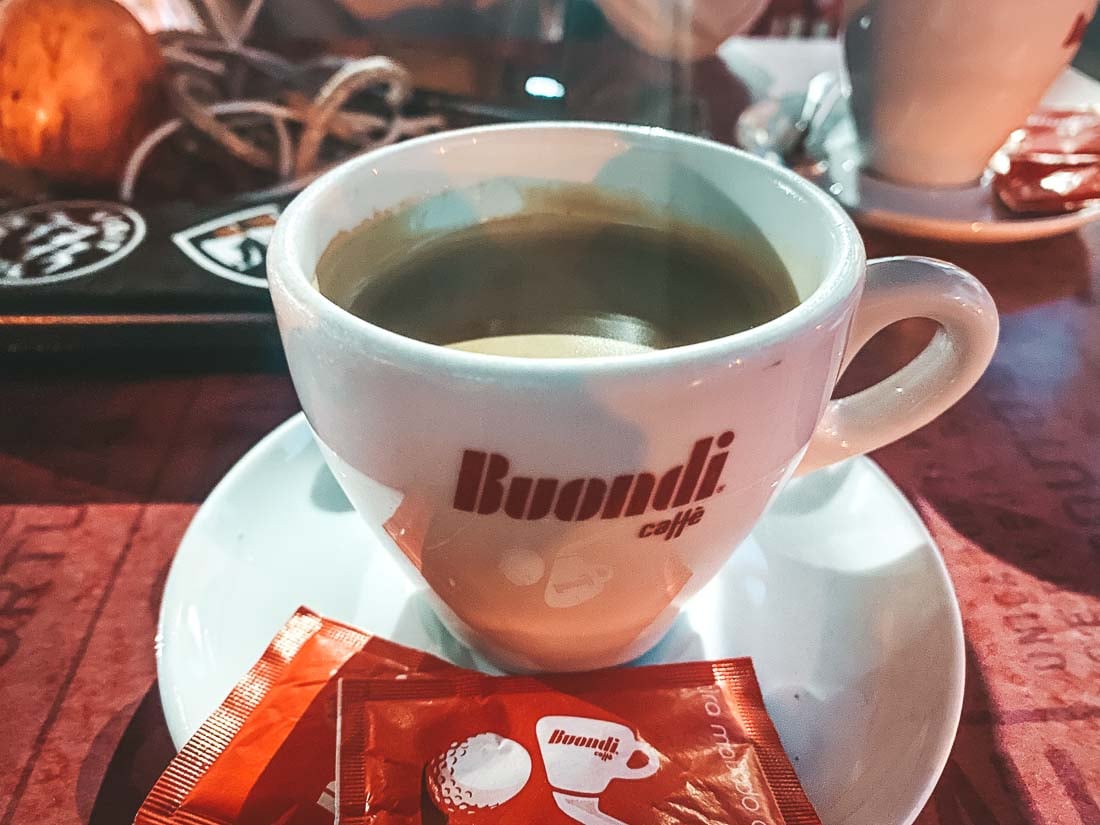 On this day, we did not have a car, so we took an Uber from near the airport (€9) to the start point and took an Uber back to Funchal afterward from Porto da Cruz (€25 ouch). If you don't do the hike on the weekend as we did – there are more public bus options which would end up being far cheaper.
If you do have a car, there is limited parking around the Levada do Caniçal start point area, but you'll find something. The easiest way to get back to your car from Porto da Cruz is to take an Uber (which costs around €10).
Trail Conditions and Route
I'll be honest, though pretty – the first few hours of this hike are not-mind blowing. The track follows the levada canal through overgrown grass, small gardens, and run-down charming old houses. Stay with me though – the best is yet to come.
There are a few points where the trail forks so be sure to pay attention when you come to a road crossing. The trail at that point is found directly across the road, down some stairs. Use Maps.me to stay on track.
A majority of the hike is exposed to sun, so if you have sunny conditions like we had for a majority of the hike, it is a good idea to wear a hat and use sun cream.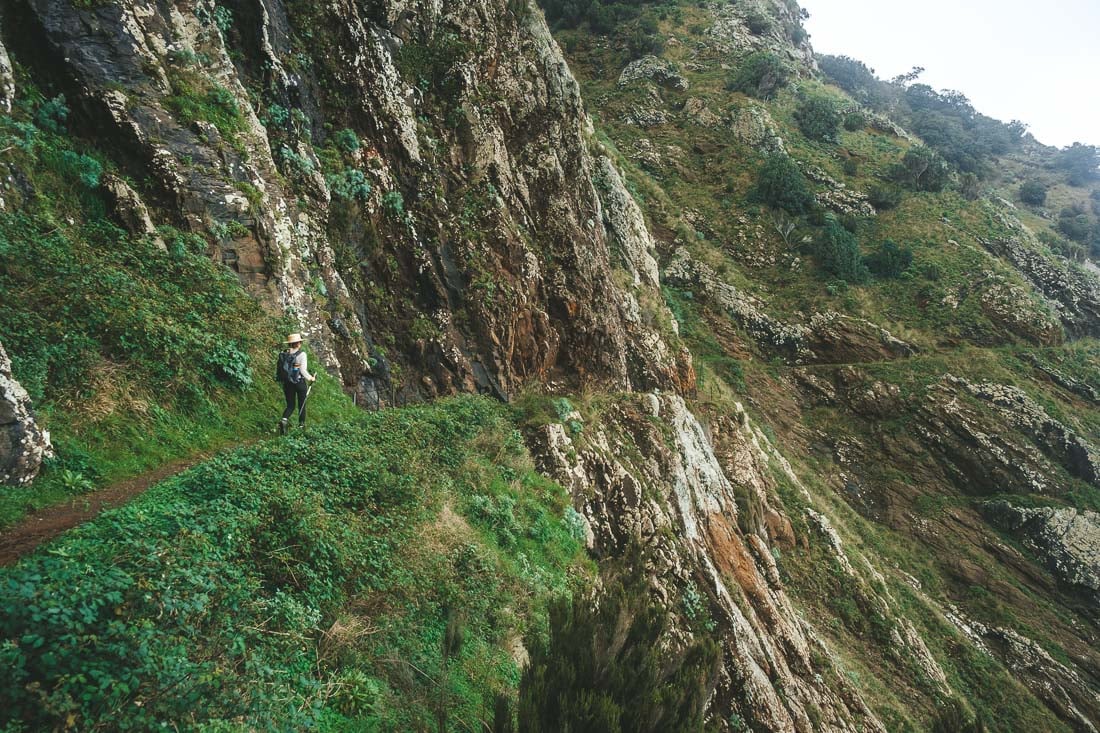 After roughly 5 km, you will get to another fork. Be sure to take the uphill path at the sign that says "Vereda Da Boca Do Risco". This is a crucial juncture so look out for the sign!
After a bit more time, this track ends/forks (seemingly out of nowhere) and marges with the Lavano Track at the top of a gorgeous viewpoint and small meadow – an ideal spot for lunch and drone flight. Boom – oh, hello beautiful sea.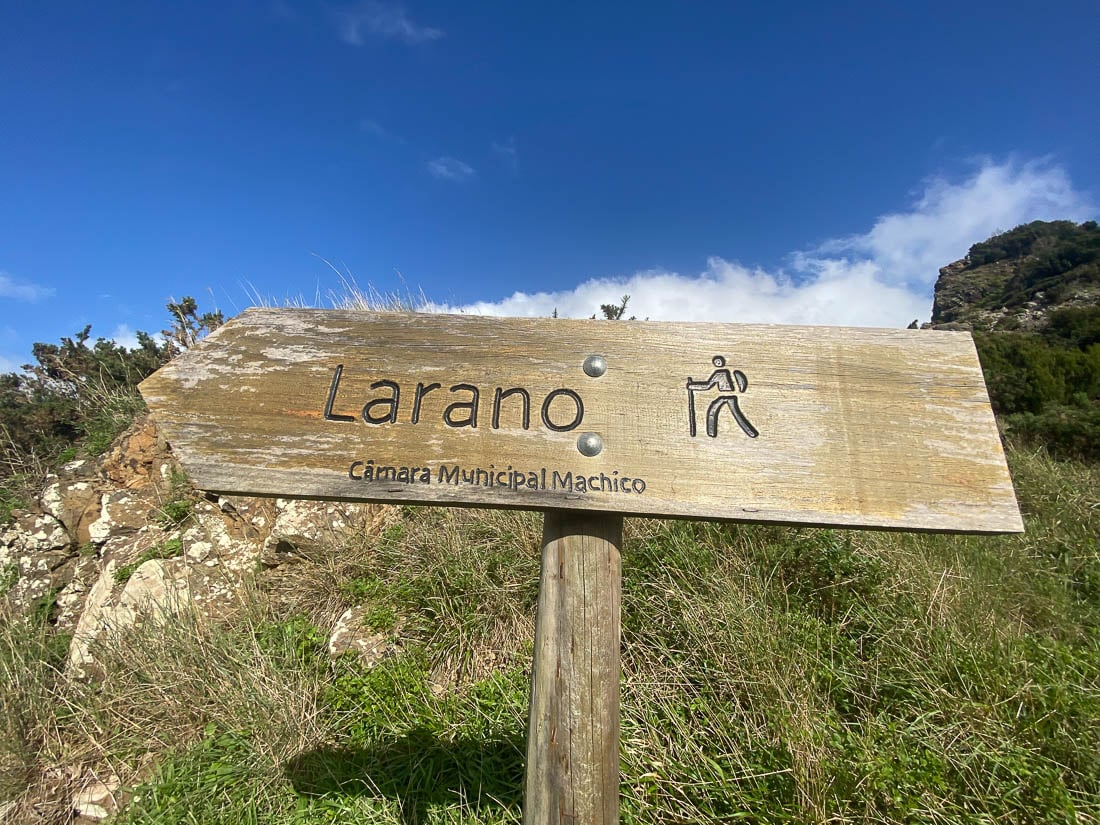 From here you take the well-maintained trail along the cliffs and through the coastal forest for the remaining kilometers, passing massive drop-offs and epic waterfalls along the way. At no point do you descend to sea level.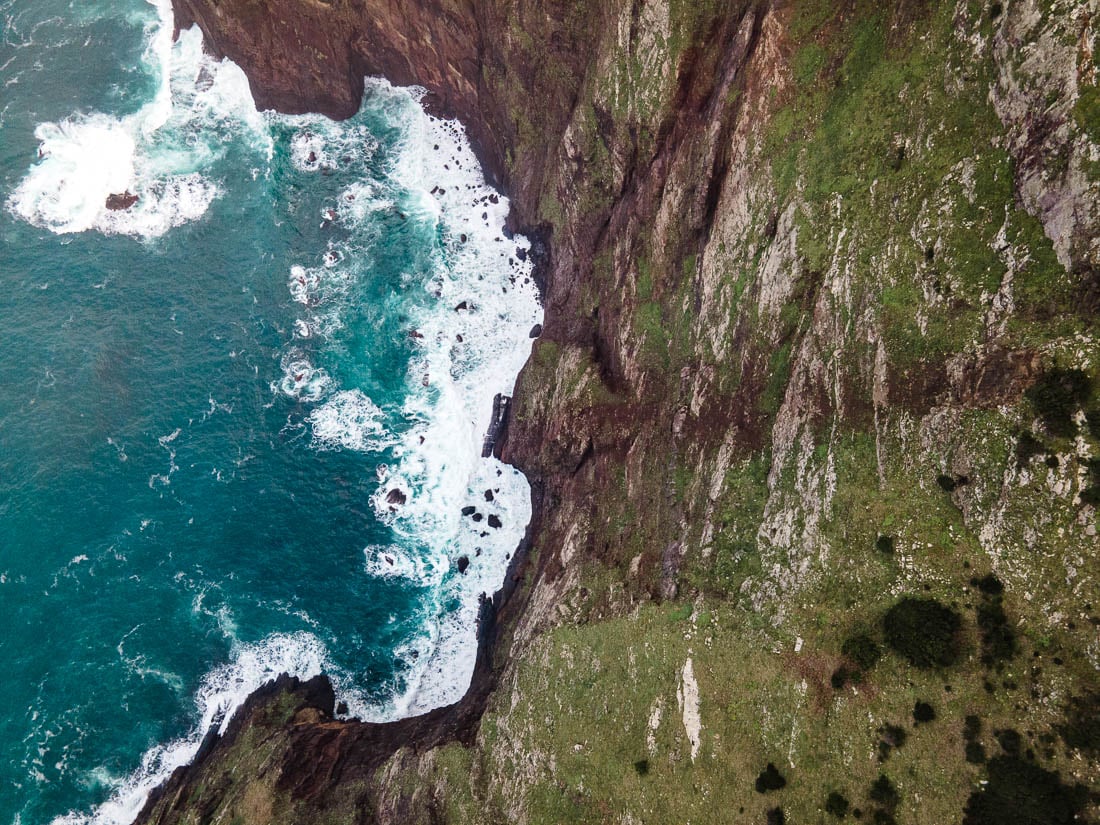 The last few km of the trek unfortunately are on the road into Porto da Cruz. Once you hit the road, don't worry, you are still going the right way.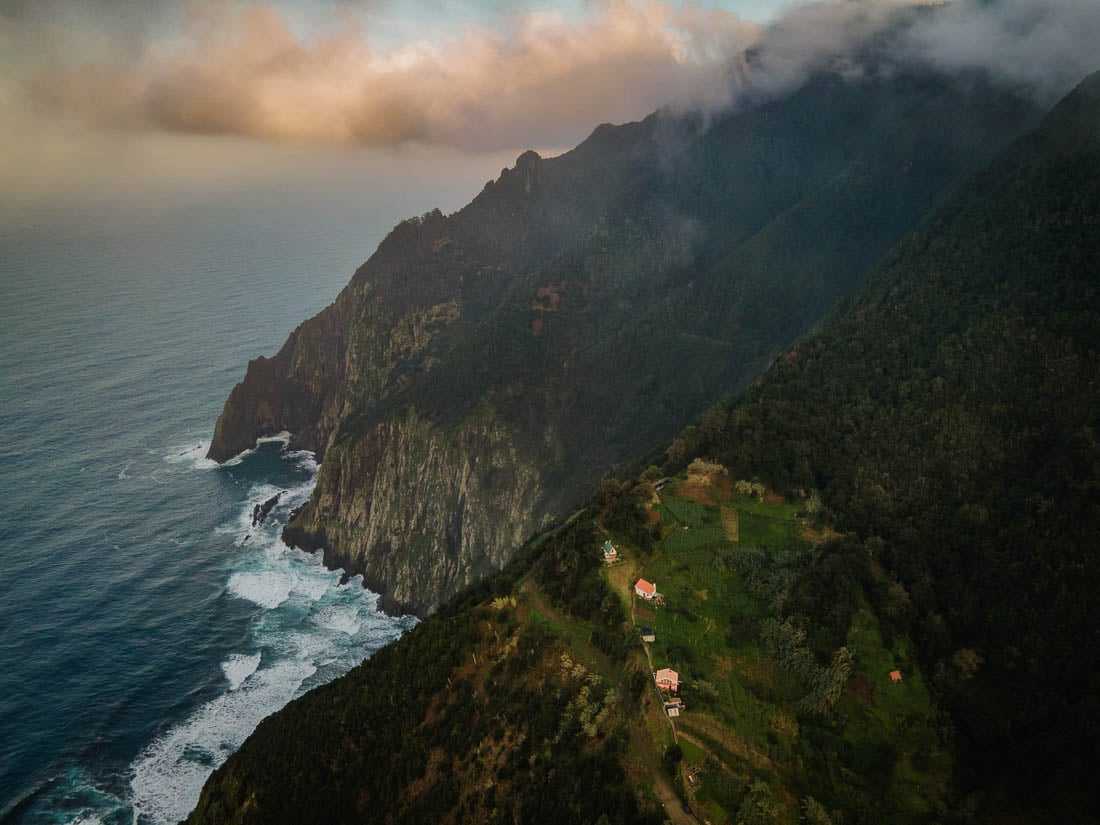 Once in Porto da Cruz it is time to chill out, get something to eat, and when you are ready, call an Uber back to your car in Machico or take the bus back to Funchal. Note that the last bus back to Funchal on weekdays is 6 pm.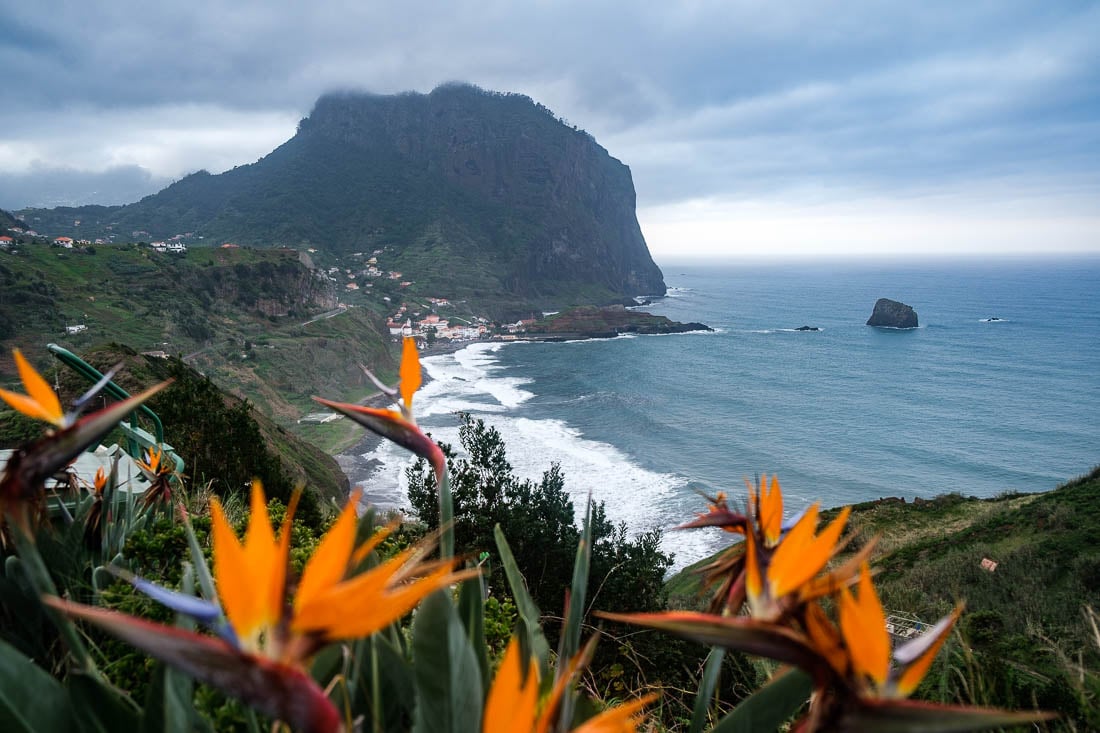 Paul do Mar Faja Da Ovelha Loop Hike
Hike Facts:
Distance: 11 Kilometers
Duration: 4-5 hours with food breaks and photo ops.
Difficulty: Easy/Moderate
Distance from Funchal to Trail Head: 1 hour
There is a saying here on Madeira, "there is always somewhere with good weather to be found". When rain and cloud are bearing down on the interior around Sao Vicente and the unstable north coast, the quaint village of Paul do Mar in the west of Madeira offers a pretty consistent dose of sunshine and stable weather.
This fun loop hike takes you into the hills above Paul do Mar where the trail meanders by cactus patches, small farms, and a few epic viewpoints. You can start this hike on either end of town, but I recommend starting at the far western side of town so you finish with the best views.
On a clear day, you can see the beautiful turquoise water tones of the sea below not only in Paul do Mar but in the neighboring surf-destination town Jardim do Mar.
Getting There
From Funchal, it takes roughly 1 hour – 1 hour 10 minutes to reach the start point of the Faja Da Ovelha trail.
You can park on the main "promenade" street by the sea wall and walk to the far end of town to start the hike.
If you are looking at the sea, walk to the right until you find the path that immediately starts to take you up the ridge and walk to the very top.
If you have any trouble finding the start, simply ask a local person at one of the bars nearby.
If you are using Google Maps, you can set your pin to here.
Trail Conditions and Route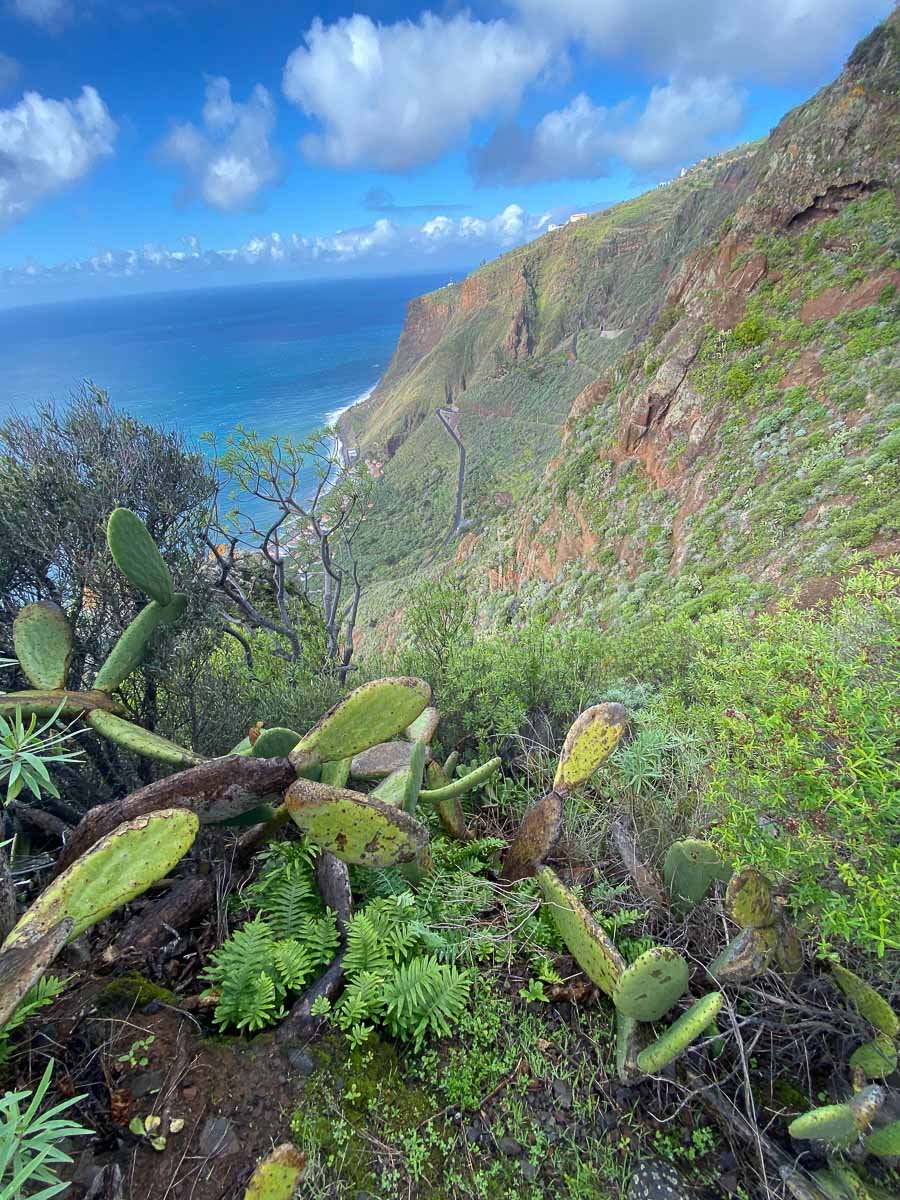 The trail is well-trod and well-maintained with no dangerous exposure.
There were some steep muddy/slippery sections on the descent though so bring your trekking poles if you have some.
Like many places in Madeira, there are many side trails to be found here.
When I did the trek with a group, we looped around the ridge to join the Vereda da Atalaia trail for our descent – which as mentioned – has some pretty awesome views.
This day – despite Paul do Mar being one of the sunniest parts of Madeira – saw us changing layers at least five times. As always, bring the right gear so you can be comfortable when the conditions change.
If you time this trek right, there are some great viewpoints to watch the sunset here (bring a head torch if you plan on finishing the trek in the dark.
Map.me is a great resource to use to stay on track for the descent. I would not fear getting lost on this one as there are really no moments where you feel totally away from civilization and most of the time you can still see Paul do Mar below.
When you finish the hike there are a few good places to get some food, but I recommend heading over to the historic center/old port area of Paul do Mar for some legit fish and chips and a glass of red wine at Bar Ideal. Their poncha and lapas are also on point.
The Pico to Pico Hike: Pico do Arieiro to Pico Ruivo
Hike Facts:
Distance: 11 Kilometers
Duration: 5-6 hours with food breaks and photo ops.
Difficulty: Moderate/Difficult
Distance from Funchal to Trail Head: 30-40 mins
The Pico do Arieiro to Pico Ruivo trail is probably the most famous and popular mountain hike in Madeira. And for good reason… This trail is very accessible from Funchal and you can essentially drive to the summit of Pico do Arieiro just for the sunrise (which MANY people do every day) if you don't feel like hiking.
It is usually a good idea to check the webcam on Arieiro before you drive up there (if you are not going for a sunrise that is, otherwise the cam will be black).
In terms of accessible dramatic landscapes, the views around Arieiro at sunrise are hard to beat. On the morning I went for sunrise, we had a bit of cloud inversion happening in the valley below – but if you get lucky, the clouds will be much more epic than the drone photo below shows.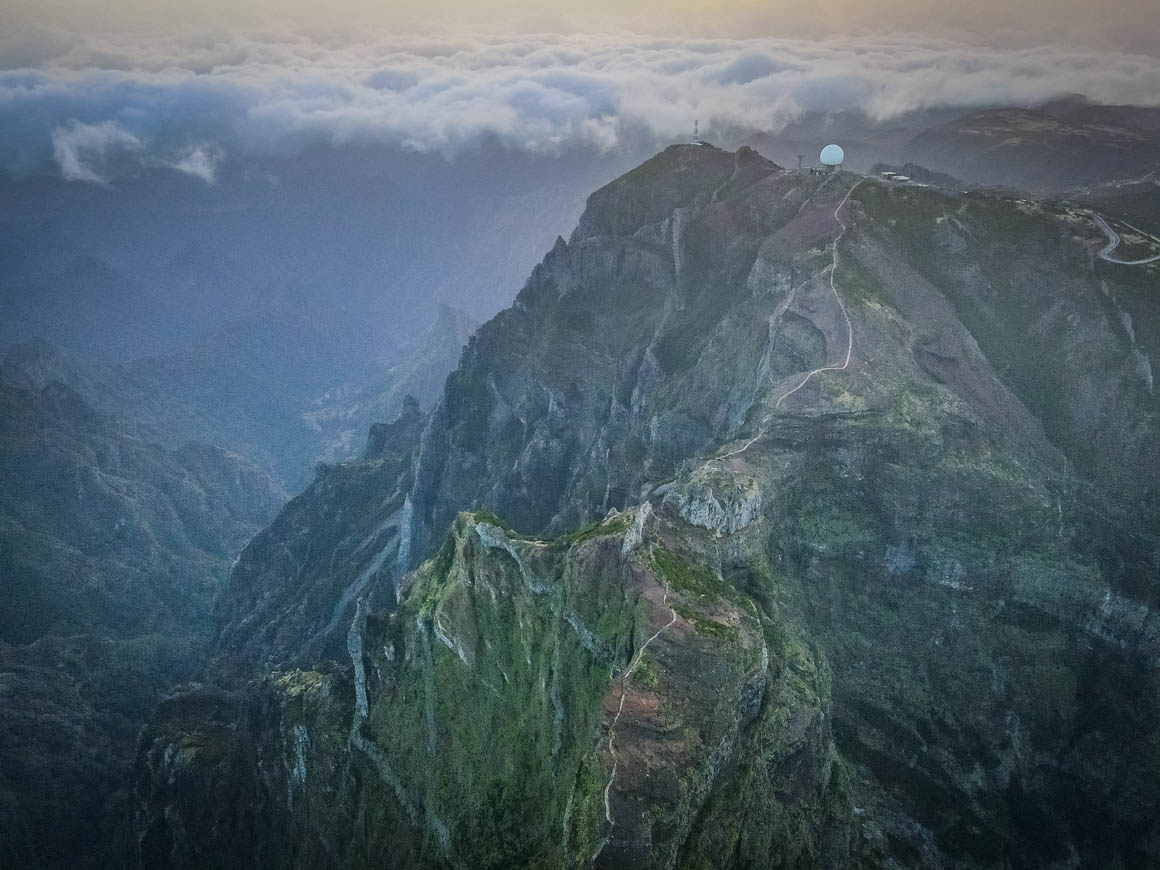 There was never a boring view on the trail to Ruivo and back, so if you only have time to fit in one serious mountain hike in your Madeira itinerary, do this one!
After doing many more hikes than the list of the best hikes in Madeira would communicate, I can say that the Pico do Arieiro to Pico Ruivo trail was the busiest trail I have experienced in Madeira – but even so, go for it – this hike is a must.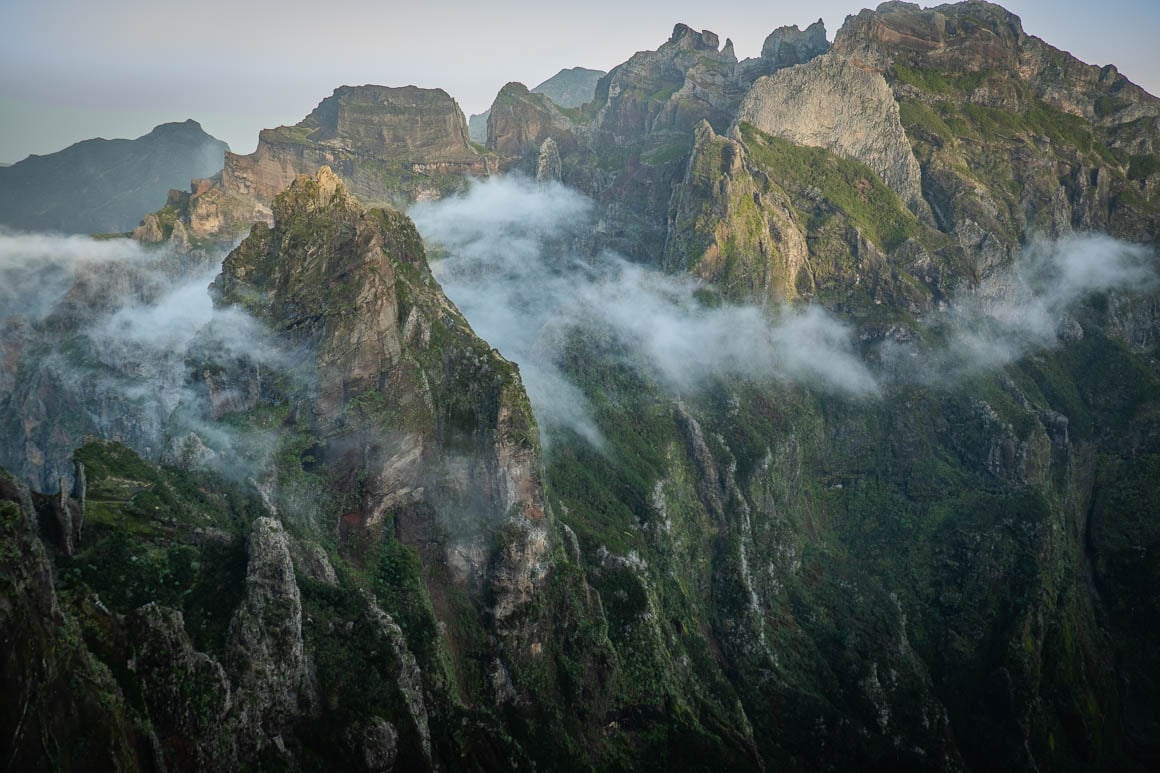 Getting There
As mentioned, the parking area near the Pico do Arieiro summit is a short drive from Funchal (about 30 minutes early in the morning).
Plug in this Google pin and park here to start the trek or to watch the sunrise.
As most rental cars I have used in Madeira have small engines, it is worth noting that the road to get here from Funchal is steep and for a small car, it is slow going at times. But never fear… you will make it eventually.
If you are coming for sunrise, try to arrive 30-45 minutes before the actual sunrise time.
Tip for sunrise: Instead of going to the famous Arieiro viewpoint, I recommend heading right for the trail to Pico Ruivo and walking for 10 minutes until you reach the Miradouro do Ninho da Manta viewpoint. I watched the sunrise alone from here (there were probably 50 people at the other point) and I preferred the view to the classic spot.
The most common route (there are a few options) is the out and back from Pico Arieiro – Pico Ruivo – Pico Arieiro – roughly 11 km and features 800-850 m of elevation gain over the course of the hike.
Trail Conditions and Route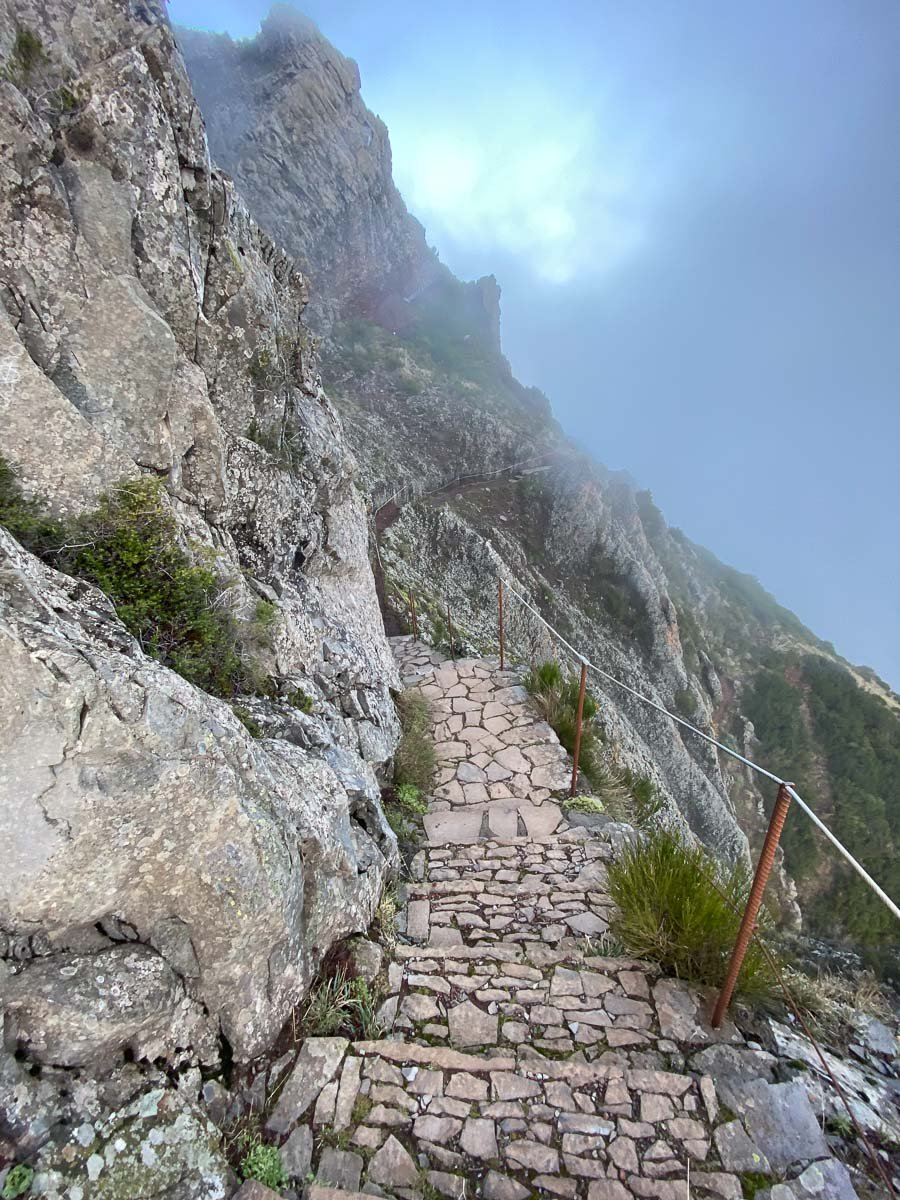 Just so that we are clear – again – the route I am describing here is not a loop or a one-way hike. You start the trail from Pico Arieiro and you finish the trail at Pico Arieiro after returning from summiting Pico Ruivo.
However, there is the option to do this trek as a one-way trip to Encumeada or finishing in Achada do Teixeira below the Ruivo summit – though both of these routes involve the logistical challenge of getting back to your vehicle at Arieiro.
Generally speaking, the Arieiro – Ruivo trail is well maintained and often features beautifully laid stone paths and mason work. There are a few sections on the approach to Ruivo that involve steep stair climbing.
When I heard about the stairs, I heard them referred to as "the stairs of death" because they are never-ending and steep – but in truth, though tiring, the average hiker will not find them too difficult (though your legs will burn).
Note that there are a few dark tunnels to pass through along the trail, so having a headlamp is a good idea.
The summit of Pico Ruivo was chilly and a bit windy, so be sure to pack a good jacket and even some gloves.
There is a nice cafe just below the Pico Ruivo summit where you can eat your lunch in the sun (if it is out) and buy a coffee or a beer.
Levada do Plaino Velho Hike
Hike Facts:
Distance: 8.5 Kilometers
Duration: 3-4 hours with food breaks and photo ops.
Difficulty: Moderate/Difficult
Distance from Funchal to Trail Head: 1 hour+
I'll start by saying that after two months on Madeira the Levada do Plaino Velho hike is one of the top 3 hikes I have done. If you have the time, you are an experienced hiker, and you contain the motivation for this hike – I hope you go for it.
This hike is unique for several reasons. It starts you off at an incredible viewpoint (Pico Ruivo do Paul) and winds down into the valley below through a truly stunning forest. It feels like the lost world that parts of Madeira truly are.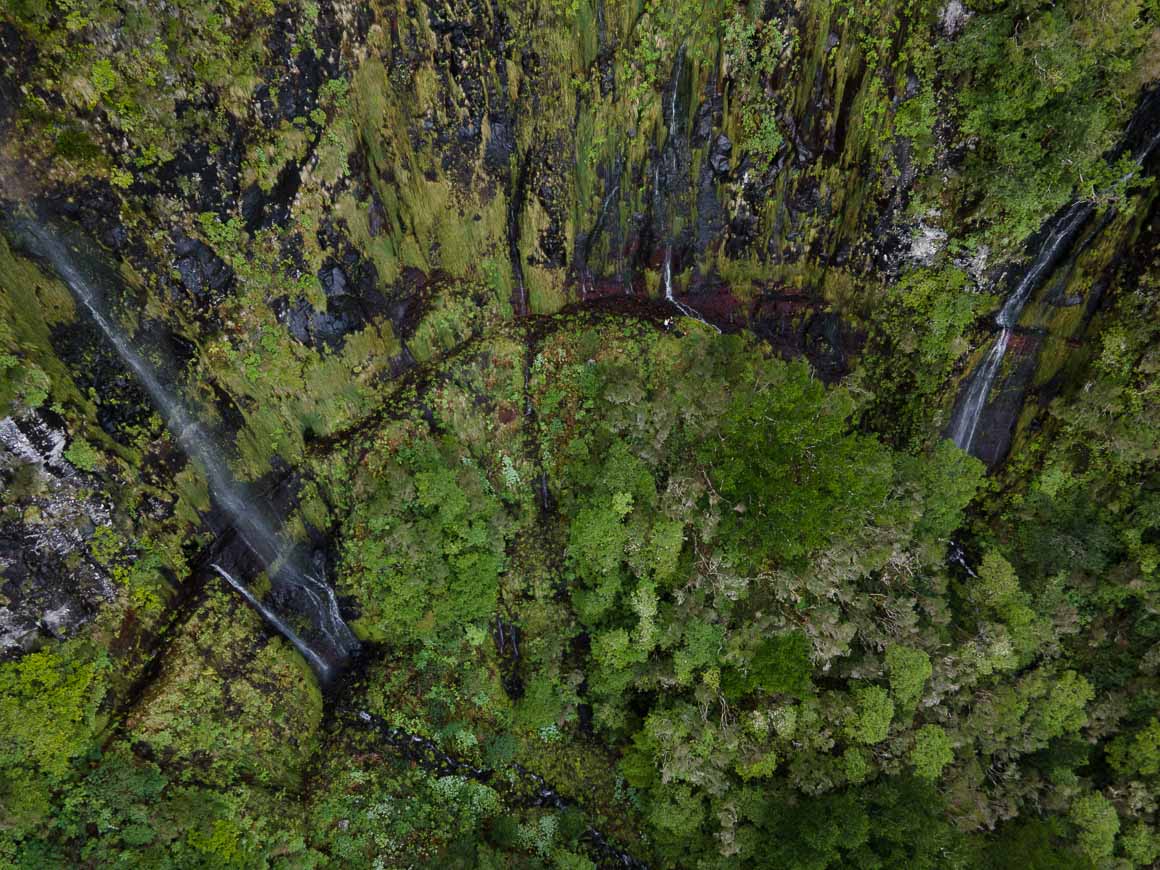 I have only heard of a few of my friends doing this hike recently – before that who knows who has been here in the last year or more.
If you want a good combination of wild/off the beaten path/mountain views looking down onto the sea, AND an epic series of waterfalls, look no further; the Levada do Plaino Velho hike will not disappoint.
Getting There
Note: The starting point for this hike is NOT the famous Pico Ruivo!! The starting point is Pico Ruivo do Paul – a different mountain in a different part of the island.
From Funchal, it takes roughly one hour to reach the parking spot at Pico Ruivo do Paul / Estanquinhos.
This pin will get you very close to where you need to park, but it is not actually accurate. From where that pin takes you, you need to carry on on the small road just off the main road (with the car) for roughly 500 meters until you reach a stand of pines and a couple of old buildings. You can park here and this is where you start the hike.
On Maps.me you can route / see the parking spot at Estanquinhos.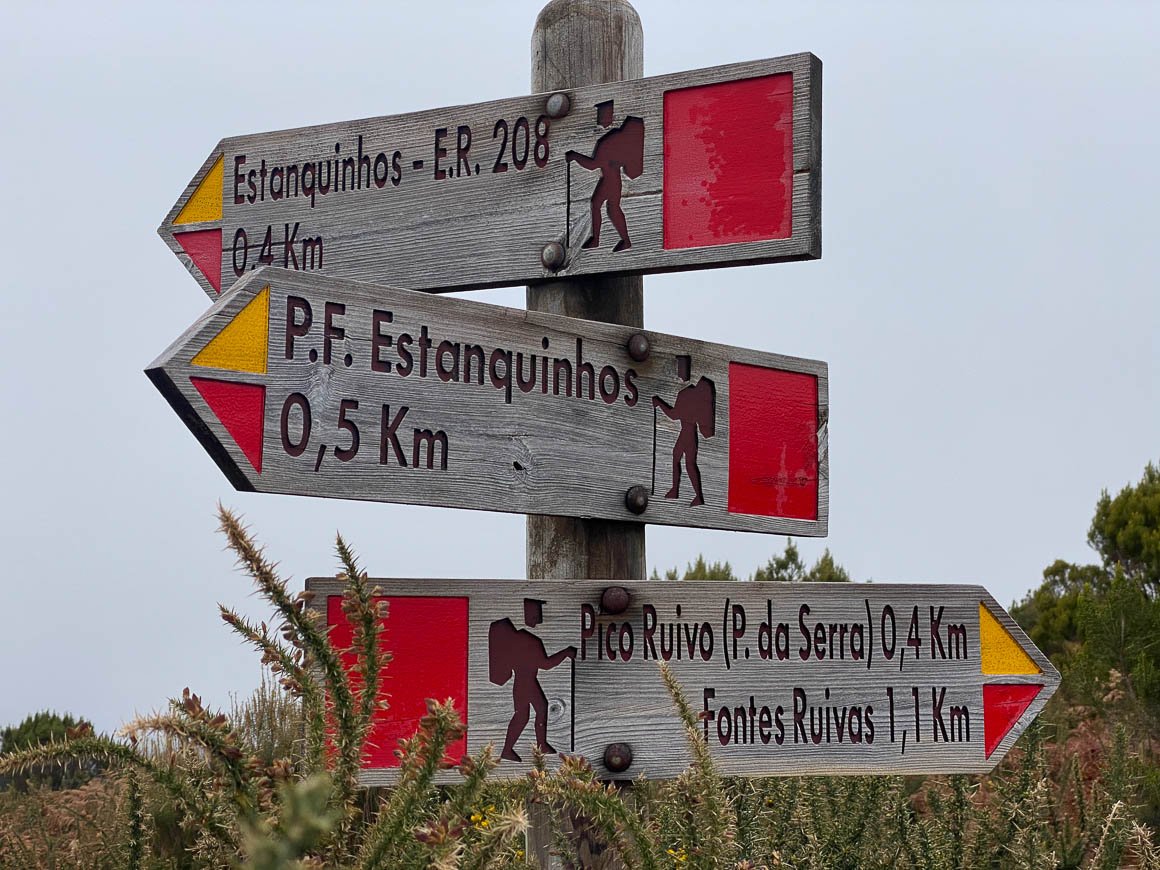 Once you park, head towards the Pico Ruivo do Paul summit and take in the epic views. If you arrive before first light, this would be a great sunrise spot on a clear day.
After the summit, head back down the way you came and look out for a small path on your left that immediately starts descending down into the valley. I highly recommend using Maps.me for this hike – otherwise, some parts (like this initial left turn) will be difficult to find as there are almost no signs.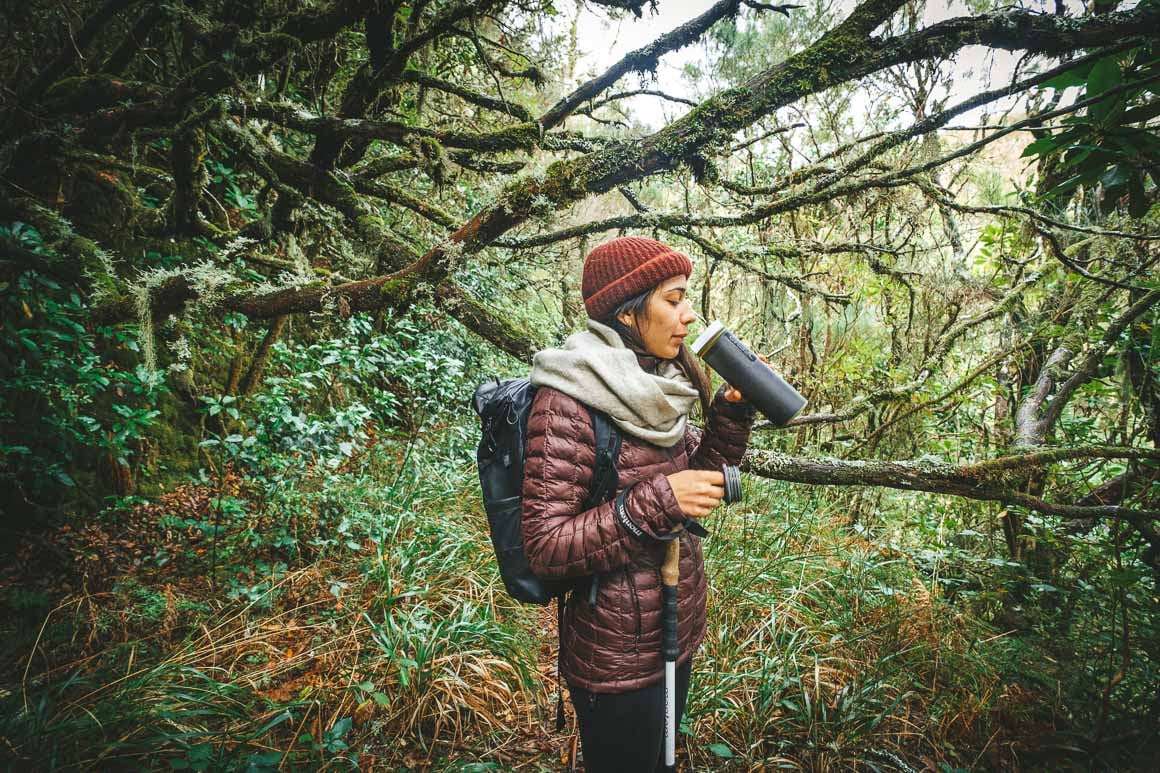 If you have no experience navigating or following maps – try to go with some one who is experienced.
Trail Conditions and Route
For the most part, this hike is not exceptionally difficult, though the return section is steep and there are a few parts of exposure along the Levada. The total incline for the hike is around 700 meters.
The main issue we encountered is that there are parts of the path that are very overgrown, sometimes with thick thistle bushes and one needs to bushwack through. I would not recommend this hike after a lot of rain as the paths will be very slippery and muddy (though the waterfalls will be awesome).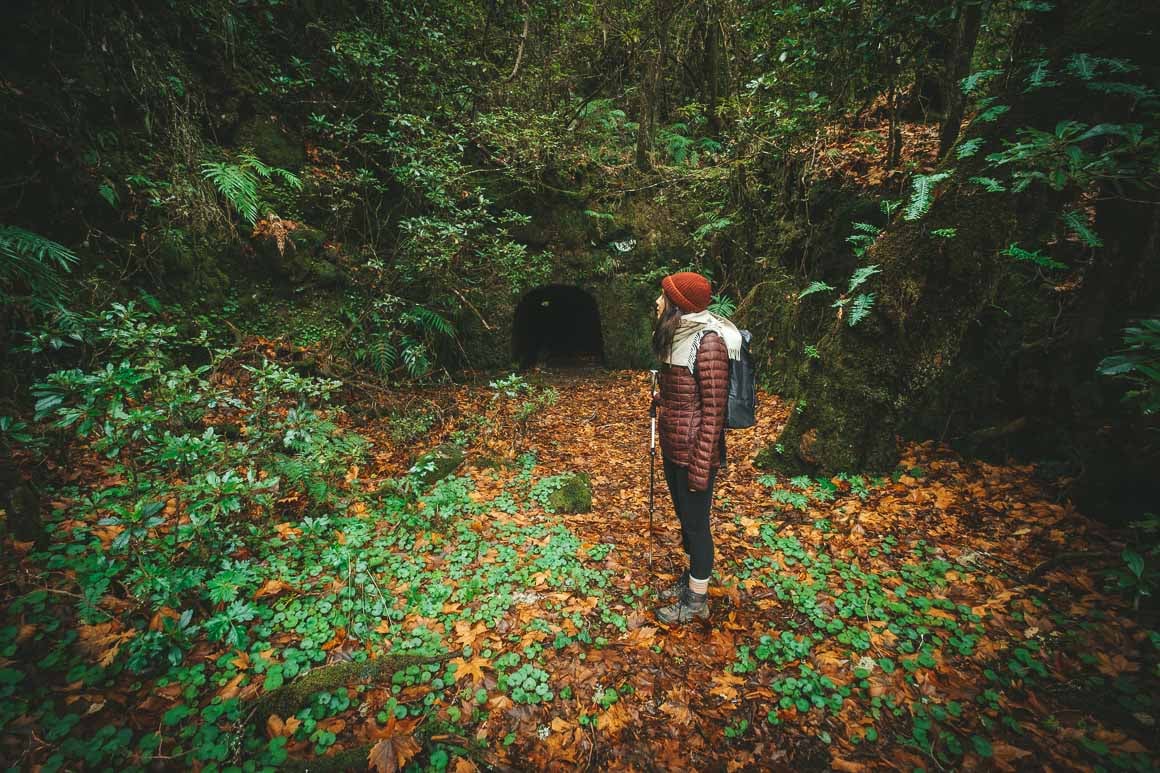 After descending into the valley, you come level with the old Levada do Plaino Velho on your left. This Levada has obviously not been in use for a long time so you won't find any water in it (just mud and plant debris).
From here the path finds through the lush forest and through a series of old tunnels until you reach the magical waterfalls.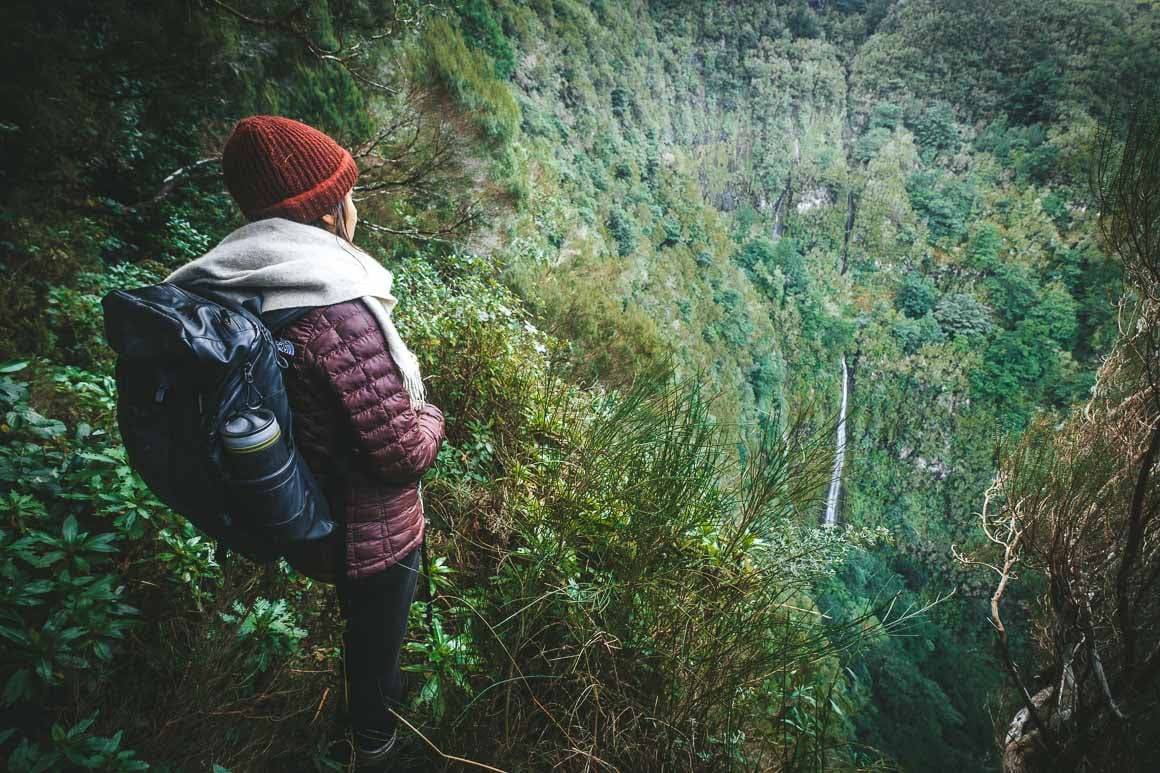 Once at the end of waterfalls look for a path on your right hand side and continue down (do not try to go down the waterfalls! The correct path on the right is a little hard to see. From the waterfalls you should be climbing back up again within 20 minutes.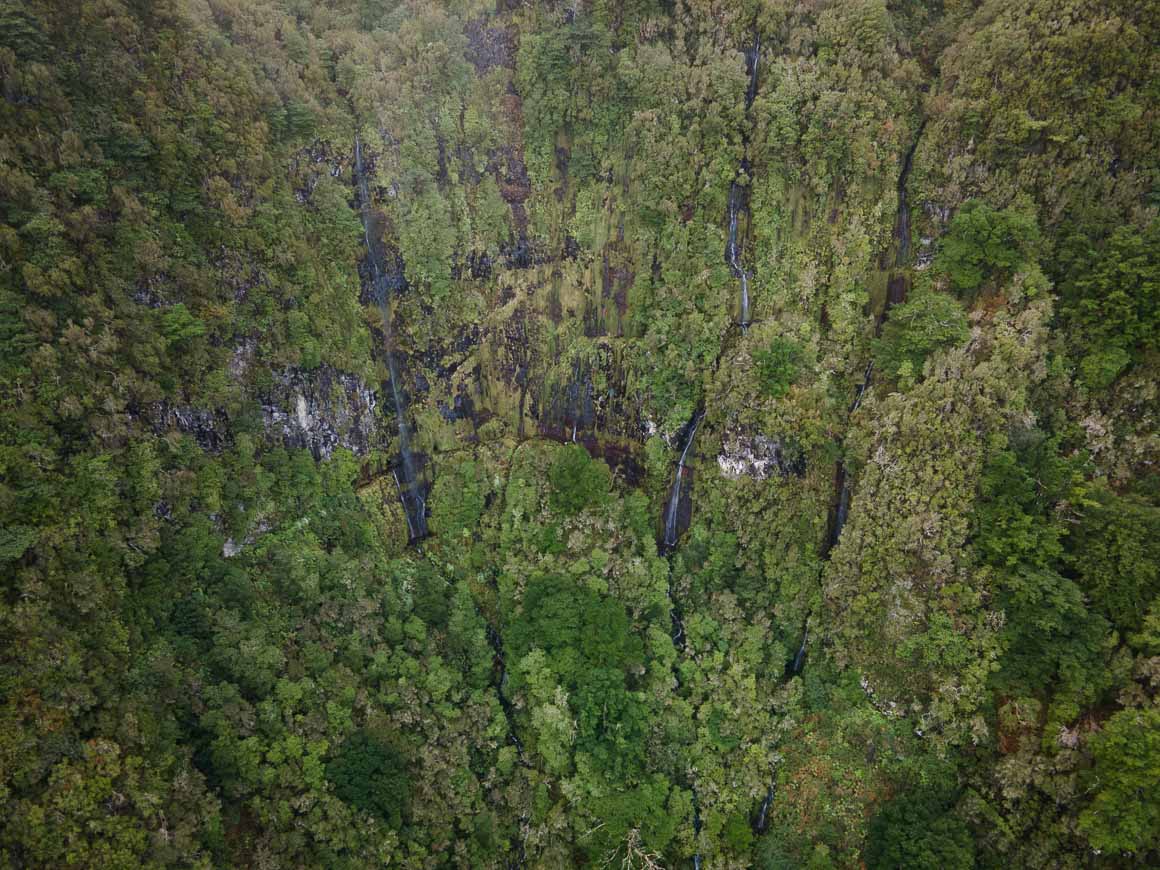 A steep ascent will eventually bring you back up towards the summit of Pico Ruivo do Paul and the parking area.
What to Pack for Hiking in Madeira
You should know by now that Madeira has many micro climates and different elevations. Sometimes one is blessed with sun a clear skies all day, and other times it feels like all four seasons can pass by in the span of a few hours.
The most important thing when going hiking in Madeira is to be prepared for the hike you are going for. Your personal safety and comfort depend 100% on what you decide to bring with you on any given hike.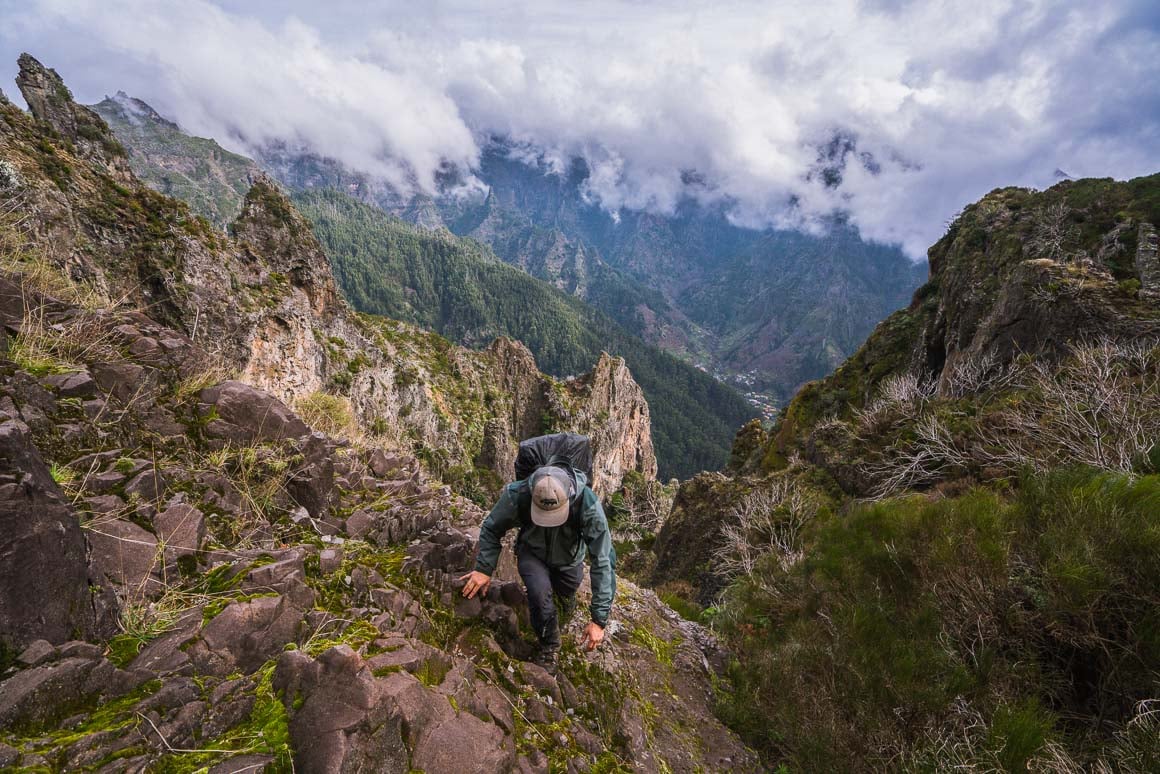 Below, I will cover what I pack for just about every hike I go on in Madeira Island.
I wrote a whole post on what to take hiking if you are interested in a deeper dive.
Choosing the Right Gear for Madeira
These are the big questions that I ask myself before embarking on any day hike:
What is the weather forecast?
Do I have enough food?
What are the water sources like where I am going?
Do I need to purify the water I will need to drink?
What sort of layers will I need?
How remote is the place I am going hiking?
Do I have the minimum supplies for a worst-case scenario?
Is there cell signal where I am going?
Weather forecasts, expected altitude, and general conditions for various Madeira regions can all be easily accessed online before you set out, which should help in the packing process.
Just because all looks well and sunny though does not mean you should leave your layers at home. This bears repeating: the weather can change in the blink of an eye here – especially in the mountains.
My Madeira Hiking Packing List
The must have essentials:
Travel Insurance for Madeira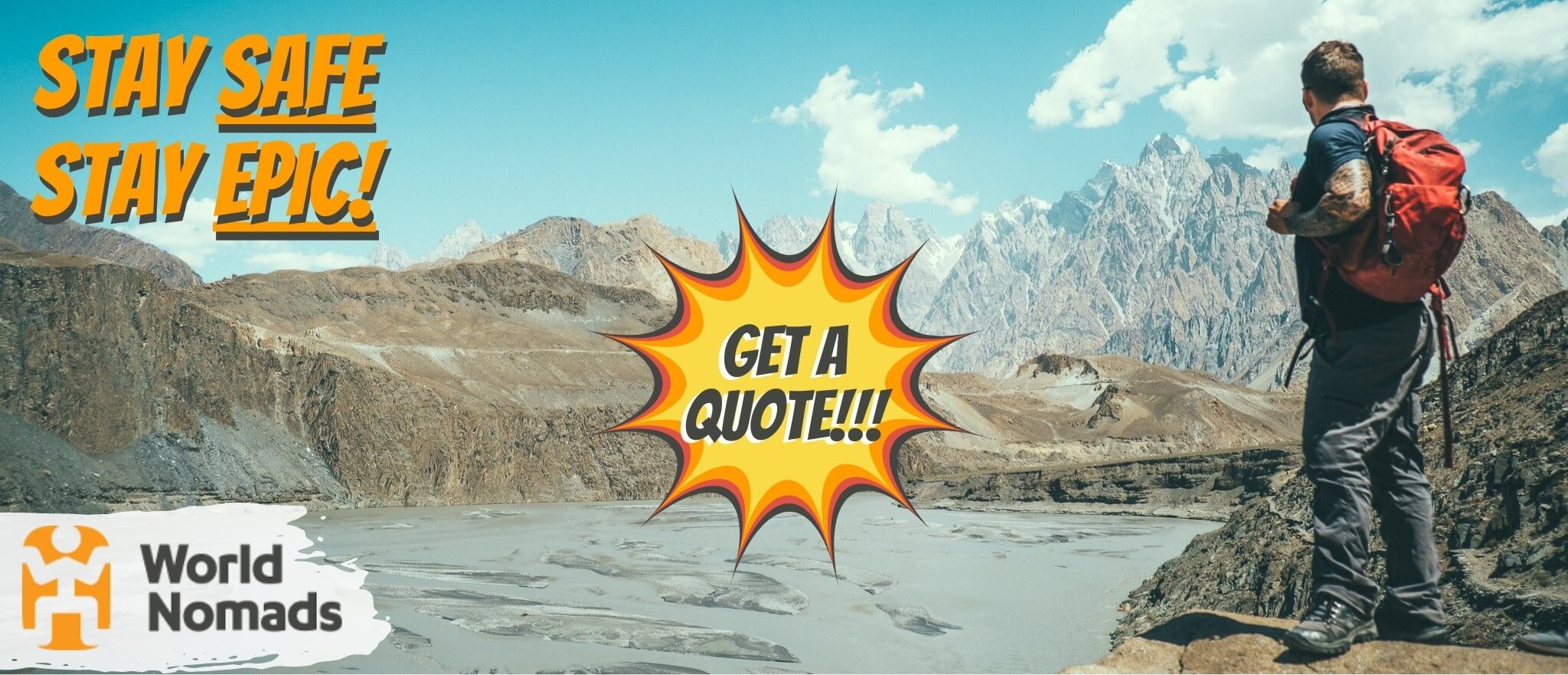 World Nomads' mission is to support and encourage travellers to explore their boundaries. They offer simple & flexible travel insurance, and safety advice to help you travel confidently.
They've been doing it since 2002 – protecting, connecting, and inspiring independent travellers just like you.
Get a quote below or read our in-depth review!
World Nomads provides travel insurance for travelers in over 100 countries. As an affiliate, we receive a fee when you get a quote from World Nomads using this link. We do not represent World Nomads. This is information only and not a recommendation to buy travel insurance.
Final Thoughts on the Best Hikes in Madeira
There you have it, friends, I hope you have found this guide to the best hikes in Madeira informative.
Remember, I will be updating this post over the next months with even more epic hikes I end up on.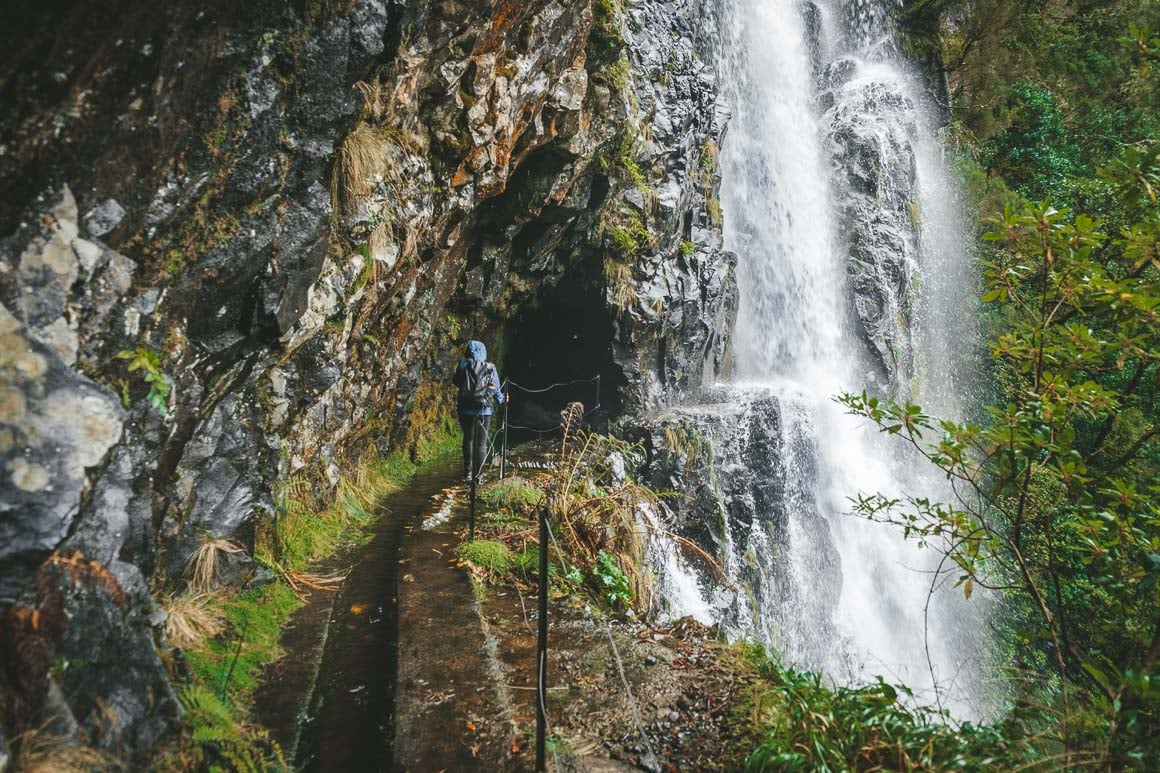 Madeira Island is truly a special place to visit and I feel very fortunate indeed to have the opportunity to live here for the time being. If you are looking for a world-class trekking destination for every experience level – it is all happening in Madeira.
Special thanks to my friends Jackson Groves, Joao Freitas, and the hiking groups Les a Les Madeira and Madeira Wonder Hikes for bringing me along on so many radical adventures – for some of these hikes I would never have known about them otherwise! Cheers dudes.
---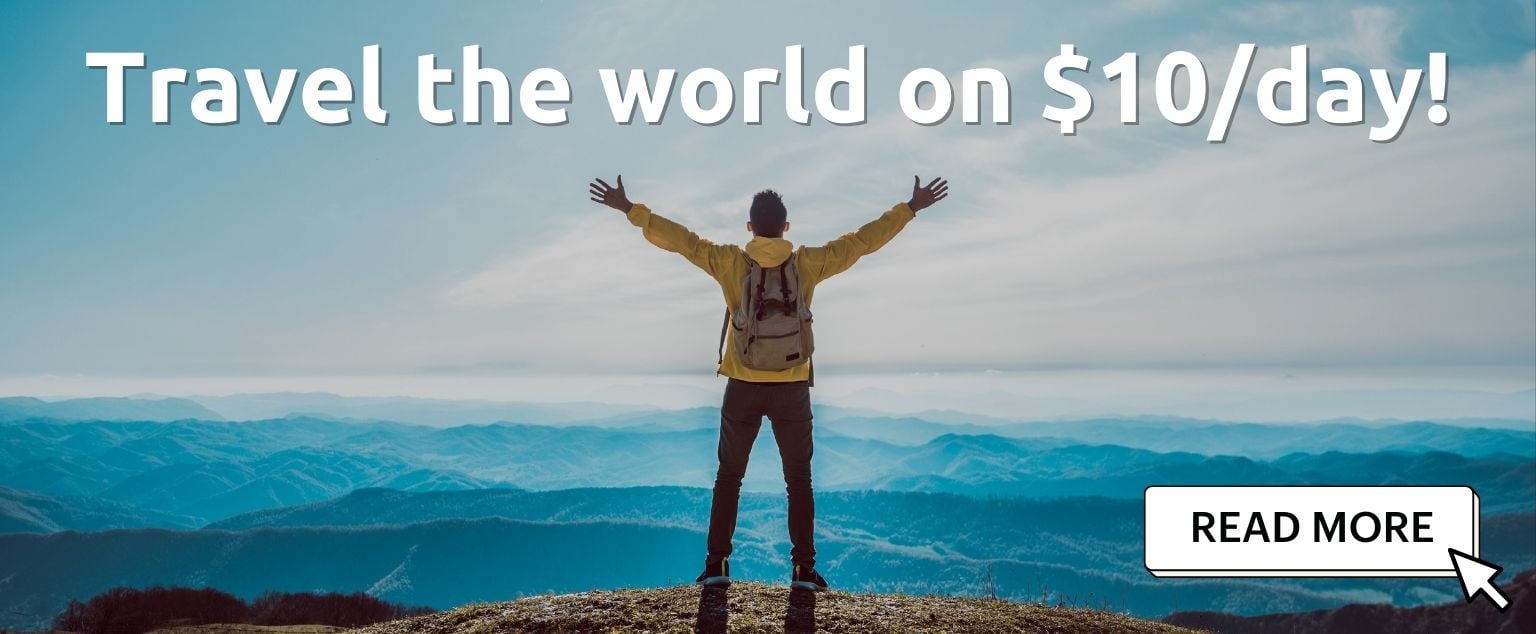 And for transparency's sake, please know that some of the links in our content are affiliate links. That means that if you book your accommodation, buy your gear, or sort your insurance through our link, we earn a small commission (at no extra cost to you). That said, we only link to the gear we trust and never recommend services we don't believe are up to scratch. Again, thank you!