Overlooked by the Sao Jorge Castle, Lisbon packs a ridiculous amount of charisma & charm in its seven colourful hills. Down in the depths of its cobbled streets, fado singing, street art, and an exciting food scene await.
Let's not fool ourselves. A visit to the Portuguese capital is on everyone's minds. But even though you never really hear anyone say "Lisbon is expensive.", money does get out of control if you don't spend it wisely.
There's nothing to worry about, though — Lisbon can be one hell of a cheap place to visit, just as long as you do the right thing. And that's exactly what we plan to show you.
This guide right here will help you figure out how to keep costs low in Lisbon. From info on the cheapest accommodation in the city, all the way to how you can find the tastiest cheap eats, we've packed a bunch in here.
Ready when you are!
The cost of a trip to Lisbon will vary on a bunch of different factors. We're talking accommodation, sightseeing, delicious food, and possibly gifts you may want to take home. But we're gonna break it all down for you and help you make the best choices for your budget.
All travel costs for Lisbon listed in our guide are estimates and subject to change. Prices are listed in US Dollars (USD).
Portugal uses the Euro (EUR) and, as of March 2021, the exchange rate is around 1 USD = 0.84 EUR.
To keep things simple, we've summarized the general expenses for a 3-day trip to Lisbon. Check our handy table below:
3 Days in Lisbon Travel Costs
ESTIMATED EXPENSE: $100 – $1400 USD for a roundtrip ticket.
The cost of flights to any destination can vary depending on what time of year you choose to fly. Generally speaking, the cheapest time of year to fly to Lisbon is in March. From June to August, ticket prices skyrocket.
Lisbon's main airport is Lisbon Portela Airport (LIS). This is the main international gateway to Portugal as a whole and a major transport hub in Europe. For added convenience, it's located just over four miles northeast of the city centre!
Wondering how much it costs to fly to Lisbon? Watch the breakdown:
New York to Lisbon Airport: 580 – 1,360 USD
London to Lisbon Airport: 100 – 150 GBP
Sydney to Lisbon Airport: 815 – 1,400 AUD
Vancouver to Lisbon Airport: 720 – 988 CAD
Those are the average prices, but there are yet more ways to save money on flights. Skyscanner, for example, allows you to scour the internet for early-bird and last minute deals on plane tickets.
One other way to keep things cheap is flying to Lisbon via London or another European airport. This could cut costs using affordable connecting flights, but depends on where you're flying from, of course.
ESTIMATED EXPENSE: $20 – $182 USD per night
Accommodation in Lisbon is pretty budget-friendly. While prices tend to increase during the summer months, there can be a real drop in shoulder seasons. This means it's generally quite affordable all year round — especially compared to other European capitals like London or Stockholm.
The first way to keep the cost of a trip to Lisbon as cheap as possible is to consider your accommodation options. There is a wide selection that includes hostels, hotels and self-catering apartments. There's something for every budget and travel style! So let's look in more detail at each of them to figure out what's right for you.
Hostels in Lisbon
Hostels have been the preferred method of travel for cash-strapped backpackers for decades, and they're a pretty decent way to travel Lisbon cheaply. Prices go as low as $13 USD per night (sometimes even cheaper).
Most of the time, hostels are more than just cheap places where you can crash. They can be sociable places where travellers meet and mingle, where (too much) cheap beer is consumed and where friendships can flourish. They can also be hubs for partying and often come with extra money-saving perks like complimentary breakfasts and free events.
If that sounds good, check out our guide to the best hostels in Lisbon.
Here are a few great Lisbon hostels:
Lisbon Destination Hostel – This is a huge hostel situated within the ornate Rossio train station itself. As well as its landmark location, this hostel comes with bonuses like cheap meals, free guided tours, and cool spaces to hang out in.
Home Lisbon Hostel – A friendly hostel situated in the Baixa neighborhood, from here it's an easy walk to a whole host of Lisbon's sites. The hostel itself is set in a 200-year-old building, with perks including pub crawls and walking tours. Very sociable!
Goodmorning All-Inclusive Hostel – Right in the heart of the city, in Barrio Alto, these guys serve up free waffle breakfasts each morning. It's also got a 24-hour bar and an array of themed party nights.
Airbnbs in Lisbon
Lisbon has an amazing selection of Airbnbs. They're great options for anyone from solo travellers to couples and families who really want a space of their own during a trip to Portugal. The average cost of an Airbnb in Lisbon is around $65 per night.
If you can share the costs between friends or family, they're great value for their money. Having your own kitchen also helps to keep the cost of a trip to Lisbon fairly low, too.
Here are some of the best Airbnbs Lisbon has to offer:
Lisbon Sky View Loft – This bright, modern apartment is a great option for couples. The interiors are minimalist and stylish, and facilities include a fully equipped kitchen and comfy lounge area to cosy up in.
Charming Castle Hill Flat – Situated in the medieval Moorish Quarter of the city, this clean and contemporary apartment has enough room to sleep three guests — the large windows and high ceilings are lovely.
Mezzanine Studio Central Lisbon – Boasting a mezzanine floor for added room, this surprisingly spacious (and stylish) studio is perfect for a couple or solo traveller. It's right in the heart of the city!
Hotels in Lisbon
Is Lisbon expensive when it comes to hotels? Probably not as much as you'd think — and especially when compared to other European cities. They're always more expensive than hostels, averaging around $70/night.
But with that comes all the extra amenities that you don't usually get with Airbnbs or hostels. Housekeeping means returning to a freshly made room each day; and onsite amenities like gyms, restaurants and bars just make life easier during your stay in Lisbon.
Check out some of the top hotels in Lisbon below:
The Leaf Boutique Hotel – Small but stylish. The rooms are fashionable and come with large windows, small balconies, coffee, and all that jazz. You can use the gym and the room fee includes breakfast.
My Story Hotel Figueira – Set in a historical building, this sure is one chic hotel. Guest rooms are sleek and sultry, while the onsite bar is a vibrant place to enjoy drinks and a bite to eat. The location is great!
Monte Belvedere Hotel by Shiadu – Situated close to Sao Bento Palace and the Chiado Museum, this large hotel has a wide selection of room options decked out in classy mid-century modern furnishings.
ESTIMATED EXPENSE: $0 – $7.60 USD per day
Forget public transport — you can keep the cost of a trip to Lisbon down by simply hitting the streets on your very own feet. Unless you book someplace far out into the outskirts, obviously!
The city is pretty compact and easy to discover, but if you're not a big fan of walking (or going up the hills), public transport is fairly straightforward and affordable.
Commuter trains, a metro, buses and, most iconically the trams connect Lisbon's dots all around. There's also funicular and ferry services, which allow you to explore other nearby areas.
Let's dive in and find out more about Lisbon's public transport in detail.
Train Travel in Lisbon
Lisbon's commuter train system is made up of five lines that take you between the centre of the city and Grande Lisboa (Greater Lisbon). It's good for taking day trips from Lisbon, but you're not likely to use it all that much.
The metro, on the other hand, is more useful for travellers. It has almost doubled in size since it was created, and now covers most of the city via its four colour-coded lines.
Unlike some aging European metro systems, Lisbon's metro is modern, featuring air-conditioned trains, and is usually the fastest option for travelling around the city. It runs from 6:30 AM until 1:00 AM.
To use the metro, you need to purchase a Viva Viagem card. These can be picked up for as little as $0.60 from metro stations throughout the city and using them is simple — just recharge them at the stations and tap as you go.
One ride with this card costs around $1.60. But even though Lisbon is not expensive for train travel, you can make it even cheaper by opting for one of the following one-day travelcards, which can be pre-loaded onto your Viva Viagem card:
Trams/Metro: $7.77 for unlimited travel on the metro, bus, tram and funicular.
Trams/Metro/Suburban train: $12.90 for unlimited travel on the metro, trams, buses, funicular, and suburban train (Sintra, Cascais, Azambuja and Sado lines).
Trams/Metro/Ferry: $11.60 for unlimited travel on the metro, trams, buses, funicular, and ferry to Cacilhas (River Tejo connection).
Bus, Tram and Funicular Travel in Lisbon
Made up of 172 routes, Lisbon's bus system connects the dots where the metro and train lines don't run and offer a more scenic alternative to travelling underground — particularly the trams!
Buses run from 5:00 AM until 11:00 PM every 15-30 minutes and there are also night buses that run in the centre. A trip will cost around $2 and you can buy the ticket on the bus or simply charge your Viva Viagem card.
Much of the iconic tramway has been replaced by the metro network, but there are still a few tram routes and three funicular services, both of which run in the historic, hilly areas of Lisbon not covered by the metro.
Riding the tram in Lisbon is frickin' awesome. With the rise of tourism in the city, though, some of the lines started to become a bit unbearable. Rather than jumping straight to the iconic 28 tram, evaluate the situation & opt for lines 24 or 15/18 if need be!
The three funicular services chug up those steep hills and stairways so typical of the Portuguese capital. You can purchase a ticket onboard these but it will cost you more. Remember: charge your damn Viva Viagem card!
Renting a Scooter or Bicycle in Lisbon
One-way streets and hazards like trams can make scooting around Lisbon confusing and dangerous — especially if you're not experienced. Unless you're dead-set on a road trip outside the capital, we wouldn't bother.
But then you've got the bikes. Developments over the last years led to plenty of new bike paths in the city. And guess what… they're fun & convenient!
One particularly nice path runs along the Rio Tejo for around seven kilometres, connecting Cais do Sodre with Belem. Lisbon as a whole is way more bikable now, but you should still beware of your legs — the hills are definitely real.
Lisbon's public bike-sharing service, Gira, boasts hundreds of stations around the city. Download the Gira app, find a docking station, and release a bike. The first 45 minutes are free, so you can really save up by switching bikes when time's running out.
Keen cyclist? You may want to pay $12 for the 24-hour plan. There's even an annual subscription to the service for about$30!
ESTIMATED EXPENSE: $11-$55 USD per day
Can you find cheap eats in Lisbon? Well, it depends. This buzzing culinary capital has a lot of choice for visitors, much of them affordable. But like all cities, where you choose to eat (and how often you choose to eat out) can make eating pretty expensive in Lisbon.
Stay local, opt for eateries known for big portion sizes, ask around for tascas (traditional restaurants) & eat well without emptying your wallet.
If you choose only a few Lisbon specialities to try out, make sure you make a beeline to sample the following:
Pastel de nata (custard tart) – A must when in Lisbon, the iconic pastel de nata is a delicious custard tart. You can find them all over the city and in almost every cafe. Pasteis de Belem & Manteigaria are delish!
Prego (beef sandwich) or bifana (pork sandwich) – Great for when you're on the go, these inexpensive but filling sandwiches can be picked up from practically any local cafe in the city. Perfect when you're watching the pennies. They cost around $3.65.
Mercado da Ribeira / Time Out Market – Taken over by Time Out magazine in 2014, Mercado de Ribeira is Lisbon's main market with food stalls galore and canteen-style seating. Go fancy on a budget!
Where to Eat Cheaply in Lisbon
If you're eating out the whole time, chances are your food budget is going to deplete very quickly — especially if you're always going high-end.
With that in mind, here are a few places to grab cheap, tasty bites in the Portuguese capital:
Find local cafes – Eateries close to tourist hubs are always going to charge extortionate prices. But there are often hidden spots just a block or so away from sightseeing hotspots that are popular with locals. Cafe Beira Gare, for example, is a traditional joint just steps from Rossio train station — a meal here costs as little as $8.
All-you-can-eat buffets – Yes, really. Buffets really don't have to be the scourge of foodies — they can actually help you enjoy an assortment of cuisine for low prices. One example is Rosa da Rua where an all-you-can-eat buffet dinner costs $17.50. If you're vegan, hit up Jardim das Cerejas!
Street food – Affordable and fun, street food is not "traditional" in Lisbon but has become trendy in recent years. One example of more authentic Portuguese street food is pao com chourico (basically a sausage sandwich), often priced around $3.50.
If you're cooking for yourself, however, then you'll need to know where to purchase your produce. Try out these bargain supermarkets in Lisbon:
Pingo Doce – One of Portugal's largest supermarket chains, Pingo Doce boasts a good range of food, both fresh and pre-made, at low prices. They often have on-site cafes that serve traditional dishes priced per weight.
Mercearias – Translating as "grocery store" these local, independently run stores carry fresh fruit and vegetables and other staples (rice, pasta, etc.). They're a good insight into a Lisbon of yesteryear, and often affordable.
ESTIMATED EXPENSE: $0-$20 USD per day
If you've skipped straight to this section, let us tell you right away that alcohol is not going to break the bank in Lisbon. Hooray!
It's actually pretty cheap to drink in Lisbon, especially compared to other European party capitals.
As a general guide, a glass of local beer at a bar/restaurant can cost between $2.50 to $3.50 (lower if you know where to look). If you buy them at a mercearia though, they can cost as little as $1.
Wine is more cost effective, however, and you can usually find options between $2.50 – $5.50 in a bottle shop. And if you want a cocktail when you're hitting up Lisbon's nightlife, you'll be paying about $5 per drink.
The cheapest tipples, however, are:
Beer – The two most popular local beers are Sagres & Super Bock (the eternal battle). You'll find them everywhere, and that's a good thing — they're cheap and refreshing.
Port – Port may be seen as a classy, expensive thing in the English-speaking world, but it's both cheap and plentiful in Lisbon. One glass of the good stuff can cost as low as $2.50. For aged, top-shelf port, however, prices do get pretty high (i.e. $9+).
If you're here to party, one good way to really keep the cost of your Lisbon trip low is to book yourself into a party hostel. And look out for happy hours — some places like Black Tiger Bar in Cais do Sodre will have beer for as low as 50 cents (and theirs goes up until midnight!).
ESTIMATED EXPENSE: $0-$25 USD per day
Lisbon has all the cultural and historical sights you'd expect of a capital city. This hilly wonderland is laced with charming cobbled streets leading from one sightseeing spot to the next. It's ideal for a city break and can easily be experienced over three days.
From public transport that combines convenience with culture — in the form of the Santa Justa Elevator or Tram 28 — all the way to grand palaces and crumbling hilltop castles, there's a varied selection of great sights.
But wait, there's more! Fado music and street art create a beguiling mix of traditional and modern culture that'll keep you entertained during your trip too. There are even day trips from Lisbon, including to colourful Sintra — packed with medieval marvels — or you could hop across the Rio Tejo to the suburb of Cacilhas for fantastic seafood and riverside views.
With all this and more to explore, the cost of a trip to Lisbon can easily start to add up. But here are some ways to stick to that budget when exploring the top things to do in Lisbon:
Experience the city from a miradouro. Lisbon boasts seven hills, each with an array of miradouros (viewpoints) where you can see various vistas of the city for absolutely no charge at all. Try Portas do Sol, Sao Pedro de Alcantara, and explore around to find some hidden ones.
Grab a Lisboa Card. This is Lisbon's official visitor card. It gives you free unlimited travel on public transport and access to top museums and attractions in the city. It costs around $25 for 24 hours, and $50 for 72.
So far, we've established that Lisbon doesn't have to be expensive. But even if you've budgeted for accommodation, flights, transport, and food, there will more than likely be something extra to think about in terms of cost.
Maybe you'll visit a market and find some really cool local art that you want to take home. Maybe you were sent on a mission to get a fridge magnet for mum… who knows. We suggest setting aside 10% of your budget for these additional costs, just in case.
Tipping in Lisbon
Tipping in Portugal as a whole, not just Lisbon, may be a little different to what you're used to. For starters, it's not the done thing to tip a certain percentage of your bill — in a restaurant, cafe or elsewhere.
The Portuguese don't have a big tipping culture, but it's not uncommon for foreigners to leave tips. Usually, a tip between $2.50 and $6 is enough (even for an expensive meal). You're not expected to match the tip with the cost of the food, though.
For counter service at a bar or cafe, if you want to leave a tip, do so in a tip jar (if it's provided). It's not expected, but it will be gratefully received.
When it comes to private guides and hotel staff, tipping is discretionary. If you do want to tip, it's ok to give as much as you want, but even $2 is enough. As for taxis, normally you'd just round up your fare to the nearest Euro and signal for the driver to keep the change.
Get Travel Insurance for Lisbon
World Nomads' mission is to support and encourage travellers to explore their boundaries. They offer simple & flexible travel insurance, and safety advice to help you travel confidently.
They've been doing it since 2002 – protecting, connecting, and inspiring independent travellers just like you.
Get a quote below or read our in-depth review!
World Nomads provides travel insurance for travelers in over 100 countries. As an affiliate, we receive a fee when you get a quote from World Nomads using this link. We do not represent World Nomads. This is information only and not a recommendation to buy travel insurance.
If you're a big fan of budget travel, here are some more tips for travelling Lisbon on the cheap:
Hit up the free sights – If you want to save money on attractions, start by looking on discount sites such as Groupon. Always check online before you book something — you may get a nice bit of money off.
Keep clear of tourist traps – The best way to burn into your budget is to be sucked into tourist traps where prices will be much higher. Opt to eat and drink away from any tourist attraction in order to save your cash.
Join a free walking tour – A fantastic way to get to grips with a new city, free walking tours are often offered by Lisbon's hostels. Not only that, if you're travelling solo, you might be able to make some new friends too!
Buy alcohol from supermarkets – Alcohol sold at small stores and bottle shops is much cheaper than in bars. Grab a couple of beers and a bottle of wine and sit out on your balcony or at a viewpoint for a budget-friendly evening.
Try out Couchsurfing: Perfect for sociable travellers, Couchsurfing offers up the chance to stay with a Lisbon local completely free of charge.
Have a water bottle: Don't waste money on plastic, bottled waters; carry your own and refill it in the fountains and the tap. If you're worried about potable water, get a filtered bottle, like the GRAYL, which filters out 99% of viruses and bacteria.
Earn money while you travel: Teaching English while travelling is a great way to make ends meet! If you find a sweet gig, you may even end up living in Lisbon.
Become a volunteer with Worldpackers: Give back to the local community and, in exchange, you're room and board will often be covered. It's not always free, but it's still a cheap way to travel in Lisbon.
You may have initially thought that Lisbon is expensive, being a capital city and all, but hopefully not anymore.
We're going to round it all up now, just so you remember the best of our money-saving tips for Lisbon:
Stay in hostels – Hands-down the cheapest way to stay in Lisbon, hostels don't have to be "typical" backpacker digs. In fact, hostels these days are pretty varied and can be pretty darn stylish, so there's no doubt you'll find something to suit you.
Get the Lisboa Card – Free unlimited public transport, free access to tourist sights, all for as little as $25. How could you pass up on that amazing bargain?
Visit during the off-season – Summer means tourist crowds and higher accommodation prices. If you want better deals and more space to enjoy the city, we'd recommend visiting in spring or autumn.
Eat where the locals eat – Lisbonites are definitely not eating at the tourist joints (trust us). They'll be eating at local eateries and cafes, obviously. Search these out and uncover Lisbon's authentic food scene.
Walk – Even though you can travel in Lisbon cheaply using its public transport, walking is even cheaper – it's free! So if the weather's ok, and time isn't too much of an issue for you, walking between sights can really save you a ton.
With our money-saving tips in mind, the average daily budget for a trip to Lisbon can easily be around $30 to $50 USD per day.
---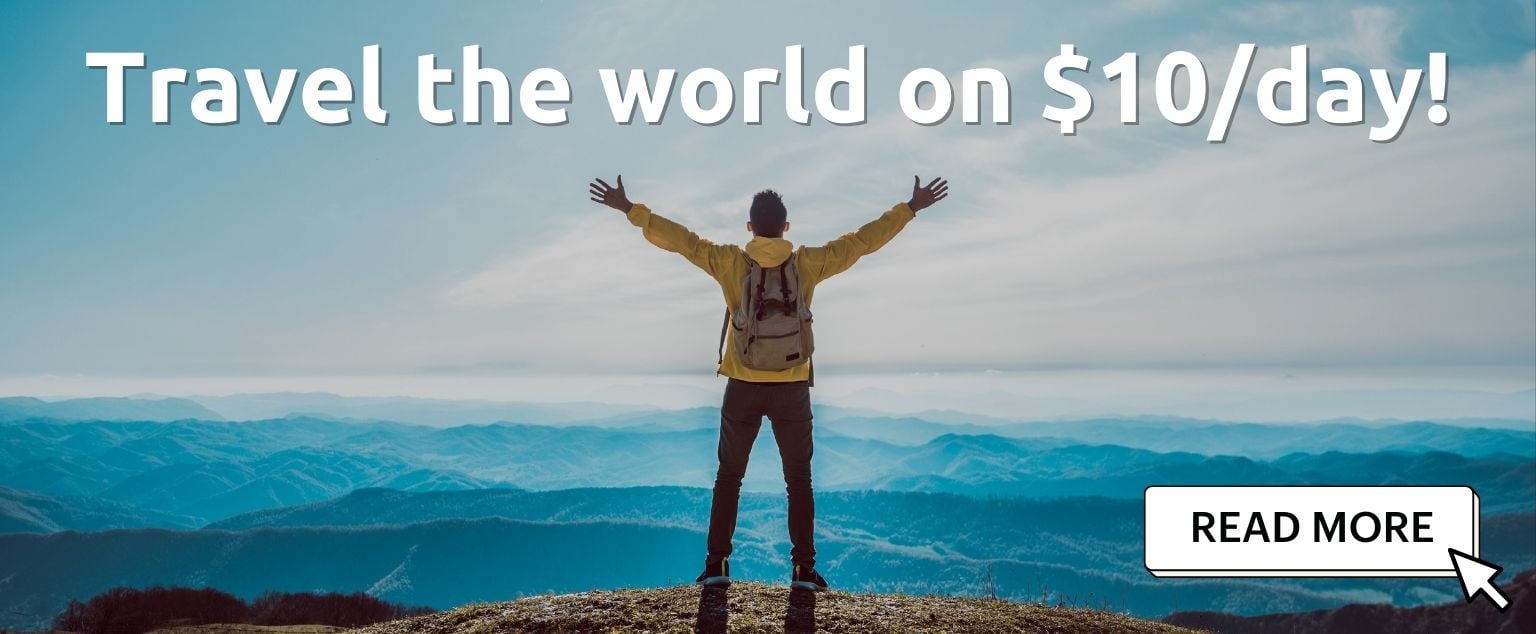 And for transparency's sake, please know that some of the links in our content are affiliate links. That means that if you book your accommodation, buy your gear, or sort your insurance through our link, we earn a small commission (at no extra cost to you). That said, we only link to the gear we trust and never recommend services we don't believe are up to scratch. Again, thank you!