When one thinks of Lisbon, you most probably conjure up images of rolling cobblestone hills and quaint little buildings. Walking through the ancient streets, travelers can expect wafts of freshly baked pasteis de nata as they dodge the yellow trams that regularly pass by, carrying travelers and locals alike. Lisbon vibrates with history and culture, and can easily be overwhelming without some form of guidance. A Lisbon itinerary is key to making the most out of a weekend in Lisbon!
So, you've booked your flight to Lisbon, but now where do you start? Lisbon is both the capital and the largest city in Portugal. Depending on your interests, the coastal city has got so many different neighborhoods to wander, and they're all interlinked with efficient and affordable public transport.
As one of the oldest cities in the world, a trip to Lisbon promises to be culturally and historically enriching, with countless activities and places to explore! Our Lisbon itinerary highlights the key spots to visit when spending three days or more in Lisbon.
Lisbon's attractions are endless. You could spend a whole year in the city and still not see every single hotspot. Unfortunately, this makes it really hard to plan your trip, since having so many options can be quite confusing. So, whether you're backpacking around Portugal or you're here for a short break, it's best to plan your time accordingly.
But don't worry, this is where we step in. We've created a three-day itinerary that includes the most amazing sights of the city, some hidden gems and loads more.
Quick side note: Lisbon can get seriously busy during the high season, so make sure to book your accommodation well ahead. Even Lisbon's epic hostels get really busy!
Each day will have the perfect amount of exploration, explained in full detail. You'll know when to go and how to get there.
That being said, none of these stops are mandatory. You can move things around however you pleased to make the absolute most out of your trip.
If you're wondering what you need to prepare for your Lisbon visit or how you're going to get around the city, simply scroll down to the end of the post where we've explained everything in detail.
3-Day Lisbon Itinerary Overview
Day 1 in Lisbon: Tram 28, Rossio Square, Praça do Comércio, Alfama, São Jorge Castle, Bairro Alto
Day 2 in Lisbon: Ajuda National Palace, Jardim Botânico Tropical, Jerónimos Monastery, Belém Tower, Padrão dos Descobrimentos, Tagus River Boat Cruise
Day 3 in Lisbon: Feria de Ladra, SL Benfica Football Club, Cascais, Time Out Market
The rich history of the city means that there are many things to see in Lisbon. No matter where you choose to stay during your Lisbon trip, you'll be in for a treat! With that being said, there are more popular districts, depending on what you hope to achieve with your time.
There are a large number of Lisbon hostels, hotels and apartments to choose from. The most popular areas to stay in Lisbon are Baixa which is the grand historic district, Chiado which is the bustling centre of the city, and Alfama which consists of steep, rolling hills and is full of character. As these areas are home to many of Lisbon's iconic attractions, they have developed with tourists in mind, and are full of restaurants, bars, and shops.
If you're prioritizing nightlife outings during your three-day adventure in Lisbon, then you should definitely stay in Bairro Alto which is the party district, or Cais de Sodré which is also a popular nightlife hub and former red-light district! If you choose to stay in these areas, be advised that the nights are long, and whether or not you're part of the festivities, you won't be getting much sleep! After all, Lisbon is one of the best party cities in the world!
Finally, if you are looking for a more authentic and calm experience in Lisbon, then Graça, Estrela and Principe Real are the areas for you! They offer a vibrant local experience, a peaceful escape, and exclusivity, respectively.
If you are looking for a great Lisbon Airbnb property, then you will rejoice to hear that there are loads of them!
Located in the bustling historical city centre district of Chiado, Lost Inn Lisbon is the ultimate hostel choice for travellers wanting to be in the thick of the action! The hostel is a five-minute walk from the metro and is on the doorstep of some epic bars and restaurants. It's also a great place to meet friends to join you on your adventures!
Want to check out more hostel options in Lisbon? Check out our guide to hostels in Lisbon!
If you're not sure where to stay on your first Lisbon visit, you should check out this Airbnb. With only the best reviews, the apartment is beautifully furnished, in the best location possible and has all of the amenities you'll need. You can truly call this place home! The main metro station is only a short walk away. Cute cafes, local restaurants and attractions are right around the corner too.
As the name suggests, FADO Bairro Alto is a great hotel choice for travellers who are on a budget and want to enjoy the nightlife in Lisbon! The hotel building is authentic and typical of Portugal, with a balcony to enjoy the evening sun before hitting the town!
This boutique luxury hotel is located in the laid-back area of Estrela, with the city centre a short 10-minute walk away, giving travellers the best of both worlds! The chic contemporary style of the hotel gives a modern twist to traditional architecture. A stay here promises all the perks of luxury accommodation!
What better way to get acquainted with a city than to go straight to the centre! On your first day experiencing a new place, you no doubt want to tick off some of the most popular attractions in Lisbon The following itinerary serves as both an introduction and a full immersion into the incredible city!
08.00 am – Tram 28 Roundtrip
Tram 28 is one of the best ways to explore Lisbon's heritage centre. The entire route from Martim Moniz to Campo de Ourique/Prazeres takes about an hour. It passes by some of the quaintest scenery and Lisbon's top attractions along the way.
The tram queues can get very long, as it is a popular way of getting around for both tourists and locals. It's worth the wait, though, to see spots such as Chafariz do Intendente monument in Rua Palma and Igreja Dos Anjos, a baroque-style church.
Insider tip: The tram can get very crowded, so it's best to start your journey early (the tram starts at 5:45 am) and jump on board at a less crowded stop, such as Basílica da Estrela.
Cost – $3
How long should I stay here? 1 hour
Getting there: Walk to any of the stops
09.30 am – Breakfast at Rossio Square
Travellers can spend hours strolling around Rossio Square, more formally known as Pedro IV Square, in downtown Lisbon. It is surrounded by shops, cafés, and people relaxing, socialising and enjoying a drink outdoors. The atmosphere is vibrant, and makes for some incredible pictures!
The centre monument of the square is framed by two baroque fountains, and the cobblestone floors are laid in a beautiful wave-like pattern- you may have seen pictures of this! The history that has passed through the square is quite incredible, so make sure that you soak it all up!
Cost – Free
How long should I stay here? 1 hour
Getting there: 5min walk from Tram 28
11.00 am – Praça do Comércio
Make your way down bustling Rua Augusta pedestrian street to the central area where the "Commerce Square" is located. Take the time to pause for a few moments and take in the magnificence of the arch (which is a feat of design in itself).
For years, the square was the centre of Lisbon's trade and maritime movements. Today, the animated square is full of people and great coffee shops to relax and take in the ambience. There are often concerts and events hosted in the square as well, so look out for posters!
Insider tip: Buy a drink and snack from one of the surrounding cafés and sit along the Tagus River. It offers the most incredible view of both the square and the river!
Cost – Free
How long should I stay here? 45-60min
Getting there: It's a scenic 10min walk from Rossio Square
12.30 pm – Stroll through Alfama
Alfama is the oldest part of Lisbon and is made up of ancient tiered buildings and cobblestoned streets. A walk through the area will present you with countless sights and activities. Look out for Lisbon Cathedral, one of the top religious and historical landmarks in Alfama!
Alfama was one of the only areas in Lisbon that wasn't destroyed by the devastating earthquake in 1775, meaning that many of the old buildings are steeped in history! Walking through the streets is sure to conjure up nostalgic feelings of good times gone by.
Cost – Free
How long should I stay here? 1 hour
Getting there: 15min walk or take Tram 12E or 25E
2.30 pm – São Jorge Castle
Following the winding streets of Alfama will undoubtedly lead you to São Jorge Castle. The castle is one of Lisbon's most iconic landmarks- largely due to its majestic location perched on top of the hillside as well as the deep history that it has carried since the 13th century!
Take your time exploring the castle's 11 towers and its small museum before taking in the mesmerizing views of the city. If you can, try to time it so that you are able to watch the sunset from the terrace. This is a really romantic spot for couples!
Before heading to the next spot, make sure to recharge or maybe even head back to your accommodation for a bit. There's one spot left on today's Lisbon itinerary and you might want to freshen up.
Cost – $6-10
How long should I stay here? 1-2 hours
Getting there: 6min walk from Alfama
5.00 pm or later – Bairro Alto
Probably the quirkiest and most hipster Lisbon district, Bairro Alto is known to be one of the best nightlife areas and the perfect way to end your first-day itinerary in Lisbon. Enjoy walking through the vibrant streets and make sure that you pop into various bars on a whim.
You can expect live music and delicious drinks around every corner – look out for the sangria, it's delicious! Follow the sound of Fado, traditional Portuguese music. This will lead you to the more traditional Portuguese restaurants where you can get swept away by the solo singer and classical guitar!
Cost – Depends on how much you drink…
How long should I stay here? No limit!
Getting there: Bus 22B and tram 24E connect directly
Spending a weekend in Lisbon allows you to get deep into the history of the city! Belém is the historical area in the west of Lisbon that is filled with cultural and architectural landmarks. A great place to continue to explore Lisbon, the riverside area can easily be navigated by foot, allowing travellers to better absorb the beauty of the surroundings!
10.00 am – Start the day at Ajuda National Palace
Day two in Lisbon starts a little bit later than the previous one, but if you went out last night, you'll probably need a bit of rest. Ajuda National Palace is perched on a hilltop and overlooks the city of Lisbon. A short walk from the Esplanade and centre of Belém tourist attractions, the palace is well worth the visit for anyone interested in architecture, history, or culture. While it is possible to walk to the previous home of the Portuguese royal family, it's best accessed by public transport.
Today, the palace is one of Lisbon's greatest museums and filled with remnants of the past. Be sure to go past the Queen's Chapel, which was previously closed to visitors for decades and decades!
Cost – $3-5
How long should I stay here? Roughly 1 hour
Getting there: Take the bus or tram to Lg. Ajuda (Palacio)
11.30 am – Relax at Jardim Botânico Tropical
Jardim Botânico Tropical boasts a variety of tropical flora over five hectares of garden space and vintage greenhouses. Previously in neglect, the garden is constantly being groomed and improved. Despite this, it is still one of Lisbon's most beautiful outdoor spaces.
Strolling through the grounds will give you your daily dose of greenery while exploring the city centre. Visiting the garden is one of the more popular things to do in Lisbon as a brief escape from the queues of people at various attractions!
Cost – $3
How long should I stay here? 45min for a stroll, or 1-2 hours for a picnic
Getting there: take the tram 18E
1.00 pm – Explore the Jerónimos Monastery
Jerónimos Monastery, locally known as Mosteiro dos Jerónimos, was originally built to commemorate the return of Vasco De Gama after his travels to India. The gesture resulted in an over-the-top building with intricate and ornate design.
The architecture of the building is astounding and a must-see sight for everyone visiting Lisbon! The condition of the interior and exterior of the 500-year-old building is impeccable!
Insider tip: You can purchase a combined ticket with the Belém Tower for $12 (USD $13).
Cost – $11-13
How long should I stay here? 1-2 hours
Getting there: 4min walk from previous spot
3.00 pm – Check out Belém Tower
Belém Tower, also known as Torre de Belém, is a popular tourist attraction due to its stunning design and historical significance. It also makes for exquisite pictures as the river offers a stunning backdrop for photographs!
Initially built to protect the city in the 16th century, travellers can visit the architectural gem between 10:00 am and 6:30 pm during peak tourist season. While the exterior is magnificent, if the queues are long to go inside, you can easily give it a skip. Some say that the interior of the tower is overpriced and overrated, so it may be best to sit on the pier and absorb its magnificence.
Cost – $7
How long should I stay here? 30min (without a tour)
Getting there: Take the tram 15E
3.45 pm – Admire Padrão dos Descobrimentos
Padrão dos Descobrimentos beautifully articulates voyages of discovery that Portugal conducted in the 14th century. A design feature dedicated to the explorers and adventurers of the past, the sculptured monument and educational space shares significant insight into the environment around the time of Portuguese conquests.
Be sure to take note of the world map on the marble floor which beautifully demonstrates the expanse of Portuguese explorations!
Cost – $7 (to get to the platform)
How long should I stay here? 30min
Getting there: Short walk from the previous spot
4.30 pm or later – Tagus River Boat Cruise
A boat cruise or ferry trip along the Tagus River is popular for a reason! There are various boating tours in Lisbon that give travellers the chance to discover Lisbon from the water. Many of these tours last an hour to an hour and a half and give tourists historical and cultural context from a different perspective.
The cruises also offer stunning views of some of Lisbon's most iconic attractions that you simply can't experience another way! These boat trips are a great activity to do as a family, a couple, or even as a solo traveller!
Insider tip: For an extra special experience, book a sunset cruise and watch the sun go down over the city from the water!
Cost – $15-40 (depending on the group size)
How long should I stay here? 1-1.5 hours
Getting there: Take public transport to the docking station
Got another day to explore Lisbon? Awesome, we've got the right activities for your third day. We're starting the day off with a bit of shopping and sightseeing, but the afternoon will be all about relaxing and some amazing food.
08.00 am – Shop until you drop at Feria de Ladra
Initially started in the 13th century, the market has moved between various locations in the city but finally settled in Campo de Santa Clara in 1882. The market is open on Tuesdays and Saturdays, from as early as 6 am, although the schedules are never really set.
Keep a keen eye when browsing the stores as you can find almost anything for sale, useful or not! From antiques, clothing, and houseware, the market is a great place to find some souvenirs.
Surrounding the historical market are many different attractions, such as the National Pantheon, the Church of São Vicente de Fora, and Sinel de Cordes Palace.
Cost – Depends on how much you buy
How long should I stay here? 1-2 hours
Getting there: Take bus line 734 or 797 to Mercado Santa Clara
10.30 am – Visit the SL Benfica Football Club
A visit to SL Benfica Football Club is high up on the list of what to see in Lisbon- especially for sports fans! Although not in the very centre of Lisbon, the stadium can easily be reached by a short metro ride and is surrounded by great spots to grab a bite or drink.
Whether or not you're a sports fan, a ticket to the stadium on match day is one for the books! The vibe is absolutely incredible and the festivity is tangible. Get there earlier and enjoy a beer and prego roll from one of the many stalls surrounding the stadium. No drinks are allowed inside the stadium, which means that the game is the centre of attention, and there are no hooligans to ruin a good time!
If your time in Lisbon doesn't line up with a football game, make the effort to visit the stadium anyway! The football museum offers a great "history of Benfica" exhibition and gives travellers the opportunity to walk through the press conference room, dressing room and player's tunnel!
Cost – $12-17
How long should I stay here? 1-2 hours
Getting there: 30min ride with tram Az
1.00 pm – Explore Cascais
A trip to Cascais is the perfect afternoon trip from Lisbon for those looking to relax on the beach, take part in some water activities, and explore the streets of the old fishing port. Easy-to-get-to and hassle-free, travellers can conveniently get to Cascais by taking a short train ride that leaves every 20 minutes from Cais do Sodré station.
If you've had enough of the sand, there are also countless cafés, restaurants, shops and historical landmarks to explore throughout the buzzing city- most of which can be reached by foot! Unlike Lisbon, Cascais doesn't have especially hilly terrain, making for a less strenuous adventure.
Be sure to explore the restored Nossa Senhora da Luz fort and Museu Condes de Castro Guimarães while you are there.
Cost – Free
How long should I stay here? 3-4 hours
Getting there: 45min ride from Lisbon's Cais do Sodré station
6.00 pm or later – Eat at Time Out Market
The open, airy food court offers a vast variety of cuisine to taste and buy. The Time Out Market is a stone's throw away from Cais do Sodré station and is considered one of the ultimate foodie experiences in Lisbon!
The market is made up of large community tables which means that you never struggle for seating, and you may even rub shoulders with a stranger who becomes a friend! Regardless of your taste preferences, you will be sure to find it at the Time Out Market.
Not only are there more than 40 stalls manned by professional chefs, but the goods at each stall have been critiqued by Time Out's very own journalists and critics. Each product has been awarded a four- or five-star rating!
Insider Tip: Look out for the local port and give it a try! Chances are, you've never tasted anything quite as smooth and rich in flavour!
Cost – Free
How long should I stay here? No limit!
Getting there: Take public transport to Lisbon's Cais do Sodré station
Lisbon experiences a Meditteranean climate, which means that the city has mild, rainy winters and hot, dry summers. Its moderate climate makes Lisbon a fantastic city to visit throughout the year!
The best time to visit Lisbon is during the months of March to May, or September to October. During this time, the weather is still temperate so travellers can explore comfortably and still fit in a few beach days! These periods also fall outside of peak tourist season, which is June to August. During peak season, the city can be crowded and the prices of hotels and tours can be significantly higher.
Regarding temperature, July is the hottest month in Lisbon, and it can reach a high of 28°C (82°F) – perfect for fun days on the beach.
The coldest month in Lisbon is January when the temperature averages a chilly 11°C (52°F) but can drop as low as 8°C (46°F).
All in all, the temperature remains moderate and comfortable throughout the year. The city is best explored on foot, so we suggest you avoid coming in November when Lisbon experiences the most amount of rain, with an average of 127.6mm.
Lisbon has a pretty good public transportation system. There is the underground metro, which is most of the central parts of Lisbon. You can take the over-ground train from Lisbon to Cascais, and stop at Belem en route.
One-time Viva Viagem card purchase: €0.50
1 CARRIS/metro fare: €1.40
24-hour CARRIS/metro fare: €6
The historic, yellow trams also serve as public transportation, but I haven't actually ridden one to be honest. I don't see the point of waiting in line to board the touristy tram 28, though definitely admire it from afar!
You will also see plenty of tourist vehicles, like tuk-tuks and tricycles throughout the city. I have avoided these and many locals aren't fond of them. That said, the cobblestone hills can eventually be tiring for even the most seasoned walkers. When my mom visited Lisbon, she took advantage of the tuk-tuks and didn't regret a thing.
You will need to purchase a refillable Viva Viagem card before you use public transport; the cost is written above. Unlike most cities, Lisbon is not expensive when it comes to riding cabs — well worth using at night. Lisbon also has Uber, which is convenient for early morning airport rides.
Depending on the time you're visiting the city, you need to come prepared. Especially during the hot summer months, we highly recommend bringing a hat and strong sunscreen to keep yourself protected.
Apart from that, you might also want to consider having a solid pair of shoes with you. Walking around the city in flip flops won't just give you very awkward tanning lines, but also uncomfortable blisters.
Luckily, Lisbon is a very safe city. There is a very low crime rate and extremely low cases of violent crime. As in most European cities, it is important for tourists to remain vigilant and be conscious of the possibility of pickpockets, especially in busier, more crowded locations.
Travellers can comfortably walk most streets without worry. With that being said, there are some areas to avoid- especially when alone at night. An example of such an area is Intendente which is void of easily accessible public transport and the streets are home to some shady characters.
Don't Forget Your Travel Insurance for Lisbon
World Nomads' mission is to support and encourage travellers to explore their boundaries. They offer simple & flexible travel insurance, and safety advice to help you travel confidently.
They've been doing it since 2002 – protecting, connecting, and inspiring independent travellers just like you.
Get a quote below or read our in-depth review!
World Nomads provides travel insurance for travelers in over 100 countries. As an affiliate, we receive a fee when you get a quote from World Nomads using this link. We do not represent World Nomads. This is information only and not a recommendation to buy travel insurance.
Find out what people want to know when planning their Lisbon itinerary.
Although an ancient city, Lisbon is full of life and opportunities to explore. Steeped in history and culture, you can expect flares of modern architecture and friendly conversation! Depending on your decision on how many days in Lisbon you want to spend here, you can chop and change the Lisbon itinerary to suit your schedule. Be sure to consider one of Portugal's many festivals that are held right here in the city.
There are so many iconic landmarks to see and views to take in that you can easily get lost in time while exploring the city! We wouldn't be surprised if your two-day trip becomes three, four, or more! There are even some great day trips to take from Lisbon if you get the chance.
Whether you take advantage of the tours or choose to simply follow the smell of the pastries, we hope that this itinerary gives you some direction regarding when to go, where to stay and what to do in the charming city of Lisbon!
---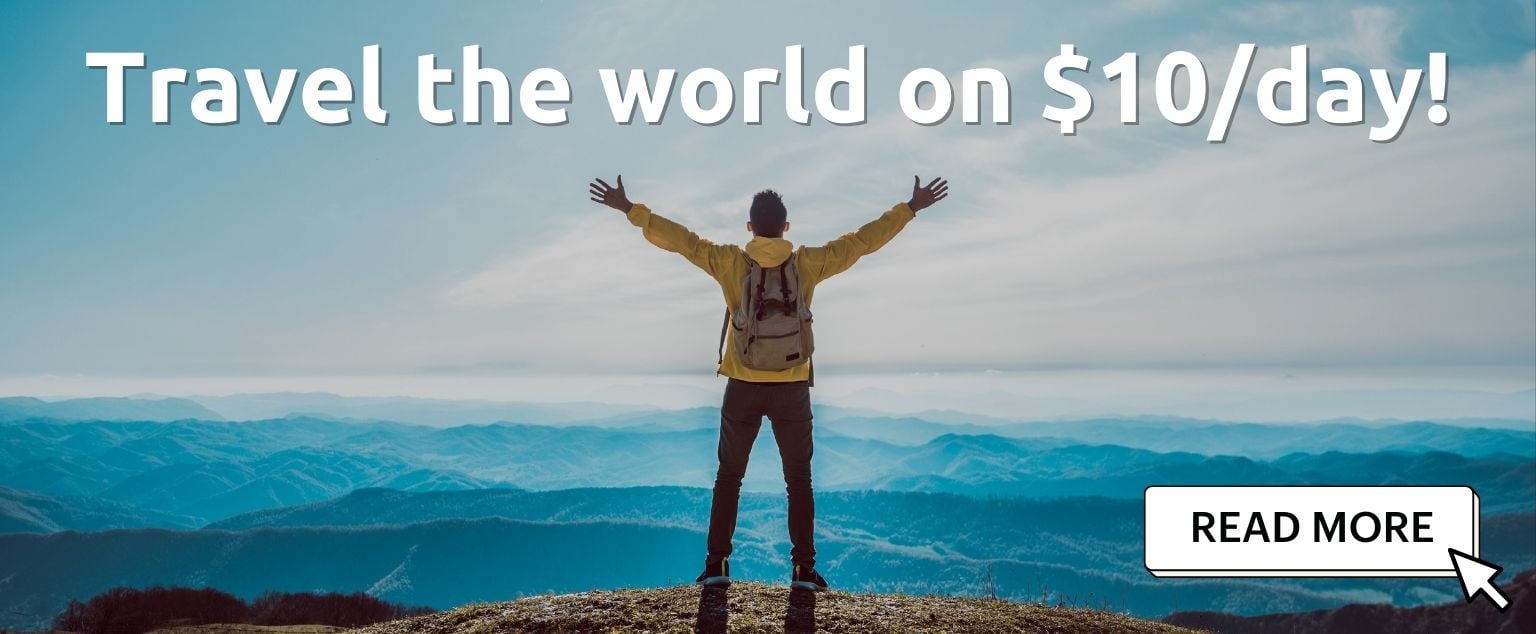 And for transparency's sake, please know that some of the links in our content are affiliate links. That means that if you book your accommodation, buy your gear, or sort your insurance through our link, we earn a small commission (at no extra cost to you). That said, we only link to the gear we trust and never recommend services we don't believe are up to scratch. Again, thank you!