Lisbon isn't just a great place to live as a digital nomad – it's one of the best spots on the European continent. The city is as rich in culture and history as it is in natural beauty and local wonder, boasting an incredible dining scene, nightlife atmosphere, and vibrant outdoor adventures.
It's also exceptionally well known for its ex-pat community. Home to people from all four corners of the globe, you won't struggle to find a welcoming ex-pat community related to your culture, language, and religion in this diverse capital city.
Portugal, in general, is an incredible place to explore, as either a tourist or a local. The country is teeming with ancient palaces and medieval castle ruins, exquisite Portuguese architecture and painted tile details, dramatic oceans, rolling hills, and incredible vistas in all directions. The opportunity to travel to this country alone is enough to make anyone want to settle here, let alone the ease of exploring the rest of Europe.
If you're considering making the big move and working abroad as a digital nomad in Lisbon, this is your sign to take the plunge and book the flights. To make the experience slightly less daunting, I've compiled this play-by-play article of things to know before moving to Lisbon.
I must warn fair caution, don't be surprised if you get so comfortable in your temporary life that you don't want to leave this idyllic city!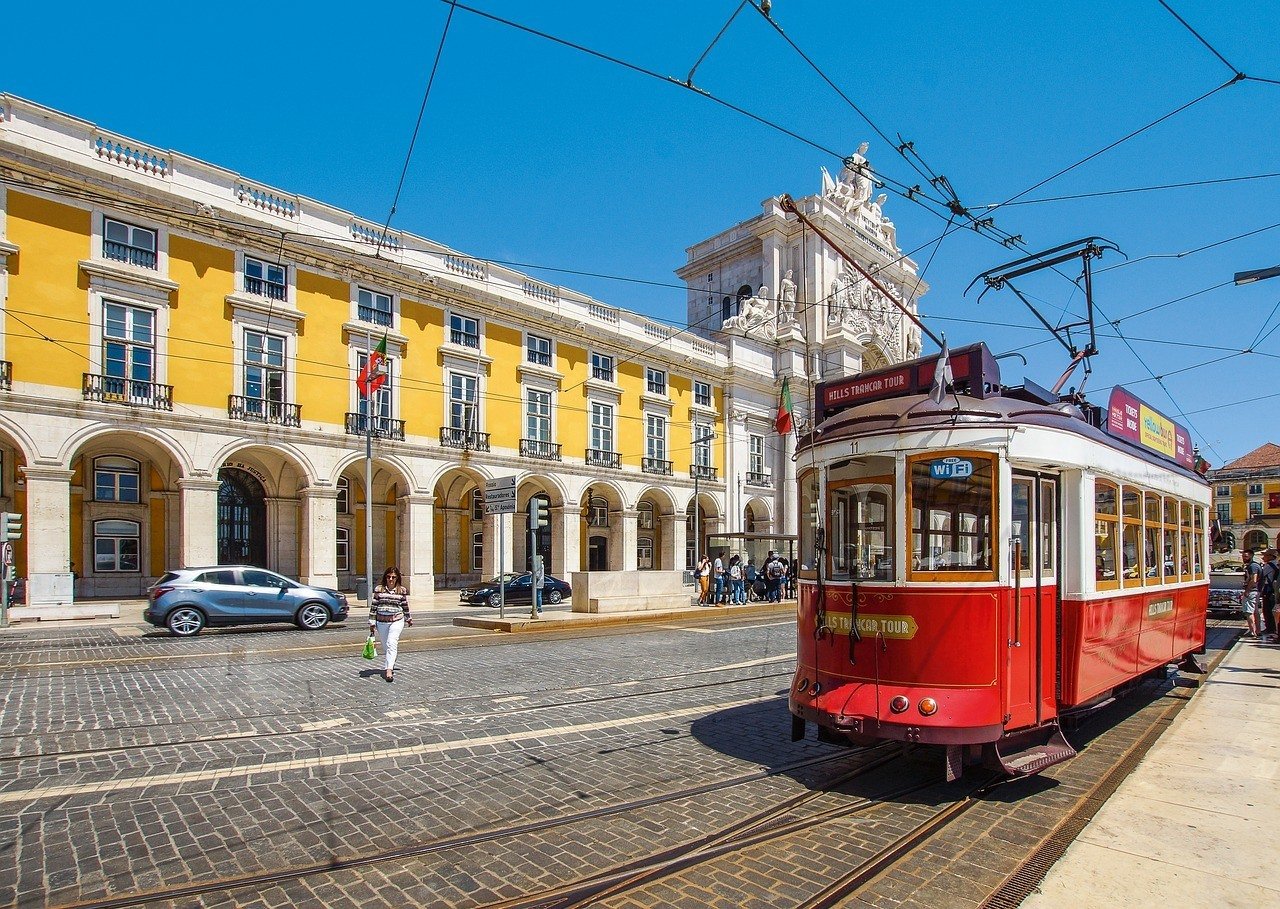 Is Lisbon Good for Digital Nomads
Safety is one of the most important things to consider as a digital nomad. Ranked as one of the top 25 safest cities in Europe, visiting Lisbon sits at the top of the list for all travelers, including solo females.
Of course, petty crime is expected in any big city, but with a bit of sense and caution, you should be able to live a peaceful life in the city without worrying about your safety.
As previously mentioned, one of the most convenient aspects of living in Lisbon is how great the city is as a home base for road trips around the country. Some of the most beautiful places in Portugal are either in the city, or just a short drive away.
Since Portugal is a relatively compact country, it has become a massive destination for coastal road trips – and for a good reason. It's close to the sea, near the countryside, and just a short drive from an abundance of stunning spots for a quick weekend getaway or a more extended trip. 
With a significant international airport servicing all the major low-cost airlines in the country, it is also very easy to find affordable flights into other parts of Europe and even further abroad.
Weather plays a huge role in any suitable place for digital nomads. Everyone loves a bit of sunshine, and with Portugal's southern European location, this country gets a lot of sunshine. The city of Lisbon boasts hot summers with a cool Atlantic breeze offering relief from the sun, with long days of sunshine.
Unlike many other European destinations, the weather stays mild to cool during winter, with a decent amount of rainfall but no dramatic freezing temperatures. Generally, the weather varies between 47 degrees Fahrenheit and 83 degrees Fahrenheit, with temperatures rarely reaching below 40 or above 94 degrees Fahrenheit. This decent year-round weather makes the city an ideal location for year-round digital nomads in Lisbon.
If you've ever lived abroad, you'll know the benefit of having a good community. Whether you make connections with locals or other foreigners, a good social circle is essential for any healthy digital nomad. Good news! Lisbon has an incredible ex-pat community, boasting a diverse array of nationalities and ex-pat groups who will be more than happy to welcome you into their city.
On top of this, the local Portuguese population is extremely friendly and welcoming, with most speaking fluent English, making it even easier to communicate and experience life in the city.
Cost of Living
Europe is not known for being the most affordable continent. However, compared with many northern European cities, Lisbon is relatively inexpensive to live in. The Portuguese use the Euro as their currency, which is typically close to the value of the US dollar.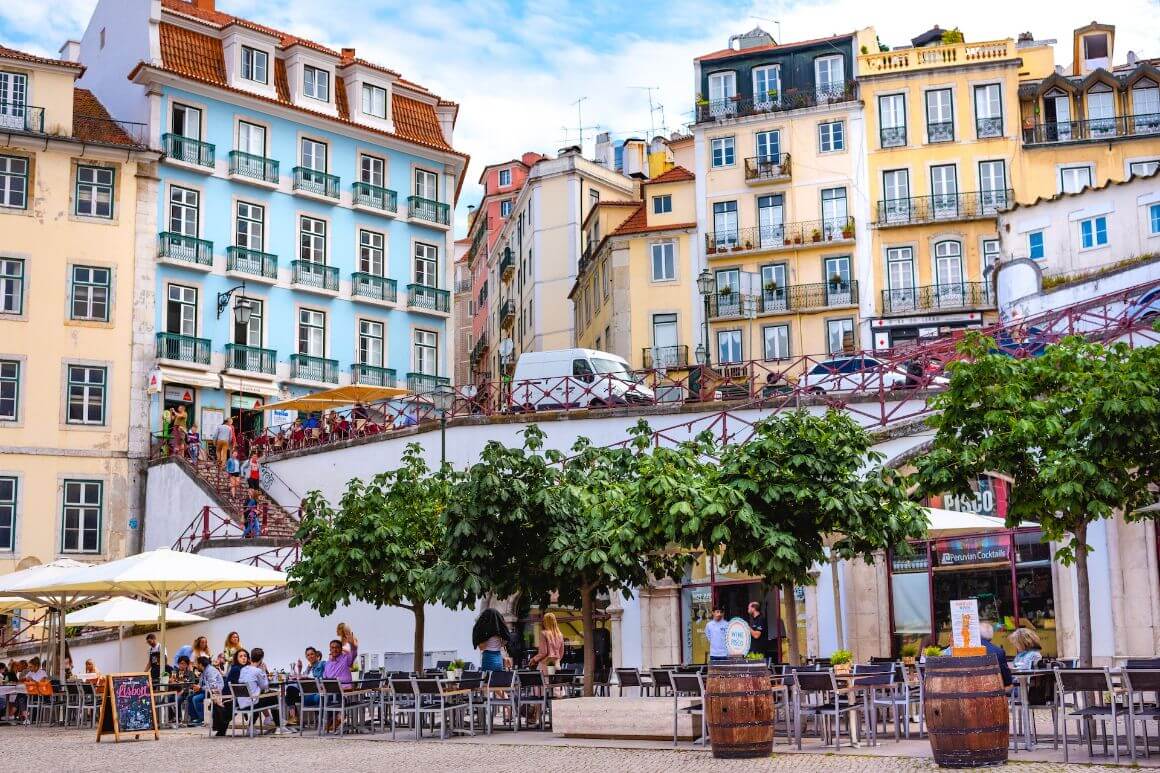 Here is a list of what you can expect to spend while living in Lisbon.
Eating out: A meal at a casual restaurant might cost around $14, while a meal at a mid-range restaurant could cost about $57. A cappuccino costs about $2, while a beer sits a little higher between $3 and $4, depending on the brand.
Rent: Considering you rent a one-bedroom apartment in Lisbon city center, you can expect to pay just over $1400 per month (or as little as $890 outside the city center). Of course, rent differs according to which neighborhood you are settling in as a digital nomad in Lisbon. Utilities can cost anything from $120 to $140 per month.
Transport: Getting around is pretty affordable here, with a one-way public transport ticket in Lisbon costing about $2.20 and a monthly pass for $45. Taxis are a lot more expensive than public transport.
Activities: The cost of joining a gym or fitness club for one month is around $43 in the city. Renting a tennis court might cost you $12 shared between friends. If you want to visit the cinema or watch a show at a theatre, tickets average around $8 per person per show.
Groceries: a gallon of milk costs around $4, while a fresh loaf of bread is as little as $1.50. Fresh produce is more affordable, too, with an lb of onions or potatoes costing around 60 cents. Apples are slightly more pricey, costing about $1 on the lb.
Digital Nomad Accommodation in Lisbon
As the capital, most populous, and geographically largest city in the country, Lisbon offers a fair share of different areas and accommodations. The city is relatively compact, with an excellent public transport network connecting all parts of the inner city by metro, bus, and a historic tram.
The city is also easy to walk around on foot, but take note that it is hilly, so a short walk could turn out to be a sweat-breaking endeavor. The city is comparable to the hills in San Francisco.
The neighborhoods of Baixa / Chiado area, Se/Alfama, and Bairro Alto are rated best for digital nomads in Lisbon because of their vibrant nightlife and bars, co-working spaces and cafes with wifi, and proximity to shops, restaurants, and outdoor activities. You should be able to scour Facebook groups, Airbnb, and local websites for long-term accommodation for digital nomads in Lisbon.
As a top location for digital nomads, the city is home to some incredible co-living spaces, where digital nomads can rent a room and enjoy self-catering facilities and a co-working space, all at the same location and for the same rate.
In this article, I'll give you all the information you need to decide whether to spend an extended period of time living in Lisbon as a digital nomad:
Where Should Digital Nomads Stay?
As you might expect, this vibrant city has many different types of places to stay. Where you stay in Lisbon will depend on how long you're visiting for, who you'll be staying with, and what area you want to be based in.
Do some personal desk research to find the best locations near the attractions and neighborhoods you think would suit you best. Although the city isn't massive, the hilly terrain can make it tiring to get around by foot, and If you're anything like me, you'll want to find accommodation within walking distance of grocery shops, cafes, and restaurants.
If you're coming to Lisbon with a significant other and/or children, you will likely want to stay in accommodation with a private kitchen and living space. In this case, browsing Airbnb is a great way to find an affordable (or temporary) sublease with the option to extend your stay as you see fit. I always recommend trawling local Facebook groups for accommodation, too. There are often locals who leave the city for months at a time looking to rent out their private homes.
This spacious apartment in the heart of the city in the trendy Alfama neighborhood has two bedrooms, a living area, a full kitchen, and a balcony with city and ocean views. Best of all, the hosts offer a discounted rate for long-term stays, making it a worthwhile spot to stay if you're visiting with dependents.
Although a bit more expensive, this gorgeous home in Lisbon has three bedrooms and two bathrooms, with space for a family of six to live comfortably. It is beautifully designed with contemporary and antique interiors and has a dining room table that suitably doubles as a comfortable work-from-home desk.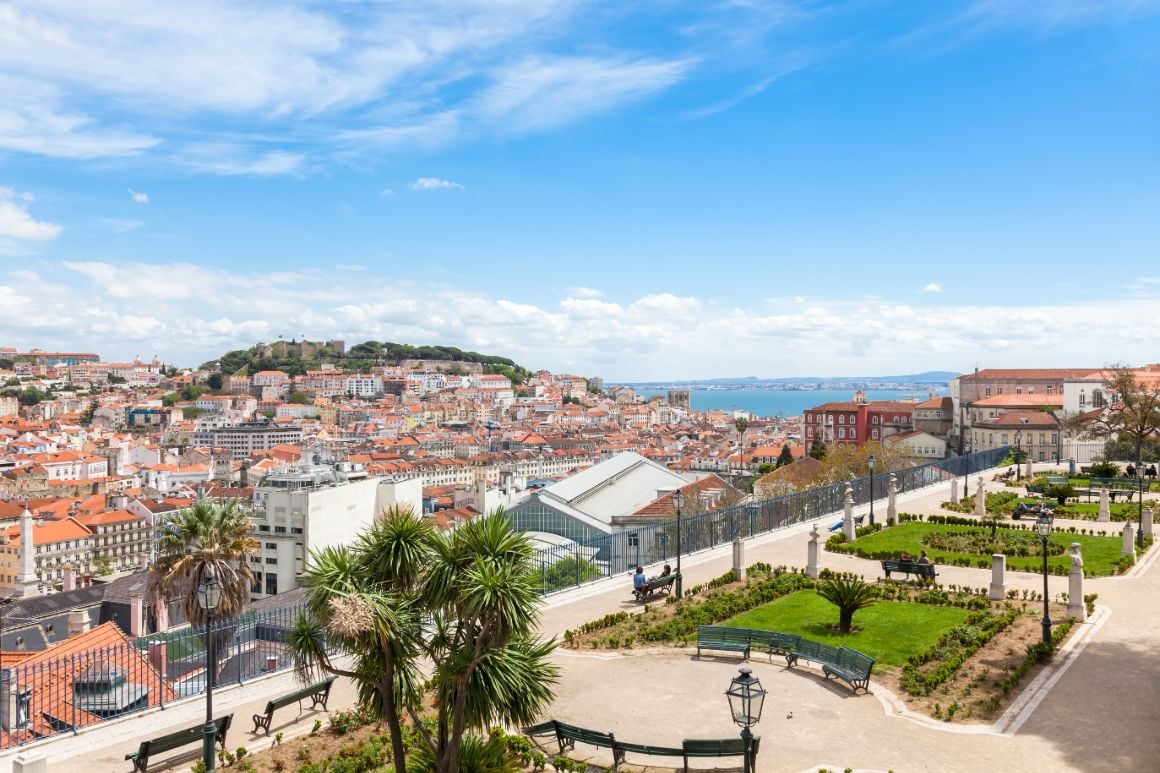 If you're a solo digital nomad living in Lisbon and want to experience the social atmosphere of the city while still getting your daily work grind in, staying in a co-living space is a great place to do so. You'll typically get a comfortable private bedroom and share a communal living space and kitchen with other residents.
Co-living spaces are often designed for digital nomads, offering a bunch of social activities and events, as well as a dedicated co-working space. So, technically you'll be paying for a home and co-working space all in one.
Same Same Living is a co-living and working space designed for creative nomads. The accommodation offers spacious bedrooms combined with an attractive communal office for anyone looking for a bit of motivation and inspiration in the city.
It is located in the city's creative district and includes access to a wellness area, restaurant and bar, and an event venue. Guests can choose from one to two-bedroom duplex apartments, each stylishly designed by local architects and interior designers.
One of the more upscale coliving spaces in Europe, Yon is designed on a concept of gorgeous private living spaces with the benefit of a built-in community. Flexible booking terms allow you to stay for extended periods without the high price tag of a hotel, yet with the benefit of hotel-like services like housekeeping and a reception desk. Of course, each of Yon's various locations in the city has fast Wi-Fi and a private workspace.
The next option would be to book a hotel room or bed and breakfast using Booking.com or Airbnb. Although more expensive, this type of accommodation offers the benefits of hotel amenities like housekeeping, room service, 24-hour reception, and often breakfast. However, without a private kitchen, you could end up spending more than expected on dining out.
Chalet d Avila Guest House offers a range of room types, from single suites with shared bathrooms to quadruple rooms. The rooms have hardwood floors, high ceilings, and large traditional windows overlooking the street below. Each suite has a work-desk space and good quality Wi-Fi connection, ideal for digital nomads.
Lisbon Wine House offers rooms and suites in the heart of Arroios. The hotel serves a buffet breakfast daily and offers family-sized rooms with the advantage of an on-site coffee shop. Rooms are air-conditioned and include daily housekeeping.
Have you sorted your accommodation yet?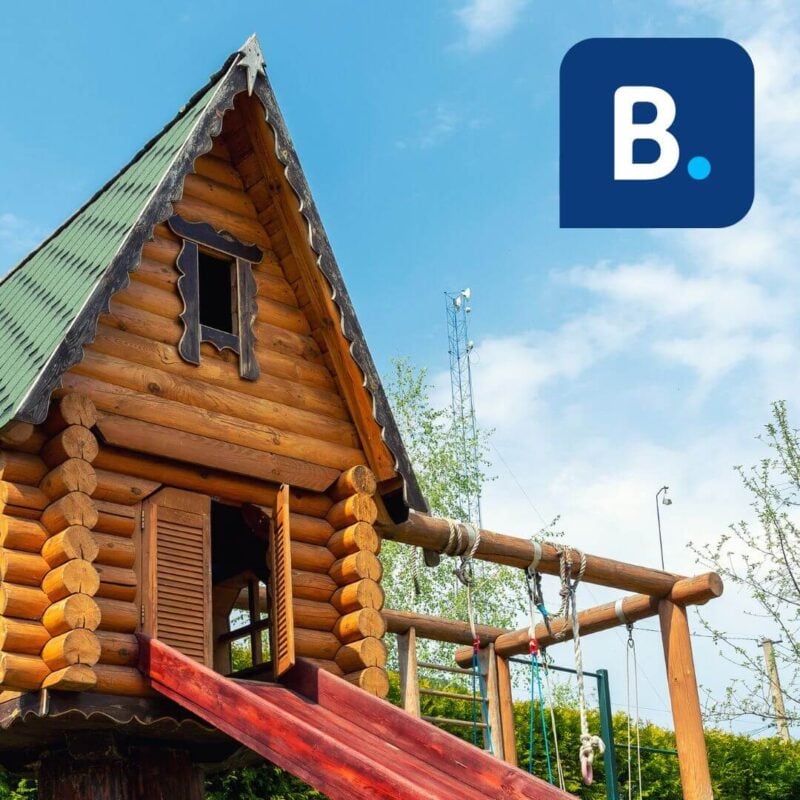 Get 15% OFF when you book through our link — and support the site you love so dearly 😉
Booking.com is quickly becoming our go-to for accommodation. From cheap hostels to stylish homestays and nice hotels, they've got it all!
View on Booking.com
Wi-Fi in Lisbon
Speaking of working abroad, the Wi-Fi in Lisbon is pretty fast, with most places averaging about 30 Mbps. You'll be able to connect to a reliable internet connection in most public restaurants, cafes, and bars, as well as most accommodations, hotels, and self-catering vacation rentals.
Even Lisbons metro offers free Wi-Fi in every station, not that you'd be setting up to work in a metro station. The network is called ON-FI and is easy to connect to if you need to tend to some quick emails on the go.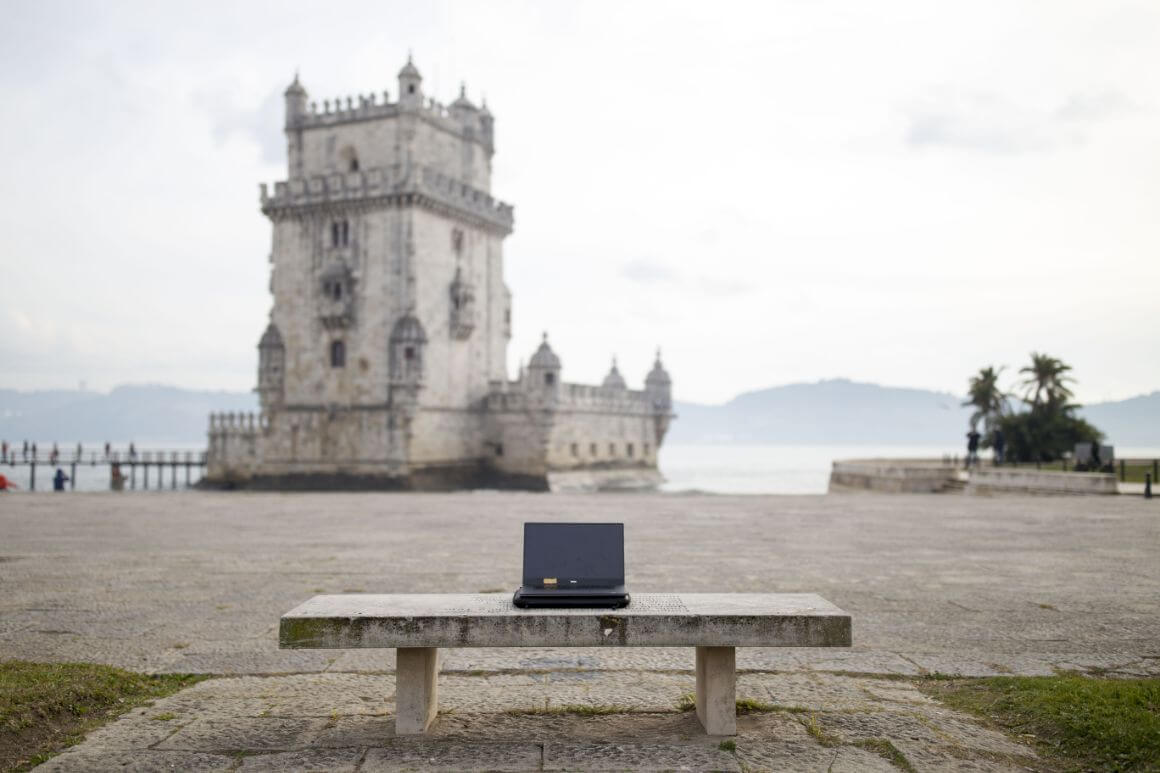 If you plan to stay in the country for up to a year, you should absolutely purchase a mobile phone plan with a local SIM card. Vodafone, Lycamobine, and NOS are the most popular mobile operators in the country. Airsims such as Airalo are also a great bet if you just need an internet connection and don't require a local phone number. If you are purchasing Wi-Fi for your home, buying a personal SIM card and fiber optic broadband plan is cheaper to purchase as a package.
Co-working in Lisbon
Co-working spaces are an excellent option for digital nomads who enjoy a formal office-like structure. With a dedicated place to sit and work, surrounded by like-minded digital nomads, you can crack away at your computer in silence and socialize in a communal space on your breaks.
Alternatively, you might prefer working alone in a busy coffee shop. If the constant sound doesn't disturb your work ethic, cafes are a great place to be in the buzz of activity and meet new friends while on the job. Although more affordable as a Lisbon digital nomad, this option risks finding a suitable desk and relies on you purchasing the odd cup of coffee or meal to save your seat.
The Best Co-working Spaces in Lisbon
There are a few things you need to consider before signing up for a co-working space. First, a reliable Wi-Fi connection is essential. Depending on your field of work, you might need a super fast internet speed and should do independent research to choose a location with an adequate connection.
Comfort is key, and working in an uncomfortable chair means you won't be working to your full capacity. Most co-working spaces offer comfortable ergonomic chairs that make it easy to spend an entire day at a desk.
Networking is another important factor and is typically the main reason one decides to rent a desk in a co-working space in the first place. If this is the case, find a co-working space that hosts regular meetups, workshops, and events where you can meet and socialize with other like-minded digital nomads in Lisbon.
Winner of Lisbon's Best Co-working Space in 2018 and 2019, Avila Spaces is one of the city's most popular co-working spaces. Located in the business district across the street from a metro station, it's a top choice for creatives, freelancers, and entrepreneurs.
The space offers a comfortable co-working space with a gorgeous interior, natural light, and ergonomic chairs, as well as private offices, meeting rooms, and training rooms. Members can also use a fully-stocked kitchen and unlimited free coffee throughout the day. It's designed to embrace and encourage creativity, with plenty of networking events making it a top option for startups and entrepreneurs.
Workhub Lisbon is located in a historic building built in 1916, which has been tastefully refurnished into a modern co-working space for creatives, freelancers, small businesses, and entrepreneurial-focused minds. The hub also has private offices for rent, an event space, and storage space for members living in Lisbon.
You'll receive the benefits of daily cleaning, unlimited meeting room, kitchen, and living room access, complimentary refreshments, and high-speed internet included in your monthly fee.
Set in a building that was once Lisbon's oldest food market, Second Home is a co-working space designed using sustainable materials, making it one of the continent's most eco-friendly co-working spaces. The entire common area is filled with flowering plants, which is great to get your mind thinking creatively.
Second Home memberships are priced slightly higher than others but include incredible benefits like affiliated brand discounts, event space rentals, shower rooms, and weekly events related to culture and wellness.
Cafes with Wi-Fi
If purchasing a monthly membership at a co-working space or renting a hot desk is above your budget, many digital nomads choose to post up in a coffee shop to enjoy a social work environment. One of my favorite things to do is switch it up and spend each day in a different coffee shop, depending on my mood and the vibe that particular day.
There are tons of cafes in the city that are designed for this type of client, offering high-speed Wi-Fi, comfortable seating and natural light, and a vibrant networking scene. The only catch is that you'll be expected to make the odd coffee or meal purchase to make it worthwhile for the cafe to host you.
Rebel Cafe is a go-to coffee shop for many digital nomads. It's in a central location in Bairro Alto, just across the street from the iconic Lisbon Street Car. The coffee is exceptional, and the space is quiet and ambient, even though it's located in a tourist center. The Wi-Fi connection is strong, and there are enough power outlets to keep your devices powered up throughout your work session.
Comoba Cafe is a hotspot for ex-pats and digital nomads in Lisbon, where just about every client has their laptop laid out. There is plenty of space to sit, whether you're working solo or in a pair, and the cafe has a few outlets to charge your electronics. The food is a big drawcard for Comoba, with a healthy vegan and vegetarian menu and fresh coffee served daily.
The Royal Rawness is an excellent location for digital nomads who double as foodies. Coffee snobs flock to this industrial-inspired cafe that serves specialty coffees and fresh farm-to-table meals. It is located in northeast Lisbon near the Bairro Das Amendoeiras, which is a popular local neighborhood.
One con is that the chairs aren't super comfortable, but there are different seating options ranging from stools to chairs to high-bar stools. The Wi-Fi is strong, and there are plenty of outlets throughout the bright space.
Wherever You Roam… Get Insured First
Travel mishaps can and do happen and can prove annoyingly expensive. Travel insurance is key for your own peace of mind, and The Broke Backpacker stands strong for SafetyWing.
Month to month payments, no lock-in contracts, and no itineraries required: that's the exact kind of insurance digital nomads and long-term traveller types need. Cover yo' pretty little self while you live the DREAM!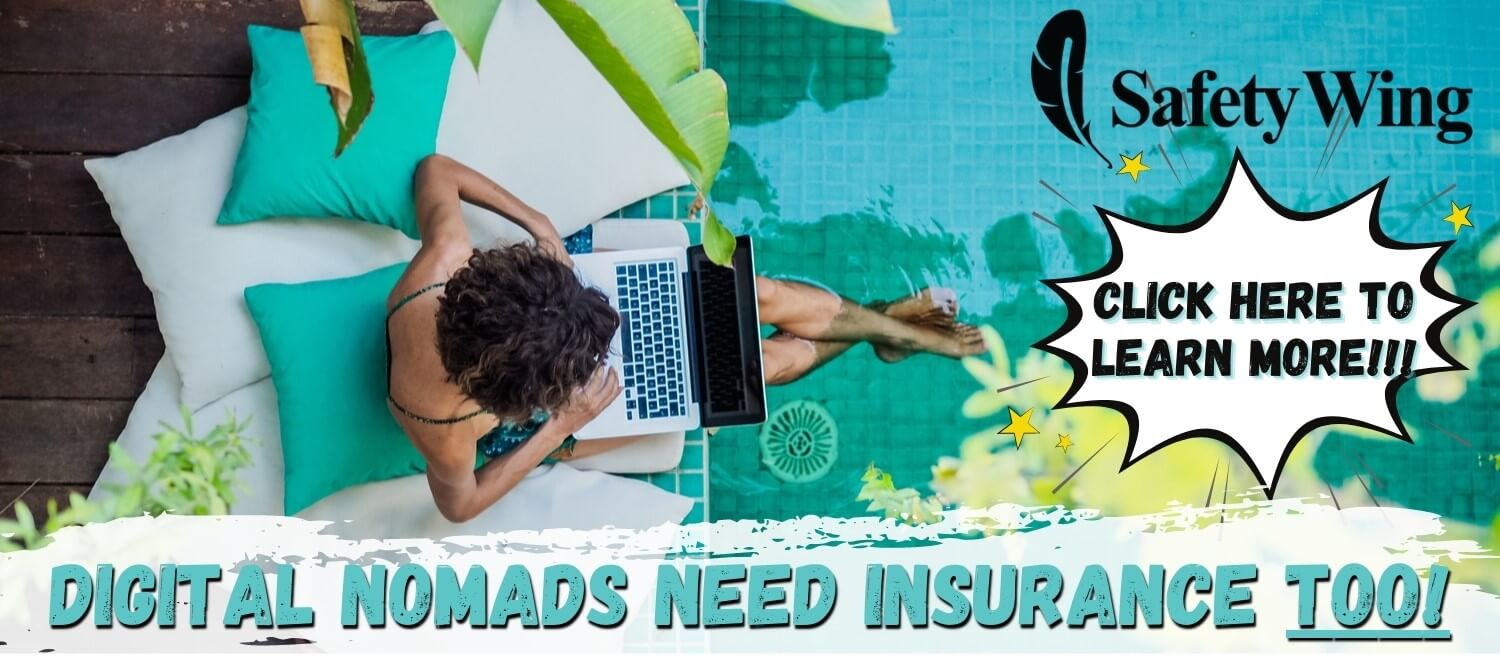 SafetyWing is cheap, easy, and admin-free: just sign up lickety-split so you can get back to work! Click the button below to learn more about SafetyWing's setup or read our insider review for the full tasty scoop.
Places to Eat in Lisbon
Lisbon is known for its incredible food scene, influenced by flavors from both the Mediterranean and Atlantic coastal regions. Lisbon is particularly famous for its delicious seafood, with fishermen delivering fresh fish and shellfish, like cod, tuna, octopus, and sardines, to the city daily.
The natural dish of Portugal is called Bachlhau, which is a salted cod dish that can be prepared in a variety of ways. Two of the most common include shredding the cod and serving it with fried potatoes and onions, while another involves cooking the cod in a creamy sauce.
Grilled sardines are a staple that can be found just about anywhere in the city and are typically served with a side of rice. One of the more interesting meals to enjoy while living in Lisbon as a digital nomad is caldo verde, a green soup prepared with kale, pureed potatoes, and chorizo.
Other than traditional restaurants, street food, and markets are another common way to eat out in Lisbon. The Lisbon Time Out Market is one worth mentioning. Located in Cais Do Sodre, this incredible food hall is packed with various food stalls serving everything from traditional Portuguese tapas to world-class international cuisine. The massive gallery is flooded with locals and tourists purchasing fresh food, partaking in cooking courses, and attending shows and events.
One of the city's most iconic seafood restaurants, Cervejaria Ramiro welcomes a constant flow of tourists for a good reason. Locally known as Ramiros, the restaurant is known for its prawns (gambas), crabs (sapateira), and small conches (spanilha). You might have to wait to get a table here, but trust me when I say – it's well worth the wait.
For a Michelin Star experience, Belcanto is one of the top restaurants in the city, serving up imaginative dishes crafted with the freshest fish and local produce. Reservations are necessary here, as you might expect from a restaurant of this fine quality in any big city.
Set in the Bairro Alto Hotel in the heart of the city, BAHR serves up classic Portuguese meals with a twist. With balcony seating and incredible ocean views from your table, the atmosphere is just as impressive as the food. The hotel has a trendy cocktail bar with art-deco-style interiors, which is a great place to begin or end your evening.
For a local experience, O Velho Eurico is one of Lisbon's best-kept secrets. The cozy restaurant is hidden between cobblestone streets near the Sao Jorge Castle and is buzzing with local activity – day and night. The menu has been serving similar dishes for years, including the famous salted cod and cuttlefish dish.
Prado offers one of the city's best farm-to-table experiences, thanks to partnerships and collaborations with some of Portugal's top local farmers, fishermen, and winemakers. The menu is fully Portuguese, putting emphasis on a blend of fresh fish and local ingredients to curate a distinctly unique menu.
For a sensational vegan meal while living in Lisbon, The Food Temple is one of the oldest restaurants on Lisbon's vegan radar. Although old, it remains one of the best, boasting a cozy atmosphere in downtown Alfama with a fresh menu that changes seasonally. They usually have just one main meal and a range of sides, tapas, and soup opinions to pair together.
What it's like Living in Lisbon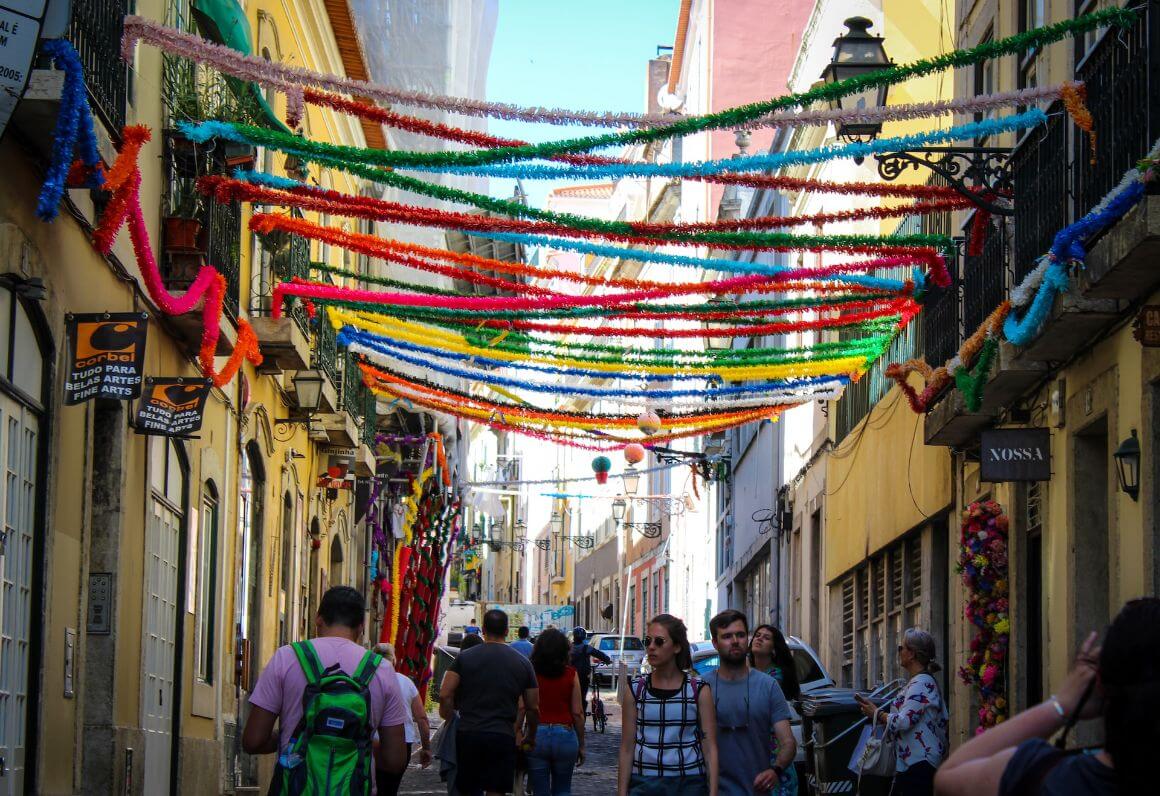 Visa situation
Since October 2022, Portugal has allowed digital nomads to live and work in the country on a special digital nomad visa. To apply for this document, you'll need to earn four times the national minimum wage, which comes to about $3350 per month.
There are two categories for the digital nomad visa. The first is a temporary residence permit which allows you to stay in the country for up to one year, while the second is a residency visa which will enable digital nomads in Lisbon to renew and remain in the country for up to five years.
Expat community
Since Lisbon is so popular with foreigners and digital nomads, the city has developed a big ex-pat community. Ex-pats typically live around the Graça, Intendente, Mouraria, Estrela, and Anjos neighborhoods.
There are plenty of ex-pat groups that host regular meetups, which are a great way to meet and make new friends in a new city.
Language
Portuguese is the official language in Portugal, widely spoken across other Portuguese colonial countries. While you might need help communicating with locals in small towns and villages inland, you will be able to speak English to locals in most big cities and coastal destinations.
As the capital and largest metropolitan center of Portugal, Lisbon is hugely multicultural and diverse, with most locals in the tourism and hospitality industry being fluent in English.
Transportation
As Portugal's main hub and center, Lisbon has a highly efficient, affordable, and safe public transport network. The city's transport network includes buses, trams, metros, and elevators, which all connect with each other through major stations. There are hundreds of bus lines and metro routes to get you from A to B, and the best way to plan out your route is to use Google Maps.
A one-way fare costs between 15 and 2 Euros, the equivalent of $2 to $2.20. A 24-hour ticket for trams, metros, lifts, and buses costs 6.4 Euros.
A metro station at the airport offers an affordable way to get into the city. Alternatively, a taxi ride from Lisbon International Airport to the city center costs 35 Euros ($38) and will take around 25 minutes. I recommend booking an Uber rather than finding a taxi outside the arrivals terminal, as these taxis will likely charge an inflated price.
Things to do in Lisbon
As a city overflowing with history, there are enough things to do in Lisbon to keep you busy for months on end.
To start, do yourself a favor and spend some time just walking the city. Without planning to, you'll pass a range of historical monuments, unique attractions, and interesting museums that you can then visit at a later stage.
Some of the major attractions you should visit include Castelo de Saint Jorge, the Jeronimos Monastery, Belem Tower, and the Praca do Comercio. You'll also want to visit the National Tile Museum, which showcases the unique traditional tile painting of the region, and take a ride on the iconic Tram 28.
If you're up for a night out, Lisbon is known for its vibrant nightlife scene, with plenty of rooftop bars offering the perfect setting to start the evening. Lined with bars and clubs, Pink Street is one of the most iconic spots to visit on a night out.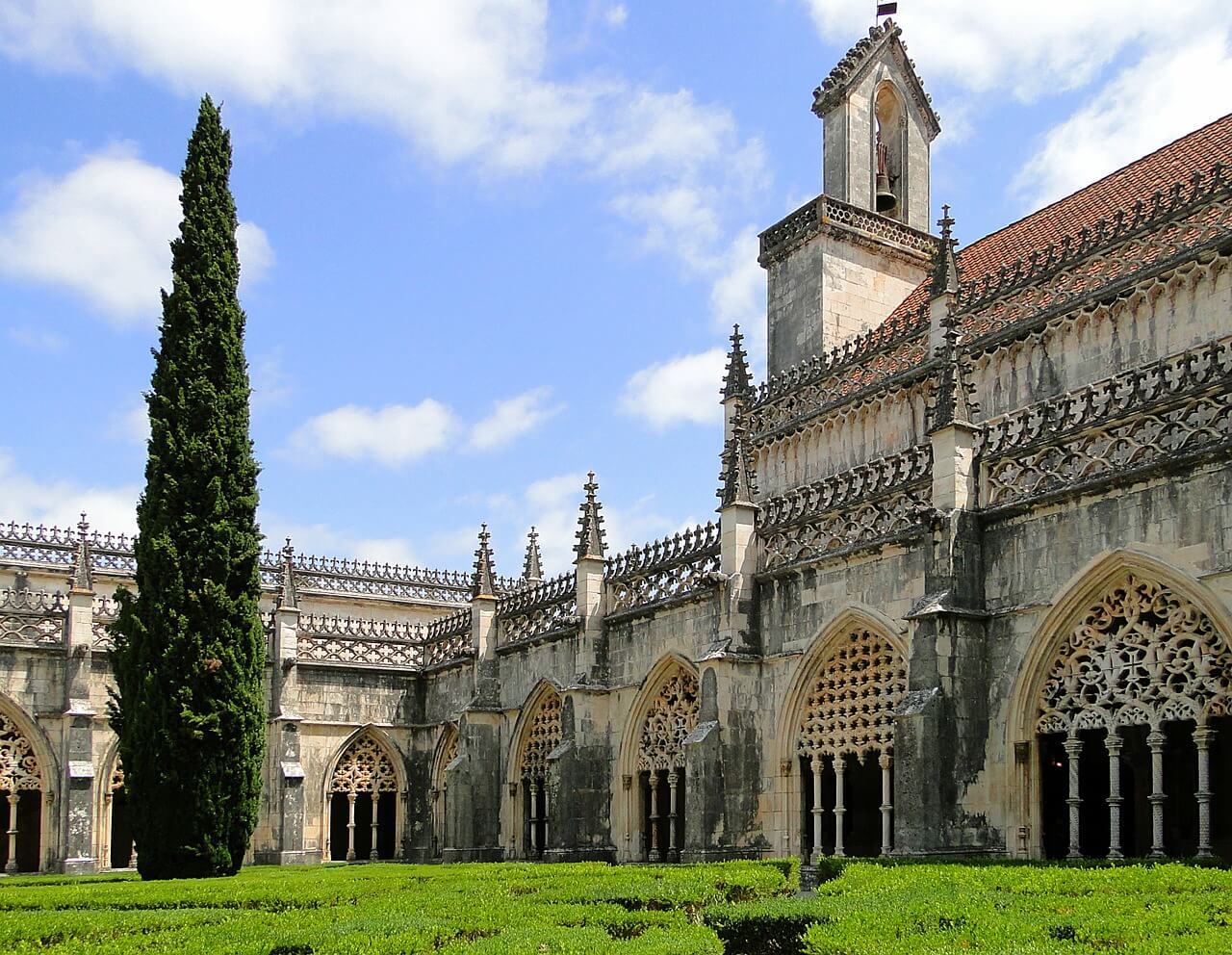 As I have mentioned, one of the best things about this city is its central location along the Portuguese coastline. Because of this, there are plenty of places to visit on a day trip or weekend getaway as a digital nomad in Lisbon.
One of the most popular daytrips in Lisbon is a short half-hour drive to the medieval castles and palaces in Sintra. A longer journey, Porto is a three-hour drive from the city, and this coastal drive alone is worth the trip.
Outdoor enthusiasts will also be kept busy, with many mountainous hikes and trails to follow in the surrounding areas. Portugal is also very well known for its world-class surfing conditions, with a few of the continent's top surf spots dotted along the coastline. Praia do Guincho, Carcavelos, Cascais, and Ericeira are some of the more popular surf spots in the area and double as beautiful beaches for those looking for a relaxing beach day.
If you want to stay in the loop of what's happening in the city, I advise joining a few ex-pat or digital nomad Facebook groups. The foreign community often hosts various events and meetups where you can enjoy activities with other ex-pats with similar interests.
Final Thoughts
Overall, Lisbon is an incredible option for a digital nomad who is looking to set up a mobile workspace in a dynamic, vibrant, and beautiful location. Set on the river Tagus, close to the ocean, and near a bunch of incredible road trips and weekend-away destinations, Lisbon is the perfect spot to base yourself in Southern Europe.
The weather is incredible almost year-round, there is a welcoming ex-pat community, abundant culture and history, and delicious cuisine. It's also known as a party hotspot for young professionals, with many nightclubs, bars, and rooftop terraces to watch the sunset on a busy day at work.
With new digital nomad in Lisbon visa regulations, it's easier than ever to visit and stay in Portugal for an extended period of time. Working in this colorful city, you could spend your evenings soaking up the sunshine on Lisbon's top rooftop bars and weekends beach-hopping down the exquisite coastline.
---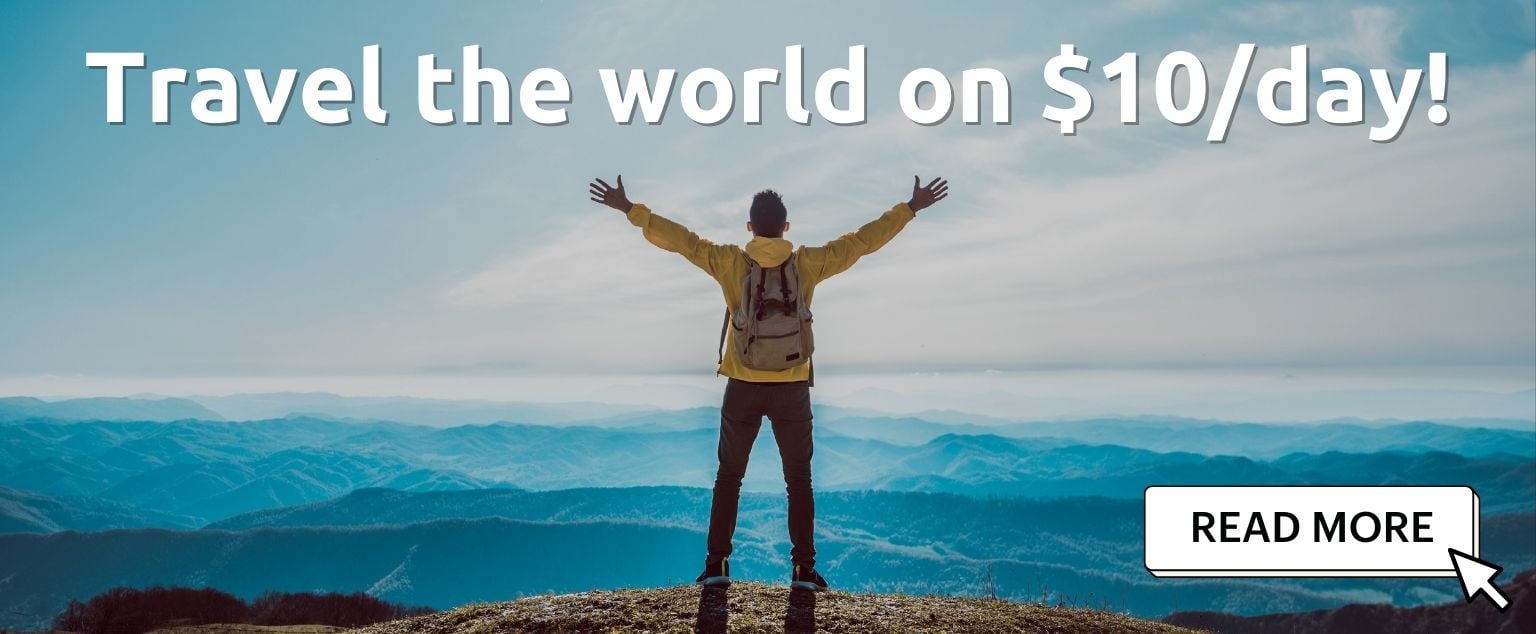 And for transparency's sake, please know that some of the links in our content are affiliate links. That means that if you book your accommodation, buy your gear, or sort your insurance through our link, we earn a small commission (at no extra cost to you). That said, we only link to the gear we trust and never recommend services we don't believe are up to scratch. Again, thank you!