A short stroll through the winding cobblestone streets of Lisbon will be enough to make you love the city. As Portugal's capital and most populous city, we aren't the first to fall head over heels for this city.
With plenty of historic buildings to show its long-standing heritage, Lisbon is well known for its colonial history, ornate tile painting, decorative architecture, and traditional Fado music. However, in recent years, the city has blossomed into a hotspot of art and culture, now known as one of the continent's most inclusive artistic centers.
Scattered over a hilly region where the River Tagus flows into the Atlantic Ocean in the western part of the country, the city has as much gorgeous natural appeal as it does historical. Let's not forget about the surrounding region, which includes lovely beaches, surf spots, and hilly towns dotted with castles and palaces. The entire Lisbon region is packed with things to do and adventures to experience.
Instead of booking a small room in a hotel, why not find a spot in one of the best bed and breakfasts in Lisbon? Bed and breakfasts offer a more personalized accommodation experience and are an excellent option for families, couples, or even solo travelers.
Best Bed and Breakfast for Couples in Lisbon
Best Bed and Breakfast for Couples in Lisbon
Boutique Room in Bica B&B
> $$$
> 2 Guests
> Continental breakfast served in a sunny breakfast parlor
> In a trendy neighborhood in south Lisbon, near the River Tagus and plenty of restaurants
Best Budget Bed and Breakfast in Lisbon
Best Budget Bed and Breakfast in Lisbon
Studio with Garden View at LX Design Apartment
> $
> 3 Guests
> Fully-equipped private kitchen and extra sofa bed
> Garden terrace and outdoor dining table
Over-the-Top Luxury Bed and Breakfast in Lisbon
Over-the-Top Luxury Bed and Breakfast in Lisbon
King Suite (Pantheon Room) at Casa dell'Arte Club House
> $$$$
> 2 Guests
> Impressive art, gold-leaf antique furniture, high ceilings
> Elegant traditional home overlooking the river
Staying in a Bed and Breakfast in Lisbon
In simple terms, a bed and breakfast is defined as a small-scale accommodation that offers comfortable lodging with the benefit of a cooked or continental breakfast included in the rate. But bed and breakfasts provide so much more than just a room and some fresh fruit for breakfast…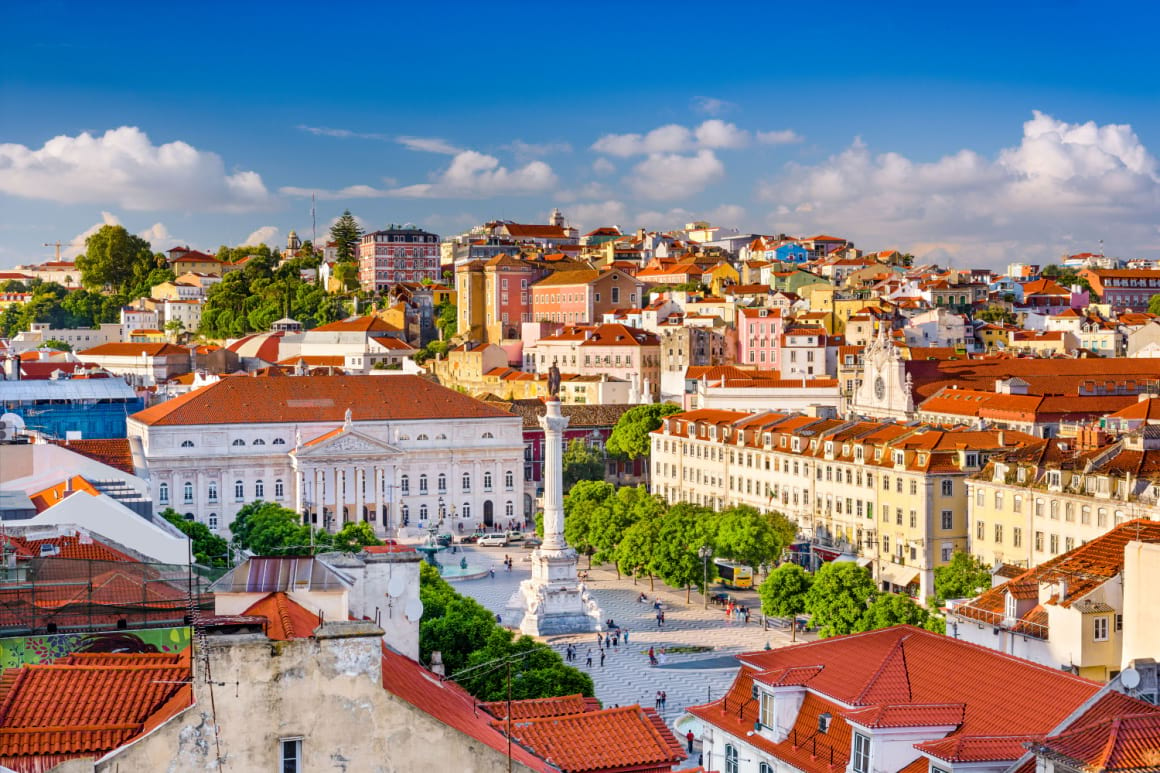 Falling somewhere between a hotel, a self-catering vacation rental, and a homestay, B&Bs offer the best of all three of these types of accommodations. Since these properties are typically locally owned and run, the managers put extra special care and effort into ensuring you have a great stay. You'll be treated as more than just another guest on a list here, and you can expect a friendly welcome, family vibes, and personalized touches during your stay.
Since Lisbon is a heritage city with low-rise buildings and historical attractions, so you won't find too many high-rise hotels or stuffy resorts here. Instead, smaller boutique hotels, guesthouses, and bed and breakfasts are a great way to experience the authentic architecture and beauty of the city.
What to Look For in a Bed and Breakfast in Lisbon
The similarities between hotels and B&Bs include certain amenities, like complimentary toiletries, housekeeping, and laundry services. However, don't expect lavish amenities like on-site spas, restaurants, or 24-hour receptions.
Even at the best bed and breakfasts in Lisbon, these properties are typically manned by just a few individuals. That said, owners will typically make themselves available throughout the day if you need any assistance. Check with the owners to see what facilities your B&B offers as part of their package.
Like self-catering rentals, most bed and breakfasts offer access to shared spaces such as a living room, terrace, and dining area. Some might even allow guests to use a shared kitchen, where you can store and prepare your own meals, while other B&Bs might include a kitchenette in your private room.
Kitchens are especially handy if you are traveling with fussy children, visiting for an extended stay, or are on a budget and want to save on dining out. Make sure to read the property description properly to know what to expect before you arrive.
With beautiful summer temperatures and near year-round sunlight, Lisbon can get pretty warm during the summer months. I advise you to make sure your B&B has air conditioning in the rooms – you'll thank me later.
With a significant international airport north of the city, Lisbon is a popular destination to start and end a coastal road trip. If you expect to have a car with you in the city, try to find a bed and breakfast with complimentary parking or, at the very least, a designated paid parking spot. The city is busy, and the narrow streets can make it hard to find parking!
Booking.com and Airbnb offer the widest variety of bed and breakfasts in Lisbon. These platforms allow you to refine your search using filters to find the perfect accommodation for your needs.
The Top 15 Bed and Breakfasts in Lisbon
Now that we've covered the basics, I've compiled a list of the fifteen best bed and breakfasts in Lisbon, categorized into subheadings to make your accommodation search a bit easier.
The third floor of an 18th-century building, with city views
Across the road from the river in the heart of central Lisbon, near the Sodre main station
Located in one of the most trendy neighborhoods in Lisbon, Azulejos Cais Sodre B&B is just a short walk from the river shore, the incredible Time Out Market, and a vibrant nightlife scene. It is also just a short walk from the central metro, tram, train, bus, and boat station of Cais do Sodre, which makes it incredibly well-connected to the entire region.
The B&B is set in an 18th-century building featuring high ceilings, wooden floors, and original hand-painted tiles. Blending modern amenities and contemporary interiors with this historic building results in the perfect authentic Portuguese B&B.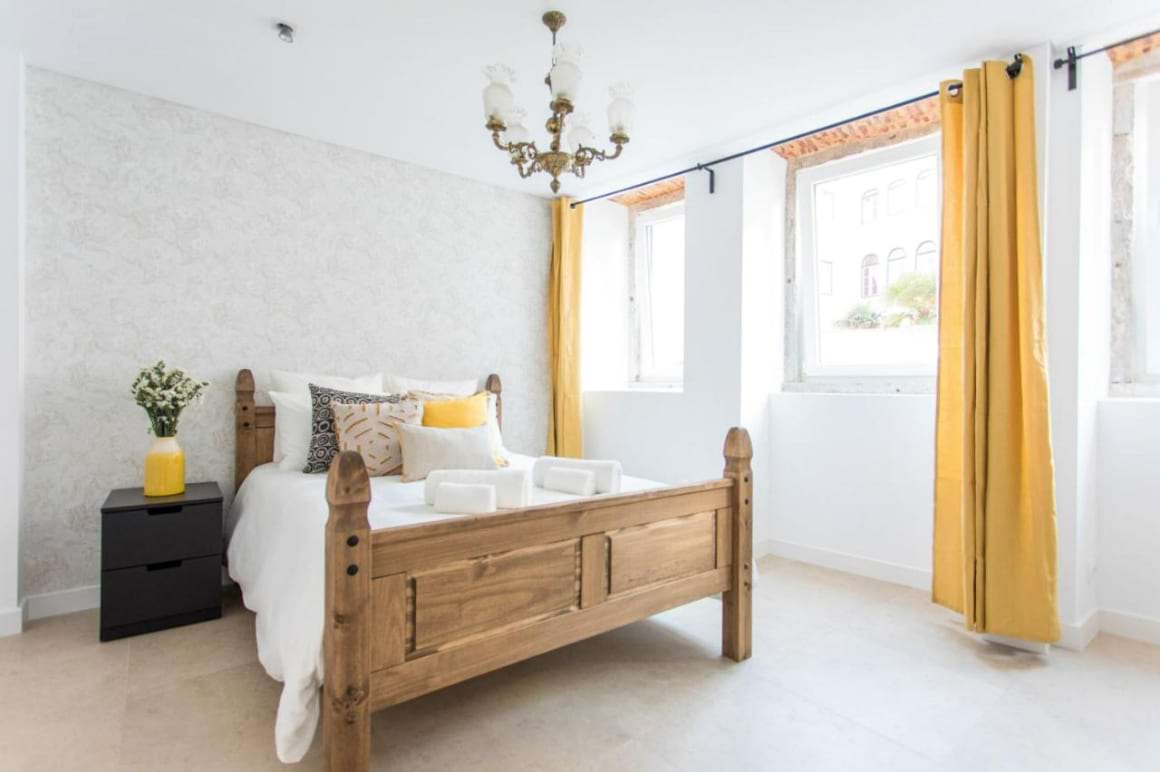 Fully-equipped private kitchen and extra sofa bed
Garden terrace and outdoor dining table
The LX Factory in south Lisbon is one of the most hip-and-happening districts in the city. Home to a buzzing art scene and abundant bars and nightclubs, this is the perfect place for any traveler looking for a night out. In the heart of this hub, this studio is one of the best bed and breakfasts in Lisbon on a budget, featuring a fully-self catering studio room for a steal of a price.
You'll have access to a full kitchen with a dishwasher, as well as a TV, ironing facilities, a seating area, as well as a bathroom, and a double bed. As the cherry on top, free parking and Wi-Fi are provided for your stay.
Continental breakfast served in a sunny breakfast parlor
In a trendy neighborhood in south Lisbon, near the River Tagus and plenty of restaurants
Contemporary furnishings meet historic interiors at this bed and breakfast, set in an original building with high ceilings, large windows, and wooden floors. Great for couples or travelers visiting in pairs, the room is flooded with natural light and has gorgeous city views from the large windows.
Other than a suite and private bathroom with complimentary toiletries, plush towels, and linens, guests can use the common terrace, where a tasty breakfast is served each morning.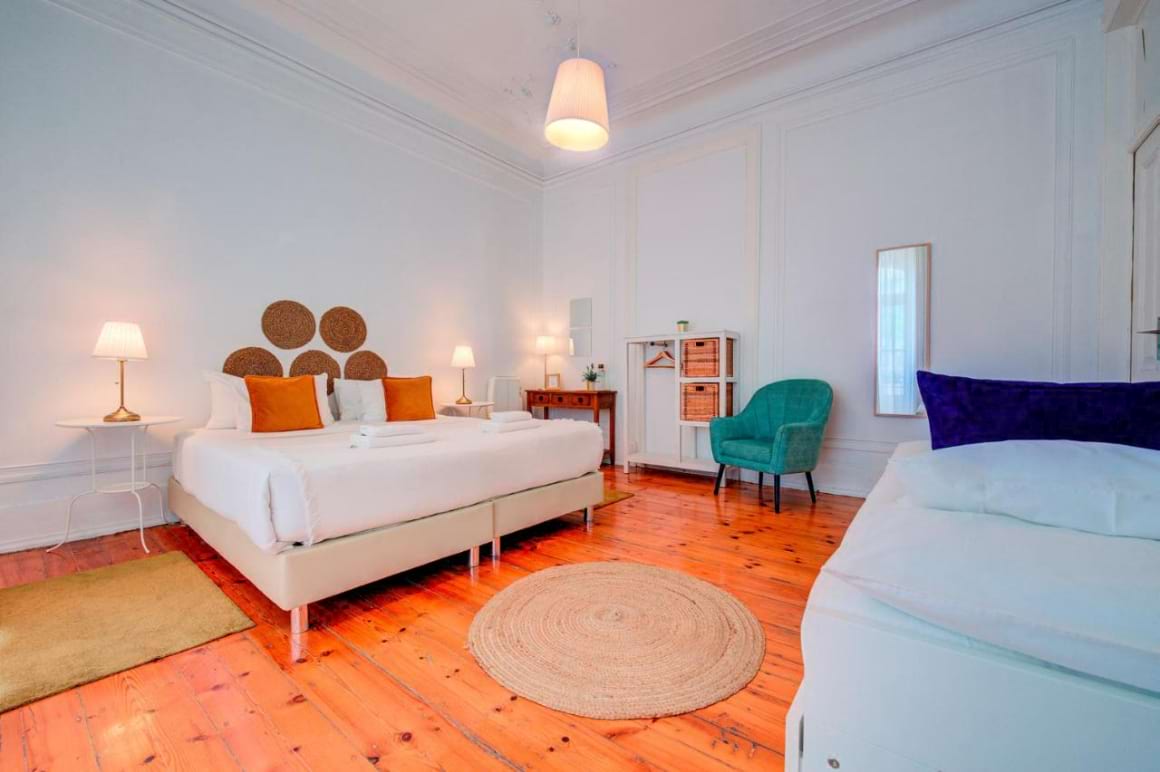 High ceilings, wooden floors, and contemporary furniture
City and garden views from the room
If you're looking for the best bed and breakfast in Lisbon to stay with friends, sharing this quadruple room at Chalet D'Avila Guest House is a comfortable and affordable option. Located in the northern central part of the city, it's a close walk to a main metro station that easily connects across Lisbon.
In your private suite, you can benefit from a personal workspace and spacious closets. Housekeeping will ensure the room stays tidy during your stay, and guests can also make use of the shared kitchenette, lounge, and laundry facilities.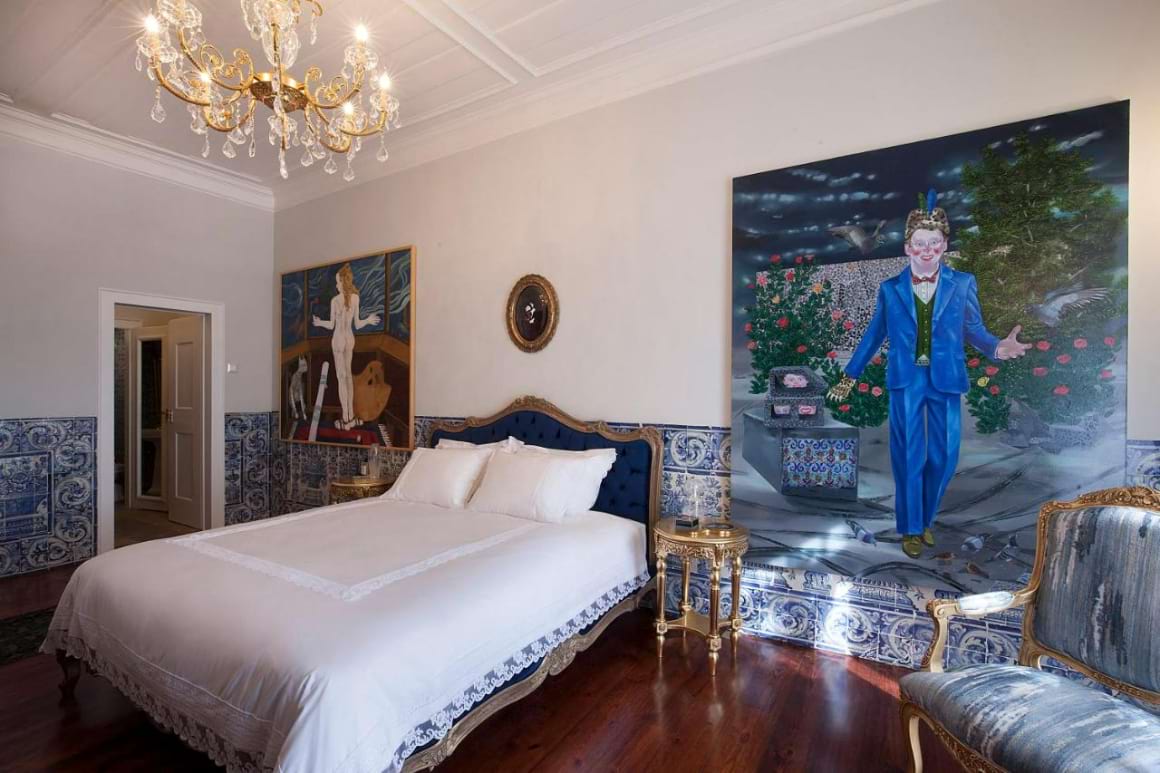 Impressive art, gold-leaf antique furniture, high ceilings
Elegant traditional home overlooking the river
It's hard to put a place like Casa dell'Arte Club House into words, with its grand ceilings, hand-painted tiled walls, incredible art, and crystal chandeliers. Each room at this luxurious bed and breakfast is uniquely decorated with a blend of antique interiors, original art pieces, and high-quality linens.
All units have a small seating area and a private bathroom with cozy bathrobes. Breakfast is prepared daily in the dining hall, serving various dishes made from locally sourced ingredients.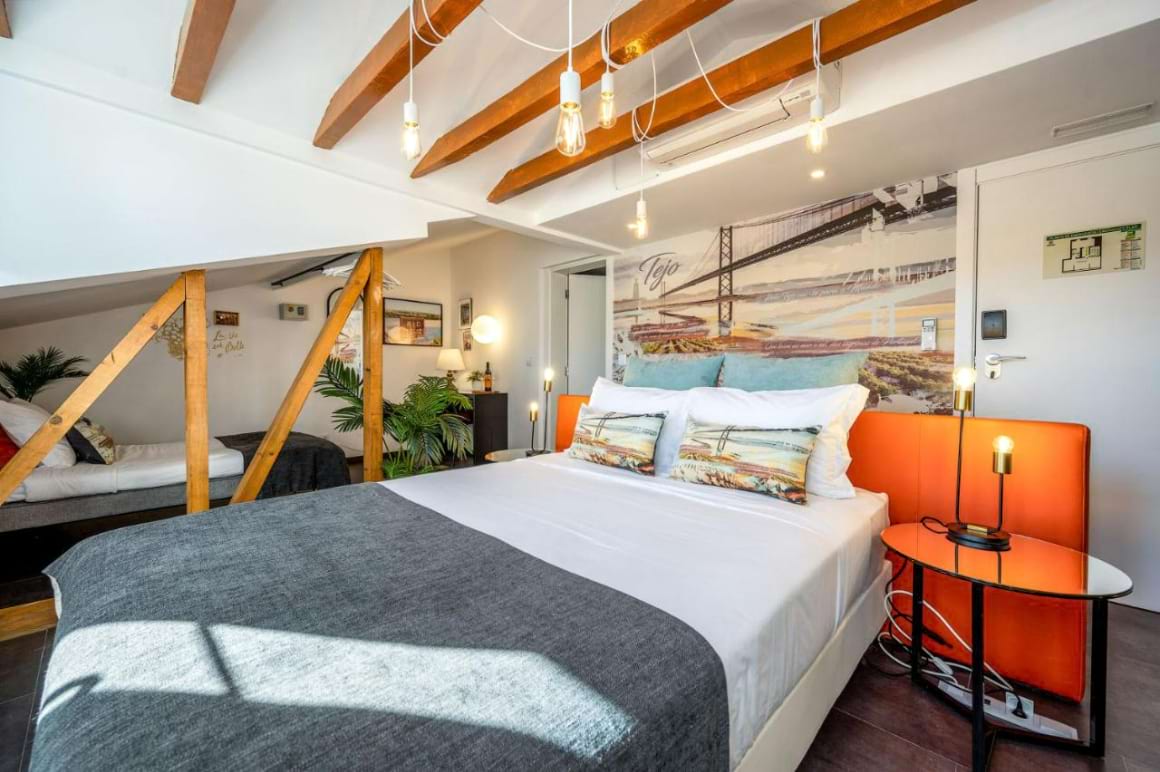 Two single beds, one double, and a sofa bed in a loft-style room
In central Lisbon, close to St George's Castle
Traveling with family can be tricky, but it doesn't have to be if you book this Superior Family Room at the Lisbon Wine House. One of the most unique accommodations in Lisbon, this room features a loft layout with space for five guests to sleep comfortably.
Modern amenities and warm wooden interiors bring a homey feel into the room, featuring a private bathroom and windows overlooking the city. Enjoy daily continental breakfast and housekeeping to keep your space fresh – a huge plus when traveling with children!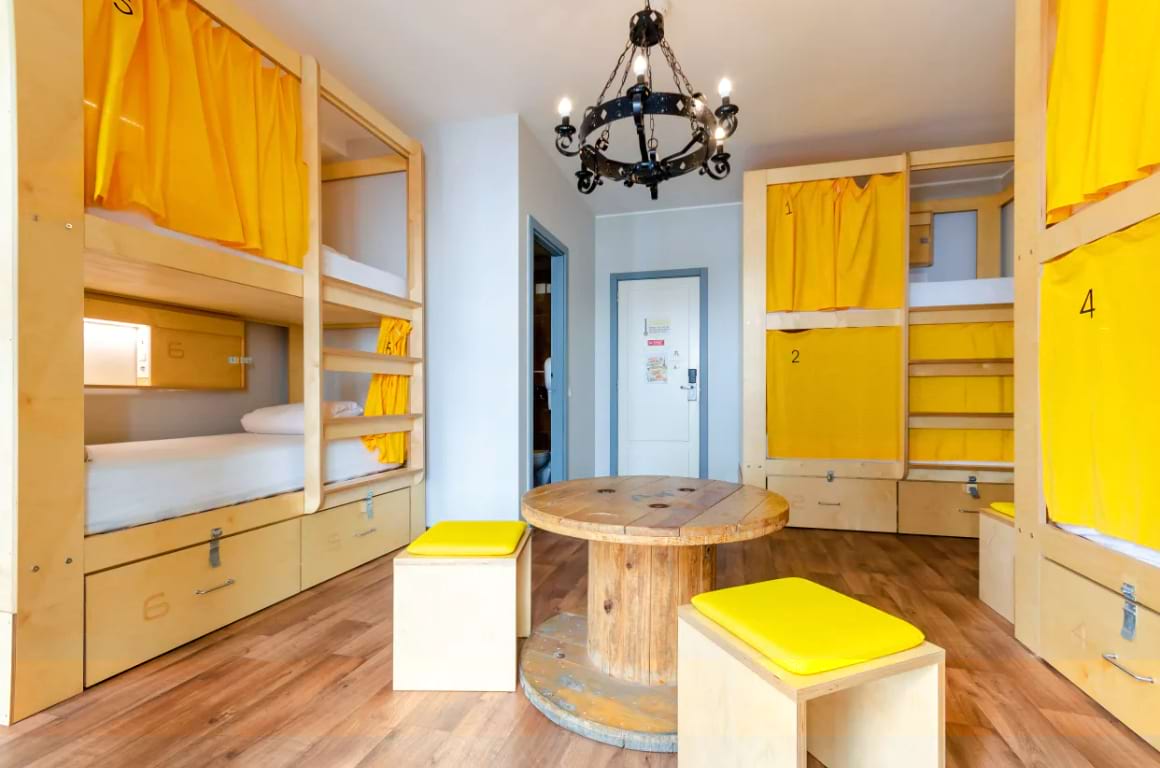 Shared lounge, kitchen, and bar on site
Quiet and clean dorm rooms and private suite options
As the capital city of Portugal and a great jumping-off spot for a bunch of Mediterranean travels, Lisbon is home to some incredible hostels. Yes! Lisbon Hostel has to be the best bed and breakfast in Lisbon for backpackers, featuring comfortable dorm and private room options with a shared living room and kitchen.
It's also brilliantly located in the heart of the historical district, just a short walk from Comercio Square, the River Tagus, and many well-connected metro stations. Perfect for backpackers, you'll meet some incredible friends at this hostel, which also has an onsite bar. I had a fantastic time at this particular hostel, and would 100% return in the future.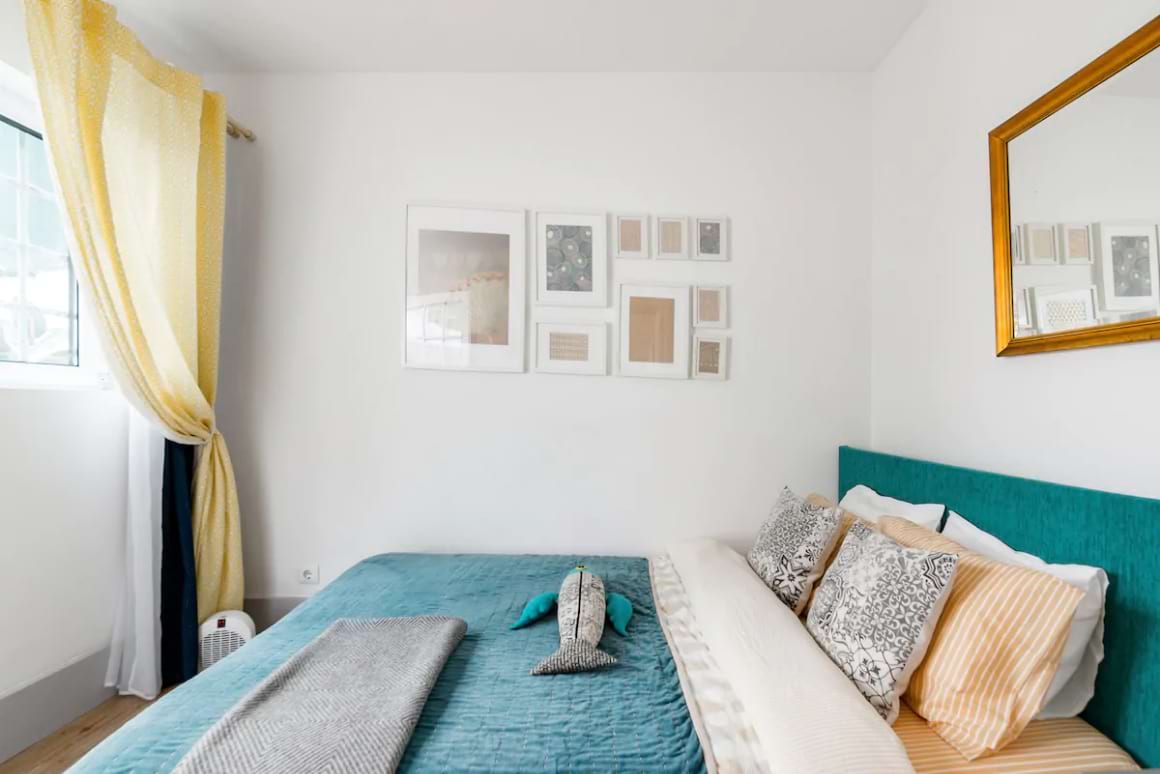 Self-catering kitchen, shared living room, dining room
Breakfast is provided on a sunny terrace every day
If you're lucky enough to spend an extended period of time in Lisbon, indulge yourself in this private and relaxing suite in the heart of the city. Set in a private building connected to a residential apartment, this suite is beautifully decorated with contemporary interiors and has its own private bathroom.
Like a typical self-catering vacation rental, you can use the shared kitchen, living room, dining room, and a large patio during your stay. It's also well located in the historical parish of Estrela, just a short walk from the Jardim da Estrela and a bunch of restaurants, shops, and bars.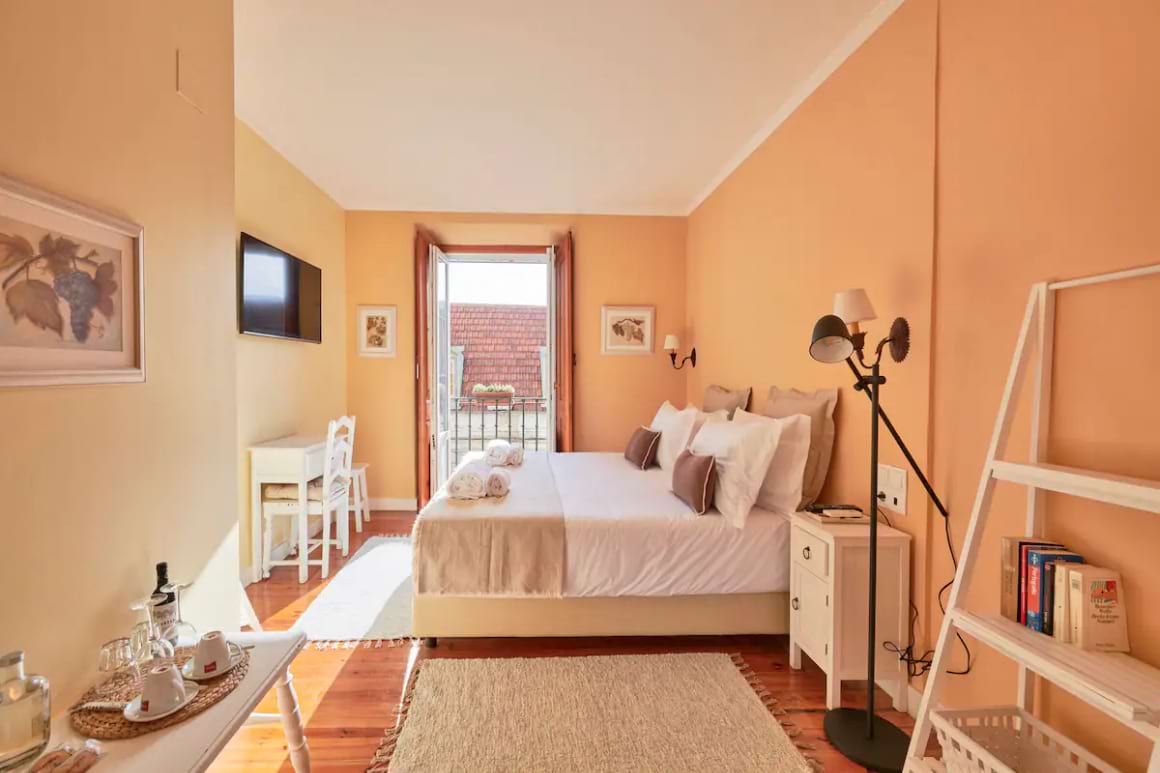 Traditional Portuguese B&B with wooden floors, high ceilings, and a colorful tile palette
In Cais do Sodré near the river and historical center
Wake up to beams of sunshine streaming through grand doors, which open onto Juliette balconies overlooking the cobblestone streets. Casa Do Mercado has nine suites, including a few family rooms, featuring wooden floors and window shutters, neutral-toned interiors, and high ceilings.
Each suite is unique and decorated with authentic Portuguese interiors and art pieces. Other than being one of the best bed and breakfasts in Lisbon for its beauty, it's also well located in the heart of Lisbon's Cais do Sodre parish, close to the river, the historic center, and the best nightlife that Lisbon has to offer.
Private bathroom and delicious home-made breakfast
In the upscale neighborhood of Avenida da Liberdade, surrounded by lush trees
Traveling solo can be pricey, especially since you usually have to pay for a double room for one person. At Sincerely Lisboa, you can book a single room right in the middle of the city center's Avenida da Liberdade neighborhood, avoiding the cost of a traditional hotel room.
Wake up to the smell of freshly brewed coffee and enjoy a continental breakfast on the house. With hotel-like amenities, guests can benefit from daily housekeeping, heating and air-conditioning, and a tea and coffee maker in each room.
19th Century home renovated with modern interiors
In the thick of historic downtown Lisbon, close to Chiado and Carmo Church
Dear Lisbon Bordalo Palace Chiado was built for romance, which makes it one of the best bed and breakfasts in Lisbon for honeymoons or special occasions. Each room is tastefully decorated with a blend of authentic antique and contemporary interiors, finished with luxurious linens, warm lighting, and attractive art.
Set in a 19th-century home, original lighting fixtures and high ceilings bring a grand element into the space. Perfect for a honeymoon, this boutique B&B includes an airport shuttle on request, daily housekeeping, and a delicious breakfast served in the dining room each morning.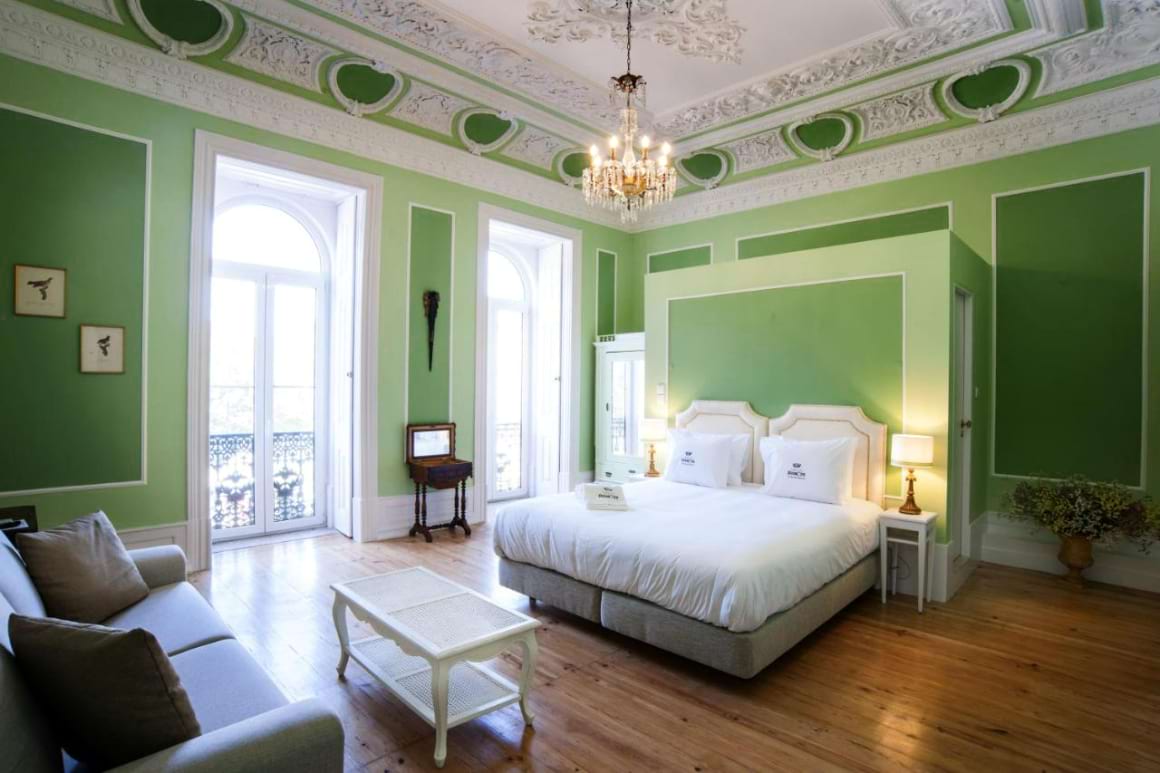 Historic building with original relief ceilings, chandeliers, and antique furniture
Across the road from Principe Real Garden
Treat yourself to a royal stay at Casa do Principe, a traditional Portuguese home emphasizing exquisite authentic touches like relief stuccowork ceilings, frescos, antique lighting features, and original hardwood floors. Each room is uniquely decorated, with high ceilings and tons of natural light flowing throughout the space.
It's also centrally located, a short walk from various well-known restaurants and the trendy Bairro Alto neighborhood. You can even take a leisurely stroll through the Principe Real Garden, right across the street from the B&B.
Shared garden, kitchen, library, coworking area, and breakfast room
In the town of Carcavelos, a short train ride west of Lisbon
Technically, Lisbon extends pretty far around the main city's borders. If you want a break from the hustle and bustle of the capital, this cozy spot in Carcavelos is the best bed and breakfast in Lisbon, off-the-beaten-track. Carcavelos is a smaller town west of Lisbon, home to one of the best beaches close to the city.
The property offers charming accommodation with all the comforts of home, featuring five rooms and a shaded garden. All rooms have a private bathroom and large closets. The rooms are spacious and can fit an additional bed if you are traveling as a group of three.
Elegant antique furnishing in a historic building with high ceilings and Juliette balconies
Daily housekeeping and breakfast are served each morning
The perfect blend of antique furniture and contemporary interiors, Independente B&B features spacious rooms with abundant natural light. Double-height French doors open onto Juliette balconies that overlook the lust trees in the streets below.
With original lighting fixtures, a luxurious bed, and antique furniture pieces, this spot is built for royalty. Each room features a private working desk, air-conditioning, and an en-suite bathroom. Like an opulent boutique hotel, breakfast is served daily, and housekeeping is available throughout your stay.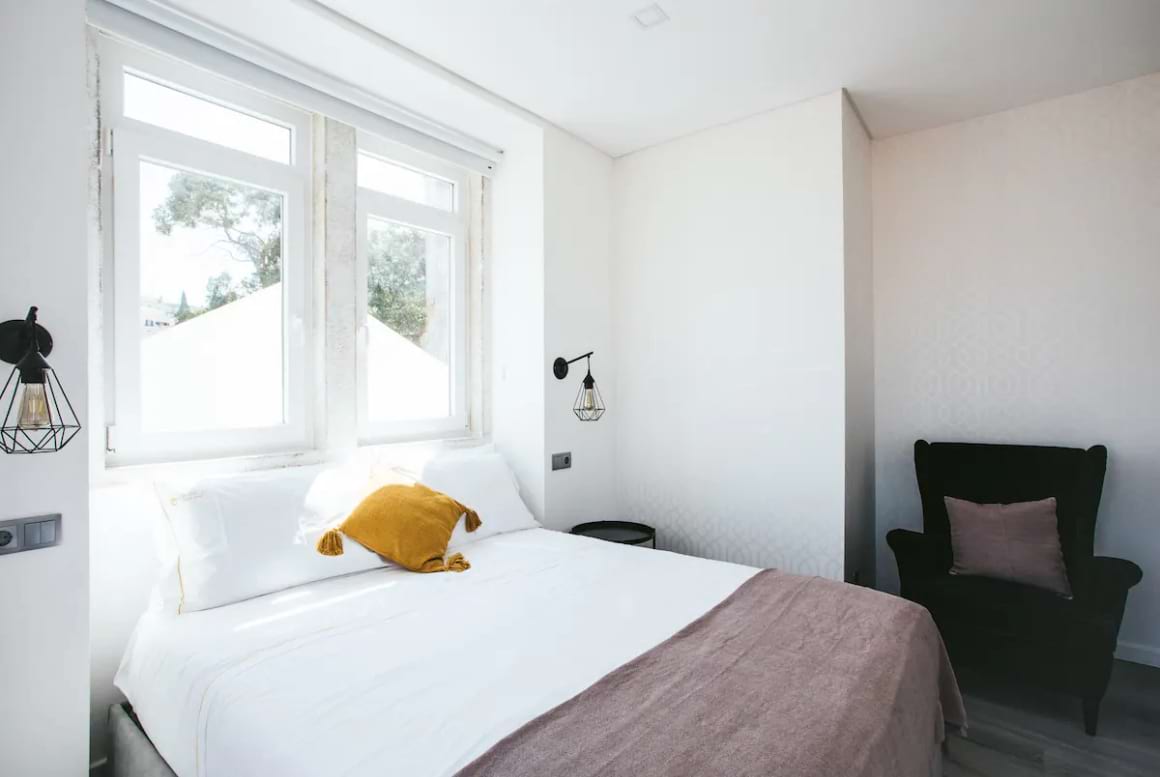 Access to the hammam, indoor pool, hot tub, and terrace fireplace with city views
Self-catering facilities in the heart of the city center
Since the city is made up of historic buildings in a hilly setting, swimming pools are not a typical amenity in Lisbon. Castello Prime Suites goes above and beyond to provide guests with luxurious contemporary accommodation in the heart of the historic city.
One of the more unique accommodations in Lisbon, this B&B features access to a fireplace terrace, hammam, and indoor swimming pool and hot tub. It's the closest you'll get to a boutique hotel spa.
The deluxe balcony apartments can fit a maximum of three guests each, offering a self-catering kitchen, living room, ensuite bathroom, and balcony with panoramic views.
Don't Forget Your Lisbon Travel Insurance
ALWAYS sort out your backpacker insurance before your trip. There's plenty to choose from in that department, but a good place to start is Safety Wing.
They offer month-to-month payments, no lock-in contracts, and require absolutely no itineraries: that's the exact kind of insurance long-term travellers and digital nomads need.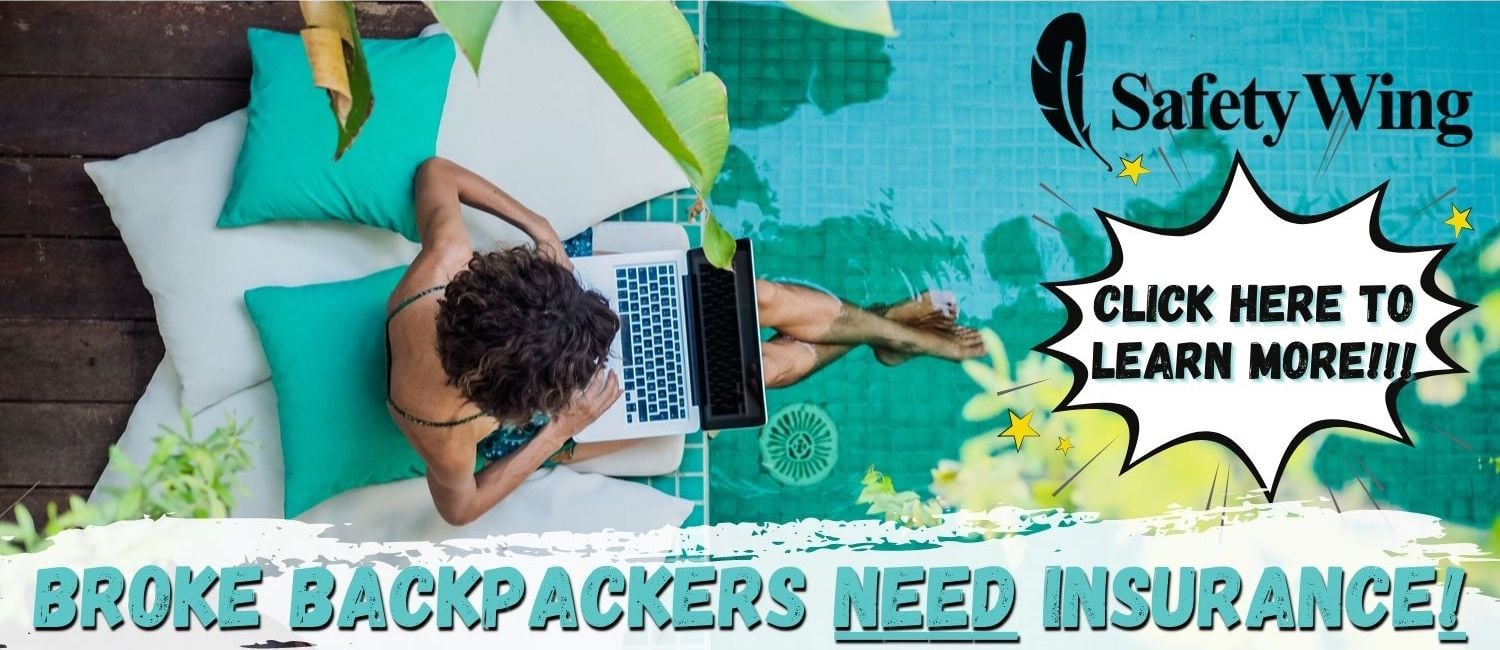 SafetyWing is cheap, easy, and admin-free: just sign up lickety-split so you can get back to it!
Click the button below to learn more about SafetyWing's setup or read our insider review for the full tasty scoop.
Final Thoughts on Bed and Breakfasts in Lisbon
Lisbon has a lot going for it. The colorful capital city of Portugal is one of the most historically important in colonial Europe, with a unique cultural heritage and plenty of historical monuments and attractions to visit. It's also an artsy hotspot known for its incredible diversity and inclusivity, as well as for its vibrant nightlife, music, and dance scene.
And let's not forget the food, shopping, and outdoor adventures to be experienced in the area, which is scattered with historic villages and castles, beach towns, and an overload of mountains and hills to explore.
Whatever your reasons for visiting this city, staying in one of the best bed and breakfasts in Lisbon is an incredible way to experience Portuguese hospitality in a more authentic way than if you were to stay in a hotel.
Before you depart, do yourself a solid and organize a good insurance plan for your trip. If you're visiting from abroad, your insurance in the country you live in won't be valid, and trust me when I say you would rather be prepared for the worst than hope for the best.
---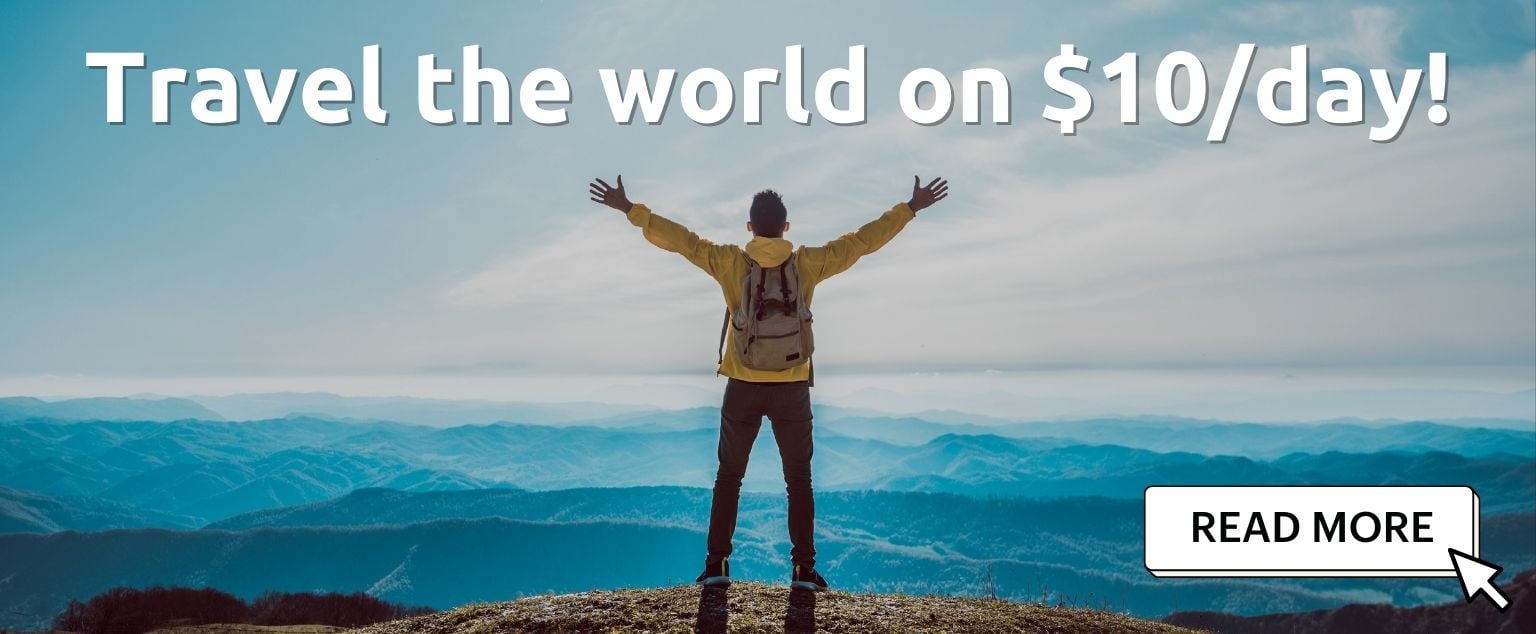 And for transparency's sake, please know that some of the links in our content are affiliate links. That means that if you book your accommodation, buy your gear, or sort your insurance through our link, we earn a small commission (at no extra cost to you). That said, we only link to the gear we trust and never recommend services we don't believe are up to scratch. Again, thank you!