On the banks of the River Mondego, Coimbra is a small town and province in Portugal. With hundreds of years as an academic city, Coimbra has shaped itself into a 'city for students'.
It's the fourth largest urban area in Portugal, squeezed between Porto and Lisbon. As the former capital city of Portugal, the riverfront is home to a stunningly preserved medieval old town surrounding the old university.
Naturally, like much of Portugal, it's a place and a half to explore. So when your heart longs for adventure, good hostels in Coimbra are a great place to start.
See how Coimbra has marked modern architecture with a pastel de nada. Marvel incredible bridges of the 21st century – with a glass of wine from the bar next to it. Explore an impressive repertoire of historic sites with a bunch of people you literally just met at the hostel.
Staggered with students and young citizens, you won't be surprised to find a ton of great hostels in Coimbra. In fact, this type of accommodation is one of the best in the city for budget travelers, offering comfortable rooms, with a great vibe, for a low price.
Let's get into the best hostels in Coimbra, perfect for young travelers or budget adventurers.
Quick answer: The 5 Best Hostels in Coimbra

Do You Want to Travel FOREVER??
Pop your email in below to get a FREE copy of 'How to Travel the World on $10 a Day!'.
What to Expect from Hostels in Coimbra
So, what can you expect from the accommodation in Coimbra? Since the district (and city, in particular) is pretty small, it's not a big destination for backpacking in Portugal. So there are only a handful of great hostels in the area.
That said, those that do exist are in the city center. They're walking distance from major attractions and public transport hubs.
Hostels are a great way to experience a city's local charm and ambience – without overextending your budget. Most of the top hostels on this list are small-scale properties run by local families who have known Coimbra for generations. There aren't so many brand-name hostels here; each hostel offers a more unique and personalized vibe.
With this local ownership at the forefront of Coimbra's hostels, you can expect friendly and welcoming owners and hostel staff to feel right at home in the medieval city. Owners gladly offer golden local knowledge about Coimbra, shops, and areas to avoid, and the BEST food.
The city has different types of hostels. For large groups, solo travelers, and couples, you have plenty of choice. Other than the room's size, some hostels target party animals, with on-site bars and social events, while others offer a more relaxing ambience.
If you're doing a quick stopover between visiting Lisbon or Porto, to get the most bang for your buck, you'll want to stay in the city center or historical district. Alternatively, these are a few of the most desirable neighborhoods to stay in, all of which are well connected to the city by public transport:
Solum
Olivais
Celas
Vale das Flores
Sao Jose
The best place to book hostels is on Hostelworld, where most hostels are advertised with their room rates, shared amenities, and locations. There are also a few properties listed on Booking.com and Airbnb.
The Best Hostels in Coimbra
With Portugal's best hostels getting the memo, you're pretty much guaranteed to find a hostel to suit you. And with that, let's dive in and take a look at the top hostels in Coimbra, from those suited to solo travelers to those designed for party-seekers.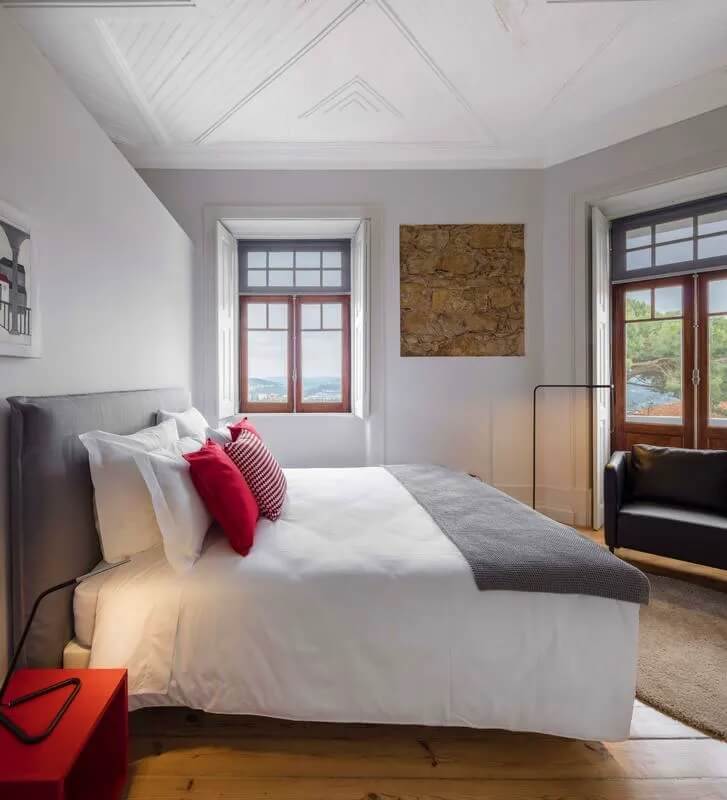 $$
In a UNESCO Heritage area: Jardim do Penedo da Saudade
Rooftop deck & bar
Free breakfast for private rooms
Located in the prime area of Jardim do Penedo da Saudade, between Almedina and Calhabe, this hostel is not just an affordable hostel to get your eight hours of rest in. In an area protected by UNESCO as a world heritage zone, Penedo da Saudade – Suites and Hostel is a house-turned-hostel inspired by the academic excellence and vigor of Coimbra.
Unlike many hostels in Lisbon and the likes, which typically have small spaces packed with beds, think of this hostel more as a home than a backpackers. With plenty of private rooms and family-sized rooms, this hostel in Coimbra is spacious and fitted with all the luxuries of a hotel room.
That said, Penedo da Saudade still offers bunk rooms. Guests get a bed for an affordable price and still use the comfortable shared amenities.
Among others, you can relax on a shared rooftop, grab a drink from the bar, or cook up a storm in the fully equipped kitchen. Designed more for 'slow' travelers as a peaceful home, you're lovingly encouraged to read, work, and socialize in shared spaces.
Why you'll love this hostel:
In a historical building refurbished with fresh interiors
Dorm rooms and private suites are available
Suites with balconies overlooking the city
The historic home has high ceilings with decorative relief patterns, wooden floors, and large windows. The natural light is so cosy. There are high-quality sheets, beautiful modern furnishings – all with a sash of warm lighting to the feeling of home.
To bring in the academic theme of the town, the rooms are inspired by a University course theme, each with a fully-equipped bathroom.
Private rooms include a complimentary homemade breakfast each morning, while all guests have free tea and coffee all day. The hostel also provides luggage storage, free internet access, free parking, and housekeeping.
Location is another important factor to consider when deciding where to stay in Portugal. This hostel is just a five-minute walk from the San Sebastiao Aqueduct and even closer to the iconic University of Coimbra and football stadium. This Coimbra hostel is within walking distance of the river and famous riverside gardens and is nearby all the public transport hubs you might need to use to get elsewhere in the city.
Most Affordable Hostel in Coimbra – Sleep and Shower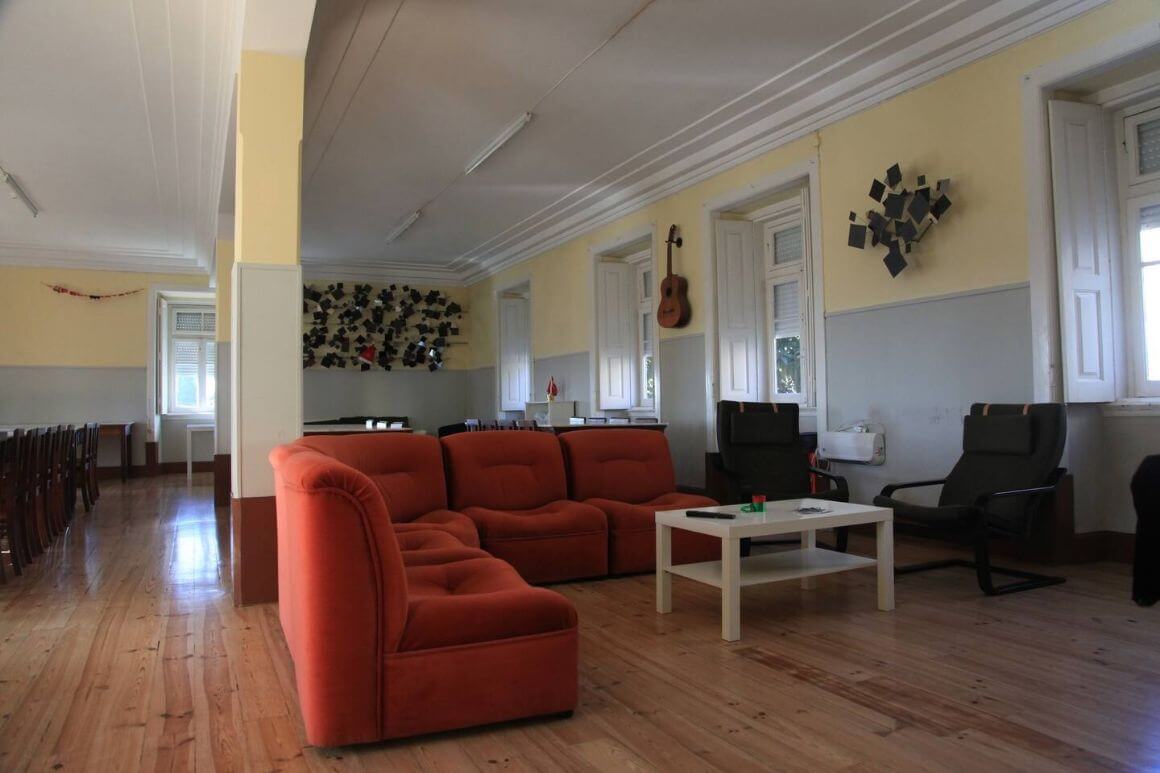 $$
A short walk from the Old University near the Praca da Republica
Self-check-in
Dedicated workspaces, shared kitchen, and living area
One of the main attractions of any hostel is the low rate. Hostels are known for being an affordable type of accommodation, and Sleep and Shower is one of the best hostels in the city for budget travelers.
Centrally located near the Praca da Republica, the property is just a 10-minute walk to the University of Coimbra campus and a short stroll from the main line of the city bus. Although popular with young travelers between 18 and 35, the hostel is in a quiet neighborhood and perfect for both a peaceful stay or a vibrant social experience.
The interior of the building has been recently refurbished with modern amenities and fitted with an eclectic blend of furniture. Depending on who you visit with and how much space you require, there are ten standard rooms with shared bathrooms, and ten prime rooms, each with an ensuite bathroom.
While staying at the hostel, guests can use a shared terrace with outdoor furniture and a barbeque.
Why you'll love this hostel:
Shared kitchen and living area
Long-term stays allowed
Shared patio with outdoor furniture
Road-tripping is one of the best ways to travel through Europe. And if you arrive in Coimbra with a car, you'll be glad to know that this hostel has secure free car parking on site.
Another convenient amenity includes complimentary Wi-Fi throughout the property. If you're a digital nomad needing a mobile office, you'll also be able to make use of a dedicated workspace in private rooms and shared spaces.
If you're staying in a hostel in Coimbra, chances are you're doing so to save a bit of money. After transport and accommodation, food is one of the most significant expenses for most travelers.
Since this hostel has a shared kitchen with all the cooking essentials, you can cook your own food and save cash on eating out. To top things off, you can enjoy your home-cooked meal out on the shared patio, which is fitted with furniture and an outdoor dining area.
$$$
Views of the park & Rio Mondego River
Onsite bar and restaurant
Japanese-inspired capsule hostel
Not only is Zero Box Lodge Coimbra one of the best hostels for solo travelers, but it's also one of the most unique properties in the city. Inspired by Japanese capsule hostels, each guest gets a small yet comfortable space for sleeping – and nothing else.
This hostel offers minimalistic yet cozy wooden boxes designed for practicality. Ideal for traveling couples – two guests can comfortably sleep and stand in a private bedroom. These capsules hit the perfect medium between a private suite and a shared room.
Breakfast is available at the hostel but not included in the nightly rate. It's a convenient amenity for those who enjoy eating first thing or travelers en route elsewhere. You can sort that at the property for a small additional fee.
From the moment you arrive at this Coimbra hostel, you'll be greeted by welcoming staff and an ice-cold beer on the house. If you're up for meeting new friends, the hostel has a bar on-site serving delicious cocktails against a backdrop of great music.
Why you'll love this hostel:
Private suites and shared dorm rooms
Close to the river ferry port in central Coimbra
A unique experience in a funky atmosphere
Maybe your days of traveling solo are behind you. But the hostel is also child-friendly for kids of all ages – though there is no capacity for cots or spare beds.
The rooms are small, fitted with just the essentials. Beside a comfortable bed, each guest has a personal reading light and plug point, and each room has an essential closet with rails to hang your personal belongings.
The entire hostel is exceptionally decorated with unique lighting fixtures, bespoke furniture, and eclectic art. Modernism is a theme throughout the property, quickly making you feel like you've arrived in another world (especially against the backdrop of a historic medieval city).
Especially for those visiting alone, being centrally located is super important when looking for a place to stay. Zero Box Lodge Coimbra is around the corner from the Sao Sebastiao Aquaduct, the University of Coimbra, and the Old Cathedral.
The closest airport to the property is in Porto, 100 miles away. Conveniently, the Coimbra hostel offers a paid airport shuttle service, which is one of the safest ways to get to and from the hostel if you're traveling solo.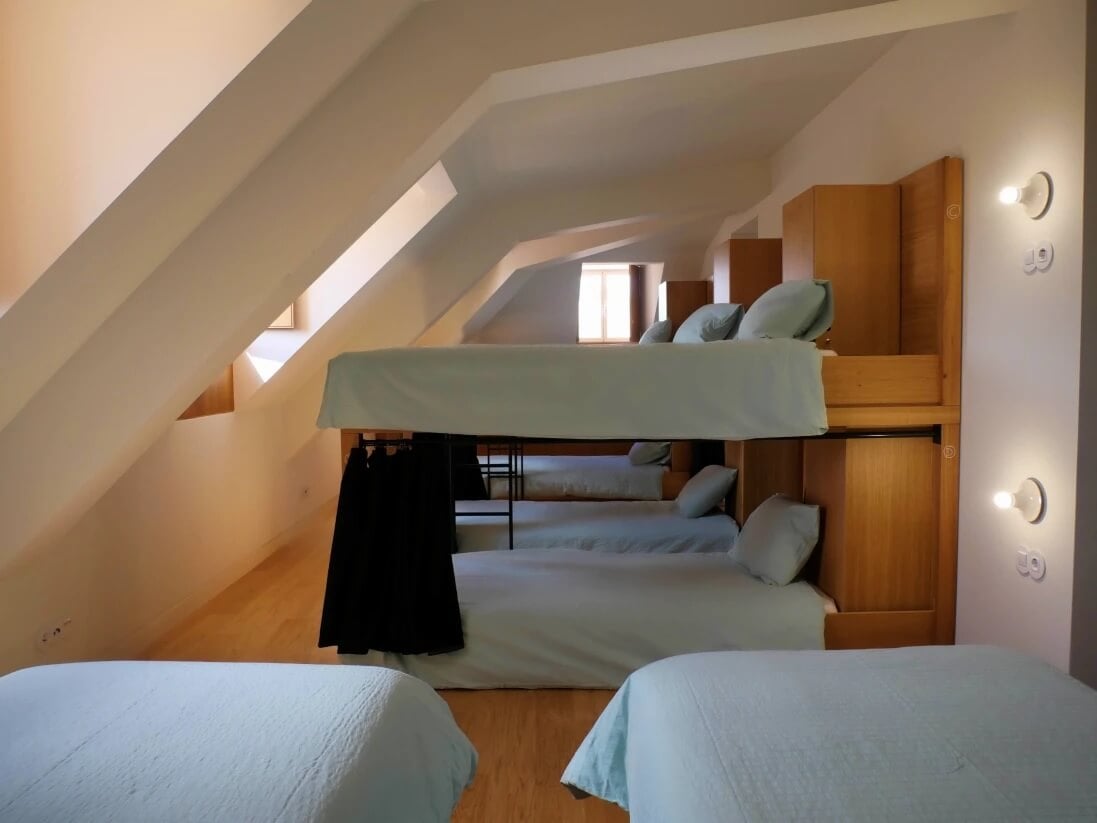 $$$
A little more remote than Coimbra center
Personal plug points
Continental breakfast served daily
Although not essentially in the city of Coimbra, Castel – Creative Living is just a few miles away and offers one of the area's best and most affordable places for those in the digital nomad movement.
It's located a 20-minute drive along the A13 highway, just south of Coimbra, in a peaceful and remote village. The hostel was created to bring together an inclusive and authentic community of travelers wishing to combine everyday life with art and local wisdom.
Their goal is social inclusion. So the property has two social spaces, lounges, and an on-site bar where guests can make new friendships and solidify old ones.
Perched on a hill overlooking the local village, the hostel is set in a house that has been recently refurbished with stylish modern interiors. Marble countertops, warm wooden accents, and high ceilings bring a sense of urban life to the hostel in Coimbra, which genuinely feels more like a home than just another accommodation.
Choose from shared dorm rooms, private suites, and family-sized rooms, all fitted with fresh comfy linens, plug points, warm lighting, and clever storage solutions. Some private suites even boast their own balcony overlooking city views.
Why you'll love this hostel:
A spirit of art and learning in a community-centric environment
Plenty of room to work
On-site bar and restaurant
Calling Castel – Creative Living a hostel can be a bit deceiving. While there certainly are dorm rooms available, most private suites are as luxurious, if not more, than an affordable hotel. Linen, towels, and internet are included in the rate, and a tasty continental breakfast is served each morning.
One of the top features of this hostel is its variety of room sizes. Choose from ensuite double rooms, 4-bedroom family rooms, or dorm rooms with four, six, or eight beds. It won't matter whether you're traveling alone, with a group of friends or as a couple – there is a room suitable for you in this hostel.
Another great advantage of this hostel is that it is wheelchair friendly. However, since the town is an old medieval village, double-check the access points, as manoeuvring a wheelchair on cobblestone streets can be a hassle.
$$$
In the heart of Coimbra city center
Private en-suite bathrooms
Personal workspace in each room
Unlike many other hostels worldwide, most of the hostels in Coimbra offer a variety of rooms, including private suites and shared dorms. Change the World Hostel is a beautiful building set just a few hundred meters from the University of Coimbra, the A Train Station, and Santa Clara-a-Velha Monastery.
There are two types of private suites at the hostel; the double and the deluxe double suite. Both offer a private bathroom and are fitted with a comfortable bed, closet space, and windows overlooking street views. The deluxe double rooms are even fitted with a spacious living area with a couch and a private office desk, it's one of the top hostels for digital nomads.
Even the dorm rooms are unique at this property, with beds spread across long rooms instead of being on top of each other like bunk beds.
Although set in a traditional historic building, the entire space has been refurnished with timber beams, glass windows, natural wood floors, and warm lighting fixtures. The minimalistic interiors are timeless, making the space seem much more spacious than it really is.
Why you'll love this hostel:
Updated interiors with warm wooden accents
Shared kitchen and shared lounge
Hotel-like amenities like daily housekeeping and free Wi-Fi are available throughout the property
The hostel offers a few hotel-like amenities, which make it feel much more luxurious than you might expect. Think daily housekeeping, private check-in and check-out, and staff who speak English, Spanish, French, and Portuguese.
Not only is this hostel luxurious enough to compete with nearby hotels, but it's also incredibly well located, within walking distance of top-rated tapas restaurants and all the city's major plazas and shops.
Travelers visiting with kids will be glad to learn that you can ask for a cot or extra bed for a child. While the Coimbria hostel staff will put a cot in your room for free, you can also ask for a spare bed to be made up for a small additional fee. Feel free to collect a few board games or puzzles from reception to enjoy some family time at the property.
$$
A 5-minute walk to the train station
Hand-painted decorative interiors
Outdoor terrace overlooking the river
Built on the ruins of a medieval Roman wall, Coimbra Portagem Hostel is set in a restored Belcouce Palace. The hostel is right in the city's heart, surrounded by historical buildings, attractions, shops, restaurants, and lively bars.
It's also right across the street from the iconic Santa Clara's Bridge and a short stroll from the central train station. Perfect for those who enjoy exploring a new city on foot, the hostel is close to the famous neighborhood of the Se Velha Cathedral and the incredible Coimbra University campuses.
Each room is fitted with updated furnishings and linens: whitewashed wooden bunk beds, original hardwood floors, and throw pillows for those homey touches.
And to contrast the dorm rooms' simple interiors, the entrance hall and lobby of the hostel in Coimbra offer a spectacular show of historic decorative tile paintings. The hallways are lined with colorful renditions of another era. Some lucky private suites have gorgeously painted Portuguese tile accents, antique furnishings, and colorful touches.
Why you'll love this hostel:
Mixed dorms with 4-10 beds
Located in the historic center of Coimbra
Historic building restored into a modern hostel
With big dorm rooms, it's ideal for budget backpackers or large groups traveling together. The hostel offers room options: 4, 6, 8, and 10-bedroom mixed dorms.
Booking out an entire dorm room with a group of friends or a smaller one with your close family is a great way to spend time in the city without over-splurging on your budget. Although take note that the hostel is for 18 years old and up only – No Kids. That's music to some people's ears.
If the authentic tile paintings weren't enough to draw you in, a fan favourite of this hostel is the rooftop terrace. It overlooks spectacular views of the Mondego River below. Take the afternoon to relax under shaded umbrellas or catch some sunshine while watching the scenes on the river.
There is also a common living area and self-catering kitchen on site, where guests can prepare and store their own food. Luggage storage, a tour desk, housekeeping, and 24-hour reception which is rare for hostels in Coimbra.
Is This the Best Backpack EVER???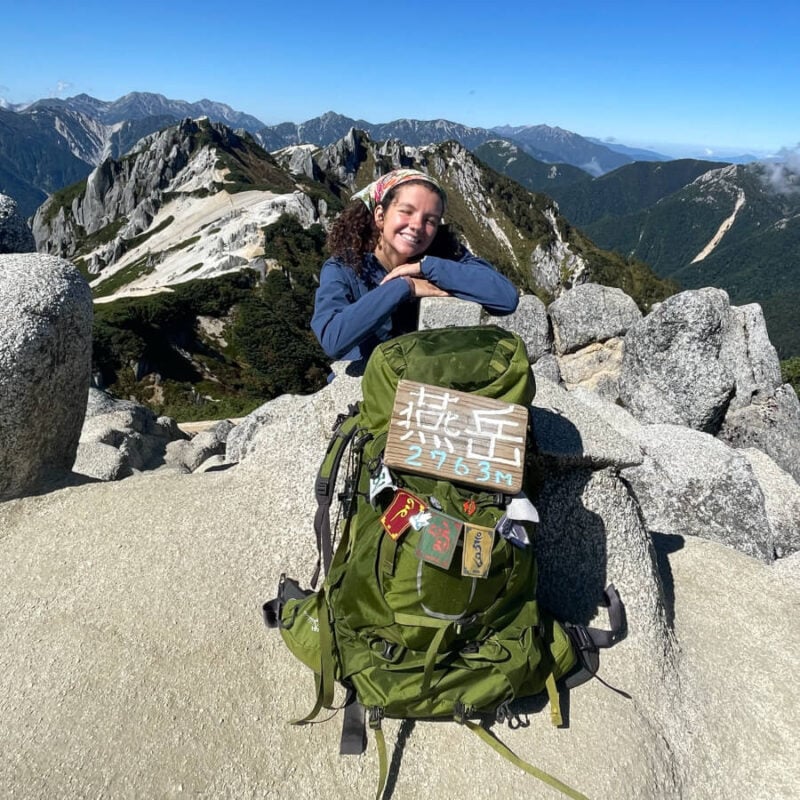 Other Hostels in Coimbra
Okay, sometimes too much choice isn't a good thing. But in this case, it is. Here are some honorary mentions in the best hostels in Coimbra list.
$$
Near the A Train Station in central Coimbra
Bright interiors with shared facilities
Sunny outdoor terrace
Located in the center of Coimbra town, a few hundred meters from the A Train Station, Olive Street House is perfect if you're stopping over with the train between visiting Porto and Lisbon. It's a comfortable accommodation with concierge services and a shared lounge and terrace.
The property offers a mix of dormitory and private rooms, some with ensuite bathrooms and others shared. The rooms are spacious and overflowing with natural light and airflow, decorated with neutral interiors and pops of color.
When you aren't relaxing in your suite or dorm room, spend some time socializing in the shared kitchen and dining area. Get yourself out on the dining space on the outdoor terrace overlooking the city. The hostel has a very relaxed atmosphere, and the friendly and helpful staff make you feel right at home from the moment you arrive.
$$$
South of Coimbra in a quiet village
Airconditioned rooms with a balcony
Free parking and disabled guest facilities
Located in the small town of Foz de Arouce just southeast of central Coimbra, Arouce Hostel is the perfect place to stay for a more off-the-beaten-track experience. Set in a residential home in a quiet neighborhood, the hostel is just a short drive from Coimbra and all the incredible attractions the city has to offer.
That said, when you aren't exploring the city, there are plenty of activities to enjoy in the town, including walking trails and cycling trails. Since the property is a bit further from the central train station and the closest airport is in Porto or Lisbon, guests can request a paid shuttle service to get to and from the hostel. Alternatively, if you've got your own car, there's free parking available.
The rooms are well-fitted, with comfortable bedding, clean white interiors, and plenty of natural light. All rooms have air conditioning (which is a godsend in some months in Coimbra), and some units even have a balcony overlooking the street. Guests can wake up to enjoy a delicious continental breakfast, offering a selection of freshly baked local goods.
Coimbra Hostels FAQs
Let's cover all bases. Here are some common questions about hostels in Coimbra.
Travel Safety Tips for Coimbra
Before any kind of trip, covering yourself with quality travel insurance is the best way to keep yourself safe.
ALWAYS sort out your backpacker insurance before your trip. There's plenty to choose from in that department, but a good place to start is Safety Wing.
They offer month-to-month payments, no lock-in contracts, and require absolutely no itineraries: that's the exact kind of insurance long-term travellers and digital nomads need.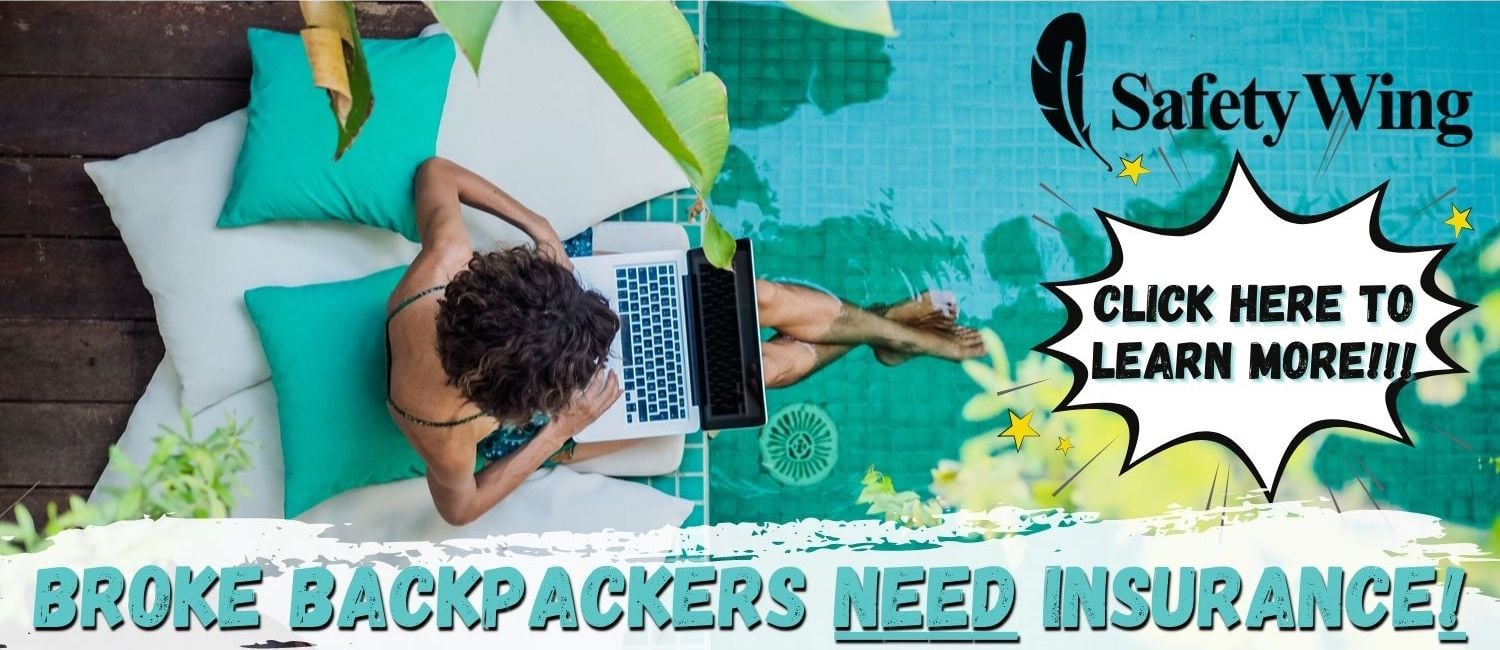 SafetyWing is cheap, easy, and admin-free: just sign up lickety-split so you can get back to it!
Click the button below to learn more about SafetyWing's setup or read our insider review for the full tasty scoop.
Final Thoughts on Hostels in Coimbra
Even though there are few hostel options in this medieval town, there is no shortage of high-quality, affordable accommodation in Coimbra. The few existing hostels offer excellent amenities, shared spaces, and comfortable accommodations that will make you feel right at home.
It all comes down to what kind of vibe you are after. You could stay in a great hostel in the city center, like Change the World Hostel or spend your time further away from the hustle and bustle.
You might prefer a hostel like Zero Box Lodge with a more social vibe and a party scene. And others (like me sometimes) don't mind too much. At the end of the day, sometimes I just need somewhere cheap and clean to sleep.
Whatever you are looking for, there is a hostel in Coimbra with your name on it. Staying in a hostel is an incredible way to travel solo, meet new friends, and save some cash.
Oh, and making sure you stay safe in Portugal isn't too hard. But don't skimp on insurance. A decent travel and health insurance to cover all bases is the best thing to have on hand.
---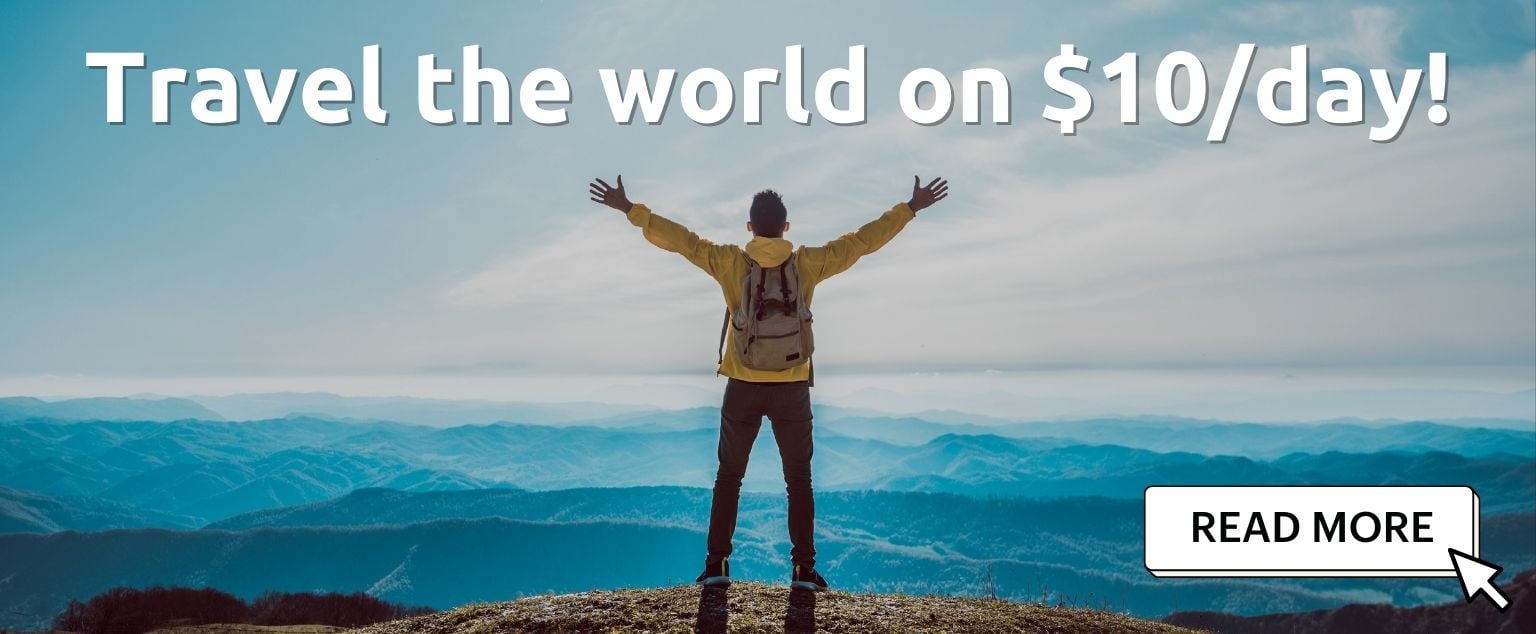 And for transparency's sake, please know that some of the links in our content are affiliate links. That means that if you book your accommodation, buy your gear, or sort your insurance through our link, we earn a small commission (at no extra cost to you). That said, we only link to the gear we trust and never recommend services we don't believe are up to scratch. Again, thank you!