Although it is New Zealand's 27th largest city, Queenstown's action-packed reputation has made a name for itself as one of the country's premier travel destinations.
But as popular as Queenstown is, there are only a handful of top-rated hostels, and they can get booked very quickly, leaving other travelers having to book expensive hotels.
Which is exactly why I put together this guide on the best hostels in Queenstown, New Zealand.
With the help of this brutally honest review, you'll know exactly which hostel in Queenstown you want to stay in, so you can book (before it fills up!)
I've organized the best hostels in Queenstown by YOUR needs, so you can easily book, and focus on what matters – enjoying this adrenaline-pumping city!
Let's jump into the top hostels in Queenstown.

Do You Want to Travel FOREVER??
Pop your email in below to get a FREE copy of 'How to Travel the World on $10 a Day!'.
What to Expect from Hostels in Queenstown?
Hostels are generally known to be one of the cheapest forms of accommodation on the market. That doesn't just go for Queenstown, but pretty much every place in the world.
However, that's not the only good reason for staying at a hostel. The unique vibe and social aspect are what make hostels TRULY special. Head down to the common room, make new friends, share travel stories and tips, or just have a great time with like-minded travellers from all over the world – you won't get that opportunity in any other accommodation.
Queenstown is known as an adventure city and most hostels cater towards adventure-hungry backpackers. You can expect hostels with great travel desks and sometimes even tour-booking agencies. If you're lucky, you might even get a special discount on some attractions.
That being said, you can also have a great time if you're not into crazy adventures. Most hostels in Queenstown offer great communal areas where you can hang out and make some new friends.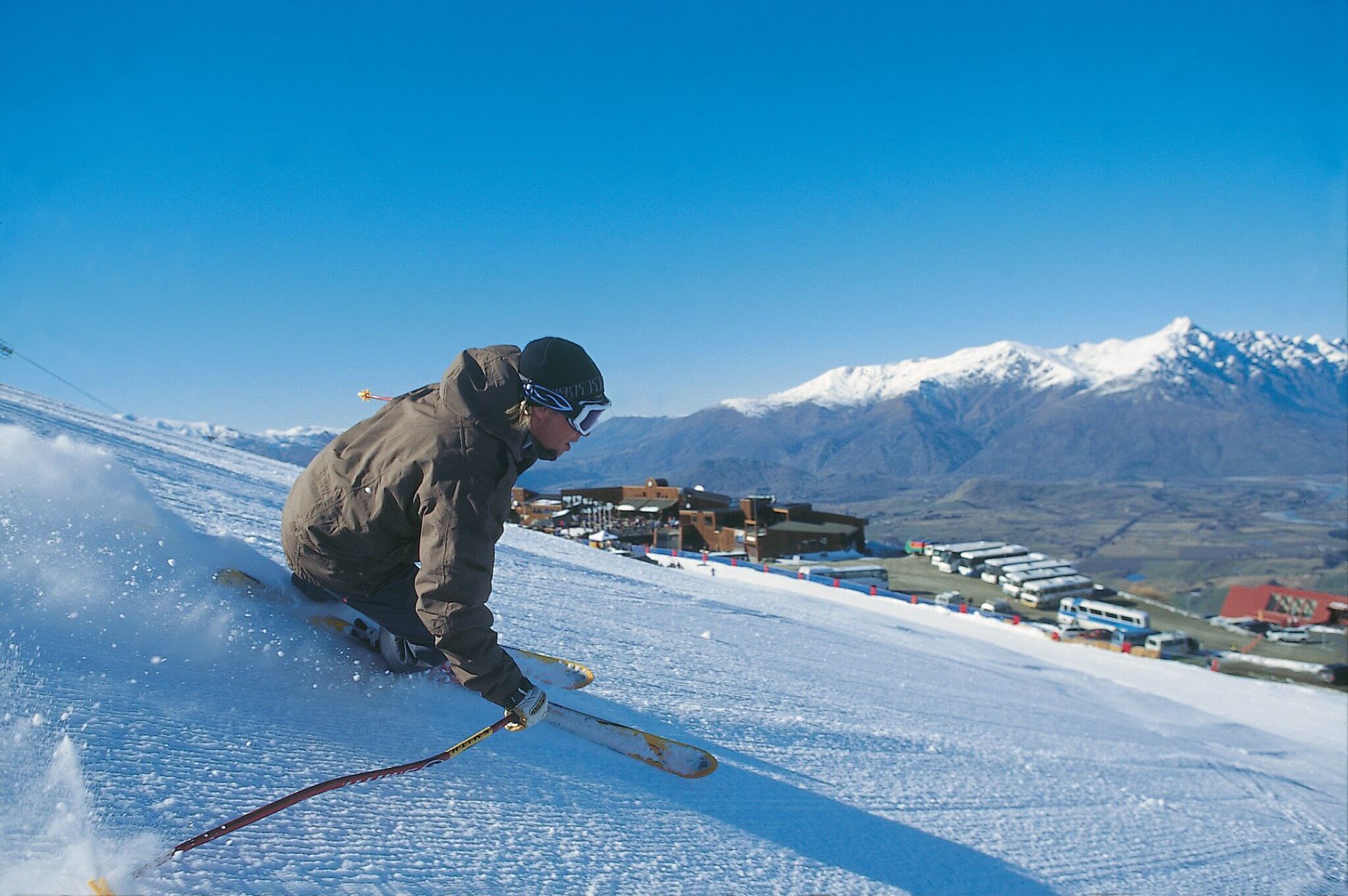 When it comes to sizes and location, you'll find all sorts of different hostel options in Queenstown. While most of the popular hostels are located right in the heart of the city, there are also smaller (and often cheaper) places a bit further away.
Queenstown's hostels normally have three options: dorms, pods, and private rooms. Some hostels even offer large private rooms for a group of friends. The general rule here is the more beds in a room, the cheaper the price.
Obviously, you won't have to pay as much for an 8-bed dorm as you would for a single bed private bedroom. To give you a rough overview of the hostel prices in Queenstown, I've listed the average range below:
Dorm room (mixed or female-only): $16-18 USD/night
Private rooms: $56-60 USD/night
When looking for hostels, you'll find the best options on HOSTELWORLD. This platform offers you a super safe and efficient booking process. All hostels are displayed with a rating and previous guest reviews. You can also filter your personal travel needs easily and find the perfect place for you.
Hostels might not be hitting the mark for you, motels in Queenstown could be your vibe!
If you want to head out and explore Queenstown, you should choose the hostel location accordingly. While you can find plenty of hostels on the outskirts of the city, there are a few cool options closer to the centre as well. If you're wondering where to stay in Queenstown, check out our favorite neighborhoods:
Downtown Queenstown – Right next to the city centre and close to the lake, this central location is good for travellers who want to get involved in adventure sports.
Shotover Street – This area is the centre of the backpacking vibe in Queenstown. As such, you can expect to find many hostels, bars, and other establishments that cater to young travelers and adventure tourism.
Queenstown Hill – Known in Maori as Te Tapu-nui – 'Mountain of Intense Sacredness' – this relatively small mountain more commonly known as Queenstown Hill.
I won't make you wait any longer, let's have a look at the best hostels in Queenstown!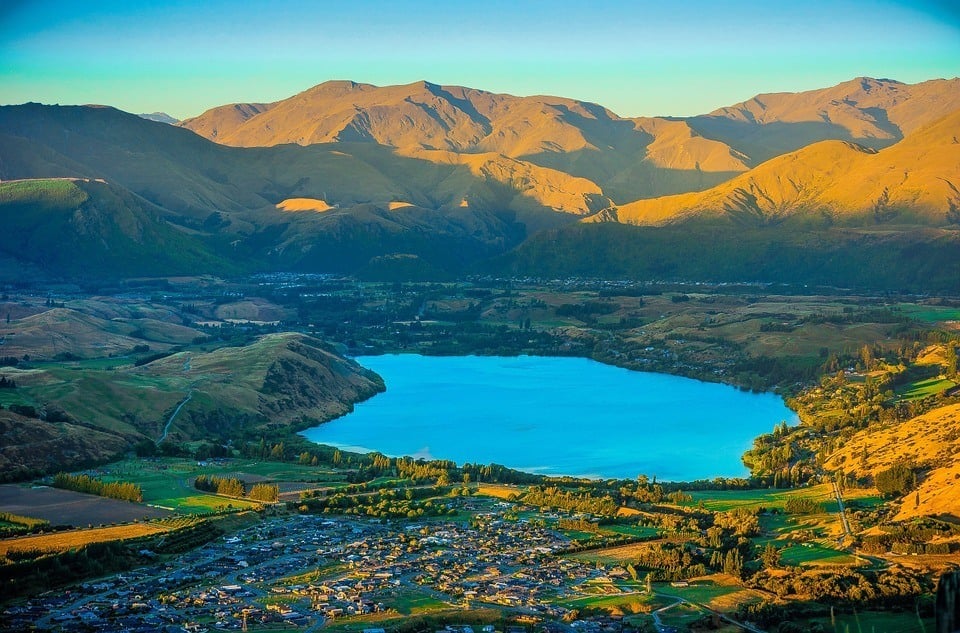 The 5 Best Hostels in Queenstown
If you're backpacking New Zealand on a budget and you want some action on your travels, staying in Queenstown for a bit will be a real treat.
I've done a ton of research to bring you the best hostels in Queenstown, making it easier for your awesome Queenstown trip. I've only included the highest-reviewed hostels. No poor hostels on this list, only the cream of the crop!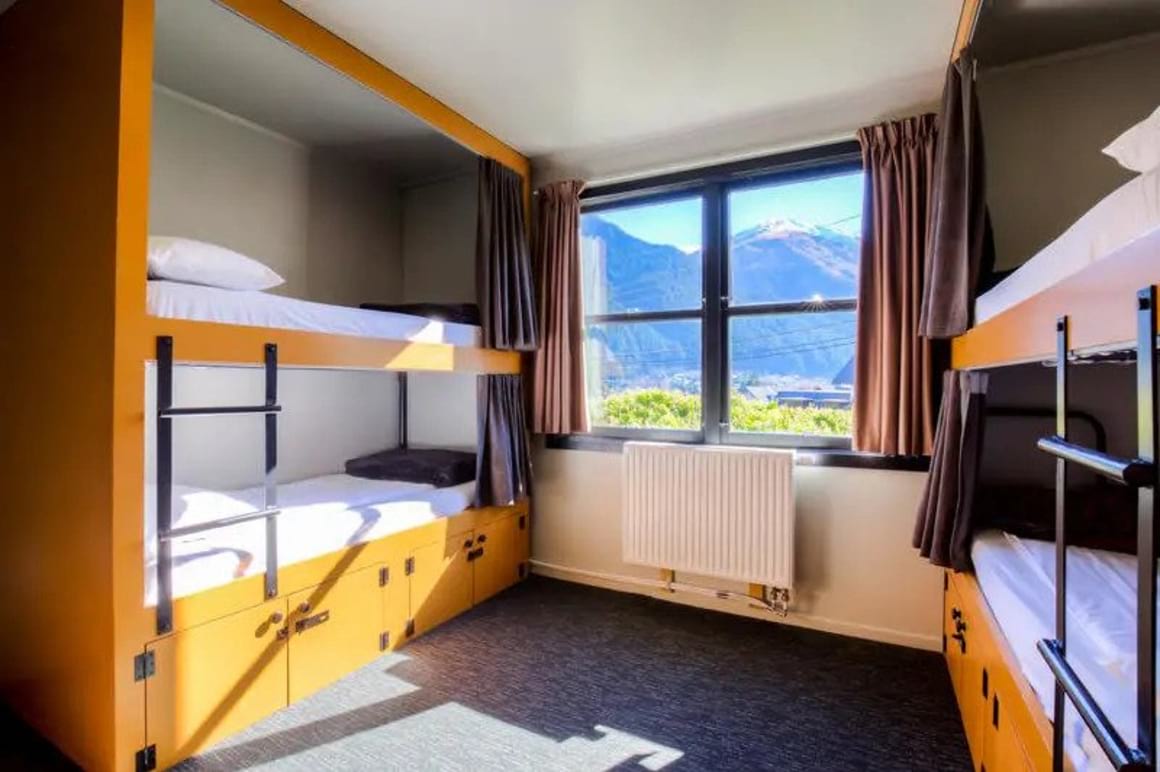 Movie nights and bike hire
Large decking with pool and BBQ
For earning the title of the overall best hostel in Queenstown, it has to be a really special place. And this hostel is one of the absolute best, especially if you're backpacking Queenstown as they offer discounts to backpackers.
Not only do you get incredibly charming rooms with big and comfy beds, but also an outdoor spa pool, amazing workstations with PCs, a fully equipped kitchen and so much more.
There are movie nights every week (with free popcorn) and a free bike hire during the day. If you want a bit more action, join the hostel guides on adventures such as Bungy Jumping, Milford Sound Cruises, Skydiving, Paragliding – the list goes on. For a truly incredible value, look no further than this Queenstown hostel!
Why you'll love this hostel:
Mountain view
Great location
Backpacker discounts
If you want to explore the city a bit further, you'll be happy to hear that you're in the perfect central location. You're a short two-minute walk to the downtown area of Queenstown and the stunning Lake Wakatipu. Queenstown Gardens and Queenstown Lakes District Library are just around the corner where you can enjoy a round of Frisbee golf.
Let's talk more about the rooms though! You can choose between the typical dorm rooms and private rooms. While dorms are made out of little private pods, you'll get a few more options with the private rooms. There are Twin, Double, King, or Triple rooms that feature fresh towels, a TV lounge with DVD play, an electric kettle, and tea/coffee. Perfect for a group of friends!
2. Best Cheap Hostel in Queenstown – Nomads Queenstown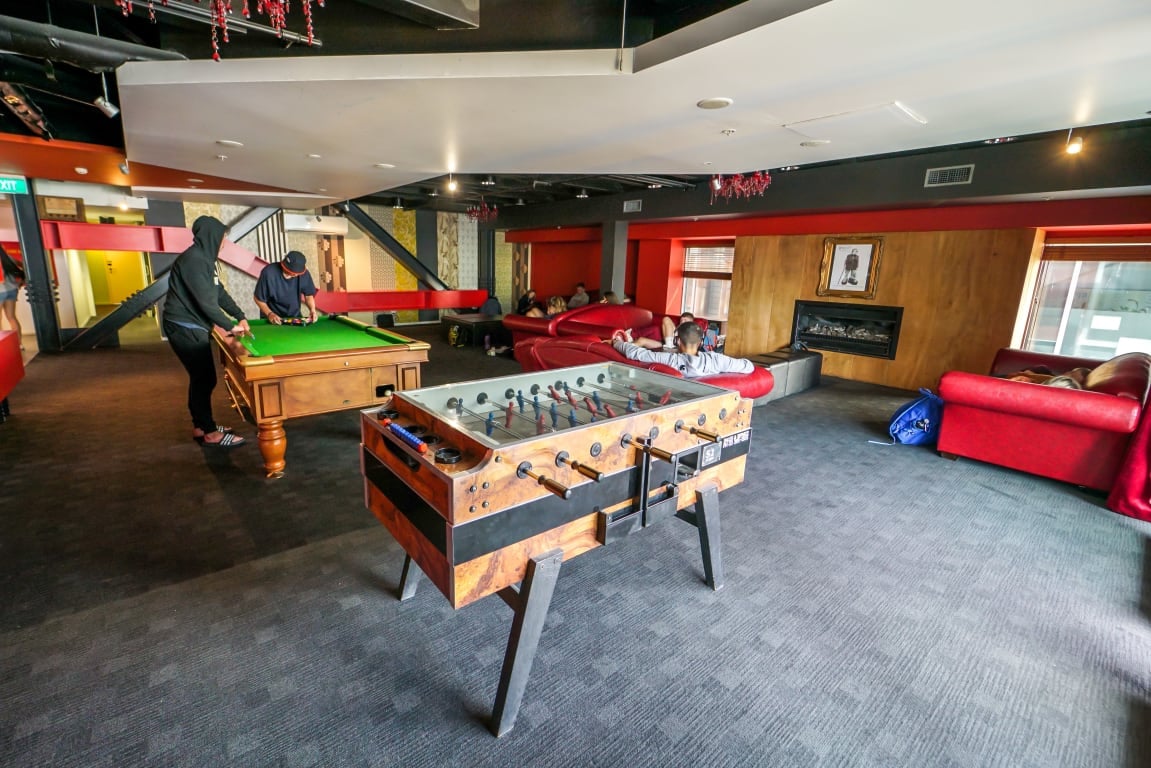 Housekeeping
Key Card Access
Nomads Queenstown is a posh backpackers hostel in Queenstown, perfect for flashpackers who like a bit of style and class. Kept clean and tidy by the housekeeping team, this Queenstown backpackers hostel boasts loads of great comforts and facilities.
Spacious dorms and private rooms, a sociable hangout room with a pool table and foosball, a cosy lounging area with a fireplace, a movie room with bean bags, a sauna, laundry facilities, a large kitchen with plenty of space for all, guest computers, free WiFi, a tour desk … you name it, you'll find it all here!
Plus, hungry backpackers can tuck into free grub each evening in the hostel's bar in the town centre.
Why you'll love this hostel:
Movie Room
Indoor Fireplace
Sauna
You can find Nomads Queenstown on Church Street, surrounded by cafés, restaurants, and bars. If you want a bit more action during your stay, head to Kawarau Gorge for some bungee jumping – it's only a 45min drive! Ask the staff for directions or other ways to get there if you don't have your own car.
If bungee jumping isn't your thing and you'd rather explore the beauty of Queenstown, head to the travel desk for some really cool insider tips on what to do and see during your stay.
The staff is known to be incredibly friendly and helpful, so you'll be in good hands! And if you really just want to chill out, head to the communal space with a nice book and chill yourself into one of the comfy sofas.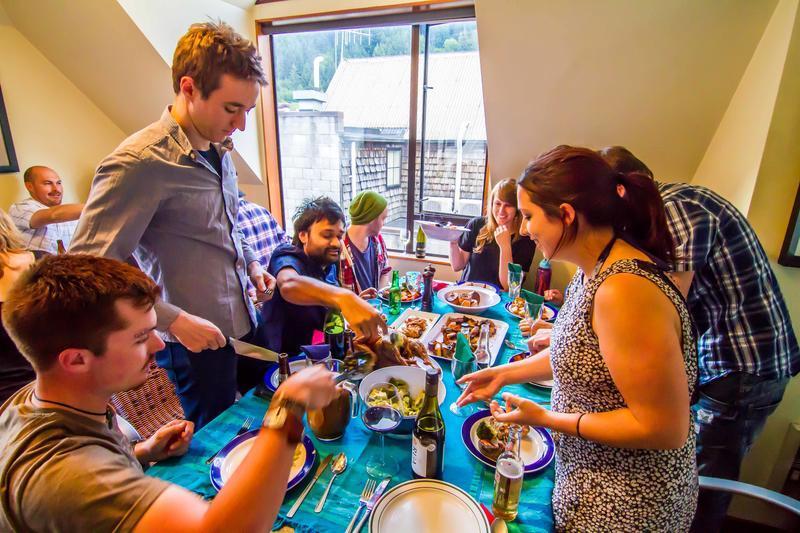 Although not truly a party pad as such—you'll need to hit up Queenstown's bars for raucous nighttime fun—the in-house events and activities at Adventure Queenstown Hostel make this our choice for the best party hostel in Queenstown.
It's easy to meet new people and there are plenty of places to relax and socialise, from the TV lounge and beanbag chill area to the terrace and spacious kitchen.
Challenge pals to a playoff on the Wii or PlayStation. Other plus points at this awesome youth hostel in Queenstown include bike hire, a tour desk, a book exchange, laundry facilities, and a secure locker room.
Why you'll love this hostel:
Very homely atmosphere
Incredibly kind staff
Great location
It might not be the biggest hostel in Queenstown – in fact, it only accommodates 43 people at a time – but it offers an incredible value. Not only do you get to experience a super friendly and welcoming atmosphere, but you also get a good night of sleep, which is rare for a central Queenstown location. There are no bars directly beside the hostel which will guarantee some quiet hours after dark.
If you're keen on exploring the city, head to the tour desk where the friendly staff can help you plan your activities. They know about all the hidden gems in Queenstown and can give you some real insider tips for your stay. It's really not surprising that Adventure Queenstown Hostel has won multiple awards – you'll be properly looked after.
4. Best Hostel for Solo Travelers in Queenstown – Adventure Q2 Hostel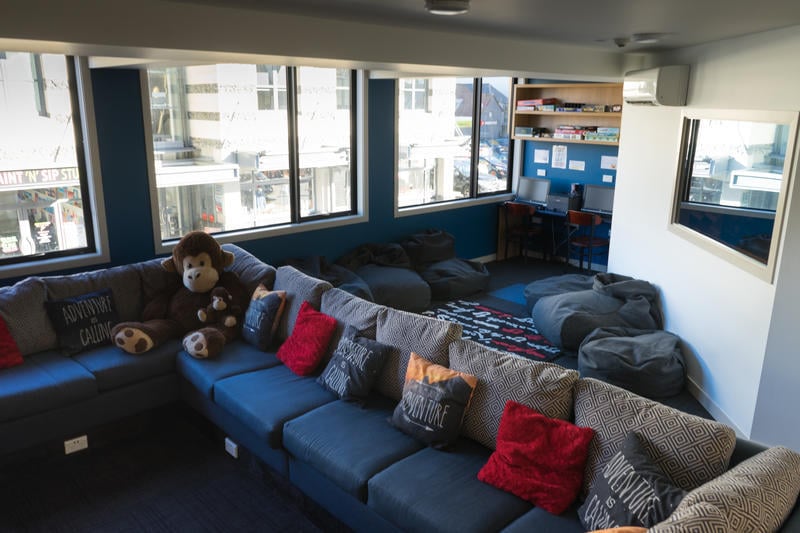 Laundry Facilities
Bike Hire
The award-winning Adventure Q2 Hostel is our choice for the best hostel for solo travellers in Queenstown. The regular evening events make it easy to meet other people and you can arrange a ton of incredible activities for fun and adventures during your days in Queenstown.
Sleeping just 55 people it's easy to put a name to a face. The hostel has fantastic common areas where you can bond with new mates, including a comfy lounge with sofas, bean bags, PCs, and a book exchange, a spacious kitchen with several cooking stations, a dining area, and a terrace with BBQ.
No need to be stinky—there are laundry facilities too. Have sweet dreams in the custom-made bunk beds in the mixed six-bed dorms.
Why you'll love this hostel:
Free Go-Pro loan
Snowboard/Ski hire
Pod-style beds
On top of that, the hostel also acts as a tour-booking agency, which is perfect if you want to explore the city without having to plan anything yourself. Whether that's rock climbing, bungee jumping or wine tasting, they'll offer the right activities for you. And after a long outdoor day, you can fall into your comfy bed and enjoy a bit of privacy thanks to your own curtains.
If you want to capture your adventures on camera, the hostel offers a free Go-Pro loan. Take some epic videos of your ski and snowboard trip (you can hire those at the reception too) and share them with your friends and family back home.
If adventure is not quite your thing, you'll be happy to hear that Adventure Q2 Hostel is located in the heart of the city, so you'll always be close to the best cafes, restaurants, and cool attractions.
5. Best Hostel in Queenstown for Digital Nomads – YHA Queenstown Lakefront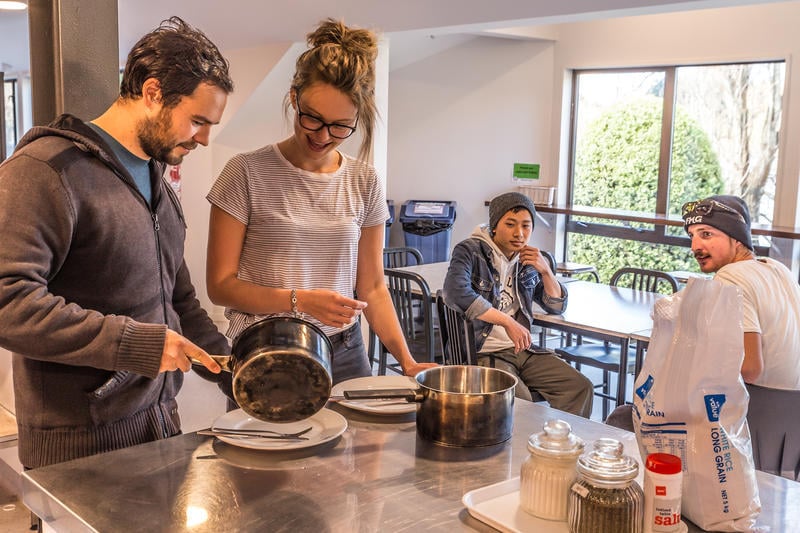 Stay right at the edges of Lake Wakatipu and wake up to stunning views of the lake and mountains each morning when you choose YHA Queenstown Lakefront. A great youth hostel in Queenstown, it's just a ten-minute walk from the heart of Queenstown.
Book a range of activities to keep you busy and come back to unwind in the steam room, the movie room, or the lounge before crashing out in your comfy bed. There's a sunny deck too if you want to chill outdoors. Keep costs down with some DIY meal prep in the huge kitchen.
Why you'll love this hostel:
Outdoor and indoor working space
Beautiful and calm location
Free travel booking service
Digital Nomads will especially love this hostel thanks to its comfy workspaces and quiet location. Get to work on your laptop in one of the comfy common room sofas or enjoy the sun outside on the deck. The Wifi is fast and reliable so you'll be able to get everything done in no time. And once you're finished, you can either socialize and make new friends or head into town for a couple of drinks!
The friendly staff (who have vast amounts of local knowledge) can provide you with a free travel booking service and let you in on the latest YHA special deals from Queenstown's diverse menu of adventure – perfect for budget travellers that need to watch their expenses but still want to experience the best of Queenstown.
And if you'd rather explore things on your own, simply ask the staff for recommendations on what to do in the city. They'll share their insider tips with you!
YHA Queenstown Lakefront is one of our favourites in Queenstown but they're not taking guests right now. We're not sure if they're closed for good but we hope they'll come back soon.
Is This the Best Backpack EVER???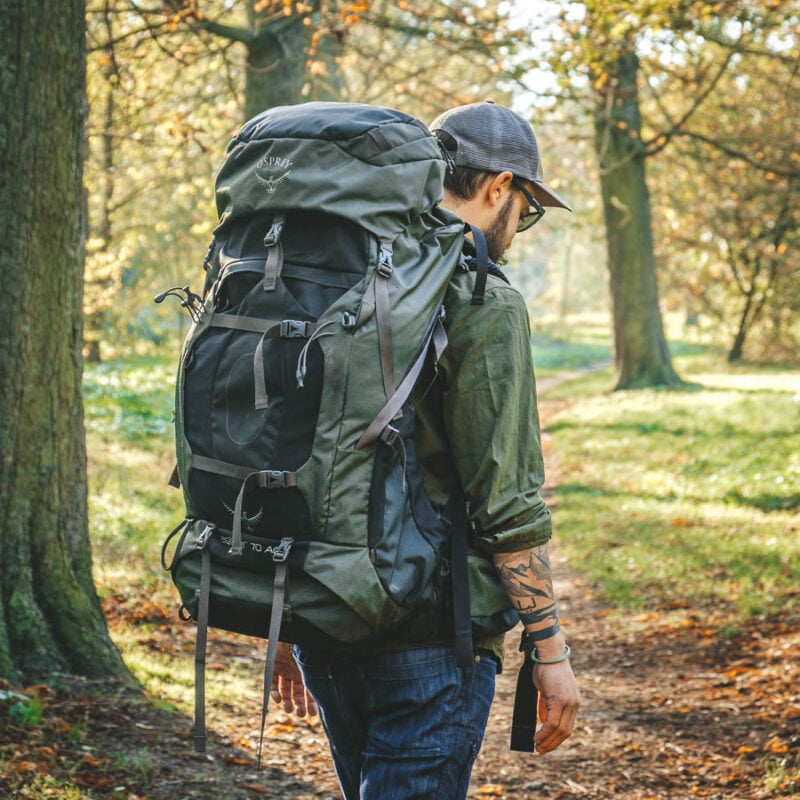 More Epic Hostels in Queenstown
Haven't spotted the perfect place to stay? No stress—here are even more of the best hostels in Queenstown. Once you've found the right place for you, make sure you plan your Queenstown itinerary too. There are so many epic things to explore, you don't want to miss out on anything!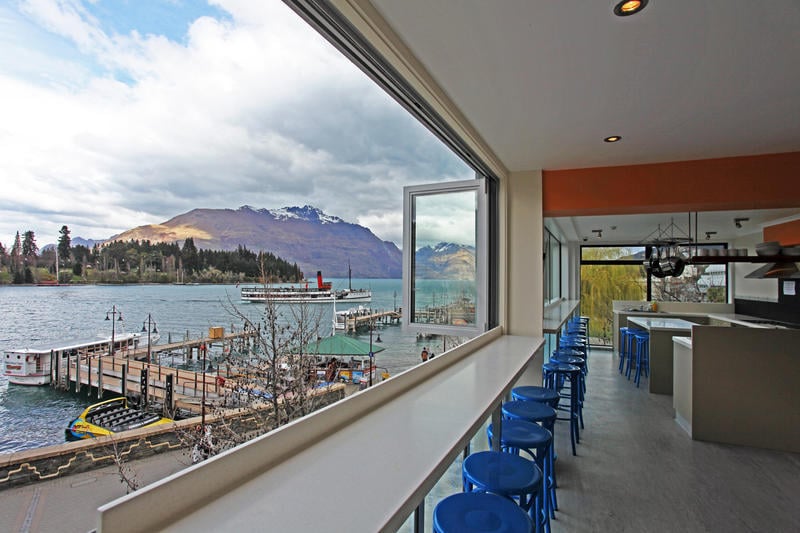 Tour Desk
Laundry Facilities
With a good balance between cost and facilities, Absoloot Hostel QT is a fantastic Queenstown backpackers hostel. There are dorms for four and six and you'll find little luxuries, like free toiletries in the bathrooms and a TV and fridge in most dorms.
The lounge has a Wii, Xbox, TVs, board games, and books, and the big kitchen has lots of space to cook and eat. Other plus points include a tour desk. Laundry facilities, free WiFi, free hot drinks in the morning, a jobs board, 24-hour security, and luggage storage.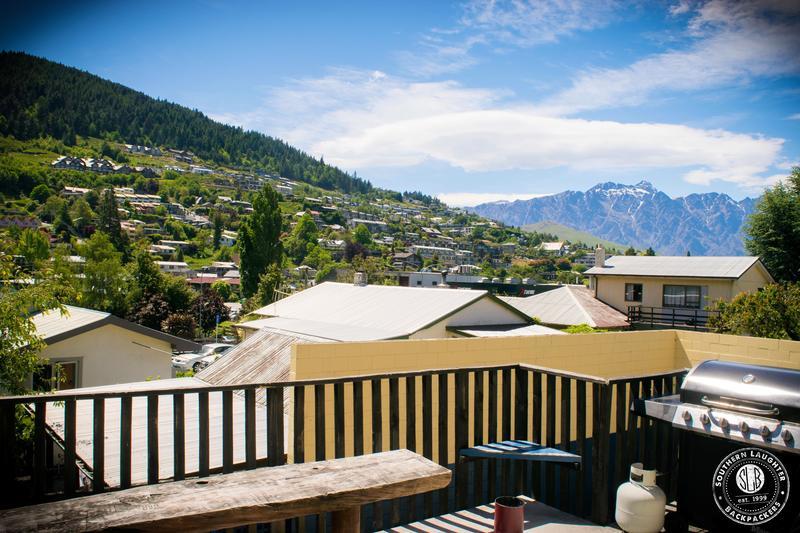 Southern Laughter Backpackers is the best cheap hostel in Queenstown. Boasting awesome views of The Remarkables from the BBQ decks, this Queenstown backpackers hostel also has TV lounges and kitchens for comfy homey vibes and convenience.
There may be no free breakfast here but you can fall asleep content after a hearty and filling bowl of free veggie soup each evening. Bliss out in the spa pool and get a discount in local bars for a cheaper night out with your fellow backpacking pals.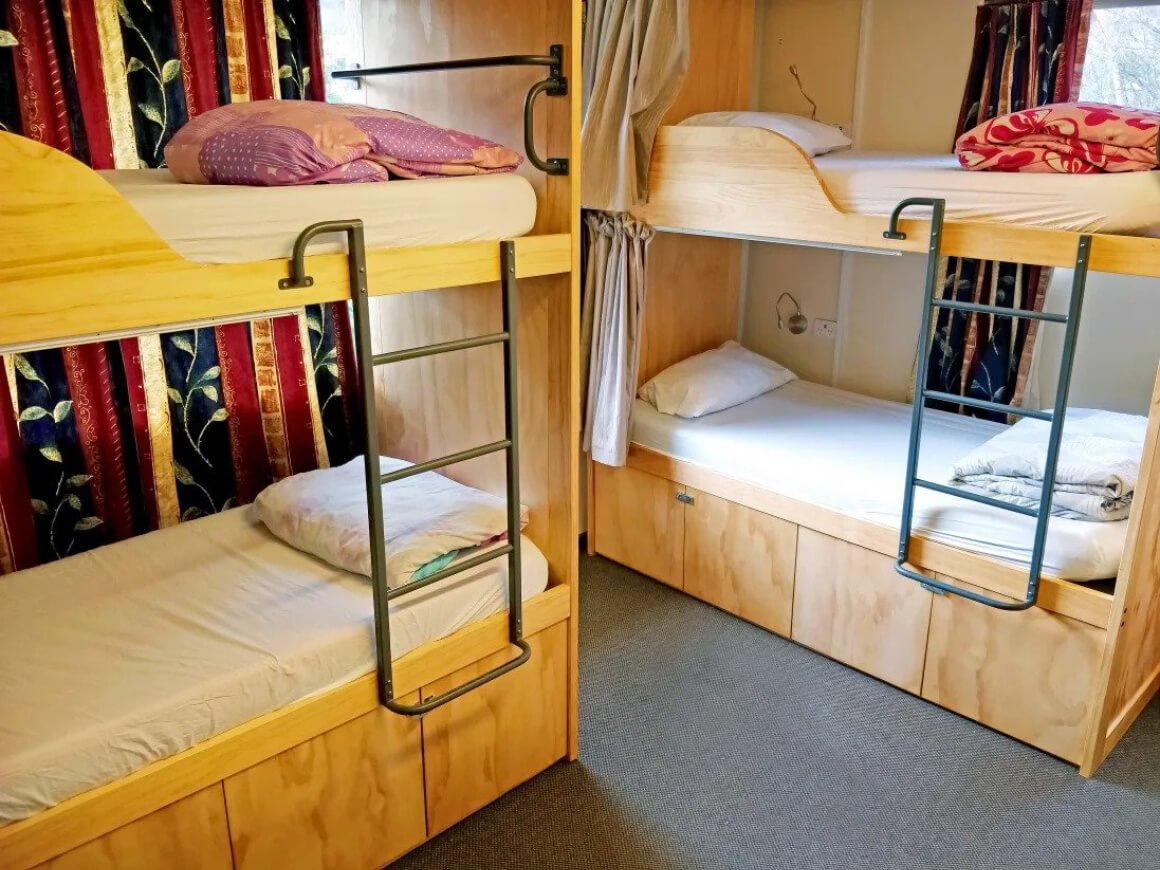 Bike Hire
Laundry Facilities
The Flaming Kiwi Backpackers Hostel is a friendly youth hostel in Queenstown that offers great value for money with excellent facilities. As a top place to work, rest, and play, it's the best hostel for digital nomads in Queenstown.
There's free Wi-Fi throughout the hostel and various indoor and outdoor common areas where you can find a secluded nook to work away in peace. The beds offer a great night's sleep—no need to wake up bleary-eyed and stressing about deadlines!
Each bed has a power outlet, reading light and a secure locker for your belongings. The town centre is just a five minute walk away, but if you want to get around with ease, there are free bike hire available at The Flaming Kiwi Backpackers Hostel. Need to top up your travel funds? Check out the jobs board. Other features include laundry, parking, a tour desk, luggage storage, a kitchen, and BBQ.

Our GREATEST Travel Secrets…
Pop your email here & get the original Broke Backpacker Bible for FREE.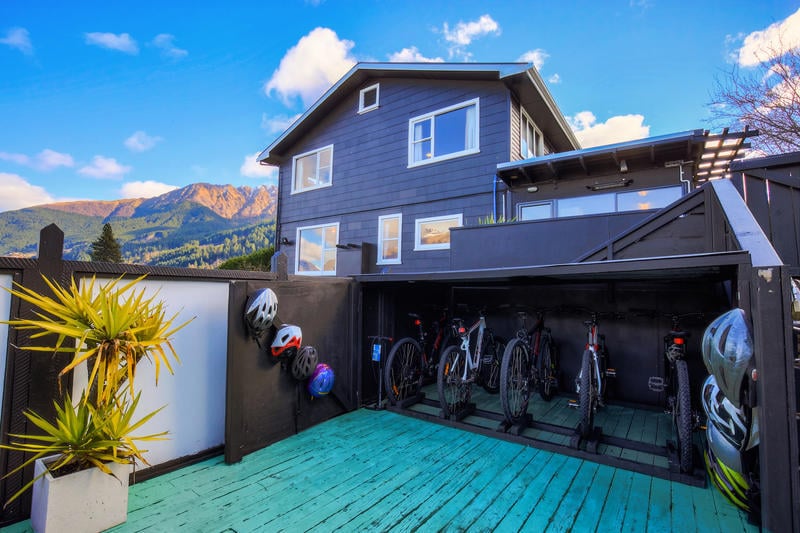 No need to feel shy at The Black Sheep Backpacker; all beds have privacy curtains along with a personal reading light, power outlet, and under-bed lockers. There are private rooms for two and three two. The coolest hostel in Queenstown, it offers panoramic views of the mountains and is just a short saunter from the lake.
There are heaps of opportunities to bask in the sunshine, with three gardens, a spa pool, and a deck with a BBQ. Indoors, you'll find a large common room and a well-equipped kitchen with multiple spaces to cook up a delicious feed.
Haka Lodge is a charming gem with a sociable atmosphere and plenty of homey feels. A small but top hostel in Queenstown, sleeping up to 50 people, there are enough people to make new pals but not so many that you forget who everyone is.
The hostel is located in a central location in downtown Queenstown, on a quiet residential street yet close to all of Queenstown's action.
Modern and clean with a TV room, free WiFi, laundry facilities, a tour desk, a kitchen, and a BBQ deck, you're sure to love staying here.
What to Pack for your Queenstown Hostel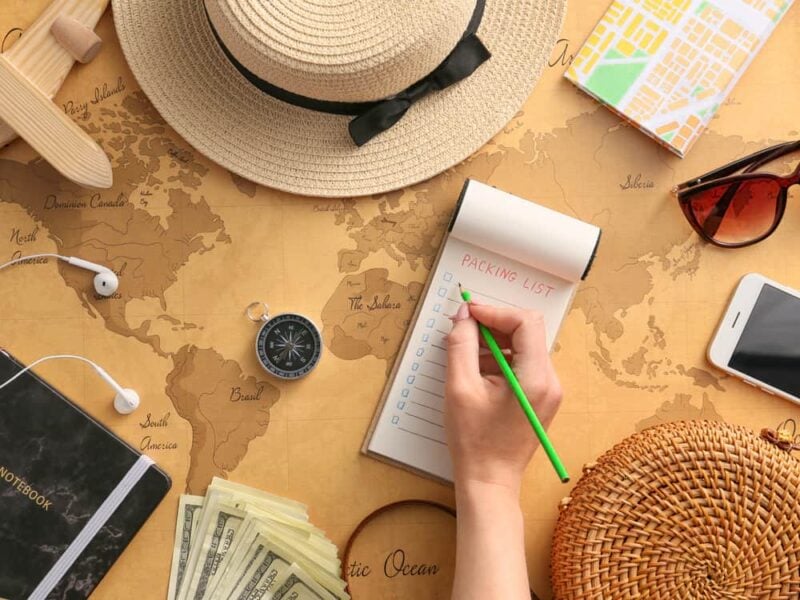 Pants, socks, underwear, soap?! Take it from us, packing for a hostel stay is not always quite as straight forward as it seems. Working out what to bring and what to leave at home is an art we have perfected over many years.
Check out our definitive Hostel Packing list for our top packing tips!
FAQ about Hostels in Queenstown
Here are some questions backpackers ask about the best hostels in Queenstown.
Travel Safety Tips for Queenstown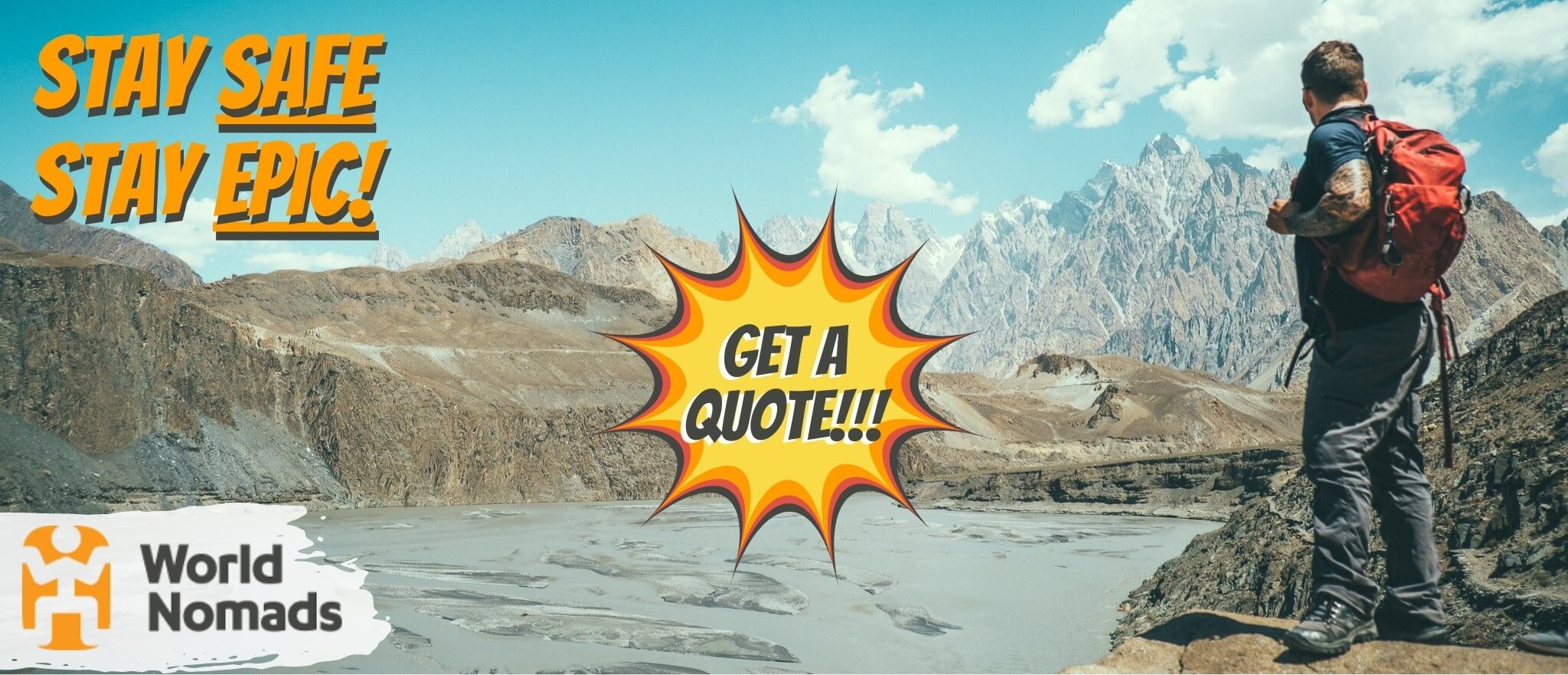 World Nomads' mission is to support and encourage travellers to explore their boundaries. They offer simple & flexible travel insurance, and safety advice to help you travel confidently.
They've been doing it since 2002 – protecting, connecting, and inspiring independent travellers just like you.
Get a quote below or read our in-depth review!
World Nomads provides travel insurance for travelers in over 100 countries. As an affiliate, we receive a fee when you get a quote from World Nomads using this link. We do not represent World Nomads. This is information only and not a recommendation to buy travel insurance.
More Epic Hostels in New Zealand and Oceania
Hopefully by now you've found the perfect hostel for your upcoming trip to Queenstown.
Planning an epic trip all across New Zealand or even Oceania itself?
Don't worry – I've got you covered!
For more cool hostel guides around Oceania, check out:
Final Thoughts on Hostels in Queenstown
That concludes my epic guide to the best hostels in Queenstown. I hope it has helped you choose the perfect hostel for your adventure!
If you're still not sure which Queenstown hostel is for you, take a look at my overall favourite again:Sheep Backpackers. This hostel offers an affordable price, a central location close to all the action, a friendly and social vibe – what more could you want?
If you think I've missed anything or have any further thoughts, hit me up in the comments!
---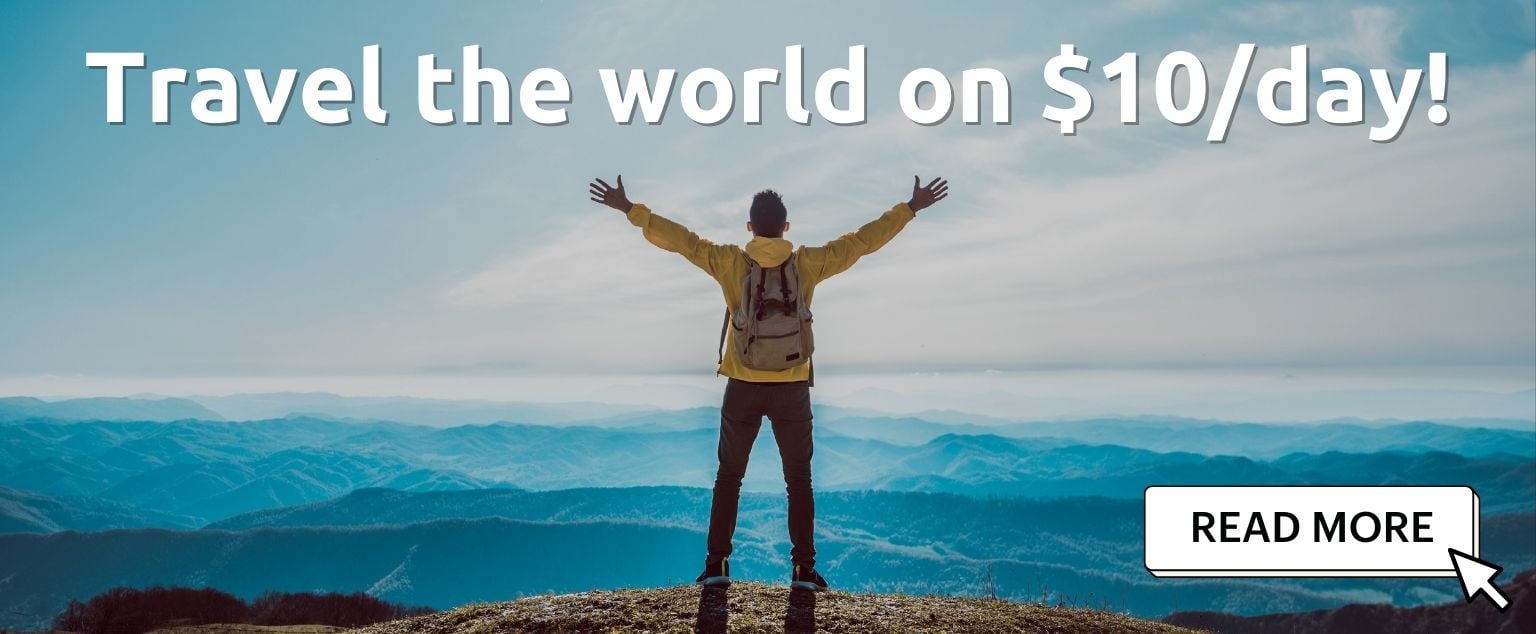 And for transparency's sake, please know that some of the links in our content are affiliate links. That means that if you book your accommodation, buy your gear, or sort your insurance through our link, we earn a small commission (at no extra cost to you). That said, we only link to the gear we trust and never recommend services we don't believe are up to scratch. Again, thank you!