Ah, New Zealand – a bucket-list destination! A playground for adrenaline-junkies and chill-seekers alike, this is a land of epic mountains and sweeping seascapes rich in all things culture and wildlife. It's no wonder that so many people make their way to these gleaming islands for an adventure of a lifetime.
Now, New Zealand can be an expensive place. Flights alone can mean that your budget is diminished before you even hit the ground.
But this Middle Earth mecca has long been enjoyed by backpackers on very meagre budgets. And if you're wondering how they do it, you've come to the right place!
Our guide to budget travel in New Zealand delves into the details, helping you balance the expenses involved in exploring this awesome country, while not compromising on the good times.
Well, it depends. The cost of travelling in New Zealand varies, and it's down to these main factors – flights, food, sightseeing, transport, accommodation. Whether you are going to be backpacking New Zealand on a budget, or occasionally splurging on some fancier digs, our guide below breaks everything down into bite-size chunks so you can carve out a budget best suited to you.
Travel costs listed throughout are estimates and are, of course, subject to change. The prices are listed in US Dollars.
New Zealand uses the New Zealand Dollar (NZD). As of March 2021, the exchange rate is 1 USD = 1.39 NZD.
See below for a handy table summarising the general costs of a two-week trip to New Zealand.
2 Weeks in New Zealand Travel Costs
ESTIMATED EXPENSE: $900 – $1476 USD for a roundtrip ticket.
A lot of the time, flying to New Zealand is expensive. It's pretty far from all major transport hubs (except Australia), meaning flights will take up most of your budget unless you are coming directly from the land down under. It can be made cheaper by avoiding the high season and flying during the cheapest month – May.
New Zealand's busiest airport is Auckland Airport, named for the country's largest urban area and the main city on the North Island. (Note that Auckland is not the capital city!) Auckland itself is around 12.5 miles from the airport, and can be reached via the SkyBus or taxi services – don't forget to factor in the costs of airport transfers into your budget.
Below you'll find the average costs of flying to New Zealand from several international air travel hubs:
New York to Auckland Airport: 909 – 1473 USD
London to Auckland Airport: 770 – 1260 GBP
Sydney to Auckland Airport: 454 – 627 AUD
Vancouver to Auckland Airport: 1209 – 1,670 CAD
It is not always an option to fly directly to Auckland, even from major hubs like London. However, even if you're flying from somewhere with direct flights to Auckland Airport, it is possible to keep things cheaper by opting for flights with one or more connections – the downside to this is all the snoozing done in airport chairs. Hmm, could be worth it to have a few extra dollars when you hit the road in New Zealand though!
Looking for even more ways to travel to New Zealand cheaply? Then get online. Services such as Skyscanner enable you to scroll through various flights to New Zealand, helping you weigh your options and find the best flight for you.
ESTIMATED EXPENSE: $20 – $200 USD per night
You might think that New Zealand is expensive for accommodation, and sometimes that is the case. How much of your budget you spend on accommodation depends on what sort of place you choose to spend the night. Travelling in New Zealand is epic, so you're going to want to make sure you spend your money wisely to get the most out of your trip. Whether that means dorms every night, or the occasional splurge on some fancier digs, will depend on your personal budget.
There's something for everyone in New Zealand – from unique eco-lodges for the ultimate natural experience, to hip hotels offering up private rooms, to groovy backpackers and dorm-style sleeping. Airbnbs are a great choice because they often come with a fully-equipped kitchen, and hostels usually have communal kitchen facilities too.
Now let's check out some of the prices for different styles of accommodation in New Zealand.
Hostels in New Zealand
Hostels in New Zealand offer the perfect place to stay for travellers on a budget. All across the country, there's a good choice of hostels, from more basic backpacker digs to fashionable boutique hostels. You should be able to find a hostel to stay at in any city or popular travel destination in New Zealand.
The cheapest hostels in New Zealand are around $20 dollars a night but expect that price to creep up with demand in high season.
Not only are hostels ideal for those on a tight budget, they're also great for meeting other travellers – you might even meet new mates to travel with! Plus hostels usually come stacked full with perks to help you save cash such as free meals, fun events, and communal kitchens.
If that sounds good to you, see our guide to the best hostels in New Zealand!
Here's a handful of New Zealand's top hostels to give you an idea:
Adventure Queenstown Hostel – Situated in Queenstown, this vibrant hostel comes complete with everything you'll need for a comfortable stay. The maximum capacity is 43 guests in total, meaning it boasts an intimate social atmosphere, with activities five days a week.
The Station Backpackers – This hostel has surprisingly stylish interiors for a backpackers lodging. It has spacious dorms and low-cost en-suite private rooms and it's got a great location, giving you easy access to major attractions around Auckland.
YHA Wellington City – A bright, friendly place to stay in Wellington, everything is spotlessly clean at this hostel. The staff are friendly and it's centrally located with bars, restaurants, and city attractions within walking distance.
Airbnbs in New Zealand
There are tons of Airbnbs in New Zealand, and there's a lot of variation too, meaning there are some truly unique places to stay here. From cottages to city apartments, New Zealand's Airbnb scene has something for everyone. However, they're not necessarily the cheapest way to travel around this island nation.
At the low end, Airbnbs general cost $90 – $150.
There are definite pluses to staying in an Airbnb. Not only do you get to stay in classier accommodation, but you also get to stay in local or unusual locations, places where hostels and hotels can't be found. Add cooking facilities and other perks provided by helpful hosts, and Airbnbs are the perfect option for those who like self-catering accommodation and a little privacy.
Here are a few of the best Airbnbs on offer in New Zealand:
Modern Cottage with Hot Tub – This Queenstown Airbnb is a newly renovated 1880s cottage, meaning it has a mix of contemporary and period features. It comes complete with amenities such as a coffee machine, Netflix, and even your own private deck with a hot tub and views of Lake Wakatipu!
Spacious Apartment in Christchurch – Situated 10-minutes walk from Christchurch CBD, this stylish, simple, and comfortable apartment has one bedroom and its own kitchen-lounge area. There's even a private courtyard and enough room to sleep up to five guests, too.
Stylish Shepherds Hut in Queenstown – Who would've thought a shepherd's hut could be stylish? Well, this beautifully repurposed one absolutely is! It's a heritage property that makes for an ideal base for exploring Queenstown.
Hotels in New Zealand
Is New Zealand expensive for hotels? Well, sort of. There are a lot of hotels in New Zealand, but they're often found in cities, and they're often mid-range or high-end options. Unless you're determined to stay in a hotel, and willing to allocate your budget for that, we'd say they're not the cheapest way to stay in New Zealand.
That said, budget hotels do exist here. It is possible to get a room for as low as $80.
There are plenty of reasons why hotels are possibly the most comfortable way to travel in New Zealand. They have housekeeping and concierge services (read: no chores), as well as handy on-site amenities like restaurants, bars, swimming pools, and gyms, so you don't need to worry about a thing!
Below are a few of the best cheap hotels in New Zealand to give you an idea:
Auckland Budget Inn – It might say "budget", but this place is great value for money. As well as being clean and welcoming, extras include a communal kitchen, laundry facilities, free breakfast, and a shared garden to chill out in.
BreakFree on Cashel -–This modern hotel in the centre of Christchurch boasts stylish rooms that provide a comfortable place to stay during your trip. With rooms coming in a range of sizes, guests can also enjoy a range of facilities, including a restaurant and bar, fitness centre, and free breakfast.
The Convent – Situated in a former convent, this Auckland hotel is a boutique yet budget-friendly option. It's been lovingly restored, with amenities including a restaurant and bar, as well as free parking (handy if you're on a road trip).
Eco-Lodge Accommodation in New Zealand
Since it's well known for its nature and eco-tourism, one of the ultimate accommodation types in New Zealand is the eco-lodge. This adaptation of the best lodges in New Zealand is goddamn dreamy – situated in stunning natural locations, they offer easy access to hiking, beaches, lakesides, and stunning mountain vistas.
They're often quite fancy and come with a price tag to match too – we're talking anywhere from $100-200 per night!
That doesn't mean you should write them off though. With swimming pools, saunas, restaurants serving farm to table cuisine, and low environmental impact, they're the ideal place to stay for the eco-minded traveller who is looking for some peace and quiet, and a truly epic experience.
These are some of our favourite eco lodges in New Zealand:
Solscape Eco Retreat – This beautiful 10-acre property is located at the foot of Mt Karioi, with views overlooking the Tasman Sea. There are a variety of interesting room options, from teepees and mud huts to repurposed railway carriages. Activities include yoga classes and hiking excursions.
Ponga Eco Lodge – Located in Hahei, in the Coromandel, this eco-lodge comes complete with sweeping mountain views. Throughout the property, there are an array of rooms nestled in the surrounding nature, with perks including e-bikes, paddleboards, nearby hiking routes, and kayaks.
The Resurgence Luxury Eco Lodge – A more luxurious option, this New Zealand eco-lodge is set in 50 acres of native forest adjacent to the Kahurangi National Park. As well as easy access to nature, guests can enjoy swimming in its saltwater pool, kicking back with a spa treatment, or relaxing by the fireplace.
ESTIMATED EXPENSE: $0 – $100.00 USD per day
Getting around New Zealand's two main islands (and smaller islets) isn't always cheap. Part of what makes this country so epic – its remote mountains and secluded wilderness – will be impossible to reach on some kind of public transport. In addition, travel between the North and South Islands means factoring in plane or ferry tickets, because, you know, cars don't drive on water yet.
That said, travelling New Zealand cheaply can be done. Though much of the country is rural and remote, there are some well-loved train routes that connect the dots, as well as buses that help keep costs low. The best way to see the country on a budget is to rent or buy a car depending on the duration of your stay. Not only will you save money, but you will have the flexibility of taking yourself off the beaten path and being spontaneous with your itinerary.
But first, let's take a more detailed look at public transport in New Zealand:
Train Travel in New Zealand
Travelling by rail around New Zealand is an awesome way to discover the country and is very popular with tourists. Run by KiwiRail, the train network helps ferry around a million tourists every year between cities such as Auckland, Wellington, and Christchurch, as well as other regions like the Waikato, Marlborough, and the West Coast.
Not only are train journeys efficient, but super scenic as well! It's an experience in itself, giving this mode of transport added value for money.
Rather than simply getting from A to B, train travel in New Zealand is all about chilling out, enjoying the ride, and taking in the landscapes along the way.
But are trains expensive in New Zealand? Well, here are some examples.
To get from Wellington to Christchurch (combined train and ferry), fares start at $115 – from Picton to Christchurch, $81.
You can opt for a Scenic Journeys Rail Pass that will give you unlimited travel on all of New Zealand's "Great Journeys", including Wellington to Christchurch. There are two types of pass, and your seats must be booked a minimum of 24 hours before departure.
Prices for this pass are as follows:
One week: $629
Two weeks: $729
Other passes are available, including the Freedom Pass, allowing travel over 12 months on a certain number of days (e.g. seven-day Freedom Pass costs $969).
So the train can add up pretty quickly when you start traversing the coastline, but combining the train and ferry from Wellington to Christchurch ends up being about the same price as a flight. And did we forget to emphasise how epic the scenery is along the way?
Travelling by bus in New Zealand
Well organised, and with little stress, hopping on a long-distance bus is a reliable way to travel around the country.
Generally, it's much cheaper than getting the train, or flying, plus the bus services reach most major destinations.
The only downside is that it can be hard to get to more far-flung areas – that's when a car comes in handy (more on that later). Buses are still pretty convenient though – some routes have stops at popular trailheads and national parks, so you can take the bus to some of the most epic hikes in New Zealand.
The main bus company in New Zealand is InterCity. These guys can get you all across the North and South Island for rock-bottom prices.
If you really want to get around by bus, you can get a bus pass, but this isn't always necessary to travel around New Zealand cheaply. In fact, some long-distance routes offer fares for as low as $1 without any sort of pass (these next to nothing fares are listed up to a year in advance, but still, if you're well organised, what an absolute steal!)
There are 14 different pass options offered by InterCity, ranging from $125 to $549. These cover different regions of New Zealand and different lengths of time, so it's best to check to see which one suits your trip best. These can all be booked online, making organising your trip easy peasy.
Getting Around Cities in New Zealand
Travelling around New Zealand's cities is mainly done by bus. Most of the larger cities have well-developed bus networks, which are all easy to use and operate during the day and on weekends.
Night buses run in cities on Friday and Saturday nights, and are usually filled with late-night party-goers. Good news for you if you've been known to stumble out of a bar and not exactly know the way home…
Bus fares in New Zealand are fairly cheap. They range from less than $1 to $4, depending on how long the journey is.
Day passes are available – these cost $13 per person. It's cheaper to buy online (making it around $7 instead).
Throughout 2021, more regional centres such as Nelson, Invercargill, and Otago, are adopting the Beecard as a way to electronically pay for bus fares. These cards already exist in much of the north island, and they are well worth picking up if you are going to regularly use the bus. Electronic fares paid for by the Beecard are cheaper than cash fares, and more convenient too, as you don't have to be carting around a pocket full of coins.
Only Auckland and Wellington have a good local train service with suburban routes. Christchurch also has a historic tramway you can hit up.
Otherwise, there are also taxis to get around the main cities. These are metered and reliable. Trips start at $2 and cost around $2.50 per mile.
Renting a Car in New Zealand
Exploring the country by car is easily one of the best ways to get around New Zealand, and it has been tried and tested by backpackers and tourists alike. It makes visiting more remote areas a breeze, plus you can travel at your own pace .
You could even opt for a camper van or kitted out four wheel drive if you want a real taste of the outdoors.
There's healthy competition between rental agencies here, meaning you can get some pretty good deals on renting a car in New Zealand. For a compact car, it can cost as low as $11 per day, averaging at around $30.
Basic insurance is included in the cost of the hire, but you can get supplemental liability insurance for around $12 a day.
Petrol is expensive in New Zealand, so factor that in. Also, the more remote a location, the more expensive fuel will be.
Want to save some cash and explore New Zealand by rental car? Use rentalcar.com to find the best deal possible. There are some great prices on the site and they aren't difficult to find.
ESTIMATED EXPENSE: $10-$30 USD per day
With all that countryside, New Zealand has a fantastic array of fresh food made from local ingredients to enjoy. There is a vibrant food scene that includes hip restaurants and cosy pubs, seafood vans on the highway (yes, really, Nin's Bin on the north side of Kaikoura) and some of the fine, upscale New Zealand wineries.
Many dining options are casual, so eating out on a budget is doable in New Zealand – although it is always cheaper to cook for yourself. There are plenty of cafes, family-friendly brunch spots, and low-key restaurants to hit up along the way.
Every country has their delicacies, and these are few belonging to the great Aotearoa:
Seafood – 14,000 kilometres of coastline means seafood is a big deal in New Zealand. From oysters and mussels to crayfish and lobster, there are some amazing fresh foods coming out of local restaurants that have been in business for decades. A meal costs, on average, $20. Bon appétit!
Steak and cheese pie – Fans of hearty food shouldn't miss out on this Kiwi staple. Think of a pastry packed full of yummy steak and cheese. Yes, please! Even better, these cost as little as $5. This is a tried and true tradies brekky. For a truly authentic experience, be sure to don your high vis and steel caps, and scarf the pie down before an honest day's work.
Boil Up – This traditional Maori cooking method sees root vegetables boiled up with pork bones and spinach, and it's served up with dumplings called doughboys. It's filling and warming, and costs around $13 for a bowl.
Be sure to keep these money-saving tips in mind:
Look for a Food Truck – Food trucks are all the rage in New Zealand. They can be found across the country, especially in cities, and you can grab a filling meal or snack for $10 to $15. Think generous portions and international cuisine.
Try Malay FoodOpt for Asian cuisine – Asian food is plentiful throughout New Zealand. Little Penang, in Wellington, for example, sells Malaysian dishes, including lunch specials for around $15.
Grab a slice of pizza – Everyone's favourite, pizza is a good way to stop being hungry cheaply. Pizza joints are rife. One example is Tommy Millions (Wellington), which sells slices of huge pizza for $5 a piece.
Where to Eat Cheaply in New Zealand
We all know that cooking for yourself is the cheapest way to eat anywhere in the world, including New Zealand. But when do you want to venture out and enjoy this country's food scene, it's very possible to do so on a shoestring budget.
All it takes is a little bit of know-how, so here are some tips on how to eat cheaply in New Zealand:
Look for meal deals – Many restaurants throughout the country serve up delicious meals at a snip of the normal cost. These daily deals include cheaper dishes after 16:00, while other places offer half-price lunches on weekdays. Keep your eyes peeled!
Stay at a Hostel – Not only are hostels cheap accommodation, but they often come with free meals. If meals aren't included, family dinners, make-your-own pizza nights, and kitchens stocked with basics help keep costs low in New Zealand's hostels.
Hit up Farmers Markets – You'll find farmers' markets and night markets in almost every town in New Zealand. As well as being a place to pick up cheap produce, there are also food vendors selling affordable bites.
But if you are cooking for yourself, then you'll want to know the cheapest places to buy food. Supermarkets are in all large towns, and the best value ones include:
Pak'nSave – Claiming to stock the "lowest price food" in the country, these large stores can be found on the North and South Island. They sell just about everything.
Countdown – Owned by Australia's Woolworths, there are 180 Countdowns across New Zealand. It's a great place to pick up everything from cheese and bread, to meat and ready meals.
ESTIMATED EXPENSE: $0-$25 USD per day
Drinking is definitely something that New Zealanders enjoy on a regular basis. On average, Kiwis spend around $13 a day on alcohol.
With all that beautiful scenery and fine weather, it's no surprise that you too will be hankering for an alcoholic beverage or two during your trip – whether it's a beer on the beach or a glass of wine at a vineyard.
The cost of alcohol in New Zealand varies depending on where you choose to drink. In Auckland, for example, a pint of beer at a pub can cost $10. If you're in a small town, expect to pay around $8.
Note that the size of a "pint" in New Zealand varies from pub to pub, but is smaller than a British pint and more comparable to an American pint.
If you head to a supermarket, alcohol is going to be much cheaper, e.g. an average bottle wine costs less than $14; a glass of wine in a bar costs around $5, for comparison.
A bottle of beer in a bar costs around $5. The cost of beer in a supermarket can be as low as $1 per can, depending on how many you buy and what brand.
If you are drinking you absolutely cannot pass up:
Local wine – A wine-producing country, it would be rude not to sample some of the country's finest! With several wine-growing regions, the country is particularly known for its Sauvignon Blanc, as well as a Pinot Noir. Note that a bottle of wine at a vineyard can cost upwards of $20.
Craft Beer – There's a huge craft beer scene in New Zealand. There are many different types on offer, with taphouses and breweries popping up everywhere. They often serve up a good selection alongside good food. Wellington alone has around 20 breweries!
Is New Zealand expensive for alcohol? While it's known for its wine and craft beer, these specialities don't come cheap. So a good way to get a bargain drink is to grab something from a supermarket and enjoy it at one of New Zealand's beautiful backdrops.
ESTIMATED EXPENSE: $0-$25 USD per day
New Zealand is a magnet for nature-lovers and adrenaline junkies. There's so much beautiful scenery and incredible adventures to be had here that you are going to want to jump right in and enjoy your trip to the max.
From helicopter rides and white water rafting to New Zealand's underwater diving scene to its skydiving scene, New Zealand really is the place for anybody who wants to push it to the limit. However, these sorts of activities do come with a price tag. So it's best to choose wisely if you want to get your thrills from something like hang gliding or zip-lining.
New Zealand isn't all about the adrenaline. There are plenty of pretty towns and cities to explore, and a whole host of scenic train rides, cruises and tours you can join in on.
The costs of tours and fees for admission can really add up, but there are always ways to keep the cost of attractions low when you're in New Zealand:
Hiking – Hiking and "tramping" (i.e. rambling/hill-walking) routes across the country are completely free. There are some eye-watering landscapes to immerse yourself in and there's no better way than heading off on a hike.
Buy or rent a car, and make your own epic tour of New Zealand. Why pay someone else to show you around, when you can craft your own badass New Zealand itinerary?!
Now that we've covered a whole host of New Zealand travel costs, you should have a good idea of how much you need to budget for your trip. You need to factor in the flights, the cost of accommodation, how much to spend on food, and your sightseeing budget. And, as it goes, there might be other unexpected expenses that are overlooked in the planning phase of a trip.
You might come across souvenirs that you want to buy for gifts, you might need to buy a new pair of sunglasses, or pay for ski hire. It could be anything.!These unforeseen costs might be low individually, but over the course of your trip, they can really add up. Plan to budget around 10% of your trip costs for all of these additional costs.
Tipping in New Zealand
It's not expected of people to tip. Unlike in the US where set percentage-based tips are expected of all customers, in New Zealand, it's up to the individual. However, if you get particularly good service, the server will be blown away and appreciate the tip greatly.
In higher end restaurants, tipping 10% of the final bill is considered acceptable, but again it is not a long standing Kiwi custom to tip.
At cafes or more casual eateries, you'll usually be able to spot a tip jar on the counter. In bars, it's not the done thing to tip bar staff – however if you're in a fancy cocktail bar, a service charge may be added to your final bill.
At your hotel, tipping housekeeping staff a few dollars per day is much appreciated. The same goes for bellhops and concierges, depending on the level of service you receive.
It is common to tip tour guides, usually around 5% of the tour price. In taxis, tipping isn't the norm, but it is fine to offer that the driver simply keeps the change.
Get Travel Insurance for New Zealand
World Nomads' mission is to support and encourage travellers to explore their boundaries. They offer simple & flexible travel insurance, and safety advice to help you travel confidently.
They've been doing it since 2002 – protecting, connecting, and inspiring independent travellers just like you.
Get a quote below or read our in-depth review!
World Nomads provides travel insurance for travelers in over 100 countries. As an affiliate, we receive a fee when you get a quote from World Nomads using this link. We do not represent World Nomads. This is information only and not a recommendation to buy travel insurance.
Want some more budget travel tips? Read on for a few more bonus ways to keep the cost of your New Zealand trip as low as possible:
Look for deals – Whether it's cheap meal deals in a restaurant, discount travel tickets or buy-one-get-one-free on food at the supermarket, deals will be your friend. Be savvy with that cash and watch it work for you.
Travel with a buddy – Travelling with a friend can save you on the costs of accommodation, food and even tour activities. Some tour companies will even give you a discount if you travel in a group so that might also be something to consider.
Skip the skydive – While New Zealand is known for its extreme sports, they also come with a huge price tag. Just because it's the "done" thing doesn't mean you have to do it. So perhaps skip the skydive and spend your cash on enjoying a longer trip.
Go couchsurfing – Couchsurfing is the ultimate money-saving trip for savvy travellers. There are so many couchsurfing hosts in New Zealand so finding someone to host you shouldn't be too difficult. You will also get the benefit of local advice and meeting some like-minded people too.
Have a water bottle: Don't waste money on plastic, bottled waters; carry your own and refill it in the fountains and the tap. If you're worried about potable water, get a filtered bottle, like the GRAYL, which filters out 99% of viruses and bacteria.
Earn money while you travel: Teaching English while traveling is a great way to make ends meet! If you find a sweet gig, you may even end up living in x.
Become a volunteer with Worldpackers: Give back to the local community and, in exchange, you're room and board will often be covered. It's not always free, but it's still a cheap way to travel in x.
World Nomads' mission is to support and encourage travellers to explore their boundaries. They offer simple & flexible travel insurance, and safety advice to help you travel confidently.
They've been doing it since 2002 – protecting, connecting, and inspiring independent travellers just like you.
Get a quote below or read our in-depth review!
World Nomads provides travel insurance for travelers in over 100 countries. As an affiliate, we receive a fee when you get a quote from World Nomads using this link. We do not represent World Nomads. This is information only and not a recommendation to buy travel insurance.
New Zealand doesn't have to be an expensive country to travel in. There's plenty of ways to keep travel costs low and soak up its vast and breathtaking nature. Tons of us intrepid backpackers make it to the country and are able to travel on a shoestring, and there's no reason you won't be able to either!
Let's re-hash some of the easiest ways to keep the cost of your trip to New Zealand low so you don't end up over budget. Follow these tips and you will be able to spend more time enjoying your adventure, and less time worrying about running out of cash:
Go out of season – Like so many destinations, travelling in high season will mean paying a lot more for your trip. Travelling during the holidays means expensive accommodation prices and cheaper flights. Low season runs between June to October.
Don't eat out all the time – If you end up eating out every night on your trip then you're going to eat into your budget very quickly. It's always cheaper to cook meals for yourself, so opt for self-catering accommodation or hostels with communal kitchens so you don't end up eating at restaurants so often.
Keep an eye on your budget – New Zealand is pretty pricey compared to other destinations around the world. You will need to be disciplined with your travel budget if you want to stretch your dollars. Budgeting will be key to getting the most out of your cash.
Opt for a hostel – If you're travelling solo then hostels will be cheaper than a hotel or Airbnb. You will also be able to pick up travel tips and advice from other travellers which can be invaluable.
Drink Tap Water – Tap water in New Zealand is totally drinkable, so don't waste your cash buying bottled water (this will help unwanted plastic waste too). Carry a refillable water bottle and use the numerous fill-up stations when you want to quench your thirst.
What we think the average daily budget for New Zealand should be:
With all our money-saving tips, we think the cost of a trip to New Zealand can be between $80 to $120 USD per day.
Before you go, check out our essential packing list. Trust us – buying in New Zealand what you forgot to pack at home can be expensive, and just eats into your budget!
---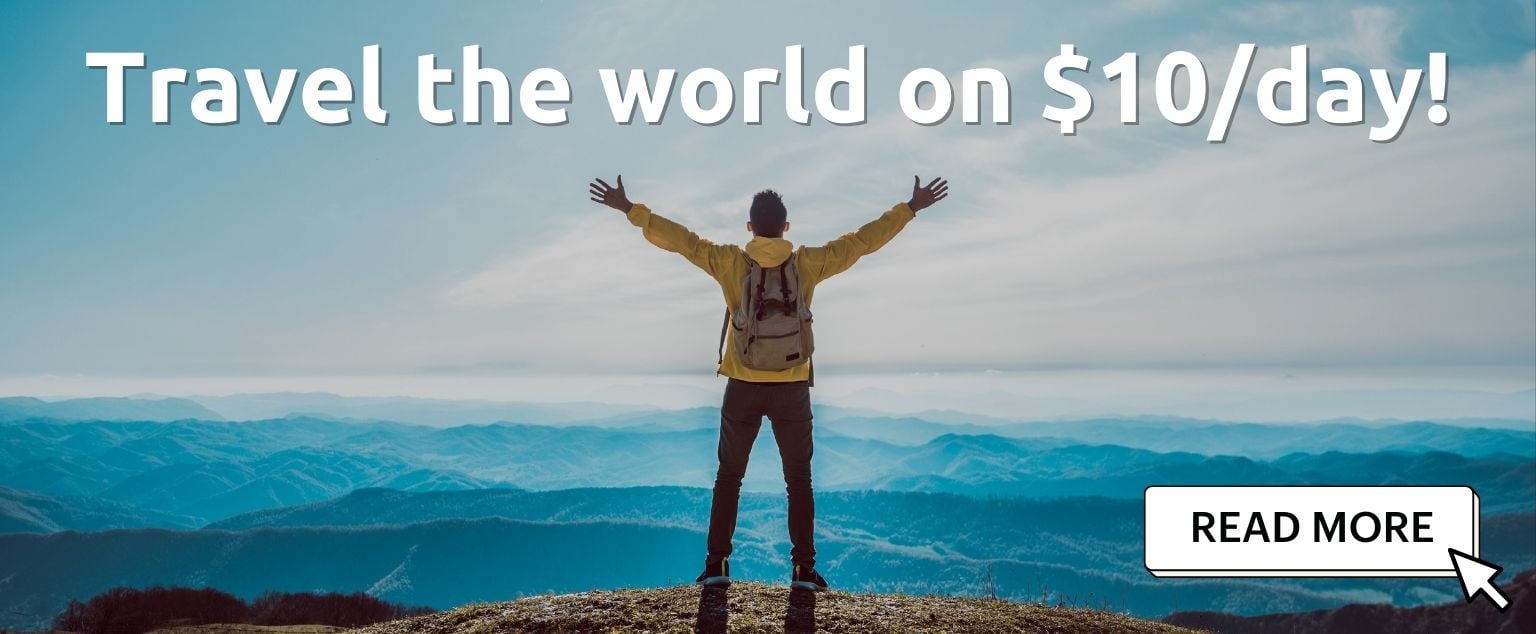 And for transparency's sake, please know that some of the links in our content are affiliate links. That means that if you book your accommodation, buy your gear, or sort your insurance through our link, we earn a small commission (at no extra cost to you). That said, we only link to the gear we trust and never recommend services we don't believe are up to scratch. Again, thank you!