A friend once claimed that the only thing he hadn't seen while diving in New Zealand was a mermaid.
You've got your coral reefs and tasty crayfish in the north, an abundance of dolphins and fur seals all over, AND those spooky black coral trees down in the icy southern fjords. Plus, the chance to dive on a freaking live volcano.
So no matter where you dive in New Zealand you're bound to see something epic!
But as with any time we get a bunch of choices, we start to overthink it:
How do I choose the best dive in New Zealand?
What do I even pack to go on a diving adventure?
And what did I hear about a sunken Russian cruise liner!?!?
The easy answer to this, of course, is you come on over to The Broke Backpacker and consult this resident old salt for their take on the best dives in New Zealand.
Because, you know, I got you!
Prices, locations, and how to dodge – or find 😉 – great white sharks: it's all in this guide. Baby divers and scuba pros alike, it's time to deflate your BCD and descend into the planning stages of your next diving adventure.

Unlock Our GREATEST Travel Secrets!
Sign up for our newsletter and get the best travel tips delivered right to your inbox.
The 10 Best Diving Spots in New Zealand
In a country blessed with something for everyone, a best-of list will probably ruffle a few feathers. Inevitably, it will un-include somebody's favouritest ever diving spot or won't have enough of one type of diving for that one diver who only does that one type of diving.
Yeah, cave divers. I'm looking at you. I'm not going to suggest to a baby scuba diver that the best dive in New Zealand involves a four-day crawl through a subterranean lair. I'm just not.
That being said, if you can get through my sneaky bias for the magnificent South Island – the best place to stay in New Zealand, hands down – you will find there are must-do dives for everyone here.

So, let's start with the best!
#1: Poor Knights Island
Best dive for beginners… (But also Jacques Cousteau!)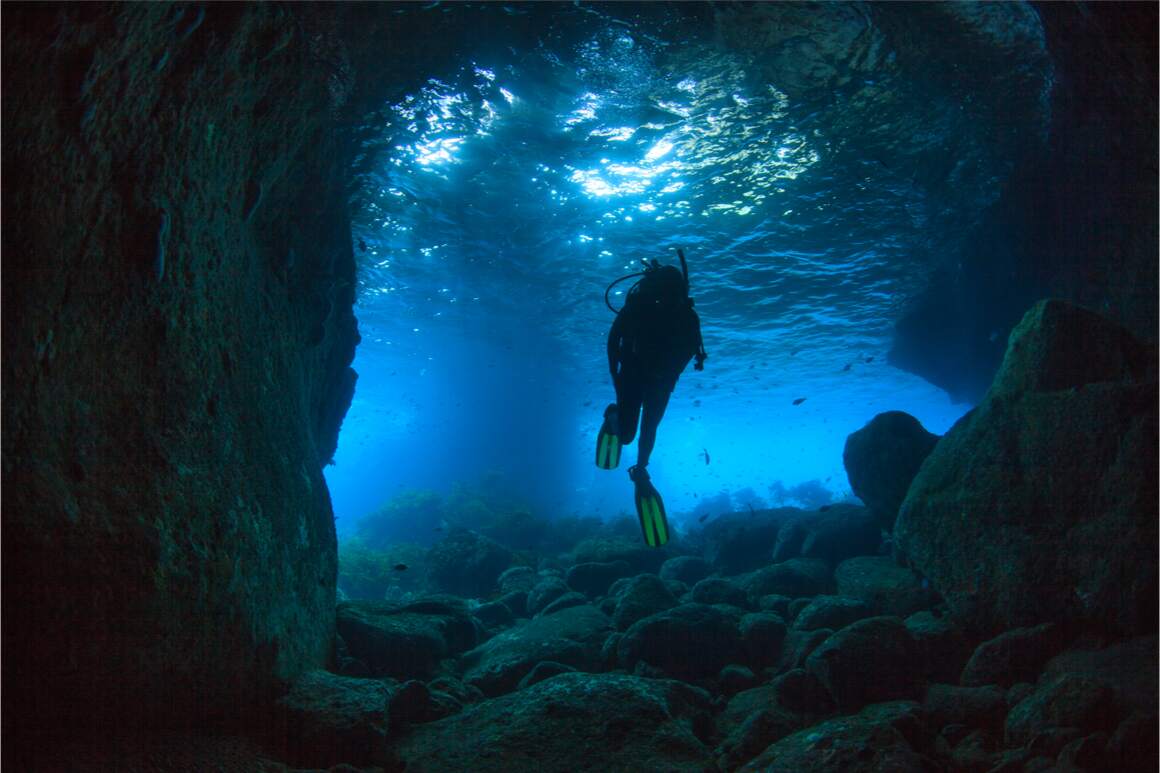 Where: North Island
Visibility: 10 – 18 metres
Difficulty: Beginner
Depth: 15 – 30 metres
This is where I'd recommend beginner divers come to play. The Coral Sea Current comes from back over in Australia on a southeasterly retreat straight to the Poor Knights Islands. So? So it brings with it warm waters that you just won't find elsewhere in New Zealand.
As an Australian, I'll say it: you're welcome, New Zealand.
You can get up close and cuddly with a host of reef dwellers, and even the occasional green turtle! There's also the world's largest sea cave here, rumoured to have hidden a Japanese submarine during WW2…

Even for you old scuba pros, this site should still be at the top of your list. The Father of Diving, the wearer of that adorable red beanie, one of the first (albeit flawed) champions for marine reserves, the one and only Mr Jacques Cousteau, claimed that the Poor Knights had the best subtropical diving in the world. A bold claim, but he's not wrong.
To get here, I'd suggest going straight to the source and leaving from Tutukaka. This can be a short one day dive that fits in well with a longer backpacking trip around New Zealand.
#2: Mikhail Lermontov Wreck
The BEST wreck dive in New Zealand.
Where: South Island
Visibility: 4 – 15 metres
Difficulty: Intermediate – Advanced
Depth: 35+ metres

I love wreck diving, you love wreck diving, we all love wreck diving! And this bad boy is one of the biggest and best wrecks to dive in New Zealand.
At 155 metres long and 23.6 metres wide, still replete with a ballroom, this sunken glory will have you thinking titanic-schmitanic.
It's not the easiest dive to do in New Zealand, but it does have the funniest story:
In 1986, a luxurious Soviet cruise ship peeked out from behind the Iron Curtain. It fell victim to the notorious labyrinthine channels of the Marlborough Sounds and then it was, as the Russians say, do dna (to the bottom). Yep, you heard it right. A cruise ship full of communists crash-landed in little old New Zealand.
A truly Kiwi-style rescue involving fishing vessels and the Interislander ferry made sure 738 passengers made it out alive, bar one. You can't save 'em all, unfortunately.
This wreck rests a fair way into the Marlborough Sounds, so it's probably best to go there with a local dive company and their nice speedy boats with good navigation equipment, unless you're adept at travelling by boat yourself.
#3: Kaikoura (Barney's Rock)
The best dive for those cute-ass seals and dolphins!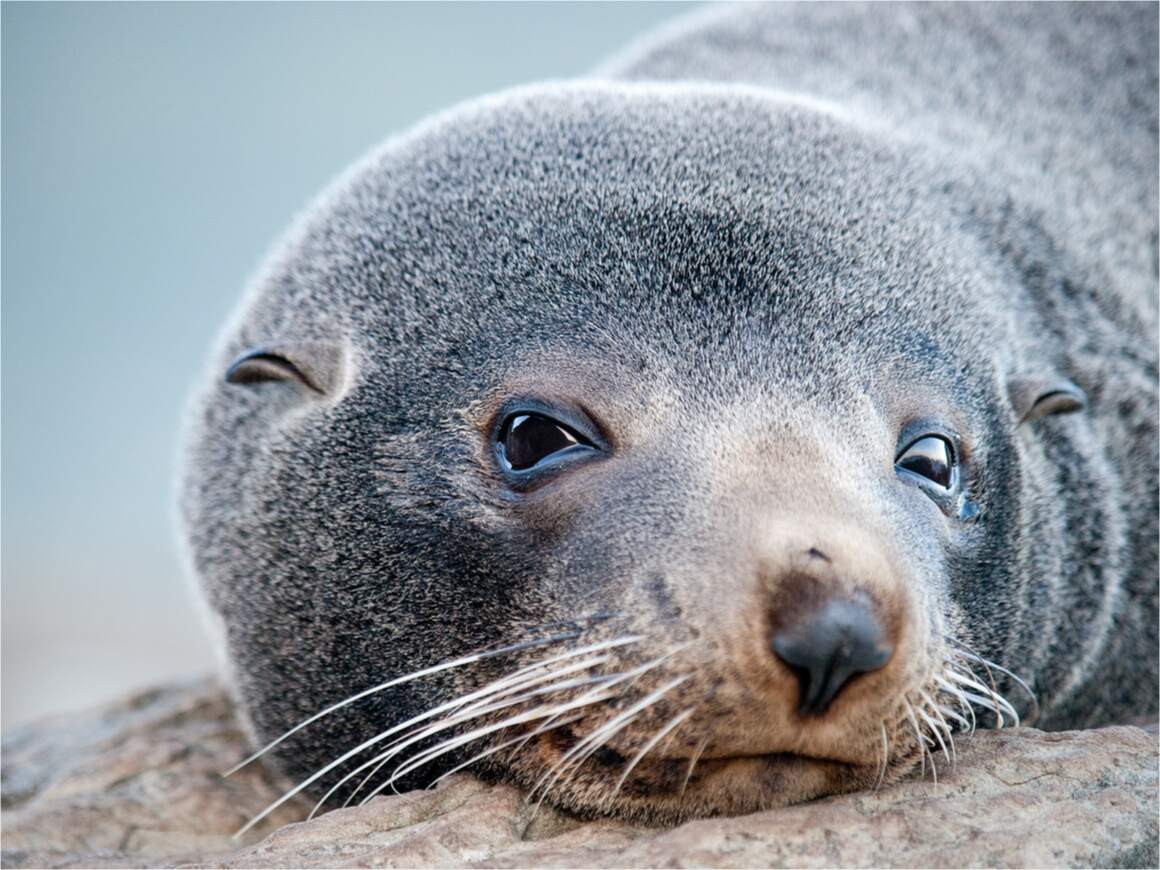 Where: South Island
Visibility: 5 – 15 metres
Difficulty: Beginner
Depth: 5 – 10 metres

Just a 200 metre swim from the shore, this dive site boasts a whole host of sea life. This is a marine lover's paradise: from blue cod and butterfish to the cutest fur seals and dolphins, you'll see it all here!
Whether it is your first time or your hundredth-time scuba diving alongside the seals and dolphins, you know it is sure to be a humbling experience. Be sure to indulge a dolphin lover in their latest theory about when the dolphins will take over the world – if only they had hands, man…
Since one of the larger earthquakes in recent memory, the road into Kaikoura can be laden with roadworks so be sure to leave yourself enough driving time or check the traffic info beforehand.
#4: Milford Sounds
ALL OF IT IS THE BEST!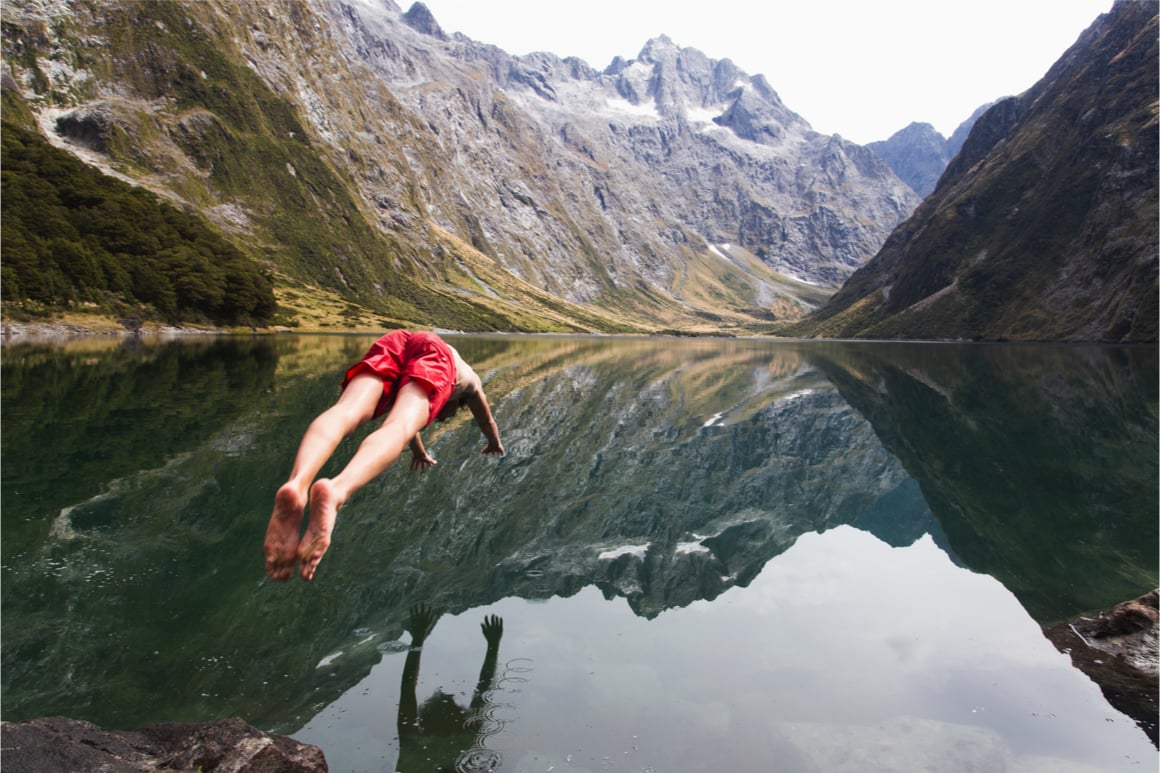 Where: South Island
Visibility: 5 – 15 metres
Difficulty: Beginner – Intermediate
Depth: 10 – 30 metres

So… seals and dolphins, epic Russian cruise liner wrecks, and the balmy Poor Knights managed to knock this out of the number one spot, but the Milford Sounds remains my favourite place to scuba dive in New Zealand.
Those black coral trees that are normally only seen beyond 100 metres? Boom – you see them here.
A layer of freshwater sitting on top of cold saltwater in an epic physics magic trick? Boom – you see that here too.

You old scuba pros should recall that the aforementioned Father of Diving once donned his crimson red beanie and proudly declared the Milford Sounds to be 'the last frontier of diving'. He was right.
This place is unreal.
While Milford Sounds frequently features amongst the best hikes in New Zealand, I'd argue it should be known for its diving. Just remember your drysuit – water temperatures are 8 – 12 degrees Celsius!
#5: Stewart Island
The Best Cage Diving in New Zealand.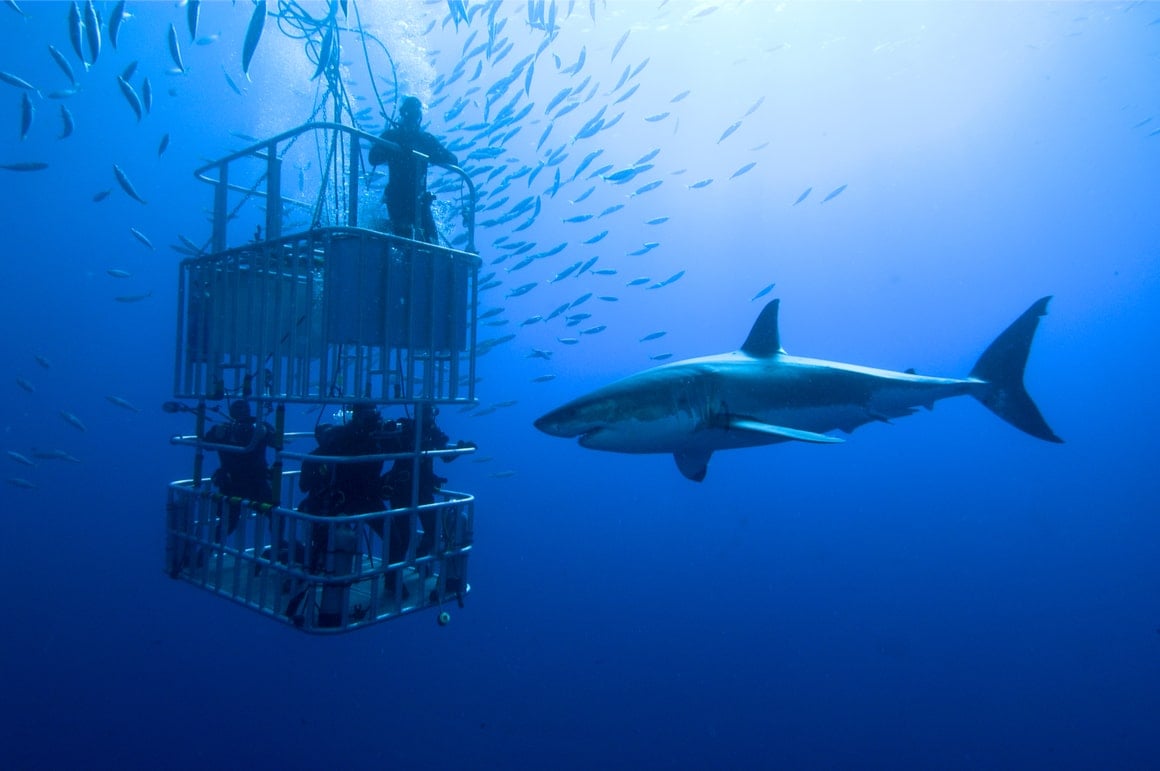 Where: South Island/Stewart Island
Visibility: 5 – 15 metres
Difficulty: Beginner
Depth: Less than 5 metres (cage diving)

Don't put away those dry suits just yet because if you drive the South Island to the very bottom, jump on a boat, you will arrive at Stewart Island! And there is some truly epic diving to be done still.
You want crayfish risotto for dinner? You want to play with the barking sea dogs (I mean seals) again? Of course, you do.
Stewart Island is also home to aggregates of great white sharks. So you can cage dive here and get nose to nose with the most majestic creature that's roamed the ocean since the Cenozoic.
You don't need to be a seasoned scuba pro to jump in the cage, but you do need to have some unfulfilled desire to do something fucking INSANE. I mean, diving with sharks. Madness! (Don't worry – I know, I know; we're far more of a threat than they will ever be.)
You can get to Stewart Island from the wee town of Bluff back on mainland Aotearoa. So while you're there and not diving, be sure to chow down on the legendary Bluff oysters.
Oh, and maybe pack a vomit bag for the crossing between Bluff and Stewart Island. The Foveaux Strait is not known for its calm temperament!
#6: HMNZS Canterbury
The best wreck dive for beginners.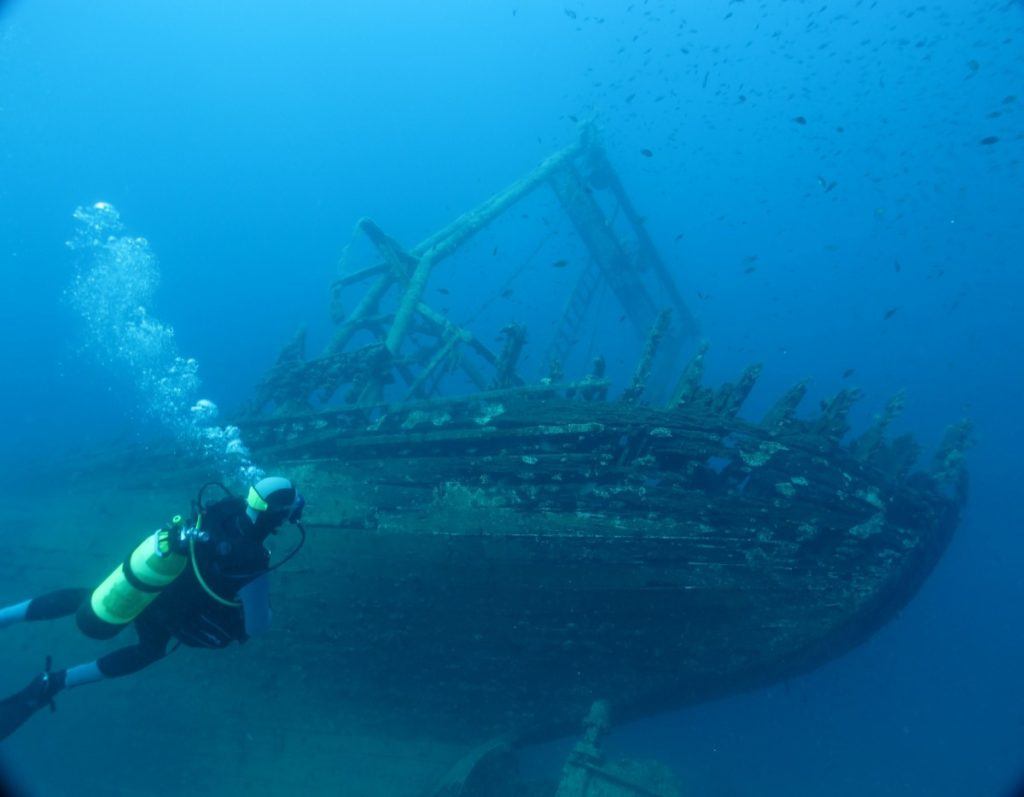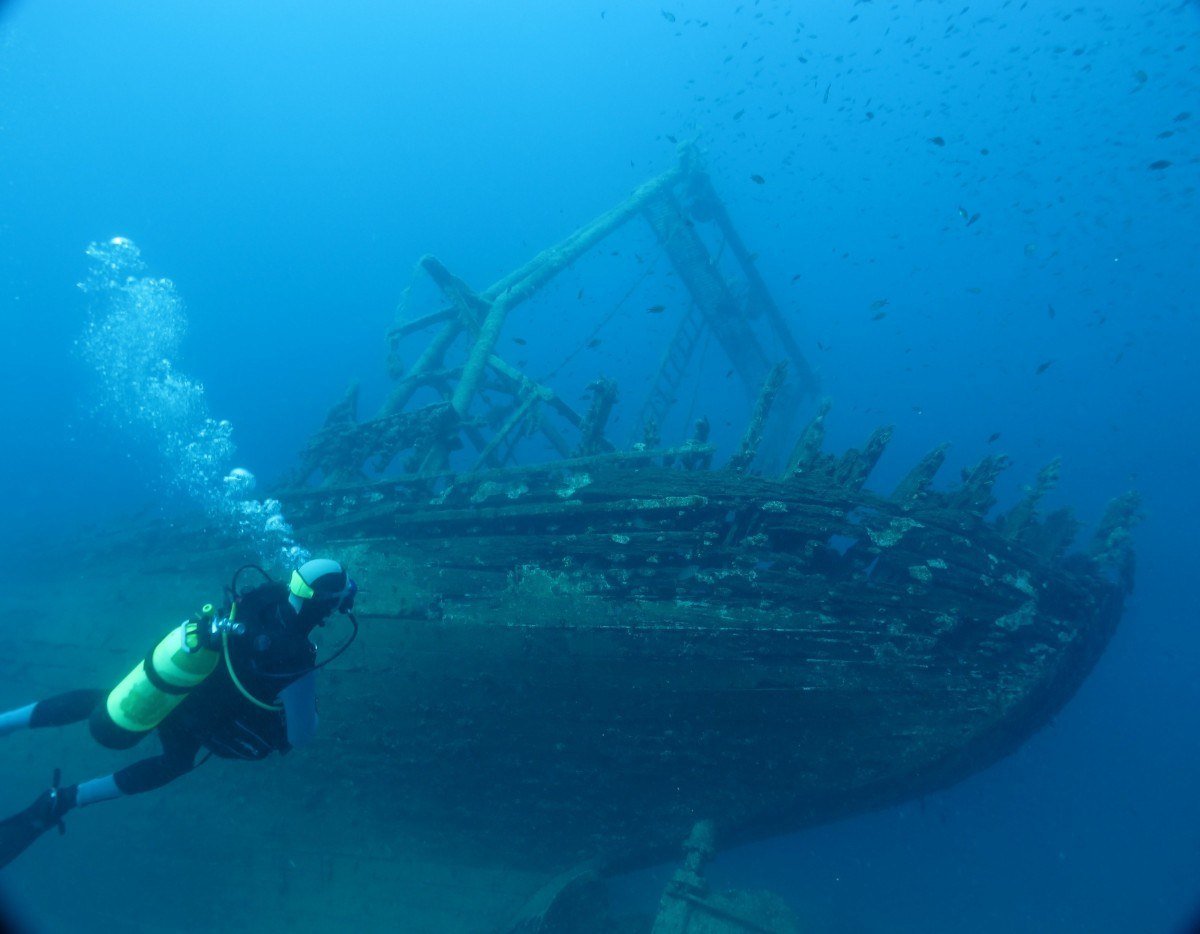 Where: South Island
Visibility: 8 – 30 metres
Difficulty: Beginner – Intermediate
Depth: 12 – 18 metres
There are 113 metres of this awesome wreck to explore. Better yet, oodles of interesting fishies have started to make the HMNZS Canterbury their home.
This badass wreck is better suited to first-time wreck explorers, as it lies a little shallower and has better visibility than the Mikhail Lermontov wreck.
If you're staying in Christchurch, several dive companies run day tours out here, so logistically, it's an easy spot to dive in New Zealand that fits into a broader itinerary. This dive is perfect if you're short on time and still want a taste of the epic diving to be had here.
#7: Akaroa (Pohatu Marine Reserve)
New Zealand's best kept dive secret.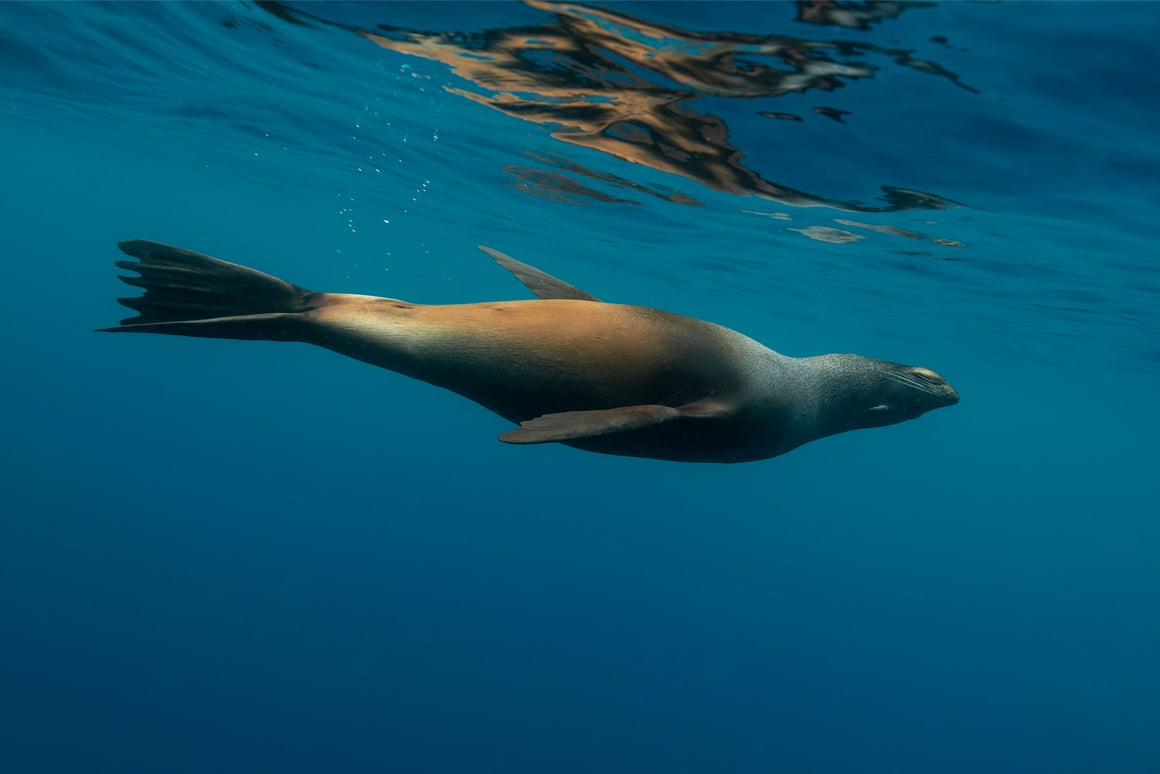 Where: South Island
Visibility: 5 – 10 metres
Difficulty: Beginner
Depth: 5 – 18 metres

There is a luscious kelp forest here that gives way to volcanic crags and more cheeky crayfish. This IS a marine reserve, though, so looking but no touching, please. Responsible tourists are New Zealand's favourite tourists.
It is a perfect example of the power a marine reserve can have on depleted fish stocks. Once set netted to depletion, this dive site is now teeming with life. Also, the sea doggos (I mean fur seals) are known to come to check you out!

Access is more difficult as you need to follow a very steep 4WD track, but luckily some boats are leaving from Akaroa that can take you there. You could even combine this dive site with a penguin spotting mission as this is the largest little penguin colony on mainland New Zealand!
#8: Motiti Island, Tauranga
New Zealand's best range of diving.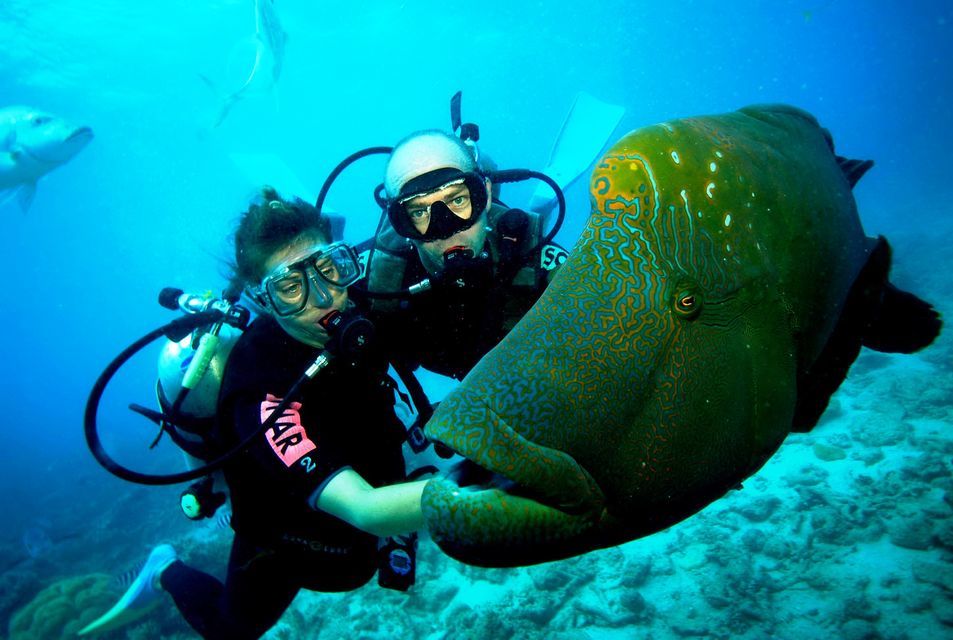 Where: North Island
Visibility: 10 – 30 metres
Difficulty: Beginner
Depth: 5 – 30 metres
Whether you're a baby diver who wants to go and marvel at the kingfish and crayfish, or you're looking to get deep inside another awesome wreck, Motiti Island has got something epic in store for you. (It's also just a real nice spot to chill and do nothing at to take a break from all the wildly adventurous stuff to do in New Zealand.)
The SS Taioma was specifically sunk so there would be a wreck to dive in the Bay of Plenty. Us divers are so lucky! There are also a couple of awesome reefs to dive here if you don't feel like your cruisy Saturday is best spent trying to find your way out of a sunken boat.
Some fishing and collecting of kaimoana (food gathered from the sea) was permitted here, but as of 2021, there is a new blanket ban on all fishing on the reefs around Motiti Island whether commercially, recreationally, or customarily.
Still, the diving here is relatively warm, the visibility is amazing, and the pace of life on Motiti Island is super slow. It's time to come out and hit pause on the rat race, folks!

Motiti Island is best accessed in a boat leaving from Tauranga on the mainland.
#9: Volkner Rocks, White Island
The best dives on an active volcano!
Where: North Island
Visibility: 10 – 30+ metres
Difficulty: Beginner
Depth: 20 metres (average)

Ok, so these are actually the only scuba dive sites in New Zealand on an active volcano (ipso facto they're the best!).
But still, you can head out to a live, freaking volcano and dive somewhere like the Volkner Rocks – home to kingfish, moray eels, golden snapper, and dolphins.
That beautiful warm current is gifted to this site from the Coral Sea back in Australia (again… you're welcome), and the visibility is usually excellent.
Road trippers and vanlifers exploring New Zealand, this is another dive that's easy to smush into your route. You can leave from Whakatane with one of the local operators to make the most out of your experience.
Seriously, I keep plugging local dive companies, but these guys have boots on the ground. You will learn a tonne more going with old mate who's been diving for fifteen years than if you and your bud just jump in the water and hope for the best.
#10: Taputeranga Marine Reserve
The best dive site near a city.
Where: North Island
Visibility: 5 – 15 metres
Difficulty: Beginner
Depth: 5 – 20 metres
The dive sites in the Taputeranga Marine Reserve, are perrrfect for beginners. There are walk-in entries from a rocky shoreline and open water courses run by Wellington dive companies.
Beginners and old pros alike are gonna be enthralled by the abundance of critters thriving in this marine reserve. Again, looking but no touching or taking from here, please.
Oh, and did I mention this dive site is only 6km from Wellington's city centre? Logistically, this dive is a breeze, and plus, you get to stay and hang out in Wellington which is one of the coolest capital cities in the world to go backpacking in.
DON'T DIE OUT THERE! …Please 🙂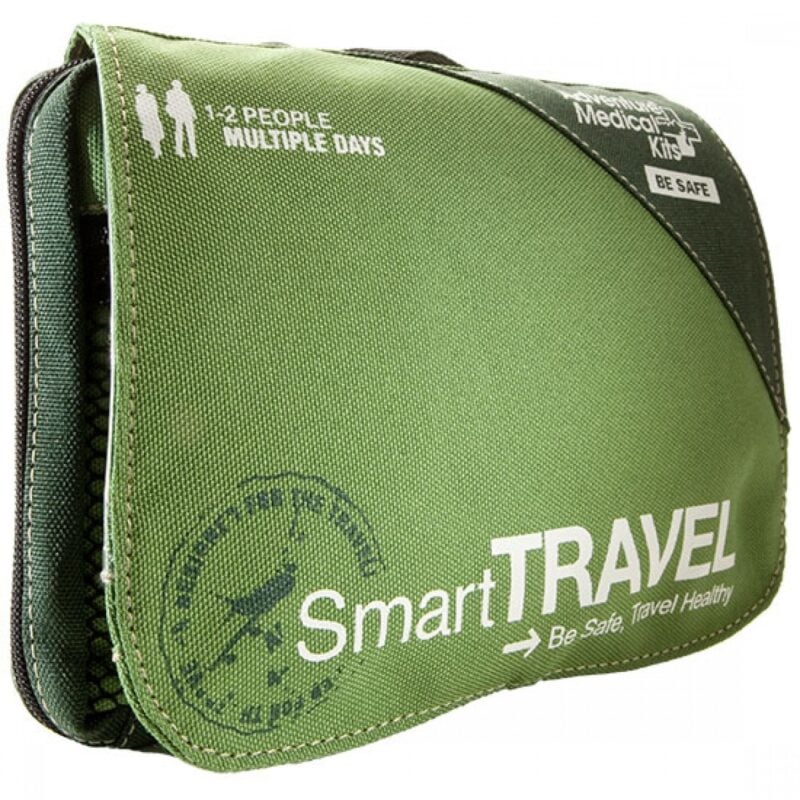 Things go wrong on the road ALL THE TIME. Be prepared for what life throws at you.
Buy an AMK Travel Medical Kit before you head out on your next adventure – don't be daft!
Buy on REI
Planning a Dive Trip to New Zealand – What You Need to Know
Diving in New Zealand pro: epic diversity!
Diving in New Zealand potential con: epic diversity.
What do you mean that's also a con?
Well, how do you plan to be diving in 22-degree water, and also 8-degree water? By being goddamn organised! You need to decide where you're diving and when you're diving, and then you can pack your bags accordingly.
Where to dive is easy; I just gave you the top ten dive sites! So while you're figuring out how to plan your trip, pick one to fit in with your itinerary. Or pick all of them, and pack a bigger bag!
But when should you visit New Zealand for a diving trip?
The Best Time for Diving in New Zealand
Well, it kinda depends on which island you're heading to…
Look, you can dive all year round here. But it's best to avoid June – August, and stick to the spring and summer months when the waters are warmer and there are fewer big ol' winter fronts to disrupt your diving days.
There is a shorter window of good diving weather down in these parts, folks. November – April is the best time for that underwater exploration.
You could stretch the weather windows in the north of the South Island to include May, but down in the Milford Sounds it is sometimes best to wait until mid-December and call it a season in March.
Essential Equipment for Diving in New Zealand
You can rent or hire your tanks and BCDs from any dive store in NZ. This is great because you physically cannot take your dive tanks on an aeroplane, and BCDs are known to be, well, cumbersome.
While you can rent your other equipment at dive stores too, I'd still recommend bringing a little of your own dive gear, namely a wetsuit. Don't be a cold diver, they get grumpy.
So, what do you need to pack for New Zealand, folks?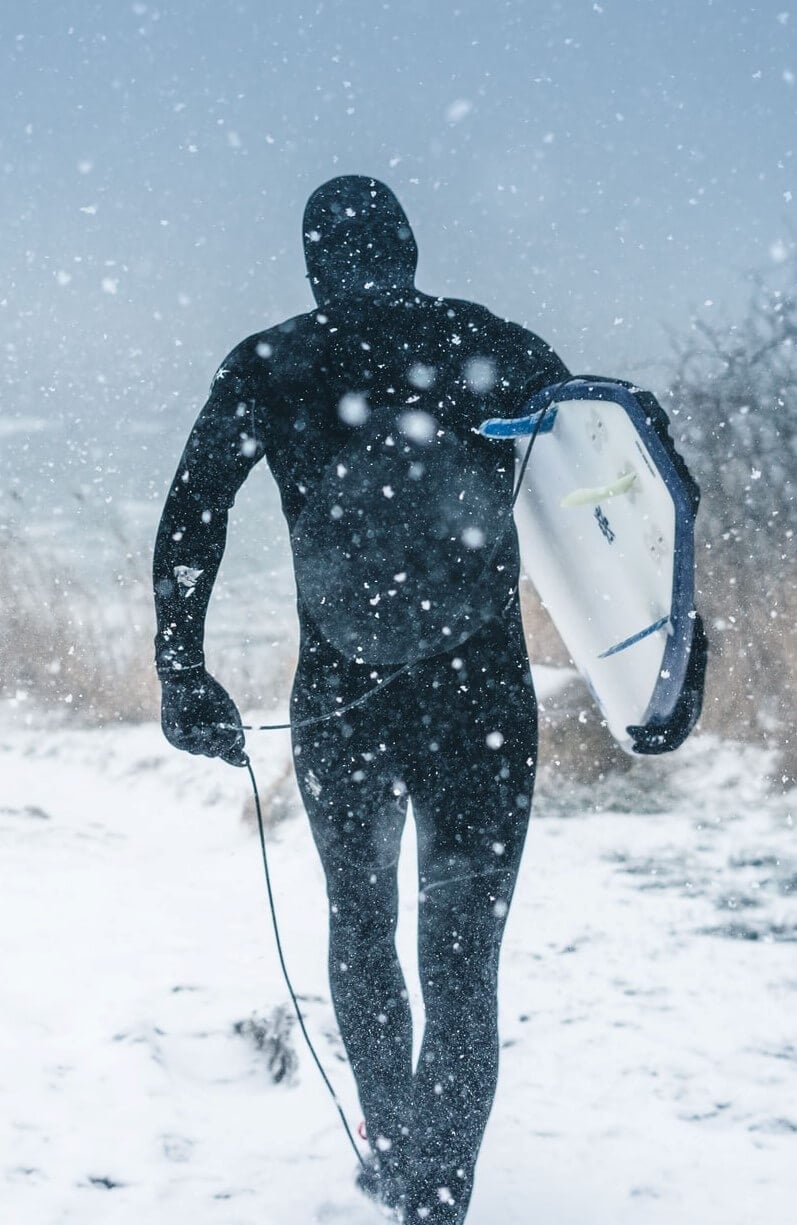 Wetsuit – Kiwis will dive in a 3mm maximum in the north island, and a 5mm maximum in the South Island. You might be cool with that, but I always layer up here, because I am sane with an appreciation for not getting hypothermia.
The further south you dive, even the Kiwis will go for the big guns. I'm talking 7mm minimum, or even a dry suit.
One way to get around the immobility of the thicker wetsuits is to keep your 5mm and layer it with a 3mm sharkskin. Sharkskin gives you the warmth of 3mm neoprene but with way more moveability. Shit's cool.
Hood – You'll want to try and get a wetsuit with an integrated hood or be prepared for one blue face when you get out of the water.
Neoprene socks/booties – Oh yeah, your tootsies are going to feel the cold here, even if you're in a dry suit. So underneath your fins, you should wear either neoprene socks or cosy booties. Unless you're in the balmy north or are a bonafide Kiwi; then maybe you don't need these.
Fins – Having your own pair allows you to avoid breaking in a new pair and getting blisters. Also, each pair of fins has slightly different buoyancy, so having your own allows you to be more attune to your trim. Yay!
Mask – This is straight-up a personal preference as most dive shops will let you borrow or hire one of theirs. But, having an awesome scuba mask that fits your face and doesn't leak, and also hasn't had other people's icky little faces in it, makes a big difference to your comfort levels on a dive.
Weight belt – Depending on the weight of your baggage, this might be easier to just hire on the day you go diving. But again, knowing exactly how much weight you need and how to distribute it across your bod' makes for a way more comfortable dive.
Gloves – For keeping your wee little fingers warm. Also, if you are allowed to take crayfish, they're spiky! Wear gloves before you go get dinner – trust me.
It goes without saying you should still pack your undies and other travel essentials!
A Note on Drysuits!
They are extremely cool. (As in, you can wear your thermals underneath them, get wet on your dive, get out, and then be completely dry!) However, they're not cheap.
Ultimately, the best way to stick to your budget while in New Zealand is to not buy a $1200 drysuit.
So if you're planning on diving over and over in the South Island, I'd say splurge, and also welcome to the dark side. We get to be dry the moment we're on deck.
But if you're only in the North Island, or you're only planning on one colder dive, I'd either try to hire one or layer up your wetsuit with sharkskin.
Diving New Zealand's Waters from a Liveaboard!
Yes, you can run around New Zealand yourself launching yourself off from every rocky shore and gallivanting as an intrepid solo diver and her buddy. But often the best reefs lay just beyond what is reached feasibly as an individual.
Enter scene left, liveaboards. Liveaboards are like sea-bases: you either live on a ship or close to some of the best diving destinations in the world, wake up, dive all day, go to sleep…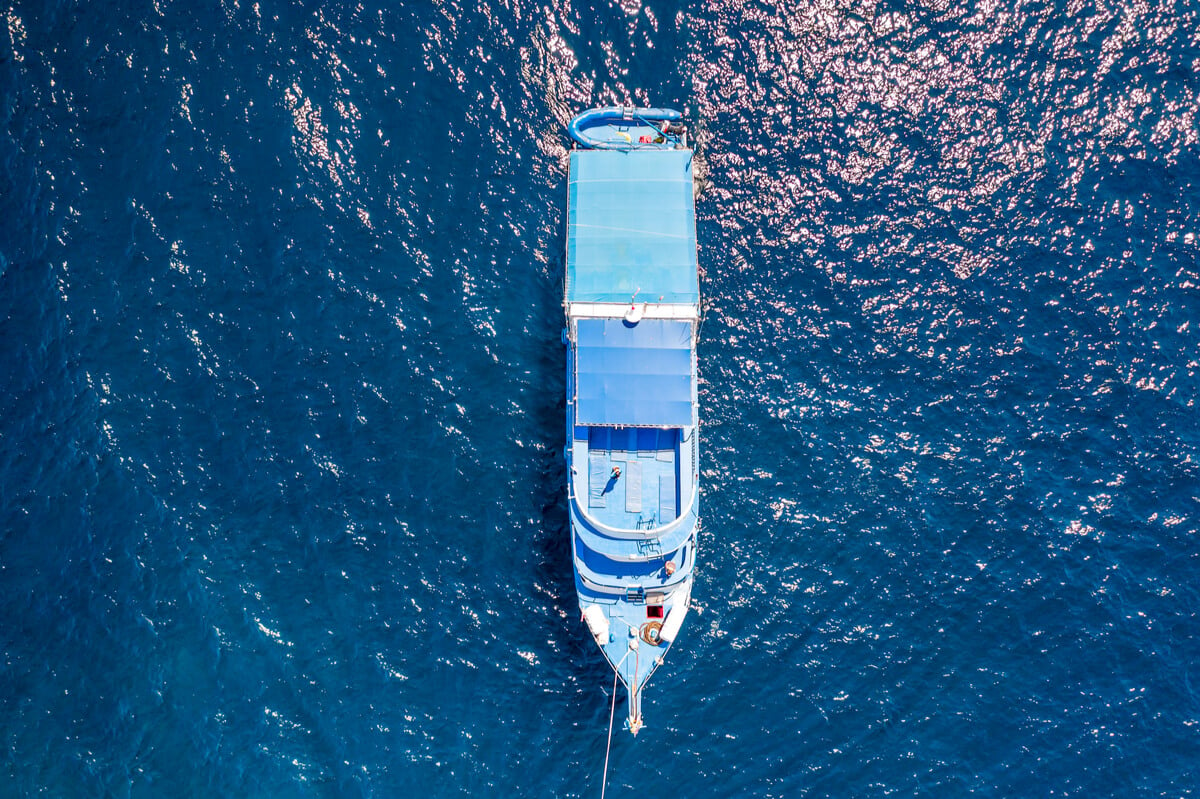 New Zealand has some pretty epic liveaboard packages, and when you get hooked on the liveaboard experience, you can head over to liveaboard.com to find your next epic adventure!
Stay Safe Under There
Baby divers, this is the old pros talking to ya now. Diving is super freaking cool, but it is not without its risks.
Dive within your limits. No one is putting a gun to your head, so no matter how bad you want to go out that day, don't tempt the bad weather gods! No matter how bad you wanna see the ballroom of that wreck, don't go in unless you know you can get out.
Don't hold your breath on the ascent. Yeah, yeah it's the first thing you learn and it's the first thing you forget when shit goes wrong. Breathe out and avoid those lung barotraumas, mmkay?
That brings me to the next point…
Panic slowly! When things go wrong, and sometimes they might, your body is going to do its glorious thing where it heightens all your senses and feeds you that sweet adrenaline.
Panic is not necessarily bad; it's your body being like, you know what team we need to leave now. But the hasty decisions you make when you let panic take over is when things get icky. So breathe in, breathe out, and panic slowly.
Dive with a buddy. So when you do start panicking slowly, you've got someone there to help you out.
OK, old pro to old pro. Remember: you are not a fish. Part of why you started diving is because it was a whole new world. Well, it never stopped being a whole new world, you just got more comfortable in it. So it doesn't hurt to stay fresh on the aforementioned tips either.
Diving's fun; drowning isn't. Refresh your diver safety skills and stay safe and sexy!
Because safety IS sexy.
And Get Insured for the Dive!
Baby divers and the new Jacques Cousteaus alike, you both may want to consider getting travel insurance because, well, shit happens.
All the goddamn time.
ALWAYS sort out your backpacker insurance before your trip. There's plenty to choose from in that department, but a good place to start is Safety Wing.
They offer month-to-month payments, no lock-in contracts, and require absolutely no itineraries: that's the exact kind of insurance long-term travellers and digital nomads need.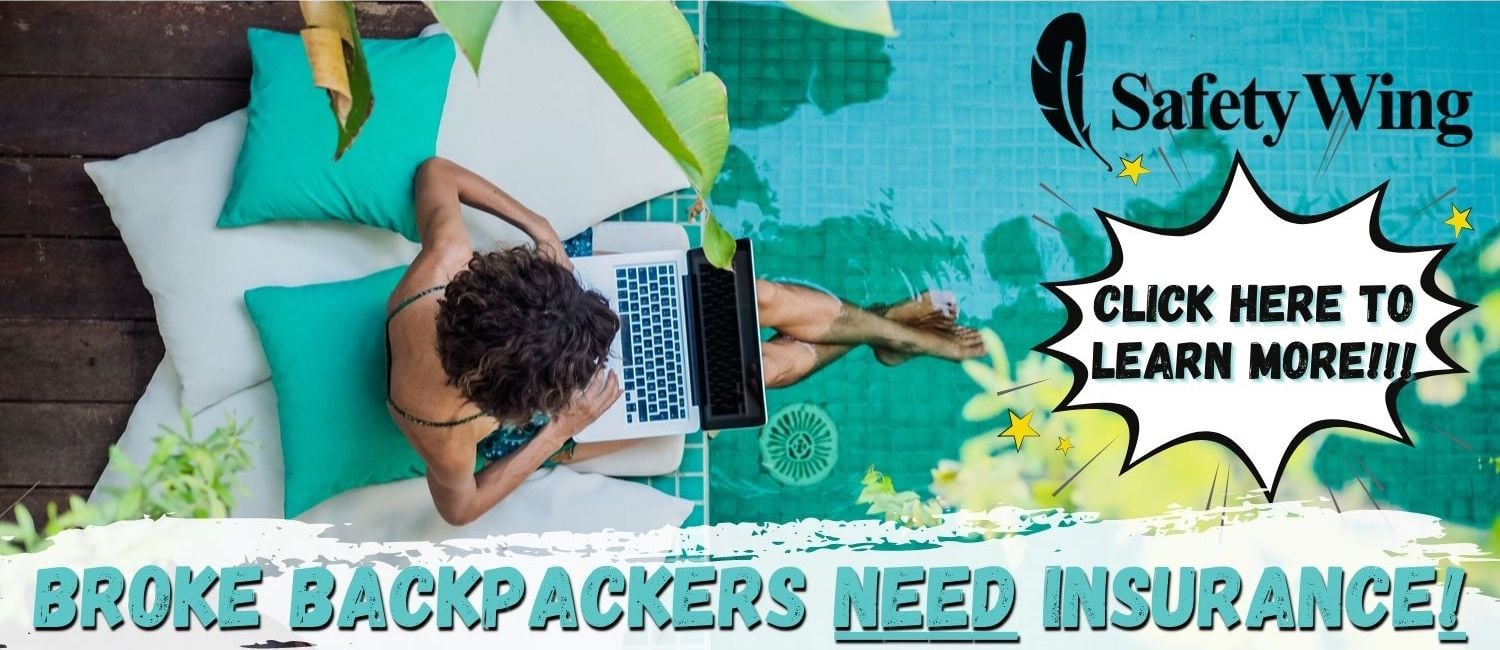 SafetyWing is cheap, easy, and admin-free: just sign up lickety-split so you can get back to it!
Click the button below to learn more about SafetyWing's setup or read our insider review for the full tasty scoop.
But Also, Stay Awesome!
Let The Father of Diving's words ring true:
Water and air, the two essential fluids on which all life depends, have become global garbage cans.
Let's do better, folks.
Don't use single-use plastic! It's a super simple consumer choice to make to stop extra garbage from accumulating in the ocean: reduce your plastic footprint.
If it's a marine reserve, don't go fishing. Don't touch marine life. Just be humble, watch, and learn.
Leave no trace. Just blow your bubbles, mmkay?
Save $$$ • Save the Planet • Save Your Stomach!
Drink water from ANYWHERE. The Grayl Geopress is the worlds leading filtered water bottle protecting you from all manner of waterborne nasties.
Single-use plastic bottles are a MASSIVE threat to marine life. Be a part of the solution and travel with a filter water bottle. Save money and the environment!
We've tested the Geopress rigorously from the icy heights of Pakistan to the tropical jungles of Bali, and can confirm: it's the best water bottle you'll ever buy!
View on REI
Read the Review
FAQs about Diving in New Zealand
Great white sharks are found in New Zealand's waters but they very rarely interact with recreational divers. Unless of course you go for broke and go cage diving in Stewart Island with them!
Look, it's pretty hard to go past the Poor Knights Islands. The water's warm, the vis is good, and there's heaps of sick fish.
What more do you want from a dive?
Ooooh there are just so damn many! I think if you're up for a challenge, then you should do the Mikhail Lermontov wreck. There aren't many underwater ballrooms to explore on this planet, and fewer still that were filled with them damn commie bastards!
Absolutely, my dude. You can find work here as a dive instructor/divemaster, and as a commercial diver. These are wildly different types of diving work requiring very different diving certificates, but it can be done!
It varies a little depending on where you go and how much of your own gear you have…
With all your own gear 2 dives at the Poor Knights is around NZD $200. 
Whereas 2 days and 2 nights of diving in the Milford Sounds is around NZD $900.
Where are you Diver One? New Zealand, topside.
Aotearoa, New Zealand, land of the long white motherducking cloud. Yeah, she's renowned with budget backpackers and adrenaline-soaked adventurers alike for her epic road trips, unreal landscapes, and hobbits.
But she should also be famed for her legendary diving.
Look, she might borrow the warm currents from the sexy Coral Sea in Australia, but she turns that into incredible reefs filled with all the freaking fish you could imagine, the occasional turtle, and the odd sea doggo!
The crayfish are particularly delectable, the locals are friendly as bro, and the dolphins have promised to eat the Kiwis last when they do finally take over.
So get exploring, my dear baby divers. There's so much to see and sample. It's a whole new world under there, and time is running out…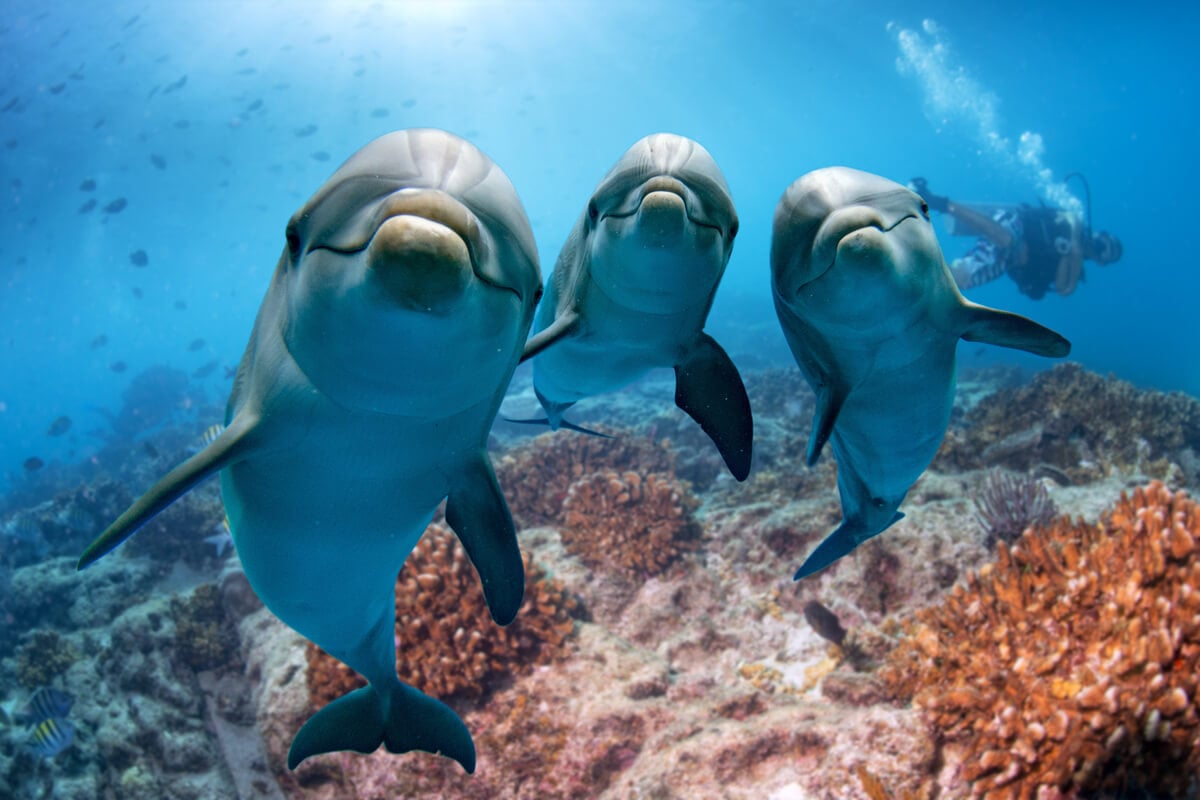 ---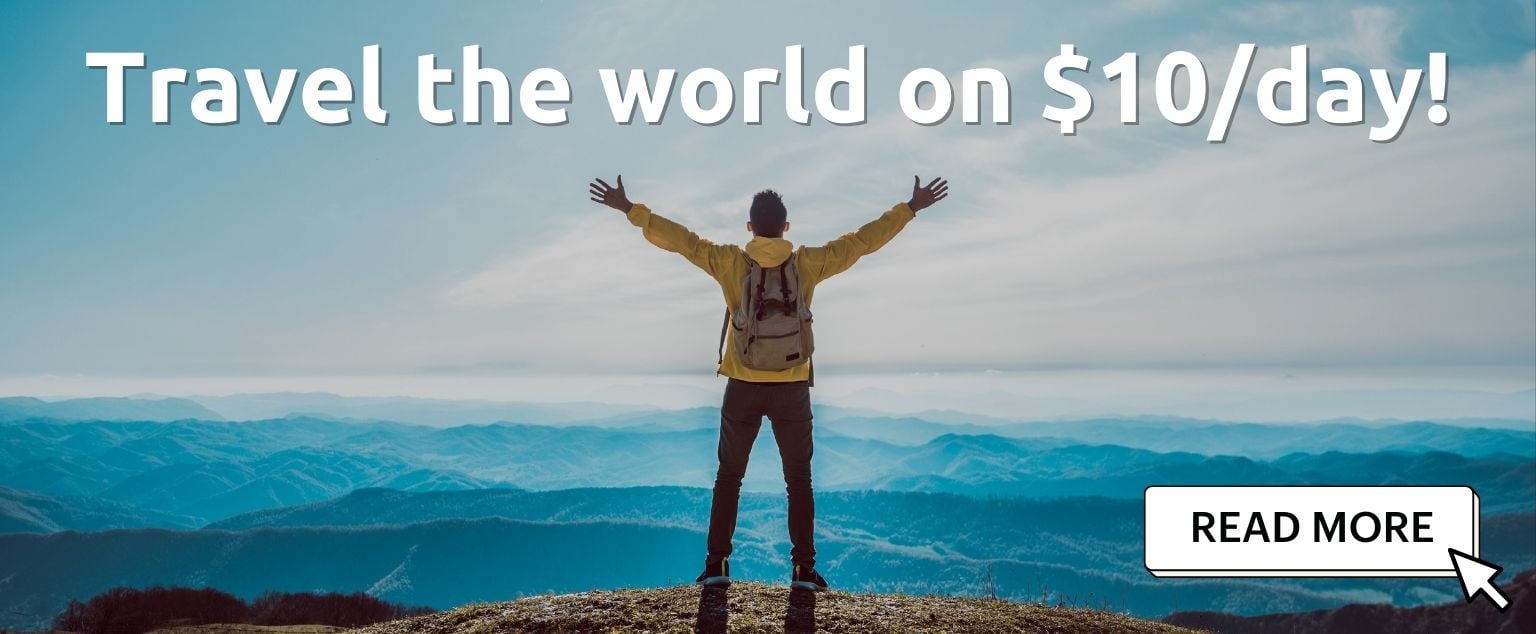 And for transparency's sake, please know that some of the links in our content are affiliate links. That means that if you book your accommodation, buy your gear, or sort your insurance through our link, we earn a small commission (at no extra cost to you). That said, we only link to the gear we trust and never recommend services we don't believe are up to scratch. Again, thank you!