New Zealand is one of the most popular countries in the world for tourists thanks to its gorgeous scenery, unique culture and laid-back lifestyle! Long a favourite with solo travellers and working holidayers, New Zealand has something to cater to everyone – whether you want fun family attractions, adrenaline pumping adventure activities or a calm retreat to nature.
Whilst New Zealand is a long established tourist destination, it can still be tricky to figure out where exactly to stay. Each area has its own pros and cons, and with so much on offer across both the main islands it can be hard to cut through the noise and discover where exactly you should be based when you choose to visit.
That's where we come in! We've figured out the seven best places in New Zealand, and categorised them based on who we think they are best for. Whether you want a single destination that has it all for a short trip – or a collection of some of the places that highlight everything the country has to offer on a longer adventure through the country – we have you covered.
So let's jump right into the Land of the Long White Cloud!

Unlock Our GREATEST Travel Secrets!
Sign up for our newsletter and get the best travel tips delivered right to your inbox.
Quick Answers: Where is the Best Place to Stay in New Zealand
Map of Where to Stay in New Zealand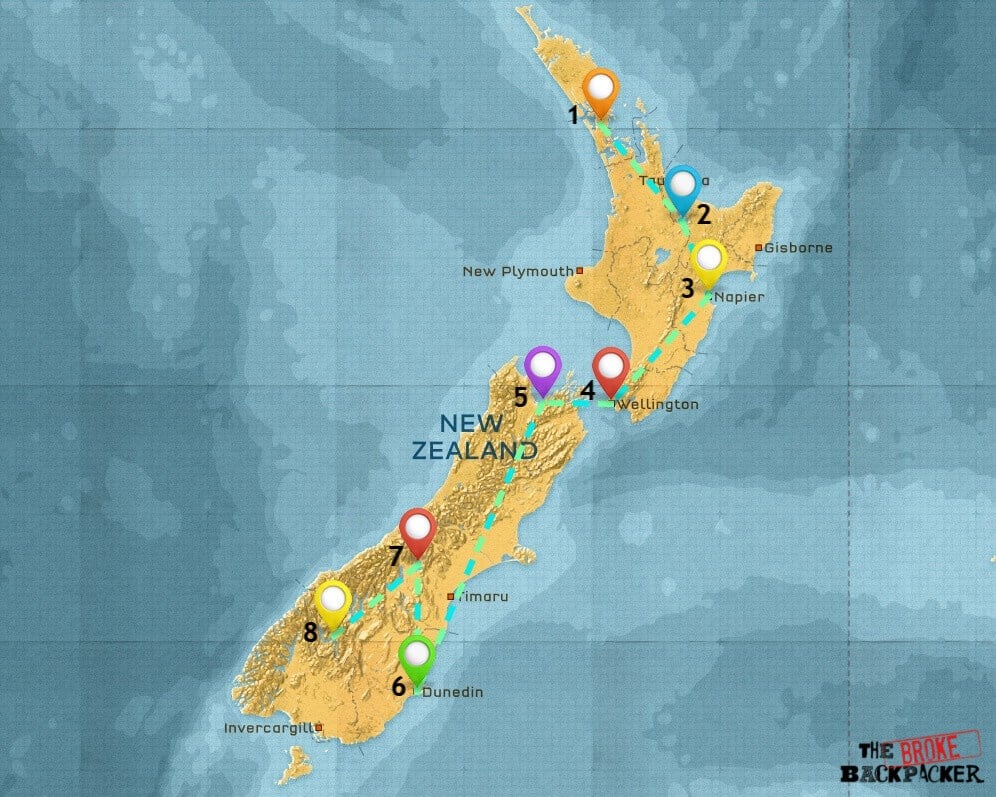 Wellington – Overall Best Place to Stay in New Zealand
Wellington is not only the political capital of New Zealand – but is also often considered the capital of cool in the country! This is where you will get a great introduction to Kiwi culture – from well crafted flat whites to winding nature trails and even spotless beaches featuring a selection of New Zealand's freshest dive sites. The city centre is home to independent boutiques and some of the best nightlife destinations in the city.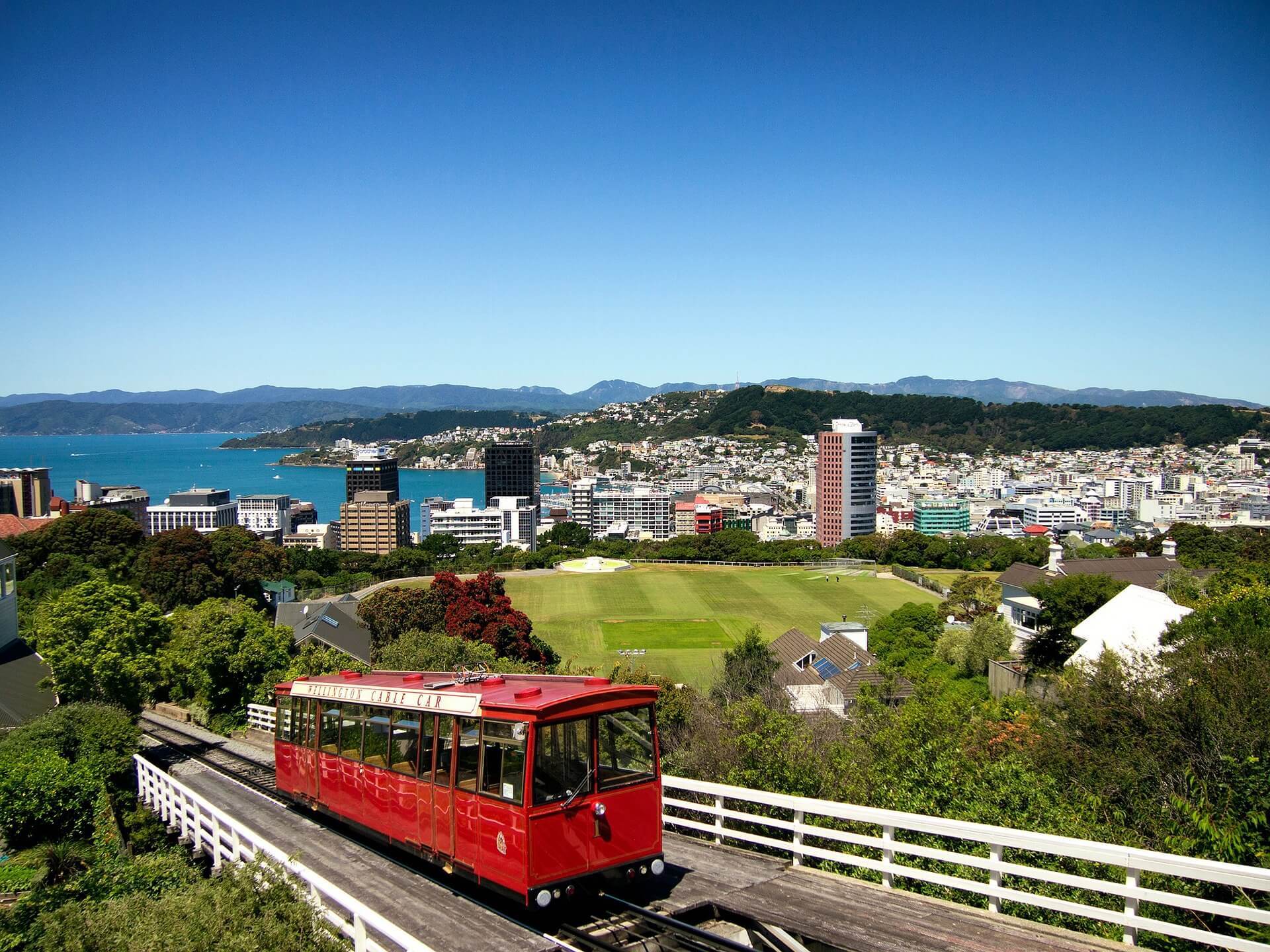 Speaking of Lord of the Rings, the WETA Workshop is based in Wellington where you can take an enlightening Wellington half-day city tour with WETA workshop exploration included. You'll learn how the special effects team made magical creatures, weapons and costumes to make fantasy worlds come to life whilst sampling some of Wellingtons' best cultural attractions for a jam-packed morning! Wellington also has its fair share of natural attractions, with some gorgeous beaches to the south and volcanic mountains surrounding the urban core.
Backpacking Wellington is an amazing experience since it's the perfect gateway between the North and the South Island! The ferry to the South Island departs from here, and the local airport also provides cheap connections to other cities across the country as well as access to some of the best New Zealand winery tours. Wellington is located right in the heart of New Zealand, and is a fantastic base for exploring further afield. There are many epic hostels in Wellington as well, making it easier to travel on a budget.
Best Places to Stay in Wellington:
Despite being the capital, Wellington is only the third-largest city in New Zealand – making it quite easy to get around! There are only a couple of neighborhoods in Wellington, but they're worth checking out. The compact city centre is walkable, and the outer suburbs provide a calm getaway whilst still benefiting from great public transport.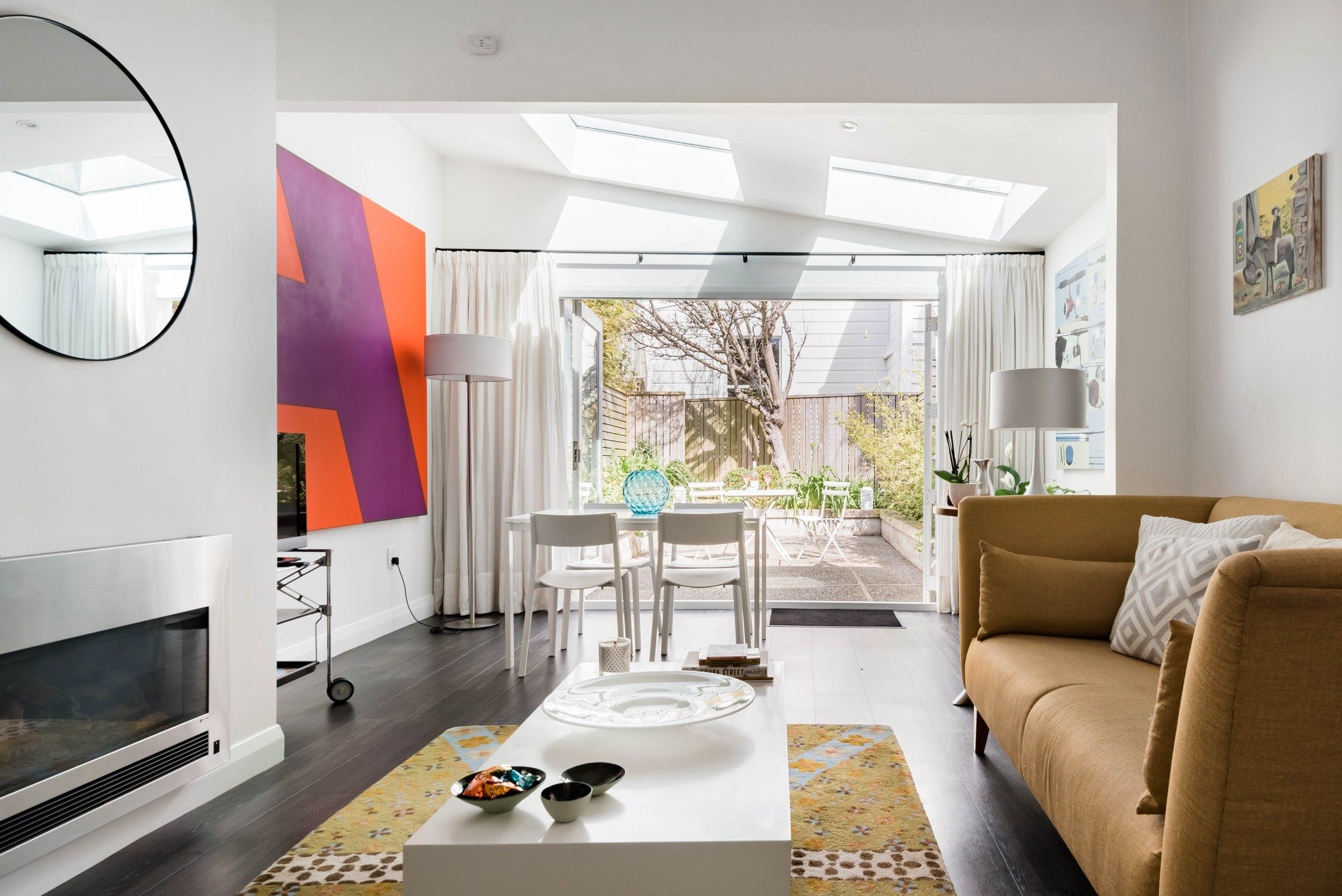 Airbnb Plus is a selection of the website's most stylish apartments – and all of them come with excellent customer reviews! This lavish pad in the Mount Victoria area of the city is well connected to the city centre, whilst still enjoying a peaceful neighborhood where you can unwind at the end of the day. Sleeping up to two people, this would be a great pad for couples and solo travelers in New Zealand.
The Dwellington aims to go above and beyond your usual expectations of a hostel and bring a touch of luxury to your backpacking experience! With vast common areas, the Dwellington has a social focus that includes tennis courts, a cinema room and a huge communal dining and cooking area. The dorms are equally spacious, and a complimentary breakfast is included making it a real good choice for backpacker accommodation in Wellington.
Best Hotel in Wellington: U Boutique
This creative hotel is right in the heart of Te Aro – one of the most vibrant neighborhoods in Wellington! Rooms are well equipped with all the modern conveniences, and guest numbers are limited for a cosy atmosphere. Courtenay Place is only a two-minute walk away, and the waterfront can also be easily reached on foot. It also comes with an outdoor terrace and hot tub.
Rotorua – Best Place to Stay in New Zealand for Families
Right in the heart of the North Island, Rotorua is a popular destination for learning about Maori culture – as well as the volcanic natural history of the island! Somewhat infamous among Kiwis for its sulphurous smell, this is a great place to check out some natural hot springs – as well as bathe in the volcanic waters from one of the many spas available across the town.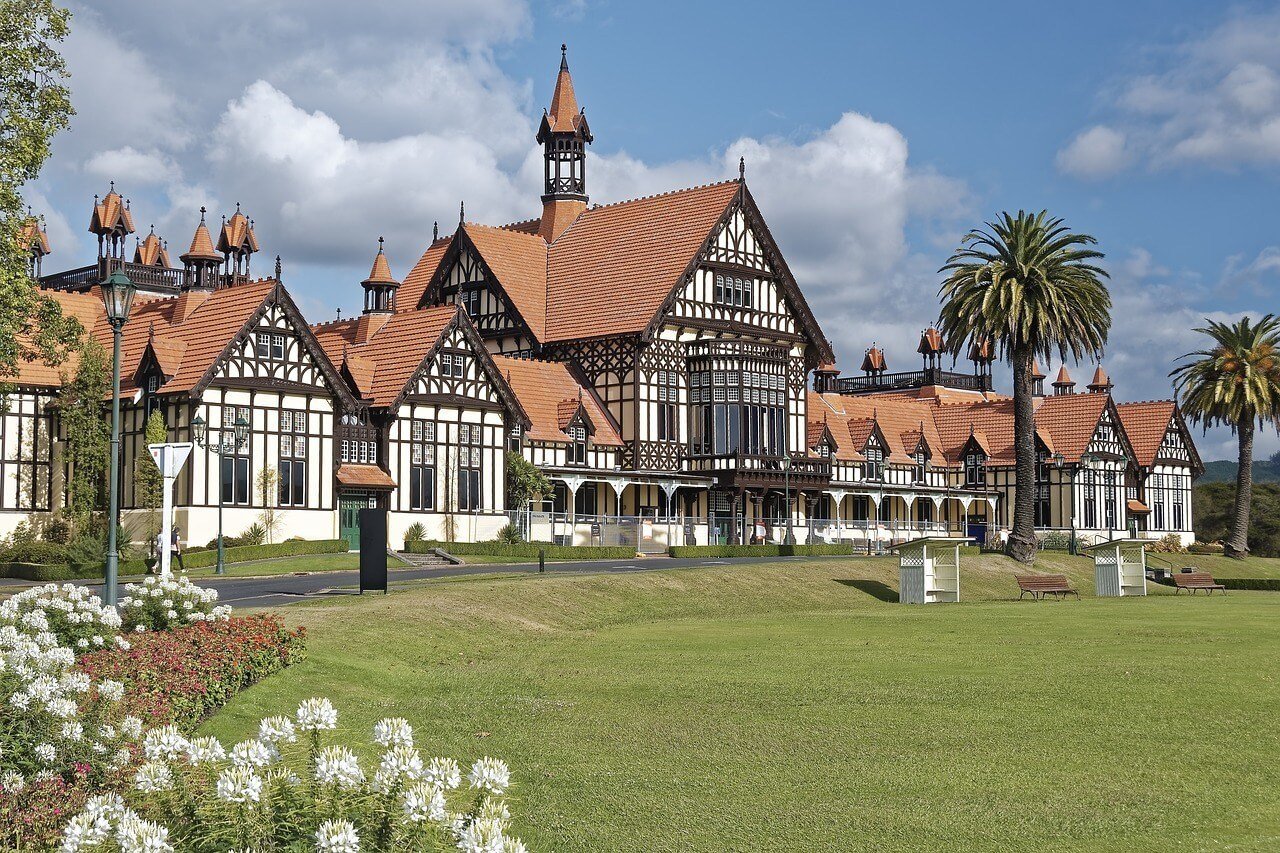 In terms of Maori culture, there are a few great cultural experiences available across the town for you to learn about Aotearoa's indigenous people. These can be a little touristy, but are curated by locals to reflect some accuracy! There are also a few hangi experiences where you can enjoy Maori style food.
For families, Rotorua is an easygoing destination that is still packed with tourism activities, but doesn't have the big crowds of the cities! There are also some great adventure activities that offer family-friendly alternatives – including zorbing, kayaking and luge rides.
Best Places to Stay In Rotorua
Rotorua is a small town with most accommodations based in the centre! This is also one of the best areas in Rotorua if you want to see the main attractions. If you want a more peaceful getaway amongst the local scenery, there are also a couple of great hostels, a few lodges and private villas located along the coast of Lake Rotorua and in the mountains.
Airbnb Luxe is the most upmarket service the website provides – alongside stylish homes, you can also opt for added extras including car rental, spa services and private drivers! This stunning home is just outside Rotorua, and comes with gorgeous views of the surrounding countryside. It sleeps up to nine people, making it a great pick for larger families.
This stunning hotel is right in the centre of Rotorua – giving you easy access to all of the main attractions in the area! It comes with a large heated pool that can be enjoyed by the whole family, and the on-site restaurant offers a great selection of Pacific cuisine and tapas. Rooms are kitted out with the latest modern technology, and the bathrooms come with rainfall showers.
Best Hostel in Rotorua: Funky Green Voyager
This is one of our favorite hostels in Rotorua, especially because it's a great pick for environmentally conscious travellers! It comes with a large garden area, including composting facilities, as well as complimentary bike hire for guests to easily get around the Lake Rotorua area. As hostels tend to be more family-friendly in New Zealand, families can benefit from the four-person private dorms if they want to save some cash.
Funky Green Voyager is one of our favourites in New Zealand but they're not taking guests right now. We're not sure if they're closed for good but we hope they'll come back soon.
Auckland – Most Romantic Place to Stay in New Zealand for Couples
Auckland is by far the largest city in New Zealand – home to a third of the nation's population – and is the main gateway into the country! If you're flying to New Zealand from Europe or North America, chances are you will arrive in Auckland. This cosmopolitan city sprawls across a narrow isthmus in the far north of the country, giving it a warm, maritime climate. There are many great neighborhoods in Auckland, each of them offering different vibes and attractions.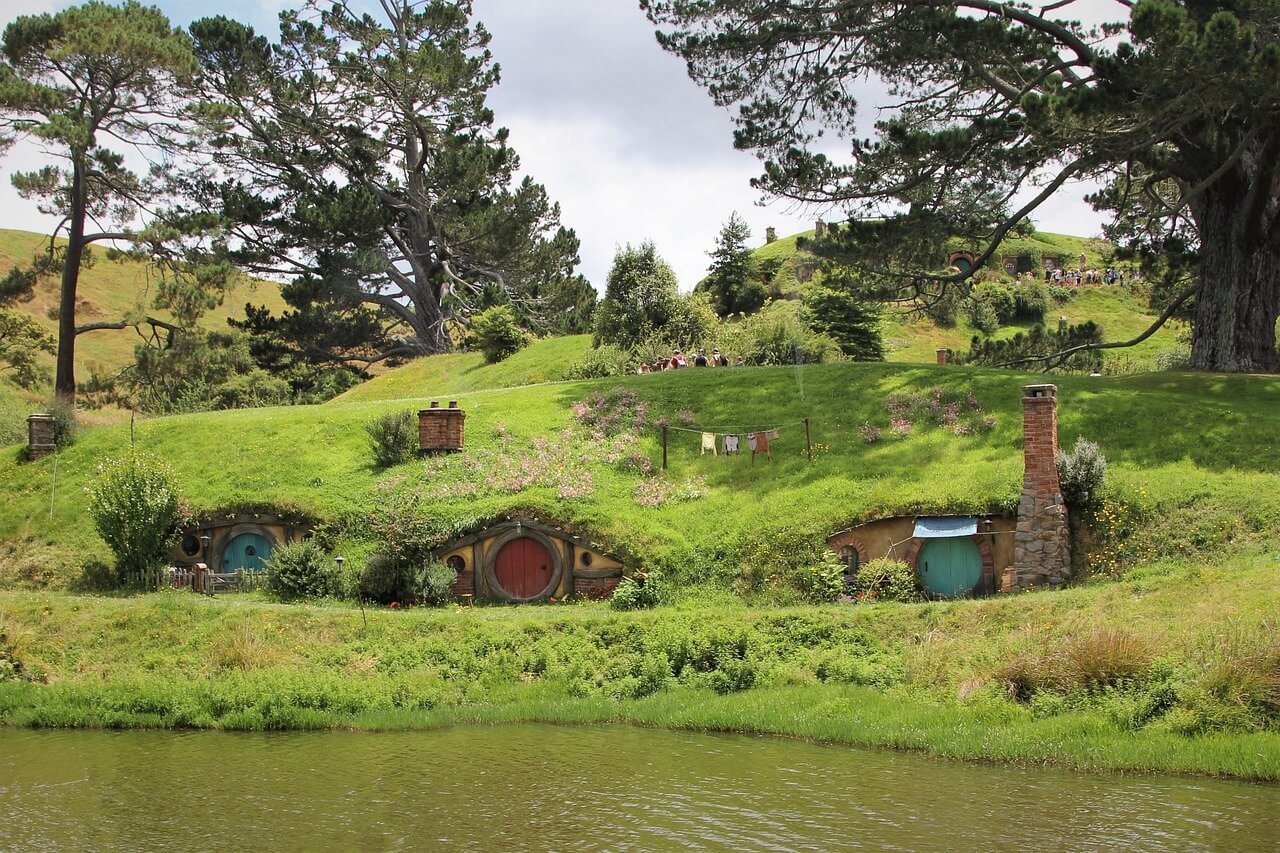 For couples, Auckland has an eclectic mix of bars, restaurants and luxury entertainment facilities that make it the perfect spot to enjoy a romantic getaway! The islands in the Hauraki Gulf – especially Waiheke – have long been a favourite destination for locals looking for somewhere calm and peaceful.
Aside from couples, Auckland is also a great destination if you want to enjoy a multicultural atmosphere – with plenty of Asian, Pacific and Maori restaurants and attractions throughout the area.
Auckland is also home to some stunning marine life and has a thriving waterfront scene. You can go scuba diving or embark on a whale and dolphin safari from Hauraki Gulf Marine Park. The tour lasts 4 hours and 30 minutes with a money-back guarantee if you don't see any wildlife. Every ticket purchased goes towards marine mammal conservation too and you'll get great views of Auckland's famous landmarks including the volcanic Rangitoto Island!
Best Places to Stay in Auckland
Whilst Auckland is quite large, most of the hotels and tourist attractions are based in the Central Business District! This is were you find quite a few of Auckland's hostels as well. The North Shore offers a more laid-back atmosphere, and the islands are popular destinations if you want to avoid the urban feel. These are all easily accessed by ferry from the main harbour.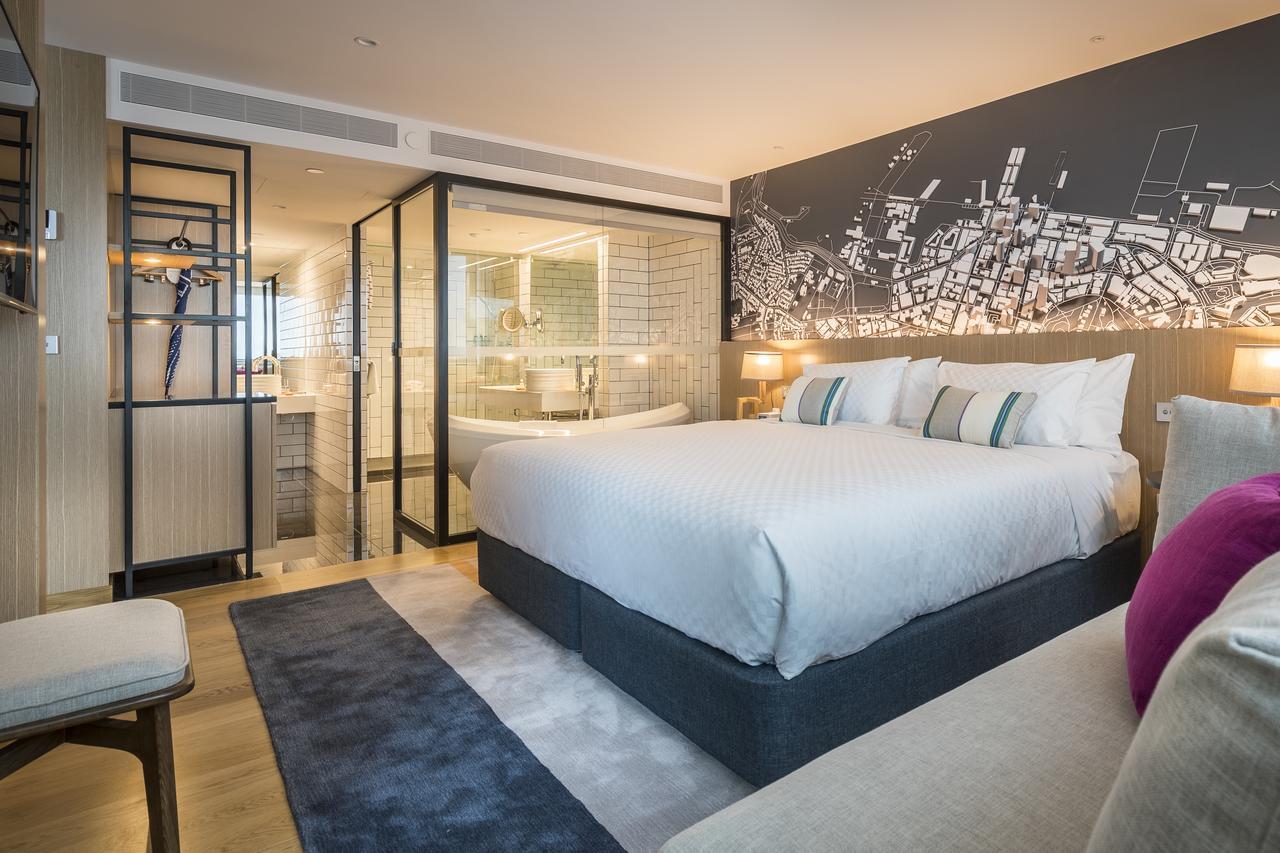 Another excellent Airbnb Plus property, this studio is actually located on Waiheke Island. Whilst outside of the city proper, Waiheke Island can easily be reached by ferry and is a popular getaway with both tourists and locals! If you want a romantic break in one of the warmest parts of the country, this studio gives you easy access to all of the vineyards and restaurants, and is only a short walk from the beach.
Located right on Quay Street, this hotel gives you immediate access to both the waterfront and the Central Business District! There is a large fitness suite within the hotel – perfect if you need to keep up your routine whilst visiting. They also have a popular restaurant on-site offering the best of New Zealand cuisine. For business travellers, there is a modern corporate suite.
Best Hostel in Auckland: Haka Lodge Ponsonby
Haka Lodge has long been one of the most popular backpacker chains and lodges in New Zealand. If you want to mingle with other travellers, this is a fantastic option! It is located in the desirable Ponsonby neighborhood, giving you quick access to some of the best boutiques and independently owned cafes – as well as the large Auckland Domain public park. It is one of the best-rated hotels in the city.
Haka Lodge Ponsonby is one of our favourites in New Zealand but they're not taking guests right now. We're not sure if they're closed for good but we hope they'll come back soon.
Is This the Best Backpack EVER???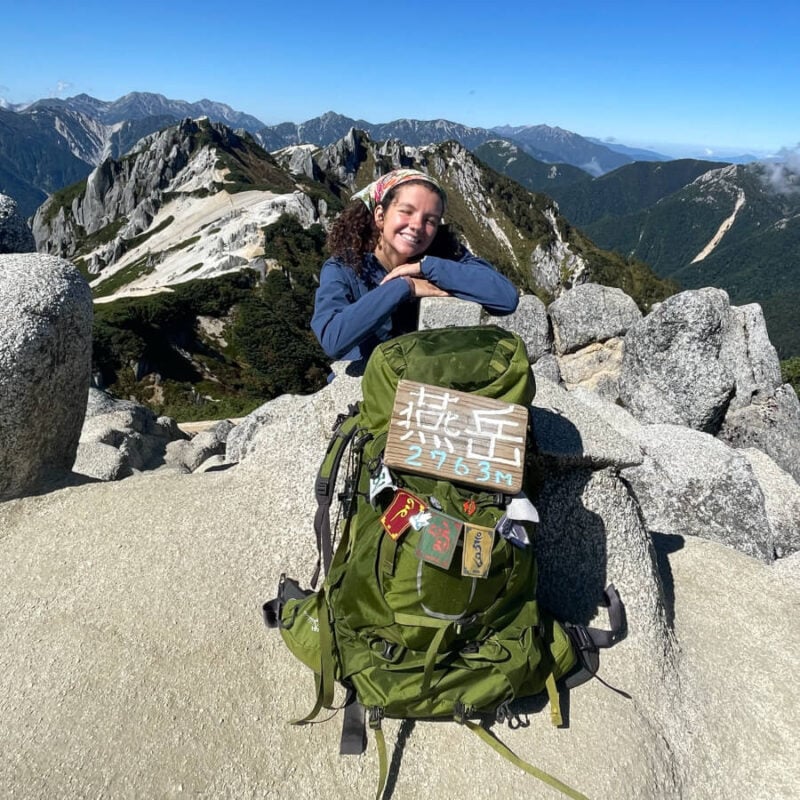 Dunedin – Coolest Place to Stay in New Zealand
Right down at the bottom of the South Island, many itineraries for New Zealand miss out on Dunedin – but we believe it is one of the coolest cities in the country! Considered a student city by Kiwis, Dunedin has plenty of excellent hostels, bars, and restaurants – many of which are cheaper than what you would find elsewhere in the country.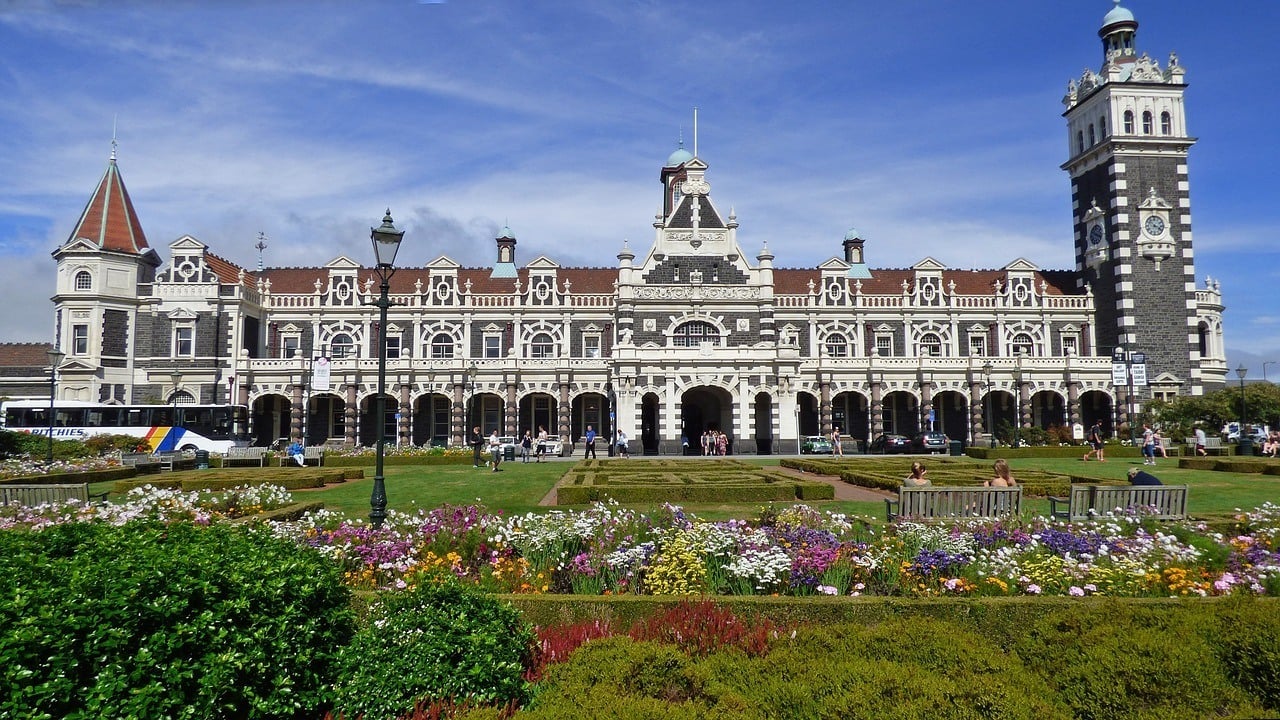 Coffee culture is pretty big across the entire country – but Dunedin takes it one step further, with some of the best speciality coffee shops on offer in Aotearoa! The historic city centre was originally modelled on Edinburgh, and features some interesting artifacts from the colonial era.
The area surrounding Dunedin also has some great unspoiled beaches that are an excellent alternative to the busier destinations during the summer! The city is well connected with both Queenstown and Christchurch, and the friendly atmosphere makes this a must visit for experiencing Kiwi hospitality.
Best Places to Stay in Dunedin
Dunedin has a small city centre with streets that sprawl out into the surrounding mountains! Make sure you check out the map before you arrive, as some hotels might be up a steep hill. The large Heritage Zone is home to most accommodations, but there are some cheaper options in the suburbs. Motels in Dunedin are a great option for keeping costs low while exploring the area.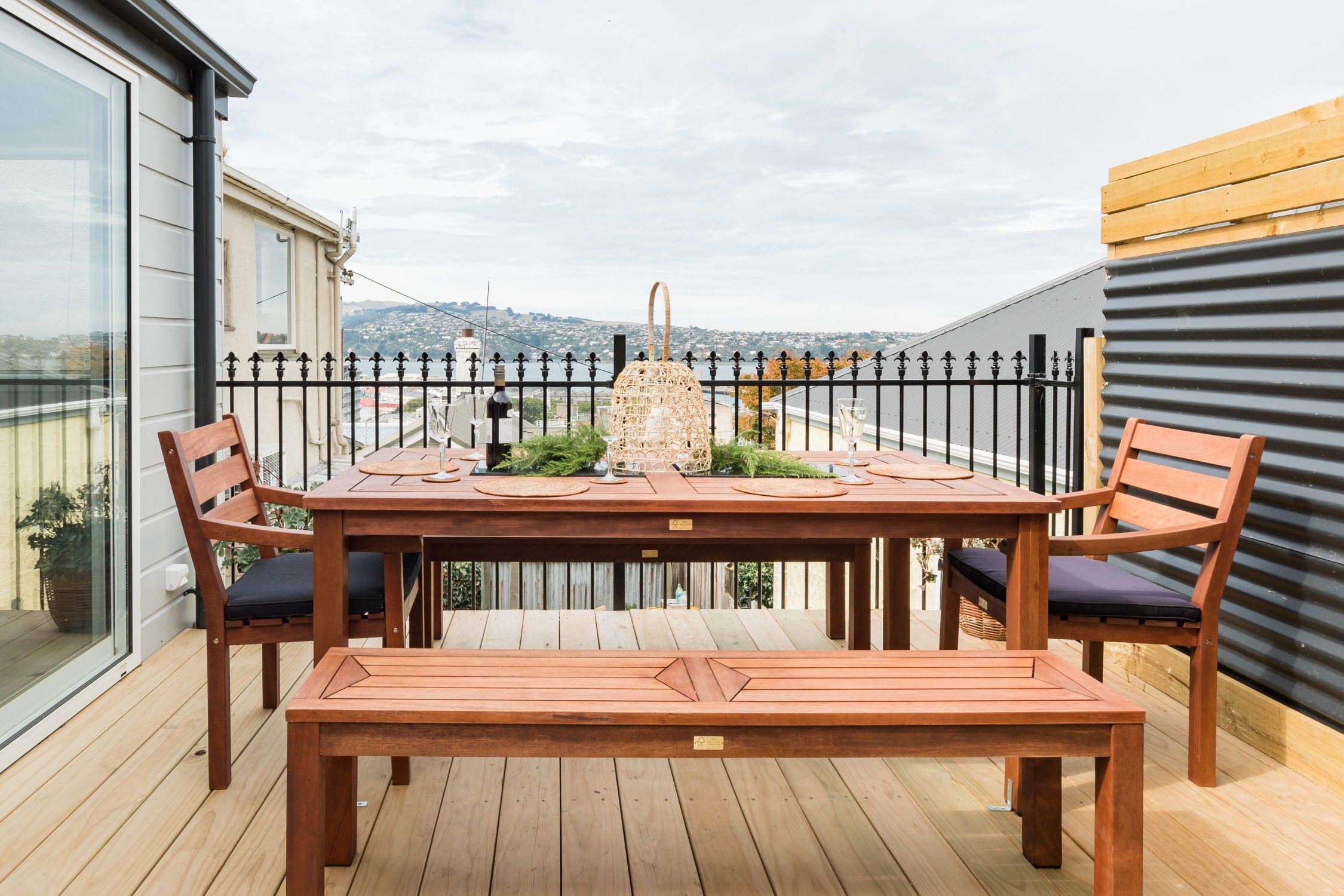 This gorgeous cottage up in the hills surrounding the Heritage Zone comes with a beautiful roof terrace where you can enjoy views across the entire city! It is a recently renovated building, ensuring you get to enjoy the latest in design and comfort. There is also a small bar set-up on the terrace where you can entertain guests and enjoy a few drinks.
This is a three and a half star hotel – giving you a little extra luxury without breaking the bank! The on-site restaurant is a casual affair offering typical New Zealand cuisine. Most rooms come with a private balcony where you can enjoy the views over the city. A complimentary breakfast buffet is arranged every morning, and the Otago Museum is only a short walk away.
Image:
Best Hostel in Dunedin: Kiwis Nest Dunedin
Though a somewhat basic hostel, Kiwis Nest is right in the heart of the Heritage Zone and is surprisingly well priced! This is a popular destination for those on a working holiday looking to get set up in the city, especially with the great social spaces where you can mingle with others. They also offer private rooms if you just need your own space for a few nights.
Image:
Kiwis Nest Dunedin is one of our favourites in New Zealand but they're not taking guests right now. We're not sure if they're closed for good but we hope they'll come back soon.
Nelson – Where to Stay in New Zealand on a Budget
On the opposite side of the South Island, Nelson has a reputation as the sunniest city in New Zealand! Despite its popularity with Kiwis as a staycation destination, Nelson offers some of the cheapest accommodation in an otherwise notoriously expensive country. It has an abundance of hostels across the city, with some excellent attractions that are either cheap or free.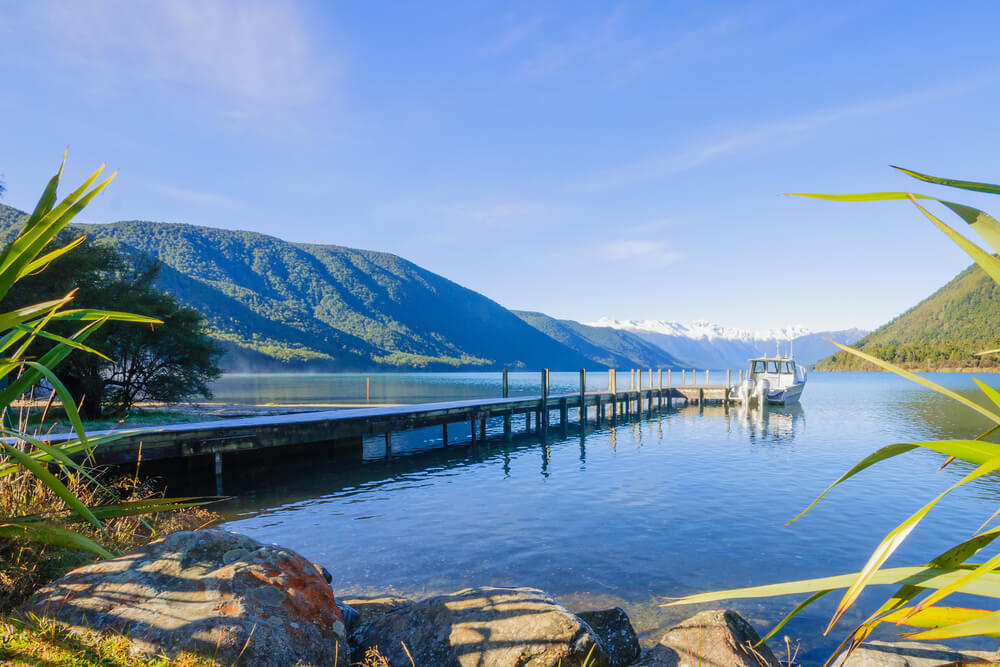 Nelson is the main gateway to the Golden Bay region, famed for having the most beautiful beaches in the country! There is a popular hiking trail through the area, but if you're only staying for a short while there is a coastal neighborhood a short walk from Nelson with some excellent seaside attractions.
Best Places to Stay in Nelson
As with most small cities in New Zealand, the majority of accommodation options are based around the centre! There are some great options in the coastal parts of the city, and if you want somewhere more rural you can head closer towards the Golden Bay region.
Though it is a little bit further out from the centre, this Airbnb is only a short walk from Tahunanui Beach and the waterfront area! By far the best feature of this apartment is the huge balcony with views across the coast towards Golden Bay – perfect for visits during the summer. With only one double bedroom, this is a great pick for couples and solo travellers in town for a few days.
Staying at a family-run hostel like Tasman Bay Backpackers is a great way to get to know the Nelson area! They offer complimentary bicycle hire, and are one of the cheapest hostels in the city. With ambient music and great social spaces, Tasman Bay Backpackers is full of life without being obnoxious about it. They offer free hot breakfasts over the winter.
This is one of the most basic hotels in this guide, but is a great pick if you simply want somewhere to lay your head at night for a reasonable price! This hotel is also only a short walk away from Tahunanui, and has regular connections to the town centre. There is a large outdoor dining area with a barbecue that can be used by all guests throughout the summer.
The Future of the SIM Card is HERE!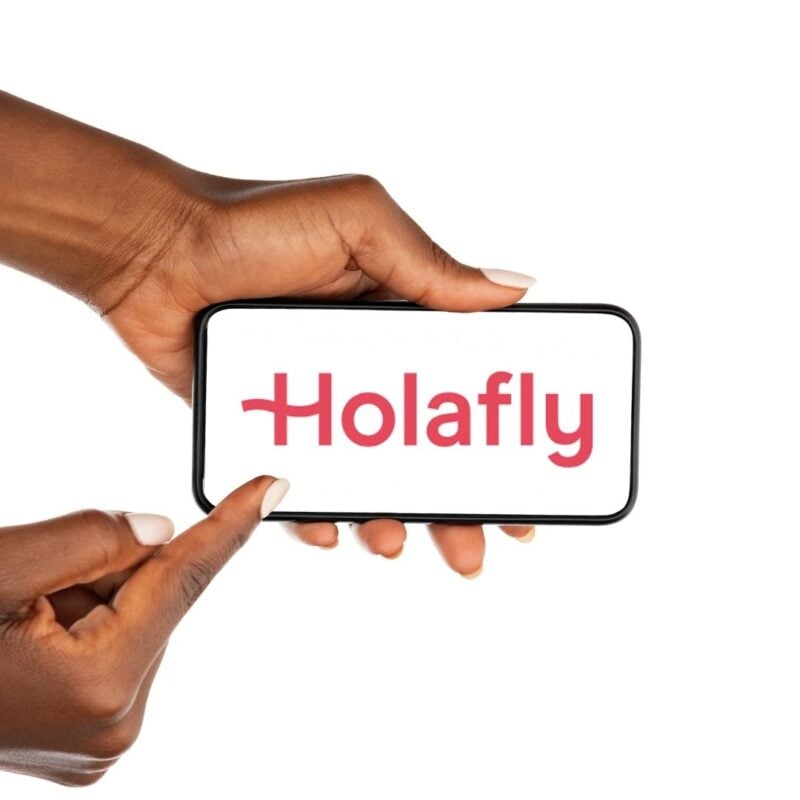 A new country, a new contract, a new piece of plastic – booooring. Instead, buy an eSIM!
An eSIM works just like an app: you buy it, you download it, and BOOM! You're connected. It's just that easy.
Is your phone eSIM ready? Read about how e-Sims work or click below to see one of the top eSIM providers on the market and ditch the plastic.
Grab an eSIM!
Napier – One of the Most Unique Places to Stay in New Zealand
Napier is another town that is kept off most itineraries, but is absolutely well worth considering if you want to discover a hidden gem! Once destroyed by an earthquake, the town rebuilt itself in the art deco style – making it a bit of a time capsule back to the era. This art deco obsession is not only reflected in the architecture, but has also influenced the art and bar scene in the area.
Beyond the quirky creative style, Napier is a popular seaside town with some excellent beach activities during the summer! The town quietens down a bit over the colder months, but is still home to some hospitable restaurants and cafes that will be more than happy to see you.
Best Places to Stay in Napier
Napier is separated into two main sections – the town centre, and the Marine Parade! The town centre is where you will find most of the architectural highlights, boutique stores and unique eateries – whilst the Marine Parade is our preferred area during the summer with unbeatable beach views and a vibrant atmosphere.
Located right on the Marine Parade, this is the perfect choice for checking out all of the main attractions in Napier! Though it is on the ground level, the attached conservatory comes with great views towards the beach. It can sleep up to four guests across two bedrooms, making it a great choice for small groups and families heading to the Hawke's Bay area.
This cosy hostel comes with some intimate social spaces that are heated throughout the winter – a rarity in this part of New Zealand! They have free parking spaces, as well as basic services such as luggage storage for every guest. It is only a short walk from the beach, making it a great choice for experiencing the coastal life throughout the summer – or the unique atmosphere in the winter.
Designed to suit the architectural style Napier is most famous for, the Art Deco Masonic Hotel is a popular retreat with Kiwis and foreign visitors alike – especially during the summer! There are two bars and two restaurants on-site, ensuring guests are spoiled for choice throughout their stay. Most rooms also come with a small balcony with views towards the ocean.
Save $$$ • Save the Planet • Save Your Stomach!
Drink water from ANYWHERE. The Grayl Geopress is the worlds leading filtered water bottle protecting you from all manner of waterborne nasties.
Single-use plastic bottles are a MASSIVE threat to marine life. Be a part of the solution and travel with a filter water bottle. Save money and the environment!
We've tested the Geopress rigorously from the icy heights of Pakistan to the tropical jungles of Bali, and can confirm: it's the best water bottle you'll ever buy!
View on REI
Read the Review
Queenstown – Where to Stay in New Zealand for Adventure
Queenstown is a tourist playground and has truly earned its place as one of the most visited parts of the country! Located along the shores of Lake Wakatipu, from the second you enter the town you will notice the striking mountain scenery and gorgeous waterfront area. Backpacking Queenstown is a lotta fun.
Queenstown is also the main hub for adventure activities in New Zealand – and these go well beyond the usual hiking, biking and sailing activities you'll find elsewhere in the country! The town is the nation's home for bungee jumping, skydiving and other adrenaline activities – making it the perfect destination for those that want to get the heart pumping.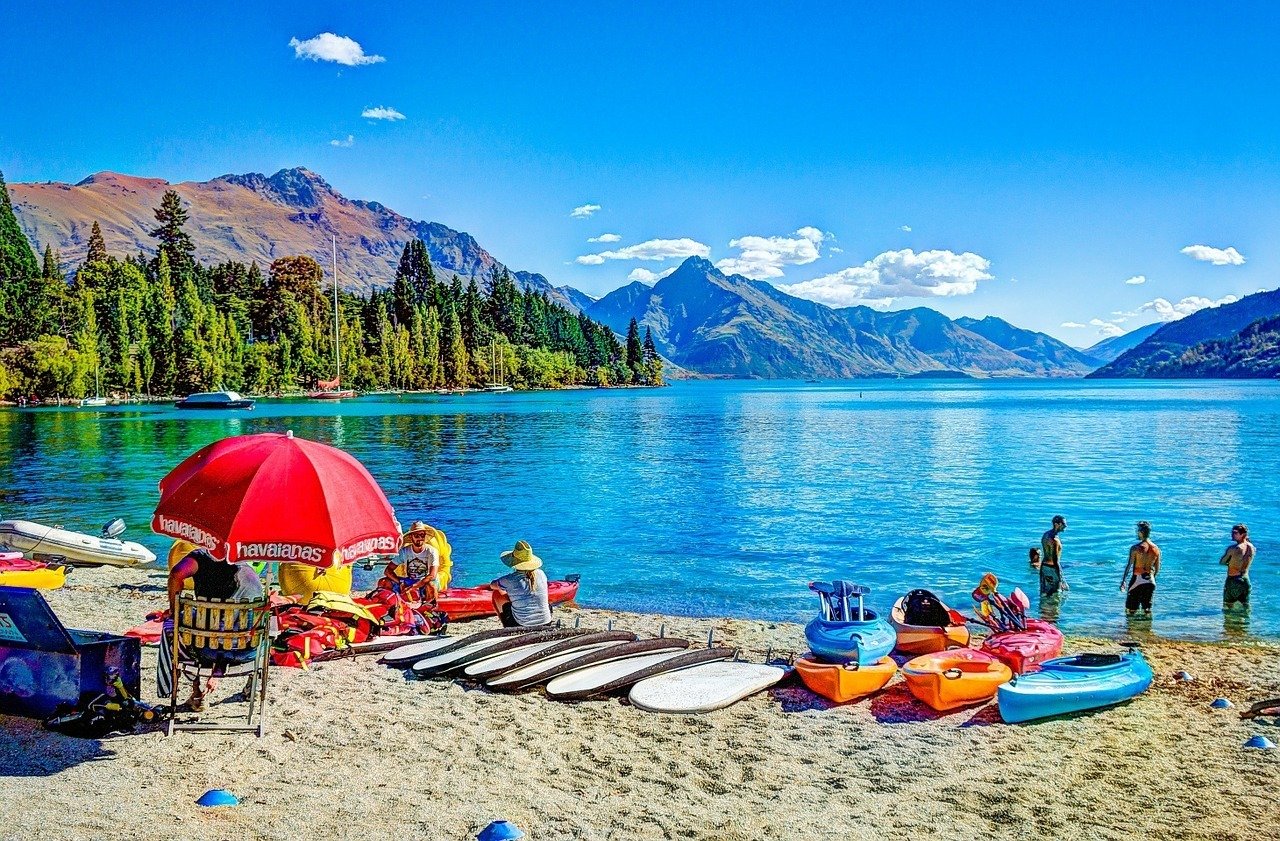 Scenery and shenanigans aside, the huge tourism influx has made Queenstown a major culinary destination. Fergburger and Cookie Time are established favourites, but there are plenty of excellent brunch and dinner destinations across the town. Queenstown truly has a little something for everyone.
Best Places To Stay in Queenstown
Queenstown proper has a fairly small town centre, and if you're planning day trips to other parts of the South Island we recommend you stay close to this area. There are other neighbourhoods that are further away so make sure you know where you want to stay in Queenstown. If you want something a bit more secluded, there are plenty of excellent towns located around the Lake Wakatipu area.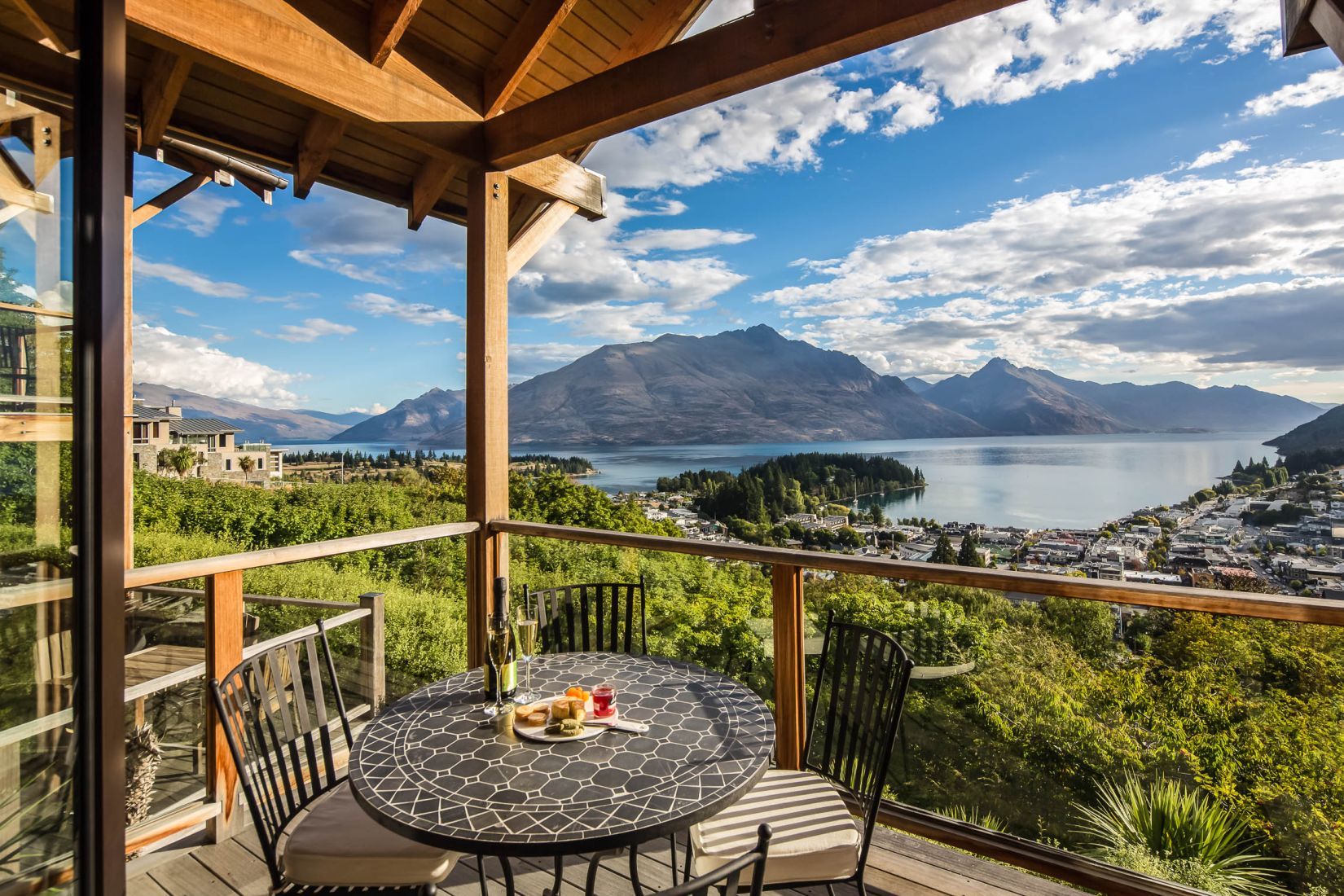 Queenstown is notoriously one of the most expensive destinations in New Zealand – however Mi-Pad Smart Hotel lets you enjoy four-star luxury at very reasonable rates! There is a large communal balcony with views of Lake Wakatipu and the surrounding mountains – and some rooms also have their own private balcony. The tour guest can assist with bookings and discounts.
Best Airbnb in Queenstown: Queenstown Heights
Up in the hills surrounding Queenstown, this sublime apartment comes with unbeatable views of Lake Wakatipu, as well as the town itself! Part of the Airbnb Luxe range, guests get to enjoy additional services that aren't usually provided at other accommodations – including private drivers and a chef. Stylish inside and out, this three-bedroom apartment is great for groups and large families.
Queenstown Heights is one of our favourites in New Zealand but they're not taking guests right now. We're not sure if they're closed for good but we hope they'll come back soon.
Best Hostel in Queenstown: Sir Cedrics Tahuna Pod Hostel
Sir Cedrics are a long time favourite backpacker chain for visitors to the South Island – and their Tahuna Pod Hostel in Queenstown was the first hostel to bring the pod concept to New Zealand! Pods aside, this hostel also beautifully combines Maori culture with modern Kiwiana to help you learn a little bit about the local history throughout your stay.
Sir Cedrics Tahuna Pod Hostel is one of our favourites in New Zealand but they're not taking guests right now. We're not sure if they're closed for good but we hope they'll come back soon.
Tekapo – Great Scenic Destination in New Zealand
Lake Tekapo is right in the heart of the South Island – and is the perfect base for exploring the gorgeous Southern Alps! Like Queenstown, Tekapo is located right on the banks of the lake and comes with gorgeous views of the mountains. It is also a starting point for many tours of the island's natural highlights – as well as some Lord of the Rings tours.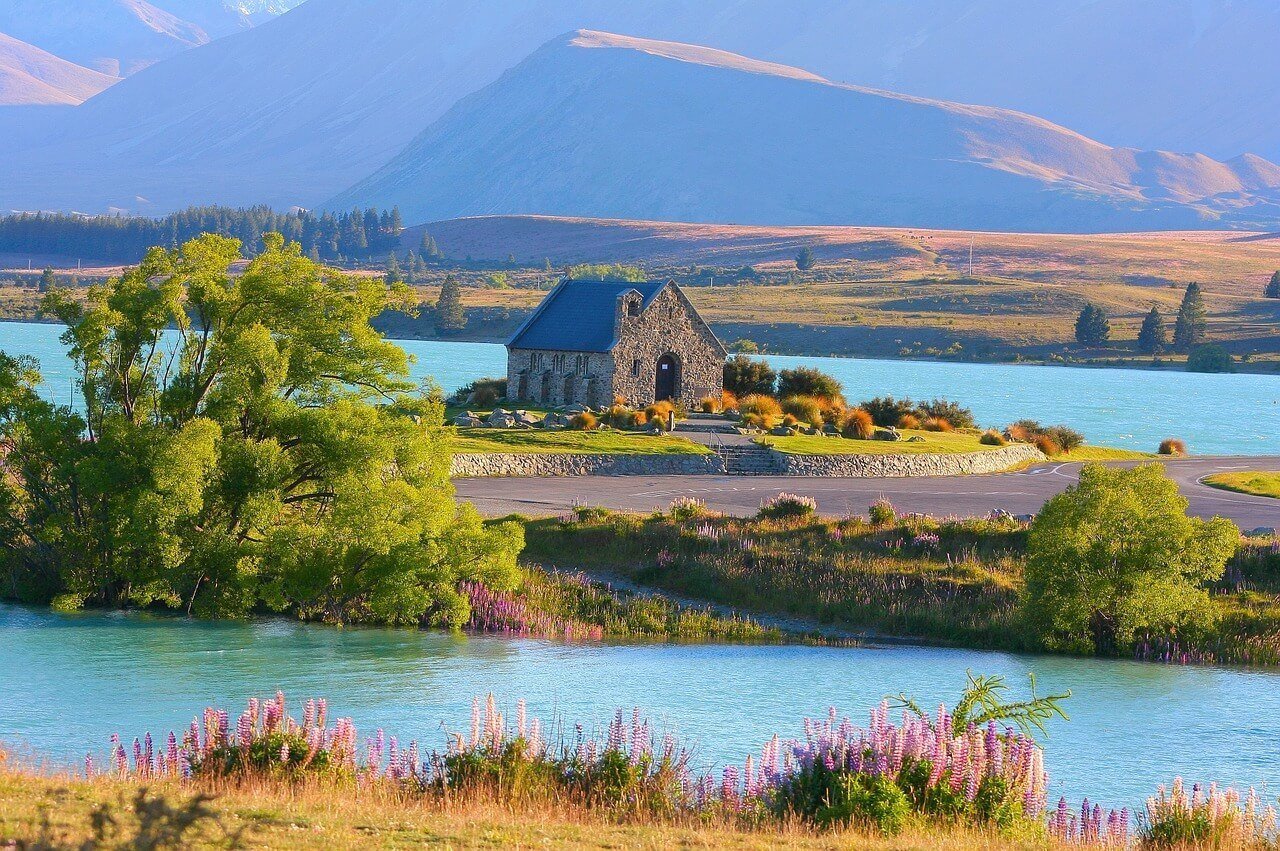 Tekapo is also well known for its location in the Mackenzie Dark Sky Reserve! If you are interested in star gazing, this is one of the best places in the world to look up at night. There are also some space observatories on top of nearby Mt John, with regular tours every day.
Best Places To Stay in Tekapo
Tekapo is a small town located along the banks of the river – however there are some other great towns across the region. Nearby Pukaki comes with views of the tallest mountain in the country, and offers a calmer atmosphere.
Though technically outside Tekapo – on the grounds of Pukaki airport – this Airbnb is only a twenty minute drive away and is easily one of the most unique accommodations in the world! It is housed within a converted spaceship that has a private skylight where you can enjoy a view of the stars. In the morning you can also wake up to gorgeous views of Aoraki – the tallest mountain in New Zealand.
For backpackers looking for a rural retreat, Tailor Made Tekapo is a truly idyllic hostel only a short walk from the waterfront! The property is surrounded with farm animals that you can pet with supervision from the owners. They offer complimentary bike hire, as well as sports equipment that can be used in the courts located next to the hostel. The spacious communal area has a log burner.
This four and a half star hotel is located right on the shores of Lake Tekapo, giving you unbeatable access to one of the most beautiful views in the country! The Church of the Good Shepherd is also only a ten-minute walk away, giving you a unique cultural insight into the area. There's an on-site restaurant offering typical Kiwi fare, as well as some international favourites – and there's a complimentary breakfast every morning.
Top Places To Stay in New Zealand
New Zealand is famous for its excellent hostels – with many backpackers spoiled for choice in even the smaller towns! The hotels can be quite pricey, but well worth it if you want some privacy – and the Airbnb options available are among the most unique in the world. There are also quite a few affordable hostels in New Zealand, which are a great option for travellers on a budget!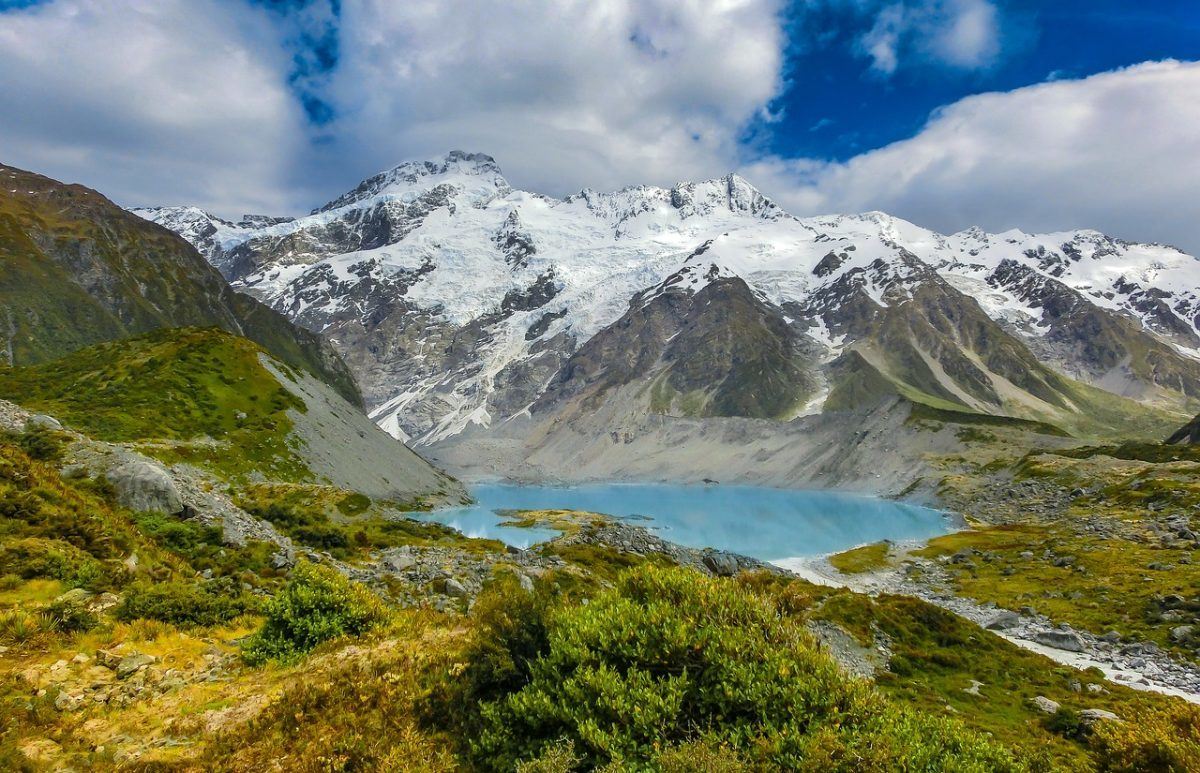 This might seem like an obvious choice – but as one of the most unique Airbnb accommodations in the world, we had to pick this converted spaceship! The Mackenzie Dark Sky Reserve, where this accommodation is located, is one of the best spots in the world for stargazing – and where better to do it than from a vessel that's already been out there?
Best Hotel in New Zealand – U Boutique – Wellington
This seemingly unassuming hotel is one of our favourites in the country thanks to the creative atmosphere and friendly service! U Boutique is cool without being pretentious, and even has some social spaces where you can mingle with other guests whilst still enjoying the privacy of your own room.
Best Hostel in New Zealand – Sir Cedrics Tahuna Pod Hostel – Queenstown
It's easy to see why Sir Cedrics repeatedly wins the crown for favourite hostel chain with backpackers heading to the South Island! This gorgeous hotel honours the Maori heritage of the region, whilst providing an updated and modern service that blows all other hostels out the water.
Image:
Sir Cedrics Tahuna Pod Hostel is one of our favourites in New Zealand but they're not taking guests right now. We're not sure if they're closed for good but we hope they'll come back soon.
Books to Read While Visiting New Zealand
Pounamu Pounamu – A short story collection penned by the esteemed Witi Ihimaera, the same author of 'The Whale Rider'. Pounamu Pounamu depicts themes of Maori culture, identity, and perspective in 1960s New Zealand. It's an important read for any traveller of New Zealand seeking a deeper insight into the country and its people.
Field Guide to the Wildlife of New Zealand – This glorious photographic field guide illustrates New Zealand's glorious wildlife. A must-read for a nature lover backpacking New Zealand.
Explore New Zealand – A great choice for someone who chooses a driving holiday to discover the stunning diversity of New Zealand. The book has 61 routes in total, and each contains a detailed map and full-colour photography that illustrates some of the highlights of that particular trip.
The Bone People – Winner of the Booker Prize in 1985, The Bone People is the story of Kerewin, a despairing part-Maori artist who is convinced that her solitary life is the only way to face the world. This novel speaks about New Zealand's people, its heritage, and landscape with great perceptiveness. A great read to understand the culture from an insider's perspective.

Our GREATEST Travel Secrets…
Pop your email here & get the original Broke Backpacker Bible for FREE.
Don't Forget Travel Insurance for New Zealand
ALWAYS sort out your backpacker insurance before your trip. There's plenty to choose from in that department, but a good place to start is Safety Wing.
They offer month-to-month payments, no lock-in contracts, and require absolutely no itineraries: that's the exact kind of insurance long-term travellers and digital nomads need.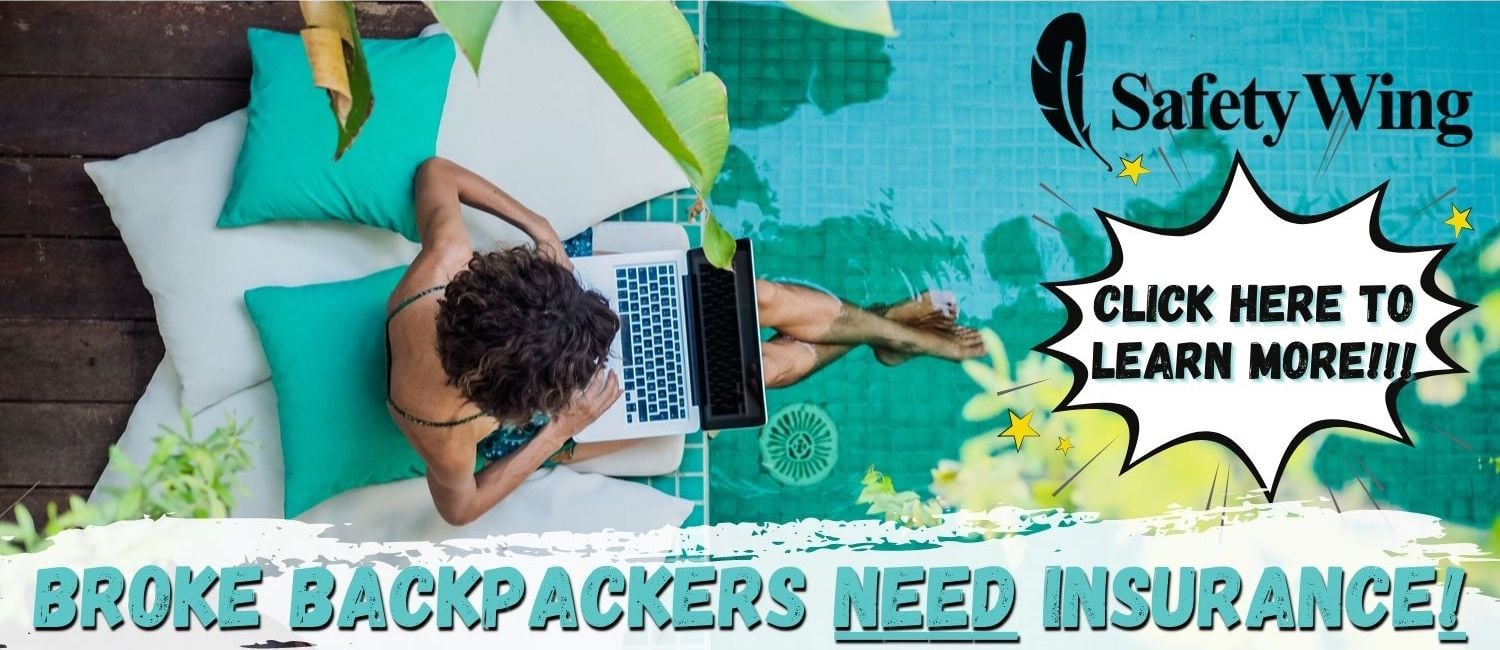 SafetyWing is cheap, easy, and admin-free: just sign up lickety-split so you can get back to it!
Click the button below to learn more about SafetyWing's setup or read our insider review for the full tasty scoop.
Final Thoughts on Where To Stay in New Zealand
New Zealand is a dazzling country with some of the best scenery in the world – making it a must visit for any traveller! The laid-back culture and friendly locals make it an easy destination to navigate for those taking their first backpacking trip, and more experienced visitors will love the adventure activities and unique cultural attractions.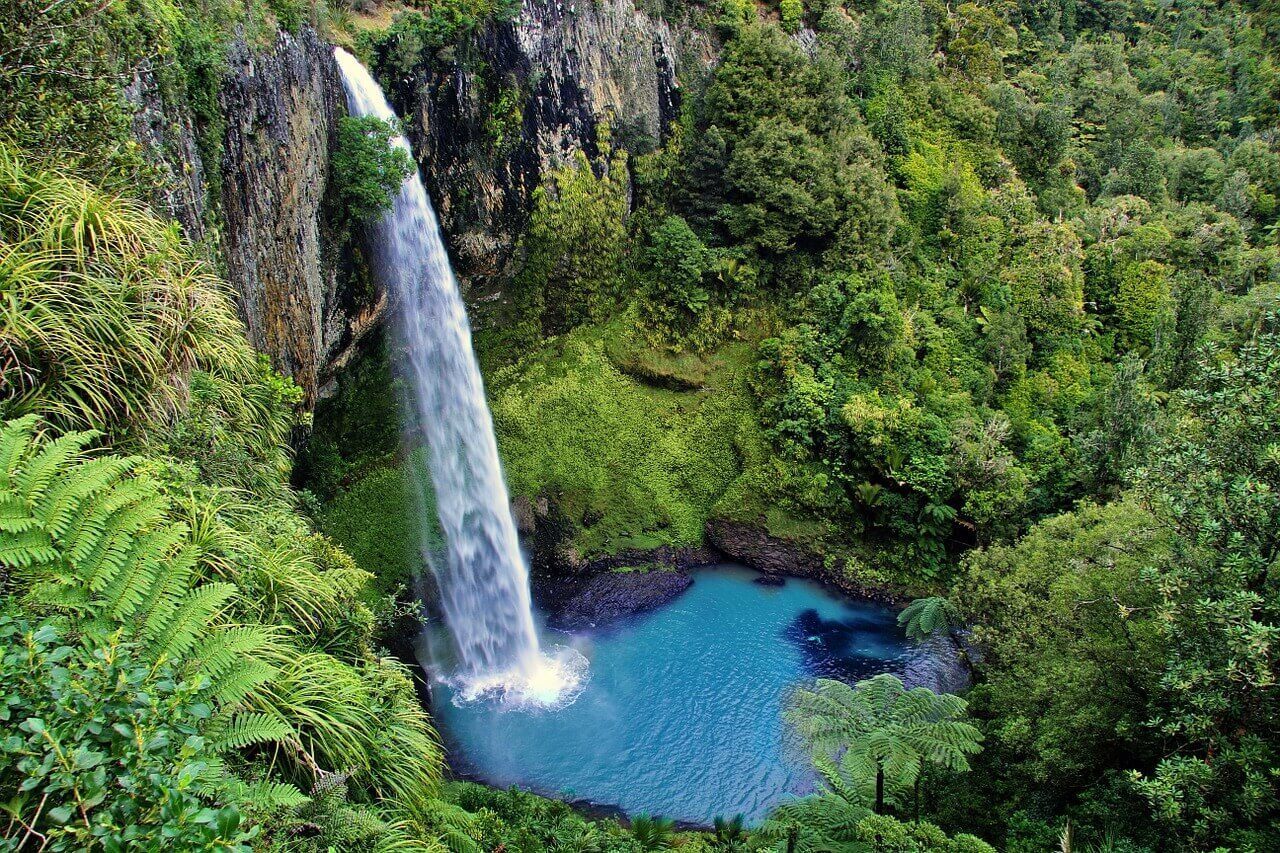 We're pretty spoiled for choice when it comes to the best place to stay, but Wellington took our top spot overall due to its central location! This is a great base for exploring further afield (including the national parks), and provides an excellent overview of life in New Zealand.
That being said, this beautiful country is really best explored by taking a road trip through the different regions – so we hope you will manage to make it to a few areas on this list.
Did we miss anything? Let us know in the comments!
Do you own or run a kick-ass hostel? Want to be featured on this list? Get in touch at [email protected]
---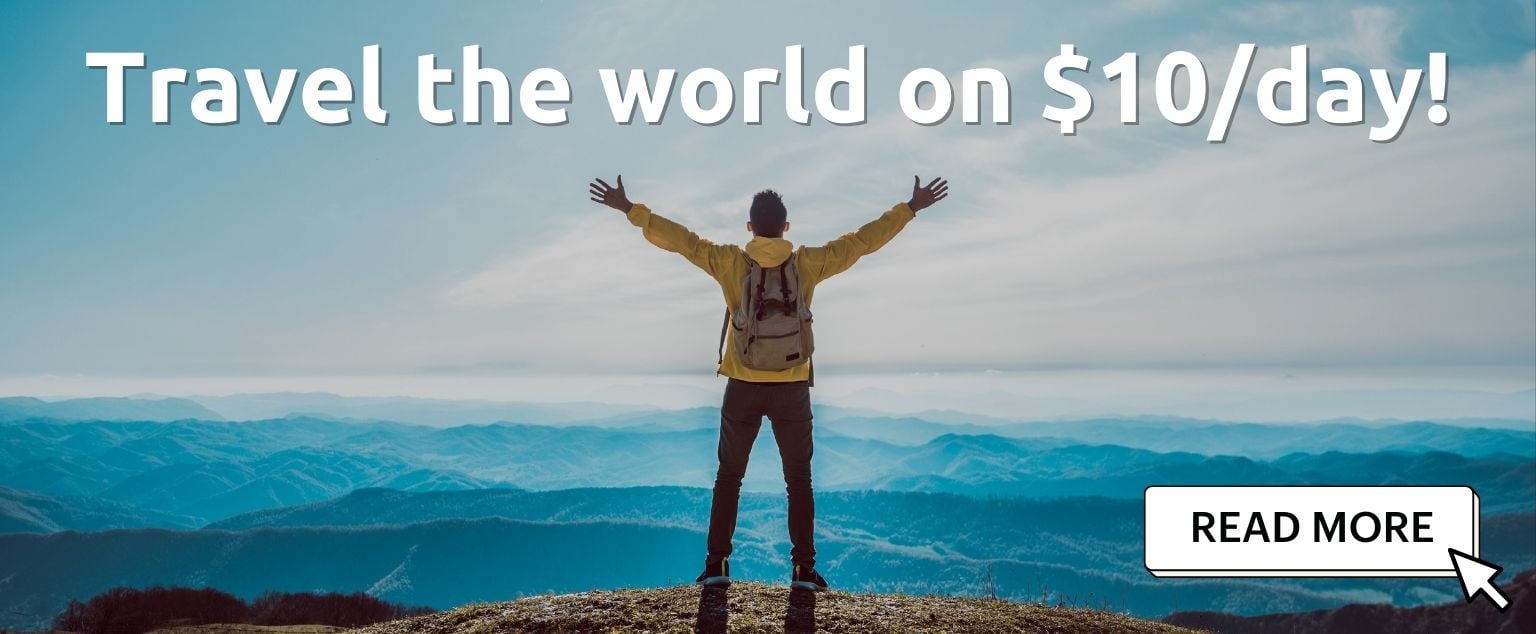 And for transparency's sake, please know that some of the links in our content are affiliate links. That means that if you book your accommodation, buy your gear, or sort your insurance through our link, we earn a small commission (at no extra cost to you). That said, we only link to the gear we trust and never recommend services we don't believe are up to scratch. Again, thank you!