Just the thought of New Zealand brings about images of dramatic mountains, glaciers, lush forests, and untouched nature. Not to mention sheep – and lots of them! With such an incredible natural landscape, it is no surprise the country is an adventure hotspot, attracting outdoor enthusiasts from across the globe to its shores.
The country is flanked by exciting places to stay, from campsites to luxury hotels to trendy hostels. Whether you're a backpacker on a budget or traveling for a romantic occasion, staying in one of the best baches in New Zealand is a great idea.
What are baches you ask? They are a type of self-catering vacation rental common in the country. Kiwis typically use this word to describe family holiday homes, although the term has an interesting story that I will discuss shortly.
It doesn't matter if you're on a tight budget or are able to splurge; a trip to New Zealand won't disappoint. The food is affordable, the wine is good, and the people are friendly. You are in for a real treat!
BEST BACH FOR COUPLES
BEST BACH FOR COUPLES
Studio Bach on Lakefront with Breakfast Provided
> $
> 2 Guests
> Woodburning fireplace and lake views
> In a quiet farm setting near Ashburton
BEST BUDGET BACH
BEST BUDGET BACH
1 Bed Bach with Boat Parking
> $
> 2 Guests
> Fully self-catering home close to local shops and wharf
> In the quiet coastal town of Pukenui
OVER-THE-TOP LUXURY BACH
OVER-THE-TOP LUXURY BACH
Magnificent Bach with Indoor / Outdoor Living
> $$$$
> 2 Guests
> Outdoor barrel bathtub overlooking the ocean
> Elevated above the sea and hidden between trees in Fox River
Staying in a Bach in New Zealand
Let's clear up the basics first. A Bach is a modest holiday home or beach house in New Zealand. These types of homes are an important part of the country's architectural background, and are iconic in pop culture.
The word bach comes from the Welsh translation for 'little,' which makes sense since many of the homes are very small and basic. It is believed that the word with the arrival of Welsh immigrants to New Zealand in the 1800s.
Depending on where you visit in New Zealand, Kiwis might refer to a holiday home as a bach (pronounced as batch) or as a crib. The word crib is commonly used in New Zealand Southland District and Otago. In other parts of the world, you might think of a bach as the equivalent of a cabin, chalet, or cottage.
Baches are often located in beautiful locations like on the shores of lakes, beaches, or in the mountains. Locals associate their baches with rest and relaxation in nature. As the foundation of many Kiwi childhood memories, staying in one of the best baches in New Zealand is a great way to experience the country, and its heritage, in all its glory.
Baches are usually made from inexpensive or recycled materials like cement, corrugated iron, or recycled wood. Many even use the base of a caravan as the structure's core, with extensions added on.
Today, baches are an iconic part of New Zealand's accommodation landscape. There are even some super luxurious ones! You will always be able to find a home within your budget, whether it be big or small.
Not only will you be enjoying in a part of the country's history, but baches also offer all the amenities of a self-catering vacation rental, including absolute privacy, great views, a fully equipped kitchen, central living space, and private bedrooms.
What to Look For in a Bach in New Zealand
Like any small self-catering vacation rental, baches typically have an open-concept living space with a communal living room, dining area, and a full kitchen or kitchenette. The bedrooms will be private and separated, while bathrooms are usually shared with the entire house.
One of the main advantages of staying in one of New Zealand's baches are the views. Generally set in beautiful natural surroundings, most baches have an outdoor patio or terrace with world-class views.
If you are exploring New Zealand with kids, you are better off finding a bach with separate bedrooms for a bit more privacy. You might also benefit from choosing a property in a farm setting, where they can run wild and play outdoors without worrying about wild animals.
If you have the budget to splurge a bit, you could choose one of the more opulent baches. While most baches are single-story, a few properties have multiple levels and feature luxurious amenities such as outdoor bathtubs, hot tubs and state-of-the-art interiors.
You'll defo want to have a car, New Zealand has vast areas which are not very well connected by public transport. Plus there are some incredible road trips to be had in the country. Many of the best baches have onsite parking, making it easy!
Most of the baches in New Zealand can be sourced through Airbnb, with a few properties on VRBO. Both platforms make it easy to filter your search to accommodate your particular rental needs, from location to the number of bedrooms and the amenities offered.
The Top 15 Baches in New Zealand
Now let's dive into the best selection of baches in New Zealand. With outstanding natural surroundings and lots of homey amenities, check out these beautiful places to stay!
4 guests
Whangarei Heads, Northland
This is one of the best baches in New Zealand on a budget. It is a two-bed cottage, set right on the water in Northland. It's a quintessential style bach, fitted with everything you might need, as well as boasting gorgeous views.
Places to Visit Nearby:
Mount Manaia Track
Taurikura
Marsden Point Beach
Set on the waterfront of Northland, New Zealand, you would never guess that this bach is just a ten-minute stroll from a nearby local cafe. It's so peaceful and serene, you will feel like you're alone in nature. It's also just a short drive to the nearest town, which has a range of cafes and restaurants.
The bach has everything you might need for a quick or extended stay, including a fully equipped kitchen, two spacious double bedrooms, and a speedy Wi-Fi connection. The bathroom has complimentary toiletries, and the home even has private washer/dryer facilities.
Take note that to access this bach, you'll need to climb a short yet pretty steep path, which can make it inconvenient to bring large suitcases.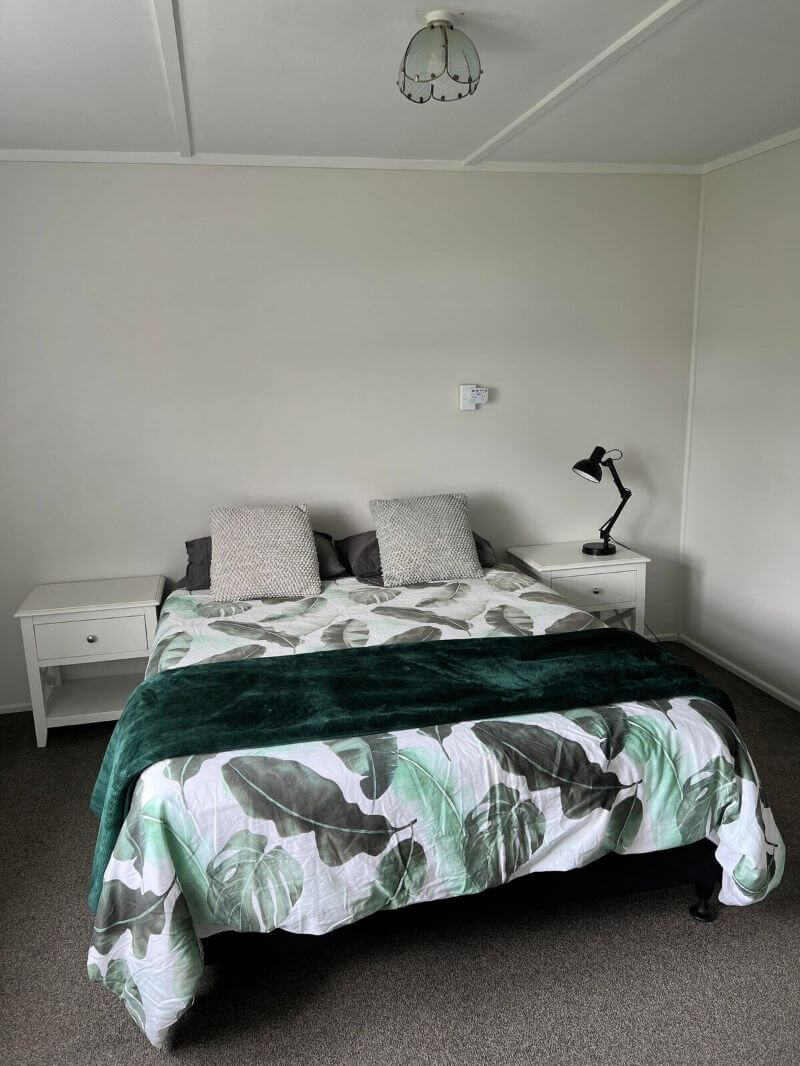 $
In the quiet coastal town of Pukenui
2 guests
Self-catering home close to local shops
By definition, baches are usually a pretty affordable type of accommodation. This cozy bach is located just a stone's throw away from the water's edge in Pukenui, with 1 bedroom and space for up to 3 guests.
The bach has a full kitchen, living space with an extra bed, and a private bathroom with laundry facilities. Within walking distance of local shops, the wharf, and cafes in the area and under an hour's drive from Cape Reinga, it is ideally located to be able to get out and explore with a peaceful spot to return to.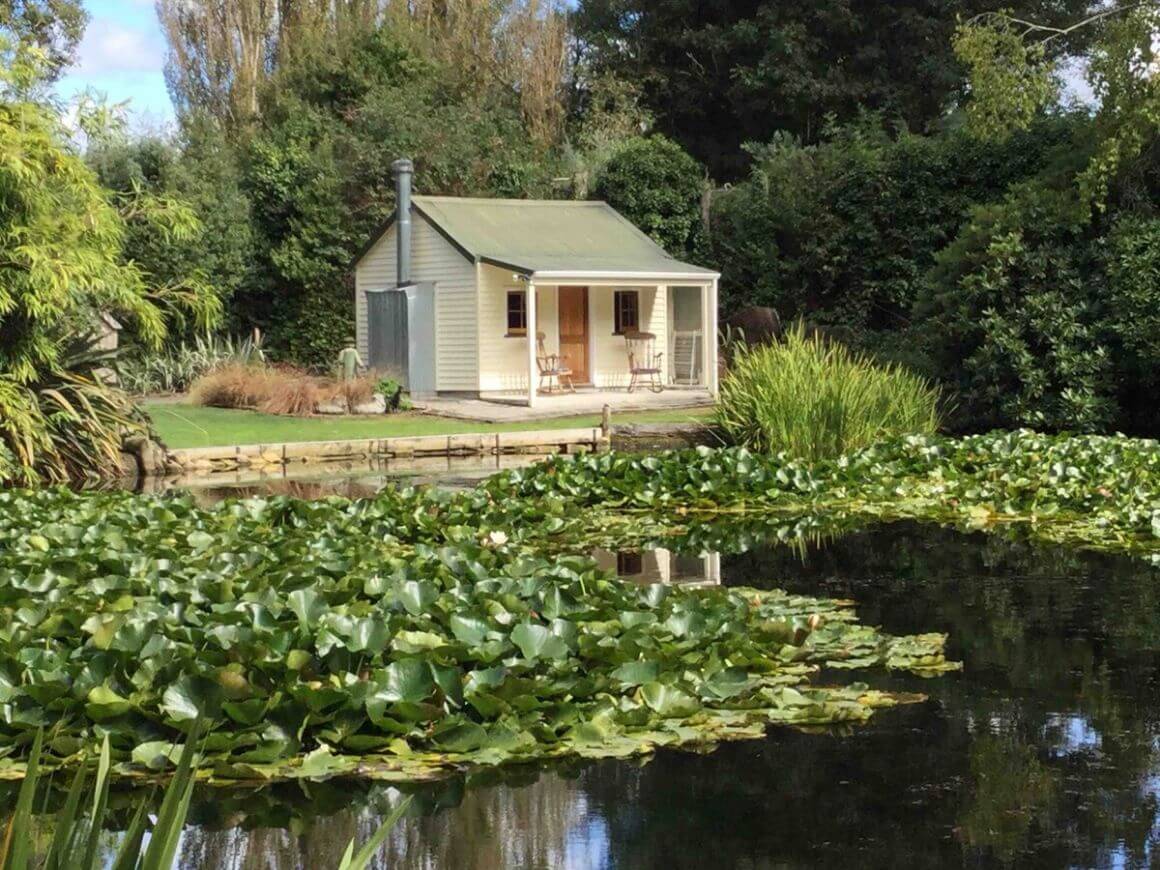 $
In a quiet farm setting near Ashburton
2 guests
Wood burning fireplace and lake views
Set on a tranquil lily pond in the town of Ashburton, this lakeside home is one of the best baches in New Zealand for couples. Organized like a traditional studio, the accommodation has a double bed, a self-catering kitchen, and a covered patio overlooking the lake.
Surrounded by 6.5 acres of woodlands and gardens, you can explore the historic parks and chapel built in 1885. It is also just a short drive into Christchurch, Dunedin, or Queenstown, making it great for day trips. Perfect for a relaxing vacation, enjoy a continental breakfast which is served daily with a selection of teas and coffee.
Best Bach for a Group of Friends in New Zealand – Bach with Mountain Views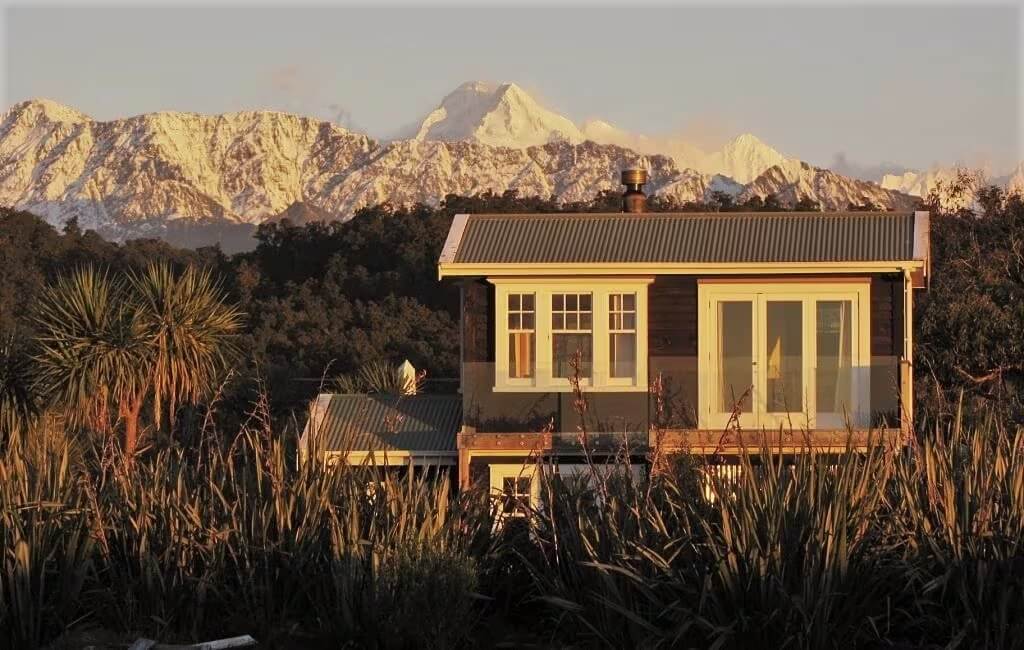 $$
Snowcapped mountain backdrop
4 guests
Cozy wooden interiors with natural light
With two bedrooms, and one and a half bathrooms, this spacious New Zealand bach is ideal for a group of four friends. The home is set against an incredible backdrop of the country's southern Alps, and is set out over two stories – uncommon for a bach.
The interiors are homey and inviting, with warm wooden touches, tons of natural light, and plush linens. Cozy up by the wood-burning fire on a wintery evening, or relax in the sunshine on the deck overlooking the sea on a sunny day.
For an added touch of luxury, the full bathroom has a clawfoot bathtub and a separate shower.
$$$$
Elevated above the sea and hidden between trees in Fox River
2 guests
Outdoor barrel bathtub overlooking the ocean
One of the most modern and unique accommodations in New Zealand, this bach is surrounded by lush greenery and towering trees in the Fox River region of the West Coast.
The home is built using sustainable materials, and elevated over the land to provide amazing ocean views. Warm wooden interiors and tons of outdoor and indoor living spaces make it feel like you're one with nature. The home is completely off the grid, ideal for those who seek total peace and privacy. It also features an outdoor kitchen and bathroom with a wooden bathtub.
Best Bach for Families Visiting New Zealand – Bach on a Private Farm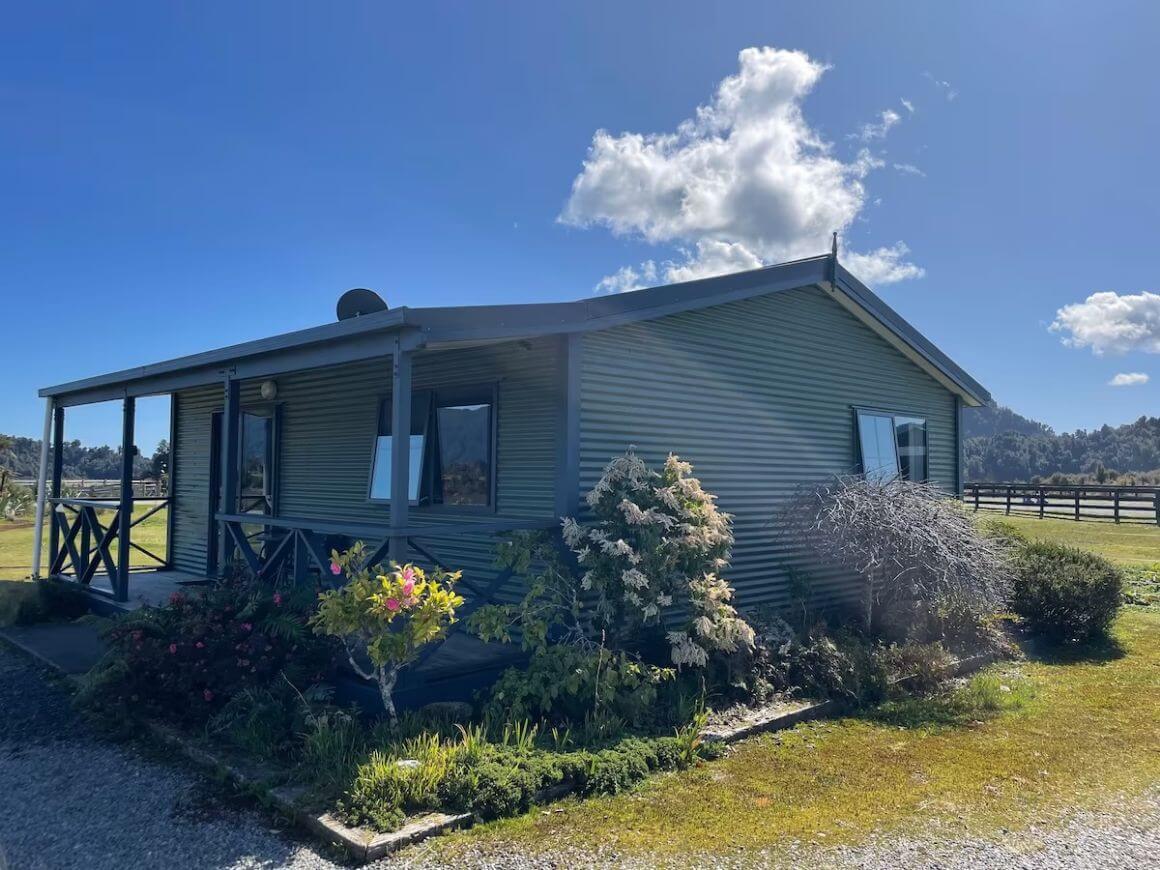 $
Mountain and river views near Franz Josef Glacier
5 guests
Outdoor firepit and farm animals roaming free
New Zealand is the perfect place to visit with kids, especially those who love spending time outdoors. Located on a sprawling working farm near the Franz Josef Glacier, this bach has two bedrooms and room for five guests to sleep comfortably.
The self-contained cottage is surrounded by rural scenes, mountains, and river views, set on an elevated plot of land to make the most of the vistas. There is a parking spot in front of the property, and guests can make use of laundry facilities in a separate building – a big plus for those with messy children!
Best Bach in New Zealand for Backpackers – Cozy Loft Bach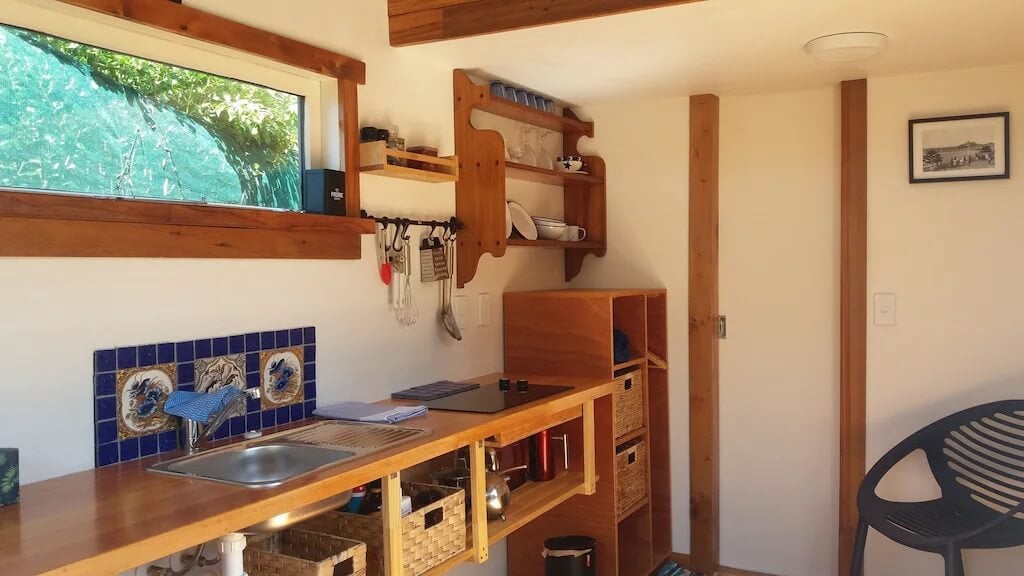 $
In a tranquil woodland setting in Scarborough, near Christchurch
Everyone loves a good deal, but I can't believe this loft bach is available for such a low price! It is one of the best baches in New Zealand on a budget, and the perfect place for backpackers to stay, offering a private space with full self-catering amenities.
The bach is small and simple, yet designed to maximize space with clever storage solutions. It has a spacious outdoor deck with a barbeque and a basic kitchenette with a single stove-hob and a kettle.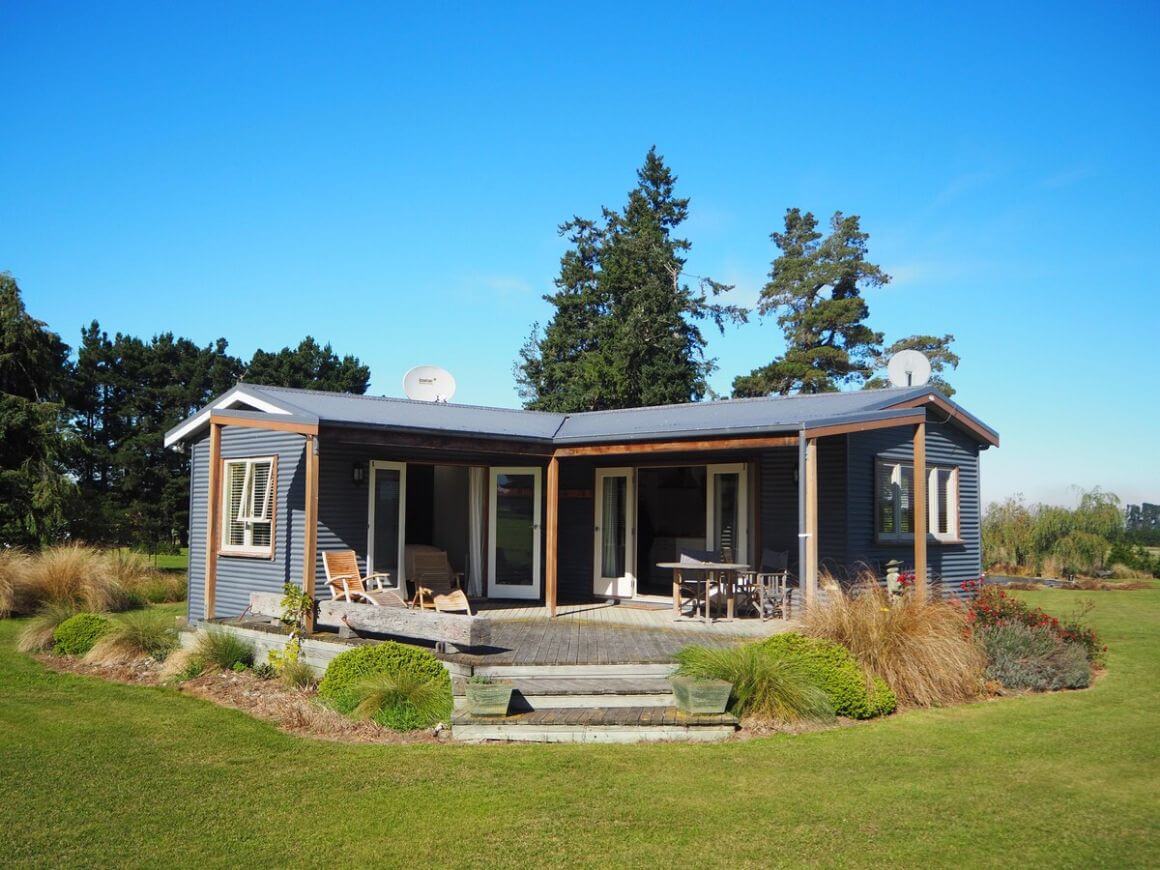 $
On a private farm in Ashwick Flat, Canterbury
2 guests
Sunny garden and covered terrace
Views aren't hard to come by in New Zealand, there is an incredible vista in every direction you look. Well, this one-bedroom bach in Ashwick Flat, Canterbury, is no exception, set on a sprawling countryside overlooking distant mountains.
The bach offers a combined indoor and outdoor living space, allowing you to relax with breathtaking views of the farm and gardens. Inside the home, guests can cook up a storm in the full-sized farm-style kitchen and relax by the wood-burning fireplace in the sunny living room.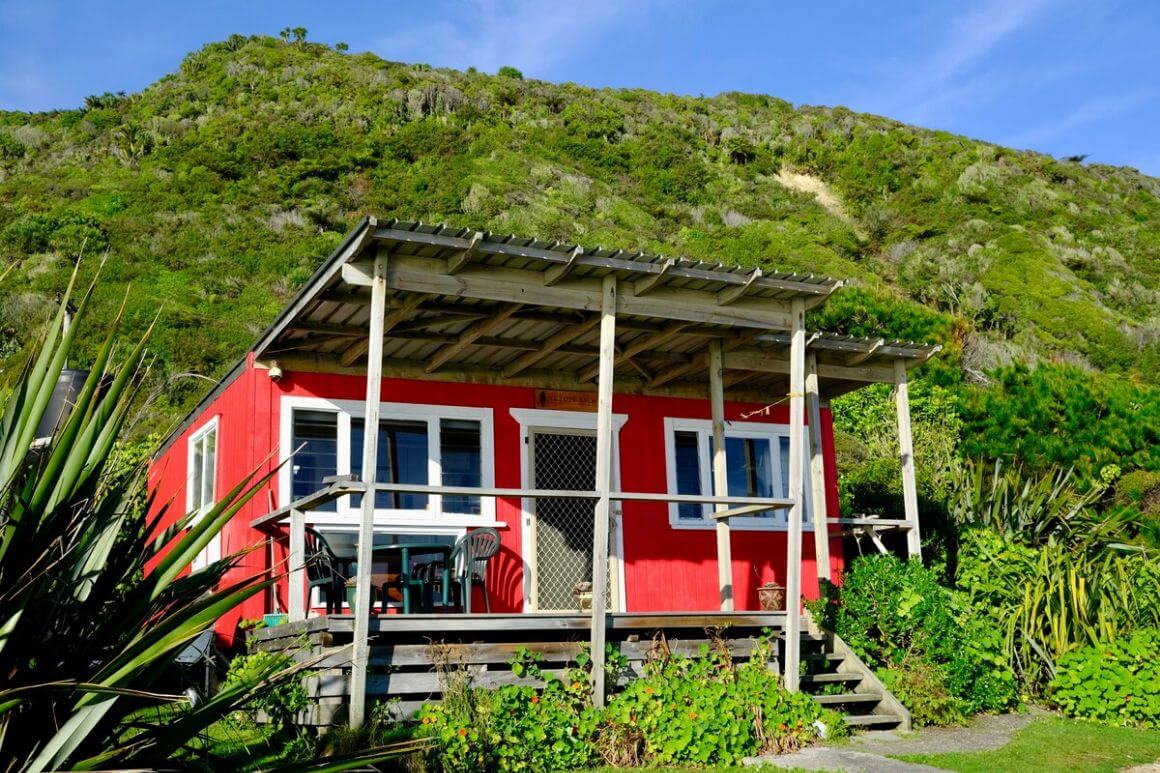 $$
On the beachfront in Punakaiki
4 guests
Homey interiors with eclectic touches
Any digital nomad dreams of working from home in a bach like this. Set on the beach in the iconic Punakaiki region on the West Coast, not only is it a top option for digital nomads, but it's also one of the best baches in New Zealand on a budget.
Guests can relax on the covered patio overlooking the ocean, and prepare delicious meals in the fully-equipped kitchen. Handcrafted from local wooden materials, the bach even has a wood burner in the kitchen, reminiscent of a simpler era.
$$$
In the heart of Glacier Country
2 guests
Terrace with mountain views
Those with only one weekend to spare will love this bach on the West Coasts' Franz Josef Glacier region. Newly built using local materials, it's a contemporary bach, furnished with stylish interiors and modern amenities.
The home includes a private bedroom, an open-concept lounge, and a kitchen perfect for two guests. The kitchen has a gas stove, kettle, microwave, and toaster, perfect for preparing your own simple meals on a short trip.
Best Bach in New Zealand Off-The-Beaten-Track – Bach with Coastal Views
$$
On a deserted beach on the West Coast
2 guests
Tons of natural light
Surrounded by nothing but nature, Okari Cottage is easily the best bach in New Zealand in a remote location. The accommodation is on the beachfront in Cape Foulwind, just steps from the turquoise ocean waters.
Built from natural materials, and using tons of glass, the home is overflowing with natural light and a fresh flow of ocean air. You can enjoy a barbeque and fire brazier on the patio, and modern amenities like a smart TV and dishwasher for absolute convenience.
Although it feels like you're in the wilderness, it's just a few miles from Cape Foulwind's main town.
The Bach with the Most Epic Location in New Zealand – Rustic Bach on the Coast
$$
Rustic and cozy interiors
2 guests
On the edge of the rocks in Punakaiki
Wake up to the sound of waves crashing against the rocks in the Woodpecker Bay Bach. Located on the West Coasts' Punakaiki beachfront, this cottage is rustic yet cozy, perfect for anyone looking to escape the hustle of the city.
Used as a traditional family vacation house for the past 60 years, the home is built with warm wooden materials and filled with unique treasures collected over six decades.
Note that the toilet is located a short walk from the property and is serviced by a local waterfall. If you're up for an off-the-grid adventure, this spot will exceed all expectations.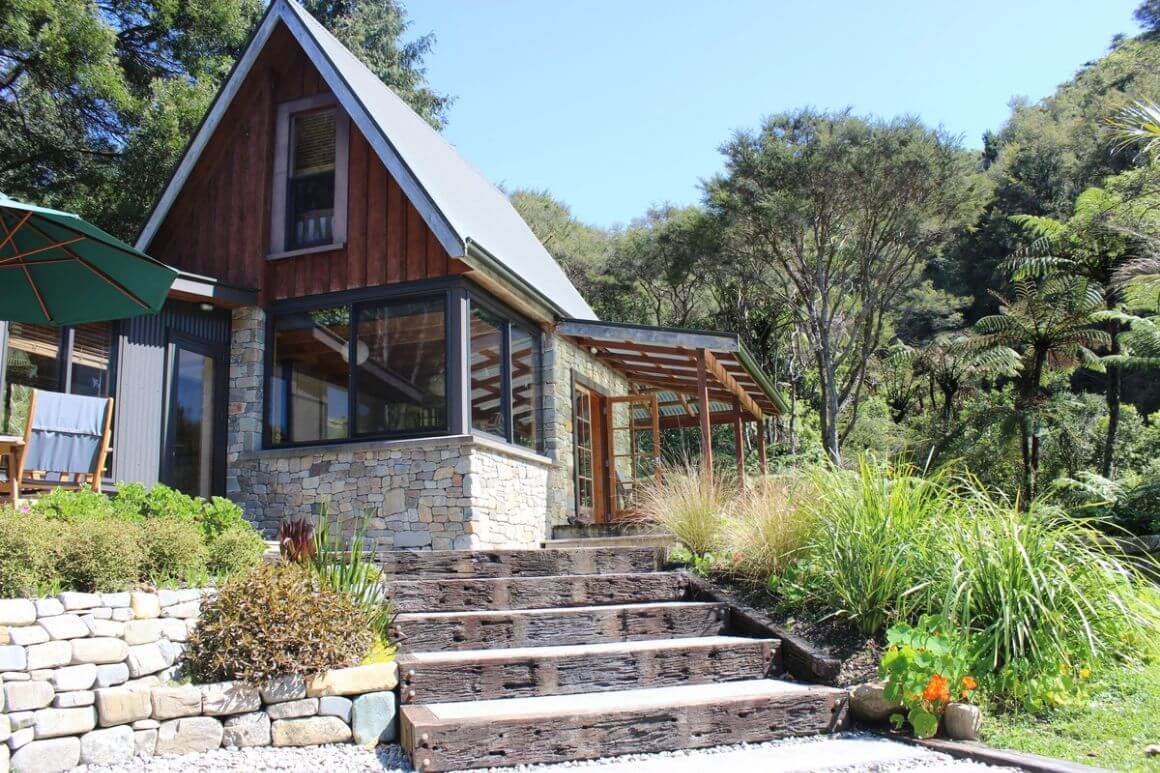 $$
Sunny deck with outdoor dining table
3 guests
In Parapara, Golden Bay, close to tons of nature walks and trails
Beautifully constructed using stone and wood, this tranquil bach is surrounded by nature walks, deserted beaches, and swimming holes to explore. Completely private and disconnected from the rest of the world near Kahurangi National Park, this is one of the best baches in New Zealand for adventurous travelers.
When you aren't off exploring one of New Zealand's best national parks, open a book and enjoy the sunshine on the outdoor patio. The interior is just as impressive, with traditional wooden beam ceilings, hardwood floors, and abundant natural light streaming through glass windows.
$
Studio cabin set on 8 acres of forested hills overlooking the sea
2 guests
Log fireplace and shared Jacuzzi
Perched on the mountainside in Manapouri, Southland, this wooden cabin is the perfect remote spot for a romantic honeymoon. It is one of five handcrafted cabins on 8 acres of private property overlooking the ocean and mountains.
After a day exploring the diverse natural area, cozy up by the indoor wood burner with a home-cooked feast. The accommodation also has a shared Jacuzzi, which is the perfect place to unwind and relax with your significant other. Note that bathroom facilities are shared, and no Wi-Fi is available in the cabin.
$$
Built by hand using local wood next to a creek
4 guests
Neutral-toned interiors with warm wooden features
Handcrafted using natural materials and local techniques, this gorgeous bach sits just beside a rushing creek that overlooks stunning mountain views. The chalet offers absolute privacy and includes access to a shared hot tub and sauna with views of the Southern Alps.
In the bach, you can cook your meals in the spacious kitchen and living area and enjoy two private bedrooms upstairs. There is also free parking and complimentary Wi-Fi throughout the property.
Don't Forget Your New Zealand Travel Insurance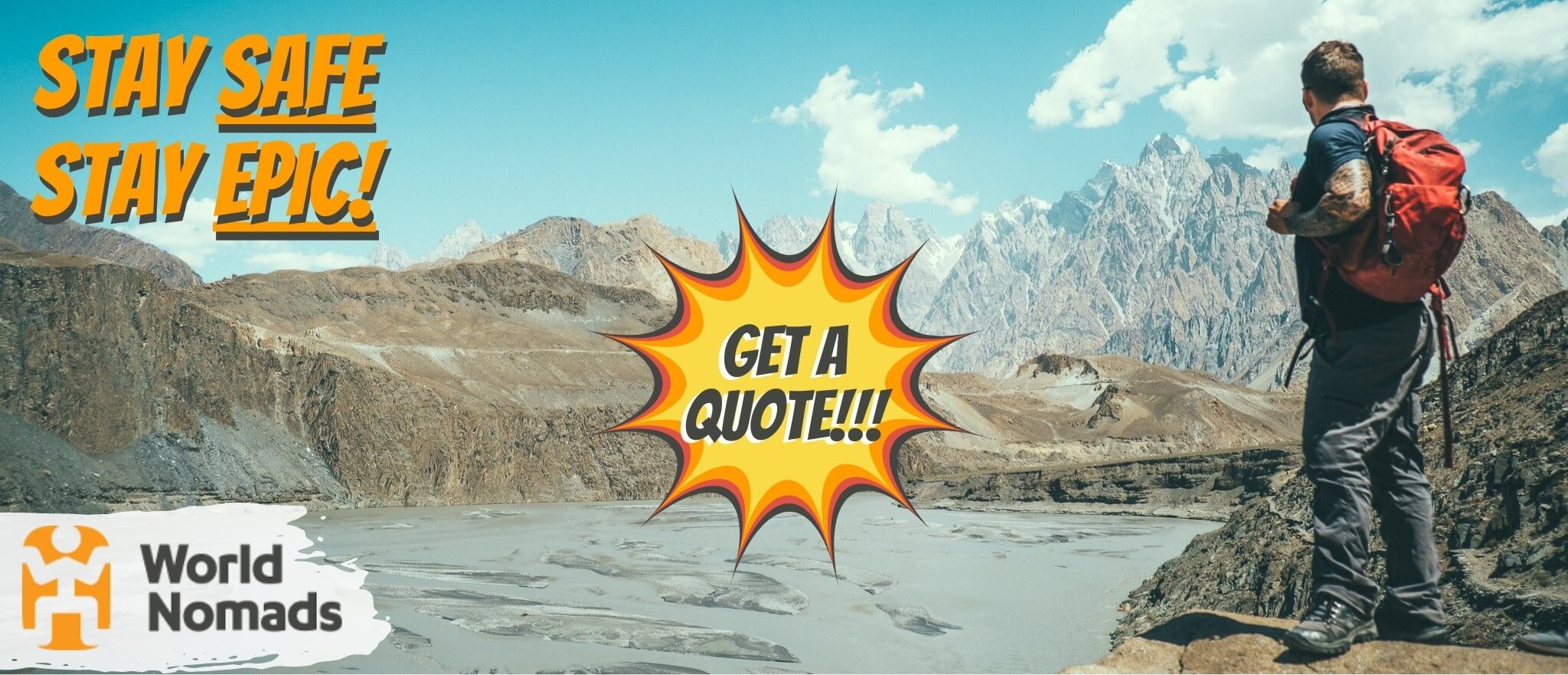 World Nomads' mission is to support and encourage travellers to explore their boundaries. They offer simple & flexible travel insurance, and safety advice to help you travel confidently.
They've been doing it since 2002 – protecting, connecting, and inspiring independent travellers just like you.
Get a quote below or read our in-depth review!
World Nomads provides travel insurance for travelers in over 100 countries. As an affiliate, we receive a fee when you get a quote from World Nomads using this link. We do not represent World Nomads. This is information only and not a recommendation to buy travel insurance.
Final Thoughts on Baches in New Zealand
New Zealand is an adventure-lovers paradise, scattered with incredible landscapes, coastlines, rivers, mountains, and glaciers just waiting to be explored. Its also known for its unique history blending Maori heritage with colonial rule, which has left its mark on the modern country today.
The food is delicious, the views are spectacular, the people are welcoming, and most importantly, accommodation is generally affordable, so you'll get a lot of bang for your buck here.
It's one of the best countries in the world to explore as a couple, with family, solo, or with a group of friends. No matter who you visit with, staying in one of the best baches in New Zealand is an epic way to experience the country like a local.
Before you make your way down south, do yourself a favor and organize a good insurance plan for your trip. This is especially important for an outdoorsy adventure, where injury can be more common. The only thing worse than an injury on vacation is having to fork out an arm and a leg to pay for treatment.
---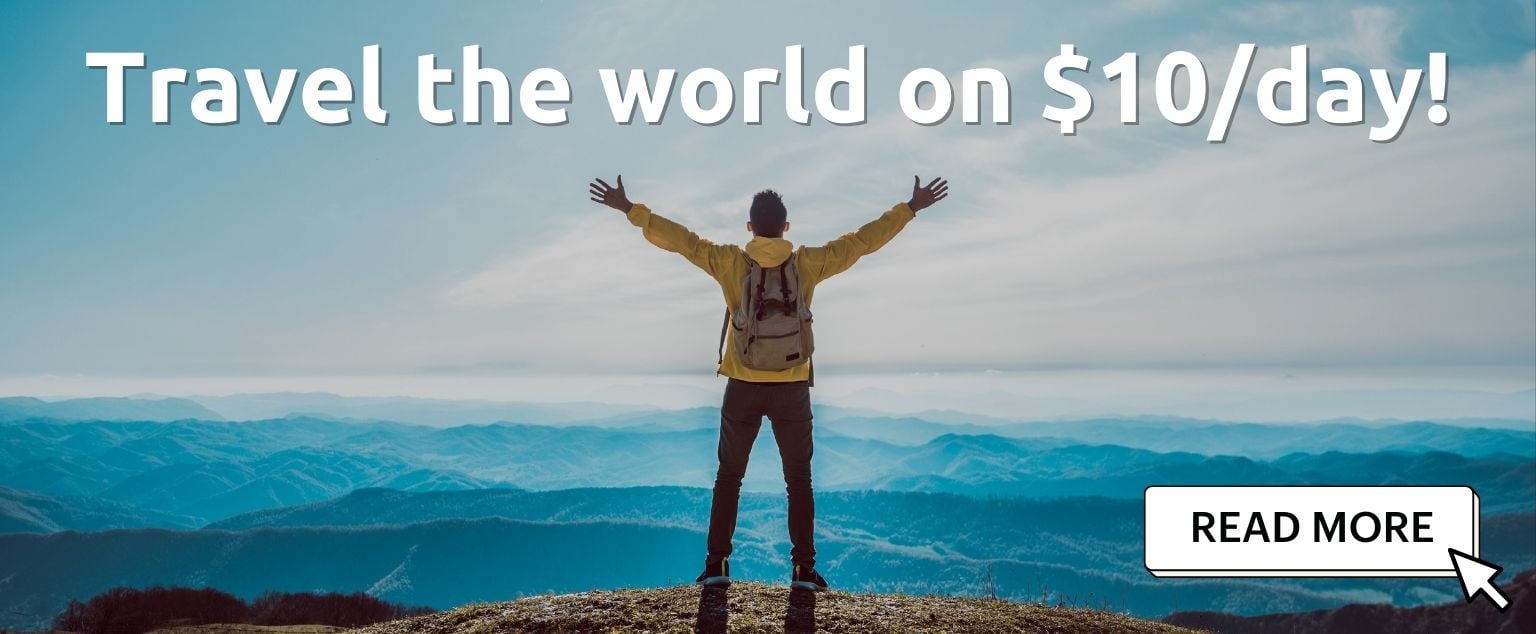 And for transparency's sake, please know that some of the links in our content are affiliate links. That means that if you book your accommodation, buy your gear, or sort your insurance through our link, we earn a small commission (at no extra cost to you). That said, we only link to the gear we trust and never recommend services we don't believe are up to scratch. Again, thank you!