Queenstown – the backpacking capital of New Zealand and hub of all things adventure travel on South Island. If you're travelling around South Island, then you will end up backpacking through Queenstown sooner or later: everybody goes to Queenstown.
But will there be shenanigans?
There's always shenanigans in Queenstown.
A ski town in the winter months, an outdoor adventure town in the summer months, and a party town all-year-round, Queenstown never really lulls. If you're someone that prefers life in the slow lane, it may not be your draw. But for everyone else – particularly the young, dumb and full of… ahem… rum – it's a real treat!
…IF you do it right.
Travelling New Zealand is pricey and a trip to Queenstown is especially expensive. The accommodation in Queenstown is expensive as are the activities and nights getting absolutely plastered in its numerous clubs and venues. Visiting Queenstown without first getting the score would be a total mistake, particularly if you're backpacking New Zealand on a shoestring budget.
That's exactly why YOU need this budget travel guide for Queenstown! It's loaded with travel tips and secrets for backpacking Queenstown on a budget. Pretty soon you'll be buzzing, banging, and bouncing around with the best of them.
Say what you want about Queenstown, but man, it never gets boring.
A trip to Queenstown will eat away at your budget: it's simply too jam-packed with goodies not to! Eating out, drinking out, and getting out and doing ridiculous hair-raising things are all part of the quintessential Queenstown experience.
However, with a little bit of conservative and concerted effort, you'll find keeping your daily budget for Queenstown in check is totally possible. It's just going to require a dedication to the budget backpacker lifestyle.
I'd say for someone who wants to live a comfortable backpacker lifestyle in Queenstown, a daily travel budget of $45-$80 per day is sufficient. BUT (and this a massive but), I haven't incorporated any activities in that.
There are a stupid number of activities for tourists in Queenstown of the high-octane and high-disposable income variety. To manage your budget successfully, you'll need to give careful consideration to what you want to do in Queenstown. Skydiving, snowboarding, throwing yourself off bridges with only a thin elastic rope tied around your ankles…
These things all cost the big bucks.
Lodging – Unless you've got a crew to split an Airbnb with, you'll want to stick to hostels. You can find cheap backpacker hostels in Queenstown for around $15 a night, however, the average is really more like $20-$30 a night.
Transportation – Queenstown is rather small and walkable, however, there is a rather cheap and comprehensive bus network if you need it. The main suburbs of Queenstown are all linked by $1.50 bus rides provided you have a GoCard (more on that later).
Food – Welcome to Down Under where you'd have to push your mother down the stairs for a fiver on three separate occasions just to buy her dinner to apologise! You can grocery shop a typical budget traveller meal for <$5 but otherwise, eating out is nearly always going to cost you $10+ even at the cheap end of the spectrum.
Booze – Ditto to eating out, boozing by the light of the moon (or sun) is costly – usually at least $5 for a standard beer in the pub. Other drinks are comparatively more expensive, and pretty soon you'll be lavishing in the goon-life just to stay at a typical Queenstown backpacker level of inebriation. Doobs are extra, of course.
Attractions – Oh, geez, Queenstown's attractions tend to be more activities of the surging adrenaline kind. That varies considerably. A bungee jump is around $140, hiking is free, and a couple of rides on the Skyline luge will start from about $40.
A Daily Budget in Queenstown
To give you a little more sense of the cost to travel to Queenstown, here are some averages I nutted out:
Queenstown Budget Backpacking Tips
Queenstown on a budget is certainly possible. With a few of the budget backpacker tools-of-the-trade and a few extra Queenstown-specific tricks, you'll be laughing at New Zealand's ridiculous prices of everything in no time.
Pre-drink – Pre-drinks before any romp around Queenstown's raging nightlife is a complete necessity! It's worth considering smuggling booze into venues in a flask too.
Cook your own food – This is a MUST to properly knock down your travel costs in Queenstown! Eating out in Queenstown is expensive, so whether you're using nifty portable backpacker stove or you're just staying in a hostel with a kitchen, cook for yourself.
Hit up the second-hand shop – For gear shopping in Queenstown, you're loaded on choices – the main hub is chock full of fancy-pants stores featuring top-of-the-line snow and adventure gear! But… so are the second-hand shops! If you need to get any backpacking gear while you're in town, go pre-loved.
Dumpster diving – Look, you may not be about the racoon life, but the fact is that the tourist spots in New Zealand are an absolute gold mine for the regular trashcan spelunker. Tourists throw away a lot of tasty treats… contingent on your standards.
Walk – C'mon, man, Queenstown is not big at all! Plus, it's a hiking destination. Forget the buses and taxis!
Go busking – Got an instrument, pair of poi, or a burgeoning interest in ventriloquism? Then go busking! While I had much more fun busking in nearby Wanaka, Queenstown is very much the busking capital of New Zealand.
Hang drum specialists may want to diversify their routine though. Last time I was there, there were three all within 50 metres of each other.
Why Should You Travel to Queenstown with a Water Bottle?
Whilst there's a lot that we can do when it comes to travelling responsibly, reducing your plastic consumption is one of the easiest and most impactful things you, as a bonafide environmentally-aware sex-machine, can do. Don't buy one-use water bottles, don't take plastic shopping bags, and forget straws. All of this just ends up in landfill or in the ocean.
Queenstown may not be big, but that doesn't mean it's easy to figure out where to stay in Queenstown – there are almost TOO many accommodation choices!
From fancy hotels to swanky Airbnbs right down to the humble backpacker abode and cheap motels in Queenstown, the town has plenty of accommodation options to choose from. Most of them are located in the central area of Queenstown as well as pretty much everything and anything else you'll need. If you're not staying on Shotover Street – the happy-haps place to go in Queenstown for backpackers and party people – you'll probably be less than 5 minutes walk from it.
Now, if you do want a more chill experience in Queenstown, then don't go to Queenstown!
…I jest. Kind of… but you would be smart to find a place to stay outside of Queenstown's small but dense central sprawl.
You could stay in one of the outer suburbs – Fernhill is quieter as is Frankton (which is where the airport is) or somewhere like Arthur's Point which is above the town. However, there aren't any hostels outside Queenstown's main hub, so you'll have to look for a cheap Airbnb as an alternative budget accommodation.
Lastly – and particularly if you're touring the South Island by car (or van) – you could just NOT stay in Queenstown at all! I strongly, strongly, strongly recommend taking the 45-minute drive to the much more peaceful Glenorchy up the lake; there are even campsites along the way! You could also check out Arrowtown – a deliciously charming historic mining town – about 20-30 minutes outside town.
I'll be covering accommodation hacks and camping in Queenstown later on in the travel guide, however, I do have to say this: do not attempt freedom camping in Queenstown. Particularly in a car/van, but I'd be wary of even going full hobo-style.
Queenstown has cracked down hard on freedom camping. They really seem to have fetishised fining hapless travellers. Usually, I'd be all gung-ho about freedom camping in New Zealand as long as you're sneaky and respectful, but not in Queenstown. It's just not worth it.
Look, most of Queenstown's best hostels are pretty same-same; kickass amenities, chill backpacker vibes, and the neato extras like bicycle parking and snow gear storage. Adventure Queenstown hostel is exactly all that, HOWEVER, the kitchen is fucking stacked to the rafters!
If you and your freshly-made Queenstown hostel crew aren't cooking up communal feeds, getting plastered on cask wine, and then having sex in all the dorm beds, then you aren't doing Queenstown right.
Best Cheap Hostel in Queenstown: Base Queenstown
It's a cheap place to stay in Queenstown and one that's down with the party life! It's not the cleanest, it's not the nicest, and the power outlet situation is pretty grim, but you get what you pay for. Which in this case, is not a lot.
And, it's in a sweet location – the dead centre of town! It's close to all the best bars and clubs, and the staff are fully expecting you to come back to the hostel blind and stupid.
Dreamy Honeymoon Suite in Queenstown: The Love Shack
I'm not gonna lie: it was the name that sold me! As far as Airbnbs in Queenstown go, there a lot. But I dig this one.
It's outside the noise of the centre sprawl up in Arthur's Point. There's a fireplace – perfect for the backpacking snugglebugs – and a downright gorgeous outdoor deck. It's a perfect base for exploring Queenstown from outside Queenstown; you may just spend the day inside!
There are so many goddamn things to do to Queenstown that you'd really have work on being bored. However, given its status as the adventure capital of New Zealand as well as being a massively famous international destination for adventure travel, most of Queenstown's activities are adventure activities… and suitably expensive.
Keeping that in mind. I've tried to mix up the suggestions of what to do in Queenstown for different vibes of travellers. The adventure activity classic hits, things to do in Queenstown for free, on the cheap, or even GTFOing on Queenstown altogether: every backpacker is a unique special soul.
Some of us prefer Wanaka.
1.Bungy Jumping – The OG Advenure Activity in Queenstown
Speaking of the classic hits, bungy jumping is the title track! AJ Hackett Bungy is the only choice of operator for bungy jumping in Queenstown as well as the progenitors of the commercial bungy jumping industry. Kawarau Bridge is the location of the world's first commercial bungy jump, though AJ Hackett now has two more locations plus a zipline, sky swings, and a human catapult (which I was disappointed to discover wasn't quite exactly how I envisioned it).
Oh and fun fact that I just learnt! Bungy jumping was originally inspired by the vine jumping traditions – the Nagol jump – of the people of Pentecost Island, Vanuatu.
2. Skiing in Queenstown – #Snowbumlyf
If you're in Queenstown come the winter powder, you're in for a helluva time! With 4 ski fields (technically, 5, but the Soho Basin is more for upper-middle-class snowbums), easy access even from town, and an absolute wealth of gear hire shops around, a day on the ski fields is the absolute highlight of any winter trip to Queenstown. Get on the slopes at:
Coronet Peak – The closest ski field to town – only 25-minutes from Queenstown's centre – there are tracks for all skill levels, however, it's particularly suited to newbies of the powder life.
The Remarkables – A bit further out of town, it's the full skiing holiday experience: a ritzy snow-lodge at the base, three sun-drenched snowbowls to carve, and 350-hectares of terrain to explore.
Cadrona Alpine Resort – For some of the most consistent snow patterns in all of the Southern Alps (and, most likely New Zealand), ski Cadrona.
Treble Cone – It's closer to Wanaka than Queenstown, but it's worth the trip for the views alone!
Now, obviously a skiing holiday in Queenstown is gonna cost: gear hire plus passes alone is already a budget-killer. Make sure you invest in some of the multi-day/multi-field passes to stretch your Kiwi dollars a bit further.
3. Hiking in Queenstown – Cheaper Than Skiing
The much more free summertime alternative to skiing, hiking in the Queenstown area is mint! Alpine delights, stunning vistas of mirrored lakes, and all manner of secrets to find. Day hikes for the beginner trampers are on offer as well as multi-day bonanzas and even one of New Zealand's Great Walks. Try your boots at:
Ben Lomond Trail – A meaty hike in both challenge and length (7-9 hours approx.) but with the payoff of some of the best 360° panoramas of the region.
Moke Lake Loop Track – A bit of a local's favourite, this 2-3 hour hike of the gentler variety will give you those mirrored glass effects over the water on a calm day. It's an absolutely wicked place to hike (and camp) on a cloudless, starry night.
Routeburn Track – The trailhead is closer to Glenorchy than Queenstown, but I simply can't mention one of the poster children of New Zealand's tramping scene. It's 2-4 days of backcountry hiking (emerging from close to Te Anau and Milford Sound) with scenery that often has this trek considered one of the best hikes in New Zealand.
4. Second-Hand Scores: Shop Like Your Grandma!
I know I already mentioned this in the budget tips section, but, brah, the op-shops in Queenstown are downright unmissable. There's no wrong way to travel, however, if you backpacked Queenstown and didn't check out the second-hand shops, then that's the wrong way to travel. My favourite op-shops include:
The Hospice Shop and The Salvation Army – Two proper op-shops right next to each other doing second-hand shopping right: cheap as balls.
The Walk-In Wardrobe and Recycle Boutique – Two shops in town that are more like boutique vintage stores than straight second-hand stores. You'll find some killer scores, fo' sho', but the prices are considerably less appealing.
Wastebusters (Wanaka) – One of the best op-shops I've ever been to in my entire life! Just another reason to visit Wanaka. 🙂
5. Busking to the Blasted
Another repeat from the budget tips, but if you got, flaunt it! Even if all you've got is an out-of-tune djembe and an equally off-key pair of lungs, a night busking in Queenstown is a blast. Besides, you're busking to the hammered twelvies of Queenstown's backpacking scene – I can guarantee you two things:
People will throw you cash.
Come the morning, no one will remember a fucking thing.
6. Bomb the Skyline Luge
Honestly, I'm generally not a tourist activity sorta traveller, but blitzing a 1600 metre downward Mario Kart-style track on custom-built luge karts while accompanied by reaching views of Queenstown and Lake Wakatipu is worth every penny.
Pre-roll a couple of doobs, pre-pack some lunches to save some cash, and just bomb the day away.
7. Too. Many. Parties.
Friday night, Saturday night, goddamn Tuesday night – doesn't matter! Every night is a party night in Queenstown!
If you're looking for things to do in Queenstown at night, just take a stroll down Shotover Street and through the town centre to hear the bassy wobbles emerging from the venues of the night. Drink, drugs, and debauchery – the triple Ds of the Queenstown nightlife scene!
8. Forget the Powder Hounds – This One's for the Rockhounds
There is also plenty of rock climbing in Queenstown too! For indoor climbing, head to the Basecamp Adventures Queenstown Climbing Centre. There are also plenty of tour organisers around town to organise a day on the walls outside instead.
As for the climber-climbers (you know who you spider monkeys are), yes, there are an absolute myriad of routes around, both around Queenstown and Wanaka too. It's mostly sport climbing mixed with a bit of trad climbing (and even some ice climbing), but you'll also find some bouldering around Wanaka.
9. Free Feeds at Fergburger
Fergburger – one of Queenstown's finest cheap eats – is ALWAYS busy and packed with tourists. Most backpacker guides for Queenstown would tell you to eat there, but I'm going to tell you to dumpster dive there!
The trash cans are always overflowing and the queue is always out the door. Five minutes of hovering around like an over-eager bin chicken and you're guaranteed a feed!
10. Skydiving Over The Remarkables
For one of the most remarkable experiences of your life, jump from a plane hovering 15,000 feet above the spectacular Southern Alps of New Zealand and gracelessly fall like a rotund Kiwi bird all the way back down to earth. Generally speaking, the views while skydiving are mindblowing no matter where you do it, but the South Island of New Zealand is just that extra bit mindblowing.
Wondering how to spend 3 days in Queenstown? Not sure just exactly what the ultimate itinerary for Queenstown should look like?
Allow me to assist.
Day 1: Queenstown's Must-Sees and Dos
You're gonna start the day before dawn because I'm a knob like that. 😛
Morning: Before the sun even rises, get yo' ass to the top of Queenstown Hill – one of the best places to visit in Queenstown for aspiring travel photographers. It's the only time of day you'll ever see the viewpoint quiet, and the sunrise is guaranteed to tickle your retinas just right (unless it's raining). Plus, seeing sunrise just means you get to walk back down the hill during golden hour.
After that, it's brekky time! A $10 feed at Red Rock Bar Cafe ought to do you right, but you can supersize to the full smorgasboard if the walk left you hangry.
Midday-Afternoon: Now, I reckon it's time to do one (or more if you can swing it) of Queenstown's must-do activities. Honestly, out of all the hella adventurous stuff to do in Queenstown that I've listed, it's just gonna be a matter of choosing what you like!
Peronally, I'd go and bomb the Skyline Luge bacause opportunities like that don't come along very often! A bungy jump, rock climbing, or even white water rafting on the Shotover River are all other recommendations.
Evening: Time for munchies, methinks! If you feel like pushing the budget a bit, go eat at a fancy restaurant. Hell, just eat at the Stratosfare Restaurant and Bar up the top of the Skyline for dinner with a twinkling view of the lights and lake.
Otherwise, pick your posion. Personally, I'd suggest Mexican and margaritas at Loco Cantina. That's a combo that never gets old.
Night: Man, you are a keen bean – go get some sleep! You were up before dawn!
If you want to party the night away, go for it, but I'm suggesting you save your spoons. You've still got 2 more days in Queenstown and plenty of time left to get loose.
Day 2: Winter or Summer?
This day is easy to plan, but it depends on what season you're visiting Queenstown in.
Day 2 in Winter: Go skiing! Or snowboarding Or tobogganing… just hit the slopes!
Coronet Peak is probably the place to visit in Queenstown for one day's worth of skiing. All the gear and facilities you'll need are there, and it's super beginner friendly! Spend the day there until you're absolutley pooped.
Day 2 in Summer: In summer, go for a hike. A dope hike though – don't be a pansy. Tackle the Ben Lomond Trail.
It ain't an easy day hike; it'll probably take you all day. But for the views at the top, man, you won't regret it.
Night: Again, I feel like you're probably too wrecked for partying. I'm saving that for night three.
Just have a nice dinner – somewhere romantic and candlelit with your significant other. Walk the shimmering lakefront at night and whisper sweet nothings into each other's ears.
And if you're alone? I dunno, get a pizza and go back to the hostel to cry yourself to sleep. Who knows what tomorrow will bring?
Day 3: Day Trips – That's What!
That's right – today is the day to get out of Queenstown! There are lots of cool places to see near Queenstown. While how you get there is really dependent on how you're travelling New Zealand, it's still totally worth the adventure.
I'll cover some suggestions for day trips from Queenstown in the next section, but for the purpose of day 3 of our itinerary, I suggest either Glenorchy or Wanaka. They're both in opposite directions, so it's one or the other, but you really can't go wrong with either of them.
Honestly, if you don't mind a smushy itinerary, you could probably jam them both into one day as long as you start early. You could even take a lunch break in Queenstown on the way back through – perhaps that towering greasy delight from Fergburger?
Hiking, swimming in the lake, or just aimlessly driving, spend the day exploring the mesmering scenery of the landscape surrounding Queenstown. And then, after the sunsets… then it's finally time to party.
Night: You do you – that's the only rule of the night! You have an entire party town slammed with pumpin' venues, and then the inevitable kick-on's at someone's hostel or Airbnb (or just in the park).
Pick your poison for the night: drinks, doobs, or cocaine through a bendy sippy straw – it's all good! Just make sure don't miss your flight the next day.
Day Trips from Queenstown
Ok, so about those day trips – there are heaps! So, here's my pick of the lot.
Now you've got a good scoop of what to do in Queenstown and where to go, let's get into the nitty gritties. Travel is about more than just beautiful, life-changing experiences. It's about stats and number-crunching and sweet glorious travel insurance!
Welcome to the world of adult responsibilities.
Best Time of Year to Visit Queenstown
Look, Queenstown is basically an all-year-round destination: winter is for the powderhounds and summer is for the adrenaline junkies. Both seasons suitably pack out exactly how you would expect peak season to go.
Winter (June through August) is when Queenstown becomes a snowbum's paradise. Parties up the wazoo attended by only the youngest, dumbest, and most full of cum, and, of course, there'll be plenty of New Zealand's silkiest and most intoxicating white powder… I'm talking about the snow!
Summer (December through February) is for every other kind of outdoorsy holiday in Queenstown. Hiking, climbing, and a whole bunch of the adventure-themed tourist activities are the main attractions in Queenstown at this time of year. Be warned, however, in both the summer and winter seasons, prices go up.
Lastly, spring and autumn could be considered the shoulder/off-seasons though it's still backpacker central and hardly quiet. Weather patterns can be unpredictable and turn quickly, but, honestly, you're travelling New Zealand: get used to that.
But I will say that when the winds pick up on Queenstown's lakefront, that shit bites! Make sure you know what gear to take hiking and for other outdoor adventures, even in the warmer months.
Getting In and Out of Queenstown
Your visit to Queenstown will more than likely start at Queenstown Airport in the suburb of Frankton outside the city centre. Given Kiwis' amicable hospitality for all things hitchhiking life, you could probably even thumb a ride to your hostel!
Failing that, there are heaps of transport options sitting right outside the airport arrival gate waiting to take you into Queenstown:
Public Buses – Which sorta cost $2 NZ but also sorta don't: see the next section.
Shuttles – With Super Shuttles, which is who'll you'll almost definitely ride with, it should be $15 NZ for one person with each extra person in your crew being an extra $5.
Taxis and Limos – A taxi from Queenstown airport to Queenstown's centre ought to be around $35 NZ. As for limos… Bro, do you even broke backpack?
Otherwise, if you're not flying in, buses to Queenstown run from other major cities… not that South Island has many. The InterCity network buses cover that, but honestly, I'd rather hitchhike.
Finally, for those travelling New Zealand by campervan (or some other vagabond Bat-Packer-Mobile), parking in Queenstown is a bitchin' pain-in-the-ass nightmare-from-hell. I already mentioned to watch yourself freedom camping (or freedom parking) there, but even parking your warhorse in town for the day is a pain.
Try this aptly titled post on where the hell you can park in Queenstown to figure out where to leave the shaggin' wagon for a day's adventuring.
How to Get Around Queenstown
Getting around Queenstown is honestly a snap. Small, well-connected, and easily walkable is the name of the game in Queenstown. Still…
Safety in Queenstown
Yeah, look, it's New Zealand: Queensland is totally safe to visit. One time, a man stubbed his toe in New Zealand, and that was probably the worst thing that happened there that year.
Some people are still assholes, of course, so hide your money and passport well when visiting Queenstown, particularly in the hostel and clubs. Is anything likely to get nicked? Not really, but there's no sense leaving yourself open.
Speaking of, I'm sure there's been no shortage of punch-ons take place in the streets of Queenstown during the early hours of the drunk-hazed mornings. Its nothing out of the ordinary for a backpacker-centric resort town, but still, party safe, yo! Good vibes only.
Otherwise, it's nothing else but the standard safety tips for backpacking anywhere in the world: be good, be smart, and trust your gut. And take care when exploring the adventurous highlights of Queenstown and doing the crazy shenanigans (like jumping out of a plane at 15,000 feet). Your mum wants you home in one piece.
Get Insured Before Backpacking Queenstown
Yassss – snowboarding, climbing, or brawls over babes on Shotover Street, injuries happen on the road. Consider getting your ass insured before you take off travelling to Queenstown (and the rest of the planet)!
The Broke Backpacker is all about World Nomads Travel Insurance. Several members of the team use it, and they're one of the most trusted travel insurance providers for both itinerary-less globetrotters and mountain-conquerors (at elevations under 6000 metres).
We've even reviewed World Nomads! You can give that a squizz and see if they're the provider right for you.
ALWAYS sort out your backpacker insurance before your trip. There's plenty to choose from in that department, but a good place to start is Safety Wing.
They offer month-to-month payments, no lock-in contracts, and require absolutely no itineraries: that's the exact kind of insurance long-term travellers and digital nomads need.
SafetyWing is cheap, easy, and admin-free: just sign up lickety-split so you can get back to it!
Click the button below to learn more about SafetyWing's setup or read our insider review for the full tasty scoop.
Queenstown Accommodation Travel Hacks
Even Queenstown's budget accommodation is still kinda pricey and all broke backpackers need to save their dollaridoos. While it can get kinda crusty sometimes, there are ways to travel for free. And sometimes these ways include a shower!
Try…
Some Extra Free Things to Do in Queenstown
Travel budgets for Queenstown tend to be in dire straits UNLESS you're sticking to the cheap activities. And what's even better than cheap activities?
Free activities!
A spot of frisbee golf – Head over to the Queenstown Gardens to find an 18-'hole' course (they're more like baskets). A round of frisbee golf in the gardens is totally free, however, you'll need to bring some frisbees (which you can buy all over Queenstown). So, it's more like semi-free.
Go walking in Queenstown – I couldn't rightfully put this under the hiking section because that's really stretching the concept of hiking; they're two walks in Queenstown starting basically from Queenstown!
The Queenstown Hill trail takes you up the hill over Queenstown for some seriously impressive views (although you can safely expect to be sharing the trail with others). The Tiki Trail is another chill and short hike-lite that – while lacking in impressive views on the ascent – offers arguably even better views than Queenstown Hill from atop Bob's Peak.
Lord of the Rings scavenger hunt – Tours are stupid – go find the LOTR filming sites around Queenstown yourself! All you need are the GPS coordinates (enclosed in the link), a healthy bit of brave stupidity, and possibly a lifelong treasured companion that would follow you to the ends of the earth.
Here's a cheeky push to get you started:
Books to Read About Queenstown
Look, to be perfectly frank, bar a few photography books, there aren't actually a whole lot of books set in Queenstown. Instead, I just ripped a few suggestions from our backpacking New Zealand guide:
While finding someone serving up a mean kai in town is not a problem, actually choosing where to eat in Queenstown is more of a struggle. You are absolutely loaded for choices!
Around every corner is a bar, cafe, or restaurant. There are budget-minded fast food joints, hipster-wank espresso sheds, ritzy restaurants, plenty of international cuisines, and, of course, the humble blotto 3 A.M. kebab – the most time-honoured of traditions Down Under
Finding somewhere to eat in Queenstown isn't hard: finding somewhere cheap to eat in Queenstown is the challenge.
The Best Restaurants in Queenstown: Cheap Eats Edition
Eat well, eat cheap, and eat lazy at Queenstown's finest dispensaries of budget cuisine:
Slice Pizza – My absolute favourite deal in all of Queenstown: all-day-long single large slices of pizza for $2! Take that lass you've been wooing at the hostel for a picnic in the park, broke backpacker style.
Fergburger – Look, they're honestly not the best burgers I've ever had (based on what I sampled from the bin out front), but they are cheap! …Ish. You can fill yourself up for a tenner at least.
Fergbaker – Fergburger's sister pie shop serving up pies and pastries for less than $5. Honestly, go this over the burger.
Loco Cantina – If you're staying at Nomads Queenstown, they actually run little partnership discounts with Loco Cantina for guests (although why you would stay at a Nomads Hostels anywhere in New Zealand or Australia is beyond me). Loco Cantina runs a whole bunch of other deals, however, open to everyone, and in keeping with their clientele' budgets. 2-for-1 Taco Tuesdays at only $5 a taco – that's a loco bargain!
Red Rock Bar Cafe – Also knows their clientele with a $10 all-day-breakfast of the 'knock your hangover over' variety (which you were probably awarded for getting too stuck into the margaritas at Loco Cantina on Taco Tuesday).
Nightlife in Queenstown
I've already made plenty of not-so-subtle references to the night-vibe of Queenstown, but, yeah, it's a total party town. Think East Coast Australia vis à vis Gold Coast/ Byron Bay meets Banff (or Hakuba or any other powderhound's Mecca where the drunk Aussies make their pilgrimage to).
Now, I'm admittedly a bit of a party snob; I like my parties to be a very certain way with a very certain type of crowd. Queenstown is not that – it's a straight backpacker party town.
But for the backpacker/tourist/early-twenties binge alcoholic thing, you'll have an absolute fucking hoot in Queenstown! Load up on pre-drinks, go trawl the streets bouncing from one venue to the next, and keep drinking until you wake up sometime, somewhere, next to whoever made bone buddy status that night.
And, yes, duh, drugs are never far away. They'll be expensive, as it's New Zealand, and probably kinda mediocre quality, as it's New Zealand (ganja and psychedelics notwithstanding)… but they're there and more than serviceable! Between the booze and the other delights of the night, a good time is never far away.
Loco Cantina and Winnie's are both mainstays of Queenstown's nightlife scene (and the Below Zero Ice Bar seems kinda cool – pun totally intended), however, throw a rock and you'll hit somewhere to party at in Queenstown.
Listing Queenstown's hottest clubs and bars is kinda pointless; a late-night wander through the town will land you where you want to be.
Queenstown is an absolute gem for travellers working on the road. Many backpackers doing a working holiday in New Zealand (New Zealand being a supreme destination for a working holiday) just end up living and working in Queenstown.
Obviously, the ski fields – though very seasonal work – provide heaps of job opportunities. Besides, if you know anything about the lifestyle of working the ski fields anywhere in the world (just re-read the 'Nightlife in Queenstown' section for a clue), you know it's backpacker-friendly.
That's not to mention the multitude of hospo jobs floating around Queenstown! With so many bars, clubs, cafes, and restaurants around, jobs in the service industry are everywhere. Could you possibly land a cash gig there for those without a work visa?
Honestly, I'd eat my own Thailand Elephant Pants if you couldn't.
You could do a working holiday (or internship) placement with Global Work and Travel if none of the above sounds appealing to you. They offer opportunities in major cities throughout New Zealand, including Queenstown. They'll support you throughout the entire process; from VISA guidance to finding you the perfect placement. You've got to be between the ages of 18 to 35 though…apologies if this isn't you!
Lastly, how's the digital nomad life in Queenstown? Well, considering the cost of living in New Zealand, not that great unless you have a very lucrative online job. Those working as an English teacher abroad may find the life in Queenstown to their liking – slopes to carve in the winter months and steeps to hike in the summer months – but it's a hard sell considering your proximity to Southeast Asia.
If you're looking to get into online English teaching and the digital nomadic lifestyle, you'll need a TEFL certificate. With one in hand, you'll find doors opening for you all over the world! Check out MyTEFL for getting your TEFL certificate online: they're one of the simplest and most professional course conductors on the web AND Broke Backpacker readers get a 35% discount on their course fee! (Using the code BACKPKR at the checkout.)
Just have a blast! Queenstown is massive draw for tourists from all around the world. Nestled by the pristine Lake Wakatipu amongst the stunning mountainous terrain of South Island's Otago region, Queenstown is a gem to visit.
It's expensive, yes, but by now, you should have enough tips and tricks to make backpacking Queenstown on a budget extremely possible. Besides, it's backpacker bloody central! A few hours in town and you'll be meeting travel buddies, partners-in-crimes, and entire troupes of troublemakers in no time!
Which I suppose is the last thought of the Queensland travel guide: just be cool, yo. Sure, it's backpacker central, a tourism capital, and a neverending pandemonium of parties and shenanigans, but there are actual locals in Queenstown too. Kiwis who were born there and no doubt watched it change immensley over the last few decades.
So just be kind to them and their home, yeah? Don't wreck the place. Have fun and let loose, but don't do it like an asshole.
And the last, last thought of the travel guide? Don't get stuck in Queenstown! The South Island of New Zealand is one of the most beautiful places on Earth to travel – don't miss out on it.
And failing all that, Wanaka is still only an hour up the road. And it's like 100x better than Queenstown.
---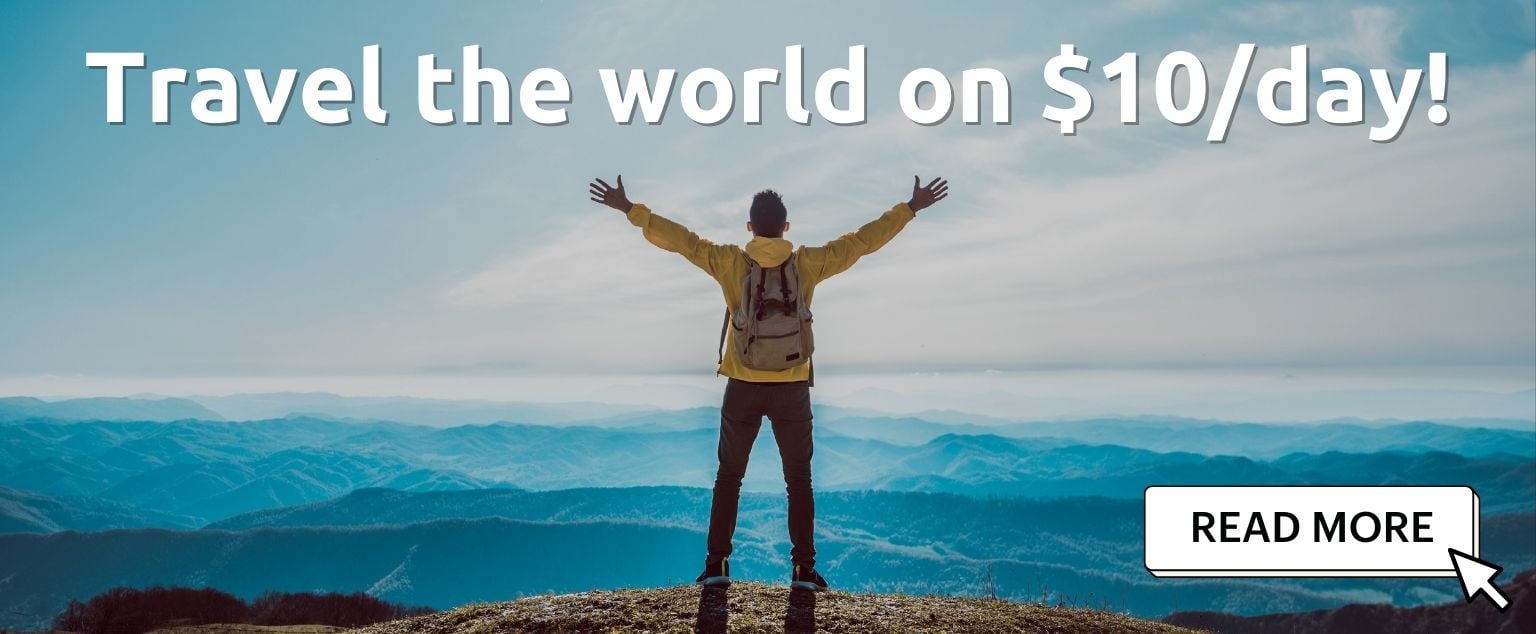 And for transparency's sake, please know that some of the links in our content are affiliate links. That means that if you book your accommodation, buy your gear, or sort your insurance through our link, we earn a small commission (at no extra cost to you). That said, we only link to the gear we trust and never recommend services we don't believe are up to scratch. Again, thank you!