New Zealand has been the mainstay of backpackers for many years. Think adventure sports and camper van road trips, and this far-flung island nation springs to mind. But it's also got white beaches and cool cities, plus in recent years it's gotten a lot more famous thanks to those tricksy little Hobbitses.
Travel here can be cheap and adventurous. However, the distance between its main hubs is pretty vast, and the difference between the north and south island quite distinct at times. So where do you wanna hit up on your New Zealand trip? How do you split your time? And moreover, where you gonna stay?
Don't worry. We got you. We've gone through the cities of the north and south islands to find the best hostels in New Zealand, to make your life MUCH easier.
So whether you want a slice of vibey nightlife, or if you want mountainous hikes and epic nature, there'll be a town for that – and a hostel to suit you. So let's have a look…
Quick answer: The Best Hostels in New Zealand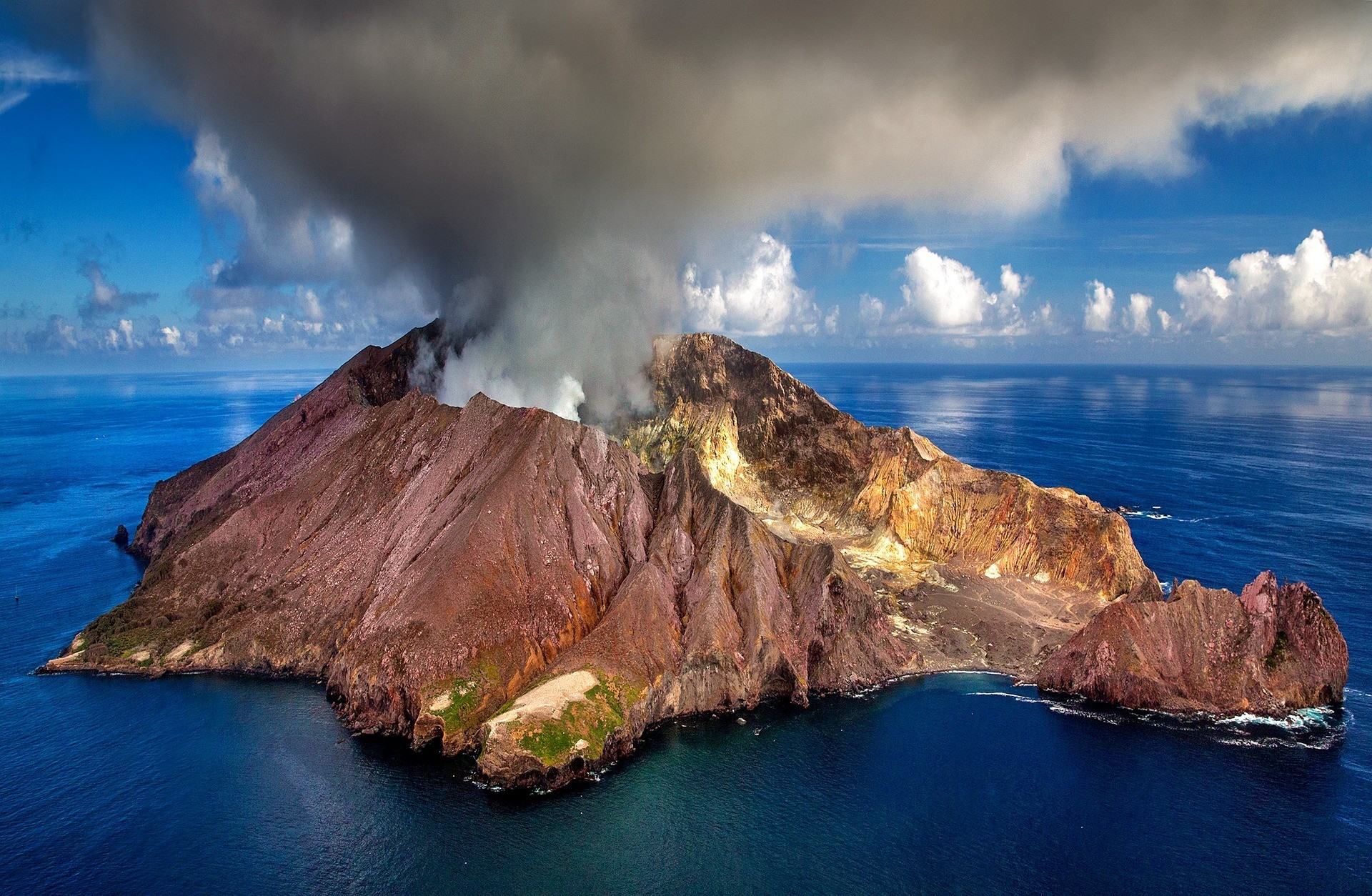 Though this major city on the north shore of the north island is a hub of things to do in itself (the views from the Sky Tower being one), the surrounding area is a mash of beautiful nature that really makes this a worthwhile place to base yourself – even if you're not a fan of cities. When it comes to Auckland's hostels, not all of 'em are super central either, meaning you'll be chilling in the suburbs of New Zealand's largest city instead.
Do You Want to Travel FOREVER??
Then pop your email address in below and we'll send you a FREE copy of 'How to Travel the World on $10 a Day!' – make travel your LIFE.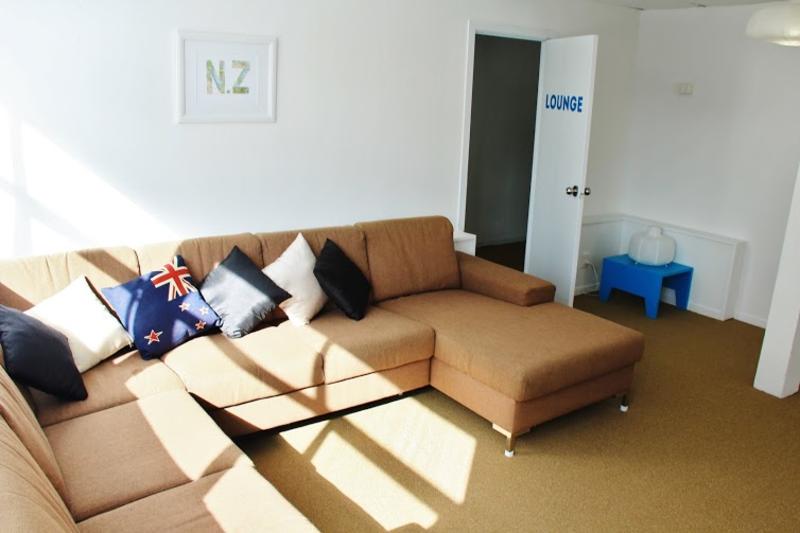 $$$
Tour Desk
Laundry Facilities
Jobs Board
Friendly, relaxing, and centrally located, The Attic Backpackers is a top hostel in Auckland. There's a large terrace for prime chill-out time, a sociable dining area, a tour desk, a book exchange, and a kitchen. Wi-Fi is free and you can scour the jobs board for all the latest vacancies. Don't worry about having to climb the stairs each time you go in and out—there's an elevator. Laundry and luggage storage are available too, and there are female-only dorms as well as well as mixed dormitories. There's an over-18 policy.
Another Great Hostel in Auckland – YHA Auckland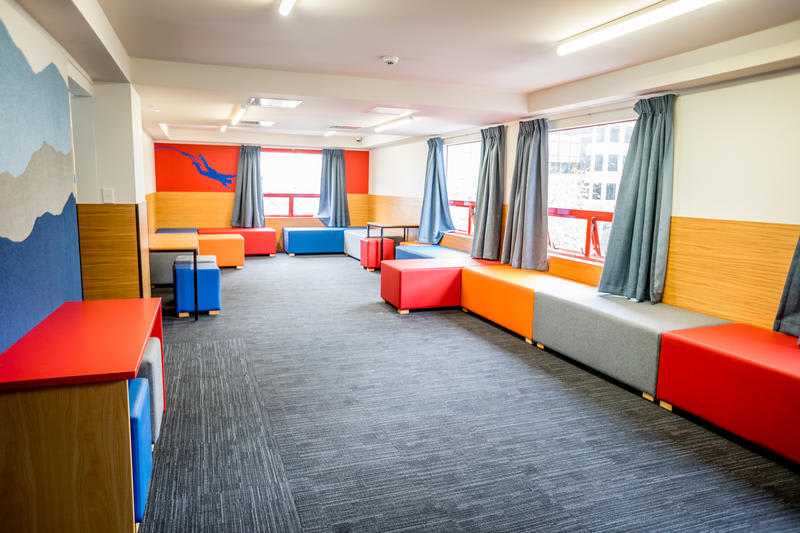 $$
Outdoor Terrace
ATM
Laundry Facilities
This is the kind of top Auckland hostel that you're gonna want to stay at. The brand spanking new facility has got itself a big communal kitchen and common room so you can whip yourself up some food and get chatting to other guests – or why not have a BBQ on the terrace with your new hostel mates.
The staff are one of the many reasons why this is our best overall hostel in Auckland, they are super friendly and will make sure you always feel welcome and know all about the nearby restaurants and bars in town.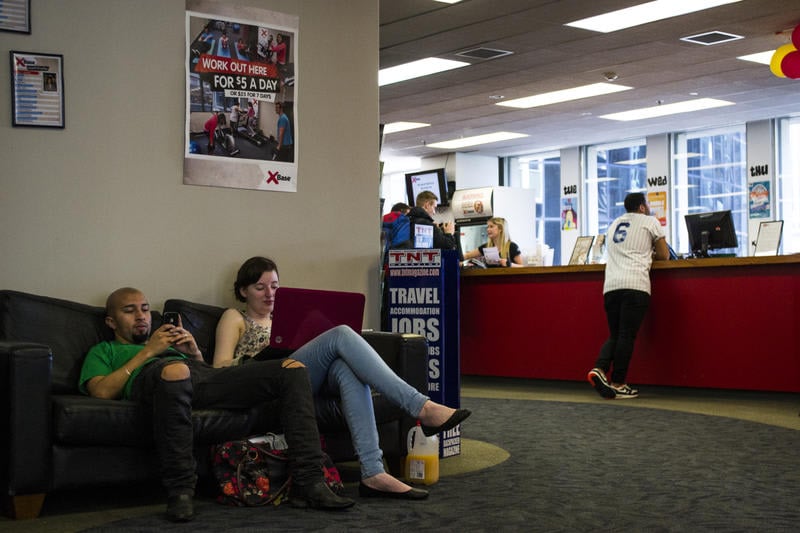 $$
Free Breakfast
Pool Table
Bar
Two bars mean that this Auckland backpackers hostel is well prepared for a drinking filled evening, which is sorta what you want out of a party hostel, isn't it? Another thing you want is location: being close to the bars of the city is a definite, definite plus.
The big ol' kitchen means you can cook up some grub for yourself when you stumble back in after hitting up the town, too. The staff are super friendly and, if you hit it off with your fellow travellers, you're gonna have the best time. So, it's pretty much the best party hostel in Auckland. When you're reading to take a day off from partying, check out our Auckland itinerary and follow along.
$$
Jobs Boards
Communal Kitchen
Luggage Storage
If you wanna stay in a fun hostel with your partner, but also have enough space to chill out together, this place is the best hostel for couples in Auckland. The hostel has a range of rooms that are big with really comfy beds, including the private rooms with their en-suites bathrooms.
The chilled location of this Auckland backpackers hostel, downtown to be exact, is close to a few of sights and restaurants – and if you want to head into the buzz of the city centre you can reach it on foot.
What is the One Item Every Traveller NEEDS???
There is one item every traveller NEEDS. Some travellers don't even know they need it, but those travellers need it more than anyone.
What is this forgotten essential of the backpacker-life? SPOILERS! Guess you'll just have to click the button to find out. 😉
Find Out What It Is!
The capital city of New Zealand, on the southernmost portion of the north island, is, well, a bustling big city. Wellington's hostels are popular and filled throughout most of year. It's a good place to base yourself if you're gonna catch the ferry over to the south island, but aside from that, it's a cool city to hang around in for a few days.
Make sure you know where to stay in Wellington before you book your accommodation! Get the iconic red Wellington cable-car up to the botanic gardens, geek out over some nearby Lord of the Rings locations, and wander round the historic timber houses. You'll love it. Oh, and it has the nickname 'Windy Wellington' apparently, which just kills us.
Best Overall Hostel in Wellington – The Marion
$$$
Communal Kitchen
Laundry Facilities
Cable TV
This place is new and shiny. Constantly rated as the best overall hostel in New Zealand (yup, it sure is), it's SUPER clean with a crazy good location: just a block over from Cuba Street. This Wellington backpackers hostel doesn't feel like one at all.
Sure, it might COST a little more… but it's well worth the money. Bunk beds come with privacy curtains, the bathrooms are immaculate, and the staff are ultra helpful. I mean, what more do you want outta the best overall hostel in Wellington?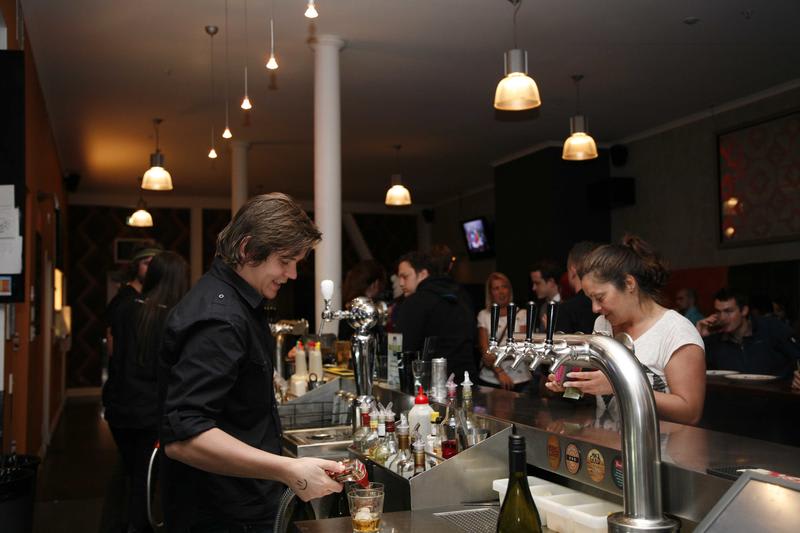 $
Free Breakfast
Free Dinner
Bar
Well, if you're looking for one of the coolest hostels in Wellington, this is it. If you like free food (and why the hell wouldn't you??!) then you can stuff yourself silly every morning on pancakes, and then come back for the free dinner later on. Absolute winner.
But, aside from filling you up on food, this is also the best party hostel in Wellington: staff make sure the beer is always flowing in the hostel bar. Head out to the surrounding Downtown, which comes alive in the evening with bars and nightlife hotspots.
Best Hostel for Couples in Wellington – The Dwellington
$$$
Free Breakfast
Games Room
Outdoor Terrace
Like staying in a home away from home, the actually geniusly named Dwellington (usually puns are drab AF but we love this one) features the actually best private rooms ever. The building itself is pretty much a heritage site, too. We're shocked that it's a hostel really. Amazing.
Naturally, the lavish, Airbnb-style feel of the place would suit people travelling with their partner. It's the best hostel for couples in Wellington. There's a tennis court (no: seriously) and a cinema room, amongst other things that give this place a truly luxurious feel.
Is This the Best Backpack EVER???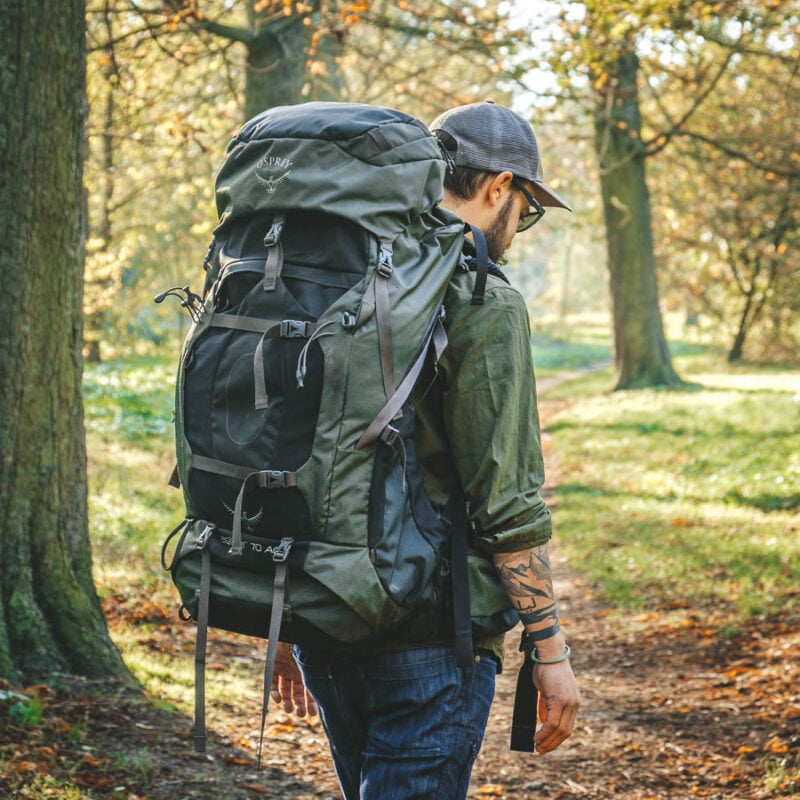 Named after Christ Church, Oxford, this south island city is jam packed with English heritage and amazing backpacker hostels – there's Christchurch Cathedral in the historic Cathedral Square, plus a number of other stone buildings; it's also pretty fun to ride the heritage tramway around town. The proximity to the Southern Alps means that, mainly if you like skiing, you'll probably like staying in Christchurch.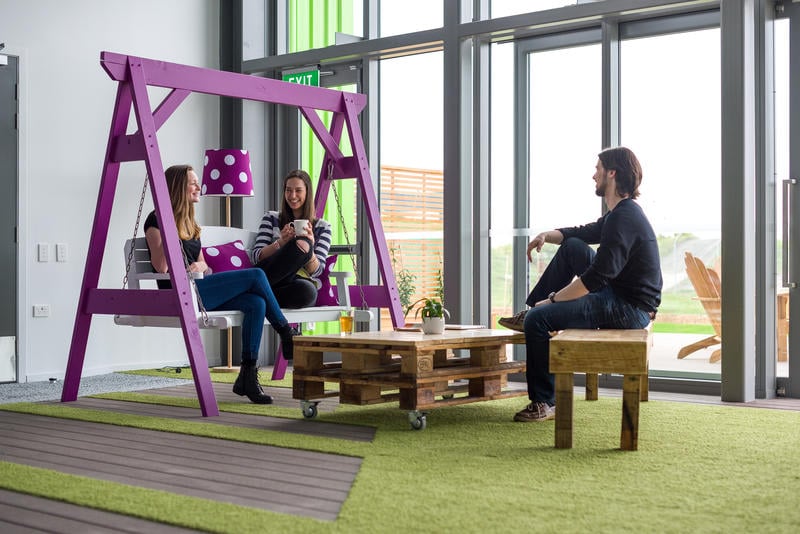 $$$
24 Hour Reception
Foosball
Cafe
This place is located very close to the airport, for all those fans of hassle-free travel out there – like, you can literally walk there in 10 mins. The town is also a 25 min walk away, there's a supermarket plus a few restaurants across the food. But juicy Snooze isn't just convenient: it's the best overall hostel in Christchurch.
There are various rooms to suit your budget, plenty of showers/toilets to choose from (YES, no queues) chill in the huge common room, cook yourself some food – it's great. The interior looks a bit like Tellytubby land, like a lotta astroturf inside a big warehouse and a load of bright colours. But it's also clean.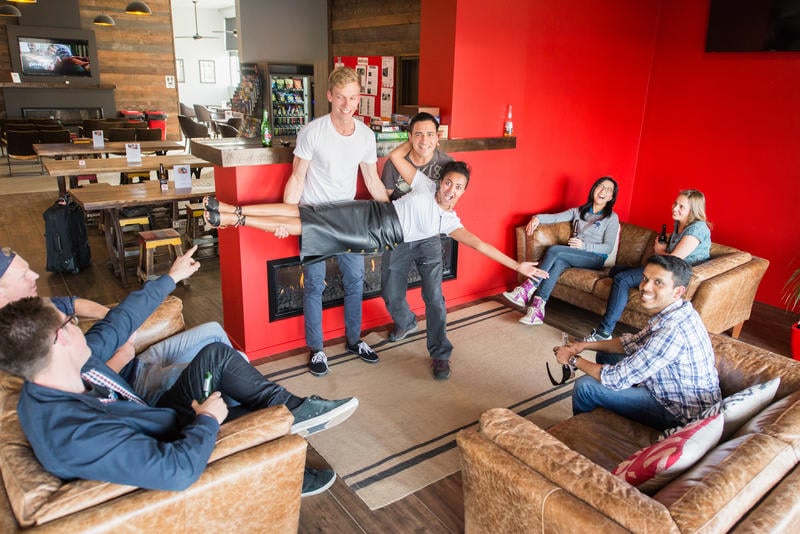 $$
Communal Kitchen
Pool Table
Bar
It's a big ol' renovated loft which is SO close to all of the main sights of the city, which is a great shout for a Christchurch backpackers hostel. What also makes this a solid option is that it sells the cheapest beer in town at its bar. Or it says that it does, anyway.
Naturally, that's the sorta thing that's gonna make this our top pick for the best party hostel in Christchurch. And, duh, it is. So, yeah, have a few o' those cheap beers, get a few pool games in, and hit the town. It's a big hostel, too, but it's still easy to meet other people, making it great for solo travellers as well.
Best Hostel for Couples in Christchurch – Kiwi Basecamp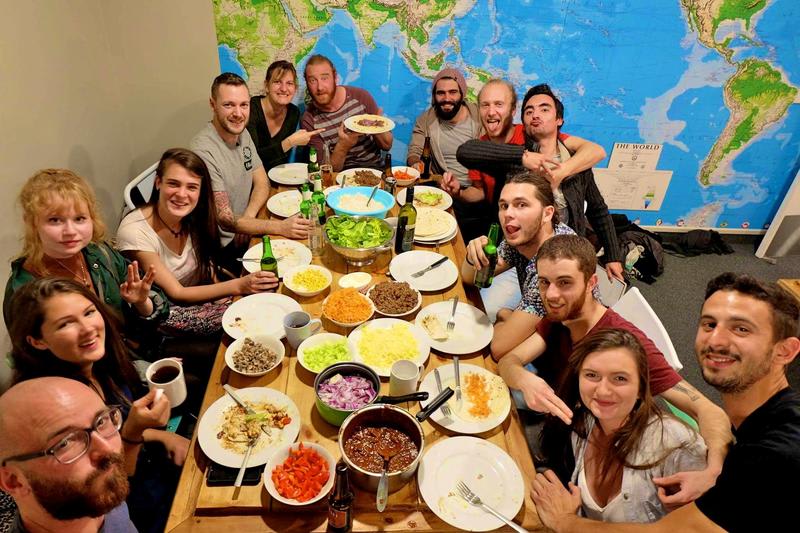 $
Free Breakfast
Outdoor Terrace
Free Parking
Homely, relaxed, quiet, and really friendly. Yup. And if you're the kinda person who likes freshly baked bread in the morning, then you should probably stay at this place, the best hostel for couples in Christchurch. It's calm, not party-centric, just right for you and your partner.
Sure, sure, sure, it might be a little bit of a walk to town, but this top hostel in Christchurch also has a garden for chilling – and on top of the free bread, you also get a free pasta bake every weekday.
Queenstown's hostels are some of the best on the South Island. The city itself is pretty impressive too. Set on the dramatic shores of Z-shaped Lake Wakatipu, you can do classic things like bungee off the Kawarau Gorge suspension bridge (that's SO New Zealand), skiing in the surrounding mountains, hiking. Backpacking Queenstown means you'll have plenty to do.
They pretty much like to gear 'emselves up as the adventure capital of the world, and, well, they're pretty much not wrong. If you like the outdoors, Queenstown's a great place to stay.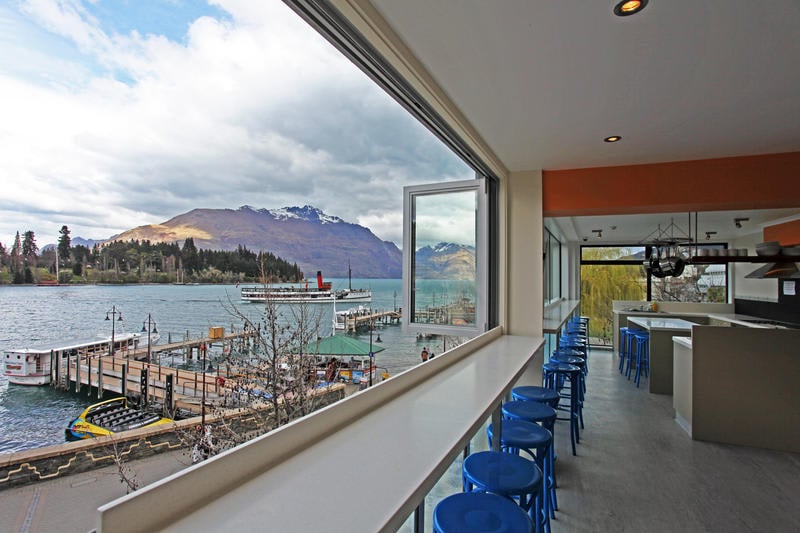 $$
Games Room
BBQ
Book Exchange
As much as the spelling of Absoloot makes us shudder, this New Zealand backpackers hostel is something of a flashpacker hangout. It's got a PlayStation, X-Box, Wii, which is cool, but most cool is that it has a crazy kitchen with literally stunning views of the lake and mountains.
The staff are very good indeed, and definitely know what they're talking about when it comes to tours and just generally getting out to see the local area. I mean, it's big, it's clean, but that view alone makes it the best overall hostel in Queenstown; it's the kinda place you dream about going back to.
Best Party Hostel in Queenstown –  Base Queenstown
$
Communal Kitchen
Free Breakfast
Bar
This. Is. The. Place. To. Party. In. Town. Yep, it's got a vibey party atmosphere along with fun staff who are keen to get the party going. It's located down one of the most popular streets in Queenstown, meaning there's bars and buzzy nightlife right on your doorstep.
They also have their own bar: Loco Cantina. This has drinks deals for guests, decent DJs, and as you might have been able to guess from the name, Mexican food. Great for getting smashed after a few tacos. So, yeah, it's definitely the best party hostel in town. (Though it is a lil' bit grimy).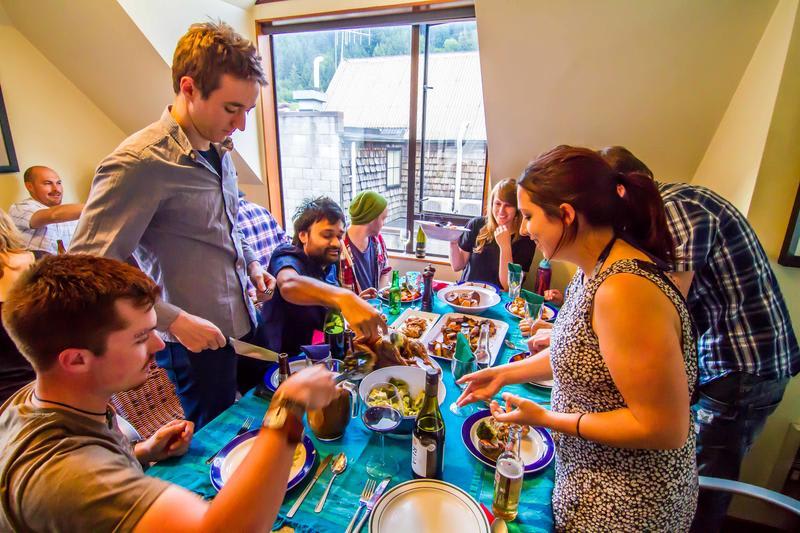 $$
BBQ
Outdoor Terrace
Postal Service
A cute place right in the middle of town, this recommended hostel in Queenstown is a warm and welcoming place with pretty much everything you want (or need) within walking distance. It feels personal – in a good way.
So the best hostel for couples in Queenstown also has balconies, nice for chillin' with a drink… oh and your partner, too. It's quite a small hostel, but you can get a decent night's sleep here: no bars right underneath or anything like that. Great for couples, like we said.
A place to go to soak up a bit of Maori culture, Rotorua sits on the southern shores of Lake Rotorua. Being a pretty volcanic place, there are mud pools and hot springs galore – and even some spewing geysers to gawp at. Beautiful forests nearby are pretty sick for a hike, we have to say, plus there are some amazing bike trails too.
Rotorua's hostels are unique and charming. Wanna unwind? Wanna adventure? Wanna do both? Wanna do neither? Come here.
Best Overall Hostel in Rotorua – Funky Green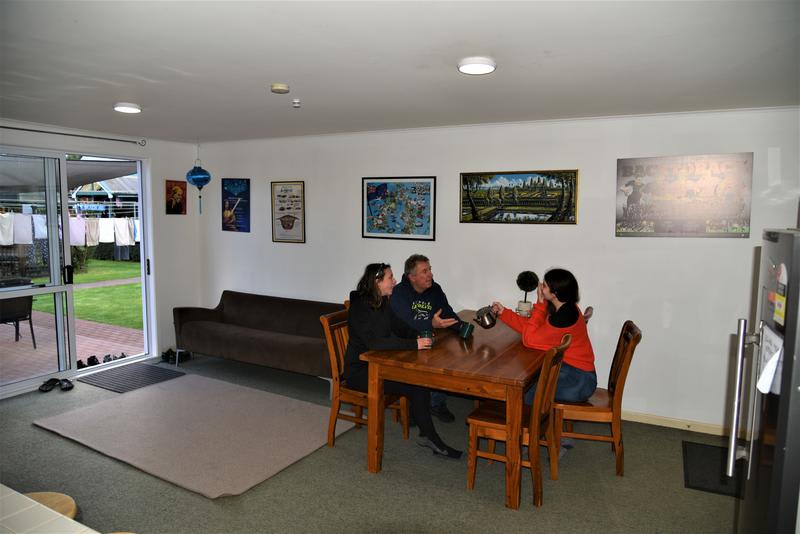 $$
BBQ
Book Exchange
Laundry Facilities
This top hostel in Rotorua has a great central location; it's right near the inner city SkyBus. It's not funky (that's subjective), but it IS green. They're big on recycling, eco-issues, have a garden – full of greenery, and the building is green. Lives up to half its name, at least.
They have BBQs in the summer, log fires in the winter, the rooms are spacious, it usually attracts people who are nice to have a chat with, and the staff are travellers themselves, so we guess they know how to create an atmosphere that helps make it the best overall hostel in Rotorua.
Best Party Hostel in Rotorua – Crash Palace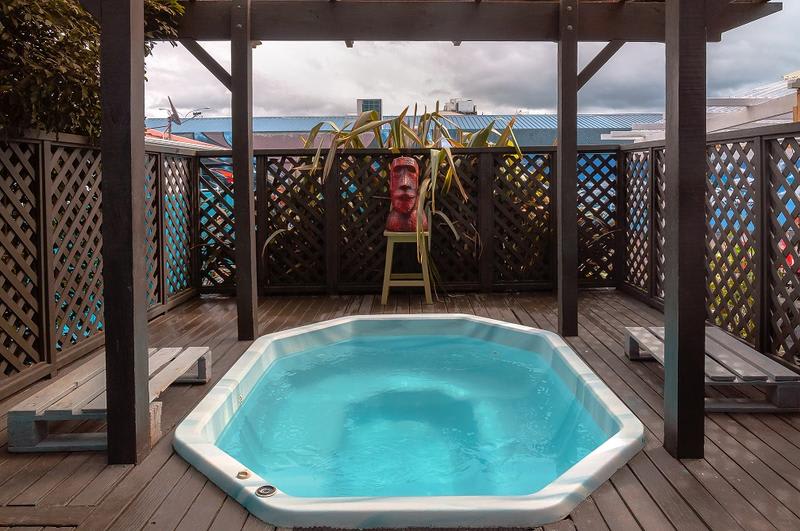 $
Bar
Pool Table
Free Parking
Crash Palace. Yep, you read it right. And as you might expect, it's a budget hostel in Rotorua. If you wanna crash out after a night of drinking, this is the place. That and the bar – and the hot-tub (great with a beer in hand) – makes it the best party hostel in Rotorua.
Decor-wise… well, it's the kinda place that has KoOkY aRtWoRk all over the walls, like or loathe it. But this probably has something to do with their support local creative youth products, which is nice actually. So close to the pubs and bars in town, making it easy to go out for a few more drinkies.
Best Hostel for Couples in Rotorua – Spa Lodge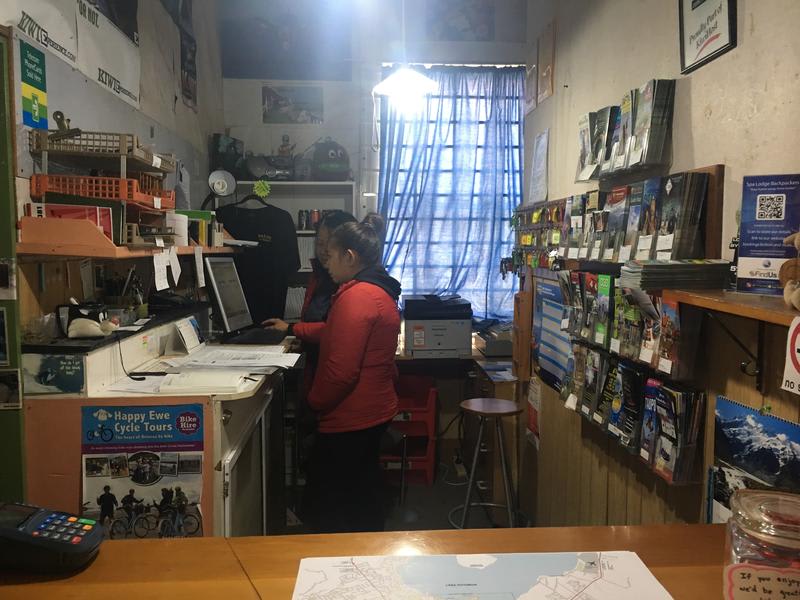 $$
Hot-tub
Communal Kitchen
Outdoor Terrace
This locally run Rotorua backpackers hostel is a great little spot for couples since its not right in the middle of the city, so you can spend some chill time with your partner in the courtyard, enjoying a dip in the geothermically heated pool (we've just called it a hot-tub above but you get what we mean).
The best hostel for couples in Rotorua, they also have private rooms. They're somewhat basic but it still means privacy, eh? There's a kitchen so you can make some meals together. Bonus: staff are WELL nice and will help you with onward travel. Great if you're on a road trip – parking is also free.
Best Hostels in Dunedin
This less-touristed (than Queenstown) city on the south island's Otago Peninsula has a load of beautiful Victorian and Edwardian architecture, some decent cycling trails and some really cool wildlife including albatrosses and penguins. It's proud of its Scottish heritage, too (hence the name) – you may even get to try some haggis. Boasting New Zealand's oldest university, its student population means a choice of cheap bars and eateries.
$$
Deck
Laundry Service
Free Parking
You're probably thinking, 'Has this place got anything to do with actual Hogwarts?' The answer is no. But it IS a big old house, and staying in the dorm might (MIGHT) make you feel like you're kipping in the Gryffindor dormitory. Or any other Harry Potter house of your choice.
Located at the top of a hill, there are some pretty darn tootin' views across the city harbour and mountains. Staff make a vibey atmosphere at this place and – as a cherry on top – there's free parking. I mean, for the building alone this is the best overall hostel in Dunedin.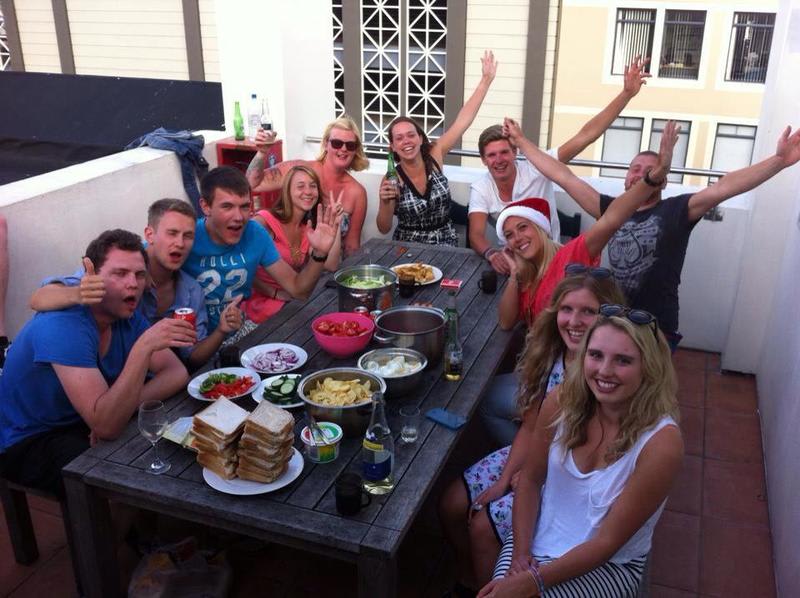 $$
Bar
Pool Table
Outdoor Terrace
There are 19 pool tables at this Dunedin backpackers hostel. Now, that is a BOLD claim. And moreover, that's not a bar – that's a pool hall. Semantics aside, there's free brekkie at this place. And that is a godsend to wake to with a horrid hangover.
On Top Backpackers, the best party hostel in Dunedin, is a fun place to hang out. You can grab a beer at the hostel's bar, make some new mates, and choose one of the many pool tables for a friendly game. Or alternate tables per game. Plus it's smack bang in the middle of Dunedin city.
$$
Games Room
Communal Kitchen
Laundry Facilities
The best thing about Central Backpackers is its central location. Duh. It's easy to step out the this budget hostel in Dunedin and find somewhere nice for dinner, plus explore the city sights, which include 6 Escape The Room places. SIX. Why?
Our top pick for the best hostel for couples in Dunedin has modern decor, private rooms, and – if you're a social couple – you could chill in the communal lounge. There are guitars. Maybe you could duet.

Unlock the The Broke Backpacker's GREATEST Travel Secrets!
You pop your email here, and we promise to send you only travel content that's actually relevant — sounds like a pretty good deal to us!
Best Hostels in Nelson
On the eastern shores of Tasman Bay sits Nelson – not the bully, nor the admiral, but the oldest town on New Zealand's south island. Brimming with golden beaches, a pretty cool music scene, a thriving artistic hub, staying in Nelson is all crafts markets and seasonal festivals, with a load of outdoor activities thrown in – it is New Zealand, after all.
Nelson offers some amazing backpacker accommodations that won't just keep the costs low, they'll also promise you a comfy bed and a safe place to rest your head.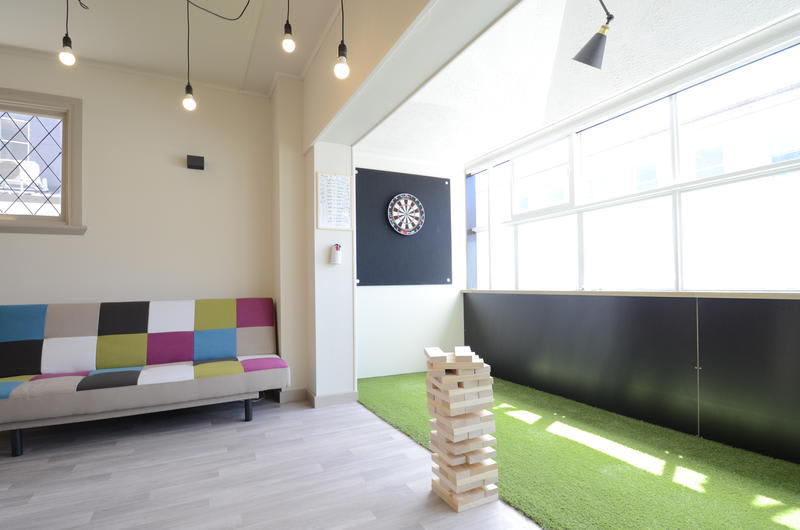 $$$
Free Breakfast
Fitness Centre
Cable TV
Stylish design, whitewashed walls, punky pictures and a stainless steel kitchen mean it's one of the coolest hostels in Nelson. I mean, they serve up free waffles in the morning. Plus there's a tiny weeny gym so you can work it all off afterwards.
We really like the hangout areas complete with astroturf and swing seats – our kinda hangouts. The female dorms are particularly cool, featuring straighteners, make-up remover, and all sorts of other lotions and potions to use. Feels private, but with a warm sociable atmosphere: that's why it's the best overall hostel in Nelson.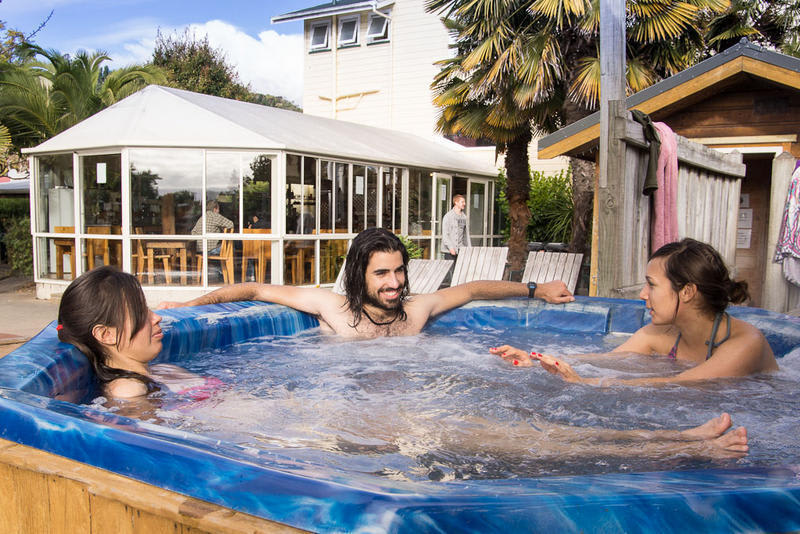 $$
Swimming Pool
Free Breakfast
Beach Volleyball Court
The fact that this recommended hostel in Nelson is basically set in a very, very nice Edwardian house makes it very, very cool. It also means that parts of it, especially the kitchen, feel pretty homely and welcoming.
It's less than 1k to the nightlife buzz of the city, which alone makes it the best party hostel in Nelson (we'd say), but you can also grab a beer and chill by the pool and stuff like that. It's easy to make friends with people, making it a real travellers retreat; the kinda place you'll have proper 'travelling memories' of.
Best Hostel for Couples in Nelson – Tasman Bay
$$
Free Breakfast
Common Room
Free Bicycle Hire
Warm, welcoming, family-run – this purpose built Nelson backpackers hostel has a big selection of private rooms, which makes it good if you're looking for a more hotel-y stay. There are dorms, too, of course. But, as you can see, we've picked this as the best hostel for couples in Nelson.
That's because it's oh-so whimsical: you can swing in a hammock among the lemon trees of the garden, or pedal around town on the free bikes with your partner. It's also very clean. Oh, and as a bonus, they serve up free food, including chocolate pudding and ice cream.
What to Pack for your New Zealand Hostel
Pants, socks, underwear, soap?! Take it from us, packing for a hostel stay is not always quite as straight forward as it seems. Working out what to bring and what to leave at home is an art we have perfected over many years.
Check out our definitive Hostel Packing list for our top packing tips!
Why you should travel to New Zealand
That's it folks. All the best hostels in New Zealand, all neatly planned out for you.
We want you to have the best time while backpacking New Zealand, and all these hostels are just perfect for that.
What all of them have are some of the friendliest and most helpful staff you'll ever meet!!
And when it comes to getting out and doing stuff? Well, you know New Zealand is the place to be for that. Whether it's checking out The Remarkables at Queenstown, or the islands off Auckland, there's a ton of stuff to do. When it comes to how to afford the trip, we recommend making a budget, and planning for the unexpected.
If you can't decide where to stay? It's logical to start in Auckland, the biggest city, and then work your way south – and the best overall hostel in Auckland is YHA Auckland, so you should check it out.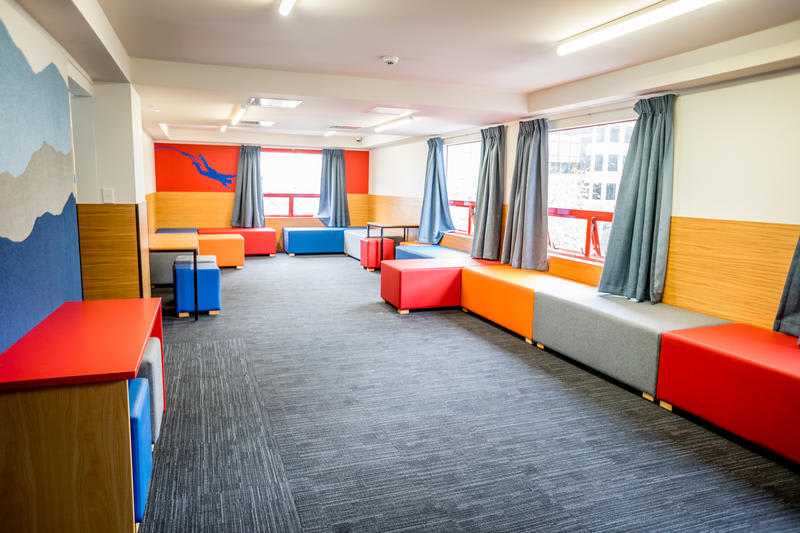 Get ready to have the best time ever!
Travel Safety Tips for New Zealand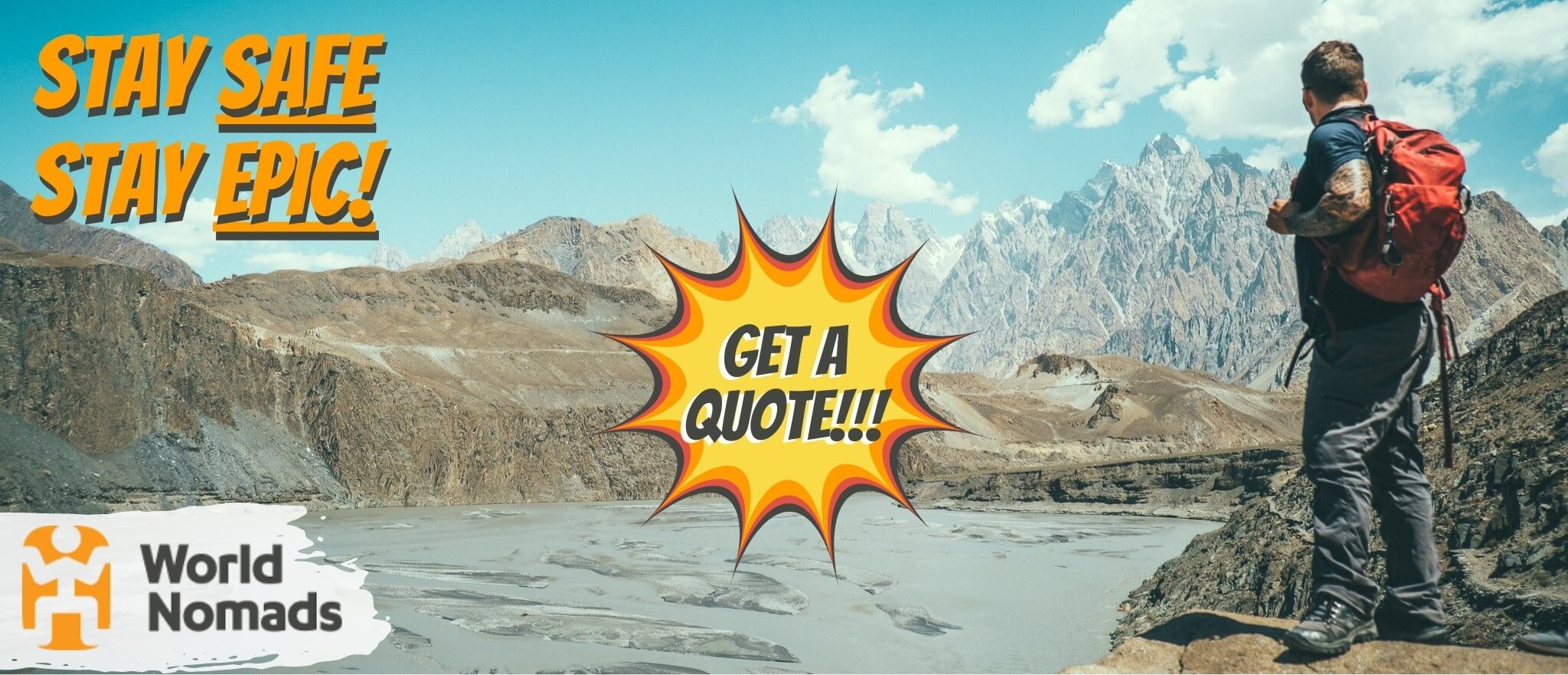 It's good to get lost sometimes, but it's also good not to get too lost. There are people that want you home in one piece.
There's one travel insurance provider The Broke Backpacker trusts for all his wildest shenanigans… World Nomads!
Click the button below to get a quote on your insurance or read our in-depth review of World Nomads' coverage. And then… let the shenanigans begin. 😉
More Epic Hostels in New Zealand and Oceania
Hopefully by now you've found the perfect hostel for your upcoming trip to New Zealand.
Planning an epic trip all across New Zealand or even Oceania itself?
Don't worry – we've got you covered!
For more cool hostel guides around Oceania, check out:
Over to you
By now I hope our epic guide to the best hostels in New Zealand has helped you choose the perfect hostel for your adventure! make sure you know exactly where you want to stay in New Zealand before you book your hostel. You don't want to end up far away from the hotspots you want to explore!
If you think we've missed anything or have any further thoughts, hit us up in the comments!
---
Thanks for reading – that was fun! 😀
We bring you epic FREE content!
Find out how YOU can help support us.
We're a big site with a big team and this job isn't always easy. But we do it because we love it – we love providing epic and free content. We love the knowledge that our content keeps you adventuring. We don't ask for money, but if you'd like to find out how you can help the site in more organic ways, click the button below.
Thank you for your support 🙂
---
Bye for now, but not forever!
If you want MORE top-tier Broke Backpacker content like this, then sign up for our weekly newsletter below to get the latest and greatest!
And for transparency's sake, please know that some of the links in our content are affiliate links. That means that if you book your accommodation, buy your gear, or sort your insurance through our link, we earn a small commission (at no extra cost to you). That said, we only link to the gear we trust and never recommend services we don't believe are up to scratch. Again, thank you!