The capital of New Zealand sits on the north shore of the north island and makes for a logical starting point for a road trip of this adventurous country. The small city of Wellington has a buzzing downtown district, with plenty of museums, art galleries and theatres to keep you entertained.
The coffee shop and craft beer scene is REAL here, and there are a load of creative kids doing their thing which makes for a pretty fun atmosphere. And just nearby is a load of rocky wilderness to explore.
But you gotta ask yourself: are you in Wellington for just a couple of nights for a jumping off point, or do you need somewhere to stay on a more… long-term basis? There's big range from super chic to basic beds.
Don't worry! We've sorted through the best hostels in Wellington and put 'em into neat categories so you can find the best one to suit you and what you plan to do in the city.
So without further ado let's take a look through what this cool city has to offer!

Do You Want to Travel FOREVER??
Pop your email in below to get a FREE copy of 'How to Travel the World on $10 a Day!'.
What to Expect from Hostels in Wellington?
Hostels are generally known to be one of the cheapest forms of accommodation on the market. That doesn't just go for Wellington, but pretty much every place in the world. However, that's not the only good reason for staying at a hostel. The unique vibe and social aspect is what makes hostels TRULY special. Head down to the common room, make new friends, share travel stories and tips, or just have a great time with like-minded travellers from all over the world – you won't get that opportunity in any other accommodation.
Hostels in Wellington come in all forms and sizes. Whether you want a super social place or a quiet and calm one, there'll be the right place for you. Lots of hostels offer free breakfast, tea and coffee, which is great for budget travellers. Another thing that you can almost always expect is a travel desk and very friendly staff. Most hostels in Wellington are known to be incredibly welcoming and friendly towards travellers.
Wellington's hostels normally have three options: dorms, pods and private rooms (although pods are rare). Some hostels even offer large private rooms for a group of friends. The general rule here is: the more beds in a room, the cheaper the price. Obviously, you won't have to pay as much for a 8-bed dorm than you would for a single bed private bedroom. To give you a rough overview of the hostel prices in Wellington, we've listed the average range below:
Dorm room (mixed or female-only): $13-18 USD/night
Private room: $53-58 USD/night
When looking for hostels, you'll find the best options on HOSTELWORLD. This platform offers you a super safe and efficient booking process. All hostels are displayed with a rating and previous guest reviews. You can also filter your personal travel needs easily and find the perfect place for you.
When it comes to where to stay in Wellington, that's another thing you need to figure out. While it's important to choose the right hostel, it's also necessary to find the right location so you don't end up miles away from the things you want to explore. Luckily, most of Wellington's hostels are located close to the centre of the city or are well connected to public transport. To make the decision a bit easier, these are our favorite neighborhoods in Wellington:
Mount Victoria – Part of the Wellington CBD, residential Mount Victoria places you slap bang in the middle of the action.
Island Bay – Island Bay is an affordable coastal suburb for budget-conscious travelers.
Te Aro – Te Aro is Wellington's social hub and home to some of the hippest and happening night-time venues.
We won't make you wait any longer, let's have a look at the best hostels in Wellington!
5 Best Hostels in Wellington
Below are the very best backpacker lodges in Wellington, for every type of travel there is. Pick your favorite and then hit the town! Make sure you in which of Wellington's areas you want to stay in before you book your hostel.
If you'd like to know more about this windy city, head over to our in-depth backpacking Wellington guide. It's full of useful information and hippy-dippy shit, the kind that Welly's love.
Best Overall Hostel in Wellington – The Marion
No, unfortunately, it's not The Marriott – it's The Marion. However, it's still the best overall hostel in Wellington. For a number of reasons actually. First off it's BRAND NEW and right in the centre of Wellington, meaning it's clean and with top-notch facilities whilst being close to all the fun stuff going on in the city.
This Wellington backpackers hostel is also very stylishly decorated, think wood panelled walls and exposed brick. Y'know, that sorta thing. The environment here feels safe and welcoming, which is always a plus. Basically, it's a proper luxurious hostel. We literally love it.
Why you'll love this hostel:
Incredible ratings and reviews
High value for affordable prices
Super stylish design
Let's talk more about the location of the hostel. The Marion is right in the heart of New Zealand's capital, near Cuba Street and Courtenay Place, where the cultural and bohemian city life is happening. It's a great base to start exploring every part of the city. You'll get around easily and have plenty of public transport connections nearby.
When it comes to amenities, The Marion offers the best of the best as well. You'll get a super stylish (and we mean super super stylish!) kitchen, a great common area to hang out and the comfiest hostel beds you've ever laid in. Since this hostel is the overall best, you'd be better off to book well in advance. It is fairly popular, so a simple walk in might not guarantee a bed!
Best Hostel for Solo Travelers in Wellington – Trek Global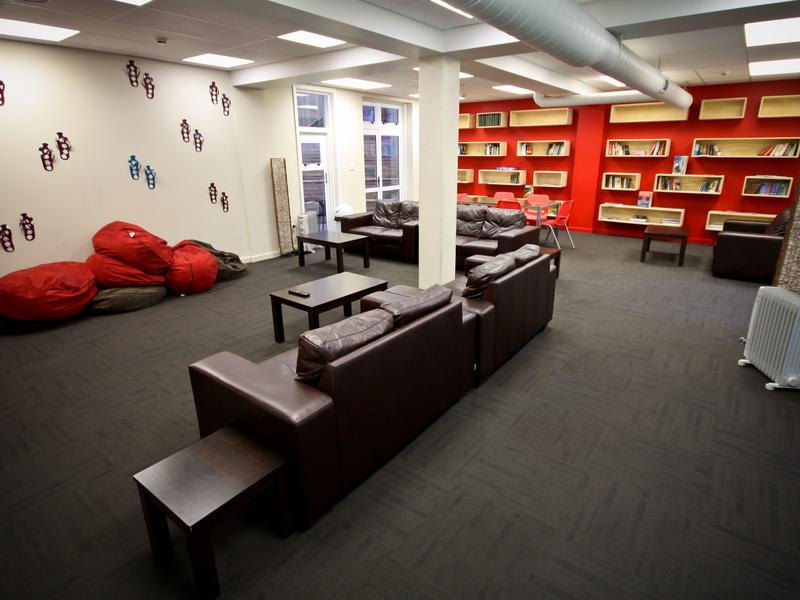 Laundry Facilities
Pool Table
It's the kinda place where lots of friendly people stay, and the kinda place where a lot of lovely staff work. Yep, these things definitely add up to the best hostel for solo travelers in Wellington. They also put on free events so you can get to know other people and the staff are super happy to help you at all times.
This Wellington backpackers hostel is also located in the heart of Wellington, meaning you don't have to travel into town by yourself a long way, you can literally just wander around the local area to find some cool stuff – or go out with some newly made friends. Solid solo choice.
Why you'll love this hostel:
Welcoming and friendly vibe
Helpful staff
Free tea and coffee
If you're keen to see as much of Wellington as possible – including green spaces just outside the city, like George Denton Park & Polhill Reserve – hire one of the hostel's mountain bikes. When you get back, have a free cup of tea (save the free coffee for the morning!) in the ground-floor kitchen before taking the elevator upstairs and crashing out in your comfy bed. There's an 11pm noise and booze curfew to help you sleep more soundly.
It might not be the most modern hostel, but Trek Global really goes above and beyond to make their guests stay as enjoyable as possible.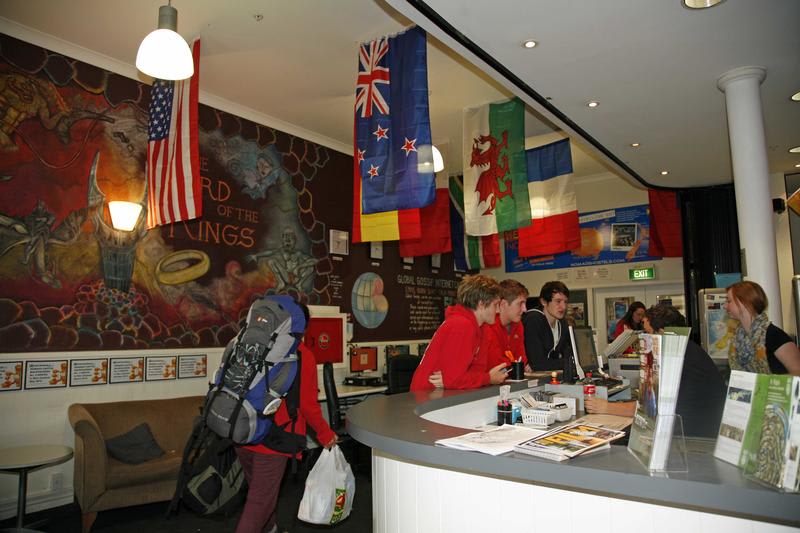 If you're looking for free stuff, this place has a whole load of perks. There's free breakfast, free tea, free coffee, free DINNER even, and on top of that, there's drinks deals and fun nightly activities. Is that enough to make it the best party hostel in Wellington? We think so.
The hostel's bar is literally next door and always busy with a lively atmosphere a lot of the time. The vibe is one of those that's conducive to getting a whole load of new mates together to hit the town. As a plus, it's clean and professionally run.
Why you'll love this hostel:
Free activities
Drink deals
Epic nightlife location
Let's talk more about the location though. You'll be based just 10 minutes from the Bus and Railway Station and a short bus ride from Ferry Ports and the Airport. Just minutes from the waterfront and the famous Te Papa Museum while Cuba Street, with its eclectic mix of shops, bars and restaurants, and Courtenay Place, with its fantastic nightlife, are just around the corner.
After you've danced the night away, come back to the hostel and fall into your comfy bed – it's ideal to cure hangovers! If you need any help, Nomads Capital Backpackers also has a 24hour reception with super kind and friendly staff. If anything goes wrong during your stay, they'll know exactly how to help!
Best Hostel for Couples in Wellington – The Dwellington
We love the genius simplicity of this name – already we're probably biased about this place, but oh well. You will NOT regret choosing to stay at the Dwellington: it's a clean and very cool hostel in Wellington that's set in a big ol' house.
You can enjoy meals around the 5-meter-long redwood dining table, having a knock-about on the tennis court, and watching a movie together in the cinema room. There are different sized private rooms on offer here – the best hostel for couples in Wellington, plus you can wake up and chow down on a free breakfast together. Romantic stuff.
Why you'll love this hostel:
Chef's style kitchen
Games Room
Outdoor space and BBQ
On top of that, you'll get the absolute best amenities and activities. From the games room and tennis court to the ample outdoor spaces with BBQ, there's literally nothing missing at The Dwellington. It might only be a hostel, but it's definitely one of the most luxurious ones in Wellington.
The friendly staff can help with booking a variety of local activities and onward journeys including the Interislander and Bluebridge ferries to Picton. They're known to go above and beyond for their guests, so you'll be well looked after!
Best Cheap Hostel in Wellington – YHA Wellington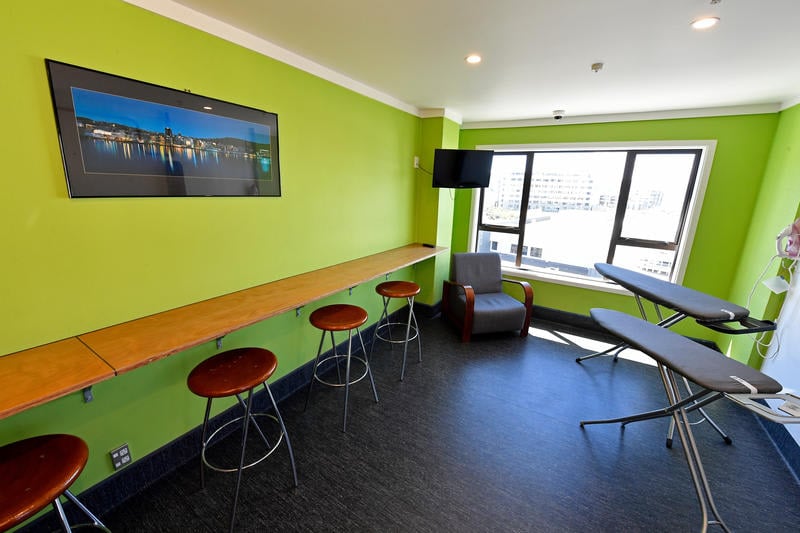 Late Check-out
Luggage Storage
If you're looking for somewhere that's clean and with friendly staff where you can stay a few nights, well, this is the best option. Very affordable and with great value for money, this branch of YHA is the best cheap hostel in Wellington.
You can also save money here because it's pretty central, so you don't have to spend anything on public transport. There's a big ol' industrial communal kitchen at this budget hostel in Wellington so you can make your own meals on the cheap.
Why you'll love this hostel:
Incredible ratings and reviews
Multiple awards
Friendly atmosphere
We're not gonna lie, it might not be the most fashionable hostel in Wellington, but it keeps its promises: a great night sleep, high quality amenities and plenty of space. Whether you need to work on your laptop, want to explore the city or simply hang out with like-minded travellers, you'll find that all of your needs are being met at YHA Wellington.
According to previous guests, the hostel offers the absolute best value you can get for just a little bit of money. On top of that, the staff is super friendly and welcoming – making you feel at home as soon as you walk through the door.
YHA Wellington is one of our favourites in Wellington but they're not taking guests right now. We're not sure if they're closed for good but we hope they'll come back soon.
Is This the Best Backpack EVER???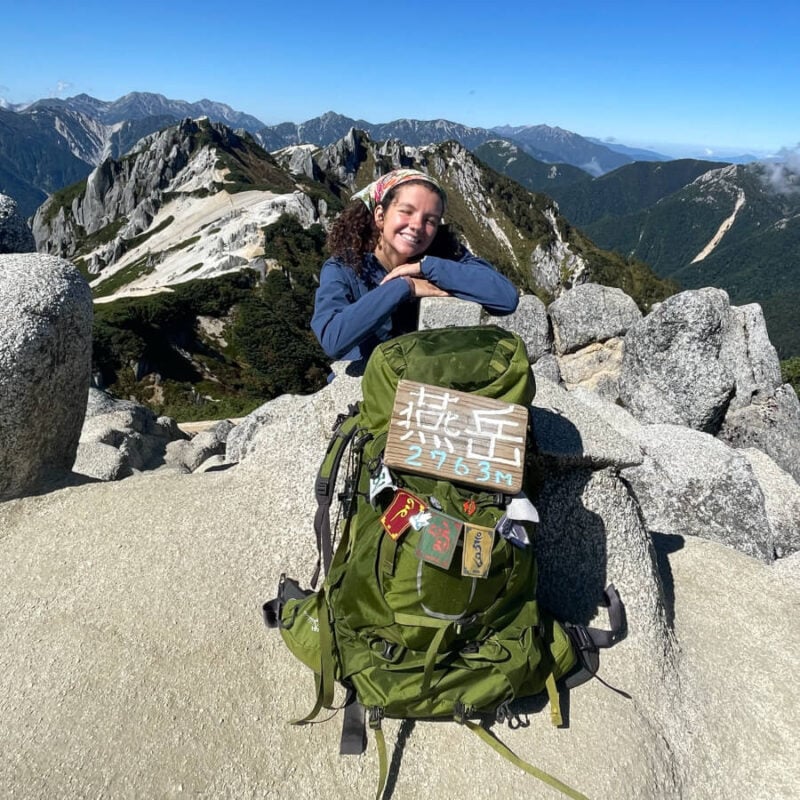 More Epic Hostels in Wellington
Haven't found the right hostel for you yet? Don't worry, there are plenty more options waiting for you. To make the search a bit easier, we've listed more epic hostels in Wellington below.
Best Hostel for Digital Nomads in Wellington – Lodge in the City
Are you a remote worker looking to get some work done in Wellington? Look no further than Lodge in the City. This is easily the best hostel for digital nomads in Wellington, thanks to its computer desks and the generally loads of space to work on your laptop.
This Wellington backpackers hostel is good value for money, but it's probably best to choose a private room (especially if you're thinking about working the next morning) since the dorms can be… a little noisy.
Lodge in the City is one of our favourites in Wellington but they're not taking guests right now. We're not sure if they're closed for good but we hope they'll come back soon.
Best Hostel with a Private Room in Wellington – The Setup Dixon
Communal Kitchen
Free Gym Pass (It's Next Door)
If you're not looking to socialize with other people you probably couldn't pick a better Wellington backpackers hostel than this one. In fact, it's not very backpacker-y at all – think white walls, fresh white sheets, minimalism and long corridors. Sorta like a… hotel… hostel… thing.
It does have dorms and a shared kitchen, and sure it may be a little clinical, but the private rooms here are pretty darn decent. So that's why it's the best hostel with a private room in Wellington. It's also very quiet if you like that. But if you don't like that, it's in a cool area with bars in the vicinity.
The Setup Dixon is one of our favourites in Wellington but they're not taking guests right now. We're not sure if they're closed for good but we hope they'll come back soon.

Our GREATEST Travel Secrets…
Pop your email here & get the original Broke Backpacker Bible for FREE.
More Best Hostels in Wellington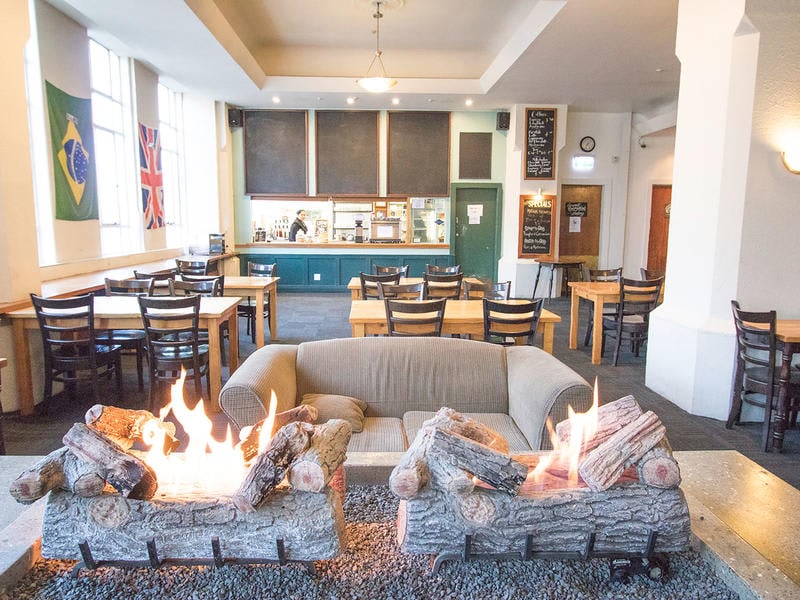 Travel/Tours Desk
24 Hour Reception
Right in front of the train station, this top hostel in Wellington is super well situated for anyone needing to use the train, bus – or ferry. Which is great if you like convenience. There's also an in-house cafe here, which means even more convenience.
Everything at this place is generally run pretty smoothly by the professional staff. Rooms are light and clean (but basic), and the privates a little more spacious. But it DOES have a log fire and a pub with a pool table, which definitely sounds alright to us. A classic budget backpackers place, we reckon.
Worldwide Backpackers
Laundry Facilities
Book Exchange
It might be a small place, but this recommended hostel in Wellington is really cute and homely. We can't help but like it. Even the building, like a traditional old house, is cute. To match this, the staff are super nice.
Not exactly a party hostel in Wellington, it's in a great location just a 10 min walk from Cuba Street, which is where you'll find all the action of the city. The owners are relaxed and there are quizzes and activities to make for a very nice atmosphere indeed. We approve.
Worldwide Backpackers is one of our favourites in Wellington but they're not taking guests right now. We're not sure if they're closed for good but we hope they'll come back soon.
The Cambridge Hotel & Backpackers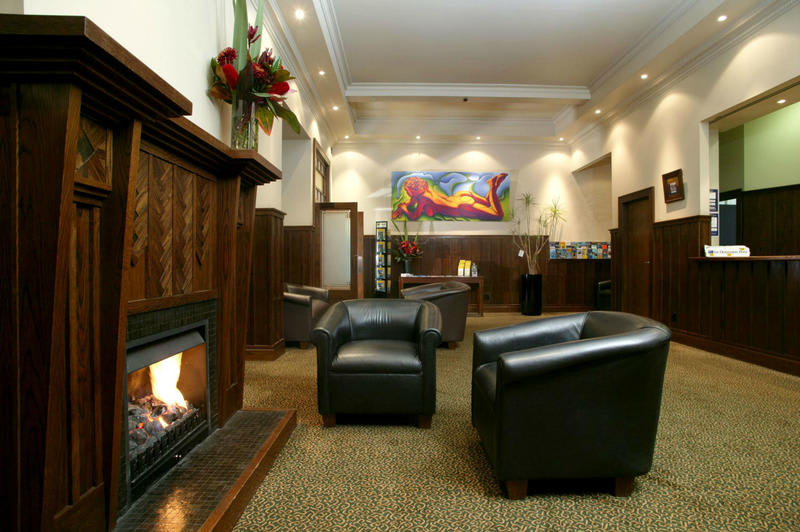 Inside an updated heritage building (you KNOW we like those) in the centre of the city, this is a mix between a hotel and cheap backpacker accommodation. As if you couldn't tell that from the name already.
The dorms at this Wellington backpackers hostel aren't the… nicest available in town – a little basic, perhaps – but the location more than makes up for that. It's right in the centre of town, which is great for getting out to explore what Wellington has to offer.
The Cambridge Hotel & Backpackers is one of our favourites in Wellington but they're not taking guests right now. We're not sure if they're closed for good but we hope they'll come back soon.
FAQ about Hostels in Wellington
Here are some questions backpackers ask about hostels in Wellington.
Travel Safety Tips for Wellington
ALWAYS sort out your backpacker insurance before your trip. There's plenty to choose from in that department, but a good place to start is Safety Wing.
They offer month-to-month payments, no lock-in contracts, and require absolutely no itineraries: that's the exact kind of insurance long-term travellers and digital nomads need.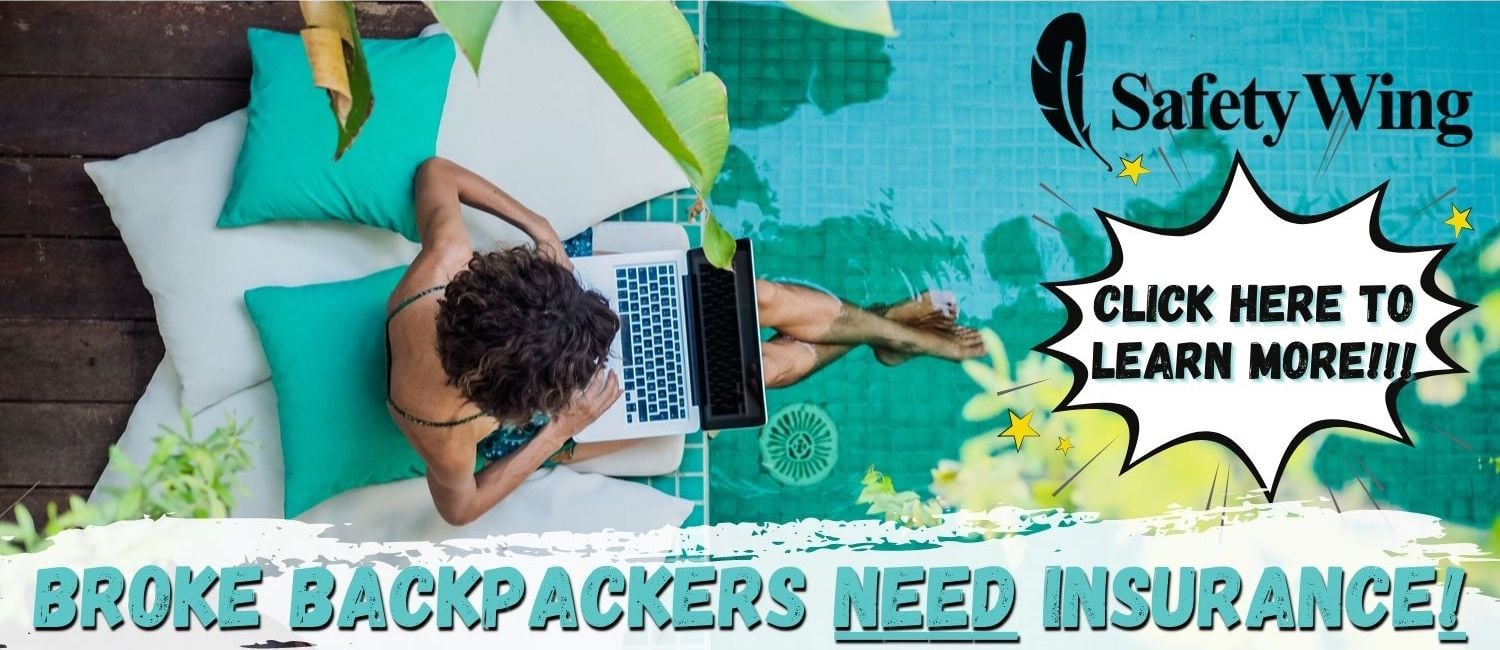 SafetyWing is cheap, easy, and admin-free: just sign up lickety-split so you can get back to it!
Click the button below to learn more about SafetyWing's setup or read our insider review for the full tasty scoop.
More Epic Hostels in New Zealand and Oceania
Hopefully by now you've found the perfect hostel for your upcoming trip to Wellington.
Planning an epic trip all across New Zealand or even Oceania itself?
Don't worry – we've got you covered!
For more cool hostel guides around Oceania, check out:
What to Pack for your Wellington Hostel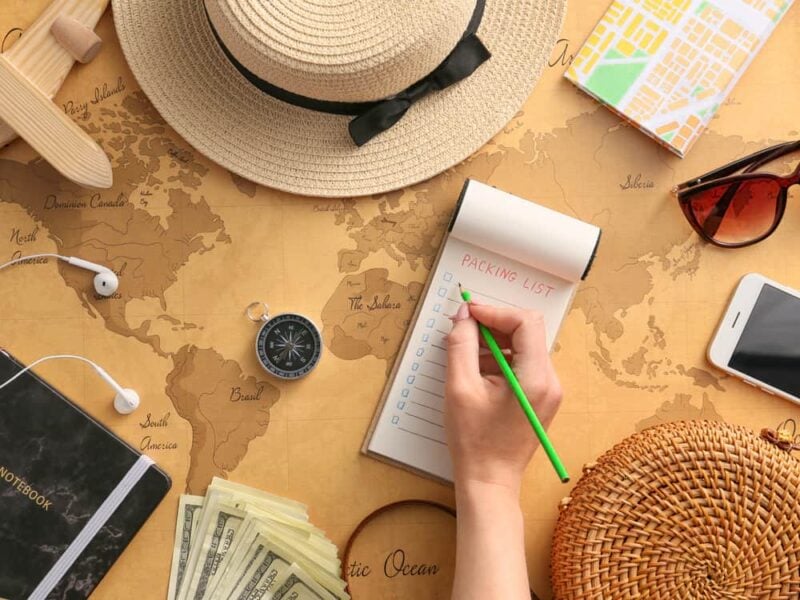 Pants, socks, underwear, soap?! Take it from us, packing for a hostel stay is not always quite as straight forward as it seems. Working out what to bring and what to leave at home is an art we have perfected over many years.
Check out our definitive Hostel Packing list for our top packing tips!
Over to you
By now I hope our epic guide to the best hostels in Wellington has helped you choose the perfect hostel for your adventure!
If you think we've missed anything or have any further thoughts, hit us up in the comments!
---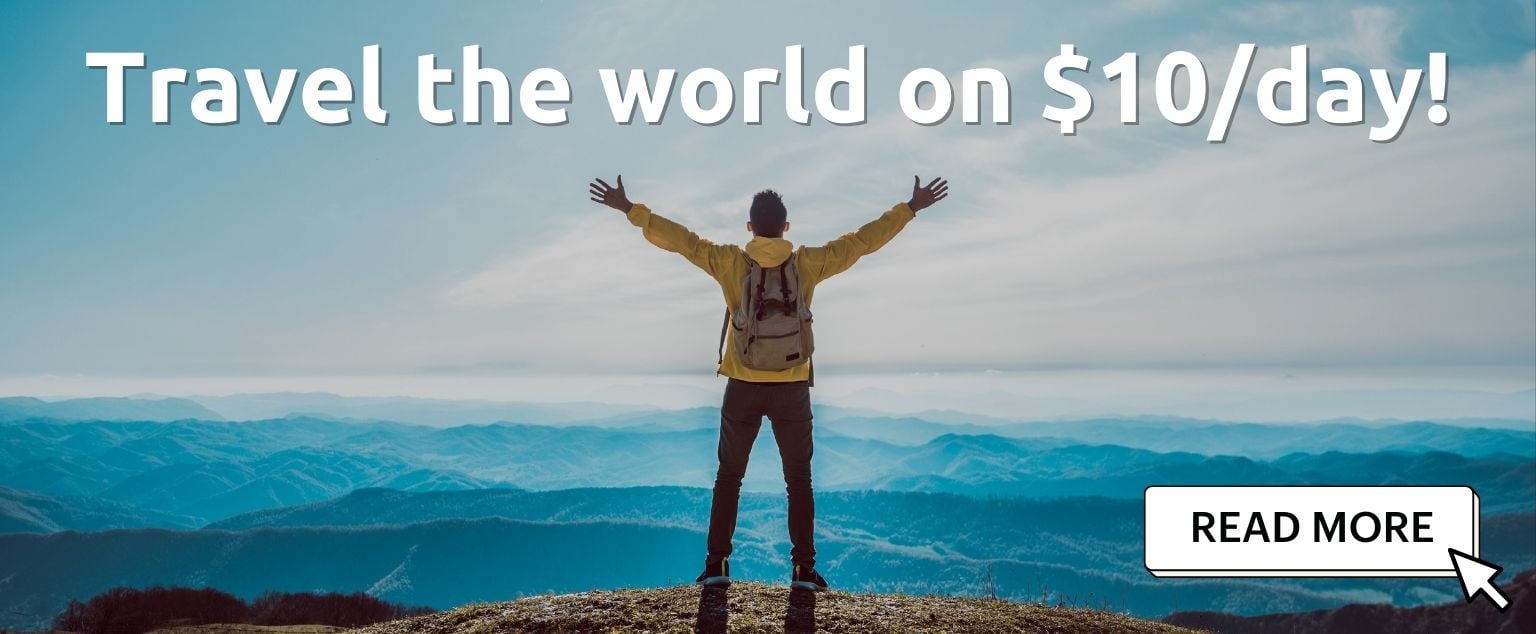 And for transparency's sake, please know that some of the links in our content are affiliate links. That means that if you book your accommodation, buy your gear, or sort your insurance through our link, we earn a small commission (at no extra cost to you). That said, we only link to the gear we trust and never recommend services we don't believe are up to scratch. Again, thank you!